News : 10 / 06 / 18
The Hideaway Secret Garden At Millbridge Court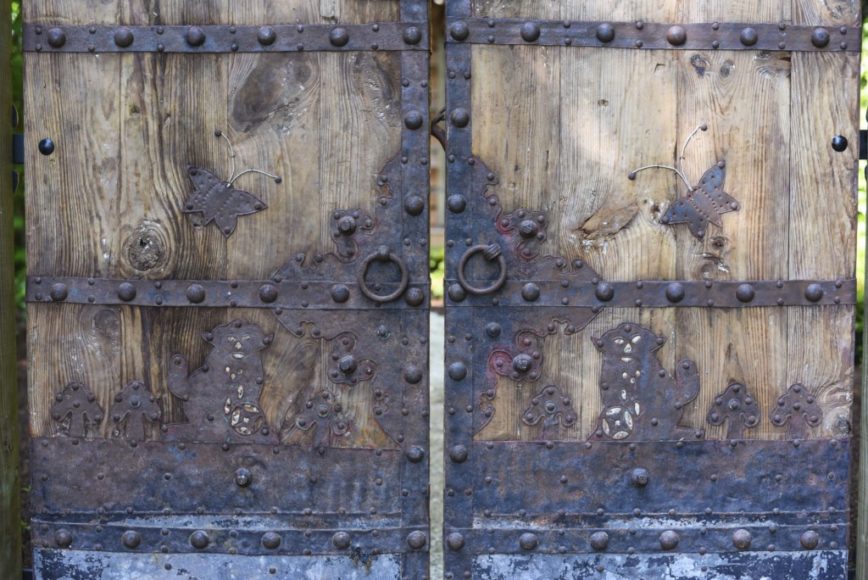 Throughout April, there was something rather exciting going on at the end of the Millbridge Court grounds. After months of planning, landscape gardeners got to work planting Laurel hedging, ferns & installing an incredible pair of vintage gates in front of our Bridal Suite, the Hideaway… & now that all of their hard work is complete, we're excited to introduce to you all, The Hideaway Secret Garden!
A botanical sanctuary just beyond our flower meadow that creates that extra bit of magic & privacy for our couples on their Wedding Day & the morning after the celebrations. A tranquil & peaceful space to be able to enjoy all to themselves.
We hope that all of our MBC Couples love it just as much as we do! Here are a few sneak peeks to give you a taster of whats beyond the gates. Xx
And we love that we have already received pictures of photographers using the Secret Garden as a backdrop for gorgeous couples shots… here are L&S captured by The Springles last week.
And J&T captured beautifully by Joanna Nicole Photography earlier in May!
We can't wait to see many more over the course of the Summer!
News : 01 / 01 / 18
#marriedatmillbridge in 2017
What an amazing year we've had here at Millbridge Court!
We have been so privileged to share in so many wonderful celebrations and have been able to work with some of the industries most talented suppliers, who week on week help bring our Couples dream Wedding Day's to life, transforming the Venue and making every day so different from the last.
We are ever so lucky to be sent so many beautiful images captured by photographers throughout the year and as 2017 drew to a close and a new year begins, we wanted to take a look back & share with you all some of the stunning details & special moments from a handful of gorgeous Wedding's that have taken place here at Millbridge Court.
To all of our 2017 MBC Couples, thank you for making the past year so very special!
Wishing all of you a very Happy New Year! May your 2018 be happy, healthy & full of love. Xx
Kirsty Mackenzie Photography
The Springles
The Springles
Philippa Sian Photography
Marcel Grabowski Photography
Kerry Diamond Photography
Lemonade Pictures
Nick Labrum Photography
The Springles
Millie & Belle Photography
Philippa Sian Photography
Guy Collier Photography
Ross Hurley Photography
Marcel Grabowski Photography
Ross Hurley Photography
Philippa Sian Photography, Jay Archer Floral Design
Sophie Duckworth, Jay Archer Floral Design
Philippa Sian Photography, Blush Floral Design
Sarah Legge Photography, Blush Floral Design
Sarah Legge Photography, Blush Floral Design
Sarah Legge Photography, Hannah Berry Flowers
VLA Photography, Hannah Berry Flowers
Guy Collier Photography, Eden Blooms
Kirsty Mackenzie Photography, Blush Floral Design
VLA Photography
Lemonade Pictures, Hannah Berry Flowers
RS Brown Photography, Hannah Berry Flowers
Sarah Legge Photography, Lavender Hill Flowers
Marcel Grabowski Photography, Rosie Orr Flowers
Philippa Sian Photography, Bloomingayles
Jonathan Ellis Photography, Jay Archer Floral Design
RS Brown Photography
Kerry Diamond Photography, Florescence
Kirsty Mackenzie Photography, Blush Floral Design
Lemonade Pictures, Hannah Berry Flowers
Ross Hurley Photography
Sophie Duckworth, Jay Archer Floral Design
Kirsty Mackenzie Photography
Sarah Legge Photography, The Little Top
Guy Collier Photography
Sarah Legge Photography
VLA Photography
The Springles, Kalm Kitchen
VLA Photography
Philippa Sian Photography, Jay Archer Floral Design, Kalm Kitchen
Lemonade Pictures, Kalm Kitchen
Sarah Legge Photography
Sarah Legge Photography, Kalm Kitchen
Jasmine Andrews Photography
Philippa Sian Photography, Kalm Kitchen
Viva Photography
Nick Labrum Photography
Kirsty Mackenzie Photography
Philippa Sian Photography
VLA Photography
Guy Collier Photography
Sophie Duckworth Photography
VLA Photography
Nikki Van Der Molen
The Springles
VLA Photography
Sarah Legge Photography
Philippa Sian Photography
Nikki Van Der Molen
My Beautiful Bride Photography, Early Hours London
Kirsty Mackenzie Photography, Blush Floral Design
Sarah Legge Photography, Blush Floral Design
Sarah Legge Photography, Lavender Hill Flowers
Philippa Sian Photography, Crystal Hire
The Springles, The Topiary Tree by Carrie Macey
Philippa Sian Photography, Bloomingayles, Bubblegum Balloons
Philippa Sian Photography, Jay Archer Floral Design
Philippa Sian Photography, Hannah Berry Flowers
RS Brown Photography, Hannah Berry Flowers
Jasmine Andrews, Judy Broad Calligraphy, Eden Blooms
Sophie Duckworth Photography, Jay Archer Floral Design
Philippa Sian Photography, Hannah Berry Flowers
VLA Photography, The Flower Pocket
VLA Photography, Hannah Berry Flowers
Philippa Sian Photography, Bubblegum Balloons, Academy Furniture Hire
Philippa Sian Photography, Bloomingayles
Sarah Legge Photography, Hannah Berry Flowers
Guy Collier Photography, Eden Blooms
Stephen Swain, Paula Rooney Floral Design
Kirsty Mackenzie Photography, Andi Freeman Cakes
Sarah Legge Photography, Le Papillon Patisserie
Philippa Sian Photography, Lulu's Cake Kitchen
Sarah Legge Photography, Le Papillon Patisserie
Philippa Sian Photography, Spongeworks
Denise Winter photography, Tartufi Cakes
Millie & Belle Photography, Jeni Purcell Cakes
Sophie Duckworth Photography, Andi Freeman Cakes, Jay Archer Floral Design
Philippa Sian Photography, Milk Street Kitchen
VLA Photography, Milk Street Kitchen
Marcel Grabowski Photography, Kalm Kitchen, Rosie Orr Florist
Philippa Sian Photography, Kalm kitchen
Sarah Legge Photography, Blush Floral Design, Kalm Kitchen Donut Wall
Kirsty Mackenzie Photography, Kalm Kitchen
Philippa Sian Photography, Kalm Kitchen
Philippa Sian Photography, Hannah Berry Flowers, Kalm Kitchen
Philippa Sian Photography, Kalm Kithen Pretzel Bar
Philippa Sian Photography, Bloomingayles, Kalm Kitchen
Marcel Grabowski Photography, Rosie Orr
Sarah Legge Photography, Kalm Kitchen The Dairy
Jasmine Andrews Photography
Lemonade Pictures
Photographers:
My Beautiful Bride Photography
Florsits:
Cakes:
Jeni Purcell Cakes
Balloons:
Hire Companies:
Calligraphy: