News : 25 / 02 / 19
Redefined 2018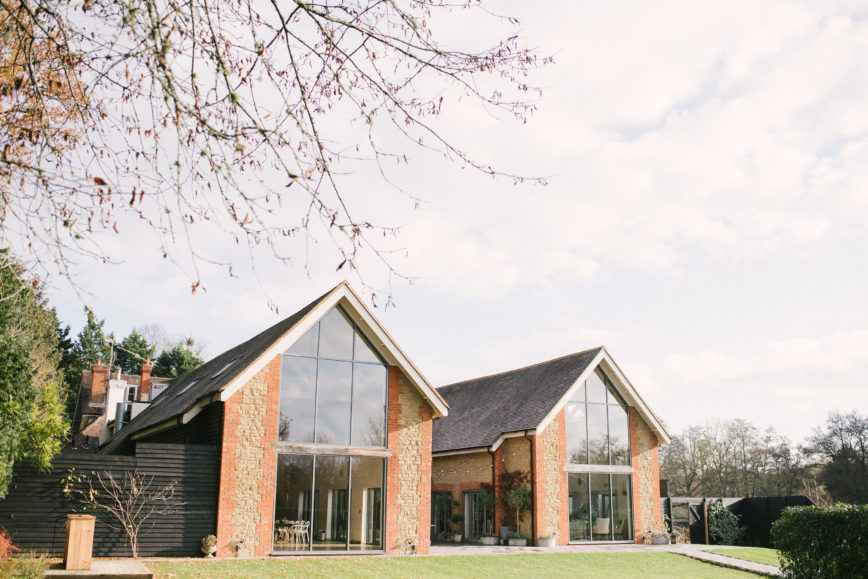 We love hosting events and workshops here at Millbridge Court. It's always so fantastic to see every different space within the Venue utilised in such varied ways, whether that be setting up lunches & dinners in our Private Dining Room, using our cosy front lounges for an informal Q&A, setting up interactive workshops in the Dining Barn whilst simultaneously having the adjacent Barn space setup for discussions and informative talks, whatever the group size or type of event, there are a multitude of options here at Millbridge.
In November of last year, we had the privilege of hosting the most wonderful event, Planning Redefined's 3-Day Workshop- Redefined 2018. For those of you who haven't heard of Planning Redefined, it is run by Wedding Planners Louise Perry and Katrina Otter and offers honest, modern and engaging training and mentoring for aspiring, new and experienced wedding planners.
Redefined 2018 was their biggest workshop of the year and was jam-packed full of inspiring content, including a wonderful line-up of industry professionals who spoke throughout the three days on a multitude of subjects, from styled photoshoots, managing budgets, branding and website design, to the in's and out's of planning a Wedding. The workshop also provided hands-on, interactive workshops which made the most of both of the Barn spaces. The fabulous Kalm Kitchen were also in-house providing delicious treats and sharing feasts for all of the attendees.
We were lucky enough to have the talented Hannah Duffy Photography with us throughout, capturing every tablescape, floral detail and dessert station and we were thrilled to recently receive the imagery which we are sharing a stunning selection of below. Thank you to Louise and Kat for entrusting us to host what was such an exceptional event, it was such a joy to play a small part in Redefined 2018. Xx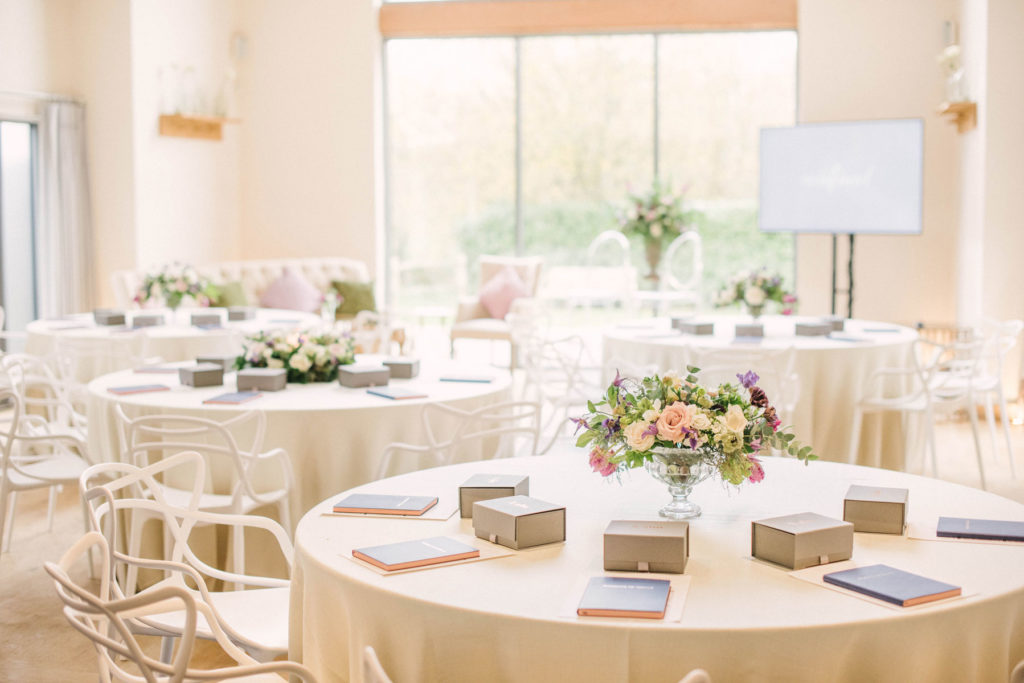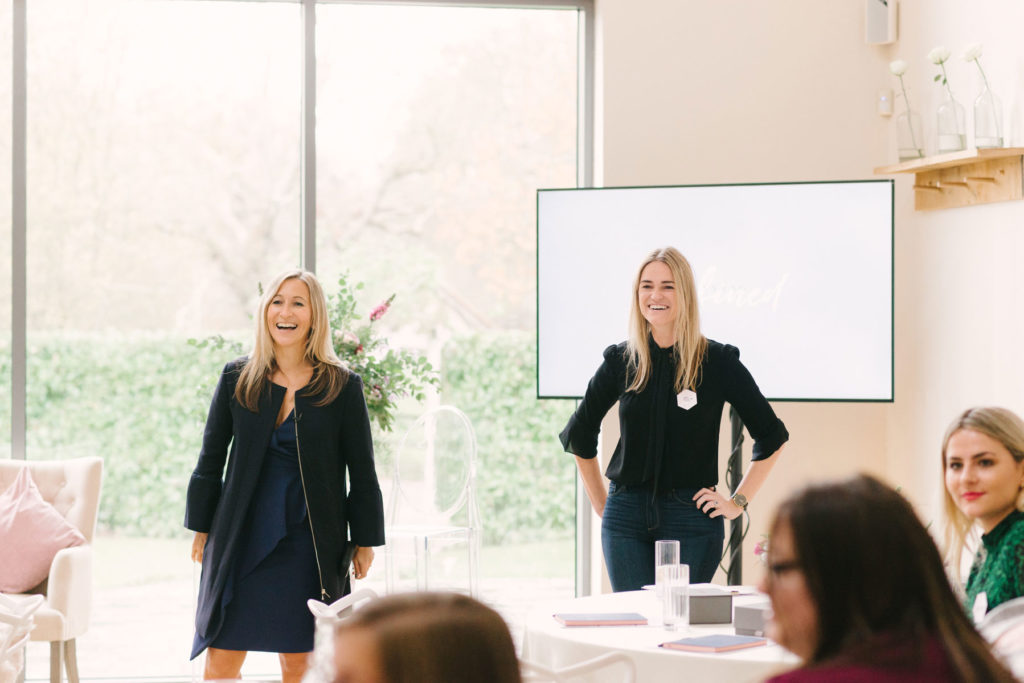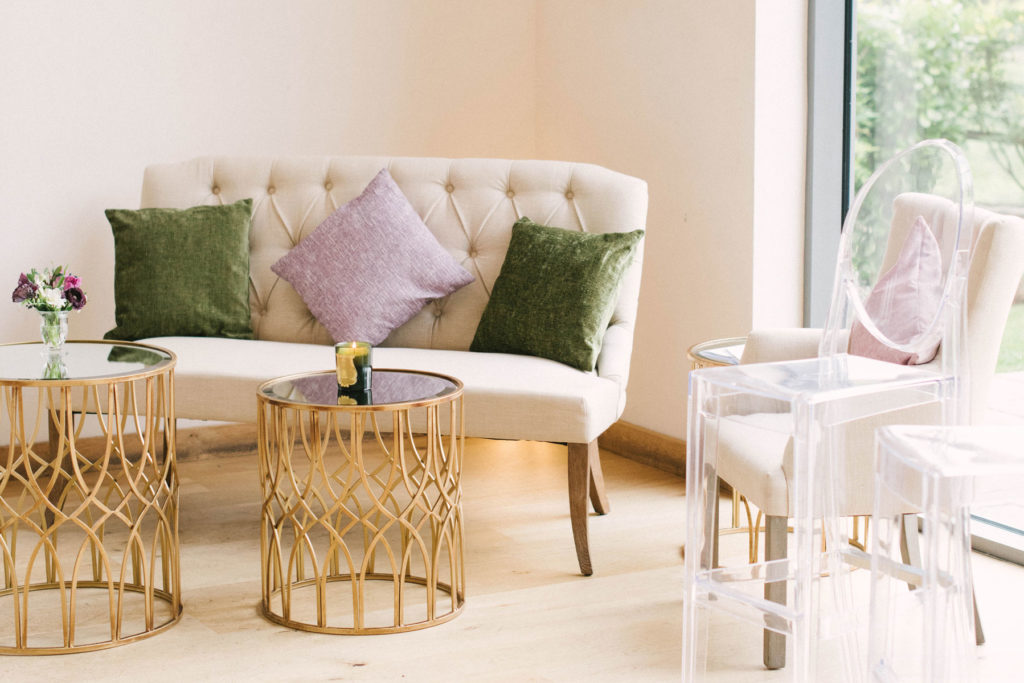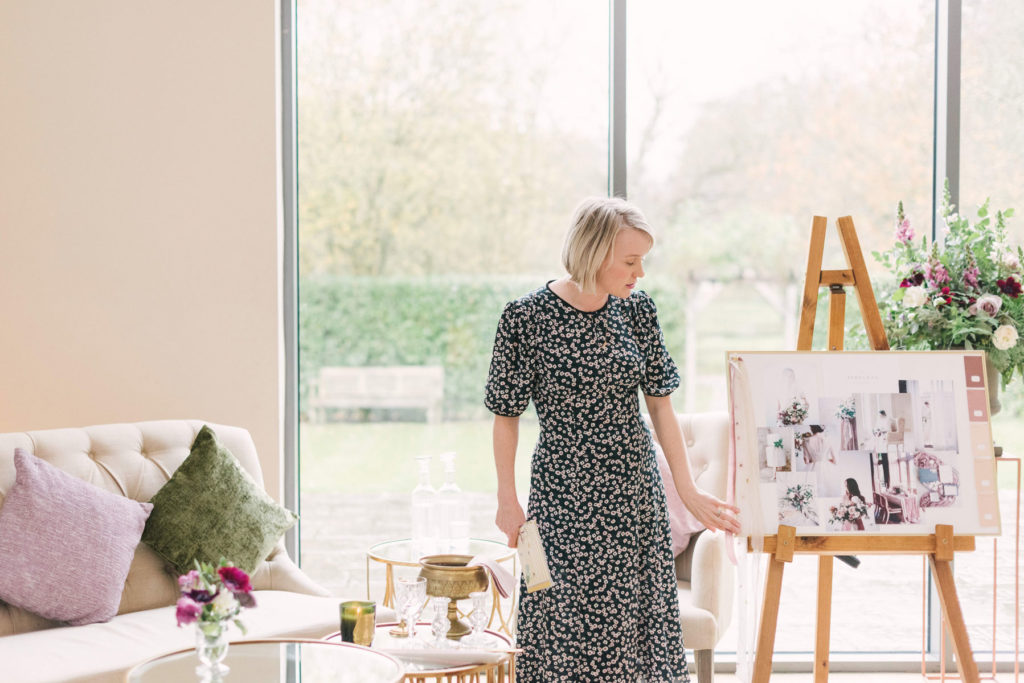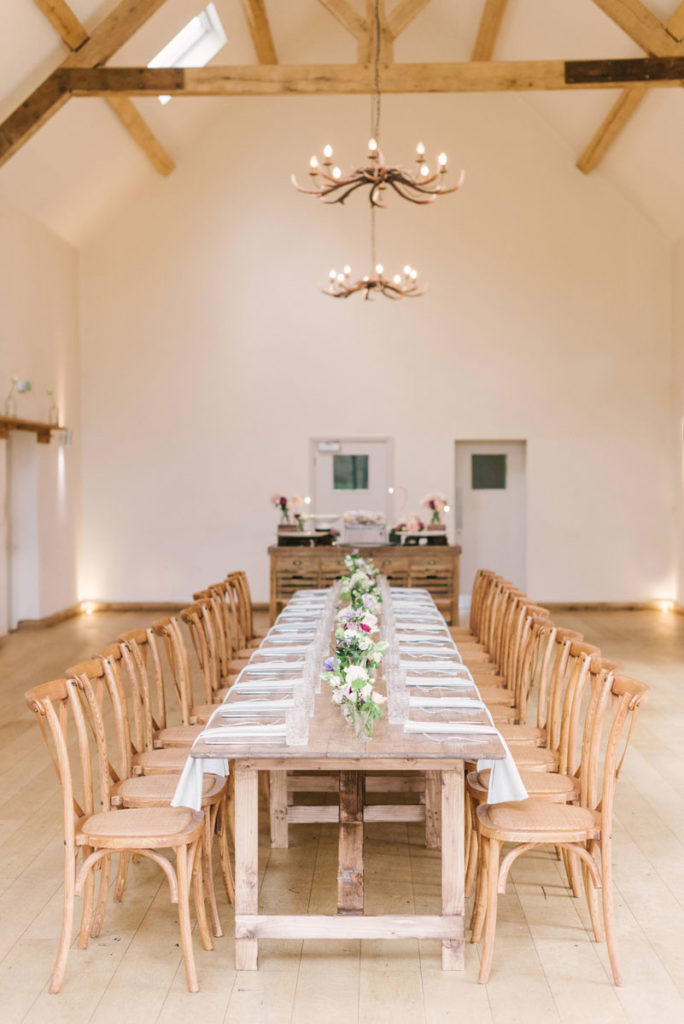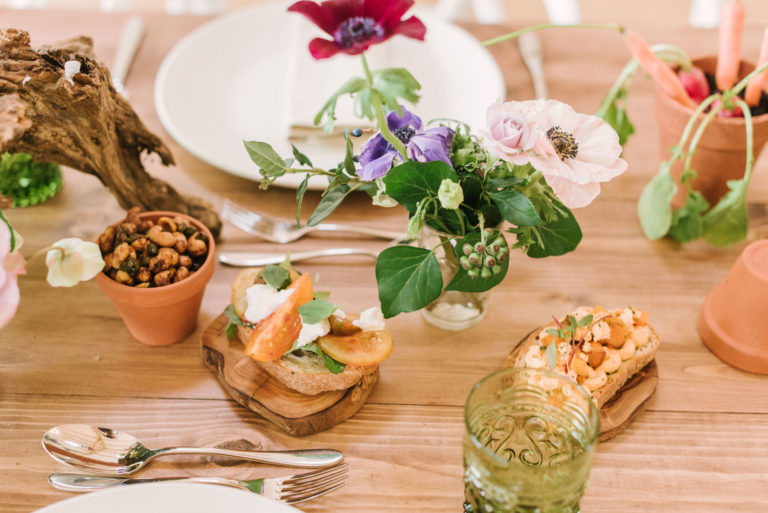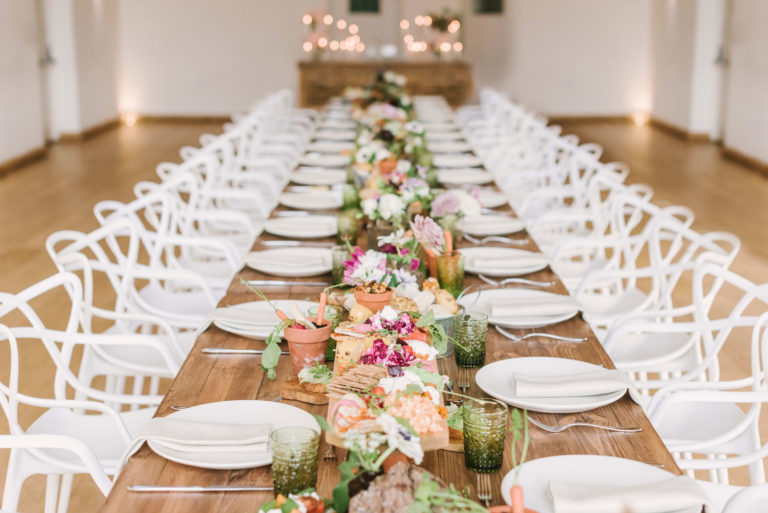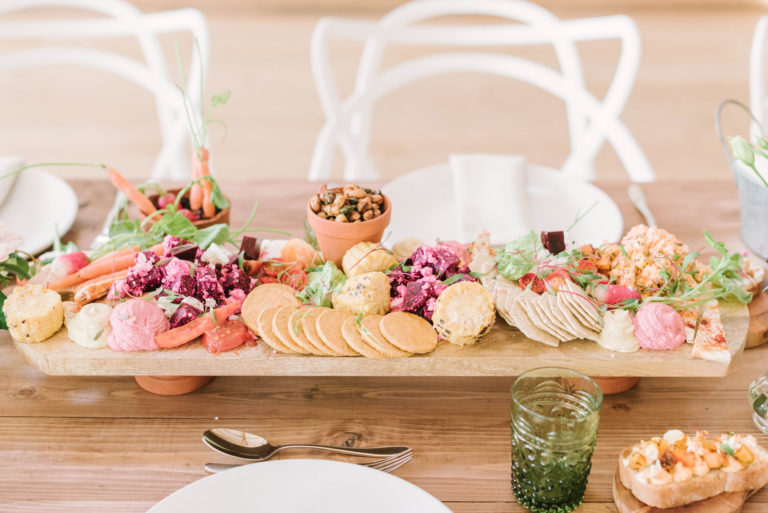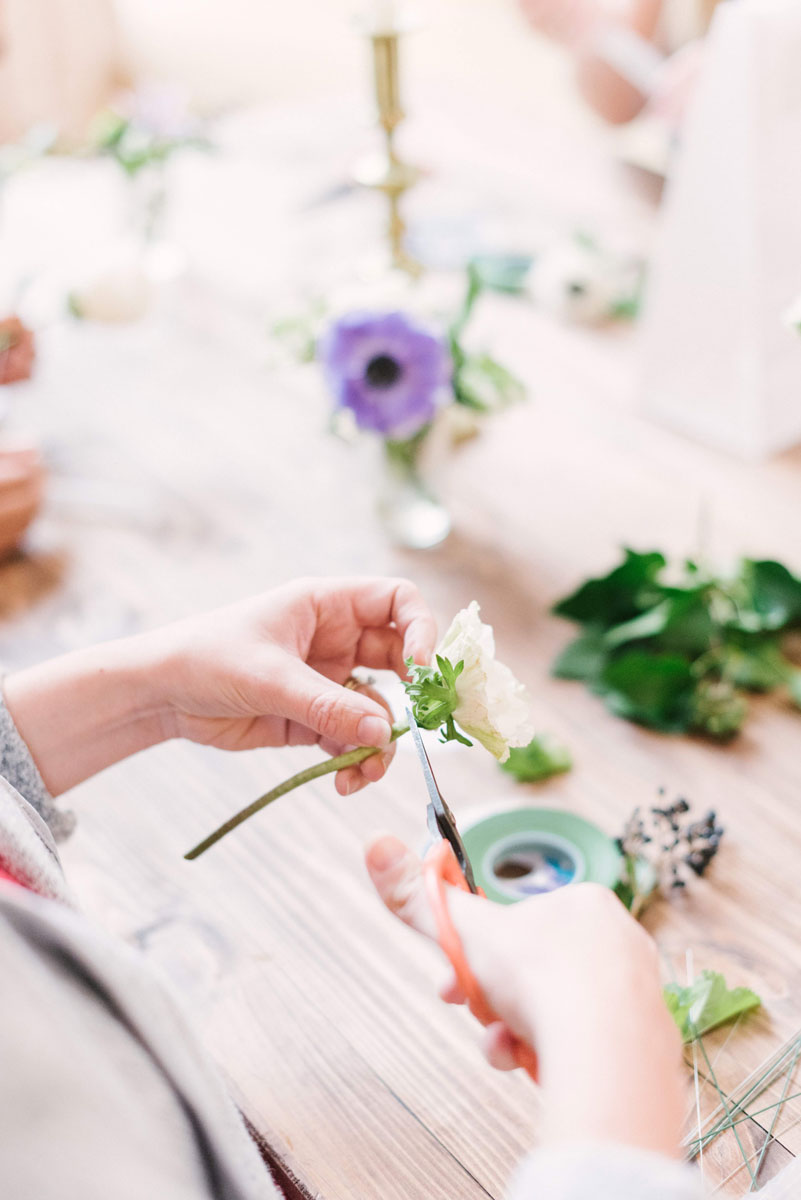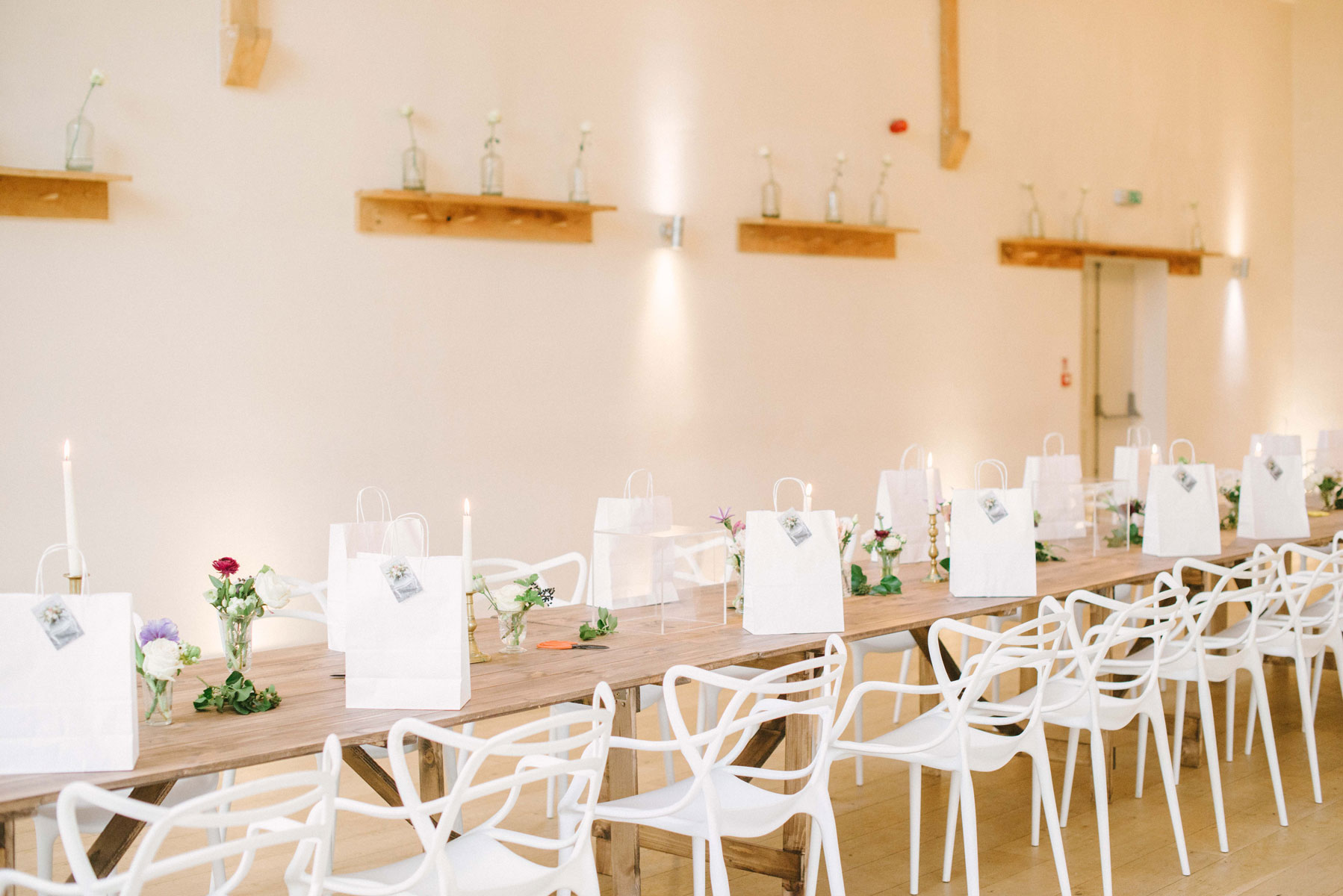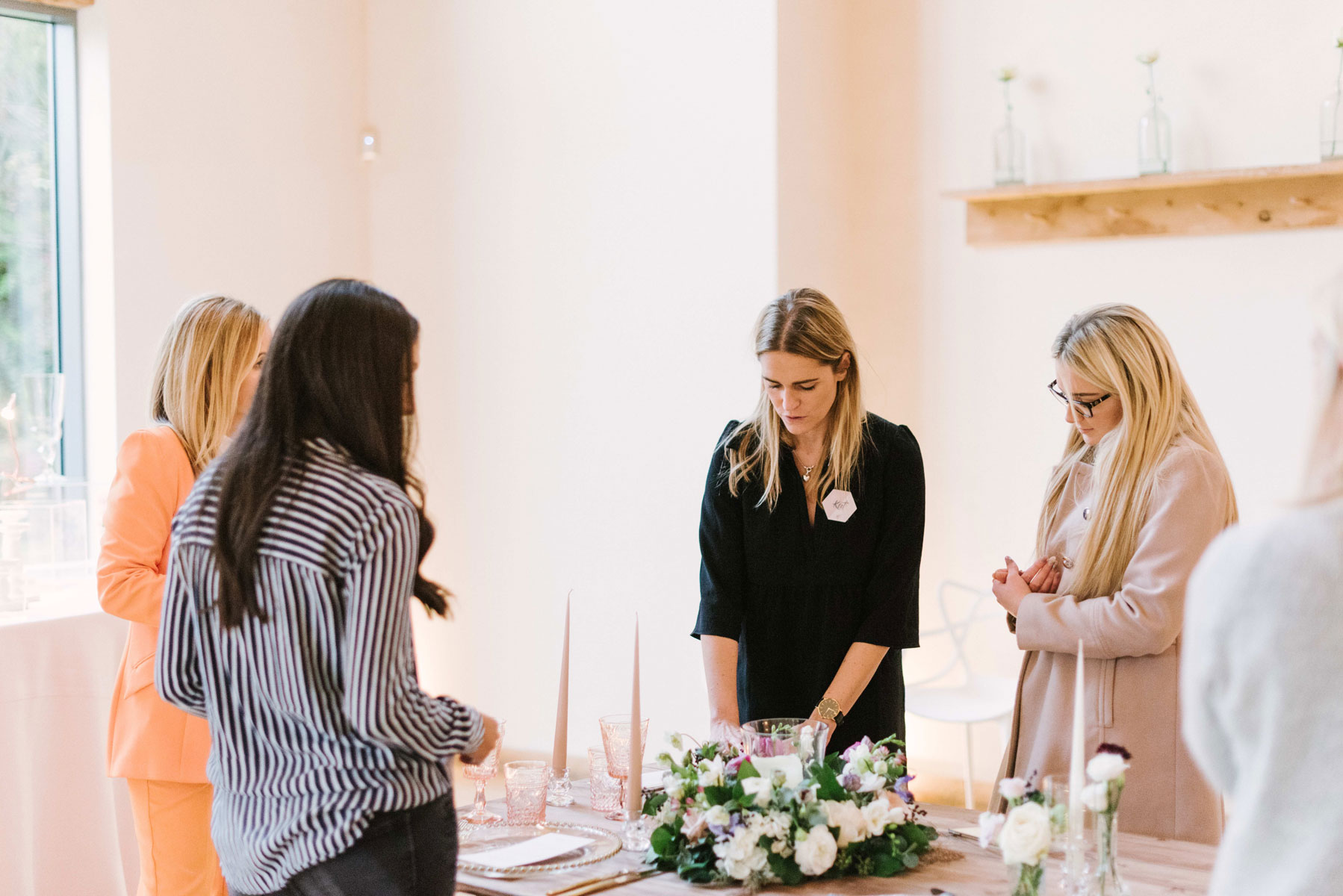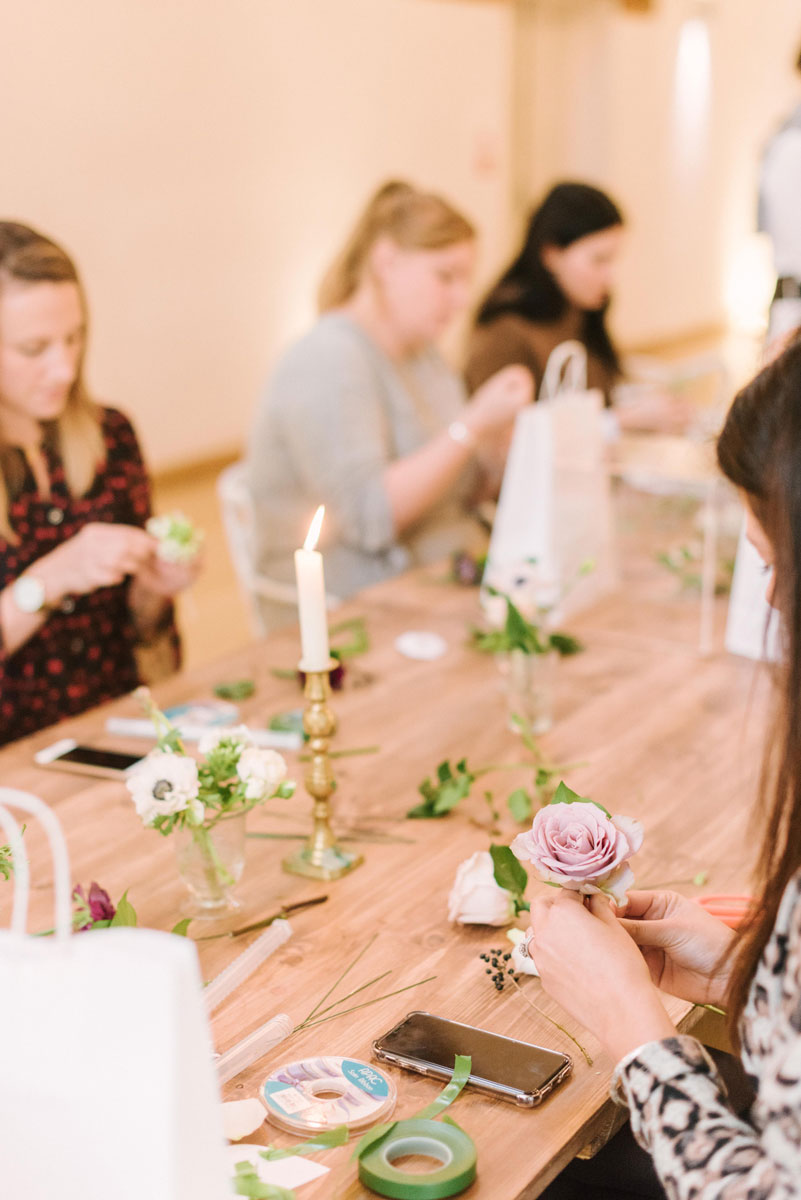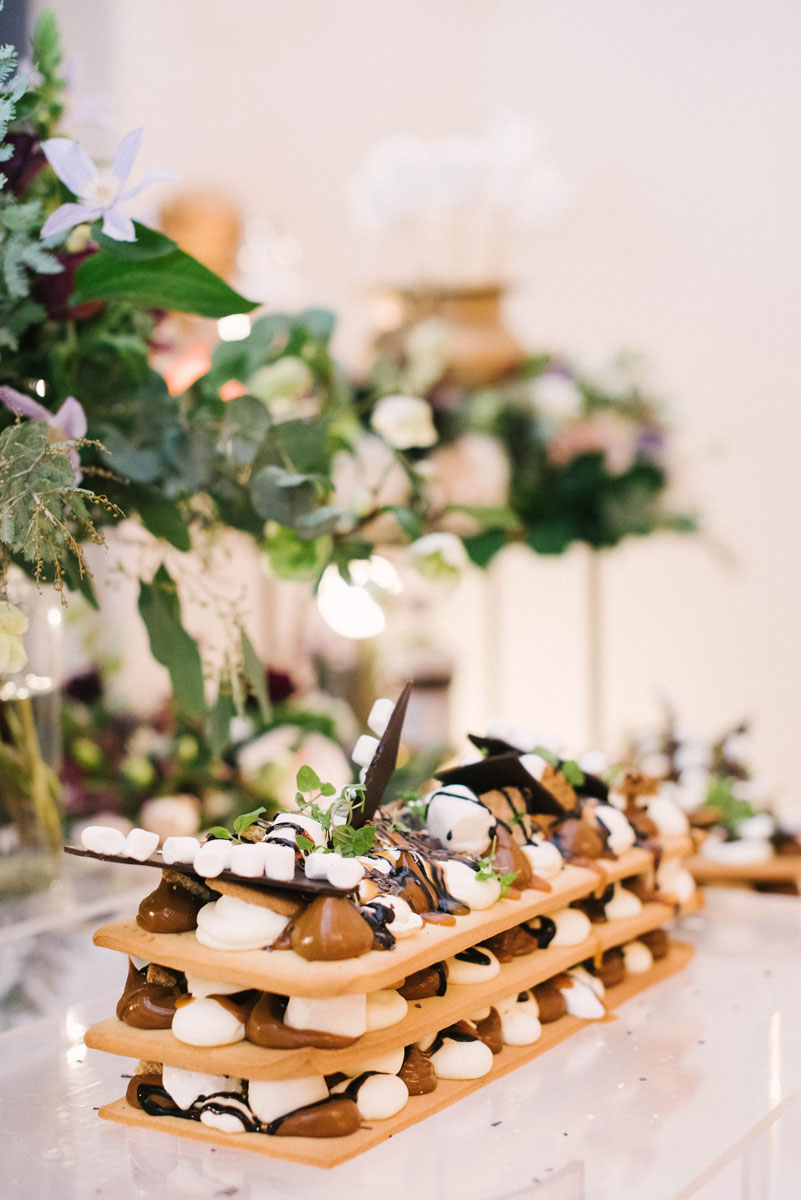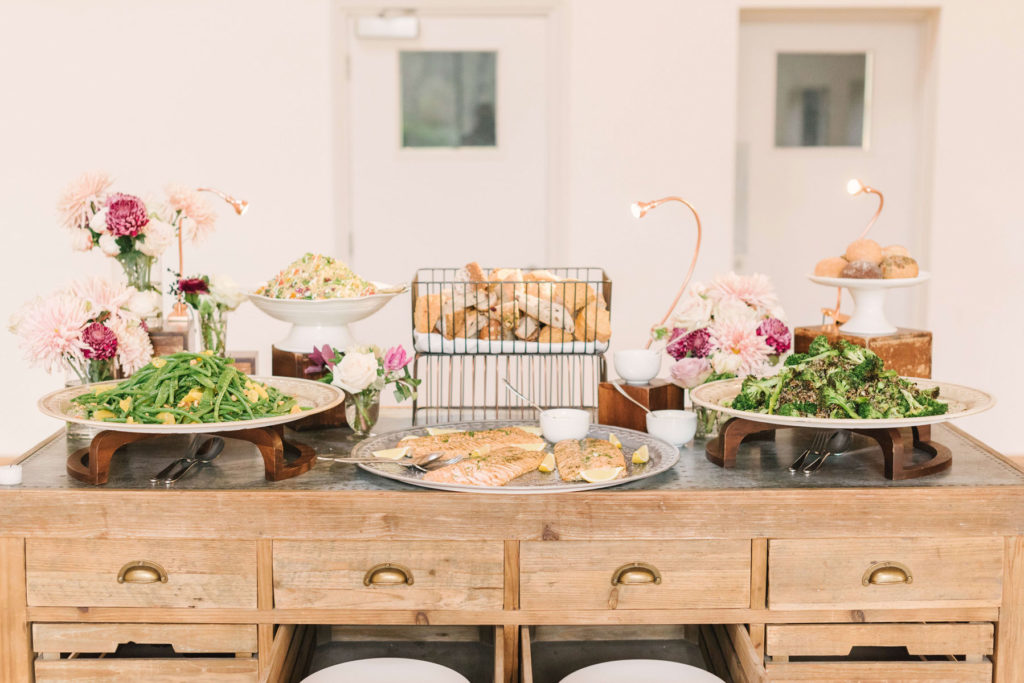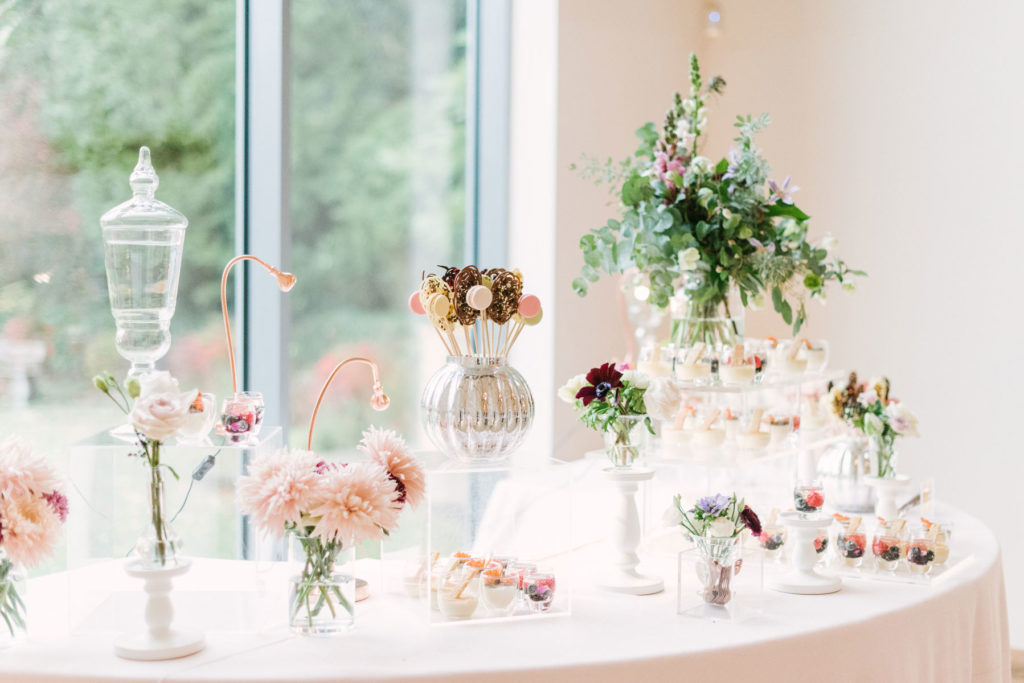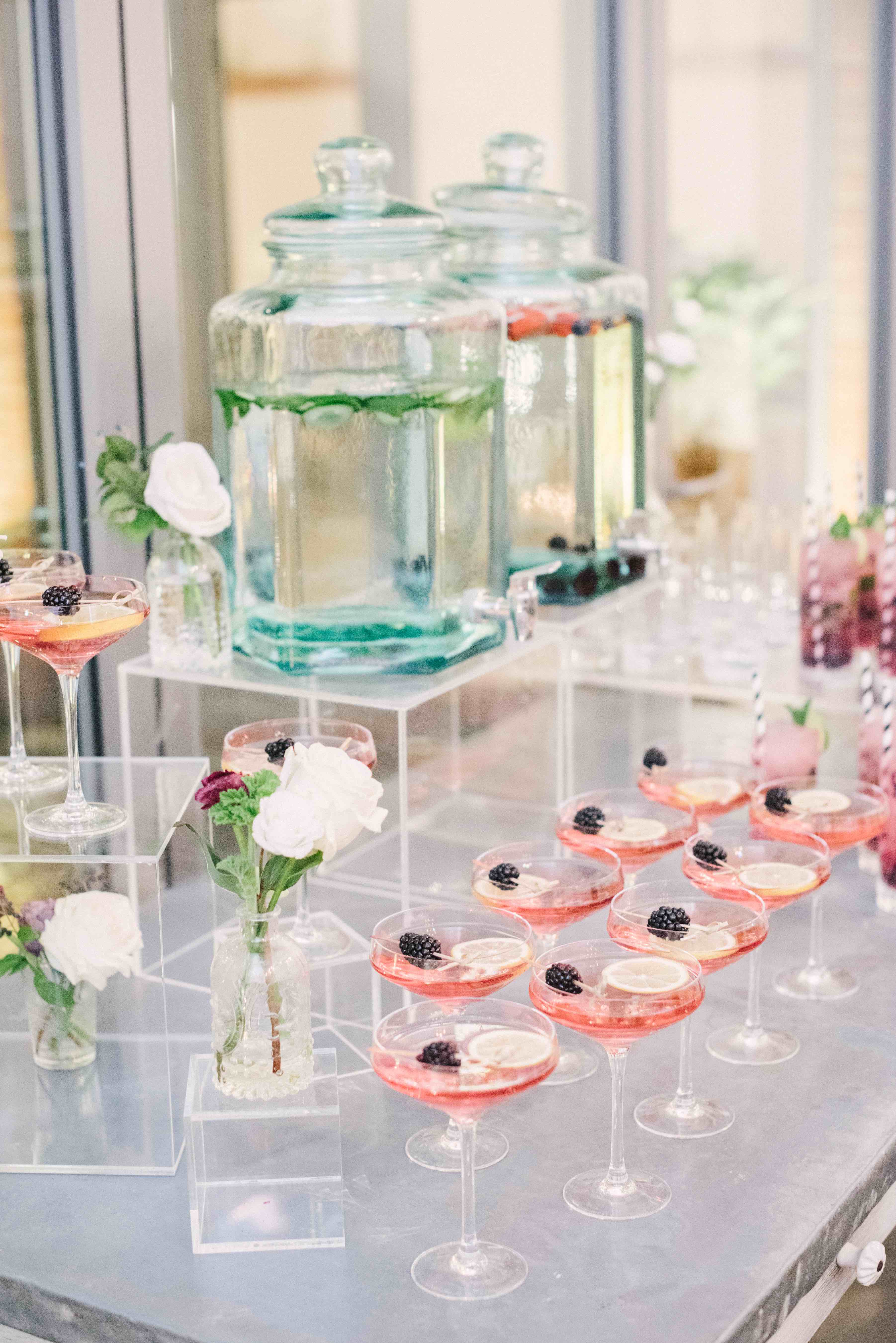 News : 25 / 02 / 19
10 Questions with Hannah Berry Flowers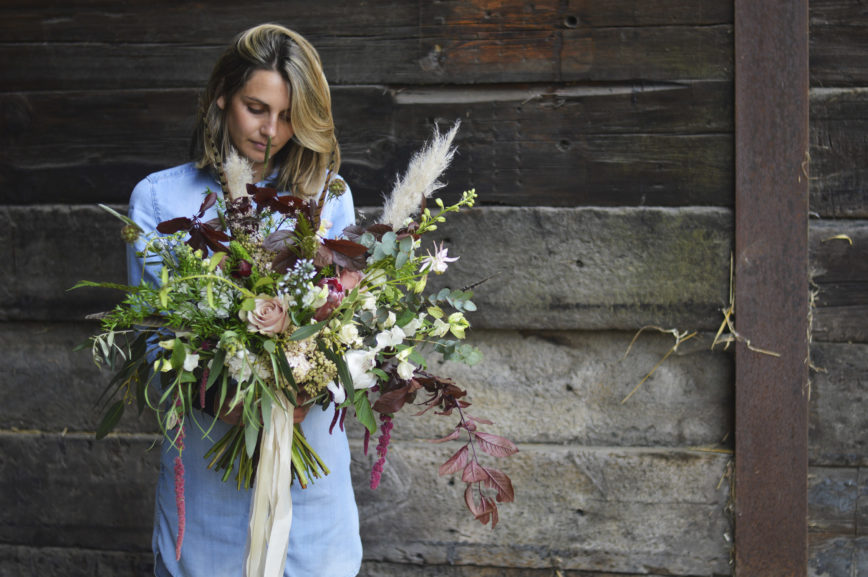 1. How did your passion for floristry come about?
Ever since I can remember, I've have always had a passion for flowers! The home is never complete without a flower in a room. I have always loved growing them, picking them and making things with them, whether it was creating pressed flower cards (when I was young) daisy chains in the garden, or drawing or painting them. Whilst working as a waitress at a local wedding venue through my uni years, I used to get excited to see the flower scheme arrive for that weekends wedding & I think that may have been where it all began!
---
2. When did you make the leap to setup HBF & create flowers for gorgeous Wedding Days & what drew you to Weddings in particular?
Floristry was a career change for me … having worked in the television industry previously as a camera operator and editor, I found the job wasn't fulfilling my creative side enough, so out of curiosity and love for flowers I looked into work experience in a local florist shop.
My work experience soon turned into a full time position. Without any qualifications in floristry, I longed to further my knowledge and learn new technical skills, so I enrolled on a course at Merrist Wood Agricultural college where I studied and gained my Level 3 in Floral Design. This provided me with the skills, technical ability and confidence to work as a freelance florist. For two years I enjoyed working with various inspiring and creative floral designers and from this point, I just knew creating wedding flowers was the career for me. In 2013 HBF was born and I haven't looked back since.
---
3. How would you describe your style of floristry?
It took a while for my style to evolve, but I can strongly see now my signature style is natural, earthy and organic for sure! Always lots of detail and texture and many of you will know I often love to add the odd Pheasant feather in!
---
4. What can couples expect when they choose you to create their dream Wedding Flowers? 
The design process and building a working relationship with each client is the most important part to providing the perfect flower scheme.
Getting to know & understand the clients is crucial, so I always ensure that the design process is thorough. This can also be the most challenging part, as often the clients know little about flowers and it's my job to take on board and understand their thoughts, ideas and inspiration and turn this vision into a reality.
These lengthy design meetings happen in my studio and I provide bespoke detailed proposals and mood boards throughout the course of meetings.
I never commit to more than 1 wedding a day as I want to provide all my clients with an exclusive service. It will always be myself who delivers the flower scheme alongside my team and we will always be onsite for the day to deliver and install, pin on the buttonholes/corsages and transport all the flowers from the ceremony area to the wedding breakfast room after the ceremony has taken place. We always ensure that every detail, no matter how small, is absolutely perfect before we leave the venue.
---
5. What do you love most about what you do?
My favourite thing about creating flower schemes is starting with a crips blank piece of paper (normally the year before) and seeing the ideas and creations evolve. Delivering the bespoke flower scheme on the day of the wedding is the cherry on the icing and knowing you have worked hard alongside your clients to develop and create their dream flowers.
---
6. What top tips & advice do you offer couples along the way?
I am always keen in using seasonal flowers (although most varieties of flowers are available all year round now.) It keeps the designs fresh and the flowers are usually better quality if its the right time of year for them.
---
7. What floristry trends are you seeing for 2019/2020?
I can see grasses (all different heights and varieties) especially Pampas Grass are going to be very popular next season! Great for me as I love a grass : )
---
8. What do you love the most about Millbridge Court?
Whats not to love … when you first enter through the front door, I always feel the need to take my muddy boots off as its like walking into a really homely room with the lush pink sofas and the smell of the scented Neom candle burning! Then theres the 2 stunning barns which are a complete blank canvas for decor and styling. I feel this sets the foundations to each unique flower scheme. I often say the views from the outside ceremony space looks as though you are looking through a frame at a stunning oil painting landscape, with the odd cow grazing away. And the hidden bridal cabin (The Hideaway) – simply magical!
---
9. Outside of creating beautiful Wedding Flowers, what other hobbies/ passions do you have?
Walking Dug (my very naughty Cocker Spaniel) pottering and growing flowers in my flower cutting garden, crocheting, painting and sailing (not that I get much time to do the latter!)
---
10. What are your three favourite industry professionals/ brands to follow on Instagram?
@local_milk (blogger & creative)
@the_blue_carrot (Florist)
@floretflower (Florist)
---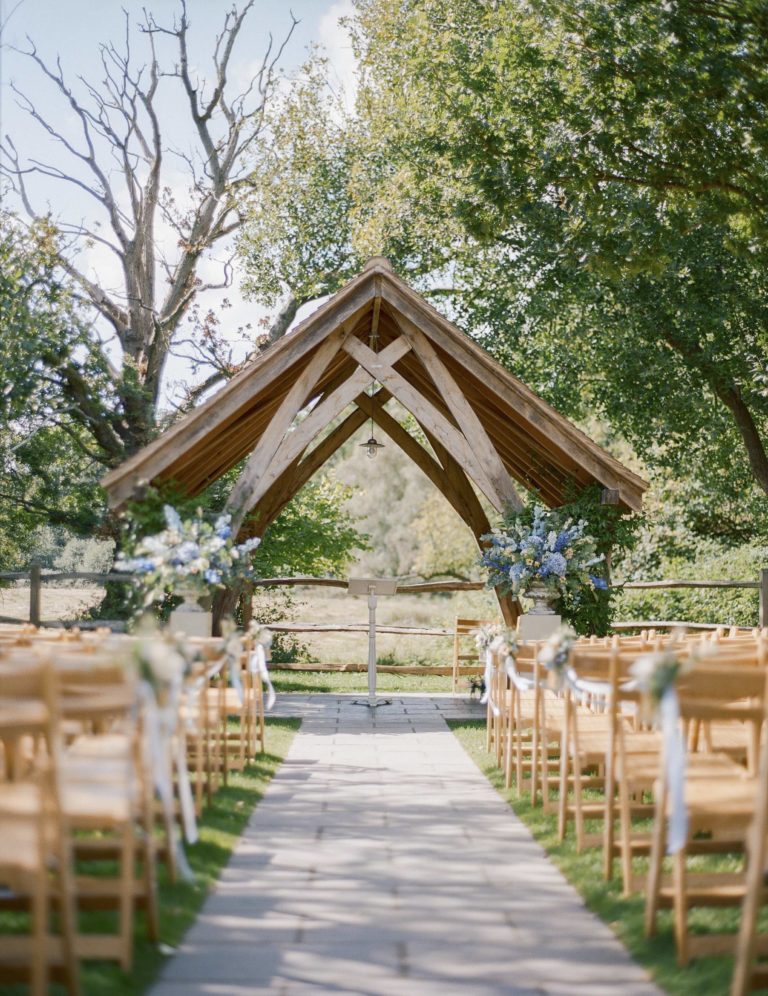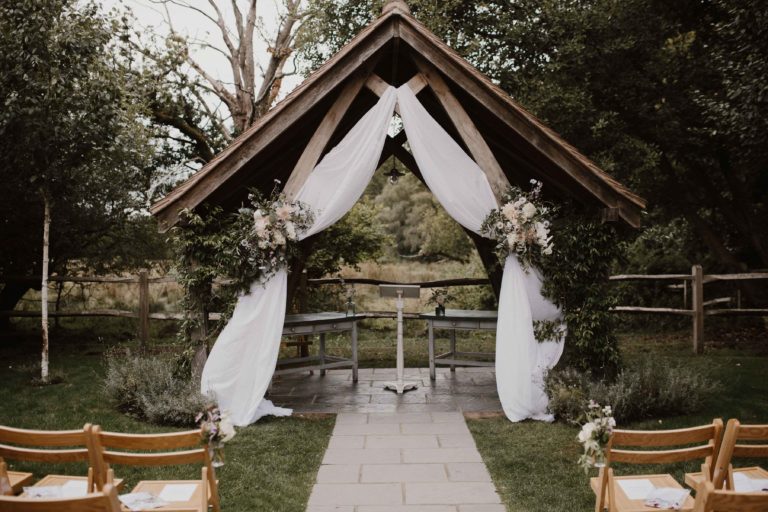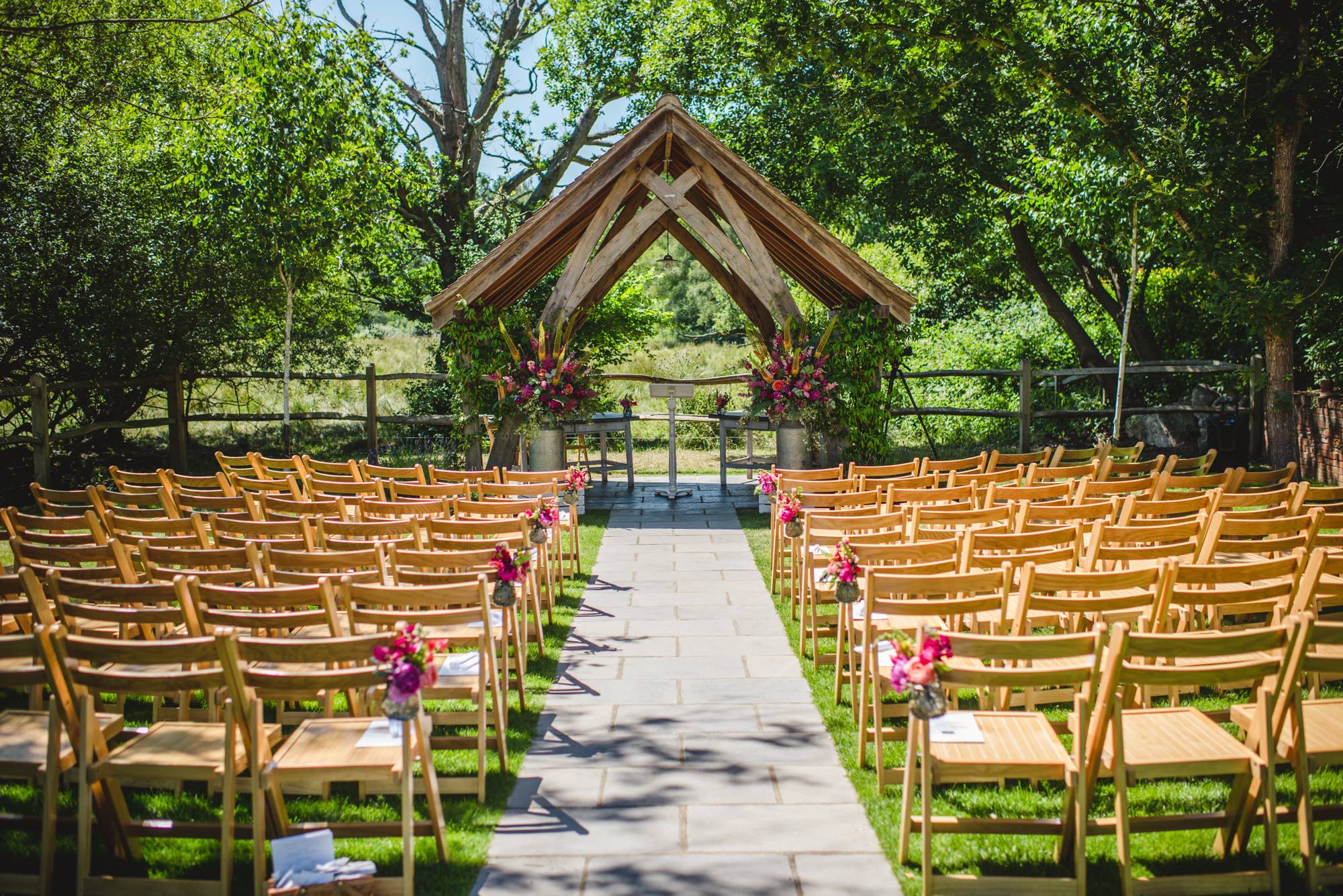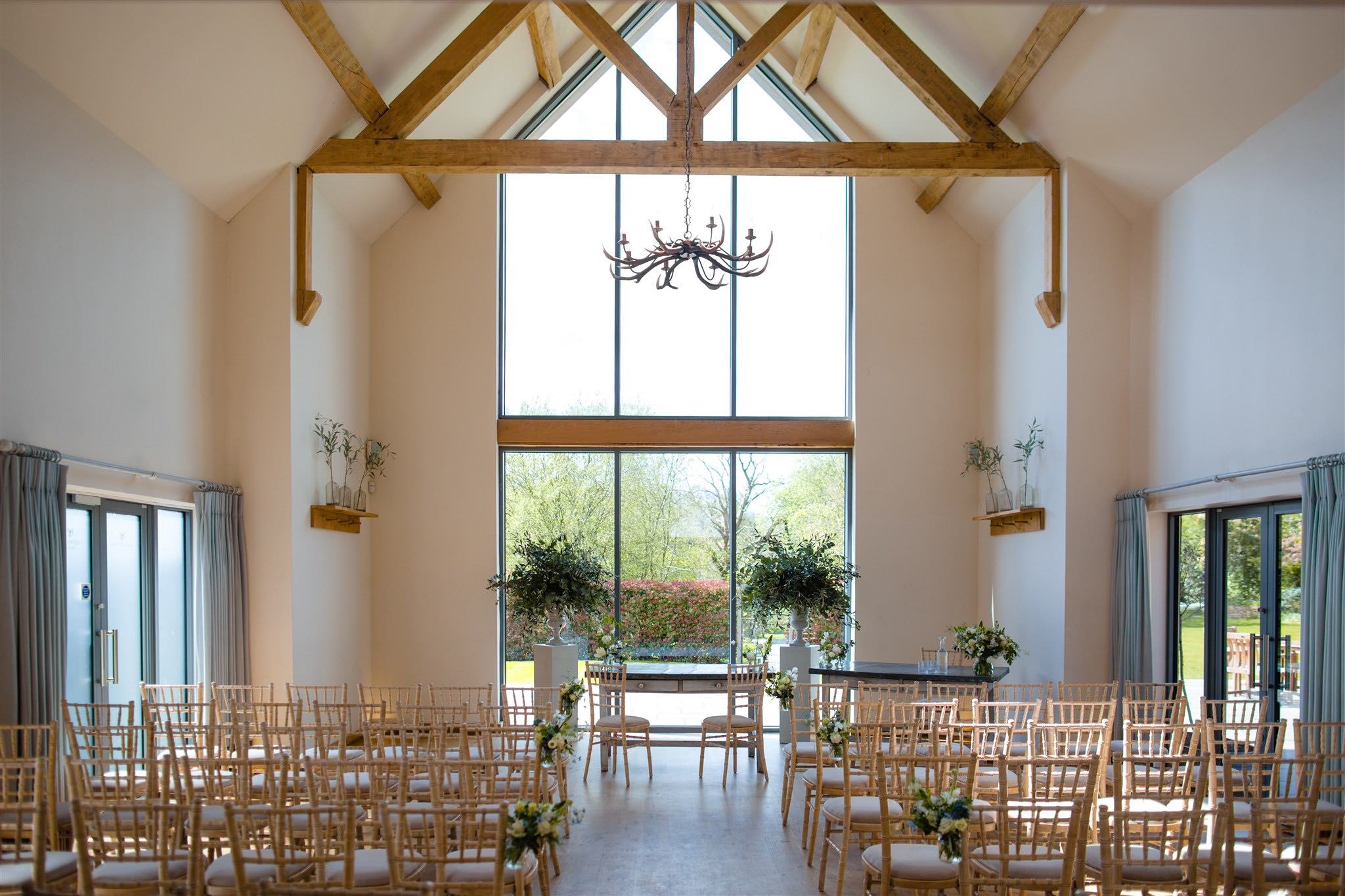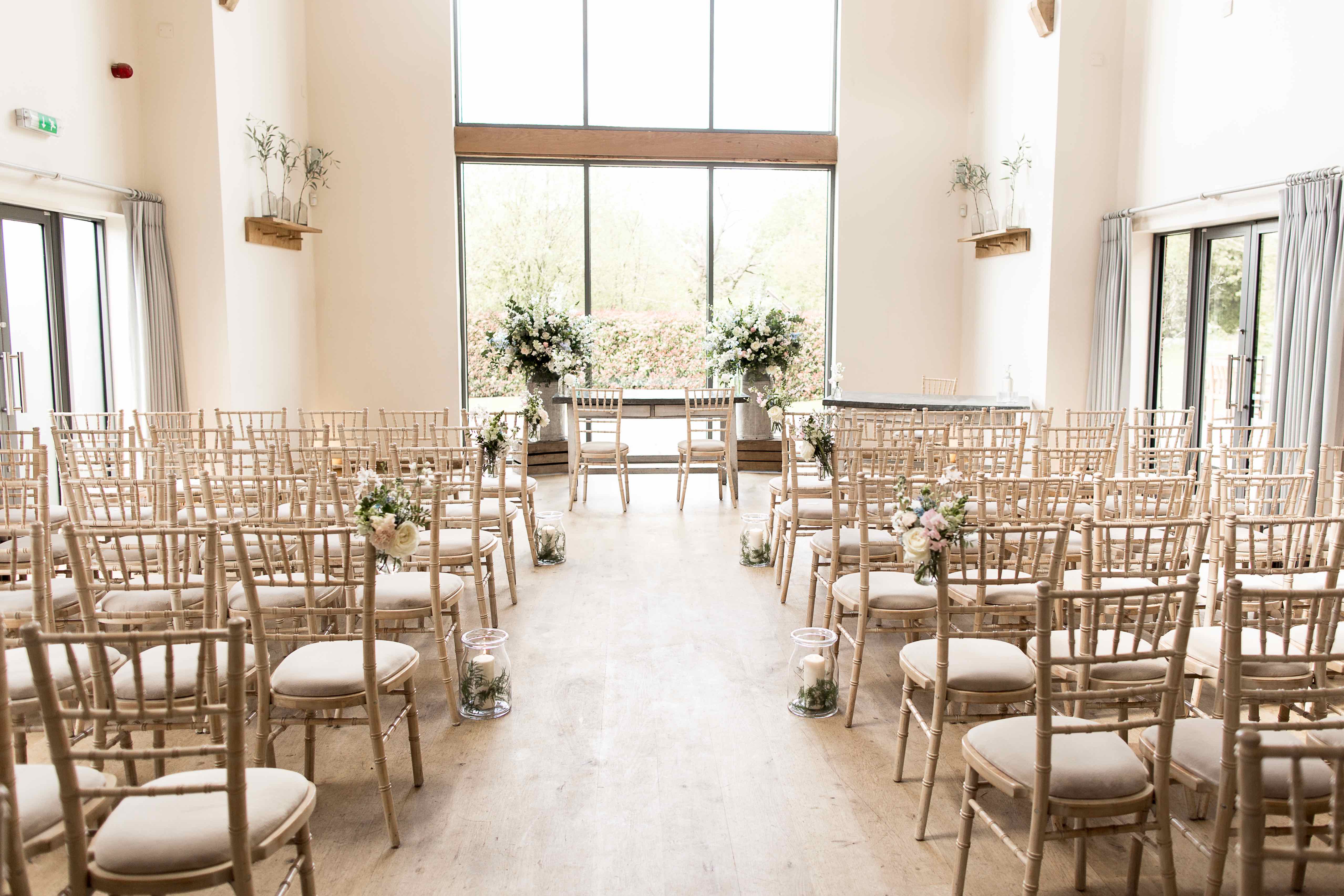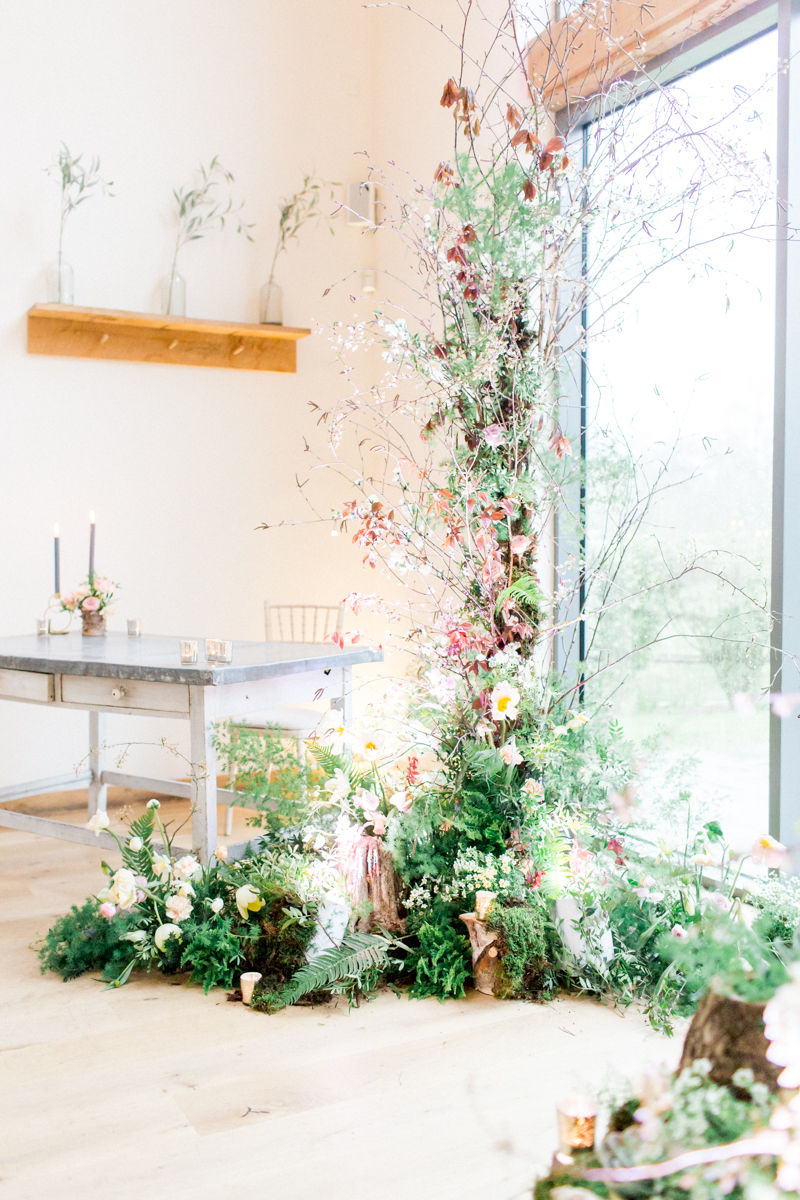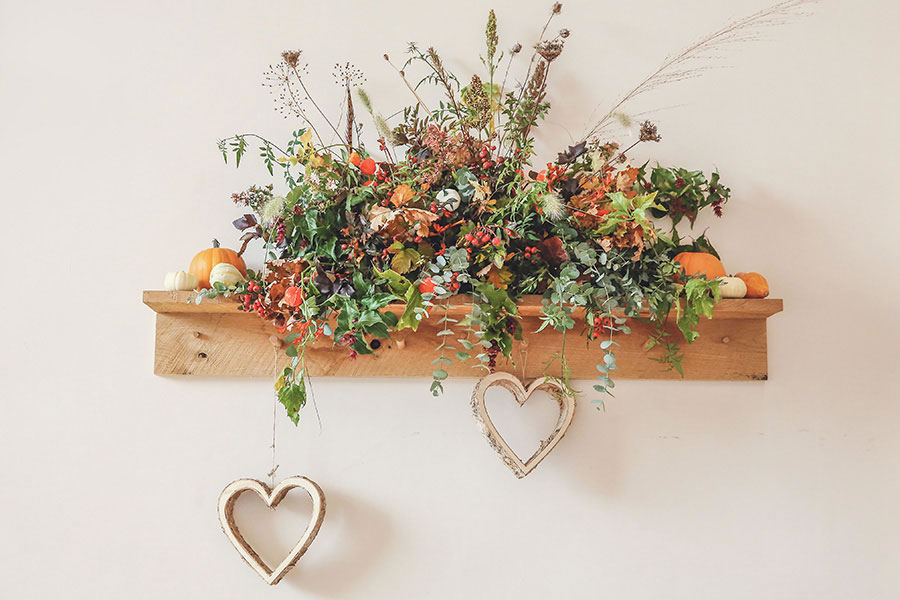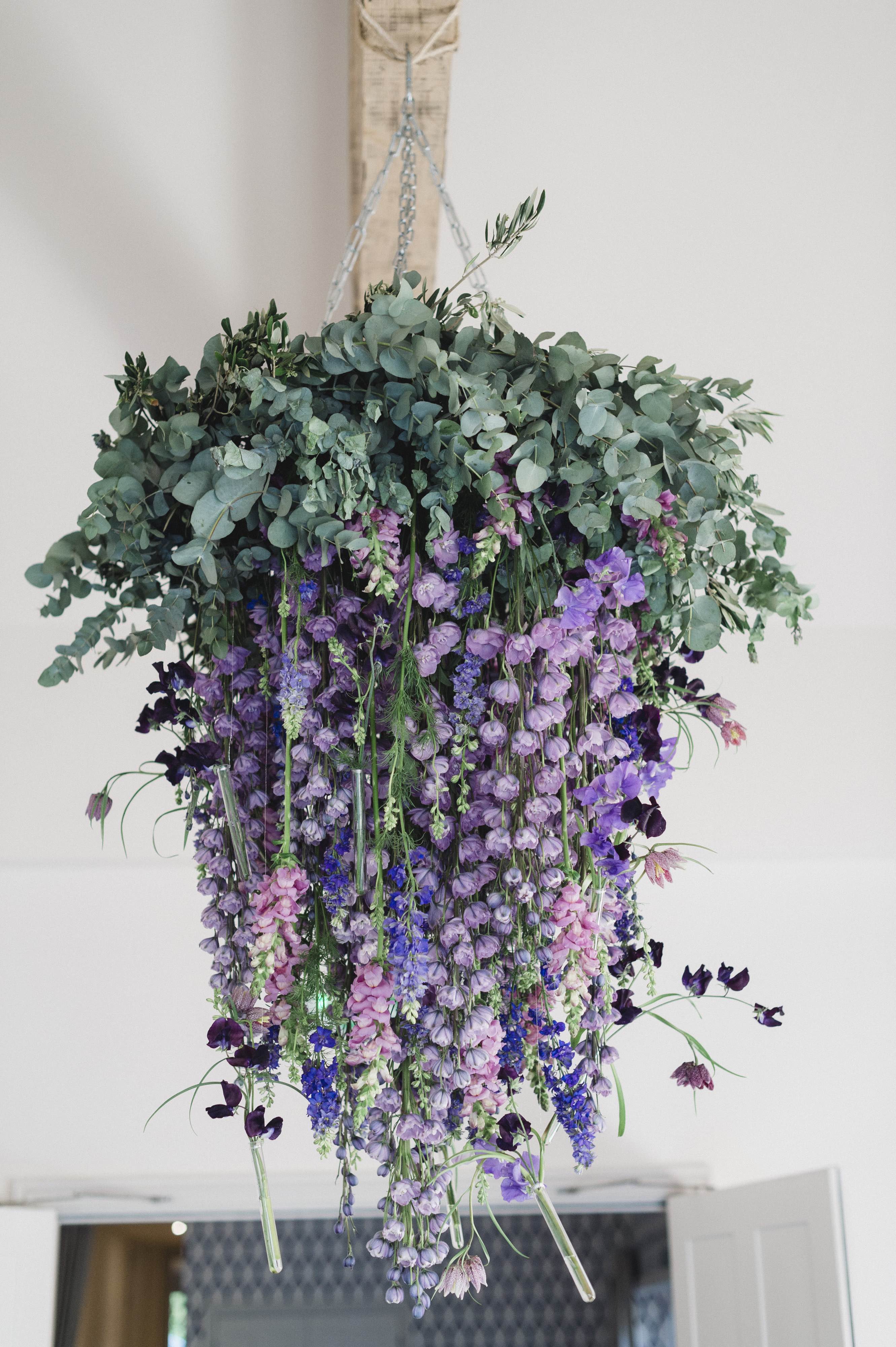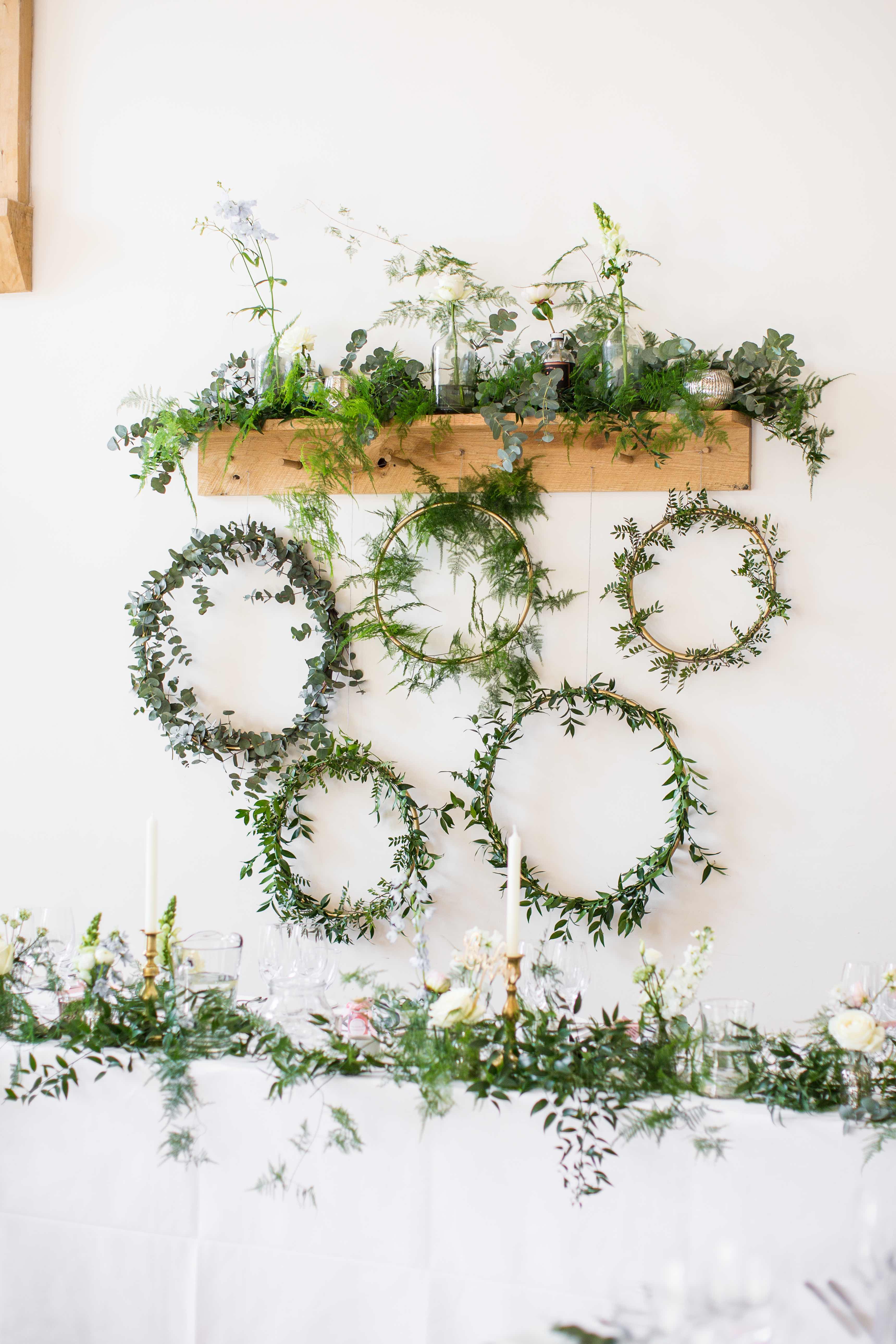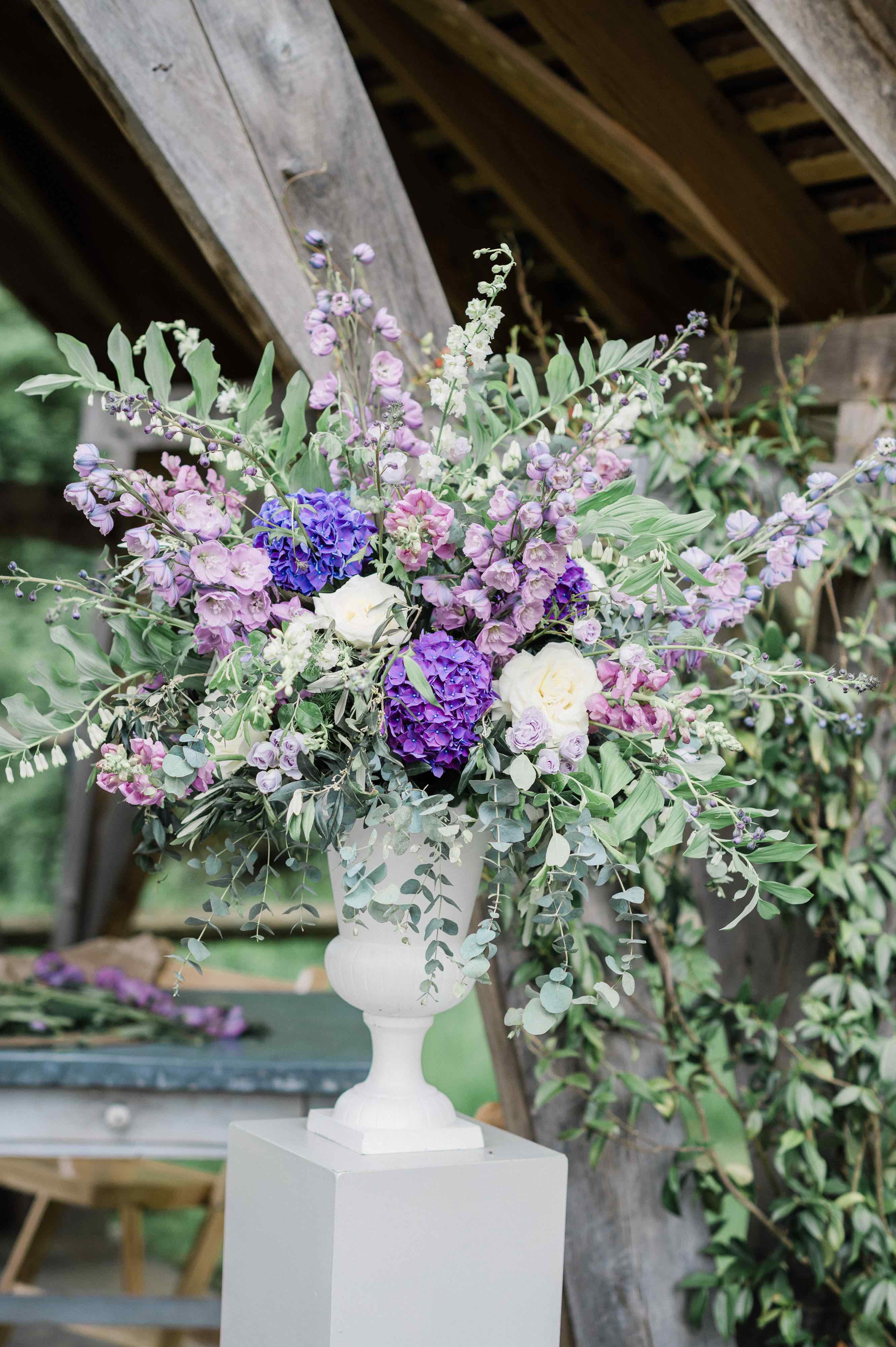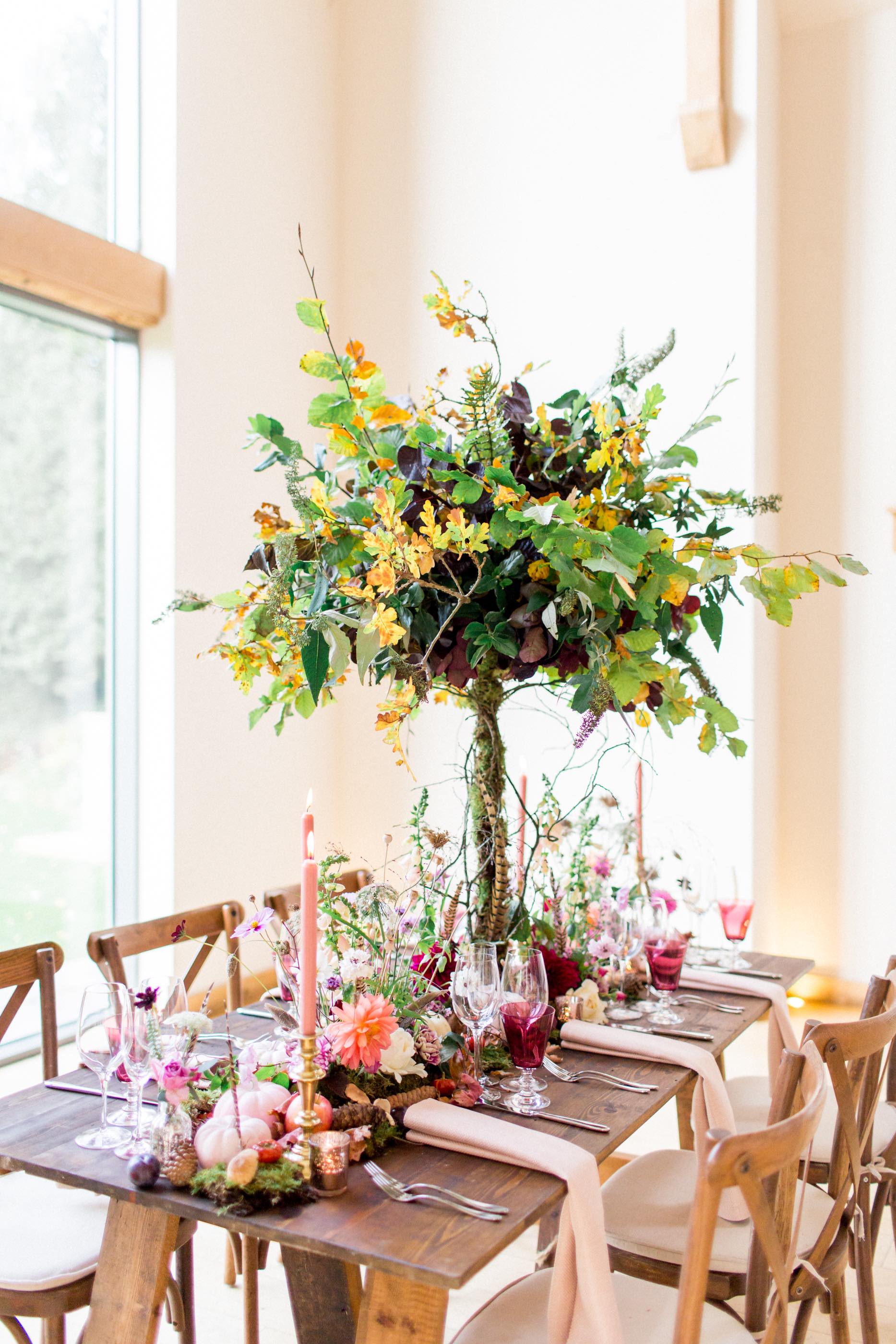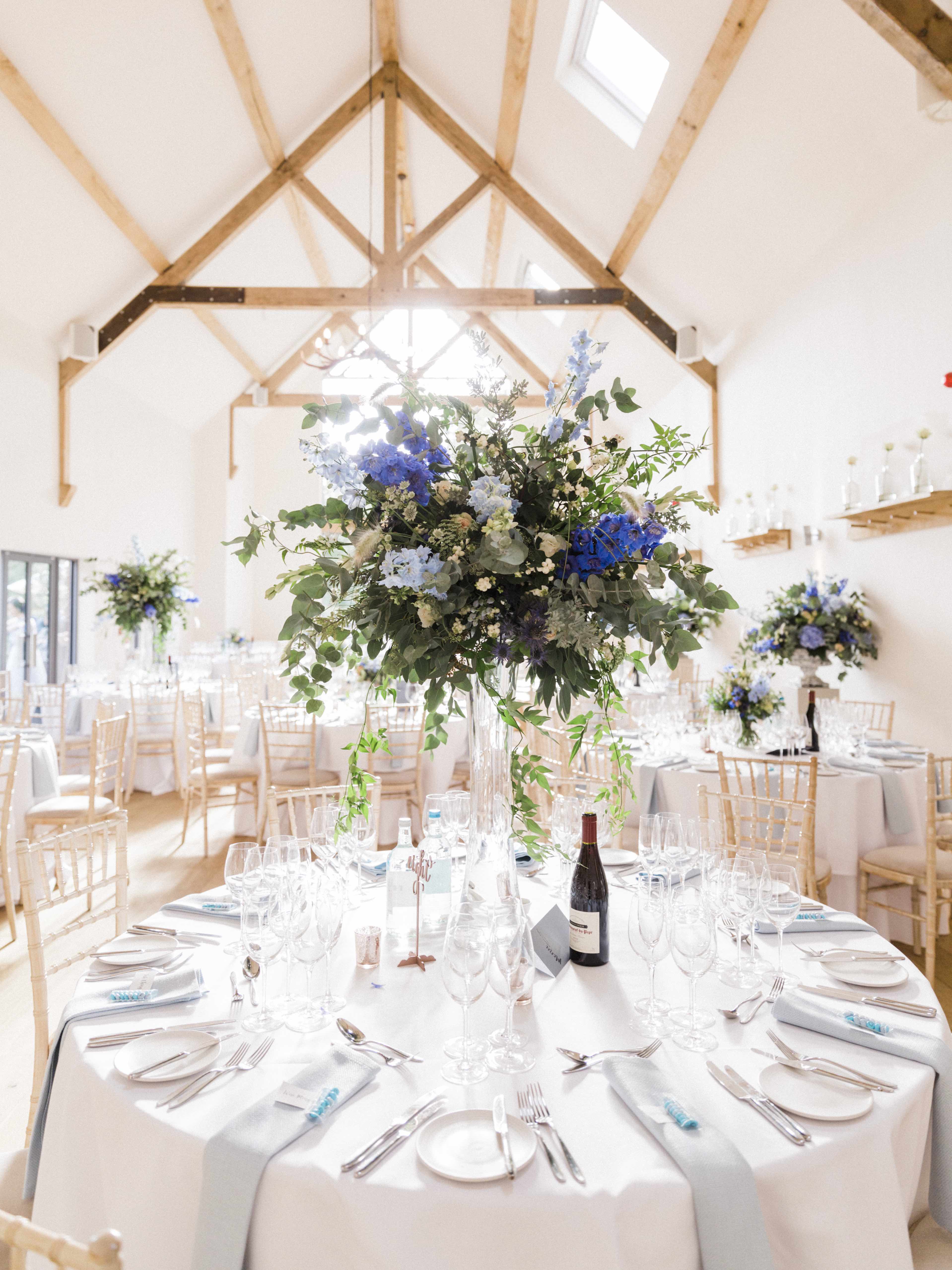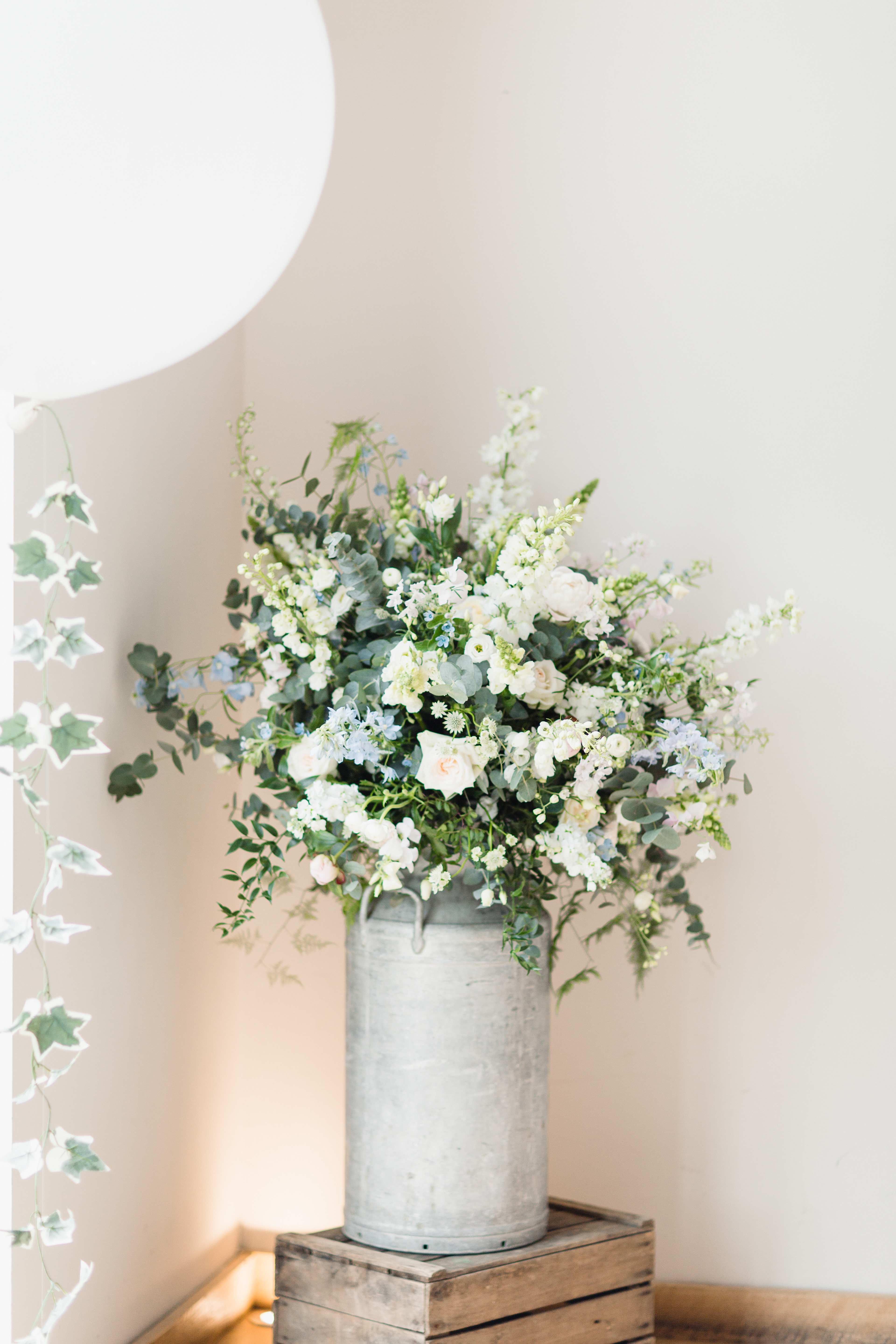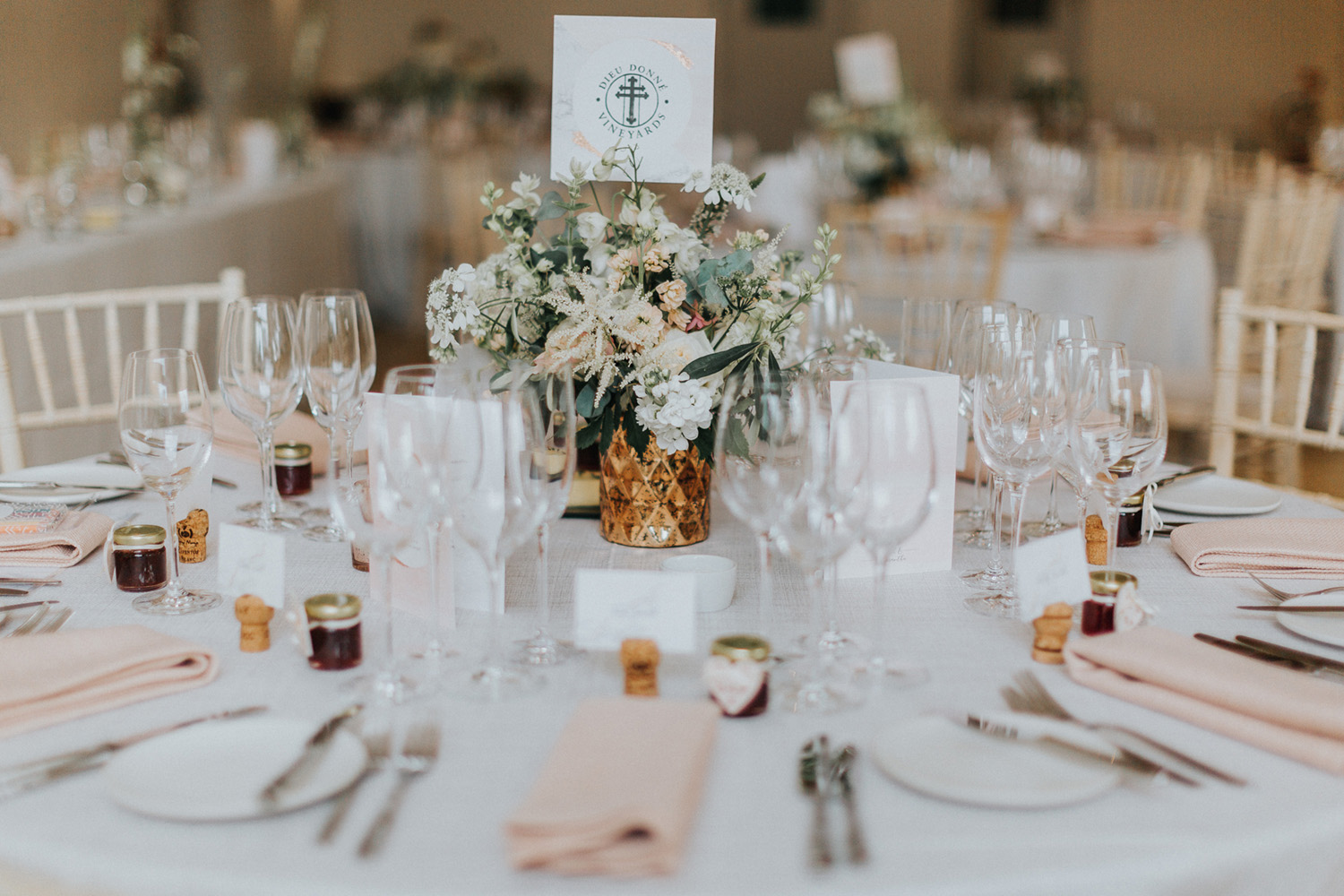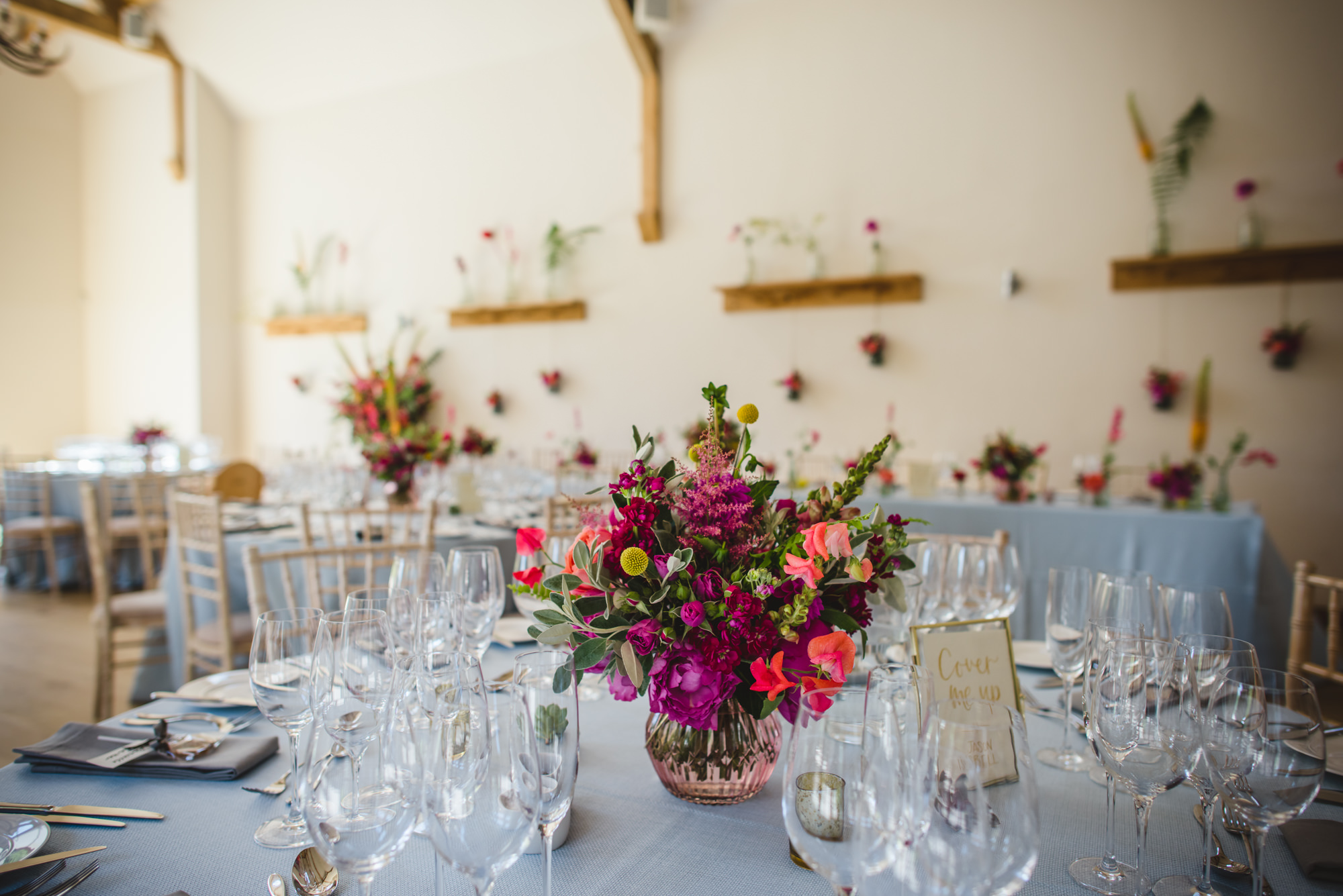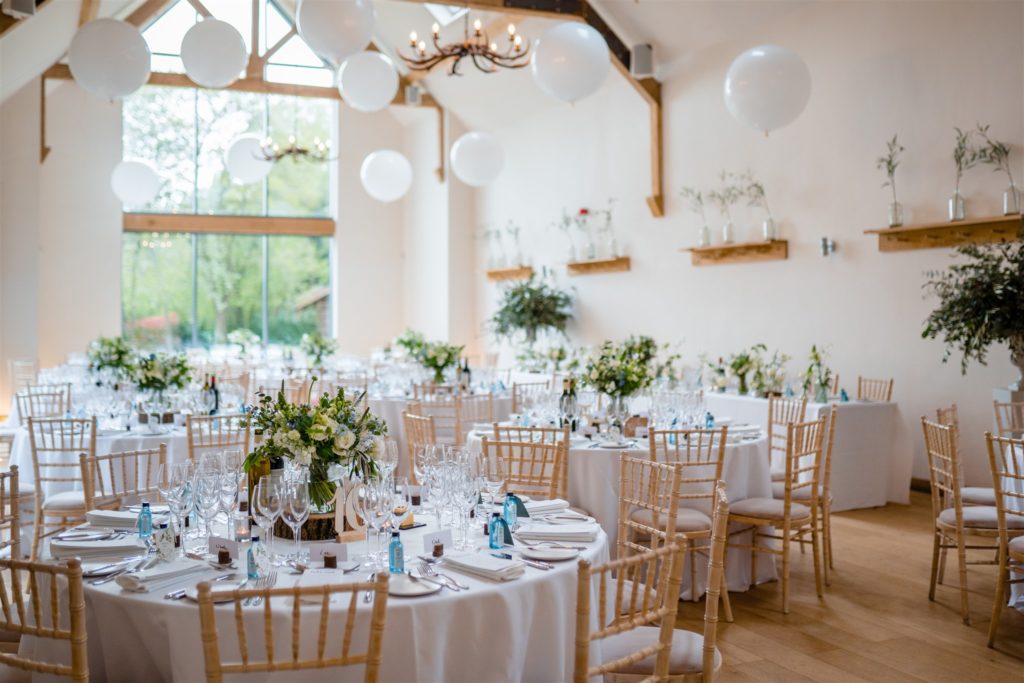 News : 25 / 02 / 19
#marriedatmillbridge in 2018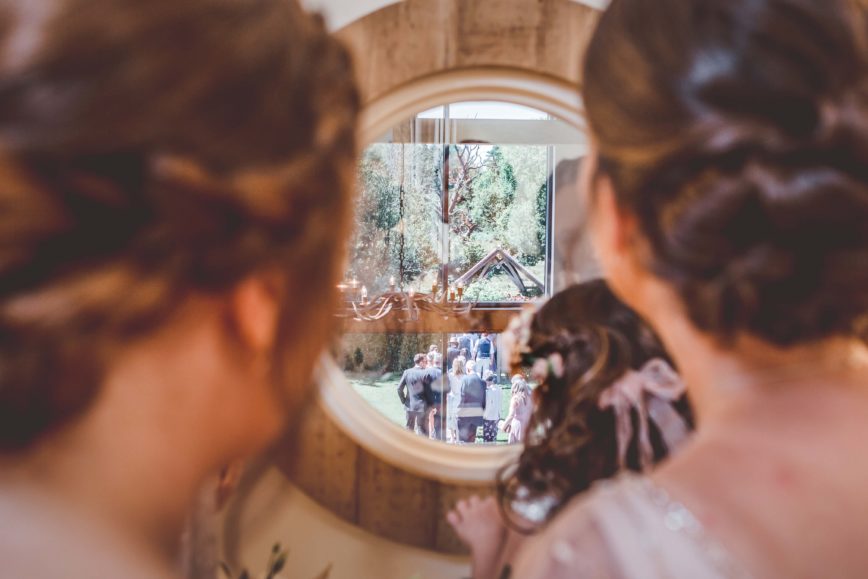 Well, what an unbelievable year we have had here at Millbridge Court, filled with gorgeous Wedding Days, inspiring industry events, stunning Tasting Evenings & celebrations & much more.
2018 has also seen some really exciting changes here at Millbridge Court, with the renovation of the Bridal Changing Room, the extension of the Outdoor Ceremony aisle & the creation of our Secret Garden; a tranquil space in front of The Hideaway that our Brides & Grooms get to enjoy throughout their Wedding Celebrations, & with our desire to always keep evolving, we can't wait to see what the next year will bring.
Thanks to the plethora of talented industry professionals who we are lucky enough to work with & who transform & capture the Venue on a weekly basis, we can share so much inspiration with all of our followers. From all of us here at Millbridge, we want to wish you all a very Happy New Year!
Xx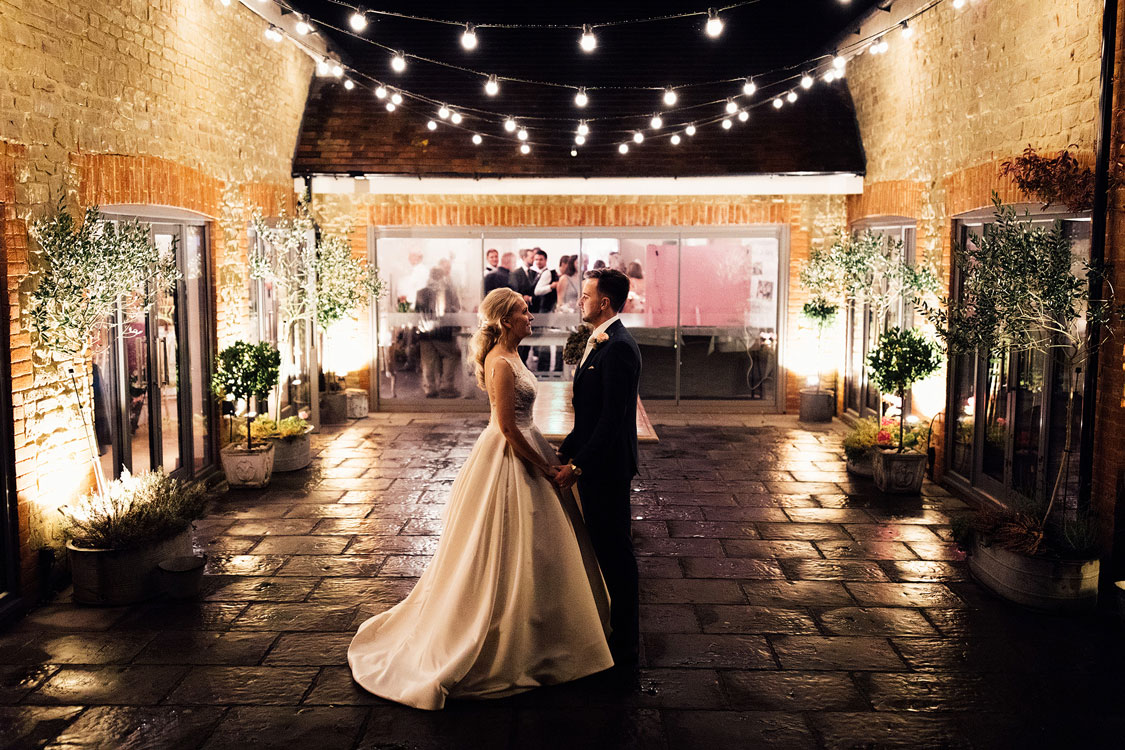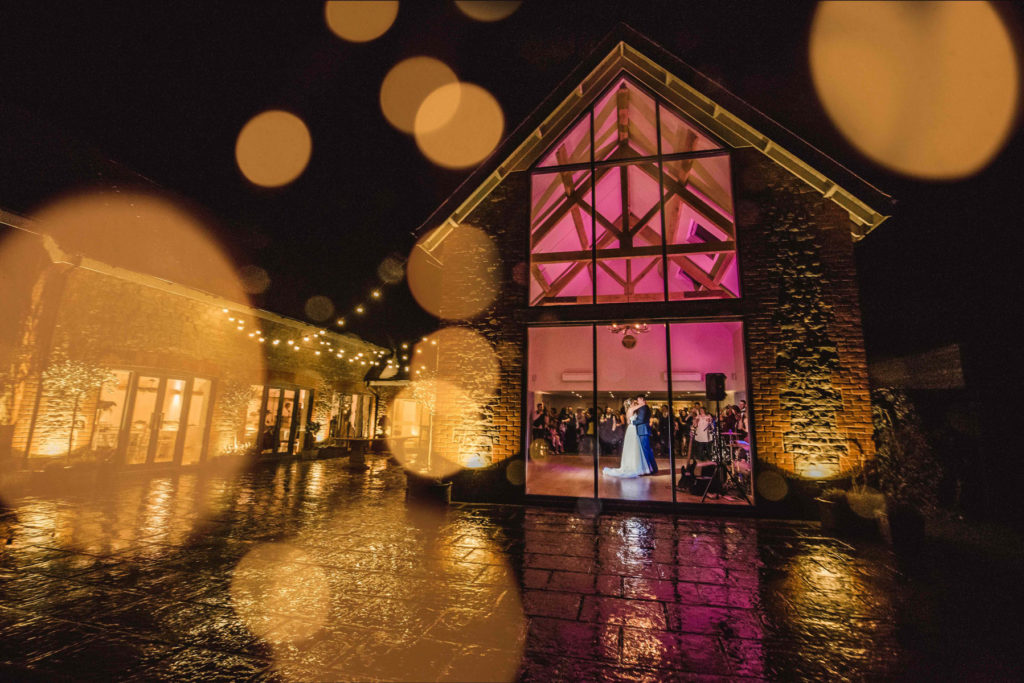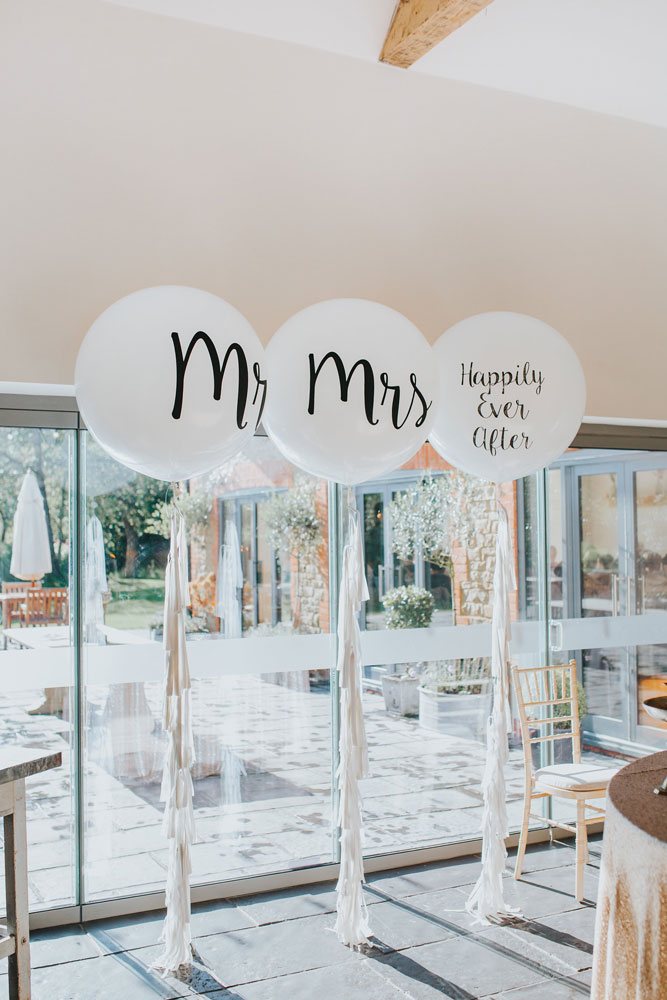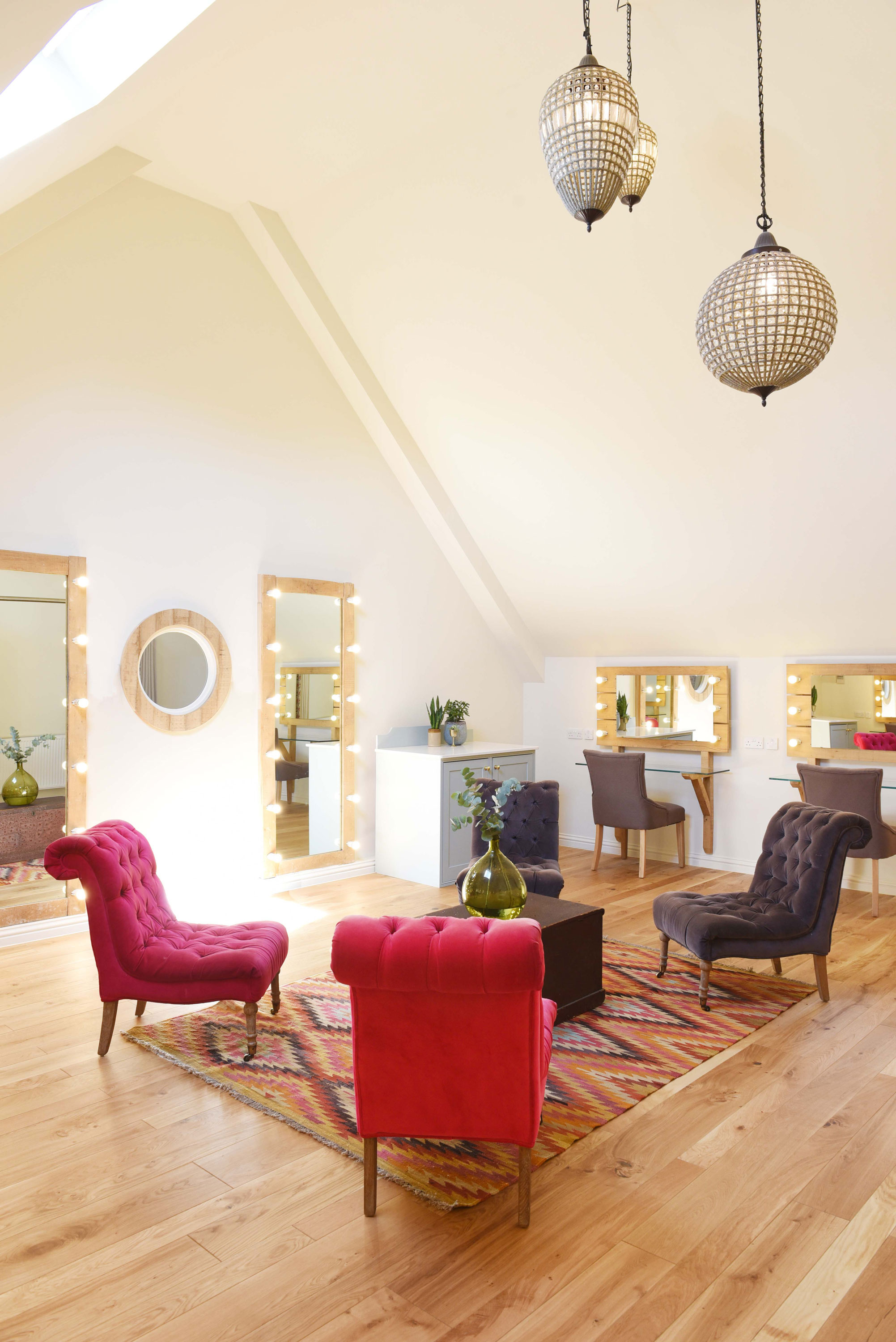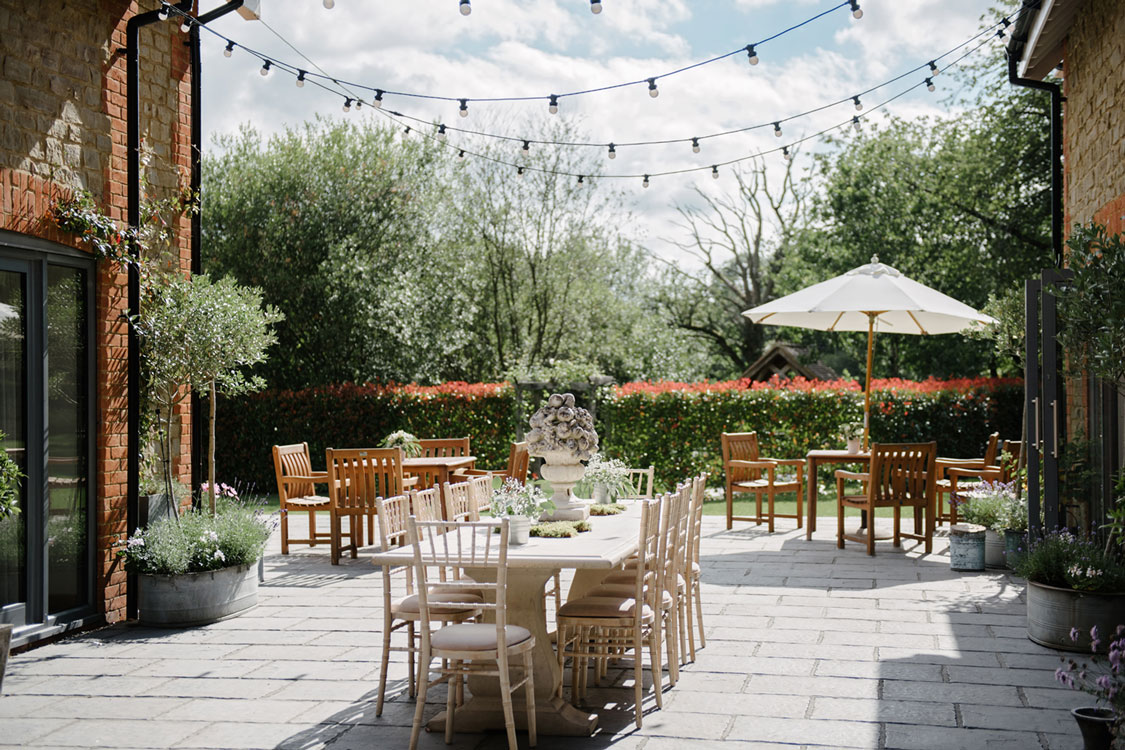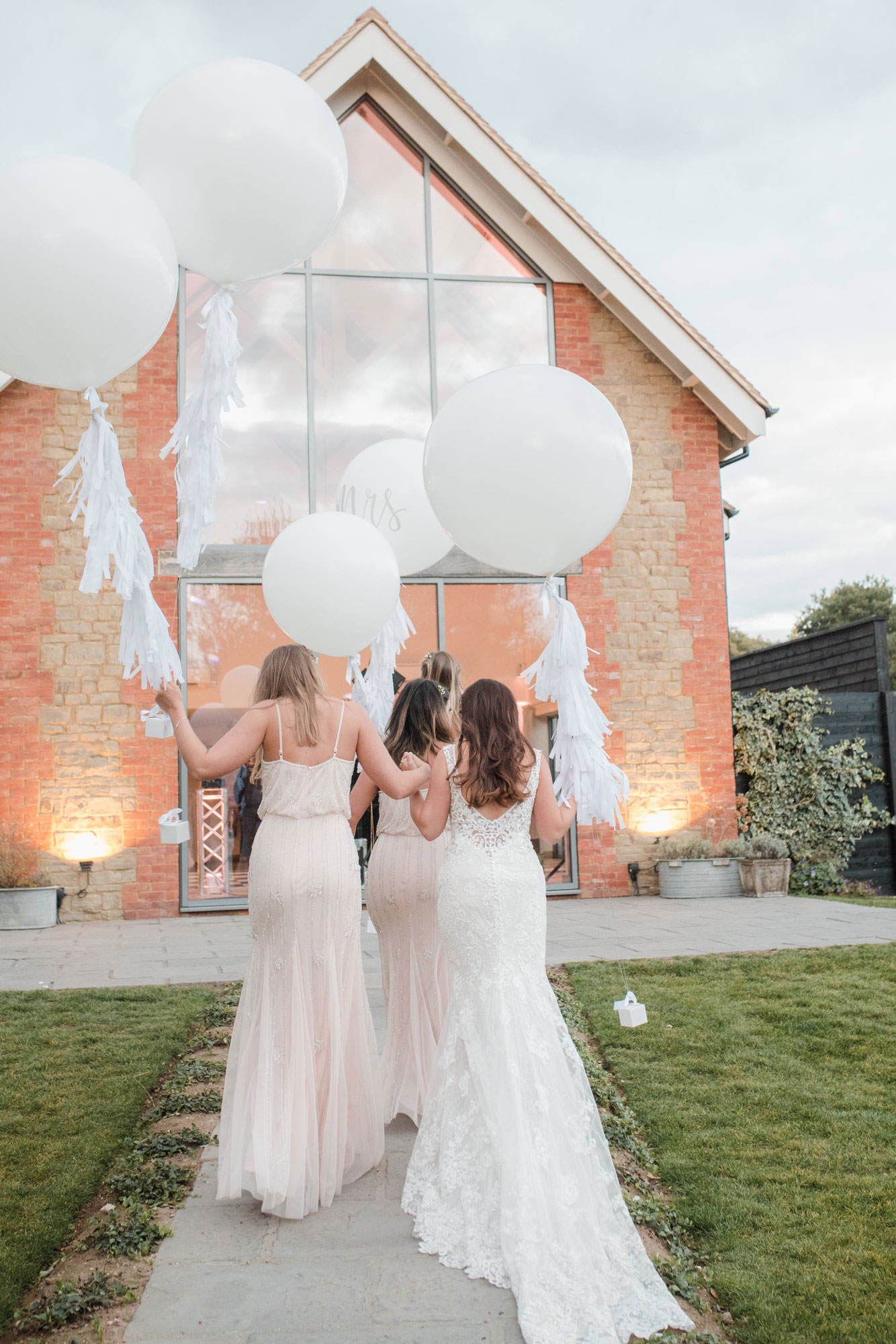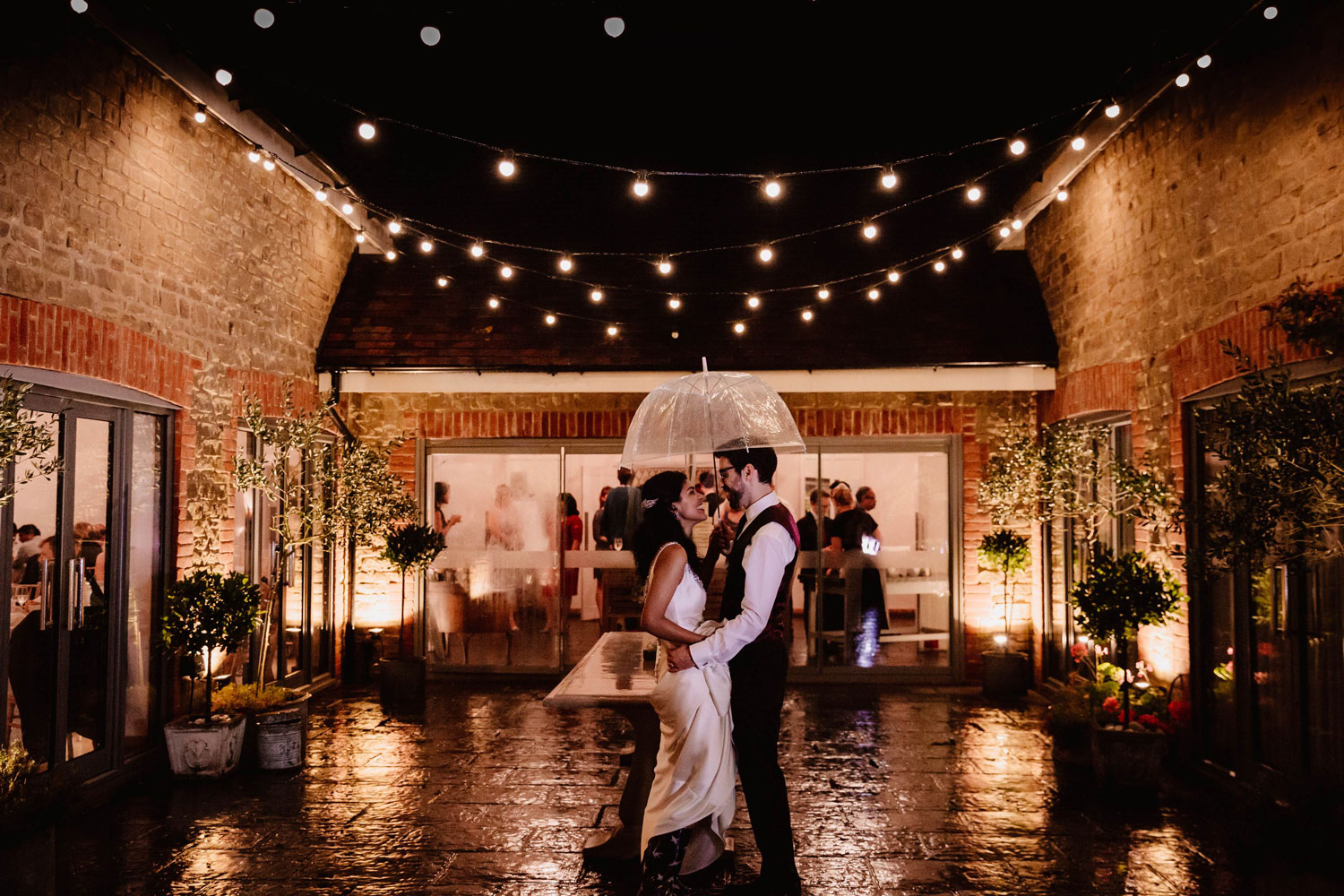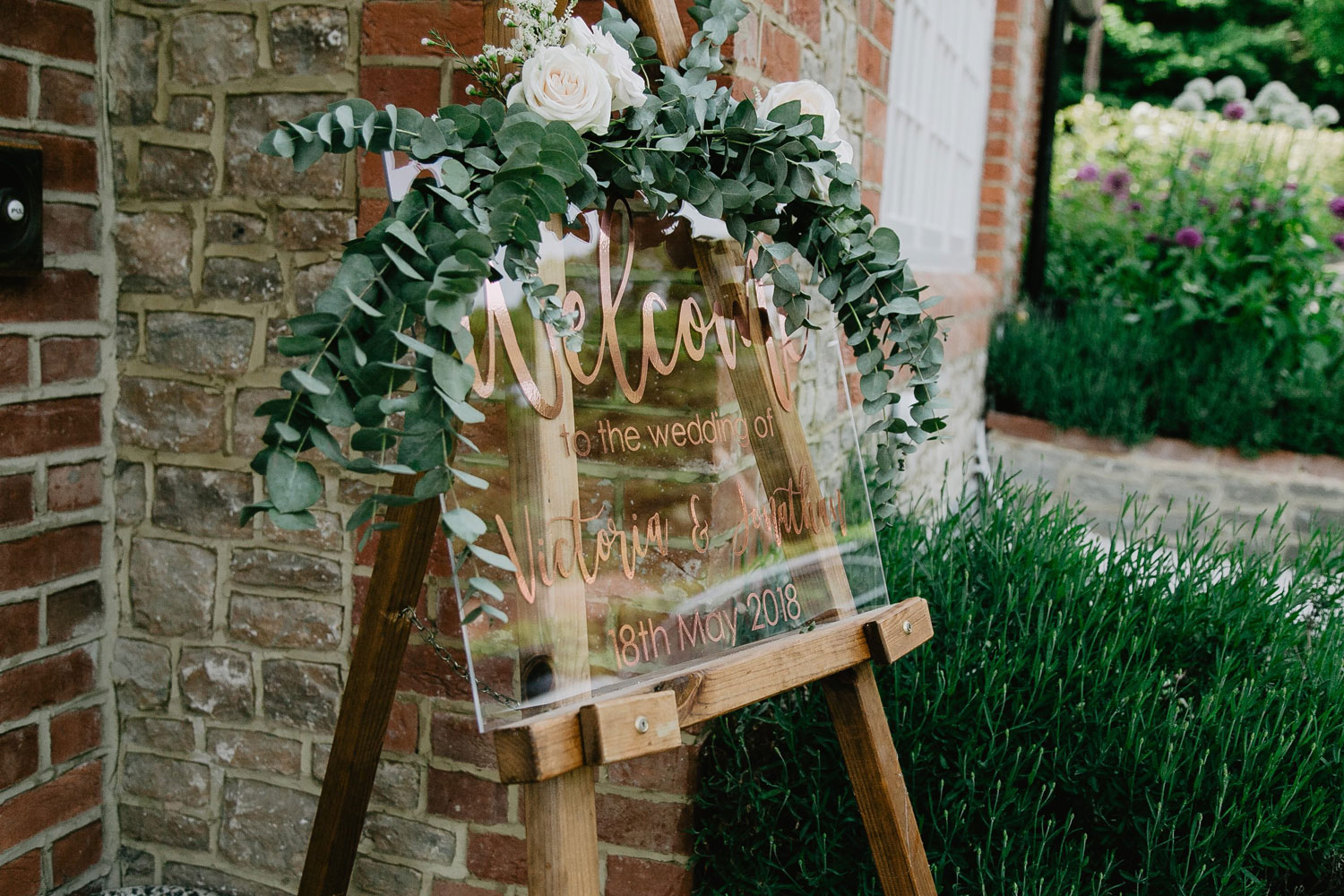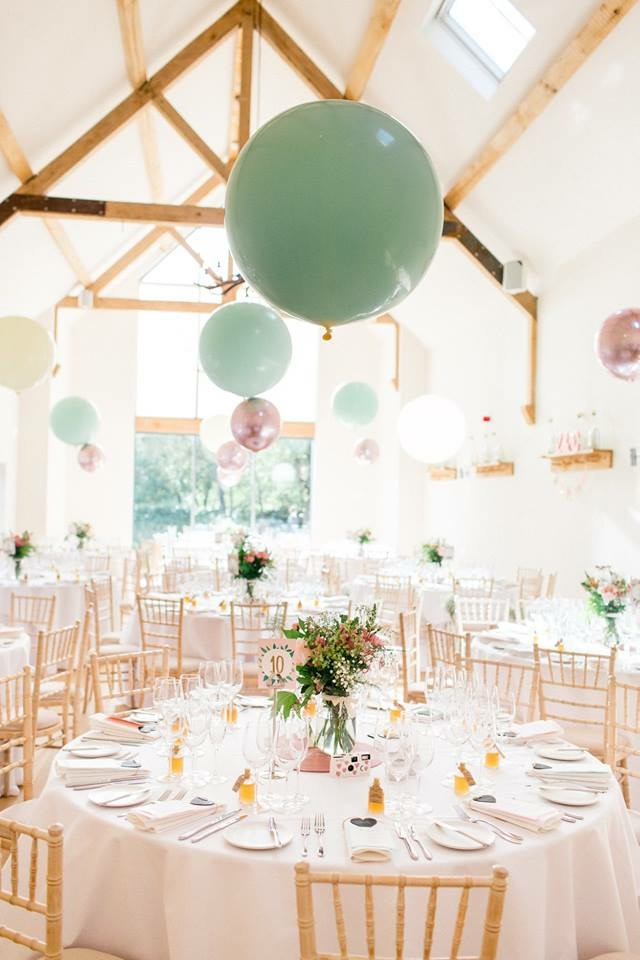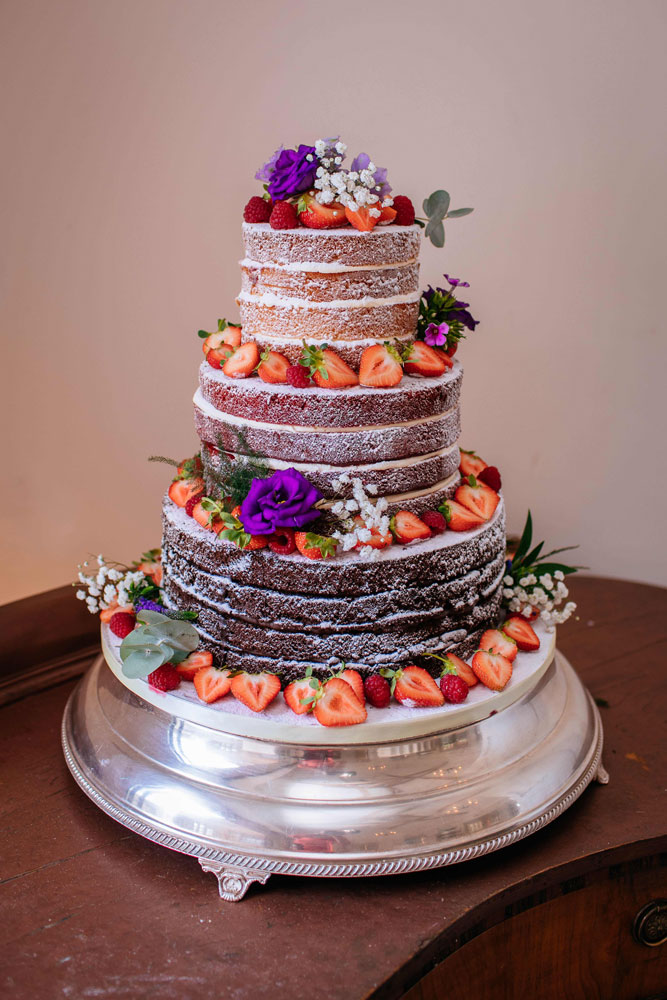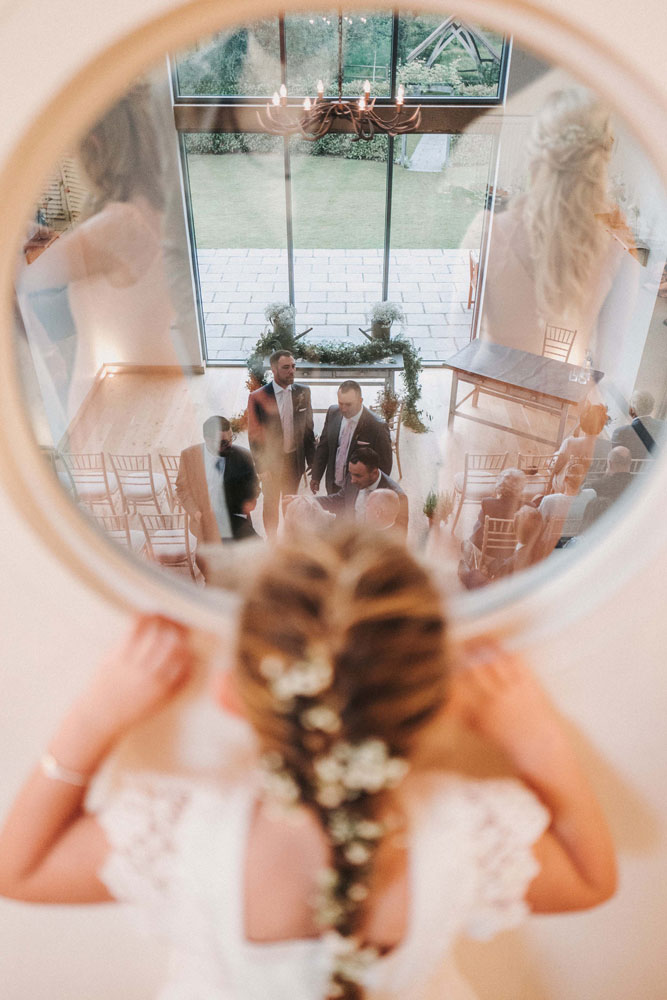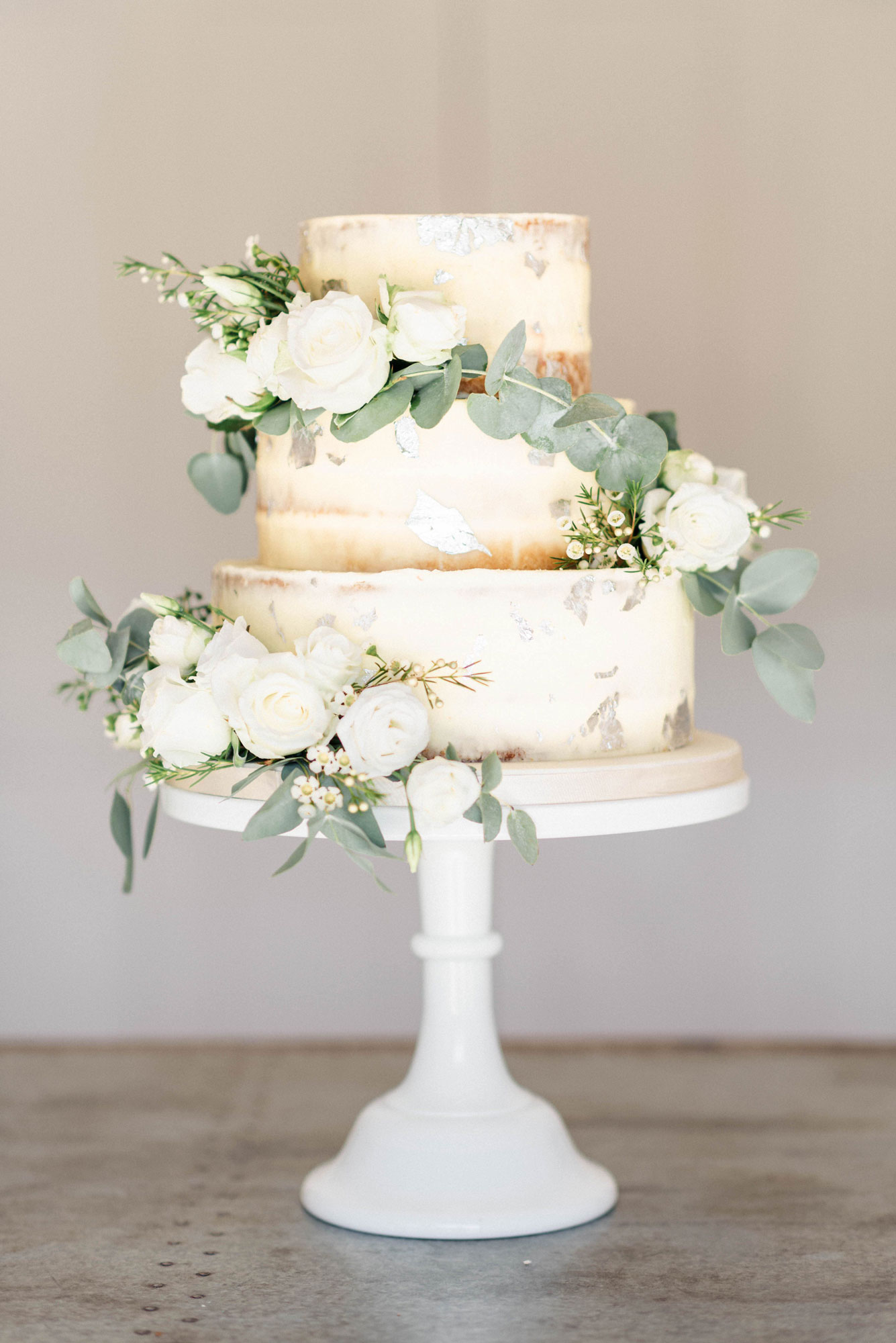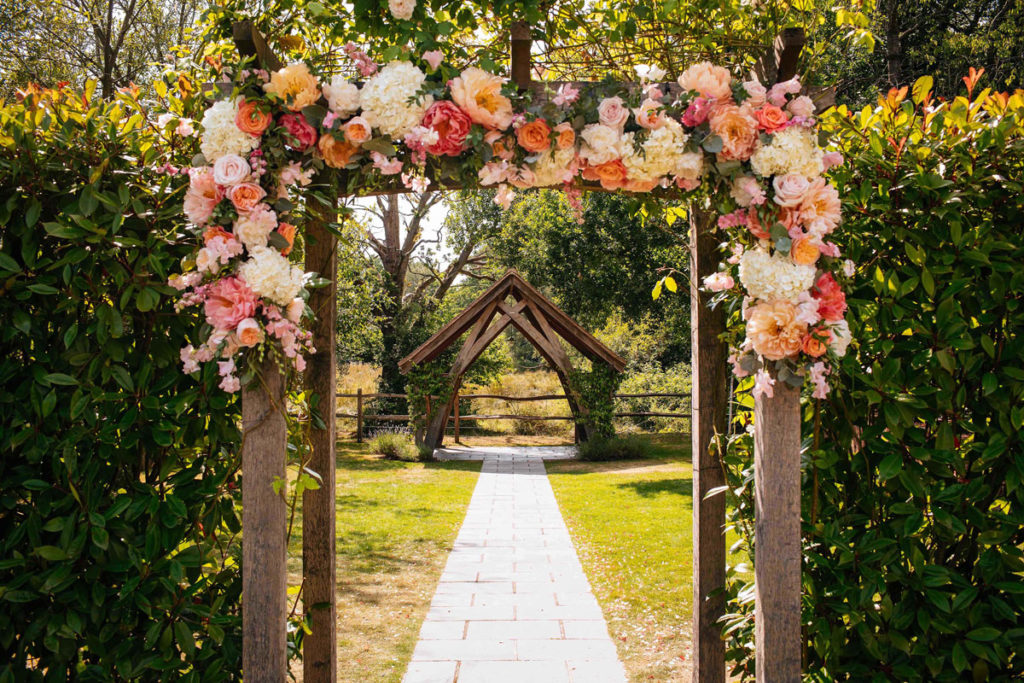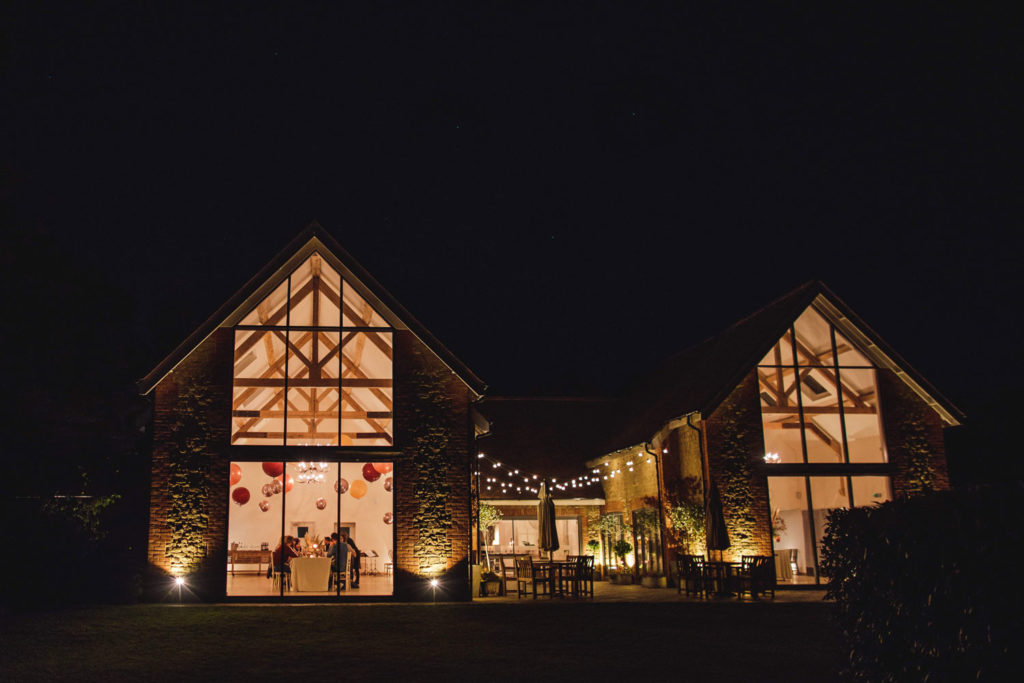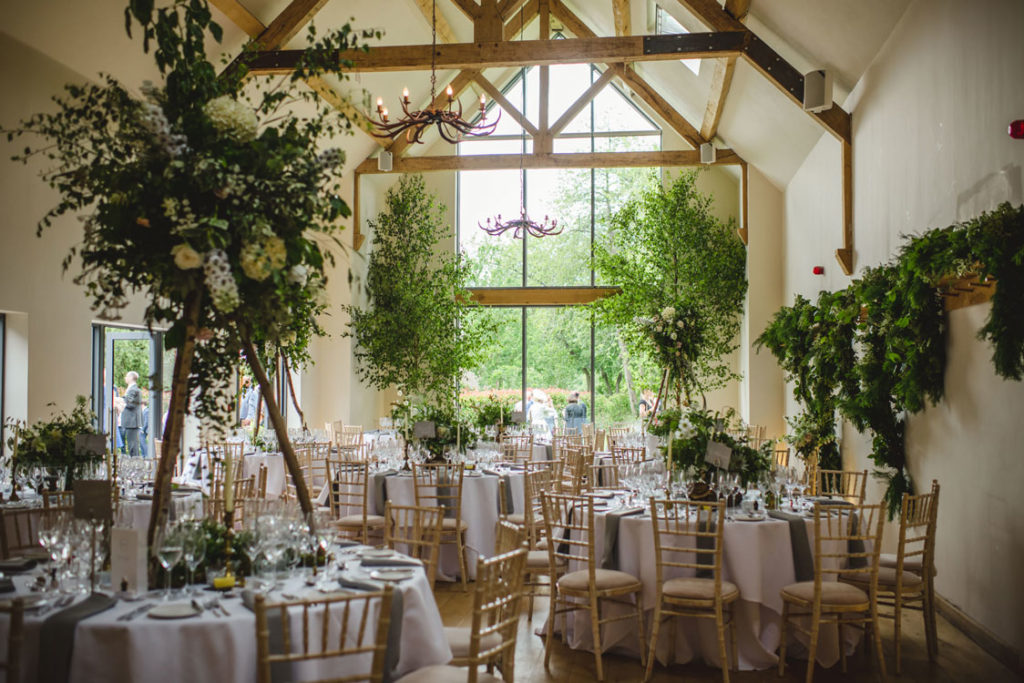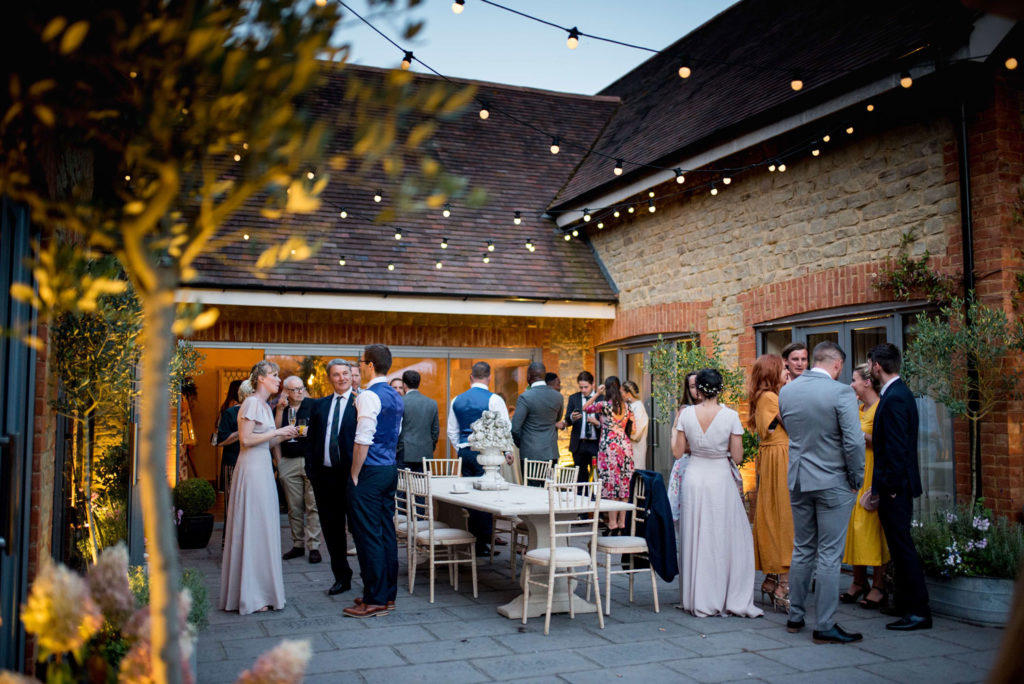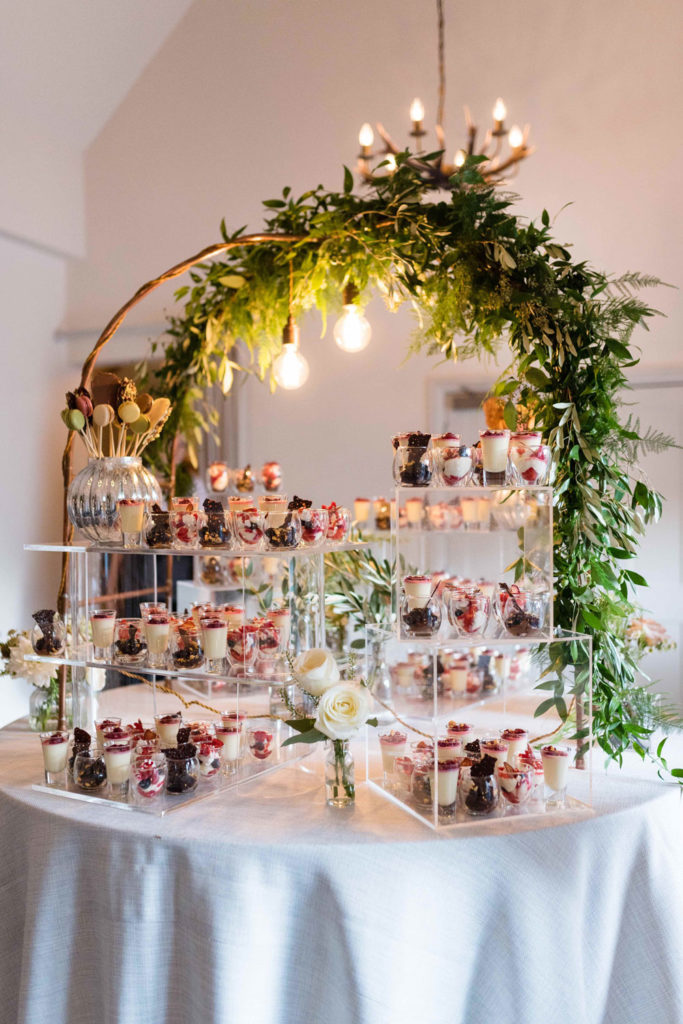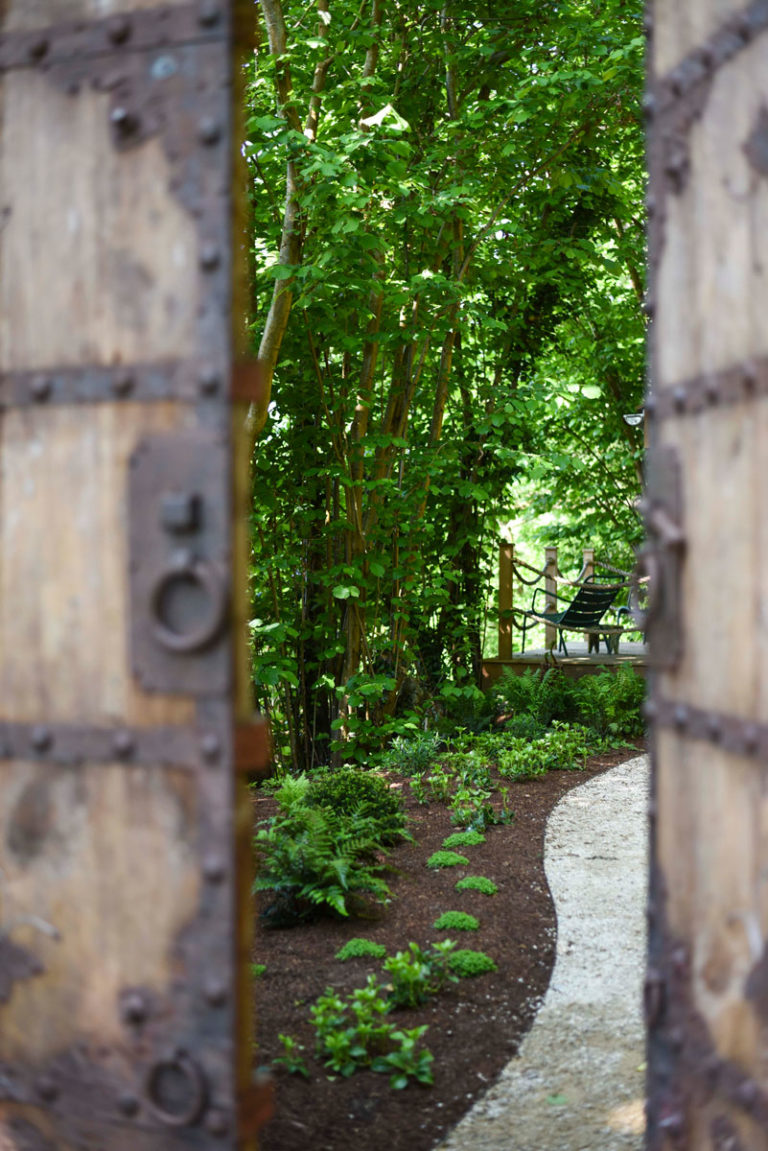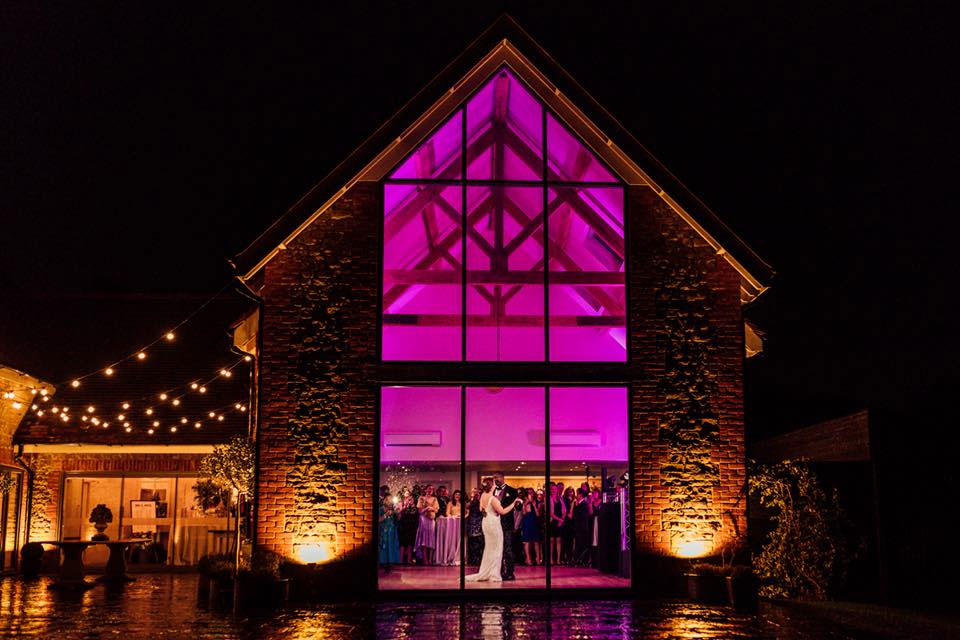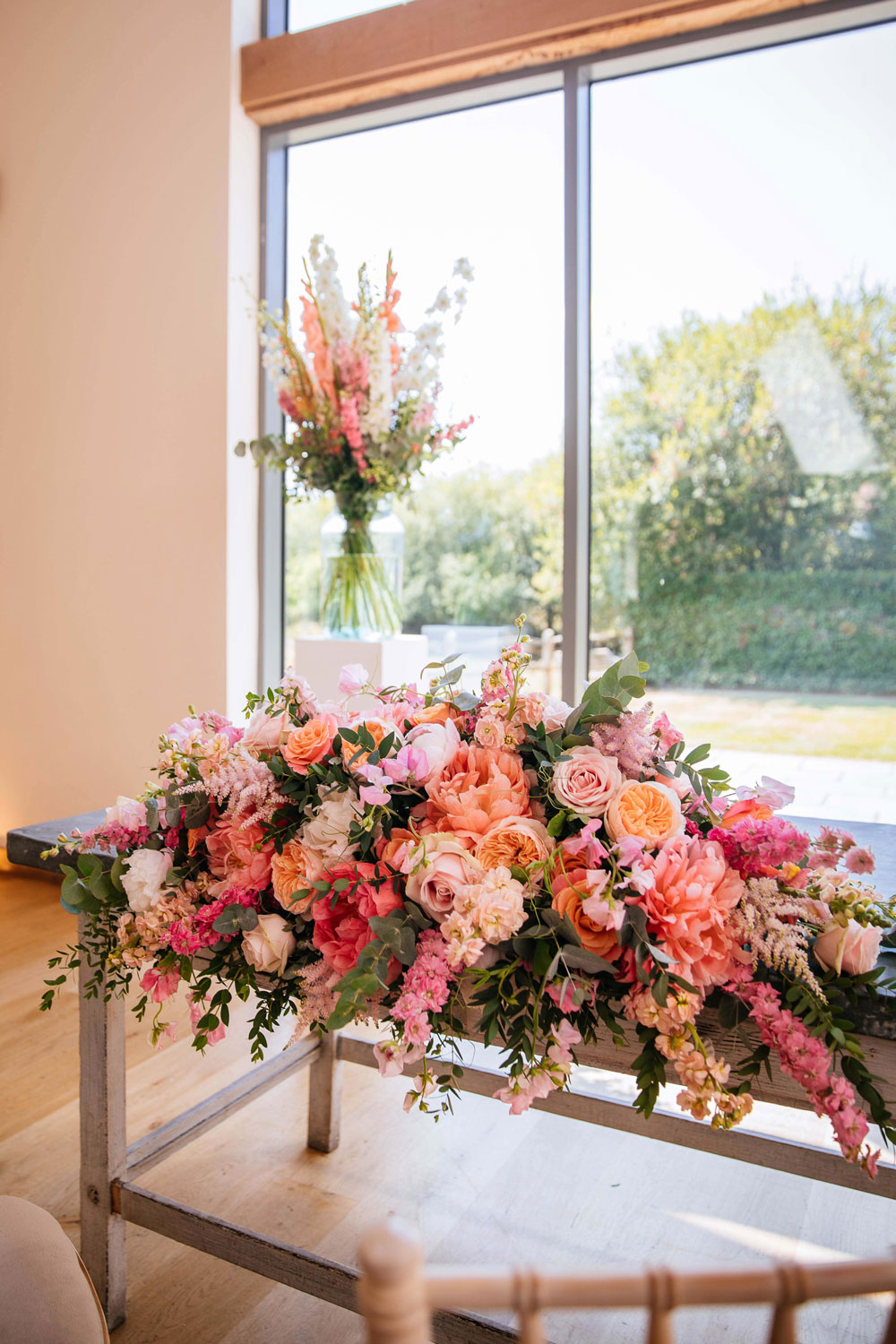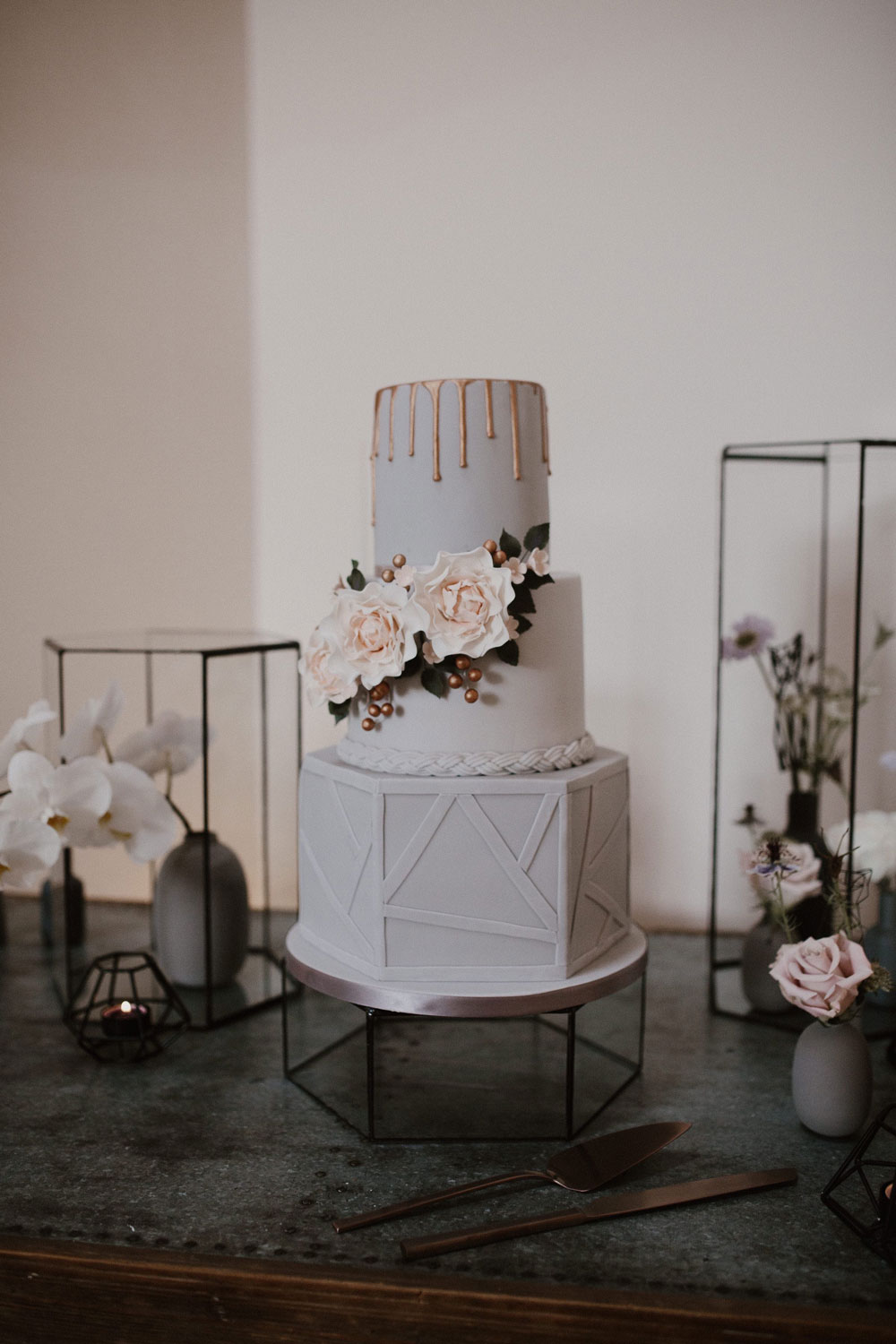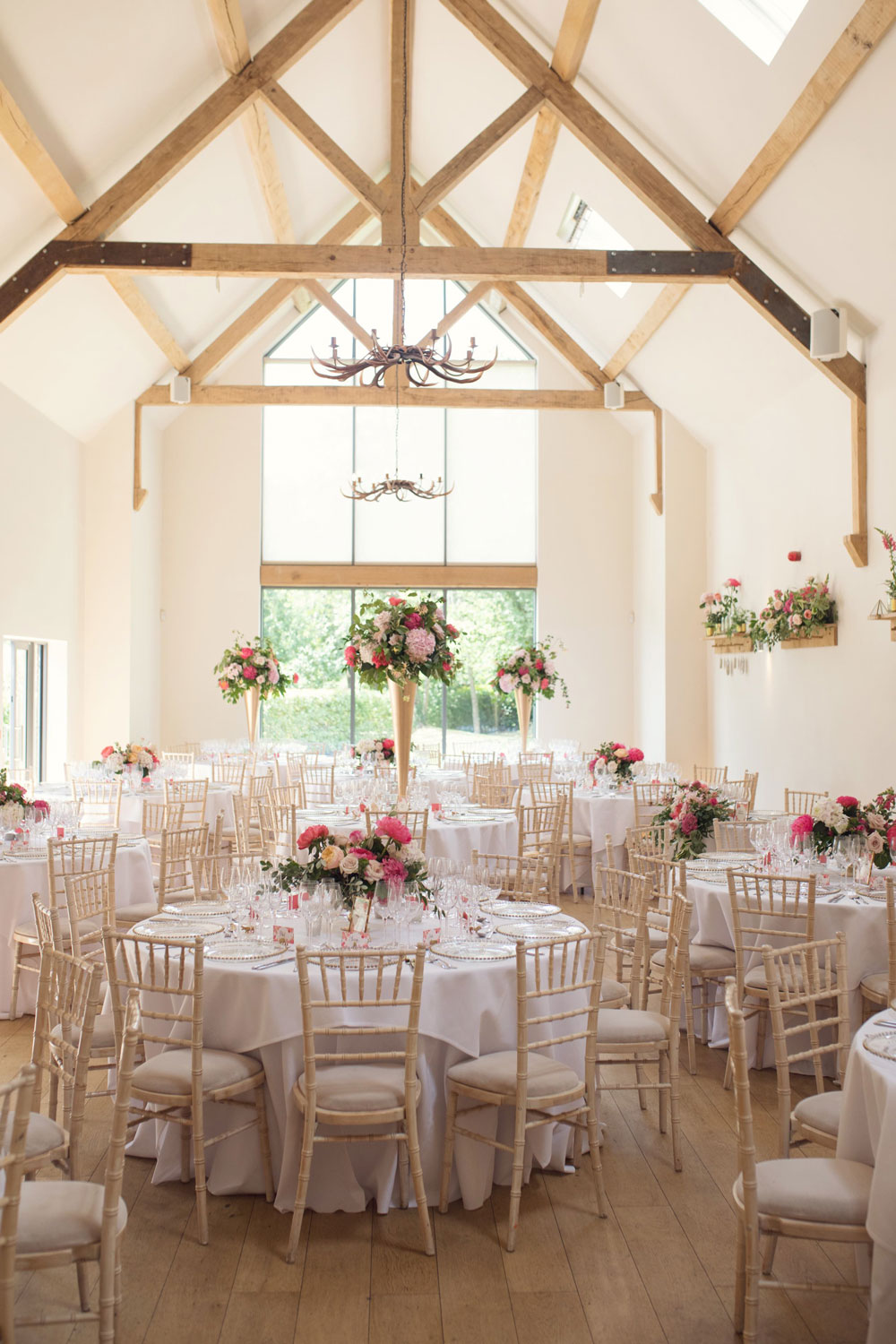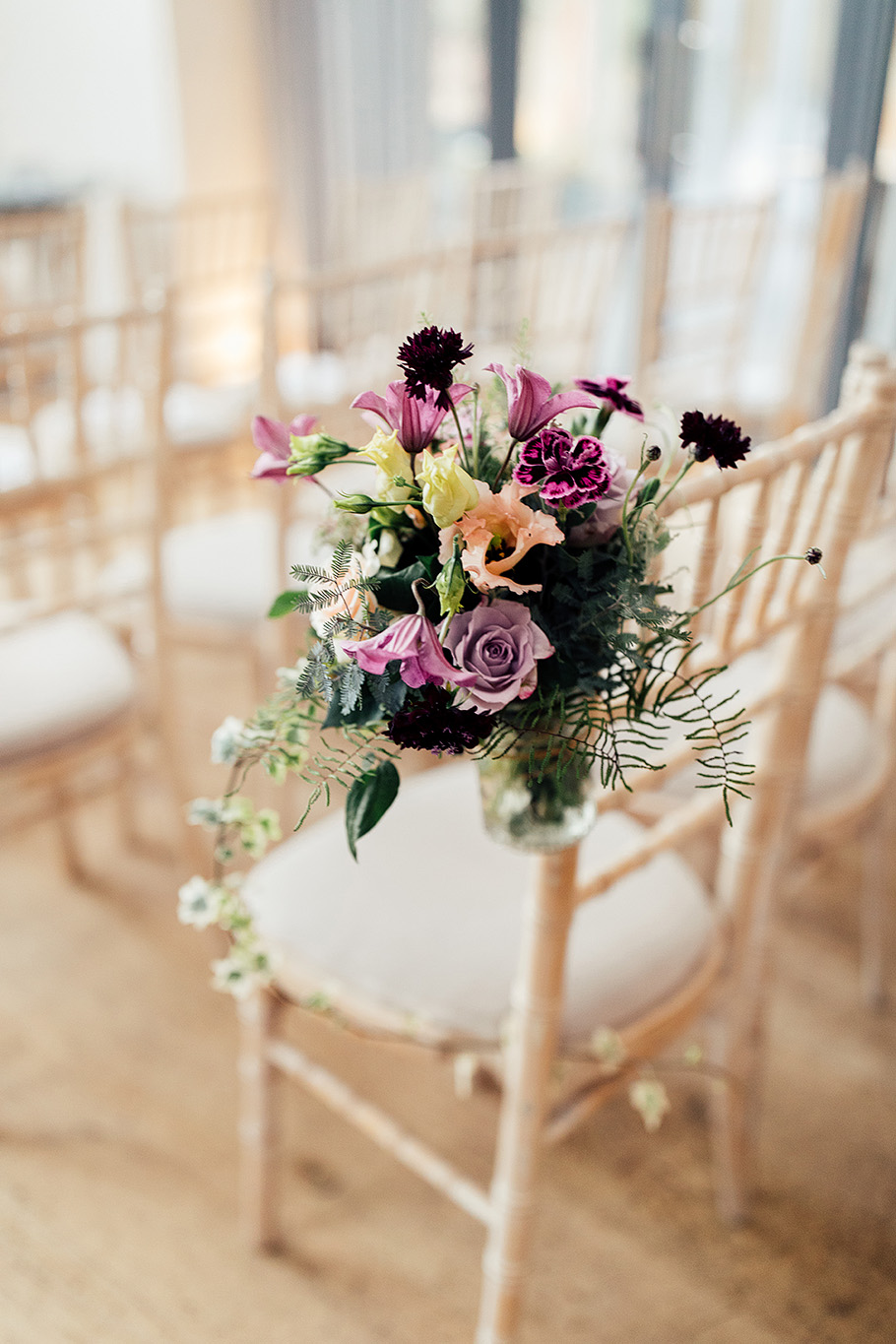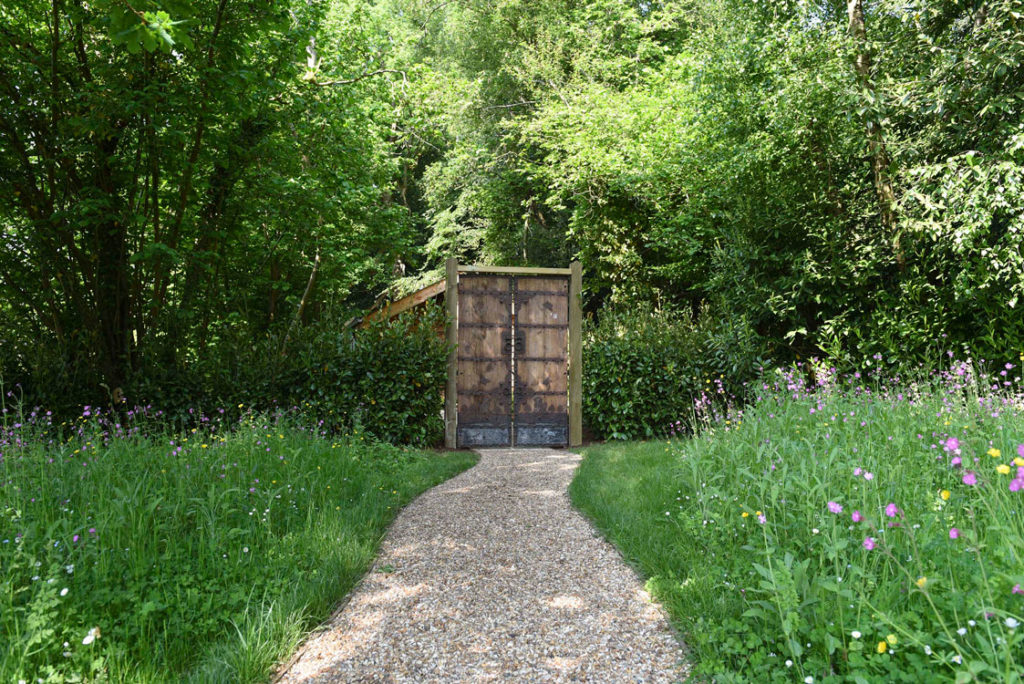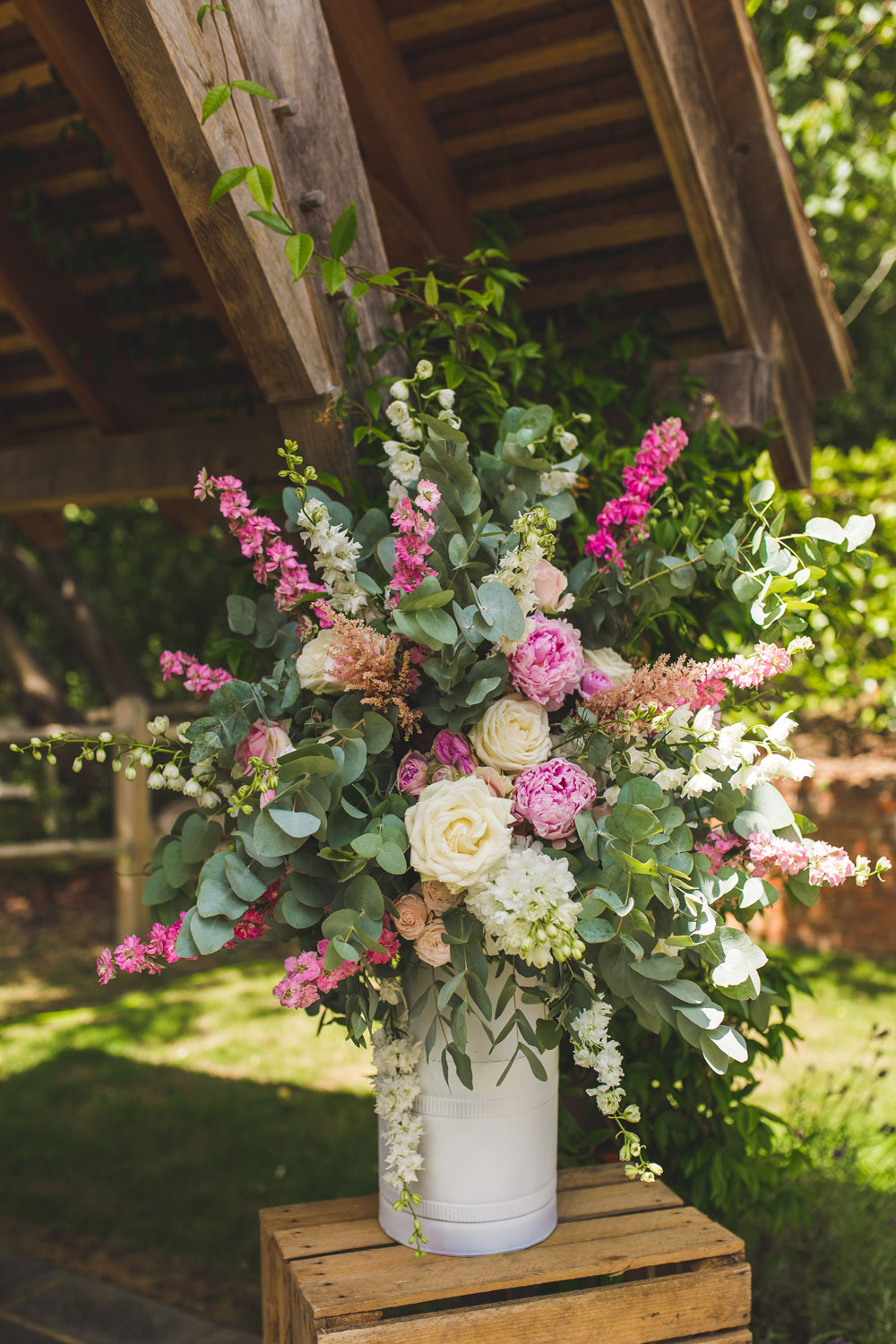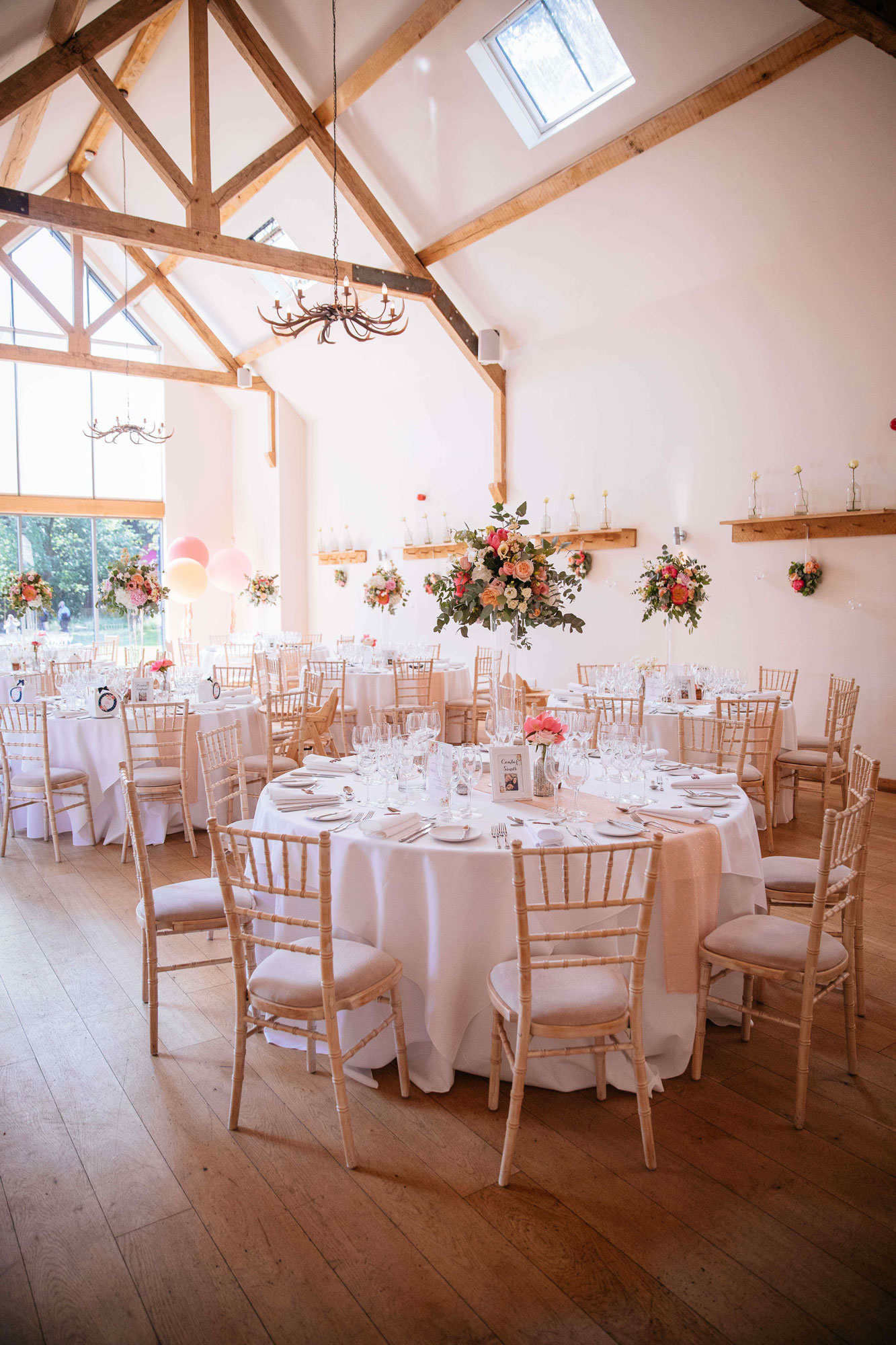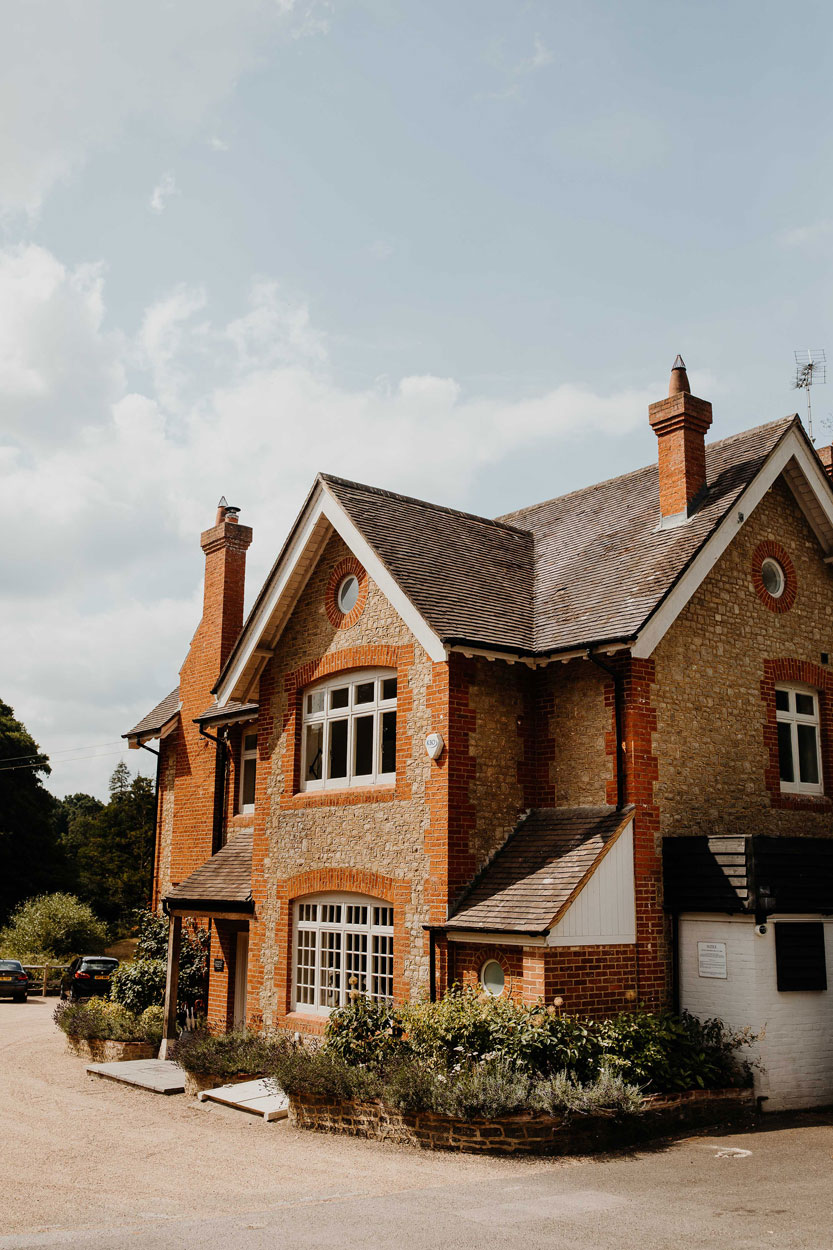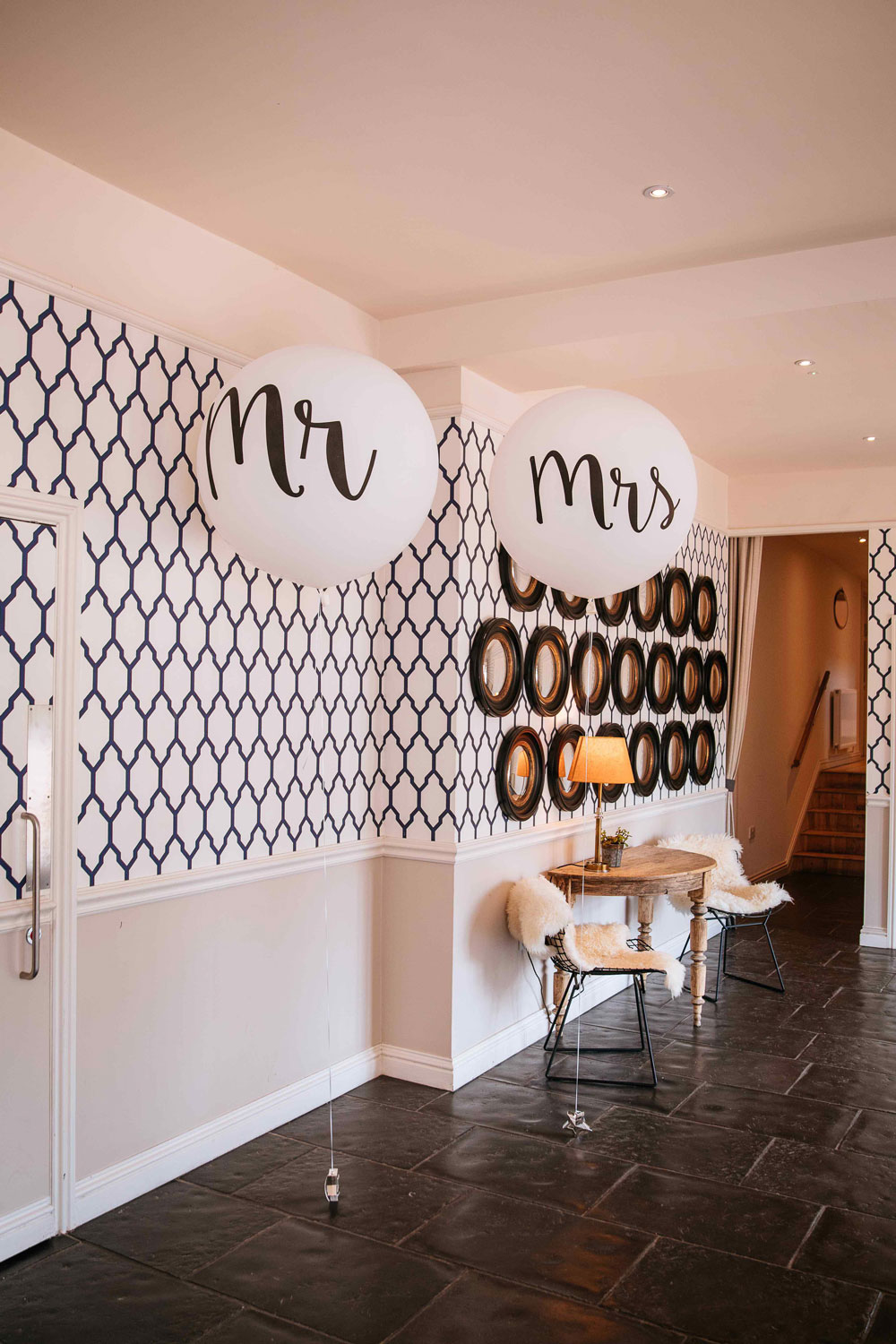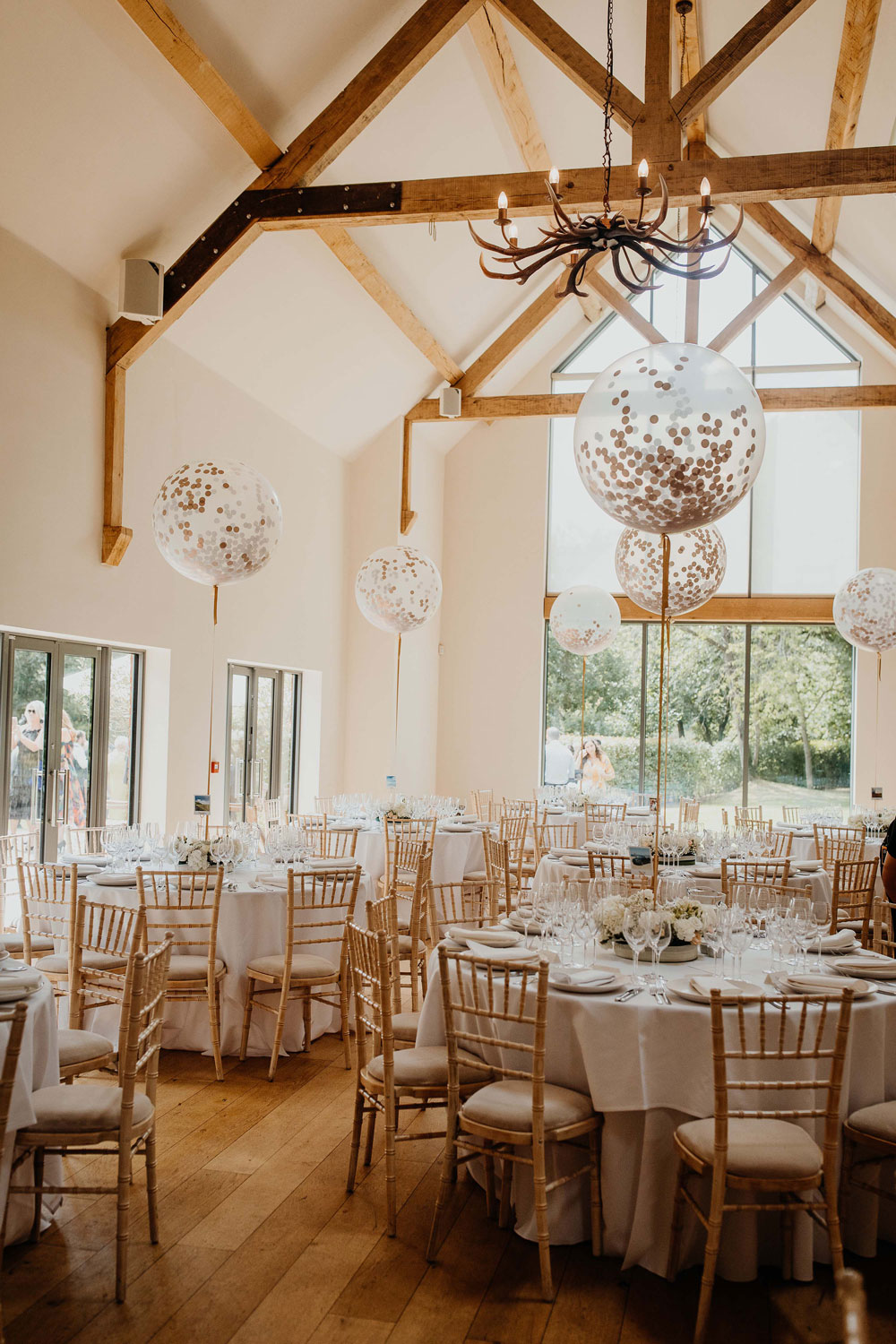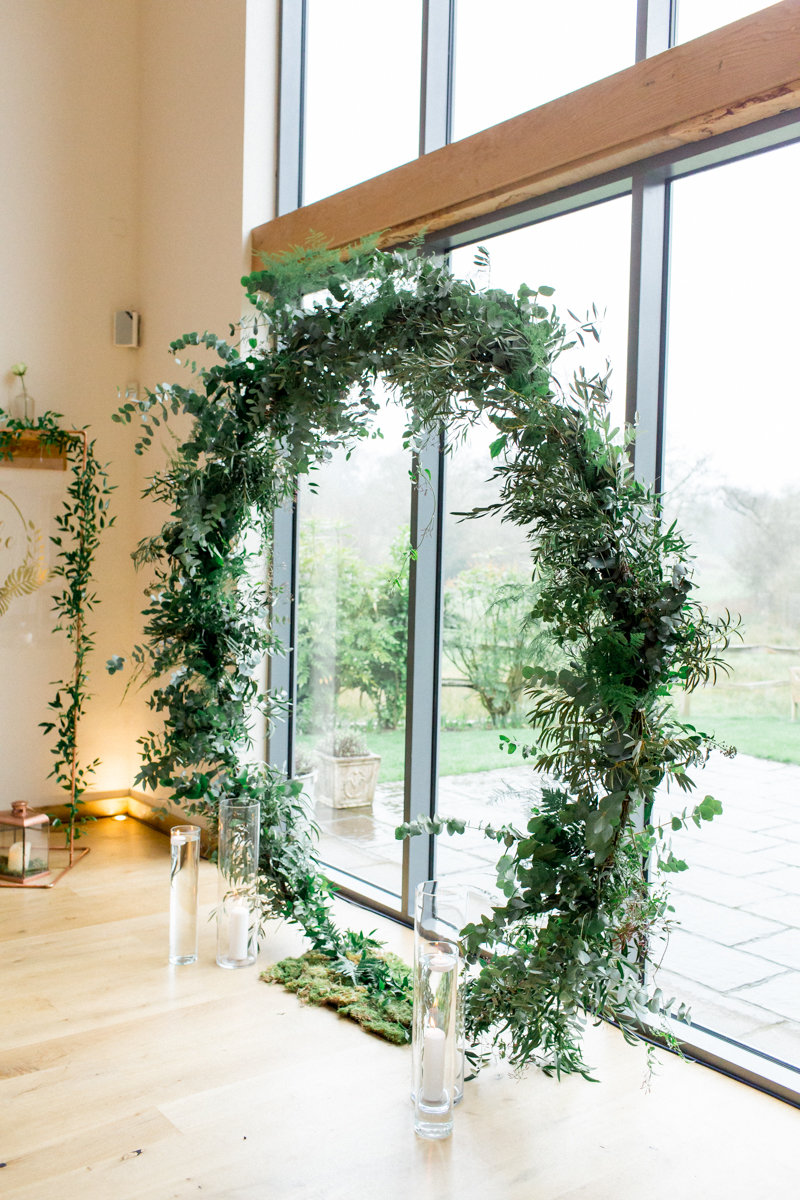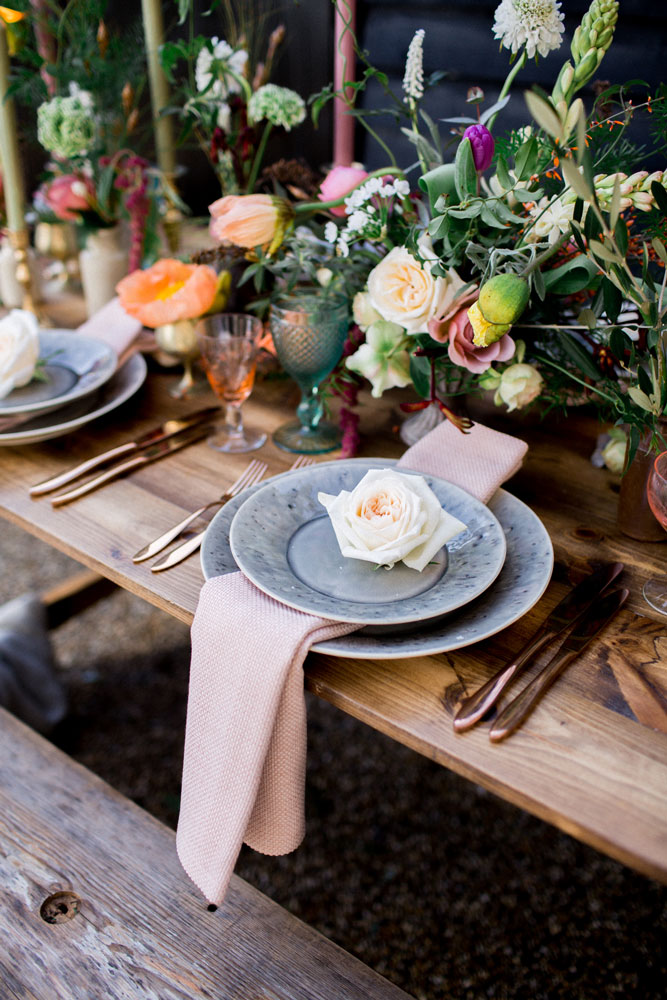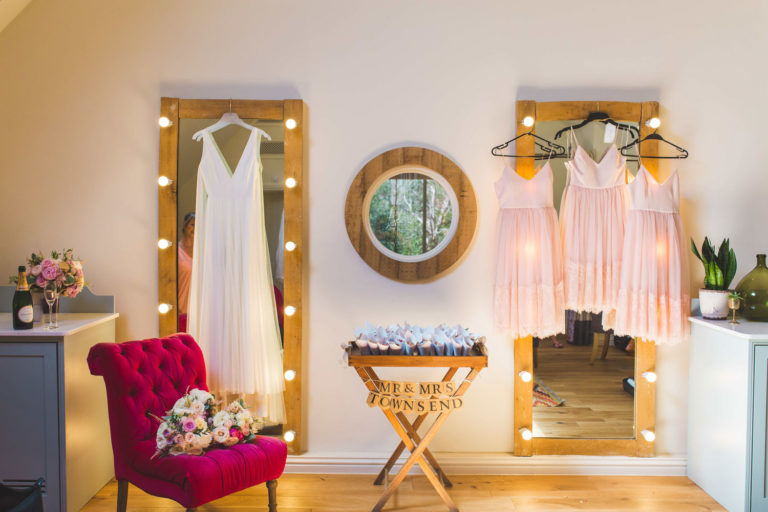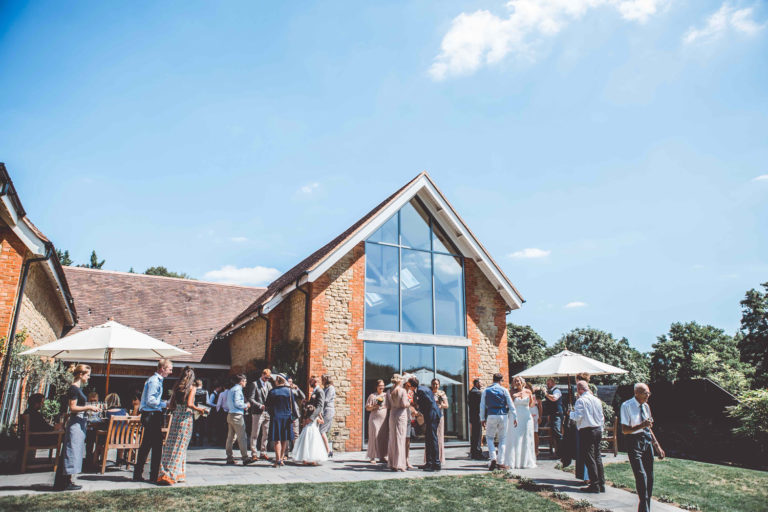 News : 25 / 02 / 19
A Few Things We Love About Winter Wedding Days #marriedatmillbridge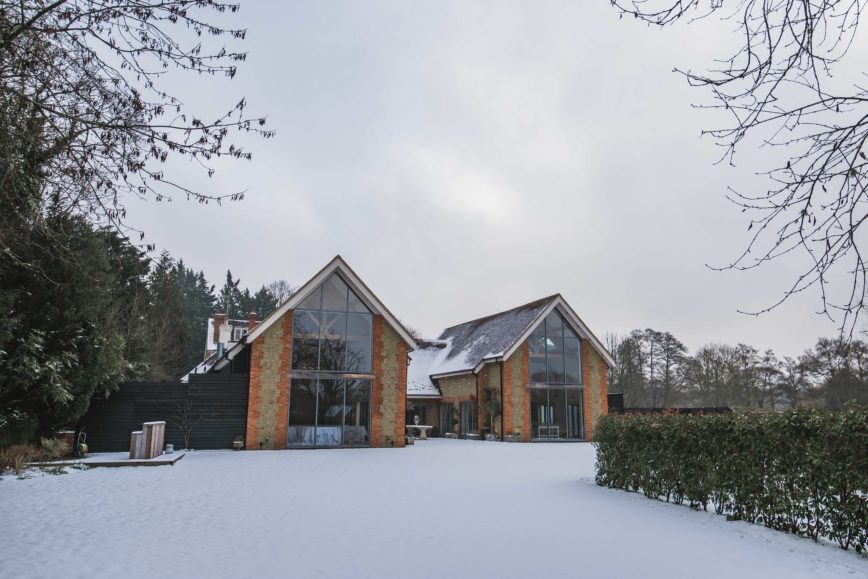 We can't quite believe how quickly this year has flown by here at Millbridge Court! We have been so lucky to have been a part of so many magical Winter Wedding Days throughout 2018 & so we thought, as the festive season is well & truly upon us, that we would share some moments from those really beautiful days with you all.
There really is so much that we love about Winter Weddings, from the rich colour palettes, magical nighttime photography, Wintery shots of Brides & Grooms around the grounds, being able to make the most of romantic lighting throughout the day's celebrations & so much more.
So thanks to the wonderful & talented photographers who have shared their images with us, we have put together some highlights from all of our favourite things about Wintery Celebrations here at Millbridge Court in the hope that it will give you all oodles of inspiration.
Hoping you all had the most wonderful Christmas with your nearest & dearest!
Xx
Rich Colour Palette's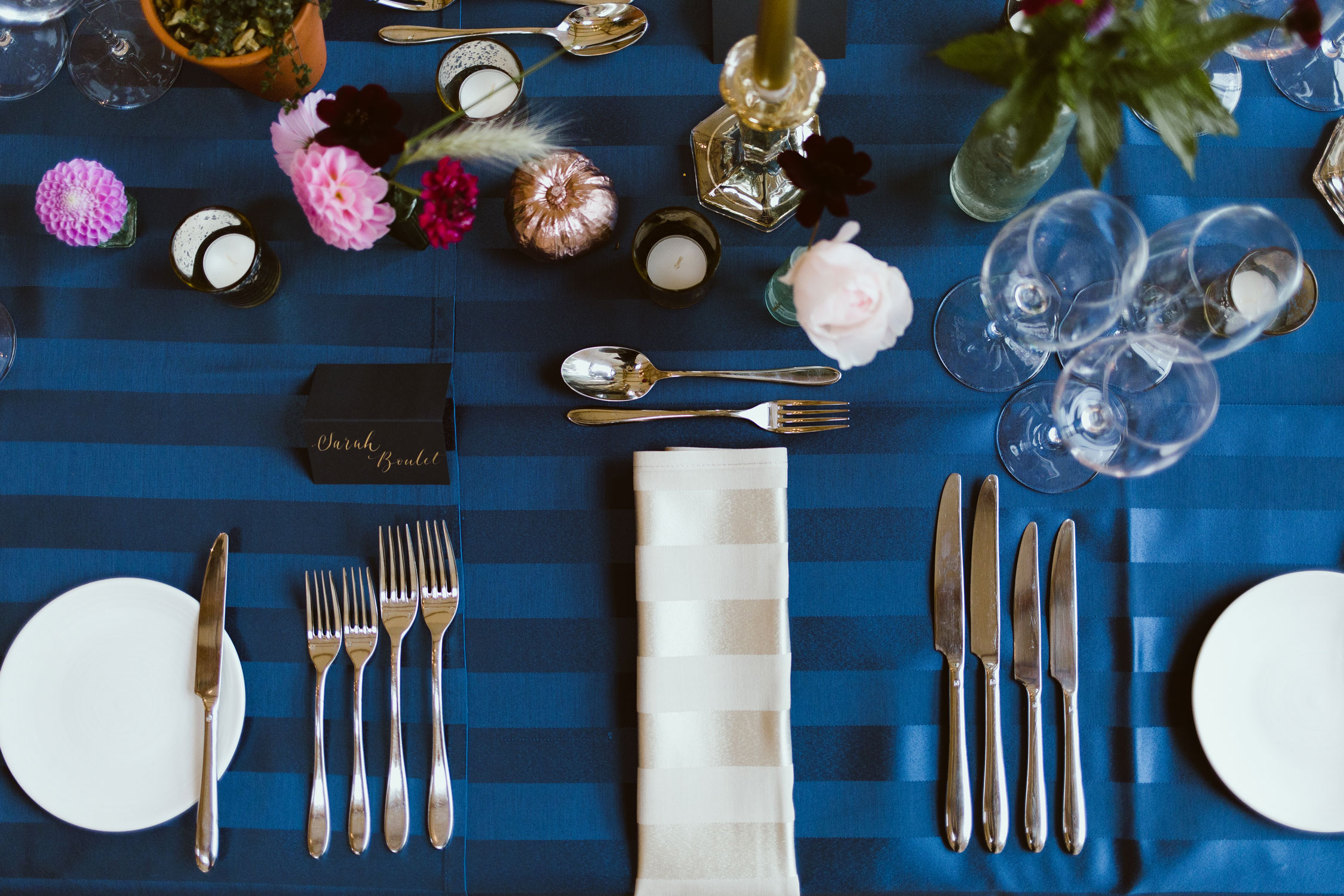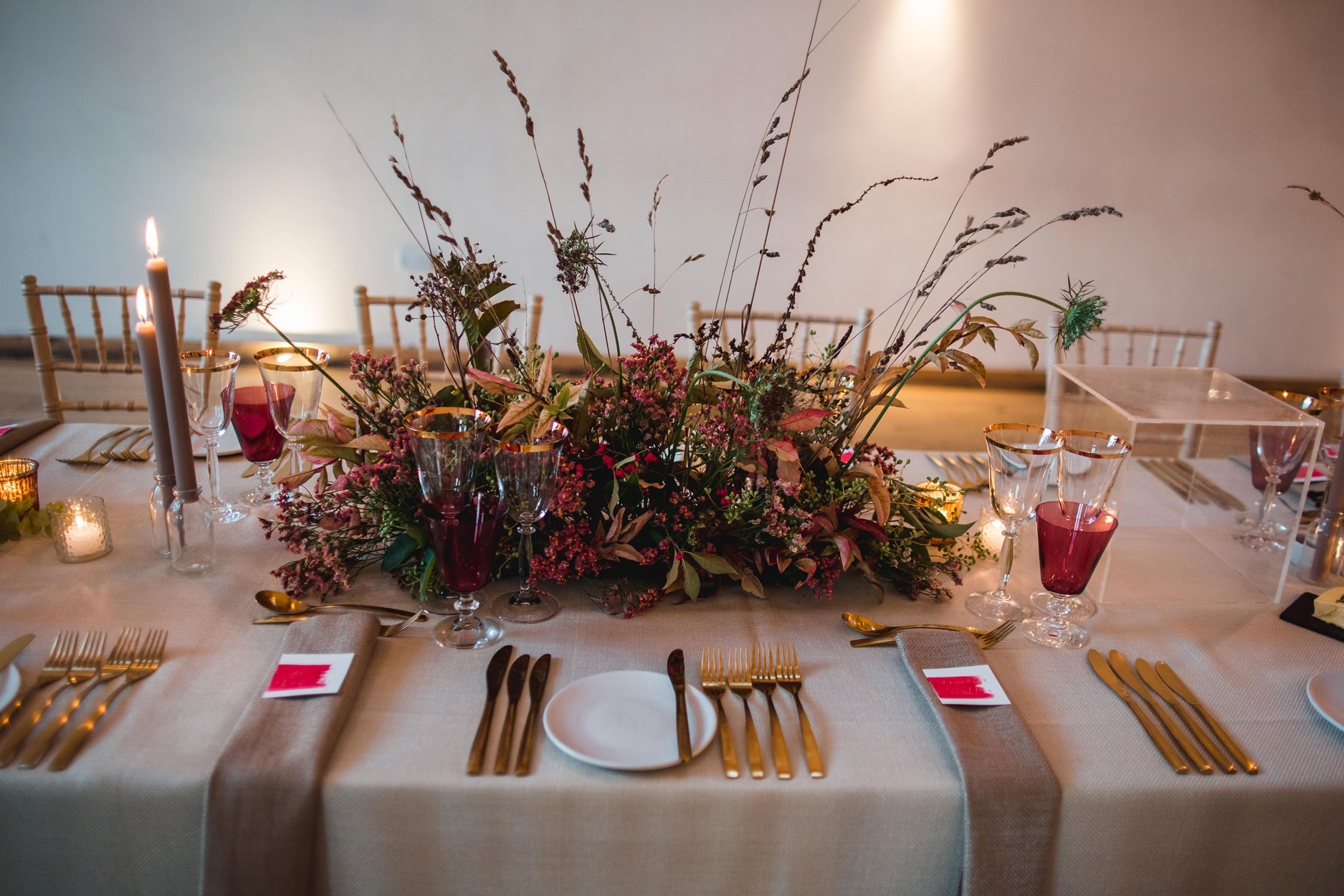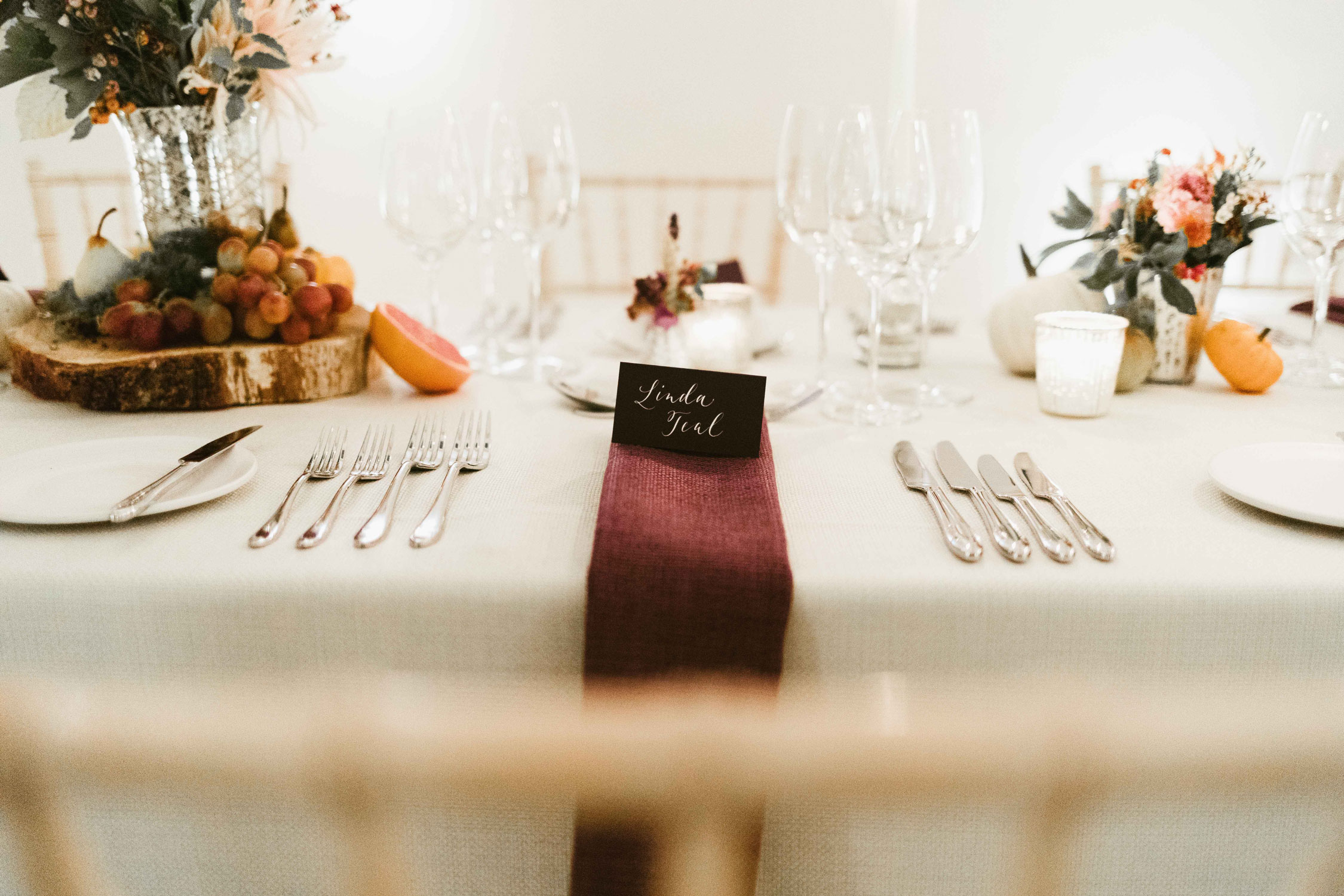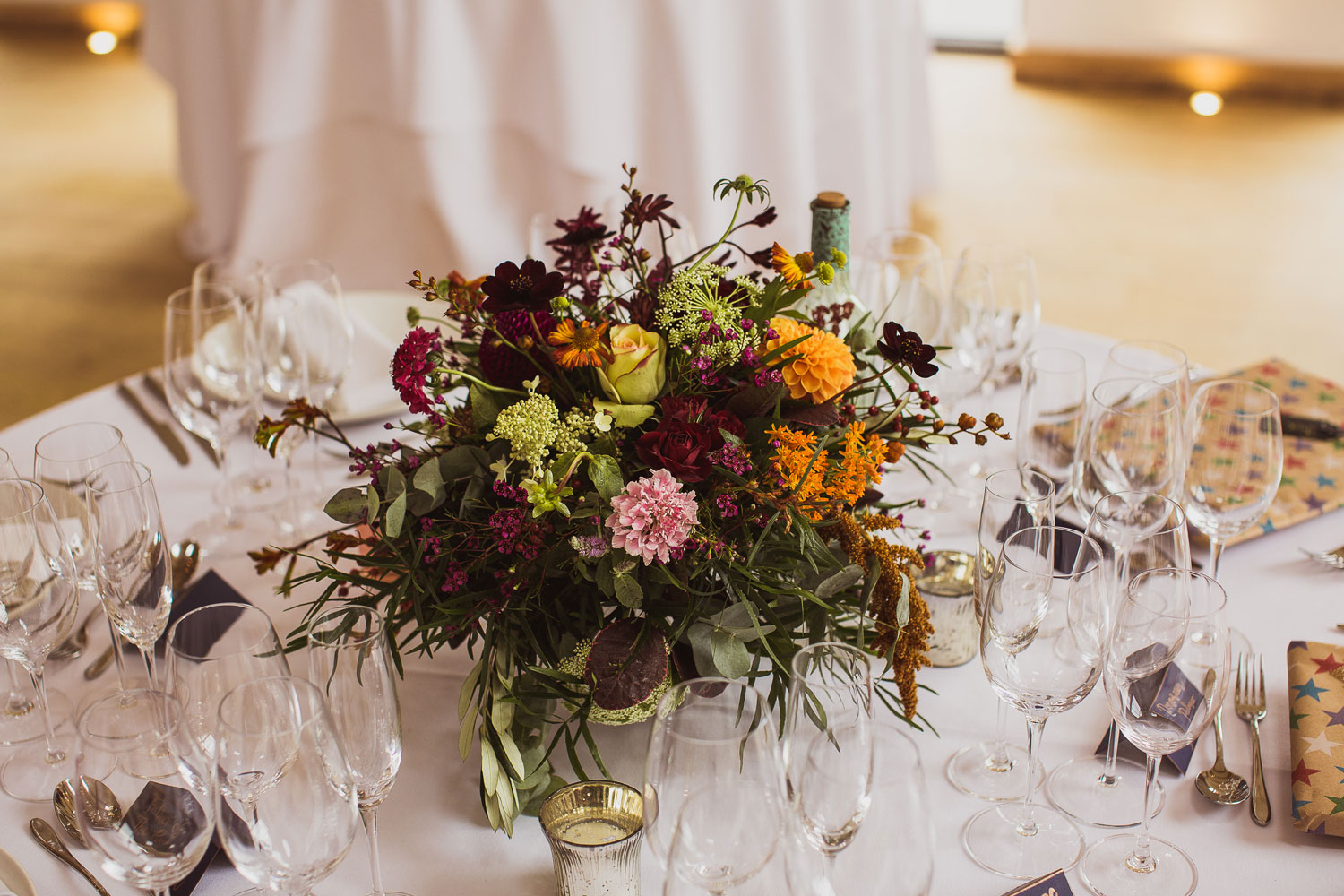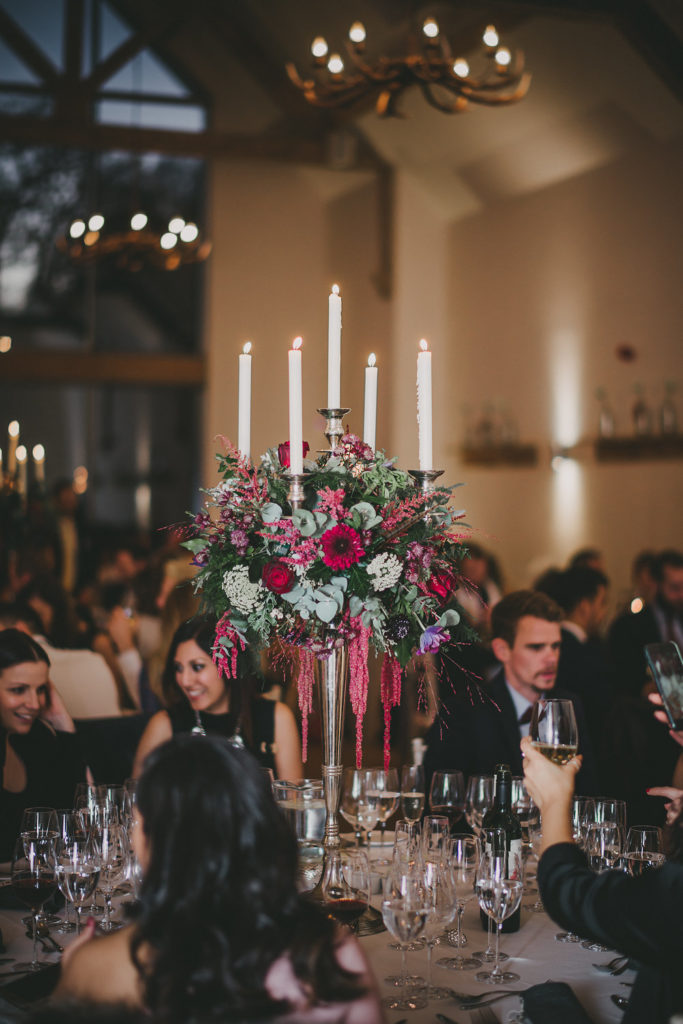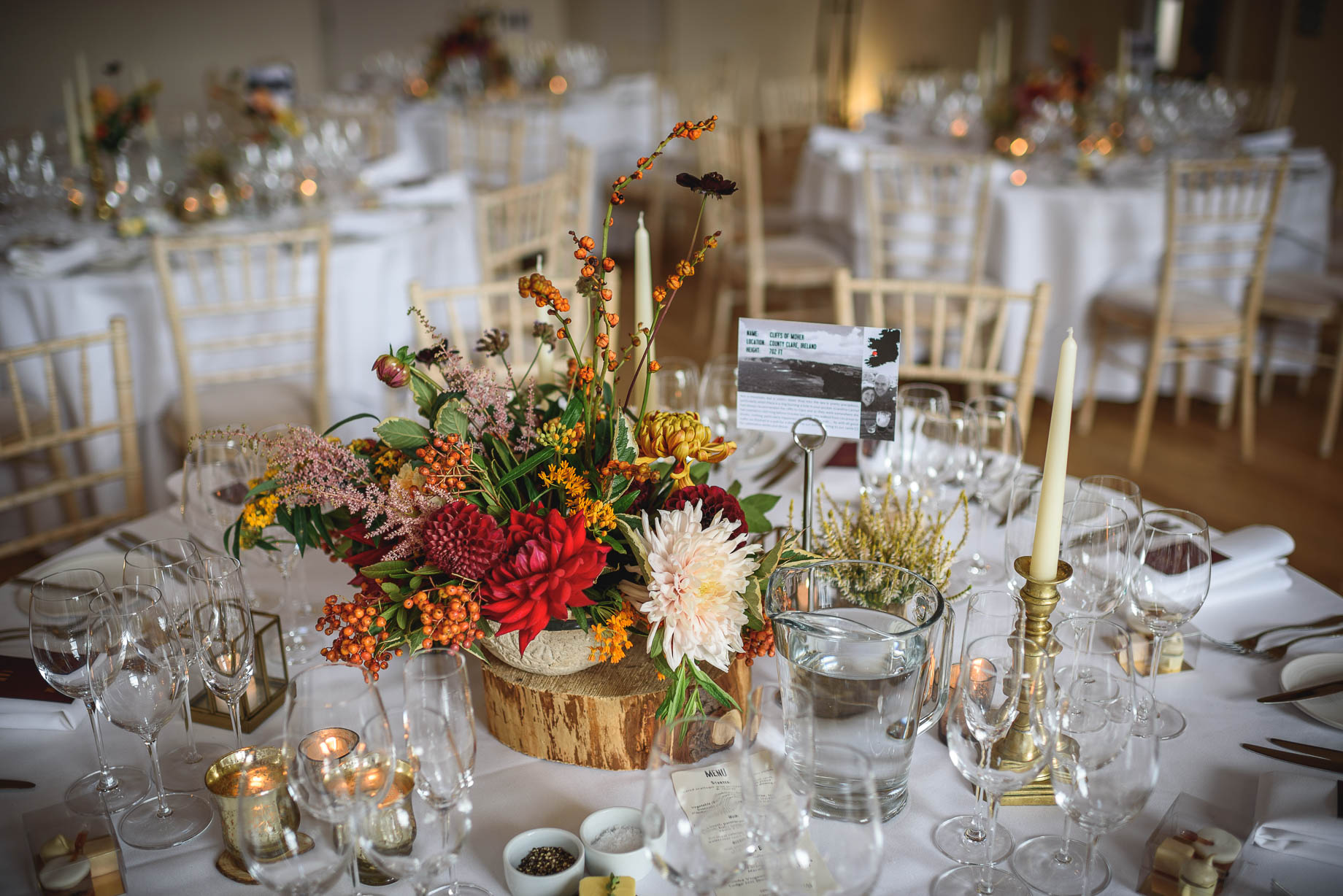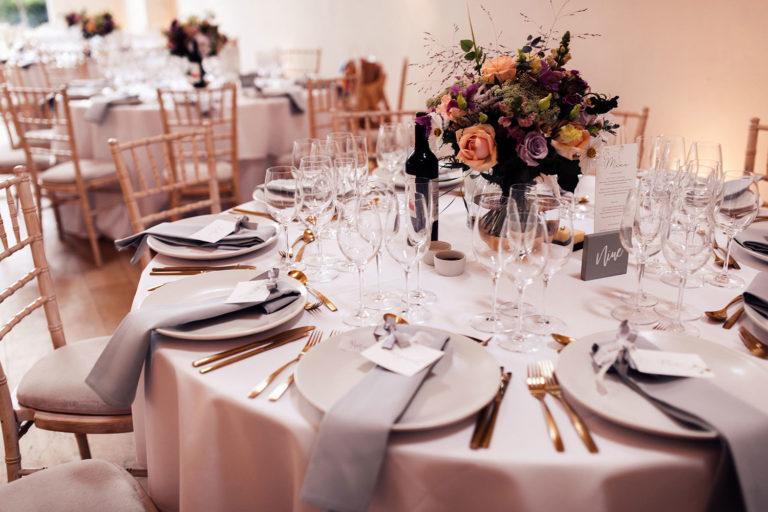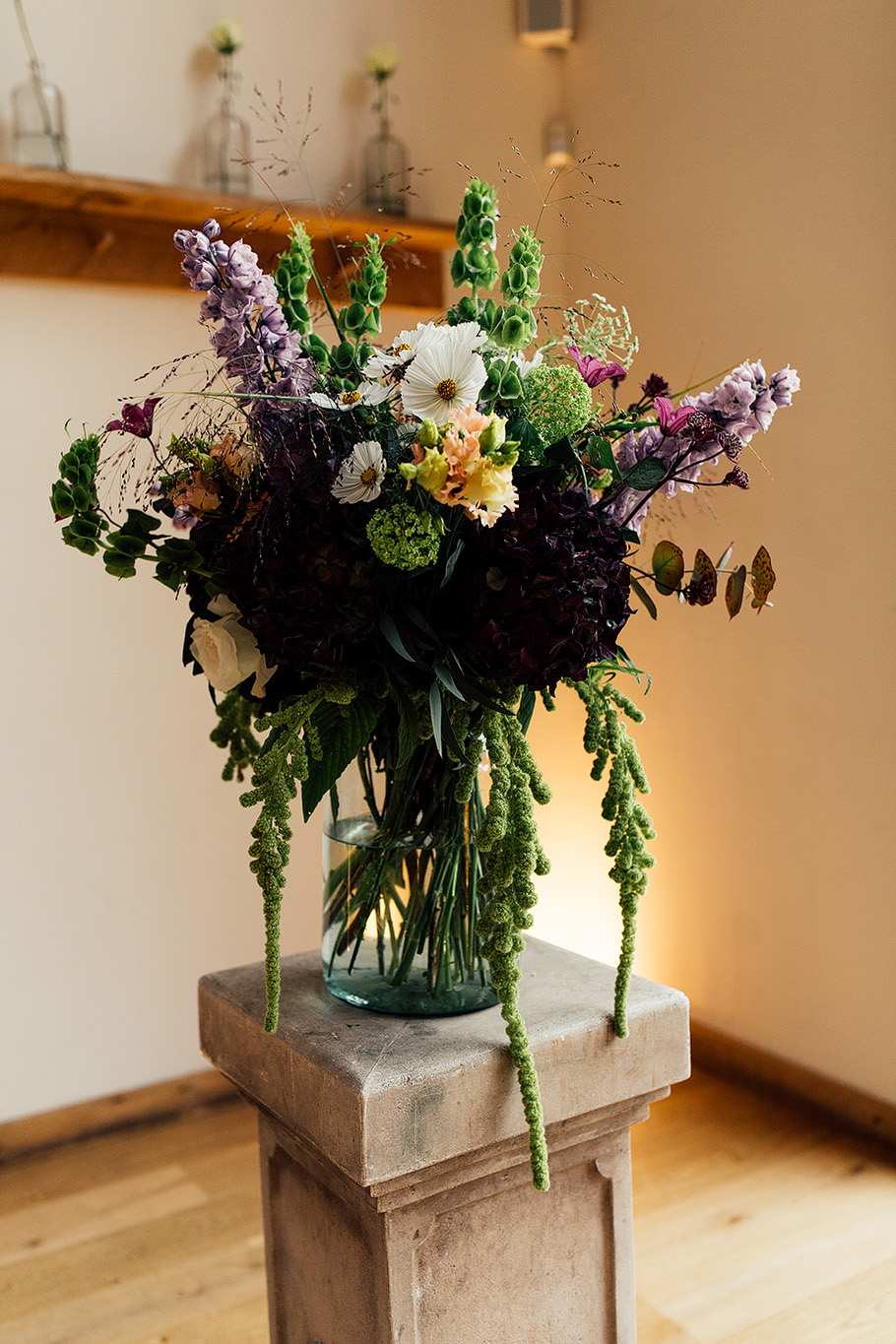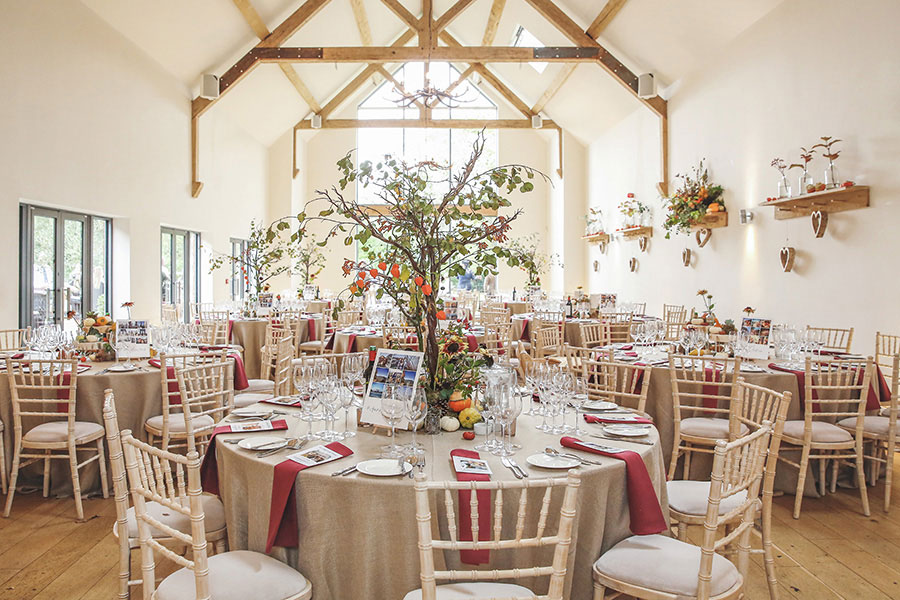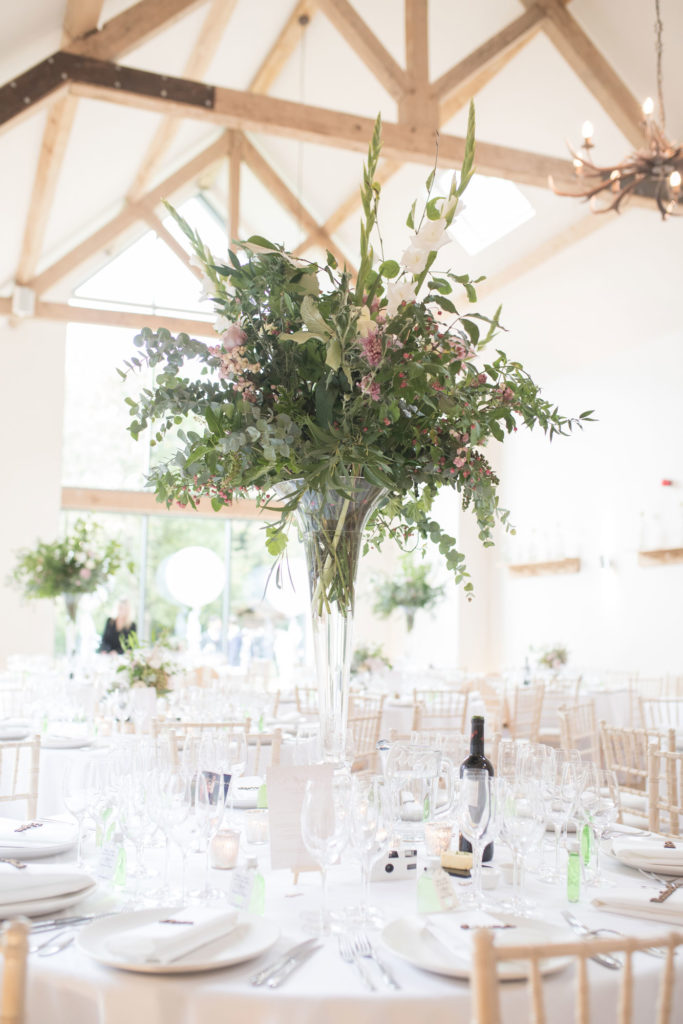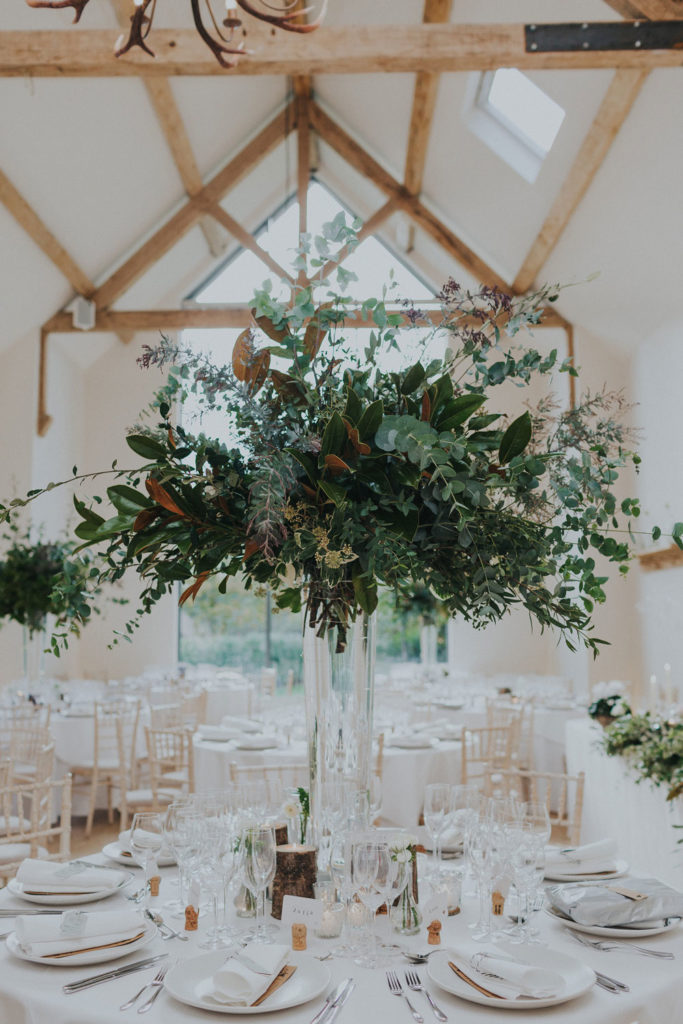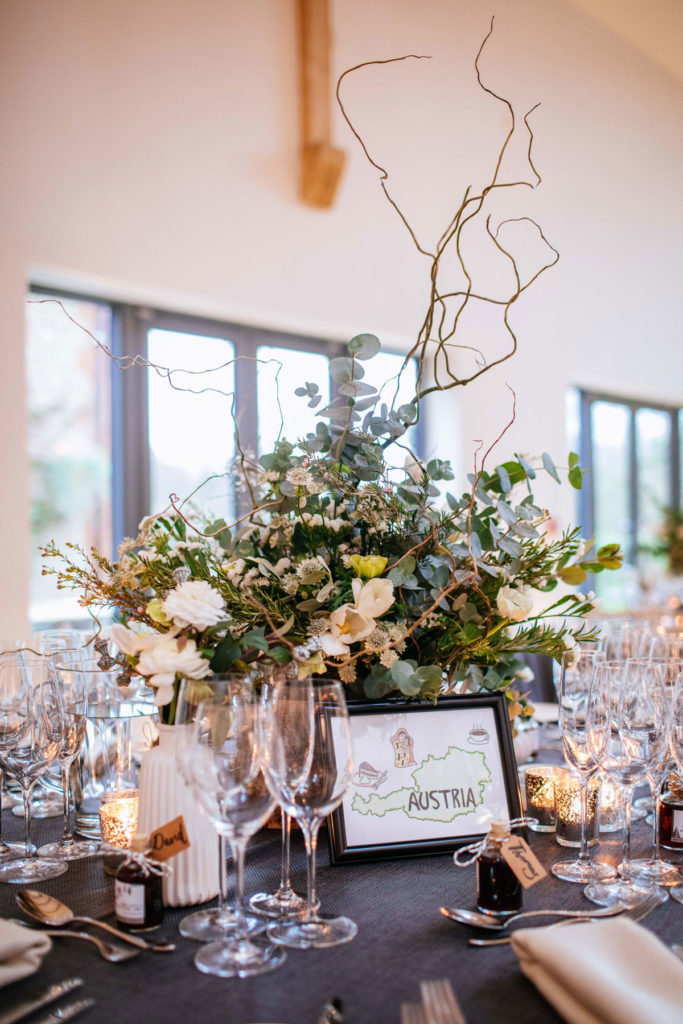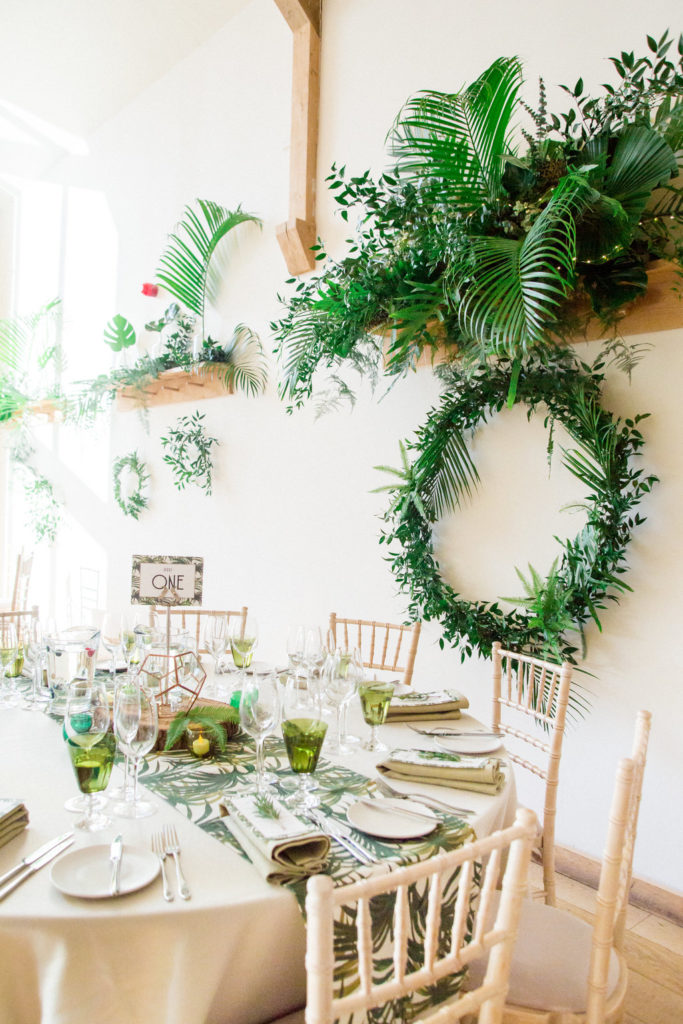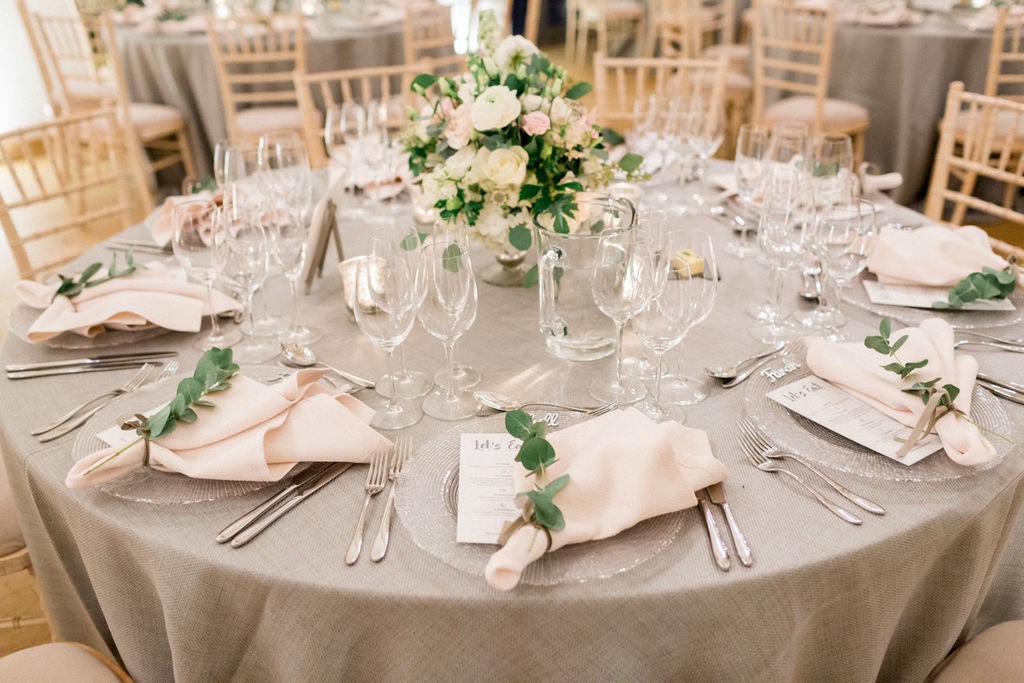 Wintery & Autumnal Couple's Shots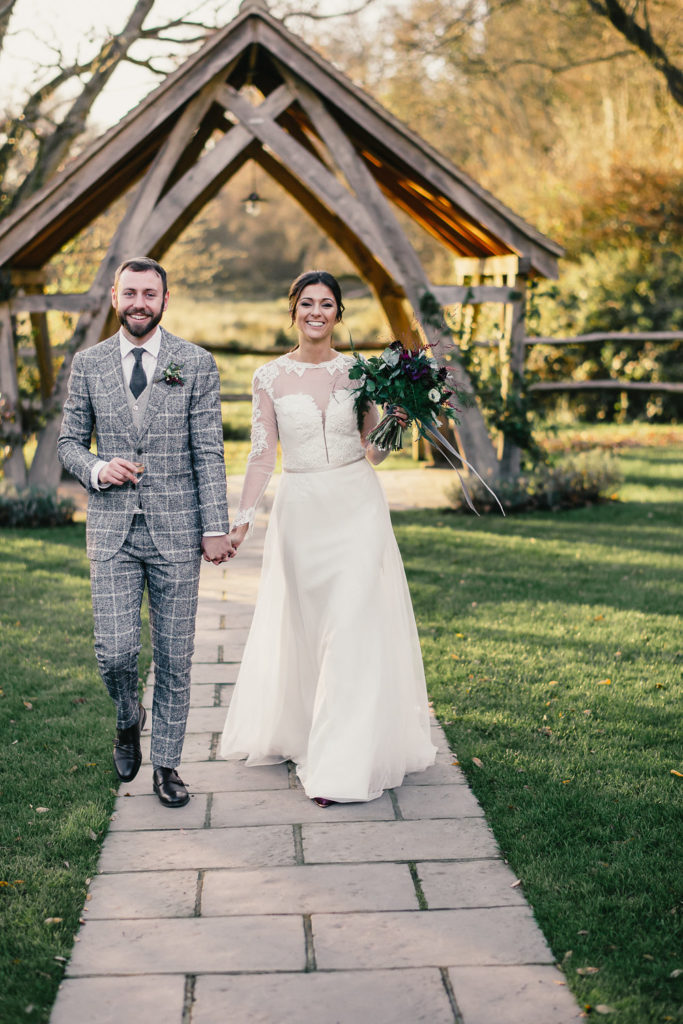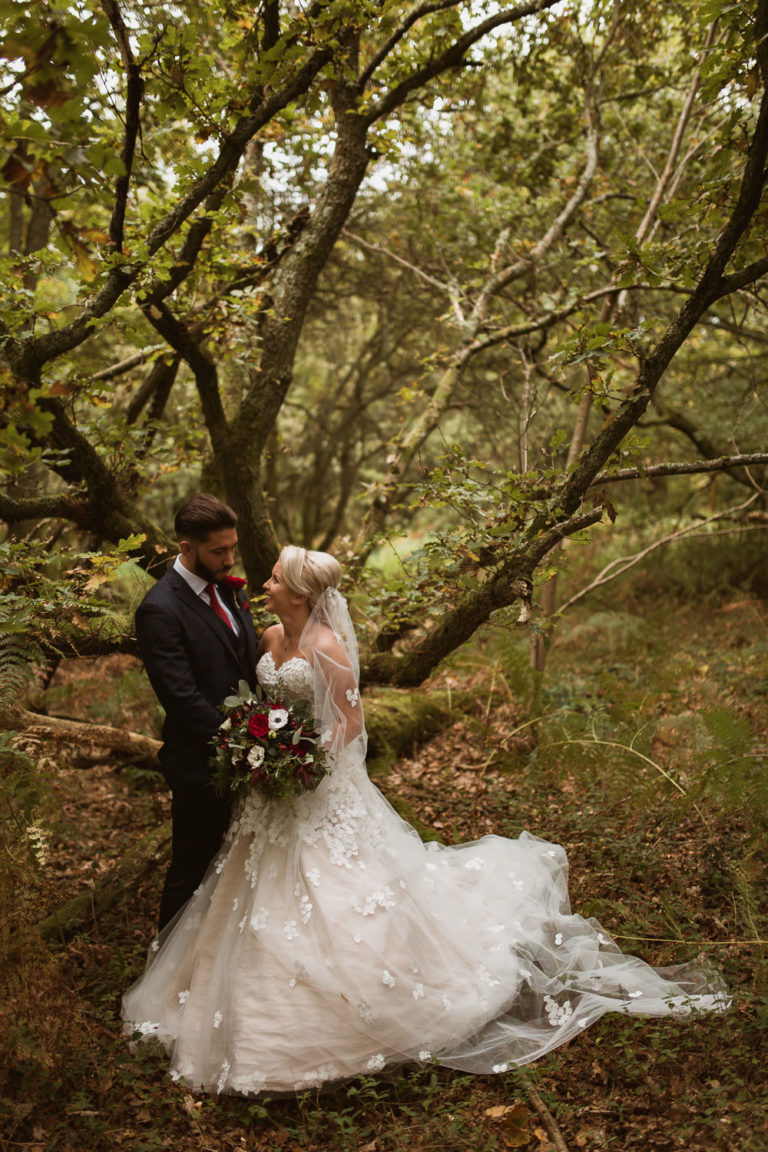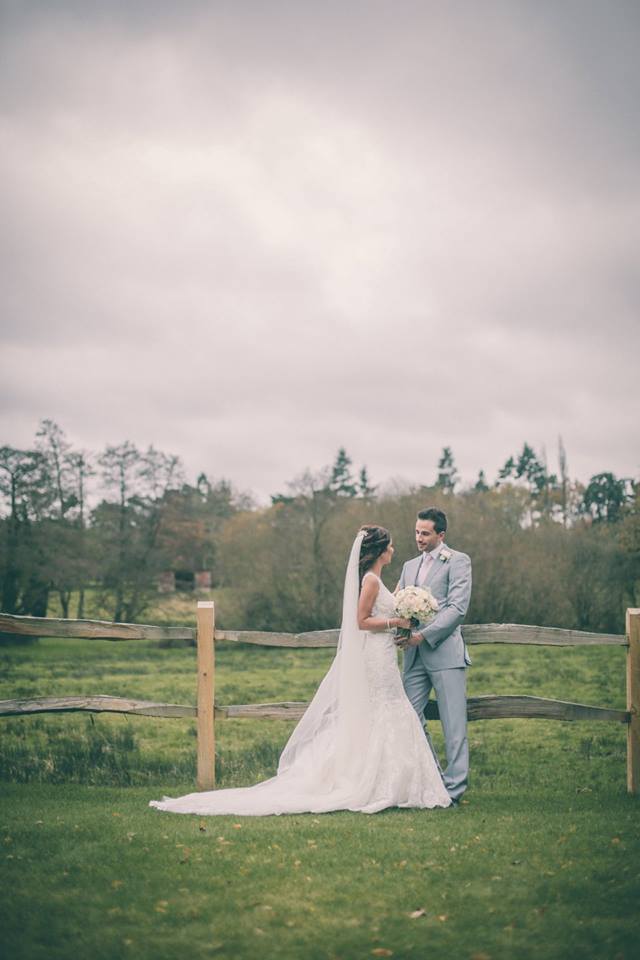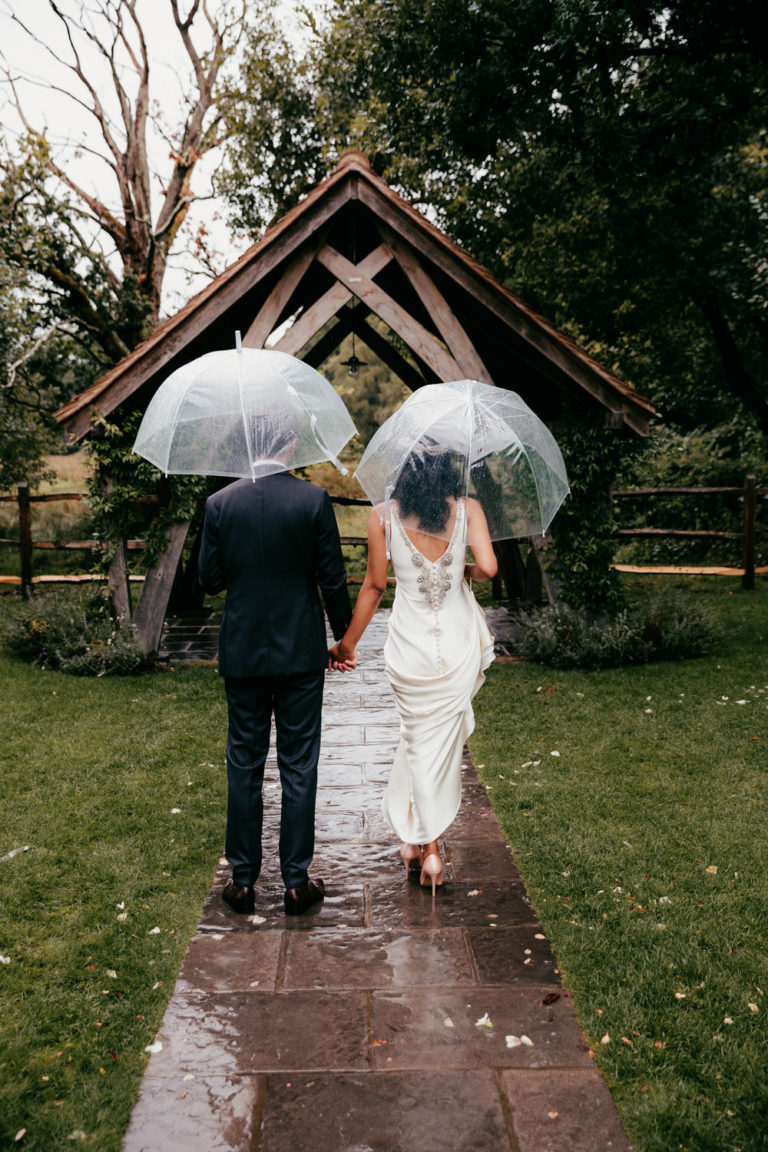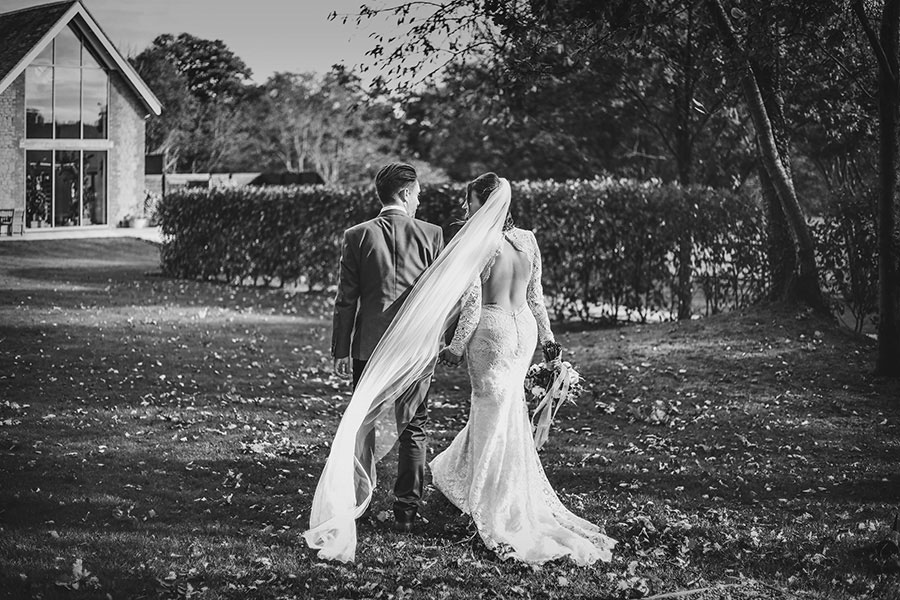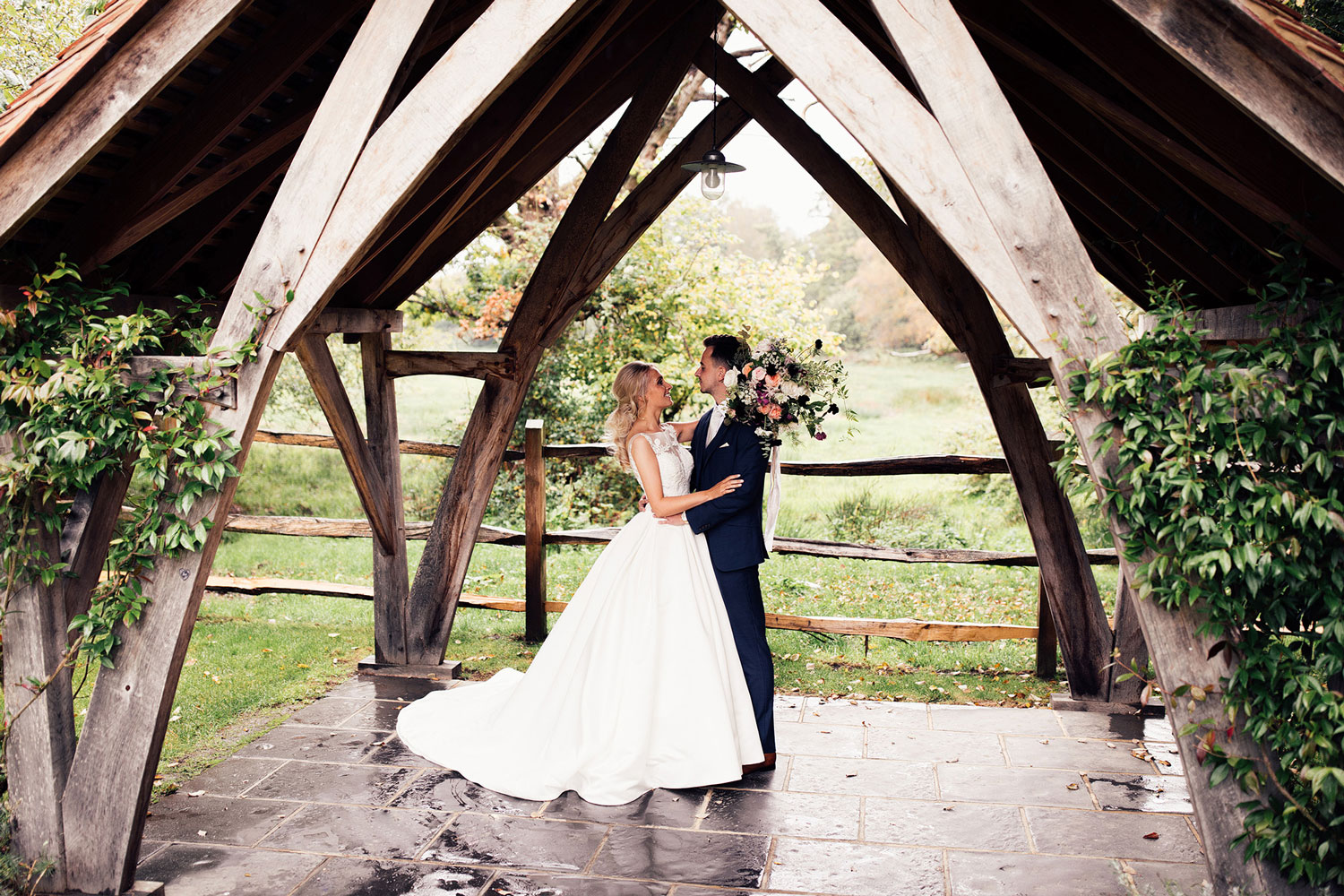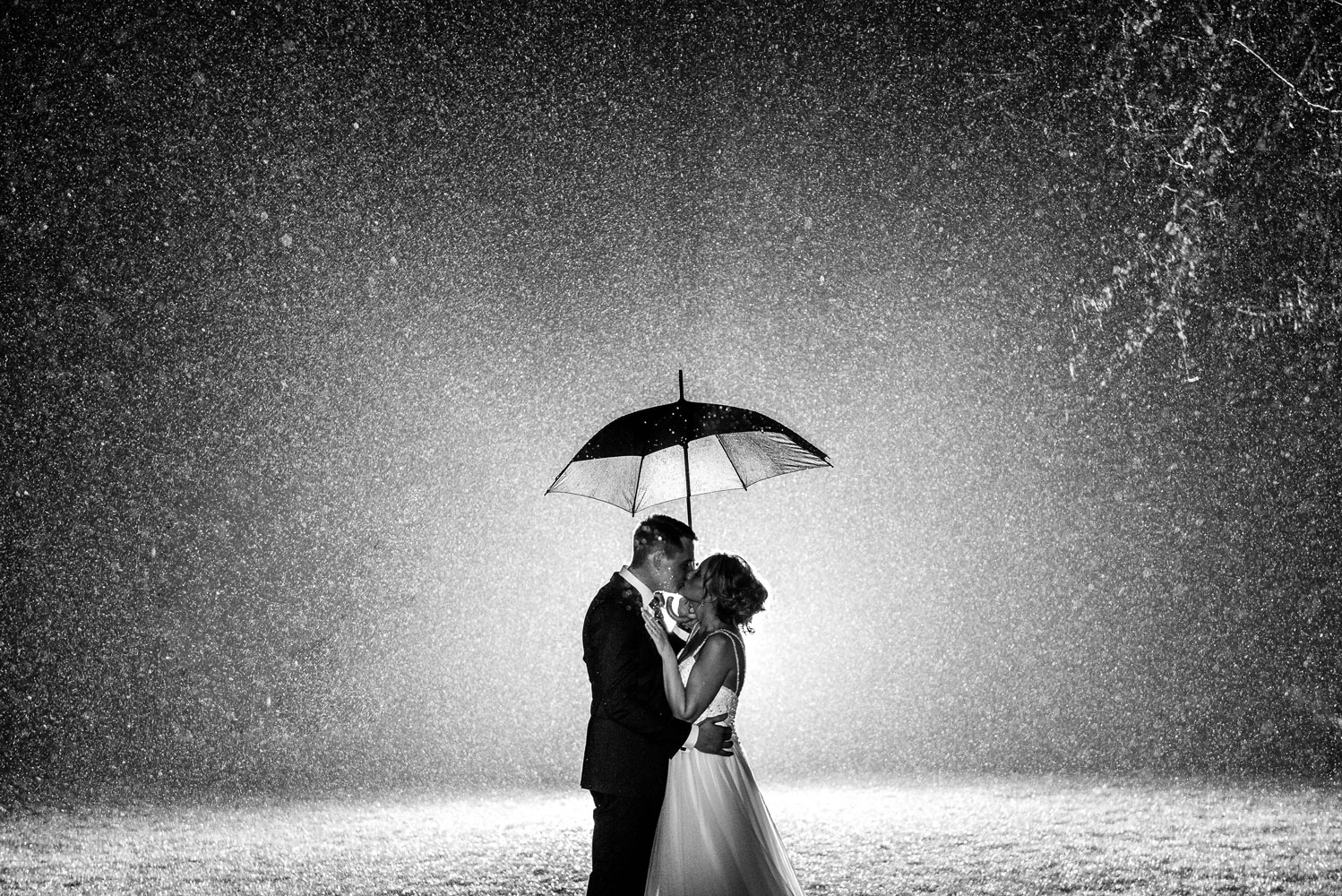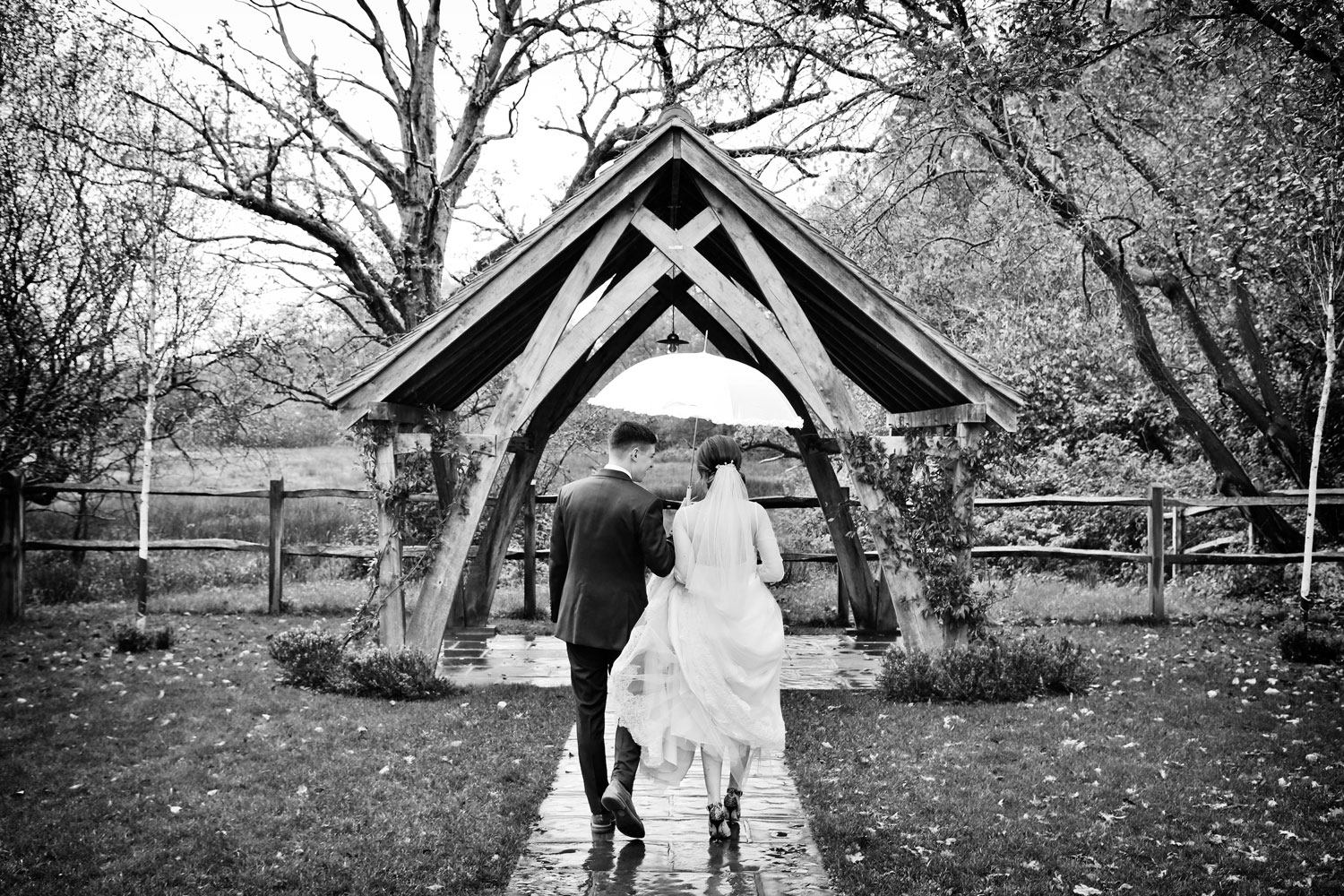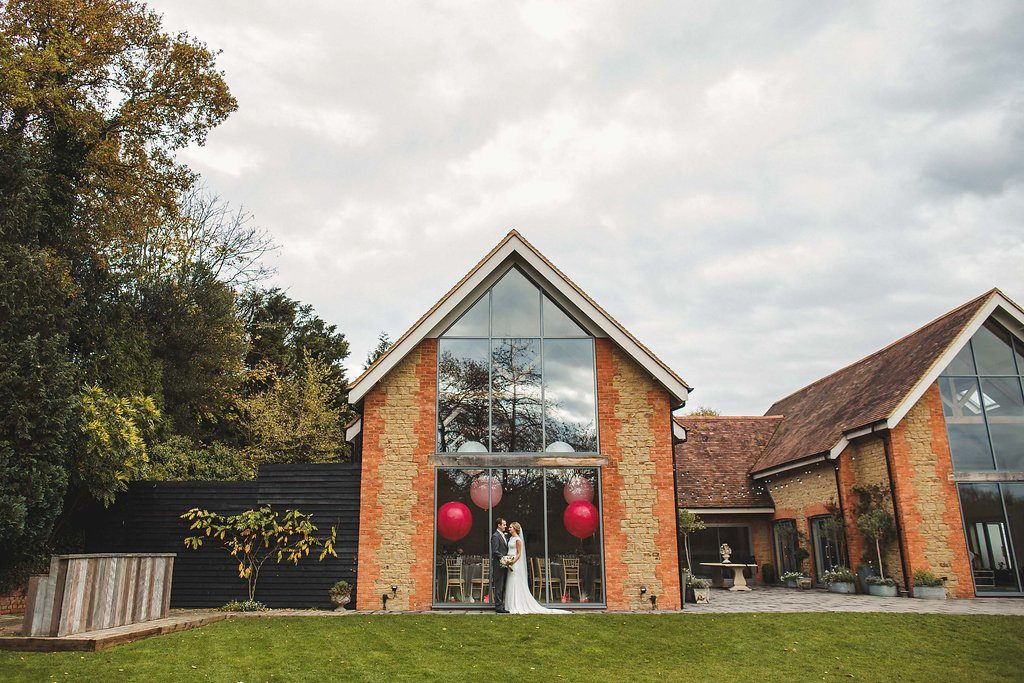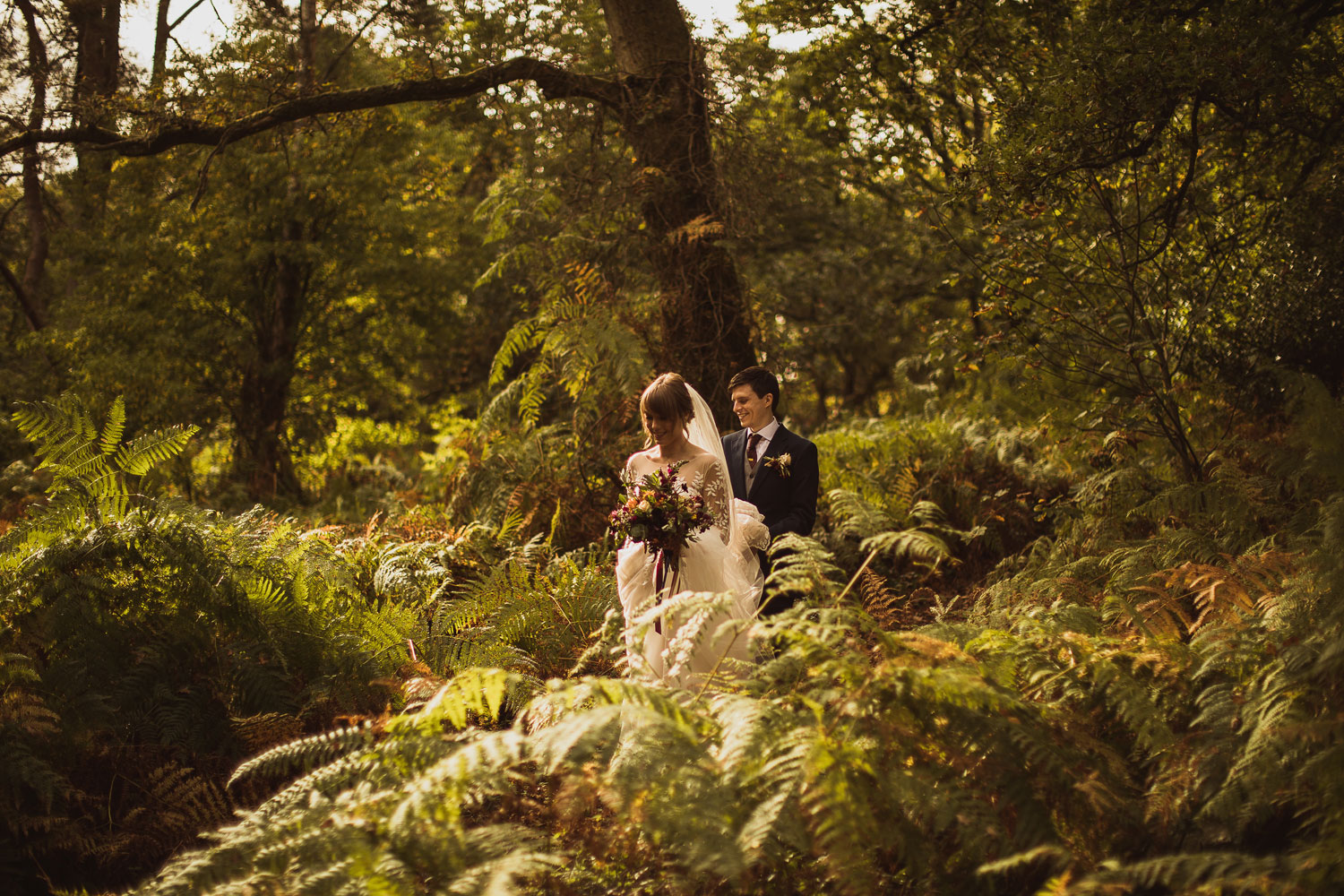 Cosy Lounges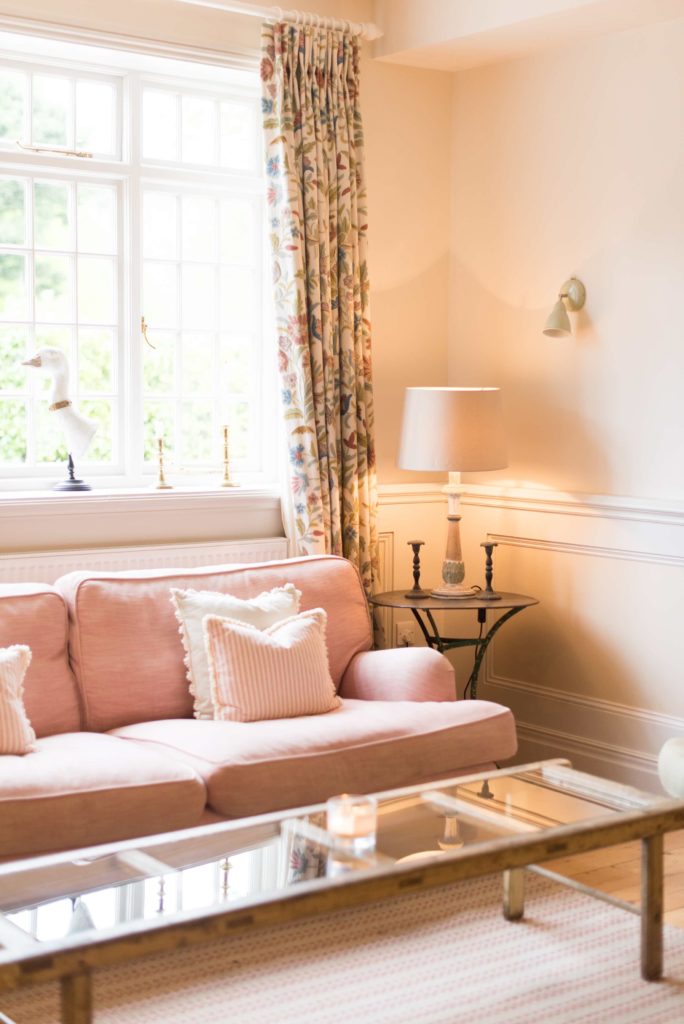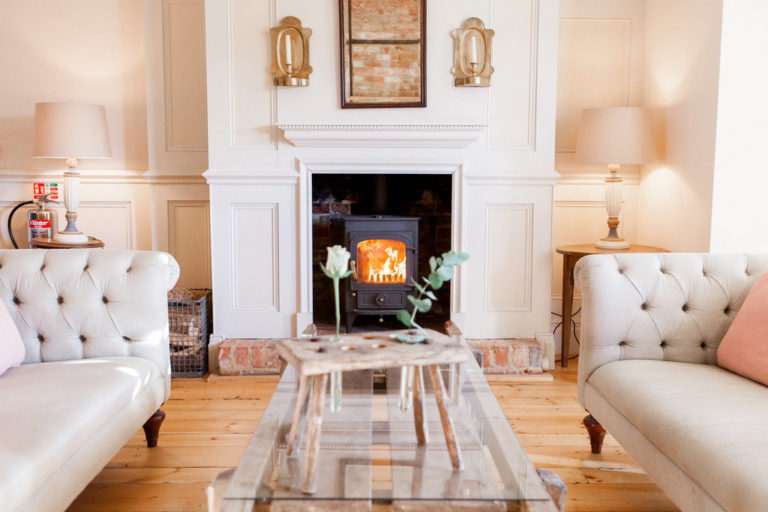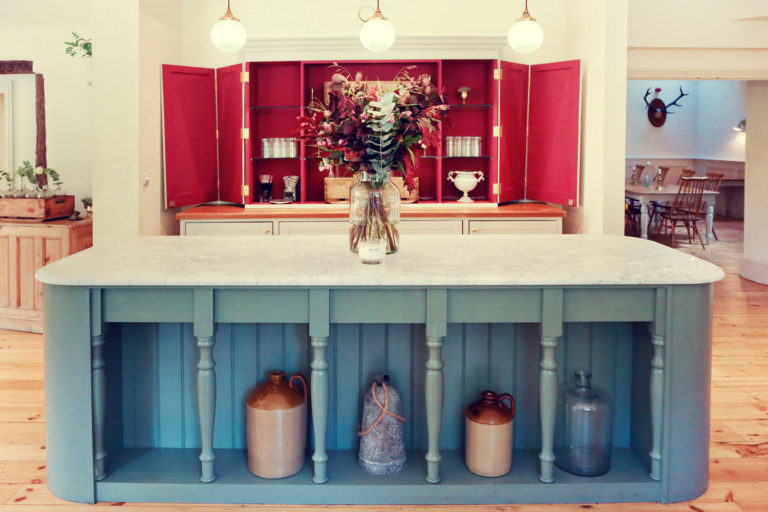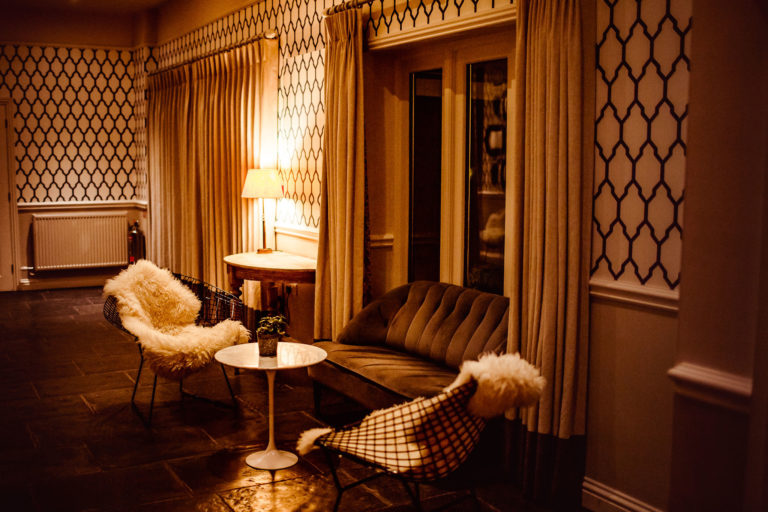 Romantic Lighting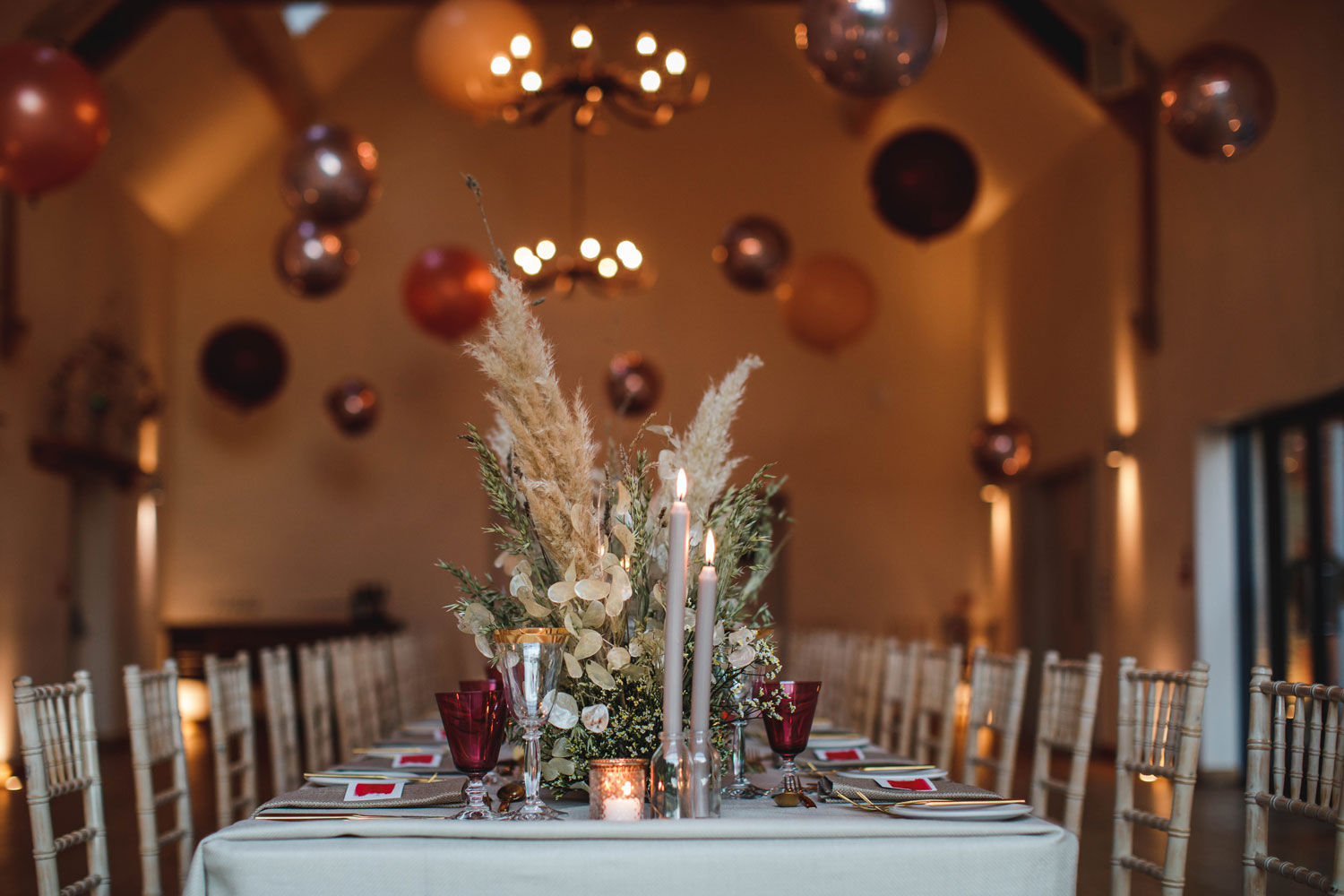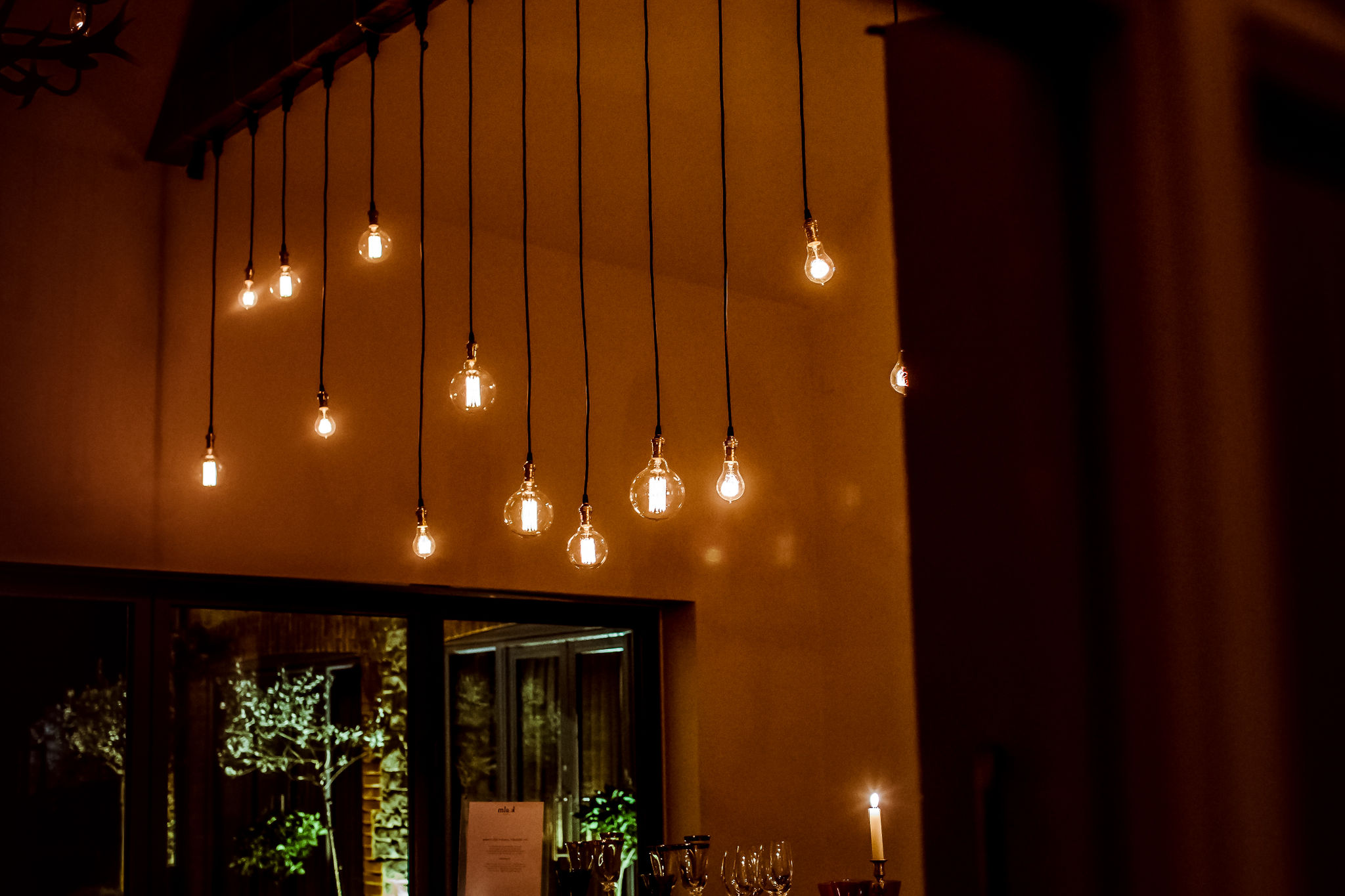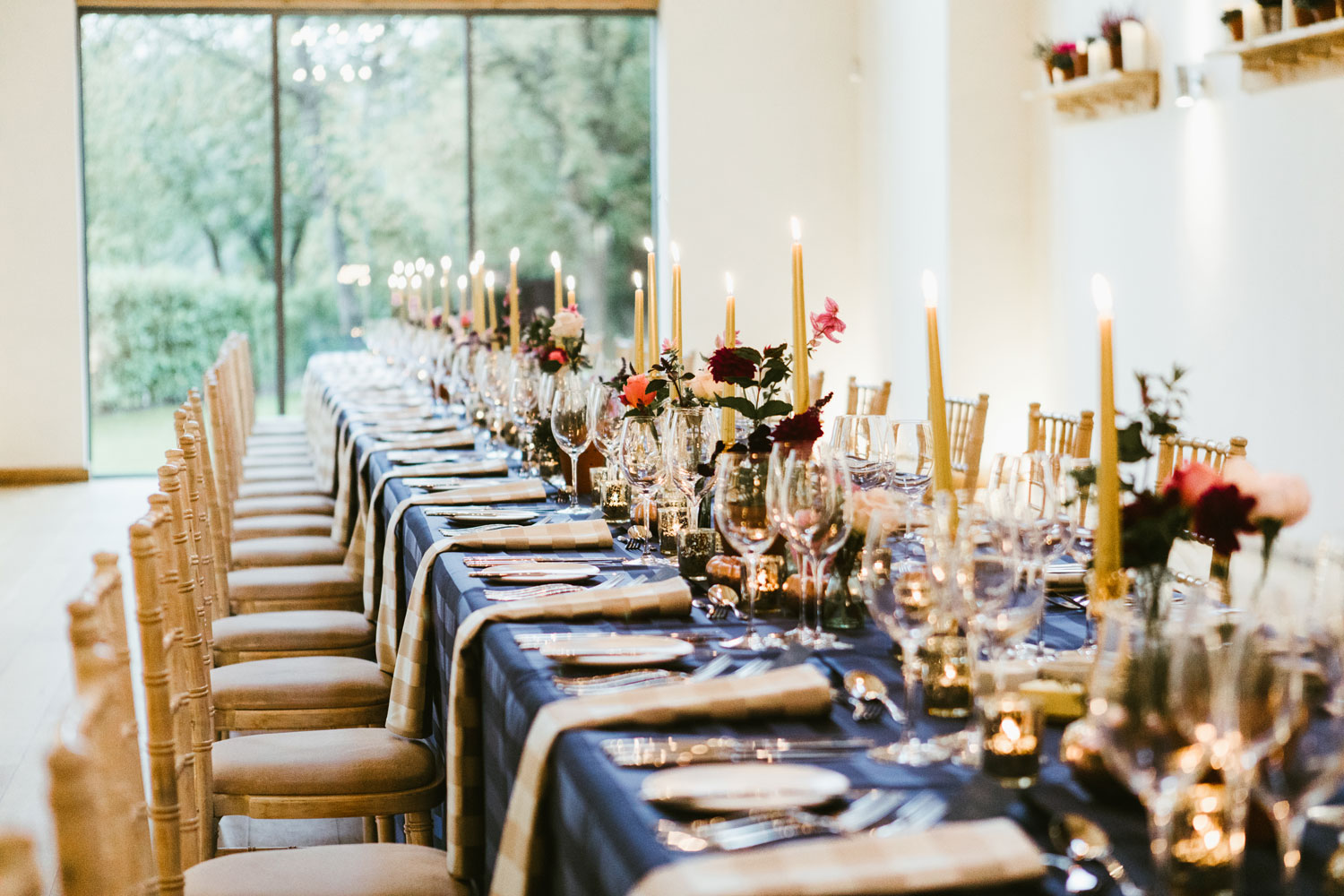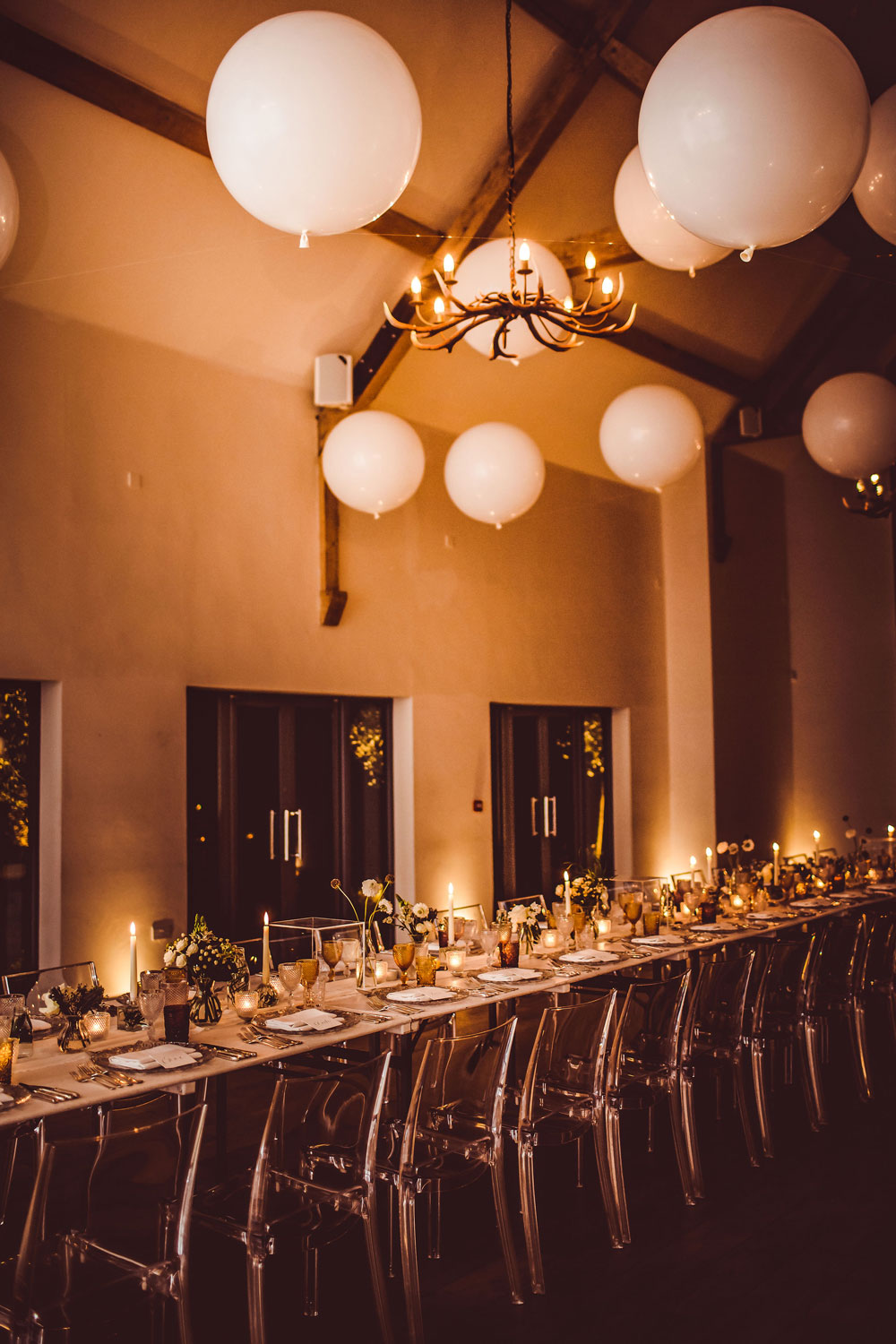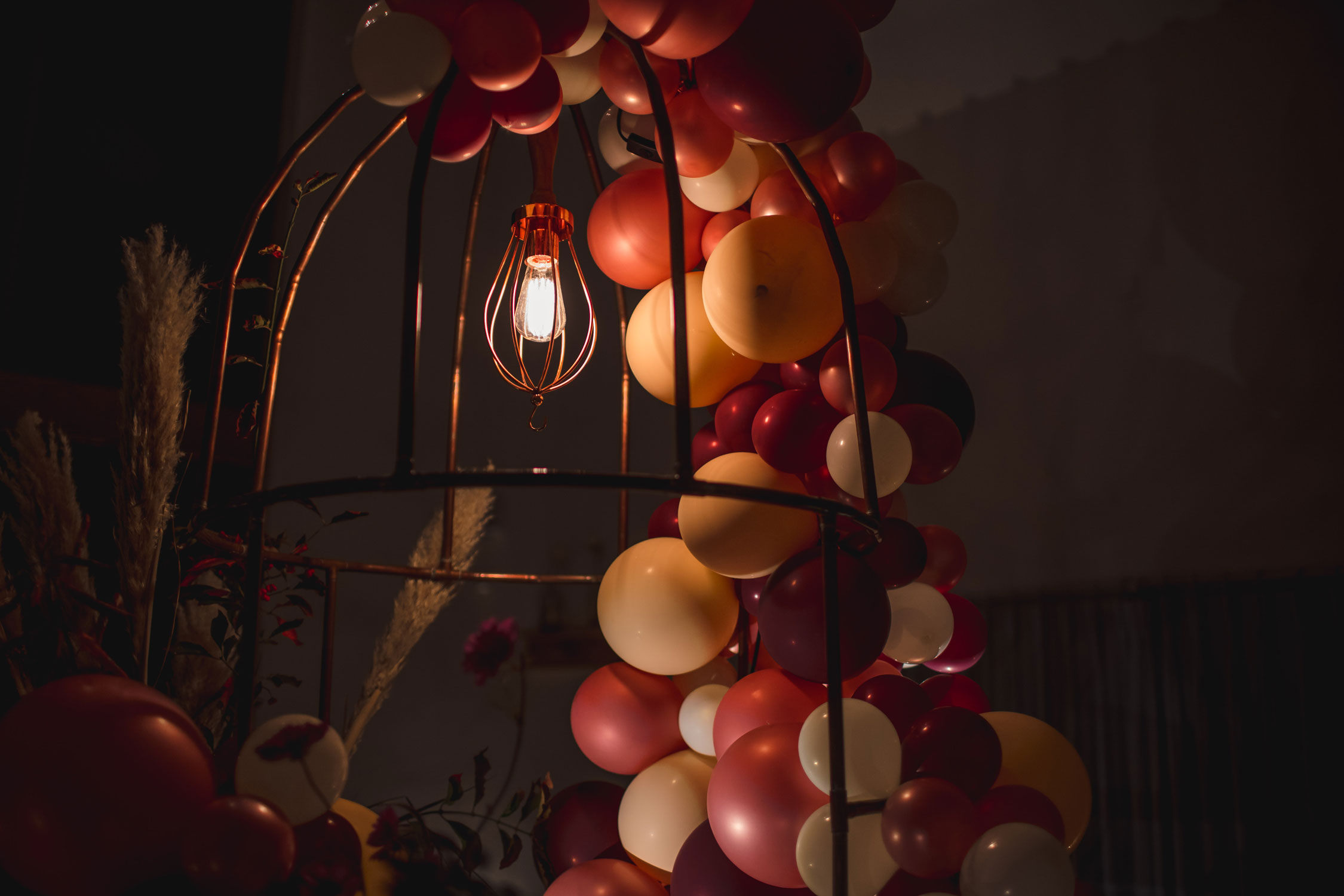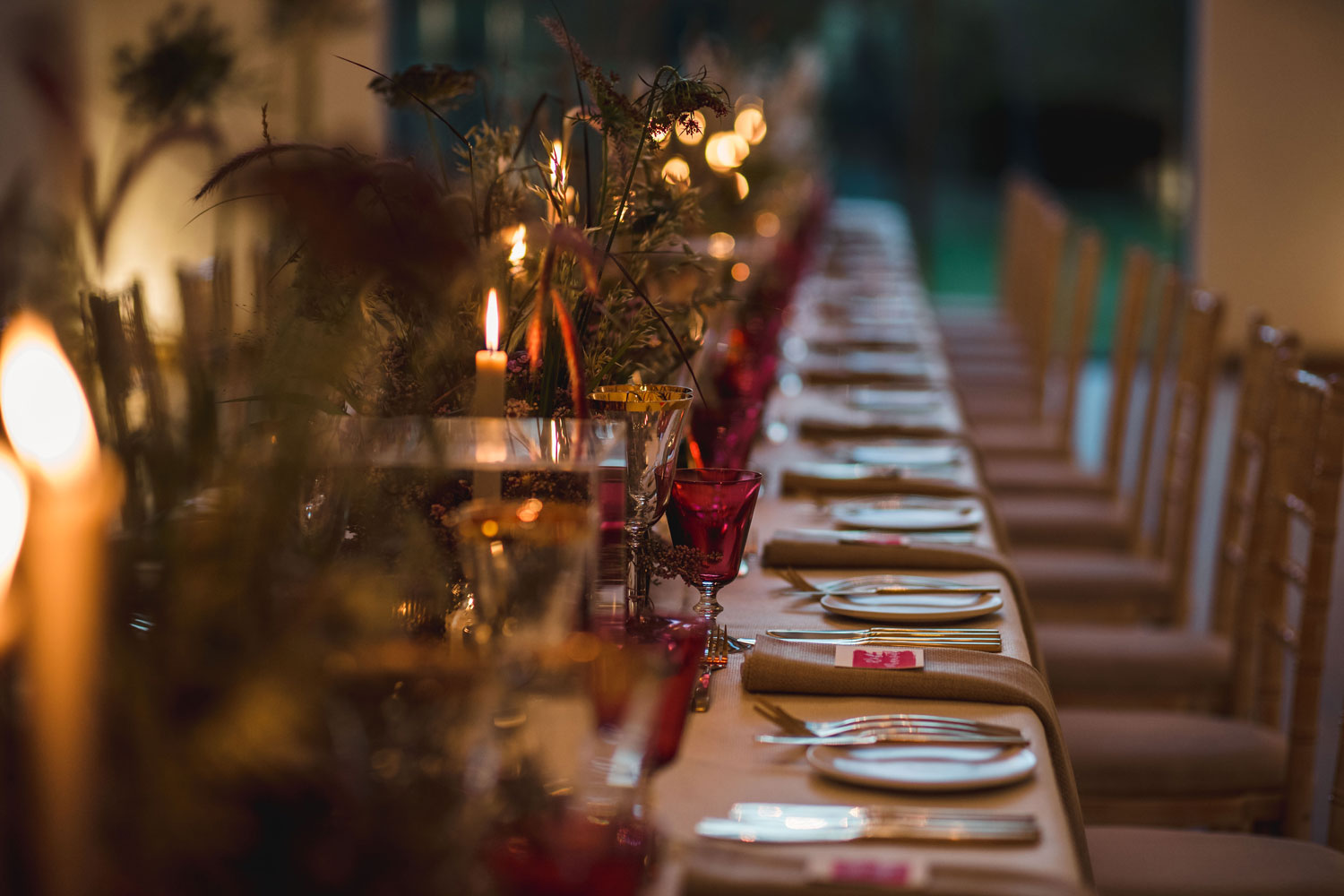 Seasonal Ceremonies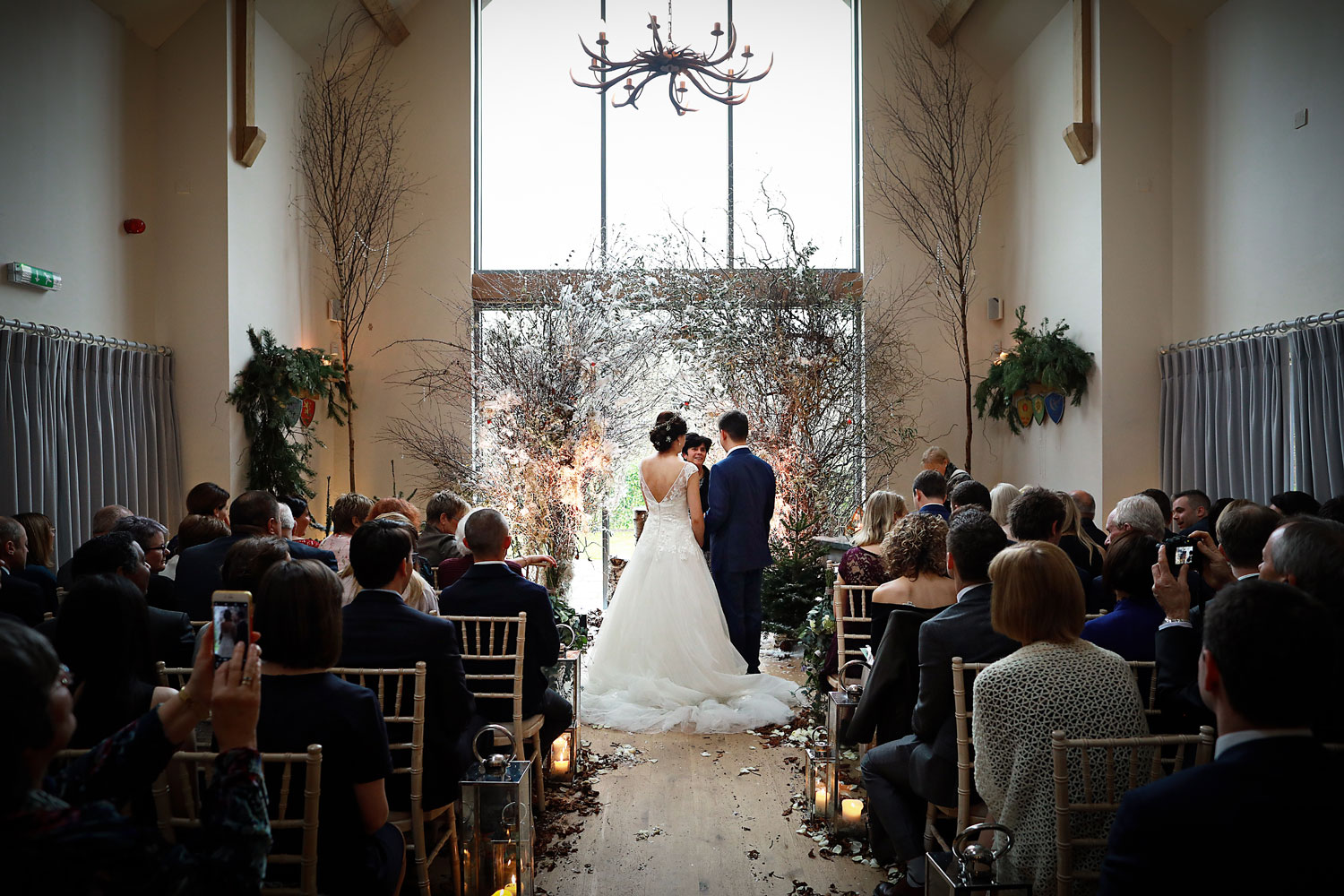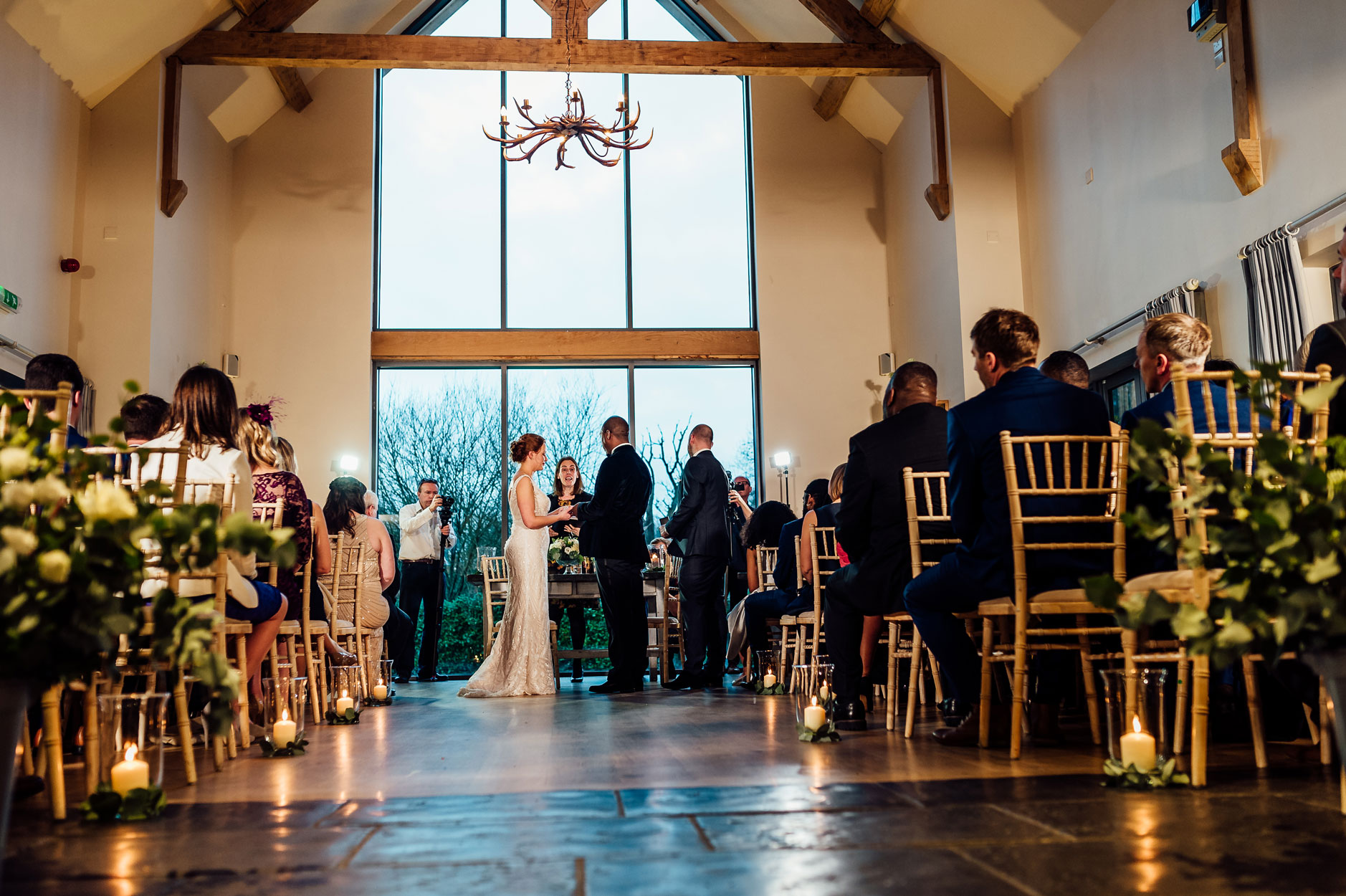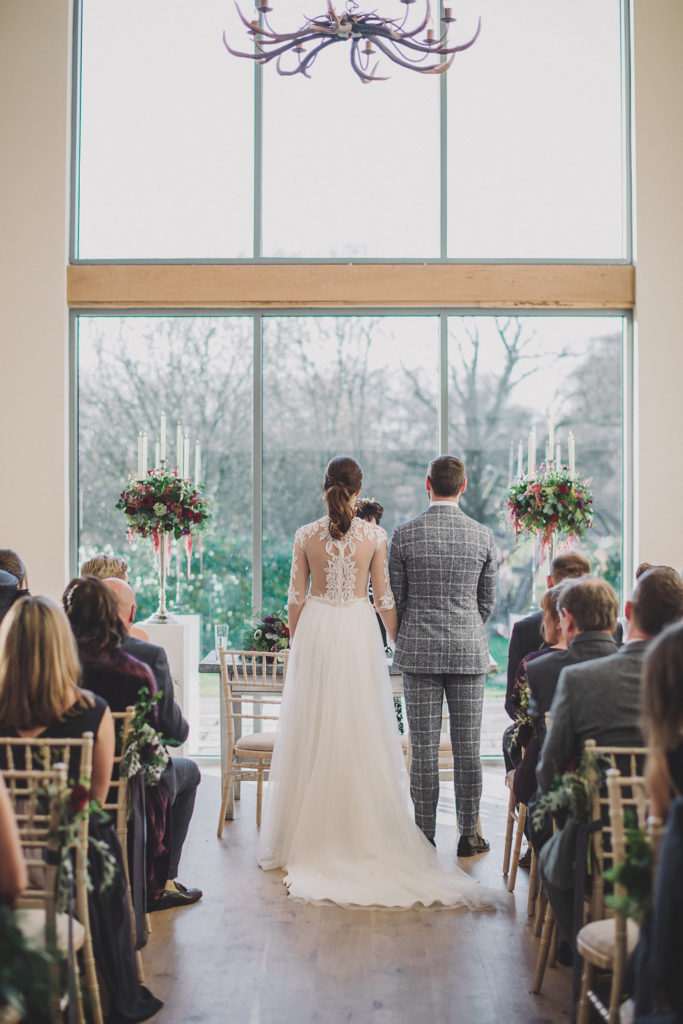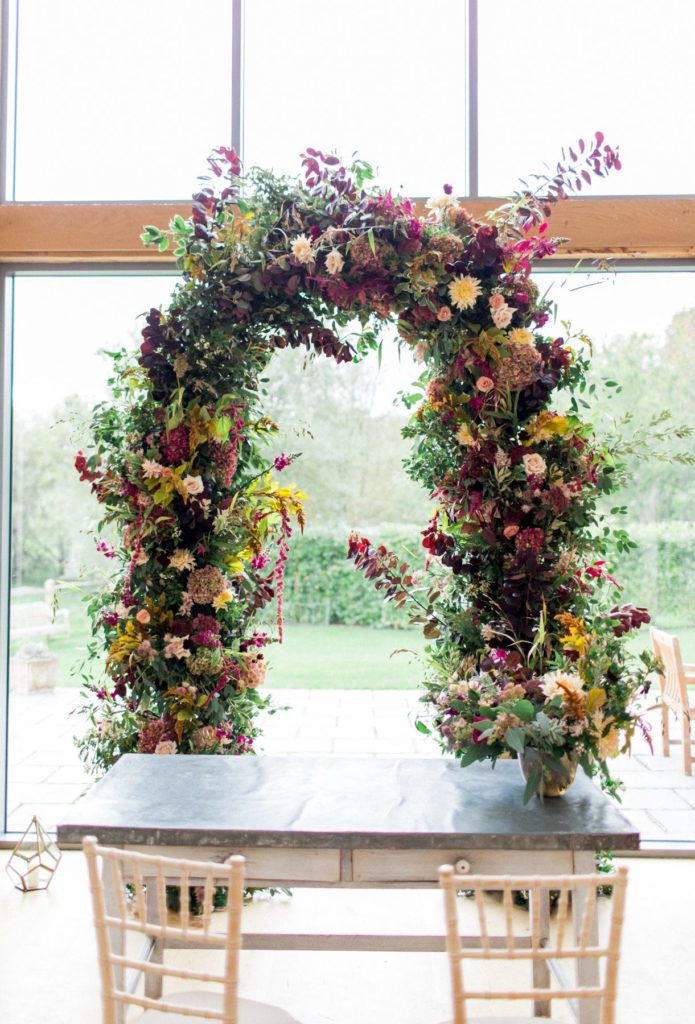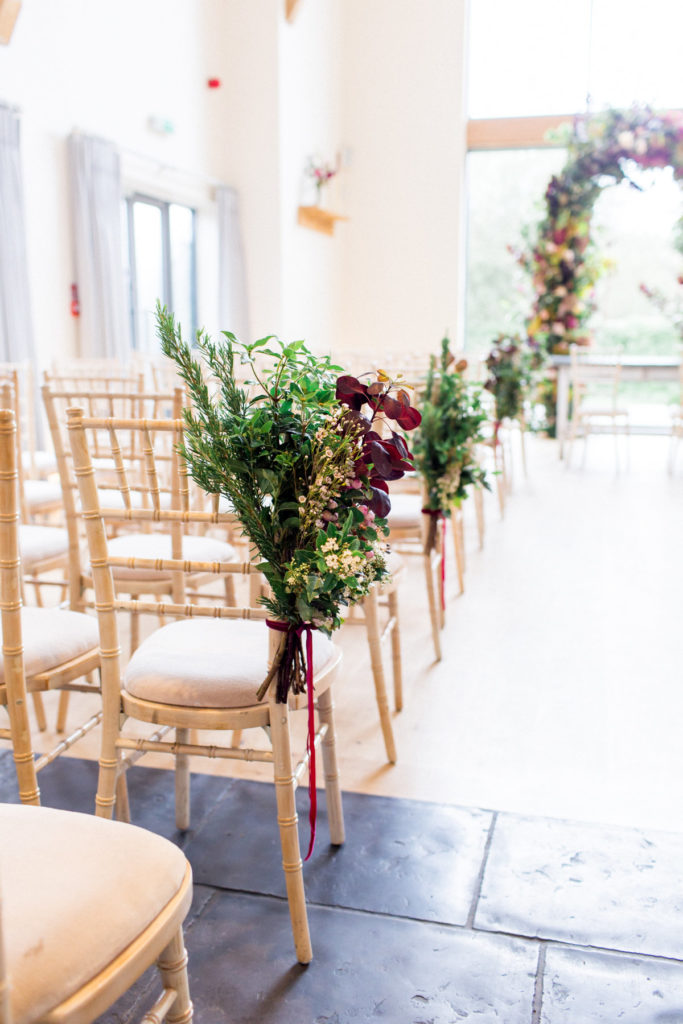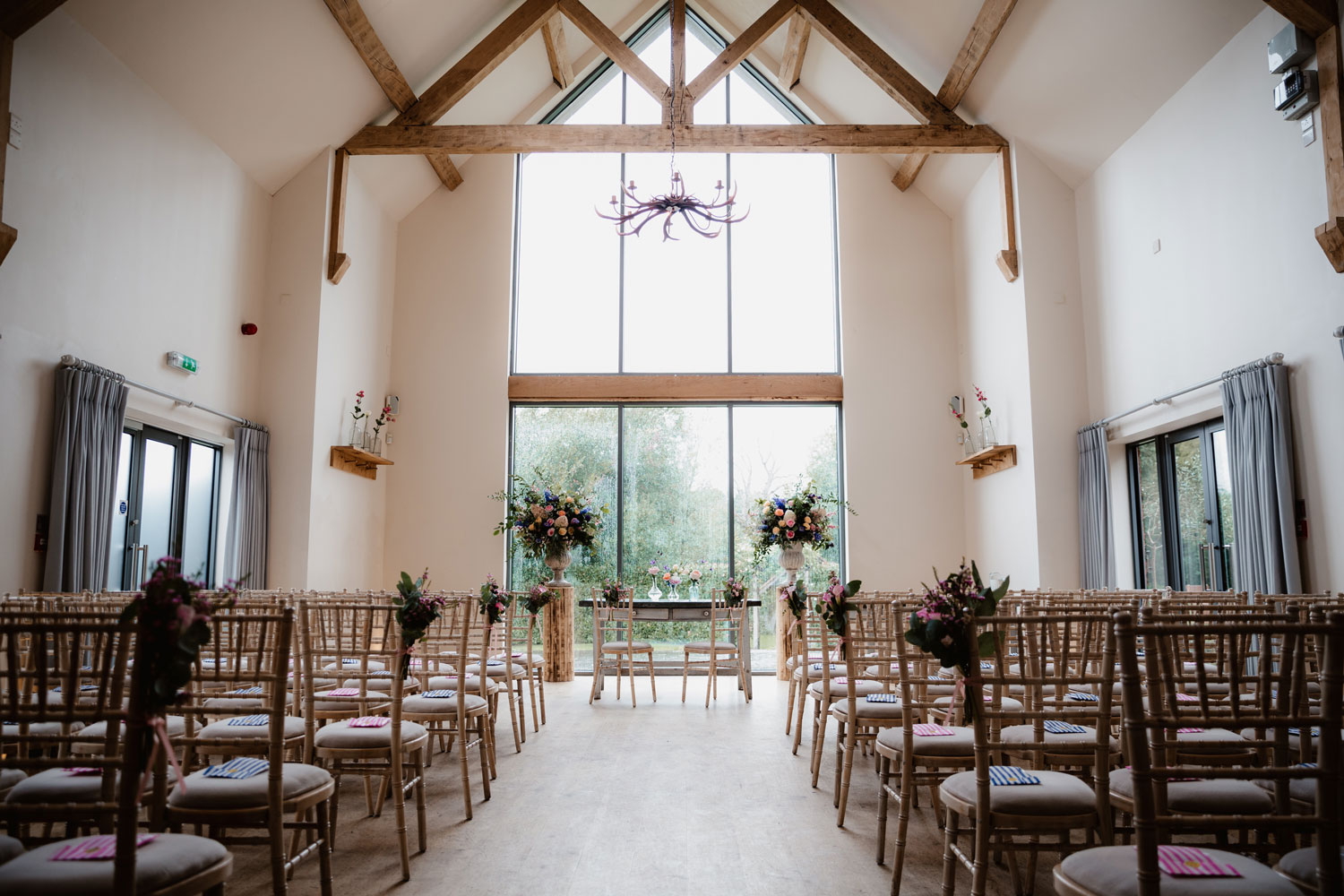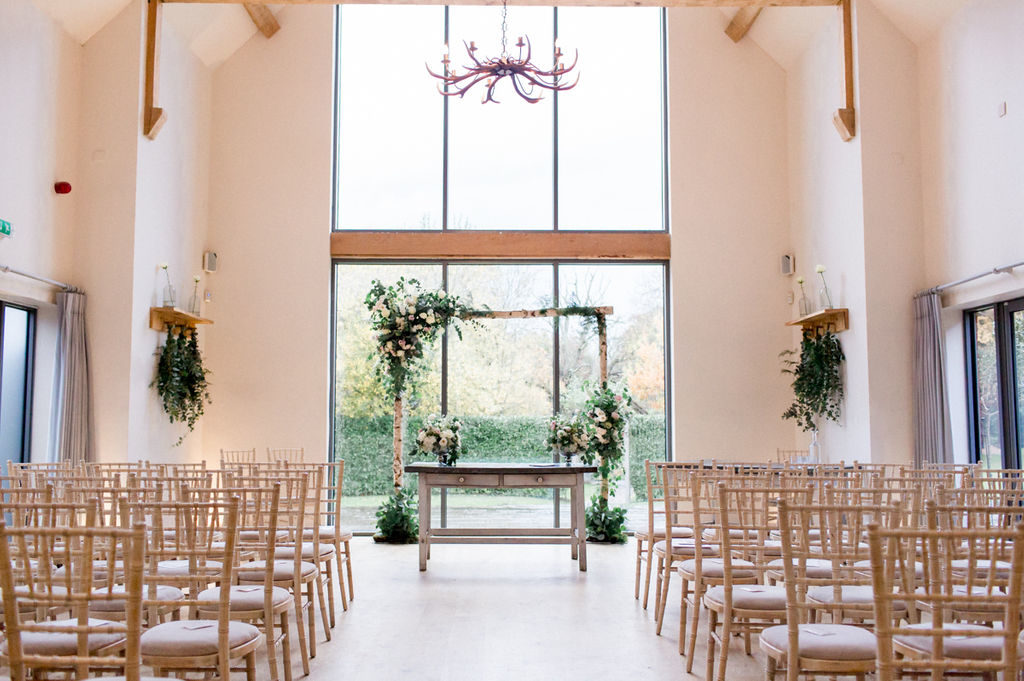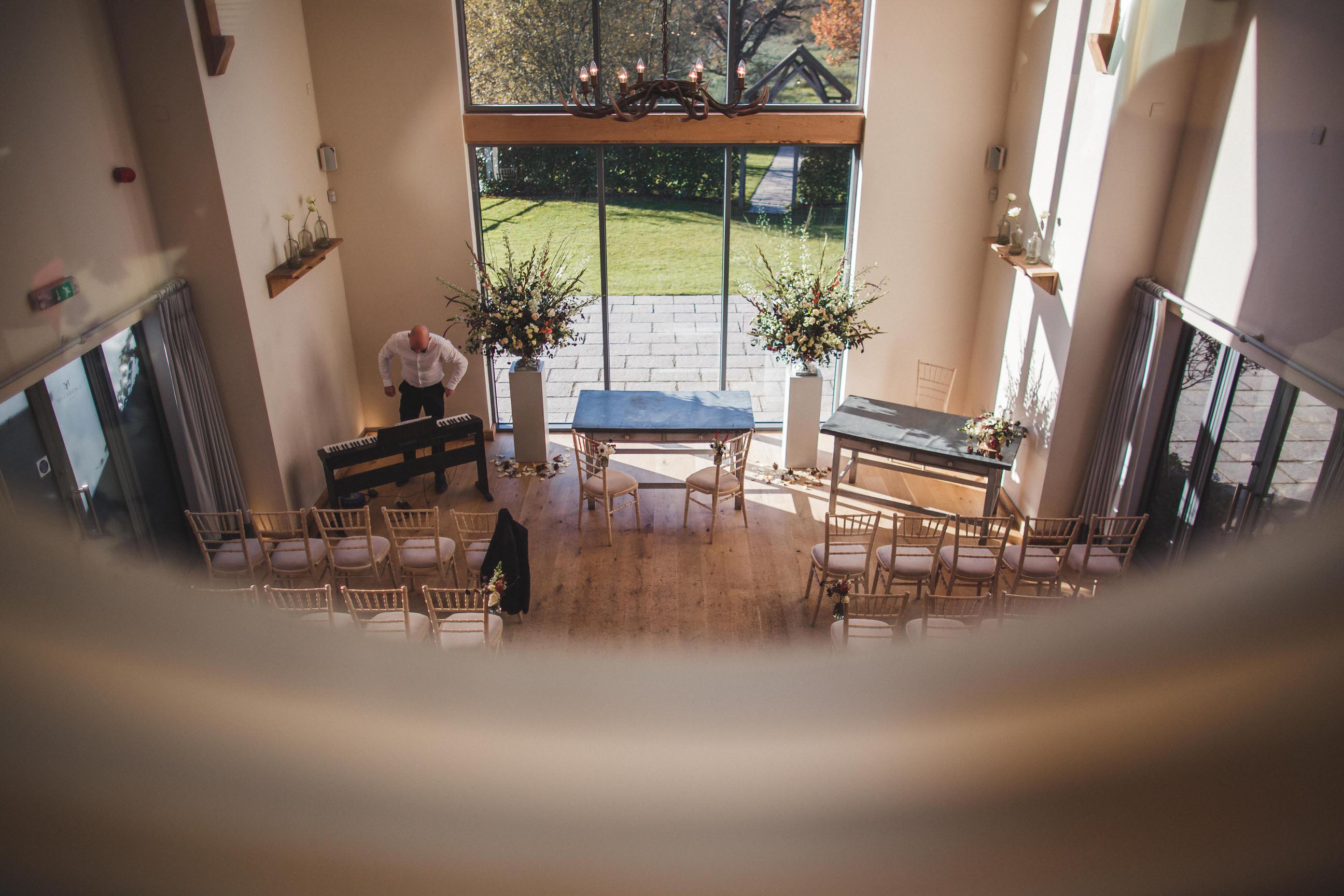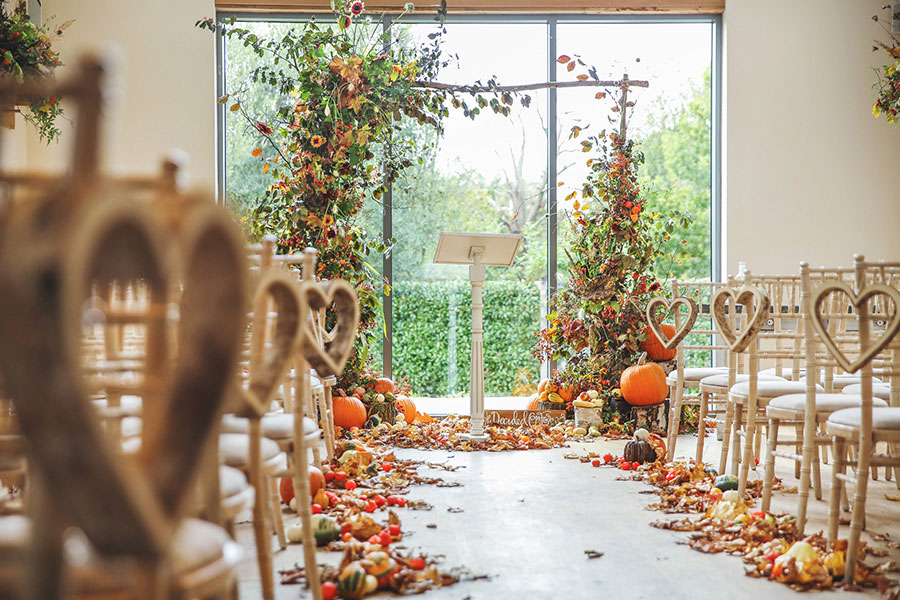 Wholesome Kalm Kitchen Menu's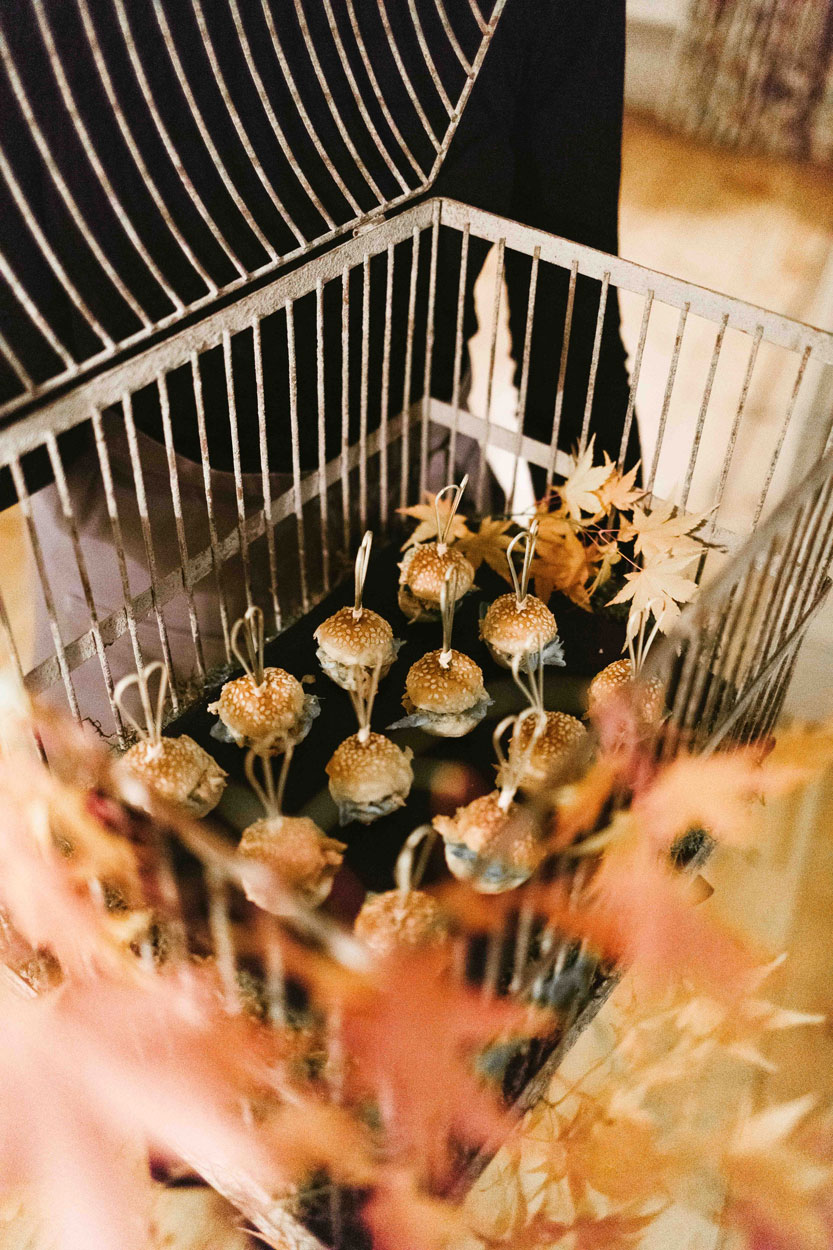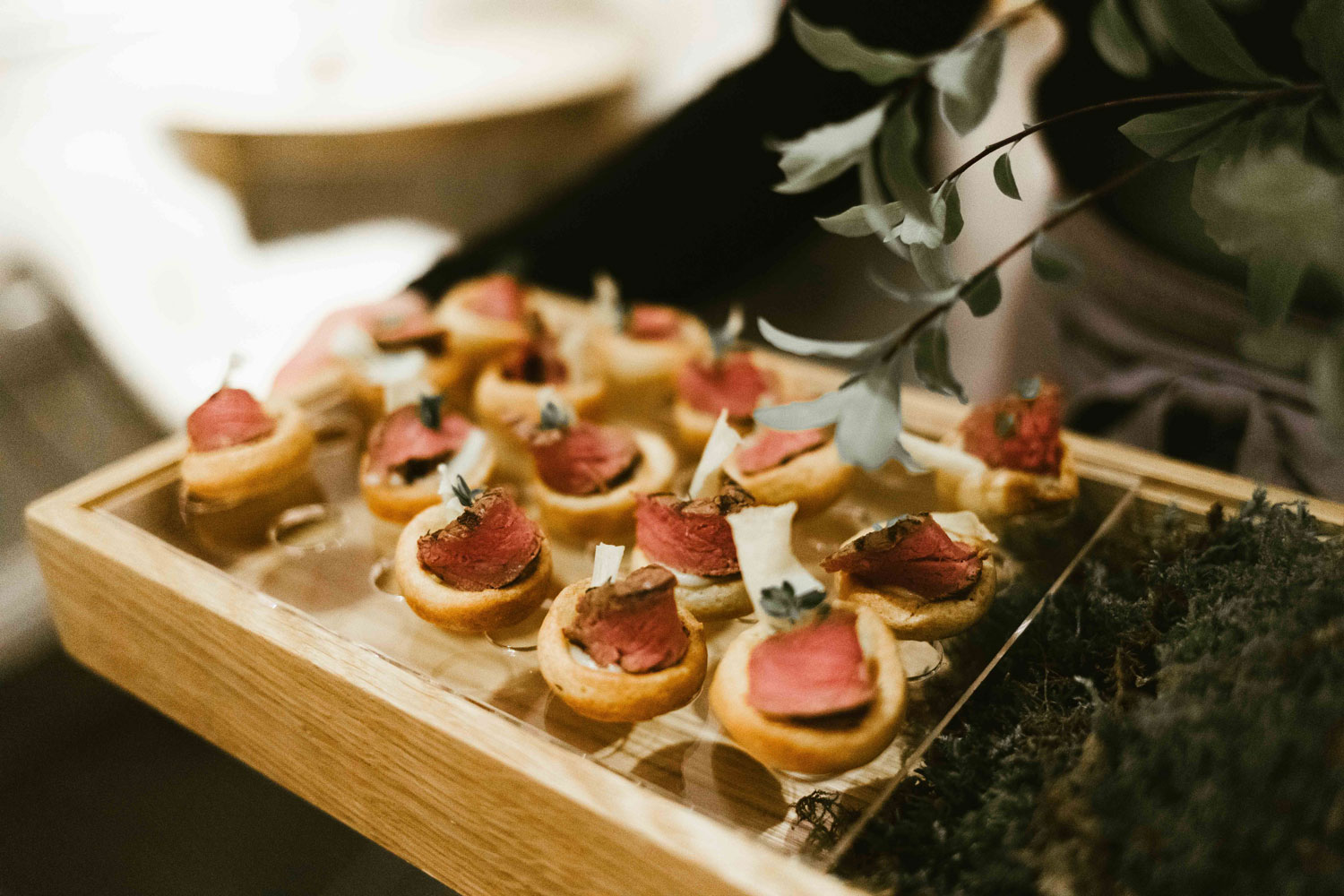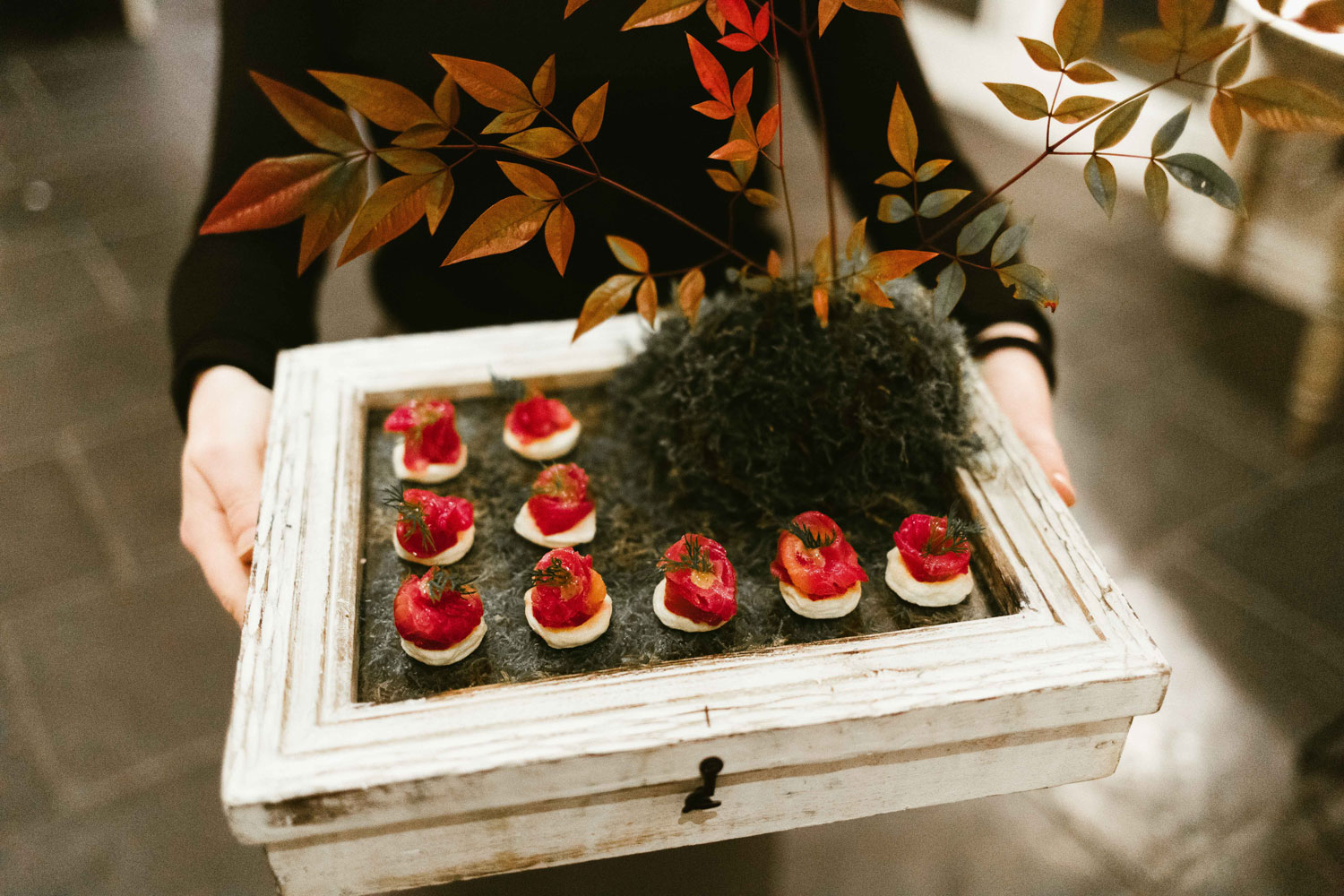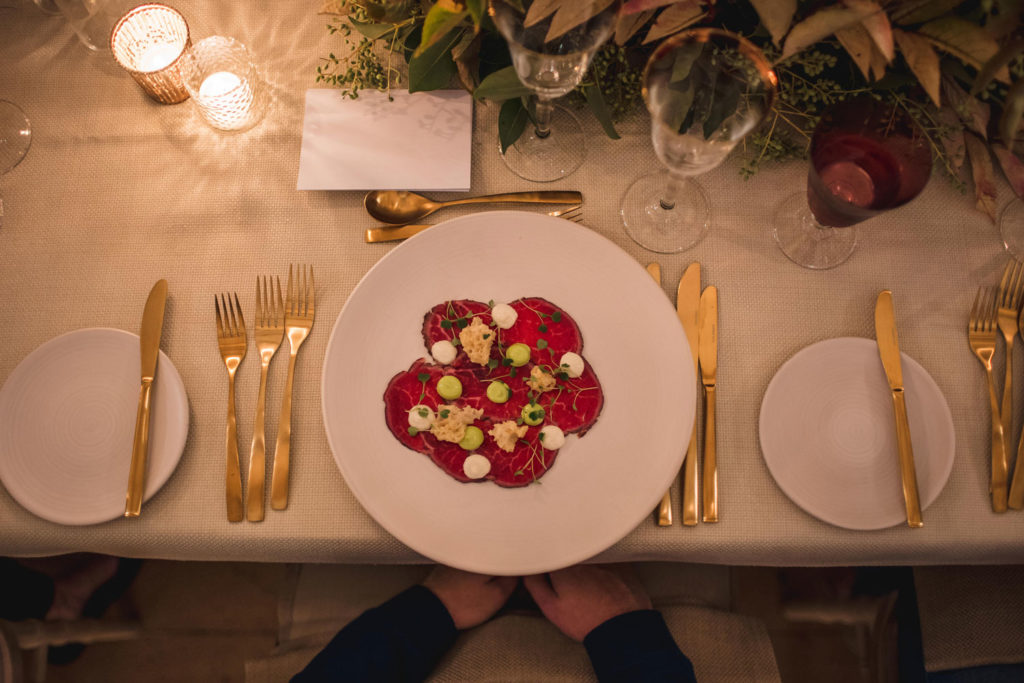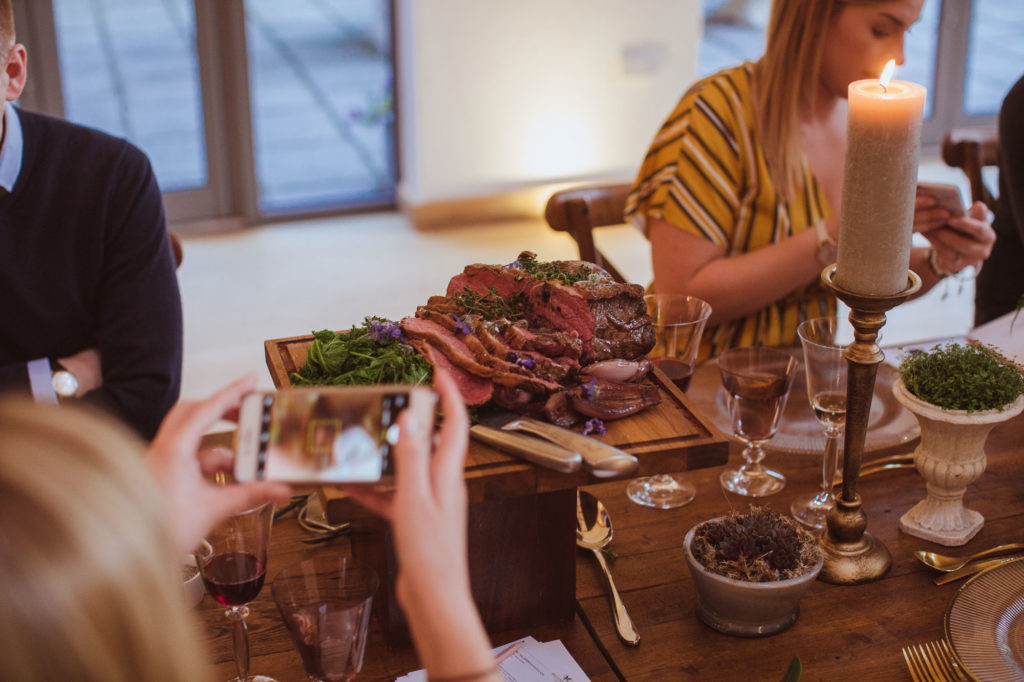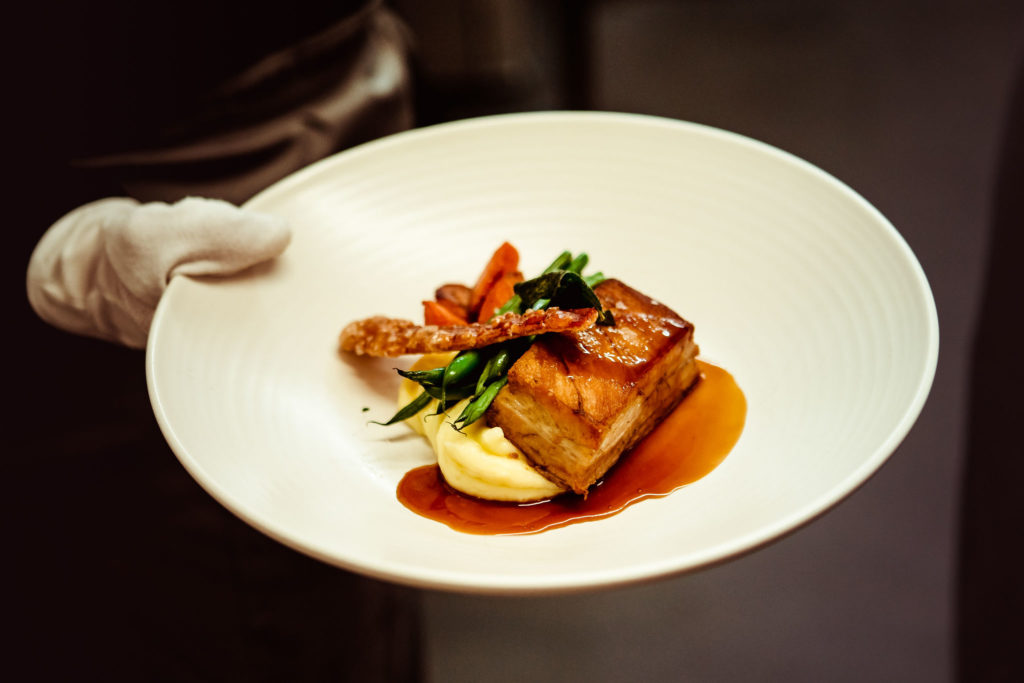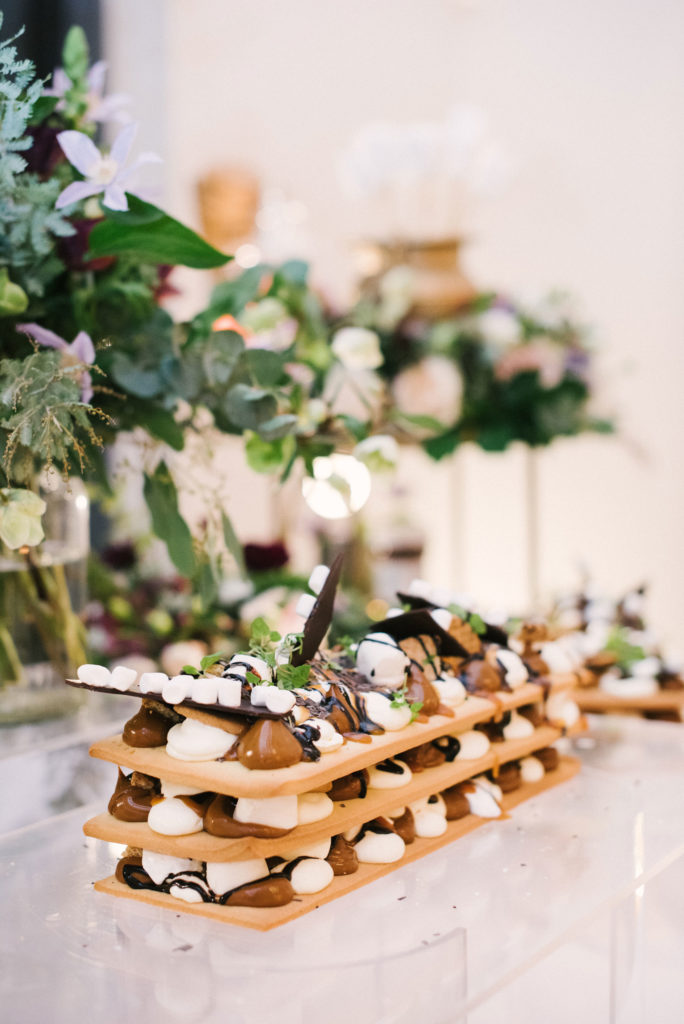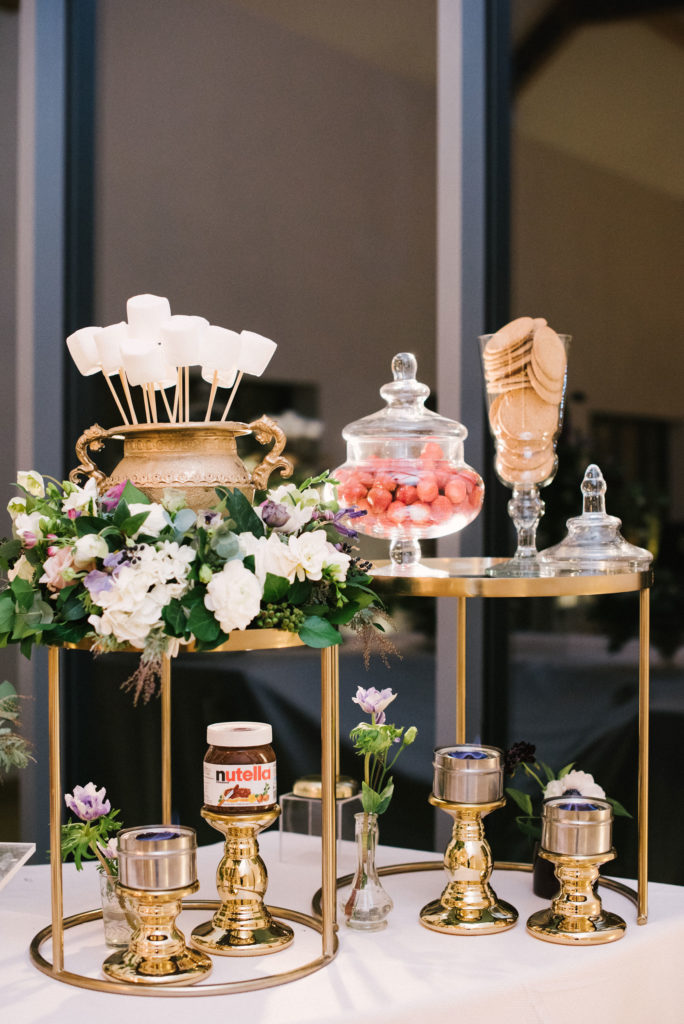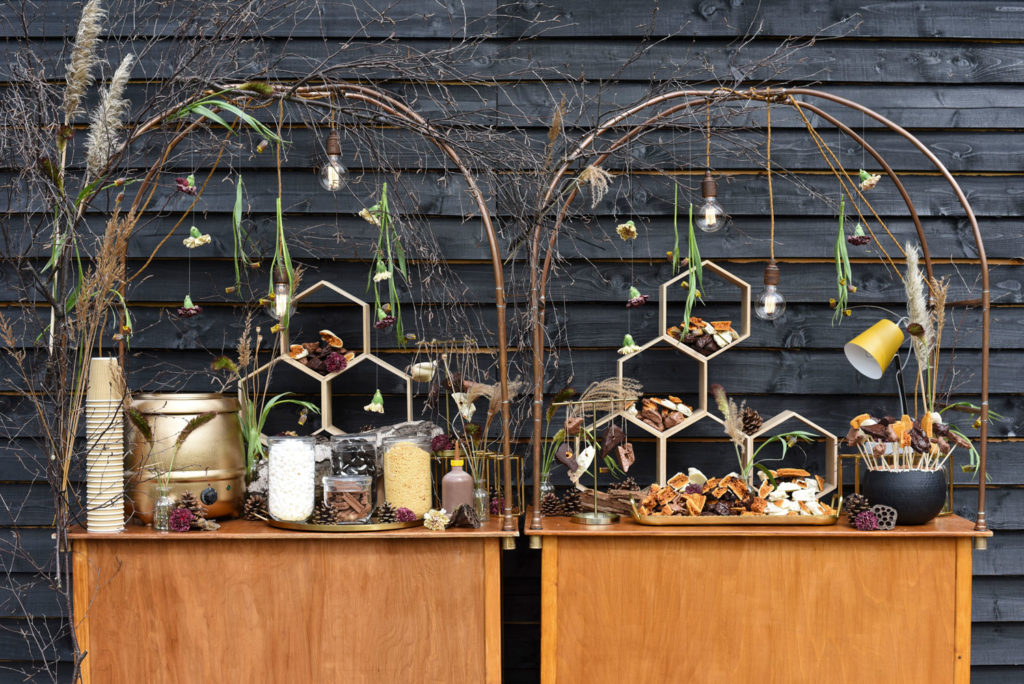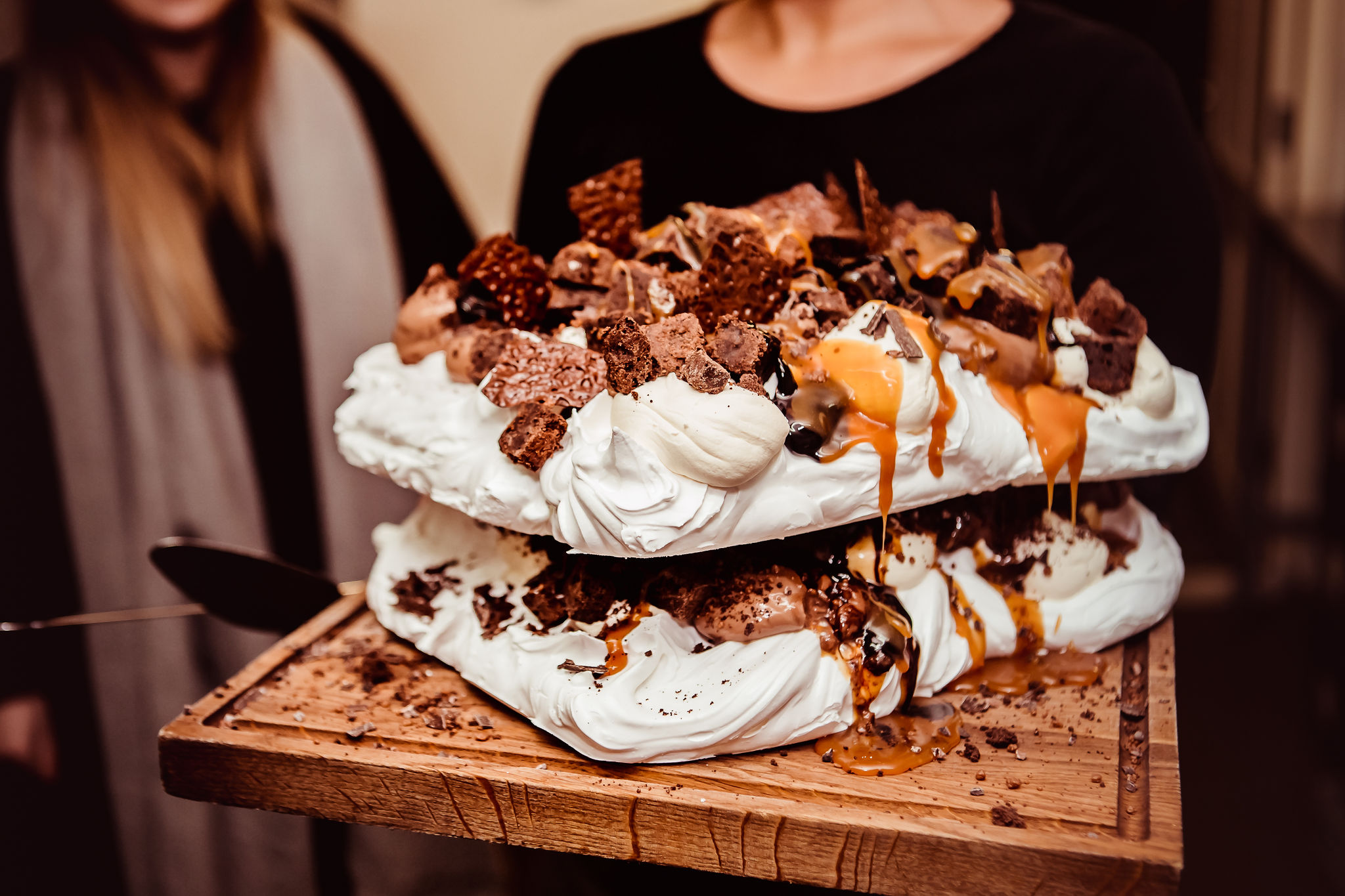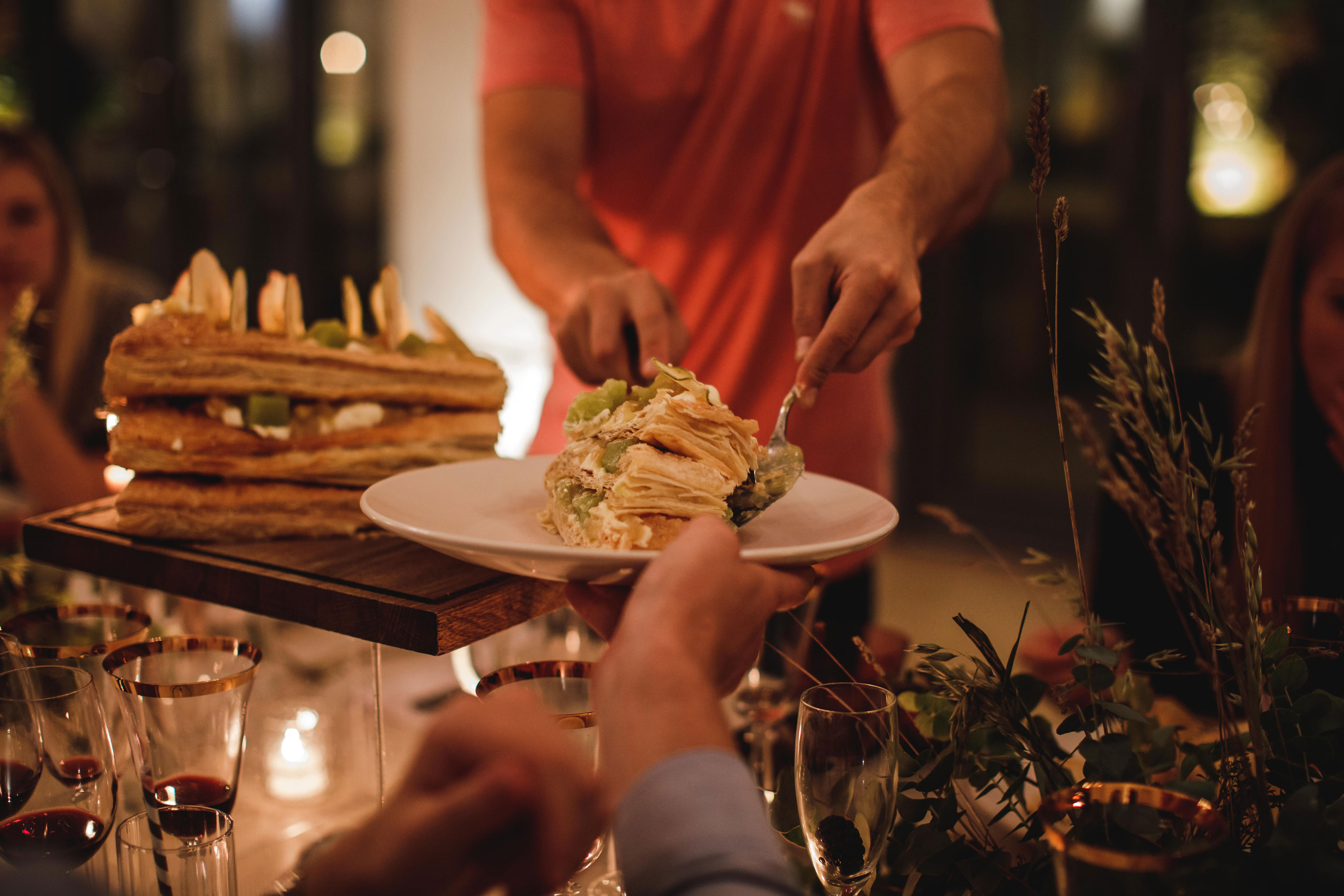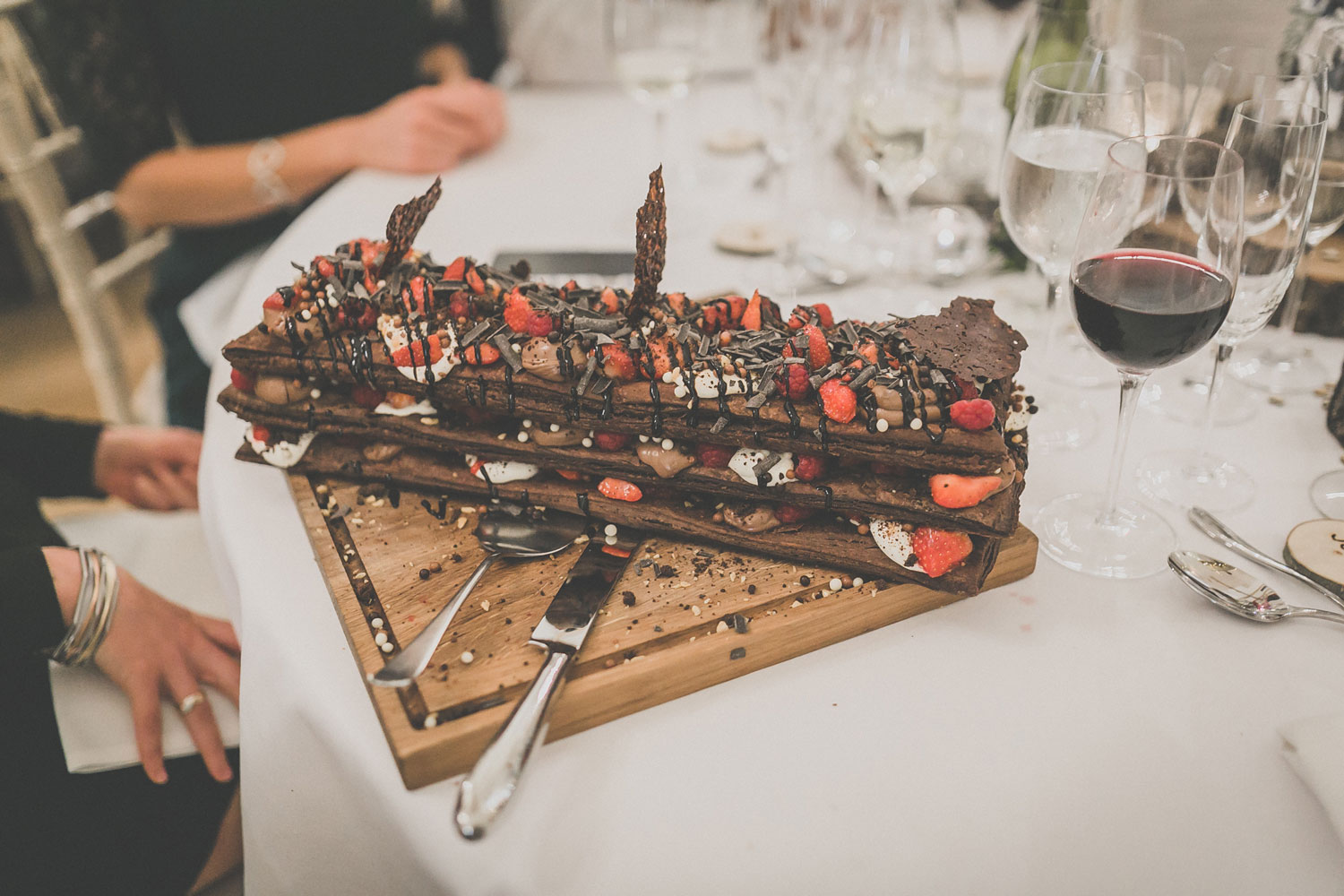 Those Romantic Nighttime Pictures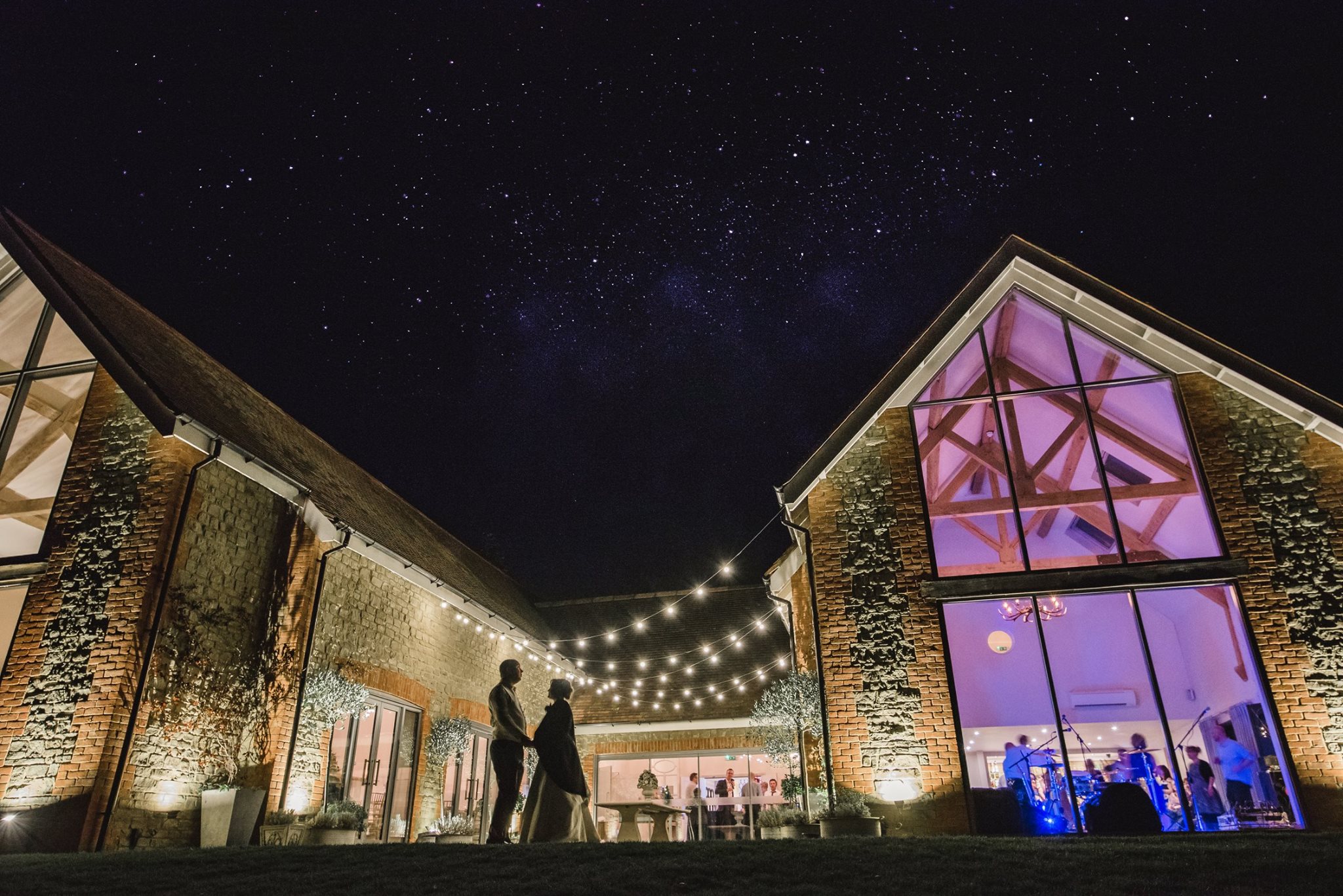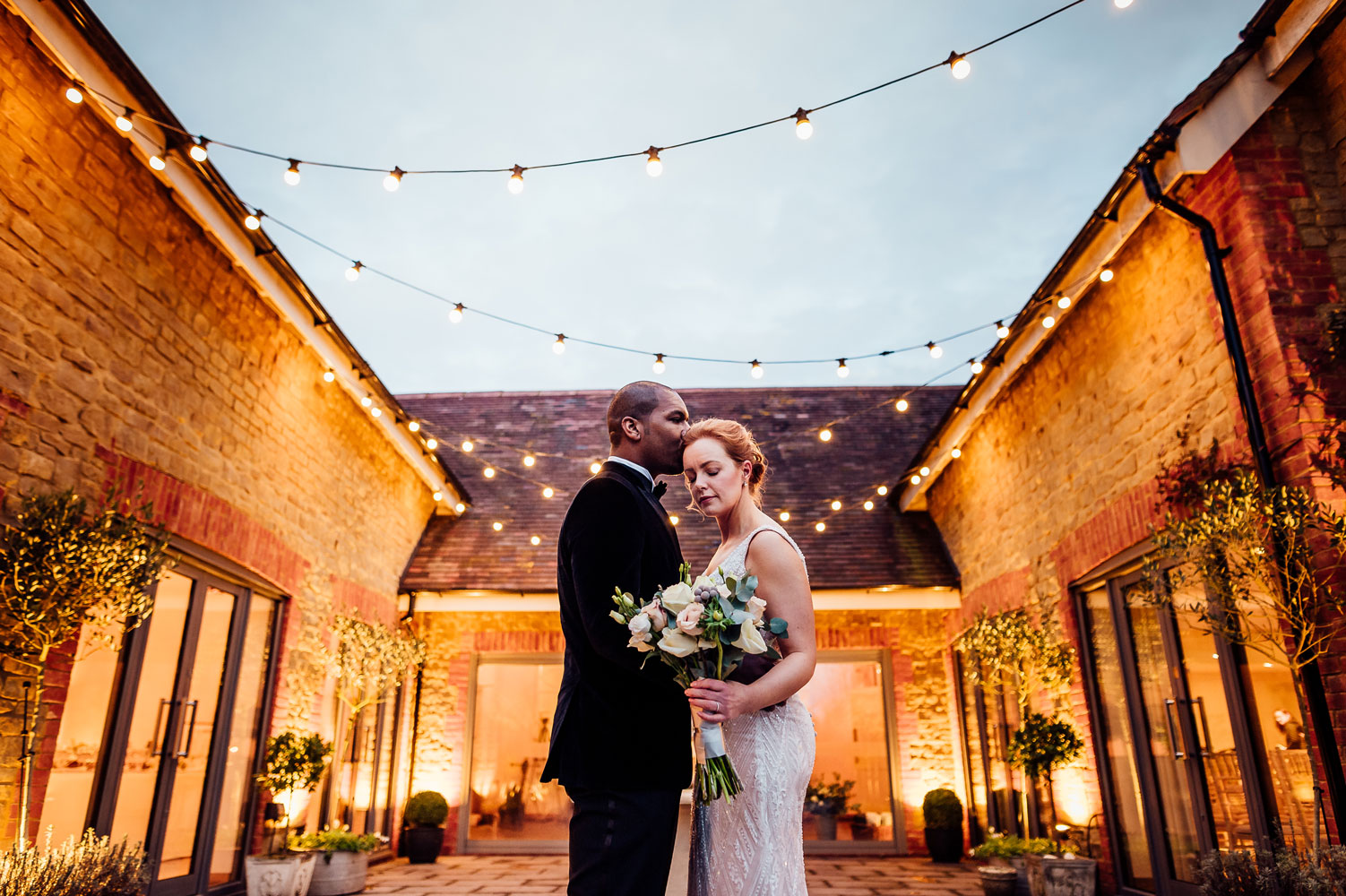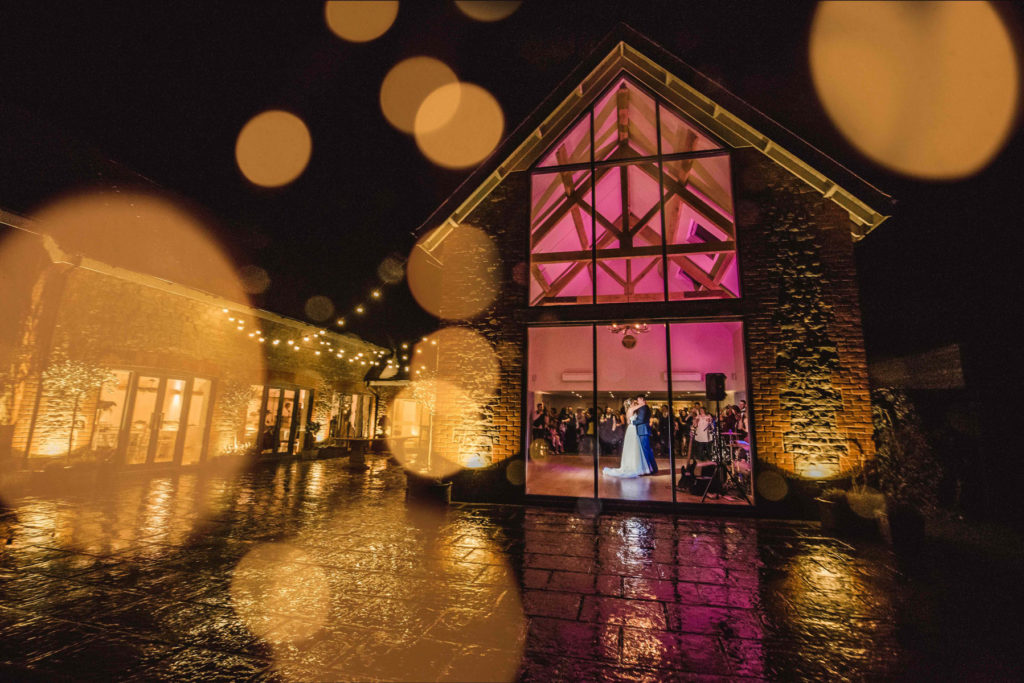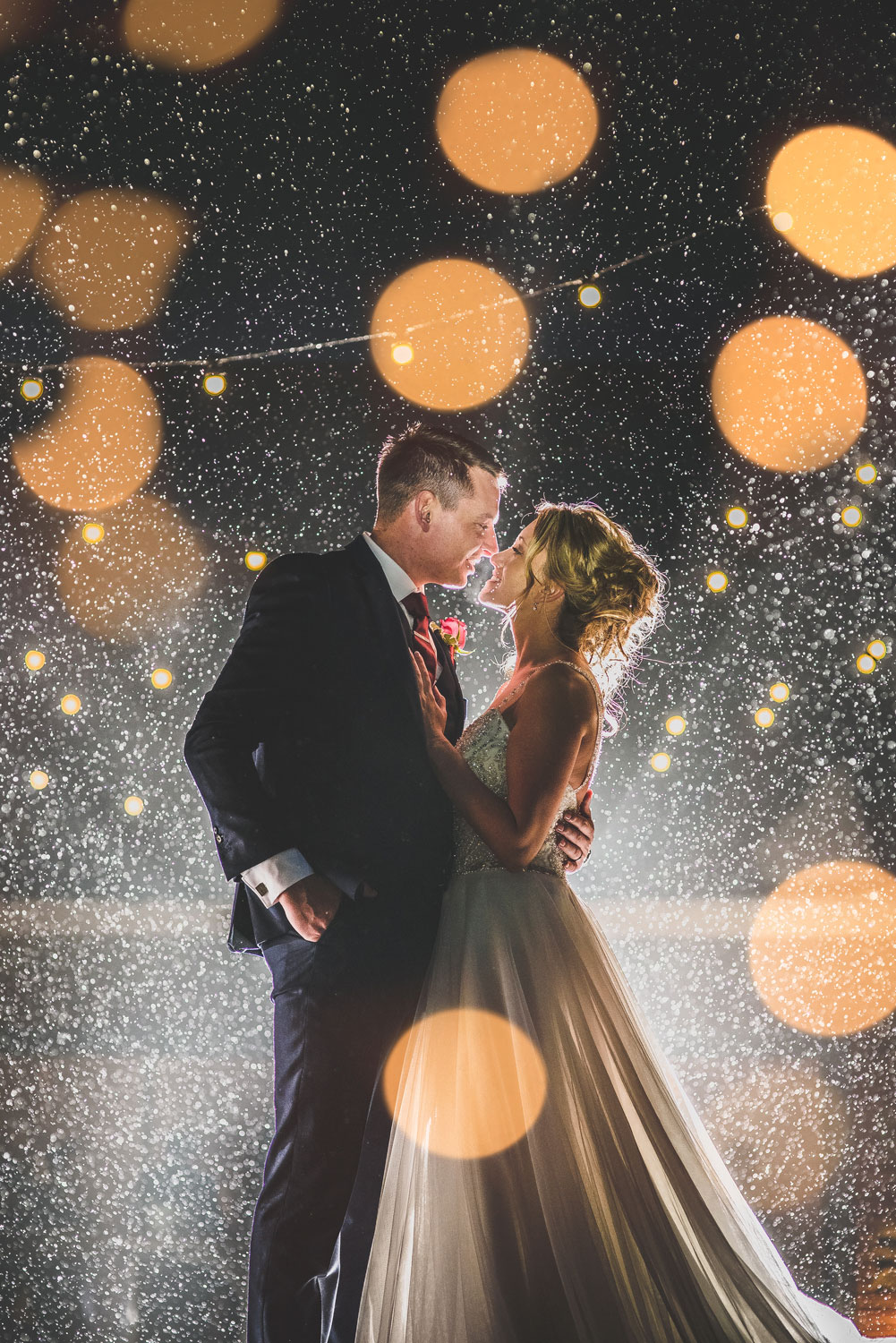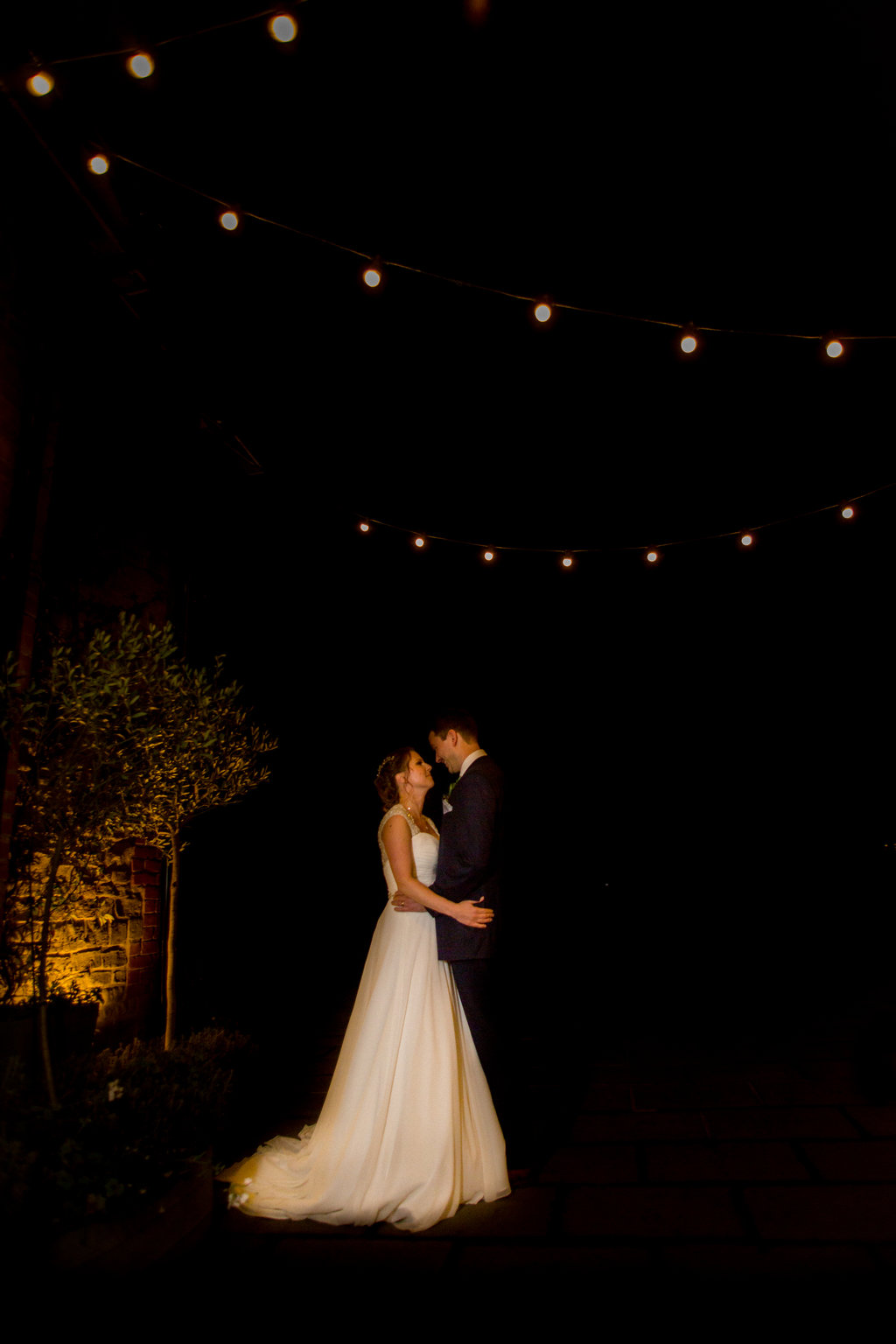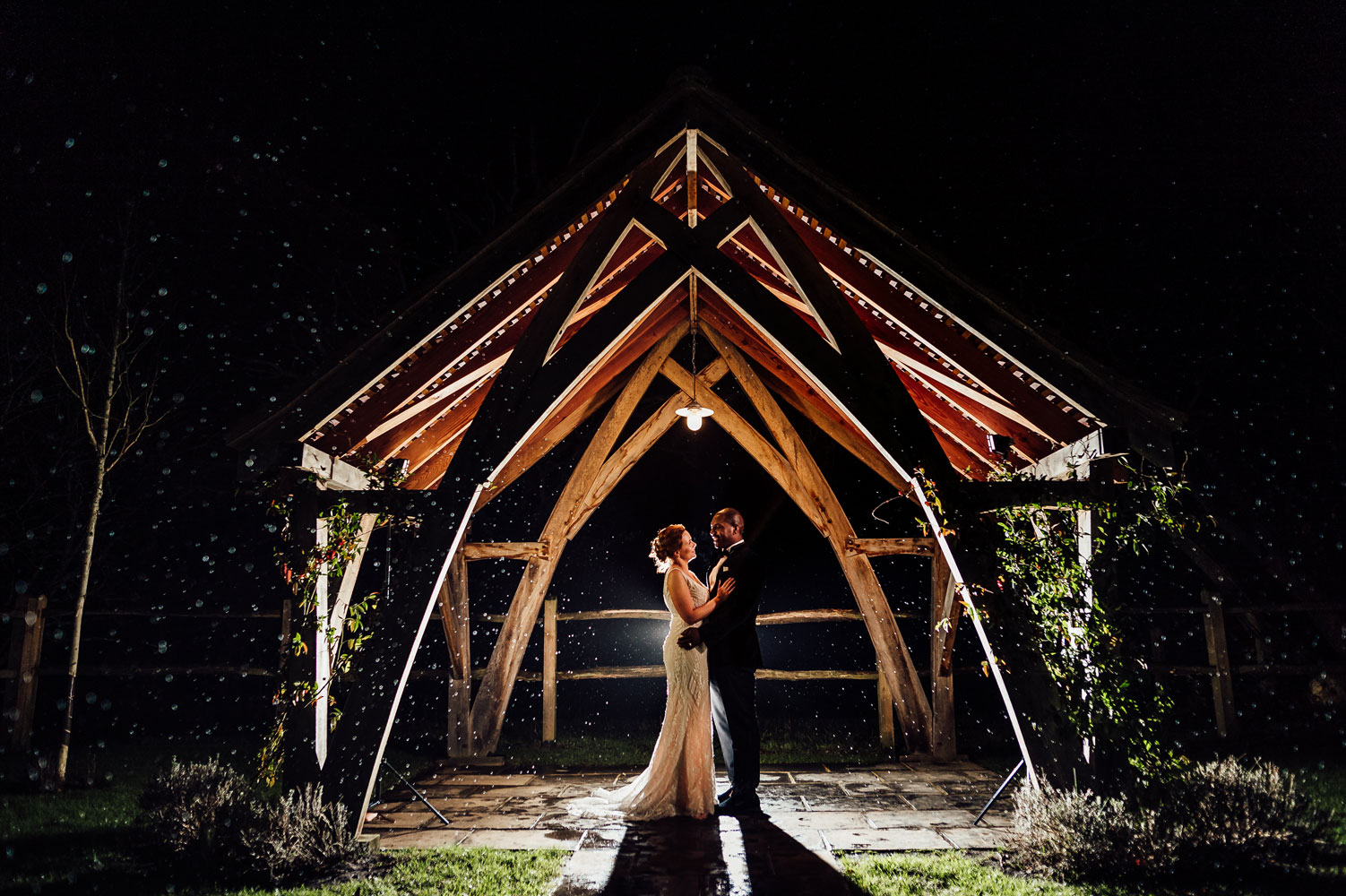 News : 25 / 02 / 19
Millbridge Court Ceremony Inspiration #marriedatmillbridge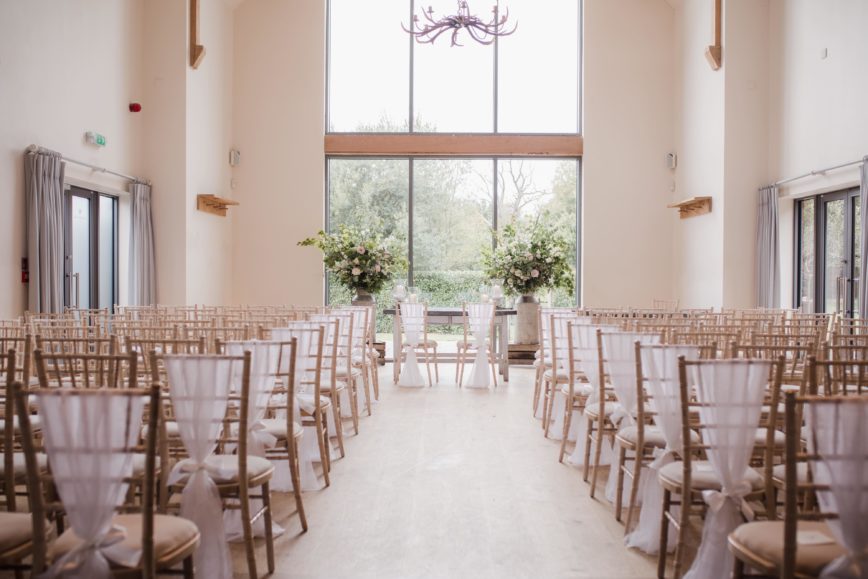 (Lead Image- Photographer: Kerry Ann Duffy, Florist: Meadow Folk)
At Millbridge Court, we are lucky enough to have not one, but two different Ceremony Spaces. One that is set within our Arbor Garden & available to MBC Couples in the warmer months, where they can get married underneath our wooden Arbor surrounded by the Frensham Countryside, & another is in our Ceremony Barn, with high ceilings, oak beams & a stunning floor to ceiling glass wall.
With both spaces providing neutral backdrops to Wedding Ceremonies, the Arbor & Ceremony Barn allow for a huge variety of styling options. Whether your vision for your dream day involves abundant, countryside blooms, chic draping, seasonal styling or whether you want the natural beauty of the Arbor Garden or the minimal, contemporary design of the Barn to speak for itself, the possibilities are endless.
Below, we wanted to give you all some Millbridge Court Wedding Ceremony inspiration by showcasing a handful of ways in which talented industry professionals have brought our Brides & Grooms visions to life throughout the past year.
Happy browsing, lovely readers! Xx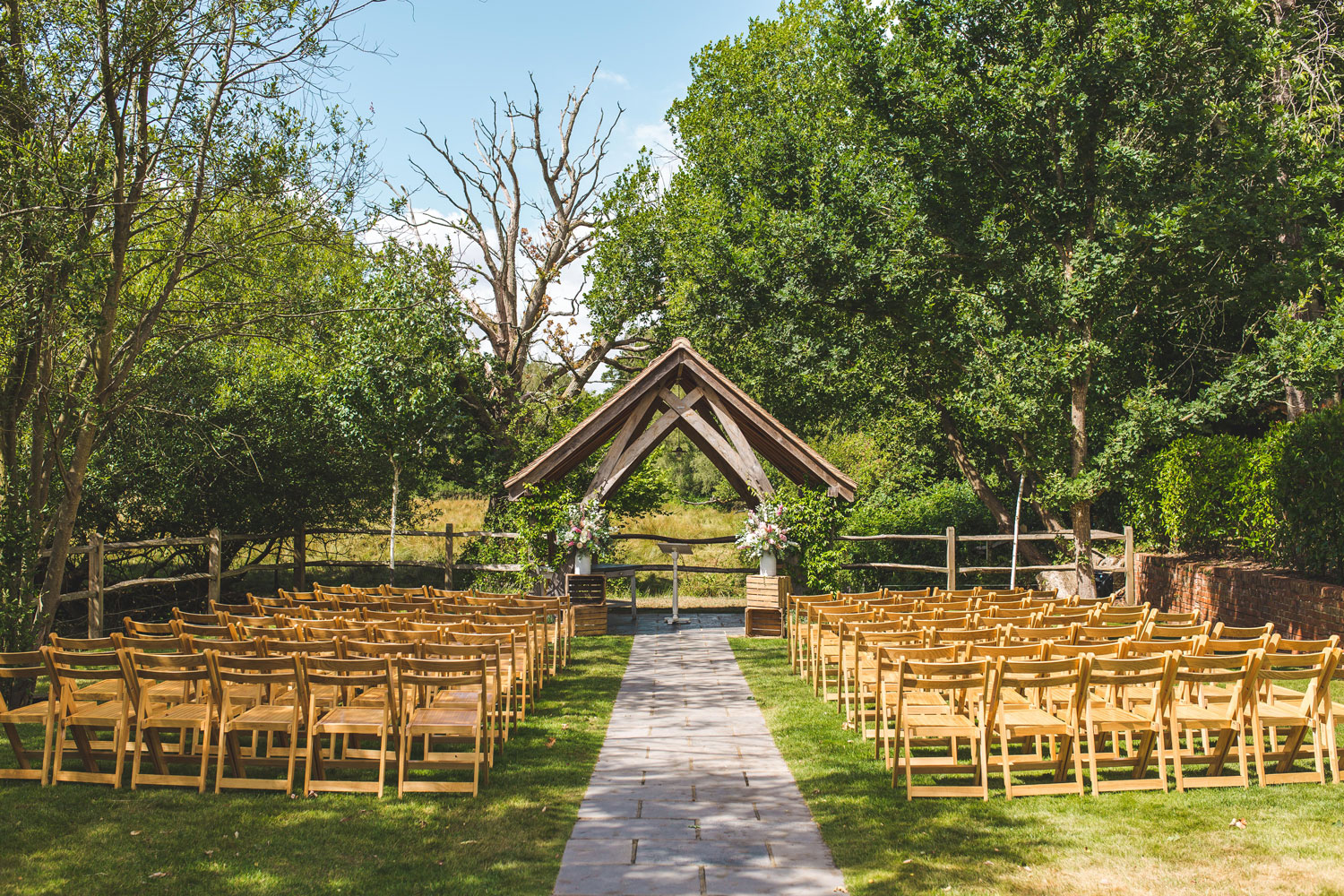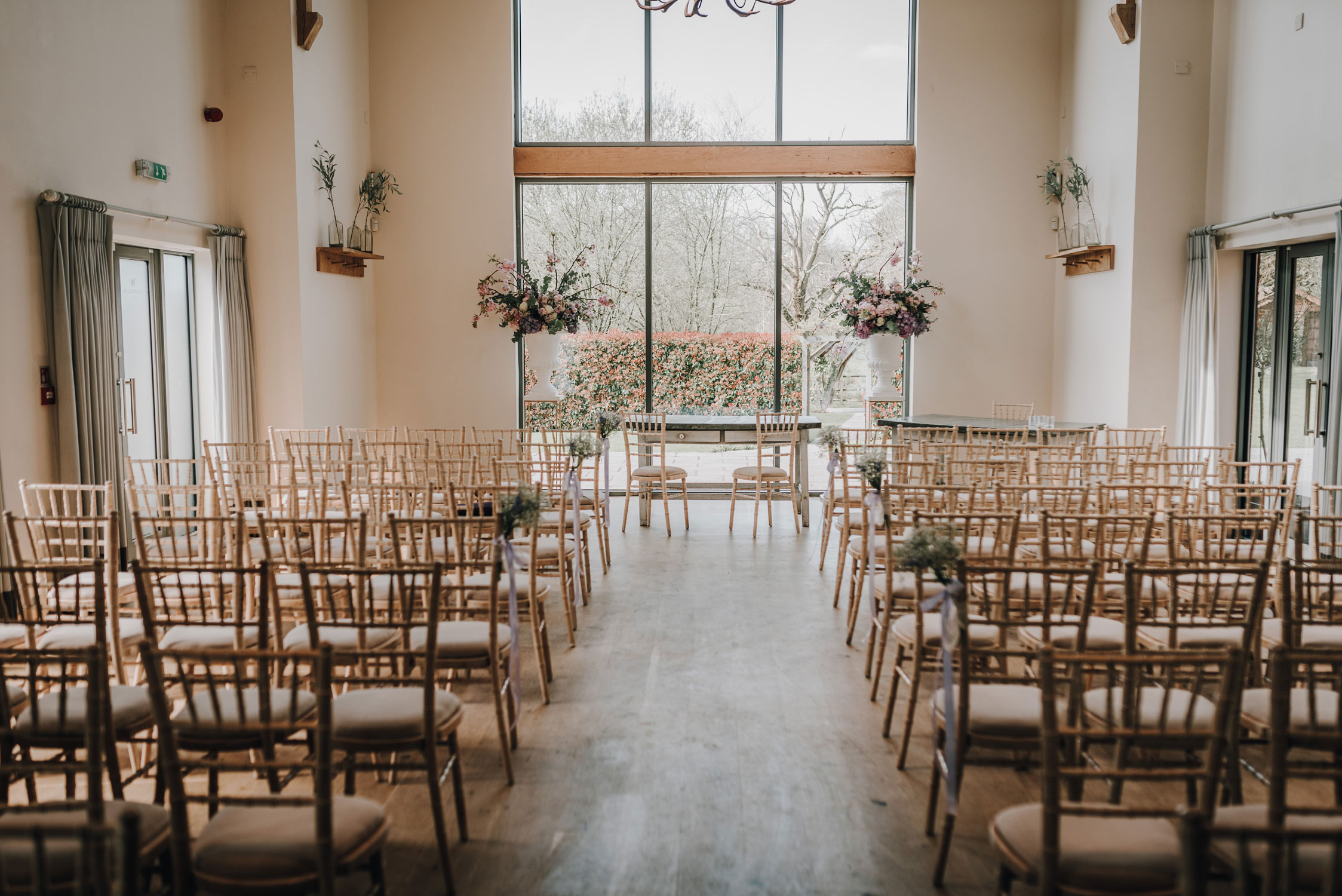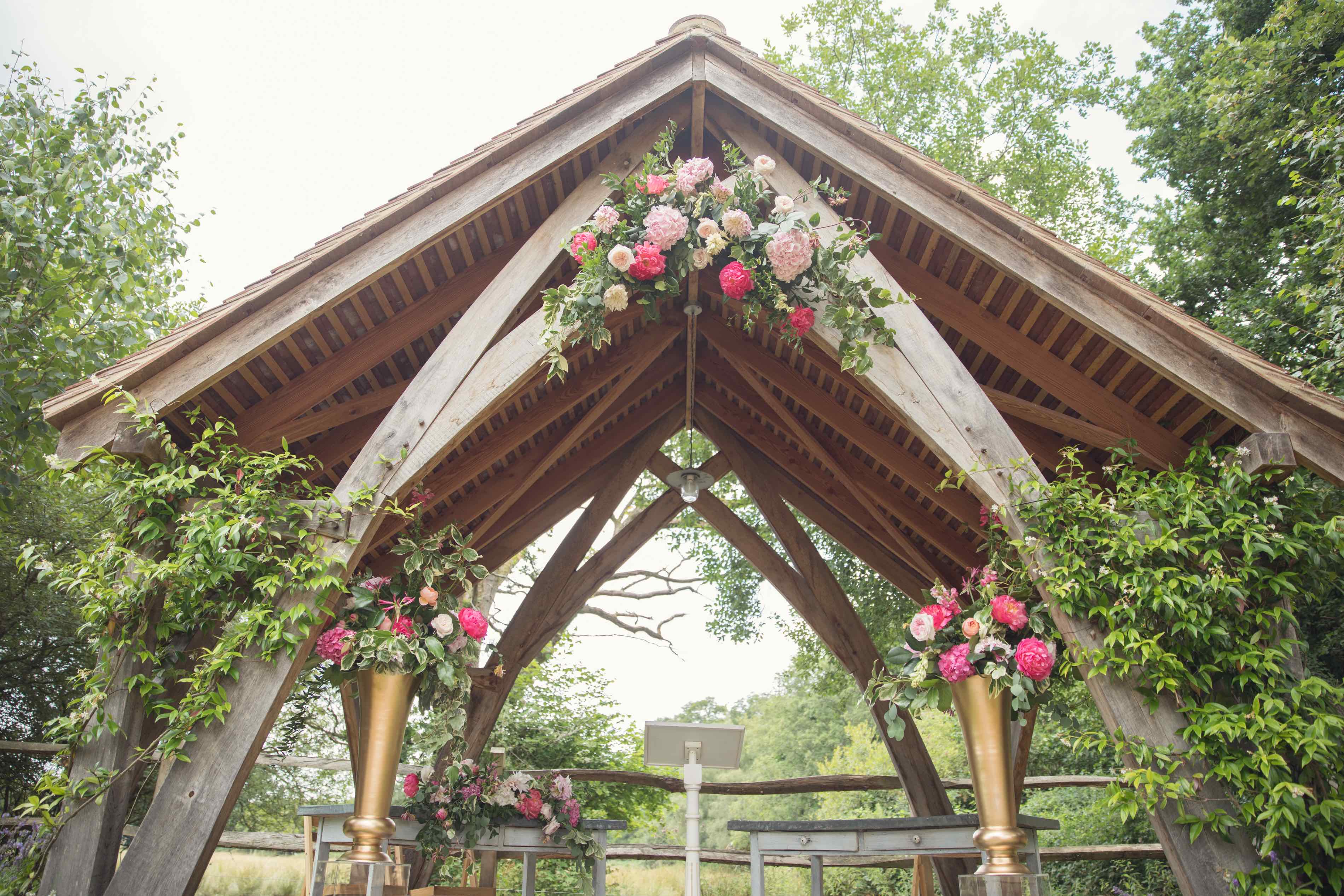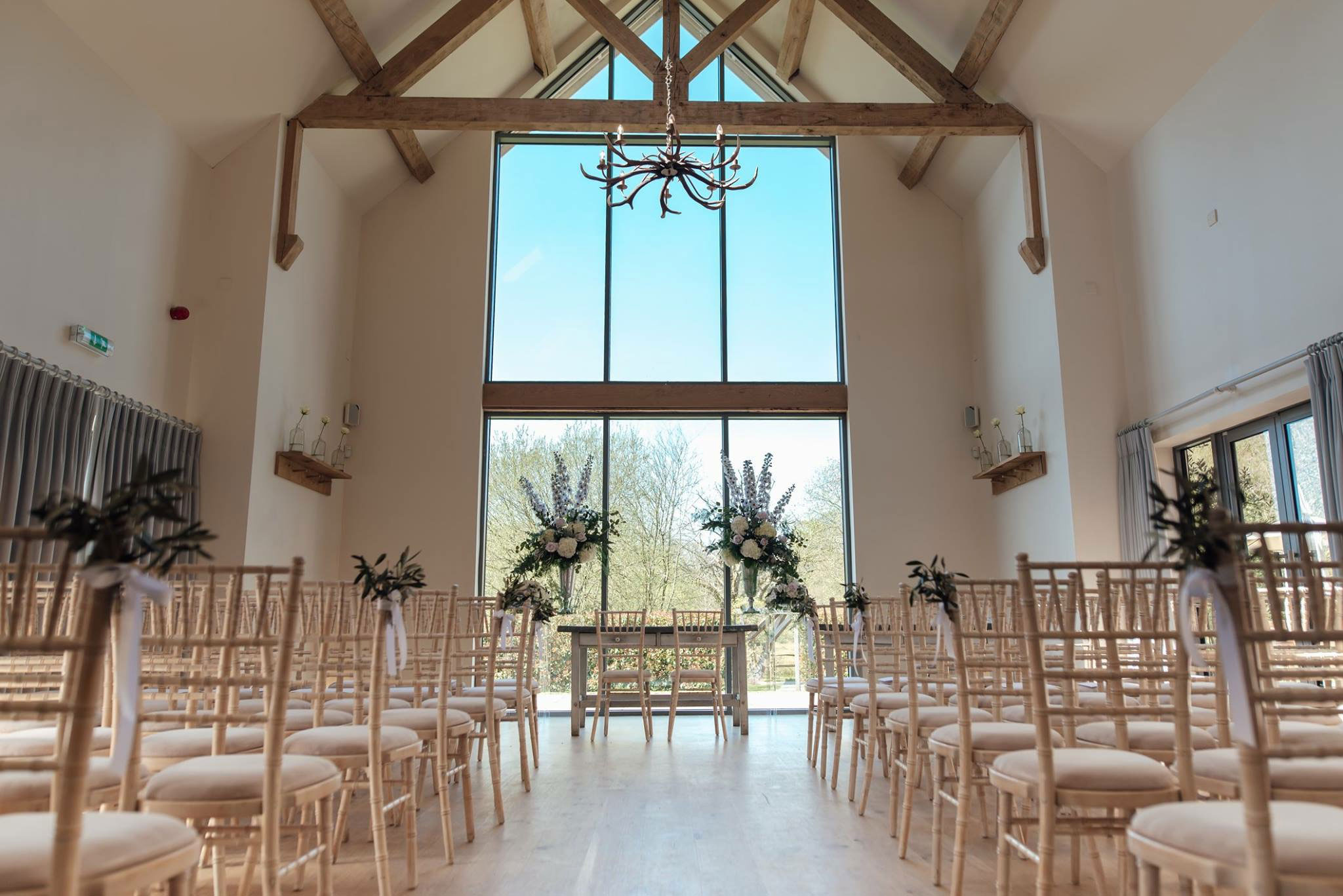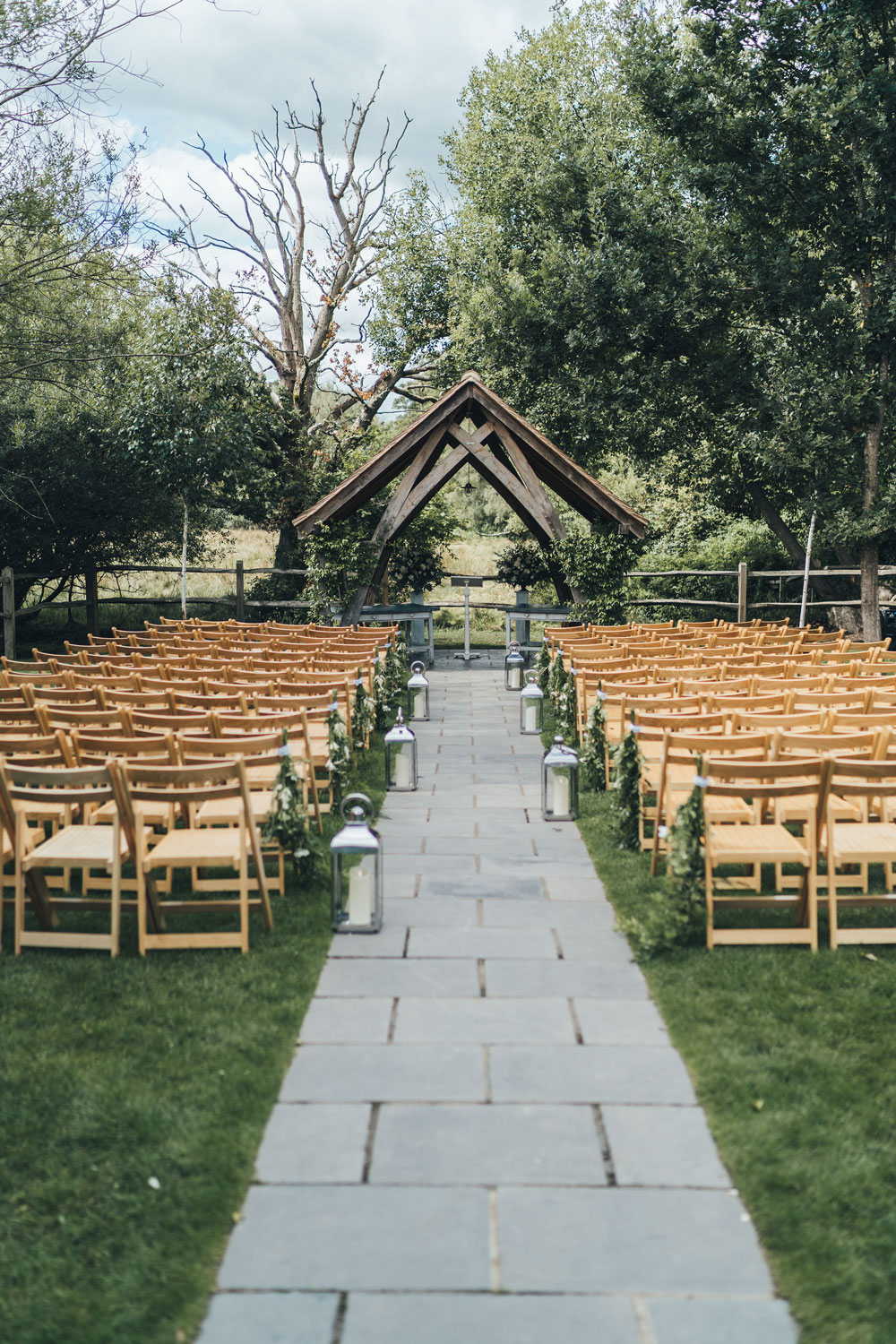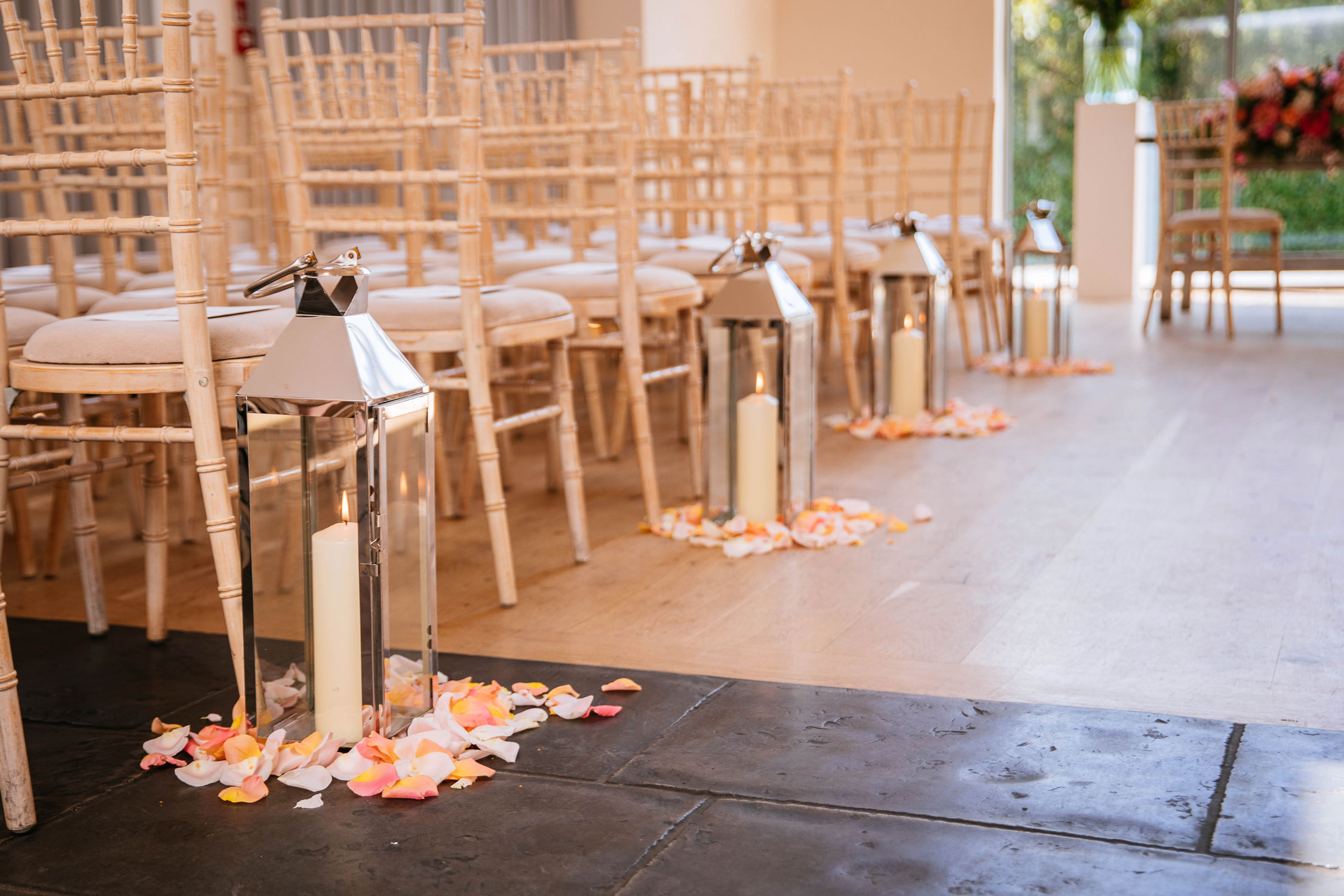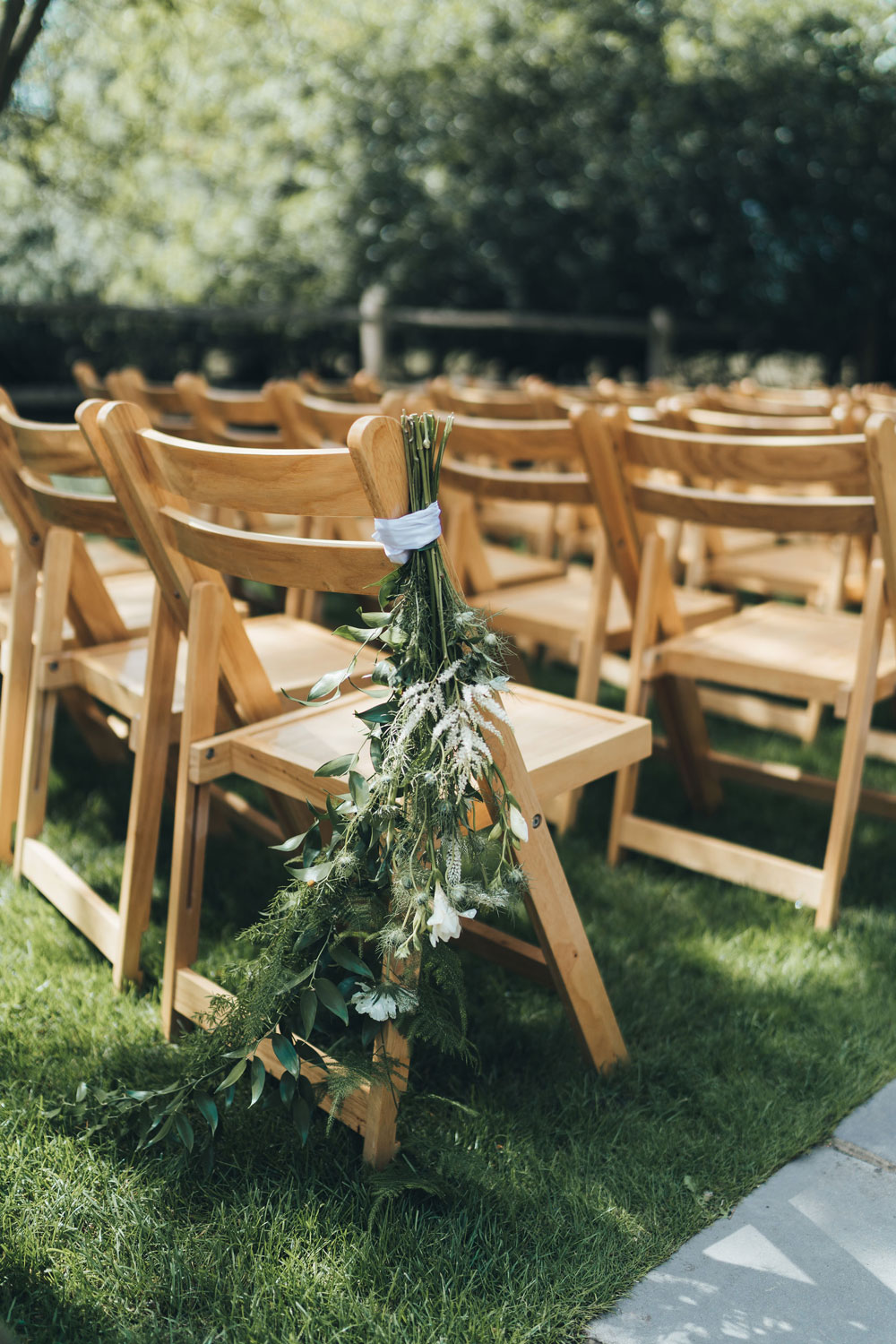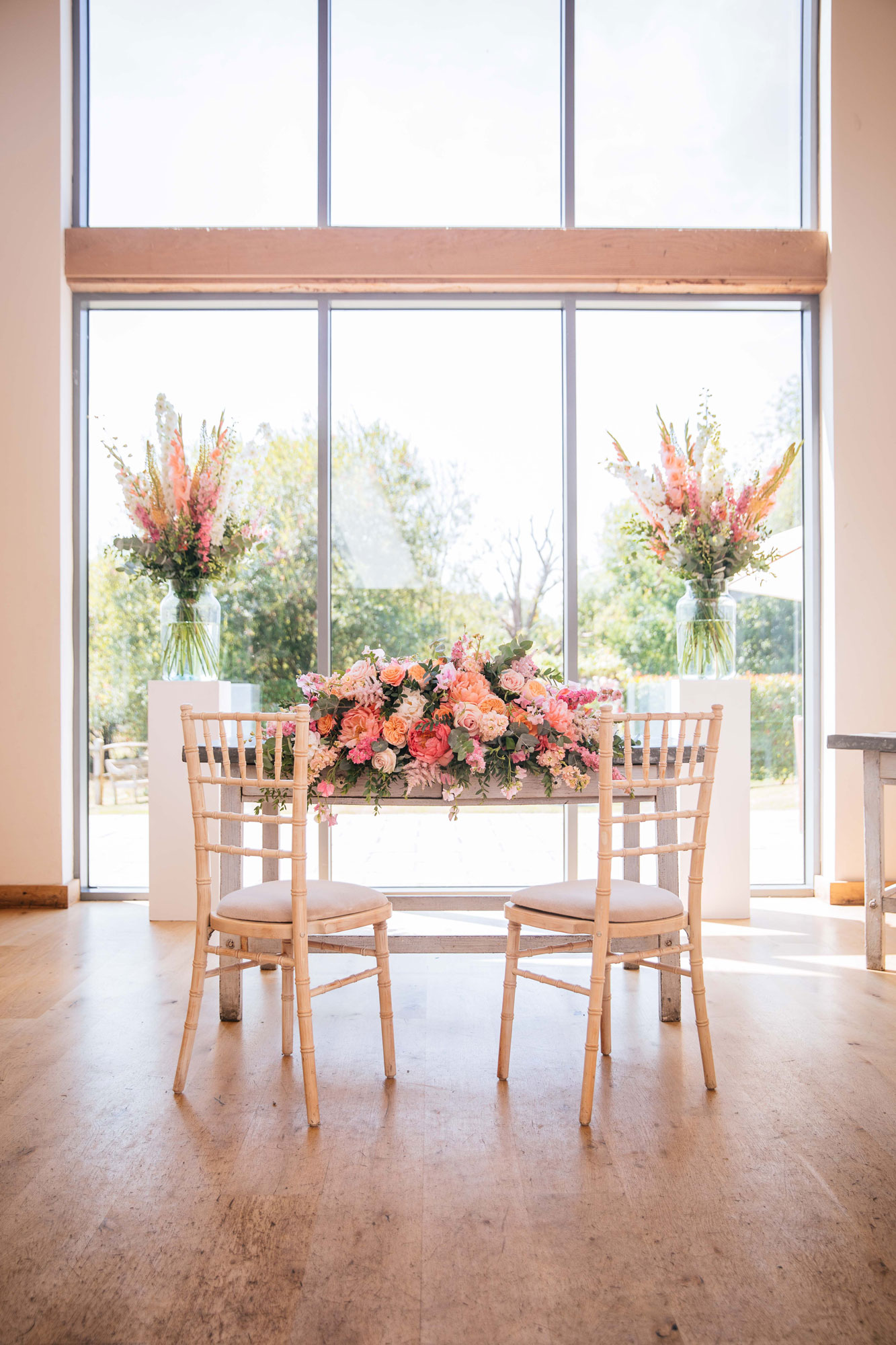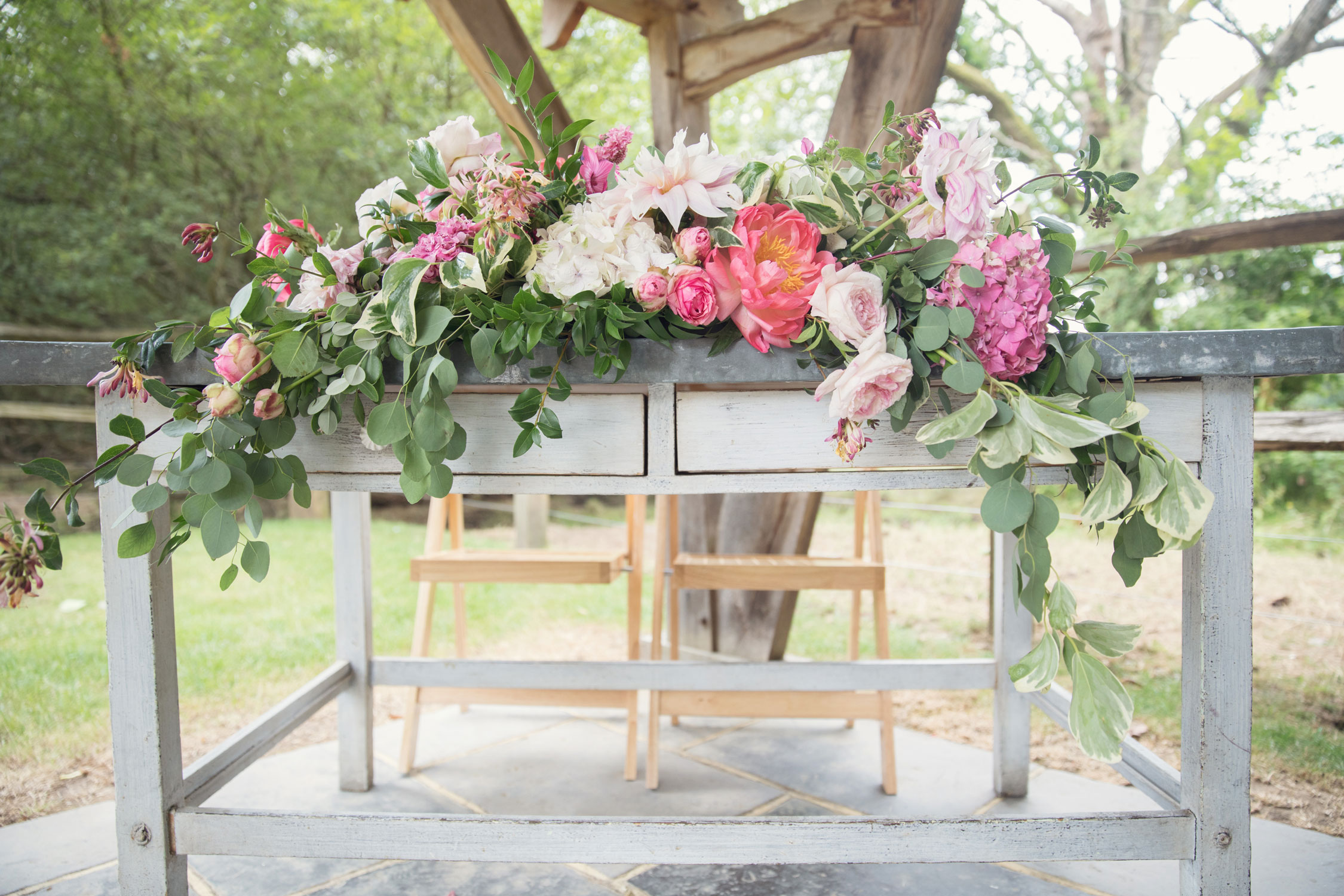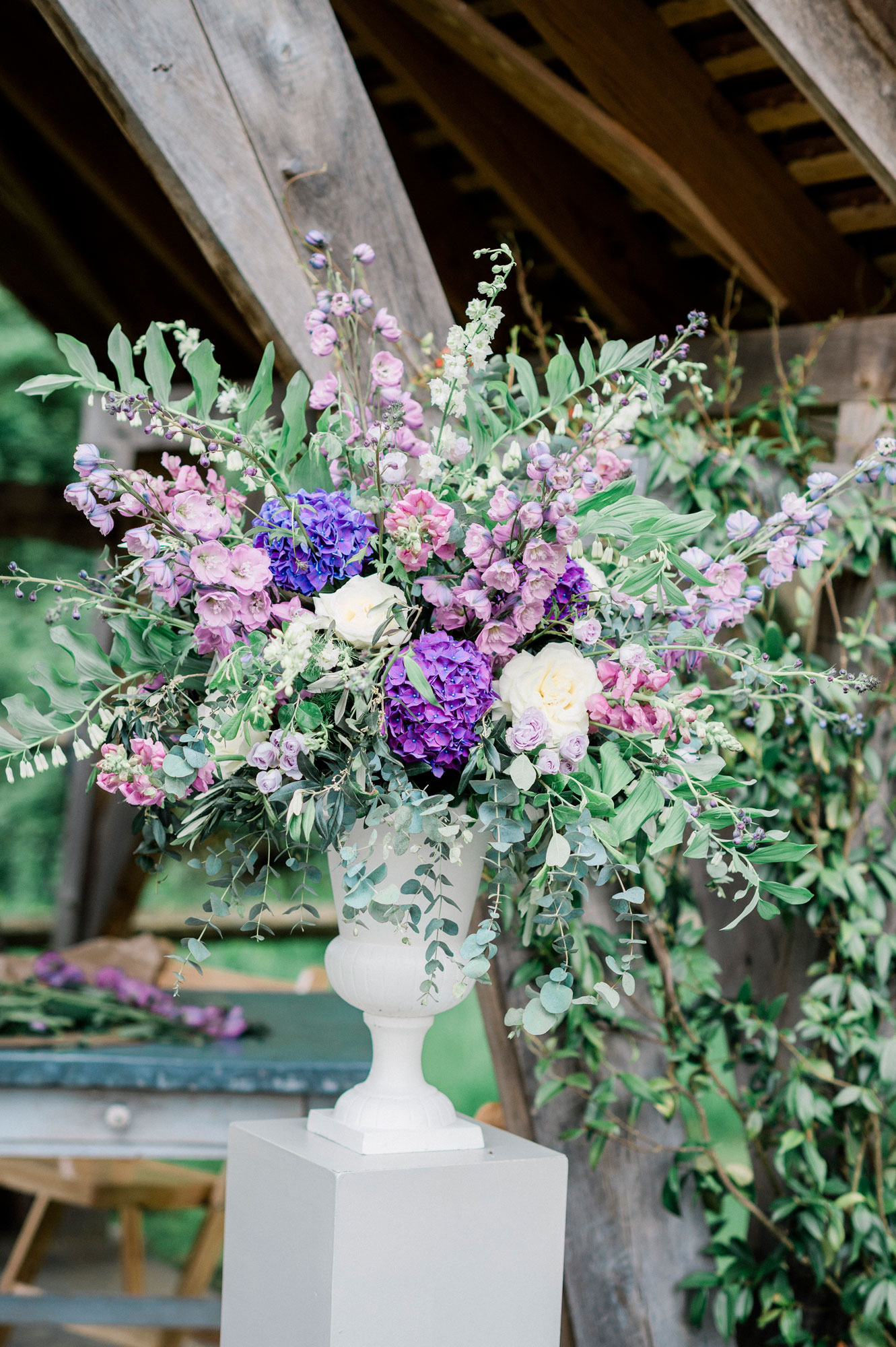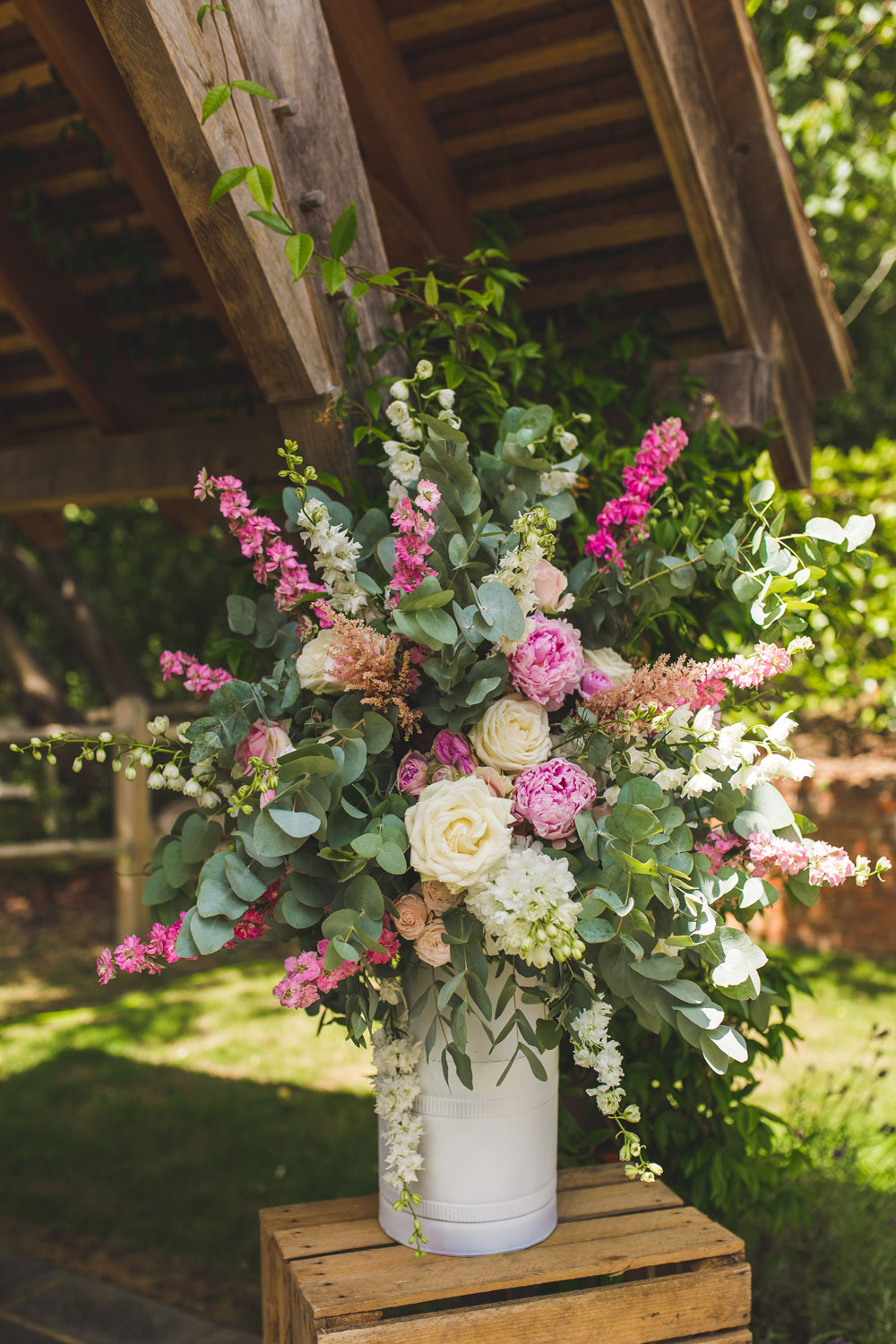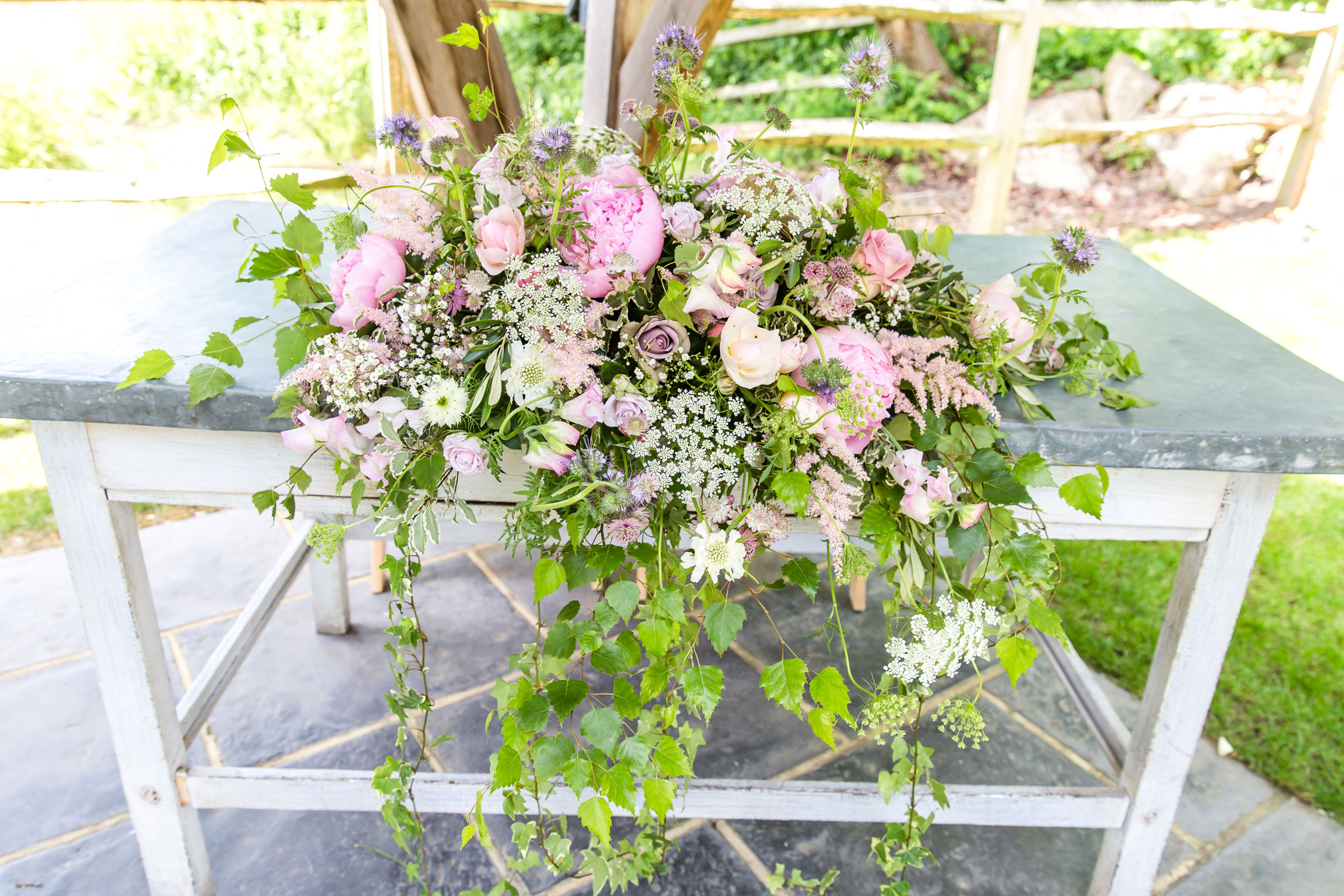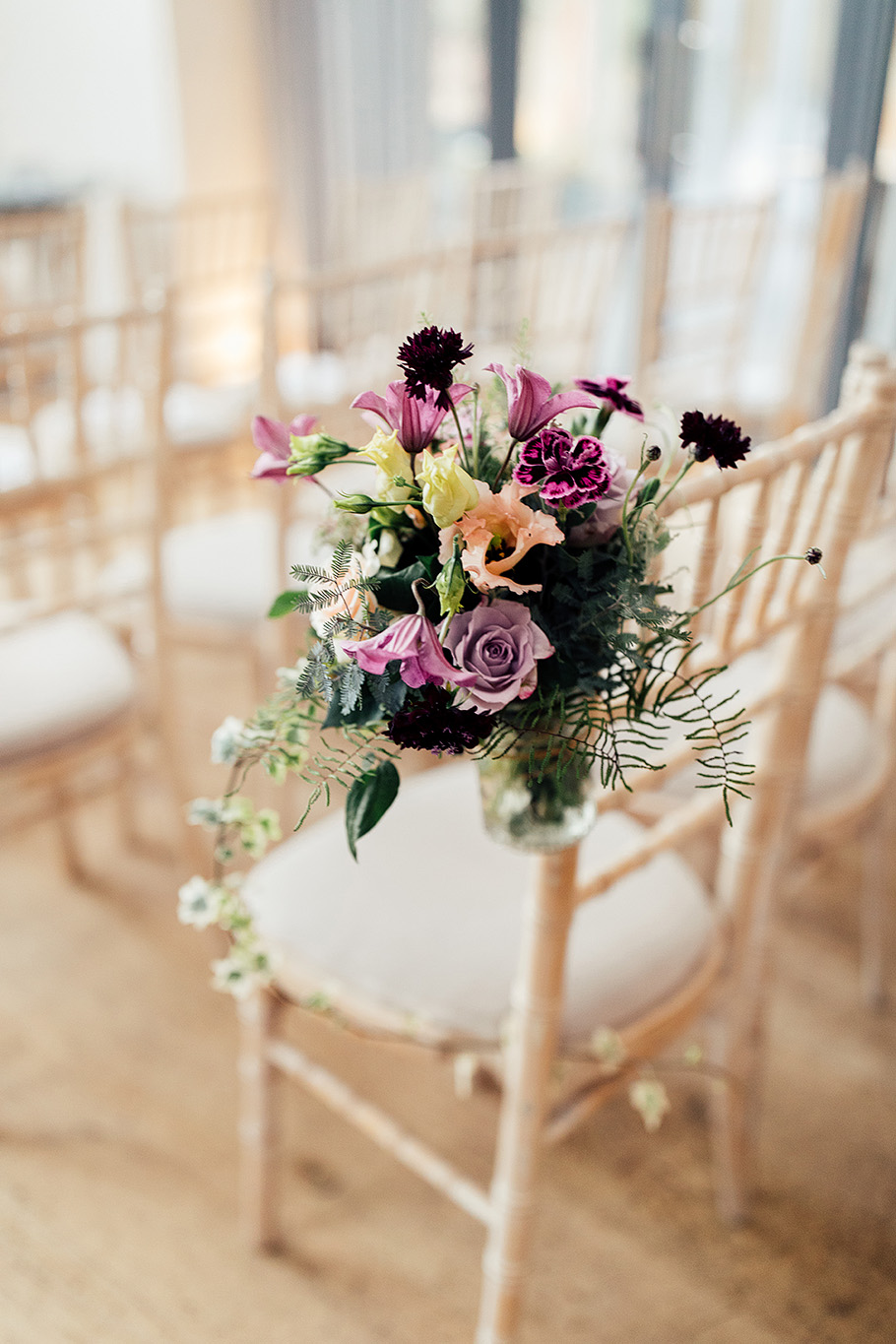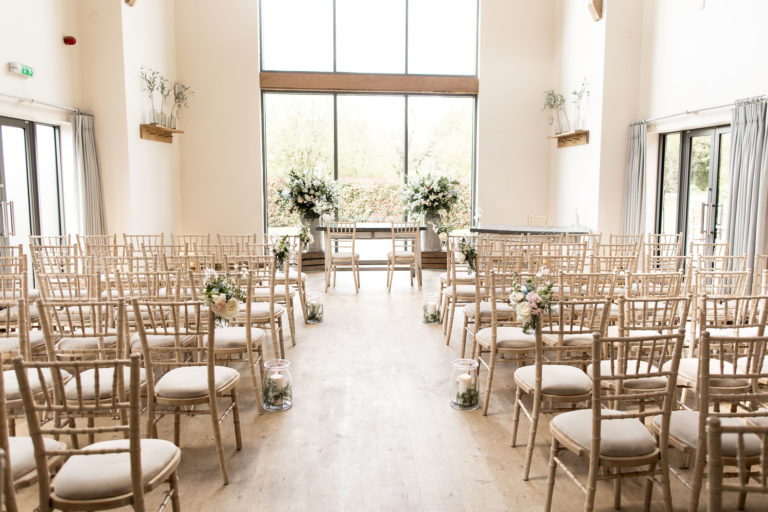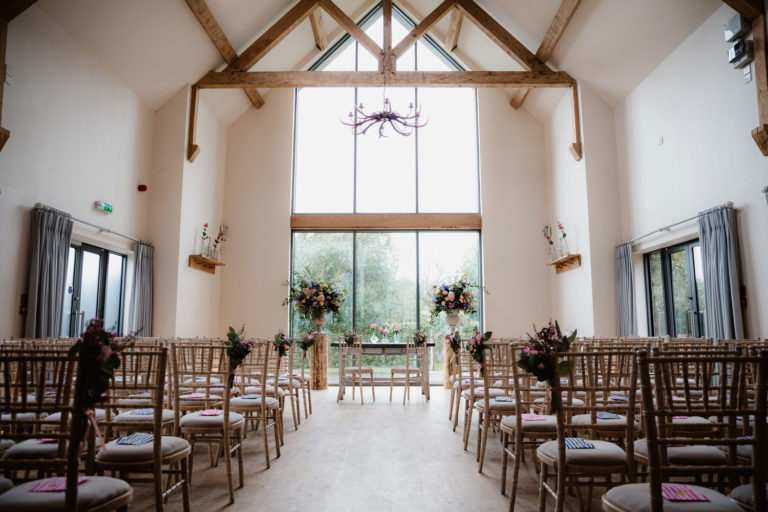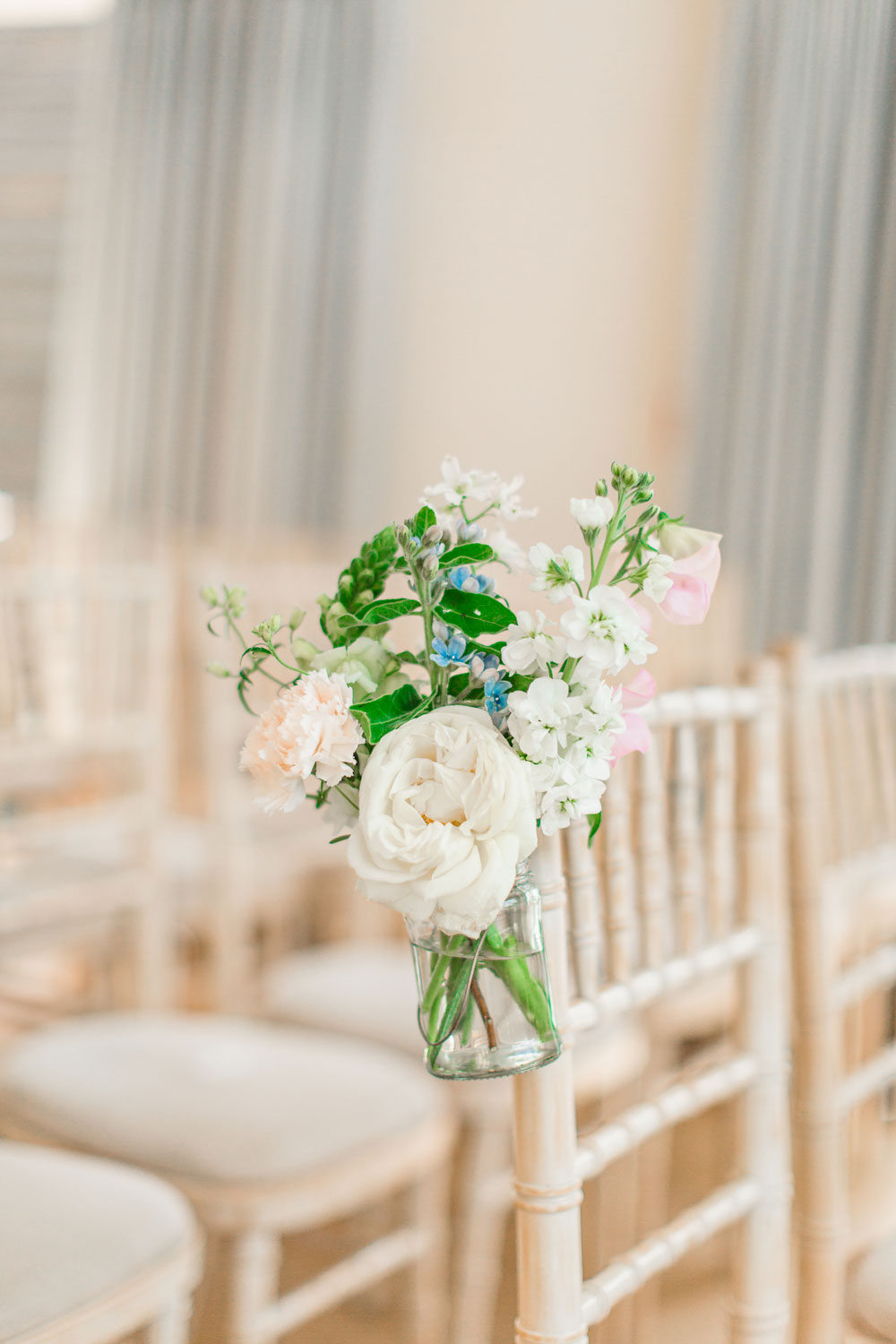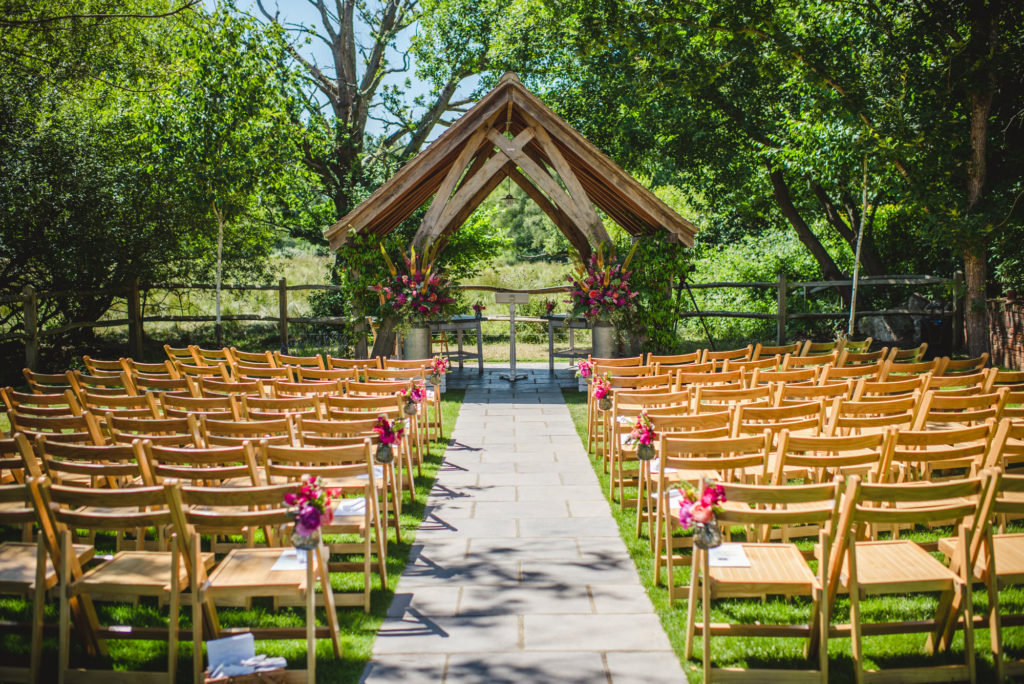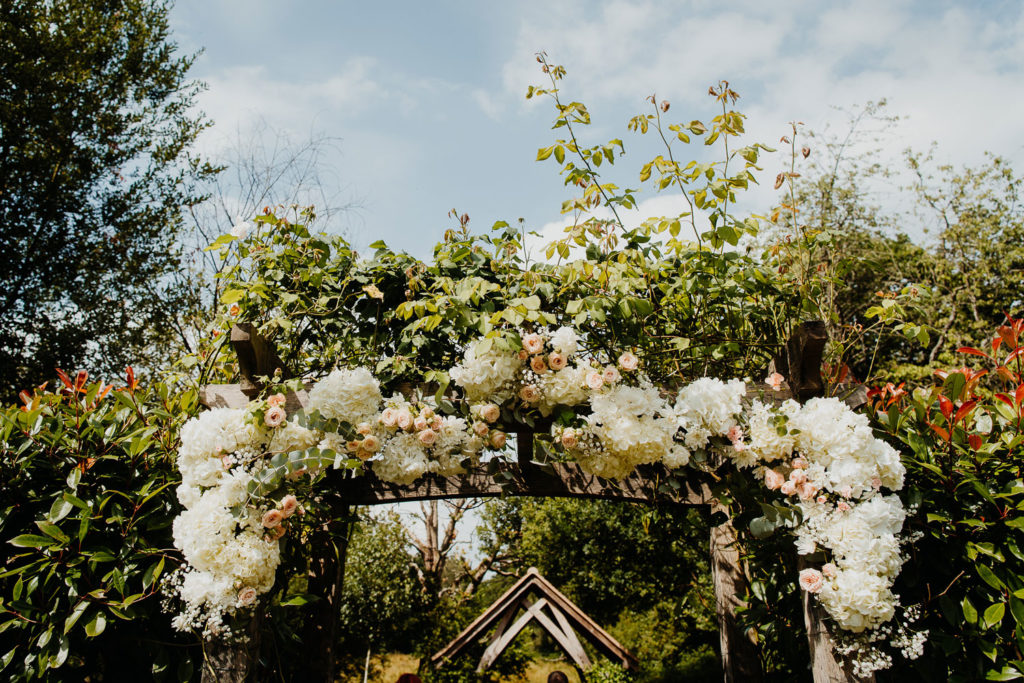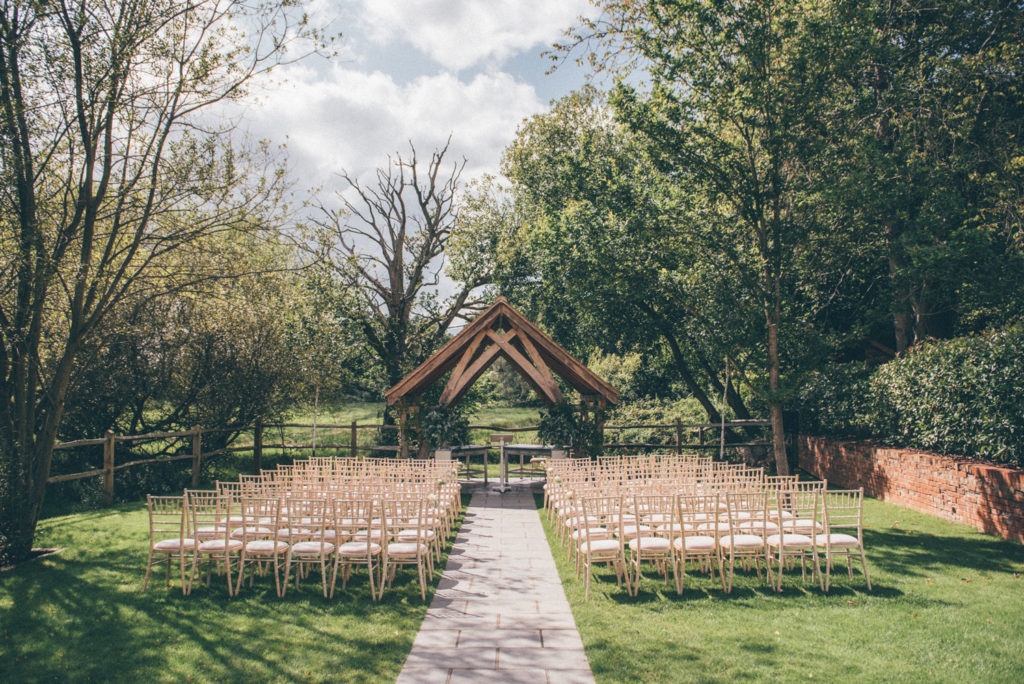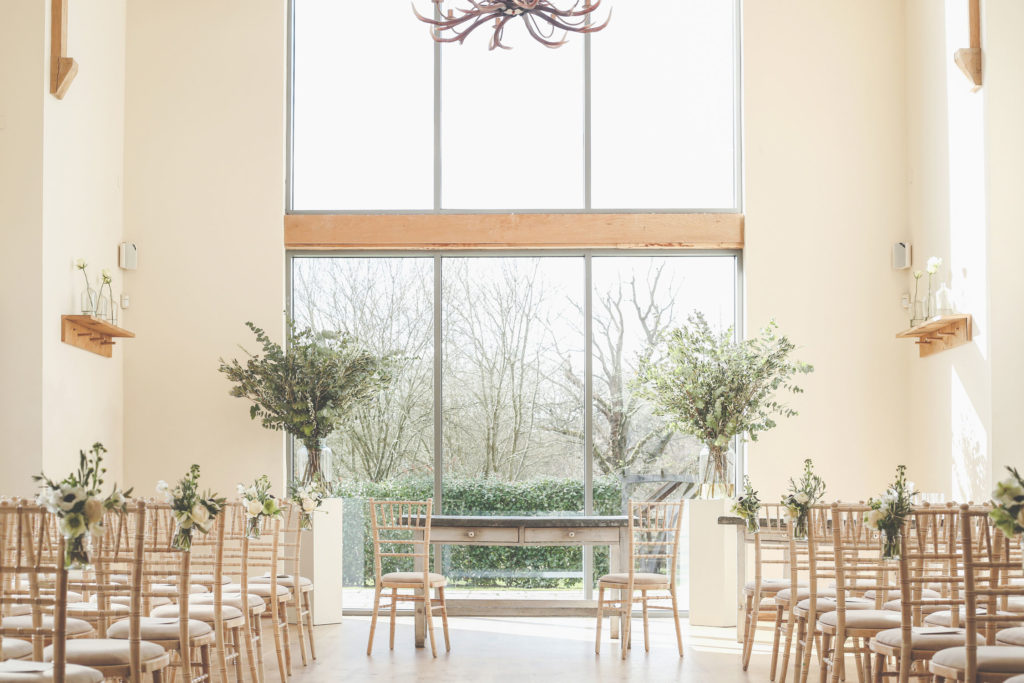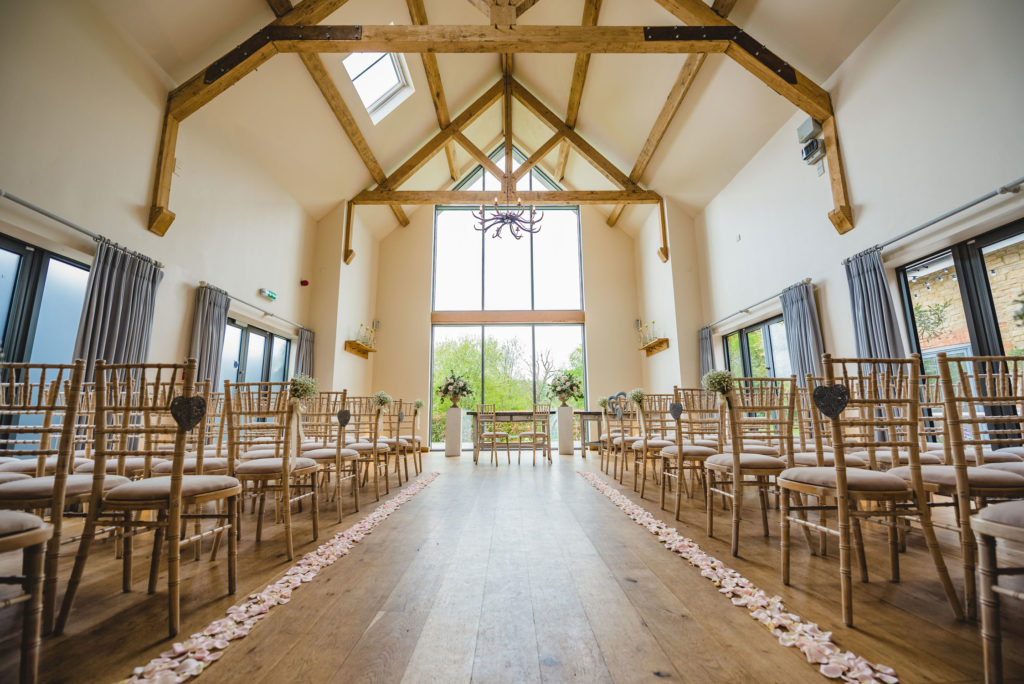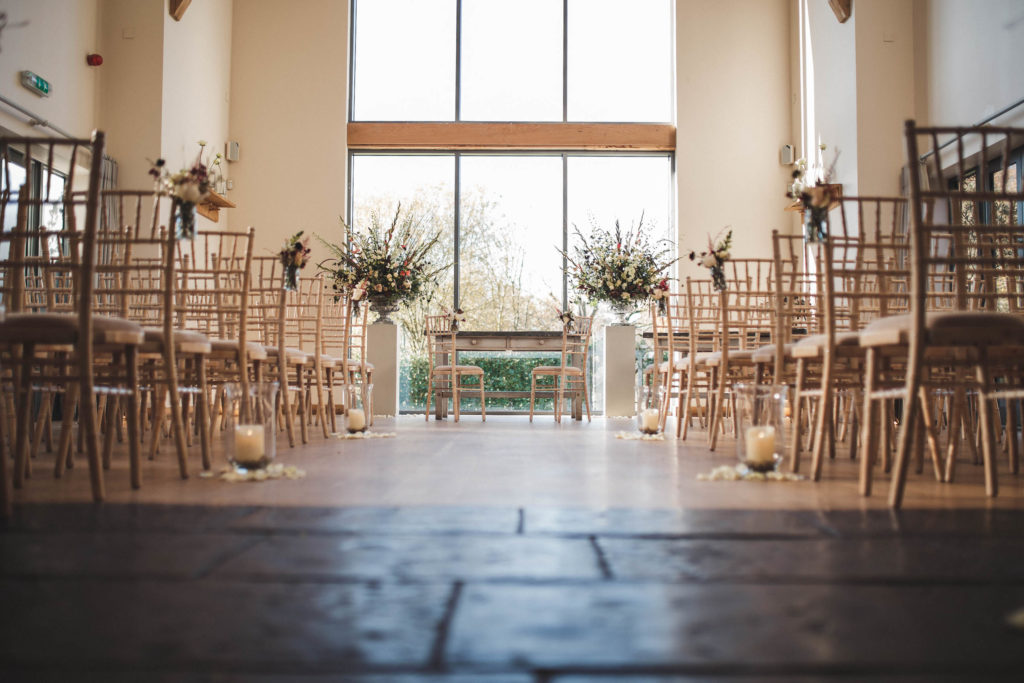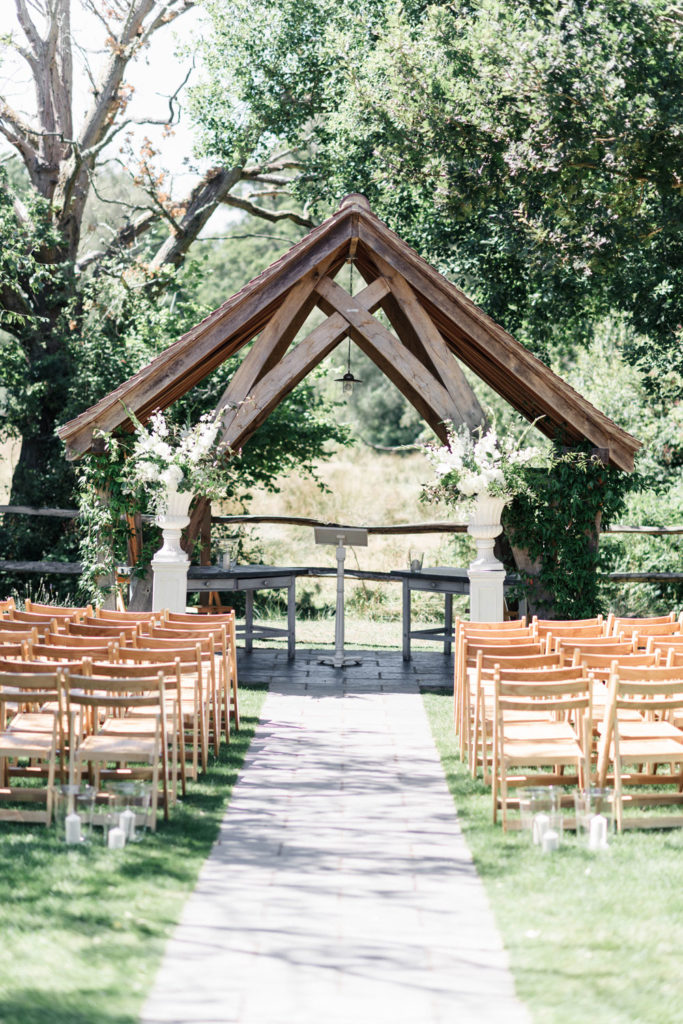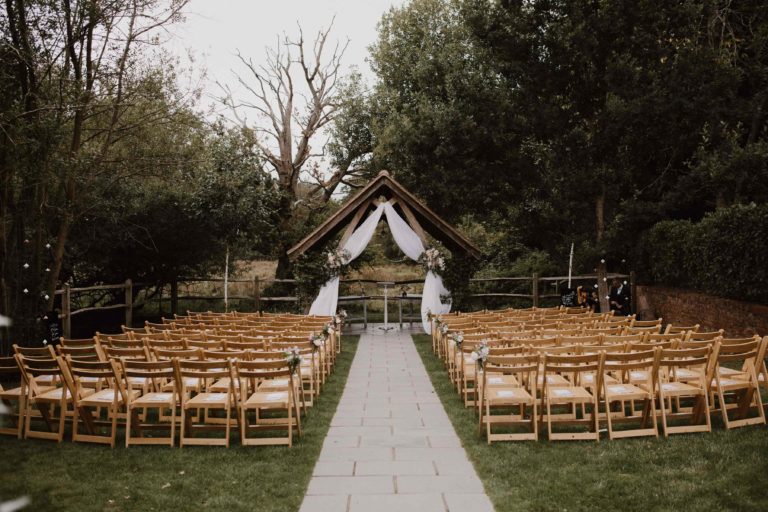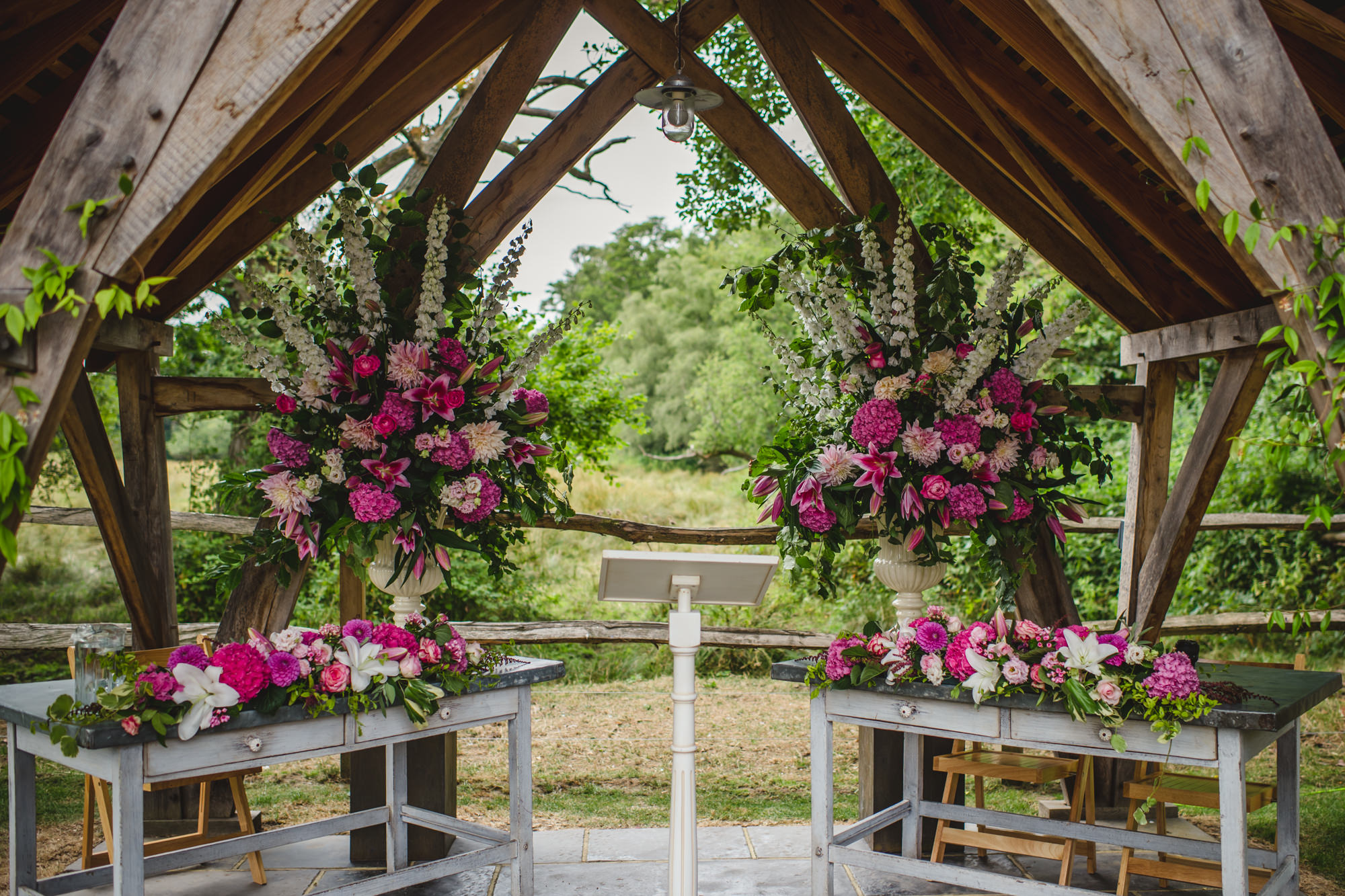 News : 25 / 02 / 19
10 Questions… With Ellie From Milk Street Kitchen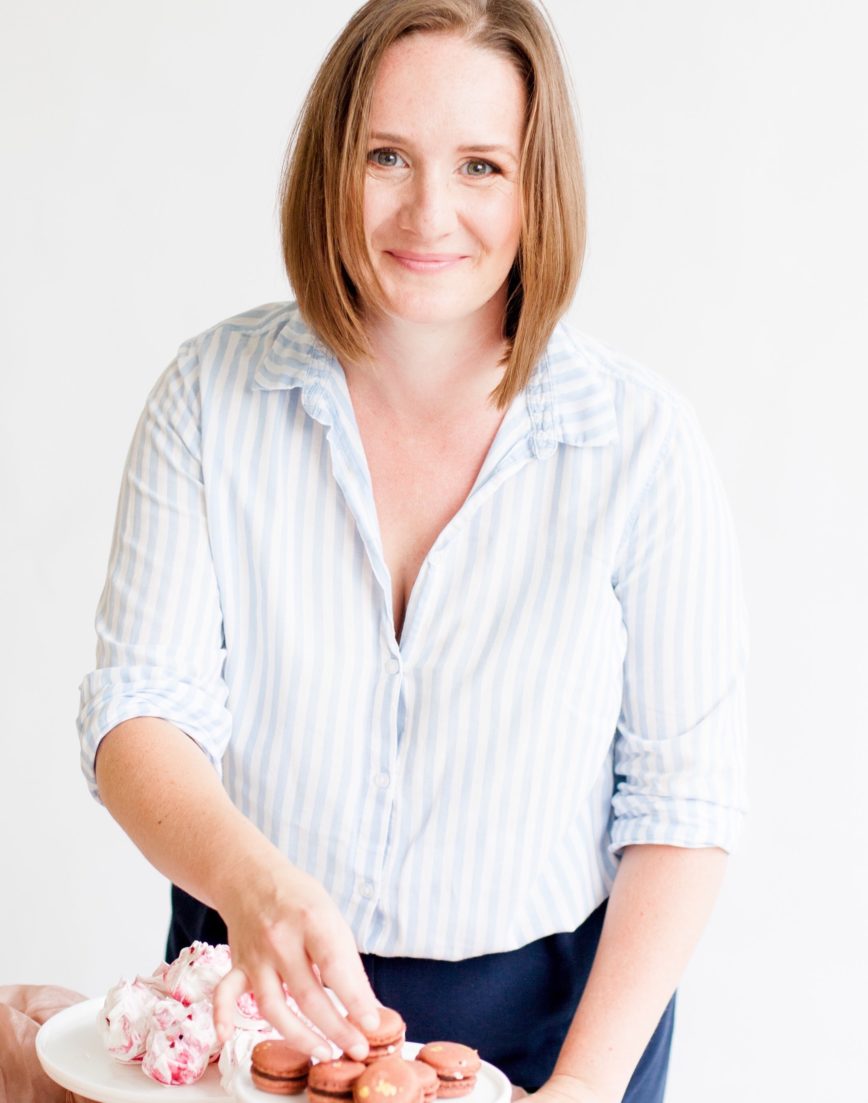 Where has your passion for creating gorgeous cakes come from?
For as long as I can remember I have loved to bake and experiment in the kitchen. It's something I used to do with my mum and nana and I got hooked on making people smile with cake.
---
When did you make the leap to setup MSK & create cakes for Wedding Days?
After taking a sabbatical from my PR job to follow my passion and study patisserie at Le Cordon Bleu, I knew I wanted to make baking my career. I tried a few different things from markets to working in a professional kitchen, but once I dipped my toe into making wedding cakes for friends initially, I knew I wanted to work in the wonderful world of weddings.
---
How would you describe your style of cake making & decorating?
Natural and abundant! My flavours and style are inspired by the beautiful countryside here in Surrey as well as classic patisserie techniques. I use swiss meringue buttercream to dress my cakes and love to work with fresh flowers and edible decorations like macarons to create something unique for each couple. All the jams, curds, caramels and ganache that fill my cakes are homemade in small batches so that everything is super fresh and full of flavour.
---
What can couples expect when they choose you to create their dream Wedding Cake? 
After enquiring, each couple is invited to a consultation and tasting so they can try a selection of flavours while we chat about their wedding and ideas for their cake. I then put together a detailed proposal that captures the ideas we discussed and confirms their design and flavours, as well as the practicalities of delivery and set up on the big day. In the run up to the wedding I keep in touch with couples to confirm all the final details and also liaise with other suppliers such as florists who may be providing fresh flowers for the cake.
---
What do you love most about what you do? 
It's so lovely meeting people at such a special time in their lives. Being invited to play a role in their wedding has got to be one of the best parts of my job. I also really love setting the cake up on the day of the wedding. Seeing each couple's ideas brought to life and all the details they've chosen is fantastic. Wedding mornings always have a special buzz to them and it's amazing to be part of that.
---
What top tips & advice do you offer couples along the way?
I often talk to couples about their timings on the day as there are options for when the cake is cut and served to guests to make the most of it for their wedding day. Some people like to use the cake cutting as a focal point for evening guests arriving later, while others sometimes cut and serve it as part of their drinks reception. I also suggest putting a slice or two to one side for them to enjoy after the festivities as cake can disappear quickly!
---
Have you found over the years that certain marketing platforms have been particularly helpful in growing your business?
Instagram has been invaluable to me over the last couple of years. Being able to use it as a 'shop window' is brilliant. Working with venues and other suppliers to tag and share each other's works means we can all reach a bigger audience and couples can easily find suppliers who are perfect for their wedding day.
---
What do you love the most about Millbridge Court?
So many things! The team is incredible and so supportive to couples and suppliers alike. Millbridge Court always feels like a home on the morning of the wedding, with bridesmaids in dressing gowns and families having a sneak peek at all the preparations. From a cake perspective there are also so many lovely spaces to set up a beautiful cake table that really allows your chosen cake to be a sweet centrepiece!
---
Other than Weddings, what other occasions do you get asked to create sweet treats for?
Other than weddings, I make cakes and pop up patisseries for all sorts of celebrations, such as birthdays, anniversaries and christenings. I've been asked quite a few times by former wedding clients to make a cake for another family celebration and that is always really special!
---
What are your three favourite industry professionals/ brands to follow on Instagram?
@KalmKitchenltd – for inspiring and mouth-watering food and styling
@Rockmywedding – for beautiful real weddings and fresh ideas
@Hannahberryflowers – for incredible seasonal flowers and breath-taking displays
News : 25 / 02 / 19
Wedding Breakfast Inspiration #marriedatmillbridge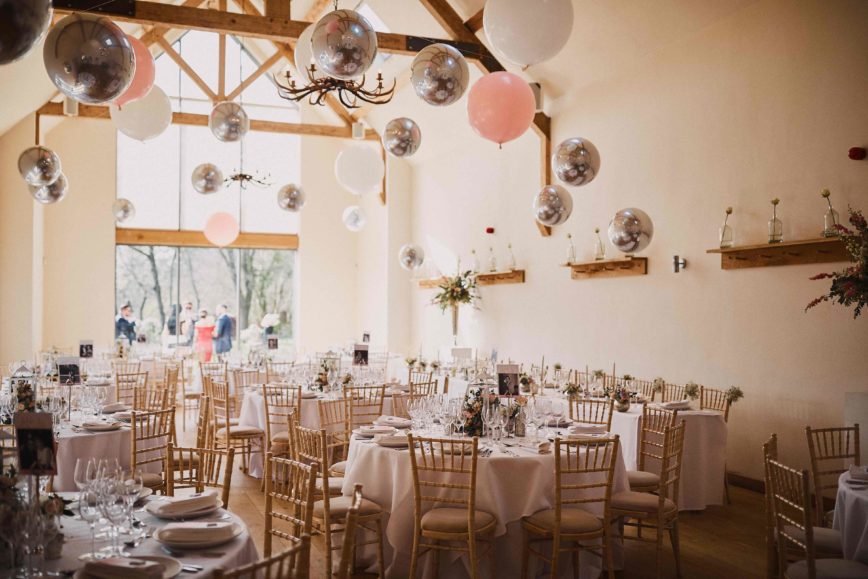 (Lead Image: Photographer: Benjamin Wheeler, Florist: Blush Floral Design, Balloons: Bubblegum Balloons)
Here at Millbridge Court, our Dining Barn features high vaulted ceilings with rustic beams, a floor-to-ceiling glass wall, wooden floors & soft white walls; the end result of which is a light, airy, neutral space, which allows for each & every celebration to look truly unique & reflect the style of the couple.
With there being so many possibilities available to Millbridge Court couples, we are always so in awe of the varying ways in which the Barn is transformed throughout the seasons by the wonderful industry professionals who are entrusted to bring these visions to life. The neutral canvas ensures that every styling detail stands out, so whether there are low or high centrepieces, giant balloons suspended from the beams, coloured linens, round tables or banquet tables, no detail goes unnoticed.
In this blog post, we are sharing images from a handful of our 2018 Wedding Days, showing an array of setups, styles & floral arrangements in the hope that it provides all of you lovely readers with some Millbridge Court Wedding Day Inspiration.
Happy Monday & happy browsing! Xx
News : 25 / 02 / 19
A Few Things We Love About Summer Weddings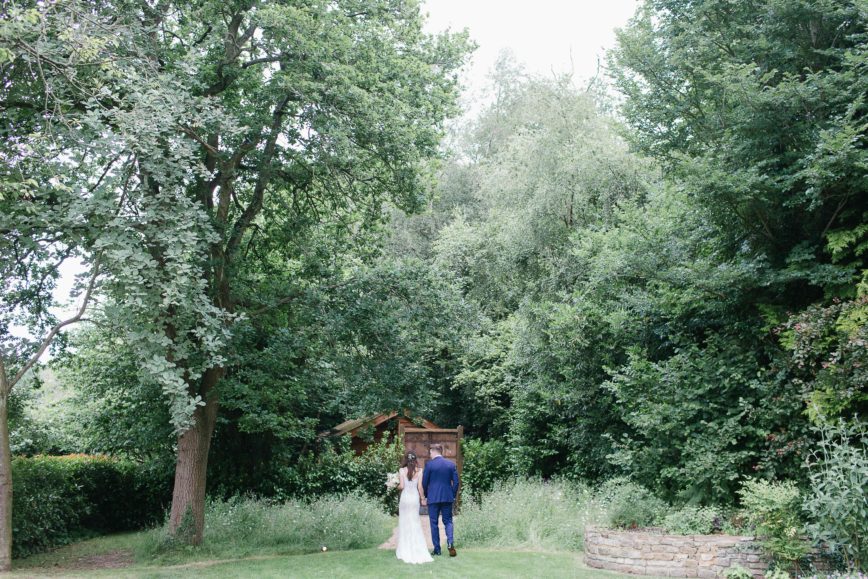 Can you believe it's September this week?! Nope, us neither! It feels like our first Outdoor Ceremony of the Season was only a few weeks ago, these sunny months really have flown by.
The Summer so far here at Millbridge Court has been so wonderful & it has been an honour to host such  incredible celebrations that have involved so many amazing industry professionals which we have had the pleasure of working alongside. Each celebration has also been so unique to the happy couple themselves which is always such a delight for us all to see.
We have already been lucky enough to receive beautiful imagery from a handful of talented photographers who have joined us throughout the past four months, so we thought we would put a selection of those pictures together for you all to illustrate just a few things that we love about Summer Weddings here at Millbridge Court!
Feel free to browse for lots & lots of Summery Wedding Inspiration & here's to the rest of this gorgeous 2018 Summer Season! X
News : 25 / 02 / 19
10 Questions… with Philippa Sian Photography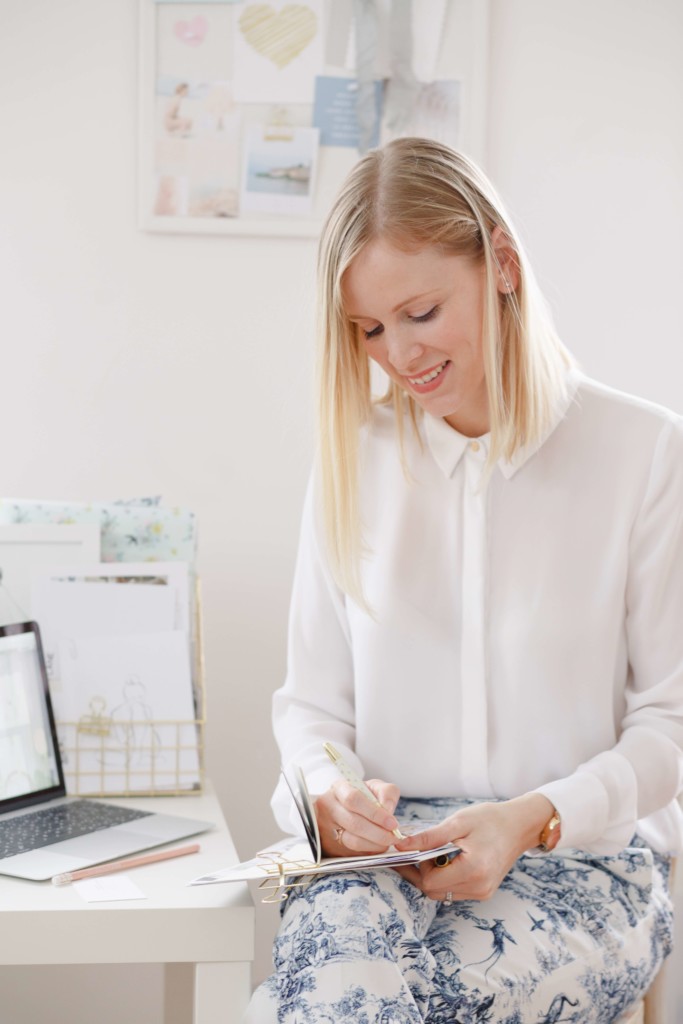 Lead Image: Claire Graham Photography
Find out more about Millbridge Court
---
What first made you interested in Photography? 
I've always LOVED taking photos – for me it was not an action it was the fact that I was documenting things I wanted to remember.  I always had a small  'handbag camera' that would come everywhere with me; to parties, events, festivals, weekends away and holidays. I was known for taking photos wherever I went, so much so that my friends and family stopped worrying about bringing their cameras as they knew I'd have it covered.
---
Why did you decide to become a professional photographer within the Wedding industry? 
I went to my first wedding about 8 years ago, and fell in love with the day, from the tiny details, to the tablescapes and the happy moments. As someone who loved taking photos you can imagine how in my element I was! After the wedding I thought, gosh I'd love to photograph weddings with a 'real camera'. Back then didn't think anything of it until after a few more weddings, I found that some of the photos I'd captured on my 'handbag camera' were being framed by these couples alongside their professional photos. For me that was the moment when I thought, yes, I can do this! So I borrowed a second hand Canon SLR camera and had an intensive 1-2-1 lesson with a pro to understand how to use it. From there I began helping at weddings, simply to carry the main photographer's bags and to gain experience. I went on to shoot for the same photographer, as well as an Asian photographer and then some lovely female photographers to gain as much experience as possible before starting out on my own. It's been the most incredible and rewarding journey.
---
How would you describe your 'style' of photography?
My style of photography is very personal, natural, light and bright. My approach to shooting a wedding is a real mix of 'reportage' style photography (fly on the wall) as well as being stylish and romantic. I have found that there are many moments of the day that naturally lend themselves better to a reportage style;  the ceremony, drinks reception and  speeches for example. However as a woman who loves detail in all areas of life, I love to capture all the tiny elements to my couple's day too, after all they take time choosing those things carefully and  so will of course have just as much meaning to them. From perfume bottles to jewellery, cufflinks to favours, I will spend time giving all these items some personal attention. Not forgetting flowers of course – I take LOTS of photos of flowers. My style then turns more stylish for couple portraits. I use a lot of movement and natural direction to guide them through to create really romantic but completely natural imagery for my couples. We have a lot of laughs too!
---
What is your favourite part of a Wedding Day? 
There are SO many moments I love as each wedding is so different it can change from one wedding to the next.
I take the time to really get to know my couples so being there to photograph their day is such a personal and emotional experience for me. I find that it's the same moments on the day that I love when I am a guest at a wedding myself:
1: dad's first look. I love setting one of these up for my brides and it's always a very happy and emotional moment that makes me well up.
2. Enjoying a lovely morning with the girls during bridal prep where I am always made to feel so welcome and like an honorary member of the Bride Tribe.
3. The grooms face when he sees his bride.
4. The bride and groom's faces when they realise they're about to be announced 'husband and wife'!
---
What top tips & advice do you offer your couples on their Wedding Day? (from a both a photography perspective & otherwise).
The biggest tip I can give from a personal perspective is to not leave any wedmin to the last minute so that the week before the wedding can simply focus on getting a good nights sleep, eating well and looking after themselves. From a photographic perspective, my biggest tip is to always think about how they want to enjoy their day. It's easy to get carried away with group photo requests, which I of course am always very happy to accommodate but I want to help ensure my couples look back on their day and remember enjoying it with loved ones rather than smiling for a camera. I have a very handy list that I pass on to them to help as well as a photographic schedule that I run through with them before the day to ensure everything runs smoothly and I am completely organised.
---
What do you love most about Millbridge Court? 
The Family! It goes without saying but working at Millbride Court feels like working with family, and that includes the Millbridge Court staff as well as Kalm Kitchen and the other MBC partners. It's such a wonderful group of friendly, professional and kind people, so it's simpy a DREAM to work there. Not to mention the oh so beautiful interiors that I love and the fab light for photography.
---
When couples book you as a photographer what extras do you provide in addition to the on the day photography & the plethora of gorgeous images following the big day?
Without giving too much away 
 my service is not just about delivering lovely photographs but about personal touches as I truly believe that it's the little things that count. So from booking right through to the wedding day and even after, I love to make my couples feel special as little things arrive through their mail box. I also always make myself available to my couples if they ever need any help or advice with anthing; I've even helped a bride buy her wedding shoes in the past! After their wedding day I invite them over for a glass of fizz to watch their wedding photos back with me – the perfect end to a personal service.
---
What details &/or moments do you enjoy capturing the most? 
I love photographing detail, especially flowers and tablescapes and I absolutely love the time I get with my couple for their portraits. It gives them time together to catch their breath and have some private time away from the buzz.
---
Outside of Weddings, what else do you love shooting?
I love lifestyle photography a lot – which can encompass many different things! I especially love photographing family for past wedding clients after they've had children. I also love lifestyle and styled product photography as well as photographing 'branding sessions' for independent businesses.
---
Who are your 3 favourite Wedding Industry Professionals/ brands to follow on Instagram? 
At the momment I am love love LOVING
@allforlove Ruth just creates the most incredible floral displays.
@cocoaandsilk insanely tasty, creative and colourful baked treats to inspire you in the kitchen
@travel_inhershoes not quite wedding related but Aggie's account will CERTAINLY give you fab honeymoon and travel inspiration (plus the photography is just incredible!)
---
A huge thank you to the fabulous Philippa for sharing all of those wonderful insights with us, especially in a time that is always so busy for those in the industry. Here is a tiny glimpse at some of the gorgeous setups, details & couples shots she's captured over the past few years here at Millbridge Court! 
News : 25 / 02 / 19
The Bridal Changing Suite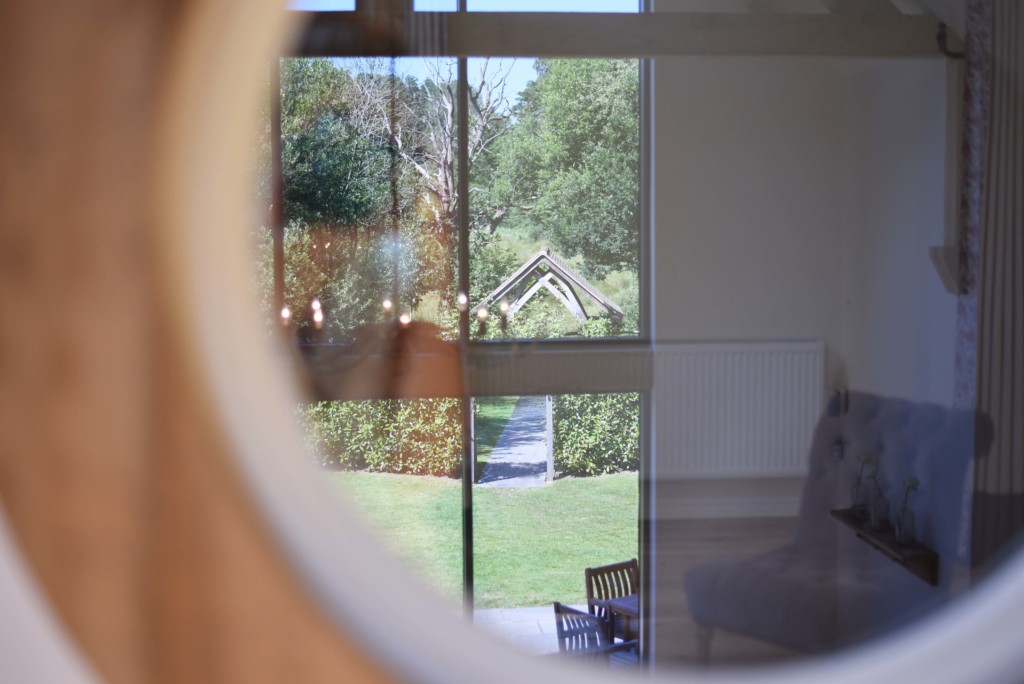 Last month, it wasn't just the Millbridge Court grounds seeing some exiting changes! We were also busy re-designing our Bridal Changing Suite & we're so thrilled to be unveiling all of the new additions with you all.
As you'll see below, our interior designer has combined strong colours & textures, with warm natural materials, most obviously in the newly laid wooden floor. Additional pop's of colour can be found in the hand woven Maimana Kilim Rug, sourced from Afghanistan & our full length mirrors now have added bulbs to create an even more glamorous feel to this intimate space.
Now for the two most exciting changes… firstly, we have created a private changing area for the Bride by adding a wall & curtain rail (featuring a rather gorgeous floral curtain) to the back wall which still features our vintage hook & also has a brand new full length mirror inside. This adds privacy in a beautiful space & also makes that dress reveal even more special. Lastly, we have also installed a private bathroom for ultimate ease & convenience throughout those morning preparations, complete with purple tiles & luxury bathroom products.
So, without further a do… here are a few snapshots of those exciting changes! We hope you adore the new additions & adjustments just as much as we do. Xx