News : 28 / 12 / 22
Married at Millbridge – D&A (finally!)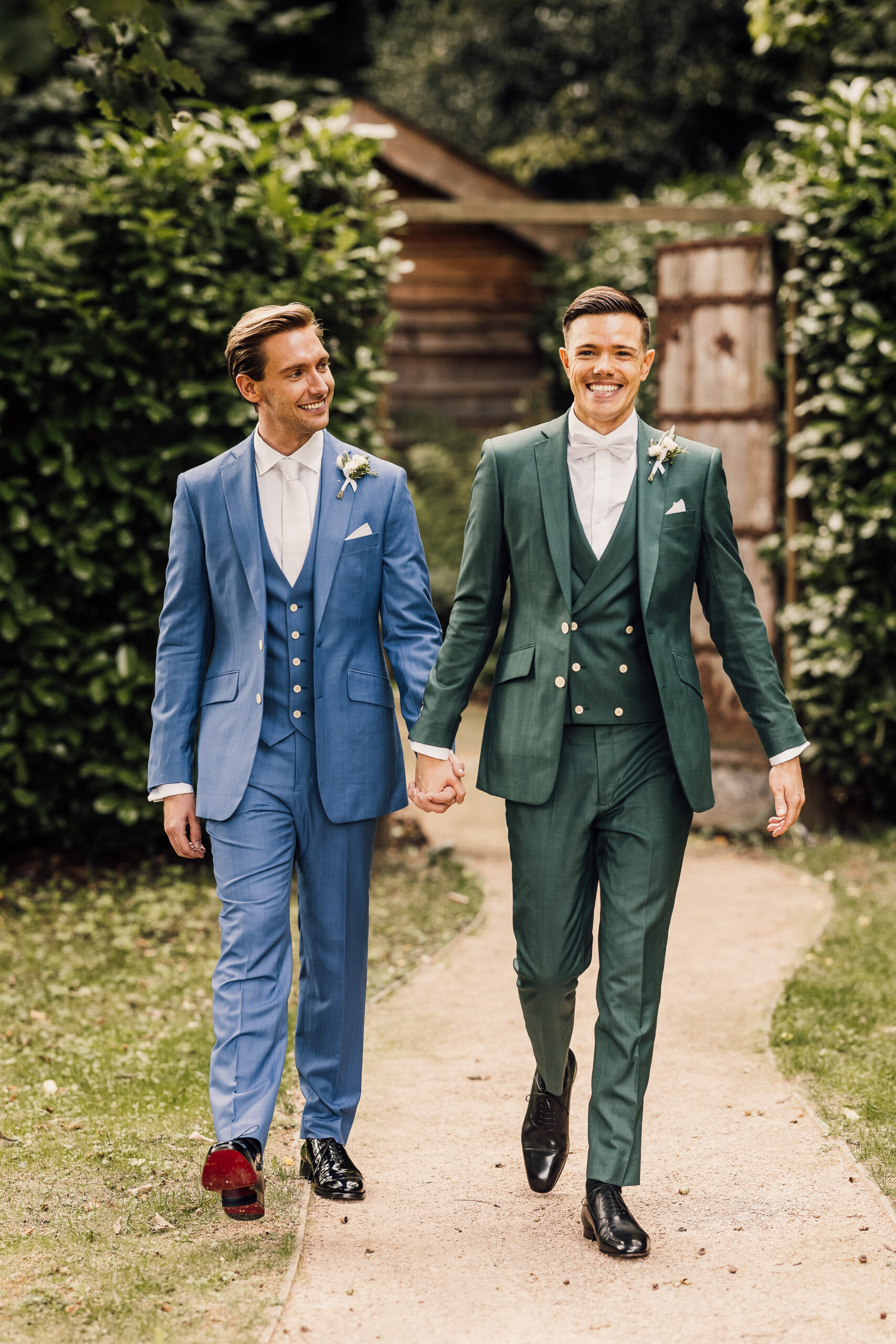 We first met Dan & Alex in February 2019 and after many postponements, we are beyond thrilled to say we finally hosted their special day in August this year!
With creative input from Alex, who sparked the big ideas, and Project Manager, Dan, taking the lead on the organisation, we knew the day would be carefully curated with every detail given thought.
We caught up with them to share with you a little glimpse of their journey.
Let's start at the beginning, how did you two meet?
We met at Southampton University – Alex used to be in the musical theatre society alongside one of my housemates and so I got dragged along to watch their version of 'Wicked,' it was there I first laid eyes on Alex and knew I wanted to meet him properly!  Once we'd started talking, we very quickly became inseparable.
So when you had decided on forever, why did you choose Millbridge Court?
Millbridge Court was actually the first venue we visited.  We loved it straight away, the high glass fronted ceremony and reception rooms, the grounds, the staff, the relationship with Kalm Kitchen and the fact it lends itself to your own styling suited us perfectly.  Though as we were yet to see any other venues in person at this stage, we held fire on a booking and continued with other viewings.  At each venue we found ourselves constantly comparing back to Millbridge Court, or looking for ways to reshape how that venue worked to make it more like MC and so quickly realised that it was the one for us!  It couldn't have been a better decision as everything came together even more perfectly than we could have hoped.
We loved working with you on your wedding journey!  Tell us a bit about what inspired your day.
As a same sex couple, we knew there were elements of the day that weren't as traditional as you may see at other weddings.  We wanted to make the day our own while nodding to tradition where we felt we could – for instance, we each had three 'Groomsmaids' and our Mums walked us down the aisle.
The food was a big thing for us and the highlight has to be our starter.  We got engaged in Hong Kong and wanted to include an element in our day inspired by the city.  Kalm Kitchen created a Dim Sum dish which was absolutely delicious and something our guests really enjoyed, especially as it was a little unusual for a wedding breakfast!
We tried to give some thought to the little details that could make the day feel a bit different to weddings people had been to before (no easy task as people are so creative and have thought of almost everything!).  We managed to include a sky banner, timed to go over during the drinks reception which made for some amazing photos, and with the money paid being donated to charity, it was a win all round.  A 'Lip Sync For Your Life' sign complete with 5 toy microphones was also great fun in the evening and helped people get even further into the party mood!
Tell us more about your suppliers and why you chose them.
We found the MC recommended suppliers list and attending the 'Details Date Night' so useful, it's where we met a number of our suppliers!
Our florist, Alice at Meadowfolk, did an EXCEPTIONAL job!  The installation at the end of the aisle was absolutely stunning and everything she did exceed our expectations.  On top of this, she was also the most lovely, calming and reassuring person to have involved in the day and came up with so many of the ideas we managed to include.
Matt Tyler is the most incredible photographer and we never had the slightest doubt in him capturing photos we would love.  We were introduced to him by some friends who had booked him previously and we felt there was no comparison between his work and any others we looked at.  He was also a remarkably calming presence on the day.
Kate and Dave were the most incredible duo, who played during our ceremony and drinks reception. We deliberated for a LONG time over the song to walk down the aisle to and had toyed with 'Two in a Million', but worried a song by S Club 7 would come off as a bit cheesy – Kate sang it beautifully and the acoustic version they put together was perfection.  With people not quite able to place the song but loving the meaning behind the lyrics – exactly what we hoped for!
Forever Cakes designed and delivered the most incredible, delicious 5 tier wedding cake.  Karl at Moment Weddings captured the perfect video of the day so we can continue to relive it in years to come.  Simon Alexander entertained the guests with magic during the drinks reception (and got RAVE reviews from our guests!).  Caz Watts designed all our stationary and had so much patience as we made (a rather high number of) tweaks!  We found Bubblegum Balloons' ceiling installation in the dining hall a brilliant way to fill the space with extra colour and their team are also incredibly friendly.  Farnham Sound & Light helped us with the personalised dance floor, putting the 'logo' of our names across a vinyl print for some special photos during our first dance.  Our DJ was recommended by Jonny Ross Music, DJ Freddy de Lord got the music spot-on and his sax sets went down an absolute treat!
There were so many people involved in bringing the day to life, too many to list here but everyone did such an incredible job and we could not be more grateful for their efforts.
 You both looked absolutely fab!  Tell us about those suits…
We were SO happy with the way our suits turned out!!  They were made by King and Allen, a tailor we'd both highly recommend.  We felt in safe hands from the start as they had a 2-Groom wedding section on their website.
Again, looking to keep certain traditions in place, we didn't want to see each other in our wedding outfits until the ceremony itself.  To make sure the colour of our outfits complimented each other, we visited and selected the cloth for each suit together – no one would want to see clashing suits on the day!  Once we'd picked the cloth, we followed the rest of the journey separately, visiting for fittings and adjustments at different times.
The lovely thing about having them made for us was choosing the extra details, like the bolder patterned linings and having our new surname sewn into each jacket!
Tough question, favourite part of your wedding journey?
Oooh this is an interesting question!  It actually has to be the week before the wedding, being in that bubble knowing the big day is finally approaching (we'd had nearly a 4 year wait… thanks COVID!).  I had heard from a number of people that the days ahead of the wedding could be stressful and so we were determined to be in a position that would allow us to enjoy that special time.
In the months ahead of the wedding, we worked through the 'to-do' list, making sure something was done every couple of days to really spread out the tasks.  It meant by the time we were a week away from the day, all we needed to do was pack and get ourselves to Surrey!
The morning of the wedding day was equally relaxed and full of excitement with Charlie (from MC) doing an *EXCEPTIONAL* job at looking after us and taking care of everything to allow us to just get ready and enjoy our time.
Any words of wisdom for future couples reading this?
We would have to say spread your to-do list over time.  It made the build up so much more enjoyable and avoided any last minute stresses.  Make sure you also plan the day for you and don't get too caught up in what other people want/think.  While you want the guest to enjoy themselves, they will do exactly that just by seeing how happy you are on the big day.