News : 19 / 10 / 23
Married at Millbridge – L&A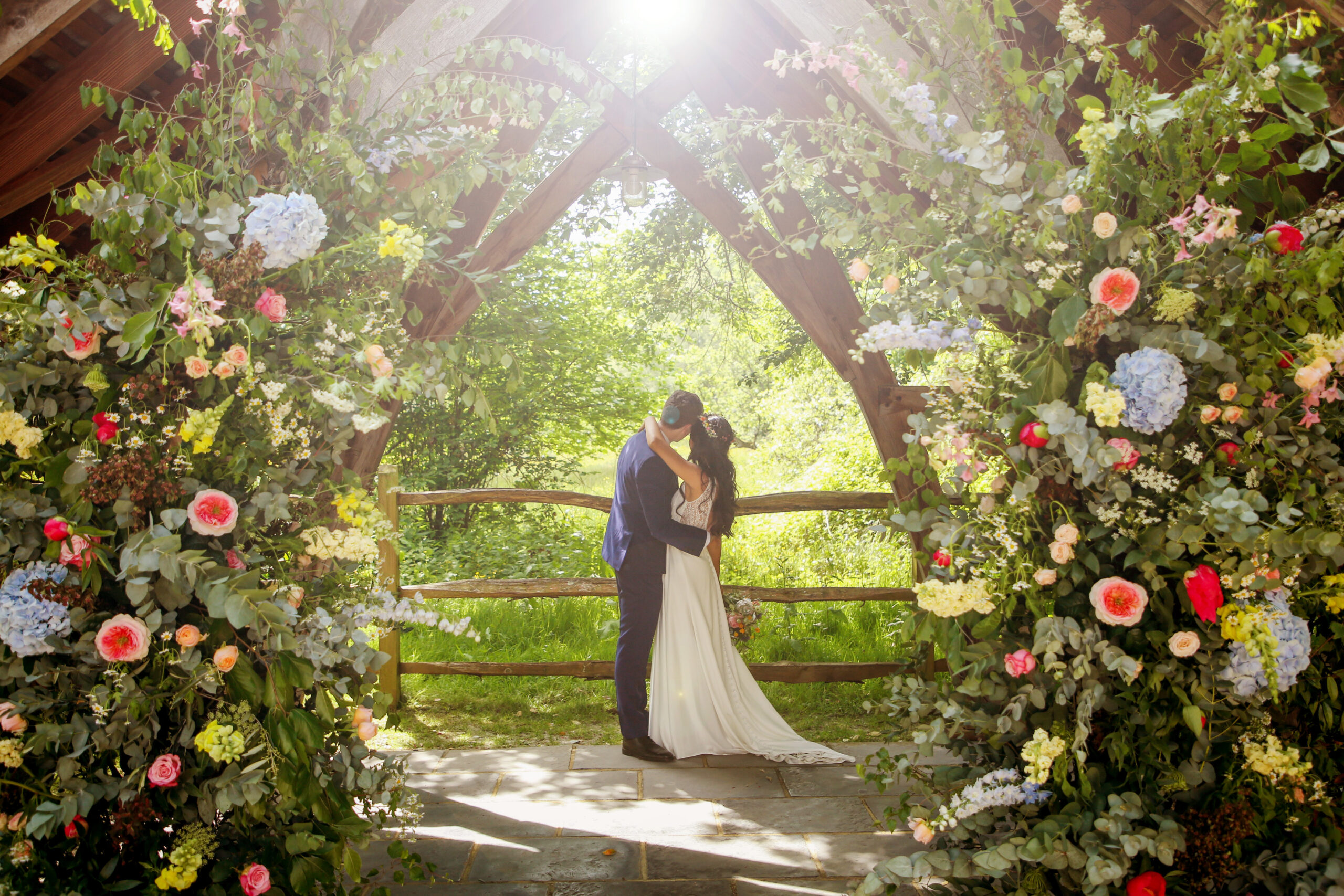 With the warmer summer days coming to an end, and the cosy autumn nights here to stay for a little while, we wanted to take a minute to reflect on what a wonderful season we have had.  We feel so lucky to have been a part of so many beautiful celebrations and we cannot thank our couples enough for choosing Millbridge Court!  We are very excited to see what the next few months bring and look forward to hosting our beautiful winter weddings…
But before we get too excited about the festive period, we couldn't not share a day full of so much colour, love and the most stunning hand crafted dress!  L&A's celebrations were nothing short of the perfect Spring day!
Tell us a bit about yourselves – how did you meet and what's the proposal story?
We met at medical school 9 years ago. We were living in the same flat in the halls of residence. We were really good friends, and then eventually got closer and started dating – Adam came to meet my parents before Christmas! I took Adam to one of the nearby country parks by the sea, and we had a really lovely time, and it was beautiful. Adam took me again 7 years later, but this time popped out a ring! A really beautiful proposal, with just the waves and sunshine to witness it!
Why did you choose Millbridge Court?
We got warm, friendly vibes when we visited. We loved the décor, and the outside ceremony area was stunning. We could imagine it well and it was always a dream to get married outside with lots of greenery and flowers! Living in England though, we were very much aware that it might rain, but loved how Millbridge were so flexible with deciding on inside/outside on the morning of the wedding. The wedding hall is also beautiful, with high ceilings and so much natural light!
What did you love about having a Spring wedding?
The outside ceremony 100% – we were SO lucky that on the day it was super sunny, honestly very blessed! The garden and the flowers were looking stunning outside too and the guests could all hang out and have drinks outside too.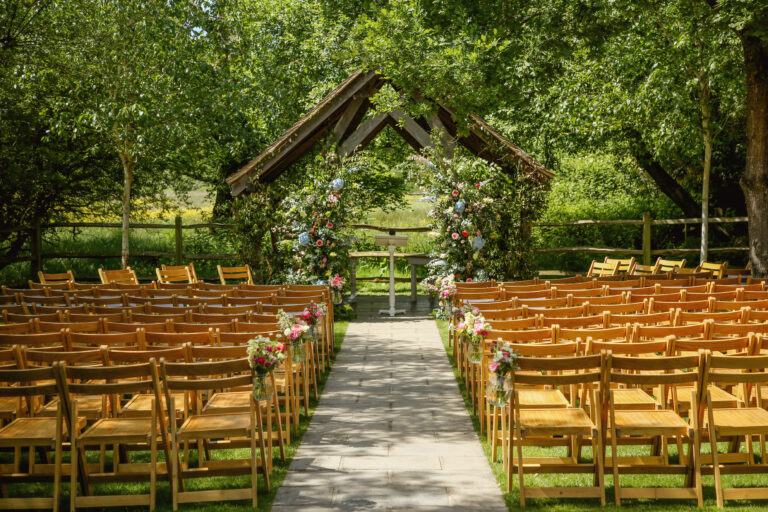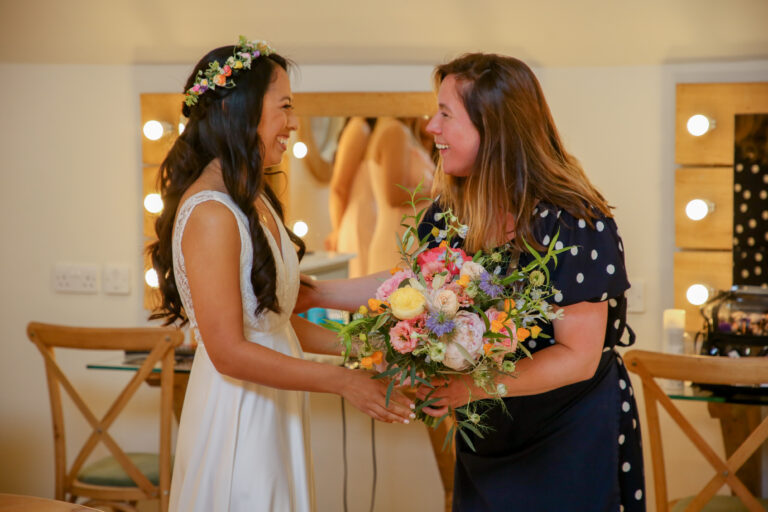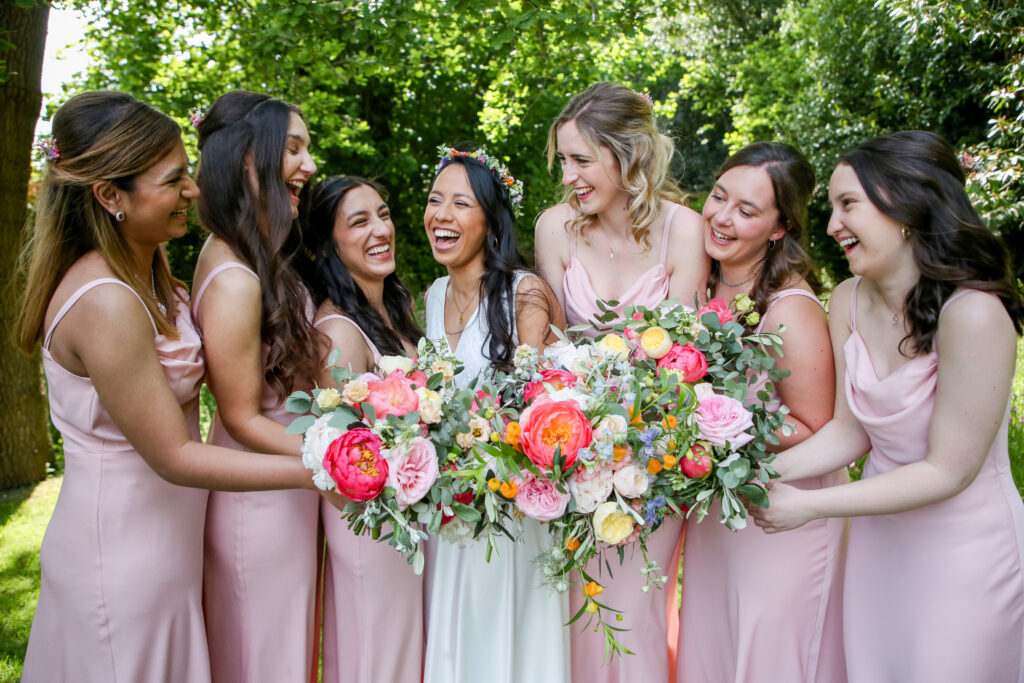 Tell us more about your suppliers and why you chose them.
We chose Gill Pike for our flowers – she was suggested to us by Millbridge but also, we loved her style. She was very friendly and personable when we met her, and we loved how chilled she was. When we talked about our ideas, she always kept in mind our budget and made sure we kept within. The flowers were beautiful – she killed!
Botanico cakes by Naomi was our wedding cake designer – again she delivered so well, made a scrumptious cake that all the guests complimented, and managed to create a stunning cake with her intricate flowers.
The band that we had were called Slingshot – we loved their music list and the sound of them, and they had amazing reviews. They absolutely smashed it – all our guests were up on the dance floor and asking for their contact numbers by the end too!
The wedding dress was by Sophie Rose Bridal – she did the best job of creating Lynnie's dream dress, we could not have asked for more. She was so personable, and her studio was such a welcoming environment.
We had photography and videography done by VLA. They are a married couple who have worked a lot at Millbridge – they are very passionate about their work. They captured so many magical moments, and created a beautiful wedding video that we still love to watch.
The wonderful Stephanie Dorelli was in charge of making Lynnie look her absolute best on the day. She had a trial arranged a few months beforehand, and Stephanie's studio created the most relaxing and friendly atmosphere for having a pampering day. Lynnie was quite anxious beforehand because she had had a previous experience of where she didn't look herself after having make up done for her. So it was really reassuring when Stephanie asked for Lynnie's pictures beforehand so she knew what look she normally went for so that on the day, she would still look like herself, just a very glowed up version! Stephanie did the best job with the make up, but the hair was the best part – she created the most beautiful whimsical look with braids and a flower crown – it was even better than we had imagined. She also offered to help with our bridesmaids' hair and helped pin in flowers and do the finishing touches which was really appreciated – thank you!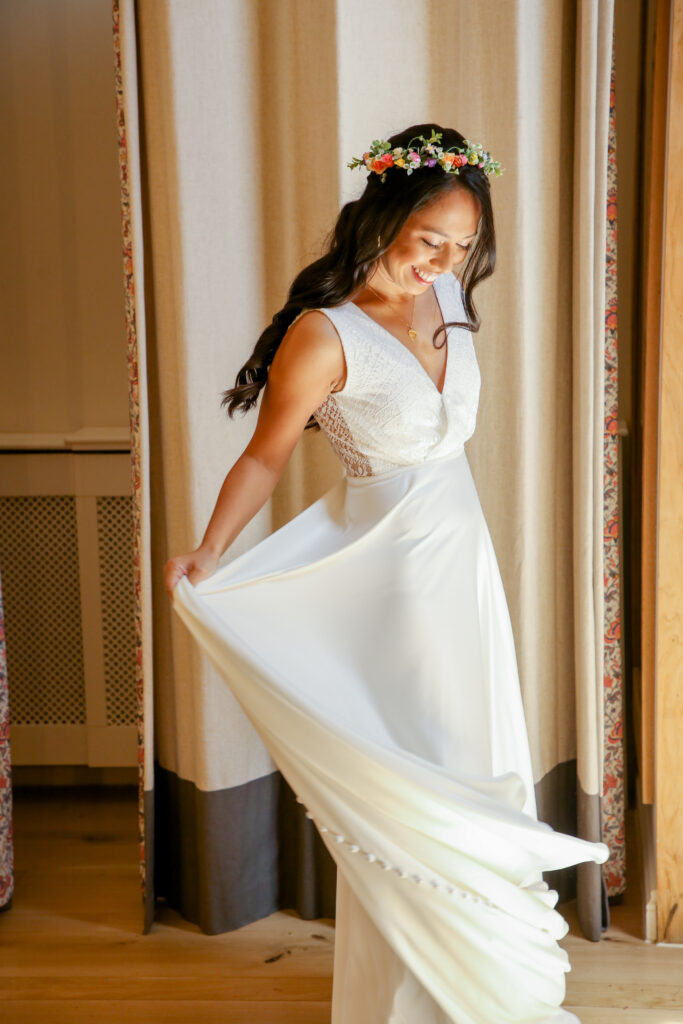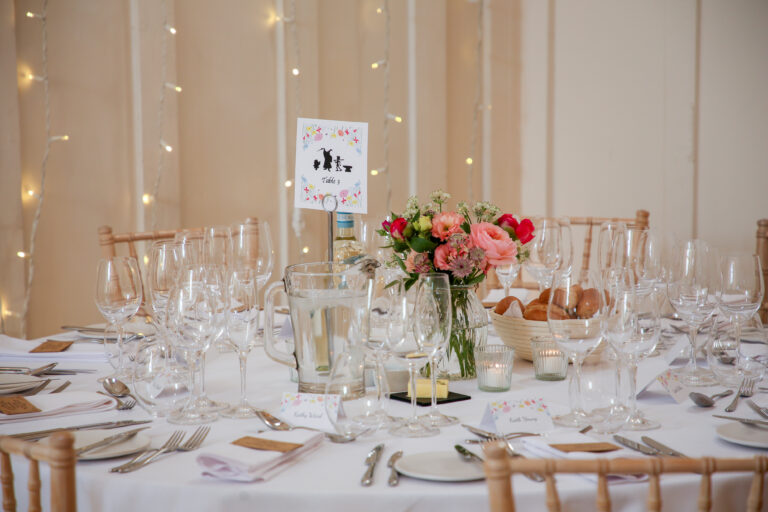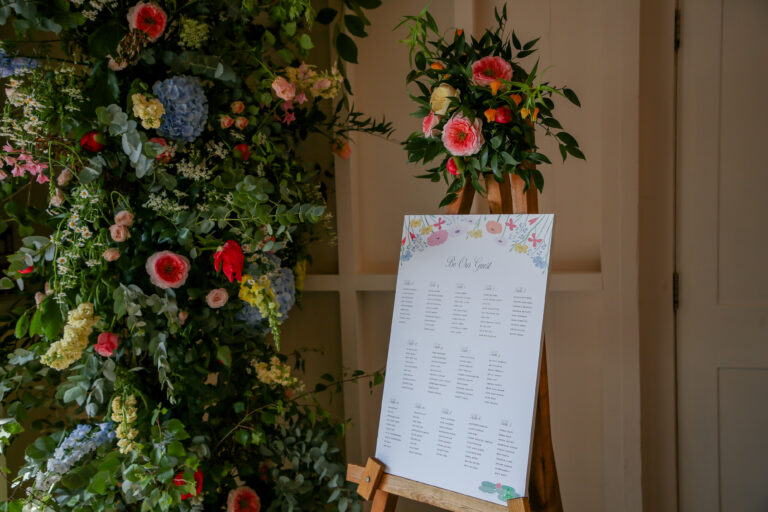 Did your vision for the wedding change over the planning process?
Not really, we always Imagined an outdoor wedding with lots of flowers, people dancing and enjoying themselves. I think the weather was very much the biggest factor in this, which was out of our control. However, we knew that If it was bad – we would still have had the incredible indoor area. Millbridge were so thoughtful and considerate about everything, nothing was a chore!
Are there any memorable anecdotes from the day you could share?
One of our groomsmen had a few too many drinks and had to have the microphone taken off him. He was getting a bit too risqué with his announcements – this made us laugh a lot and is a story we reminisce on when talking about our wedding day!
For both of us, the moment we saw each other, as Lynnie walked down the aisle was one of the best moments of our lives. It was emotionally overwhelming, with so much happiness, seeing all our loved ones and each other. The beautiful outdoor setting made it even more joyful, everything just coming together and feeling so perfect, It was amazing.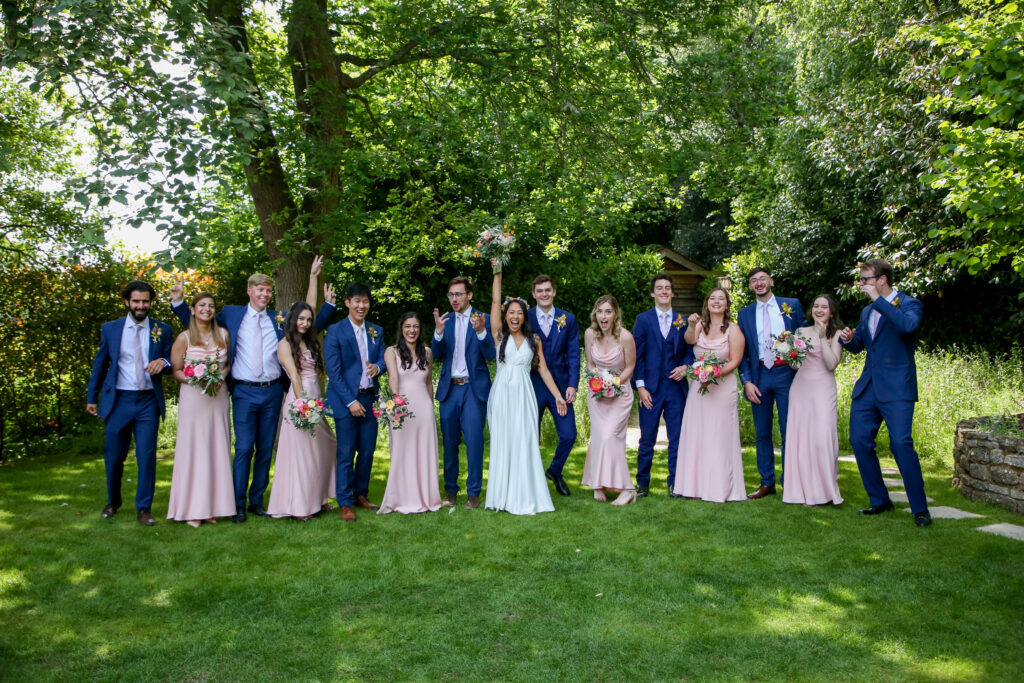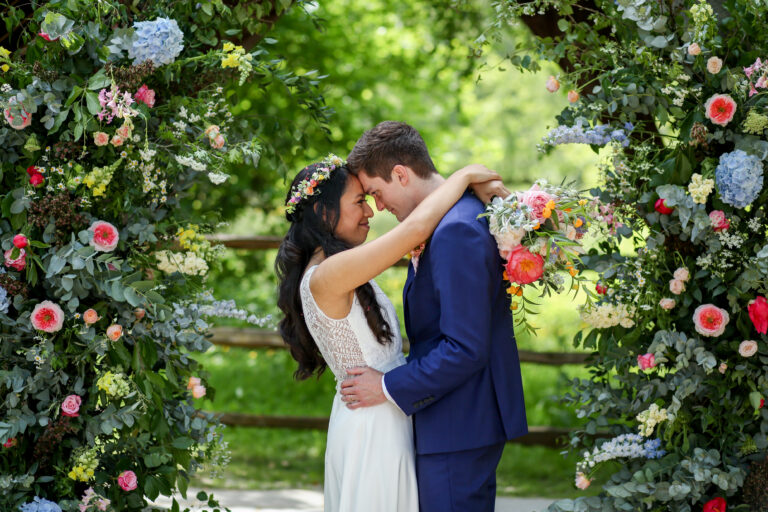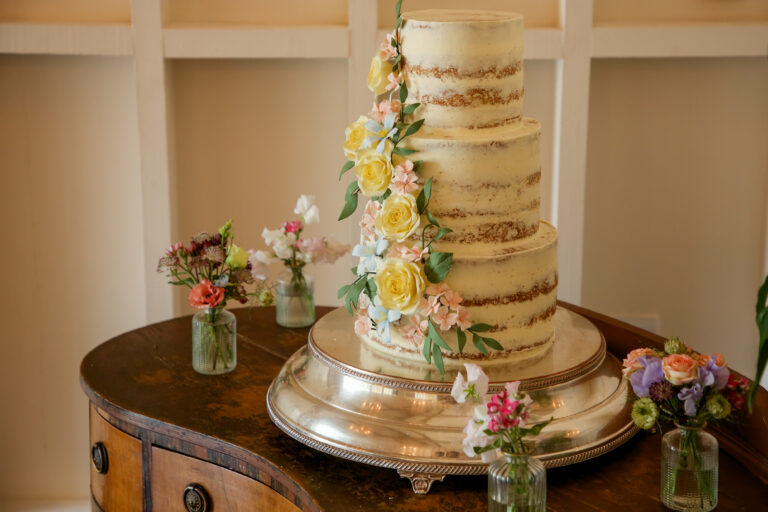 Tell us something that we wouldn't know about your day from the pictures.
Lots of Lynnie's family had flown over from Myanmar. We weren't sure if they would be able to make it. We haven't been able to see them for around 4 years because of COVID and then the political situation in their country, so to have them there was incredibly special.
When we first met at university, we were put in a flat together with 4 other people. All of us are still friends 9 years later, and all of those original flatmates were at the wedding.
Favourite part of your wedding journey?
The whole process was very enjoyable, from booking the venue to picking the flowers. But it was really nice to see how it all culminated on the day, walking into the venue and seeing all the wonderful flower arrangements and tables set up was an incredible feeling. But most of all when we saw each other for the first time on the day as Lynnie walked down the aisle. That was the best part of the whole journey.
Any words of wisdom for future couples?
Start by giving yourselves plenty of time to plan – we had 2 years from getting engaged to getting married, and it meant we had time to enjoy the whole planning process rather than having to rush to get things organised. Then, on your wedding day, make sure you take some time for yourselves to absorb everything. It is one of the best days of your life, but it goes so quickly and you want to savour it as much as possible.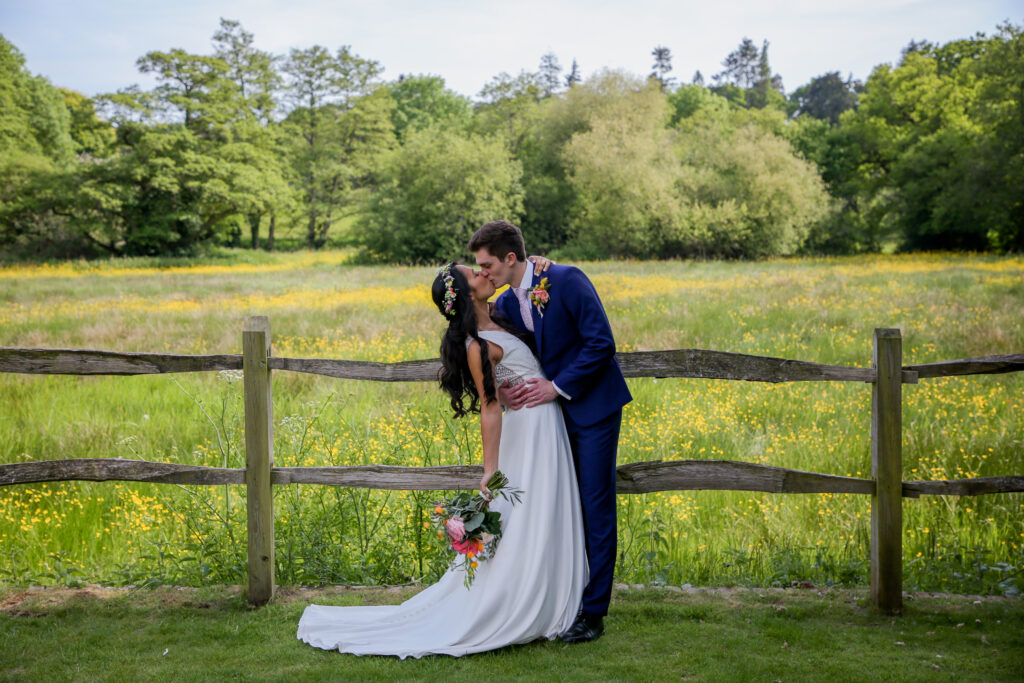 News : 23 / 09 / 23
Getting to Know – Le Papillon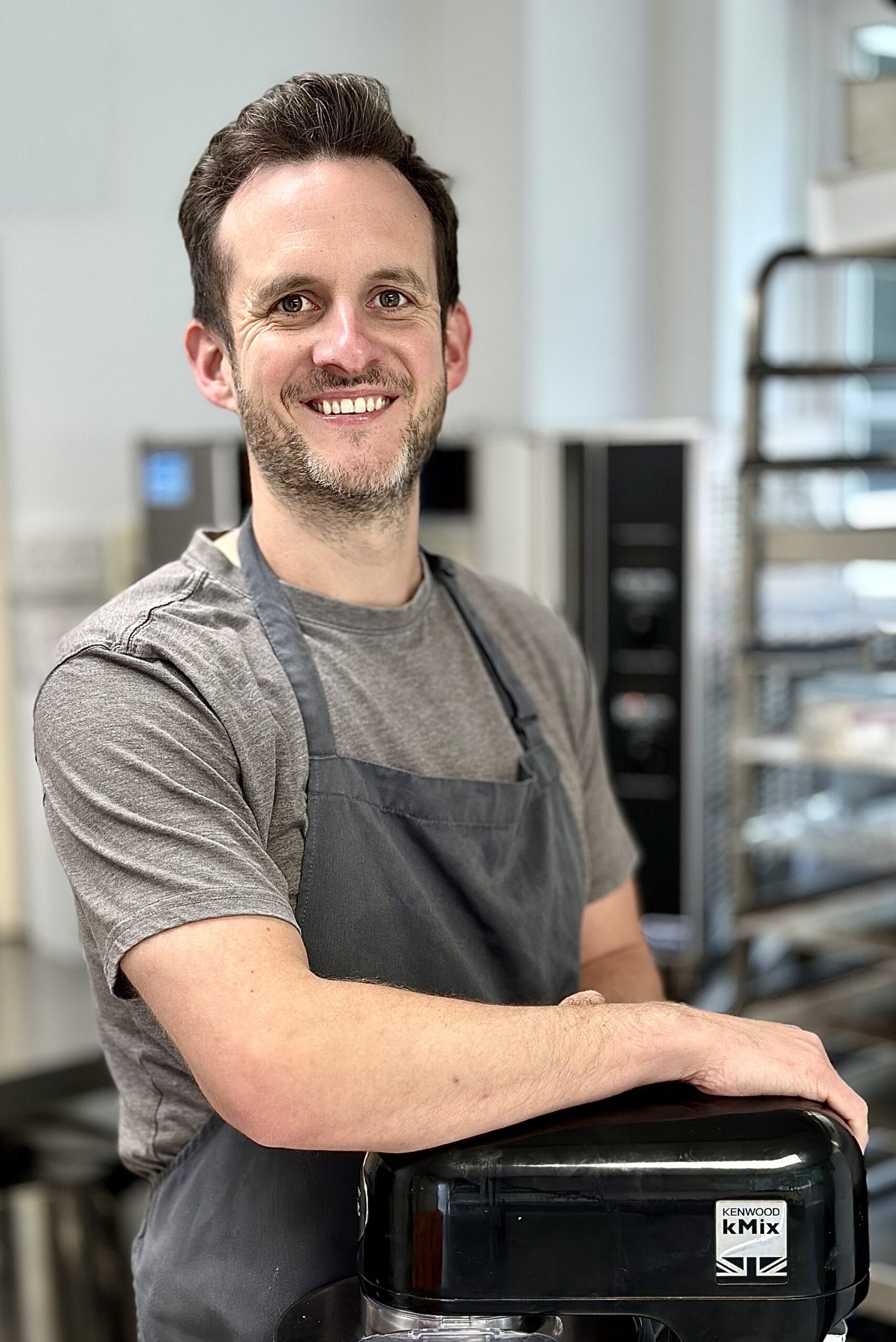 With a wonderful season drawing to a close, it was only right we sat down with Le Papillon for a cup of tea and slice of delicious cake.
We caught up with Neil for an insight into his baking world and to discuss all those delicious flavours!
What first made you fall in love with baking?
Baking has always been a big part of my life, I knew from school age that I wanted to be a pastry chef, and studied patisserie at college straight after school.
How would you describe your style of cakes? 
We have a pretty broad range of styles, usually more natural looking with modern twists.  Our main focus though is flavour, being from a chef background, our foundation has always been great tasting cakes!  Too many cakes look nice but are let down with taste and texture.  This is where we are different.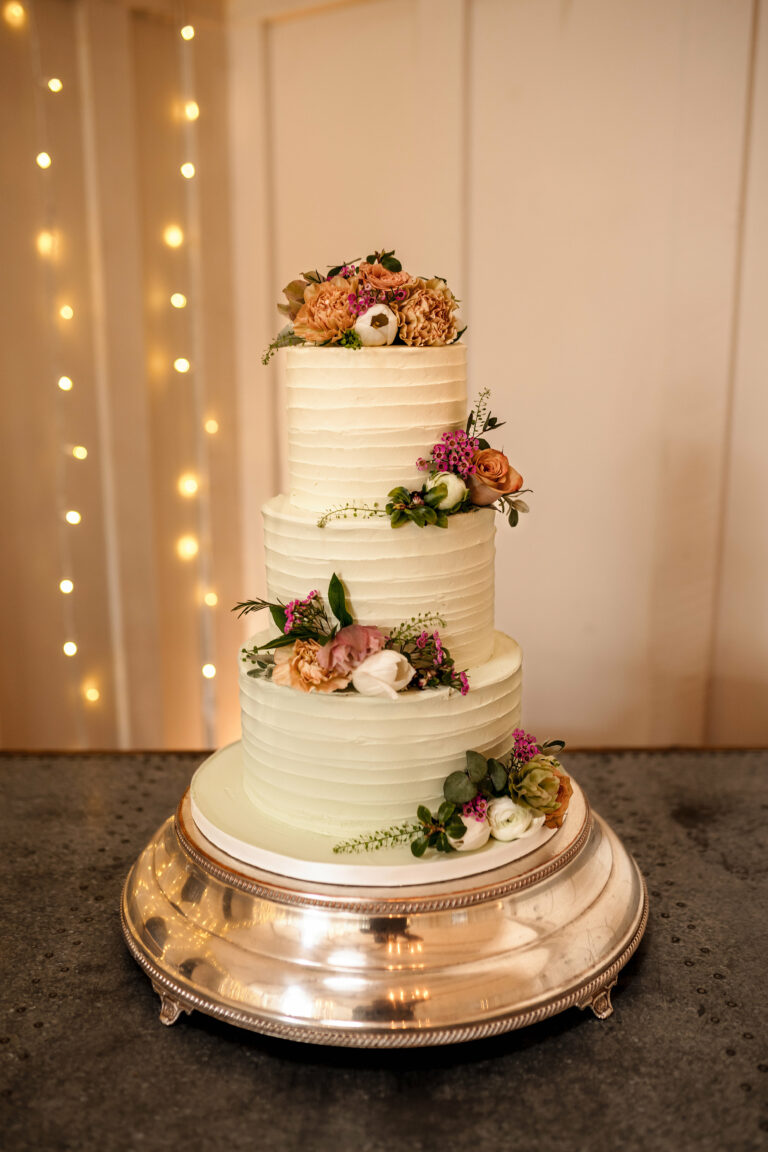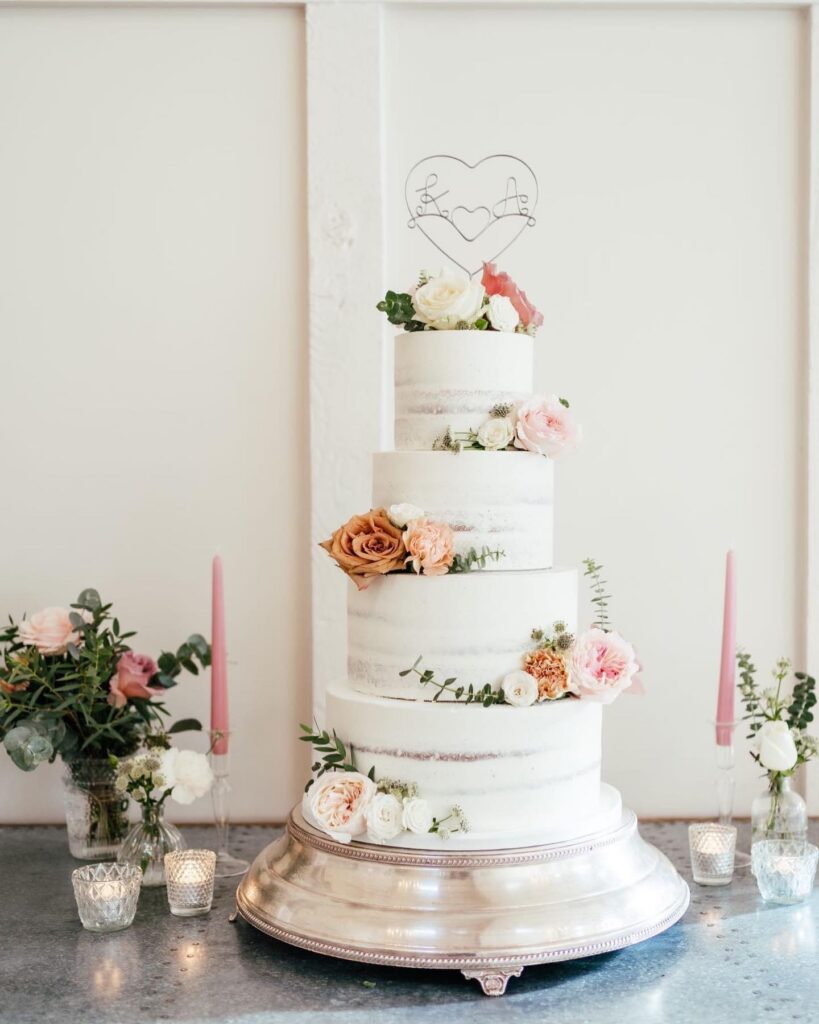 What made you decide to work in the wedding industry?
This happened organically for me. Weddings were always a side part of the business but eventually over took everything else!  Now we are almost exclusively weddings.
Can you explain a little about what couples can expect when they book with you? 
I like to think our process is really relaxed and stress free.  I'm not one for over complicating a process.  We generally will help find you a style you like and then work from there.  You will get to taste our full range as part of the process too.
What is your favourite part or parts of a wedding day? 
Definitely the reception!  The Ceremony is obviously really important, but I love the buzz of the drinks reception, canapés, champagne and then the party!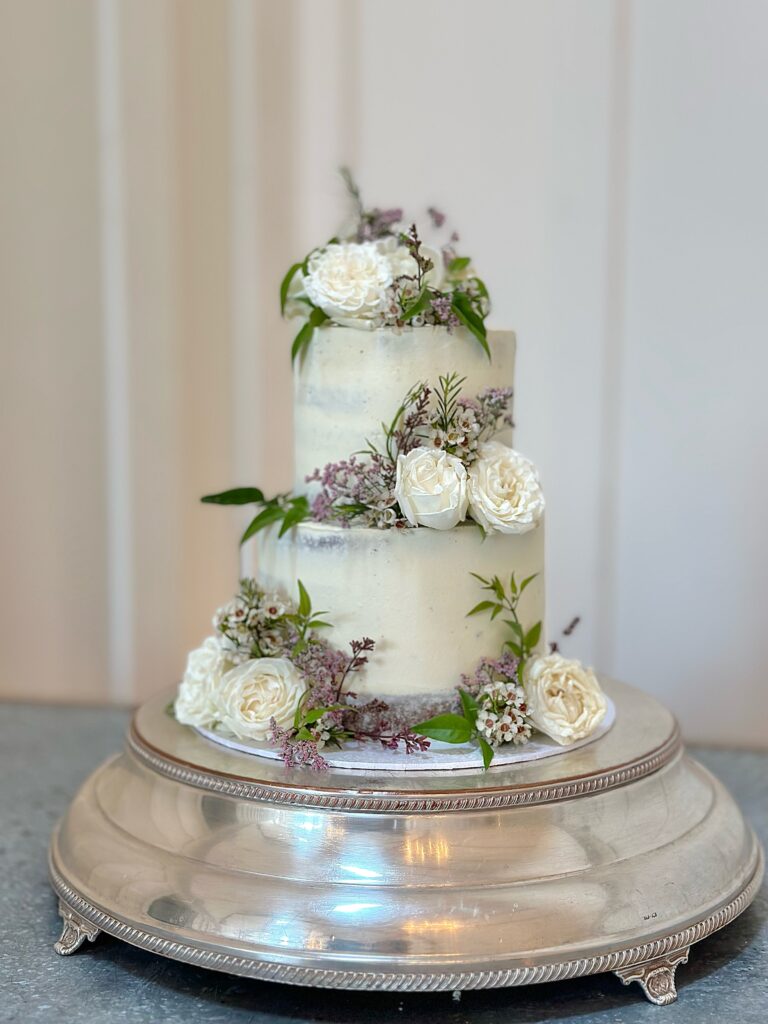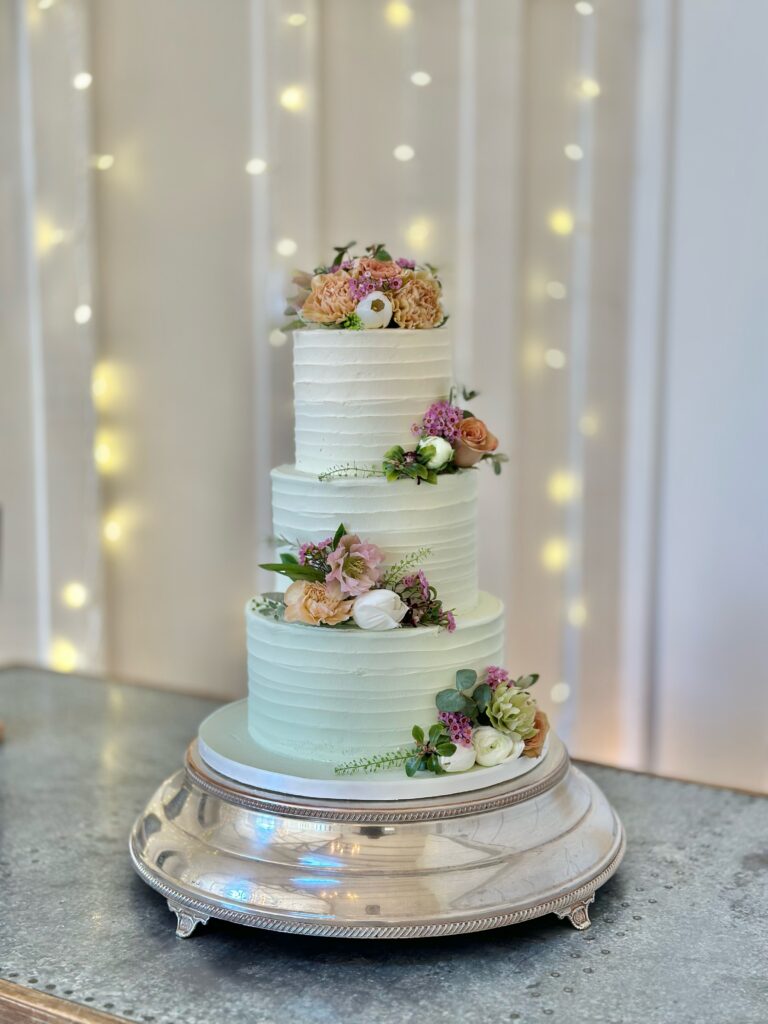 What top tips and advice do you give to couples ahead of their wedding day? 
Try to relax!  People overthink way too much.  Quite honestly if your guests are well fed and watered they will have a great time.  Don't sweat the details.
What do you love most about Millbridge Court? 
Well recently the pizza oven!  I'm a bit of a pizza enthusiast myself and have a wood fired oven at home.  I just think this is such a nice addition to the venue.
What cake trends are you seeing for 2023?
Taller, slimmer cakes for sure, lots of natural details and simplicity.
And lastly…what is your favourite flavour of cake?
My favourite cake is probably carrot cake.  I love the spice!  I do also love our chocolate hazelnut cake which reminds me a lot of Nutella.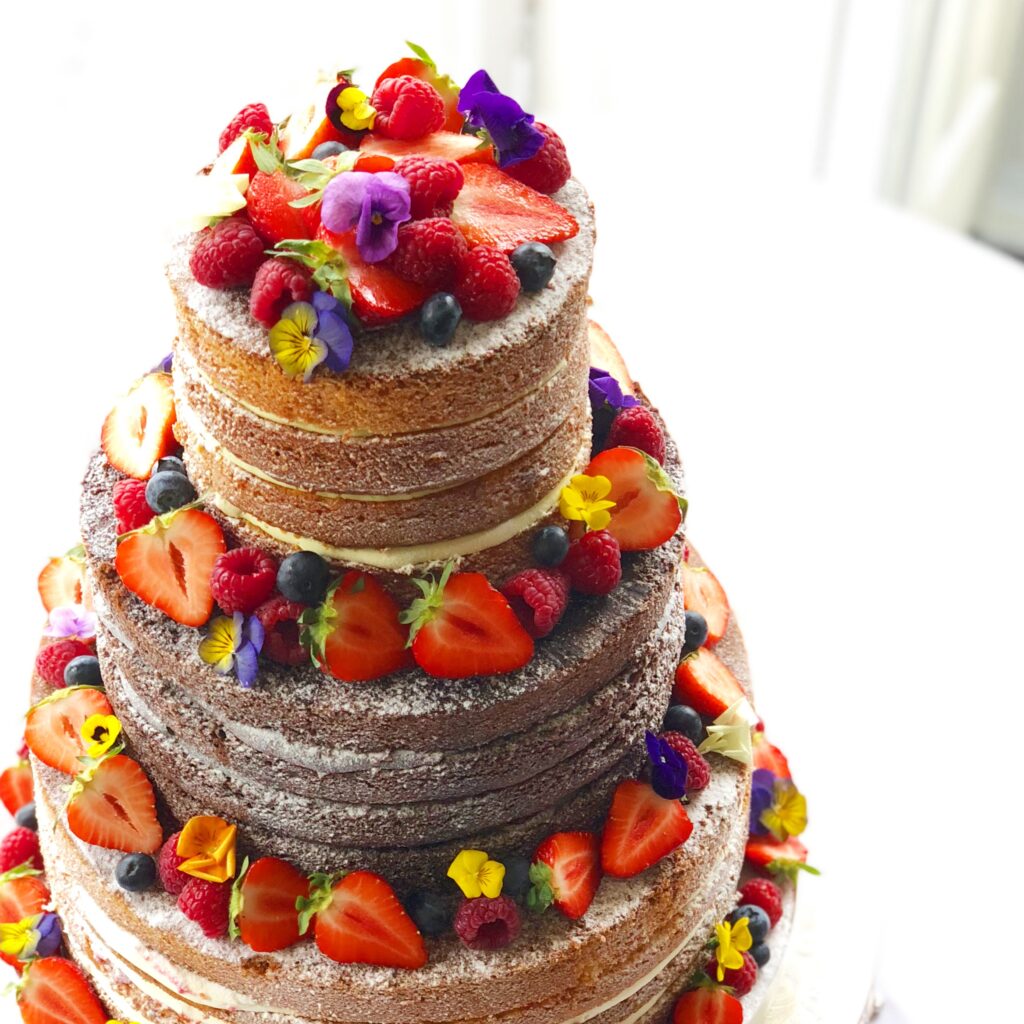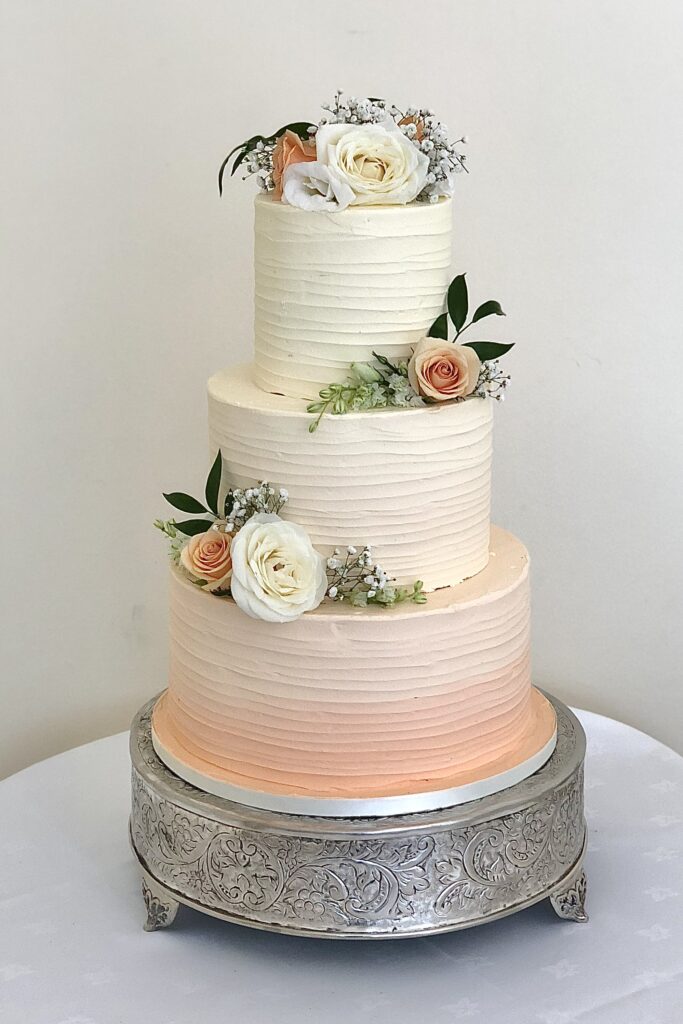 News : 06 / 07 / 23
Getting to Know – Olivia Mills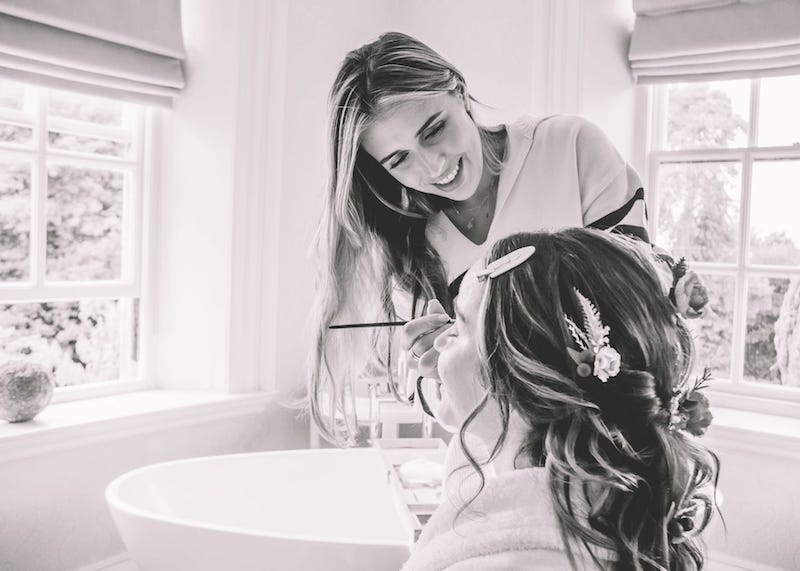 Anyone that has had the pleasure of having their hair &/or make up done by Olivia will be able to tell you she acts as an honorary bridesmaid. Not only will she make you feel beautiful but her attention to detail means she will also keep you on track with your timings, ensure you are well hydrated and position the train of your dress just perfectly for those all important first pictures.
Essentially, she has you covered!
We sat down with Olivia to give you a little glimpse into her world.
What first made you fall in love with beauty?
When I was a teenager I absolutely loved makeup however didn't ever think for one minute I could/would have a career in it. Looking around the makeup school, Brushstroke at Shepperton film studios, where I trained, it was an absolute dream! I love how creative you can be with hair & makeup, every day is different.
What made you decide to work in the wedding industry?
I originally started working in TV & Film, I absolutely loved it but fell into weddings. My 'work' days were just incomparable! The more the years went on, the more weddings I did and the more I fell in love with my job. Being part of the happiest day of a person's life is a feeling I cannot even describe. I am so lucky!
How would you describe your style of Hair & Make up?
Soft, romantic and timeless – a more enhanced version of yourself for your big day! I really love it when my brides look in the mirror at the trial and tell me they feel like a special version of themselves.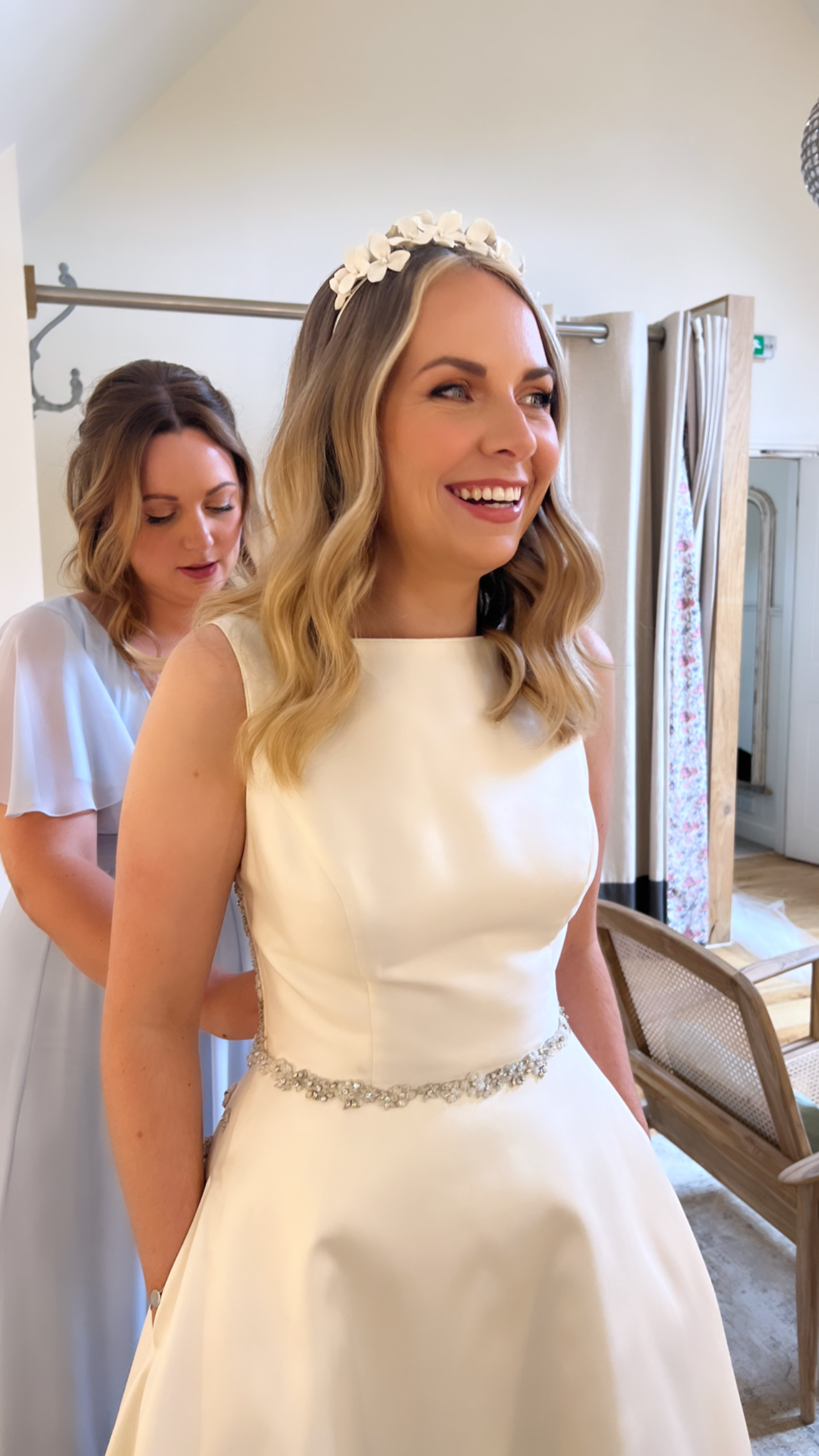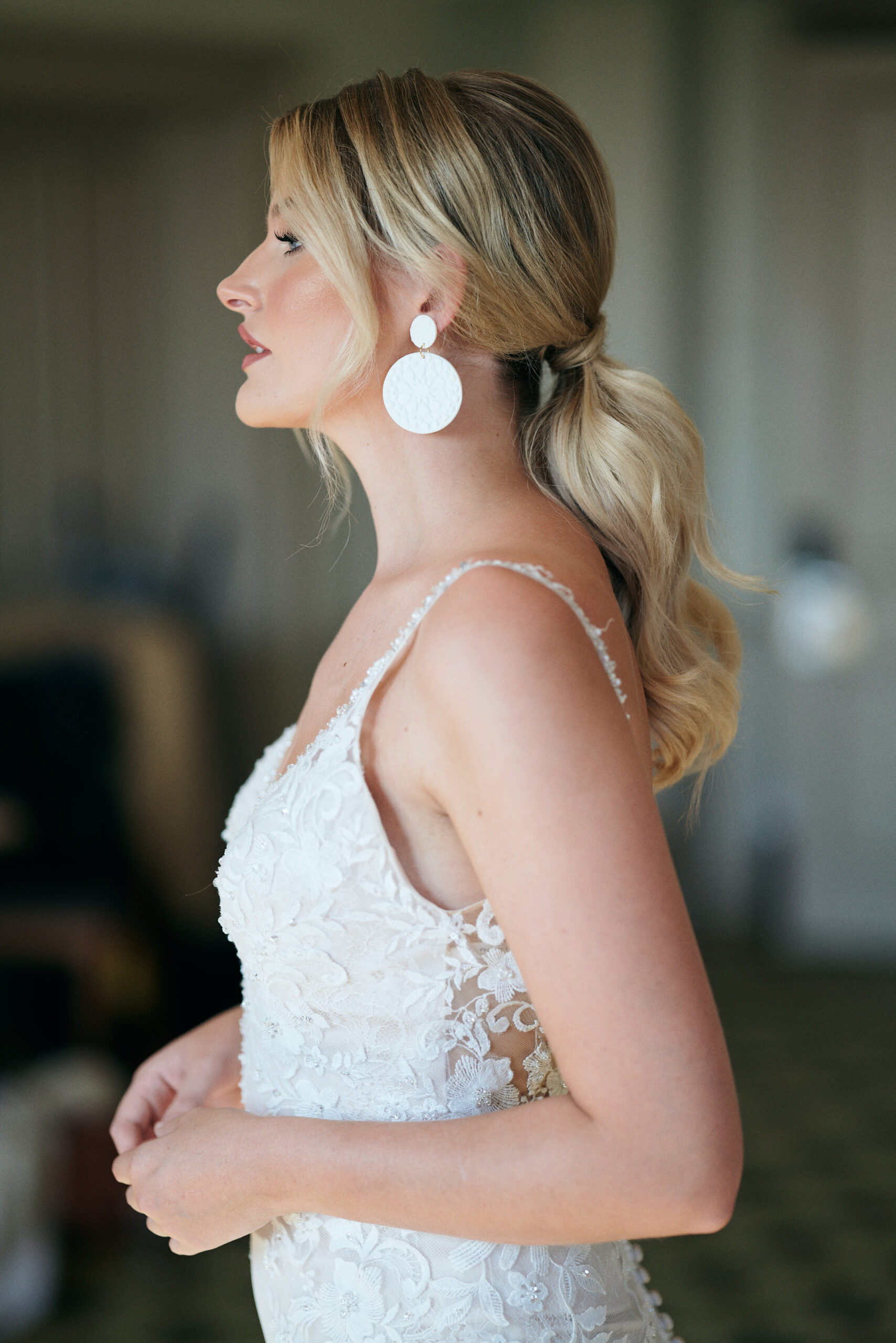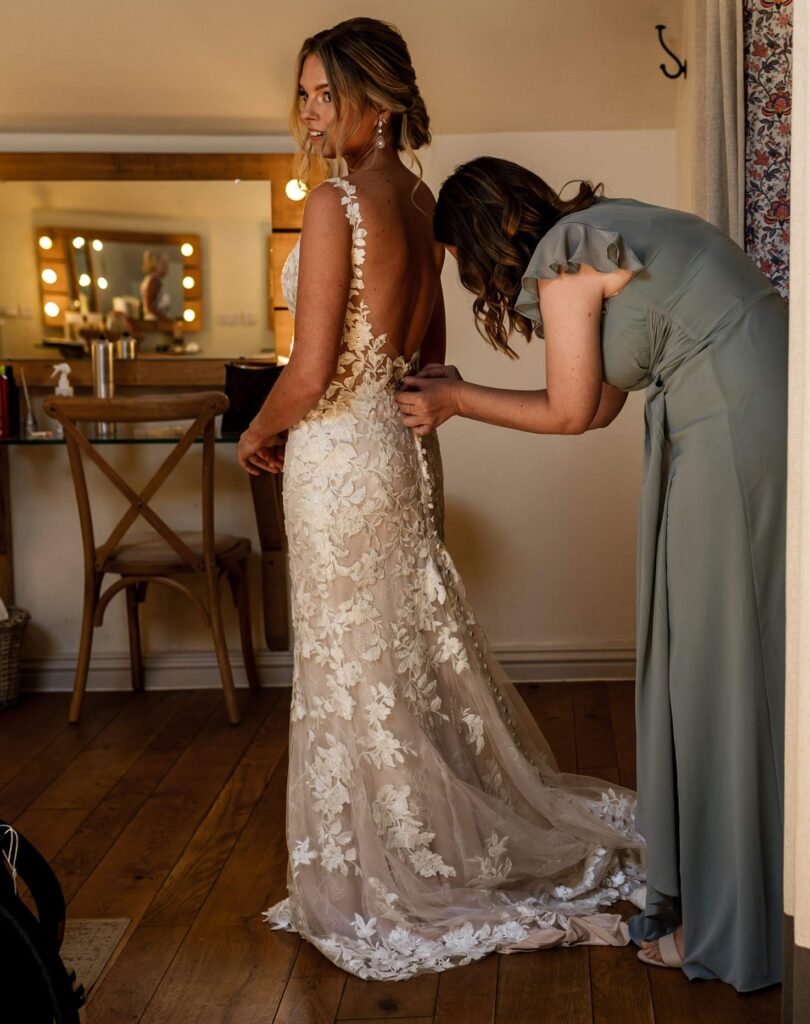 Lucie Watson Photography, Matthew Lawerence
Can you explain a little about what couples can expect when they book with you?
When booking with me for your big day, expect it to be easy and fun! I want to make sure you are looking like the best possible version of yourself whilst feeling comfortable! How you feel is so important to me. At the trial I make sure you are 100% happy with the look created and tweak it until you are! I create a schedule for the wedding morning meaning everyone knows when they need to be in the hot seat – this makes the morning run smoothly!
On the day I carry a little emergency kit in case anyone needs things such as body tape, sewing kits, nail glue! Over the years I have learnt that there are a lot of necessities forgotten at home!
What is your favourite part or parts of a wedding day?
The whole morning is so enjoyable! I feel like an added bridesmaid!! From the moment I arrive to the moment I leave it is all systems go BUT my favourite part has to be when all of the bridal party are ready, they've had a few pictures and the bride then gets her dress on behind the Magic Millbridge Curtain in the loft! The dress reveal to the bridal party is such a special and memorable moment.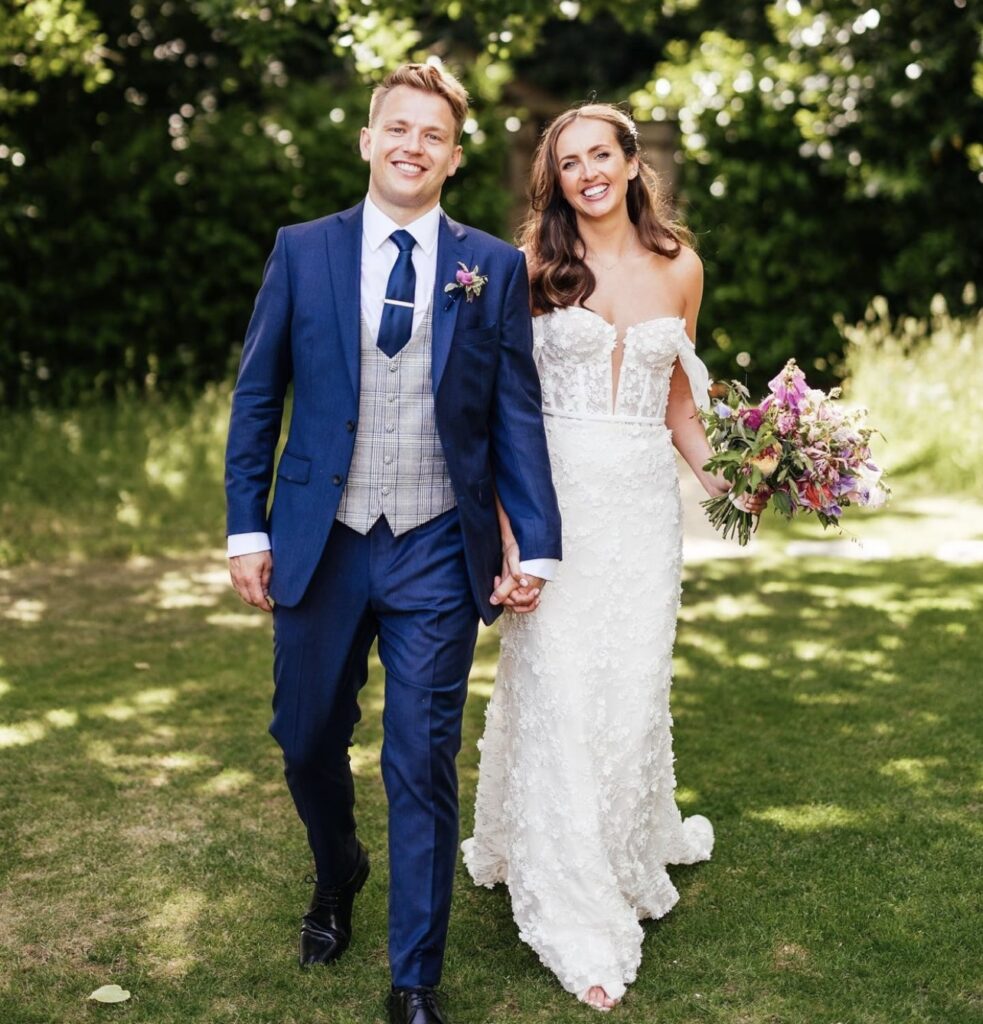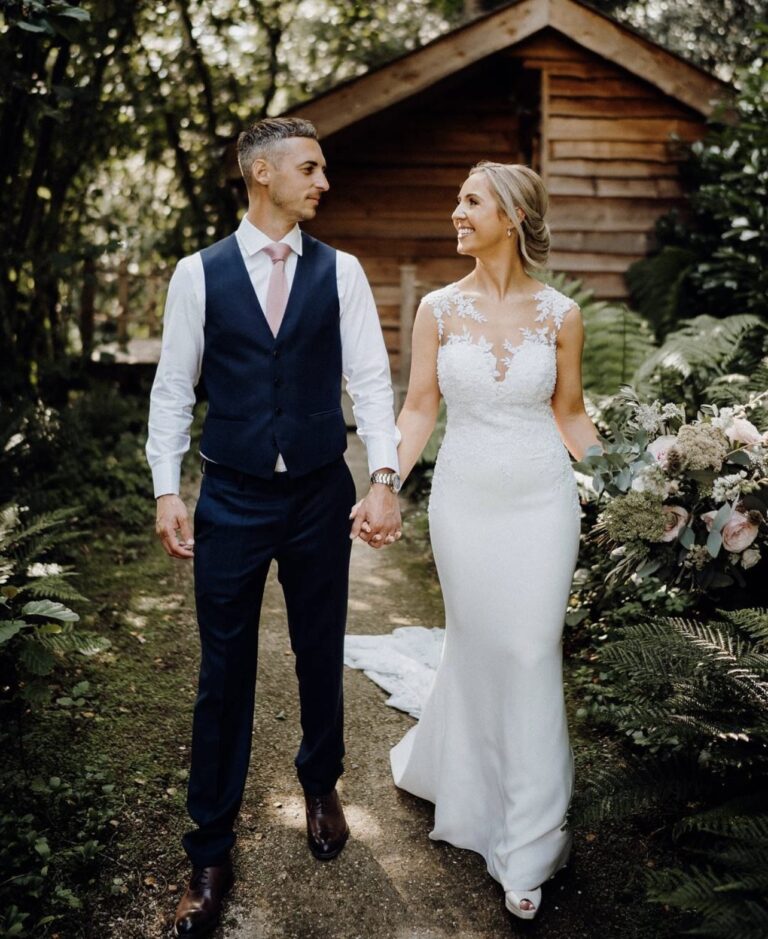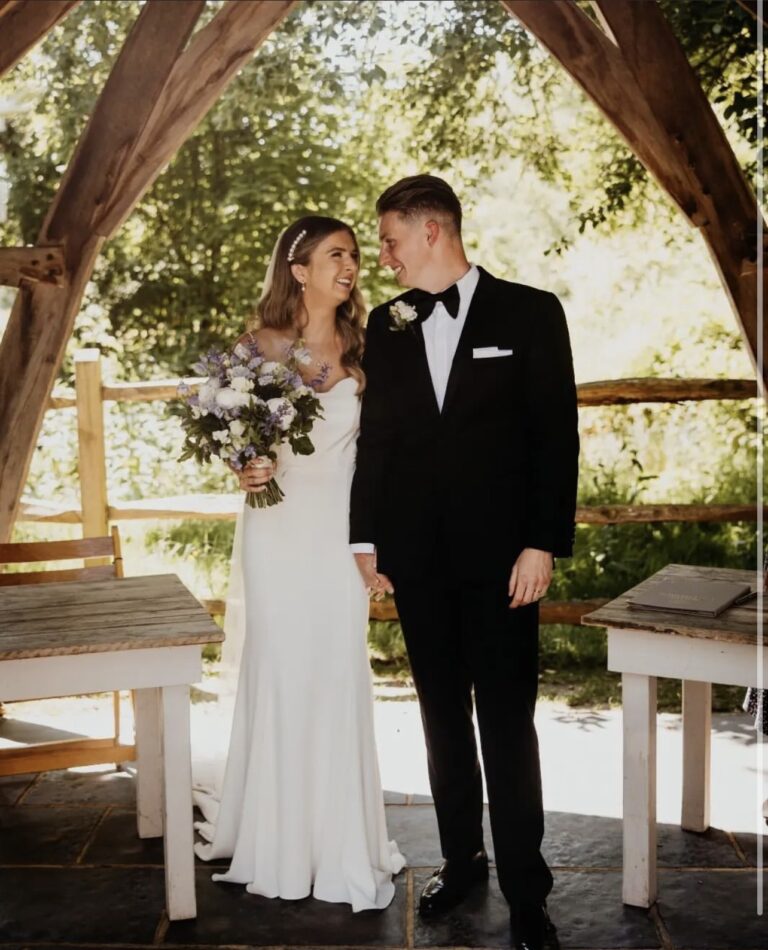 Kirsty Mackenzie, Jessica Eliza,  Kit Myers,  Jonny MP, Boutique Blooms
What do you love most about Millbridge Court?
This is a really hard one as I love absolutely everything about Millbridge Court – I get such a homely feeling when I walk in. My first wedding at Millbridge Court was in 2017!
From when I pull up, to walking in the door to see all my favourites from the lovely Millbridge Court team (their attention to detail is on another level).
I think I am going to have to say the loft, as it is where I spend of most my days at Millbridge and it is just the ultimate getting ready room for a bridal party… most reactions from bridal parties when they walk in is 'wow isn't this incredible!'
I also love how organised everything is, everything has a home – everyone knows what they need to do and when they need to do it! The day runs so smoothly thanks to the amazing team at Millbridge.
What Hair & Make up trends are you seeing for 2023?
In terms of hair trends for 2023, it goes from one extreme to another! On one end the sleek low buns (think Haley Bieber) are in but also effortless hair down (soft loose big waves) is back. I can also confirm Hollywood waves are here to stay!!
Makeup wise – lots of soft matte eyeshadow looks which is so beautiful and soft. I think it is a really timeless look. Dewy skin is most definitely still a favourite (unless you're super oily!!). Muted pinky tones on the eyes is also always a bridal trend!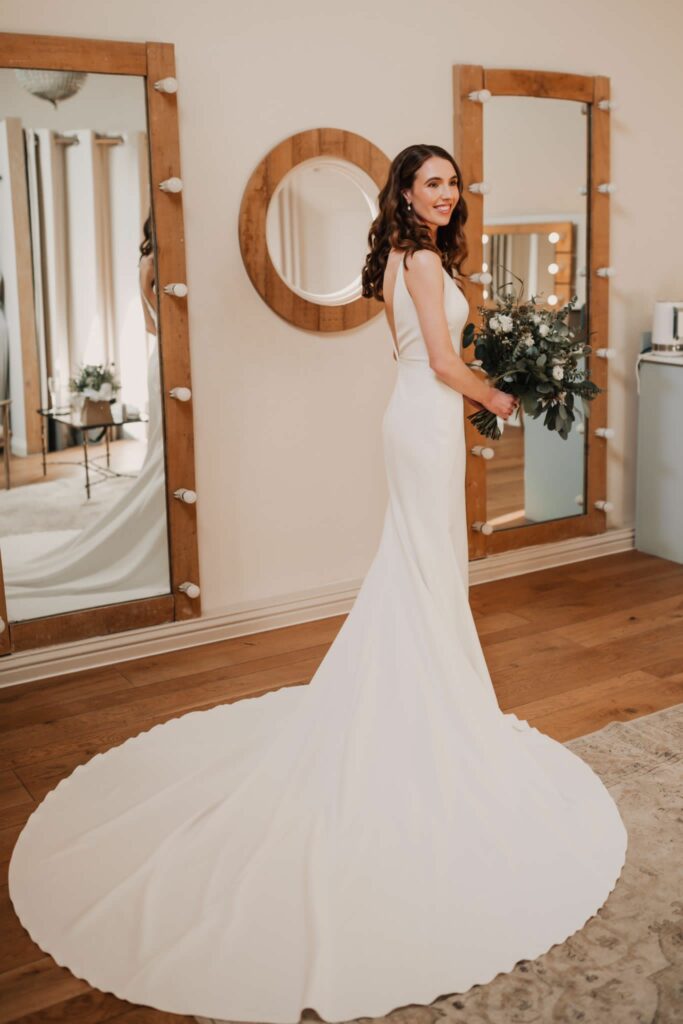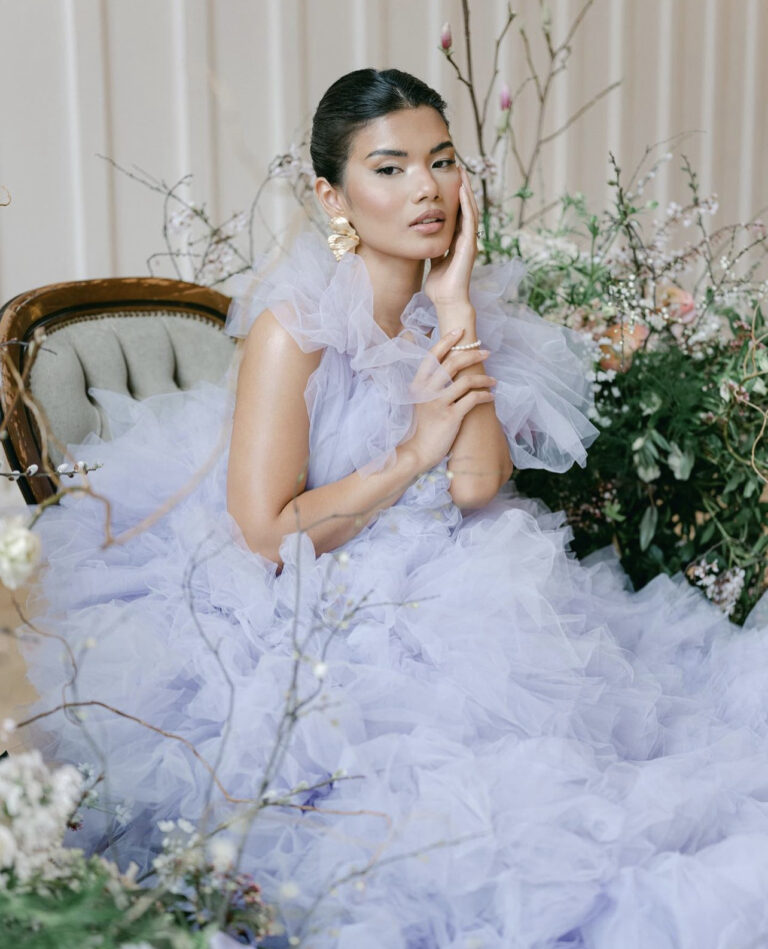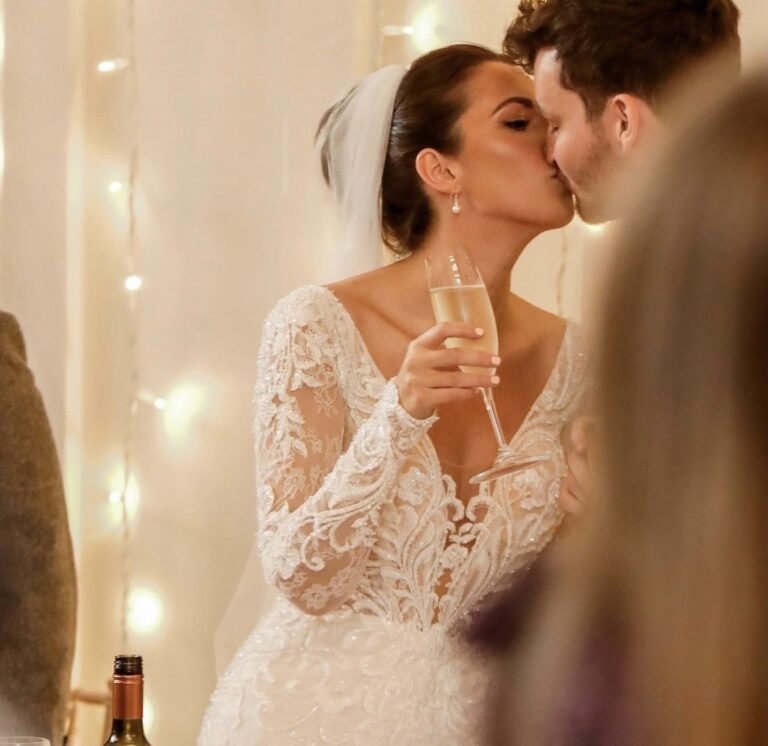 News : 09 / 05 / 23
Married at Millbridge – M&A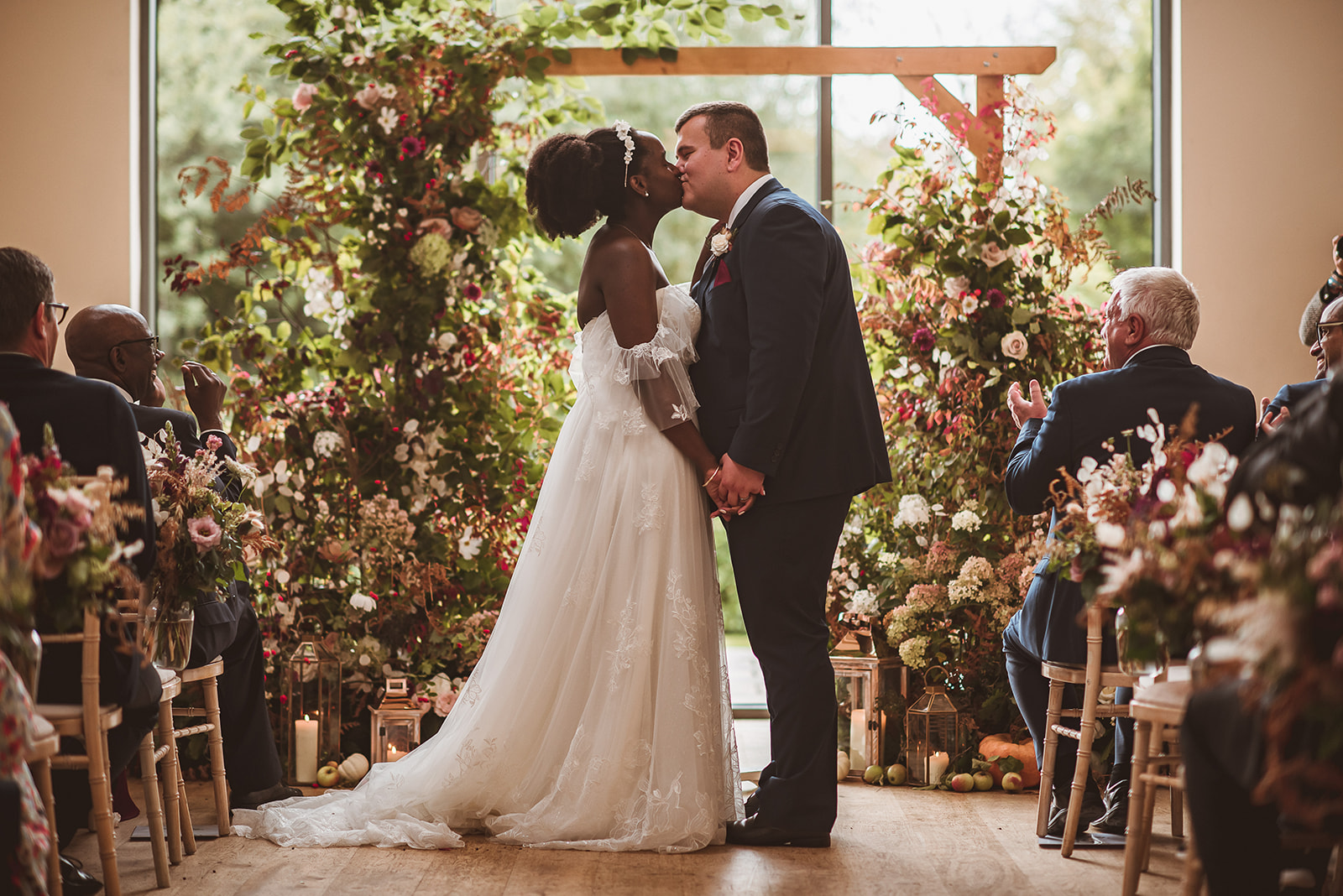 We are always so excited to receive a gallery from The Springles, and with the autumnal light hitting just right, we simply had to share a snippet of Maya & Adam's wedding day from October last year.  From the bohemian dress from Farnham Boutique to the tables adorned with mini white pumpkins the day was such a pleasure to host.
How did you meet?
We were introduced by our mutual friend Hatice at University.  Adam studied Forensic Computing and I studied Musical Theatre – so definitely not in the same buildings!
Why did you choose Millbridge Court?
By the time we visited Millbridge Court we had seen around 8 venues.  We wanted a space that was light and airy with beautiful countryside surroundings.
The thing that stood out most was the attention to detail and support from staff on the day!
We love the attention to detail from your day! What was your main inspiration?
We absolutely wanted to capture the autumnal time of year throughout our day.  Adam proposed outside our first home just after Halloween, so there were pumpkins everywhere.  Once we found our florist we knew these had to be incorporated in our decorations.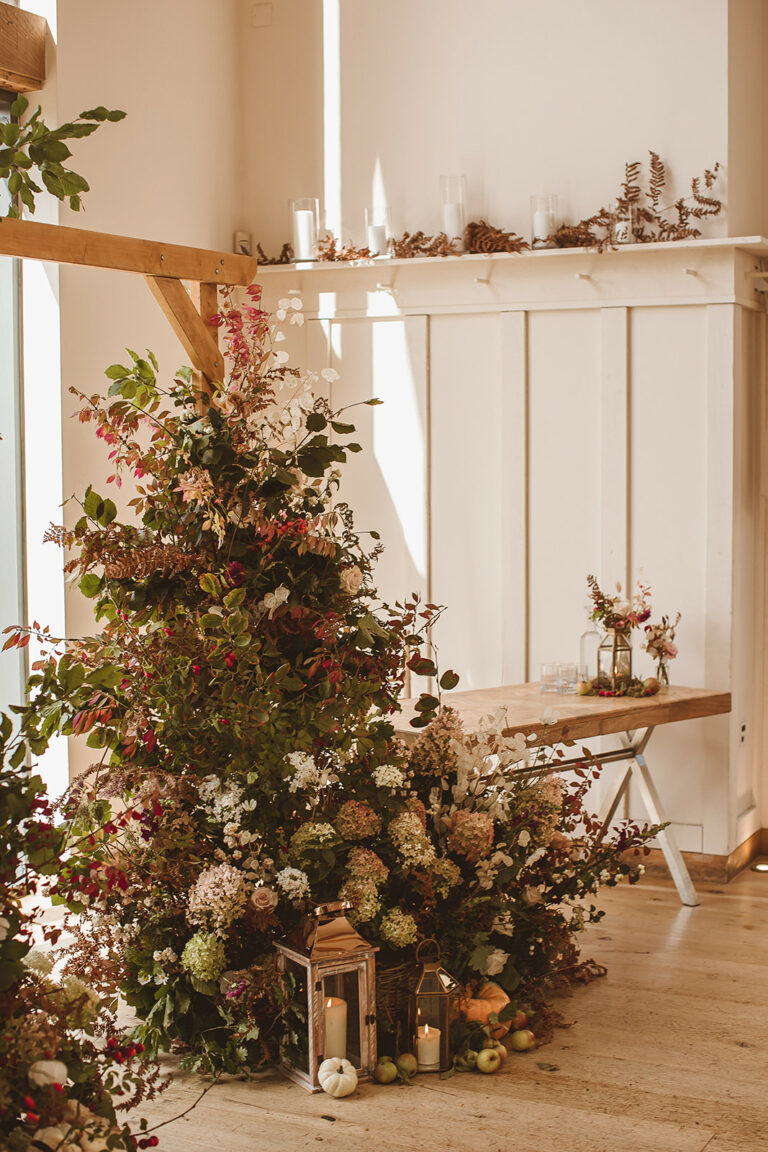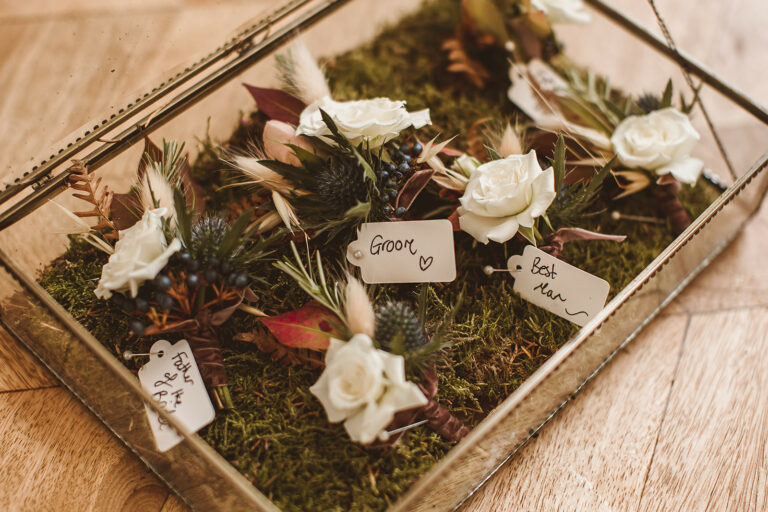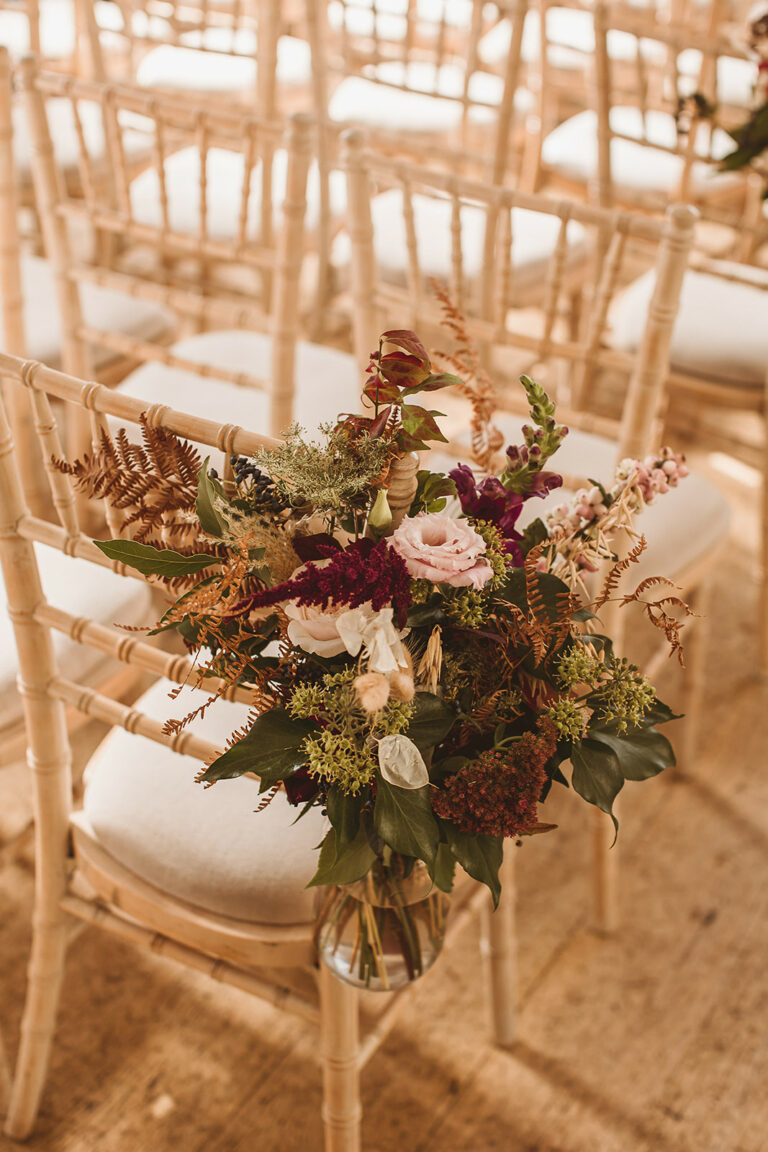 Who took charge of the planning or was it a shared experience?
It was definitely a shared experience, which was lovely as we both had equal input into our day.  We booked Millbridge just before the first lockdown so we spent a lot of hours in Pinterest!
Tell us more about your suppliers and why you chose them.
We had an amazing team of suppliers; we chose the majority as they felt they could deliver our theme.
Our florist was Alice from Meadowfolk.  I had scoured through Instagram to try and find a florist who had that calming Boho vibe.  Alice was so excited by our theme of using pumpkins, music and cricket throughout the day.  She came up with so many ways to subtly add these touches.
Our photographers were The Springles (Kat & Ash), what a fantastic duo!  They captured every special moment from our pre-wedding shoot to the day itself.  They were both so helpful from start to finish.  Their style is what made us want to instantly book after a visit at Millbridge.  It's autumnal dreamy vibes.
Most people think I was crazy for doing it, but I made our wedding cake.  I run a baking business called Sass&Bake and I couldn't imagine anyone else making it.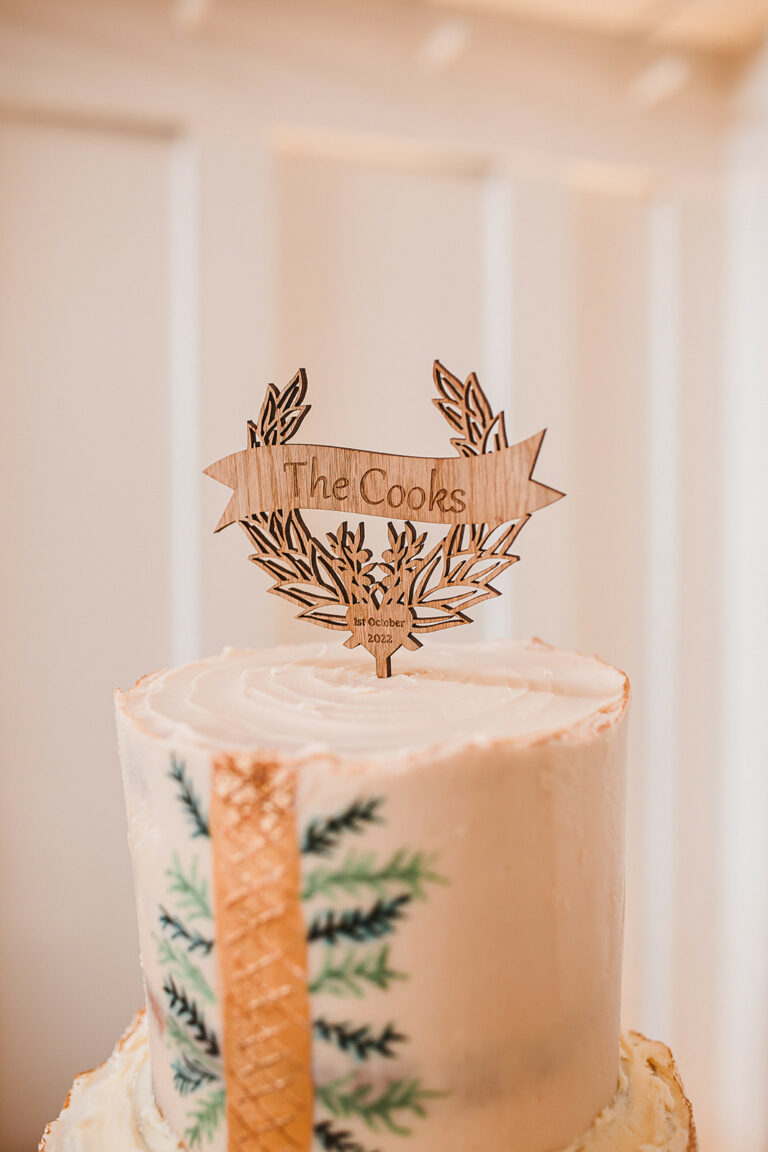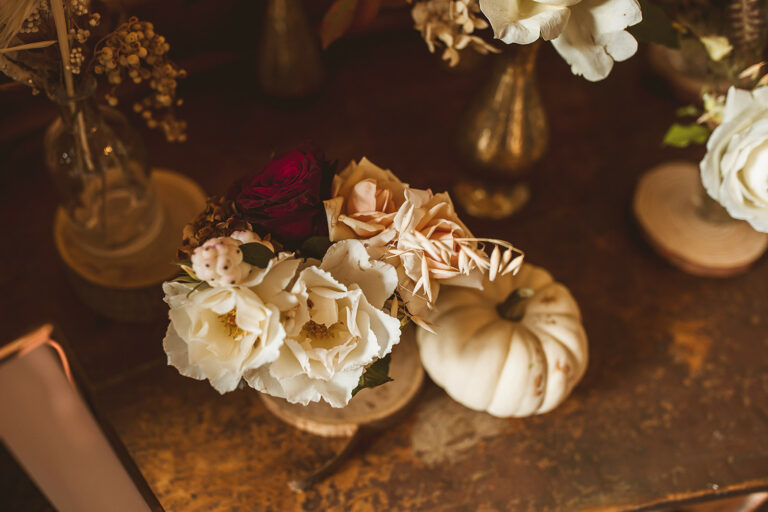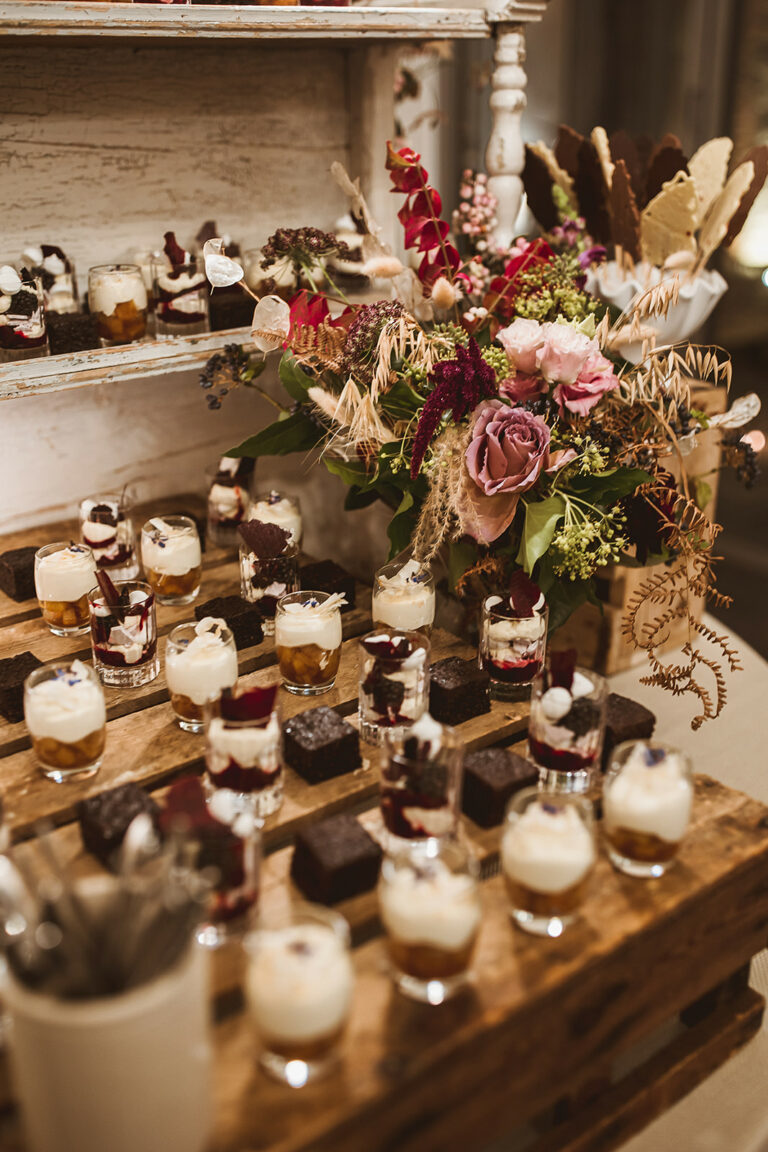 Wow, Maya you are super talented!  If anyone needs an excuse to get some deep dish cookies on order, do it now!
Tough question, favourite part of your wedding journey?
We both loved our ceremony (of course) as we incorporated so many special things to us.  From readings that childhood friends wrote, to our grandparents favourite songs as we walked down the aisle.
But our absolute favourite part of the day was during our wedding breakfast.  I think a lot of couples will tell you how fast the day can go.  Just after starters At Last by Etta James was playing in the background.  We both instantly welled up as our son was born to this song.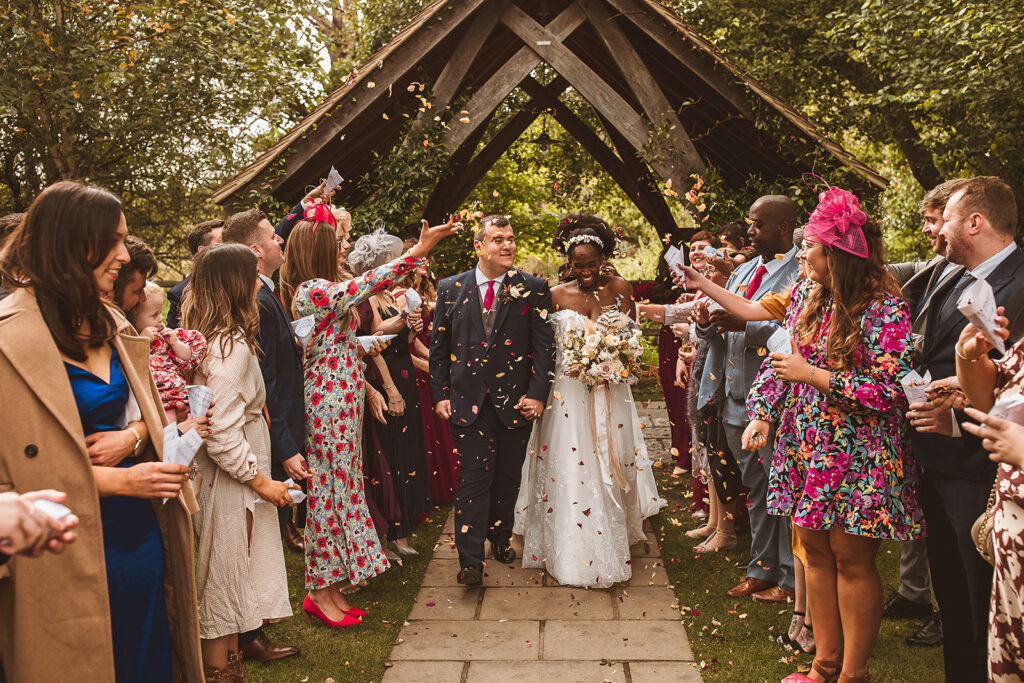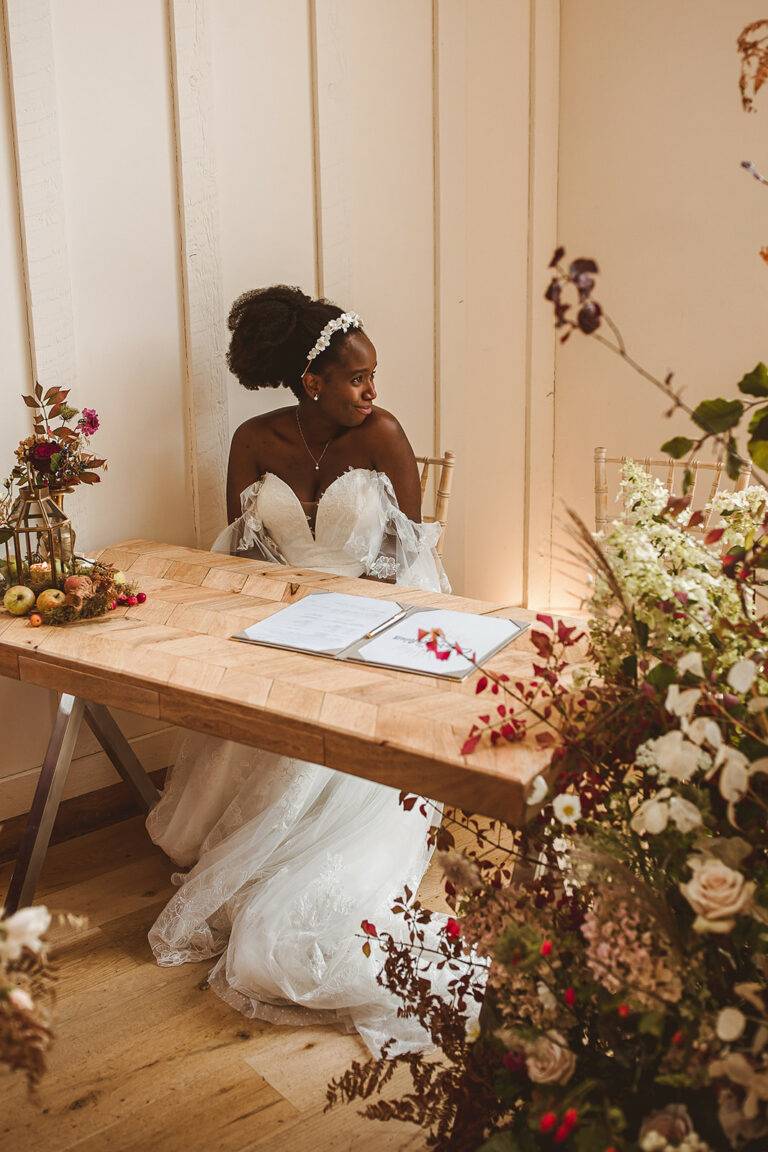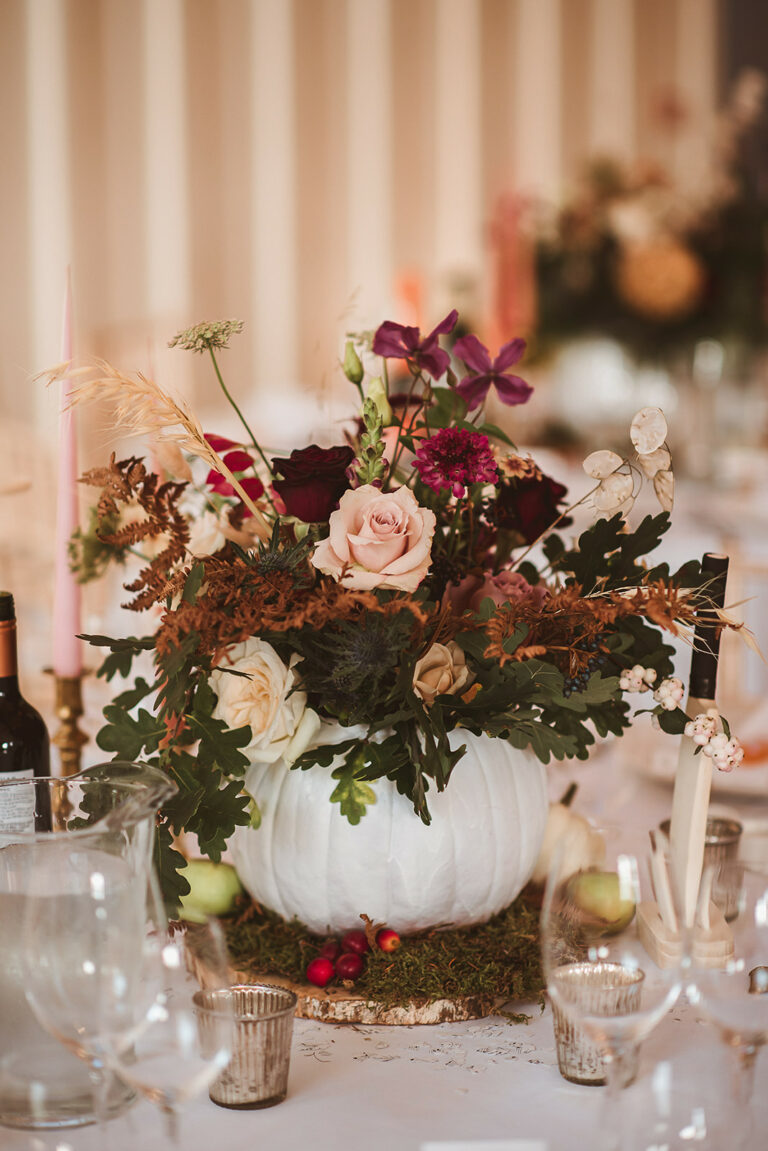 Any words of wisdom for future couples?
Enjoy yourselves and make sure you take a few moments in the day to soak it all in, but you're safe hands with the fantastic Millbridge & Kalm Kitchen teams.