Tag:
wedding photographer
Photography : 18 / 11 / 23
Autumn Wedding Day Inspiration at Millbridge Court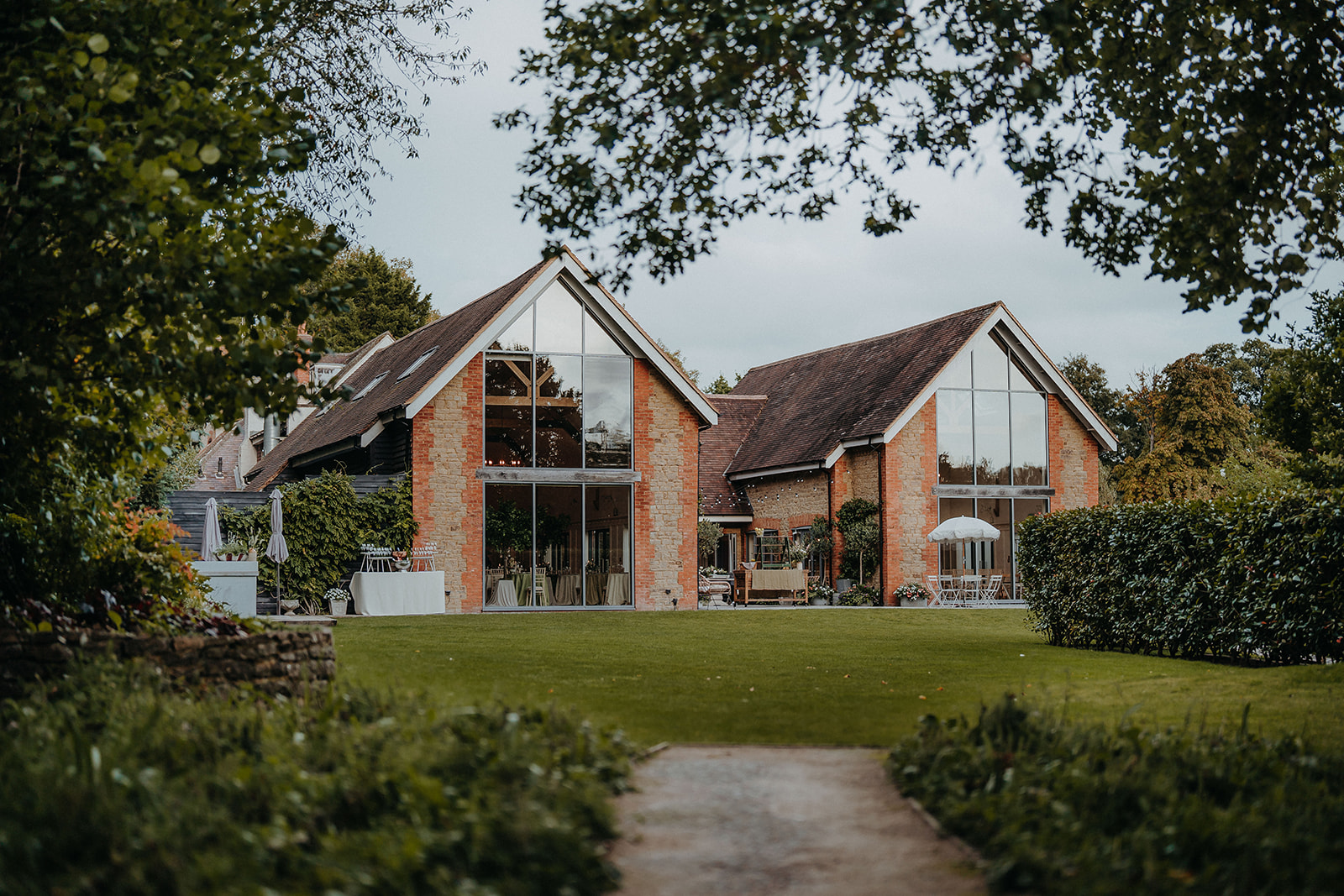 Who doesn't love a crisp Autumn morning with leaves falling, mist lifting, changes in colours, cosy moments, incredible romantic lighting?!  We certainly do; there's just so much to embrace during this time of year!
We thought we'd share some Autumn wedding inspiration to get the creative energy flowing for couples booked, or looking to book an Autumn wedding.  As always, we've shared some rather beautiful images from recent wedding days here at Millbridge Court, and we hope you love all the gorgeousness just as much as we do!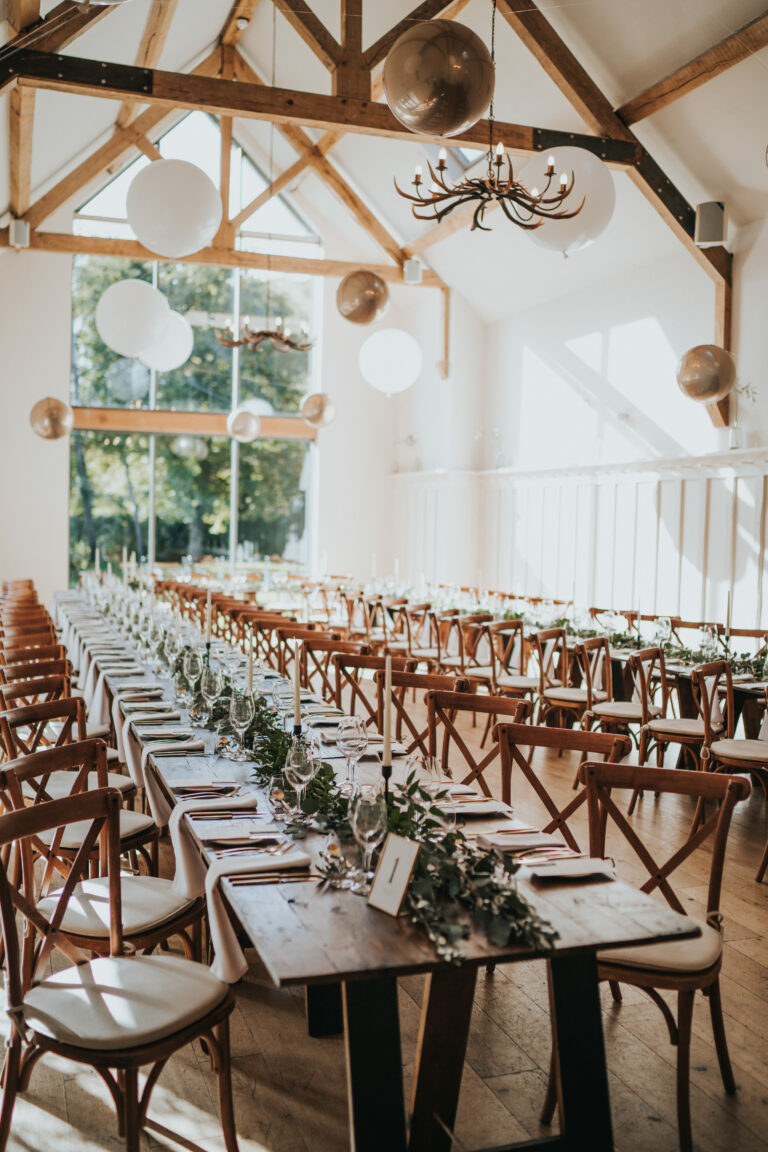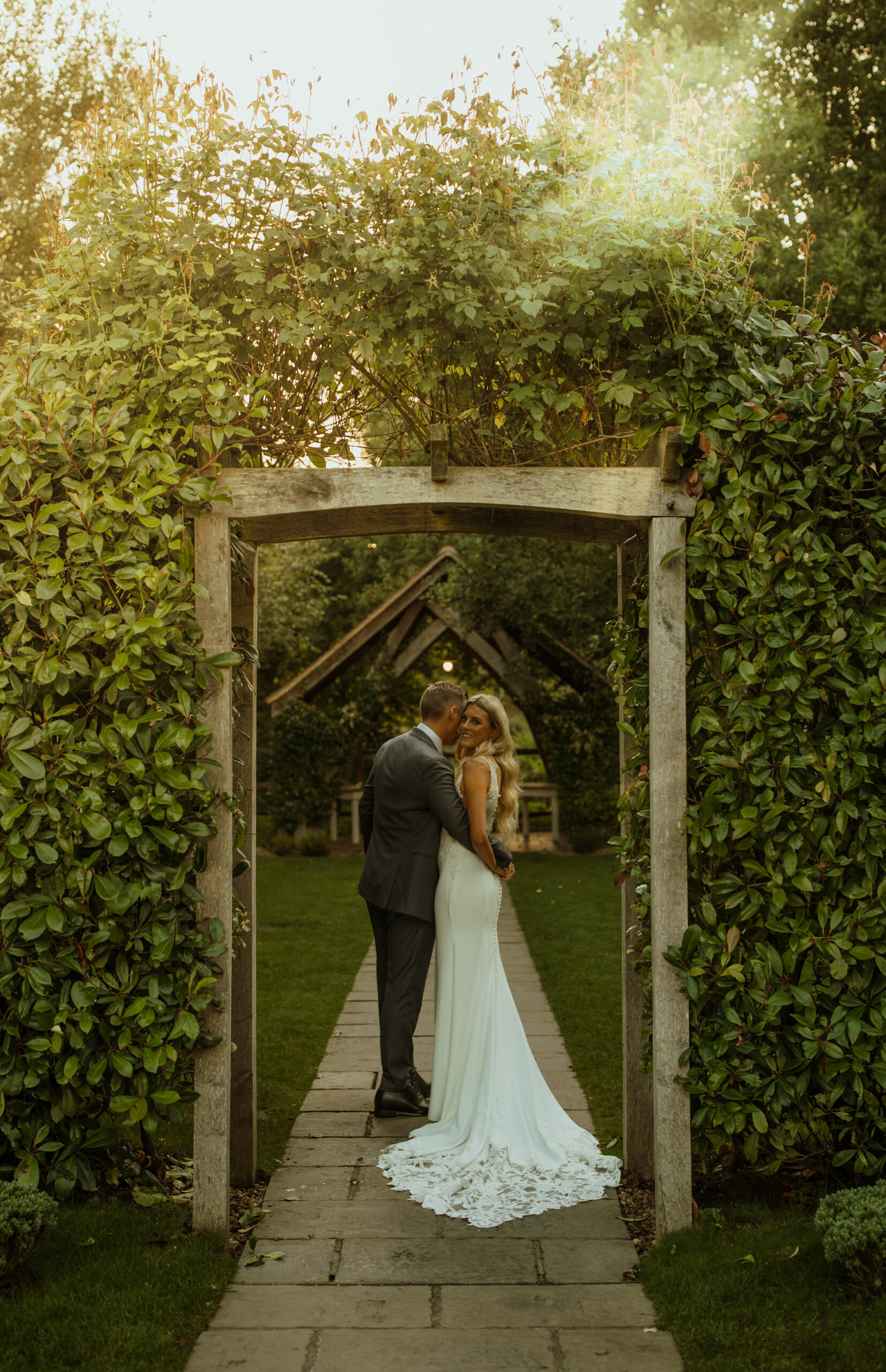 L – Holly Rose Photography, Longacres; R – Aurora Grey Photography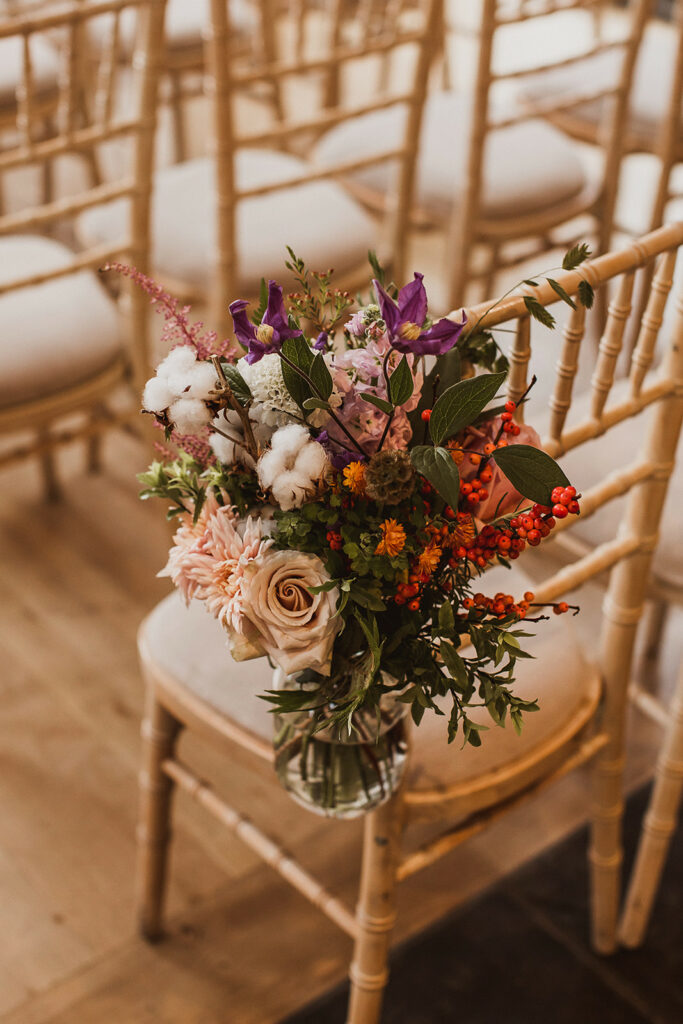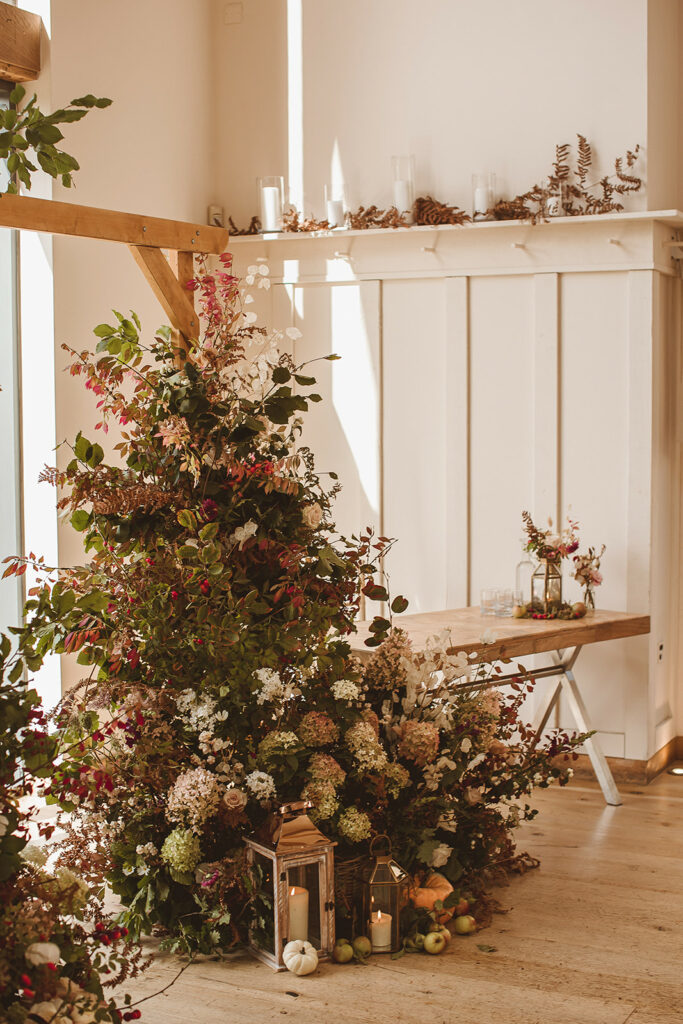 L –The Springles, Hannah Berry; R – The Springles, Meadowfolk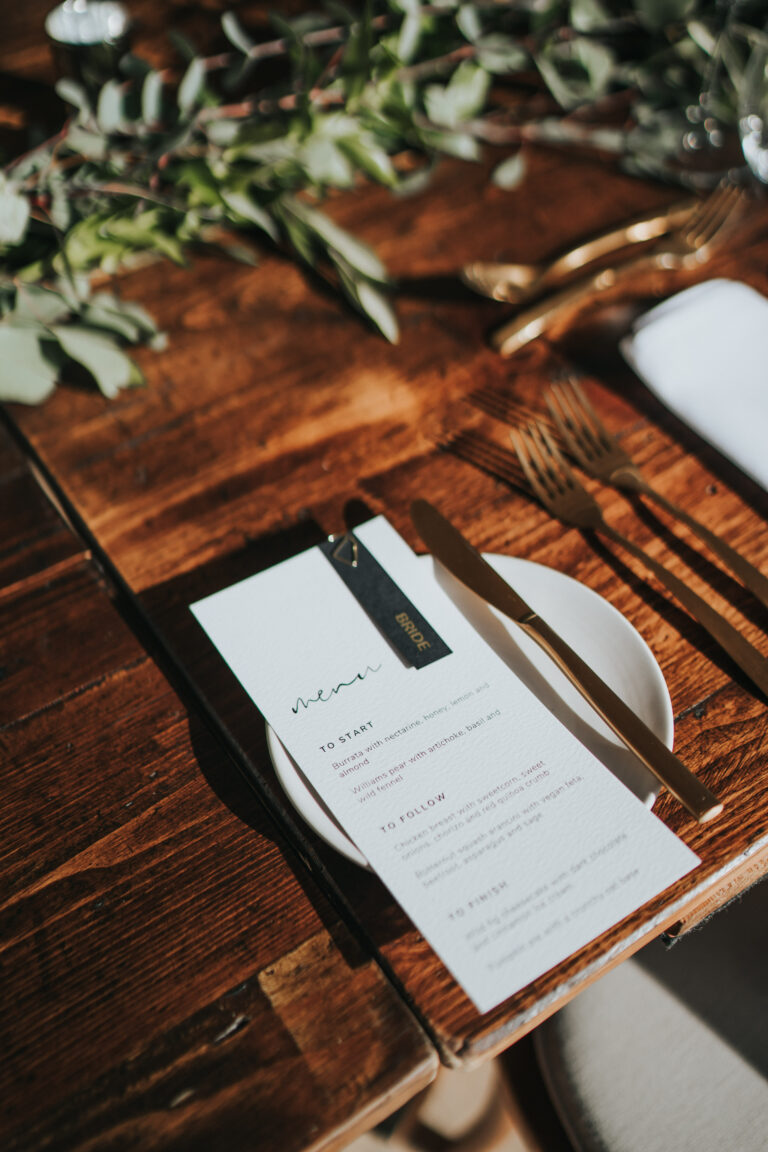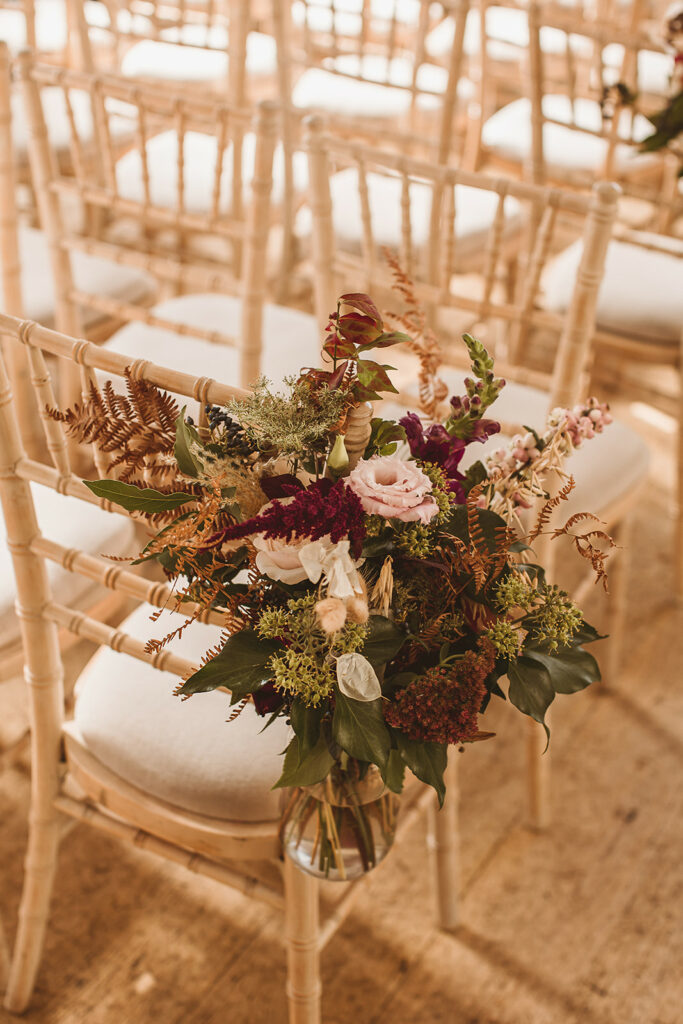 L- Holly Rose Photography; R- The Springles, Meadowfolk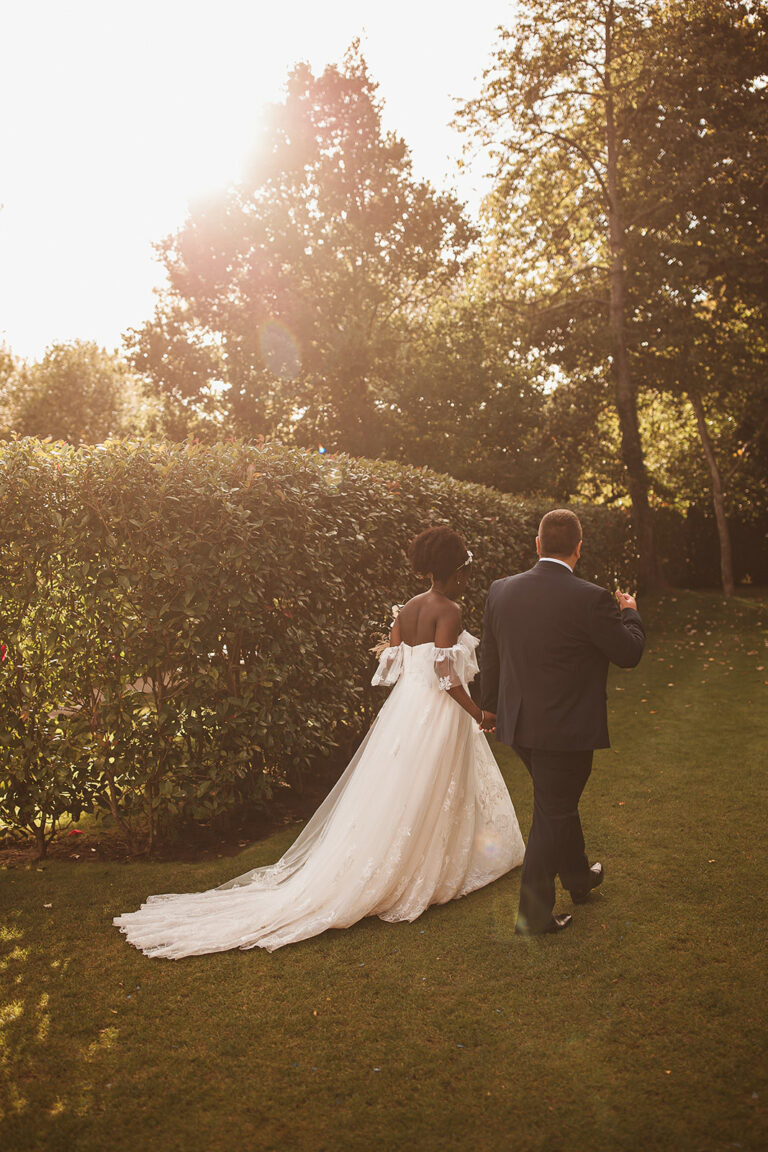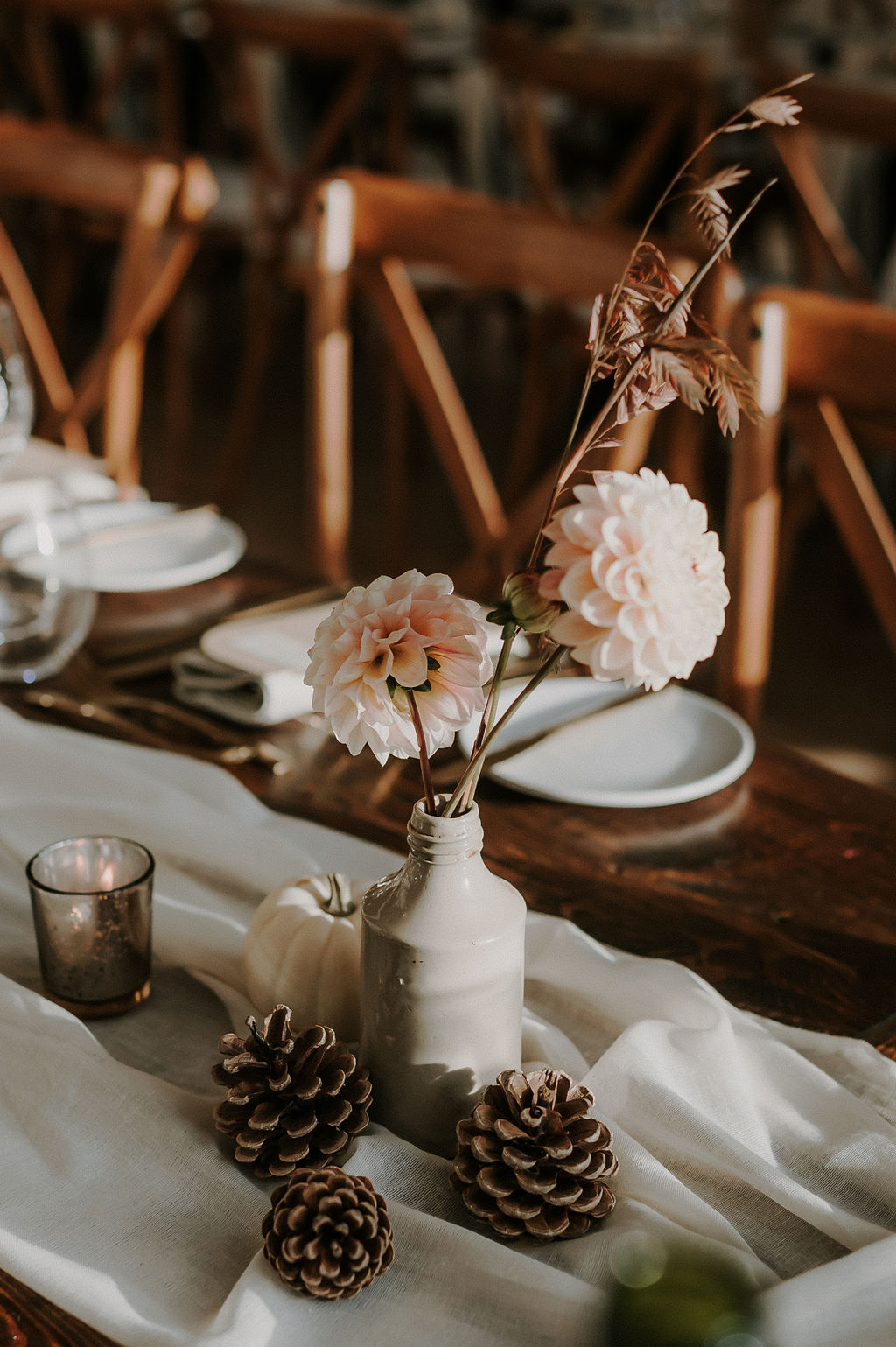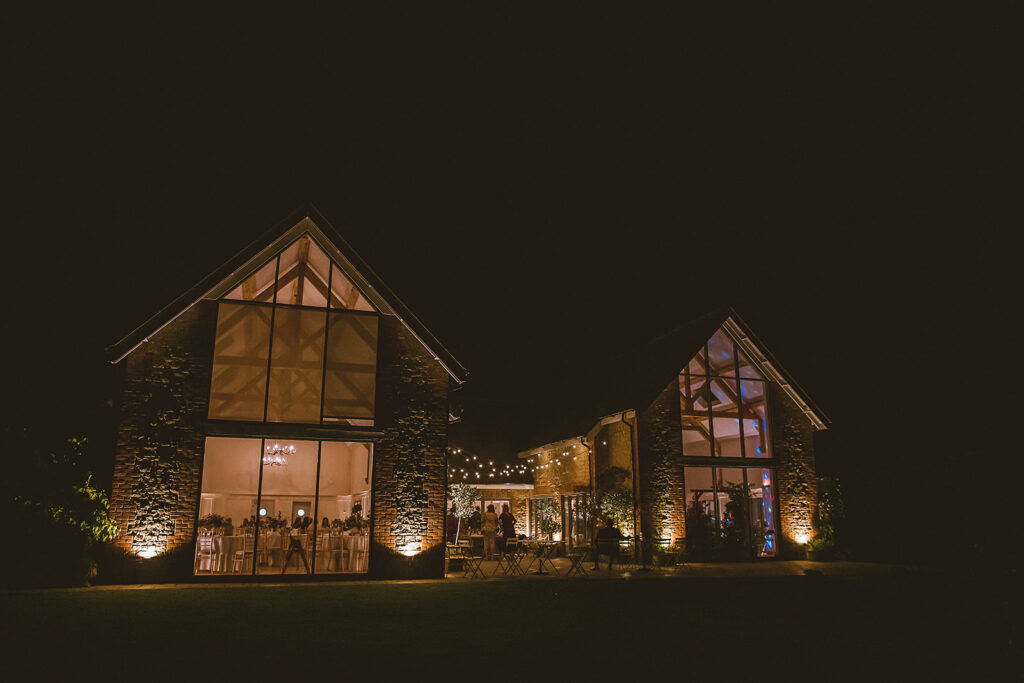 L & B- The Springles; R- Alice Cunliffe Photography, Hannah Berry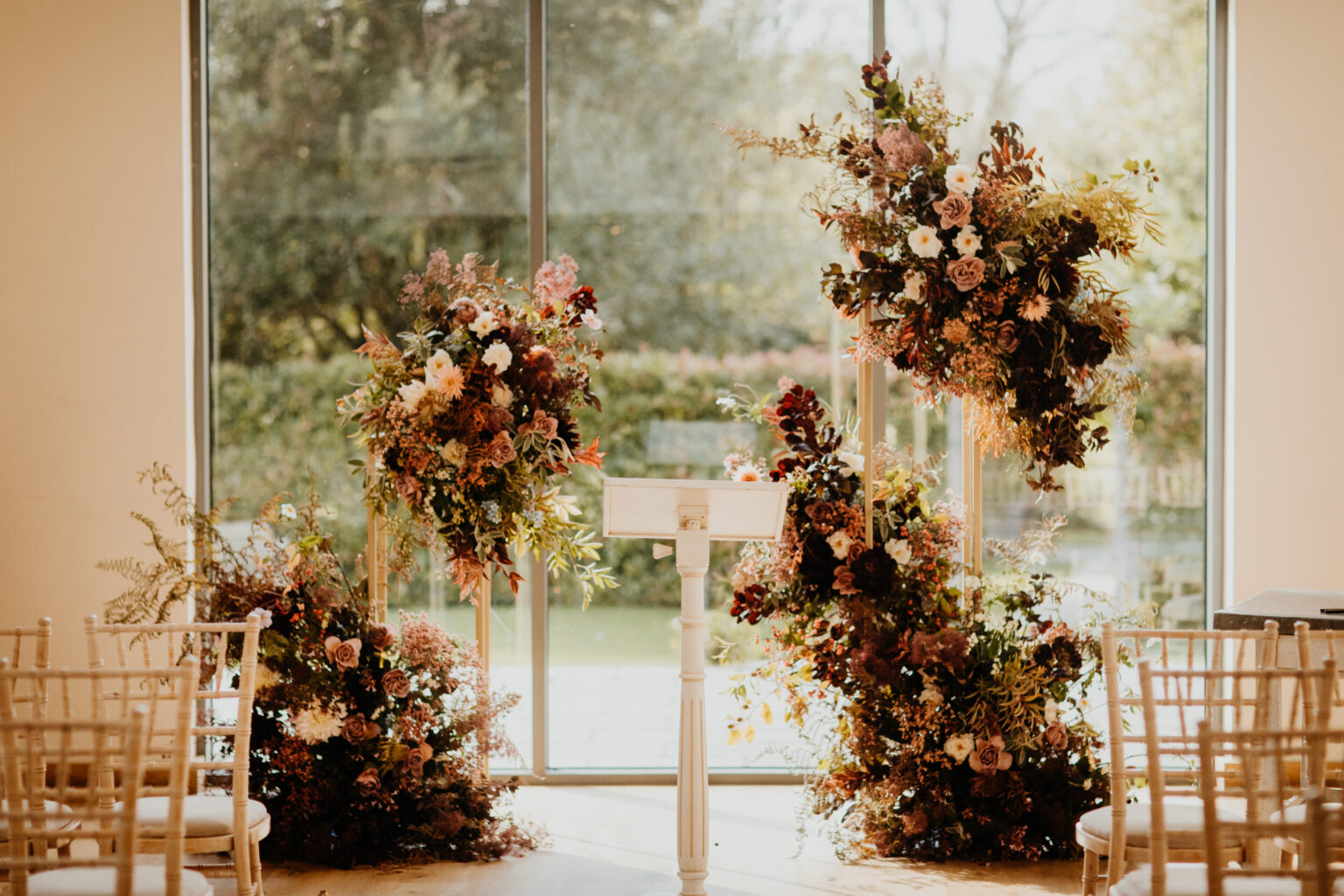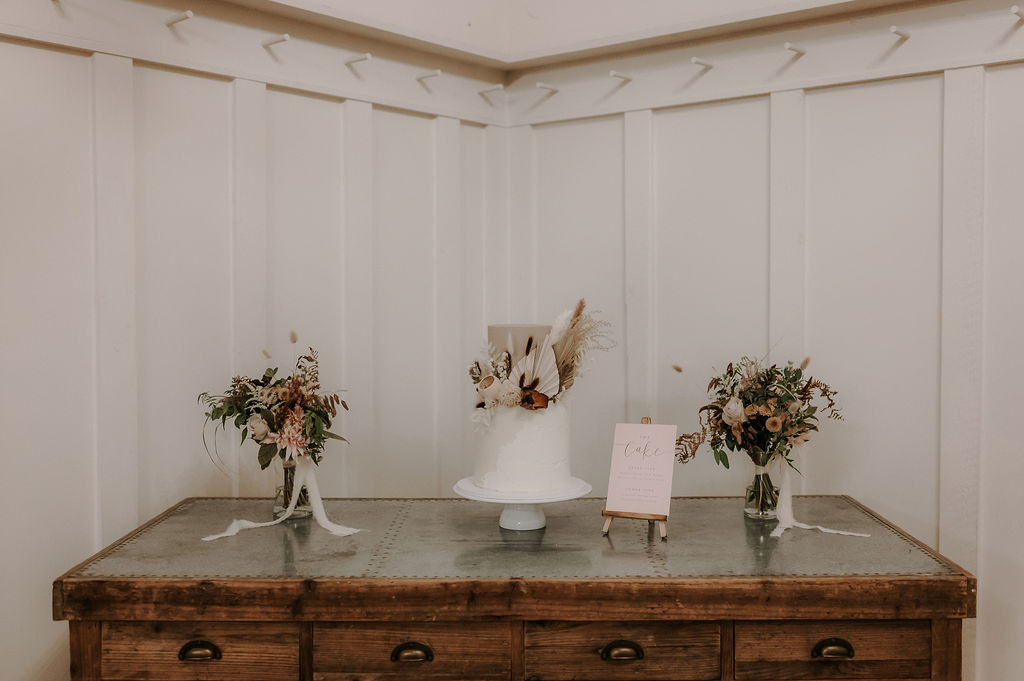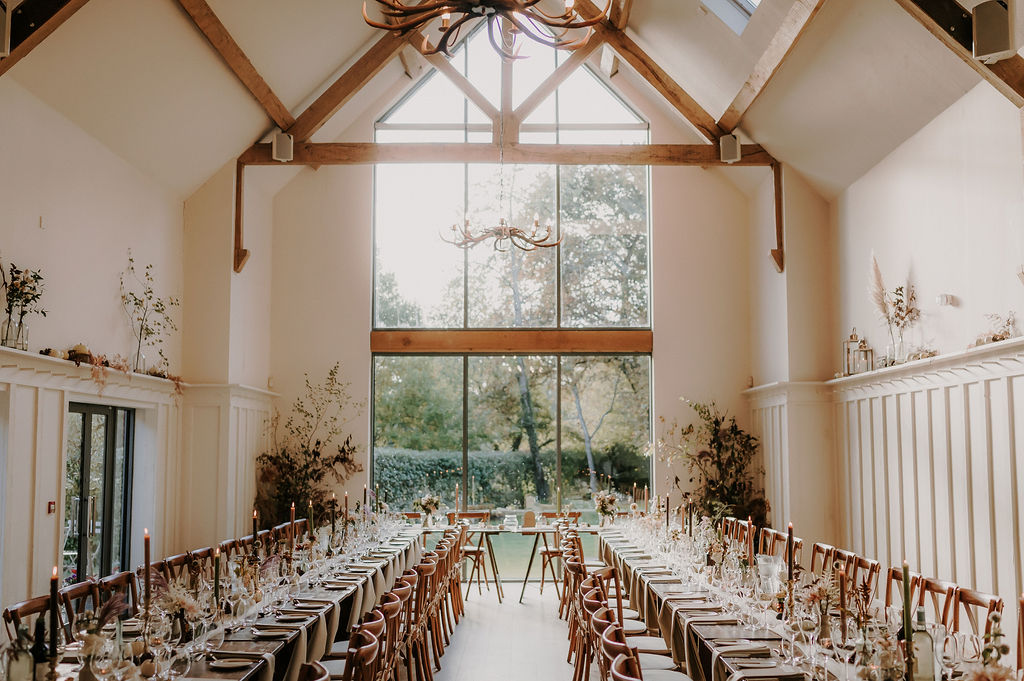 Alice Cunliffe Photography, Hannah Berry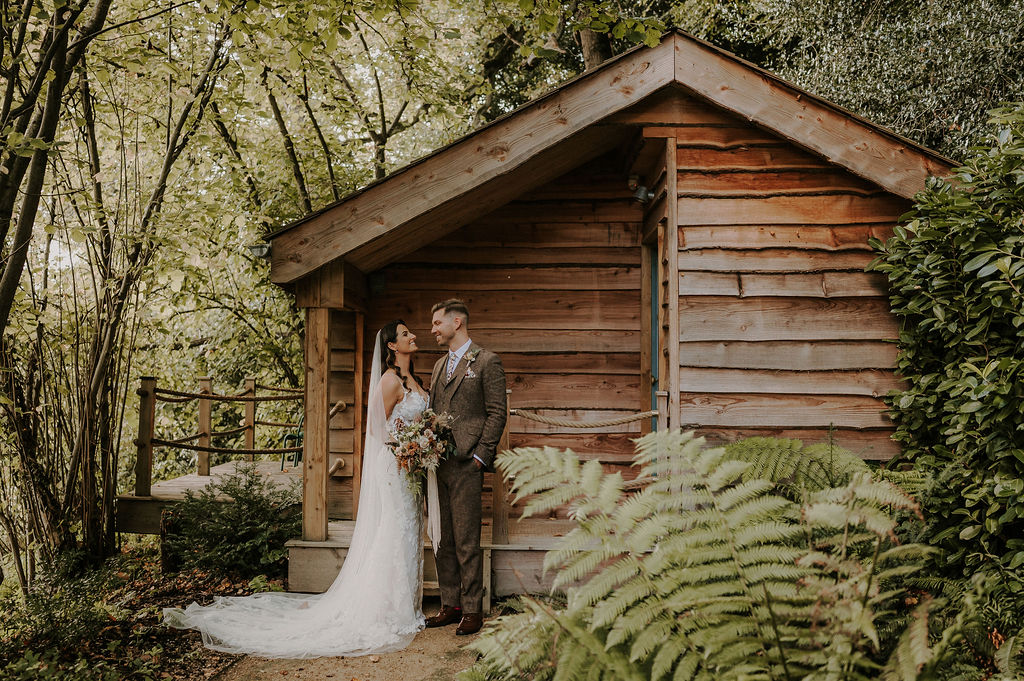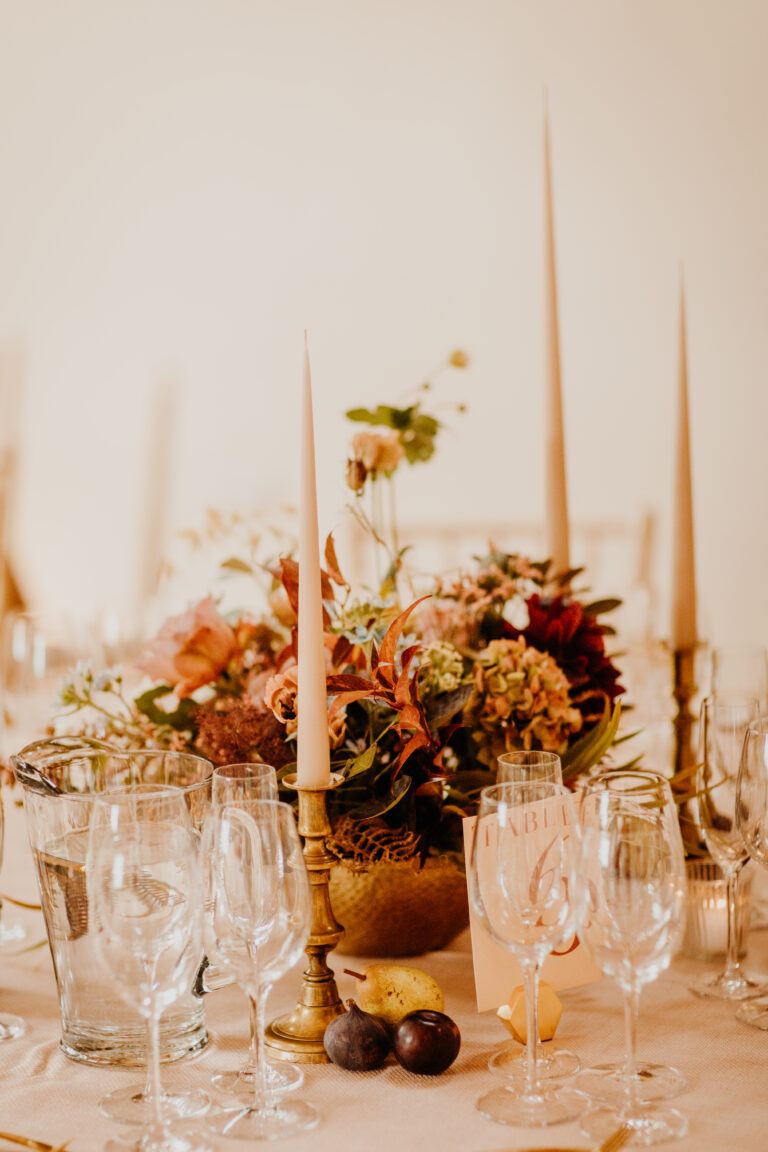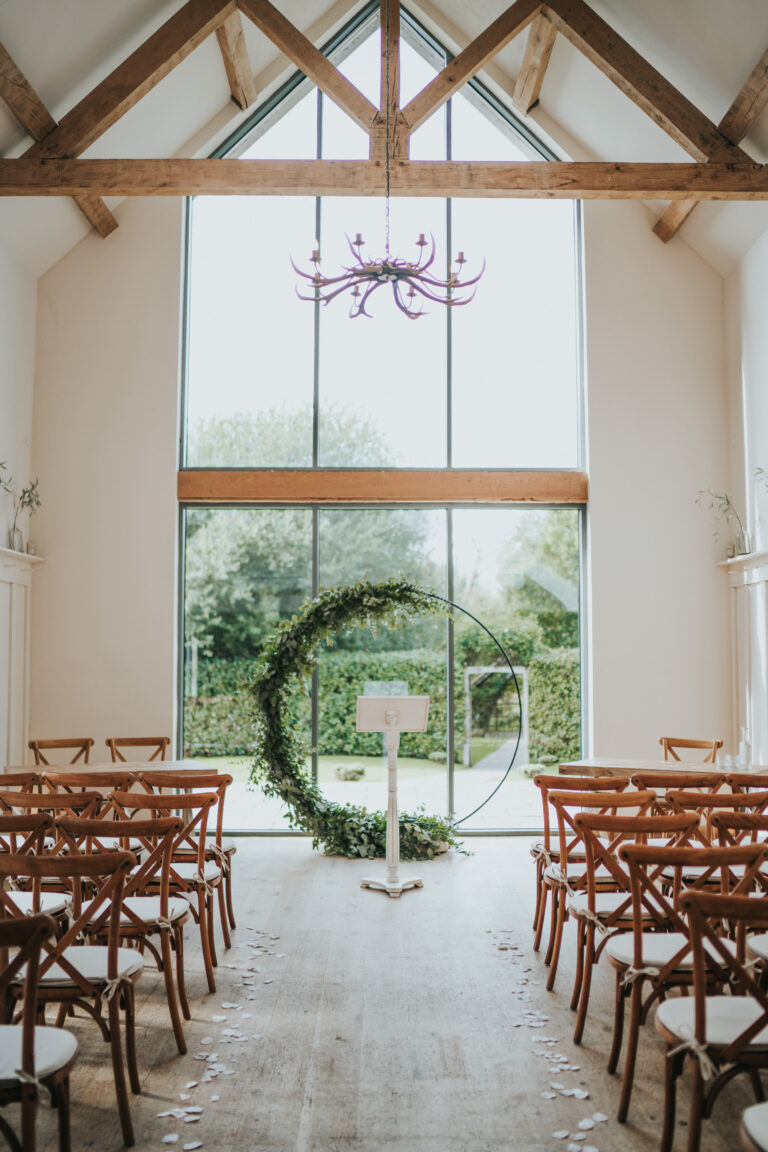 T- Alice Cunliffe Photography; L- Jonny MP, Jenni Bloom; R- Holly Rose Photography, Longacres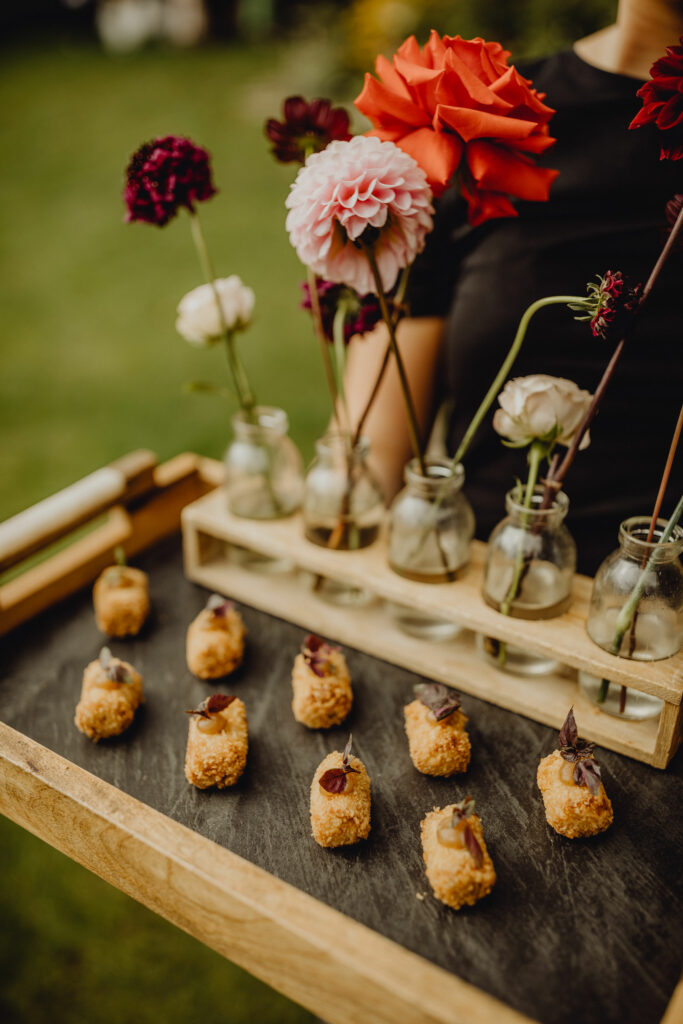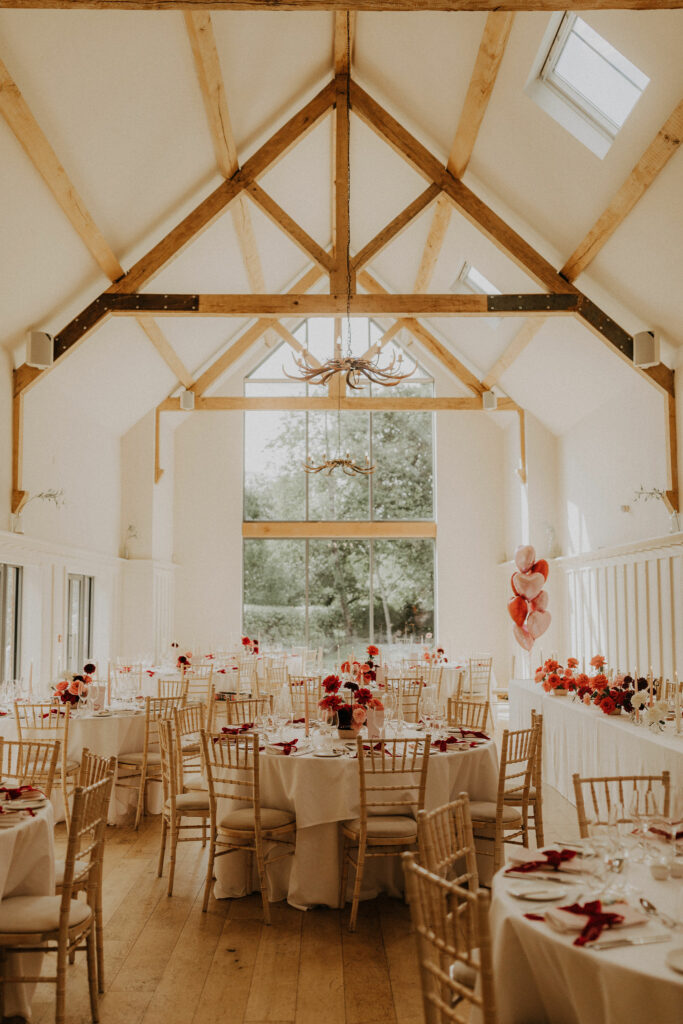 Aurora Grey Photography, Bud Flora, Kalm Kitchen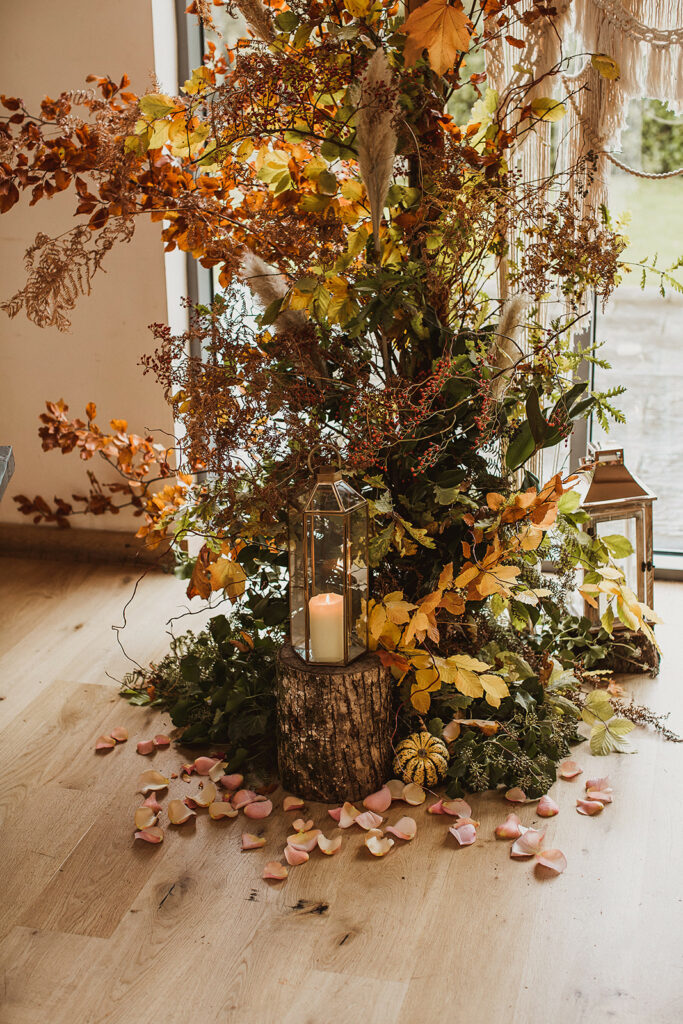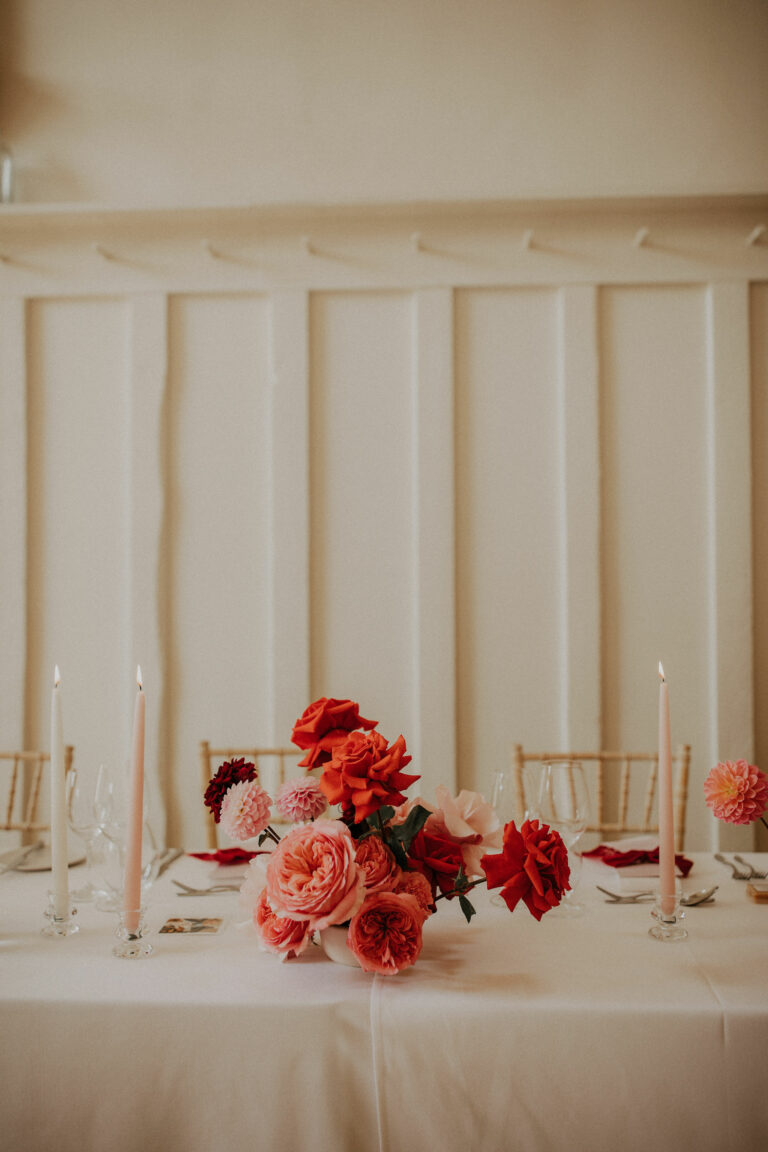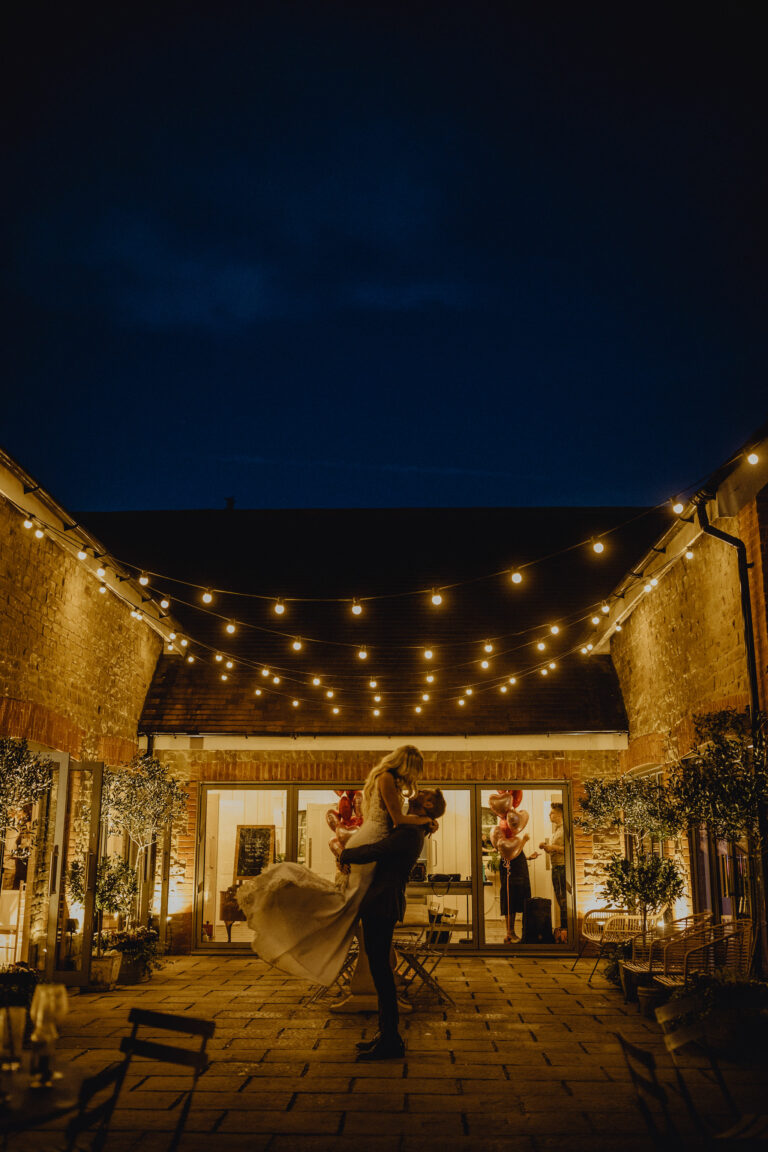 L- The Springles, Hannah Berry; R- Aurora Grey Photography, Bud Flora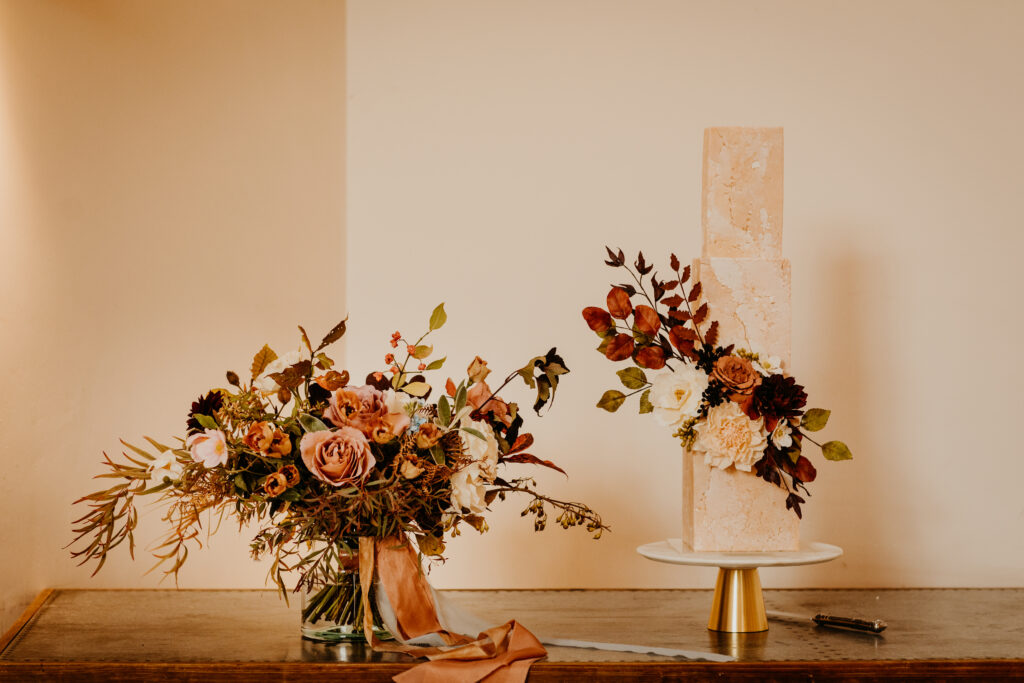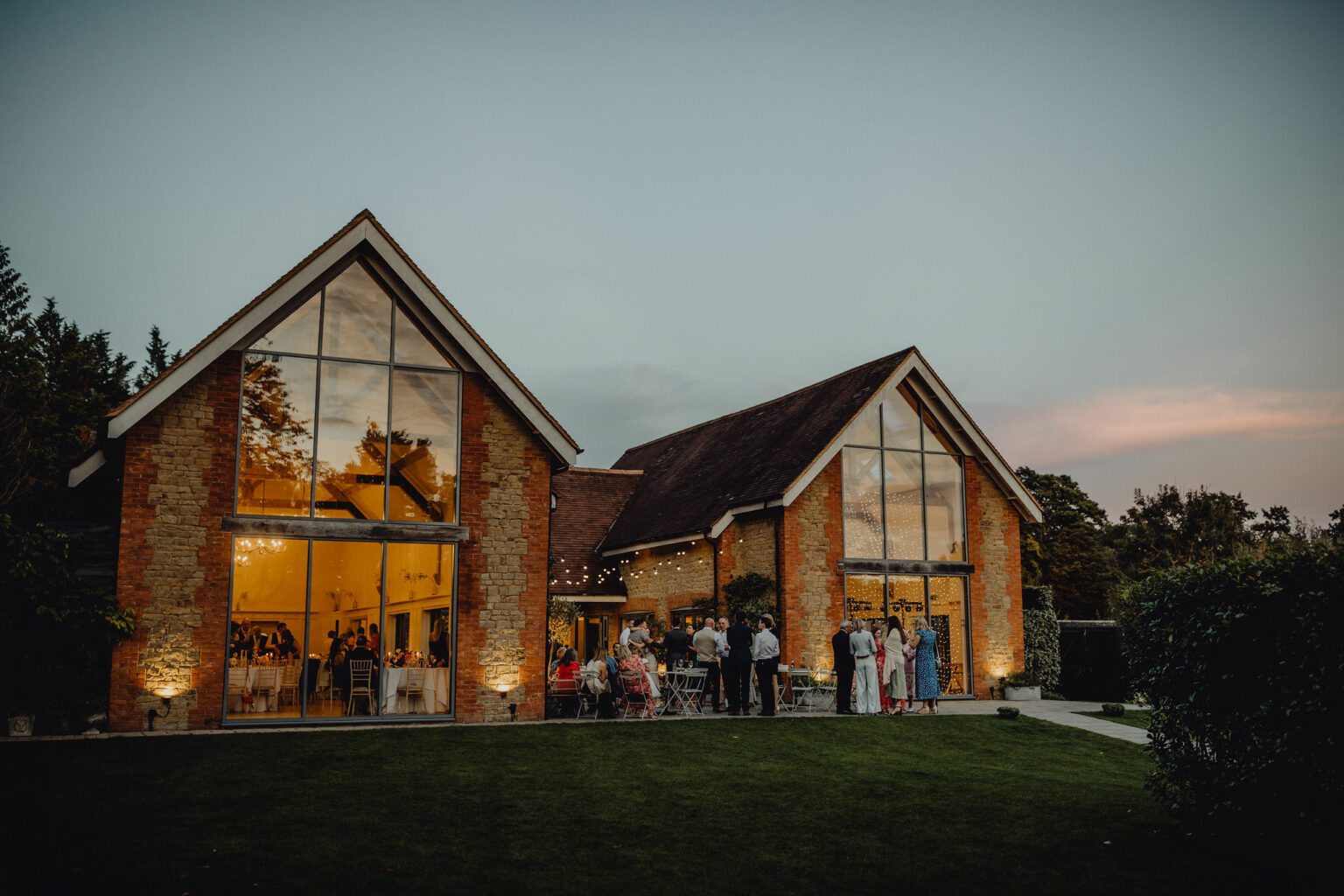 T- Jonny MP, Jenni Bloom Maria Antoinette Cakes; B-Aurora Grey Photography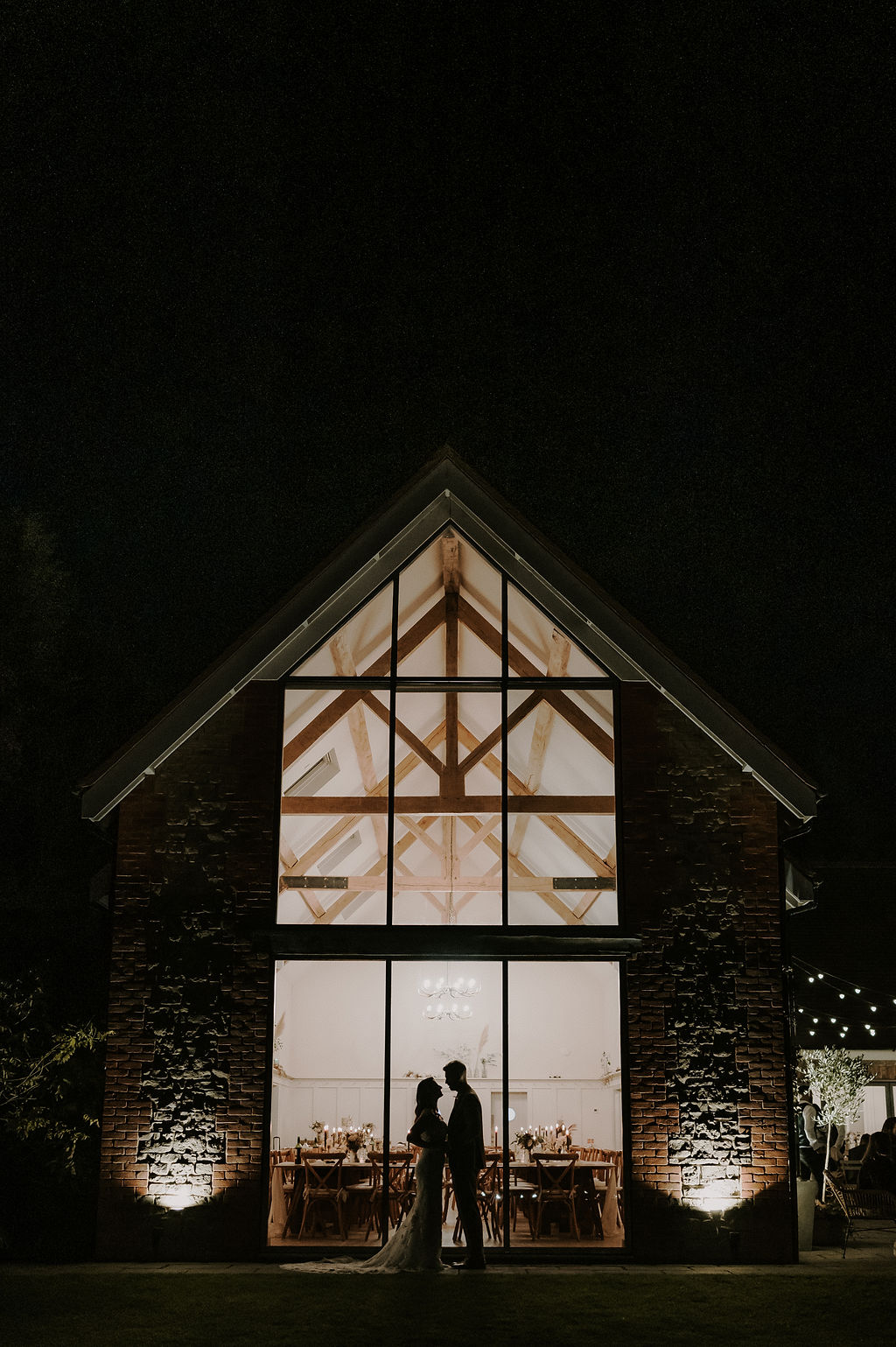 News : 19 / 10 / 23
Married at Millbridge – L&A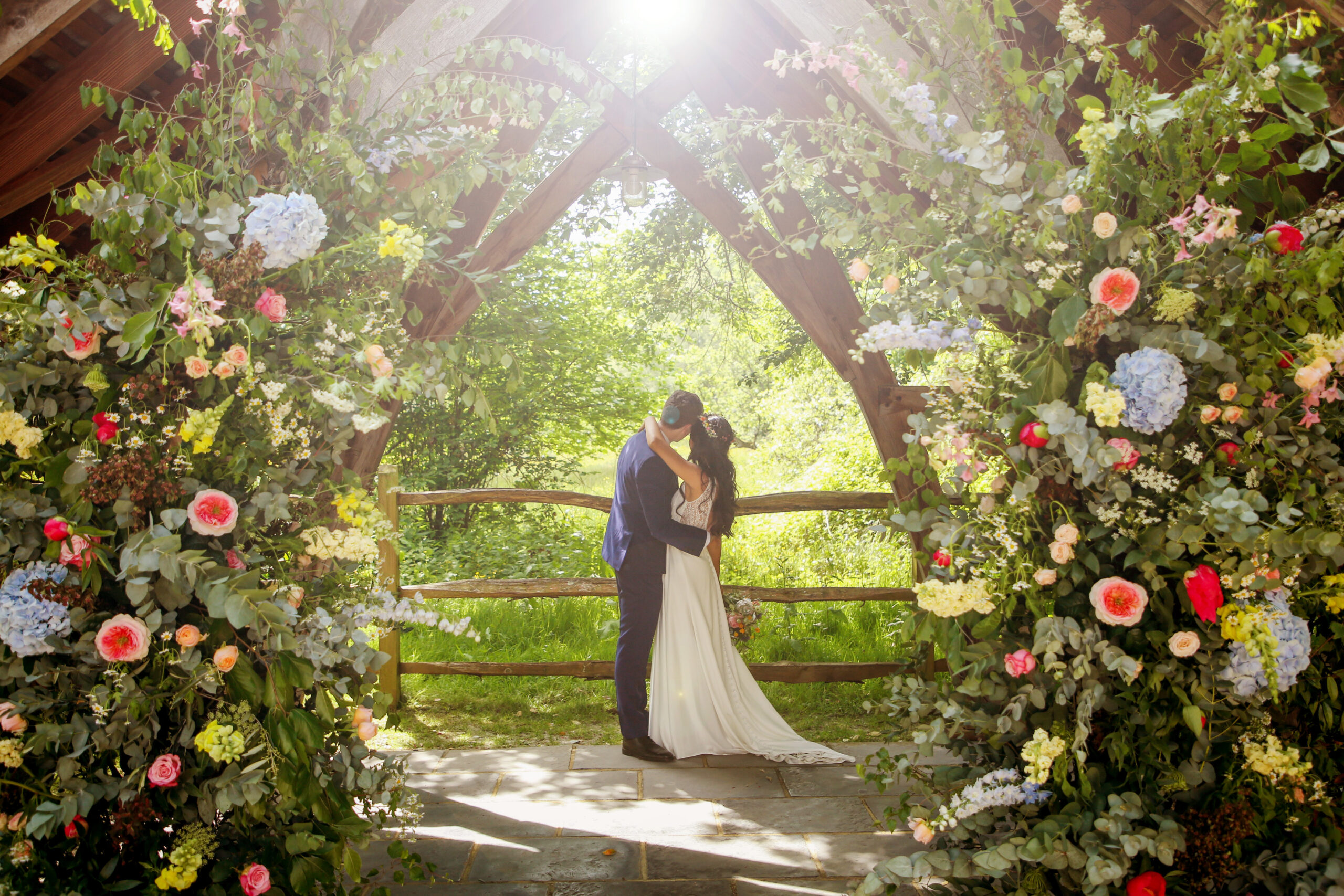 With the warmer summer days coming to an end, and the cosy autumn nights here to stay for a little while, we wanted to take a minute to reflect on what a wonderful season we have had.  We feel so lucky to have been a part of so many beautiful celebrations and we cannot thank our couples enough for choosing Millbridge Court!  We are very excited to see what the next few months bring and look forward to hosting our beautiful winter weddings…
But before we get too excited about the festive period, we couldn't not share a day full of so much colour, love and the most stunning hand crafted dress!  L&A's celebrations were nothing short of the perfect Spring day!
Tell us a bit about yourselves – how did you meet and what's the proposal story?
We met at medical school 9 years ago. We were living in the same flat in the halls of residence. We were really good friends, and then eventually got closer and started dating – Adam came to meet my parents before Christmas! I took Adam to one of the nearby country parks by the sea, and we had a really lovely time, and it was beautiful. Adam took me again 7 years later, but this time popped out a ring! A really beautiful proposal, with just the waves and sunshine to witness it!
Why did you choose Millbridge Court?
We got warm, friendly vibes when we visited. We loved the décor, and the outside ceremony area was stunning. We could imagine it well and it was always a dream to get married outside with lots of greenery and flowers! Living in England though, we were very much aware that it might rain, but loved how Millbridge were so flexible with deciding on inside/outside on the morning of the wedding. The wedding hall is also beautiful, with high ceilings and so much natural light!
What did you love about having a Spring wedding?
The outside ceremony 100% – we were SO lucky that on the day it was super sunny, honestly very blessed! The garden and the flowers were looking stunning outside too and the guests could all hang out and have drinks outside too.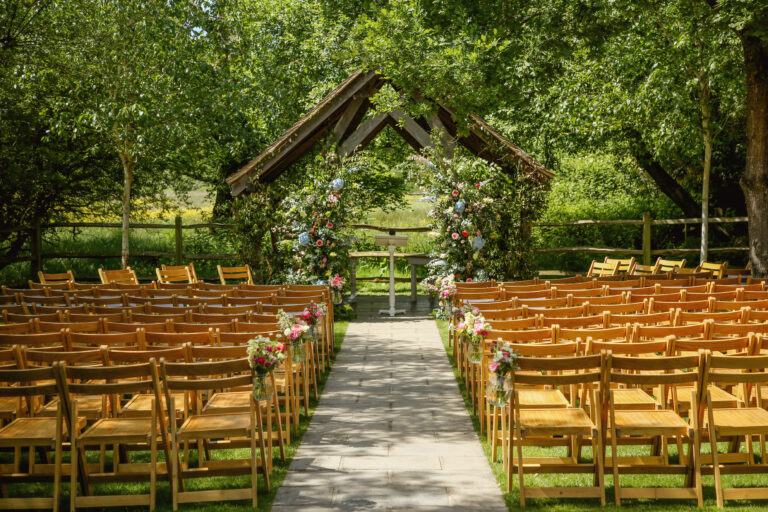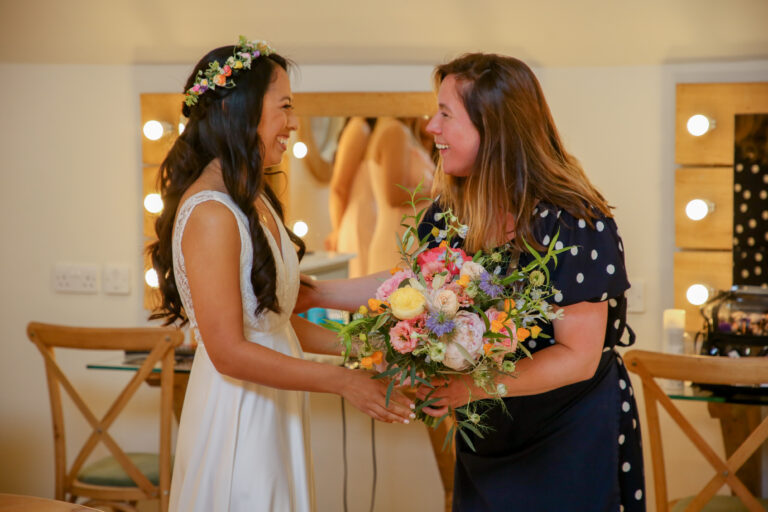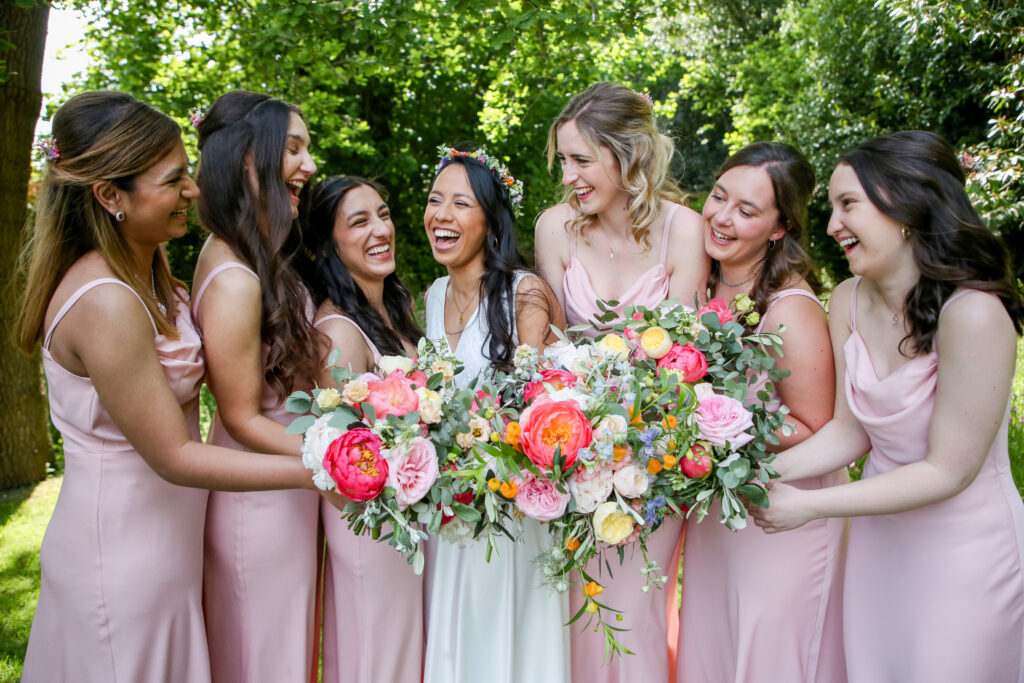 Tell us more about your suppliers and why you chose them.
We chose Gill Pike for our flowers – she was suggested to us by Millbridge but also, we loved her style. She was very friendly and personable when we met her, and we loved how chilled she was. When we talked about our ideas, she always kept in mind our budget and made sure we kept within. The flowers were beautiful – she killed!
Botanico cakes by Naomi was our wedding cake designer – again she delivered so well, made a scrumptious cake that all the guests complimented, and managed to create a stunning cake with her intricate flowers.
The band that we had were called Slingshot – we loved their music list and the sound of them, and they had amazing reviews. They absolutely smashed it – all our guests were up on the dance floor and asking for their contact numbers by the end too!
The wedding dress was by Sophie Rose Bridal – she did the best job of creating Lynnie's dream dress, we could not have asked for more. She was so personable, and her studio was such a welcoming environment.
We had photography and videography done by VLA. They are a married couple who have worked a lot at Millbridge – they are very passionate about their work. They captured so many magical moments, and created a beautiful wedding video that we still love to watch.
The wonderful Stephanie Dorelli was in charge of making Lynnie look her absolute best on the day. She had a trial arranged a few months beforehand, and Stephanie's studio created the most relaxing and friendly atmosphere for having a pampering day. Lynnie was quite anxious beforehand because she had had a previous experience of where she didn't look herself after having make up done for her. So it was really reassuring when Stephanie asked for Lynnie's pictures beforehand so she knew what look she normally went for so that on the day, she would still look like herself, just a very glowed up version! Stephanie did the best job with the make up, but the hair was the best part – she created the most beautiful whimsical look with braids and a flower crown – it was even better than we had imagined. She also offered to help with our bridesmaids' hair and helped pin in flowers and do the finishing touches which was really appreciated – thank you!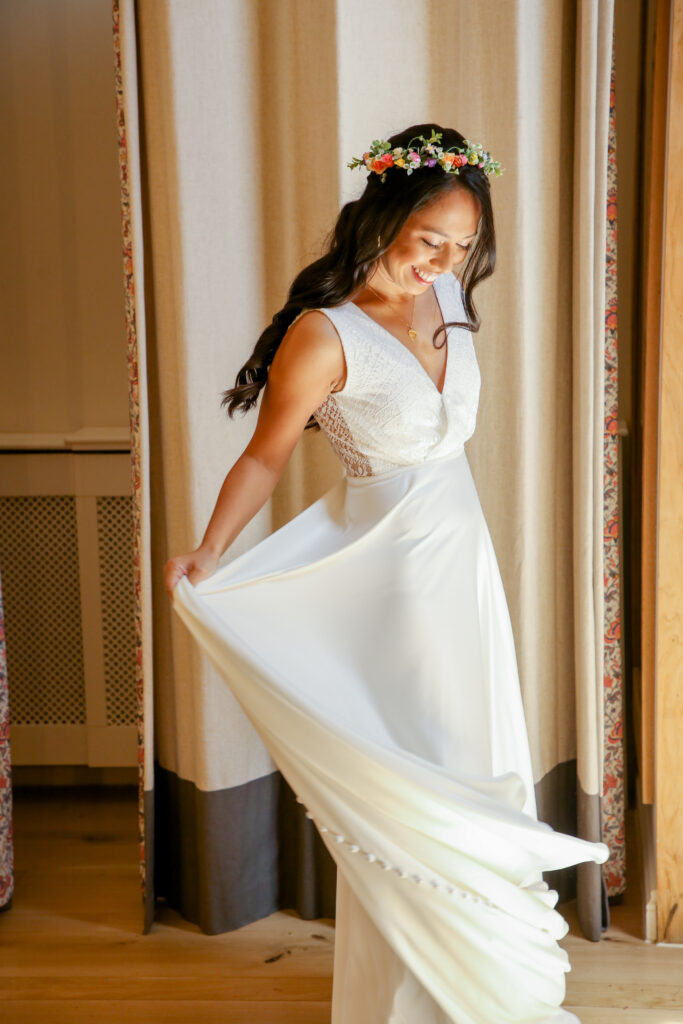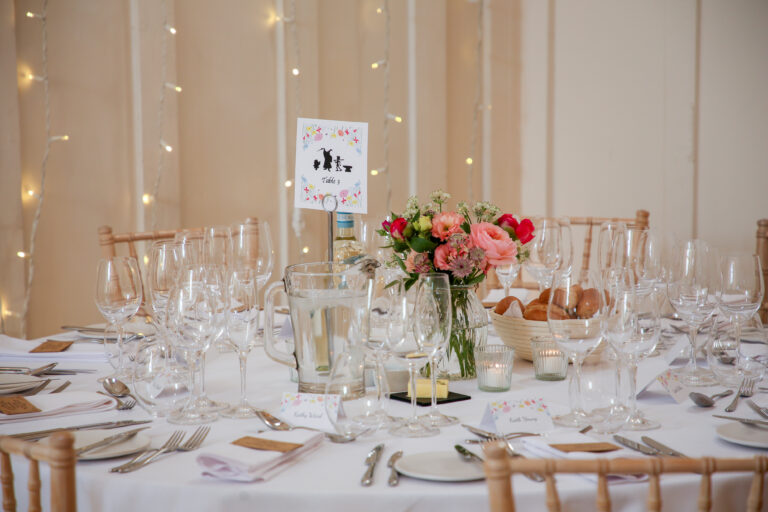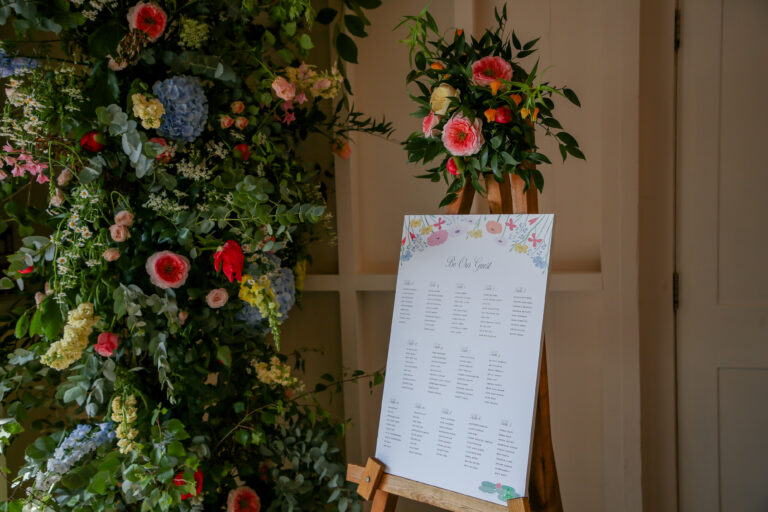 Did your vision for the wedding change over the planning process?
Not really, we always Imagined an outdoor wedding with lots of flowers, people dancing and enjoying themselves. I think the weather was very much the biggest factor in this, which was out of our control. However, we knew that If it was bad – we would still have had the incredible indoor area. Millbridge were so thoughtful and considerate about everything, nothing was a chore!
Are there any memorable anecdotes from the day you could share?
One of our groomsmen had a few too many drinks and had to have the microphone taken off him. He was getting a bit too risqué with his announcements – this made us laugh a lot and is a story we reminisce on when talking about our wedding day!
For both of us, the moment we saw each other, as Lynnie walked down the aisle was one of the best moments of our lives. It was emotionally overwhelming, with so much happiness, seeing all our loved ones and each other. The beautiful outdoor setting made it even more joyful, everything just coming together and feeling so perfect, It was amazing.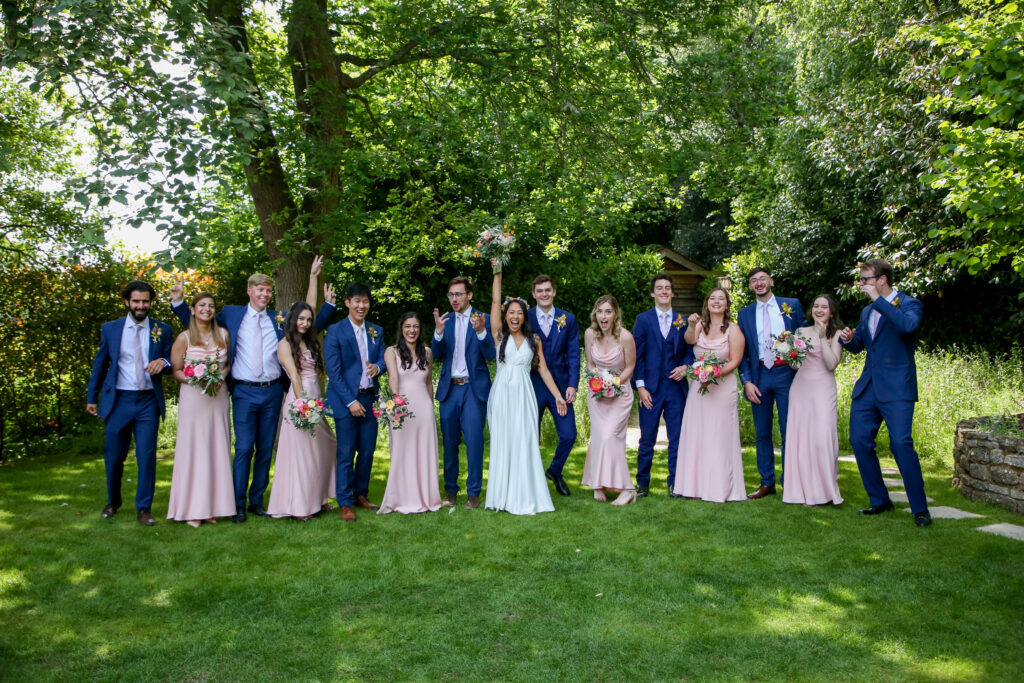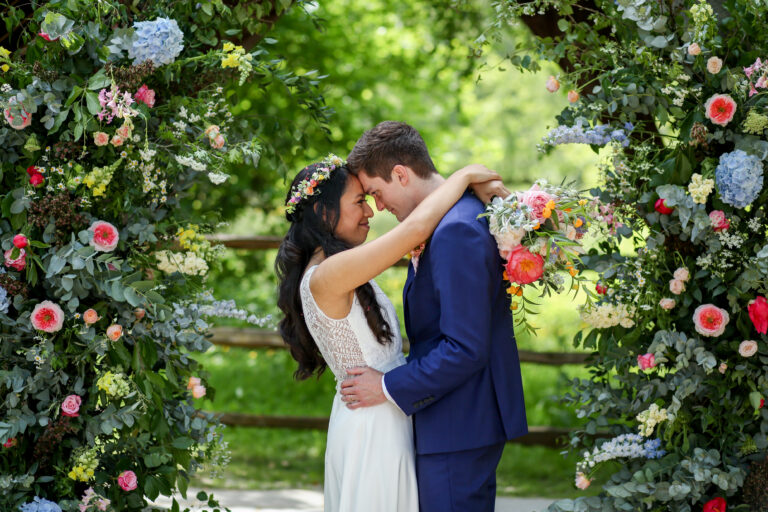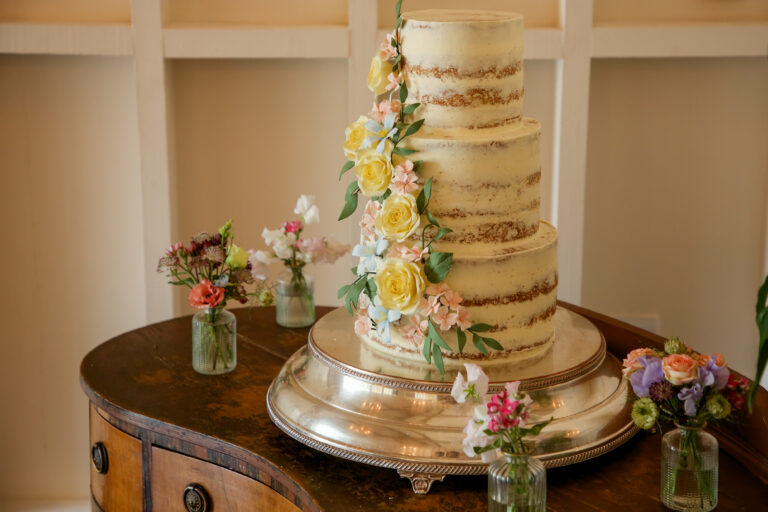 Tell us something that we wouldn't know about your day from the pictures.
Lots of Lynnie's family had flown over from Myanmar. We weren't sure if they would be able to make it. We haven't been able to see them for around 4 years because of COVID and then the political situation in their country, so to have them there was incredibly special.
When we first met at university, we were put in a flat together with 4 other people. All of us are still friends 9 years later, and all of those original flatmates were at the wedding.
Favourite part of your wedding journey?
The whole process was very enjoyable, from booking the venue to picking the flowers. But it was really nice to see how it all culminated on the day, walking into the venue and seeing all the wonderful flower arrangements and tables set up was an incredible feeling. But most of all when we saw each other for the first time on the day as Lynnie walked down the aisle. That was the best part of the whole journey.
Any words of wisdom for future couples?
Start by giving yourselves plenty of time to plan – we had 2 years from getting engaged to getting married, and it meant we had time to enjoy the whole planning process rather than having to rush to get things organised. Then, on your wedding day, make sure you take some time for yourselves to absorb everything. It is one of the best days of your life, but it goes so quickly and you want to savour it as much as possible.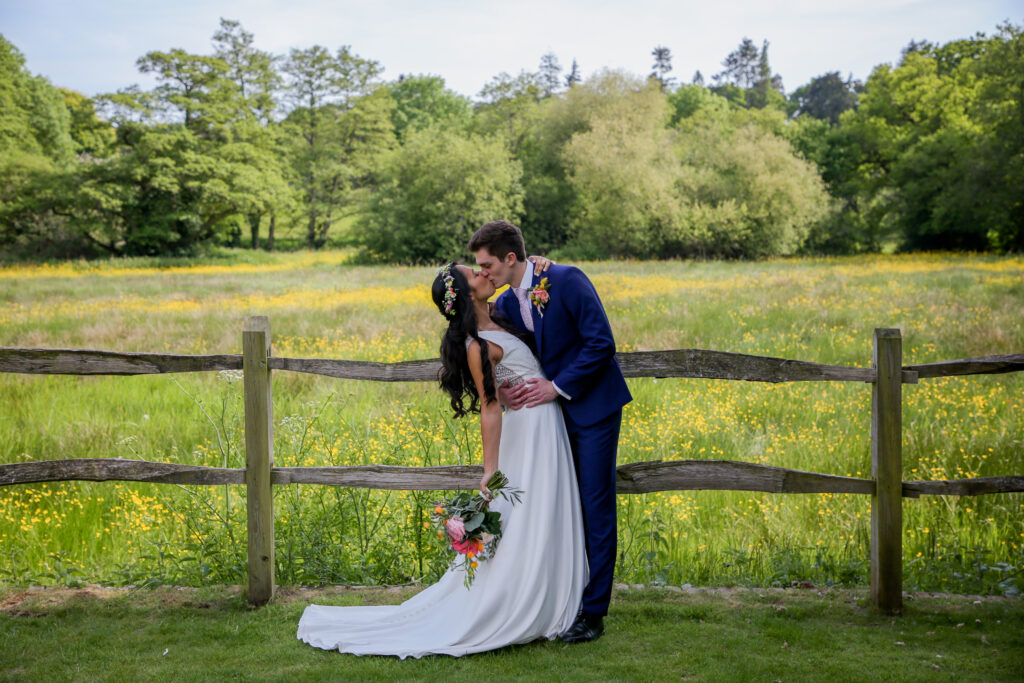 News : 16 / 08 / 23
Married at Millbridge – R&F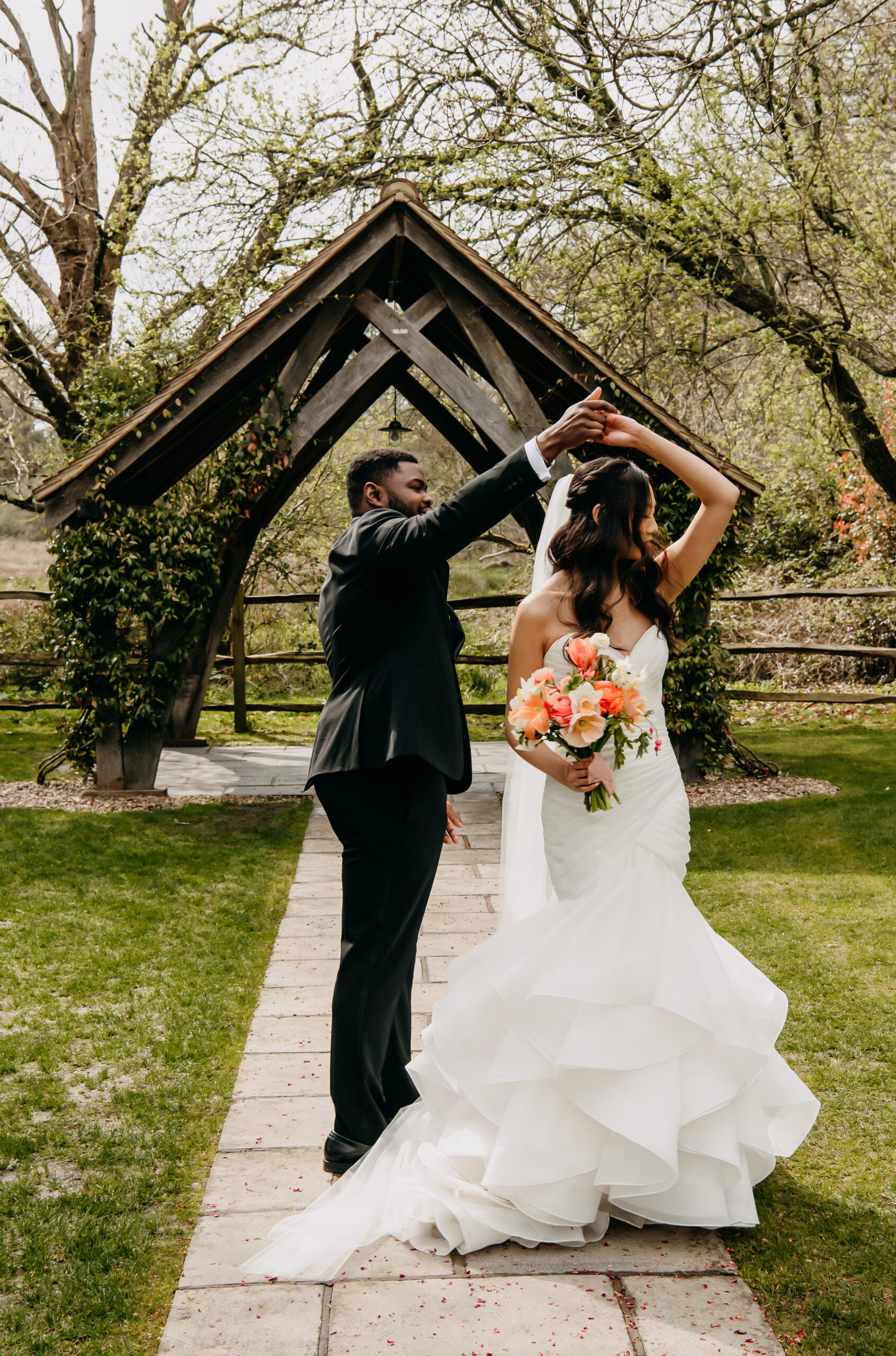 Rachel and Fiyin's Spring wedding day was so full of love and laughter!  Surrounded by family and friends, they created so many beautiful memories that will be cherished forever.
We caught up with them to relive their special day and give you a glimpse into just how much fun was had, from those loud "Yam Seng" to the incredible traditional wedding attires…
How did you meet and what's the proposal story?
We met for the first time through mutual friends who invited a bunch of us to a pizza night in Shoreditch. We didn't actually speak after that until the same friends invited us to a karaoke event, they hosted a year later. Honestly, if it wasn't for them, we wouldn't be together!
The proposal happened on our bucket list trip to Iceland. We had just polished off dinner at a restaurant in Reykjavik and before heading back to the hotel we decided to go for a walk around the stunning Harpan concert hall to take some pictures. It was at this time that Fiyin, being the opportunist that he is, decided to get down on one knee and propose!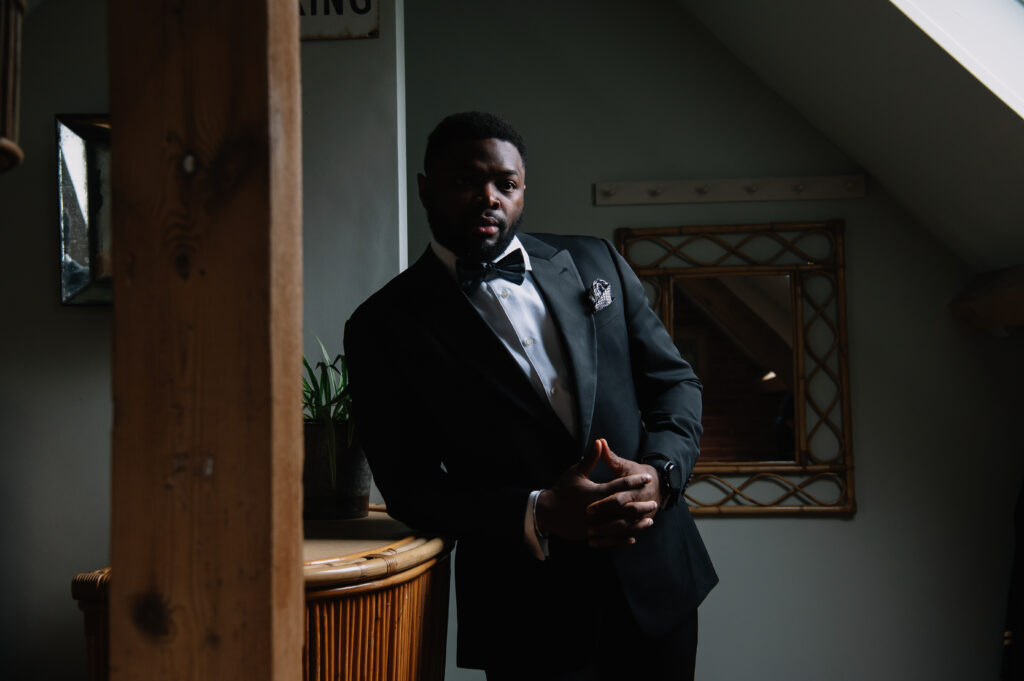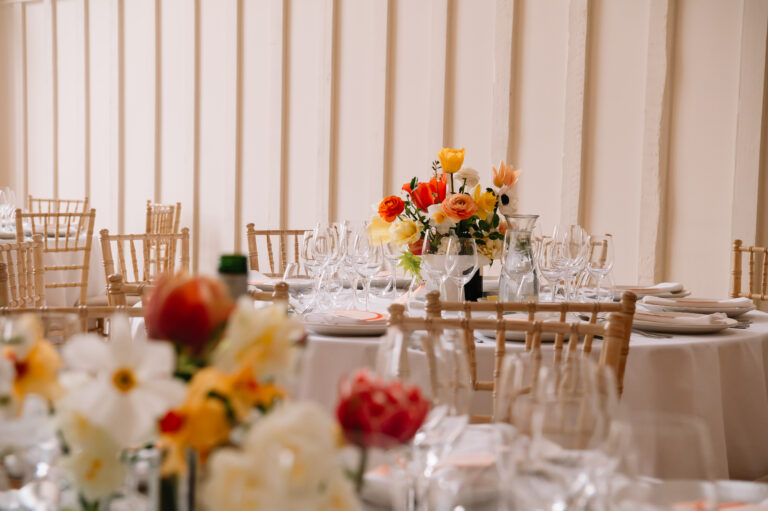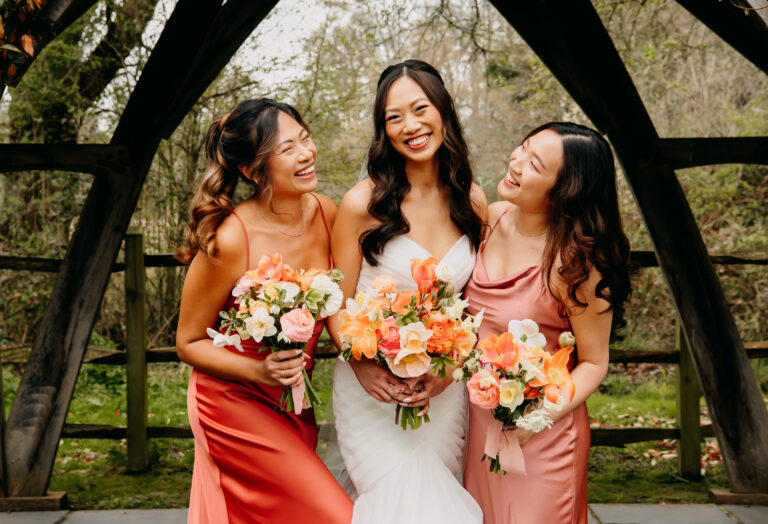 Why did you choose Millbridge Court?
Initially we didn't really have an idea of what kind of wedding we wanted, but we came across Millbridge Court online and were really impressed by the aesthetic and how it seemed both modern and classic at the same time. The location also suited us well as we were London-based and wanted it to be easily accessible for our friends and family, but at the same time it was remote enough to feel like a countryside escape. With Rachel being a passionate foodie, the catering was also something that caught our eye from the get-go with impressive menu options offered by Kalm Kitchen.
Ultimately, we are so glad that we went with Millbridge given that from the moment we reached out, they had been really responsive, personable and eager to help which meant a great deal to us, especially throughout the planning process.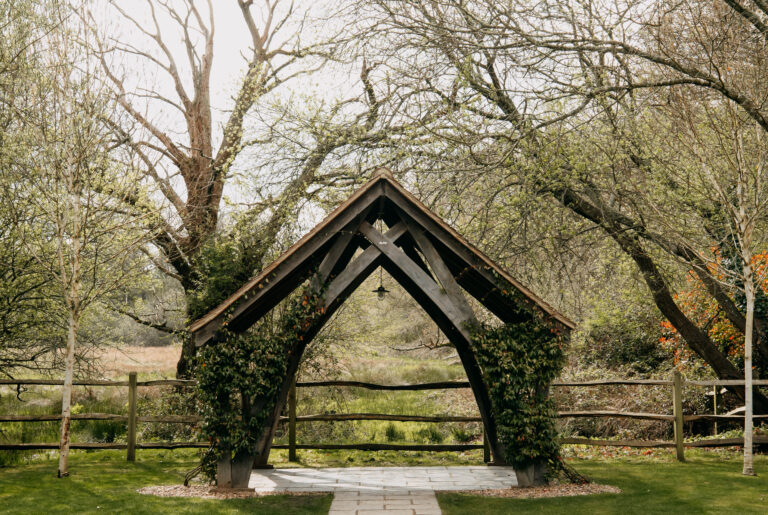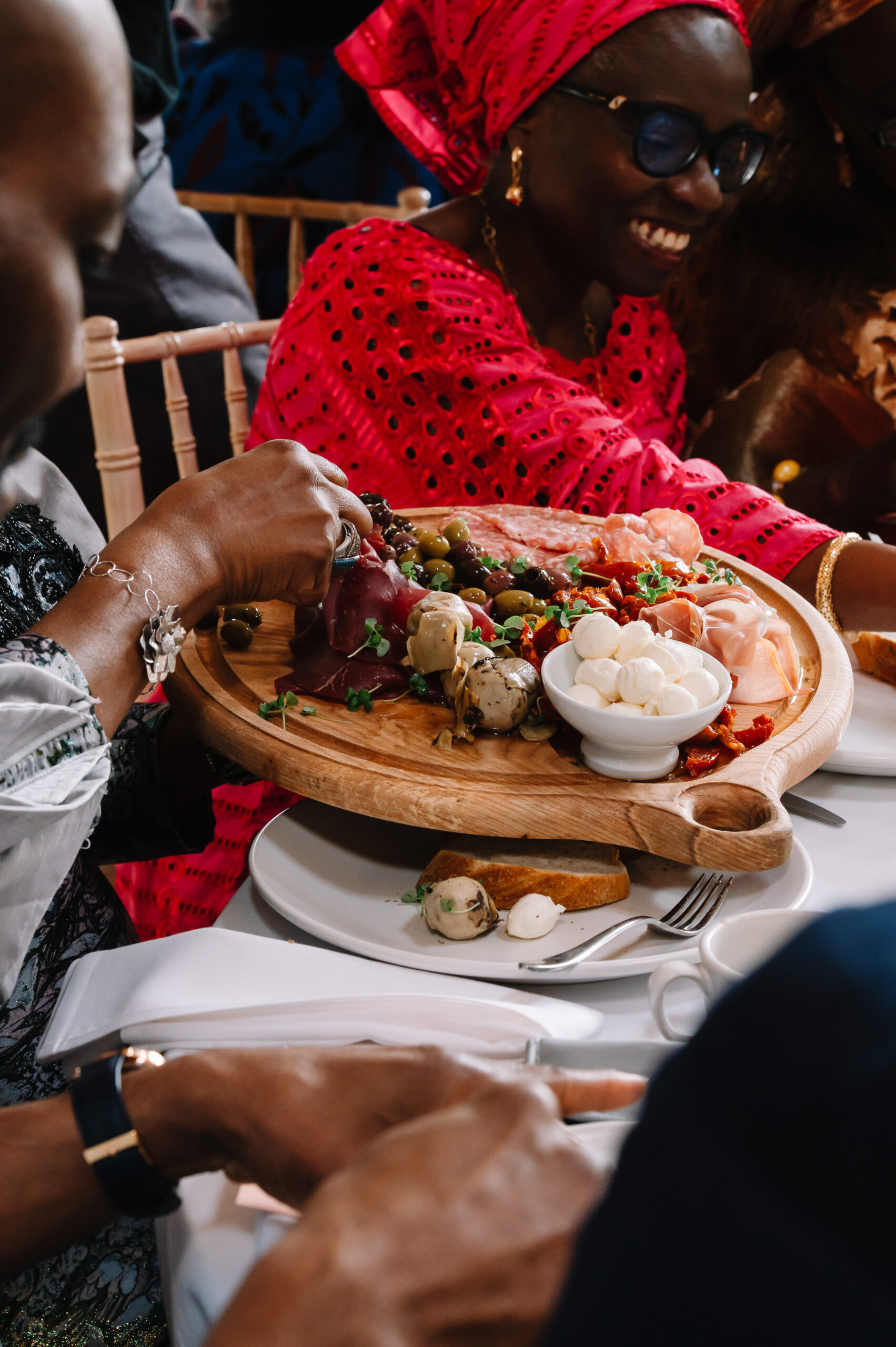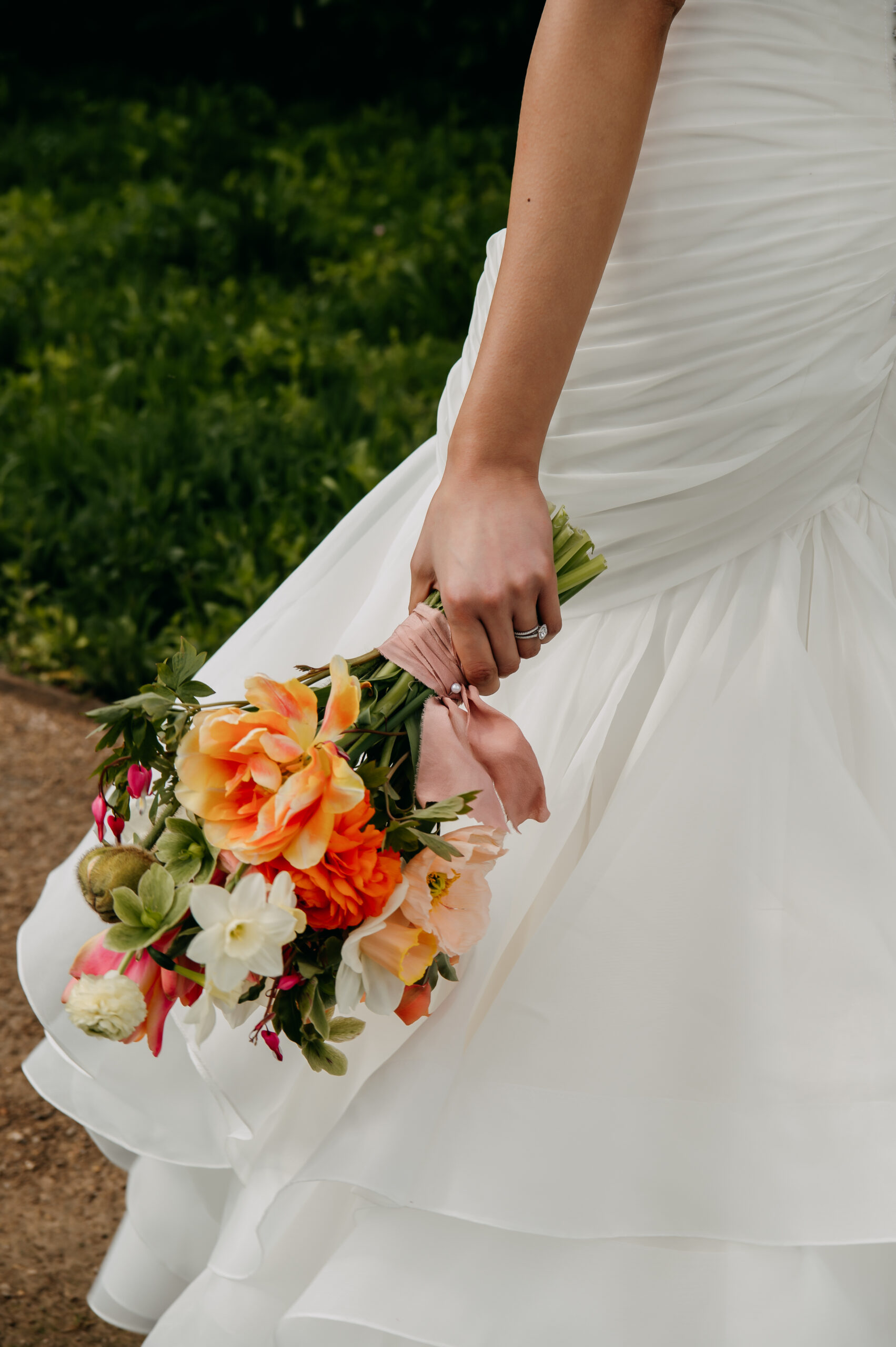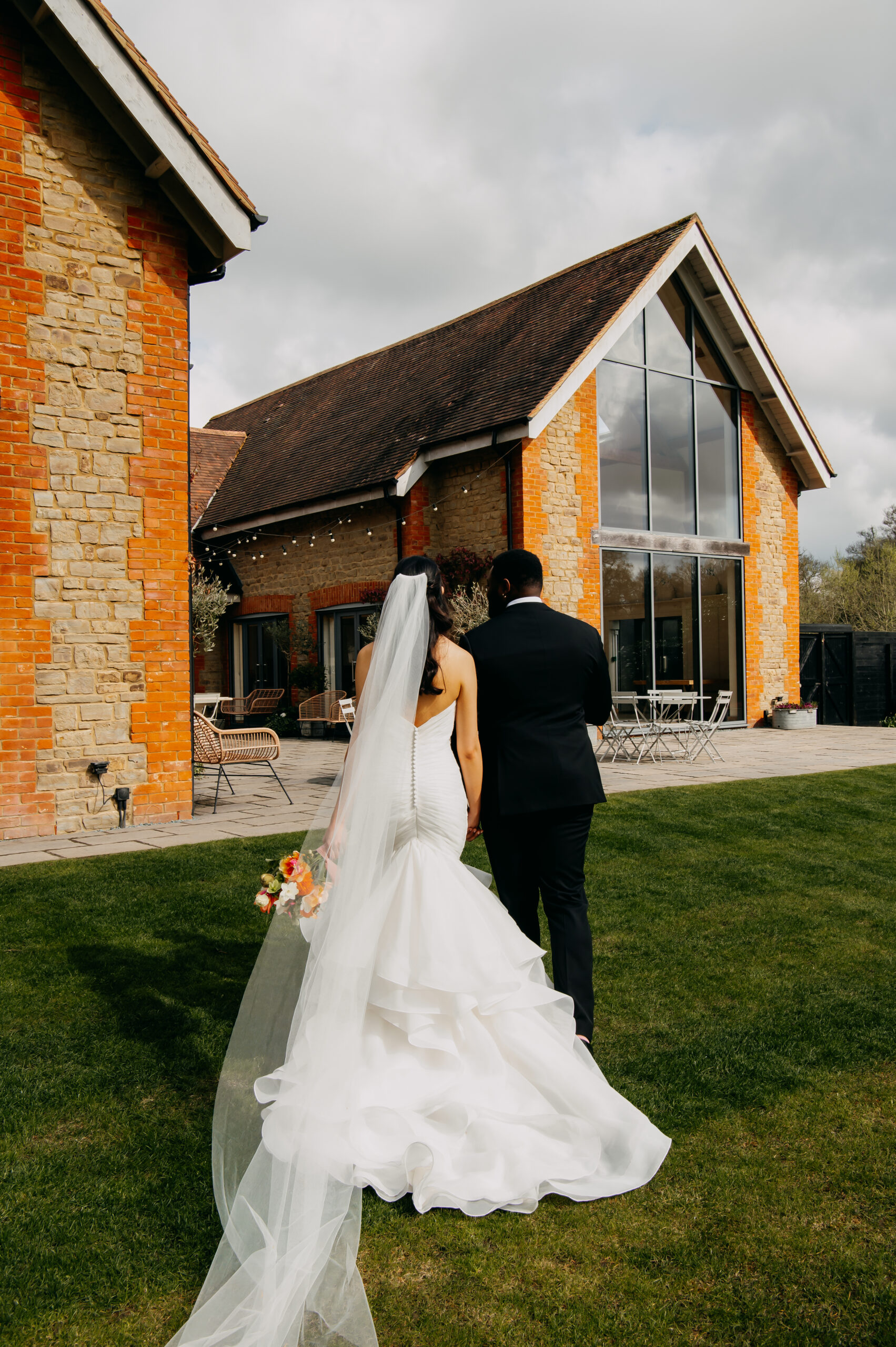 What did you love about having a Spring wedding?
Having a Spring wedding was one thing we were set on from the start of the planning process. It's that time of year when the skies start to get brighter, but it doesn't get overwhelmingly hot during the day and the sun sets later in the evening. Of course, with Spring comes the blossoming of nature and wildlife, and there was just something so beautiful about the symbolism of new beginnings at springtime which made the idea of having a spring wedding all the more special.
Tell us more about your suppliers and why you chose them.
We chose Philipa Day as our florist as we loved her organic style using a combination of flowers and colours that perfectly suited the fresh spring theme we were going for.
From the moment we came across Emma Jane Lewis' portfolio online, we knew that we wanted her to photograph our wedding. Her photos are romantic, candid, and editorial all at the same time and there were so many key moments throughout the day that we'll always be able to look back on thanks to her.
Our decision to hire a photobooth was a pretty last minute call but might have been one of the best things we decided to do! Picture Blast provided a really easy booking experience and set up on the day without a hitch. Our guests loved taking photos with the fun accessories it came with – and the best part is, the photos were all saved digitally so it was very amusing looking through them all when the link was sent to us!
We made the conscious decision to get our friends and family involved in some parts of the day too. It made the day so much more meaningful knowing some of our nearest and dearest also had a part to play in our big day.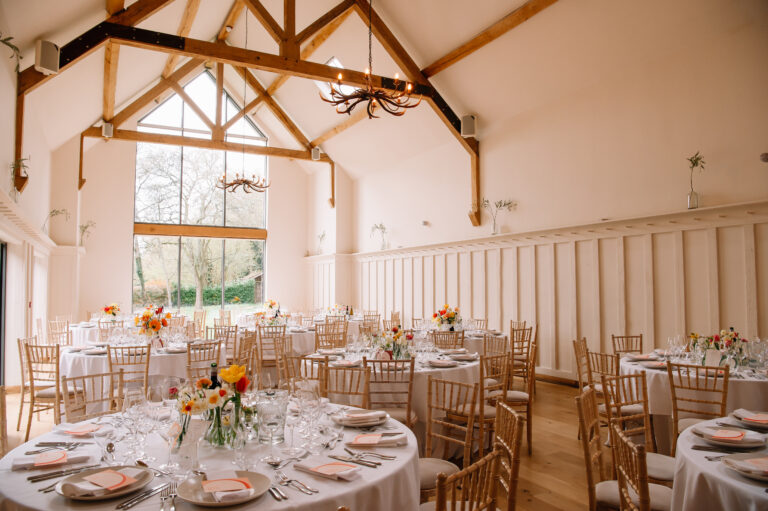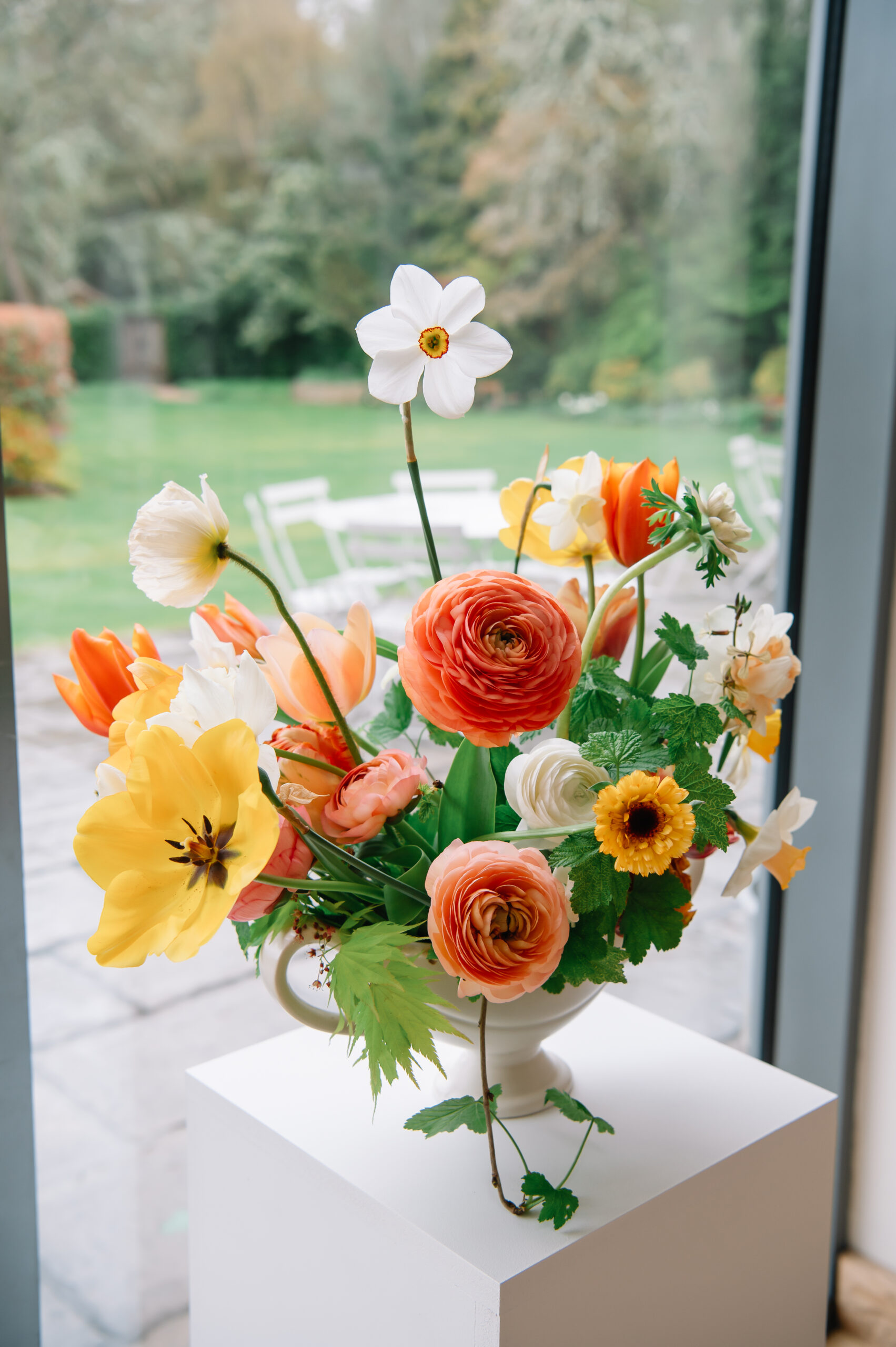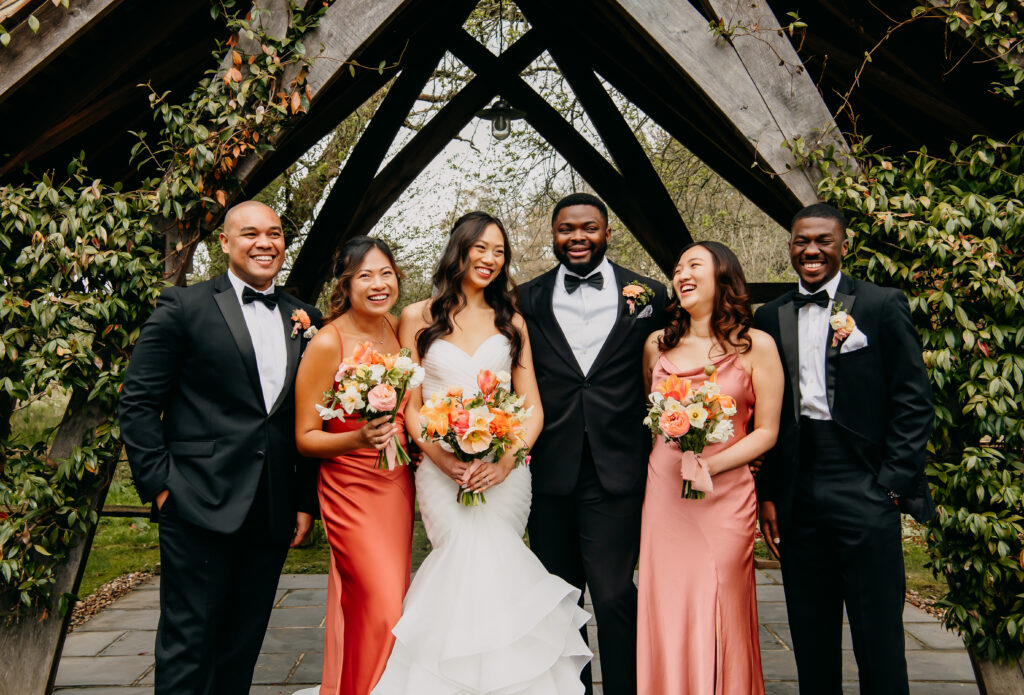 Were there any family traditions that featured in your day?
At the end of the meal, we went around to each table to toast our guests – a Chinese wedding tradition called 'Yam Seng' (equivalent meaning to 'Cheers' in Cantonese), Rachel's dad encouraged everyone to raise their glasses and shout "Yam Seng" at the top of their lungs. It definitely brought plenty of laughter and even a little bit of competition between the tables as to who was the loudest!
Our first dance then featured the two of us in traditional Yoruba wedding attire which were custom made for us in Nigeria. We danced our way into the reception hall surrounded by friends and family before our Nigerian guests sprayed us with cash – talk about a grand entrance!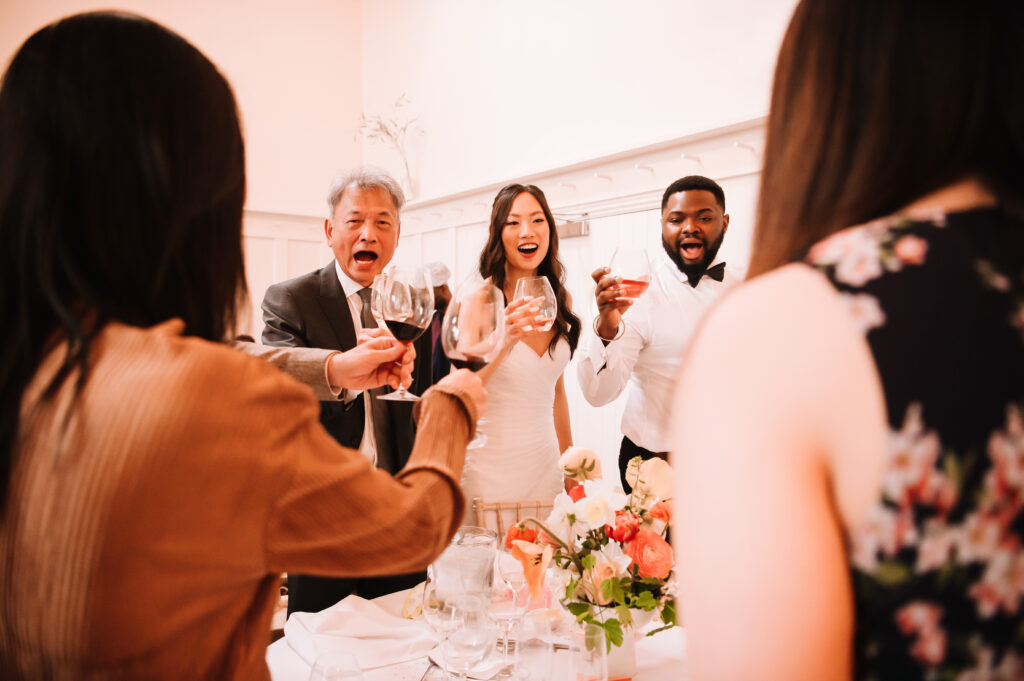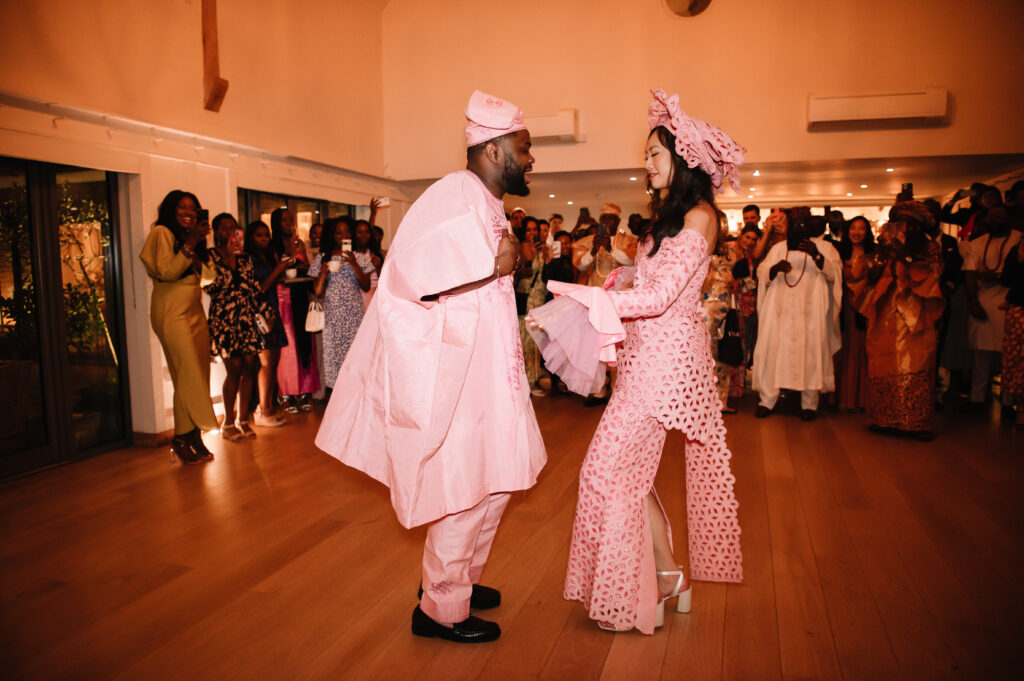 Tell us something that we wouldn't know about your day from the pictures.
The food was absolutely incredible. It was one of the things our guests kept bringing up as a key highlight from the day; from the canapés to the bountiful sharing platters and the late-night snacks, it was all so delicious and beautifully plated. Hats off to the Kalm Kitchen team for doing such a fantastic job!
Favourite part of your wedding journey?
The day itself! The planning process was tough at times and there were days when we were both questioning "is this really worth all the stress?", but when the day came, all of that faded away as we were surrounded by the ones we love and were reminded of what the day was really about.
Any words of wisdom for future couples?
Throw any expectations you have for the day out of the window and just focus on being present and making the most of it. Find five minutes for just the two of you together to take everything in and appreciate the moment. This might be the only time you'll see all your loved ones under the same roof, and it flies by much quicker than you'd think!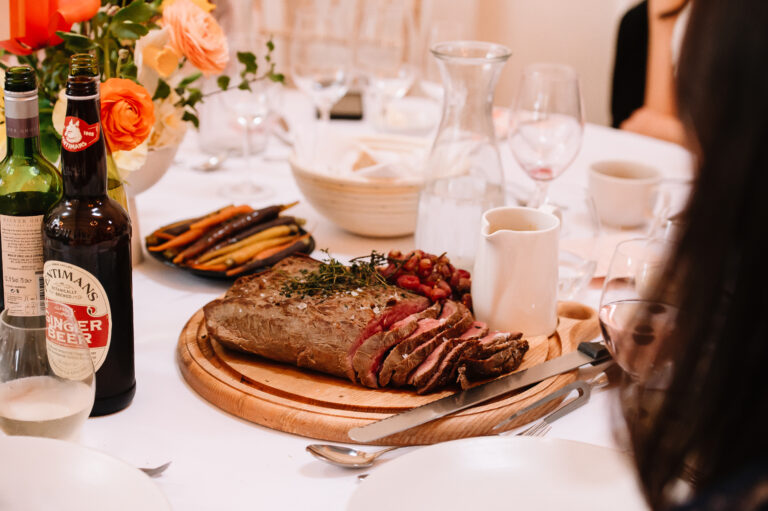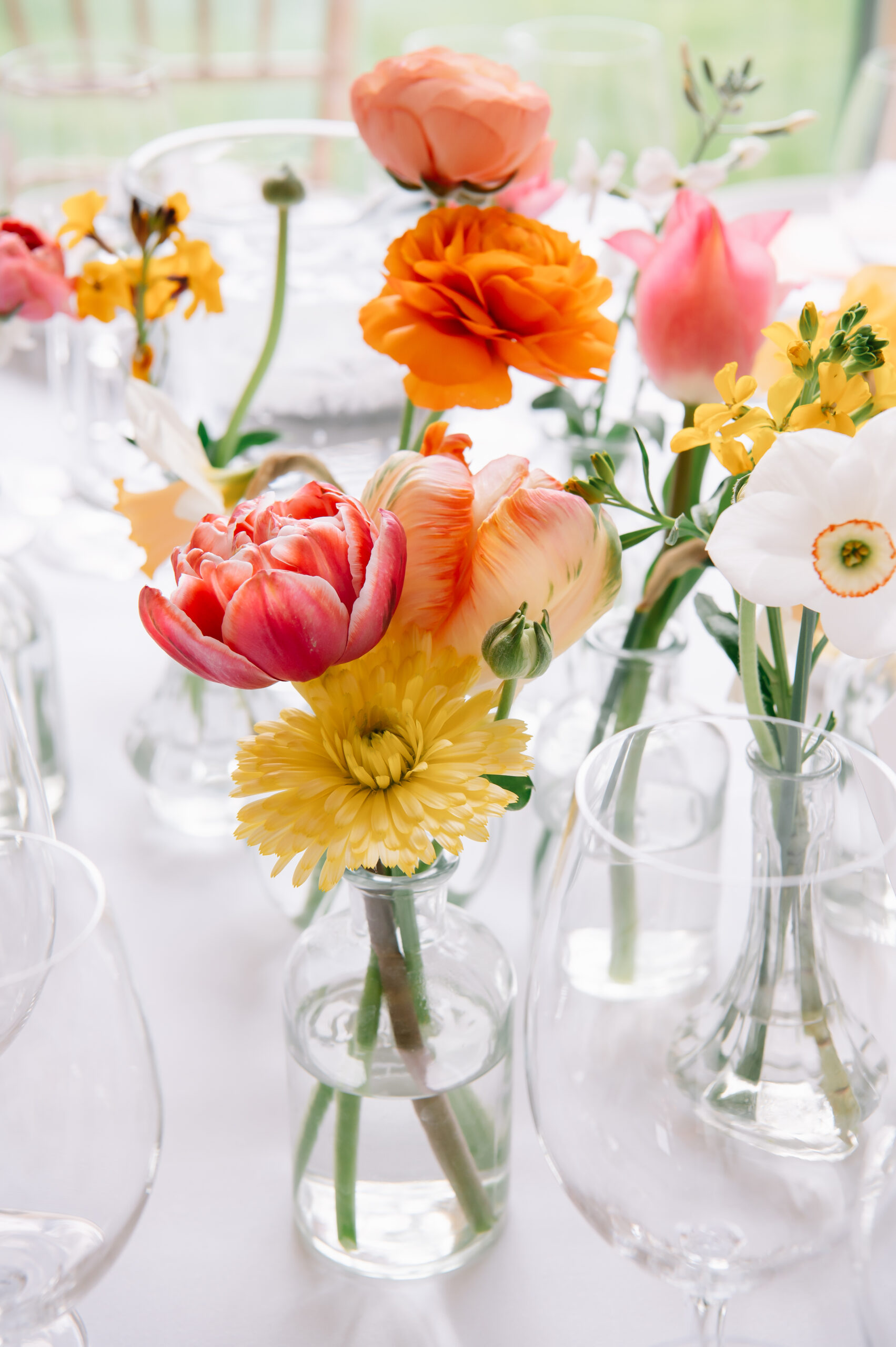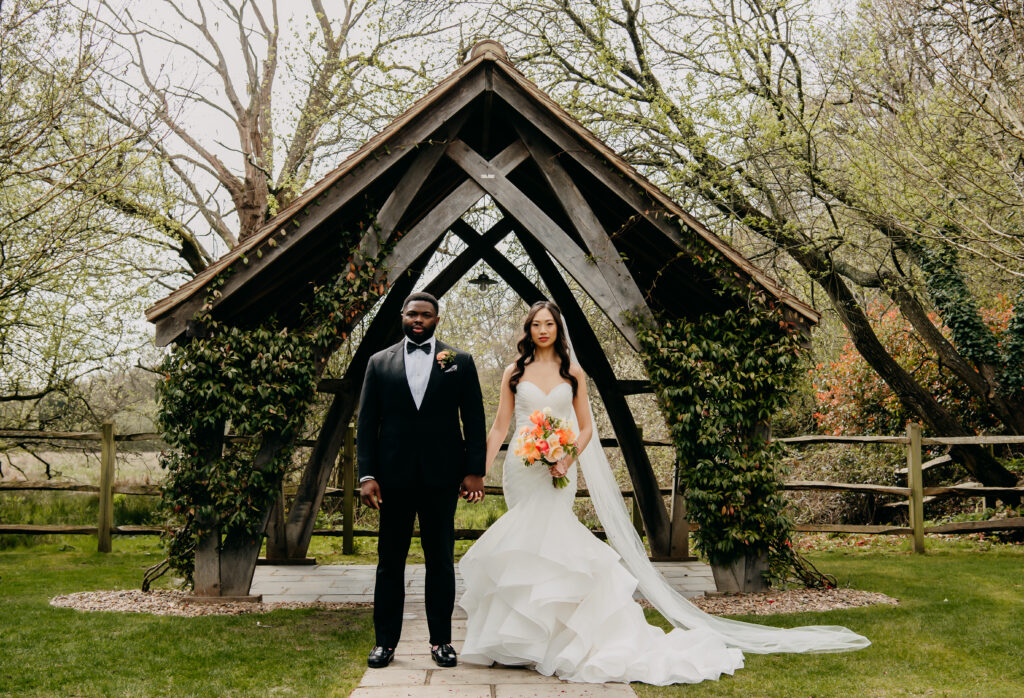 News : 03 / 03 / 23
Married at Millbridge – L&C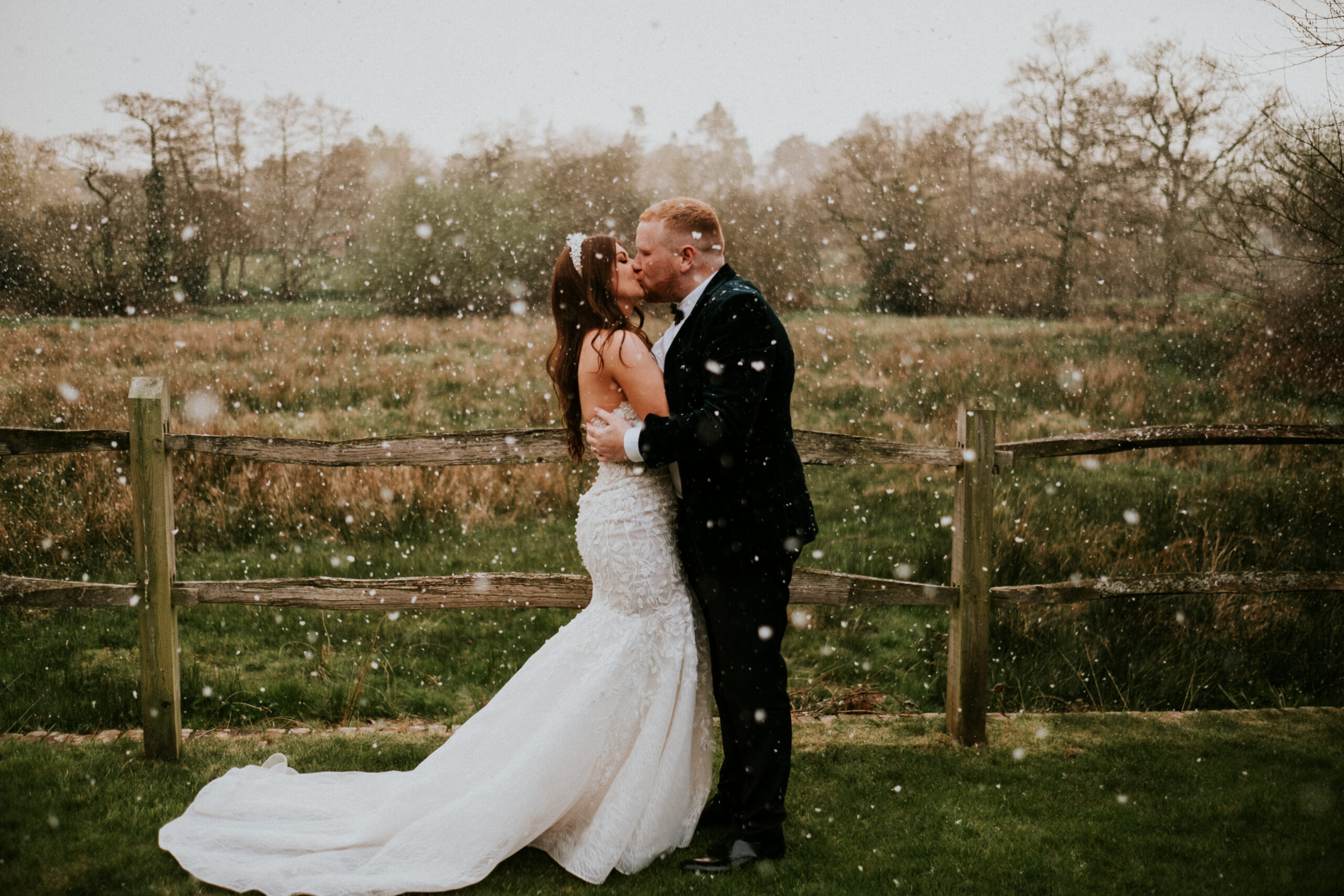 Spring is very much upon us with the welcome sight of snowdrops and daffodils popping up in the garden, however, with a small sprinkling of snow set for next week we just had to share details from Lauren & Craig's March wedding last year.
How did you meet?
We met on social media (very 21st century).  Craig's first message to me was 'You are one spicy tomato!' and I immediately knew he was the one for me, haha!
We love this!  How did you know we were the right venue for you?
We looked at quite a few venues, hoping to find somewhere that looked beautiful, calm and just felt like us.  We saw a lot of lovely places, but none that felt right… It was Craig who found Millbridge Court online and as soon as we stepped foot in the door, we knew straight away that this was where we wanted to get married.  The layout was perfect, allowing guests to flow throughout the space, the overall vibe was stylish, relaxed and effortlessly beautiful.  All of our guests have since told us how amazing they thought the venue was.
What inspired your day?
Originally, the wedding was supposed to be at the end of December, so we knew we wanted a whimsical, winter theme.  We also love a party, so we needed to ensure there was amazing food, ample drink and great entertainment.  Although COVID forced us to move the wedding to March, it was still perfect, as we ended up having both beautiful sunshine and then snow! You can't make this stuff up.  The food was also spectacular, Kalm Kitchen really do take tasty food to a whole new level, it was so delicious!  We honestly, couldn't have asked for a more amazing day.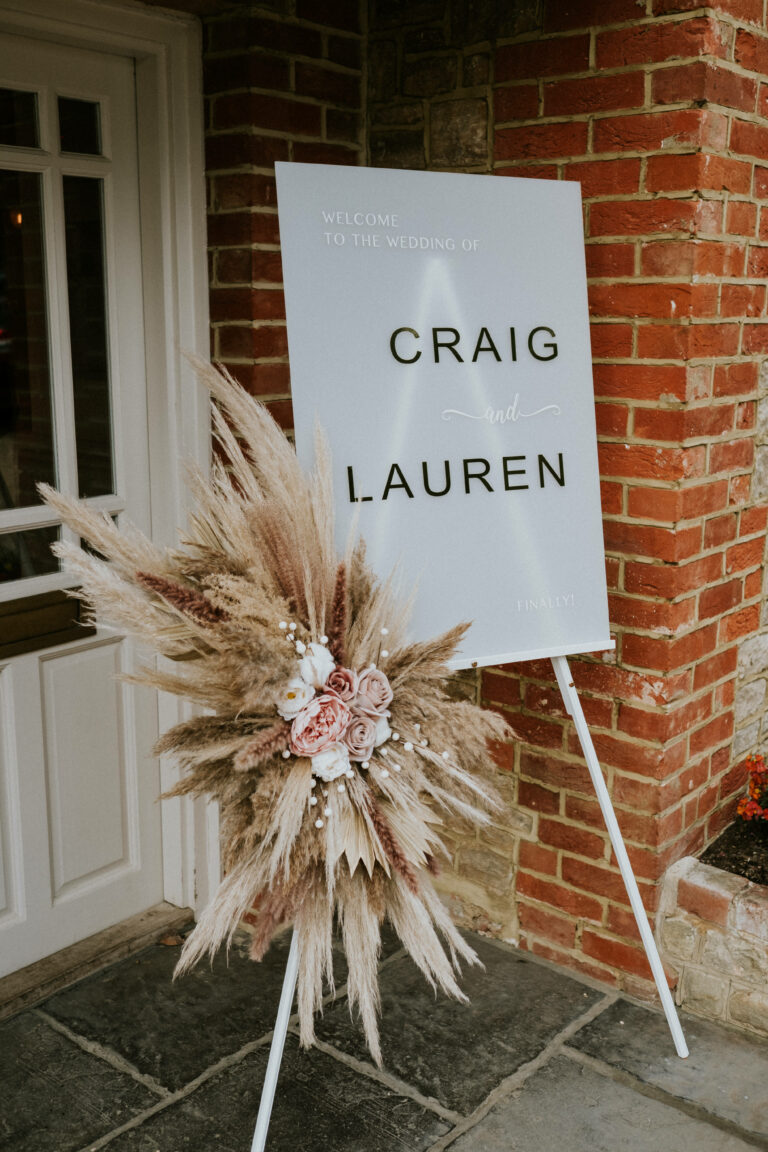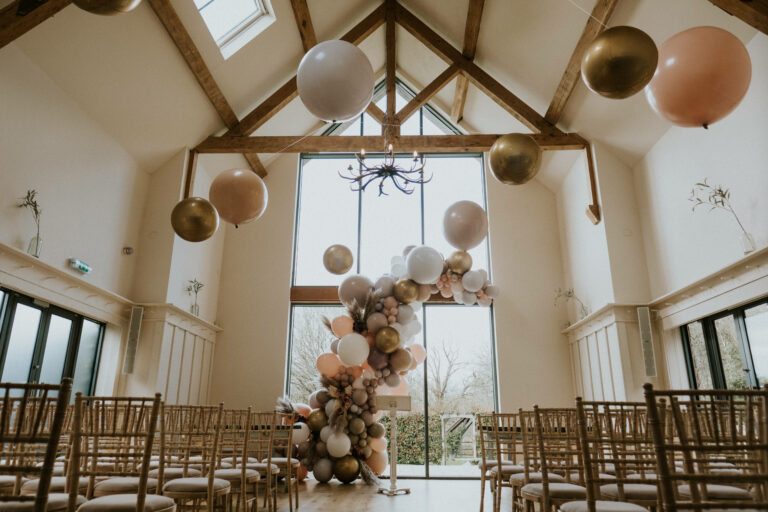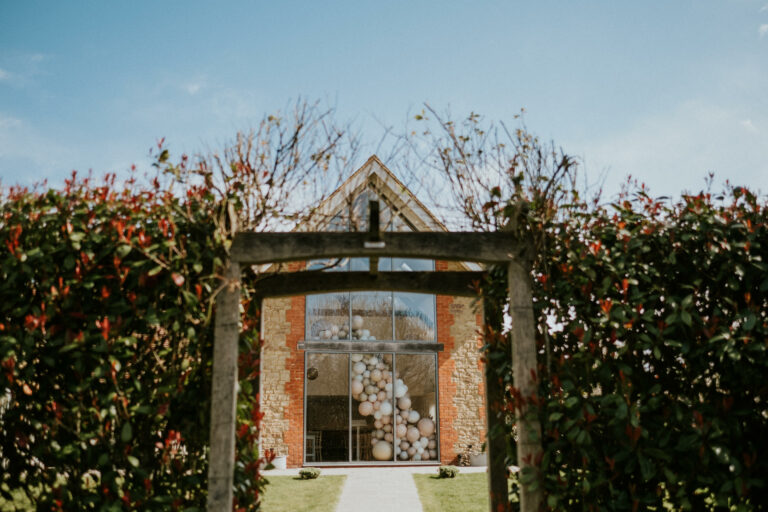 Who took charge of the planning or was it a shared experience?
We are not ashamed to say it was not shared at all, haha!  I (Lauren) love to organise events, so to organise my own wedding was so much fun!!  Craig's involvement was letting me run with my ideas but then reigning me in when I got too carried away.  He did, however, choose most of the food options, which could not be faulted.
Tell us more about your suppliers and why you chose them.
Millbridge Court already had a list of the most wonderful suppliers, so our balloon decorations Bubblegum Balloons, the singer (Thom Music) and the DJ (Farnham Sound and Light) were booked using their recommendations.  They did not disappoint; they were so great to work with and the end results were far better than we could have ever imagined.
Kalm Kitchen are the sole caterer and we can absolutely, see why, the food is like a piece of art.  And tasted insane!  It also compliments the style of the venue perfectly and the staff were just amazing.
We just loved Joanna Nicole Photography, the finish to her photos was exactly what we were looking for and she understood what we wanted out of them.  Natural, warm and full of love.
Our florist Fabulous Floristry by Carla came recommended to us by some friends who had used her for their weddings too.  Carla was also incredible, we still have our flowers to this day, dried and beautiful.
We found our Photo Booth, Photobot.Co. at a wedding show, we felt they were just something a little bit different and the guests loved it!
Luckily for me, my sister-in-law is a makeup artist and hair stylist, so this was a no brainer, but, what made it so special, was The Loft… What a truly lovely place to get ready the morning of the wedding.  Another reason why Millbridge Court stole our hearts.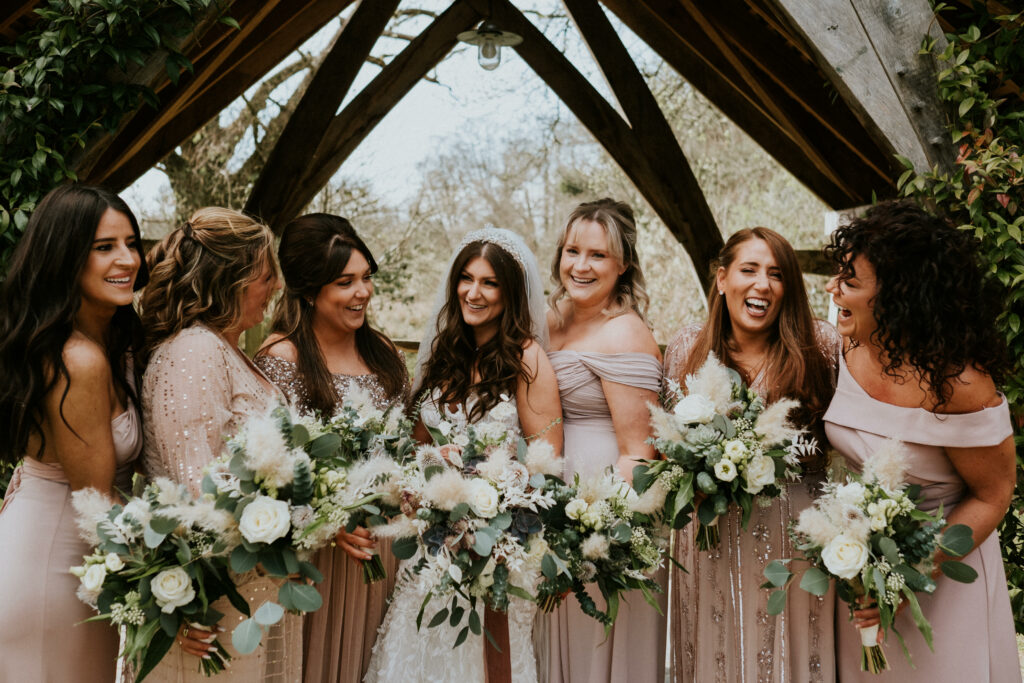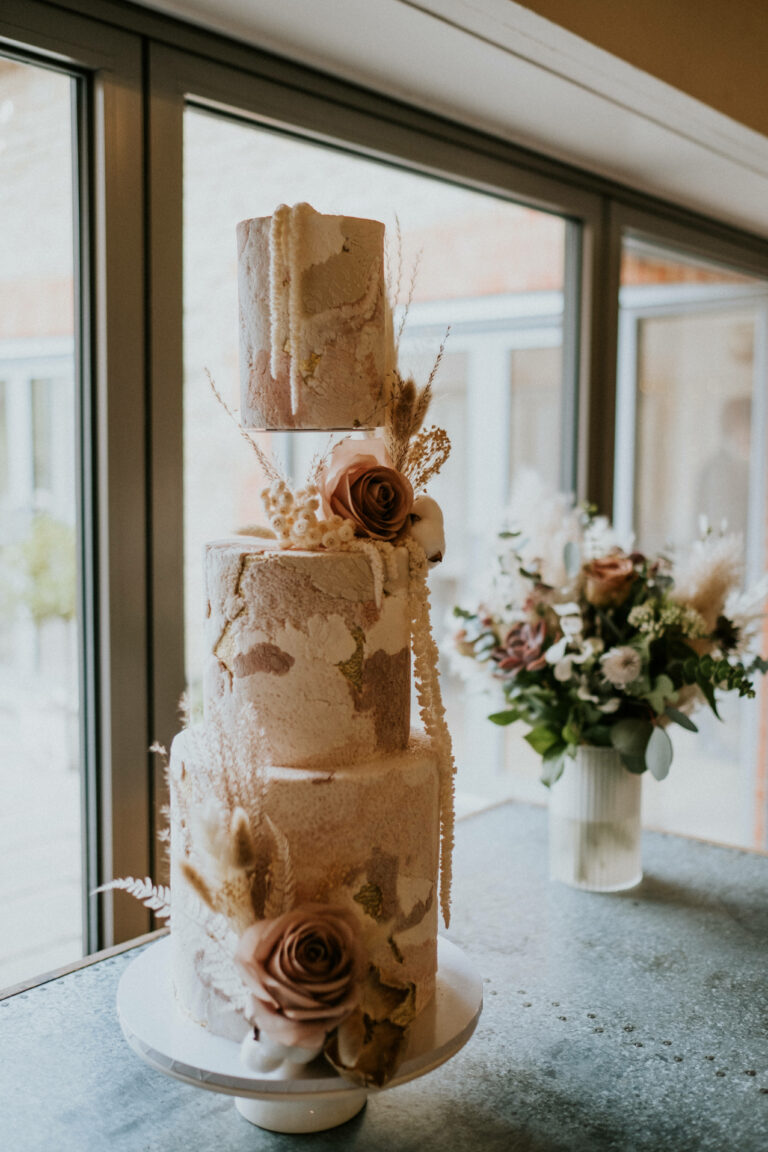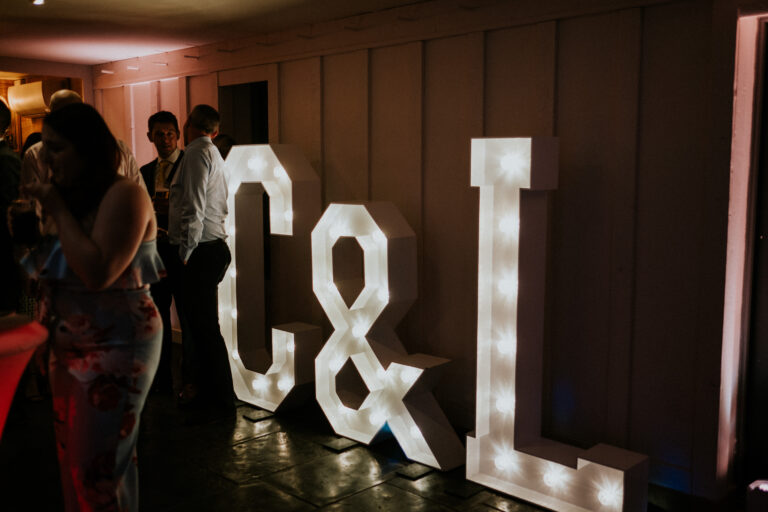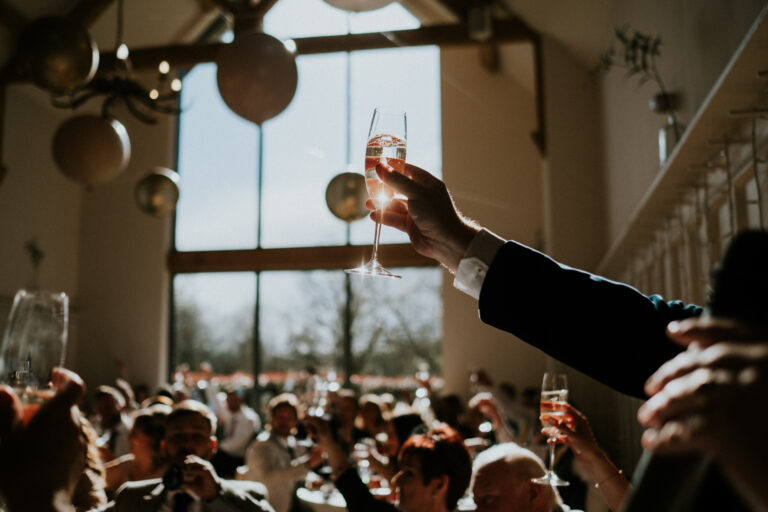 Tough questions, favourite part of your wedding journey?
Wow, this really is tough.  We loved every single part of it, including the planning, weirdly enough.  However, if we had to choose, it would have been Thom Music, who is, by far, the best event singer we have ever come across.  Not only can he sing and play the guitar like a musical genius, he read the room so perfectly and played the songs that suited the vibe.  When I tell you the crowd went wild for Thom, that is an understatement!  Before the main course was even consumed, people were dancing around the room having the time of their lives!  Honestly, we are still having people tell us it was the best wedding they have ever been to.
Any words of wisdom for future couples?
Having planned a wedding the one time, by no means makes me an expert, but just to remember this is your day.  I completely understand wanting to make sure your guests are happy, but you are never going to please everyone.  The more people you ask for advice, the more confused you are going to be.  So just do what you want, make this a day all about you and your partner.  Your guests will just be so happy to be there and will have a great time regardless.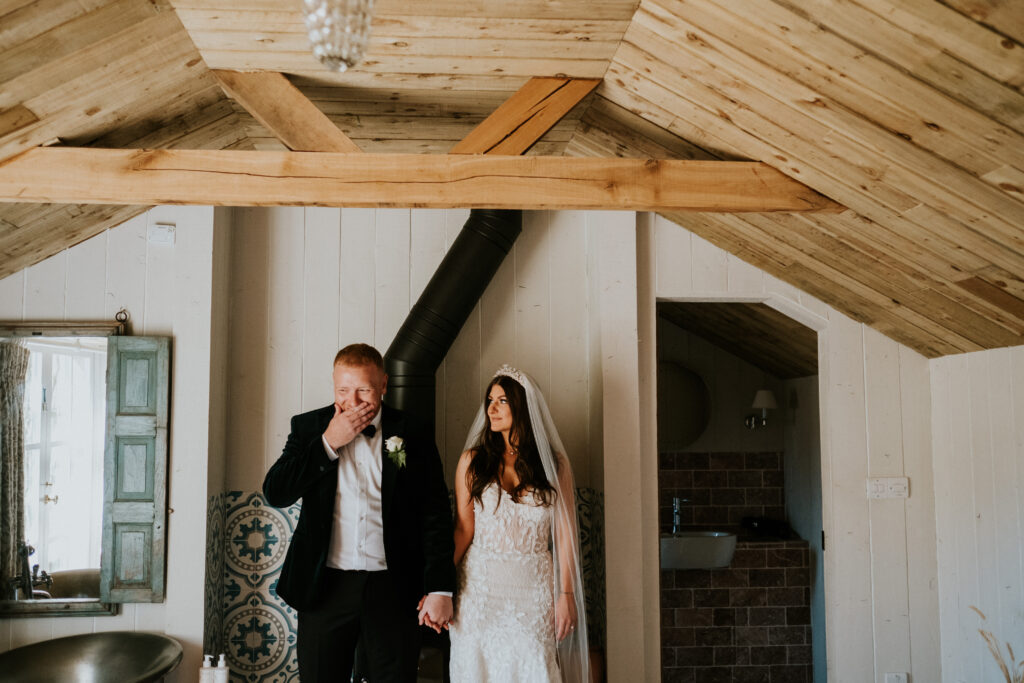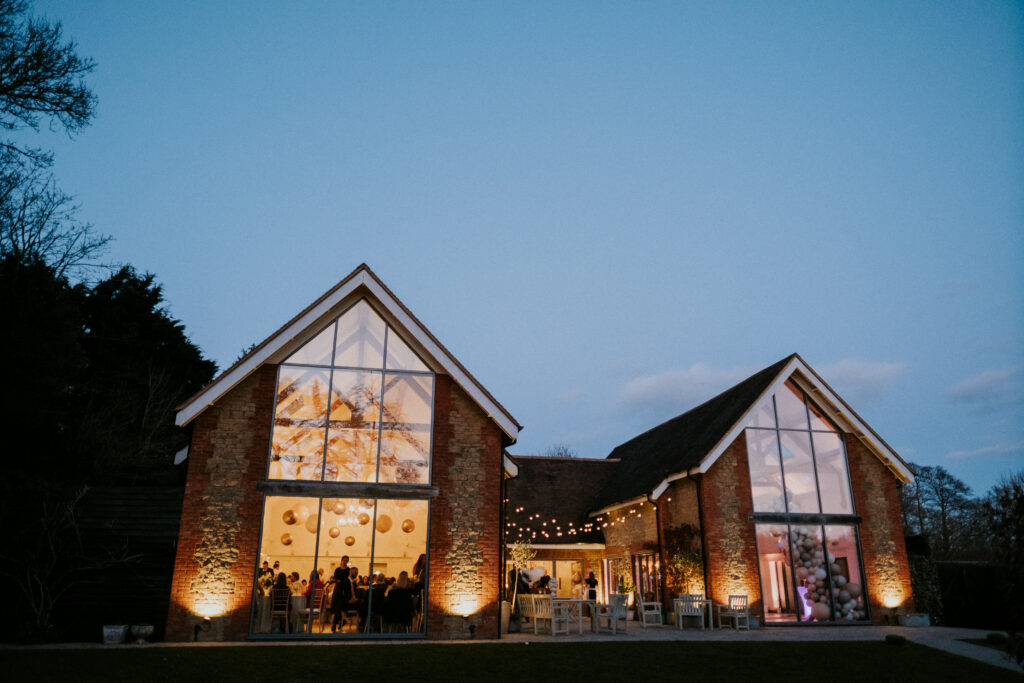 News : 05 / 11 / 20
Wedding Cake Inspiration from Scrumptious Bakes by Emma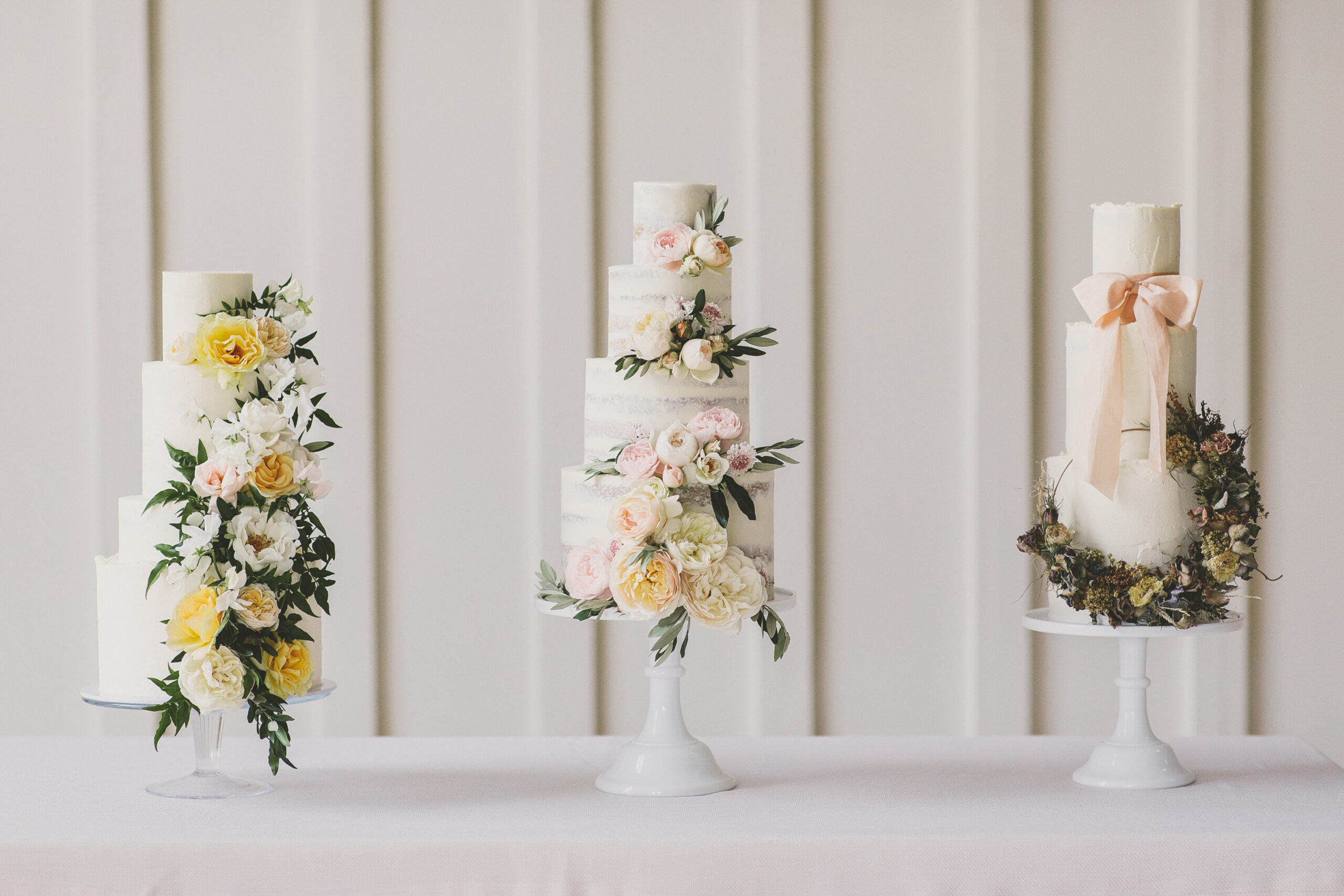 Tell us a little bit about Scrumptious Bakes with Emma? 
Scrumptious Bakes by Emma is based in Odiham, Hampshire. We specialise in beautiful, bespoke wedding cakes, macaron towers and macaron and personalised cookie wedding favours, all made with the finest organic, award-winning and sustainable ingredients.
Our contemporary classic aesthetic is imbued with subtle luxury and timeless style, and we are renowned for our exceptional ingredients and decadent touches.
Four generations of my family have been professional bakers and confectioners, and my mum is a former Michelin-starred chef. As a small child, I fell in love with baking in my grandma's kitchen, and I take huge pleasure following in my family's footsteps.
I started my business in June 2018, 16 months into recovery from a life-changing injury that damaged my sacroiliac joints, pelvis, lumbar spine, sacrum and coccyx. As I became stronger and could stand again, baking became a way for me to reconnect with my body, mind and soul. I have always found baking very mindful and easily lose myself in kneading soft dough or gently scooping and folding macaron batter.
Baking for family and friends initially gave me a sense of purpose; a clear, achievable goal and focus, which helped to relieve the trials of chronic pain and rehabilitation. It helped me to re-discover a sense of identity, to feel pride, to feel empowered. It rebuilt my self- confidence.
I found the concept of beginning my own business simultaneously exhilarating and challenging. Stimulating my mind was equally as important to my recovery as each physical step, and dreaming about my business, and how it would look and feel gave me hope and strength.
I am so proud of my business and all it has achieved so far. We have won several awards, and were recently invited by British Vogue to feature in their 2020 'Match Made In Vogue' luxury wedding campaign. I am so excited to keep building on our success, and really looking forward to all that the future will bring.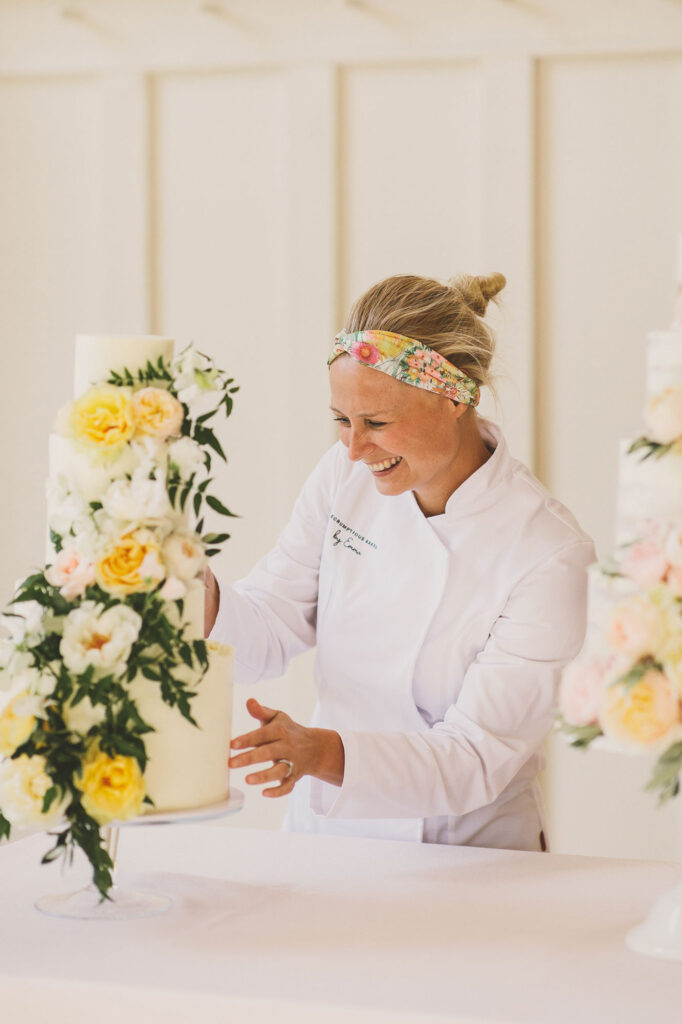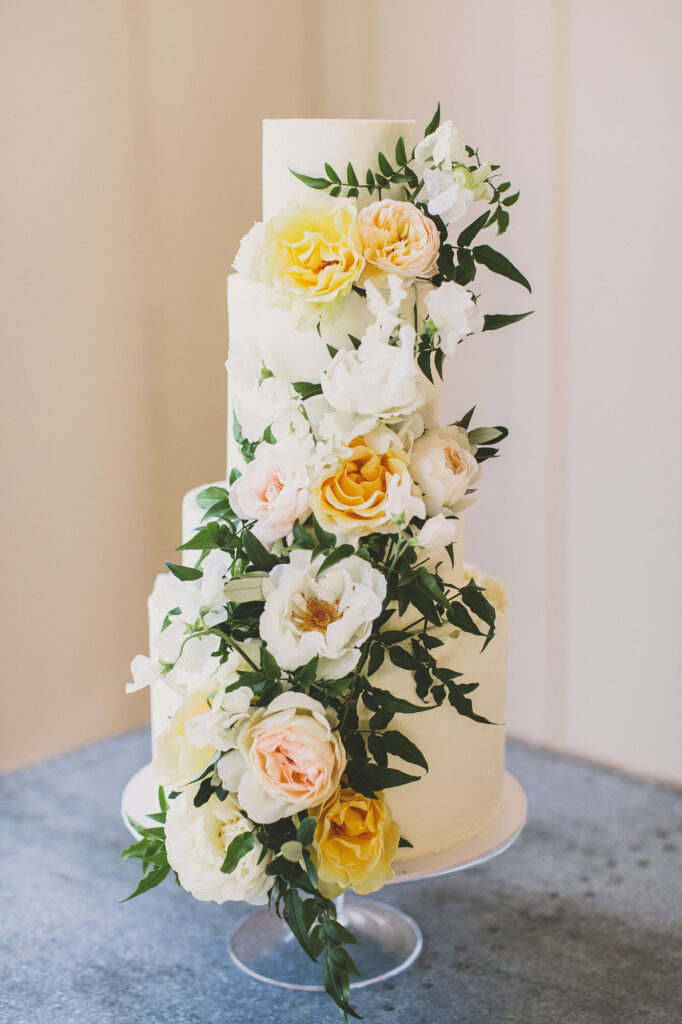 What made you create these particular looks for your photoshoot and do you have a particular favourite or favourites?
I am inspired by so many different elements when designing centrepieces for our couples. These include: Seasonal, fresh produce; the beauty of the natural world and its tones, colour palettes and textures; the relaxed movement of soft foliage and the subtle beauty and natural cascade of flowers in bloom; and of course, most importantly, couples themselves and their stories.
Each wedding cake and macaron tower featured in the shoot celebrates our unique style; at once creative, unique, irresistibly elegant, mouth-wateringly delicious and thoughtfully designed.
Our contemporary classic aesthetic underpins each wedding cake and macaron tower. Traditional tiered wedding cakes for example have a modern feel with tiers of varying heights, carefully crafted from soft, light sponges and smooth, whipped buttercream, rather than fruit cake and sugar paste. Similarly, deliciously fragrant macarons, a French classic, are filled with indulgent Belgian white chocolate ganache and tower in a contemporary ombré cascade, perfectly complimented by soft, silk ribbon.
It is hard to choose a favourite design, but I love this organic three-tier Madagascan vanilla wedding cake, featured by British Vogue this October.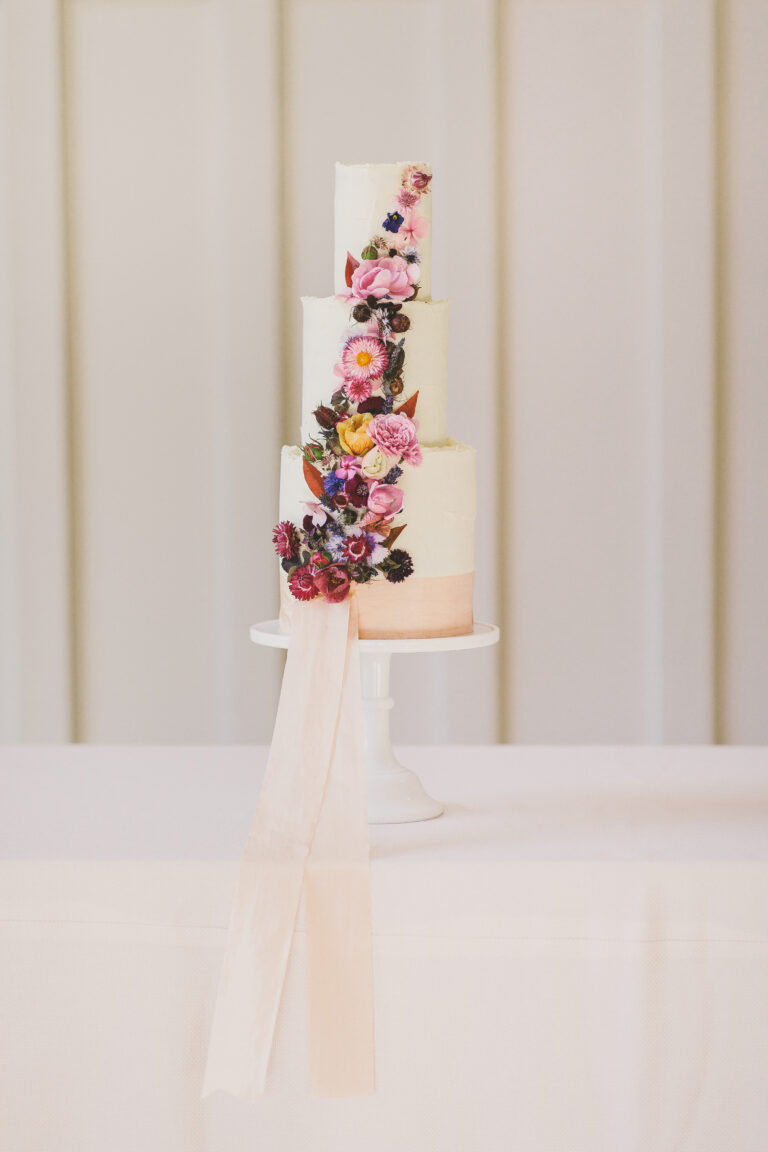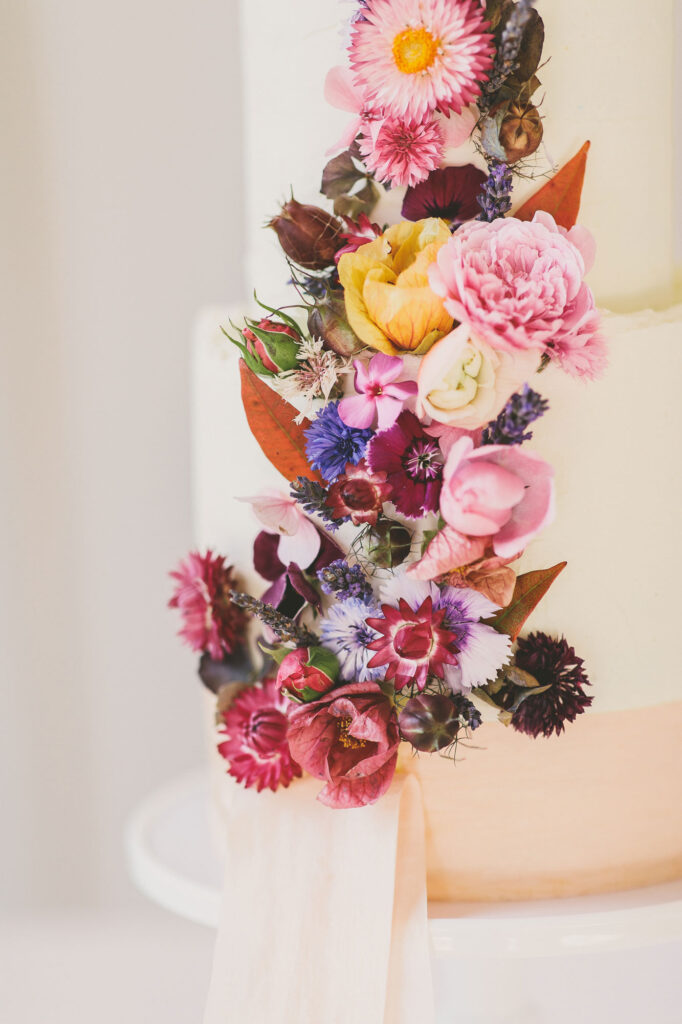 One of the ways to make your cake or macaron tower a true centrepiece is by extending its lines beyond where you would expect them to traditionally finish, encouraging the eye either higher or lower than it would usually look.
This design does this beautifully, with the delicate, soft ribbon by Eden Blooms adding a touch of subtle, contemporary elegance. By letting the ribbon drape delicately over the edge of the table, the long, tall lines of the cake are naturally elongated. It looks as striking, if not more so, from a distance, and works especially well as the width of the ribbon balances the height of the cake.
I also love the gently textured buttercream ruffles around the top of each sponge, the extra tall tiers, and the intriguing fresh flower cascade. It really is a design that captures the eye and draws you in, just like a piece of art, and I loved working with Hazel of Eden Blooms to bring it to life.
My other favourite design from the shoot is our Callebaut Belgian chocolate wedding cake. It is the perfect size for a smaller gathering of loved ones, and its combination of different height tiers is striking. I also love the contrast of the jewelled tones of its fresh flowers against the smooth chocolate buttercream finish, reflected beautifully by its gold mirror base; such a beautiful and simple way to elevate your cake. It also smelled absolutely amazing!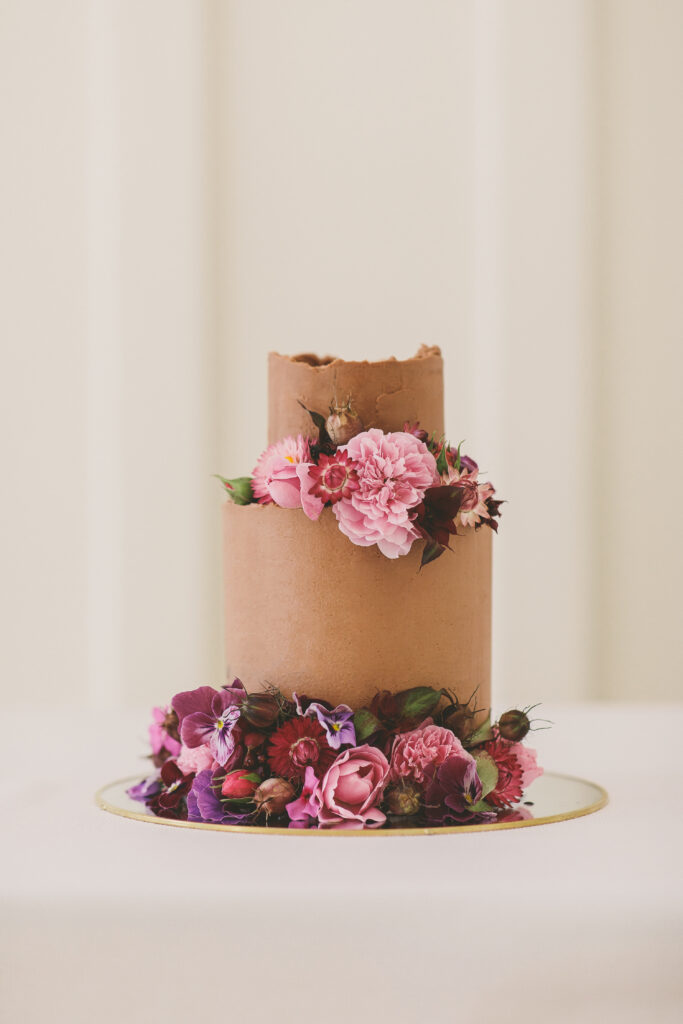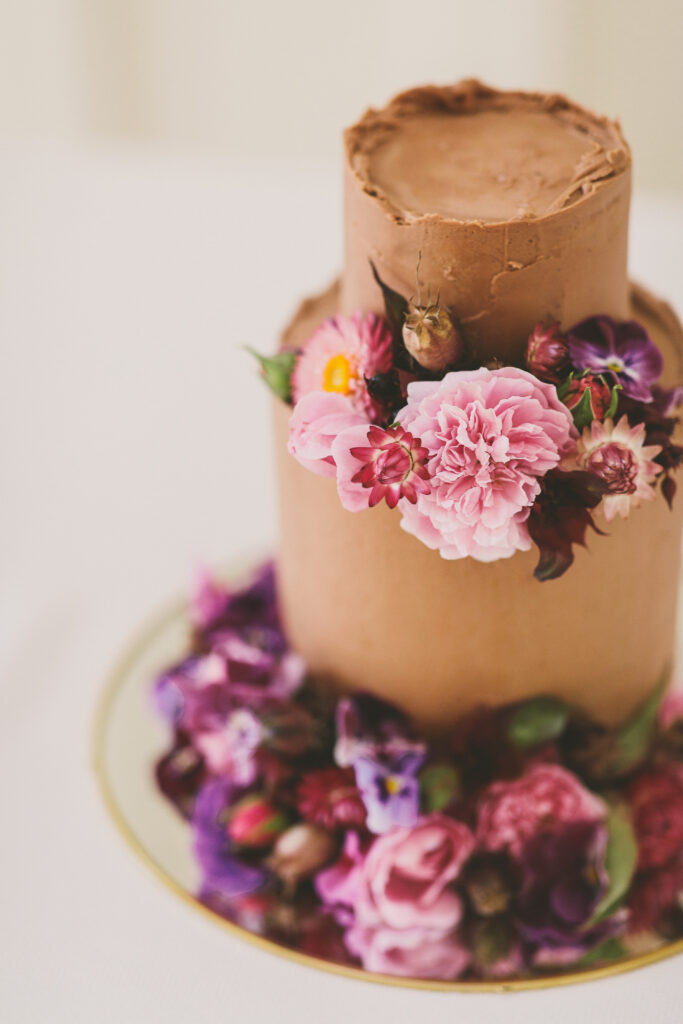 Tell us about the other suppliers that you collaborated with?  
I loved working with Hazel Shaw of Eden Blooms and Anna and Simon Clarke of We Are // The Clarkes on the shoot.
Hazel is an extremely talented and experienced florist, and her Hampshire cutting garden is exceptionally beautiful, brimming with seasonal flowers and foliage. Hazel's work is truly stunning, and I cannot recommend her highly enough.
Anna and Simon are based in Warwickshire, and produce creative, fun, joyful and honest images and films. Their relaxed approach and light, natural style was perfect for Scrumptious Bakes, and I love how evocative each of the images are. I very highly recommend them too.
We were also grateful to Just 4 Linen, whose beautiful linen and napkins helped to create the perfect backdrop for each shot.
Why was Millbridge Court your choice of location?
Millbridge Court is a truly beautiful space, filled with natural light. Its high-vaulted, airy halls with floor-to-ceiling windows and rustic wooden beams provide a stunning neutral backdrop, and the possibilities for styling are endless. Its picturesque surroundings, with lush, green fields, a wildflower meadow and a hidden fern garden create lots of opportunities for photos, and their warm service and can-do attitude echoes our own approach.
Finally, we love how their spaces are designed with current trends in mind whilst respecting the spirit of the past, in much the same way that our fresh and modern designs connect with our traditional baking heritage.
Thank you for hosting us Millbridge Court. We hope to see you soon!
… and here are more of Emma's show-stopping Cakes captured by We Are The Clarkes on Shoot Day!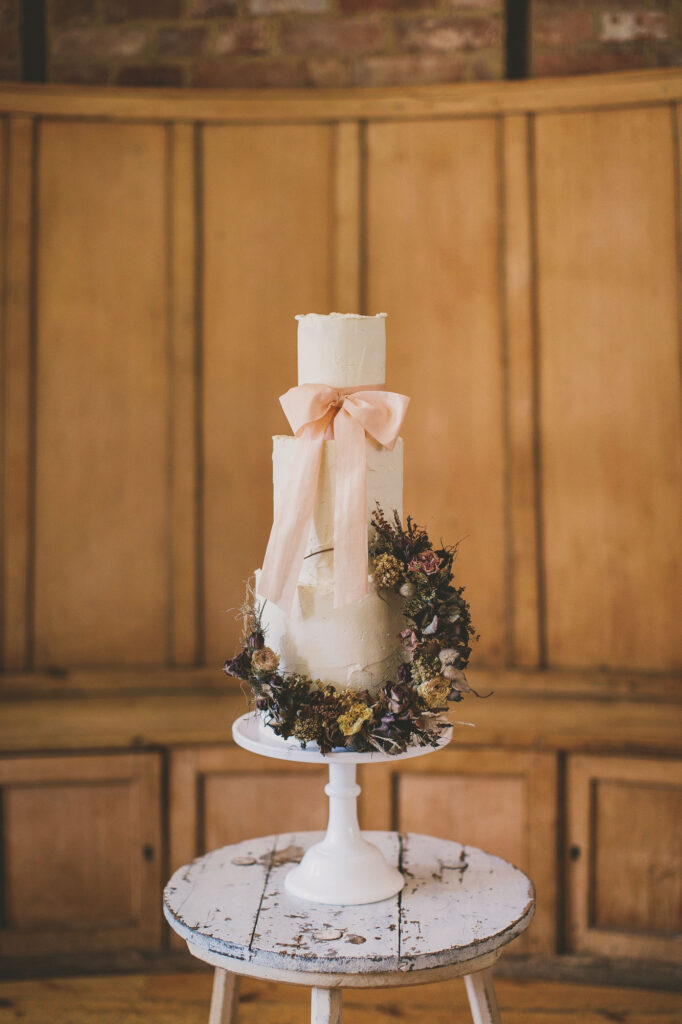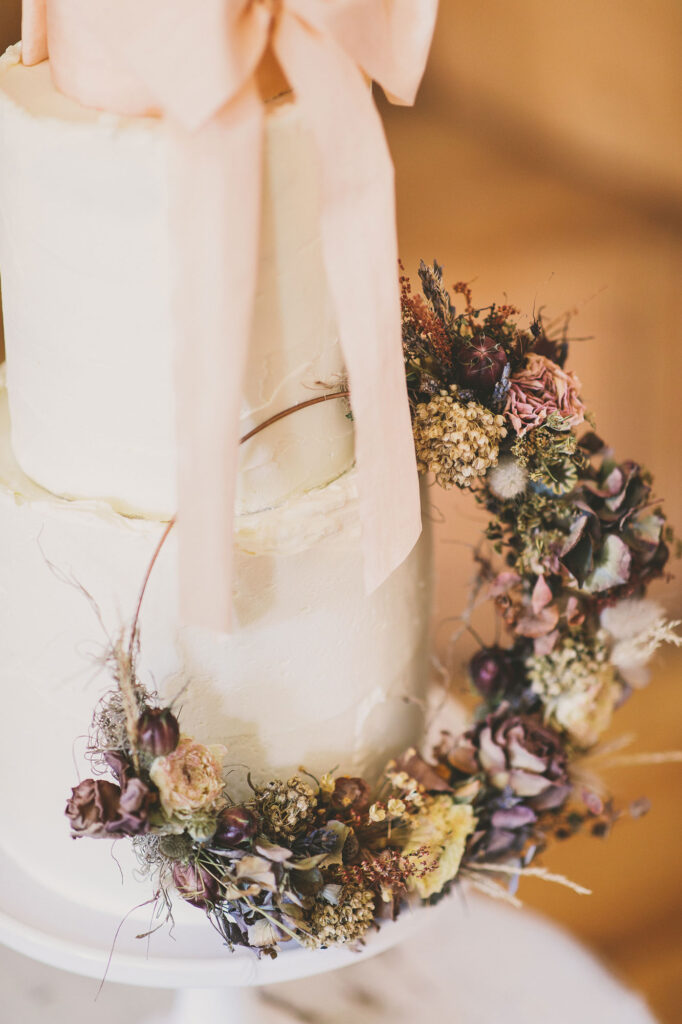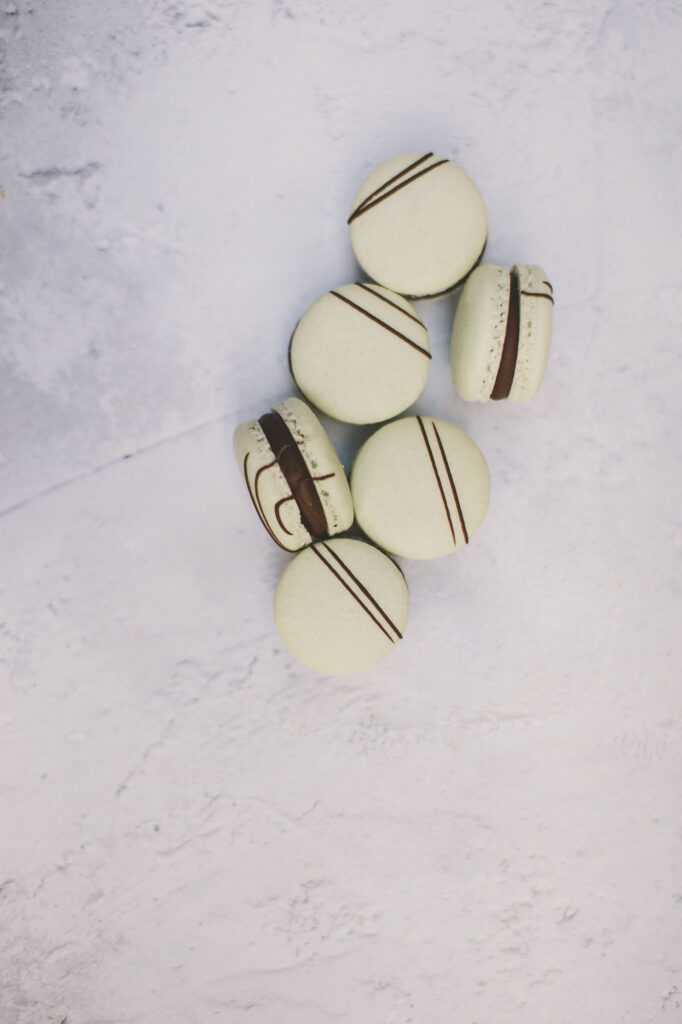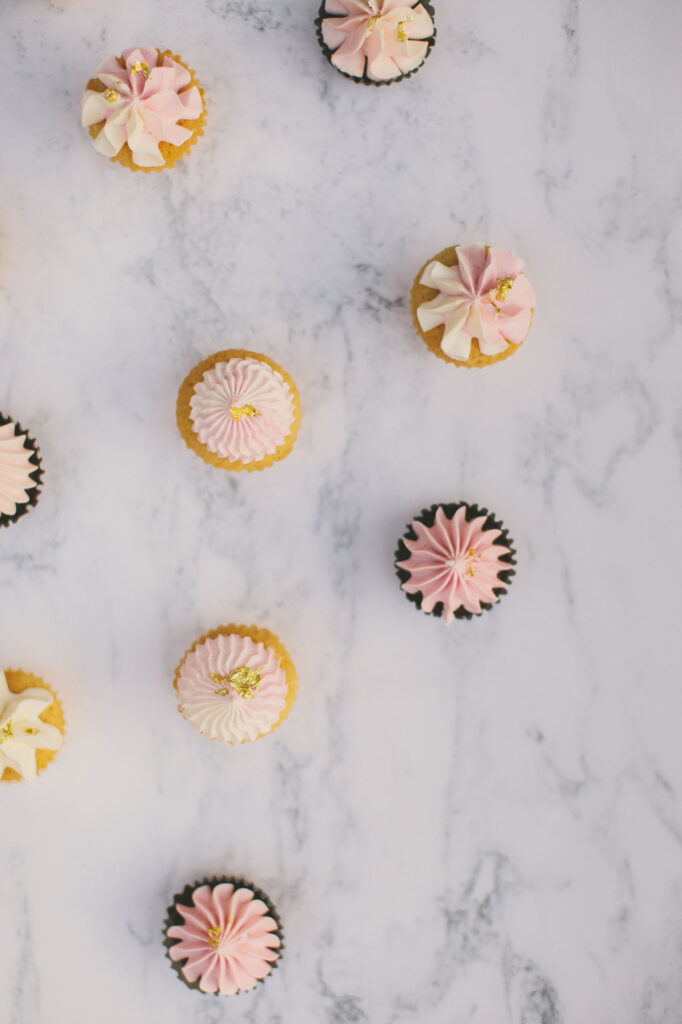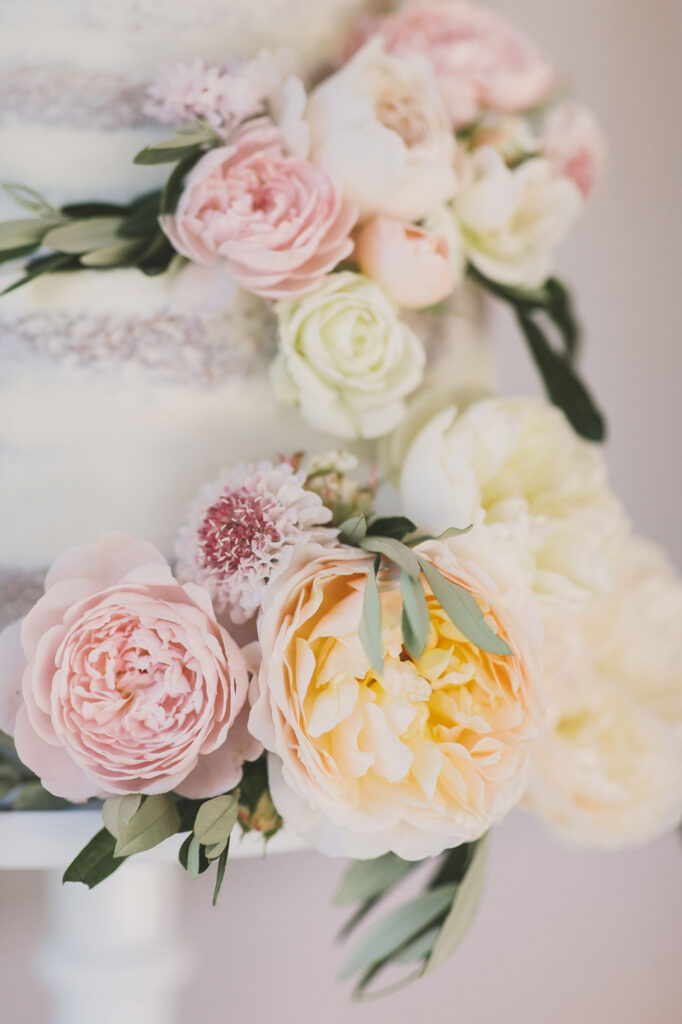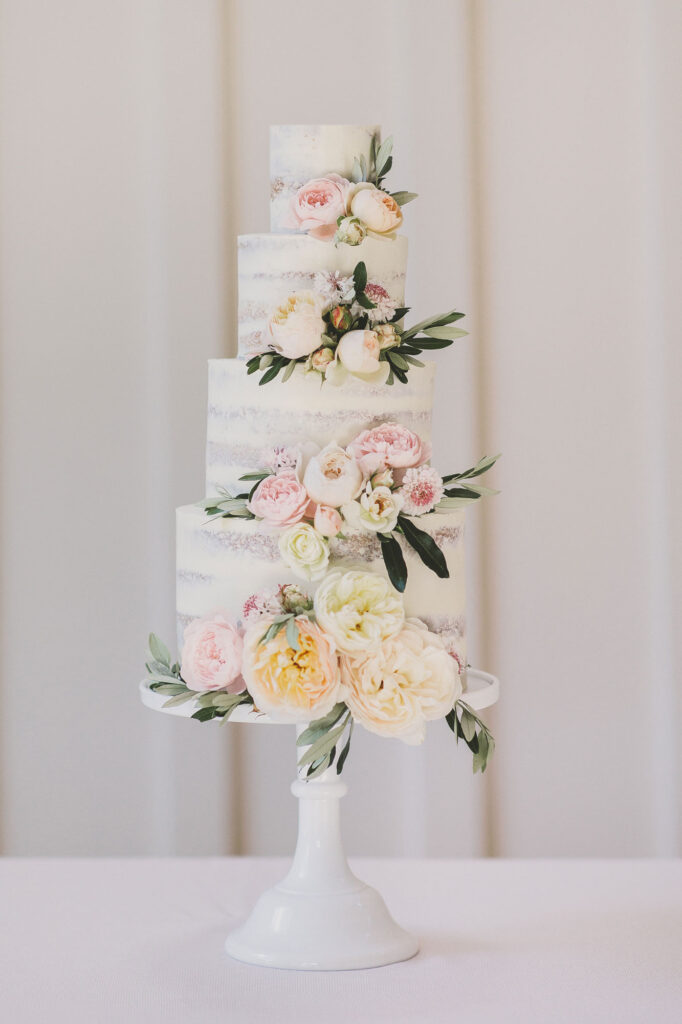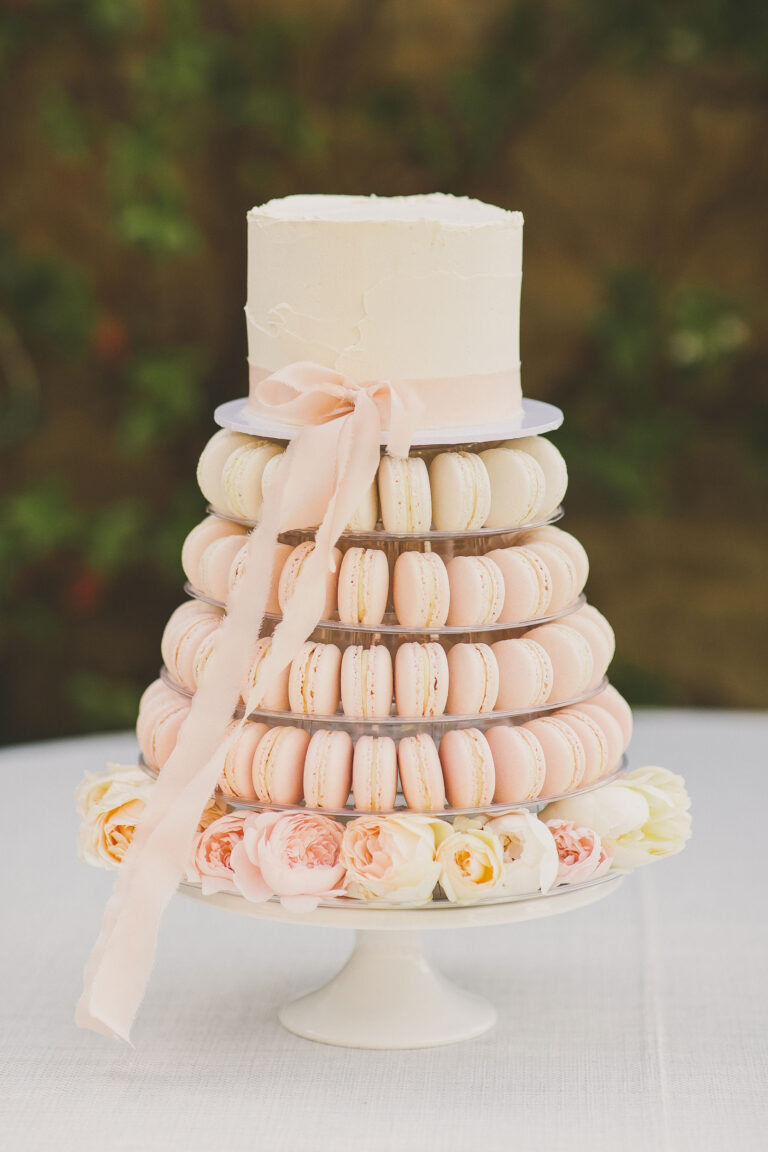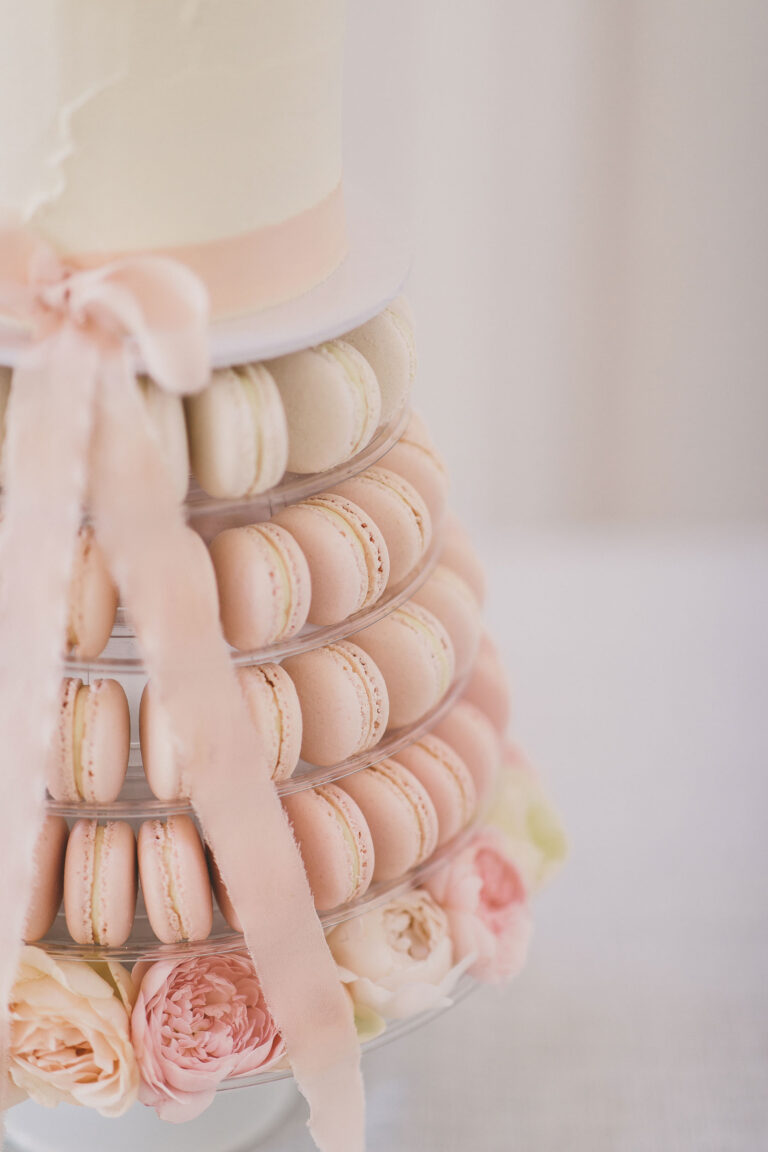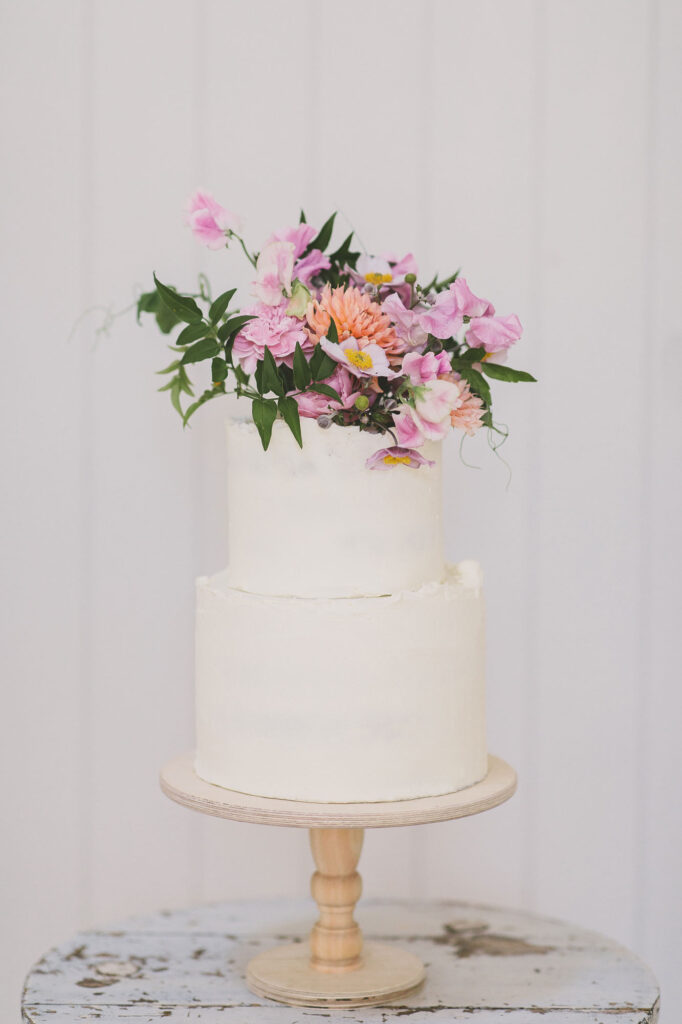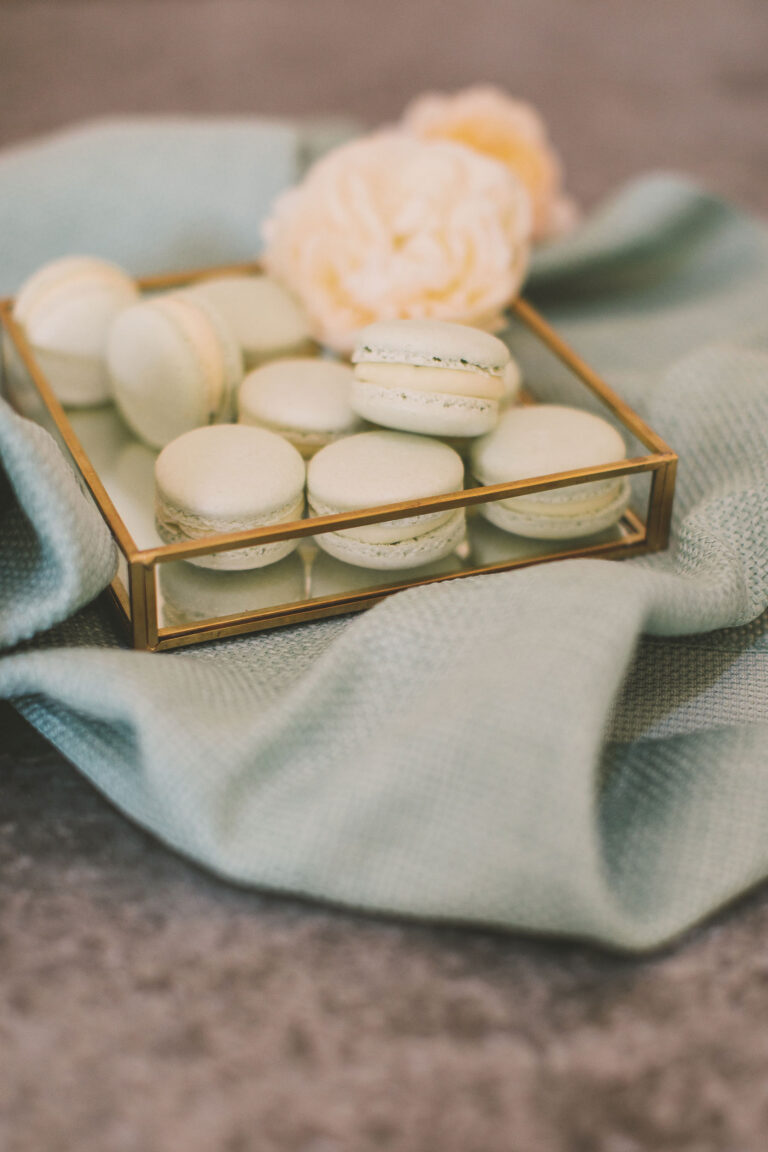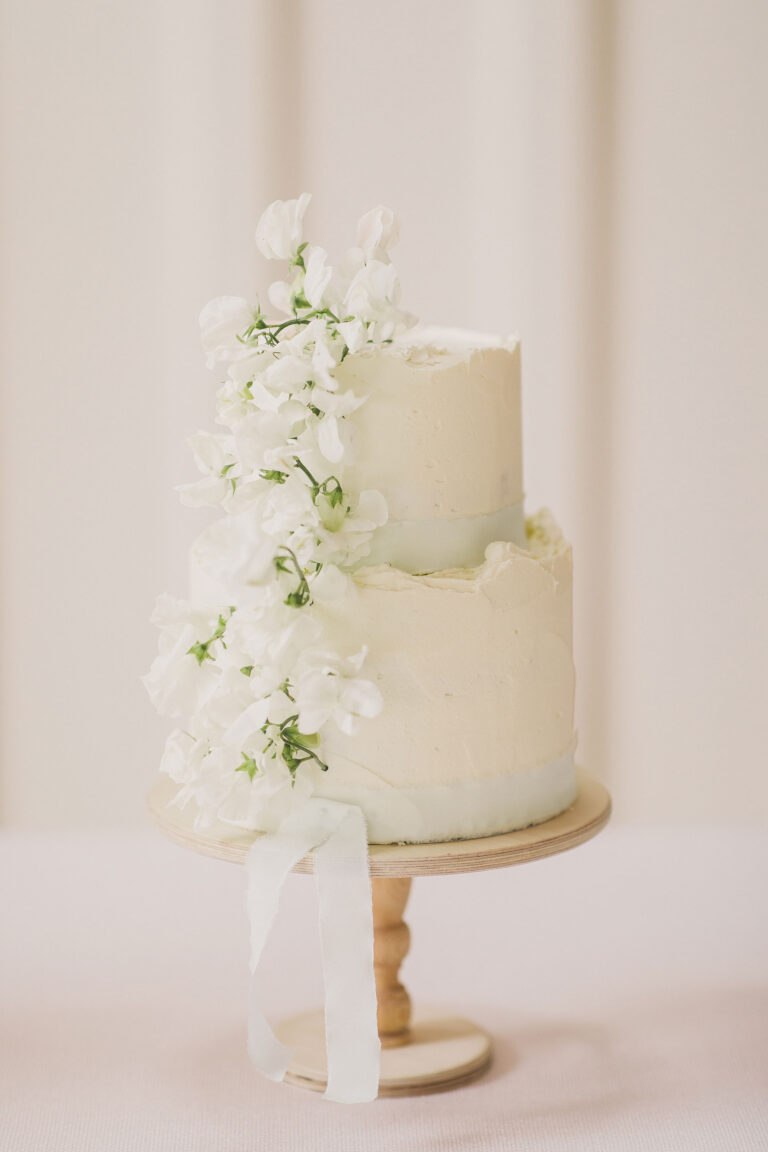 News : 07 / 09 / 20
Contemporary, Bright & Beautiful Photoshoot at Millbridge Court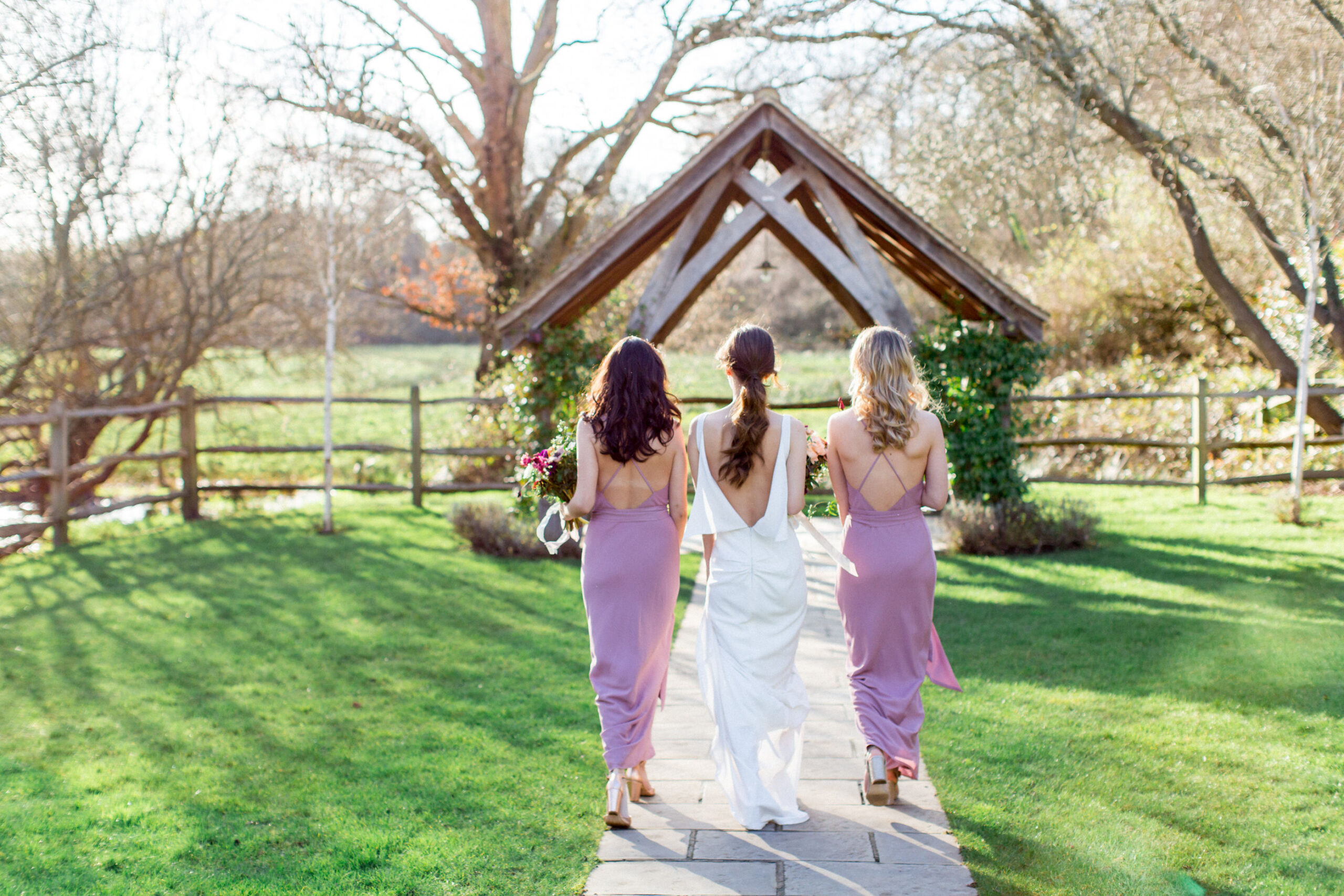 Earlier this year, we had the pleasure of hosting a super stylish Styled Photoshoot which was conceptualised, organised and designed by Wedding Planner, Natalie Ellen, who teamed up with a host of incredible Suppliers who helped bring her vision to life.
With the full Photoshoot recently having been featured on the hugely popular Wedding Chicks blog, we wanted to share some of the beautiful images from the day with you, alongside a chat that we had with Natalie to find out a little more about the Shoot, the collaborators, her Top Wedding Planning Tips for newly engaged Couples and much more.
Hi Natalie, tell us about you & your wedding expertise…
I'm Natalie and I'm a wedding planner at Natalie Ellen Weddings. I offer bespoke wedding planning for modern, fun loving couples, designed to match your personality and style. My clients tend to be modern couples who are veering away from tradition – they want beautiful, stylish weddings with personal touches throughout and that suits me and my style perfectly!
Can you talk us through the concept for your styled shoot and where you drew inspiration from?
This shoot was the result of a first meeting with Poppy from Poppy Wild Floral – we met for a coffee to put a face to the name and to have a good chat about what we do, and within 30 minutes we were concocting our perfect shoot together. Those first scribblings quickly evolved from 'cool floral installation in modern/stylish space with sage green' into my favourite mood board yet – Poppy created the most beautiful colour palette to work from and everything went from there – the vision became 'contemporary, playful with a little edge' and each detail was designed to bring that to life. It's always my goal to create something different to provide inspiration for contemporary couples, something people can screenshot or pin to recreate for their own wedding. That part always takes a bit more thought but it's worth it when you see the idea come to fruition on the day.
How did you choose who to collaborate with?
At any one time, I  have a wish list of suppliers I'd love to work with, whether that's for the first time or someone I keep coming back to because they're so good at what they do. This shoot was definitely a combination of the two! Working from our moodboard, I selected suppliers who I knew could nail the brief and add their own creative touches. It's so important to bring on board people who not only 'get' the vision, but creative experts who see what you're trying to achieve and go that one step further. Getting the team right is the hardest part of the planning, but it's incredible seeing everyone come together on shoot day!
What made you choose Millbridge Court as the location for your beautiful Photoshoot?
Millbridge Court has been one of my favourite wedding venues for years! The contemporary style of the space is right up my street and I love how versatile the venue is – there are so many different areas couples can utilise throughout the day, whatever the season! It was a no-brainer to style our ceremony space in front of the beautiful tall windows where natural light beams into the room, those windows alone are such a selling point for couples visiting the venue!
Every element of the shoot came together so perfectly, what advice would you give to couples who want to make sure all of the different aspects of their day are cohesive?
It can be so difficult to take a step back to see the whole picture when you're planning all the little elements of your wedding, but my advice to couples would be to not let the little things overwhelm you. Always start with an overall vision of what you're trying to achieve and with each decision, reflect back on your Pinterest board or moodboard and think 'does this fit with what I want our day to look/feel like?' You might find that the answer is no, but if you LOVE an idea then you can absolutely adjust your vision to suit – use it as a guide but don't let it stress you out if you go a little off piste. It's your day!
Are you seeing any trends emerging for 2021-2022 weddings?
This is a tricky question to answer right now because we're potentially talking about a post-coronavirus environment. As we continue getting used to this strange situation we've found ourselves in, I've noticed people really prioritising quality time with their loved ones – it's saddened me so much that people have had to dramatically reduce their guest numbers but it's seen a rise in truly beautiful intimate ceremonies and I think some couples have started to consider a smaller celebration as a result.
In terms of design trends, I'd say we're definitely seeing a steer towards what I'd call 'the new pastel' – brides are opting for dusky pinks, sage greens and subtle peach tones in their bouquets, with plenty of beautiful foliage to add a natural, wild feel to their day.
I'm hearing more and more couples talk about the desire to go local with flowers & produce, with many actively trying to create a more sustainable and environmentally friendly day, whilst also supporting smaller local businesses after such a hard hit this year.
Perhaps not so much a 'trend' but something I've really noticed in planning weddings for next year is that couples are less afraid of shunning traditions and doing things their own way – whether that's a favourite food van instead of a sit-down dinner or a joint speech from the bride & groom, this is something I love as I think it's so important to really personalise your day!
What are your 3 Top Tips for planning a successful Wedding?
Firstly, always remember this is your day and it should reflect you as a couple. Forget what you 'should do' and focus on what you really want!
Secondly, planning a wedding is hard work! Accept help from friends and family or consider bringing on board a wedding planner to make it a stress-free process.
Lastly, take inspiration from everywhere – interior & fashion trends, the seasons, places you visit, foods you love. And remember to think of all the senses! Scent in particular can evoke such strong memories so think about finding a special wedding scent, or dotting your favourite candles around the venue. Those smells will always bring you back to your big day!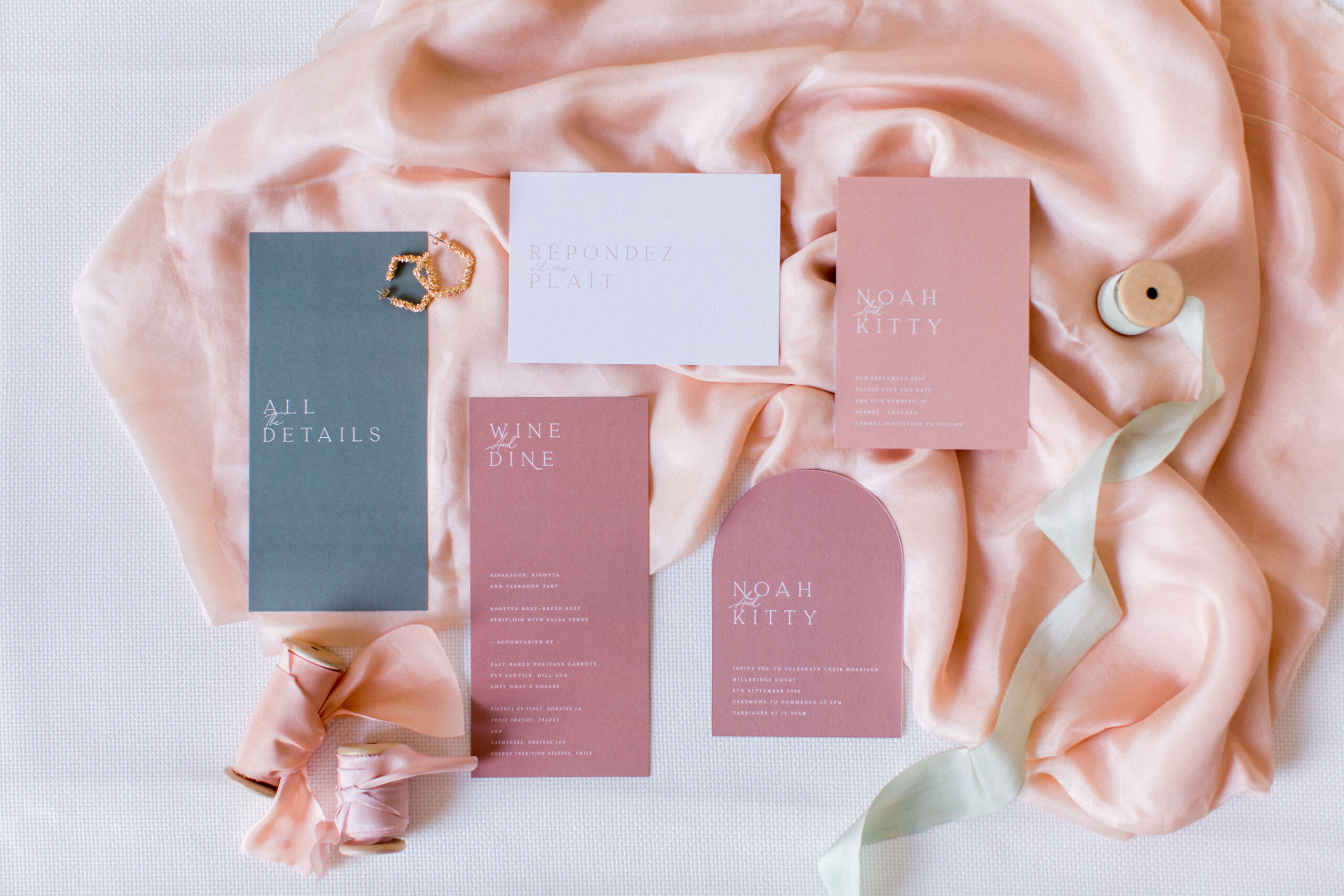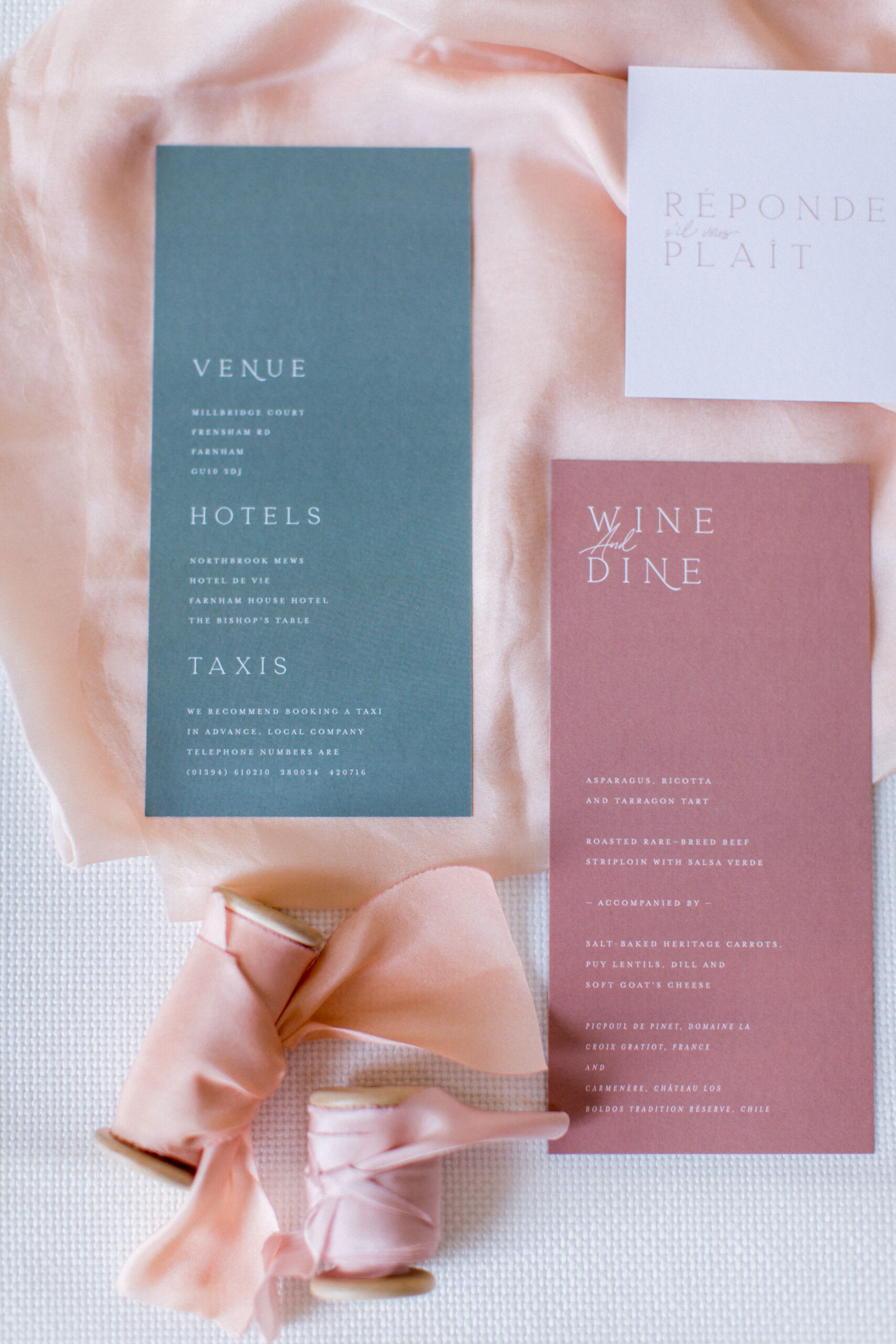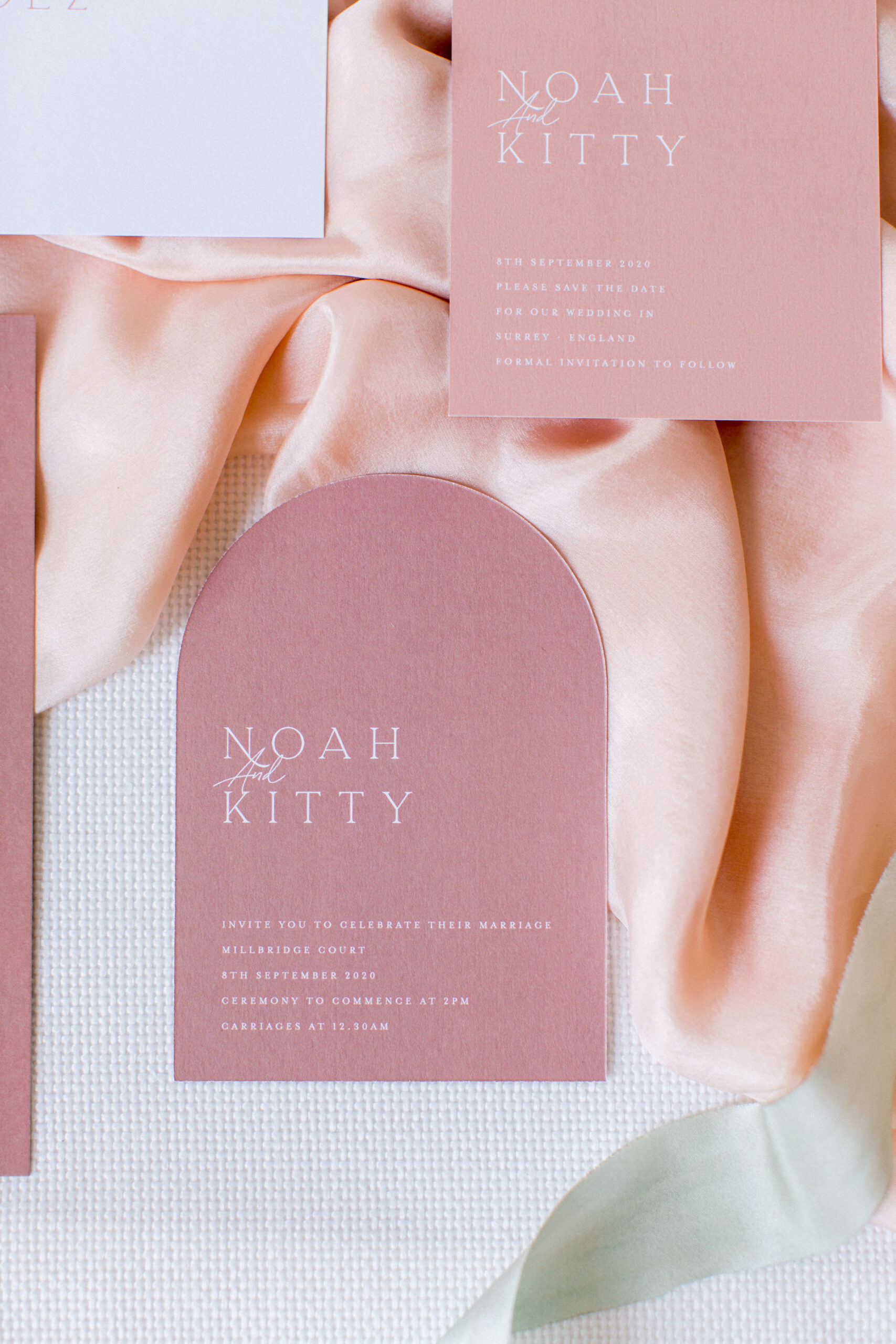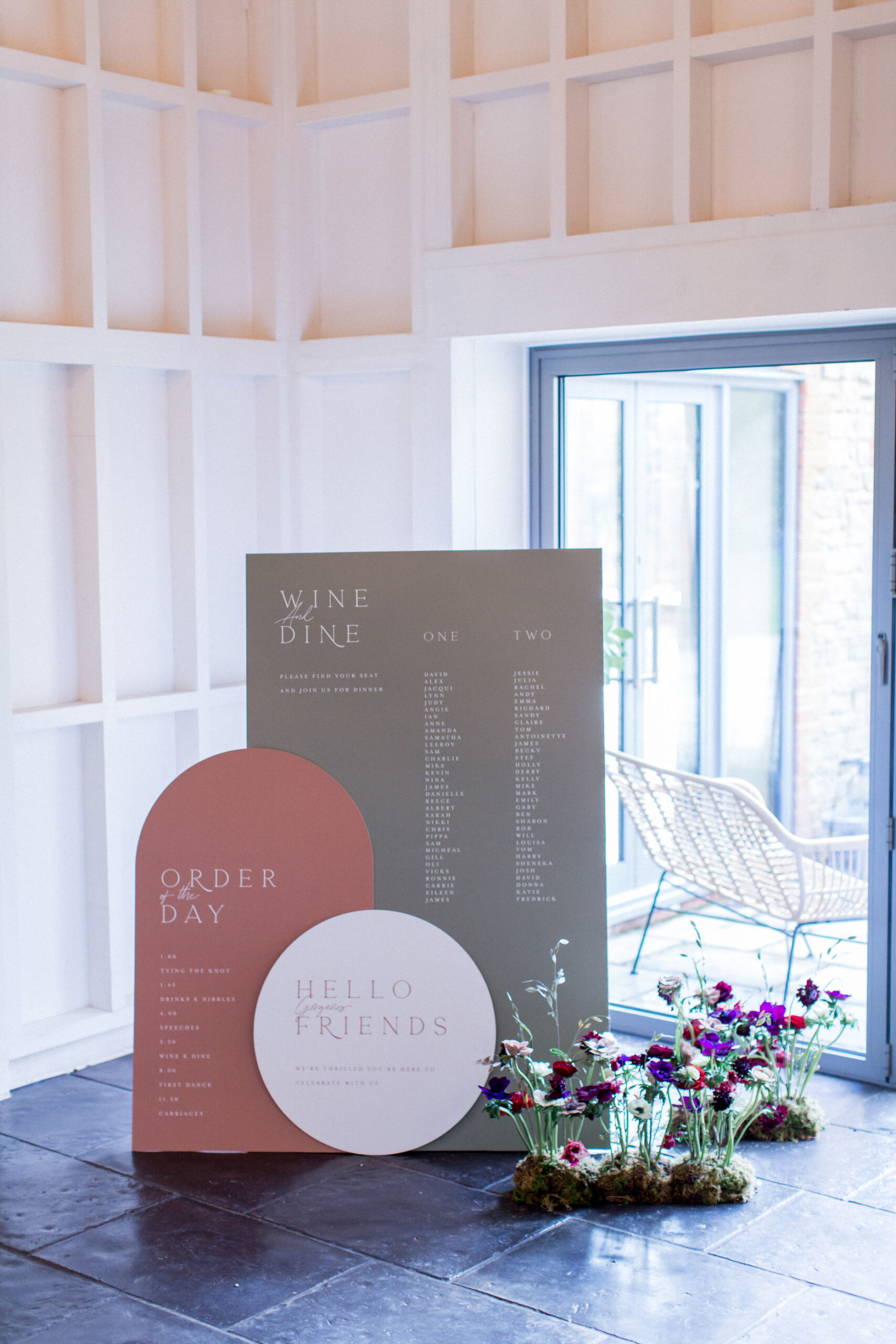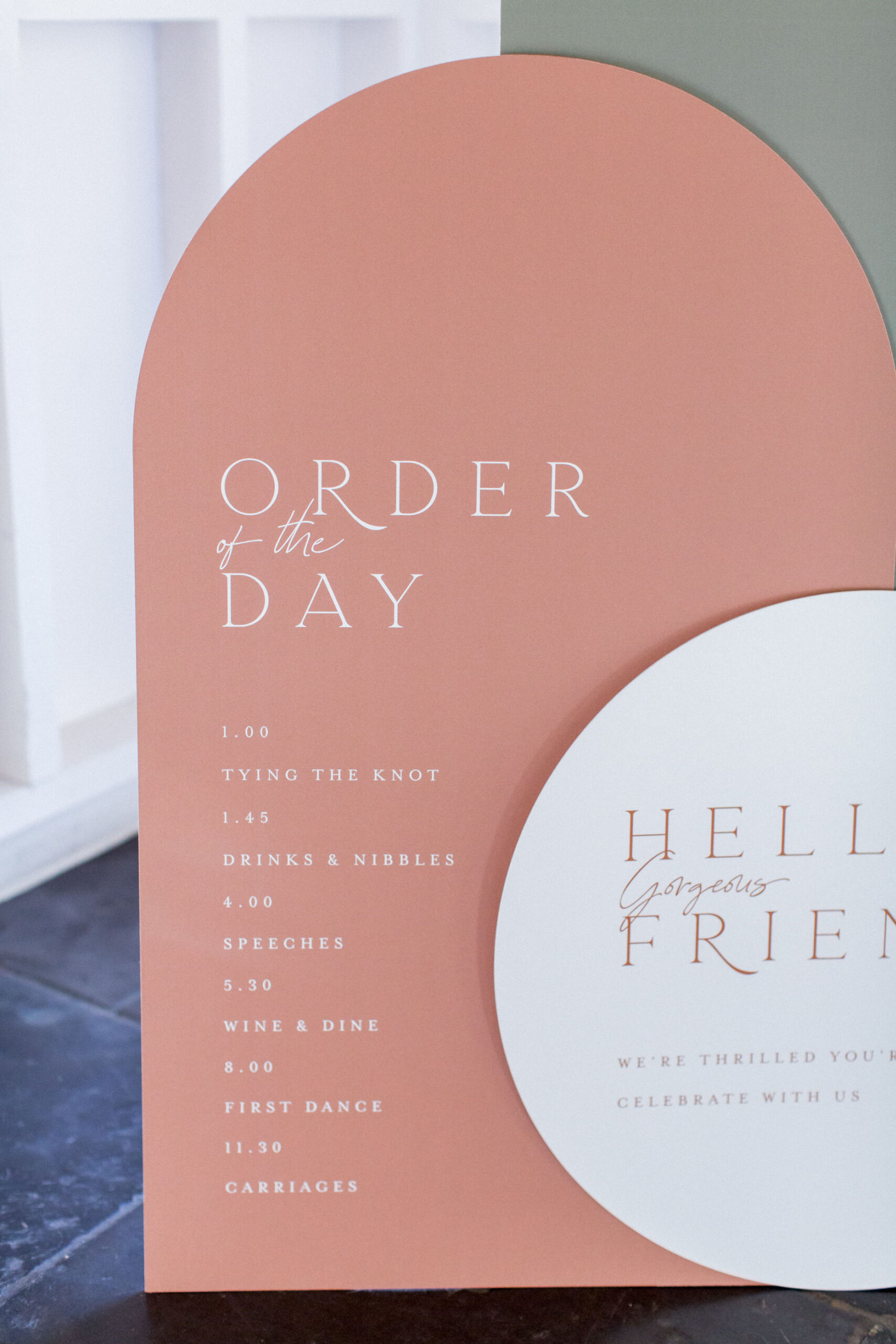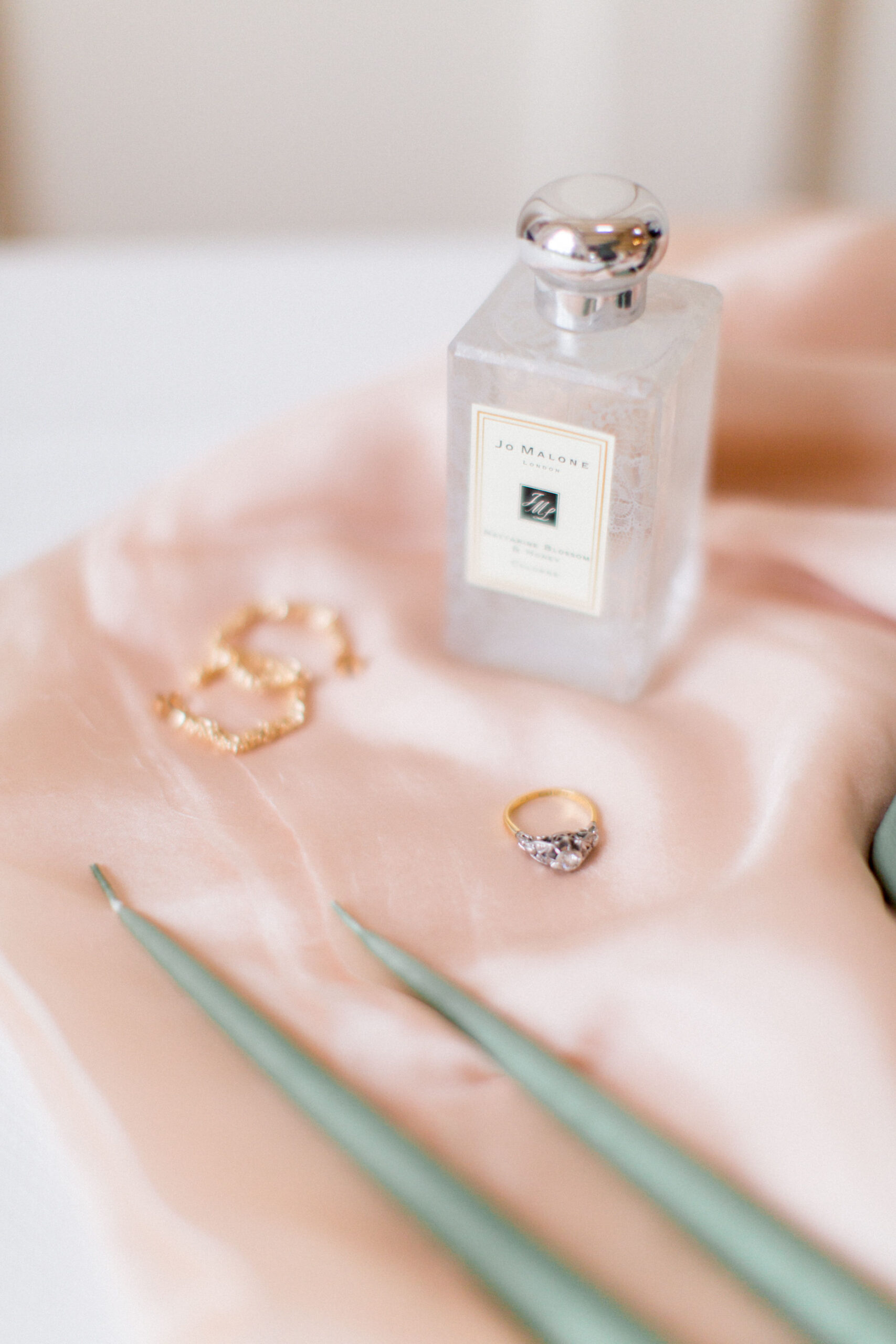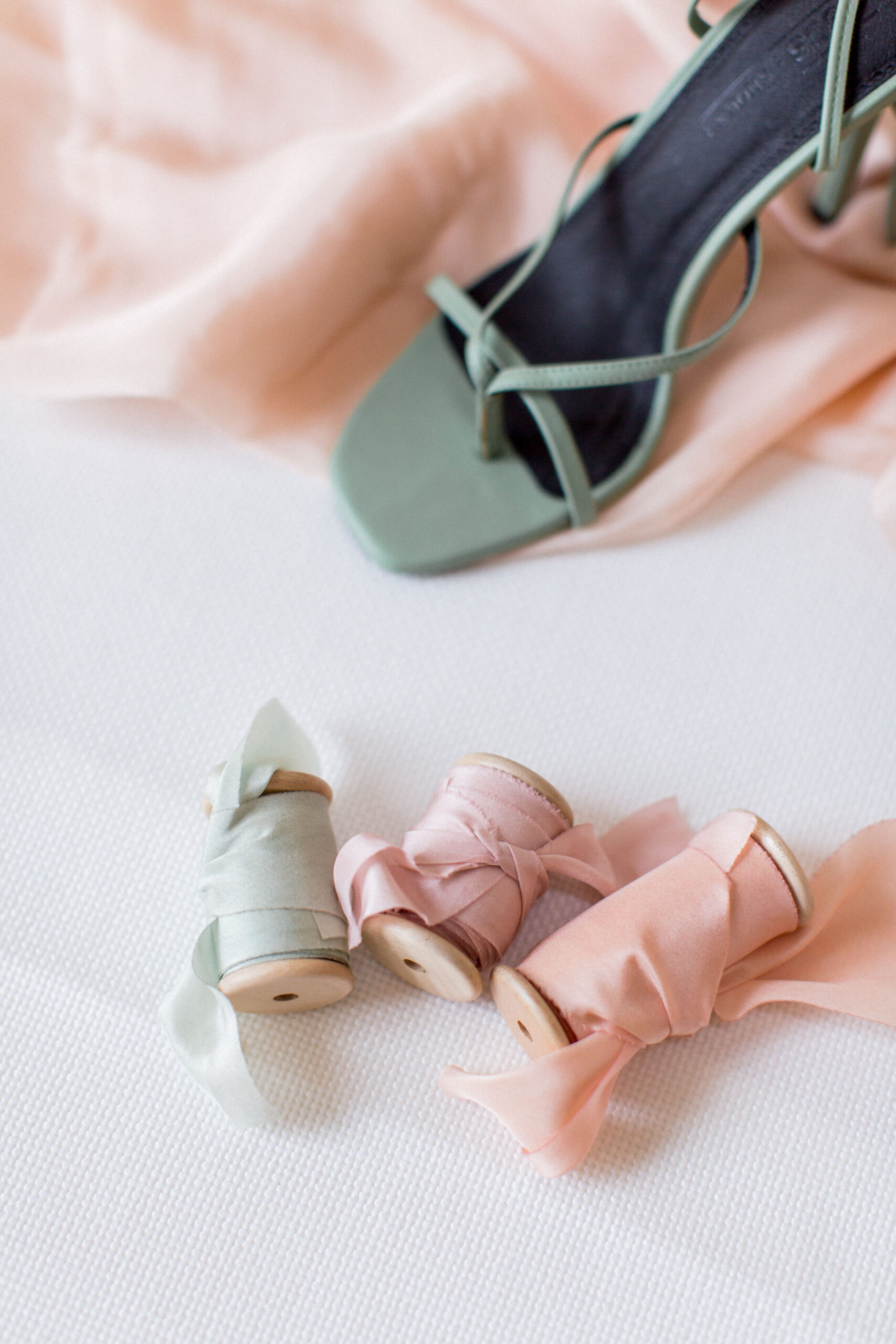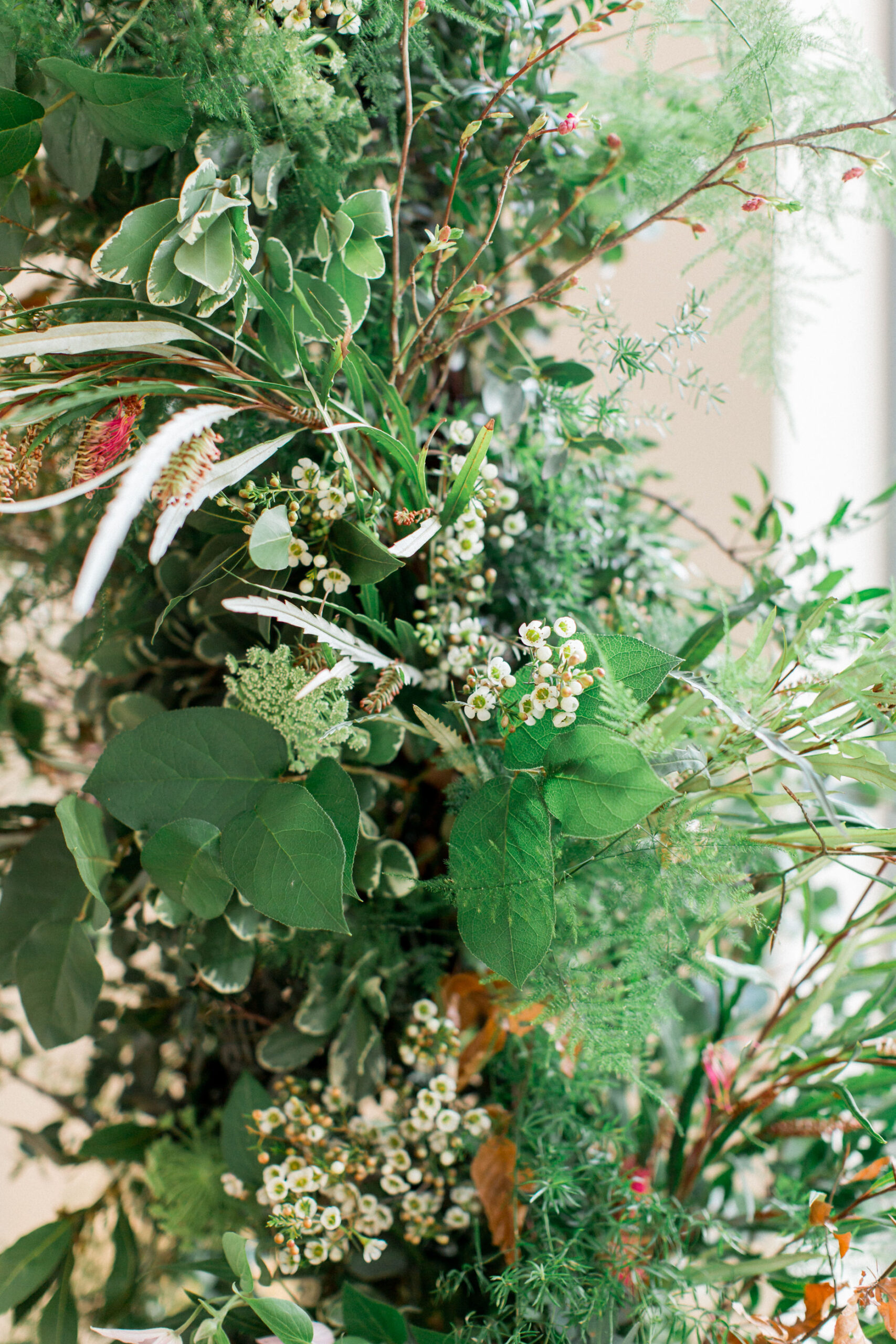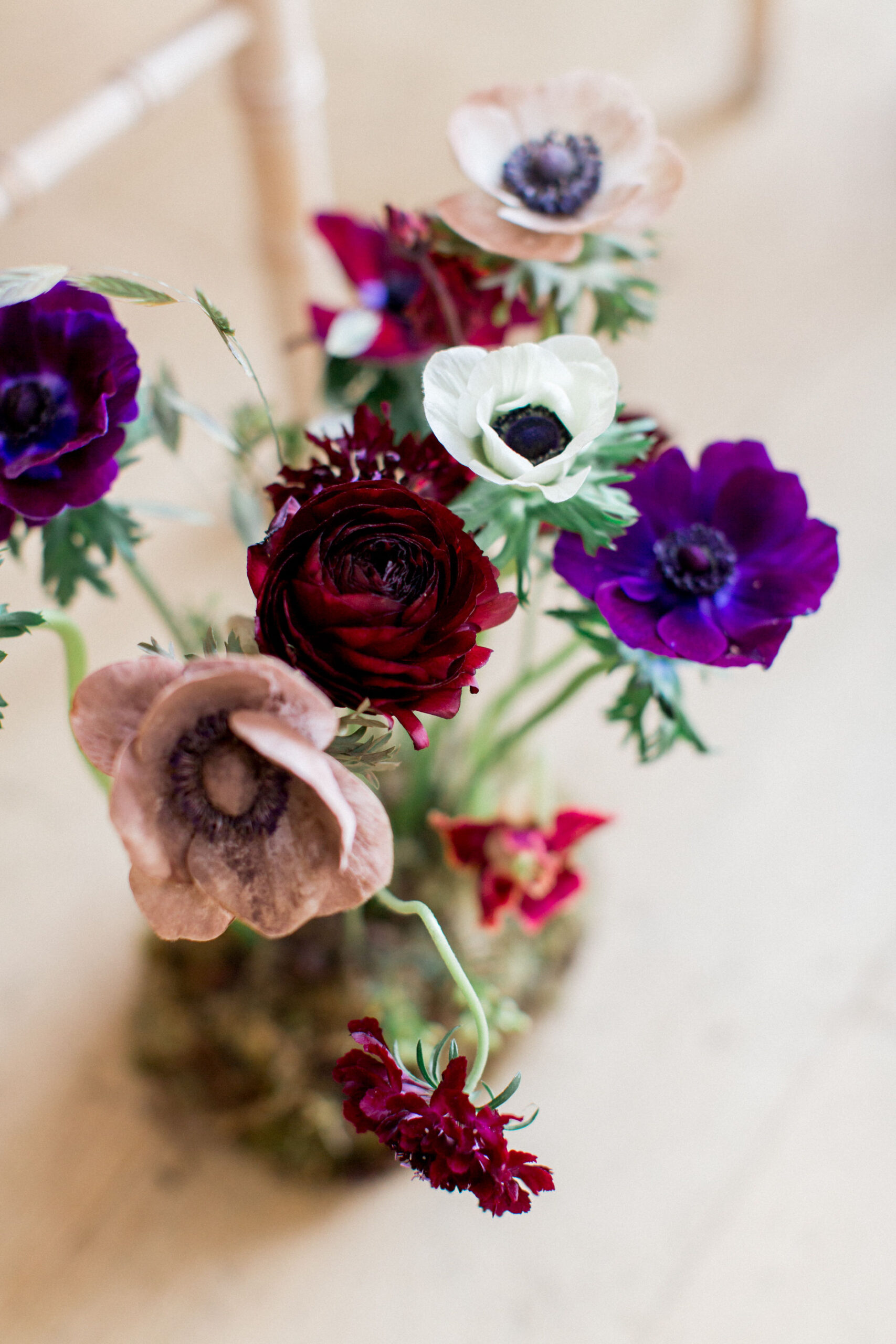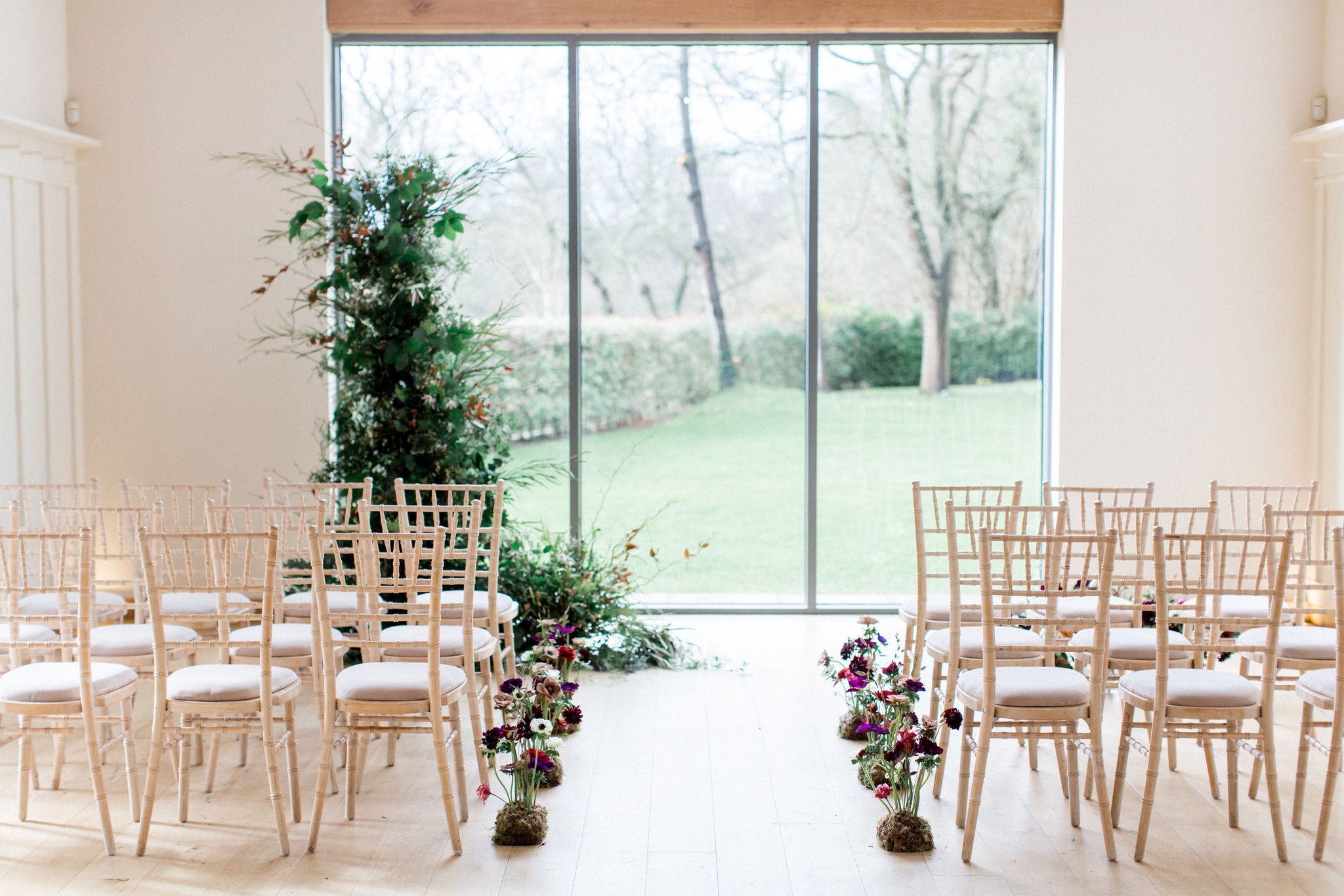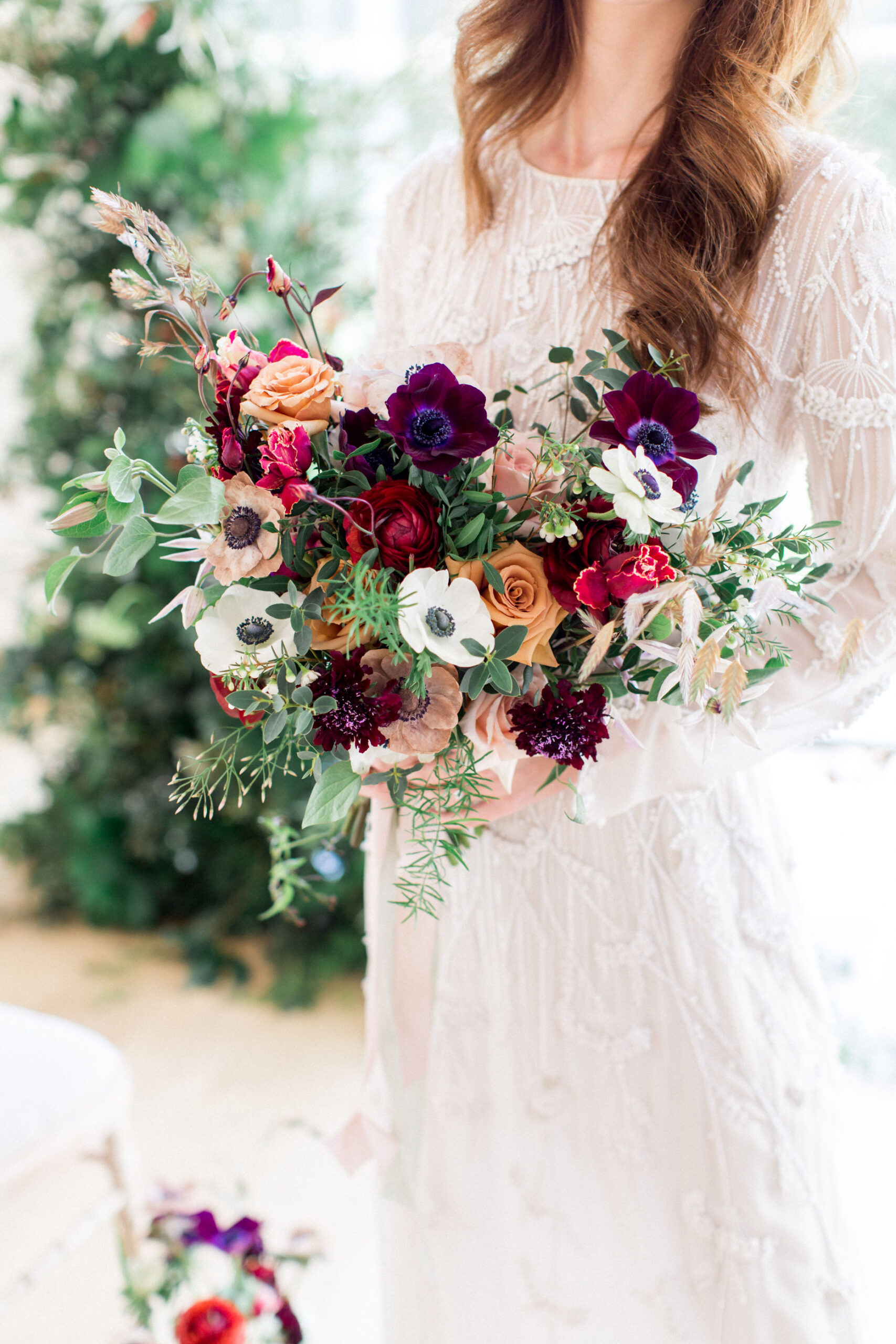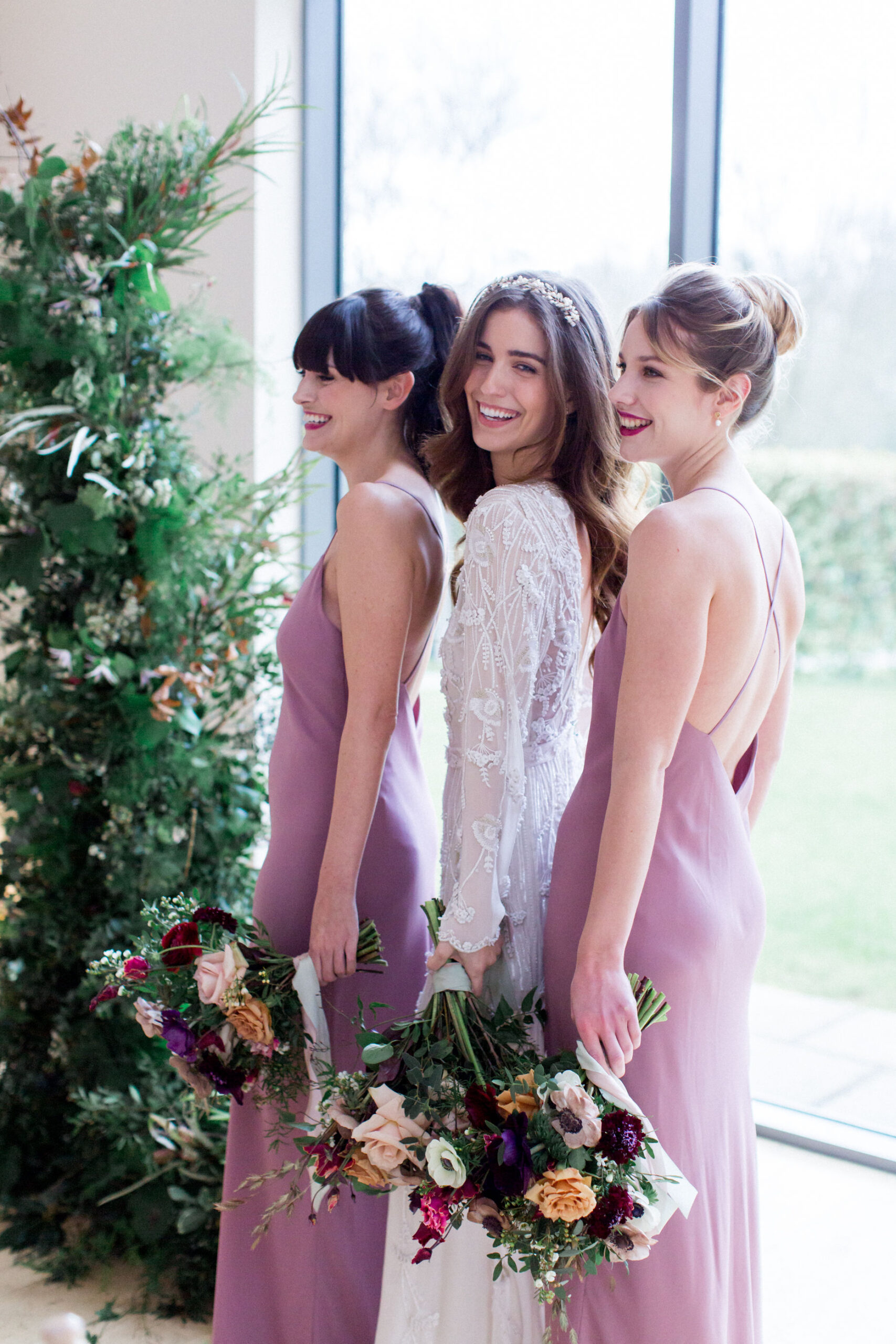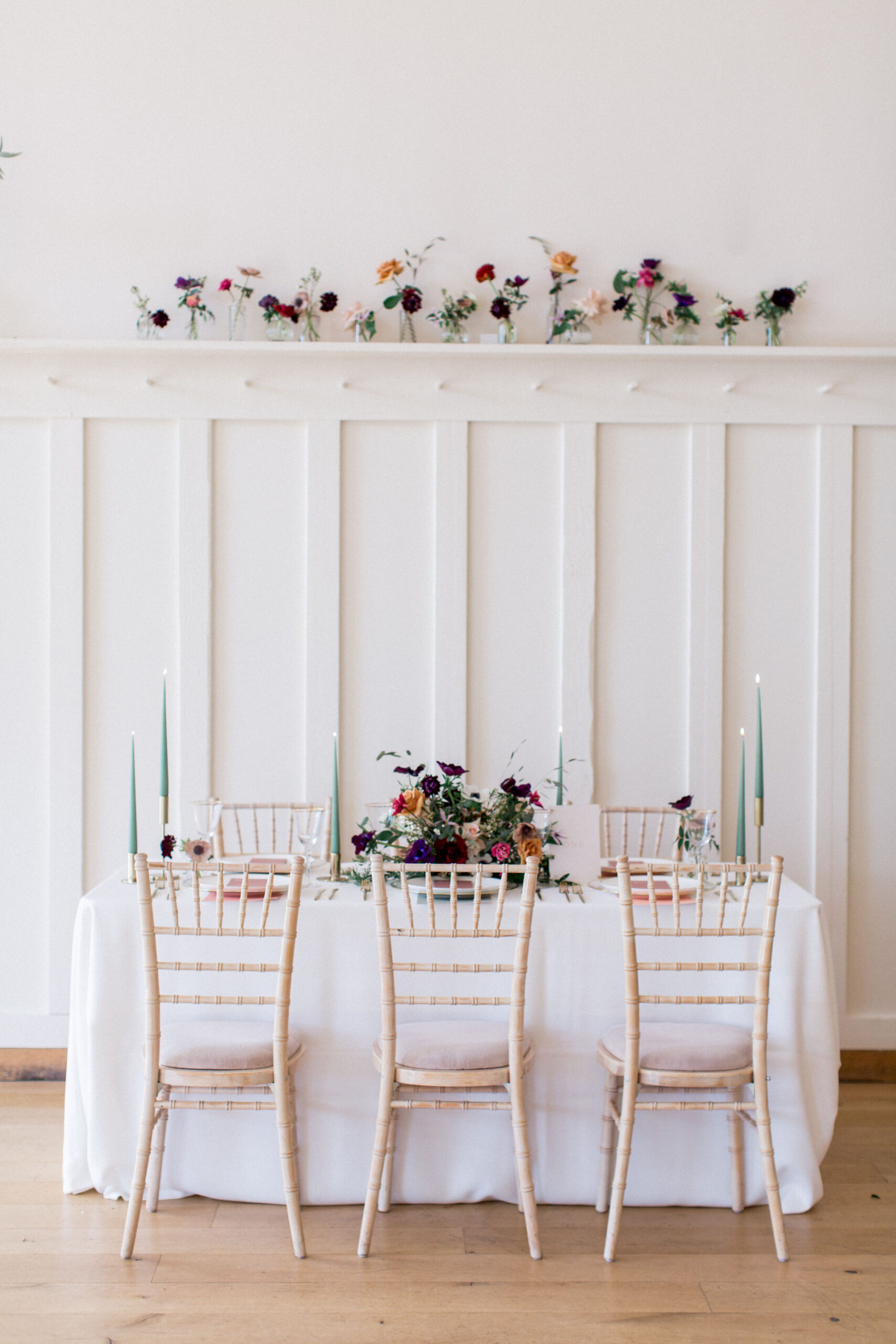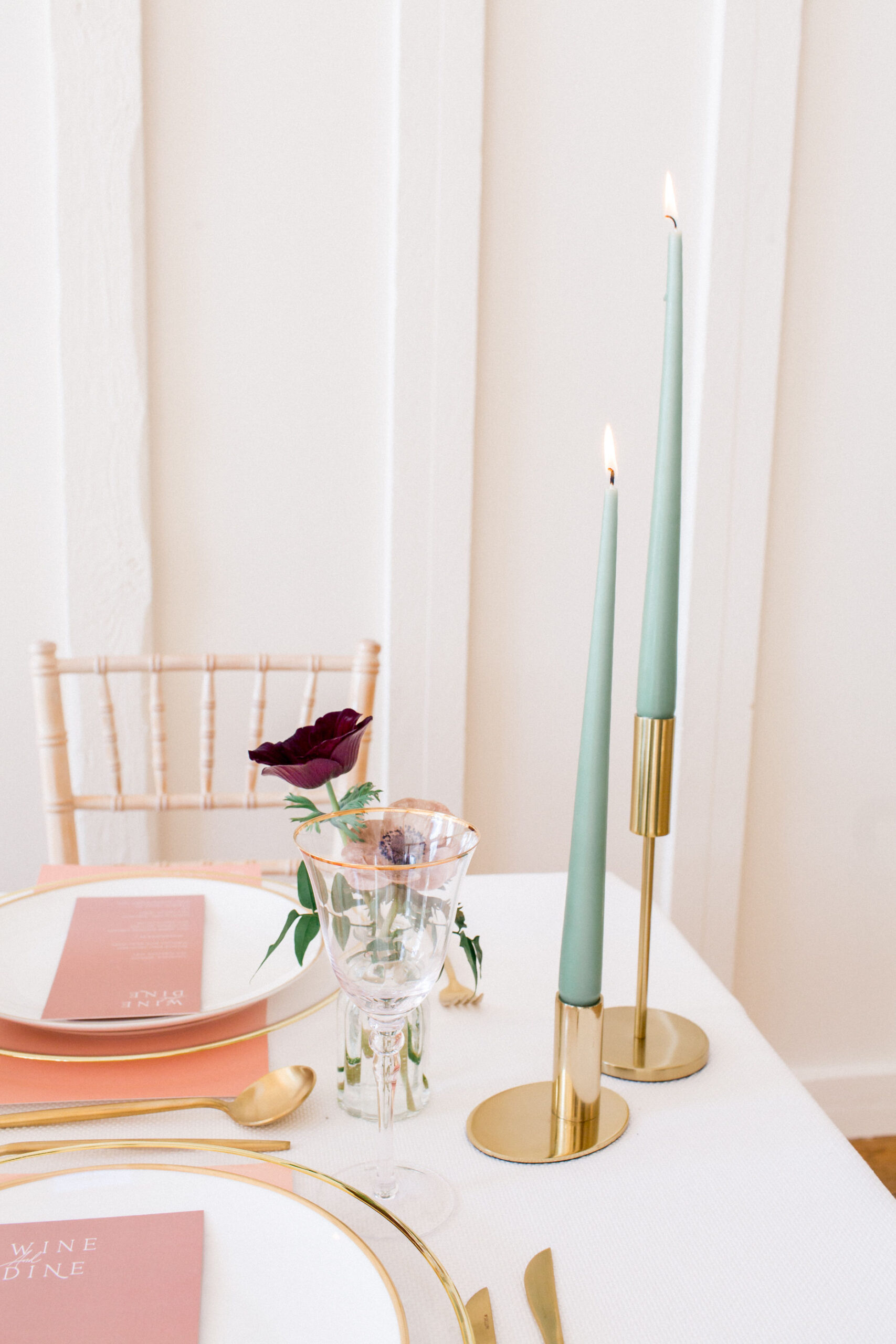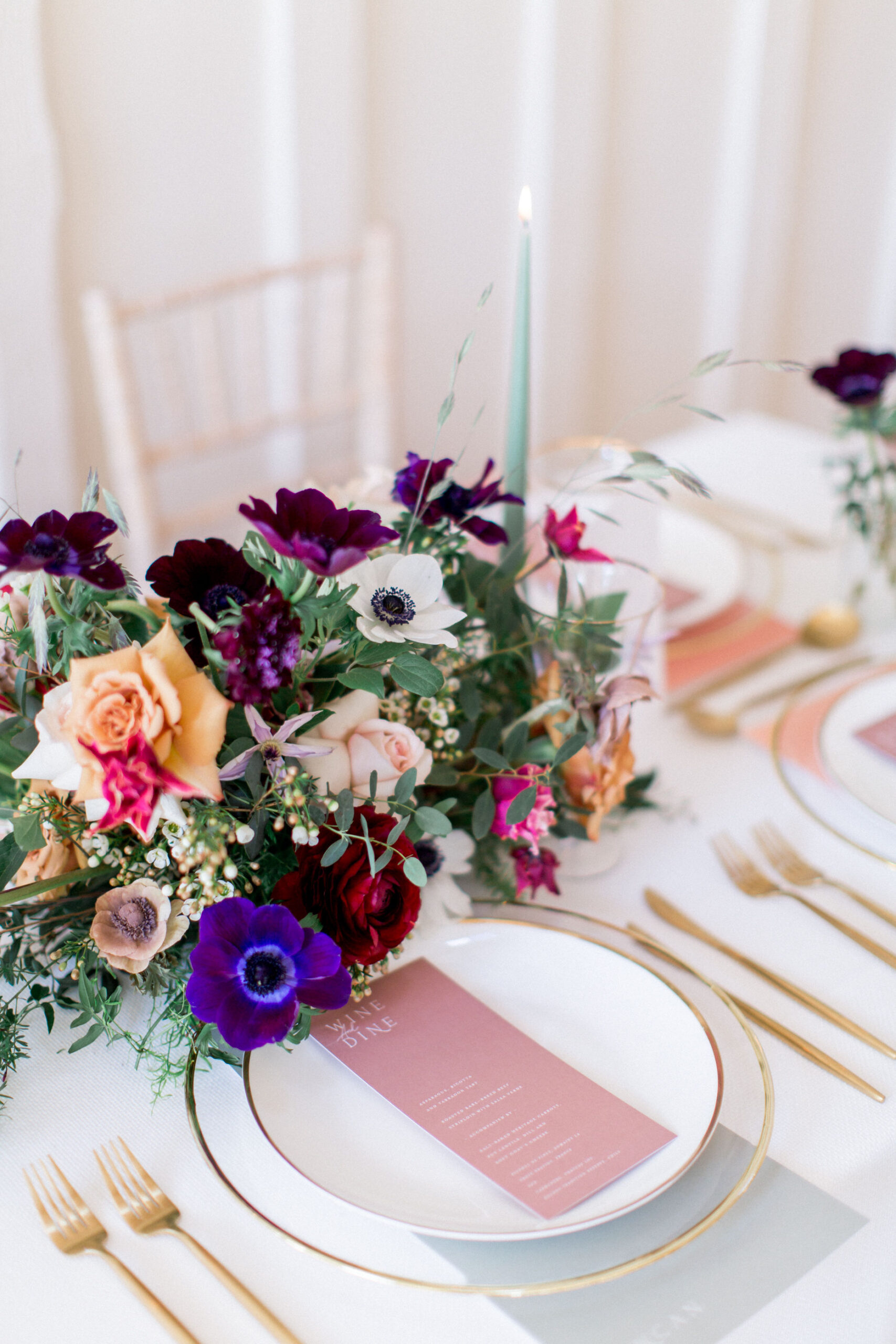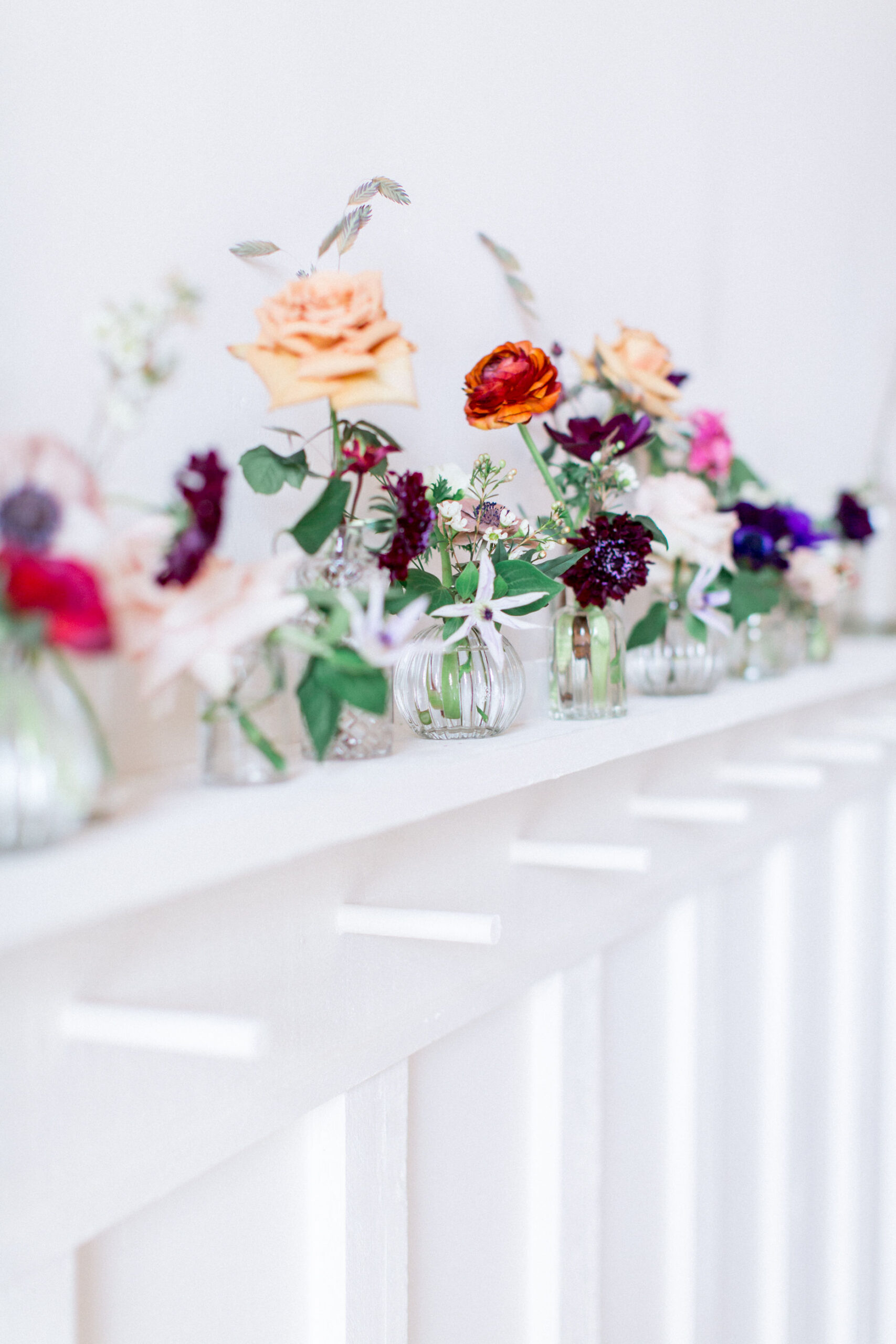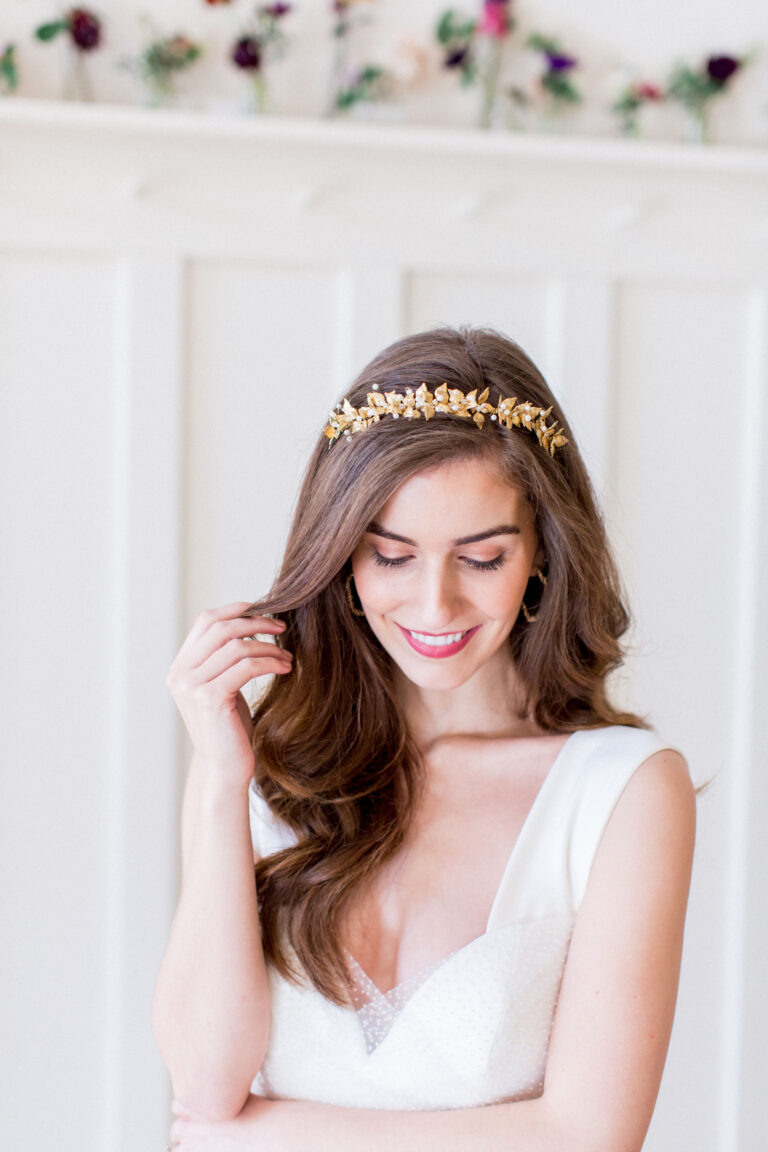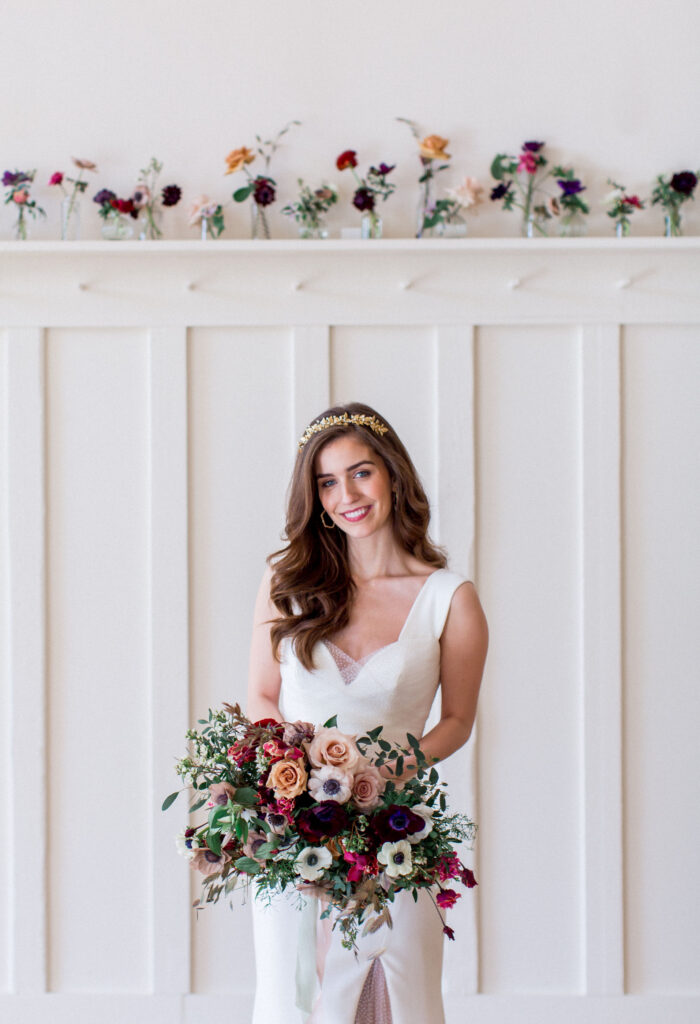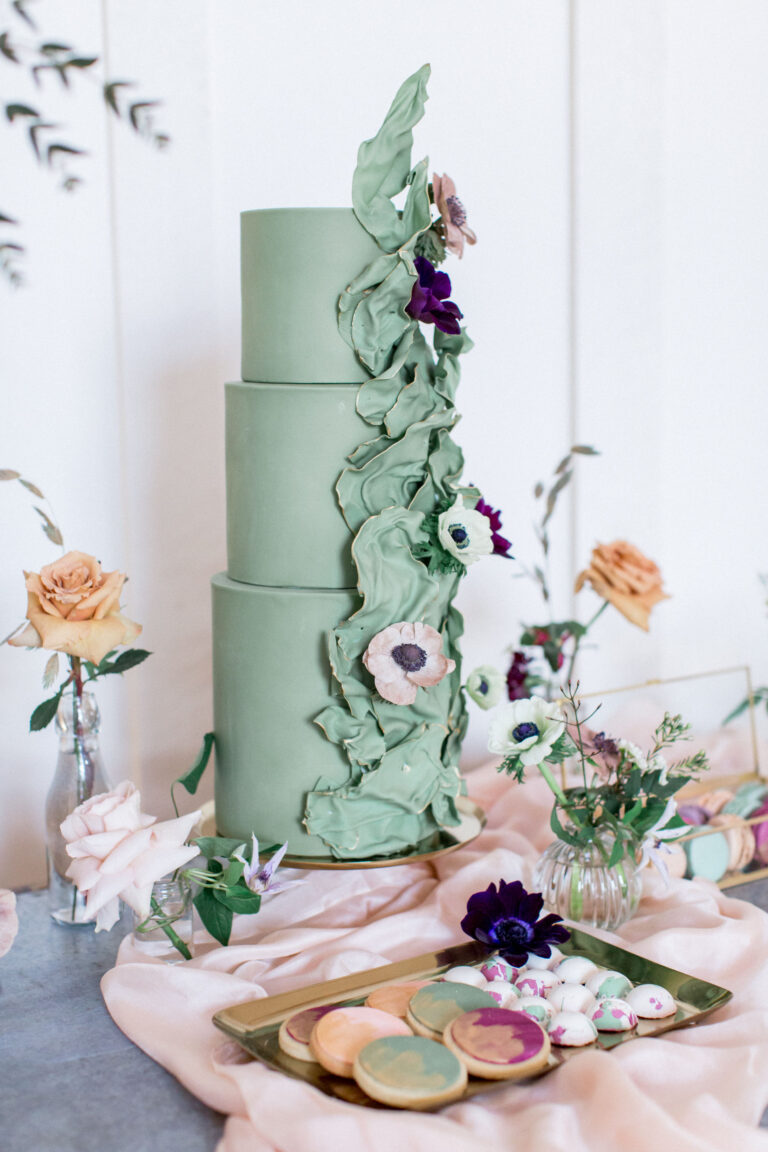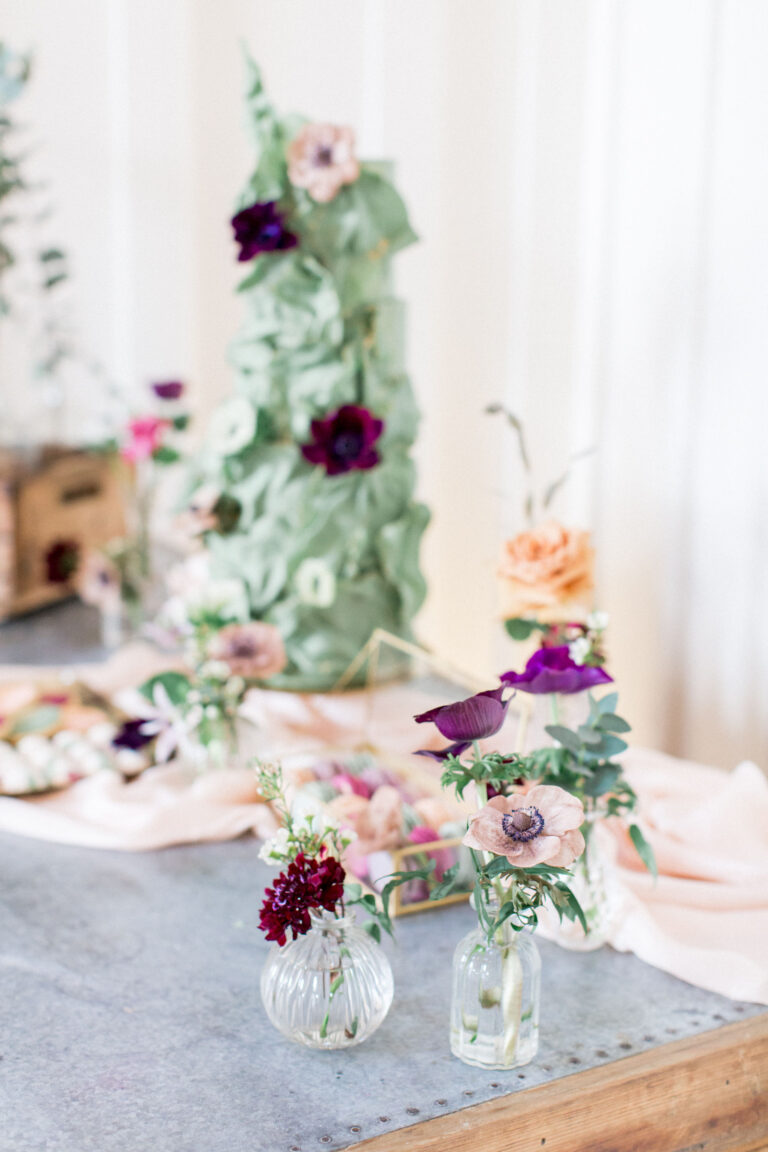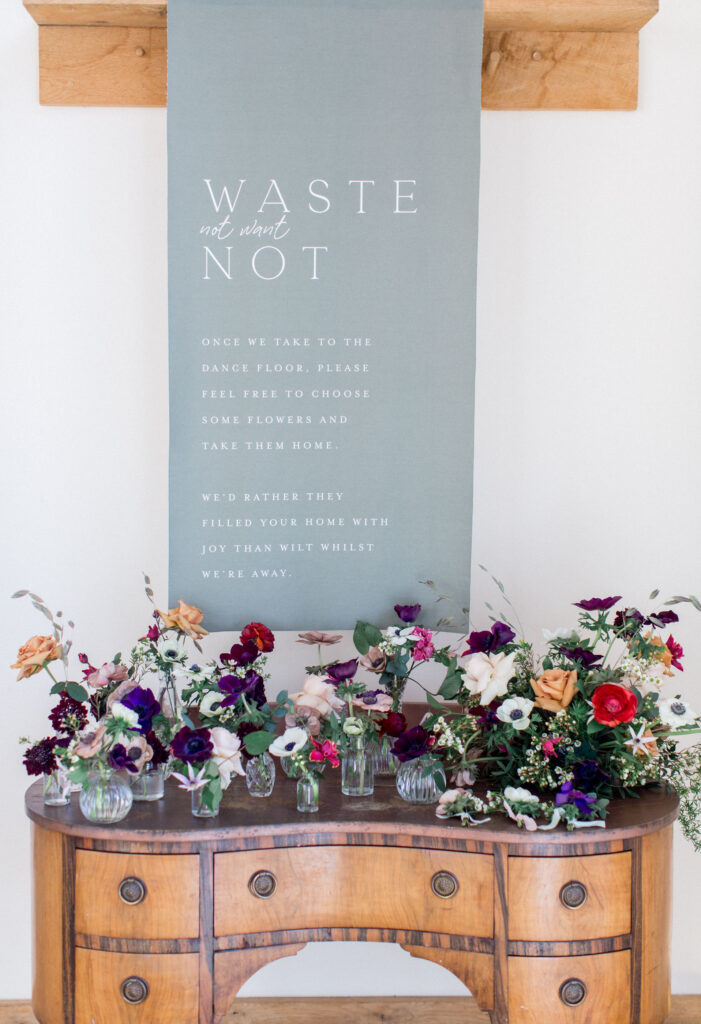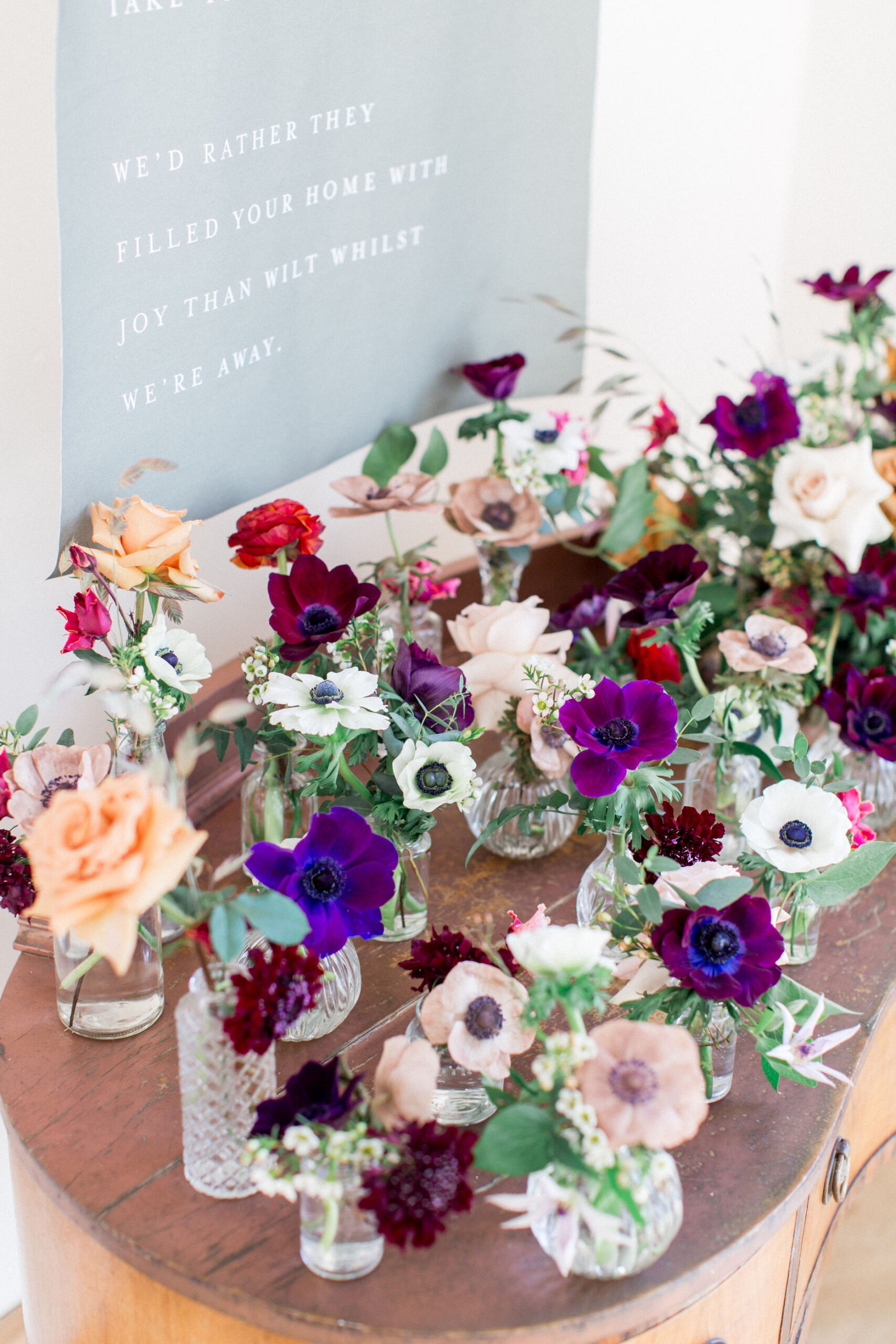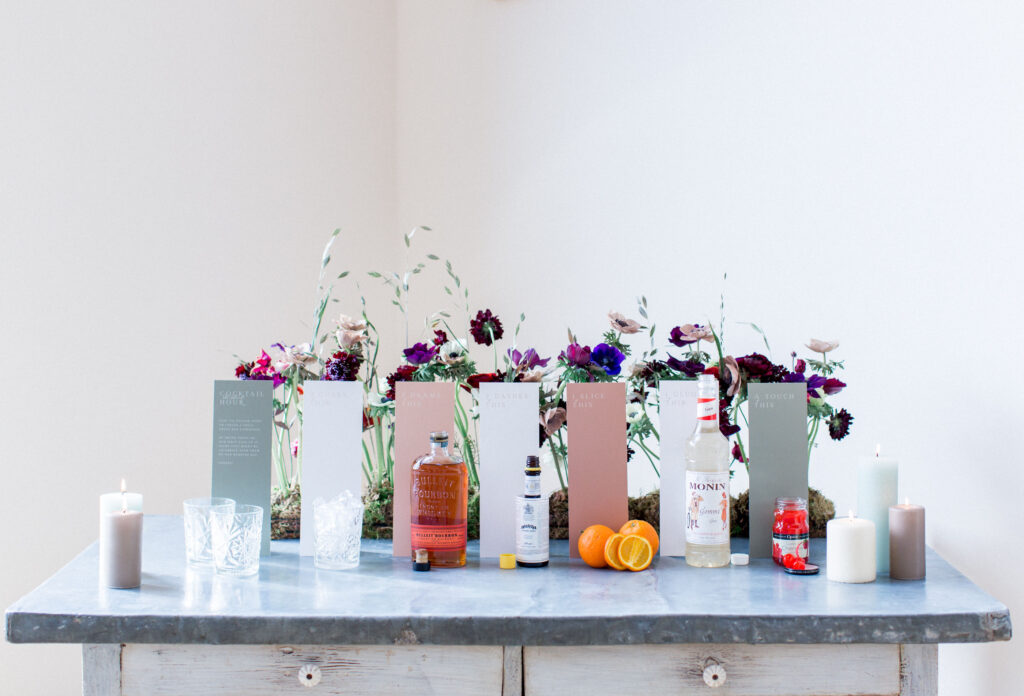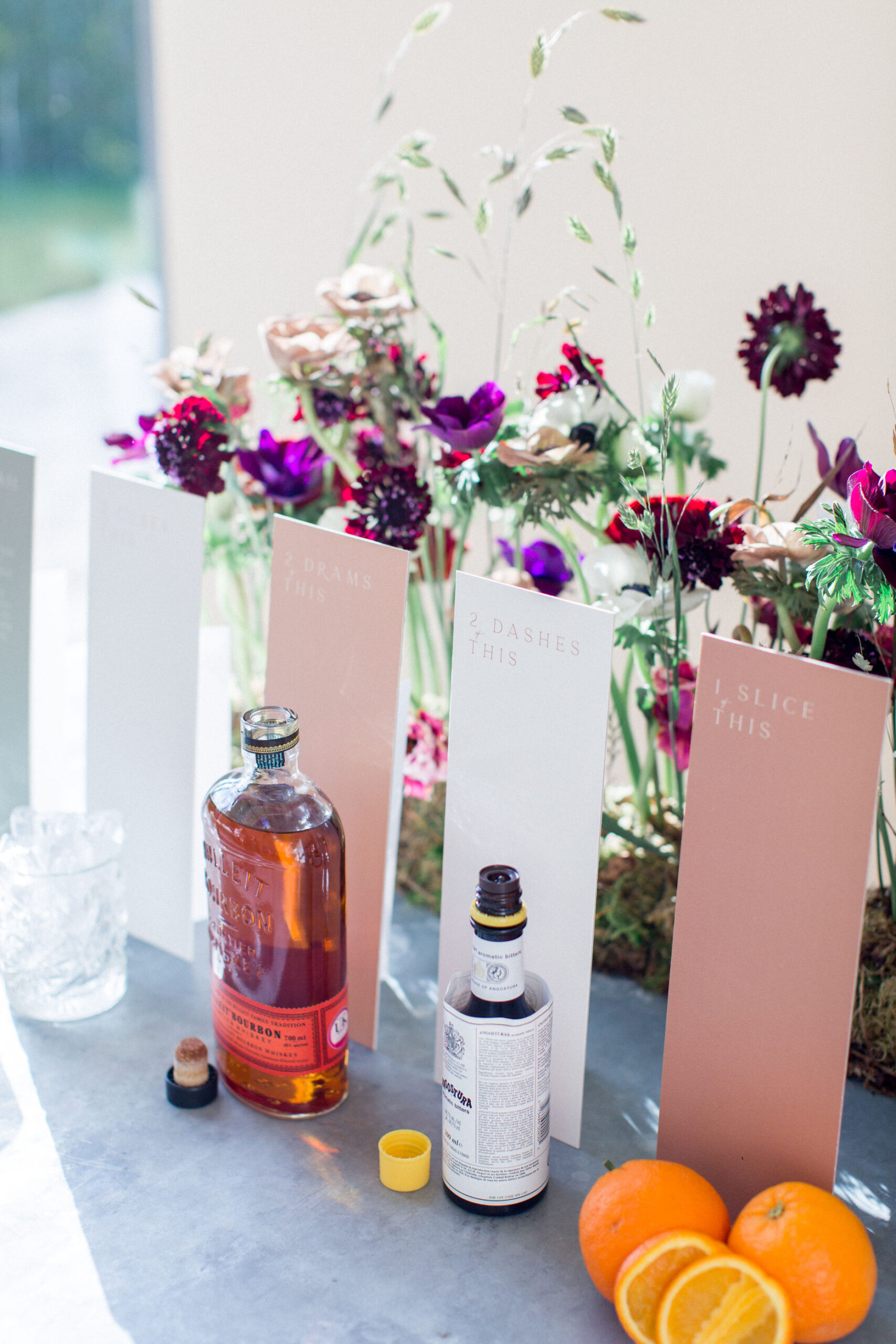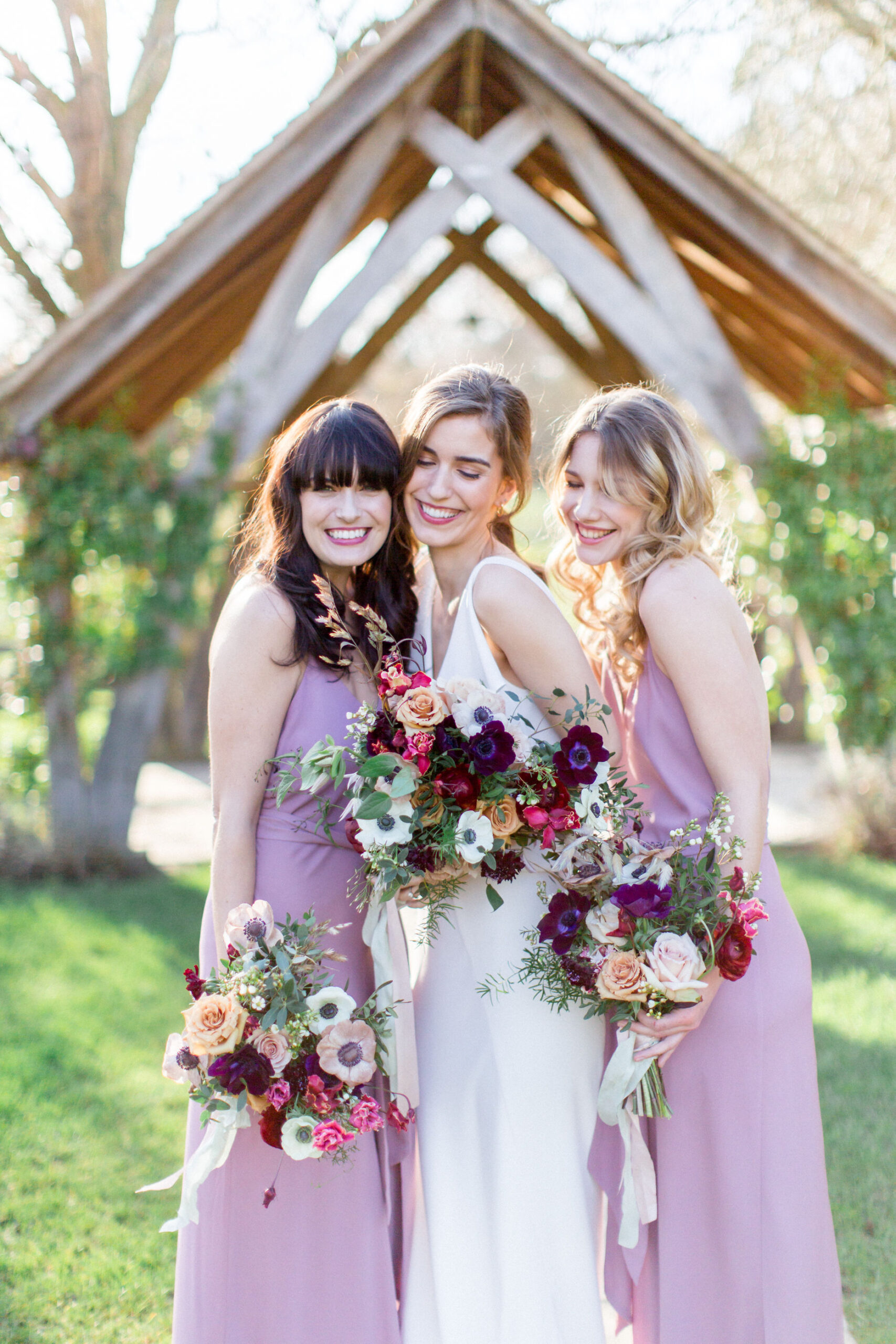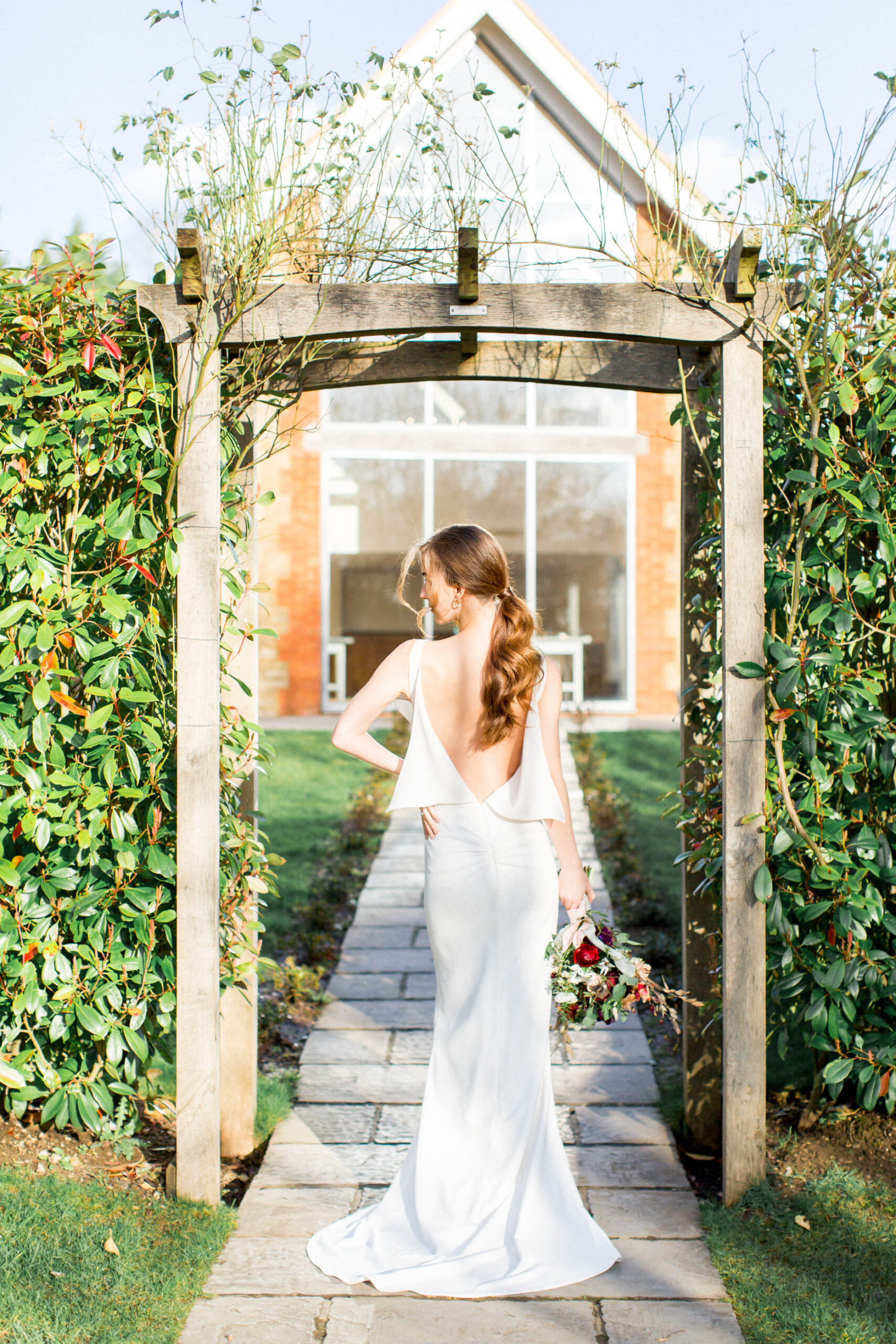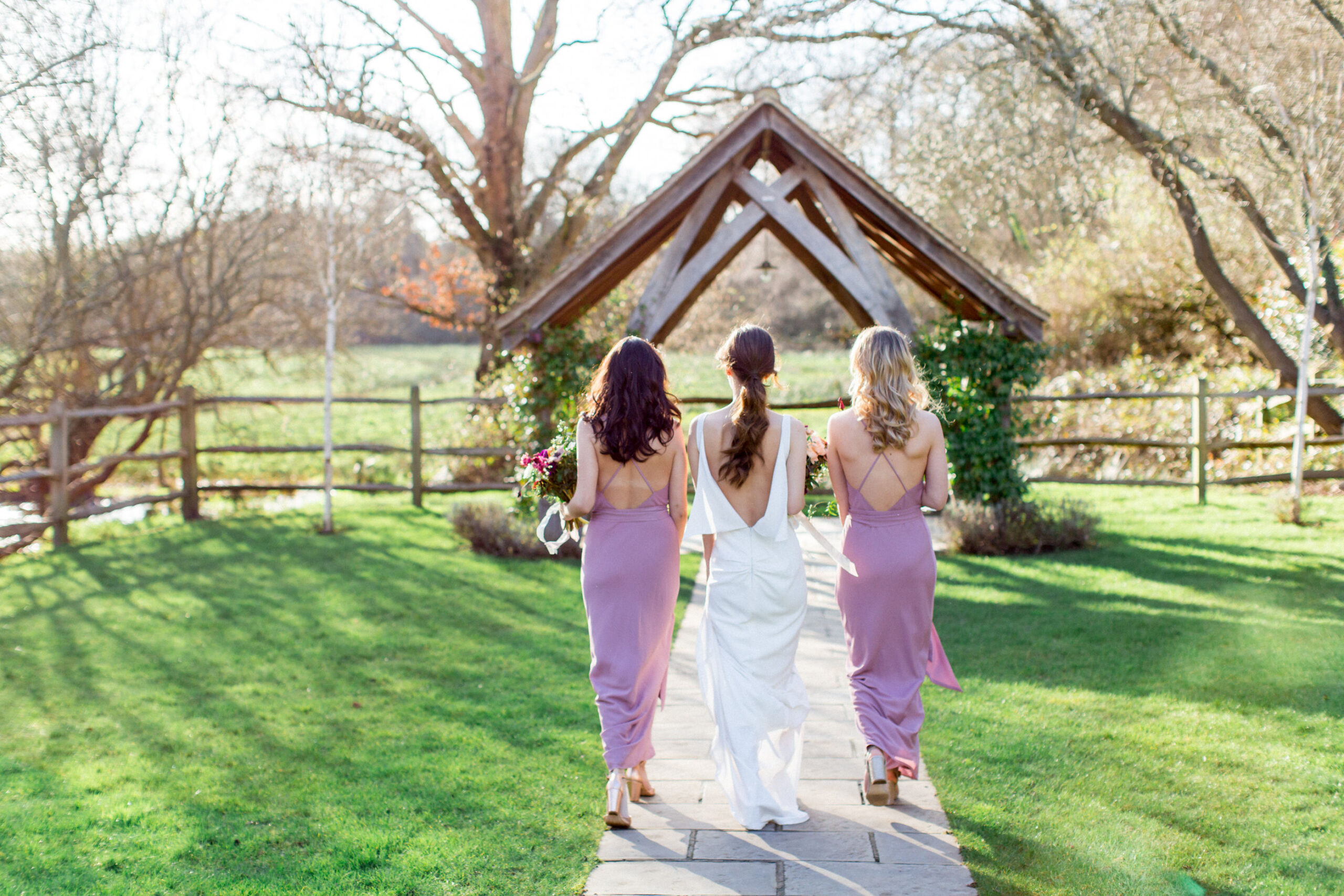 *Click here to see the full feature of this Photoshoot on Wedding Chicks*
The Team:
Planning & Design- Natalie Ellen Weddings
Shoot Assistant- Kelly Amy Events
Photographer- Philippa Sian Photography
Florist- Poppy Wild Floral
Floral Assistant- Anthology Floral Design
Stationery- Made by Wood and Wood
Cakes- Anna Lewis Cakes
Hair & Makeup- Hannah Monk Hair & Makeup
Hair & Makeup Assistant- I Do Bridal Services
Hair Accessories- Lilley Studio
Model- Georgia Dispenza
Rentals- Hire The Look
Ribbon & Styling Fabric- PomPom Blossom
Table Linen- Just 4 Linen
Wedding Dresses- Morgan Davies Bridal
News : 10 / 07 / 20
Spaces- The Hall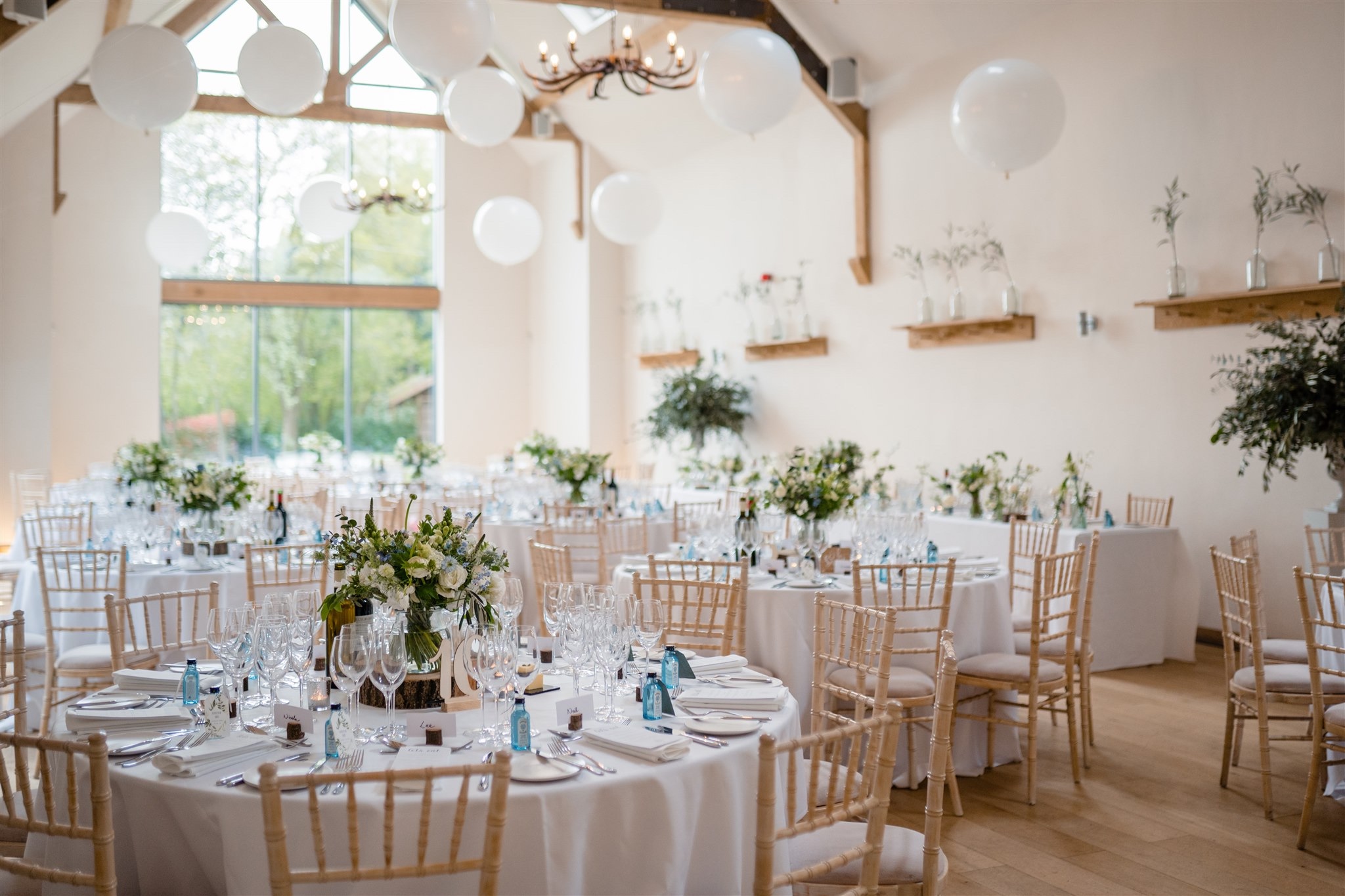 In this bright and airy space, traditional Barn features meet modern architecture. The Hall features high vaulted ceilings and beautiful beams, whilst also having the addition of a stunning feature of a floor to ceiling glass wall which overlooks the stunning view of the garden and perfect English countryside and crisp. The neutral white walls also provide a blank for our Couples to create any vision they desire!
The shelves along the right hand side of the Hall have always been an incredibly popular way to add extra wow-factor to the room and we have loved seeing the multitude of ways Suppliers and our Couples have done this throughout the years… so much so, that during recent renovations this January, we added white paneling on each wall creating not only a beautiful feature but also a continuous shelf to allow for 360 degrees of styling (and you can see a snapshot of this in the fourth image under the title "Making the most of Autumn & Winter Colour Palettes'.)
For this post, we wanted to share a handful of images that illustrate the multitude of ways some of the wonderful people that have got married under the Millbridge Court roof have brought their vision to life, with each being unique and just as wonderful as the last. Xx
Mixing it up with High & Low Tablescapes…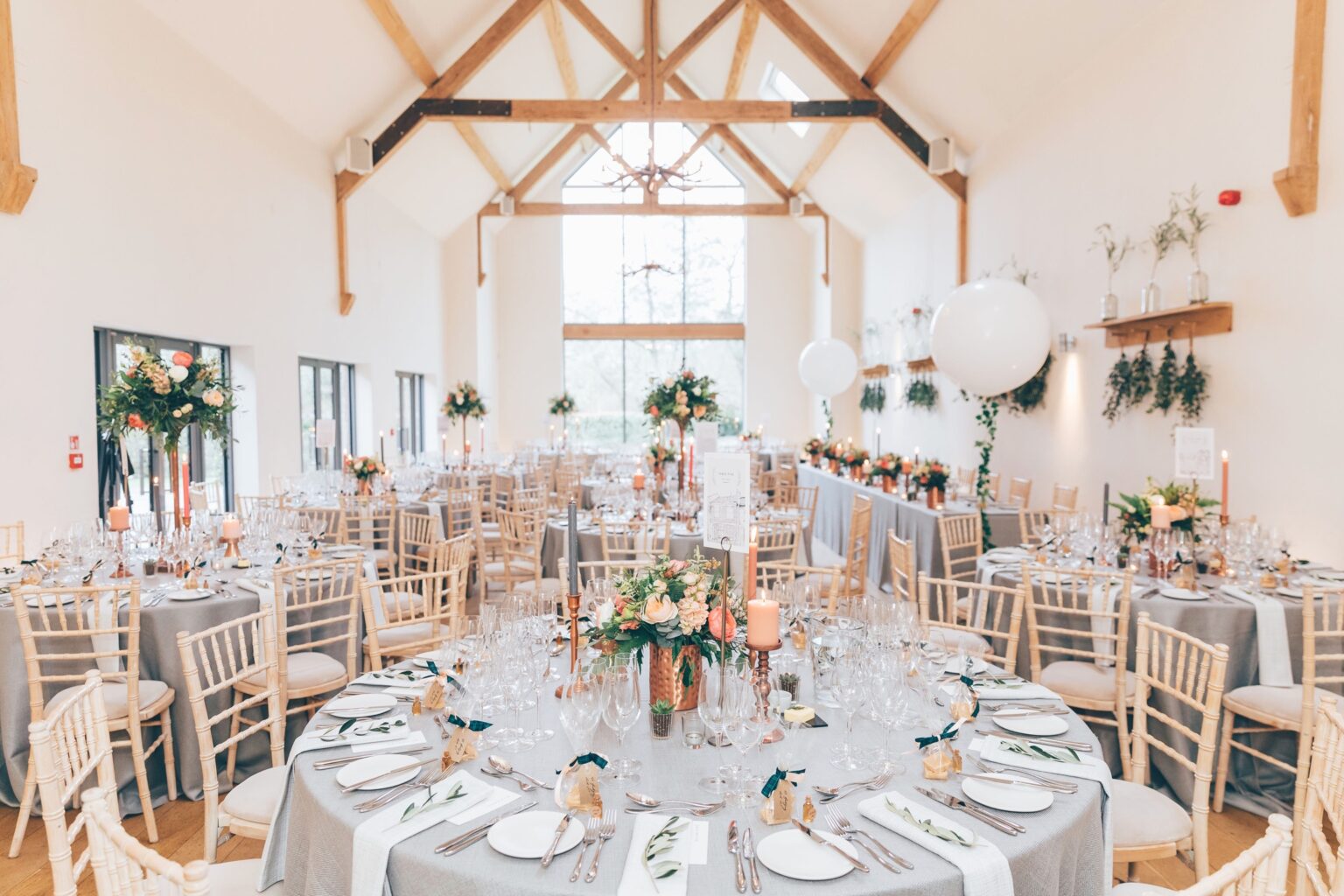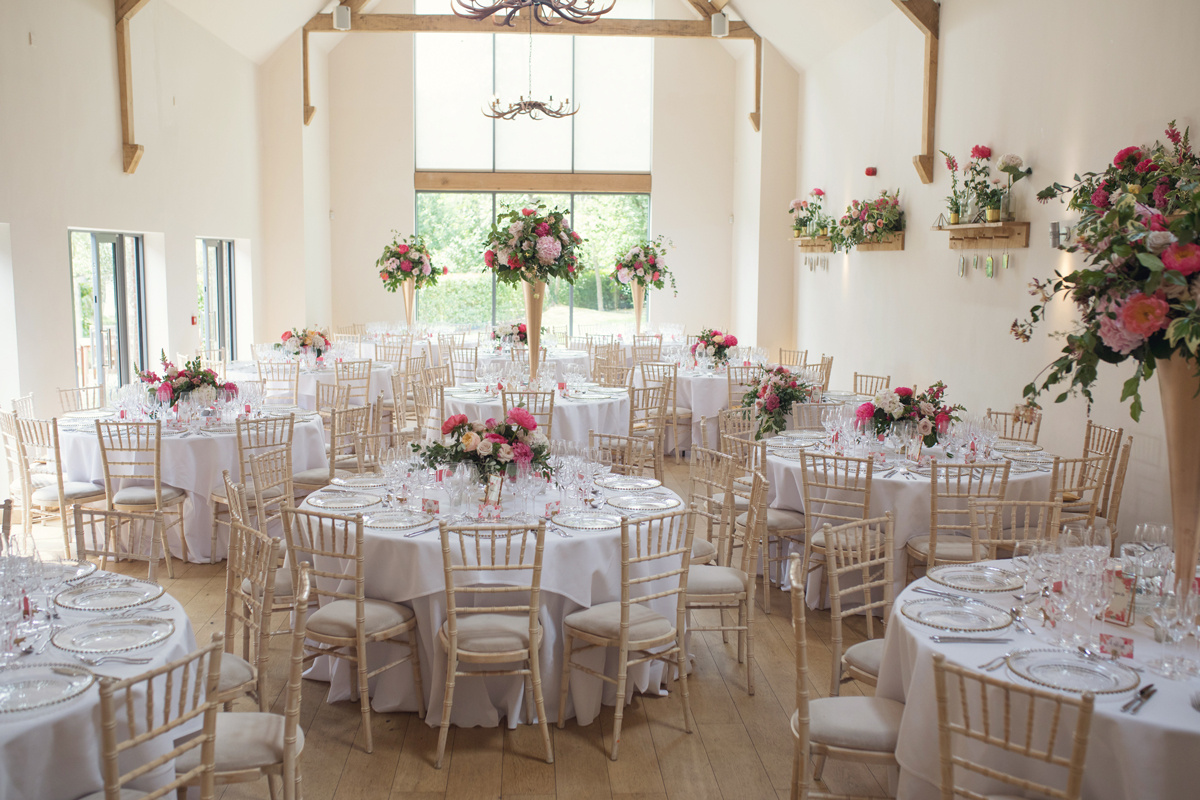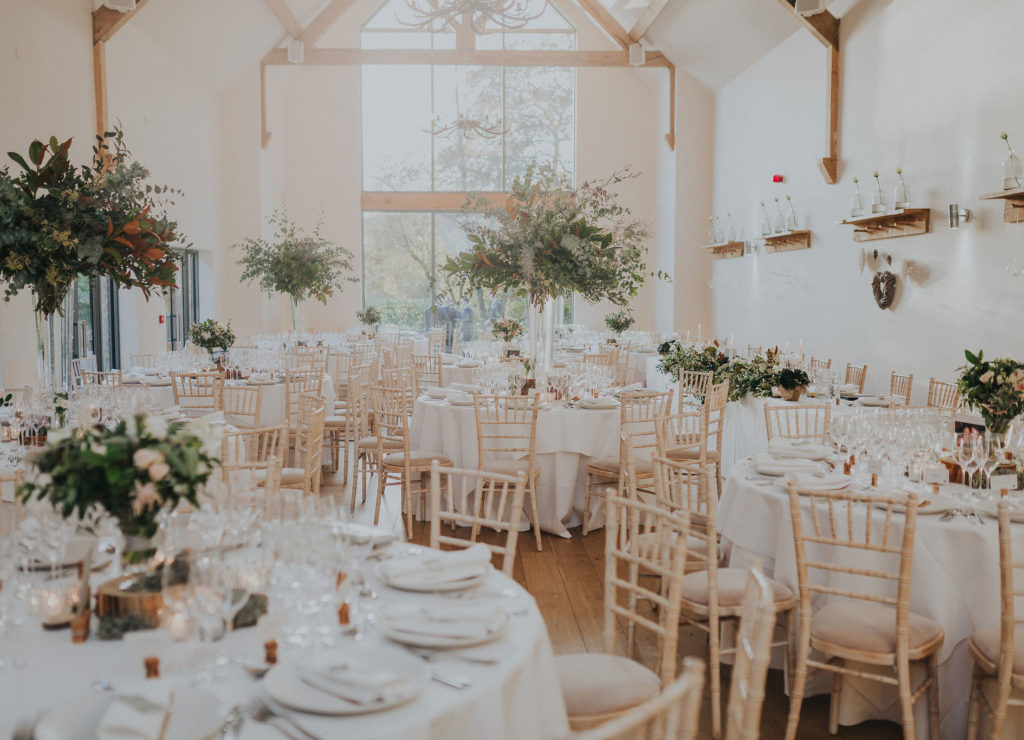 Top to Bottom- Eleanor Joy Photography, Stella Rose Flowers; Kerry Ann Duffy, Bloomingayles; Kate Gray Photography
Banquet Tables & eye-catching Balloon styling…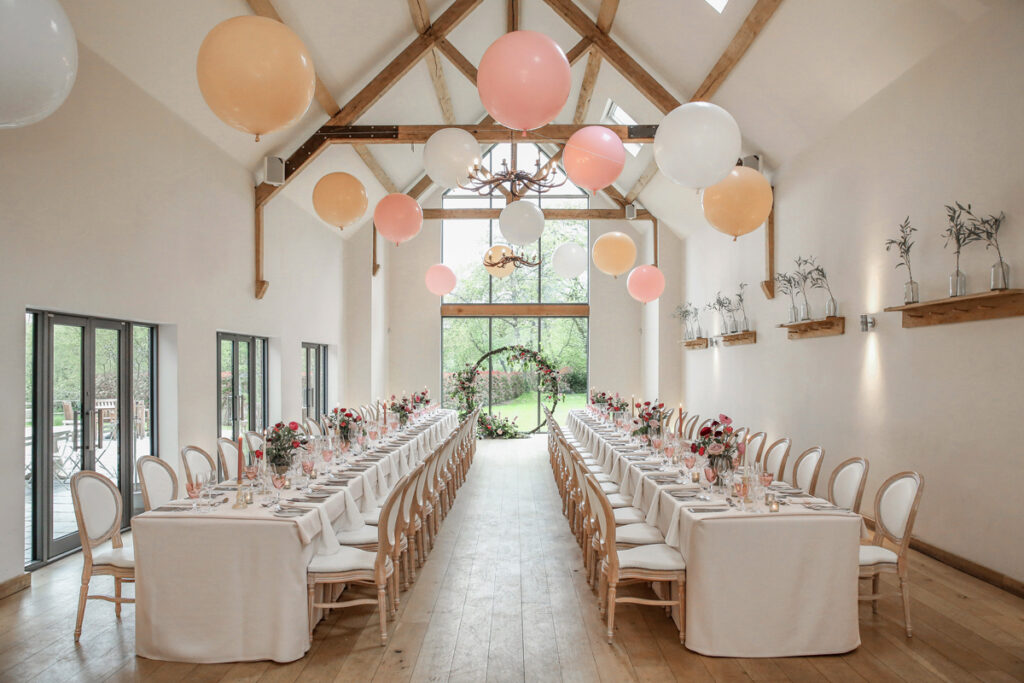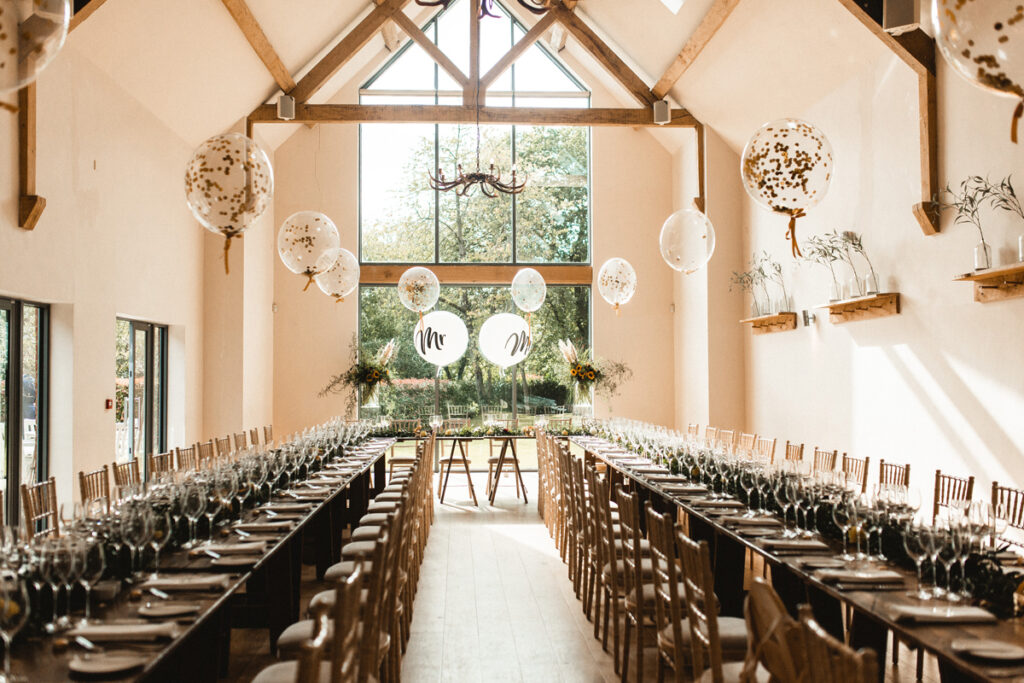 Top to Bottom- VLA Wedding Photography, Eden Blooms, Bubblegum Balloons; Photos from Sophie, Daisy Ellen, Godalming Party Company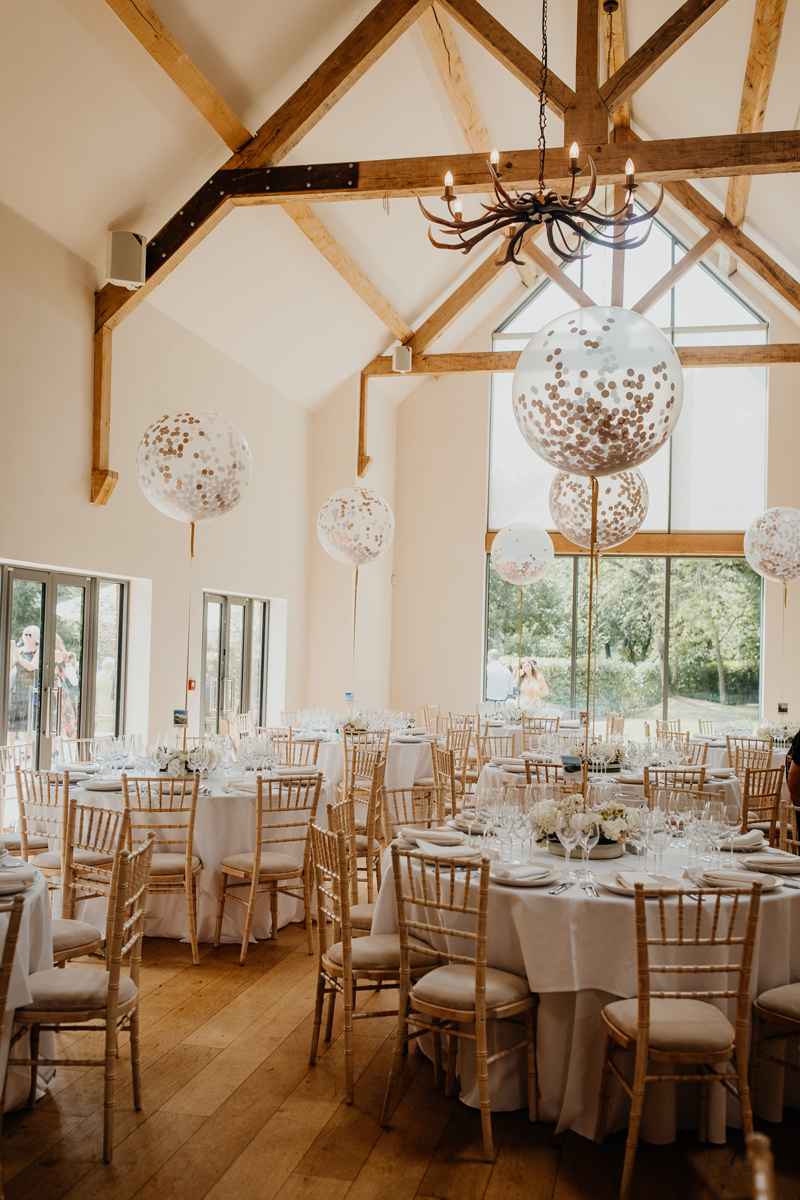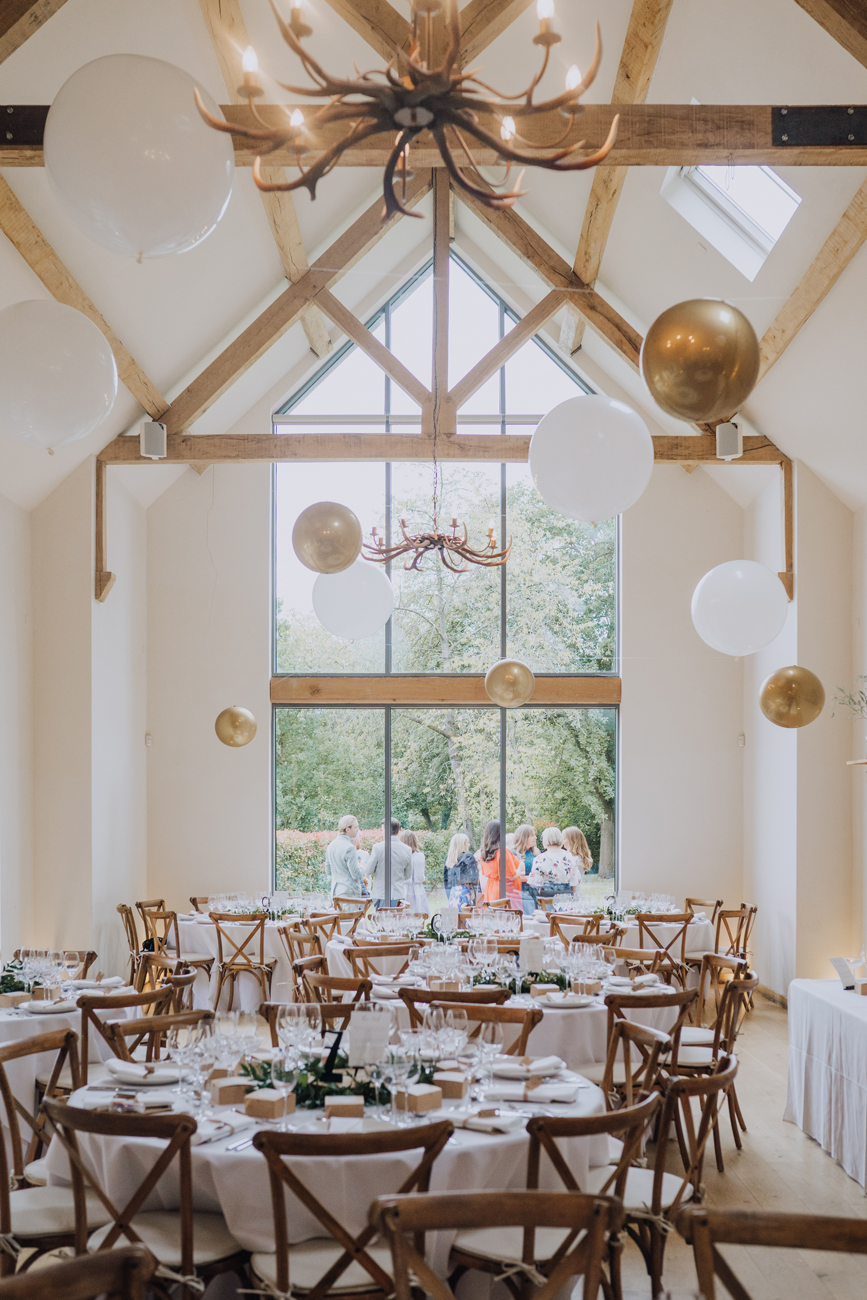 Left to Right- Jonny MP Photography, Blush & Stem; Clara Cooper Photography, Longacres
Striking Tall Centrepieces…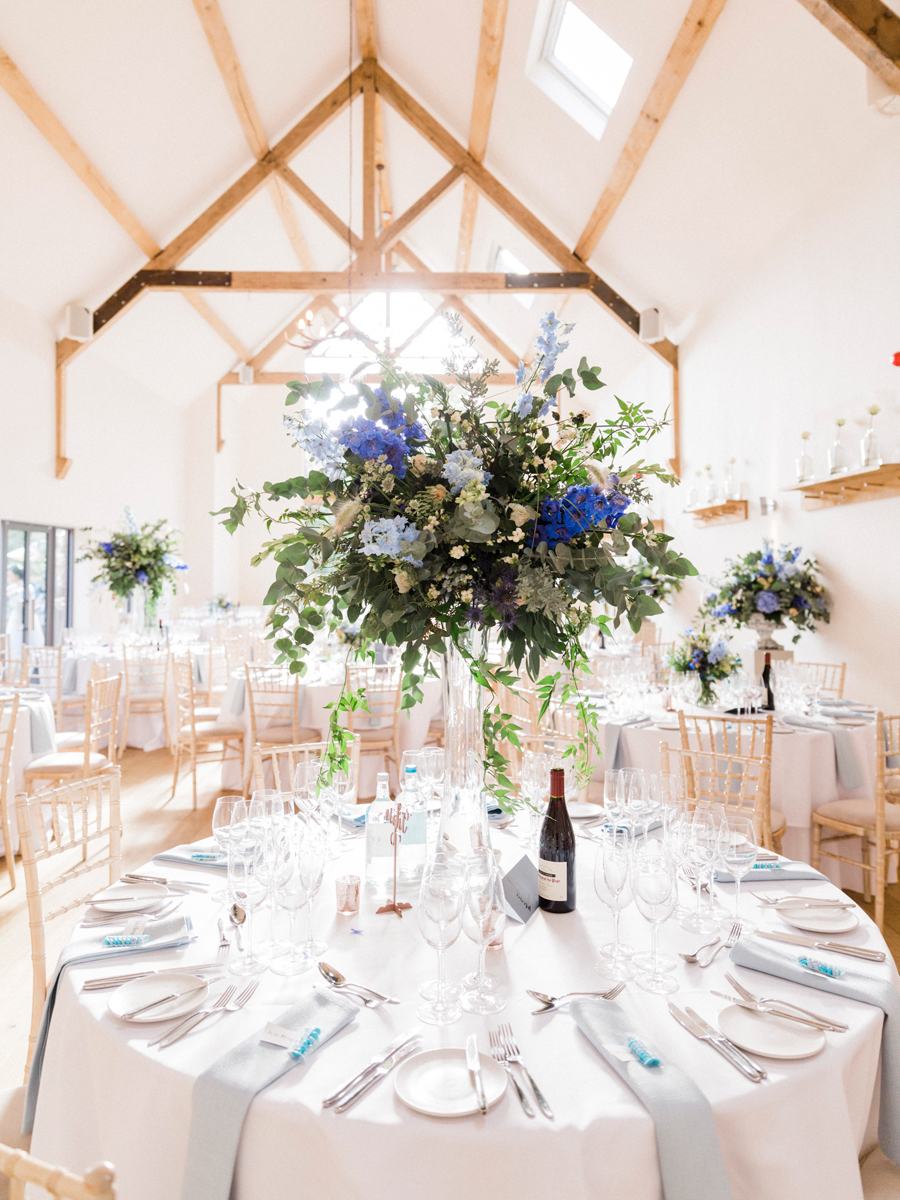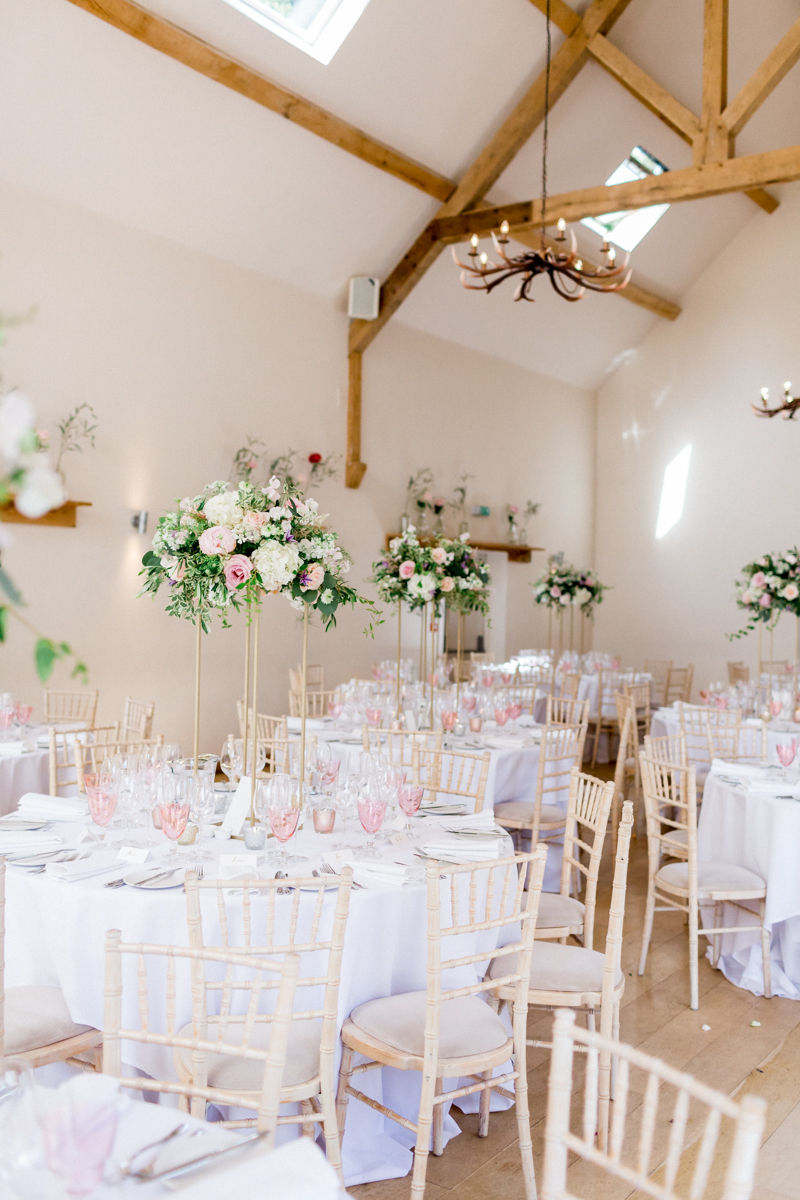 Left to  Right- Terry Li Photography, Hannah Berry Flowers; Philippa Sian Photography, Topiary Tree by Carrie Macey
Making the most of the beautiful Autumn & Winter Colour Palettes & styling details…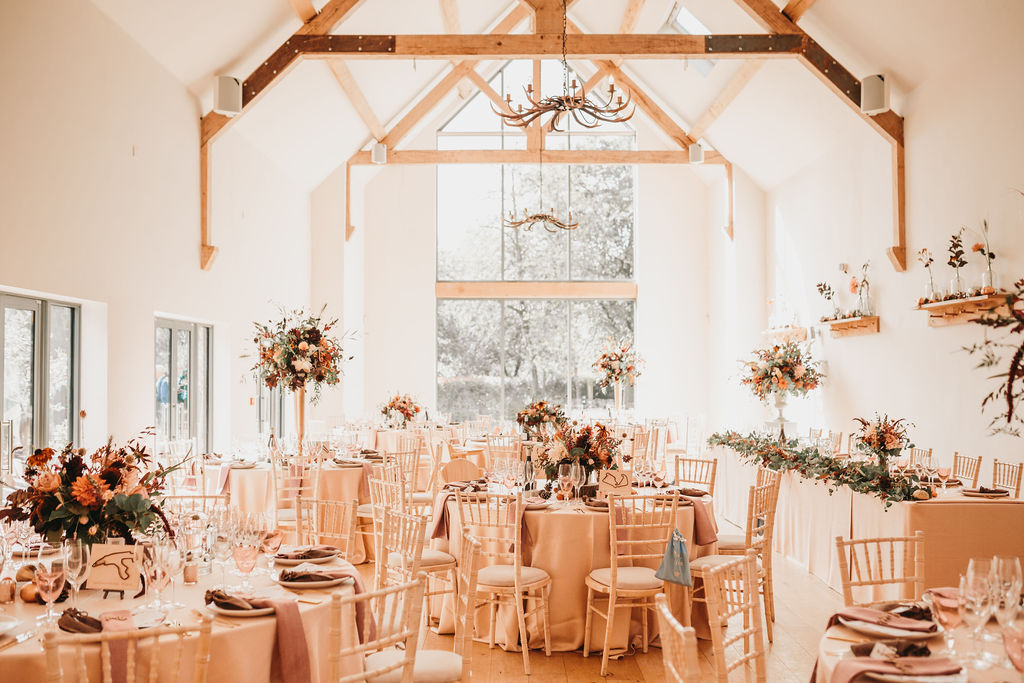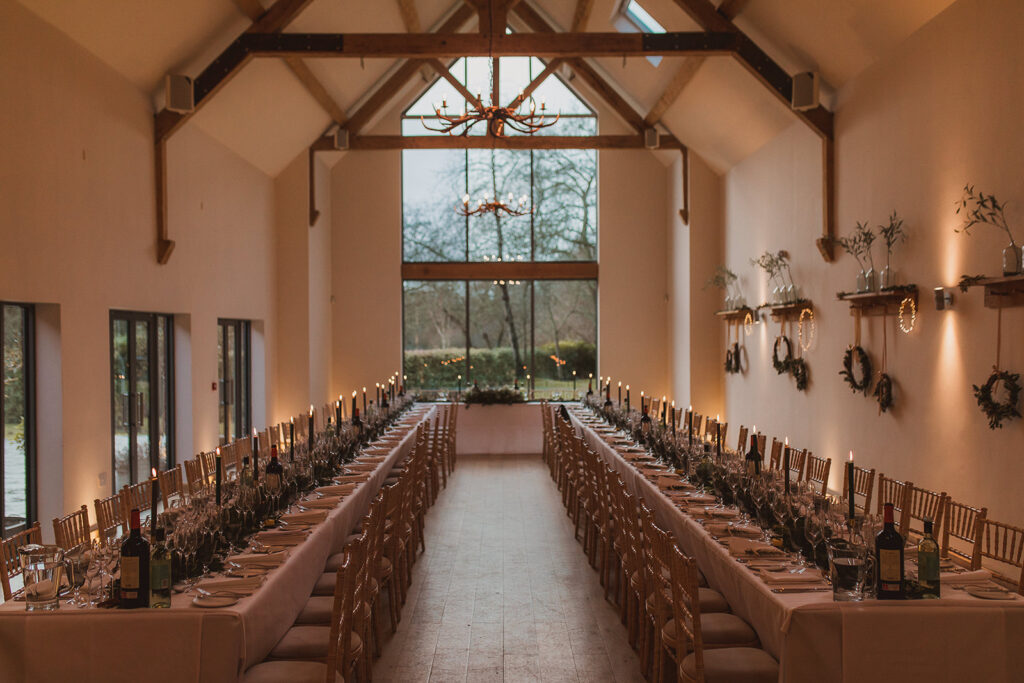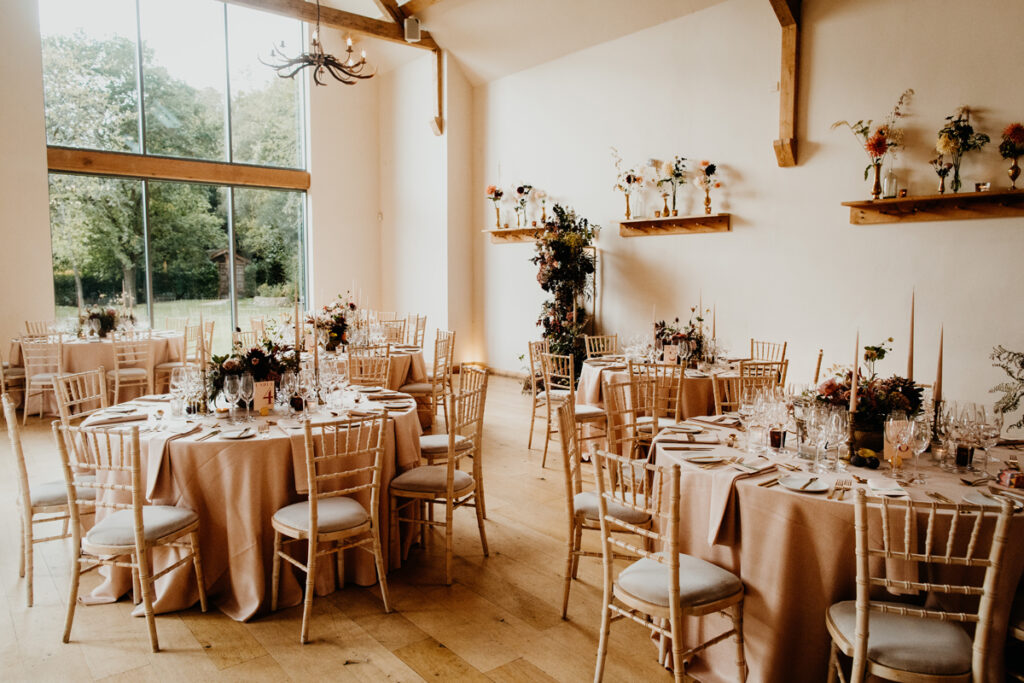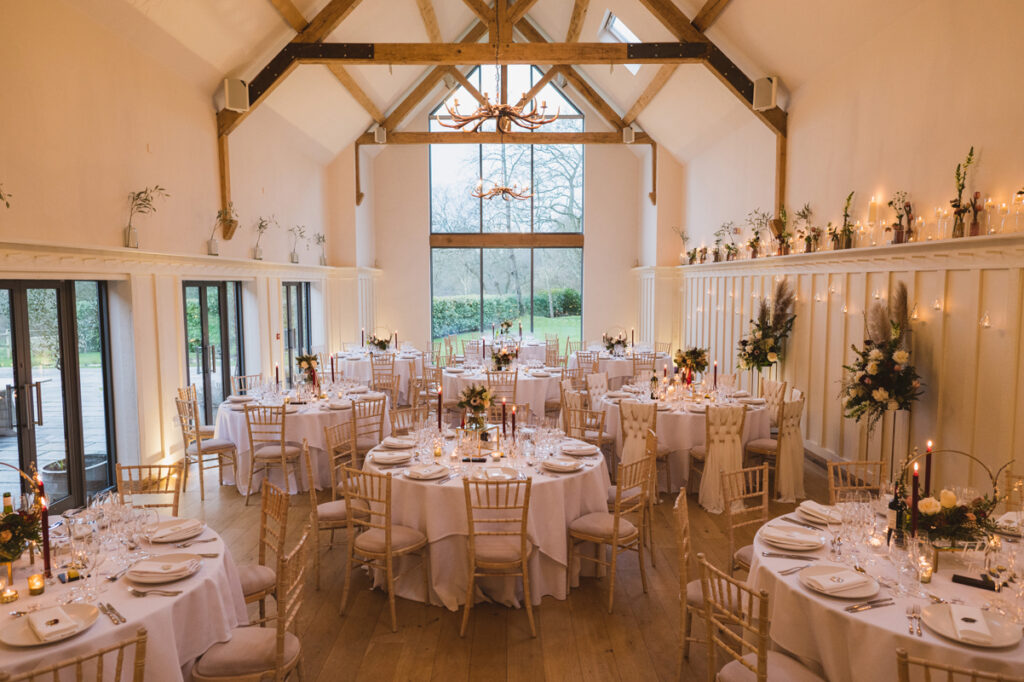 Top to Bottom- Catherine Carter Weddings, Hannah Berry Flowers; The Springles, A Wild Handful; Jonny MP Photography, Jenni Bloom Flowers; Bridle Photography, Concept Flowers
& The Colourful… to the neutral.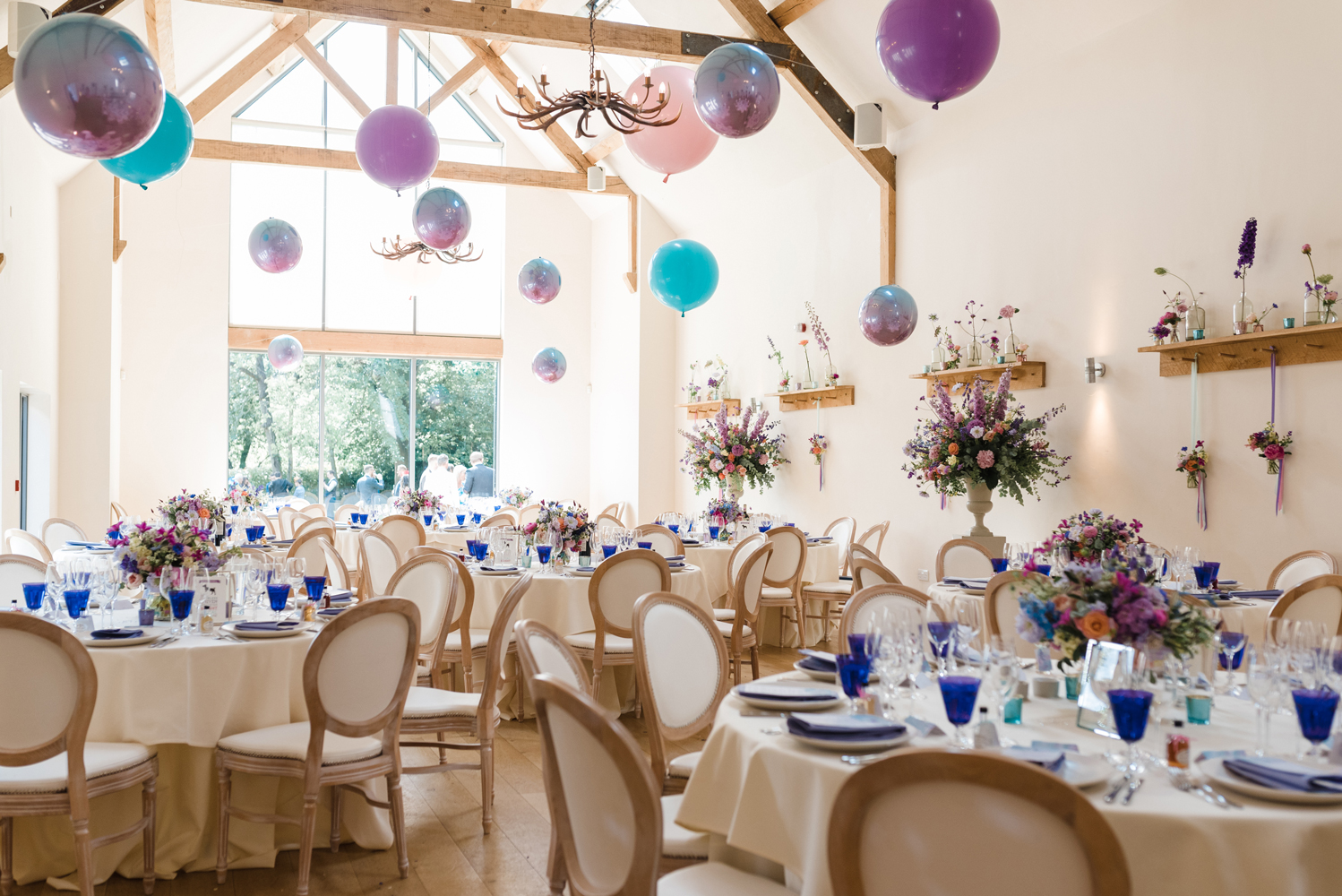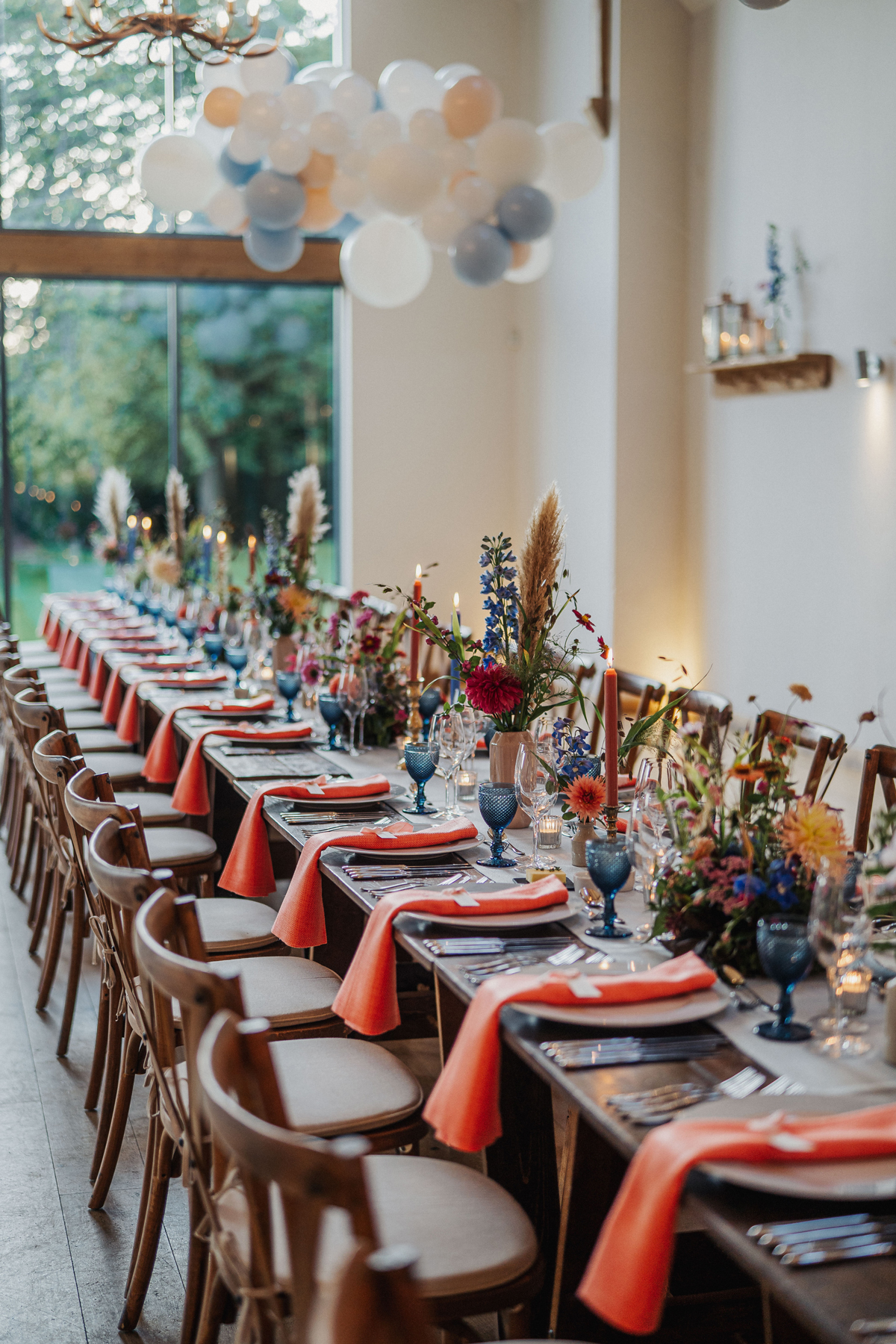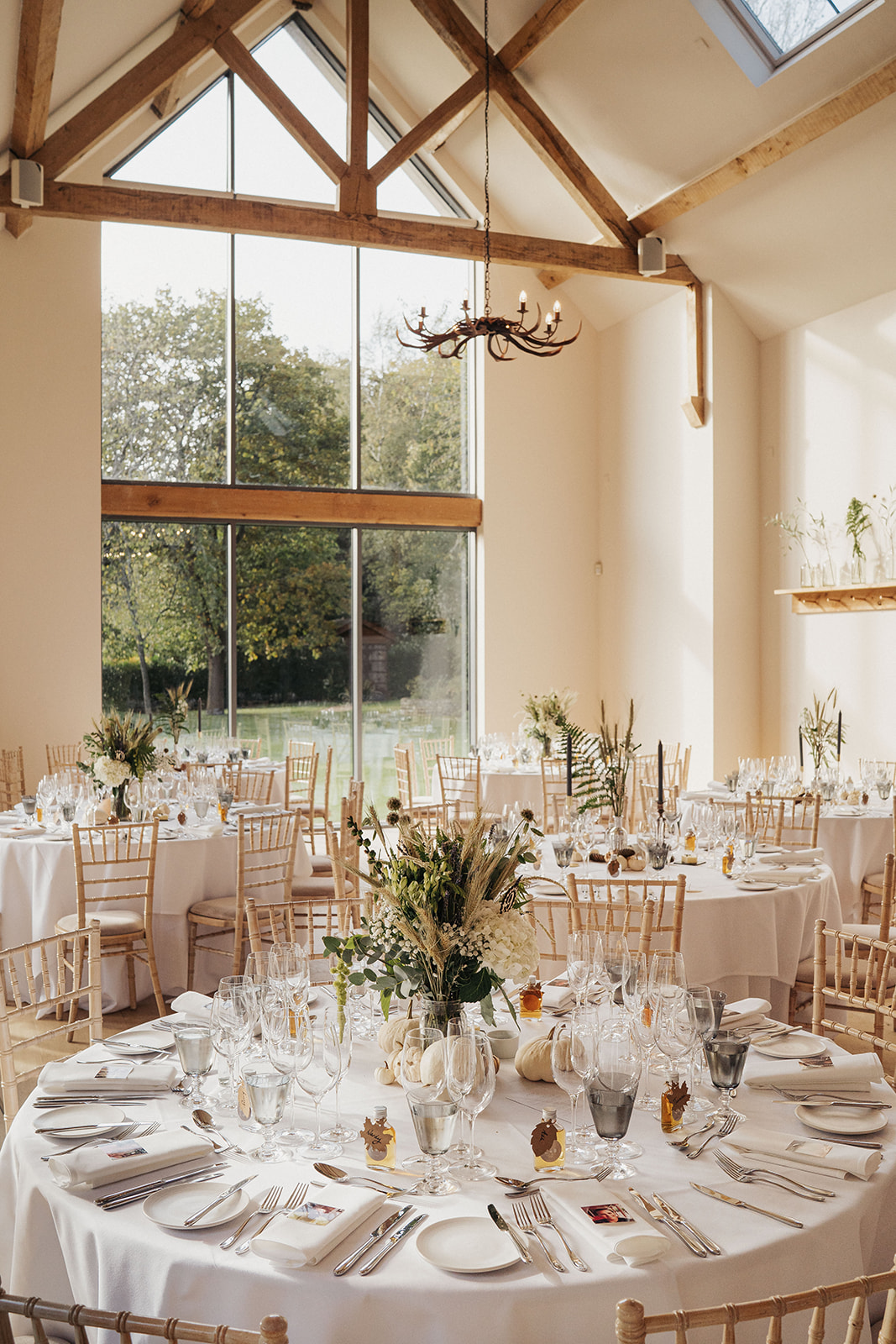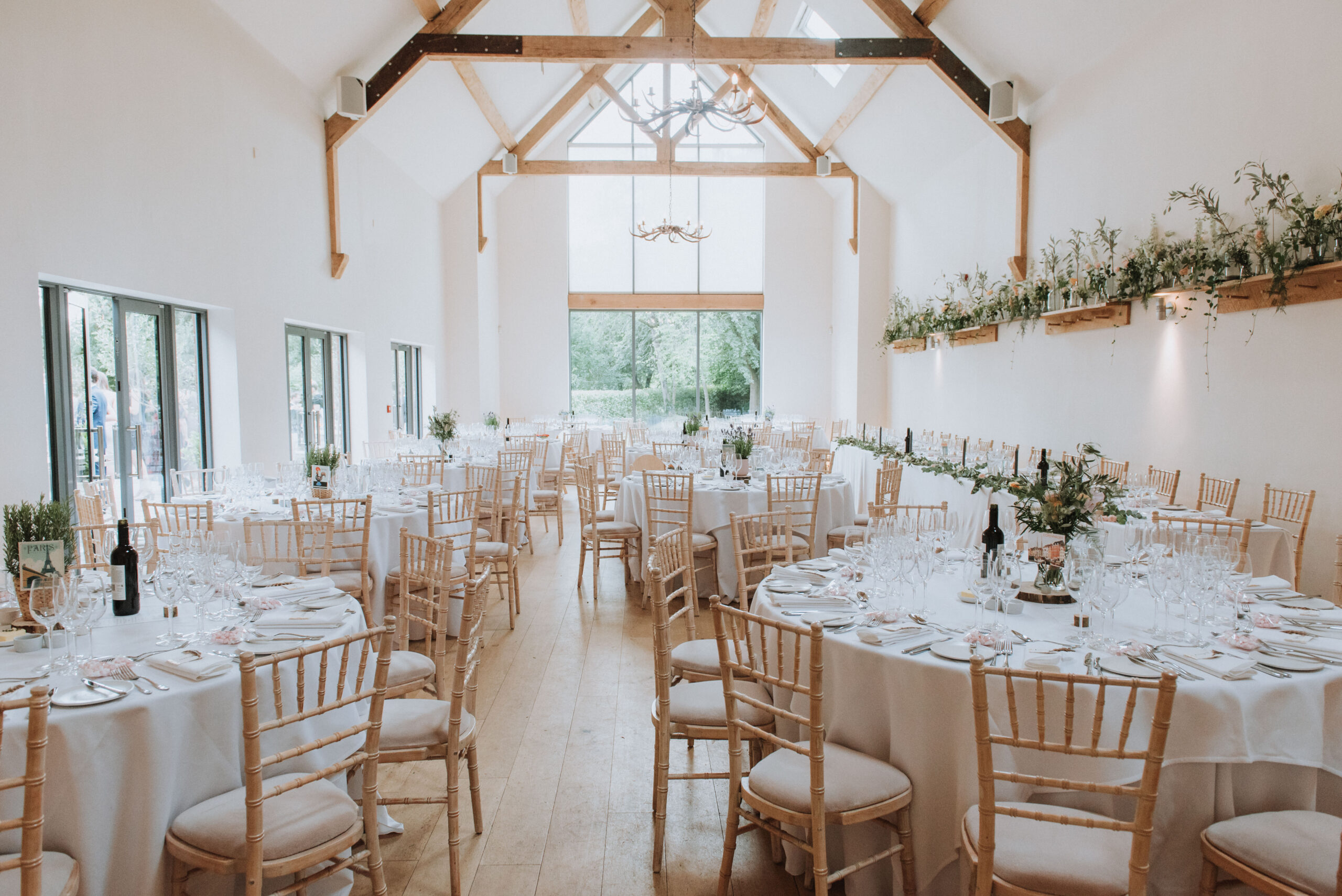 Clockwise- Hannah McClune Photography, Hannah Berry Flowers, Bubblegum Balloons; Kit Myers Photography, Hannah Berry Flowers, Academy Furniture Hire; Kit Myers Photography, Lavender Hill Flowers; Abi Riley Photography, Francesca Sharp Flowers
News : 25 / 05 / 18
10 Questions… With Kalm Kitchen's Pete Holder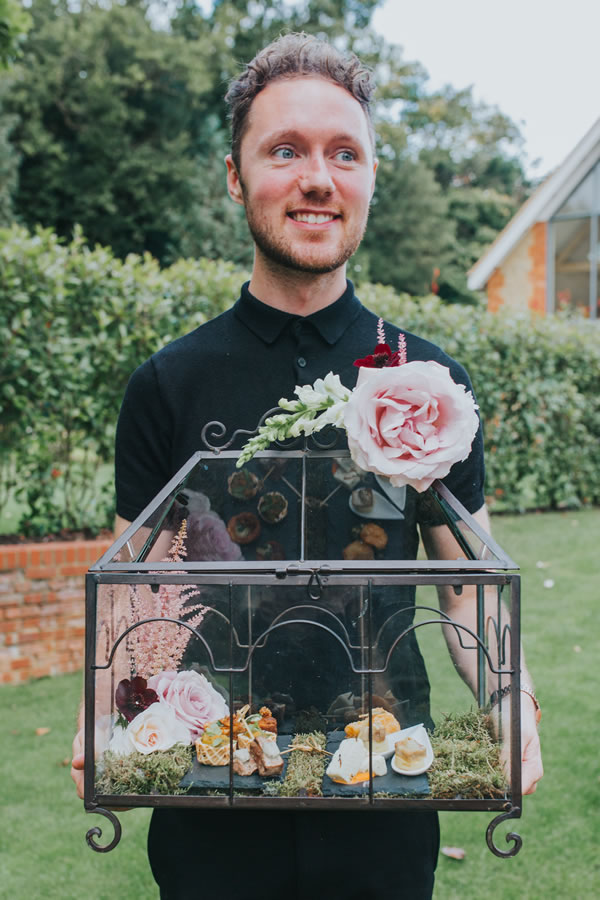 1) What is your Role at Kalm Kitchen?
My role in Kalm Kitchen, as a wedding events manager, is to create a calm and unforgettable planning experience, leading up to the big day. We are passionate about providing creative and delicious food for your wedding day and providing an exceptional service throughout the journey, going that extra mile, with meticulous attention to detail. On the event day we will execute your plans to perfection and bring everything we've discussed to life.
2) What made you want to be an Event Manager at Kalm Kitchen?
My work life has always consisted of running events and the joy and accomplishment I get from them are next to none. My best friends got married in April 2017, before I had started with Kalm Kitchen, and I was heavily involved with the planning process. I knew from then that this was the industry I wanted to be in. Meeting new faces has always been a pleasure of mine and making my client's dreams come true only makes it better. Kalm Kitchen had impressed me so much with their styling, food menu and work ethic, that as soon as I heard they were looking for an event manager, I didn't think twice about applying for my dream role.
3) What do you love the most about being a part of the Kalm Kitchen family?
The word family is exactly what I would describe Kalm Kitchen to be. We all have our quirks and strengths, which I feel really develop us in our roles. The owners of Kalm Kitchen, Jen and James, have been such an inspiration to me and I cannot thank them enough for the time and effort they put into all of us, which then reflect in our events. Kalm Kitchen has not only given me great colleagues to work with, but friends for life!
4) What tips & advice do you give to couples during their planning journey?
I would tell them to enjoy every moment of it. I think it is natural to want perfection for the big day, which can add too much pressure and cloud the enjoyment of talking through their ideas.
5) What is your favourite part of a wedding day? 
Seeing our couples for the first time in the morning has always been so special for me. I love that initial catch up and excitement you share together. It is such a lovely moment that I wish I could bottle up every time.
6) What new wedding food trends should couples be looking out for over the coming year? 
Food stations are an amazing statement for the big day. The "wow factor" that comes with them offers such a great experience for guests and something delicious they do not expect. Our Lemonade and Lollipop stand works perfectly for a hot summers day and looks incredible! Or, for the evening, our Honeycomb and Hot Chocolate station satisfies those sweet cravings and brings everyone together as the night draws in. Complete Bliss!
7) If you could choose your dream Kalm Kitchen menu, what would it be?
I love the sharing experience for the wedding breakfast. I would have a middle eastern sharing board with an abundance of dips, breads and my personal favourite, halloumi!
As a vegetarian I would have our delicious arancini ball, which is available in an abundance of flavour and accompaniment combinations, to suit every taste. Mine would be a mozzarella, basil pesto and pine nut arancini on a bed of caponata and fresh basil. Dreamy!
A sharing dessert is a must! I am a chocolate fiend, so mixing this together with salted caramel and layers of meringue to create a slice at the table pavlova is perfection. You can nominate one person per table, and dress them in aprons, chef hats and moustaches, to collect the pavlova and serve the guests on their table. These are the little touches that create lasting memories of your special day. You just know it'll be a talking point for years to come.
8) What do you love most about Millbridge Court? 
I know I can speak on behalf of all our couples getting married at Millbridge Court, that this is the dream venue.  The balance of contemporary design and country home works perfectly and instantly makes you feel at home when you walk through the front door.
9) What are your favourite linen and glassware colour combinations at the moment? 
I am in love with vintage oak trestle tables paired with our luxurious urbane napkin range, it effortlessly really brings an outdoor feel inside. Having a spot of colour in the water glass elevates the whole design of the table. An idea would be to speak with the florist to match the colour palette of the flowers and unite all the elements together in harmony. My personal favourite is to have a bronze coloured water glass with a chalk urbane napkin as showcased in the most recent May tasting evening.
 Chalk glassware & urbane napkin featured at our Tasting Evening
 Flowers: Lavender Hill Company, Photographer: The Springles
10) Who are your three favourite Wedding Industry professionals/brands to follow on Instagram? 
@natspaperstudio is a must for stationary lovers. I am in love with her designs, and her "Crazy Cat" charm just adds to the personality of her amazing work
@bubblegumballoons Their installations are the work of dreams. With a huge range of clients under their belt, they have proven that balloons are stylish, luxurious and most importantly fun!
@kindredxstylingbyjen showcases creativity and adventure. If you want to feel inspired by the latest trends and interiors to elevate your style, Jen is your girl.
Here's the Lovely Pete, in action
Photographer: Millie & Belle
News : 13 / 04 / 18
#mbcspringpreview2018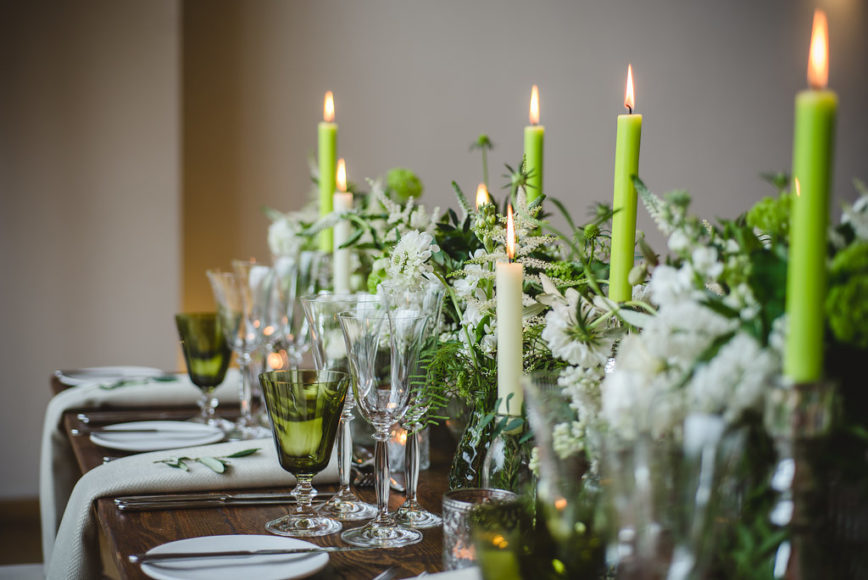 Last Sunday, we hosted our Annual Spring Preview & what a gorgeous preview it was, thanks to the amazing MBC Partners that joined us; creating inspiring displays & chatting away with our lovely MBC couples.
Showcasing stunning tablescapes in our Dining Barn were Alice (Meadowfolk), Carrie (The Topiary Tree), Katie (Blackberry & Bloom) & Gill Pike who each created such varied arrangements, from the rustic to the bold & beautifully blowsy… there was something for everyone. We had amazing wooden banquet tables & cross back chairs provided by Academy Furniture Hire & each table was complimented by coloured glassware from Crystal Hire.
The beautiful flowers weren't just confined to the Dining Barn with Gill Pike showcasing her breathtaking foliage Moongate Arch in our Ceremony Barn, the perfect backdrop to any Ceremony & Carrie Macey created a statement urn arrangement outside the Millbridge Court entrance, a wonderful way brighten up a rainy day!
Further brightening up the grey day was Laura from Laura's Paper Heart who serenaded our guests so beautifully throughout the event.
In our Bridal Changing Suite we had the amazing Carolanne Armstrong & Sharon Roberts doing Express Hair Styling & Make Up Sessions for our Brides. Such a wonderful opportunity to ask these very knowledgeable & talented ladies any questions & to trial a hairstyle/make up look for their Big Day.
Showcasing gorgeous Wedding Cakes were Andi Freeman & Melissa ( Thirty One Cakes) who also had delicious testers for our couples to try & the even more tasty treats were provided by Kalm Kitchen who circulated Canapes, yummy bowl food & they also put together yet another incredible Patisserie Boutique, with added foliage & Spring Flowers from Blackberry & Bloom.
We had MBC Partners Philippa Sian Photography, Jon & Laura from VLA Wedding Photography, Neale James & Sophie Duckworth showing our Brides & Grooms the phenomenal Wedding Days they have captured at Millbridge Court over the years. Thank you also to Ash Videography & Chris & Amy from W4 Wedding Films for not only joining us, but for putting together really beautiful videos of Sundays Event (you can find these on our Instagram & Facebook page).
Thank you so much to everyone that came to our Preview, we hope that you all had a really wonderful time & left truly inspired for your Wedding Day.
Xx