News : 25 / 05 / 18
10 Questions… With Kalm Kitchen's Pete Holder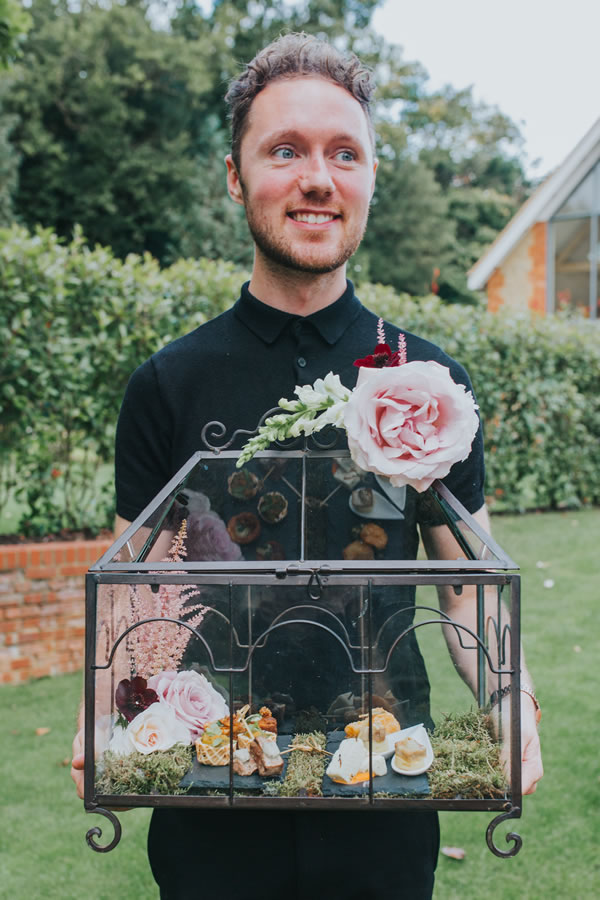 1) What is your Role at Kalm Kitchen?
My role in Kalm Kitchen, as a wedding events manager, is to create a calm and unforgettable planning experience, leading up to the big day. We are passionate about providing creative and delicious food for your wedding day and providing an exceptional service throughout the journey, going that extra mile, with meticulous attention to detail. On the event day we will execute your plans to perfection and bring everything we've discussed to life.
2) What made you want to be an Event Manager at Kalm Kitchen?
My work life has always consisted of running events and the joy and accomplishment I get from them are next to none. My best friends got married in April 2017, before I had started with Kalm Kitchen, and I was heavily involved with the planning process. I knew from then that this was the industry I wanted to be in. Meeting new faces has always been a pleasure of mine and making my client's dreams come true only makes it better. Kalm Kitchen had impressed me so much with their styling, food menu and work ethic, that as soon as I heard they were looking for an event manager, I didn't think twice about applying for my dream role.
3) What do you love the most about being a part of the Kalm Kitchen family?
The word family is exactly what I would describe Kalm Kitchen to be. We all have our quirks and strengths, which I feel really develop us in our roles. The owners of Kalm Kitchen, Jen and James, have been such an inspiration to me and I cannot thank them enough for the time and effort they put into all of us, which then reflect in our events. Kalm Kitchen has not only given me great colleagues to work with, but friends for life!
4) What tips & advice do you give to couples during their planning journey?
I would tell them to enjoy every moment of it. I think it is natural to want perfection for the big day, which can add too much pressure and cloud the enjoyment of talking through their ideas.
5) What is your favourite part of a wedding day? 
Seeing our couples for the first time in the morning has always been so special for me. I love that initial catch up and excitement you share together. It is such a lovely moment that I wish I could bottle up every time.
6) What new wedding food trends should couples be looking out for over the coming year? 
Food stations are an amazing statement for the big day. The "wow factor" that comes with them offers such a great experience for guests and something delicious they do not expect. Our Lemonade and Lollipop stand works perfectly for a hot summers day and looks incredible! Or, for the evening, our Honeycomb and Hot Chocolate station satisfies those sweet cravings and brings everyone together as the night draws in. Complete Bliss!
7) If you could choose your dream Kalm Kitchen menu, what would it be?
I love the sharing experience for the wedding breakfast. I would have a middle eastern sharing board with an abundance of dips, breads and my personal favourite, halloumi!
As a vegetarian I would have our delicious arancini ball, which is available in an abundance of flavour and accompaniment combinations, to suit every taste. Mine would be a mozzarella, basil pesto and pine nut arancini on a bed of caponata and fresh basil. Dreamy!
A sharing dessert is a must! I am a chocolate fiend, so mixing this together with salted caramel and layers of meringue to create a slice at the table pavlova is perfection. You can nominate one person per table, and dress them in aprons, chef hats and moustaches, to collect the pavlova and serve the guests on their table. These are the little touches that create lasting memories of your special day. You just know it'll be a talking point for years to come.
8) What do you love most about Millbridge Court? 
I know I can speak on behalf of all our couples getting married at Millbridge Court, that this is the dream venue.  The balance of contemporary design and country home works perfectly and instantly makes you feel at home when you walk through the front door.
9) What are your favourite linen and glassware colour combinations at the moment? 
I am in love with vintage oak trestle tables paired with our luxurious urbane napkin range, it effortlessly really brings an outdoor feel inside. Having a spot of colour in the water glass elevates the whole design of the table. An idea would be to speak with the florist to match the colour palette of the flowers and unite all the elements together in harmony. My personal favourite is to have a bronze coloured water glass with a chalk urbane napkin as showcased in the most recent May tasting evening.
 Chalk glassware & urbane napkin featured at our Tasting Evening
 Flowers: Lavender Hill Company, Photographer: The Springles
10) Who are your three favourite Wedding Industry professionals/brands to follow on Instagram? 
@natspaperstudio is a must for stationary lovers. I am in love with her designs, and her "Crazy Cat" charm just adds to the personality of her amazing work
@bubblegumballoons Their installations are the work of dreams. With a huge range of clients under their belt, they have proven that balloons are stylish, luxurious and most importantly fun!
@kindredxstylingbyjen showcases creativity and adventure. If you want to feel inspired by the latest trends and interiors to elevate your style, Jen is your girl.
Here's the Lovely Pete, in action
Photographer: Millie & Belle