News : 05 / 11 / 20
Wedding Cake Inspiration from Scrumptious Bakes by Emma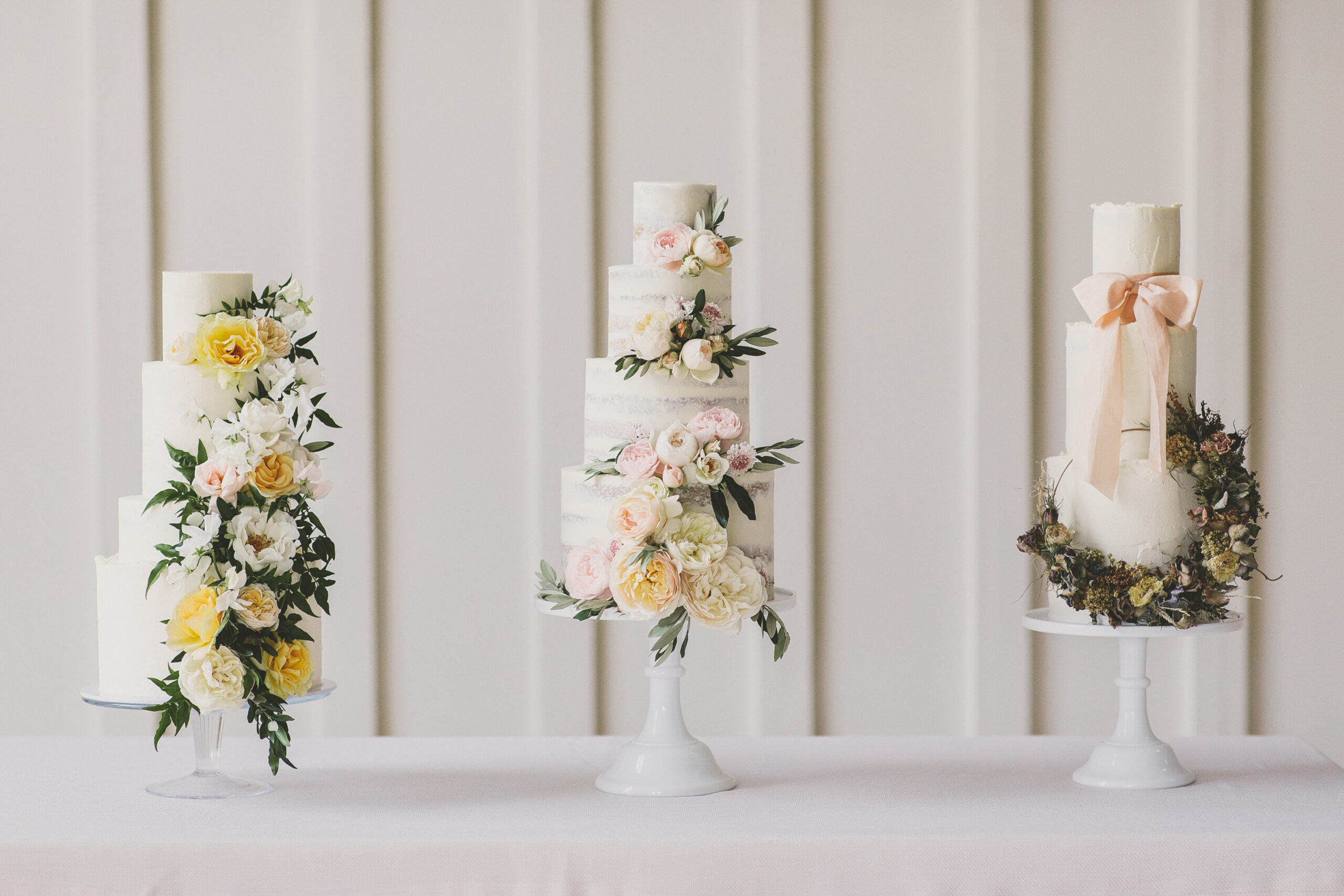 Tell us a little bit about Scrumptious Bakes with Emma? 
Scrumptious Bakes by Emma is based in Odiham, Hampshire. We specialise in beautiful, bespoke wedding cakes, macaron towers and macaron and personalised cookie wedding favours, all made with the finest organic, award-winning and sustainable ingredients.
Our contemporary classic aesthetic is imbued with subtle luxury and timeless style, and we are renowned for our exceptional ingredients and decadent touches.
Four generations of my family have been professional bakers and confectioners, and my mum is a former Michelin-starred chef. As a small child, I fell in love with baking in my grandma's kitchen, and I take huge pleasure following in my family's footsteps.
I started my business in June 2018, 16 months into recovery from a life-changing injury that damaged my sacroiliac joints, pelvis, lumbar spine, sacrum and coccyx. As I became stronger and could stand again, baking became a way for me to reconnect with my body, mind and soul. I have always found baking very mindful and easily lose myself in kneading soft dough or gently scooping and folding macaron batter.
Baking for family and friends initially gave me a sense of purpose; a clear, achievable goal and focus, which helped to relieve the trials of chronic pain and rehabilitation. It helped me to re-discover a sense of identity, to feel pride, to feel empowered. It rebuilt my self- confidence.
I found the concept of beginning my own business simultaneously exhilarating and challenging. Stimulating my mind was equally as important to my recovery as each physical step, and dreaming about my business, and how it would look and feel gave me hope and strength.
I am so proud of my business and all it has achieved so far. We have won several awards, and were recently invited by British Vogue to feature in their 2020 'Match Made In Vogue' luxury wedding campaign. I am so excited to keep building on our success, and really looking forward to all that the future will bring.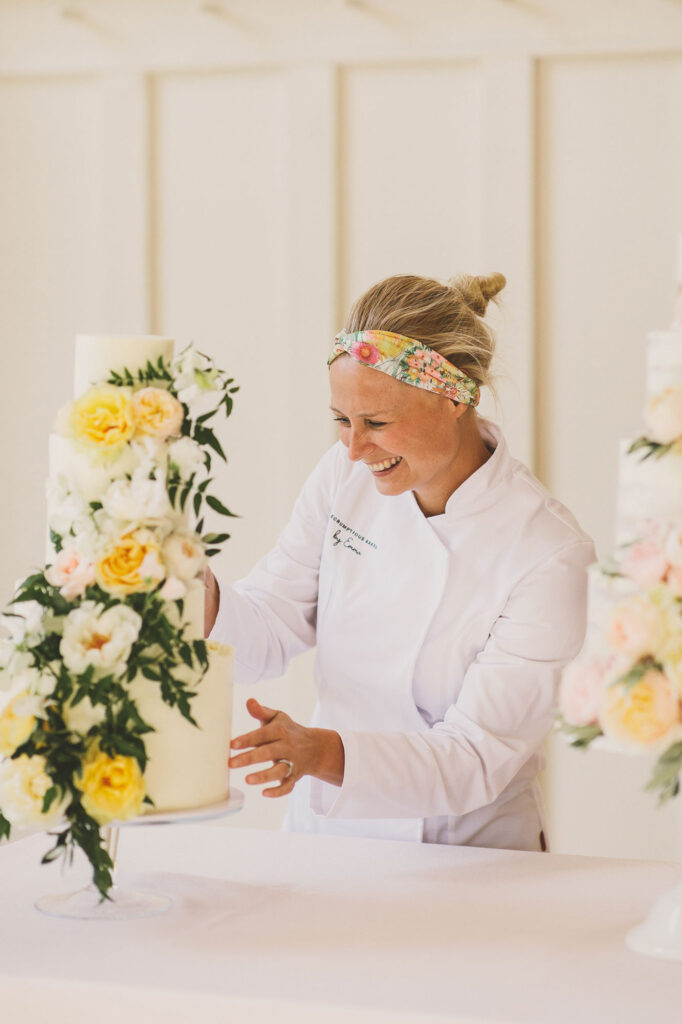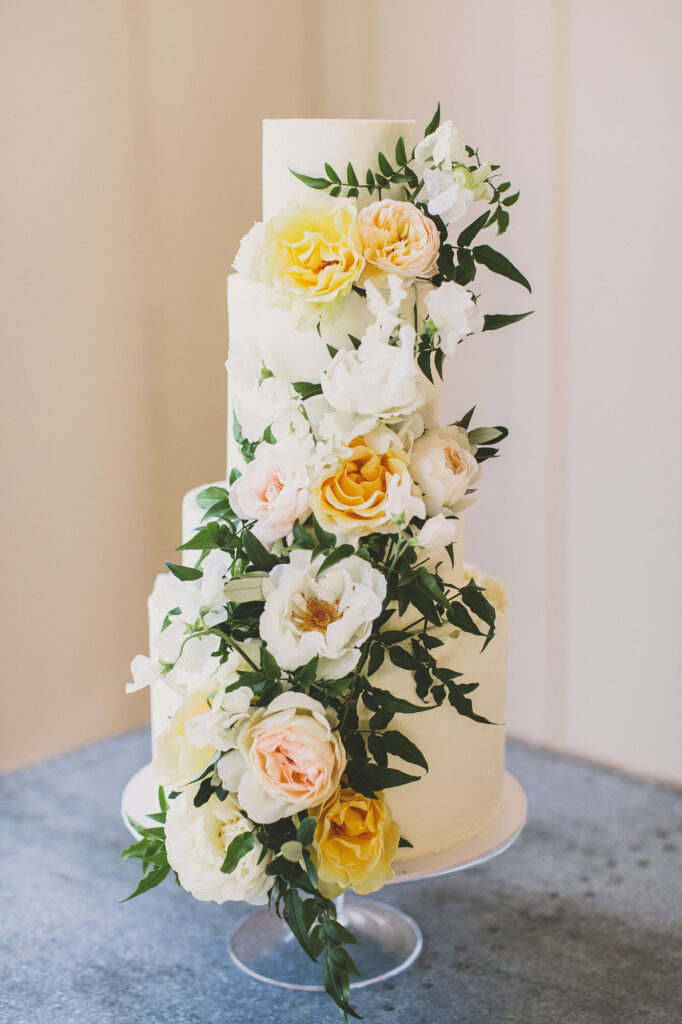 What made you create these particular looks for your photoshoot and do you have a particular favourite or favourites?
I am inspired by so many different elements when designing centrepieces for our couples. These include: Seasonal, fresh produce; the beauty of the natural world and its tones, colour palettes and textures; the relaxed movement of soft foliage and the subtle beauty and natural cascade of flowers in bloom; and of course, most importantly, couples themselves and their stories.
Each wedding cake and macaron tower featured in the shoot celebrates our unique style; at once creative, unique, irresistibly elegant, mouth-wateringly delicious and thoughtfully designed.
Our contemporary classic aesthetic underpins each wedding cake and macaron tower. Traditional tiered wedding cakes for example have a modern feel with tiers of varying heights, carefully crafted from soft, light sponges and smooth, whipped buttercream, rather than fruit cake and sugar paste. Similarly, deliciously fragrant macarons, a French classic, are filled with indulgent Belgian white chocolate ganache and tower in a contemporary ombré cascade, perfectly complimented by soft, silk ribbon.
It is hard to choose a favourite design, but I love this organic three-tier Madagascan vanilla wedding cake, featured by British Vogue this October.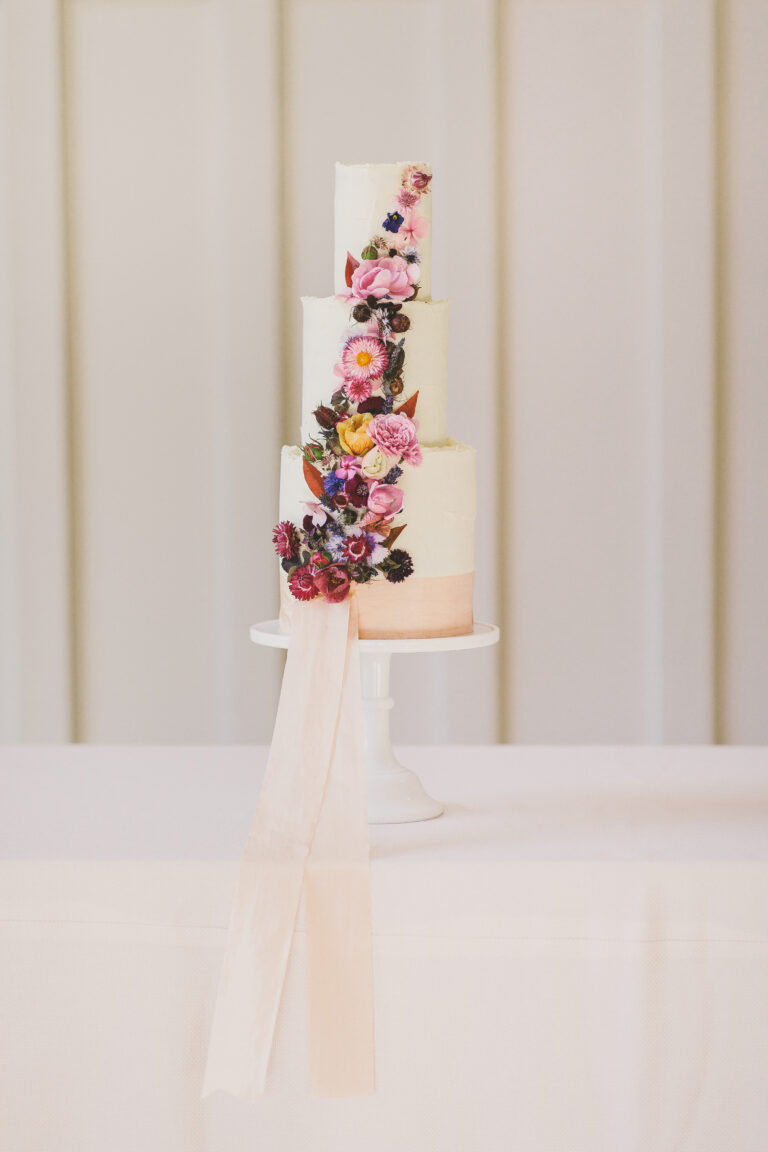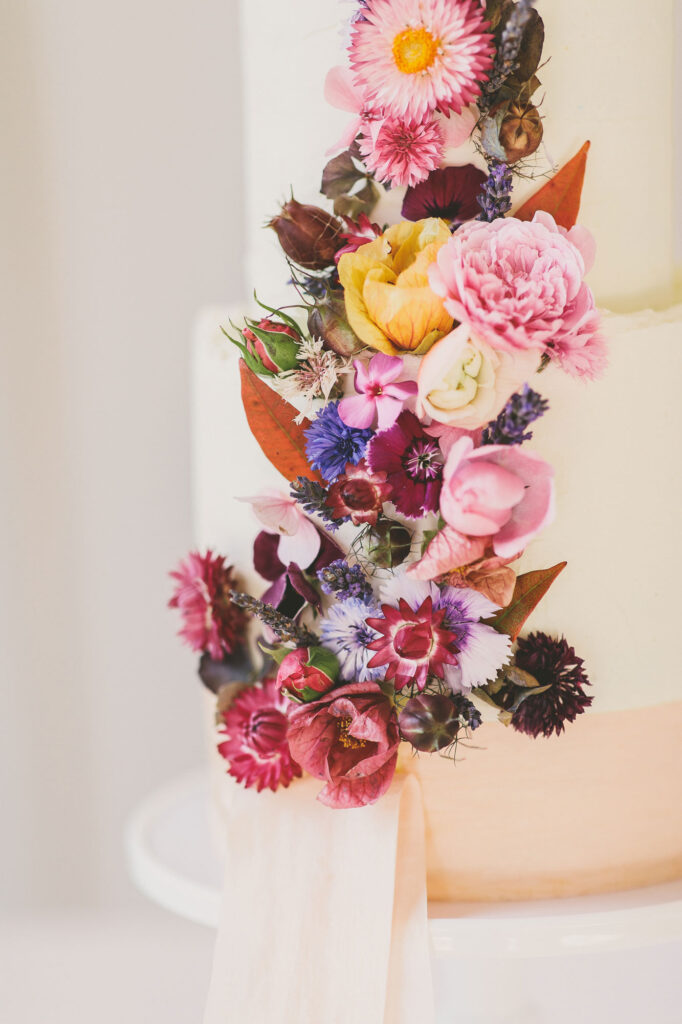 One of the ways to make your cake or macaron tower a true centrepiece is by extending its lines beyond where you would expect them to traditionally finish, encouraging the eye either higher or lower than it would usually look.
This design does this beautifully, with the delicate, soft ribbon by Eden Blooms adding a touch of subtle, contemporary elegance. By letting the ribbon drape delicately over the edge of the table, the long, tall lines of the cake are naturally elongated. It looks as striking, if not more so, from a distance, and works especially well as the width of the ribbon balances the height of the cake.
I also love the gently textured buttercream ruffles around the top of each sponge, the extra tall tiers, and the intriguing fresh flower cascade. It really is a design that captures the eye and draws you in, just like a piece of art, and I loved working with Hazel of Eden Blooms to bring it to life.
My other favourite design from the shoot is our Callebaut Belgian chocolate wedding cake. It is the perfect size for a smaller gathering of loved ones, and its combination of different height tiers is striking. I also love the contrast of the jewelled tones of its fresh flowers against the smooth chocolate buttercream finish, reflected beautifully by its gold mirror base; such a beautiful and simple way to elevate your cake. It also smelled absolutely amazing!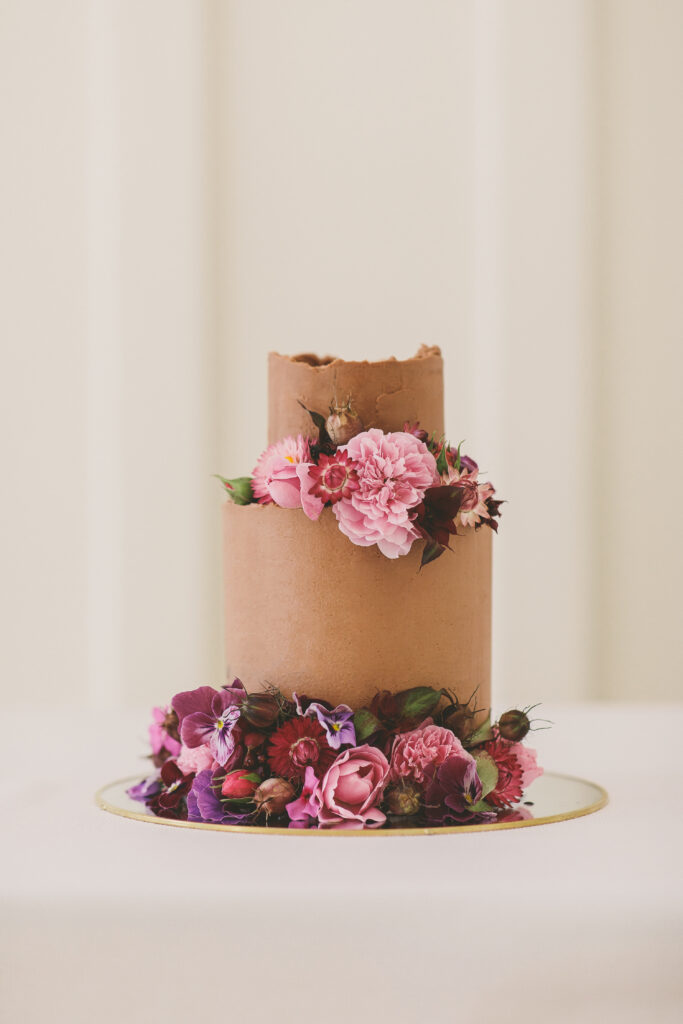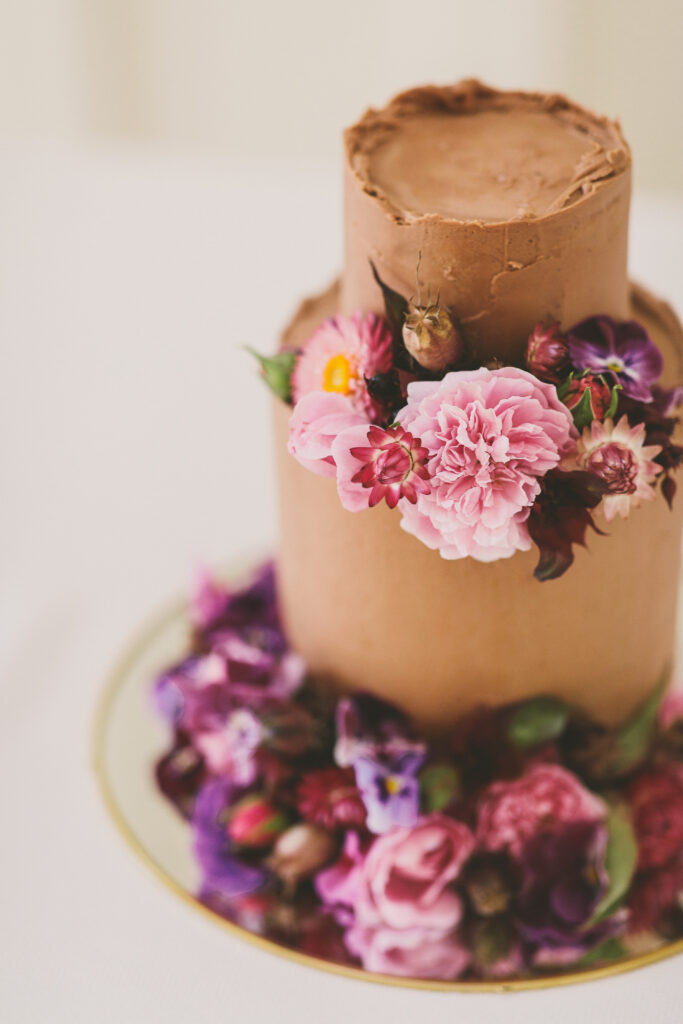 Tell us about the other suppliers that you collaborated with?  
I loved working with Hazel Shaw of Eden Blooms and Anna and Simon Clarke of We Are // The Clarkes on the shoot.
Hazel is an extremely talented and experienced florist, and her Hampshire cutting garden is exceptionally beautiful, brimming with seasonal flowers and foliage. Hazel's work is truly stunning, and I cannot recommend her highly enough.
Anna and Simon are based in Warwickshire, and produce creative, fun, joyful and honest images and films. Their relaxed approach and light, natural style was perfect for Scrumptious Bakes, and I love how evocative each of the images are. I very highly recommend them too.
We were also grateful to Just 4 Linen, whose beautiful linen and napkins helped to create the perfect backdrop for each shot.
Why was Millbridge Court your choice of location?
Millbridge Court is a truly beautiful space, filled with natural light. Its high-vaulted, airy halls with floor-to-ceiling windows and rustic wooden beams provide a stunning neutral backdrop, and the possibilities for styling are endless. Its picturesque surroundings, with lush, green fields, a wildflower meadow and a hidden fern garden create lots of opportunities for photos, and their warm service and can-do attitude echoes our own approach.
Finally, we love how their spaces are designed with current trends in mind whilst respecting the spirit of the past, in much the same way that our fresh and modern designs connect with our traditional baking heritage.
Thank you for hosting us Millbridge Court. We hope to see you soon!
… and here are more of Emma's show-stopping Cakes captured by We Are The Clarkes on Shoot Day!