News : 10 / 04 / 22
Details Date Nights at Millbridge Court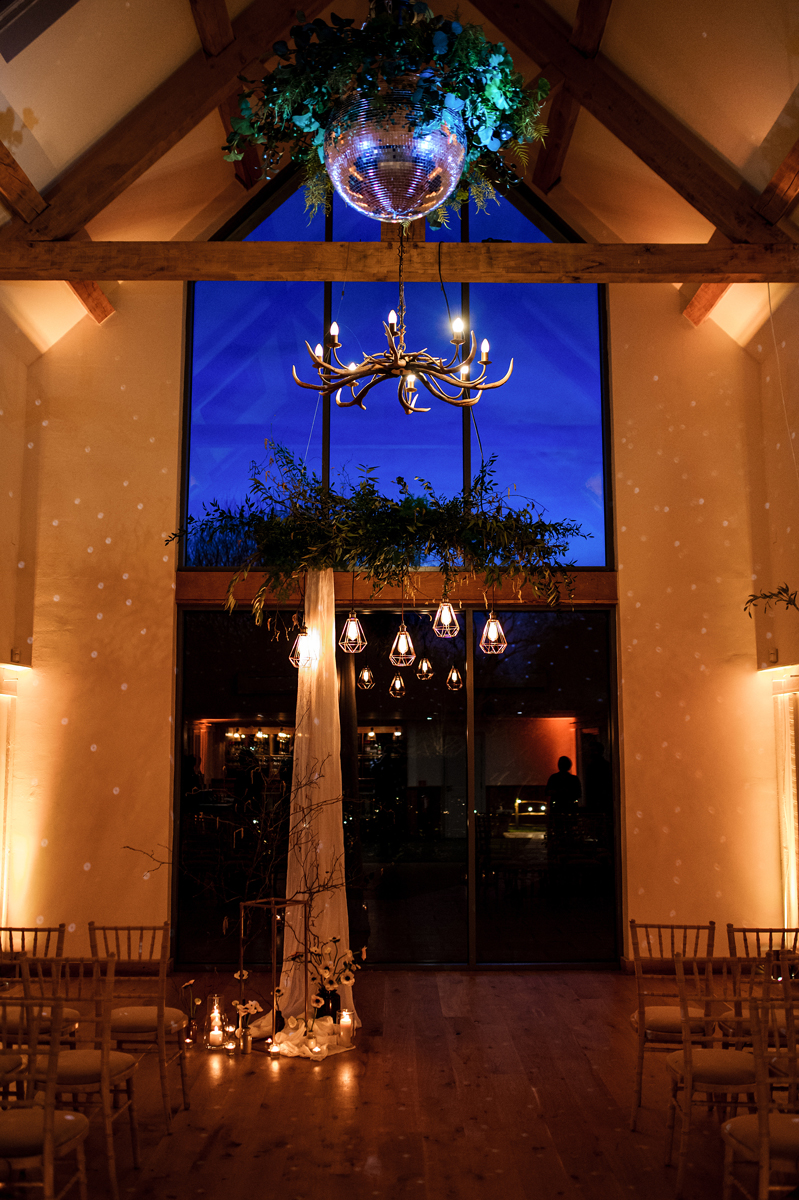 We have waited so long to finally be able to host our Details Date Nights (since November 2019 to be precise) and last month the wait was finally over!
It has been such a joy to welcome back our newly booked Couples and for them to be able to meet and chat to a selection of our super talented Millbridge Court Partners whilst also getting to see the Halls transformed with beautiful displays, tablescapes and installations and being able to enjoy tasty Kalm Kitchen treats and signature drinks. It's the perfect way to start getting inspired and begin to visualise how your very own special day might look!
Below we wanted to share with you all some of the breathtaking details from our Date Night on March 9th where we were so lucky to have all of these incredible MC Partners joining us:
~ Photographer ~
~ Florists ~
Hannah Berry Flowers (Ceremony Hall florals)
The Topiary Tree (Dining Hall florals)
~ Stationery ~
~ Cakes ~
~ Lighting ~
~ Videography ~
~ Hair and Makeup ~
~ Wedding Attire ~
~ Music ~
Keep scrolling to see lots of wonderful Millbridge Court Wedding Day inspiration!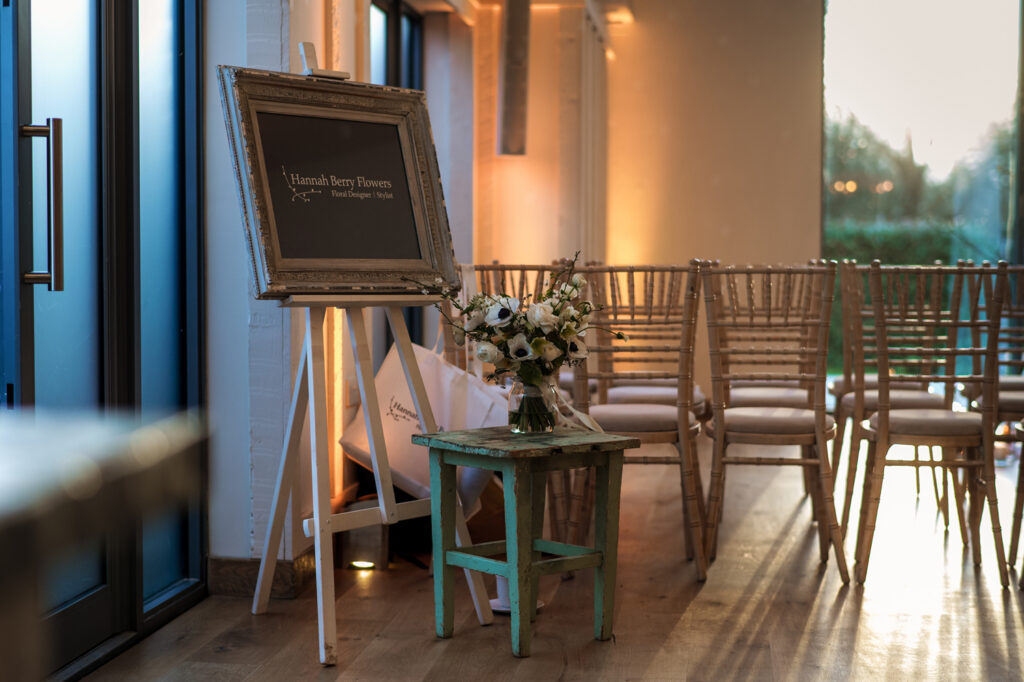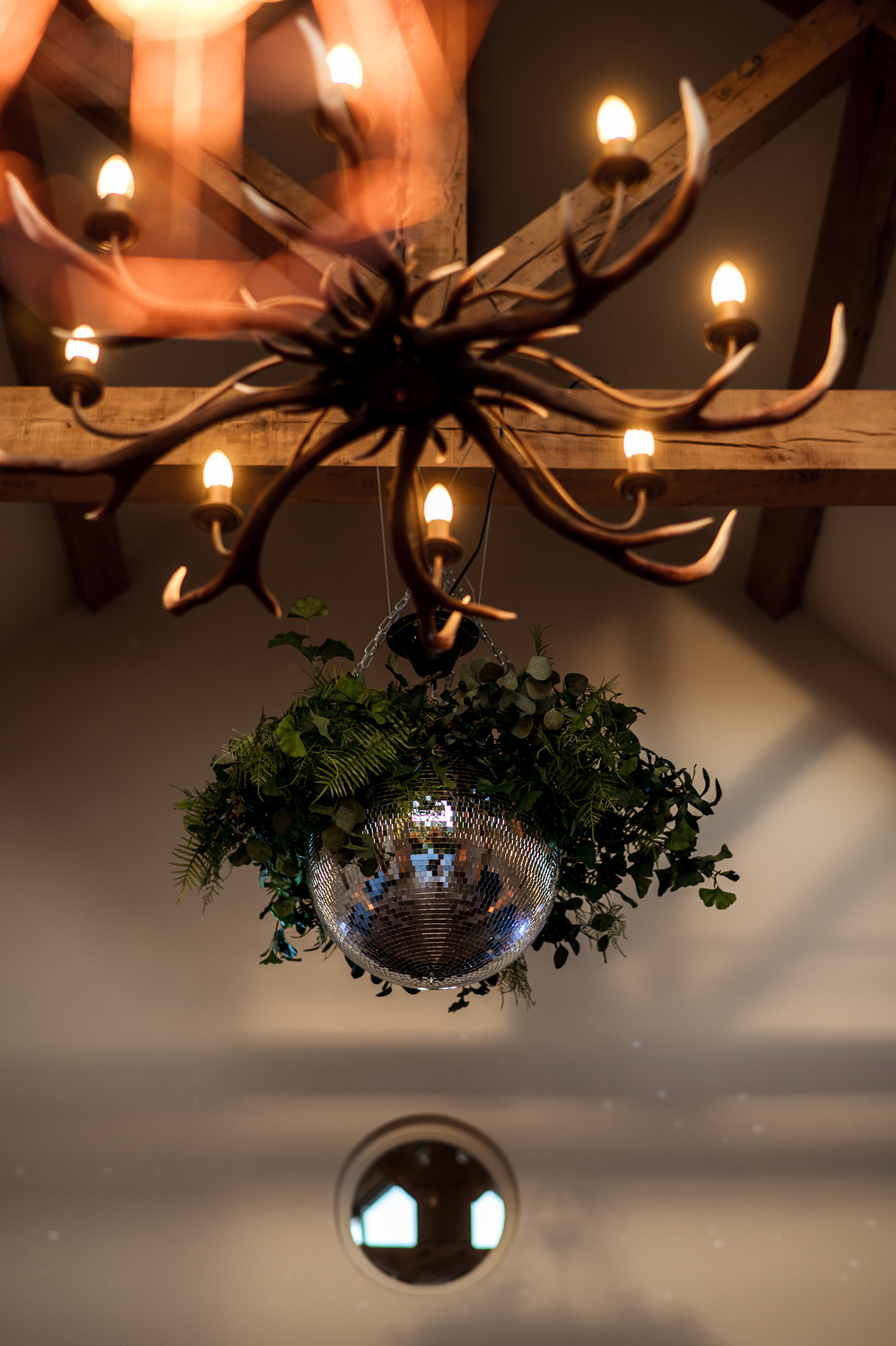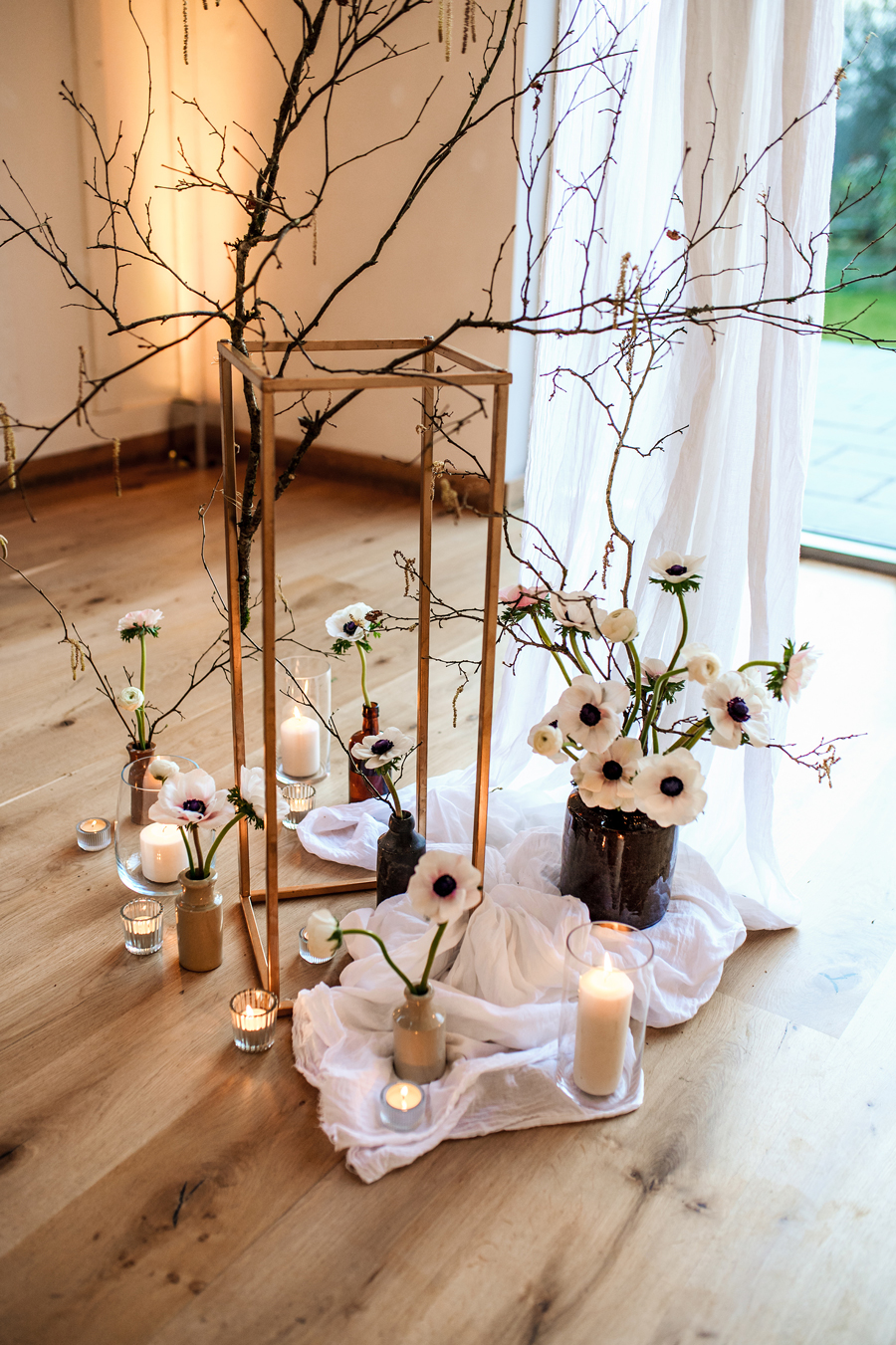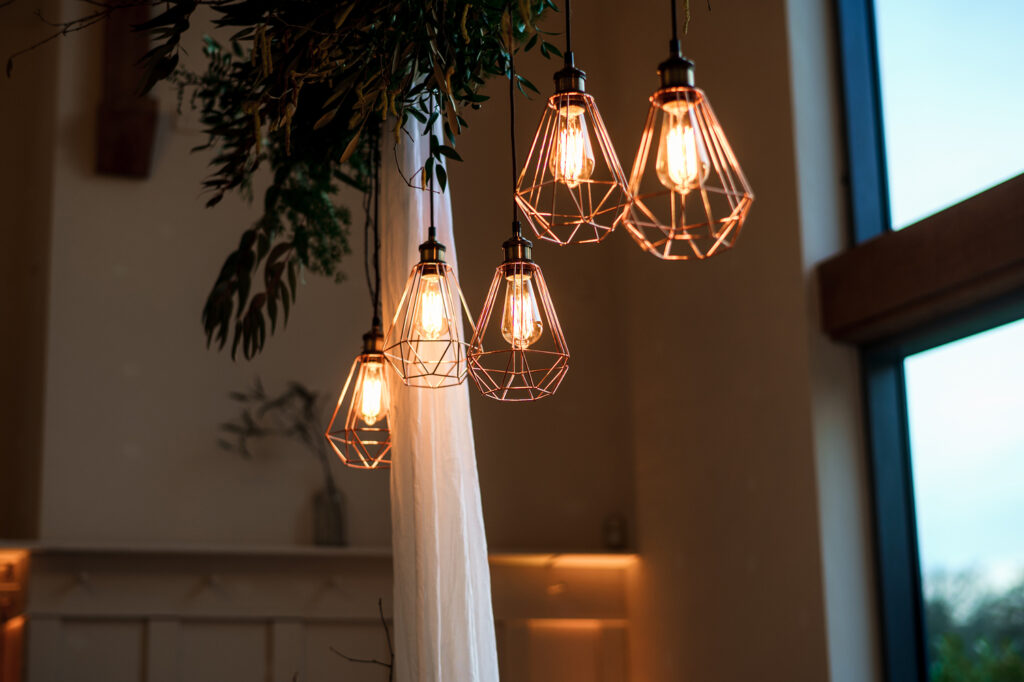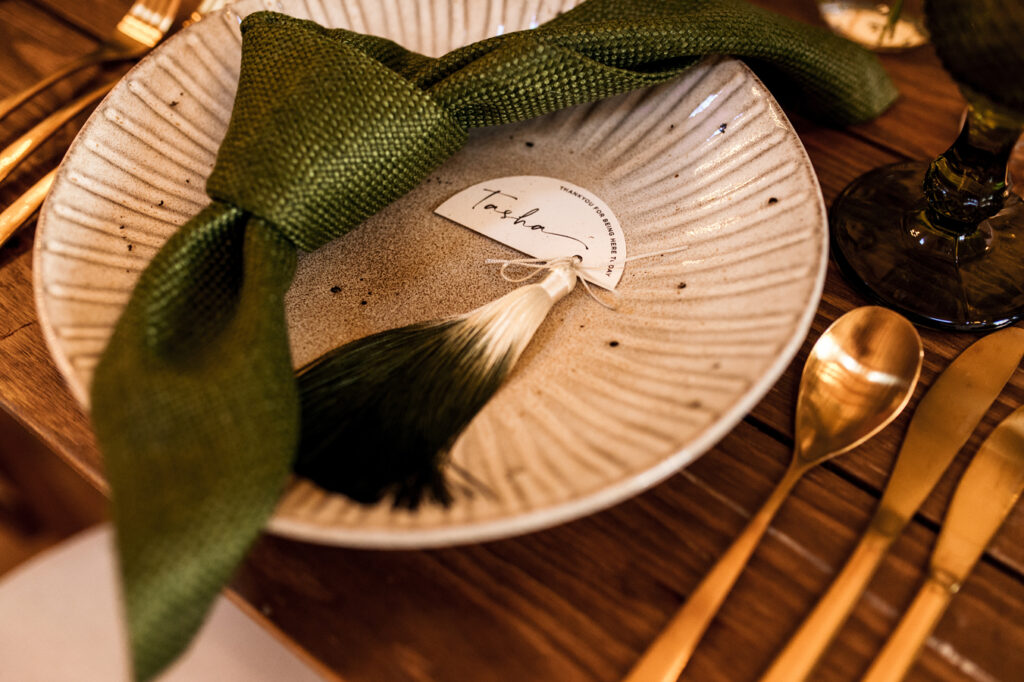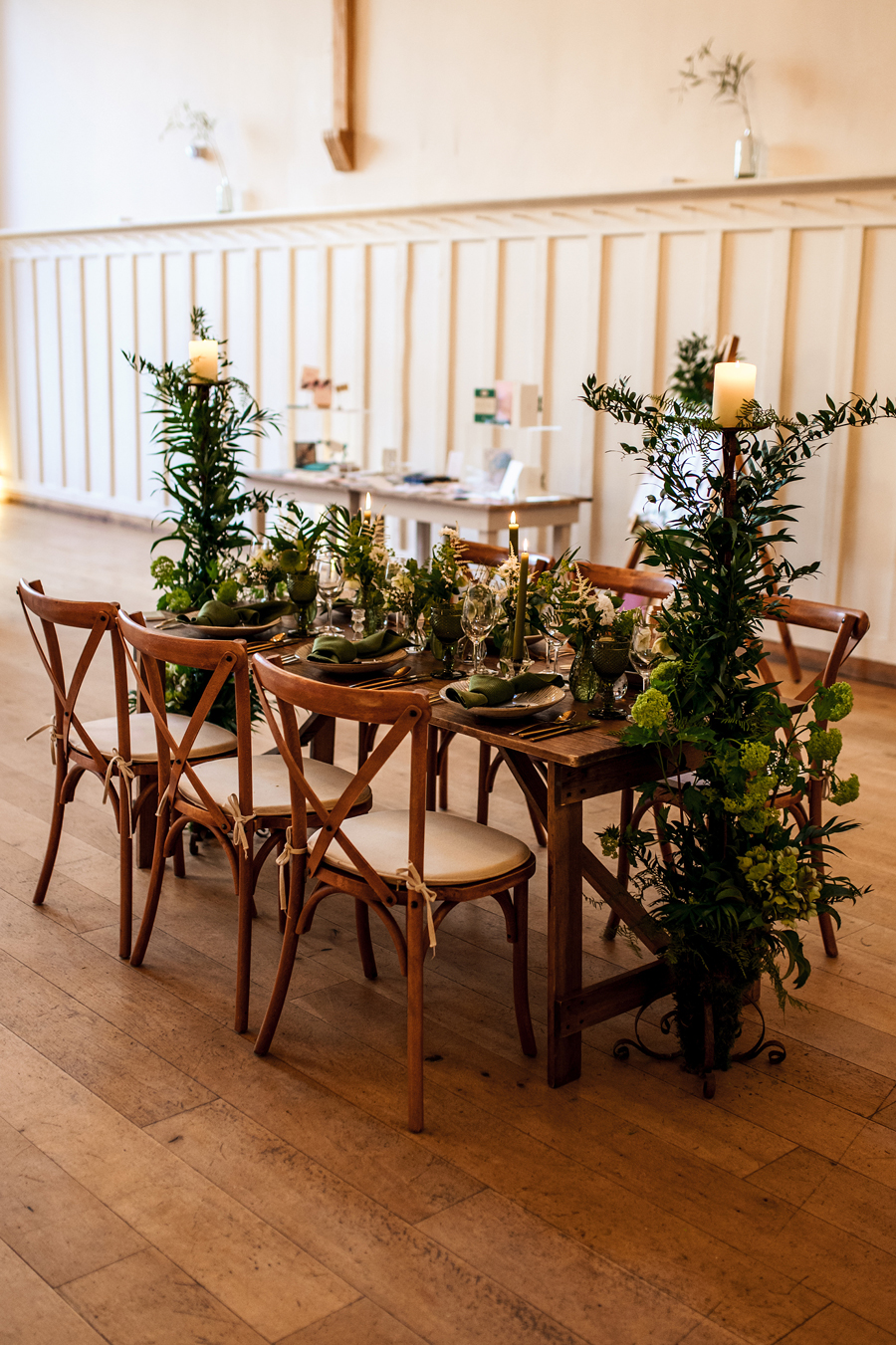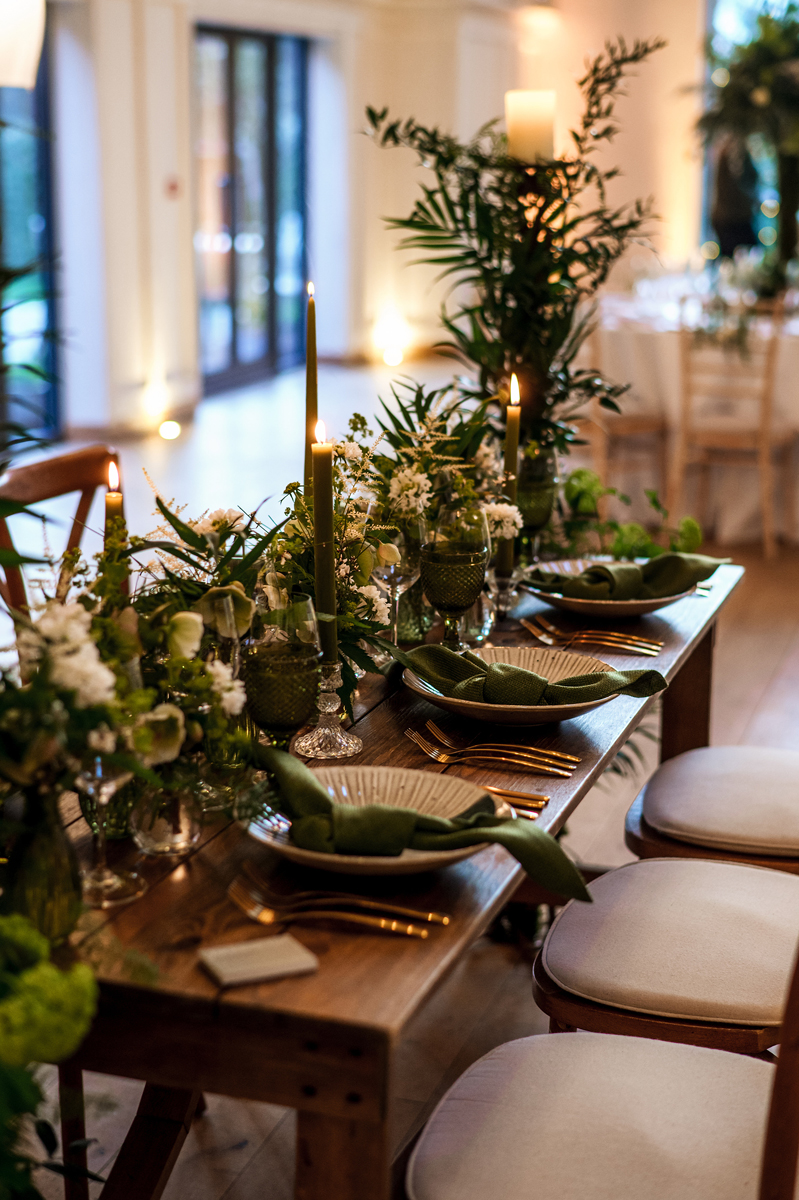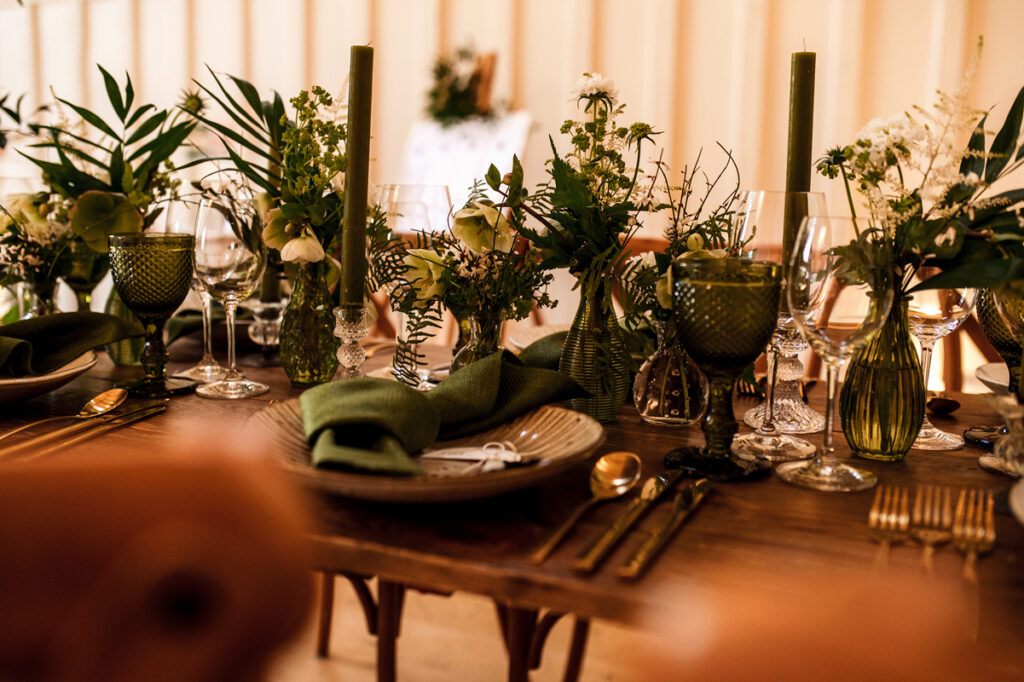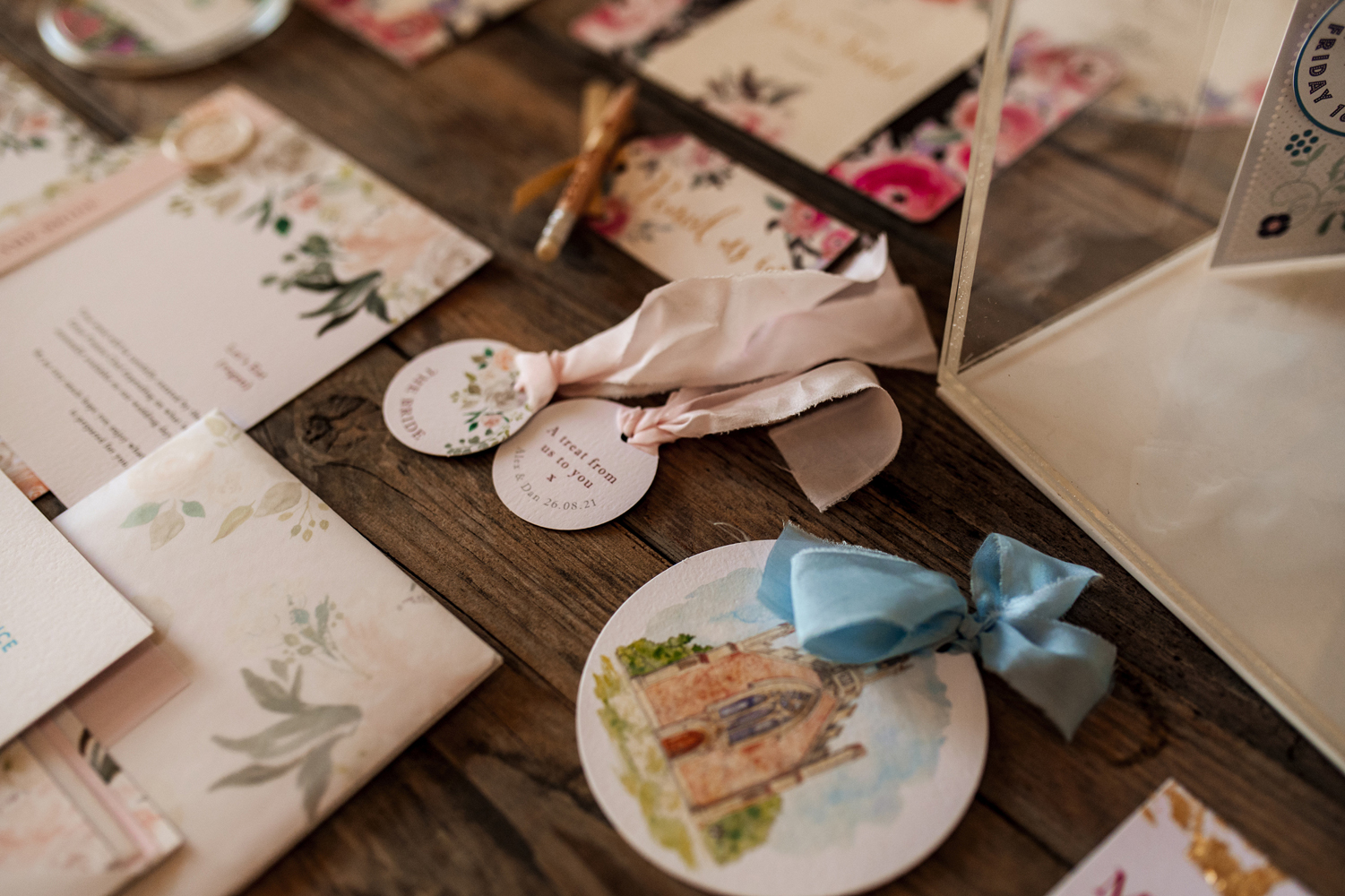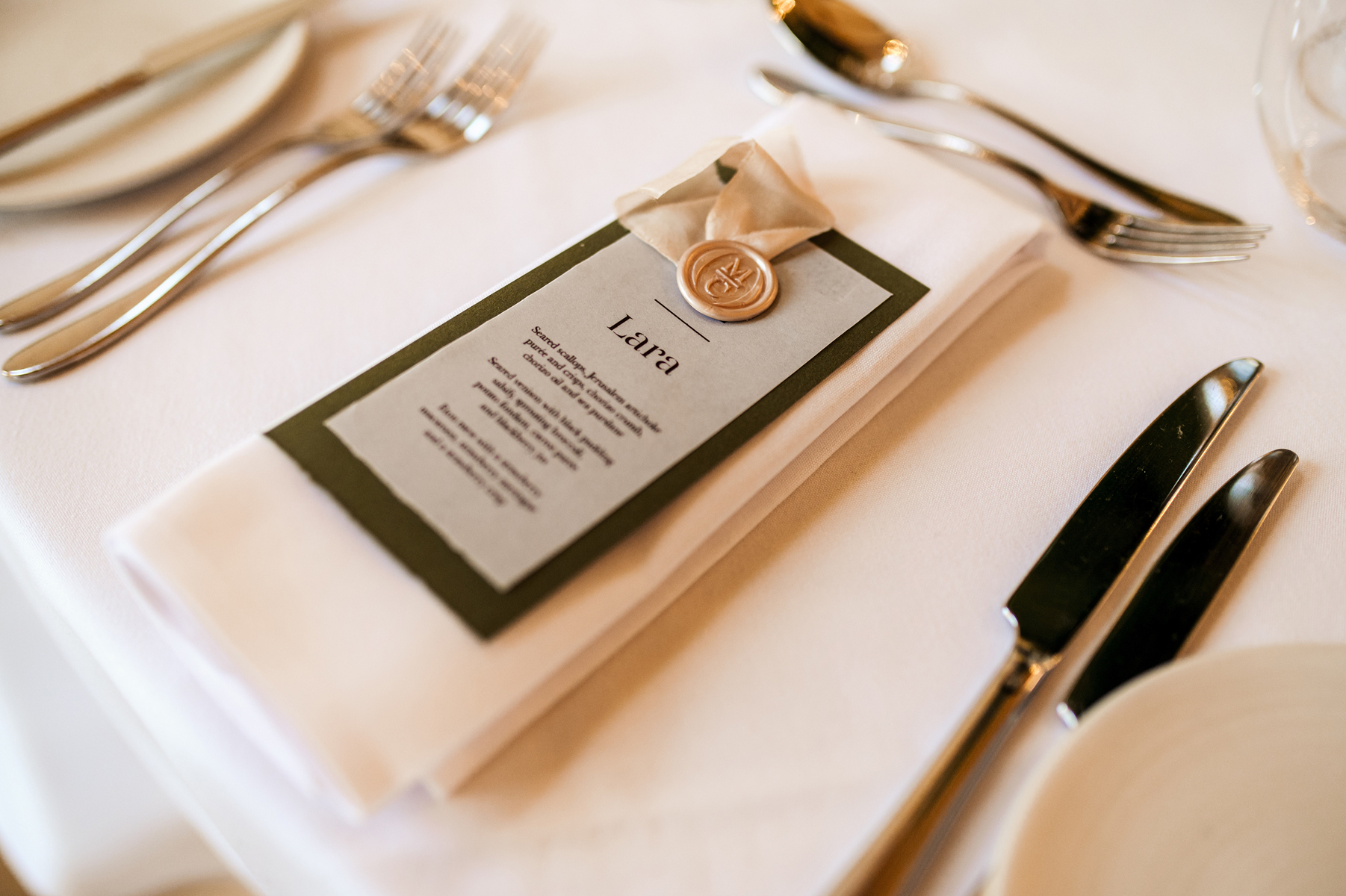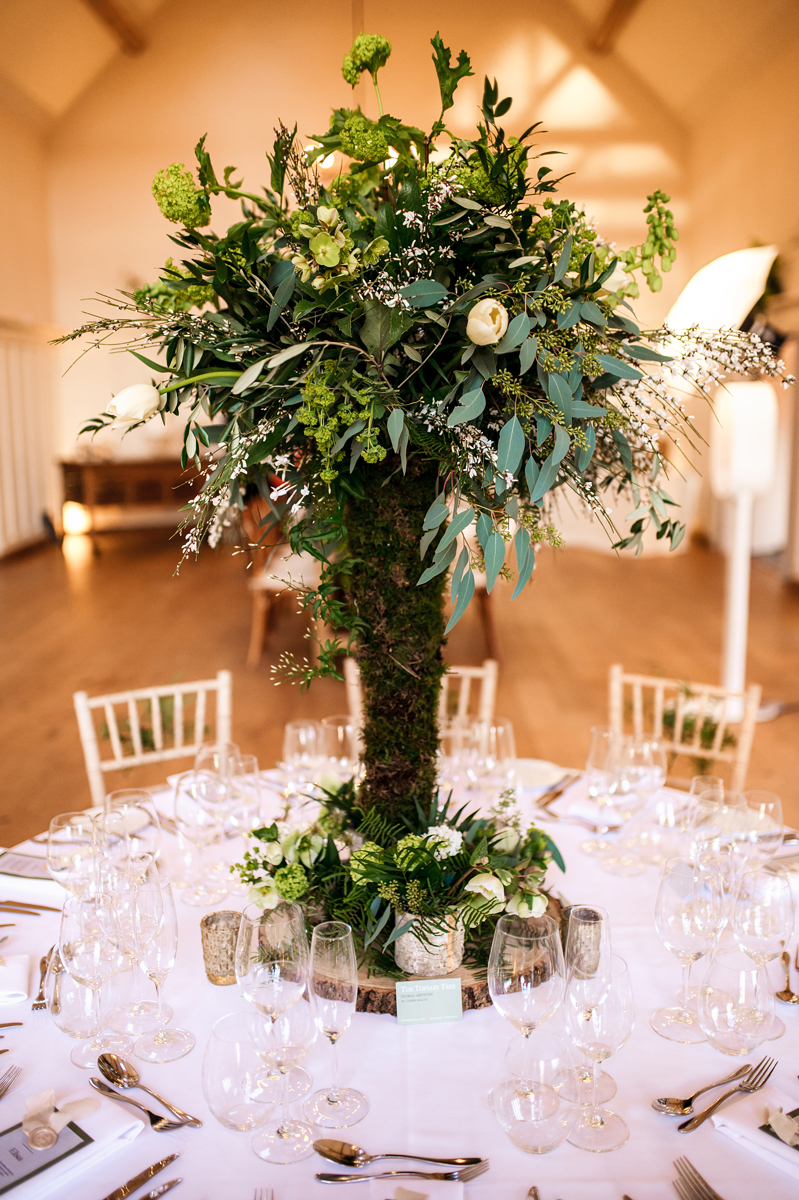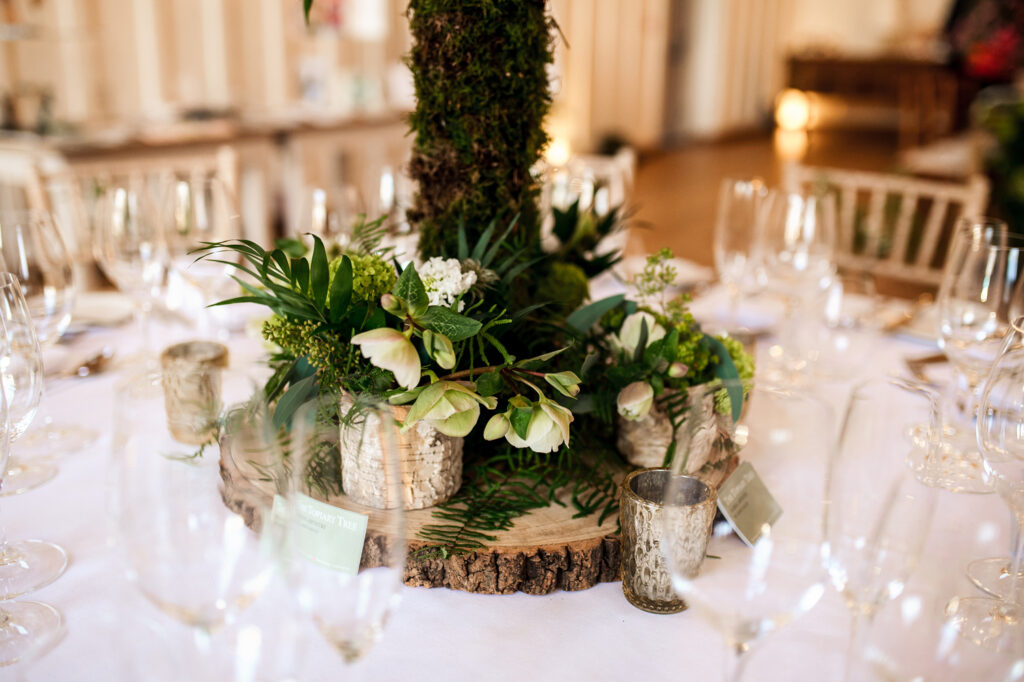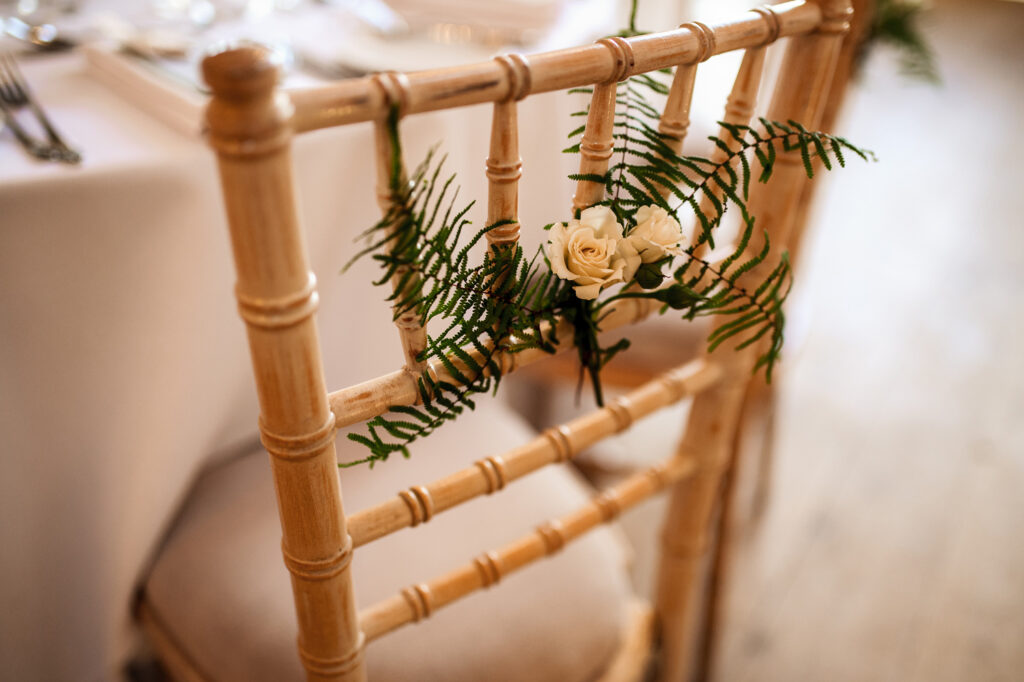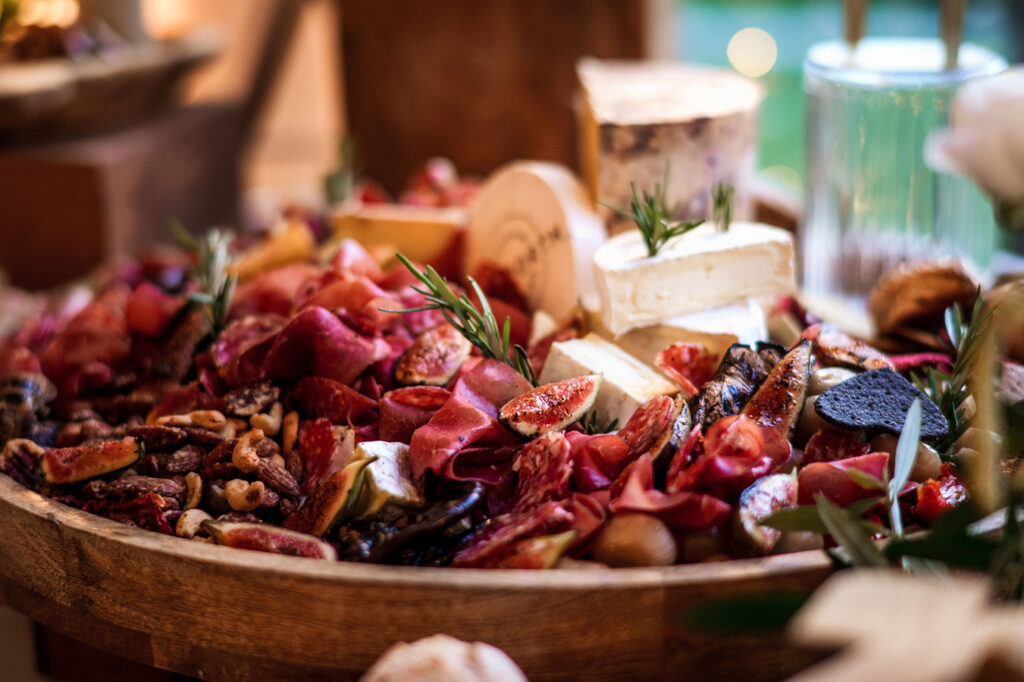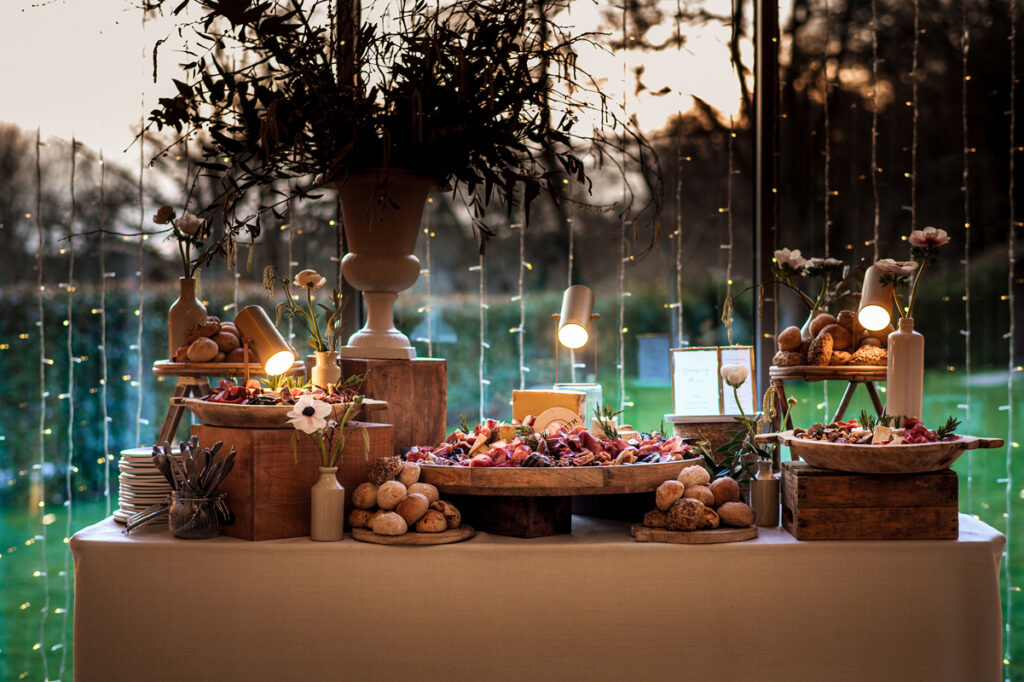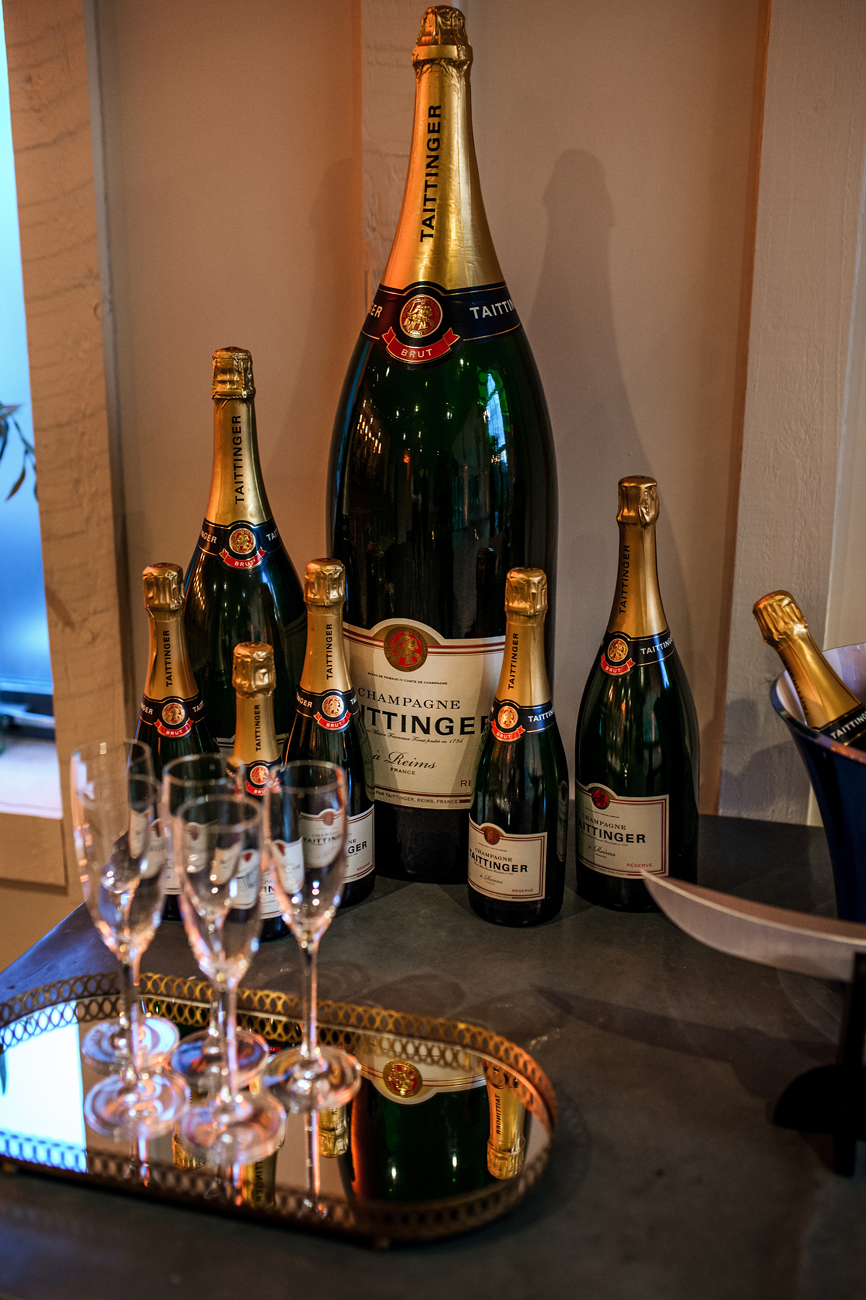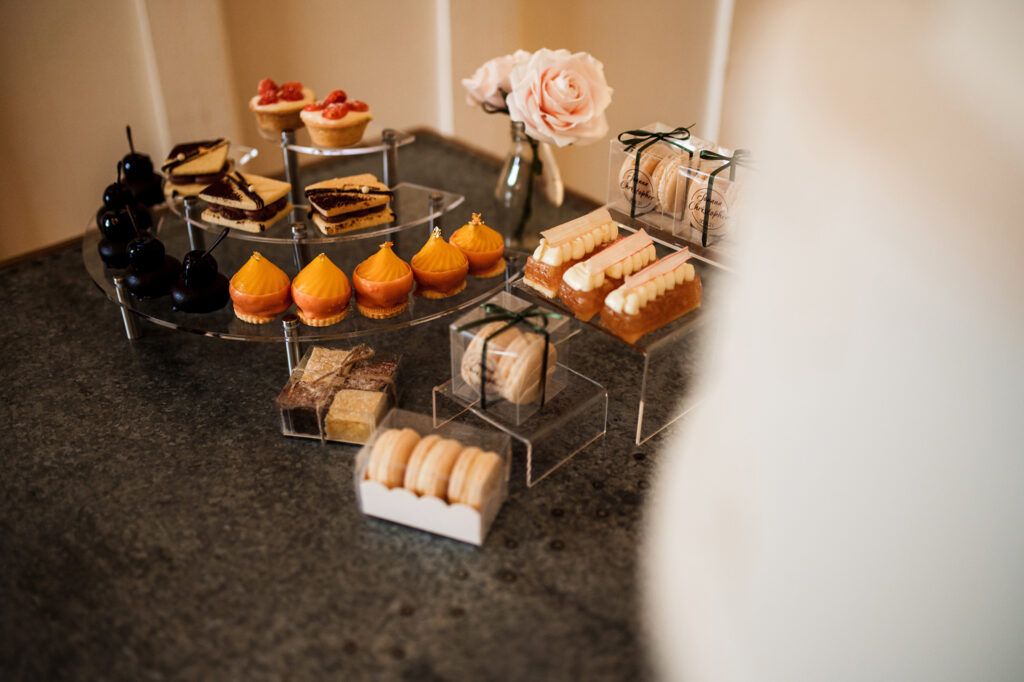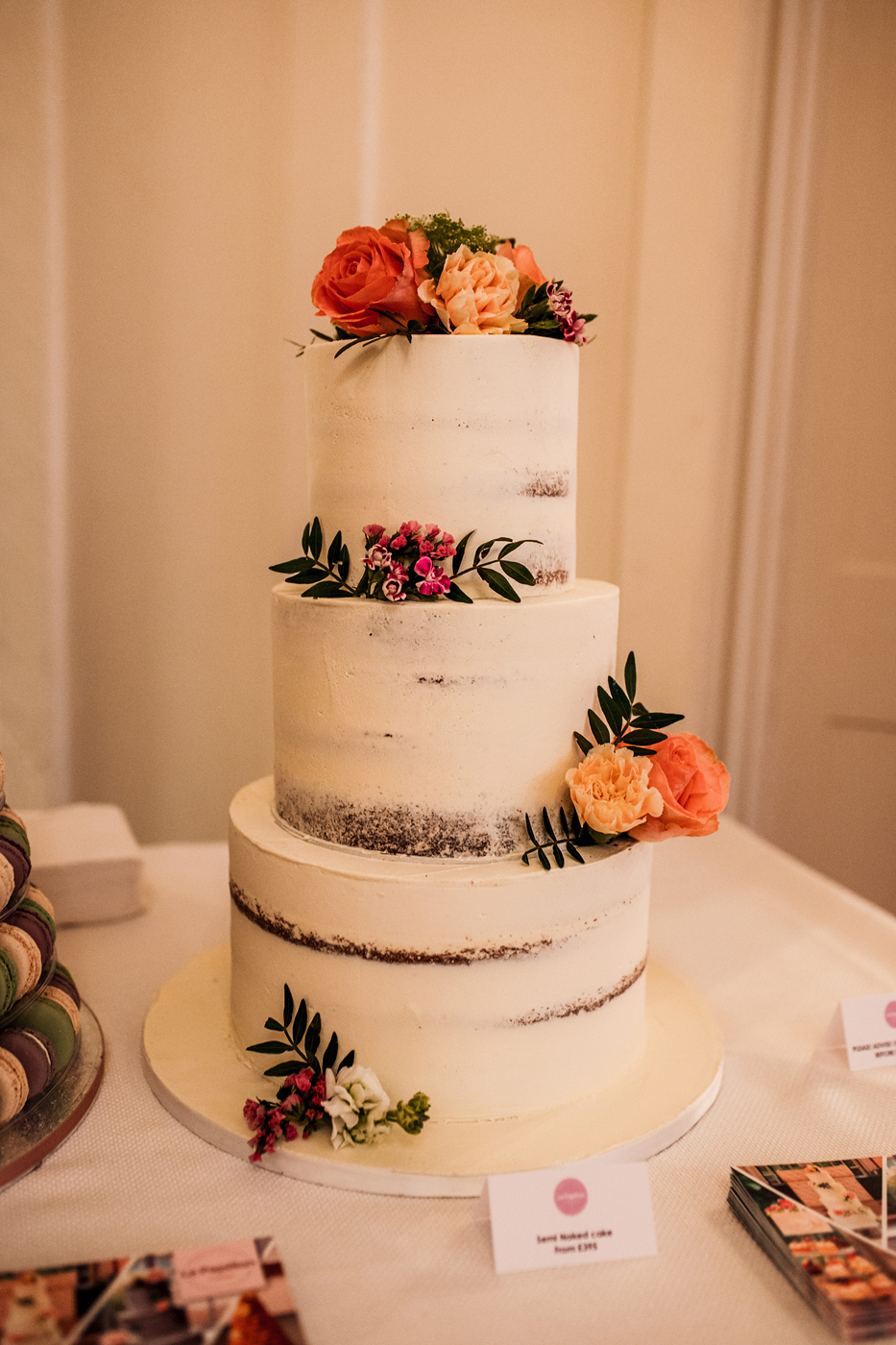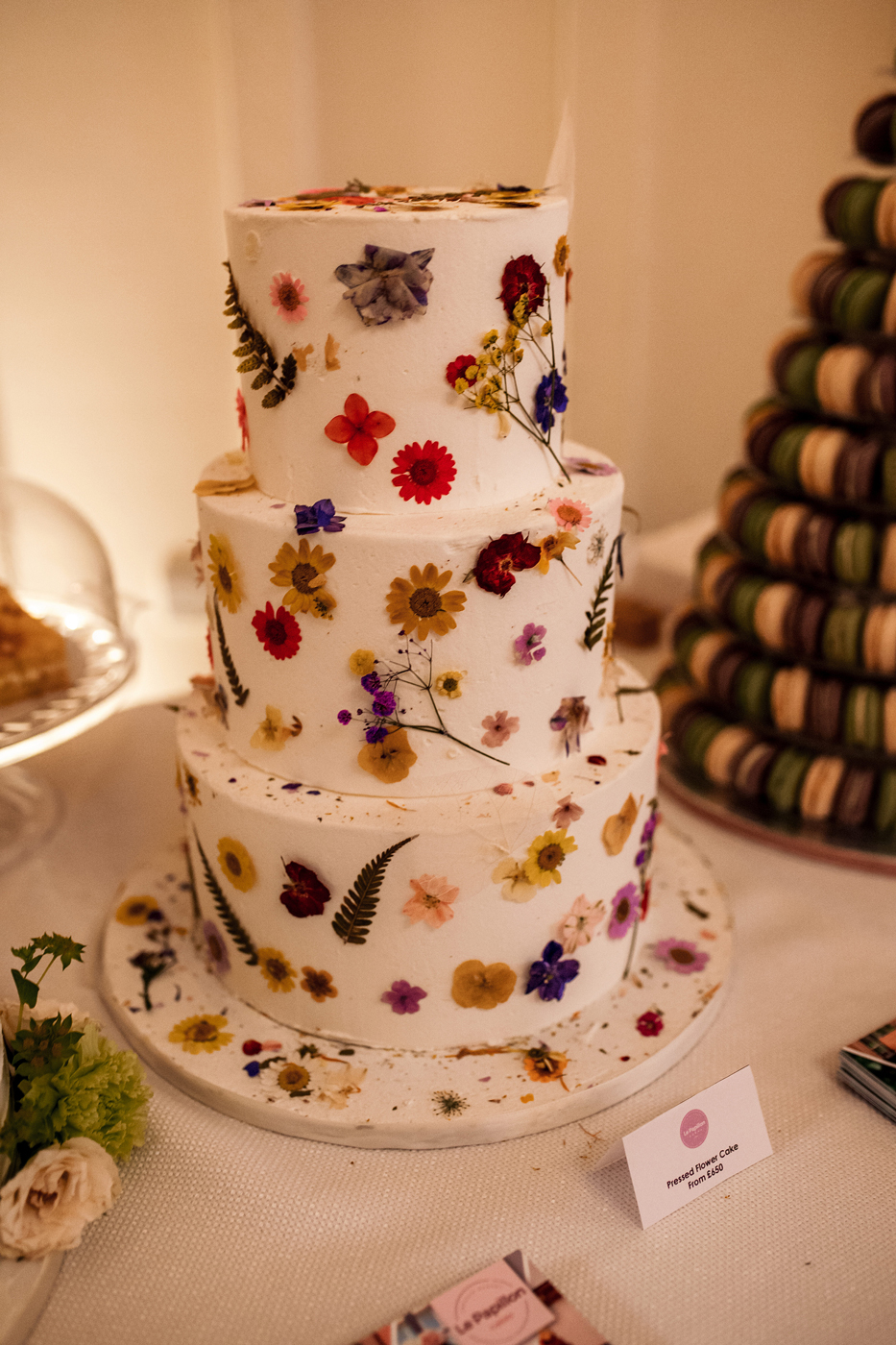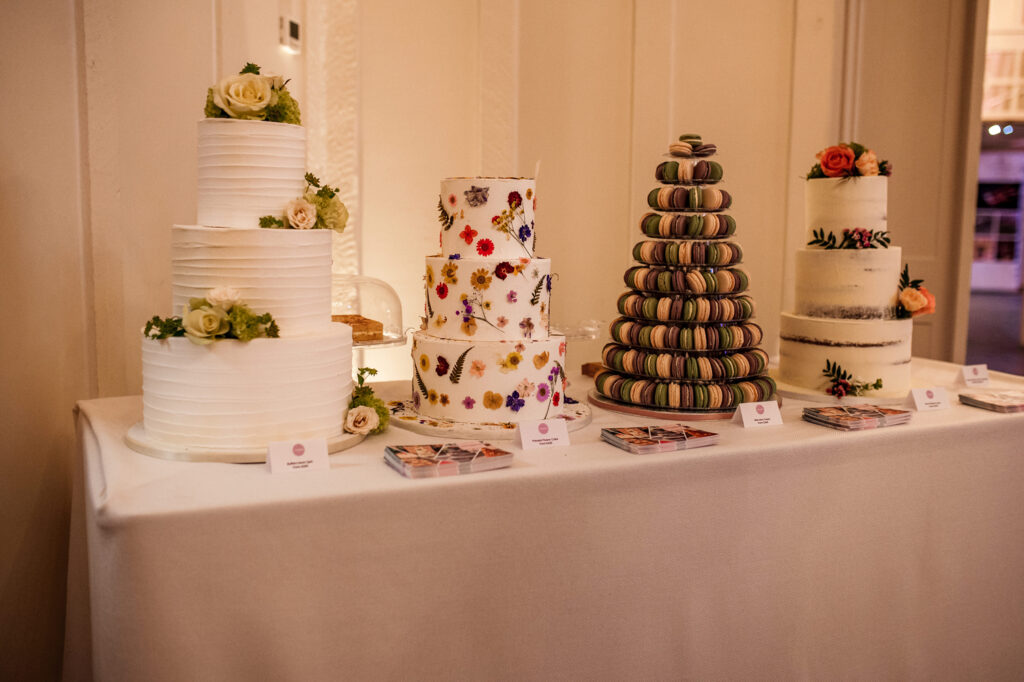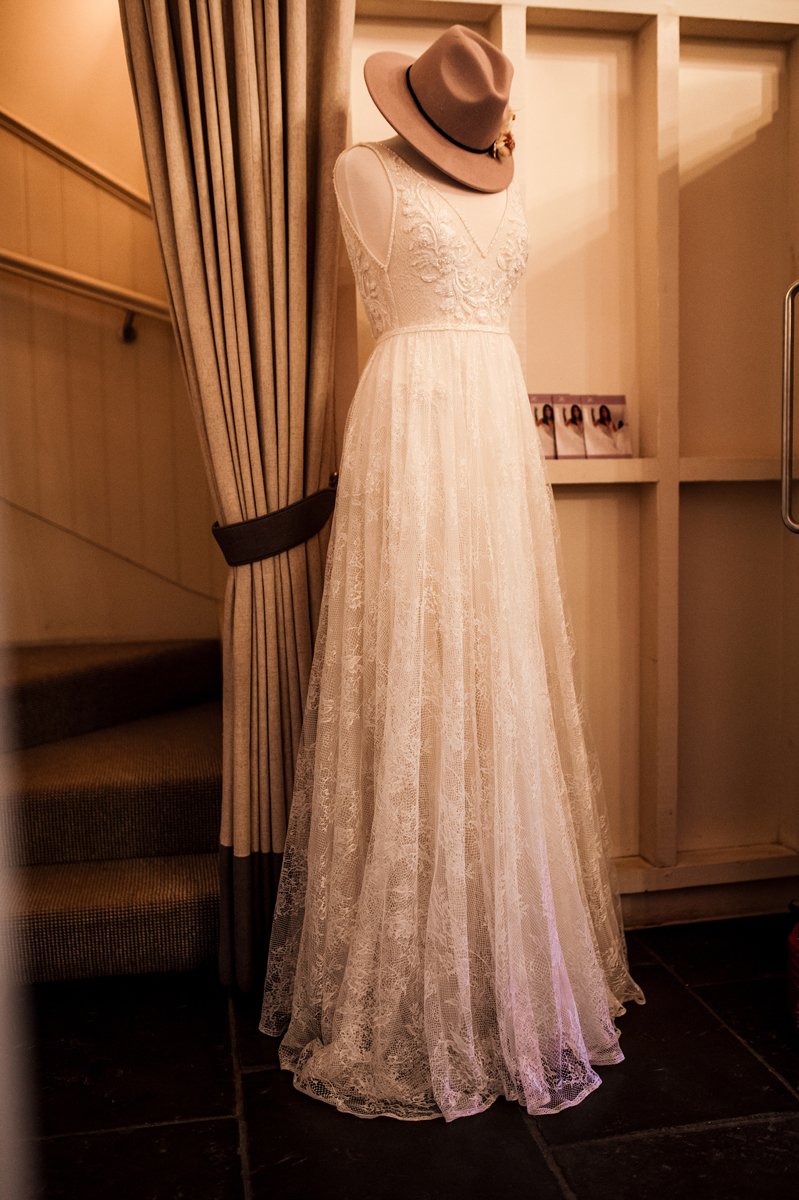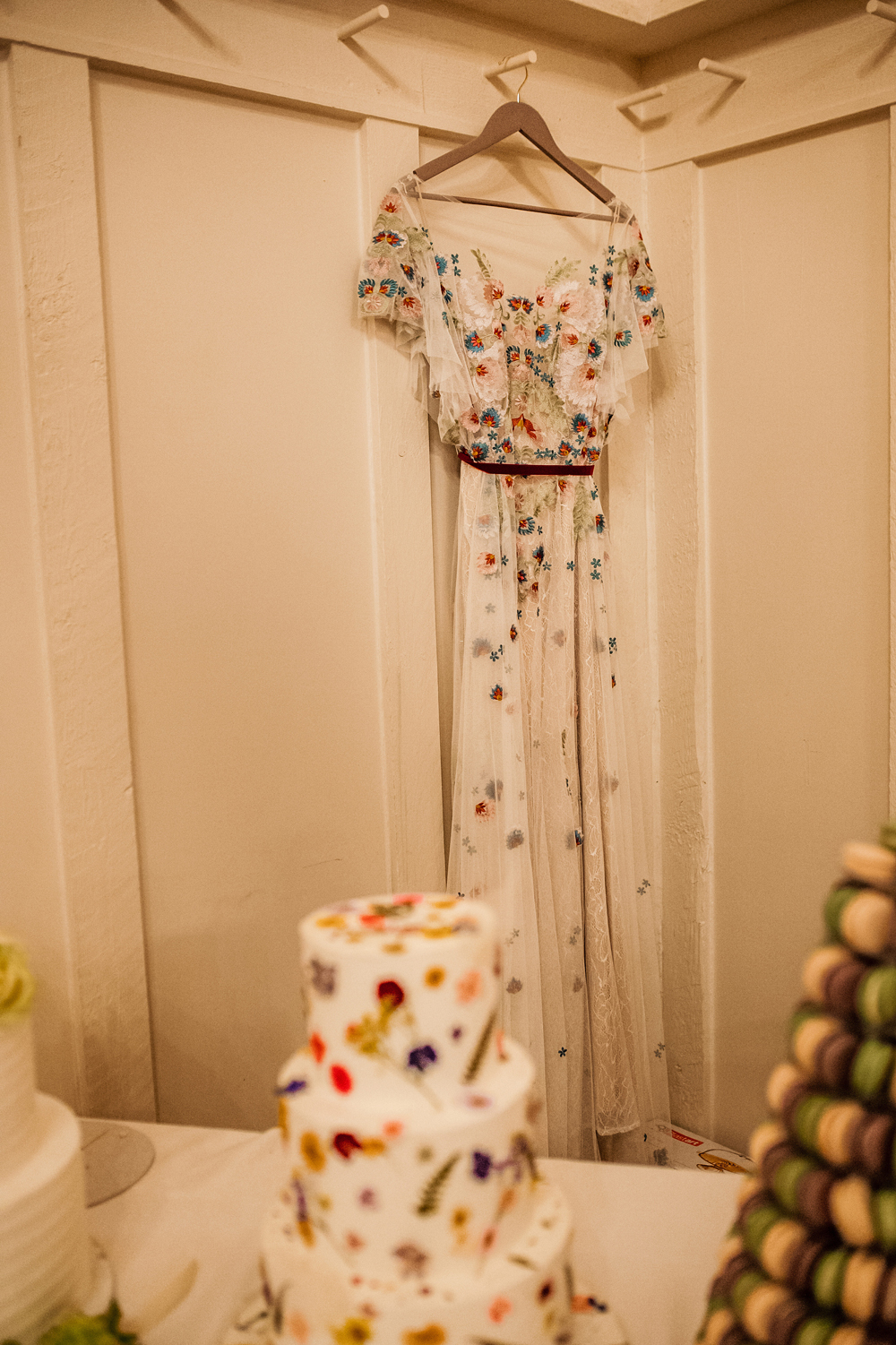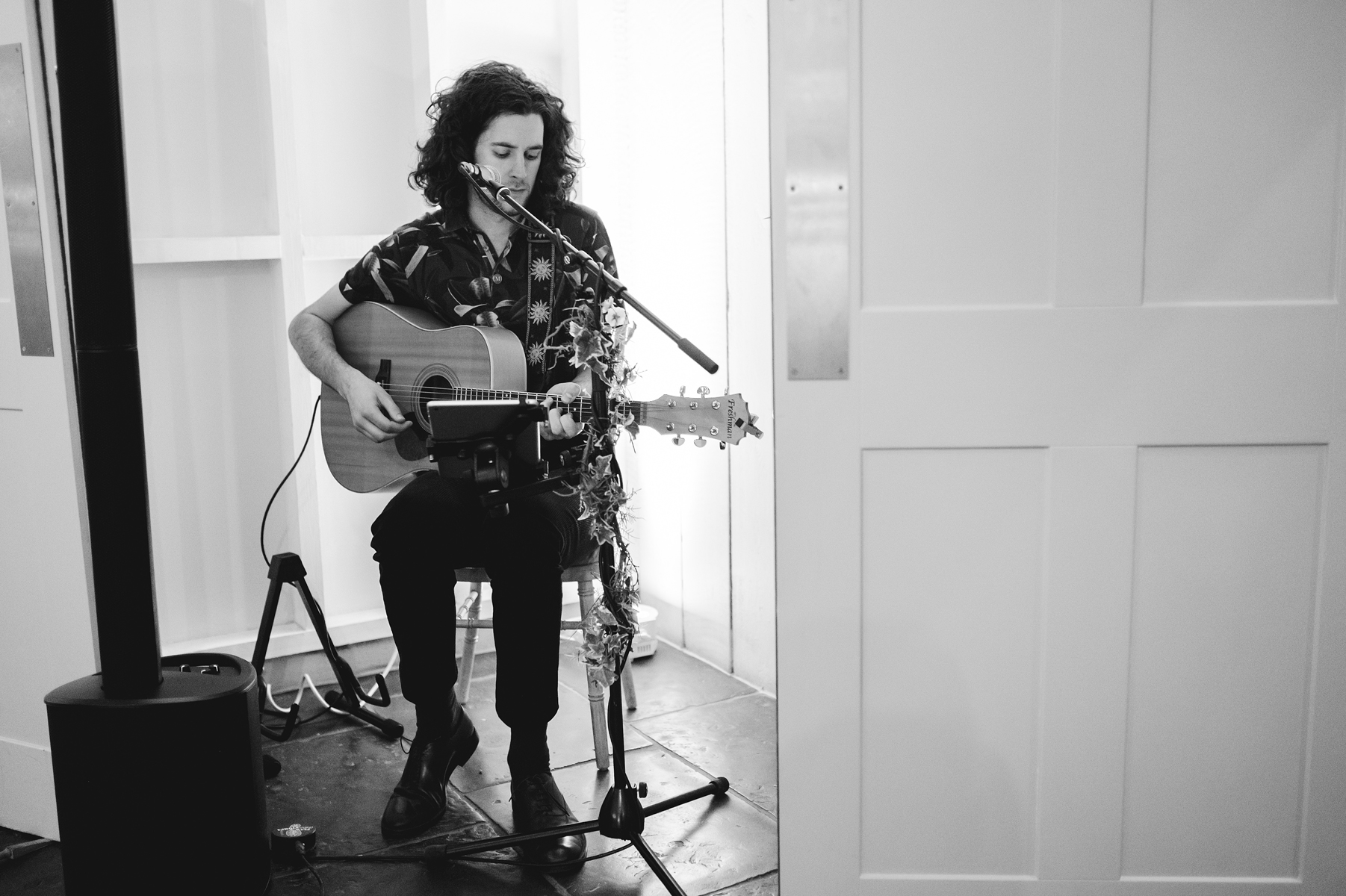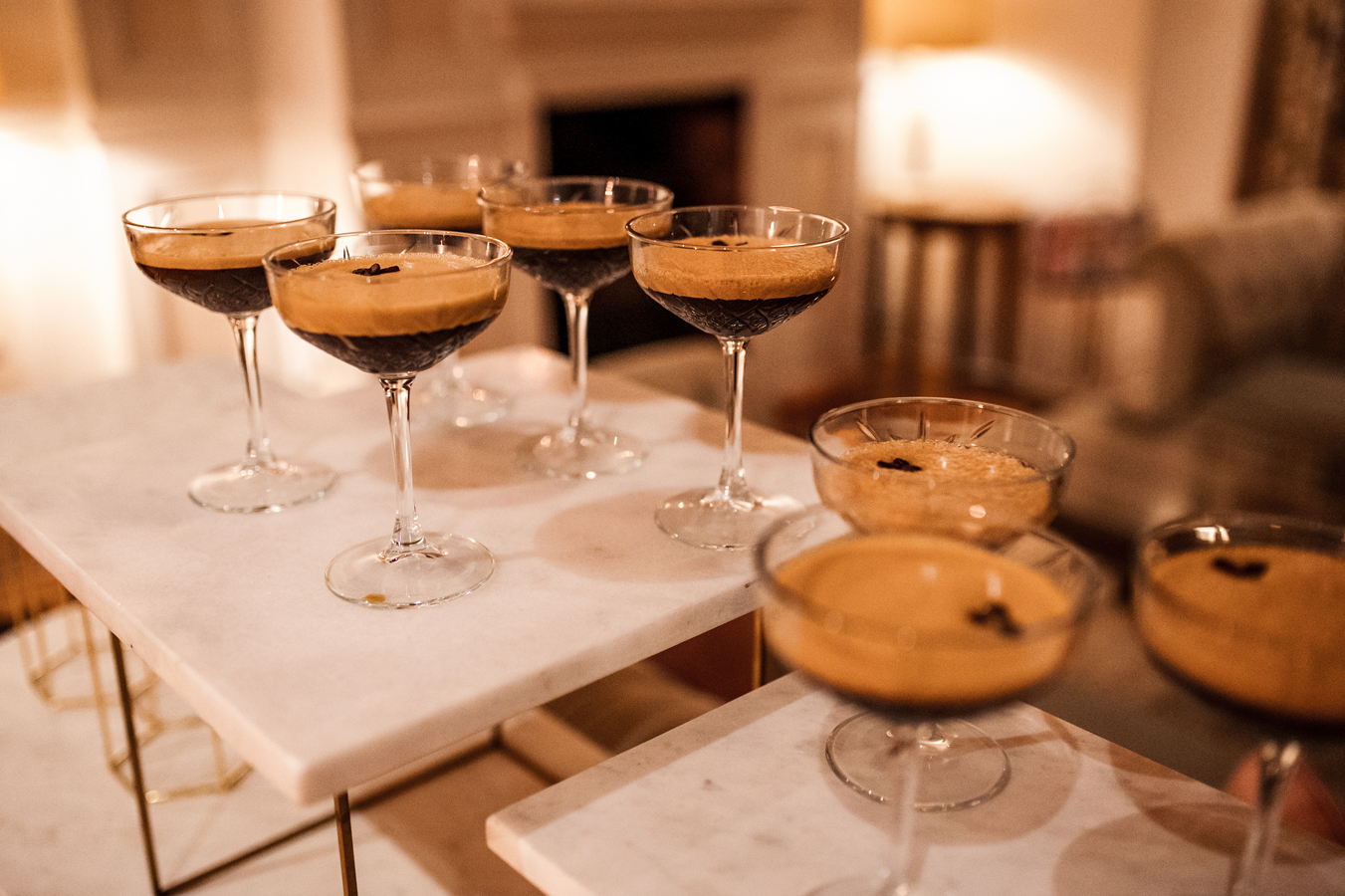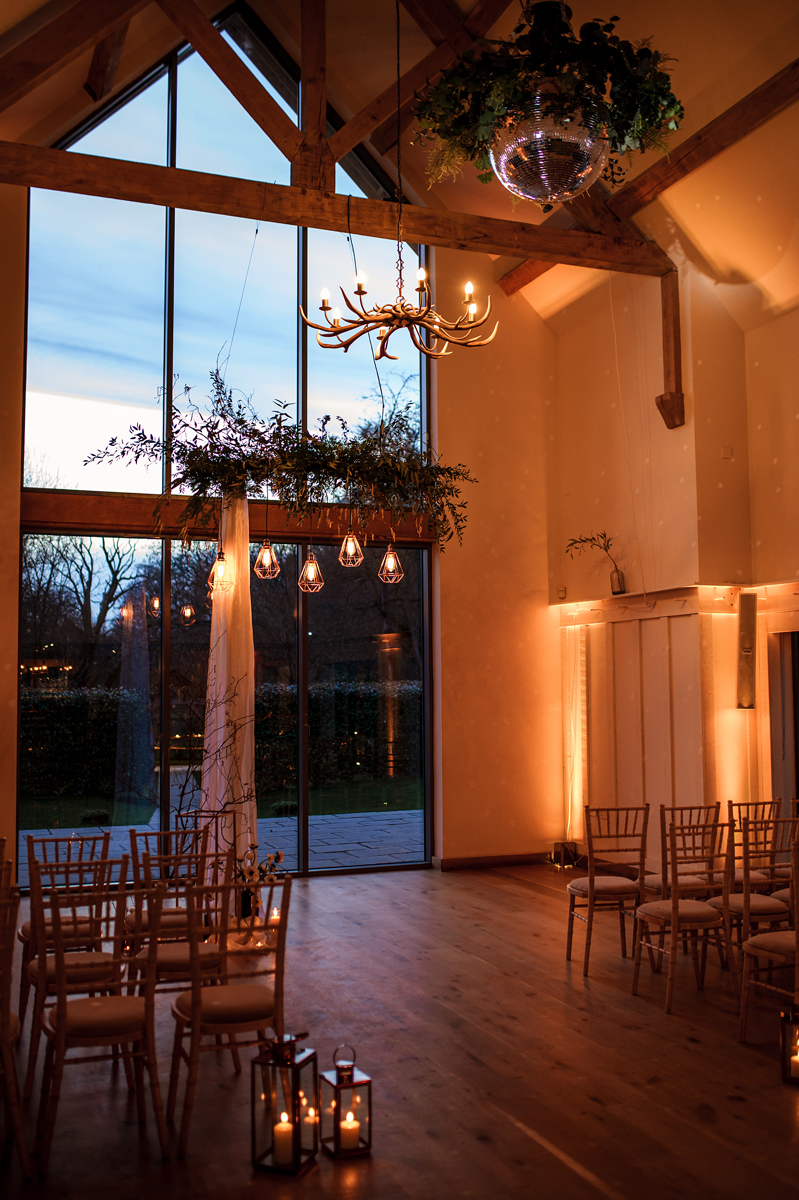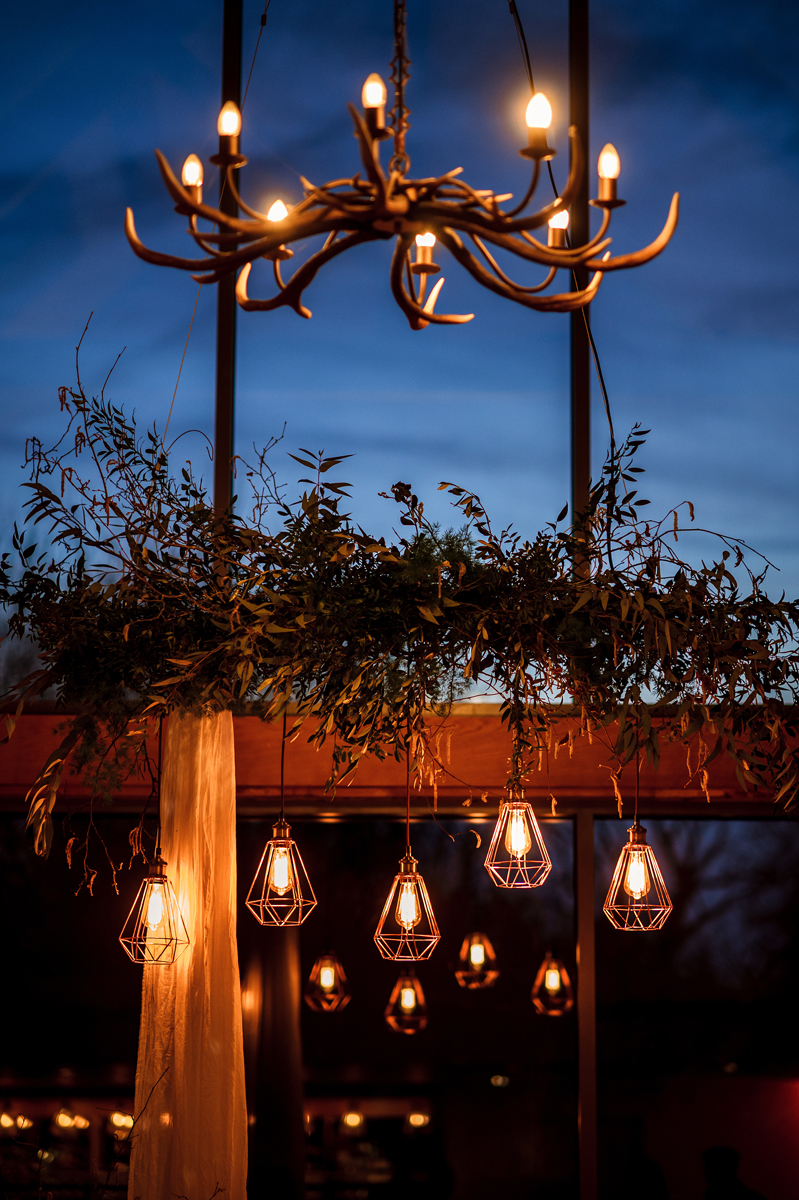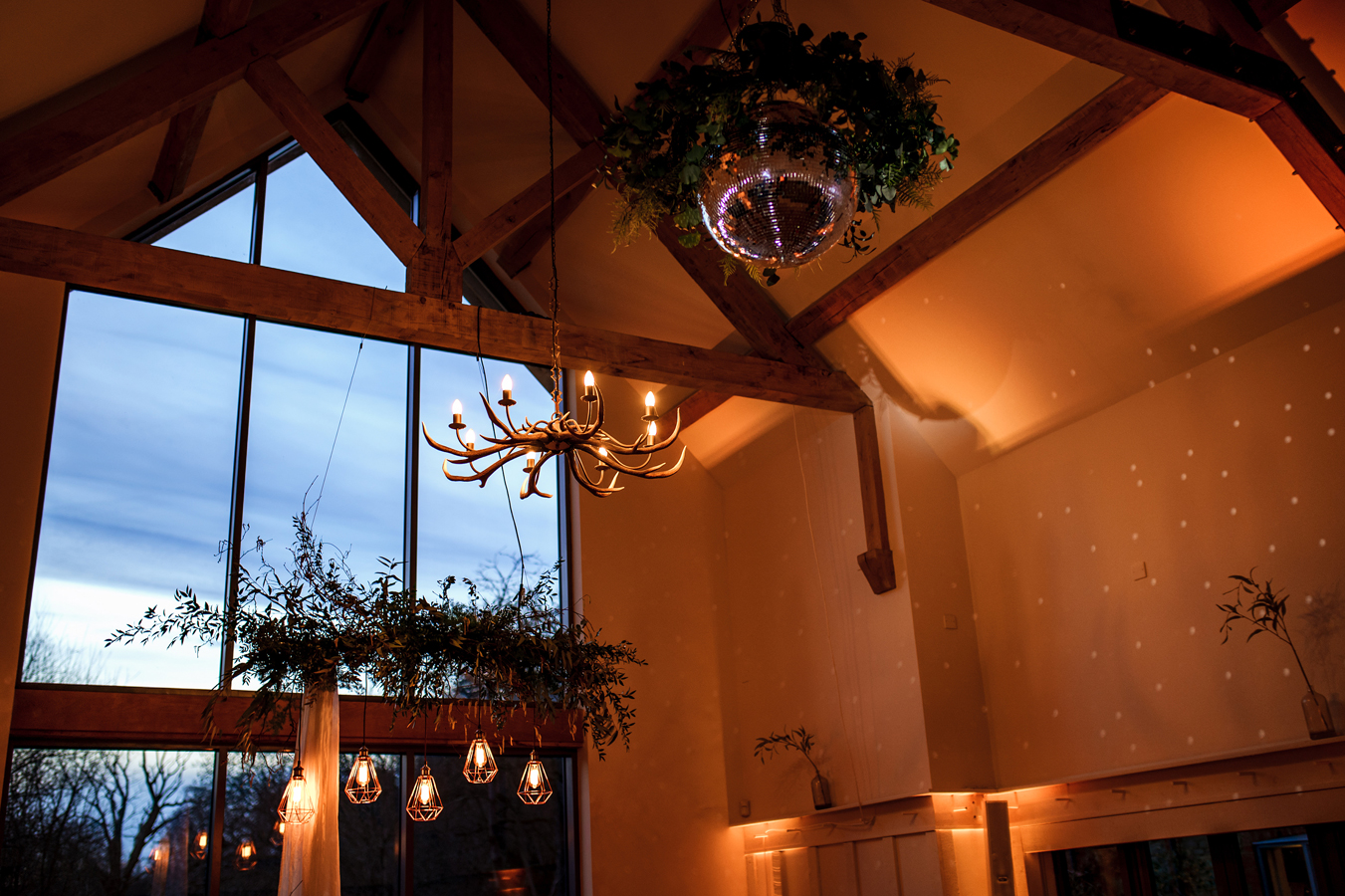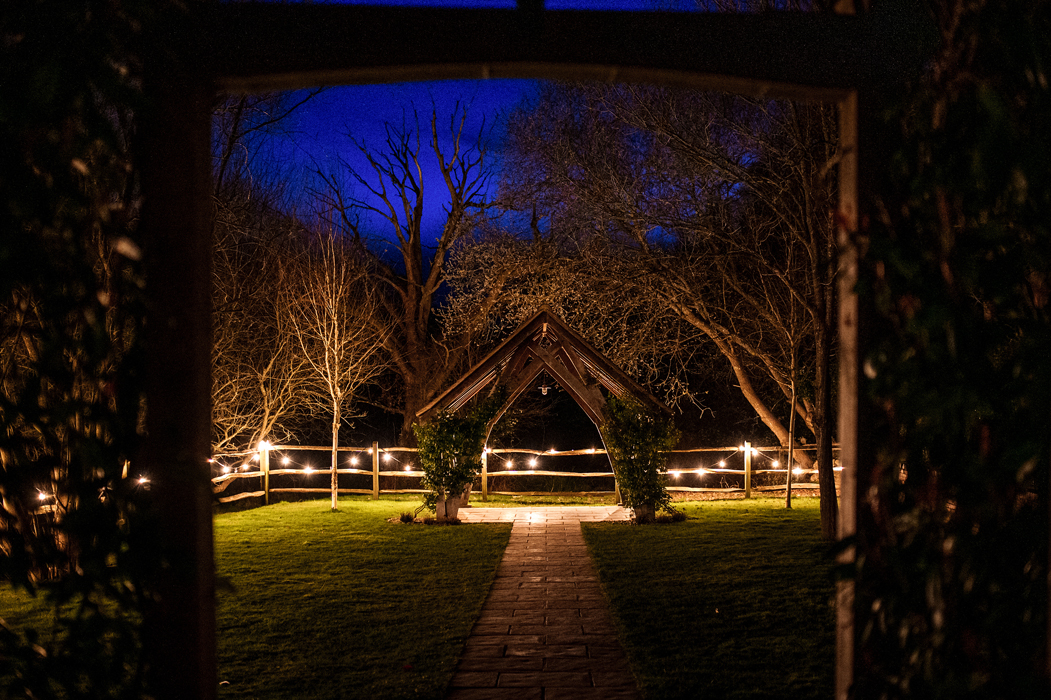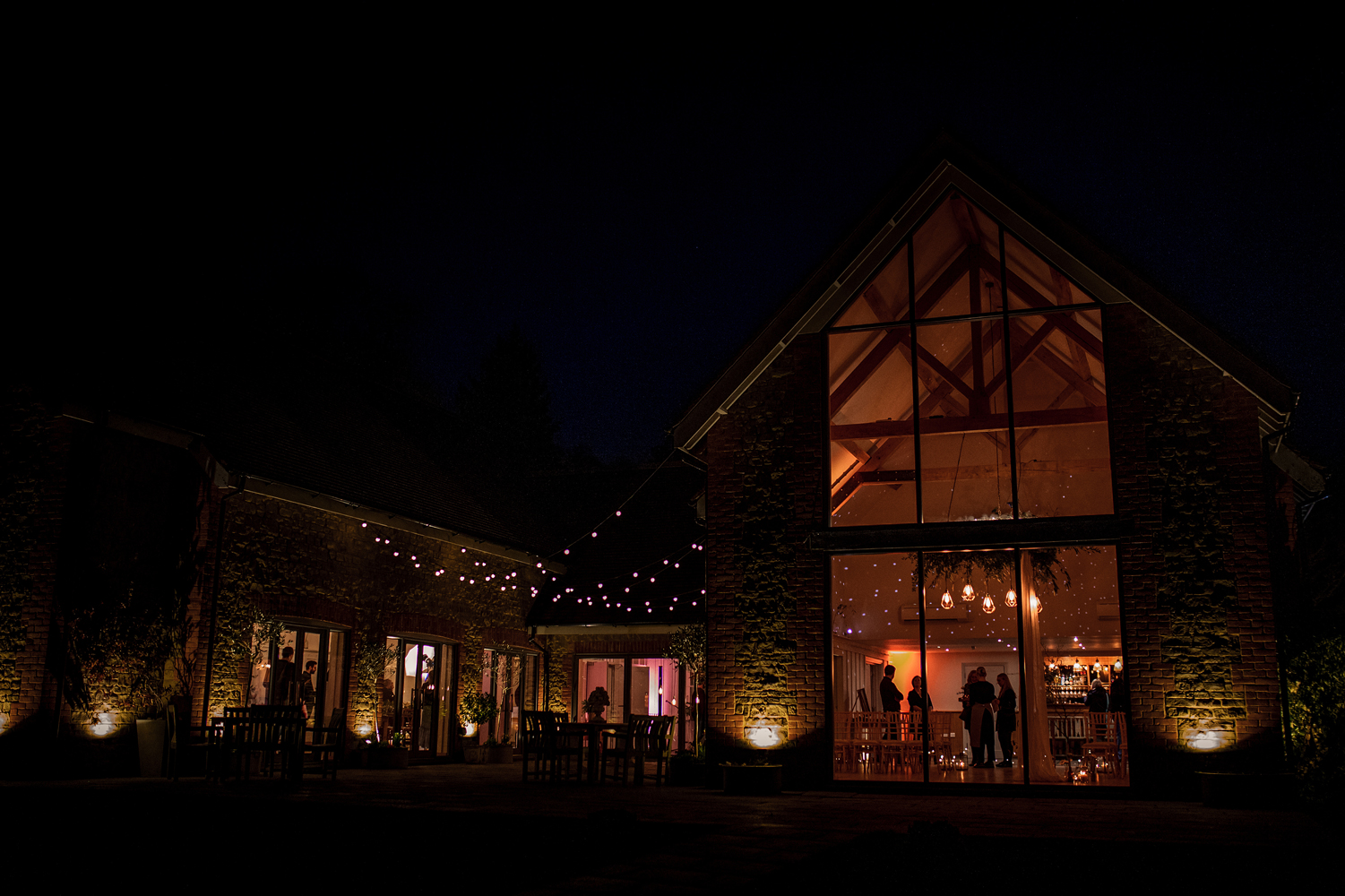 News : 27 / 05 / 21
Dinner Date Night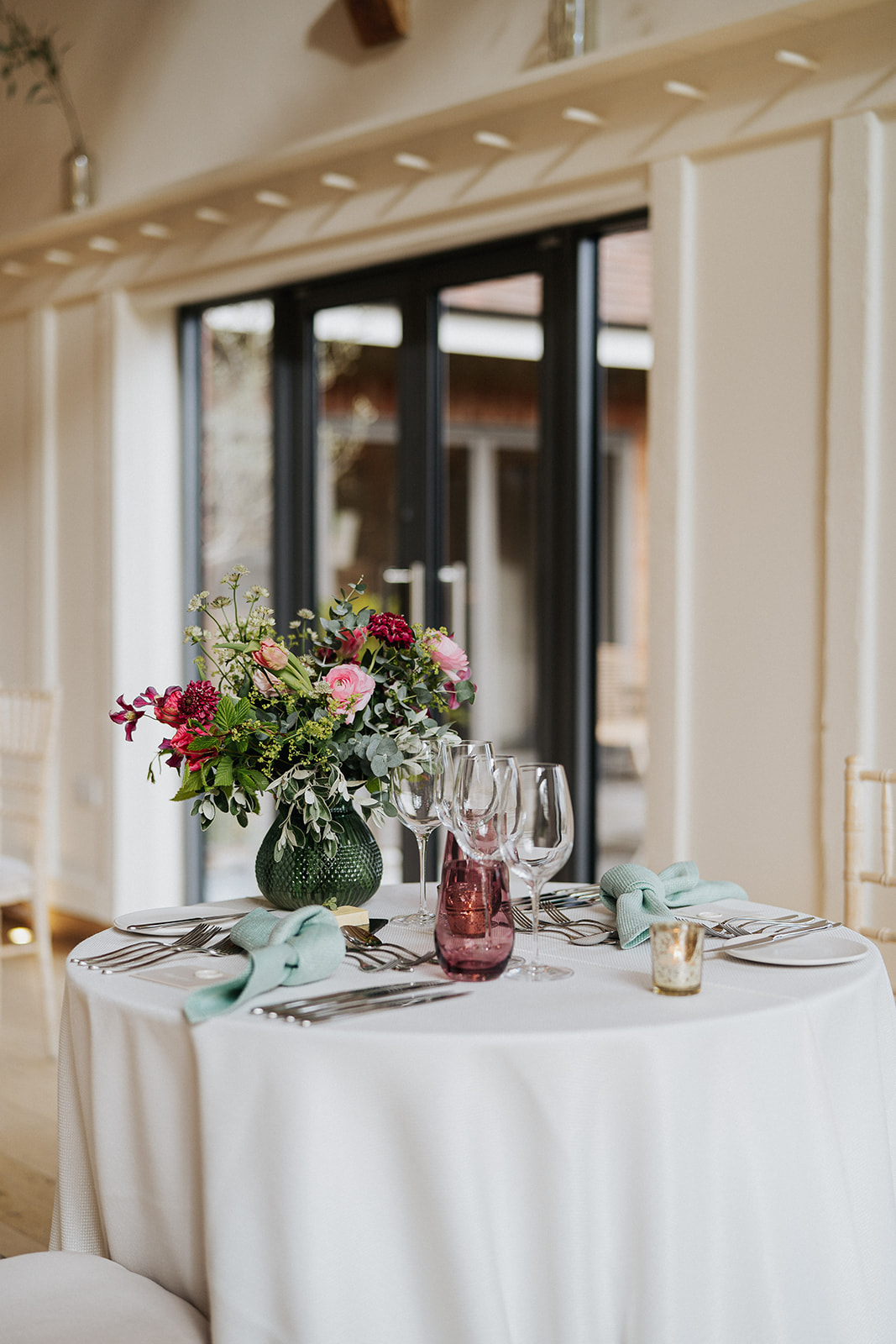 It's difficult to put in to words quite how excited we were to once again be hosting our Dinner Date Night's here at Millbridge Court!
To see the Venue spring to life with a flurry of activity as we prepared to welcome back so many of our Couples over the coming two evenings was so wonderful, and although the setup had to be different in 2021 our individual sweetheart tables made for a very special and intimate Dining experience for everyone that joined us.
As ever, we had a team of incredible MC Partners using their talents to make the evening extra special for our Brides and Grooms. Eden Blooms created stunning florals for each table, Era Calligraphy made exquisite name cards, Creative Spark setup light installations in both the Hall and the Atrium where we showcased our new Pimm's Drinks Station, Stella and Fly Music serenaded everyone so beautifully on both evenings and Kalm Kitchen brought together the entire vision on top of serving utterly delicious dishes from start to finish. Thank you also to the wonderful Kit Myers for capturing everything so perfectly!
We are already so excited for our upcoming Dinner Date Night's and can't wait to see more of you back at Millbridge Court but for now, here is a glimpse at last weeks gorgeous setup! Xx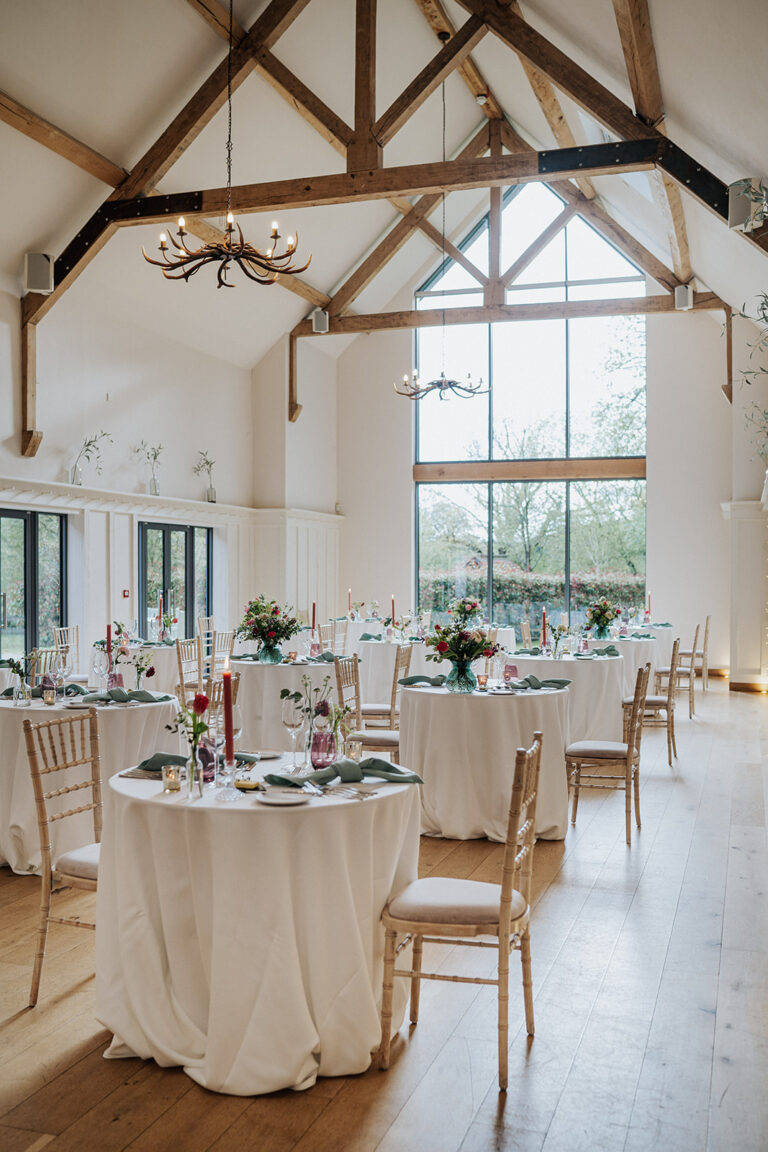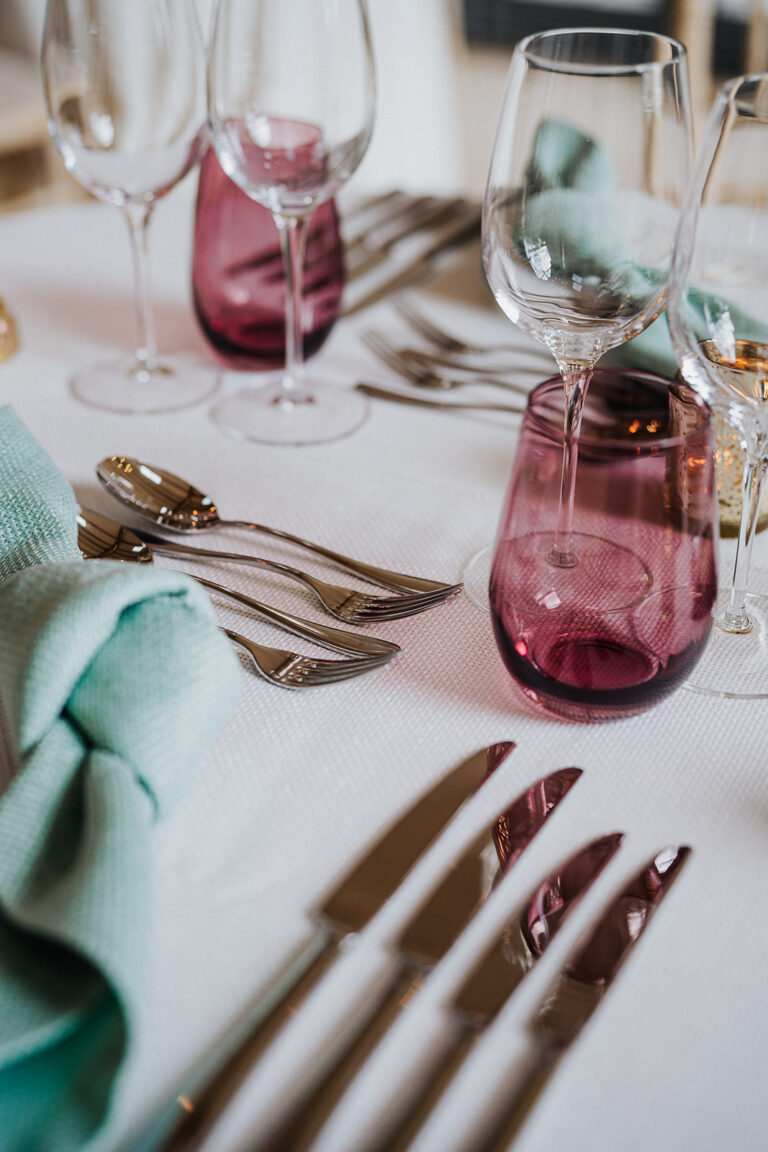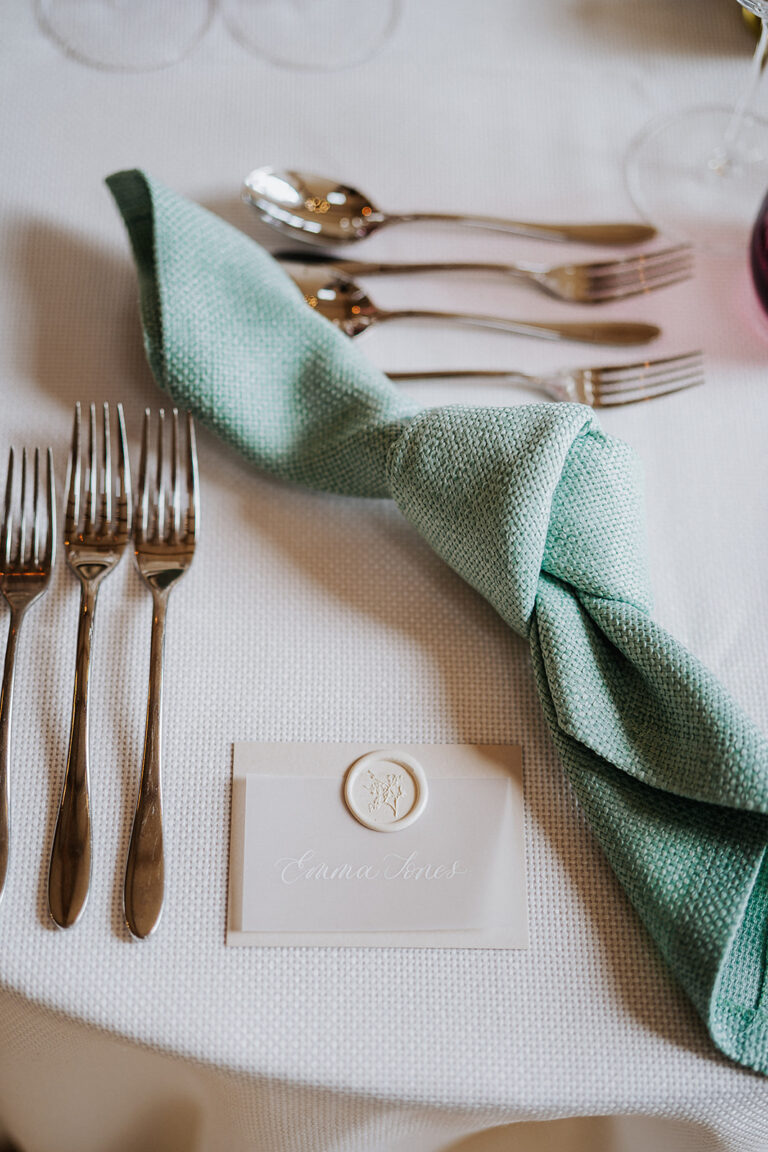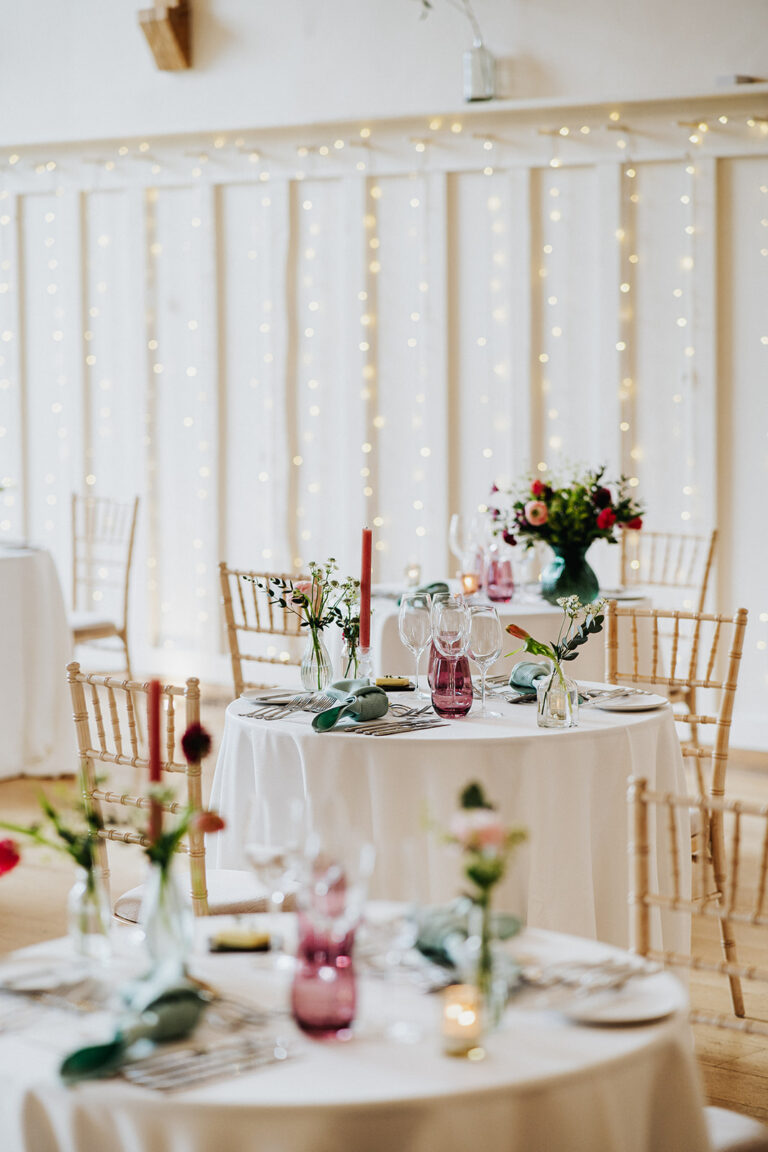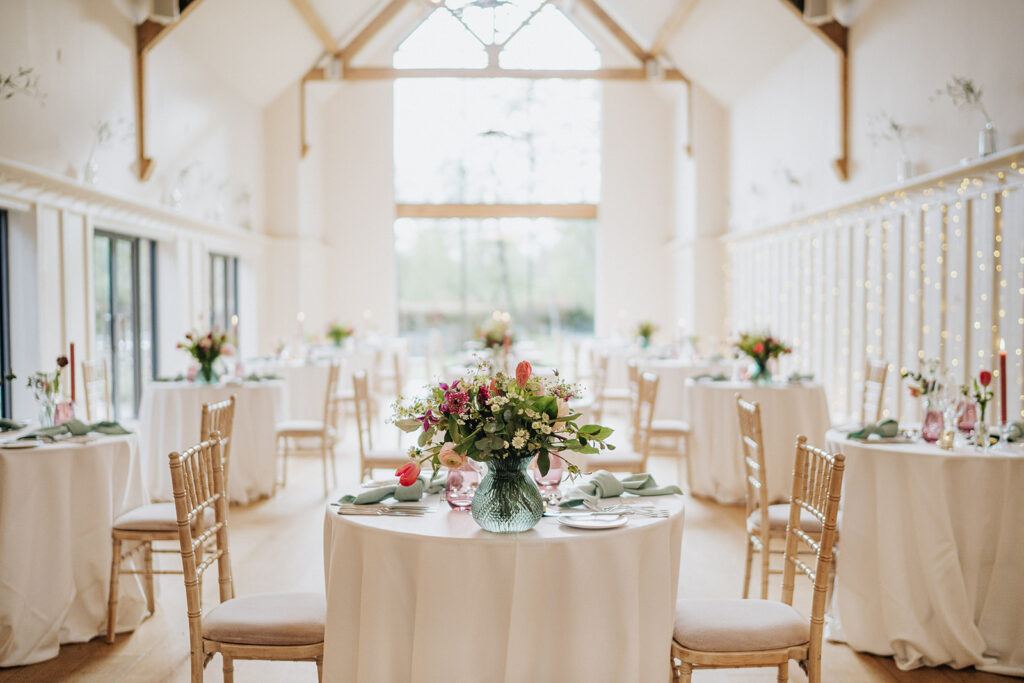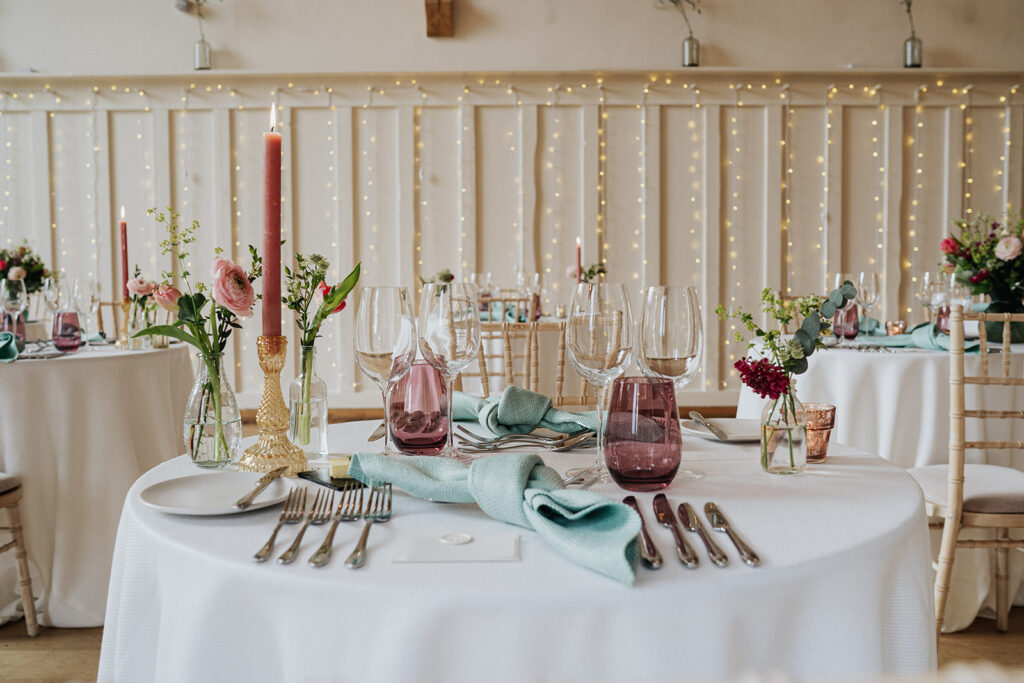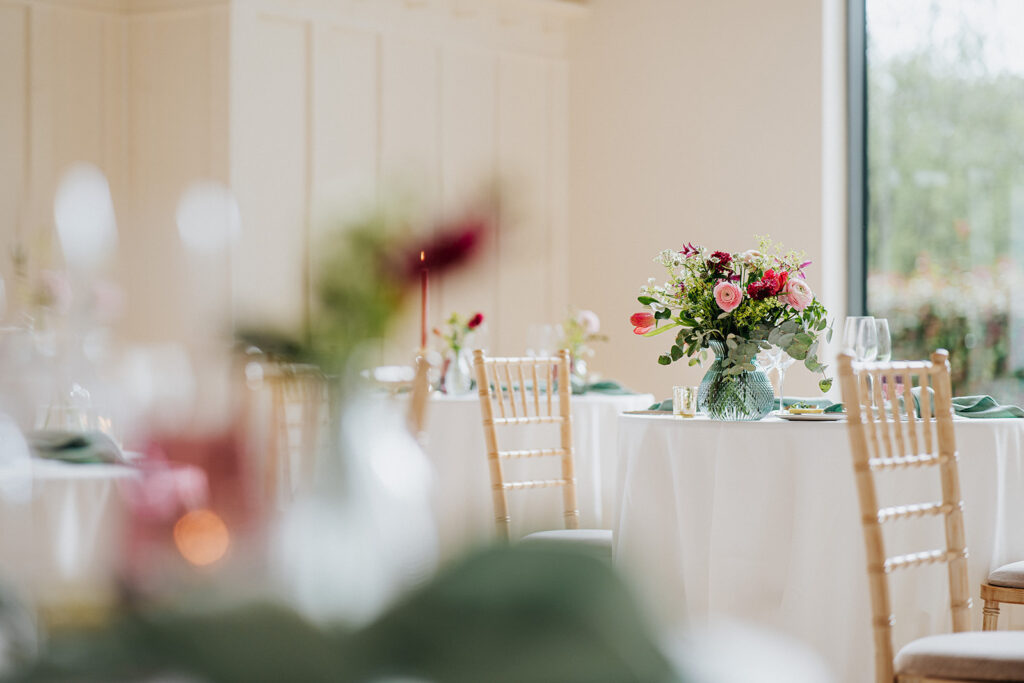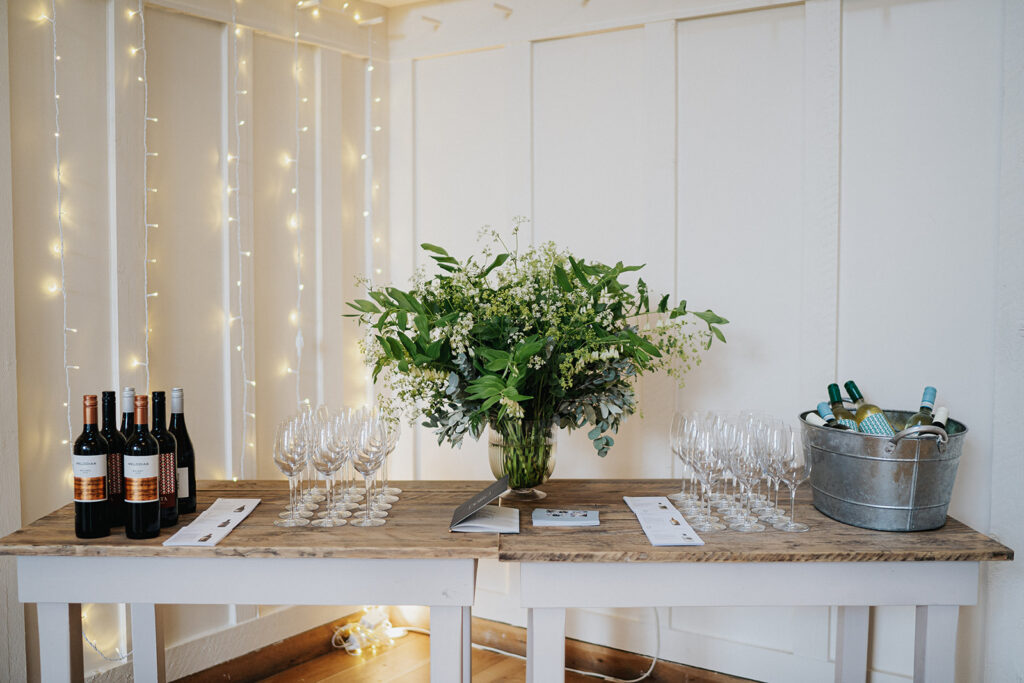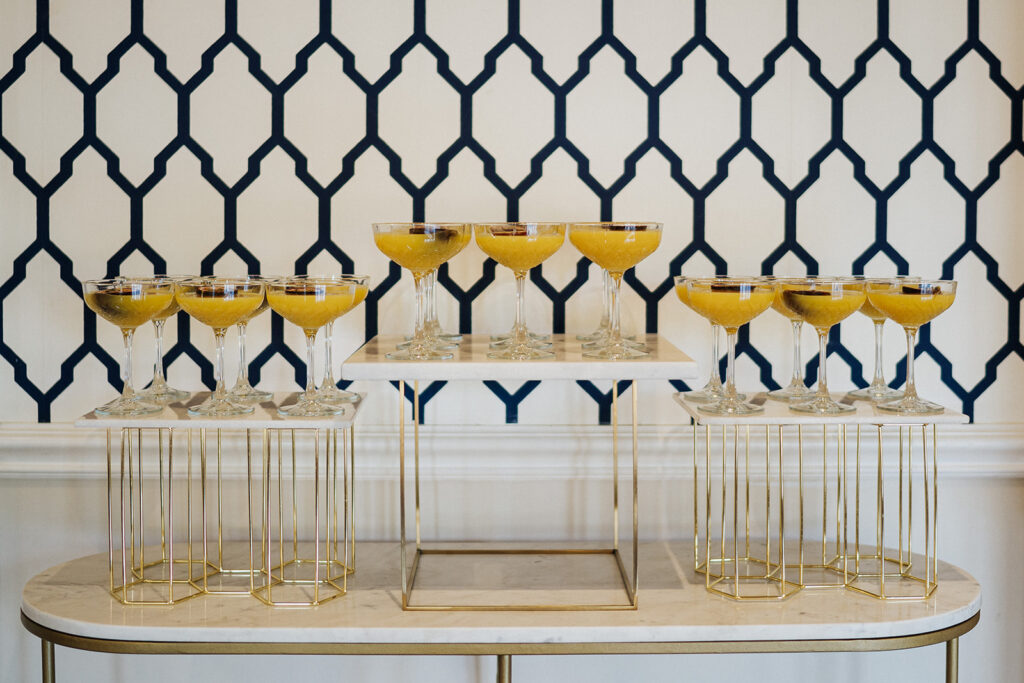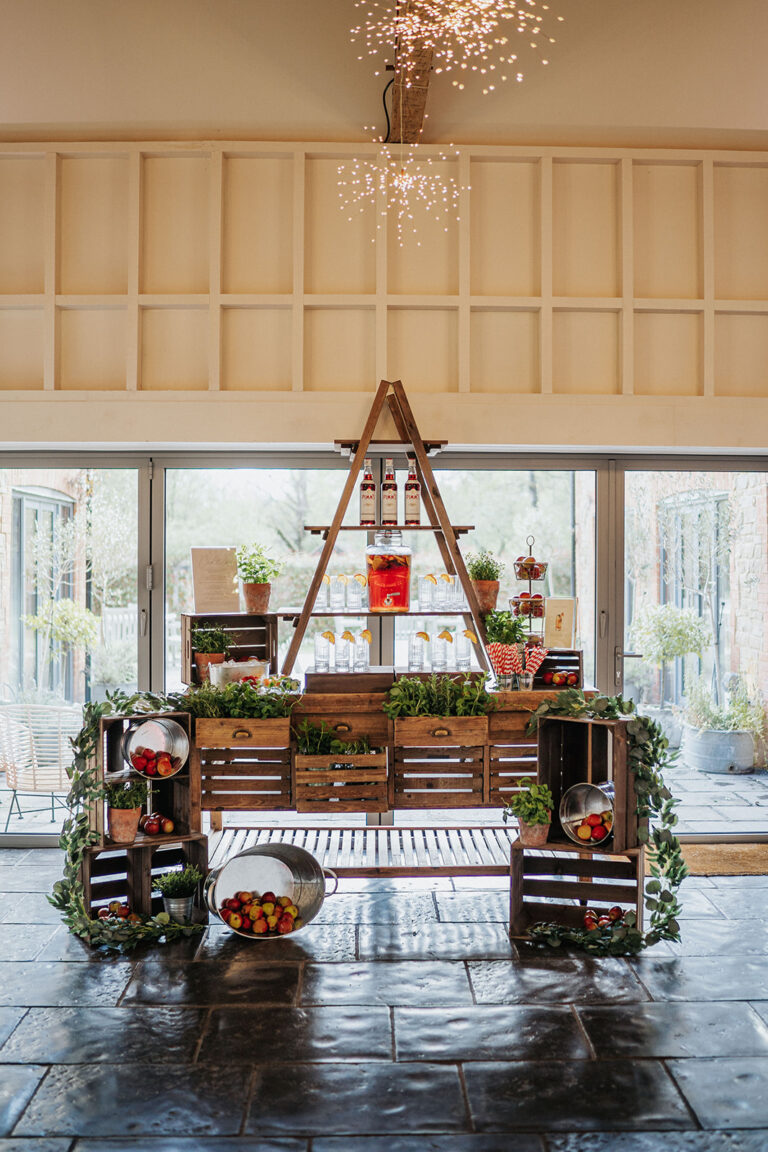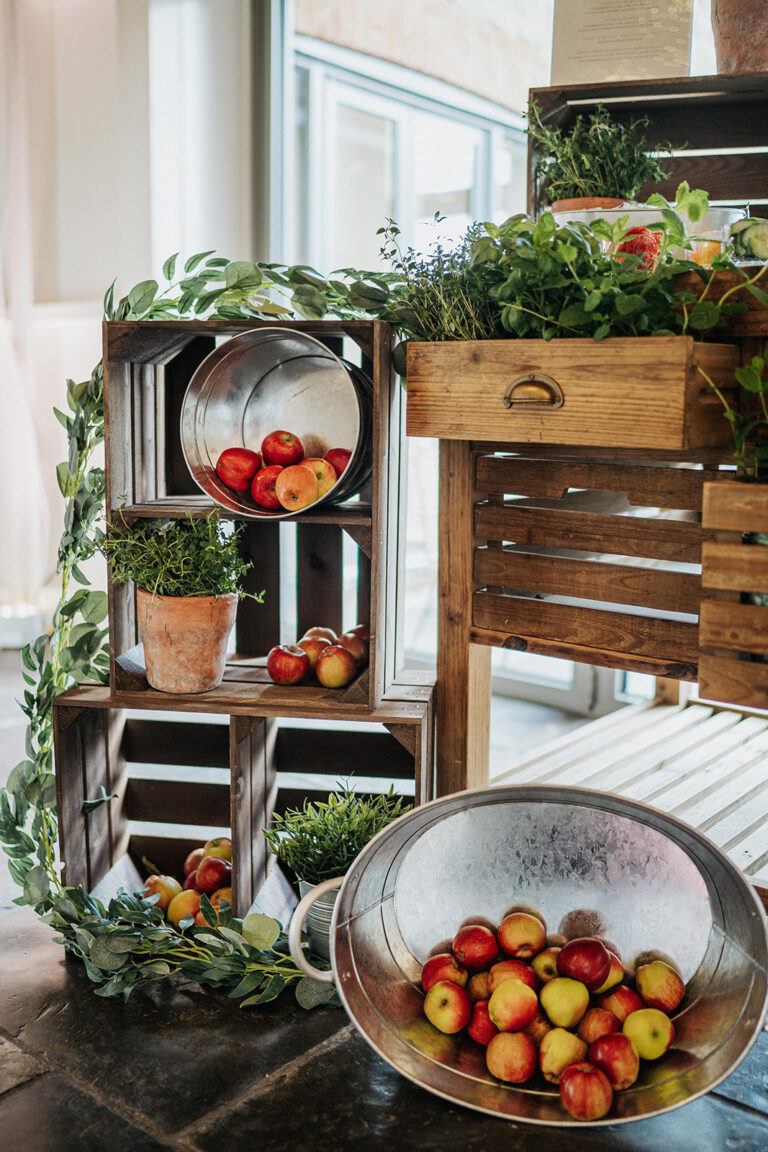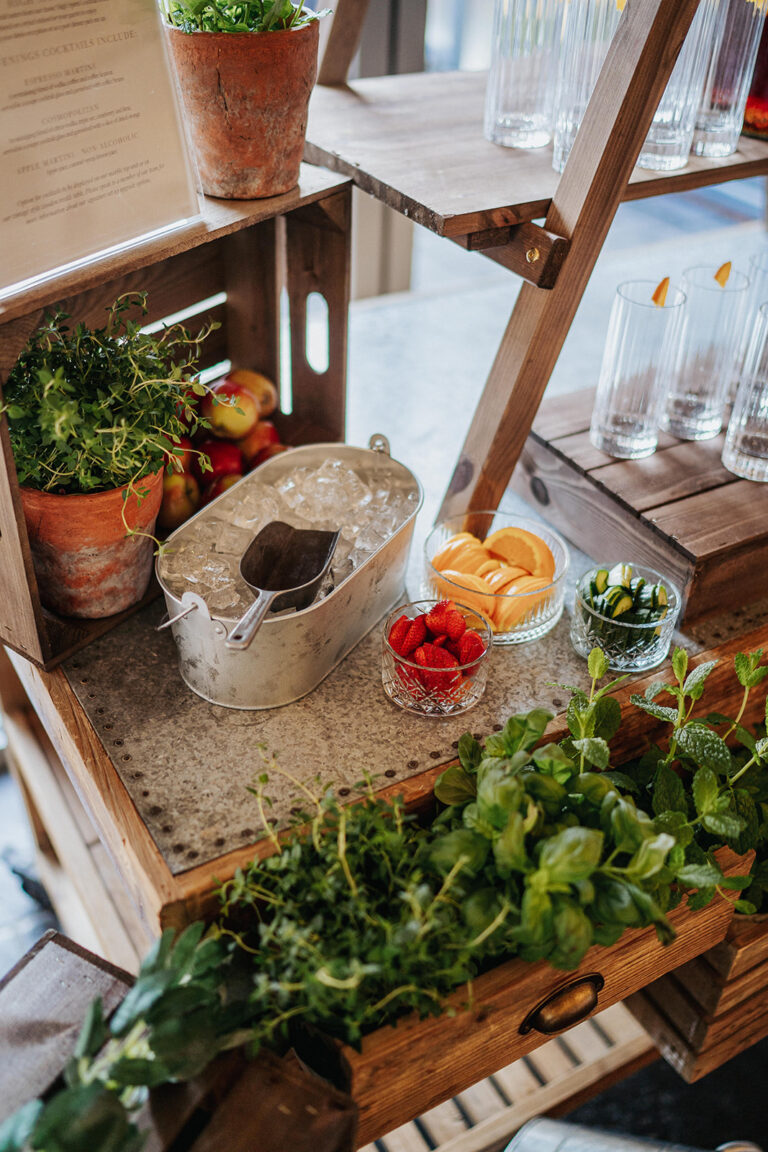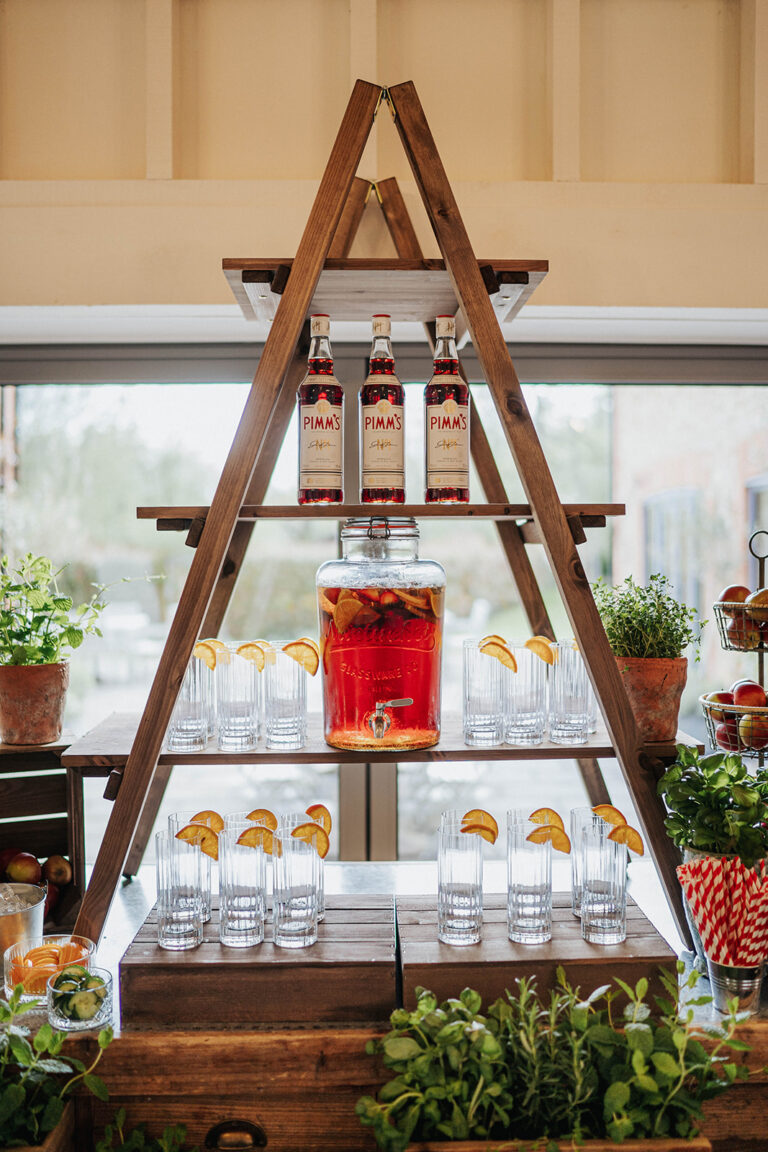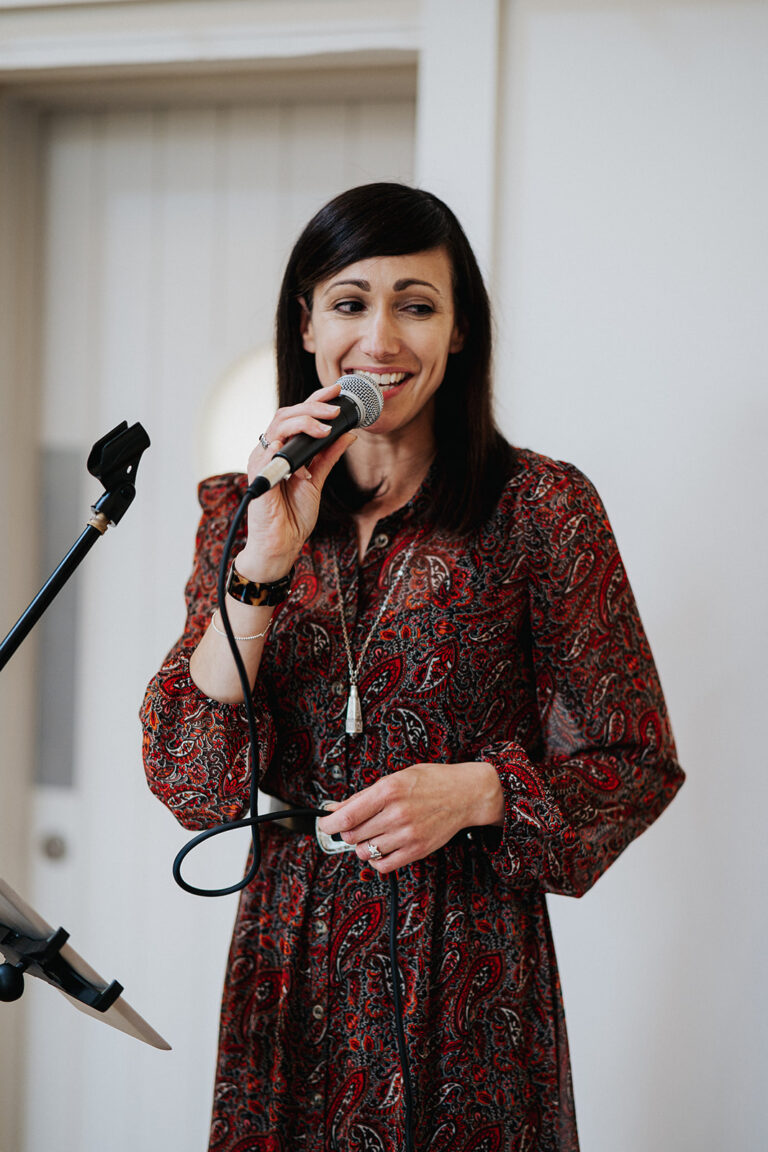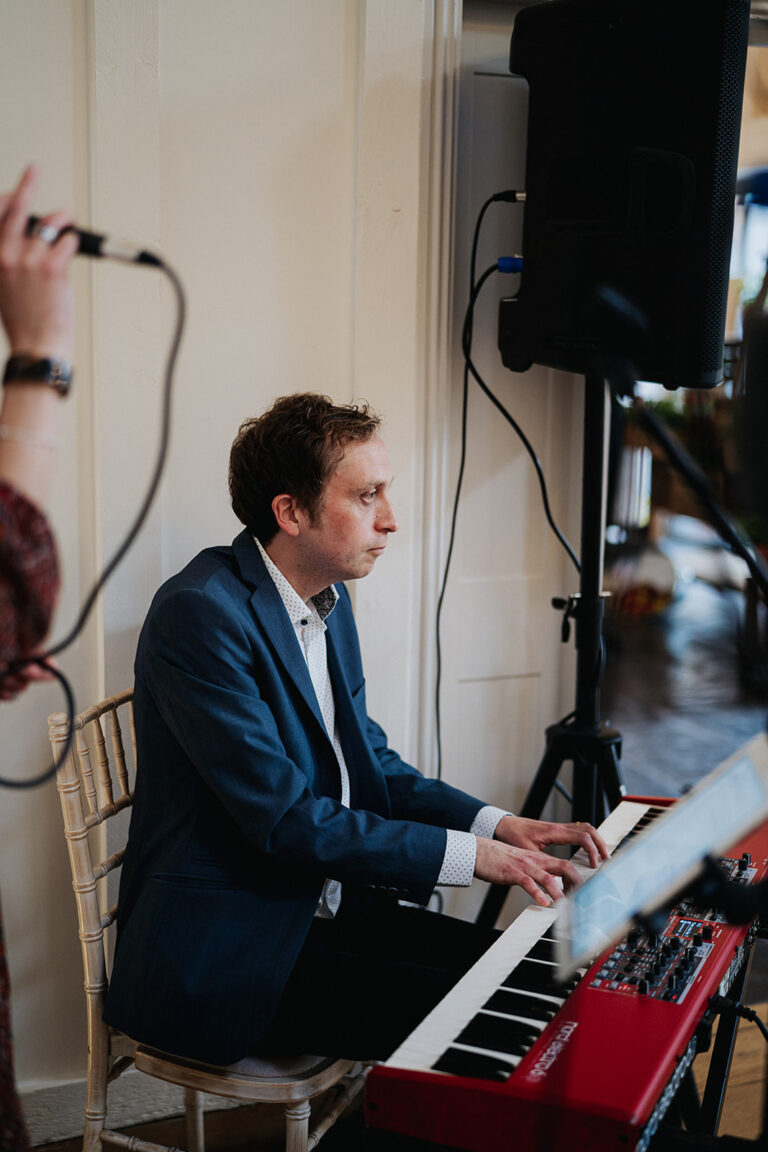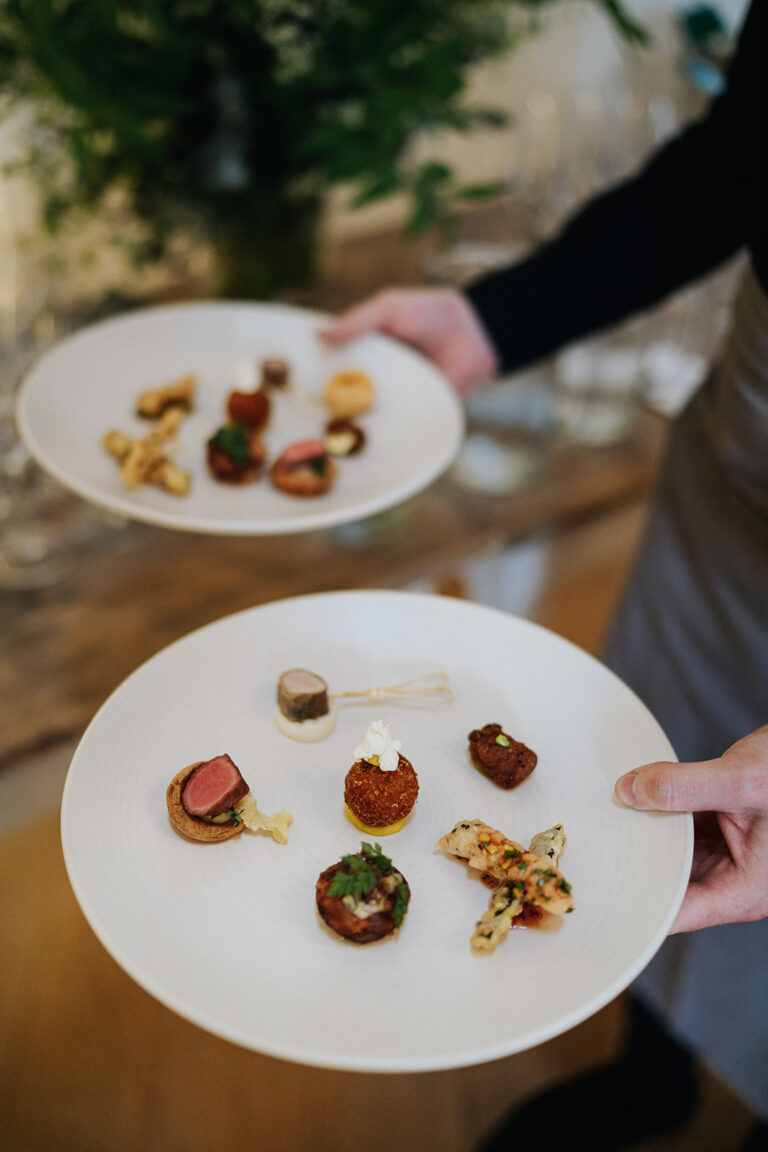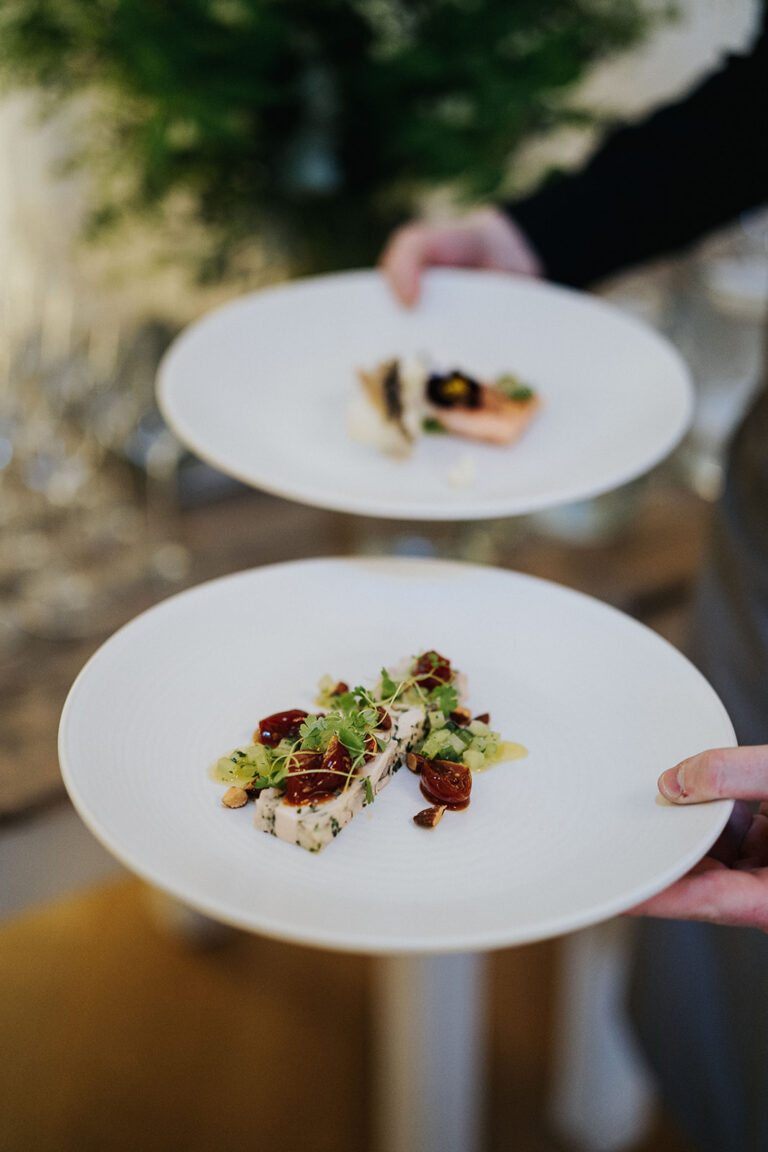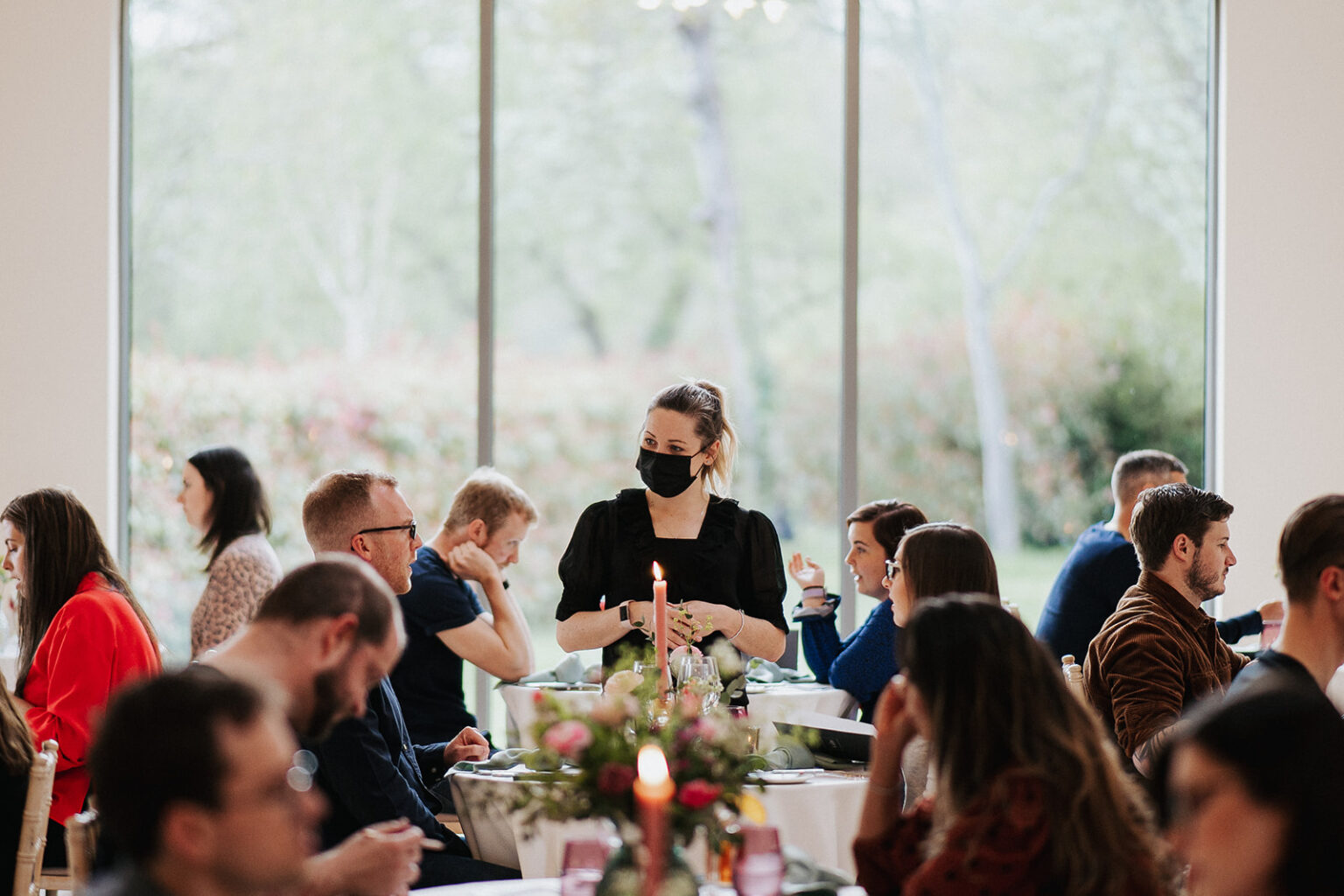 News : 30 / 11 / 20
10 Questions with… Alice from Meadowfolk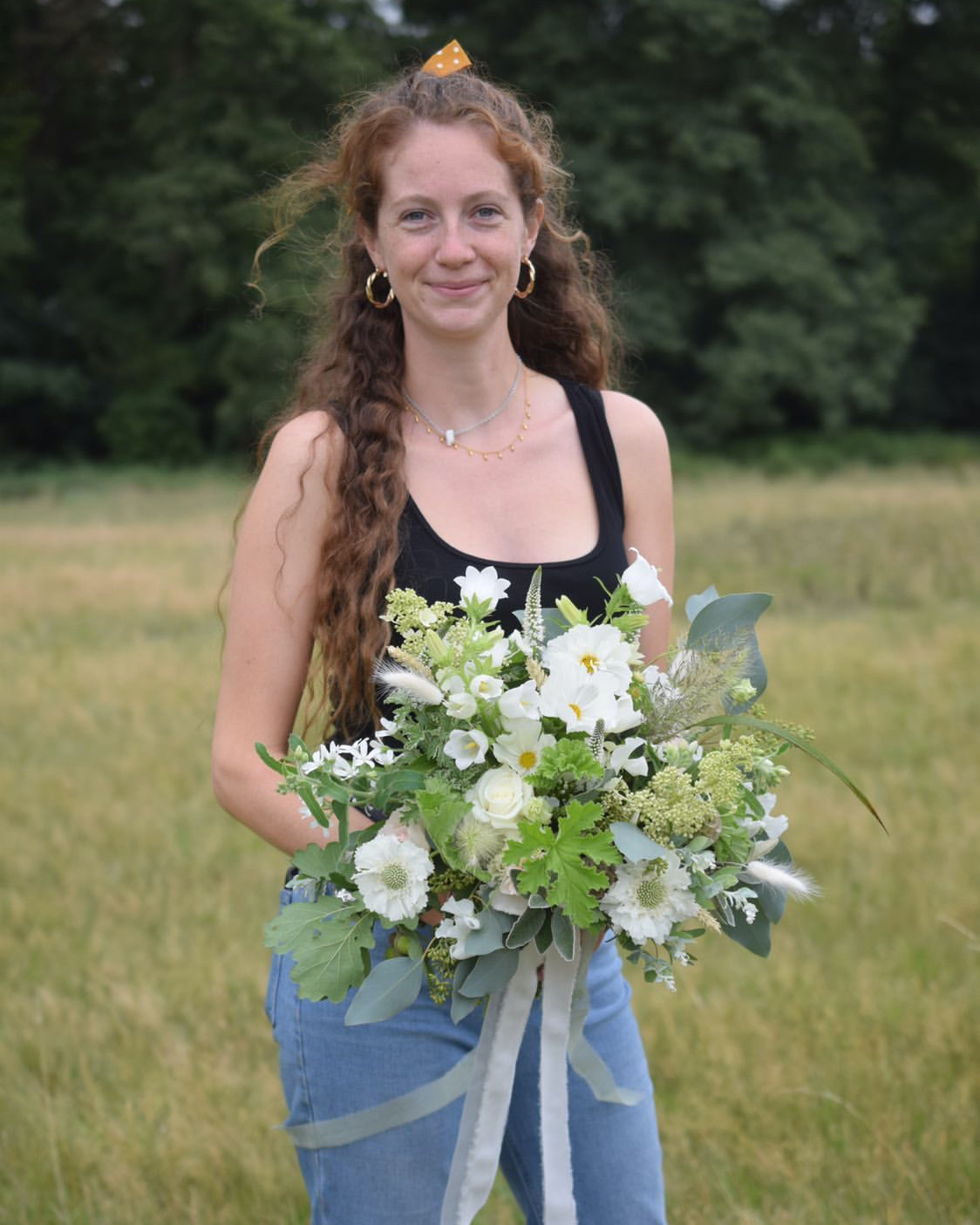 How did your passion for floristry come about?
As a child, I spent most of my time outside – building fairy houses, climbing trees, picking bunches of wildflowers and making 'potions' from crushed up rose petals. I remember knowing the names of trees and flowers before I could even begin to spell them – so floristry & a love for nature has always been a huge part of my essence.
When did you setup MeadowFolk & what was it that drew you to the Wedding Industry in particular?
I set up MeadowFolk after working in an awesomely creative florist shop for a year – because I realised how much I loved the process of communication with the bride and groom, and bringing their flowery visions for their wedding day to life. I also wanted to be able to grow flowers specifically for each couple – so I bought a field and started growing flowers full time to use in weddings I was working on in 2015. By 2019 I was so busy with the wedding floristry side I didn't have the time to grow flowers on such a big scale anymore – and so I sold the field last year & downsized to growing flowers right outside my workshop which is much more manageable & means I can simply nip outside to select stems for a wedding as and when I need em! The wedding industry is an awesomely friendly thing to be a part of – we all just LOVE celebrating love!
How would you describe your style of floristry?
My style of floristry is closely linked to the seasons, wildly romantic & meadow-esque
What can couples expect when they choose you to create their dream Wedding Flowers? 
I create a moodboard & bespoke quote for each client after some initial emails so that they can really begin to see what their wedding florals will look like. We then meet up to chat all things flowery & I bring a bag of treasures for them to see in person (candlesticks, vases, ribbons etc.) Next time we meet is on their wedding day, but I'm always available to email.
What do you love most about what you do?
Showcasing how beautiful mother nature is by bringing flower filled magic inside to celebrate LOVE!
What top tips & advice do you offer couples along the way & are there any Tips you would give to Millbridge Couples in particular?
Be clear about what you don't want in terms of flowers/colours – sometimes this can be more helpful to florists that knowing what you do want.
Bouquets can always be reused for top table or cake table decoration. I encourage bridesmaids to 'hunt the vase' for their bouquet, as I leave vases for them in areas that need an extra floral touch.
Candles & foliage can transform a space into something beautifully magical – simple, but really effective if you're on a tight budget.
When it comes to creating an abundant table set up, more is definitely more.
What do you love the most about Millbridge Court?
How flexible the space is – it lends itself to both the rustic, wild vibe – but also the more elegant/luxe vibe too!
Do you have a favourite installation or setup that you've done at Millbridge Court so far?
For sure Louise & Tim's wildly bohemian & autumnal macramé archway. They're brief of 'just go wild' is the BEST thing a client can say to me! (And you can find a selection of The Springles images from L+T's stunning Autumnal Wedding Day below.)
What floristry trends are you seeing for 2021 & beyond
Seasonality & sustainability is becoming a real focus for couples now. With many coming to me because they love that I grow my own flowers and buy from local flower growers too – 2020 has taught us a whole bunch – one of them being how important it is to support local, small businesses.
What are your three favourite industry professionals/ brands to follow on Instagram?
@FloretFlower – flower farm for endless flower growing inspiration
@Lavendersflowers – florist over in America…colour combo queen!
@Wedhead_london – husband & wife furniture/prop hire duo of dreams.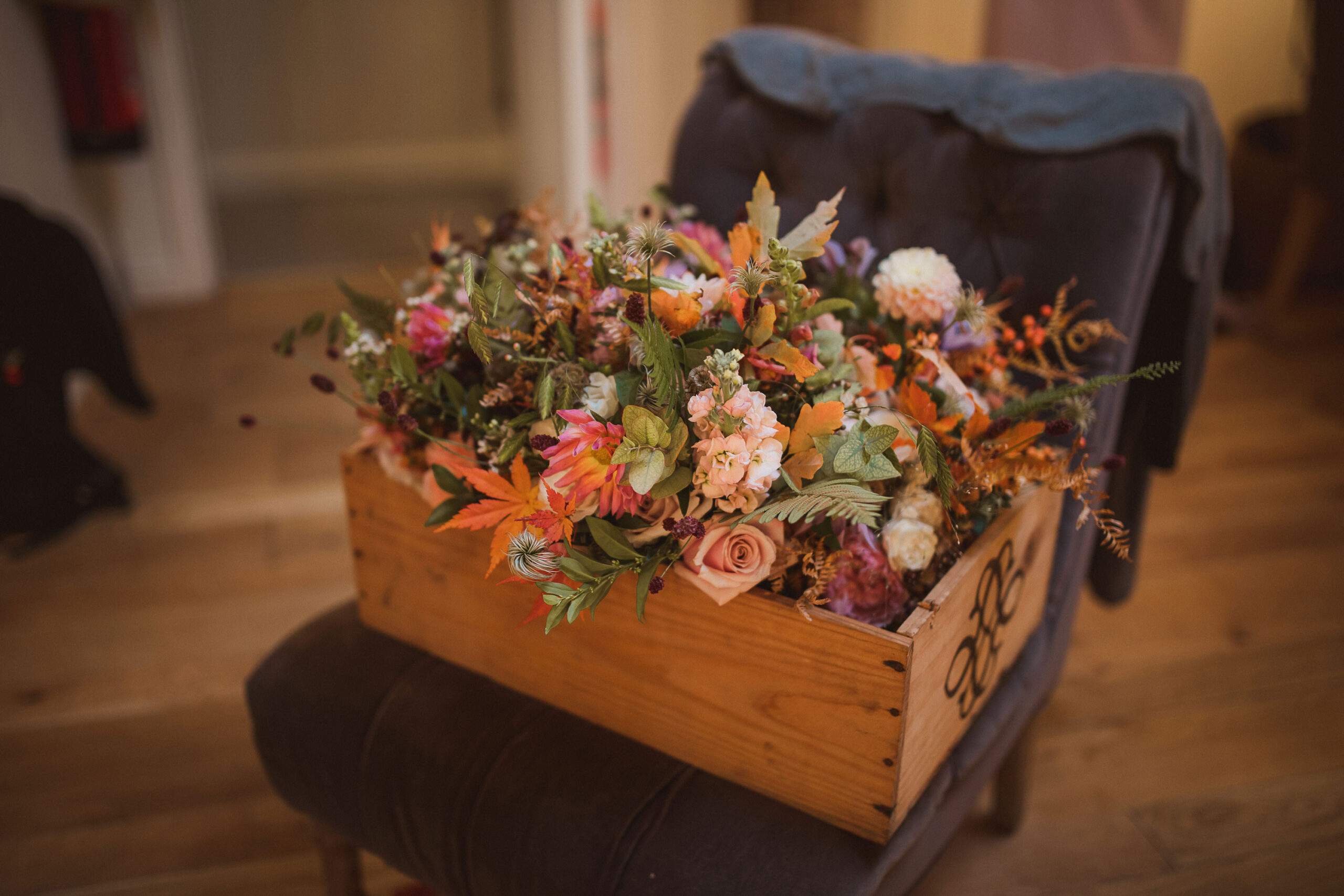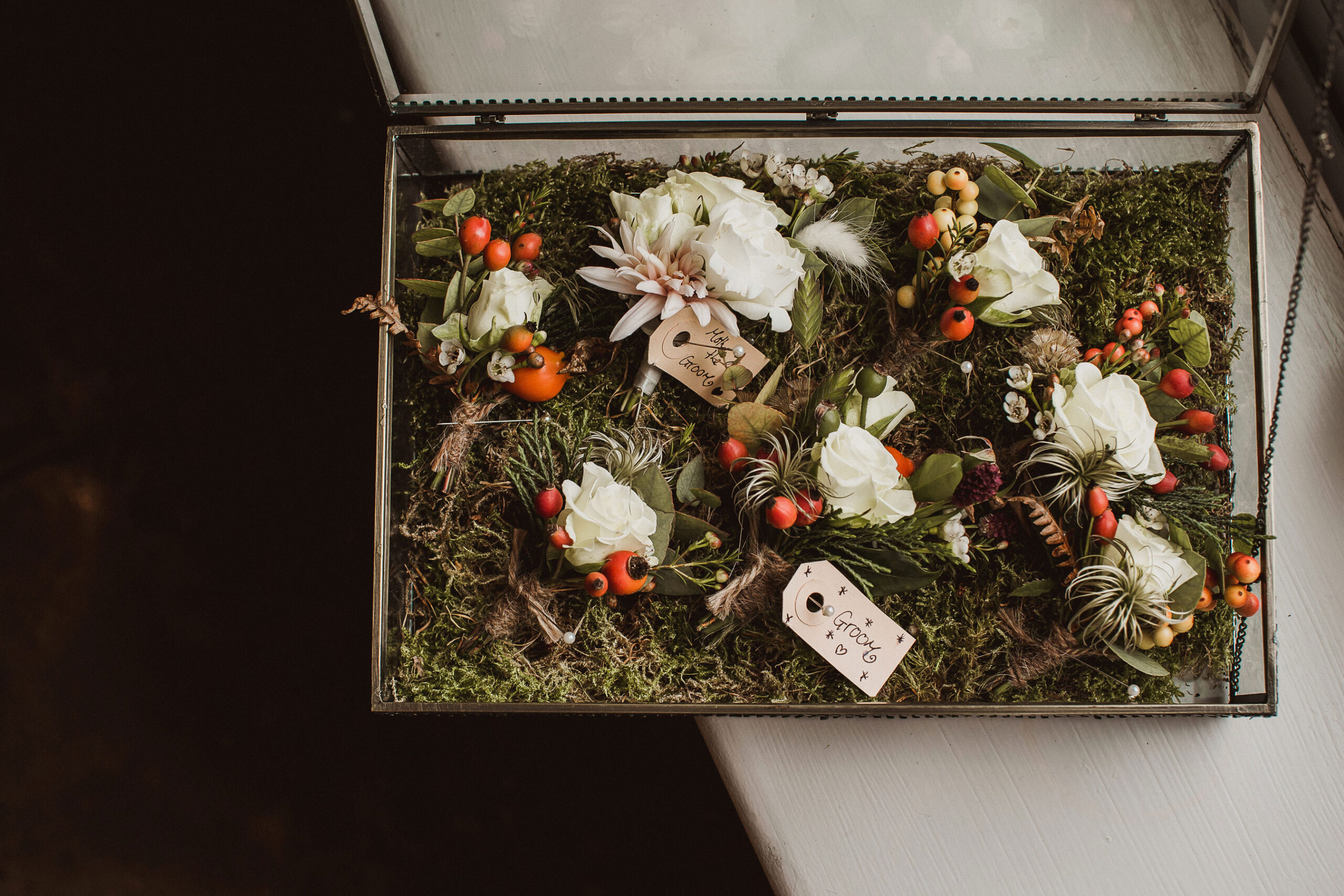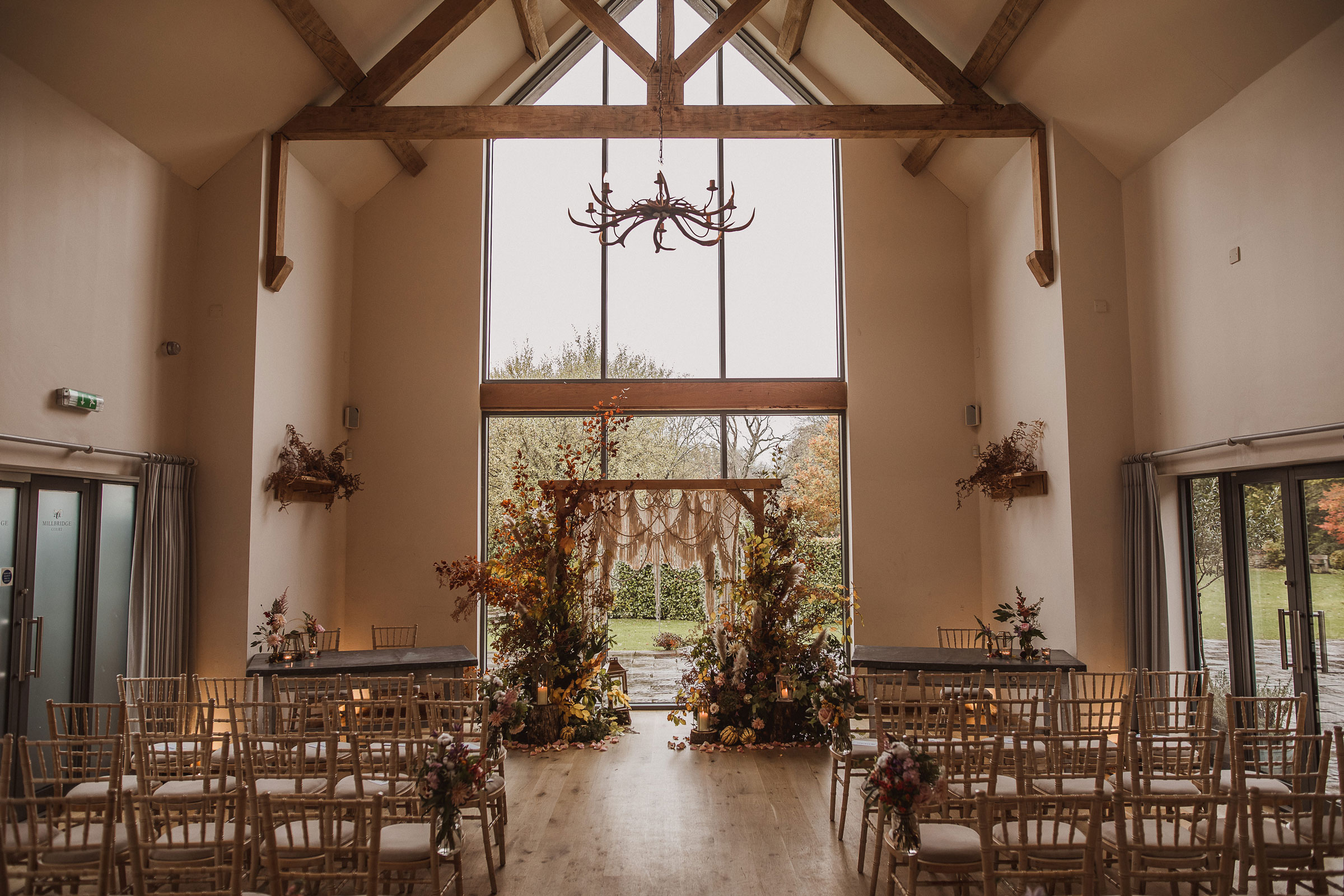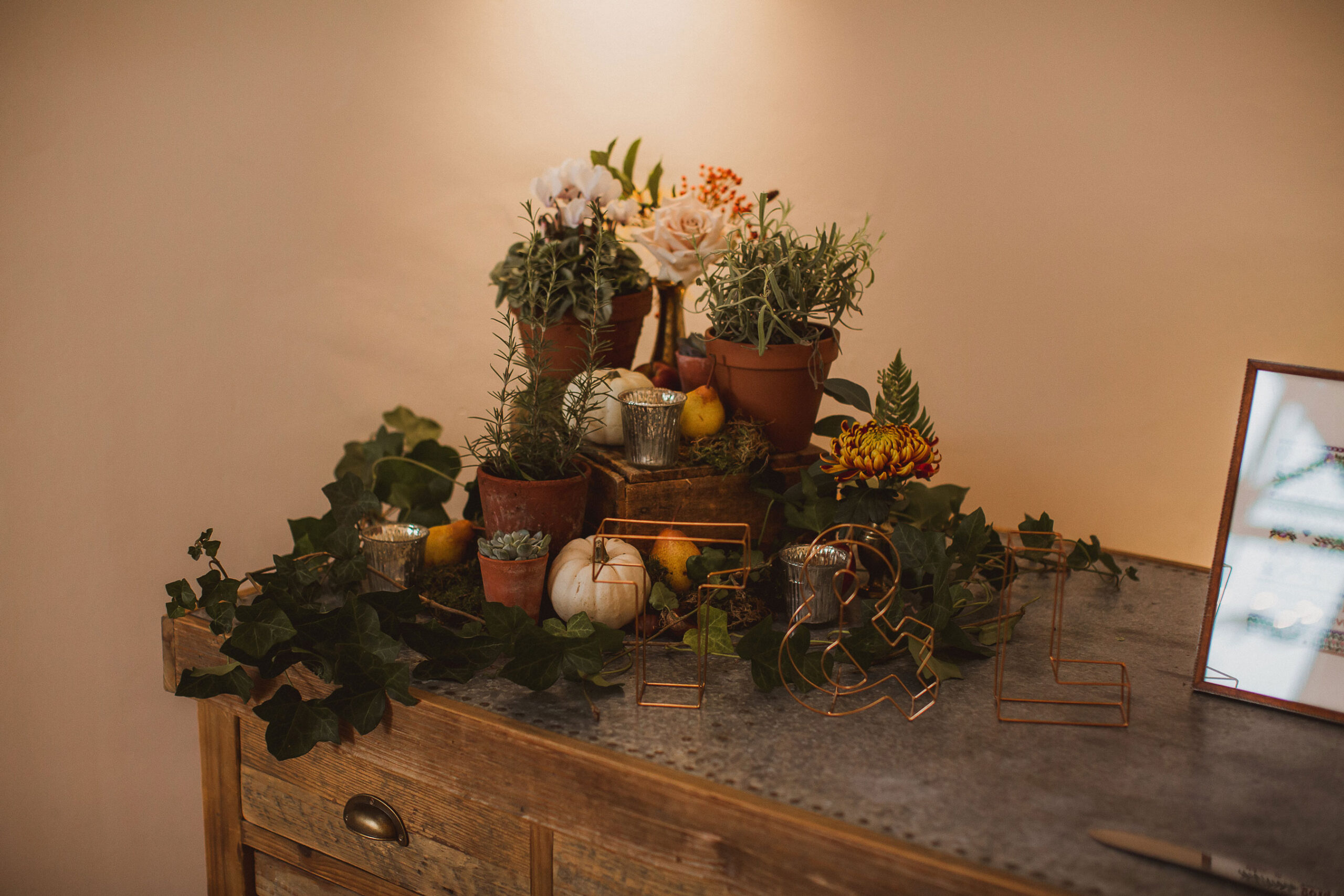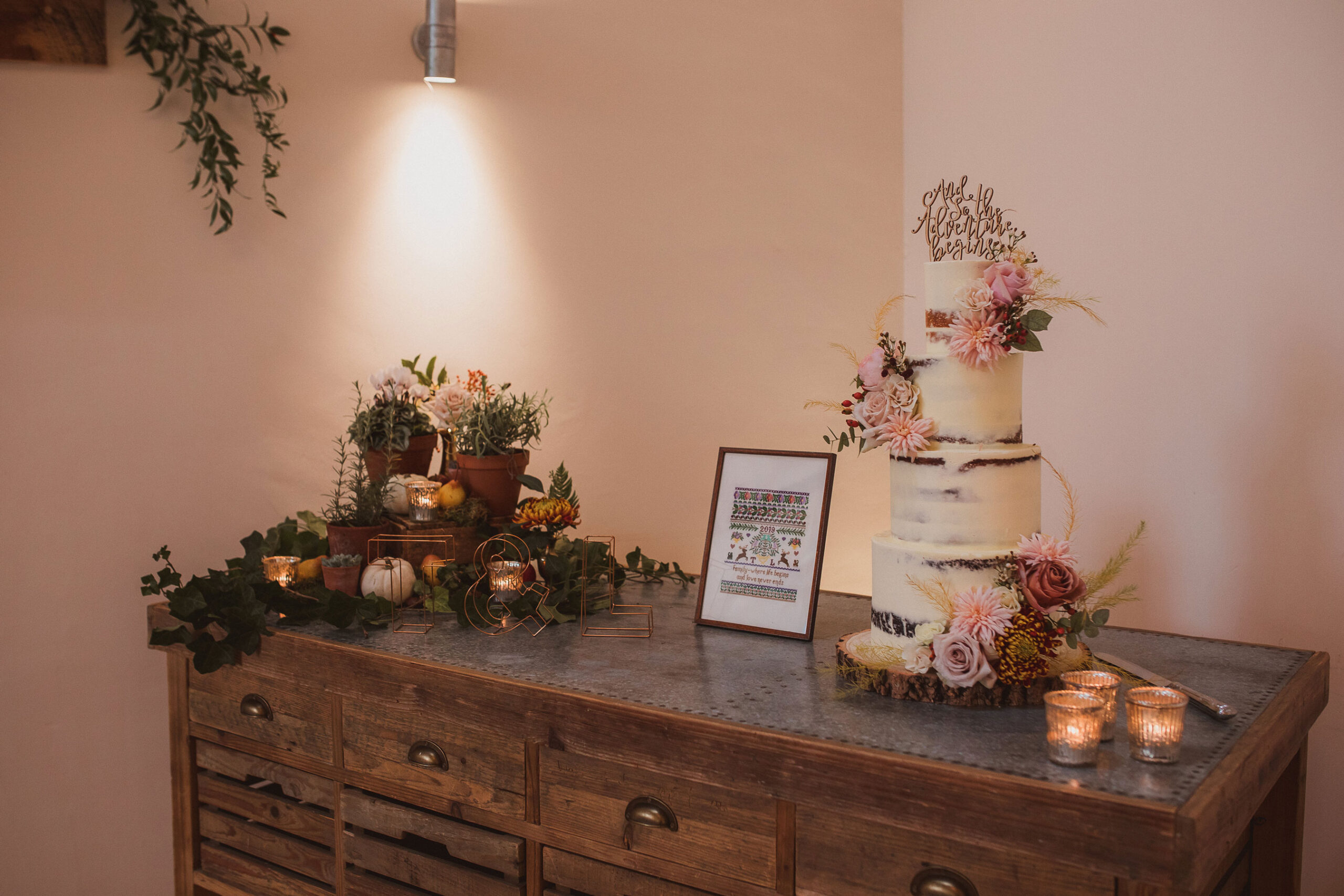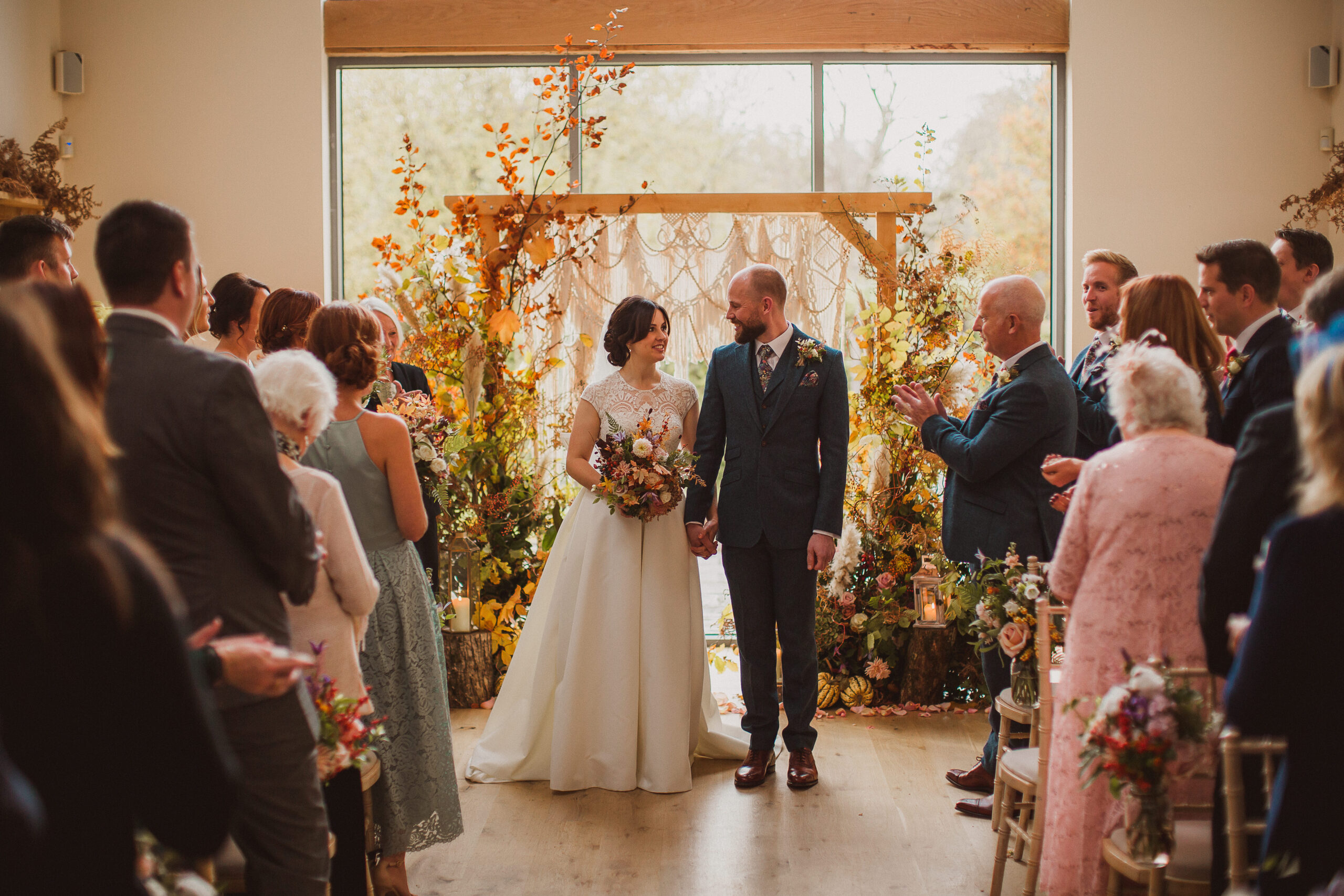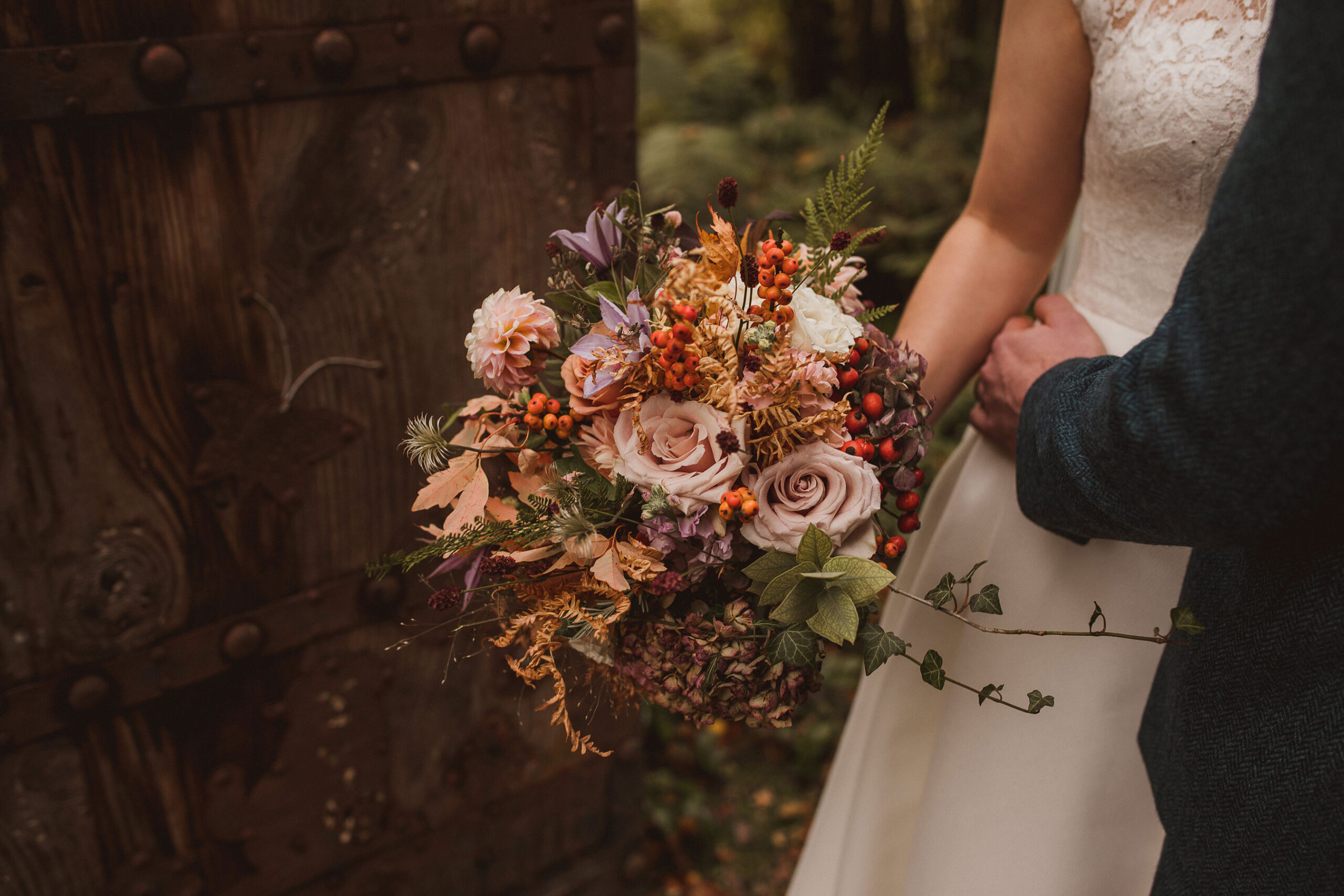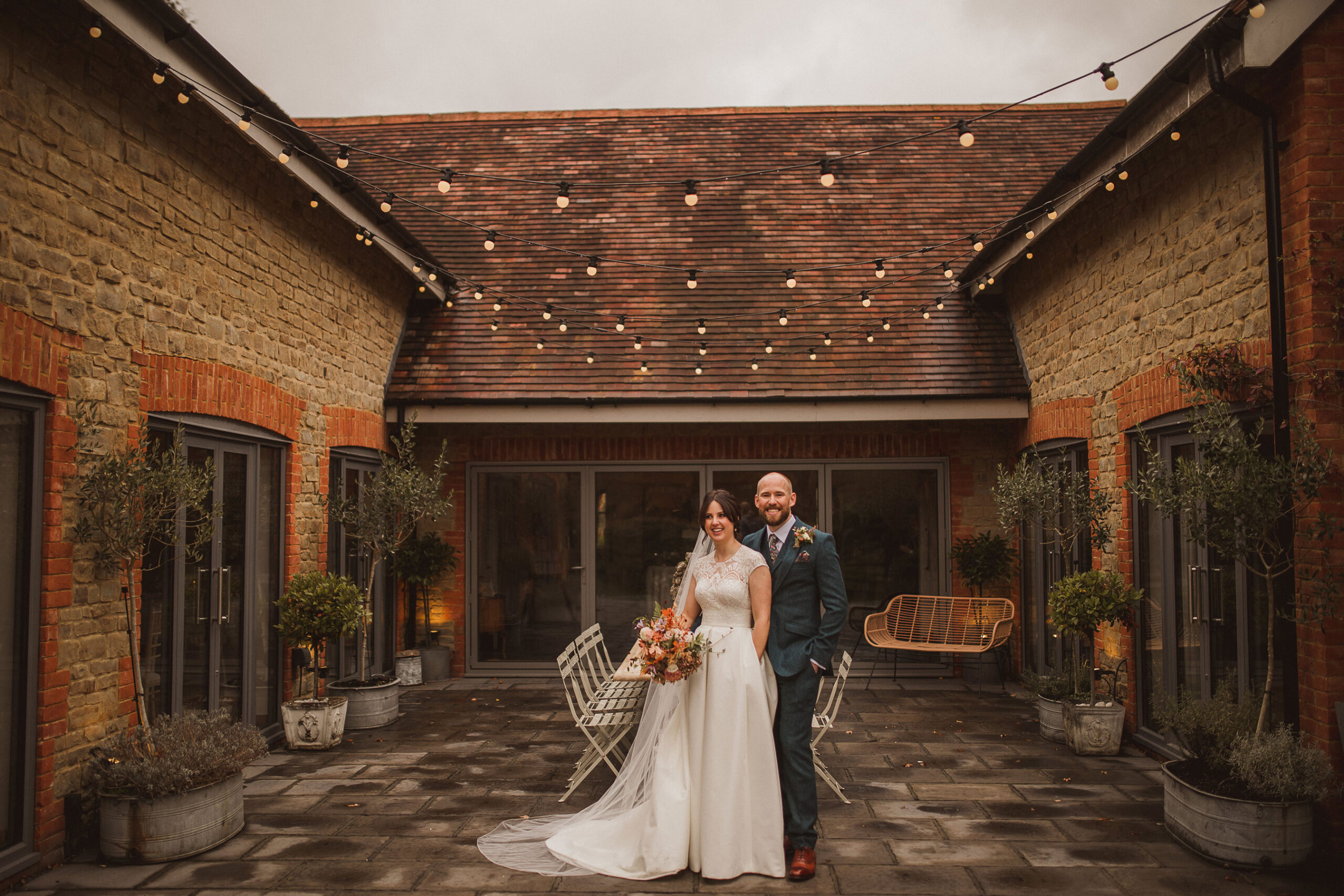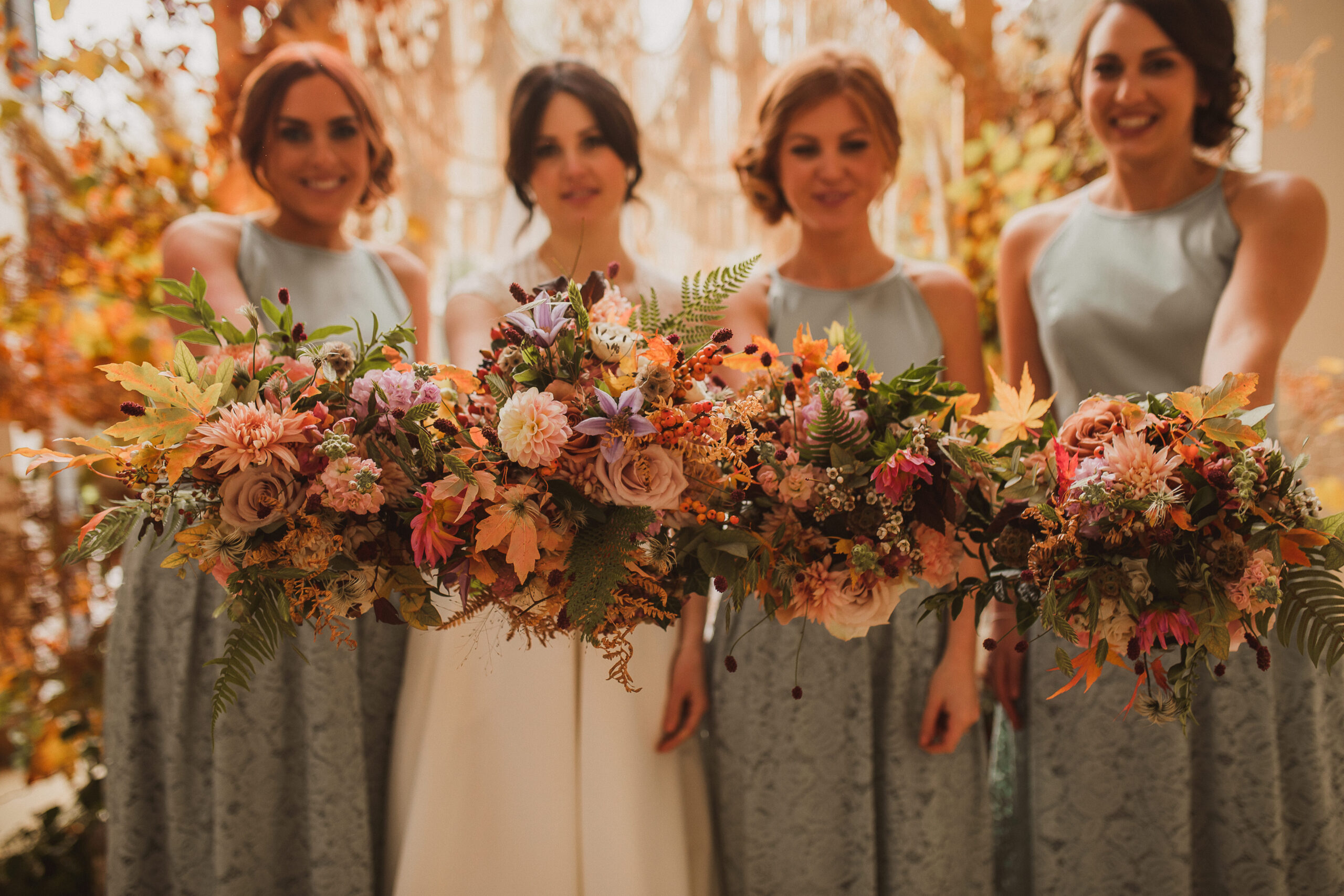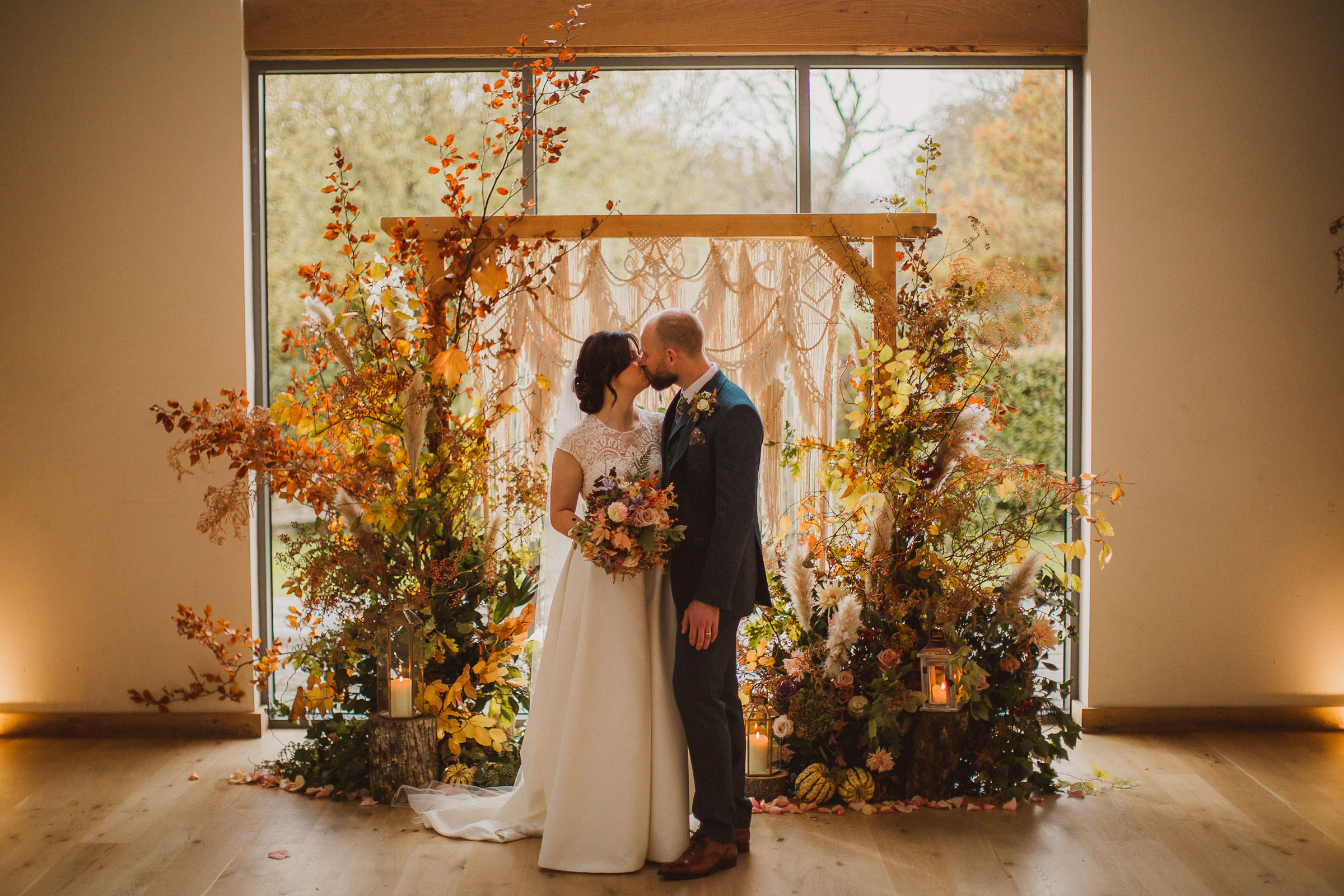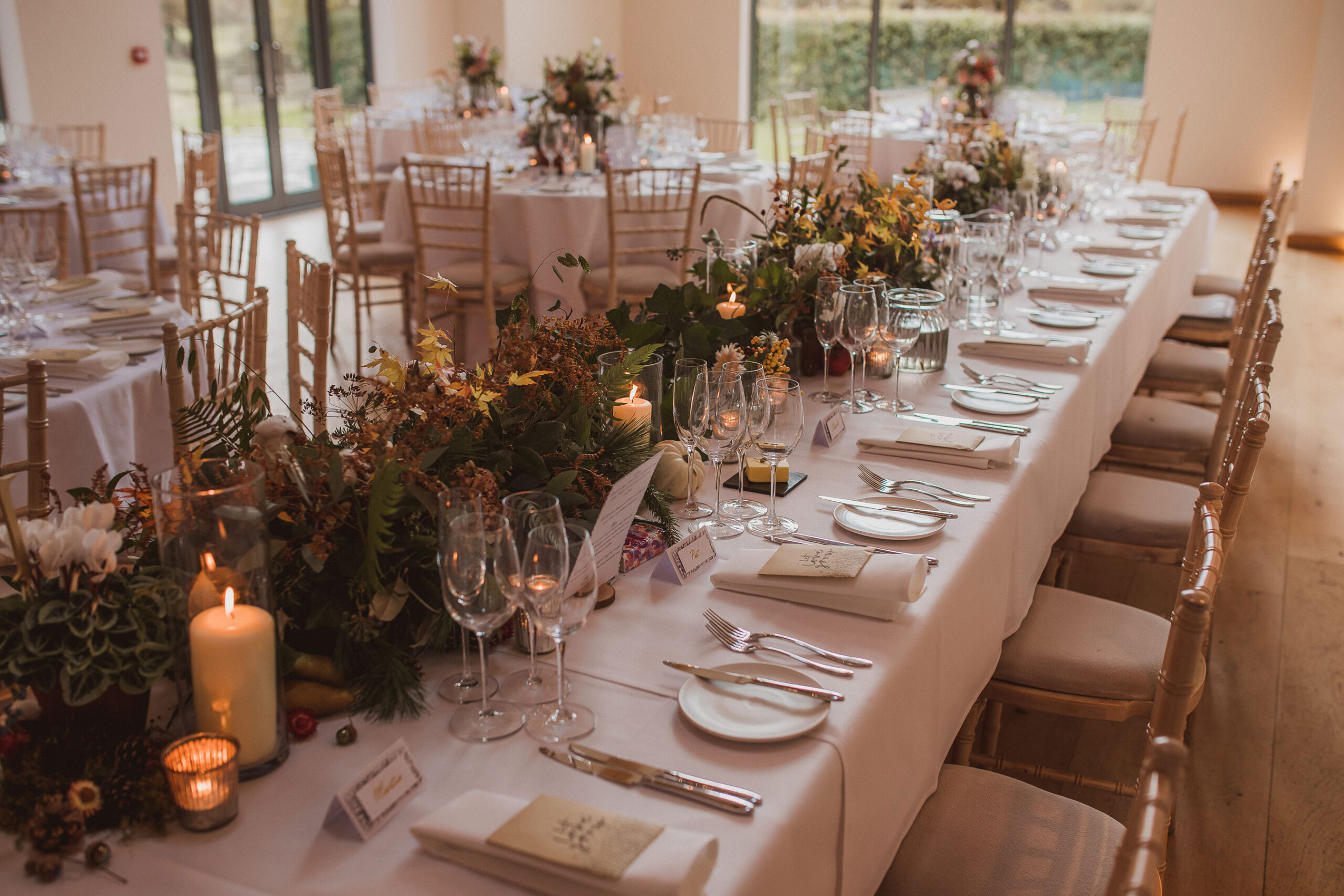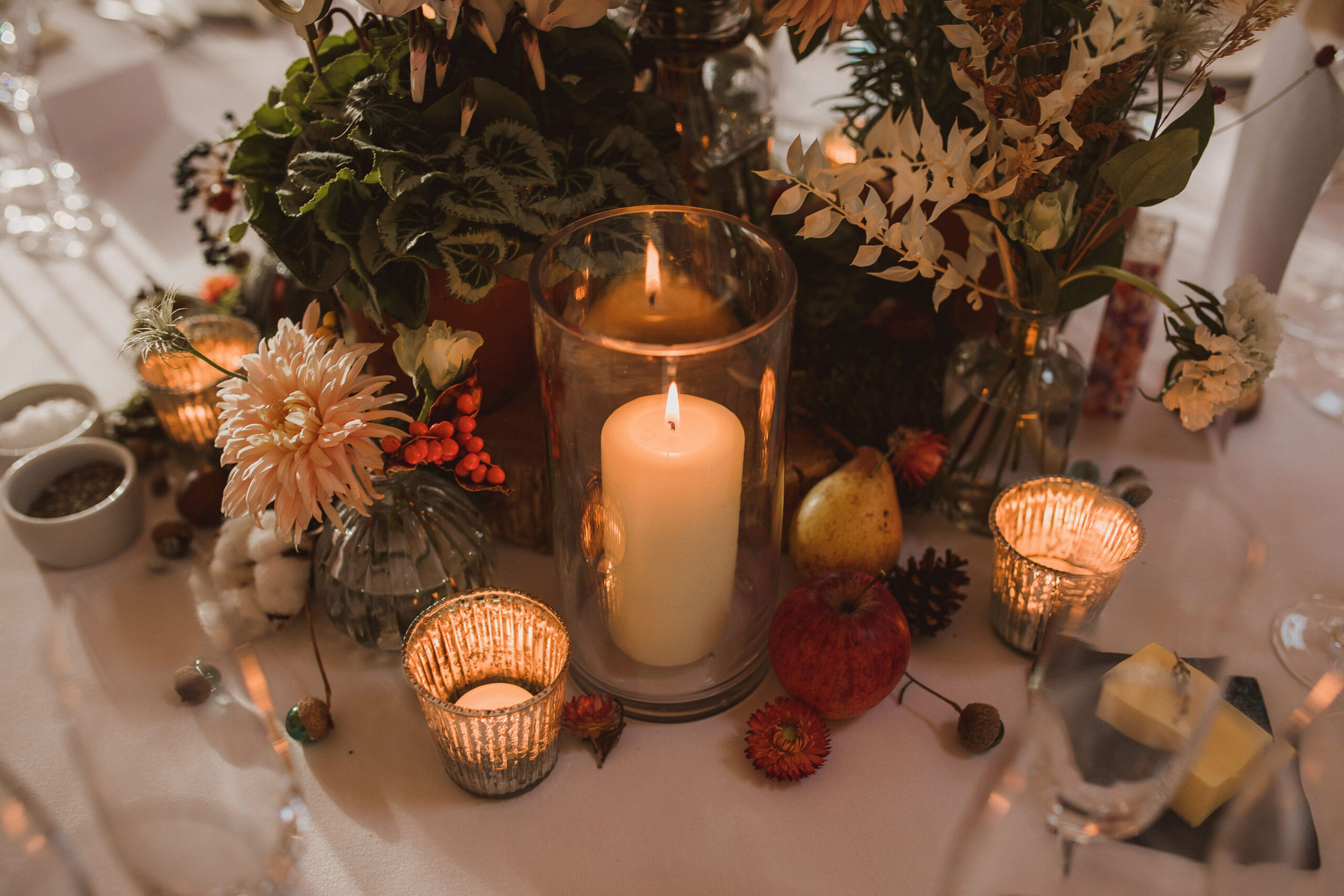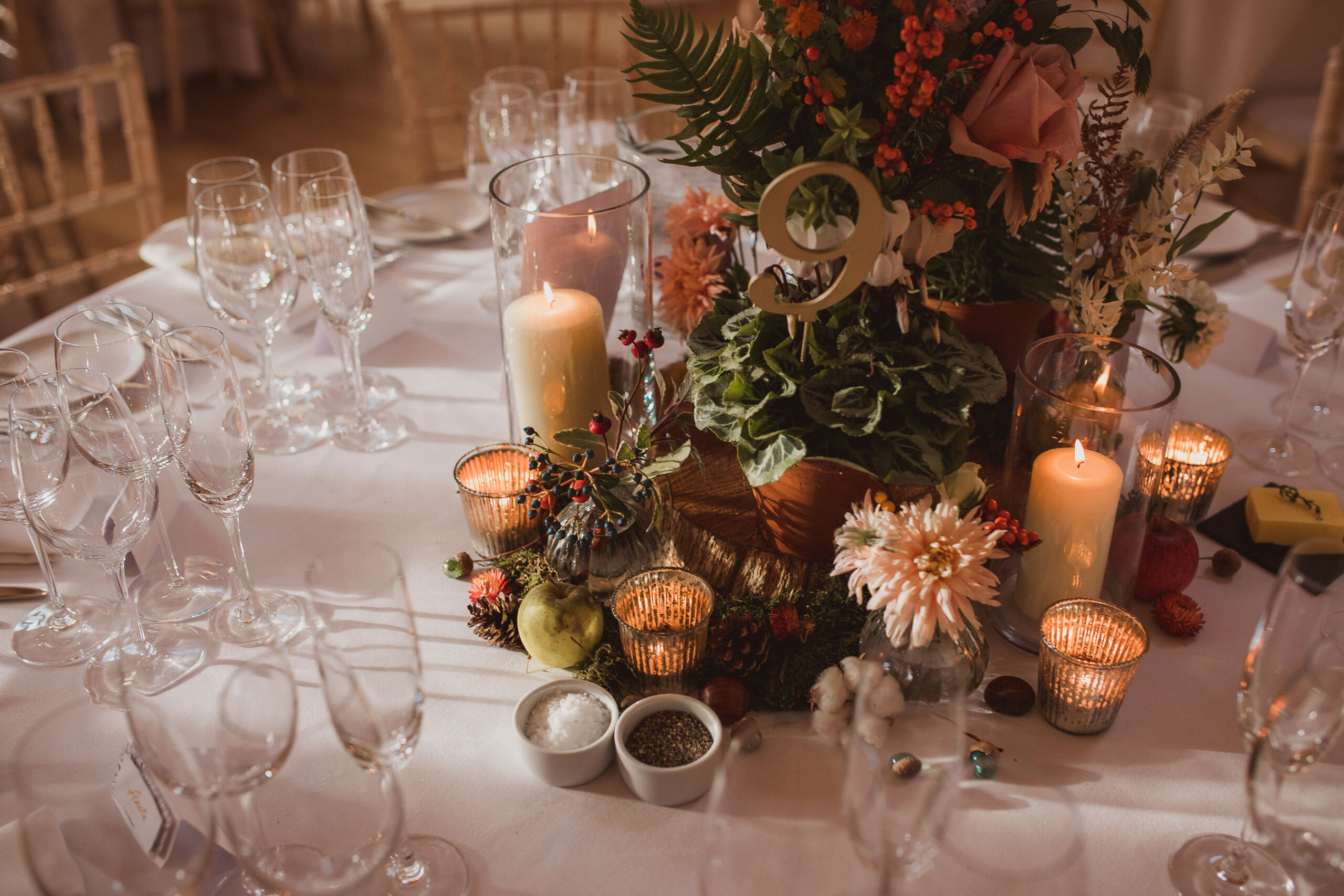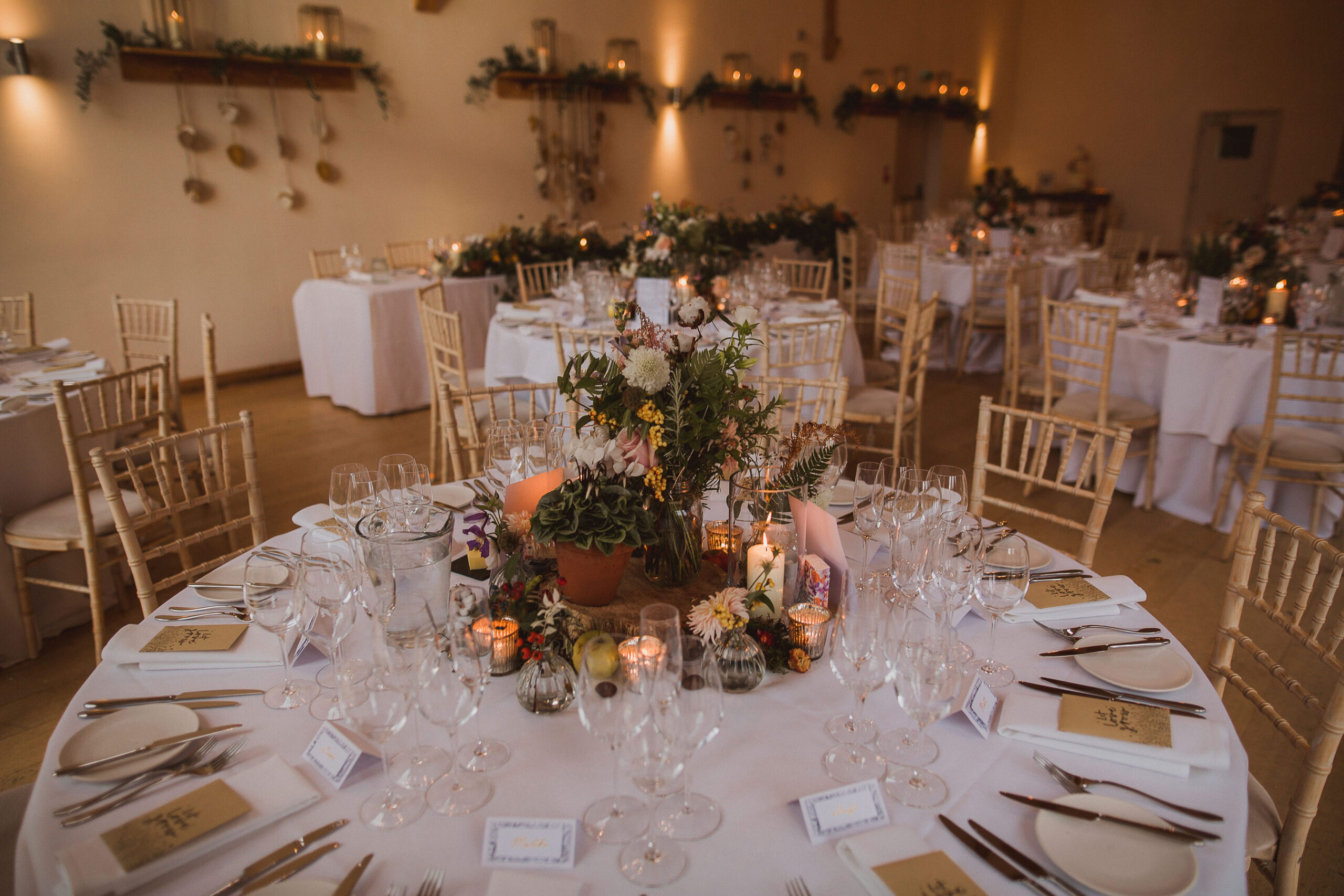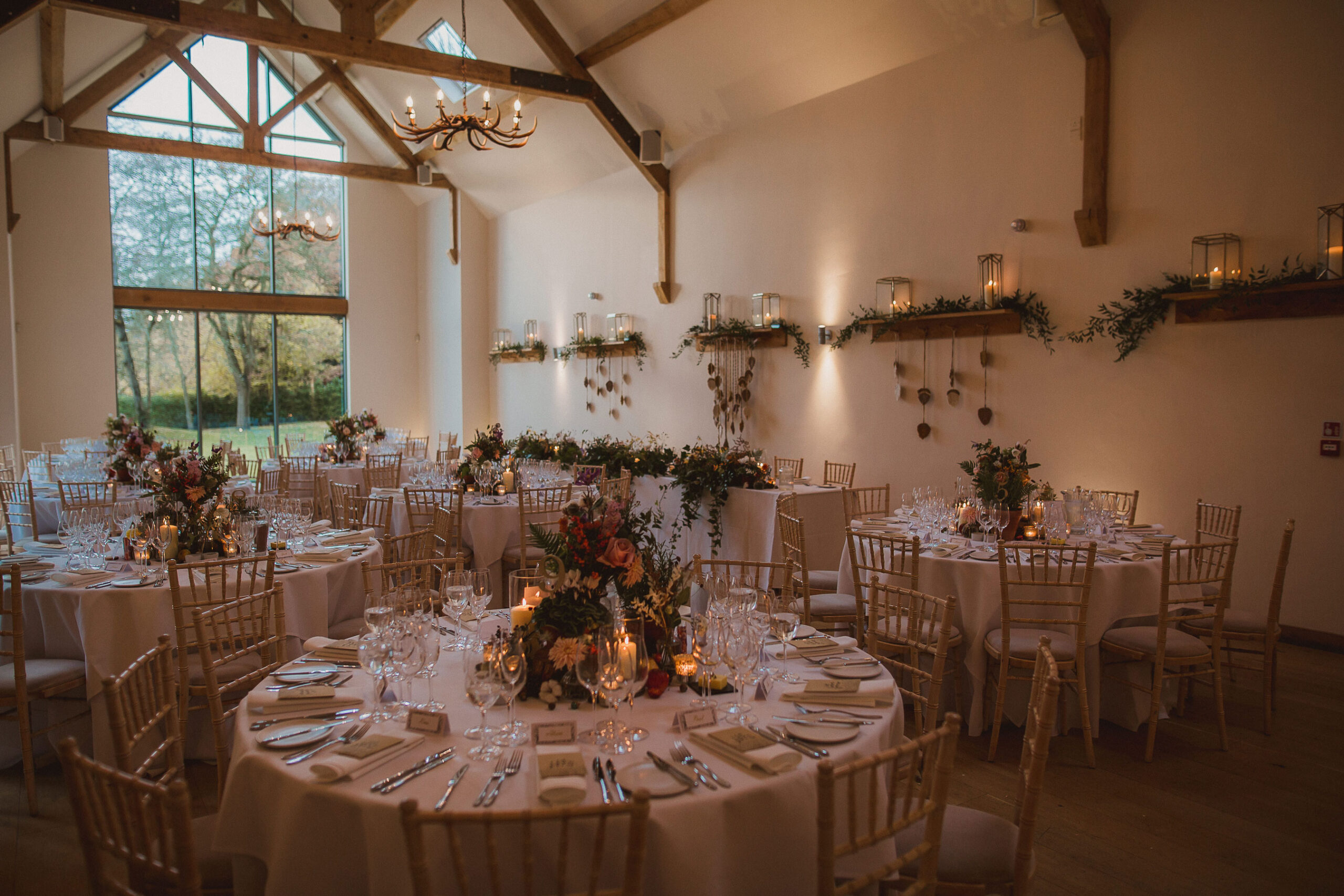 Photography: The Springles, Wedding Cake: Dotty Rose Cakes
News : 05 / 11 / 20
Wedding Cake Inspiration from Scrumptious Bakes by Emma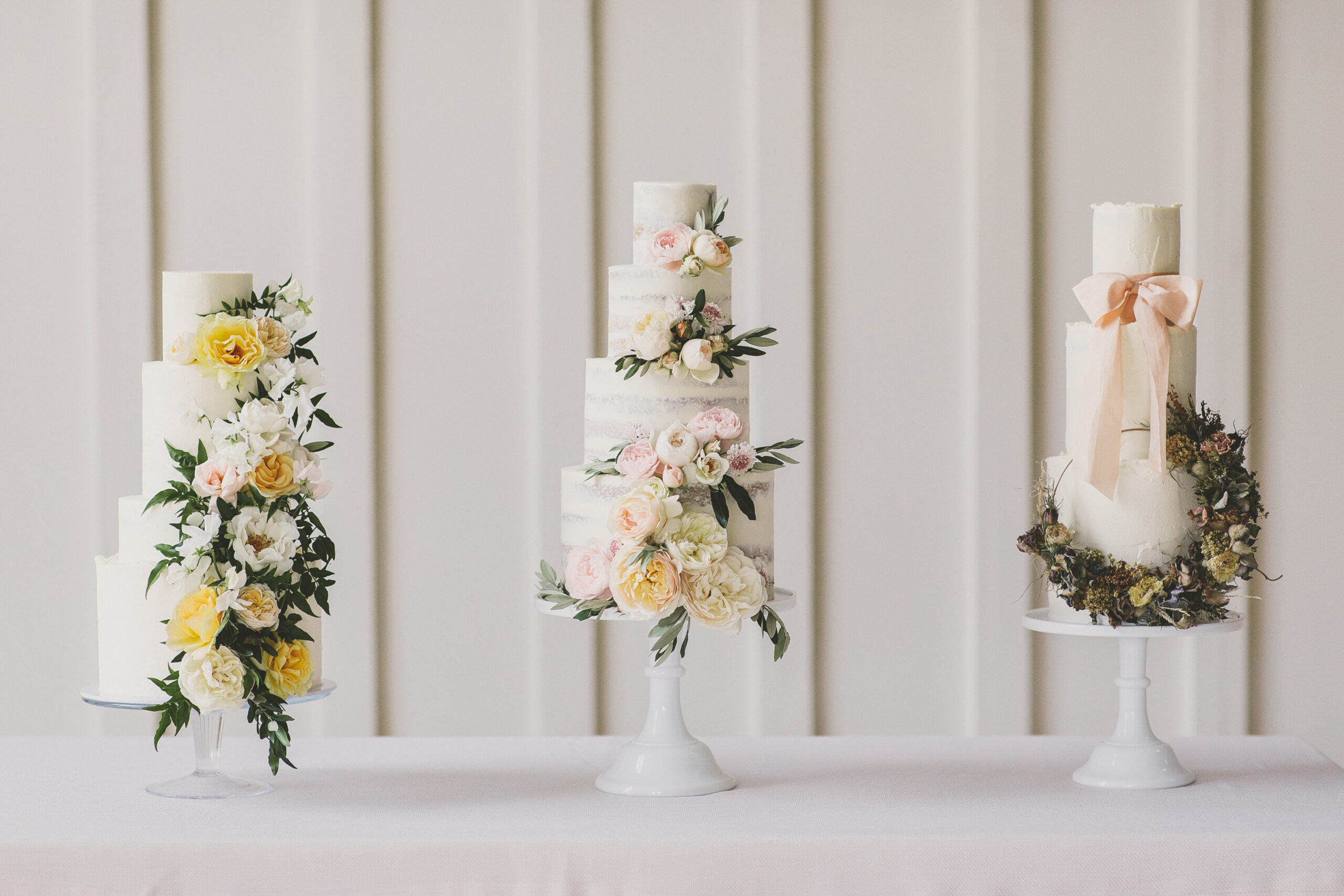 Tell us a little bit about Scrumptious Bakes with Emma? 
Scrumptious Bakes by Emma is based in Odiham, Hampshire. We specialise in beautiful, bespoke wedding cakes, macaron towers and macaron and personalised cookie wedding favours, all made with the finest organic, award-winning and sustainable ingredients.
Our contemporary classic aesthetic is imbued with subtle luxury and timeless style, and we are renowned for our exceptional ingredients and decadent touches.
Four generations of my family have been professional bakers and confectioners, and my mum is a former Michelin-starred chef. As a small child, I fell in love with baking in my grandma's kitchen, and I take huge pleasure following in my family's footsteps.
I started my business in June 2018, 16 months into recovery from a life-changing injury that damaged my sacroiliac joints, pelvis, lumbar spine, sacrum and coccyx. As I became stronger and could stand again, baking became a way for me to reconnect with my body, mind and soul. I have always found baking very mindful and easily lose myself in kneading soft dough or gently scooping and folding macaron batter.
Baking for family and friends initially gave me a sense of purpose; a clear, achievable goal and focus, which helped to relieve the trials of chronic pain and rehabilitation. It helped me to re-discover a sense of identity, to feel pride, to feel empowered. It rebuilt my self- confidence.
I found the concept of beginning my own business simultaneously exhilarating and challenging. Stimulating my mind was equally as important to my recovery as each physical step, and dreaming about my business, and how it would look and feel gave me hope and strength.
I am so proud of my business and all it has achieved so far. We have won several awards, and were recently invited by British Vogue to feature in their 2020 'Match Made In Vogue' luxury wedding campaign. I am so excited to keep building on our success, and really looking forward to all that the future will bring.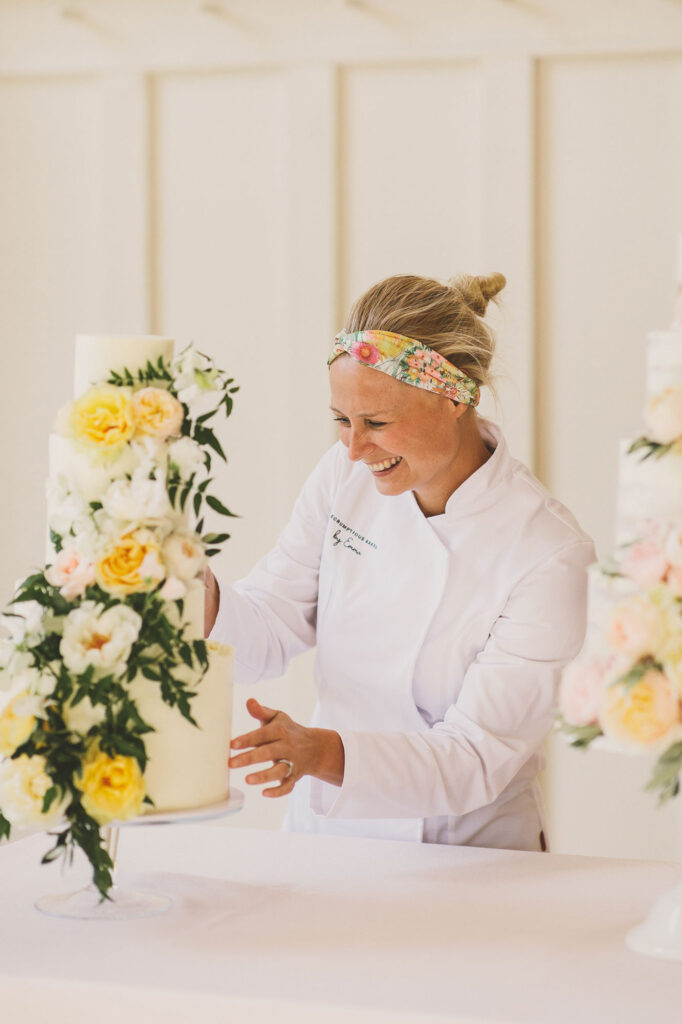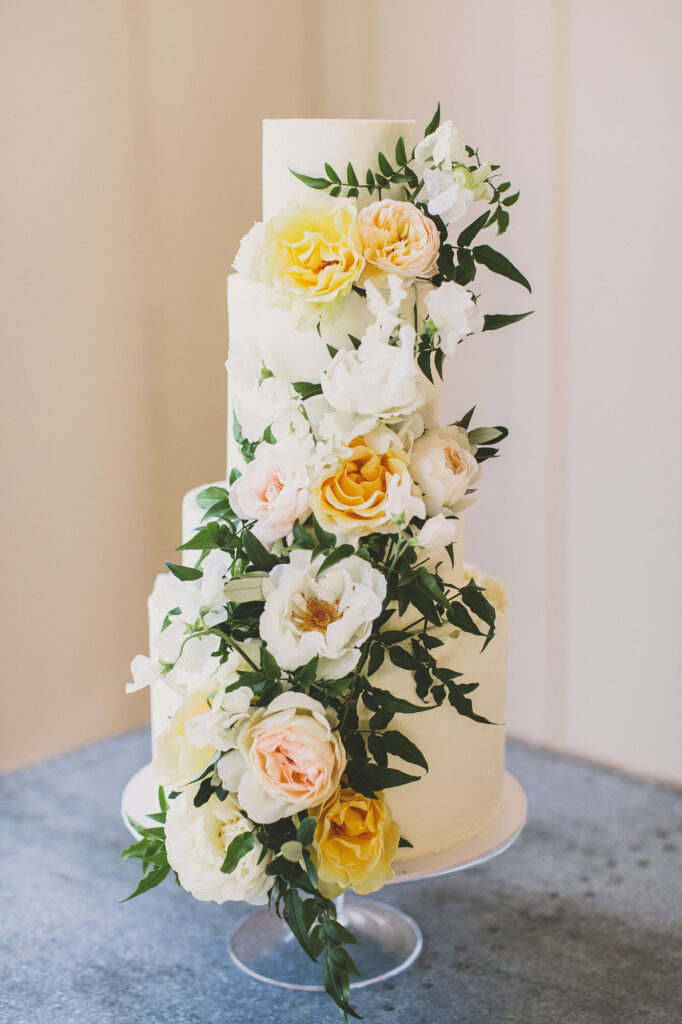 What made you create these particular looks for your photoshoot and do you have a particular favourite or favourites?
I am inspired by so many different elements when designing centrepieces for our couples. These include: Seasonal, fresh produce; the beauty of the natural world and its tones, colour palettes and textures; the relaxed movement of soft foliage and the subtle beauty and natural cascade of flowers in bloom; and of course, most importantly, couples themselves and their stories.
Each wedding cake and macaron tower featured in the shoot celebrates our unique style; at once creative, unique, irresistibly elegant, mouth-wateringly delicious and thoughtfully designed.
Our contemporary classic aesthetic underpins each wedding cake and macaron tower. Traditional tiered wedding cakes for example have a modern feel with tiers of varying heights, carefully crafted from soft, light sponges and smooth, whipped buttercream, rather than fruit cake and sugar paste. Similarly, deliciously fragrant macarons, a French classic, are filled with indulgent Belgian white chocolate ganache and tower in a contemporary ombré cascade, perfectly complimented by soft, silk ribbon.
It is hard to choose a favourite design, but I love this organic three-tier Madagascan vanilla wedding cake, featured by British Vogue this October.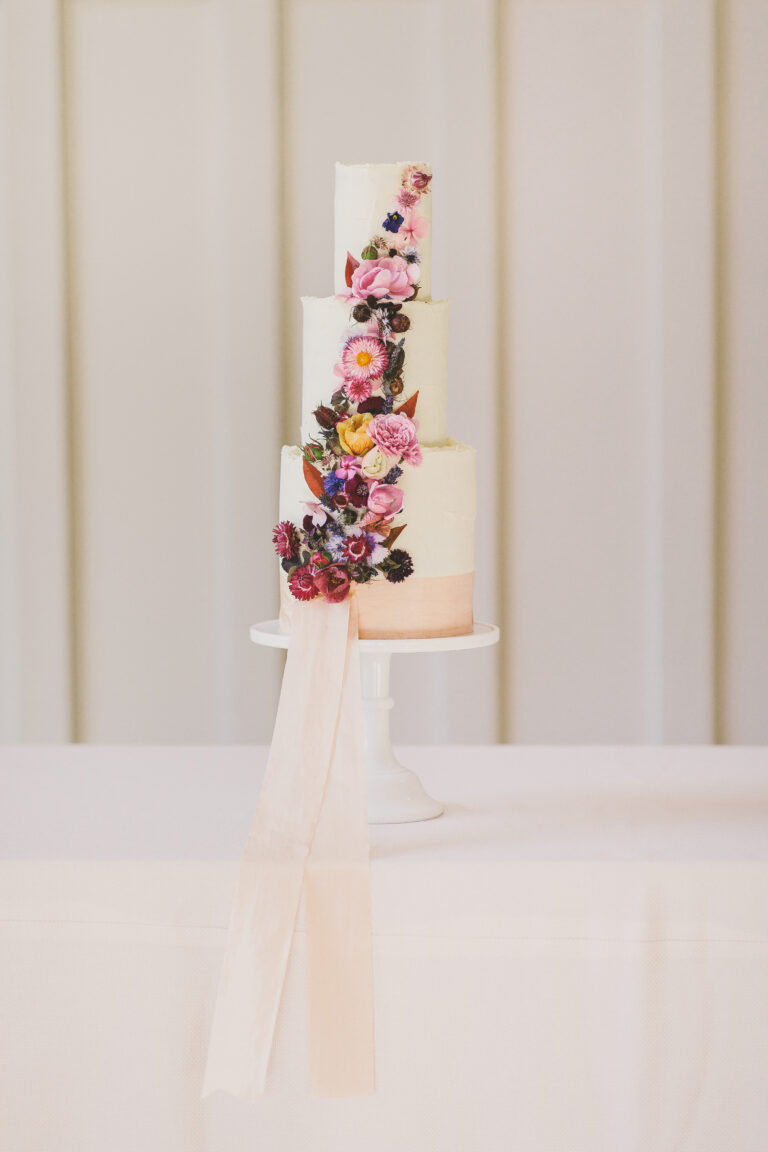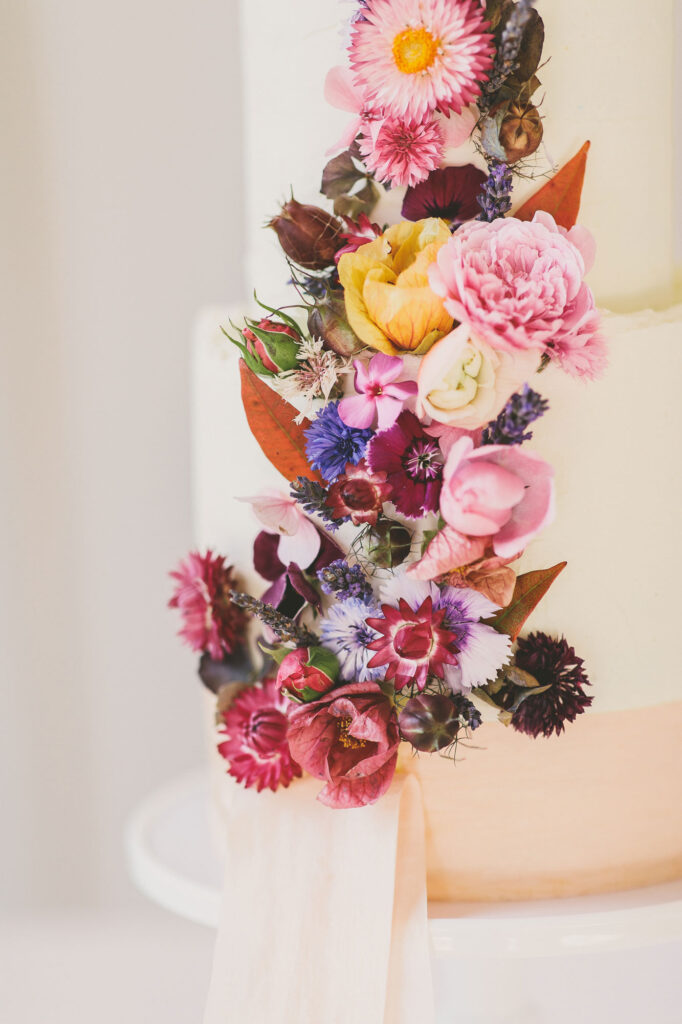 One of the ways to make your cake or macaron tower a true centrepiece is by extending its lines beyond where you would expect them to traditionally finish, encouraging the eye either higher or lower than it would usually look.
This design does this beautifully, with the delicate, soft ribbon by Eden Blooms adding a touch of subtle, contemporary elegance. By letting the ribbon drape delicately over the edge of the table, the long, tall lines of the cake are naturally elongated. It looks as striking, if not more so, from a distance, and works especially well as the width of the ribbon balances the height of the cake.
I also love the gently textured buttercream ruffles around the top of each sponge, the extra tall tiers, and the intriguing fresh flower cascade. It really is a design that captures the eye and draws you in, just like a piece of art, and I loved working with Hazel of Eden Blooms to bring it to life.
My other favourite design from the shoot is our Callebaut Belgian chocolate wedding cake. It is the perfect size for a smaller gathering of loved ones, and its combination of different height tiers is striking. I also love the contrast of the jewelled tones of its fresh flowers against the smooth chocolate buttercream finish, reflected beautifully by its gold mirror base; such a beautiful and simple way to elevate your cake. It also smelled absolutely amazing!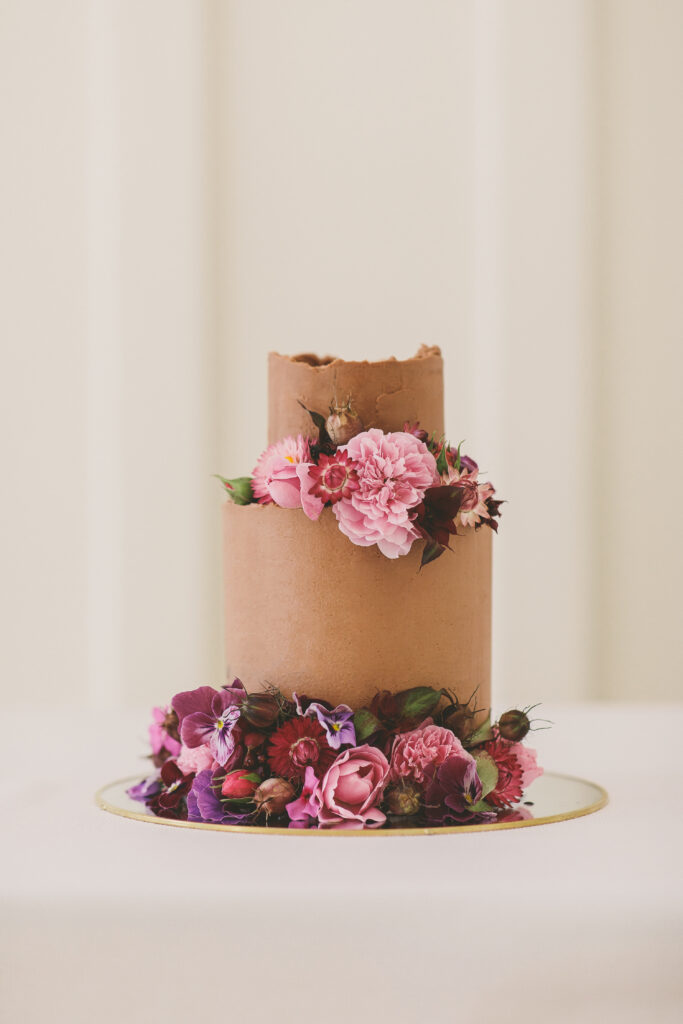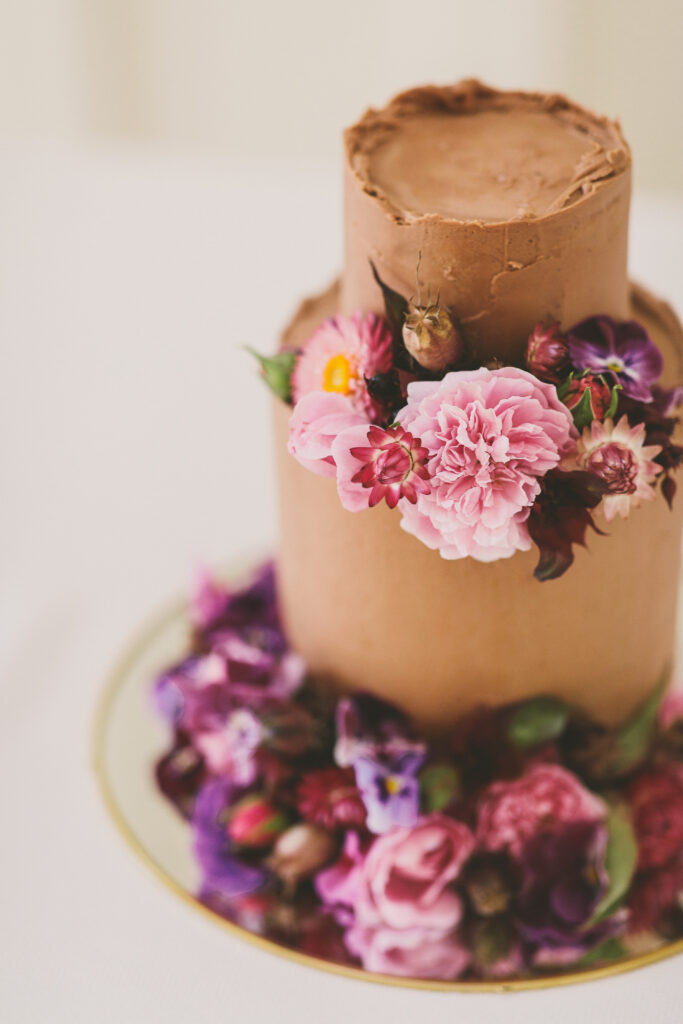 Tell us about the other suppliers that you collaborated with?  
I loved working with Hazel Shaw of Eden Blooms and Anna and Simon Clarke of We Are // The Clarkes on the shoot.
Hazel is an extremely talented and experienced florist, and her Hampshire cutting garden is exceptionally beautiful, brimming with seasonal flowers and foliage. Hazel's work is truly stunning, and I cannot recommend her highly enough.
Anna and Simon are based in Warwickshire, and produce creative, fun, joyful and honest images and films. Their relaxed approach and light, natural style was perfect for Scrumptious Bakes, and I love how evocative each of the images are. I very highly recommend them too.
We were also grateful to Just 4 Linen, whose beautiful linen and napkins helped to create the perfect backdrop for each shot.
Why was Millbridge Court your choice of location?
Millbridge Court is a truly beautiful space, filled with natural light. Its high-vaulted, airy halls with floor-to-ceiling windows and rustic wooden beams provide a stunning neutral backdrop, and the possibilities for styling are endless. Its picturesque surroundings, with lush, green fields, a wildflower meadow and a hidden fern garden create lots of opportunities for photos, and their warm service and can-do attitude echoes our own approach.
Finally, we love how their spaces are designed with current trends in mind whilst respecting the spirit of the past, in much the same way that our fresh and modern designs connect with our traditional baking heritage.
Thank you for hosting us Millbridge Court. We hope to see you soon!
… and here are more of Emma's show-stopping Cakes captured by We Are The Clarkes on Shoot Day!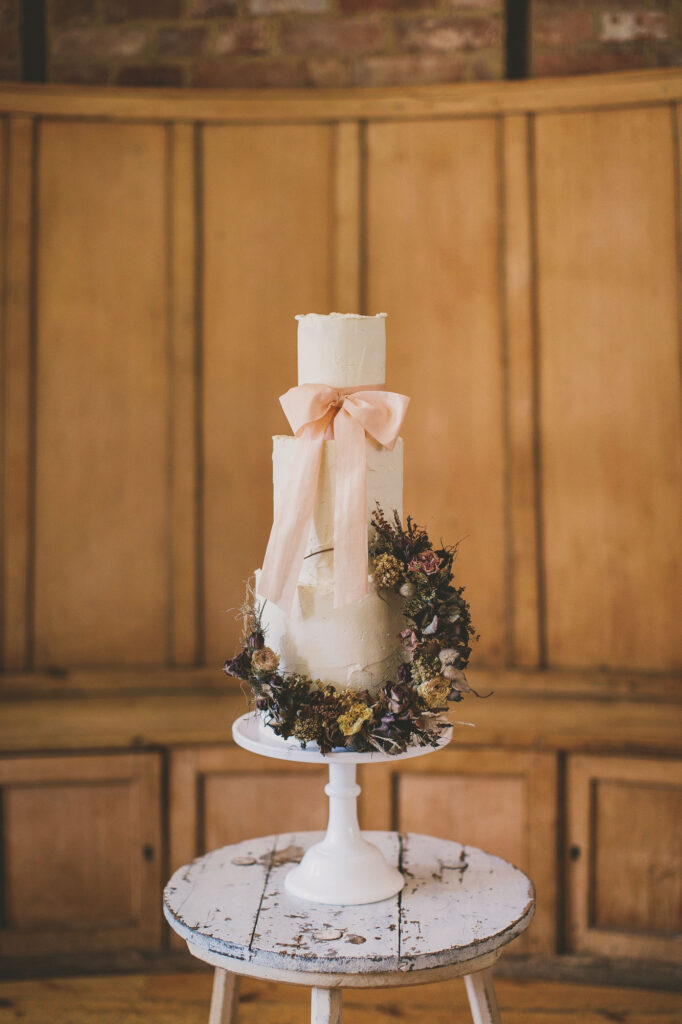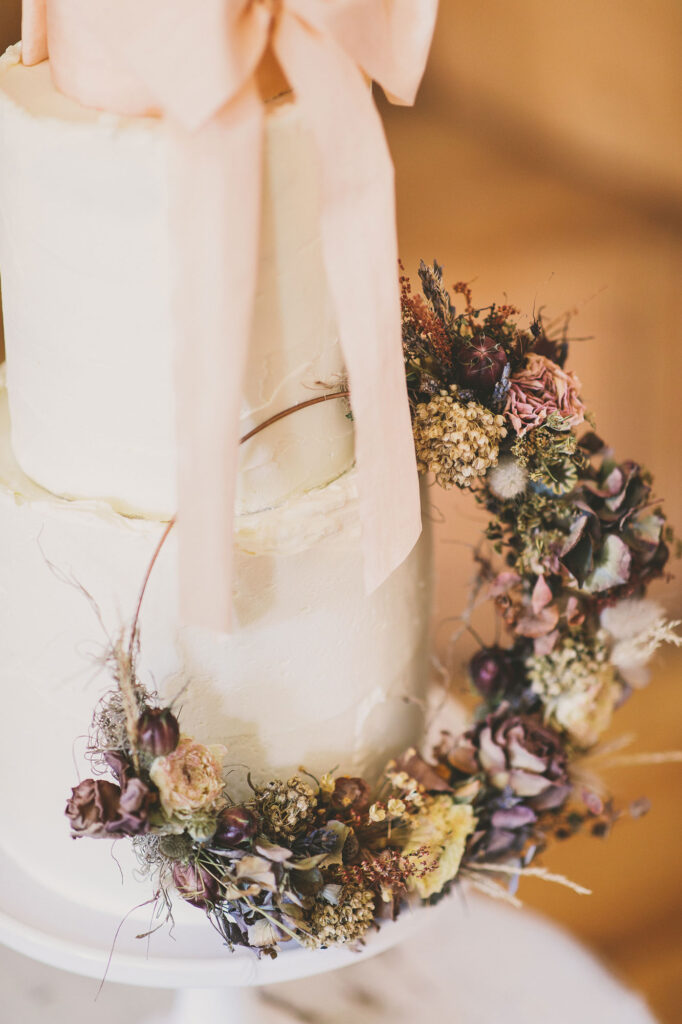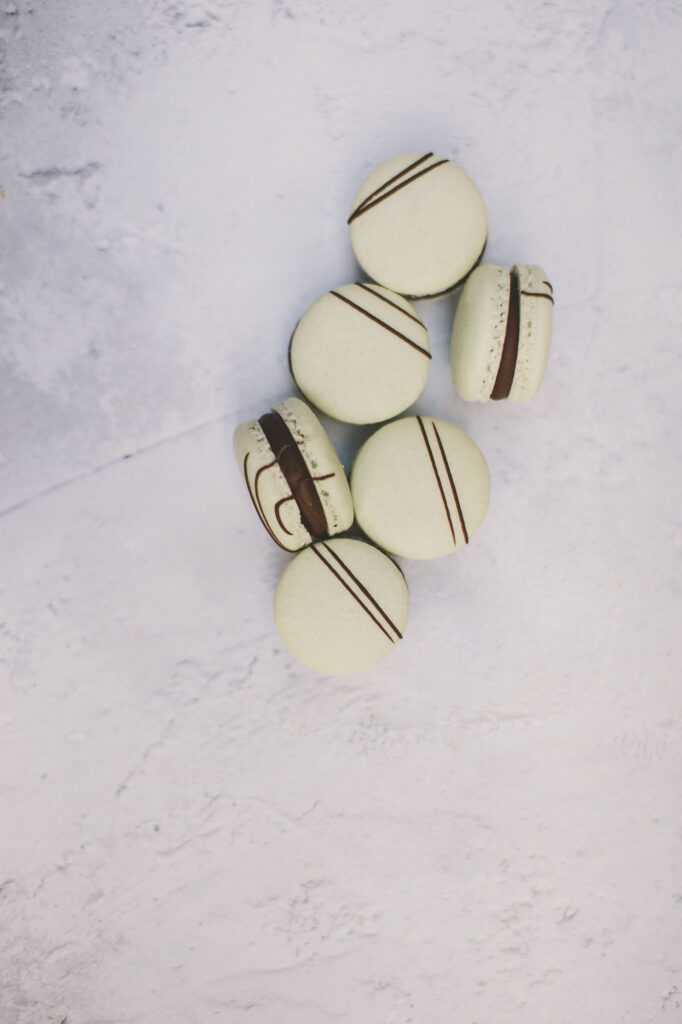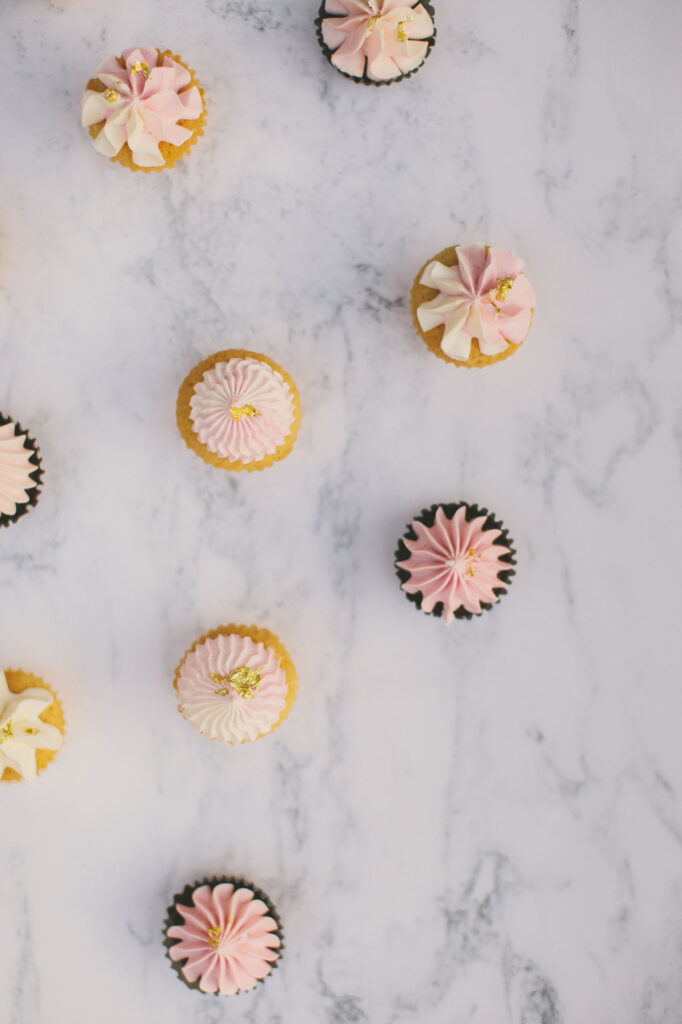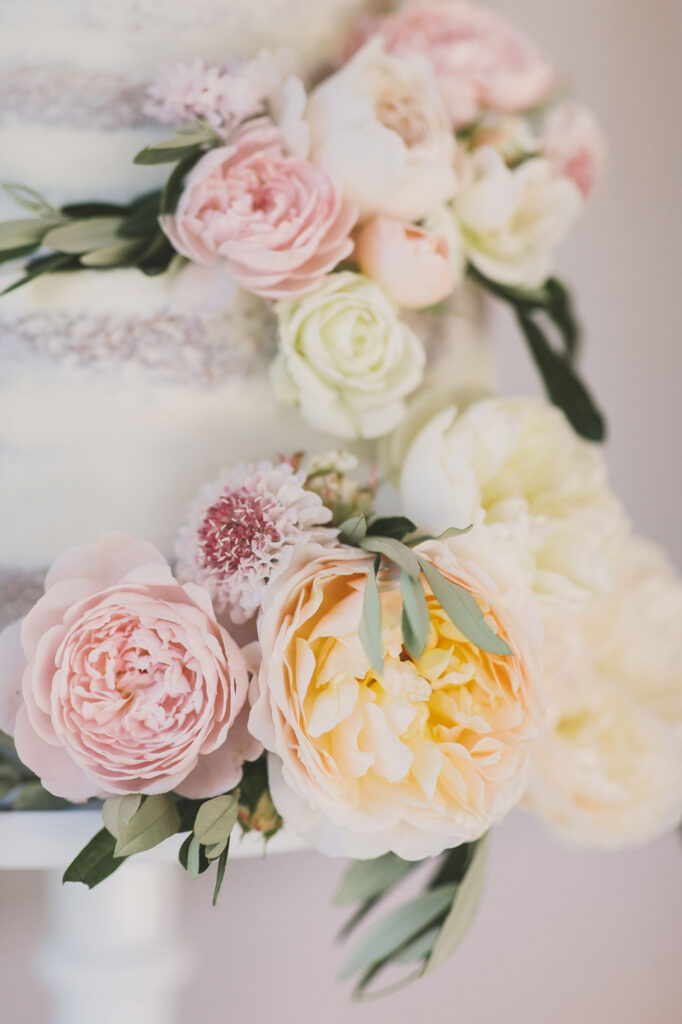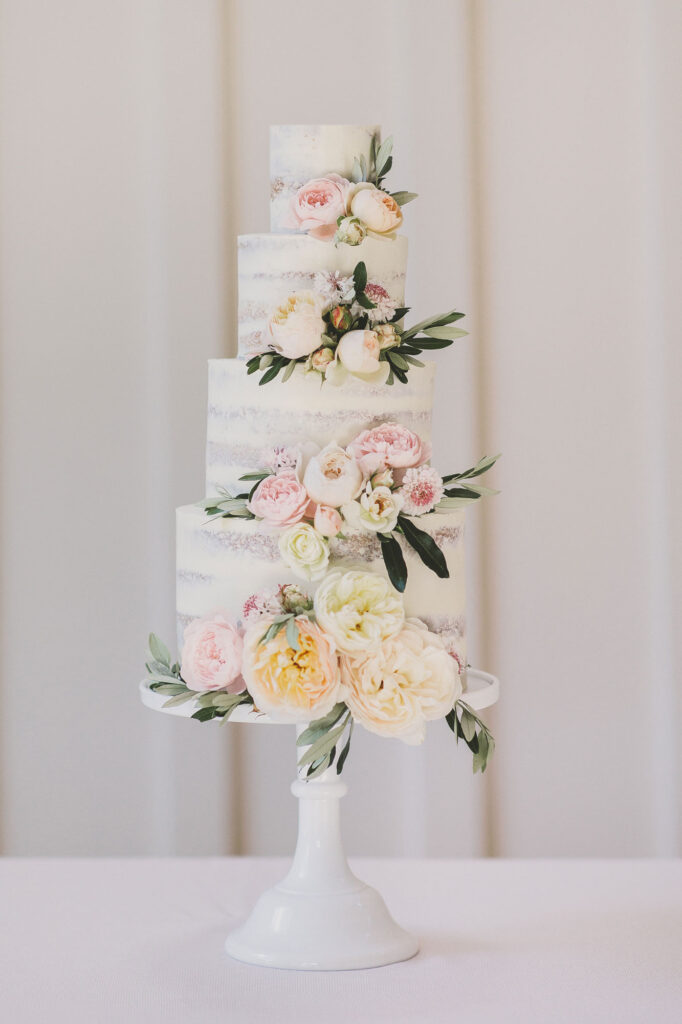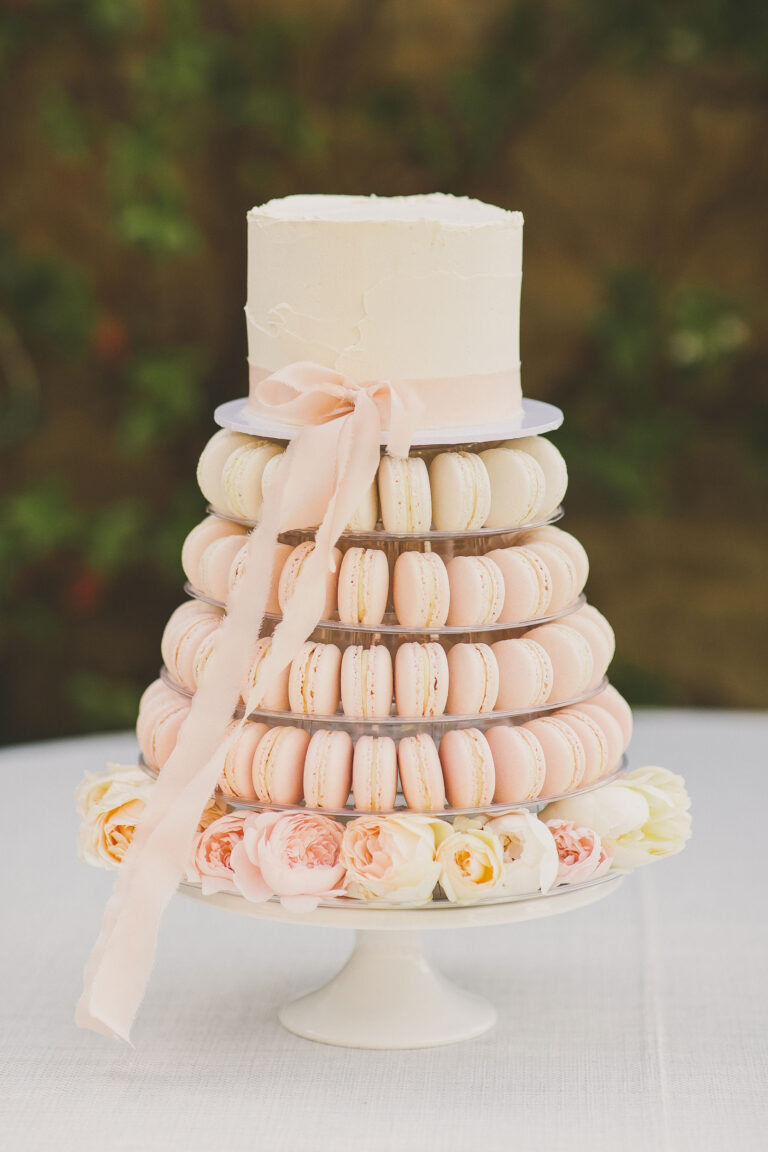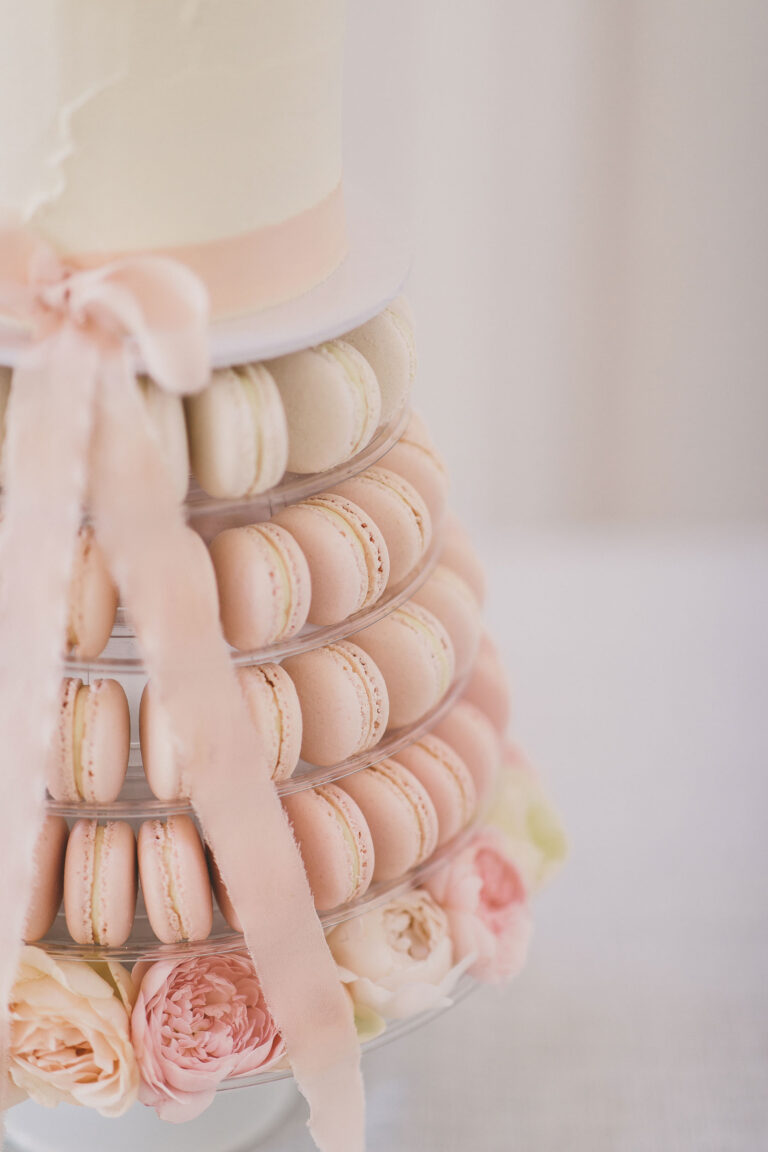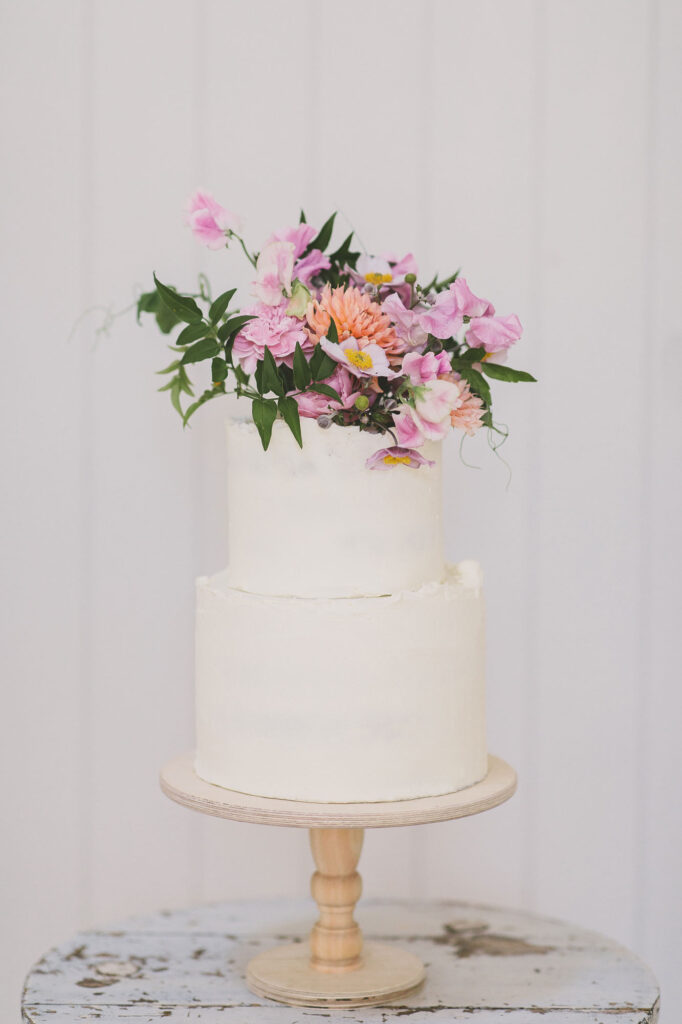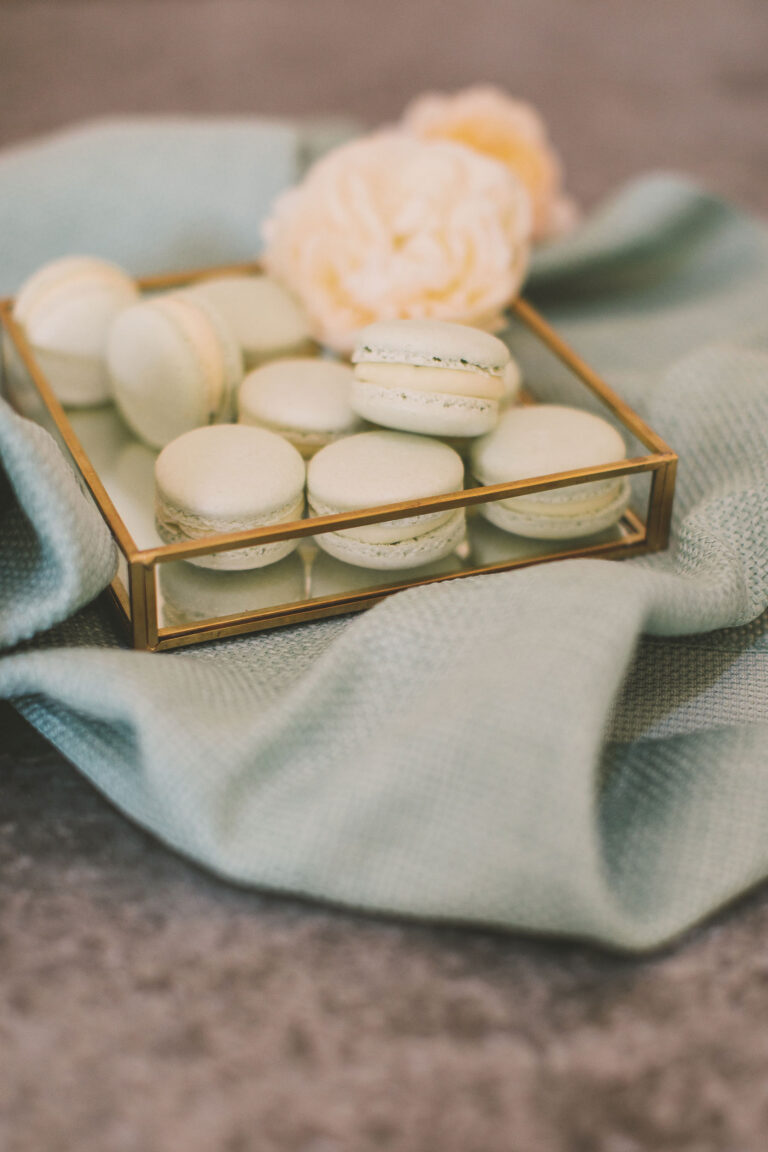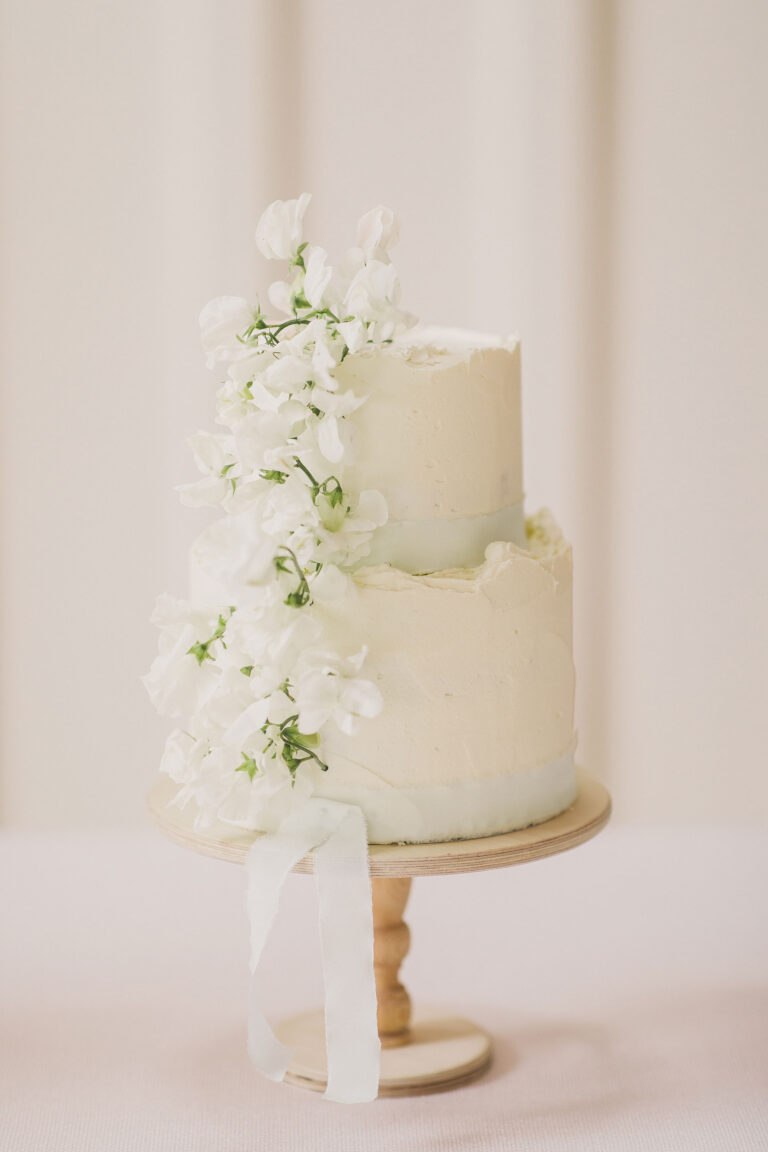 News : 07 / 09 / 20
Contemporary, Bright & Beautiful Photoshoot at Millbridge Court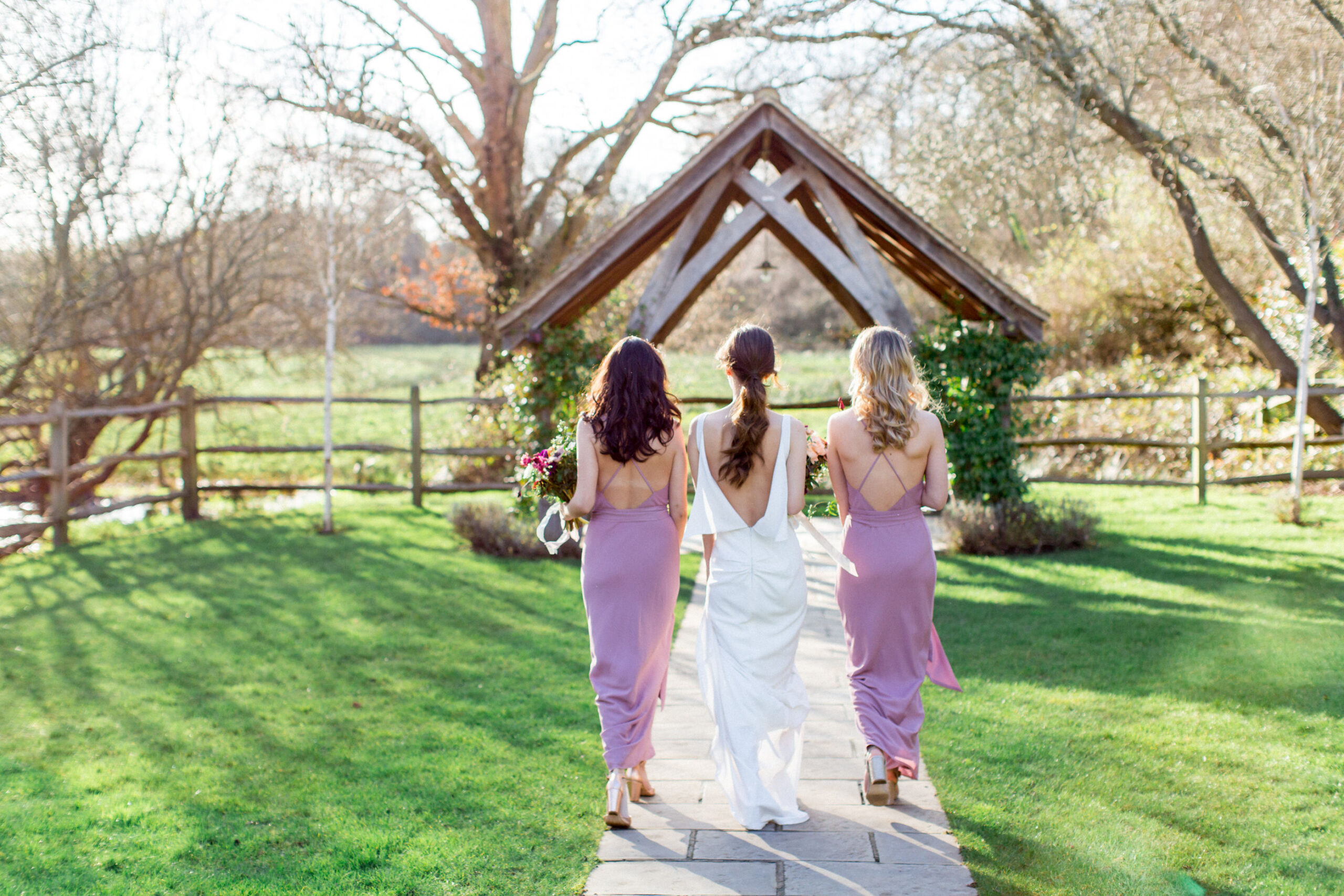 Earlier this year, we had the pleasure of hosting a super stylish Styled Photoshoot which was conceptualised, organised and designed by Wedding Planner, Natalie Ellen, who teamed up with a host of incredible Suppliers who helped bring her vision to life.
With the full Photoshoot recently having been featured on the hugely popular Wedding Chicks blog, we wanted to share some of the beautiful images from the day with you, alongside a chat that we had with Natalie to find out a little more about the Shoot, the collaborators, her Top Wedding Planning Tips for newly engaged Couples and much more.
Hi Natalie, tell us about you & your wedding expertise…
I'm Natalie and I'm a wedding planner at Natalie Ellen Weddings. I offer bespoke wedding planning for modern, fun loving couples, designed to match your personality and style. My clients tend to be modern couples who are veering away from tradition – they want beautiful, stylish weddings with personal touches throughout and that suits me and my style perfectly!
Can you talk us through the concept for your styled shoot and where you drew inspiration from?
This shoot was the result of a first meeting with Poppy from Poppy Wild Floral – we met for a coffee to put a face to the name and to have a good chat about what we do, and within 30 minutes we were concocting our perfect shoot together. Those first scribblings quickly evolved from 'cool floral installation in modern/stylish space with sage green' into my favourite mood board yet – Poppy created the most beautiful colour palette to work from and everything went from there – the vision became 'contemporary, playful with a little edge' and each detail was designed to bring that to life. It's always my goal to create something different to provide inspiration for contemporary couples, something people can screenshot or pin to recreate for their own wedding. That part always takes a bit more thought but it's worth it when you see the idea come to fruition on the day.
How did you choose who to collaborate with?
At any one time, I  have a wish list of suppliers I'd love to work with, whether that's for the first time or someone I keep coming back to because they're so good at what they do. This shoot was definitely a combination of the two! Working from our moodboard, I selected suppliers who I knew could nail the brief and add their own creative touches. It's so important to bring on board people who not only 'get' the vision, but creative experts who see what you're trying to achieve and go that one step further. Getting the team right is the hardest part of the planning, but it's incredible seeing everyone come together on shoot day!
What made you choose Millbridge Court as the location for your beautiful Photoshoot?
Millbridge Court has been one of my favourite wedding venues for years! The contemporary style of the space is right up my street and I love how versatile the venue is – there are so many different areas couples can utilise throughout the day, whatever the season! It was a no-brainer to style our ceremony space in front of the beautiful tall windows where natural light beams into the room, those windows alone are such a selling point for couples visiting the venue!
Every element of the shoot came together so perfectly, what advice would you give to couples who want to make sure all of the different aspects of their day are cohesive?
It can be so difficult to take a step back to see the whole picture when you're planning all the little elements of your wedding, but my advice to couples would be to not let the little things overwhelm you. Always start with an overall vision of what you're trying to achieve and with each decision, reflect back on your Pinterest board or moodboard and think 'does this fit with what I want our day to look/feel like?' You might find that the answer is no, but if you LOVE an idea then you can absolutely adjust your vision to suit – use it as a guide but don't let it stress you out if you go a little off piste. It's your day!
Are you seeing any trends emerging for 2021-2022 weddings?
This is a tricky question to answer right now because we're potentially talking about a post-coronavirus environment. As we continue getting used to this strange situation we've found ourselves in, I've noticed people really prioritising quality time with their loved ones – it's saddened me so much that people have had to dramatically reduce their guest numbers but it's seen a rise in truly beautiful intimate ceremonies and I think some couples have started to consider a smaller celebration as a result.
In terms of design trends, I'd say we're definitely seeing a steer towards what I'd call 'the new pastel' – brides are opting for dusky pinks, sage greens and subtle peach tones in their bouquets, with plenty of beautiful foliage to add a natural, wild feel to their day.
I'm hearing more and more couples talk about the desire to go local with flowers & produce, with many actively trying to create a more sustainable and environmentally friendly day, whilst also supporting smaller local businesses after such a hard hit this year.
Perhaps not so much a 'trend' but something I've really noticed in planning weddings for next year is that couples are less afraid of shunning traditions and doing things their own way – whether that's a favourite food van instead of a sit-down dinner or a joint speech from the bride & groom, this is something I love as I think it's so important to really personalise your day!
What are your 3 Top Tips for planning a successful Wedding?
Firstly, always remember this is your day and it should reflect you as a couple. Forget what you 'should do' and focus on what you really want!
Secondly, planning a wedding is hard work! Accept help from friends and family or consider bringing on board a wedding planner to make it a stress-free process.
Lastly, take inspiration from everywhere – interior & fashion trends, the seasons, places you visit, foods you love. And remember to think of all the senses! Scent in particular can evoke such strong memories so think about finding a special wedding scent, or dotting your favourite candles around the venue. Those smells will always bring you back to your big day!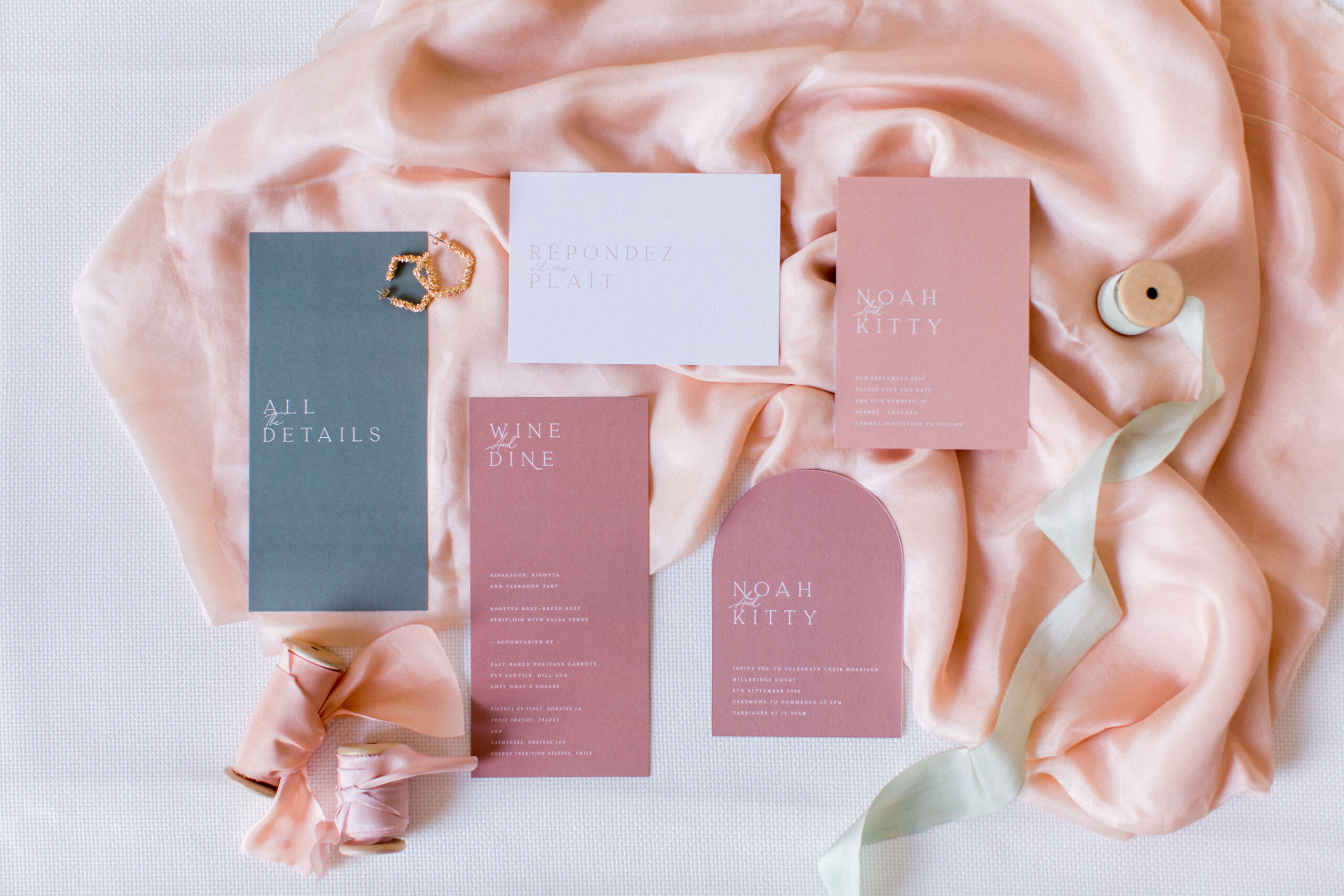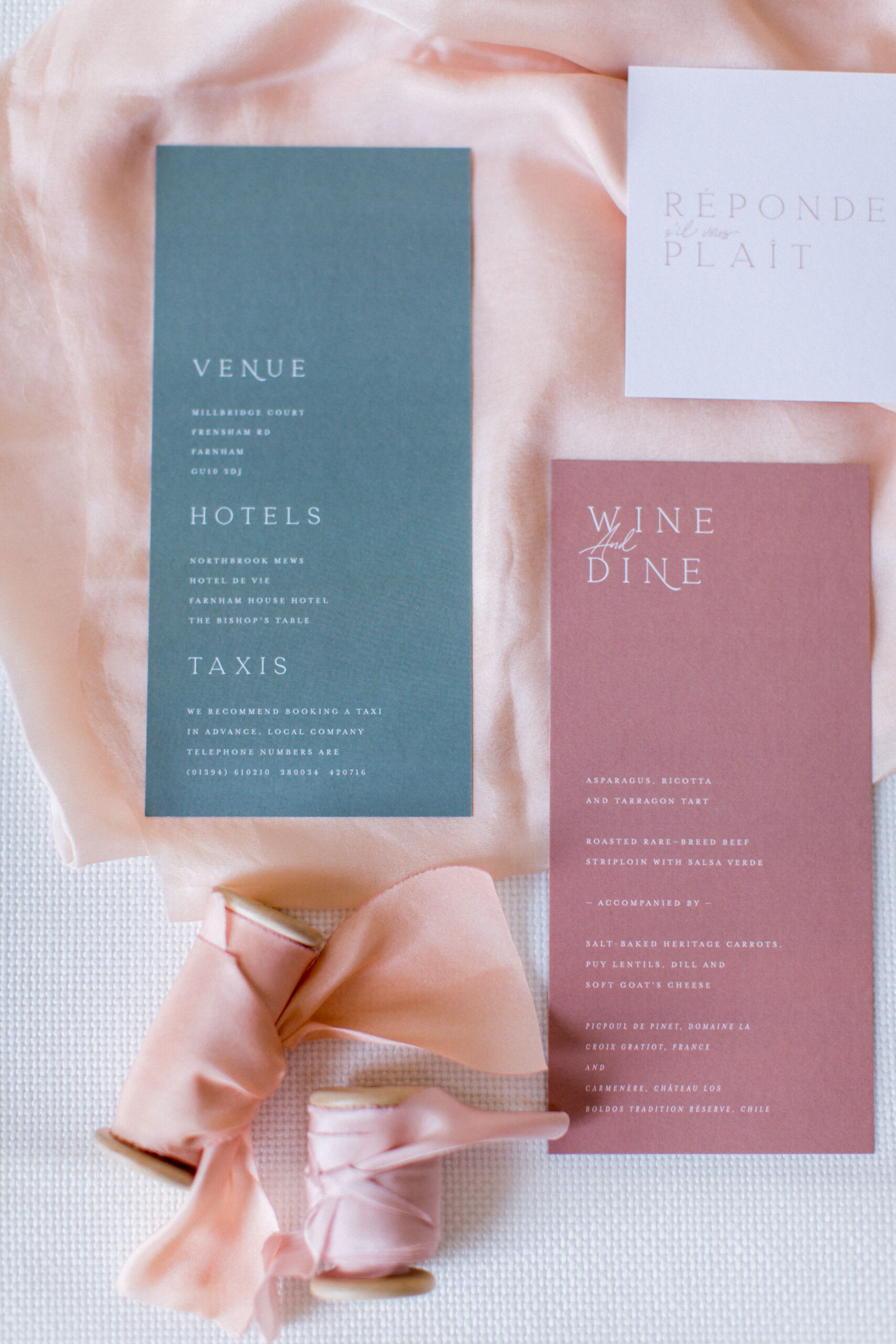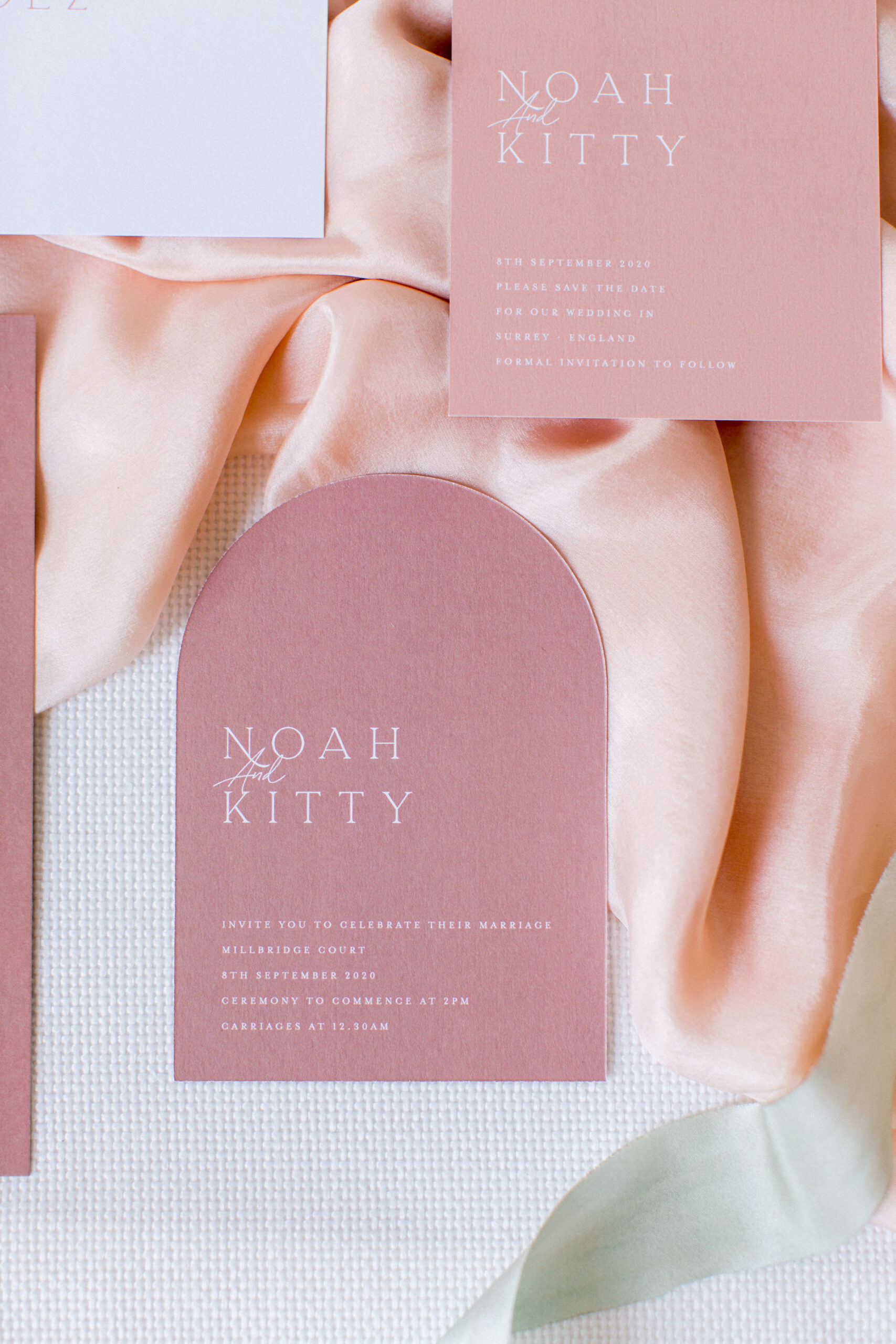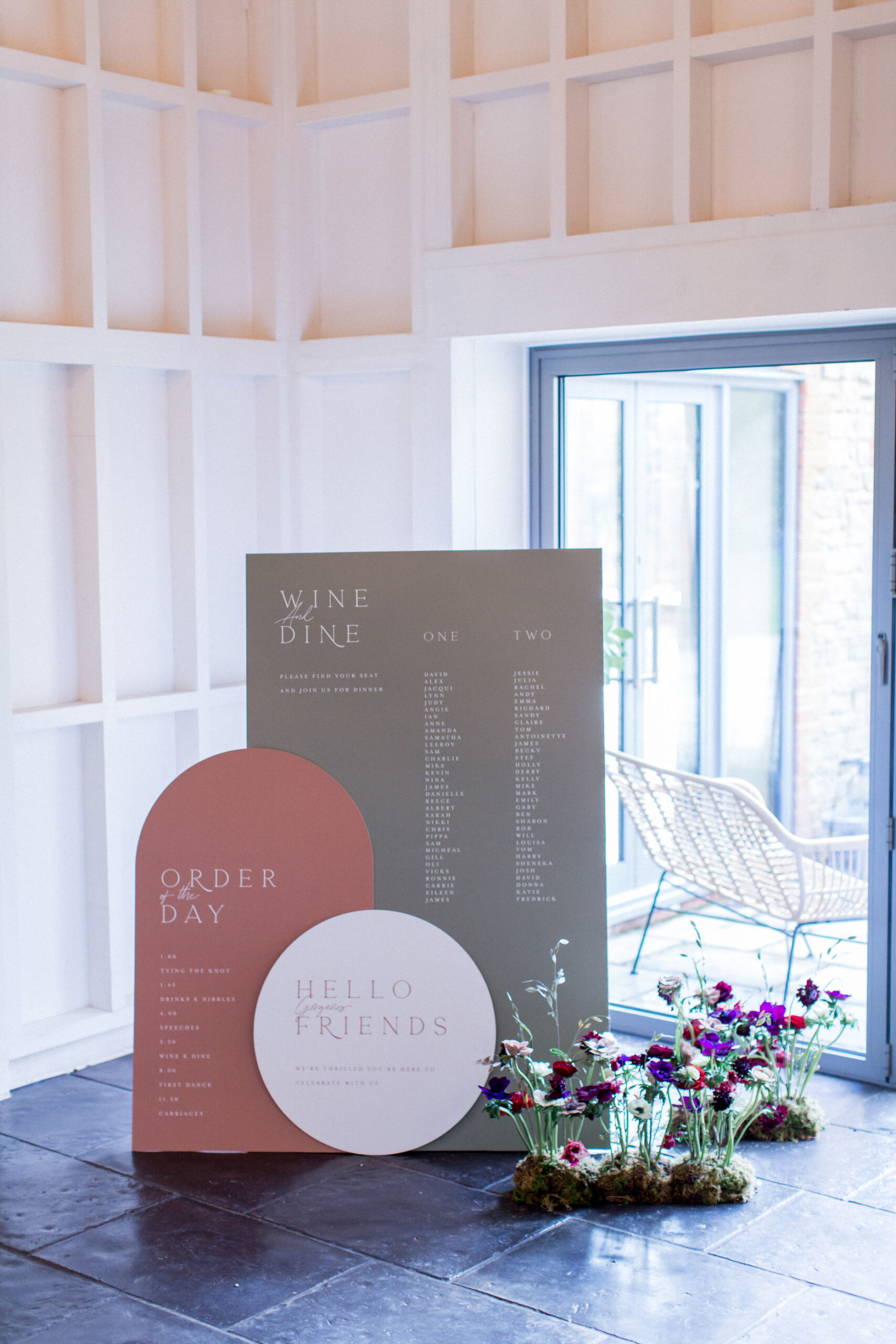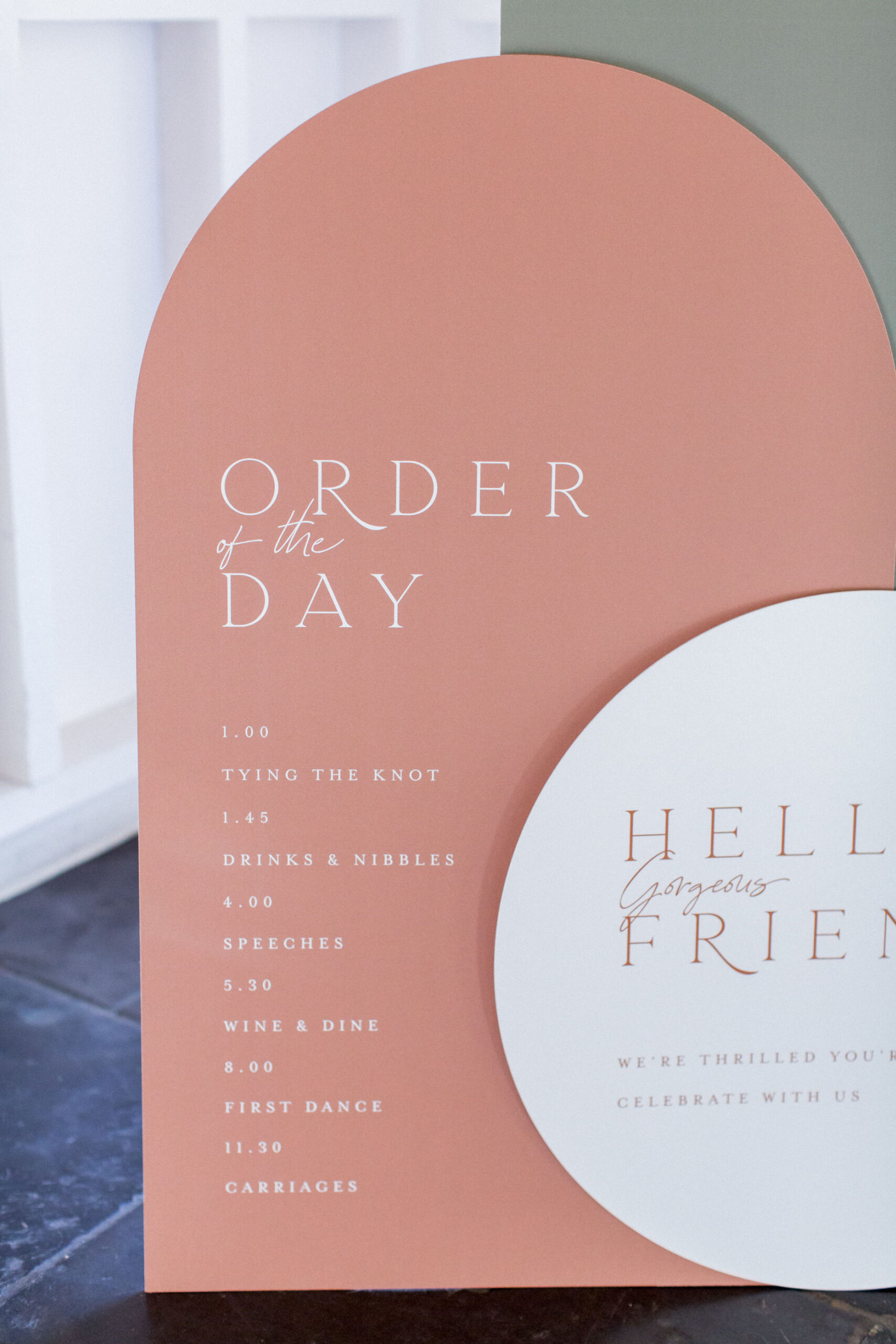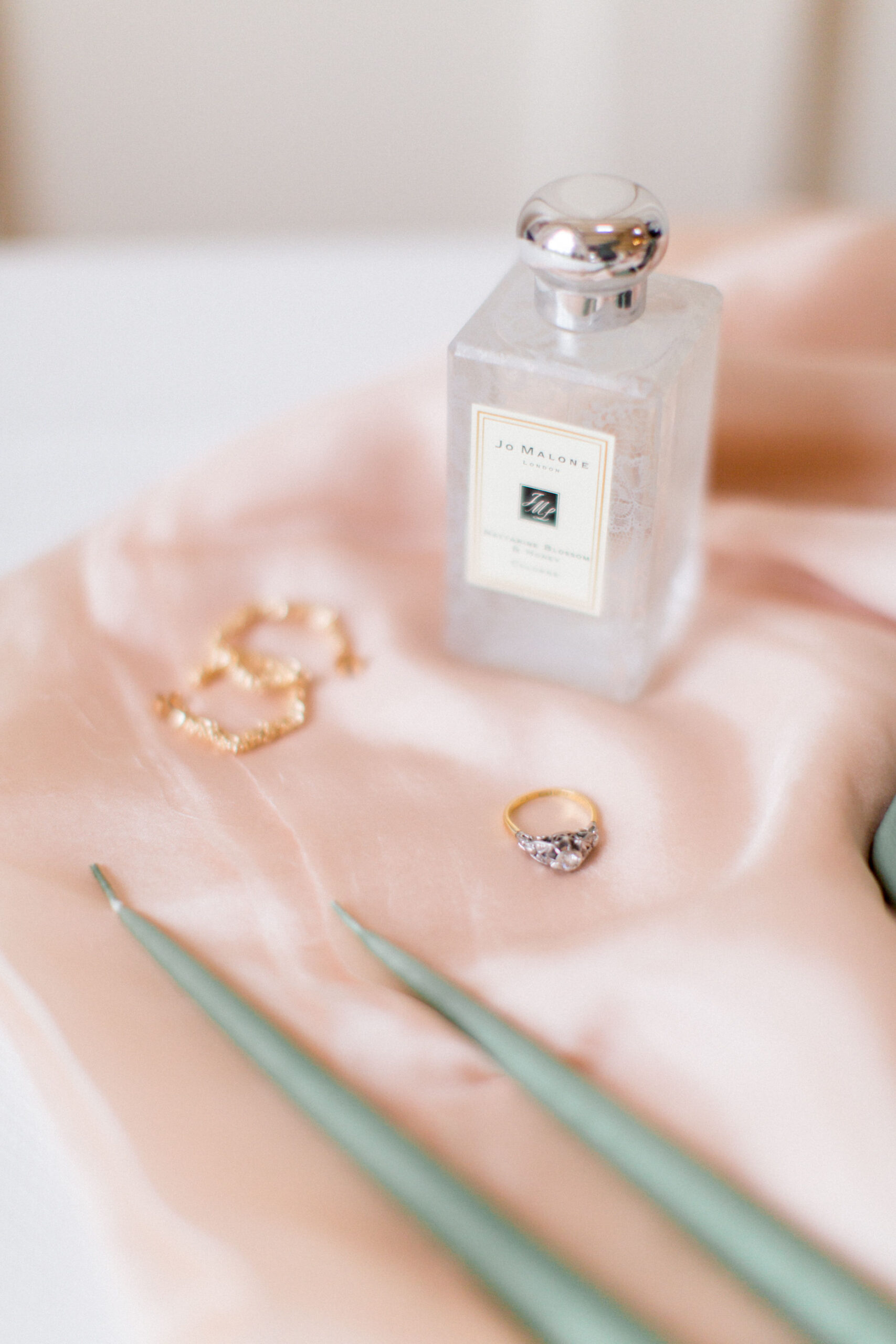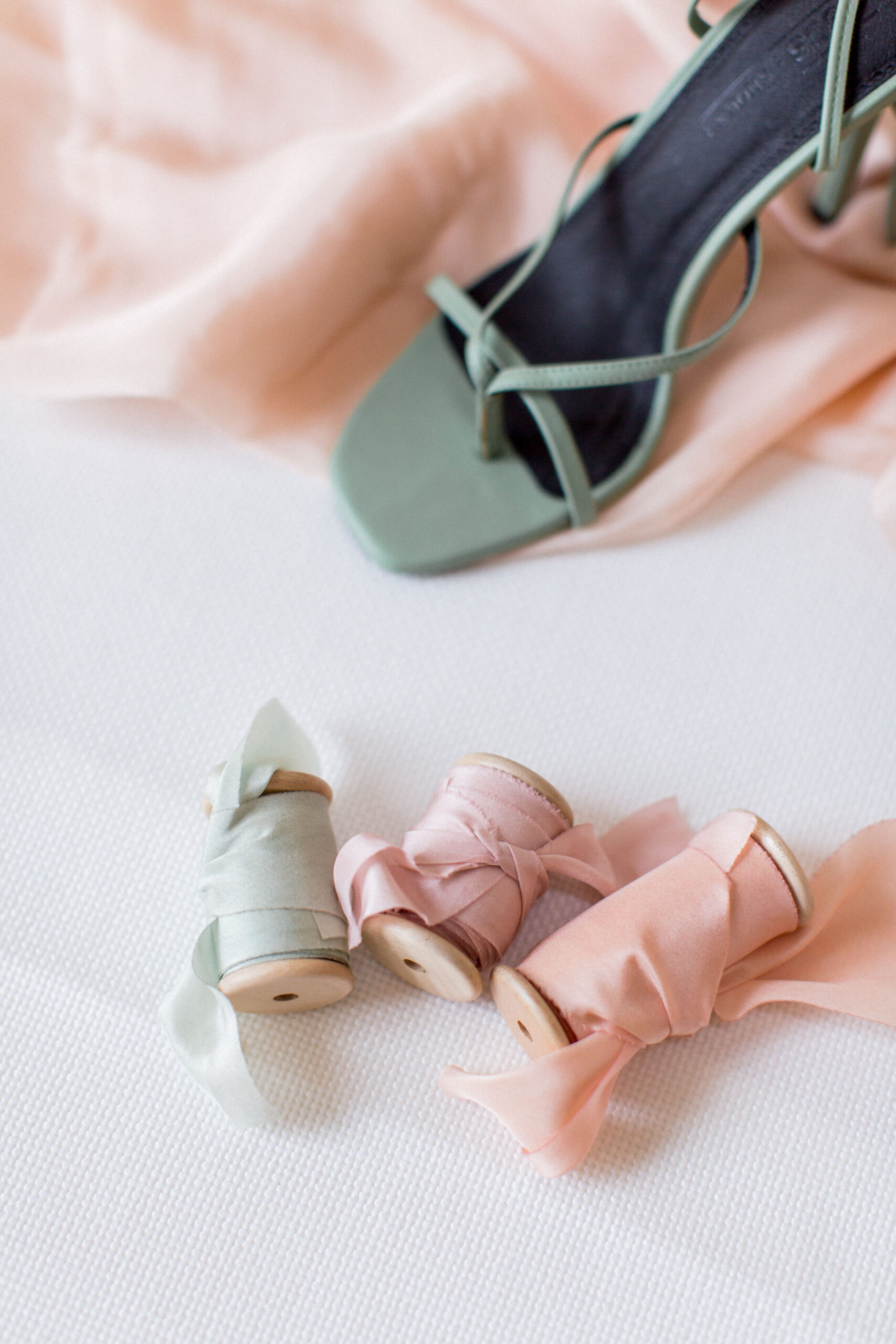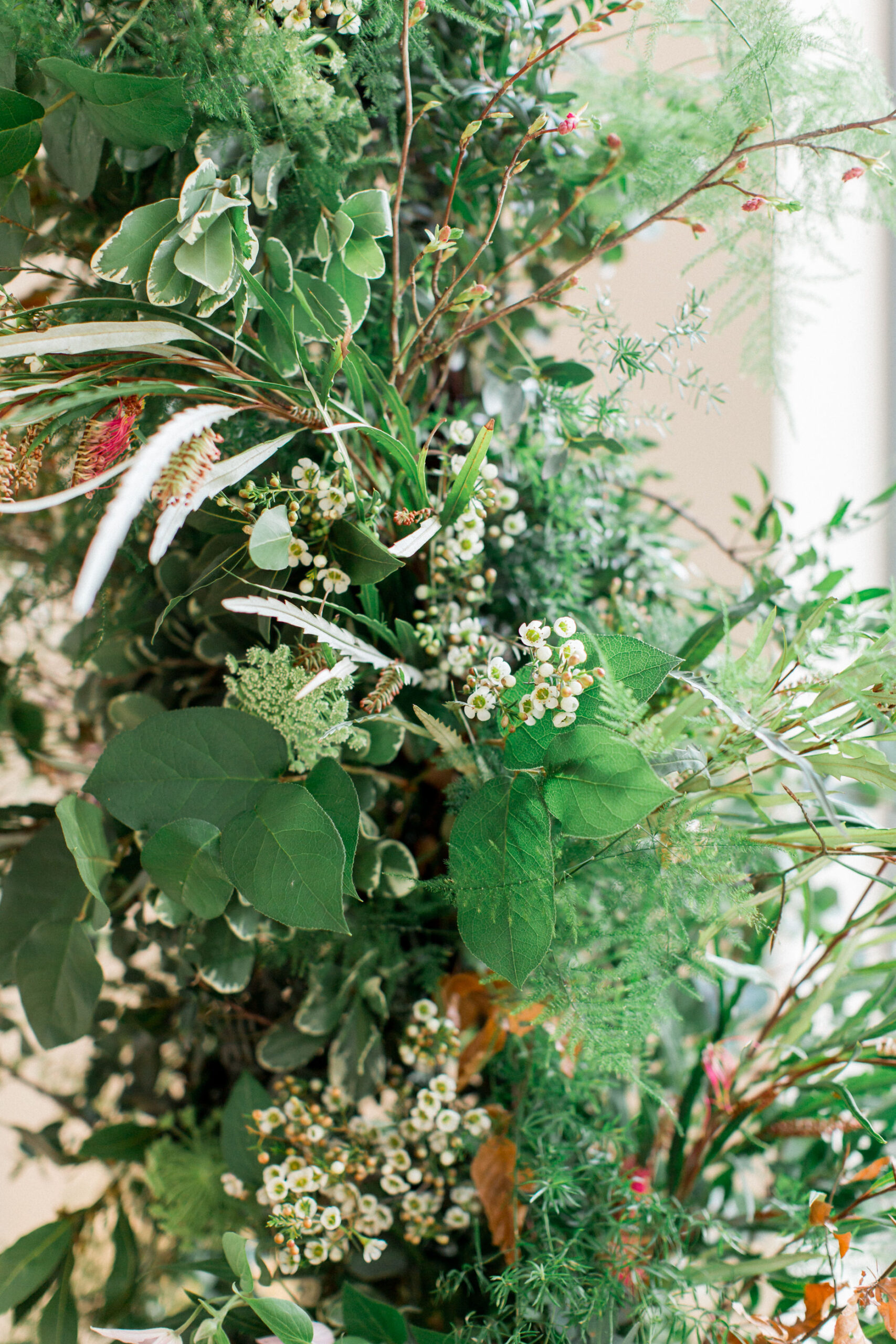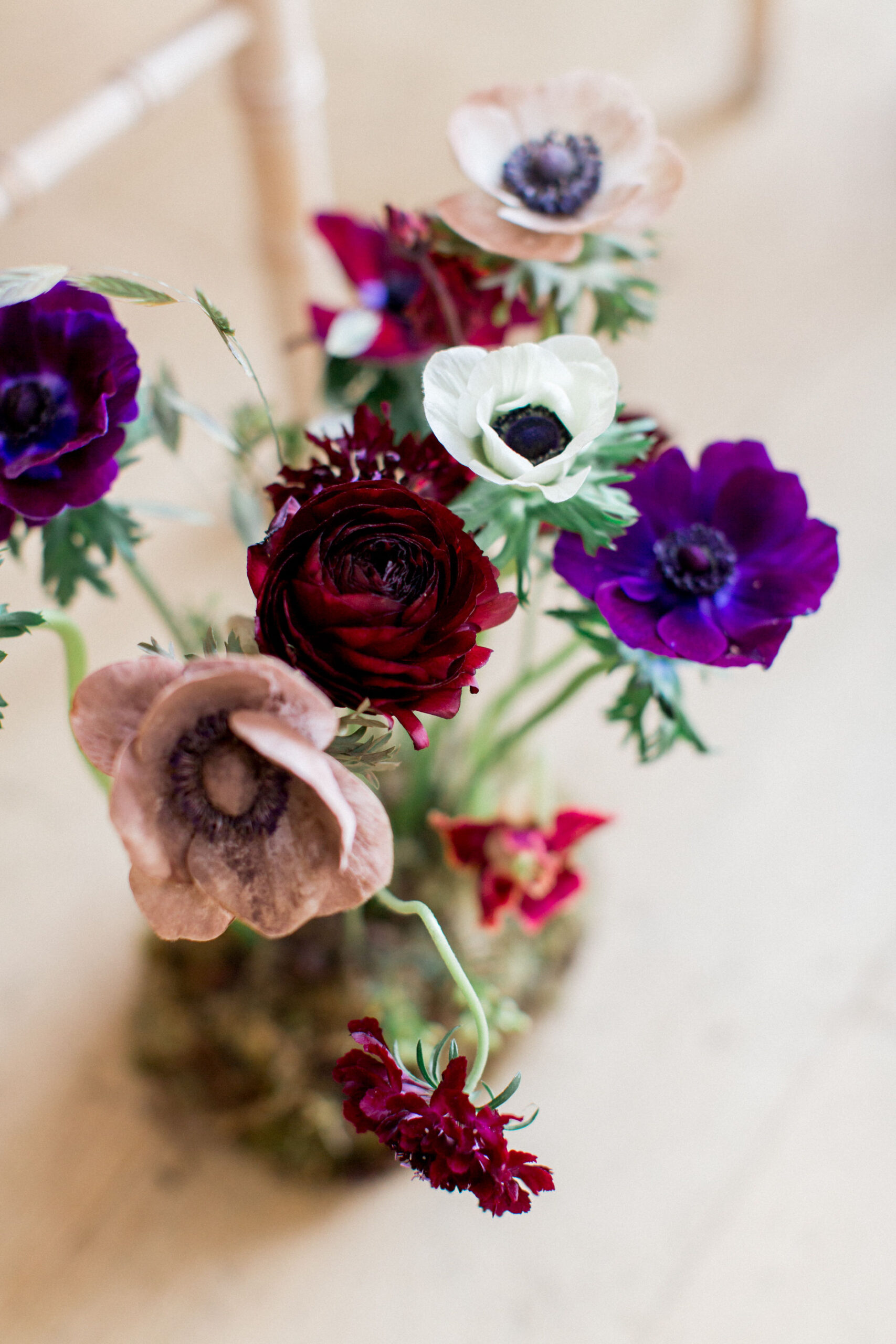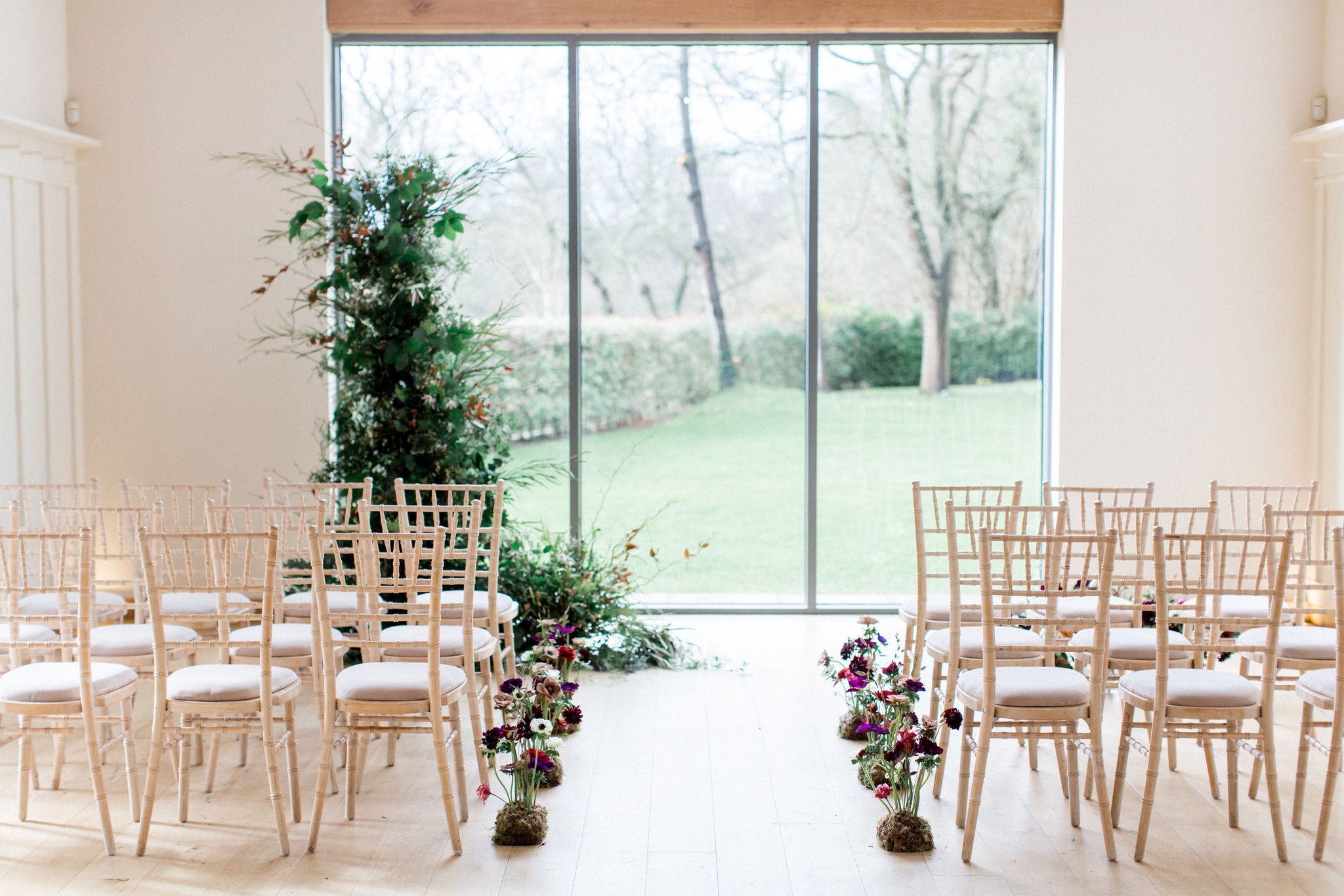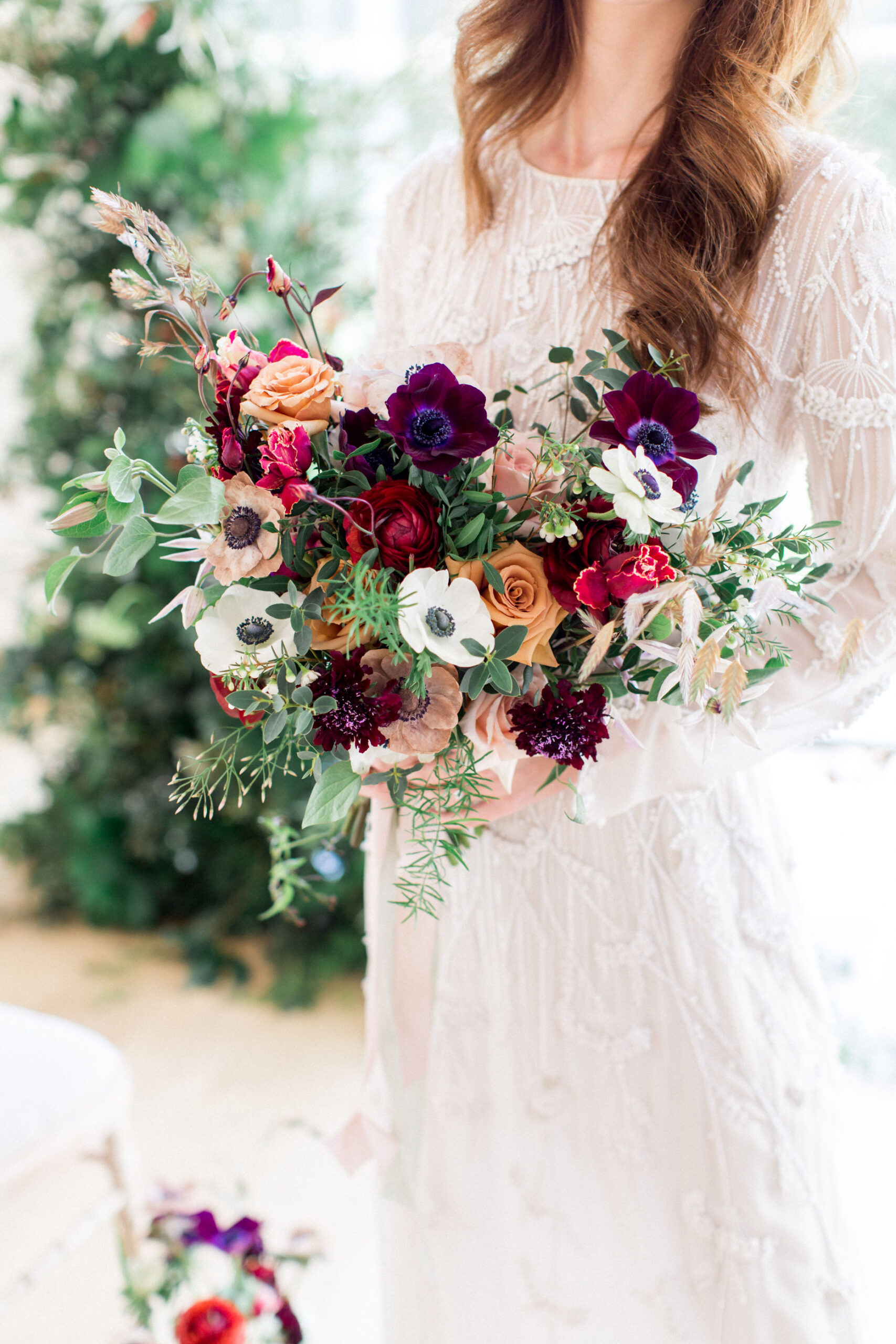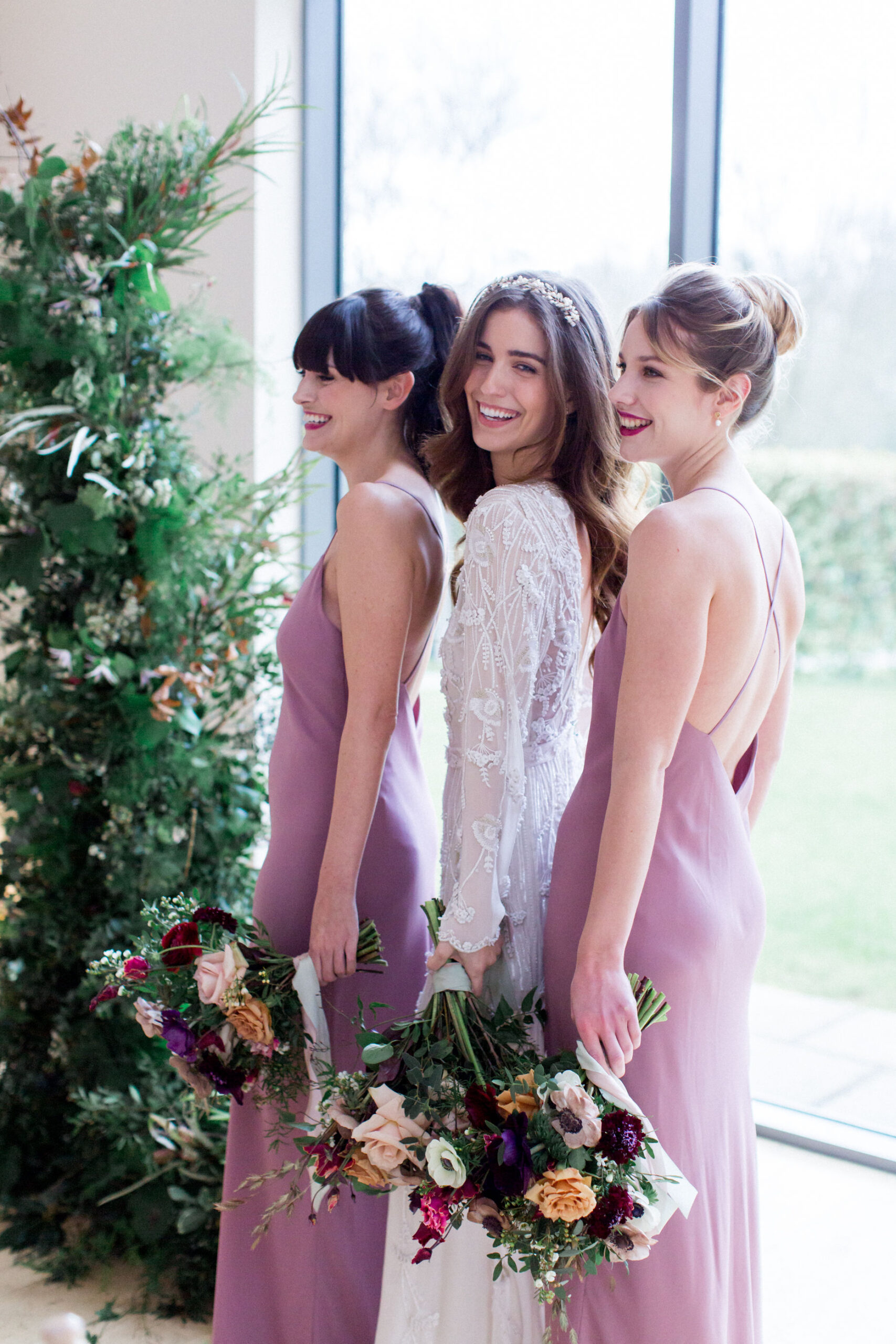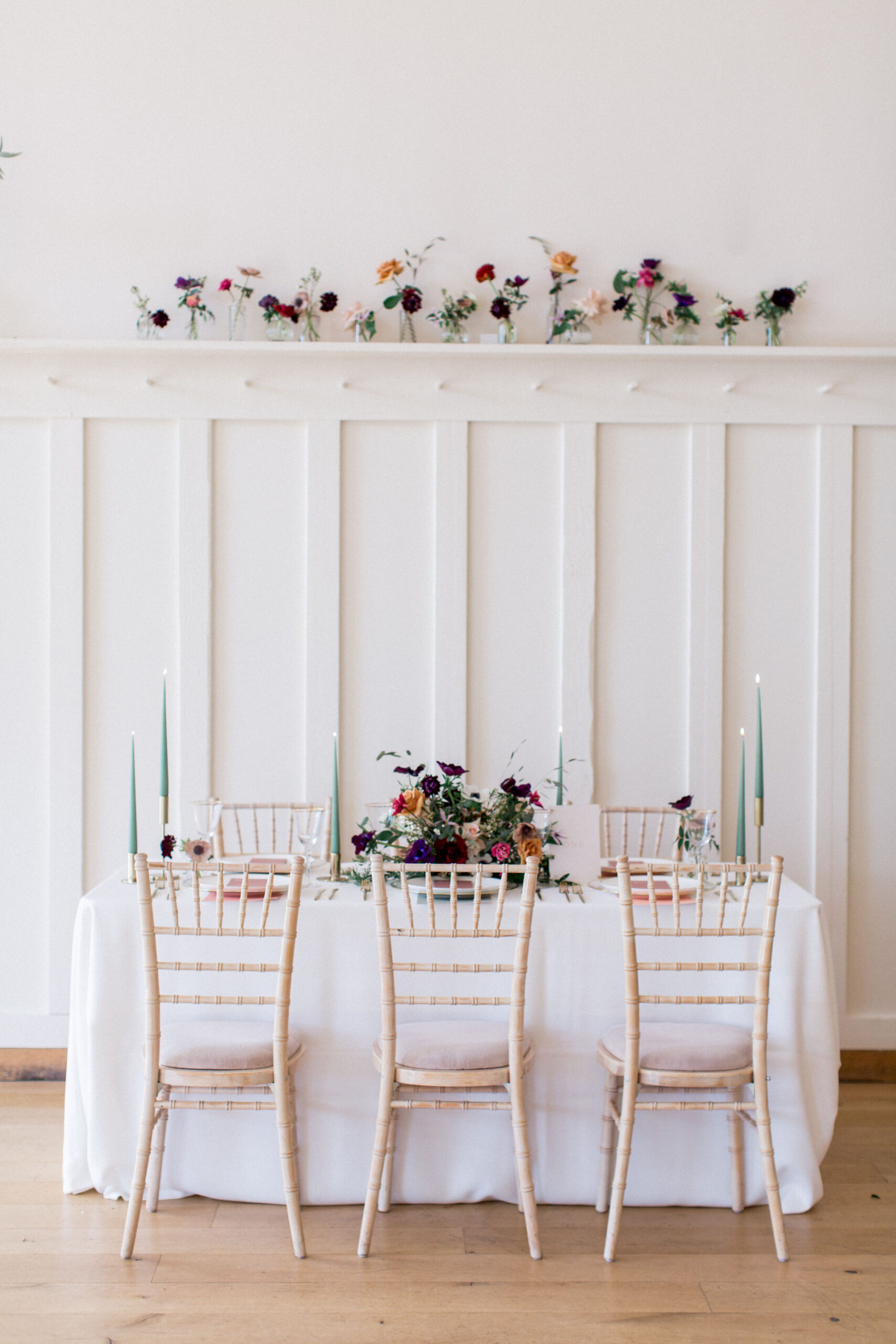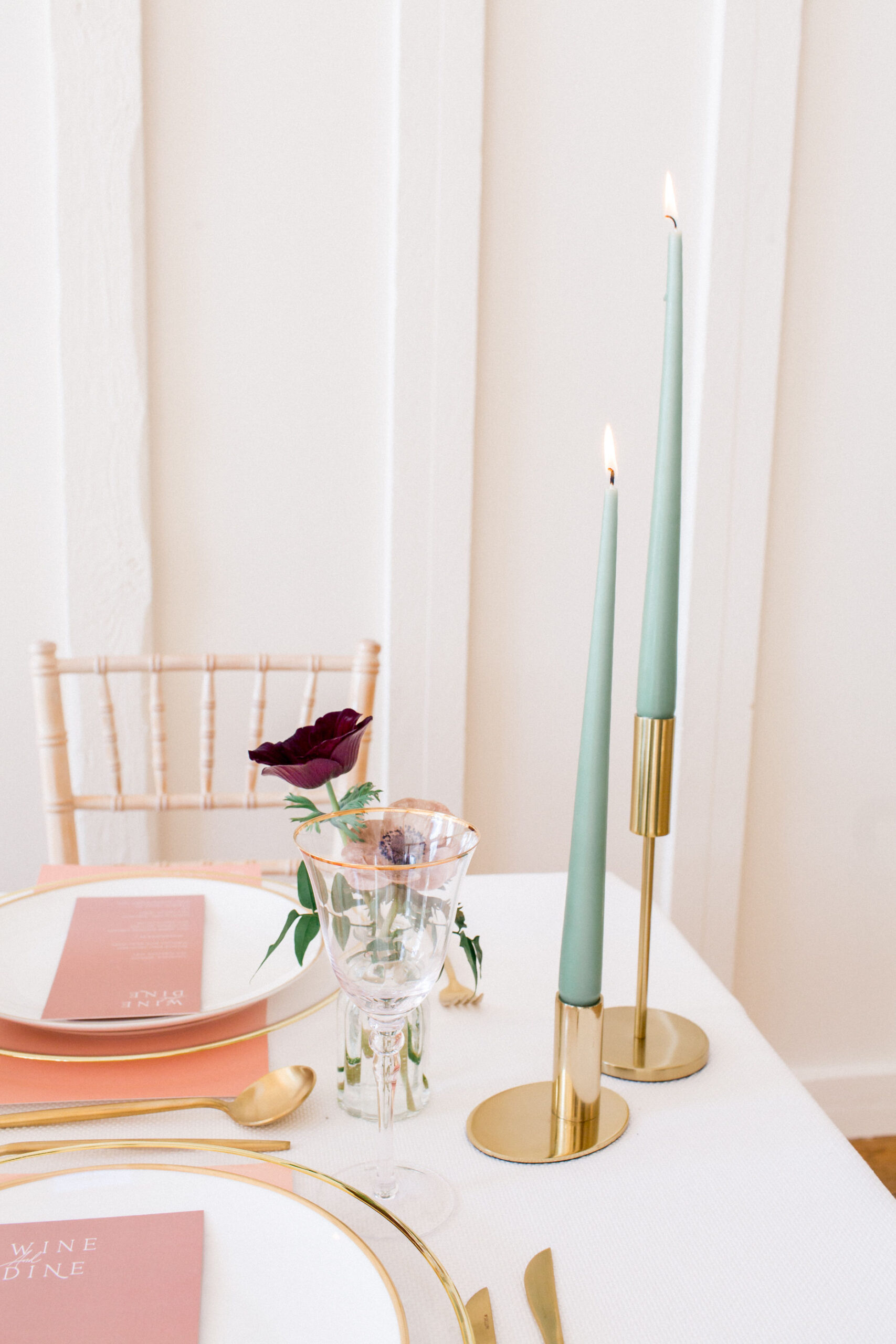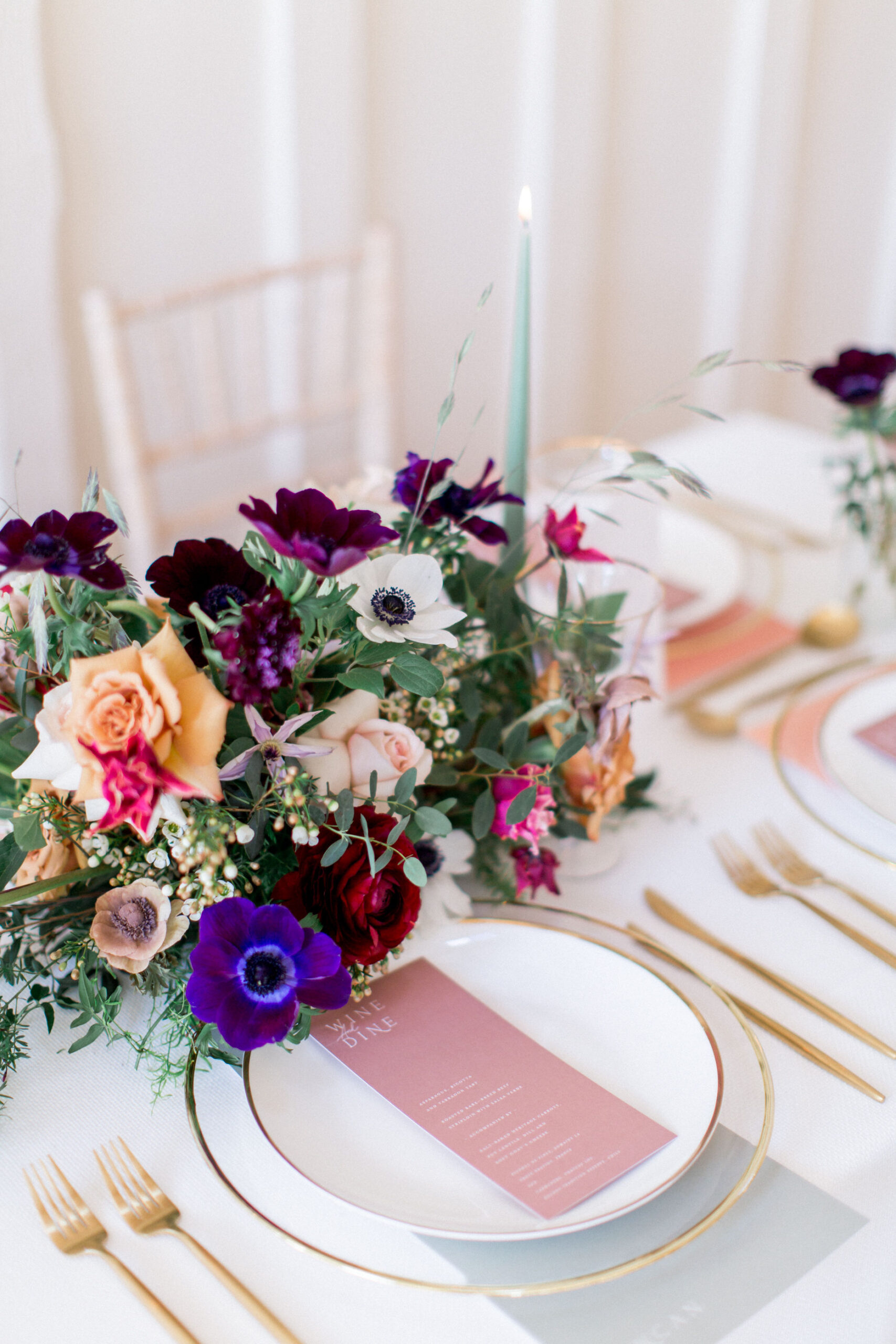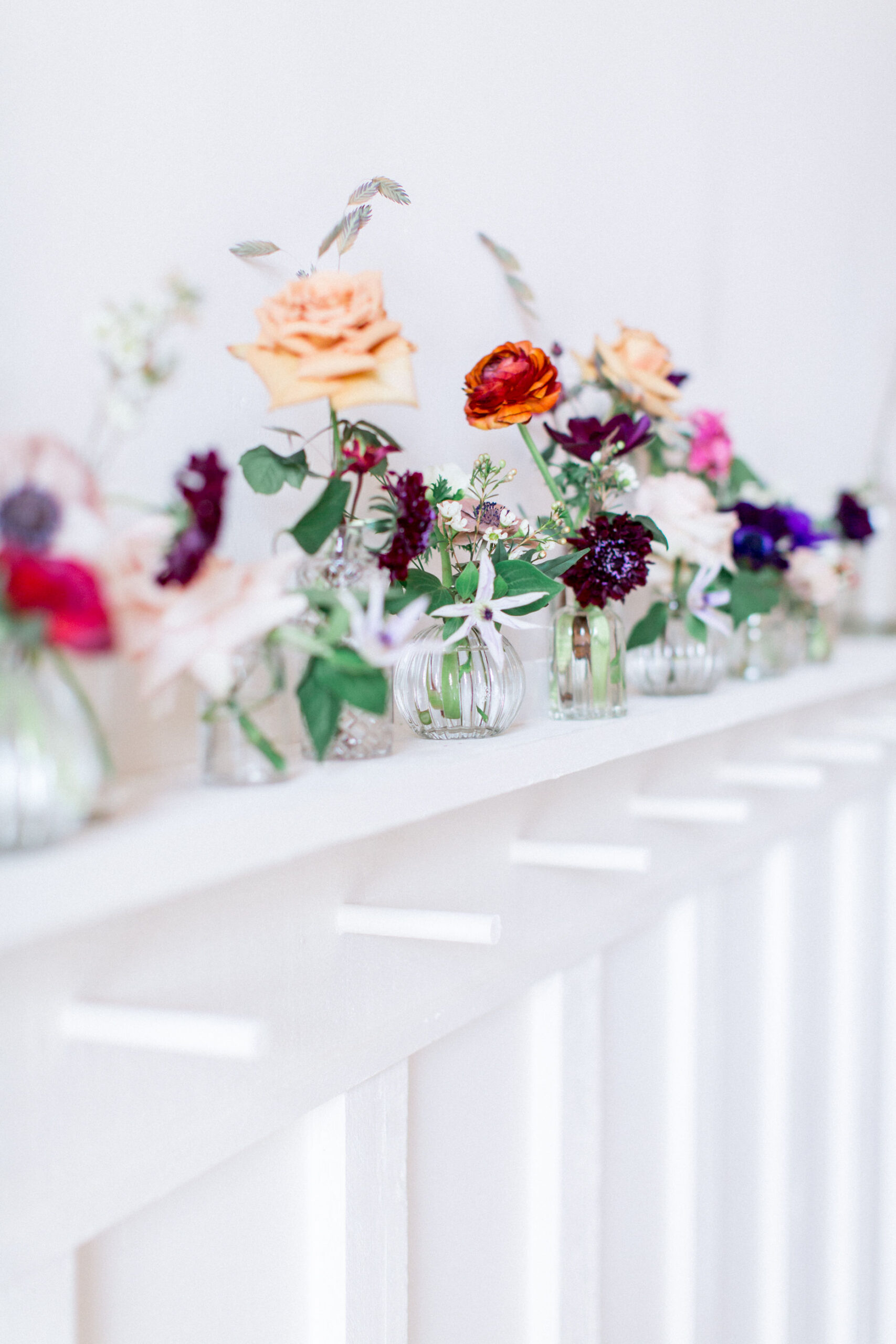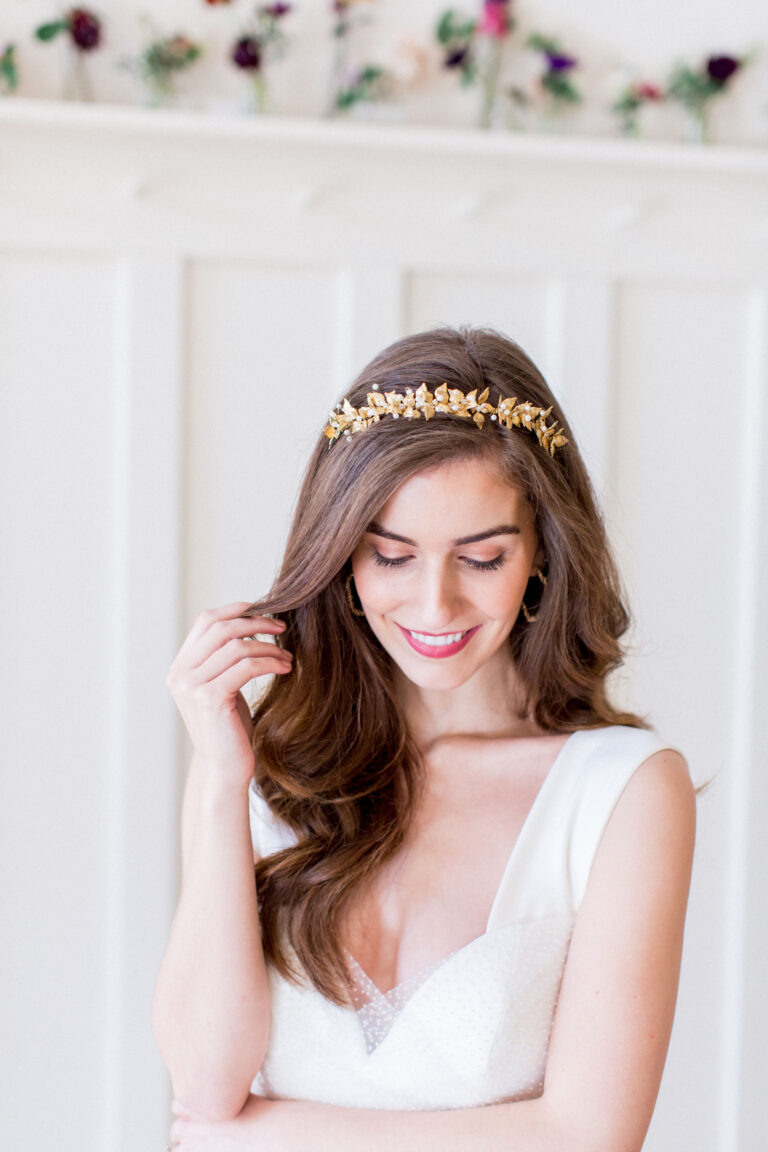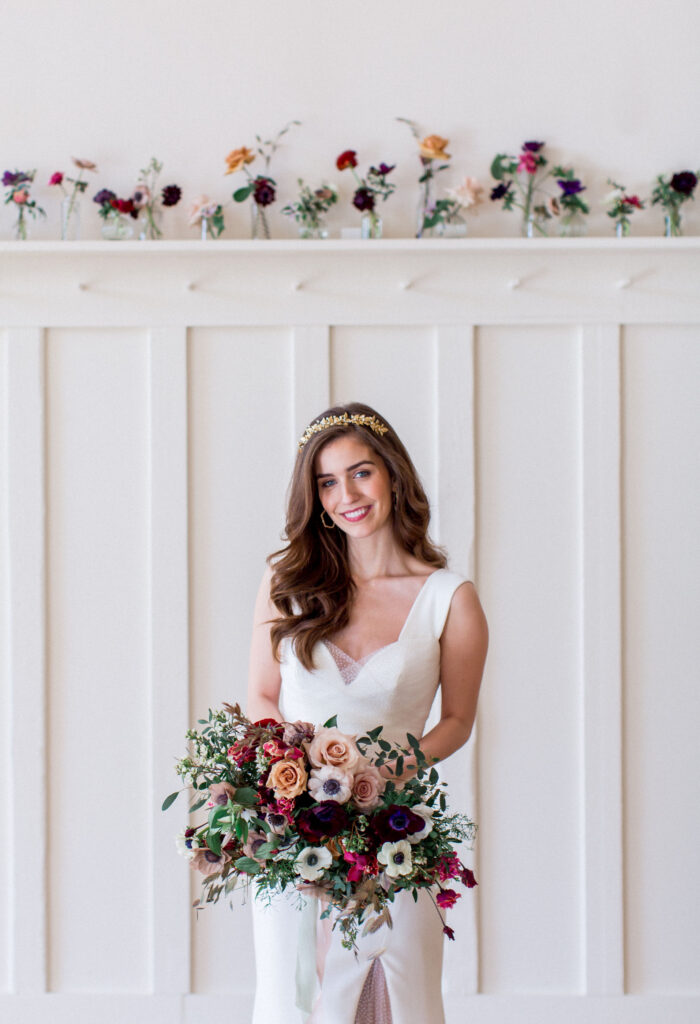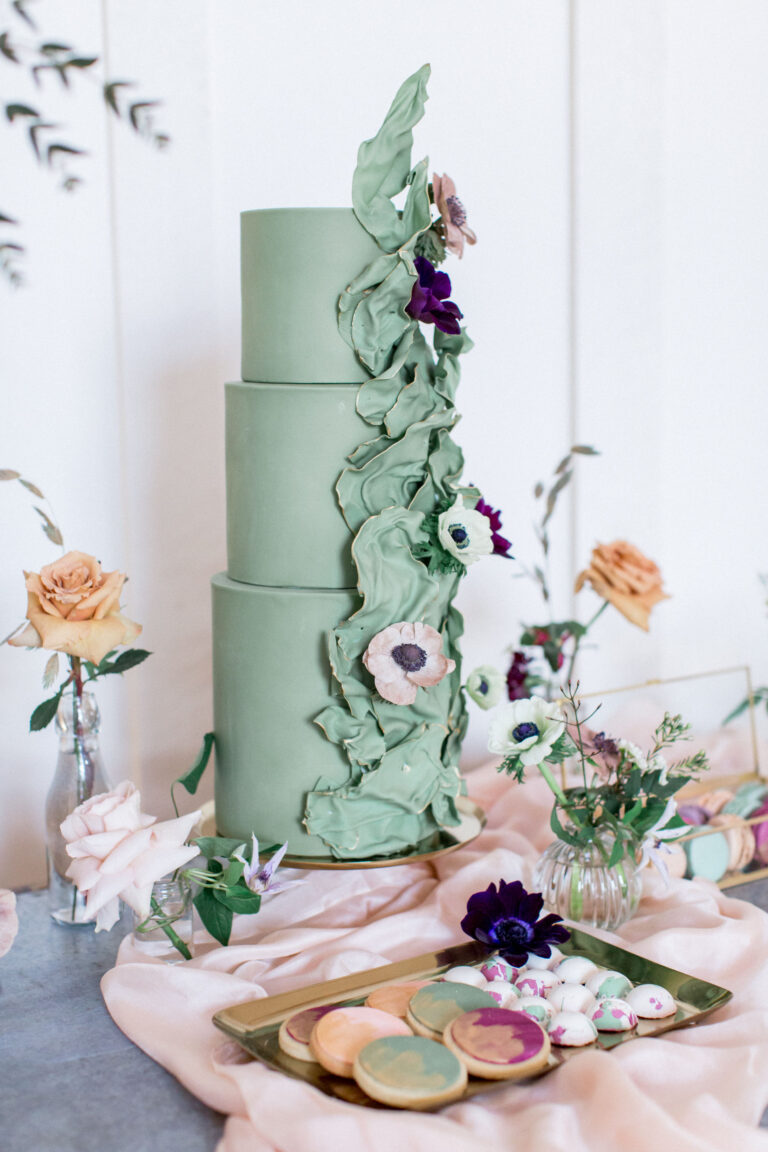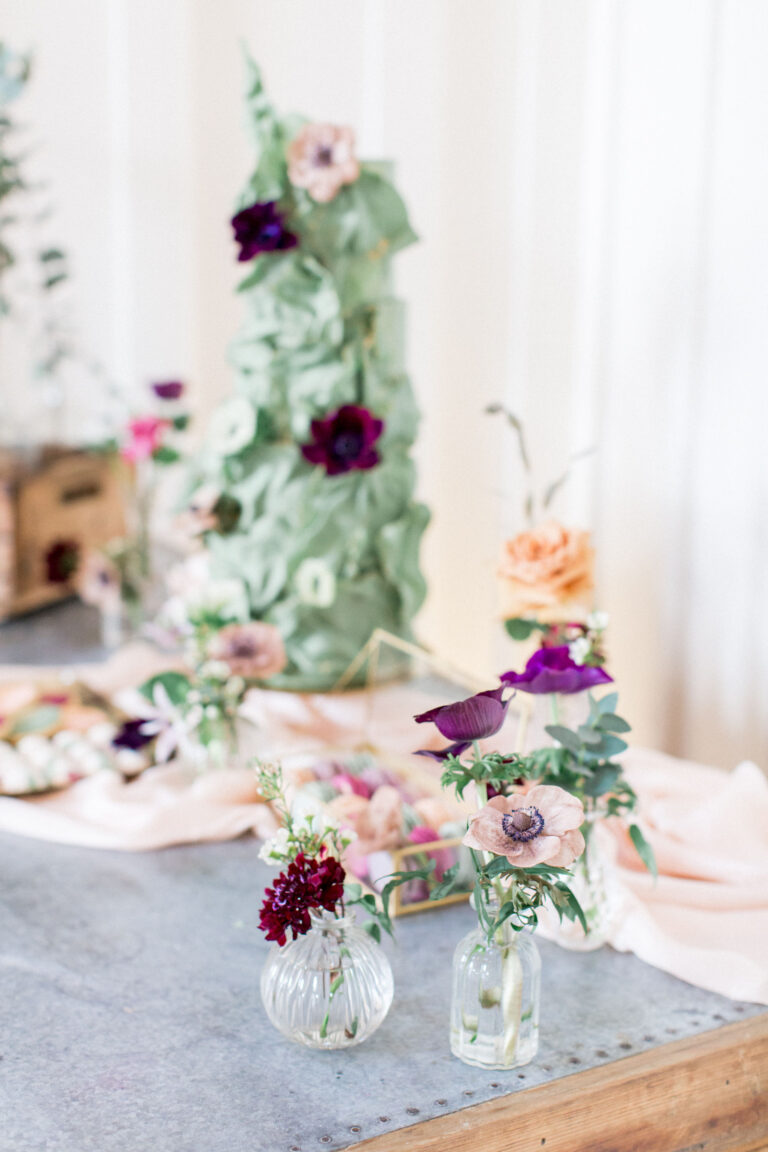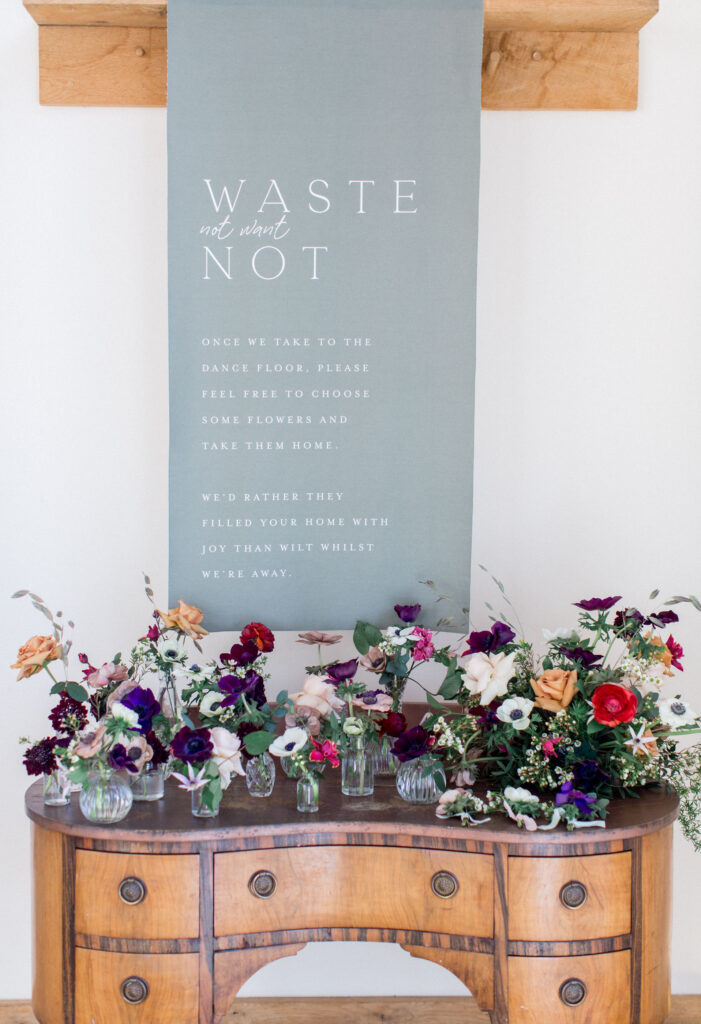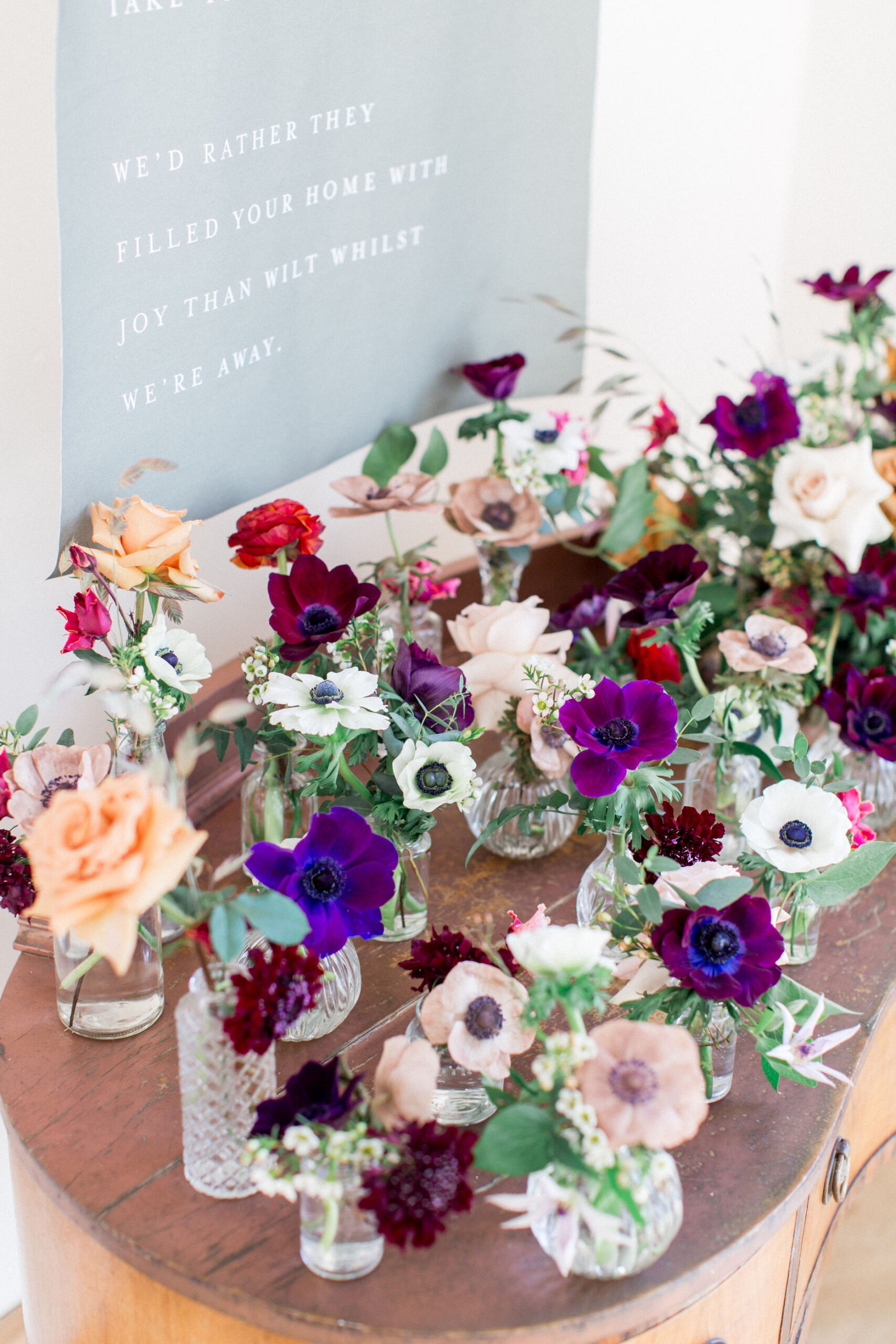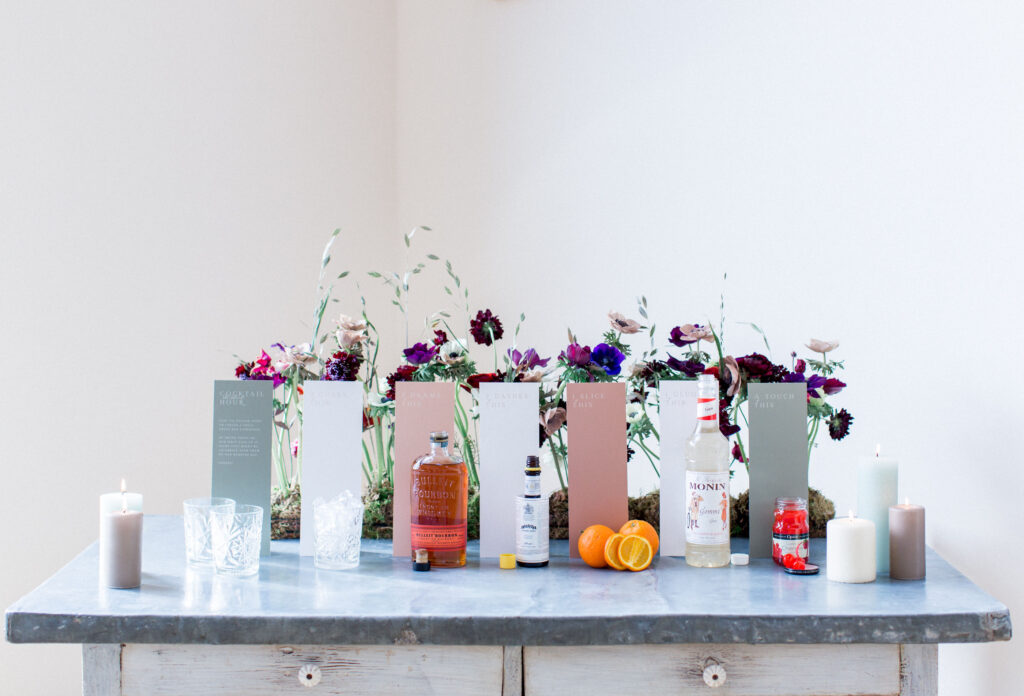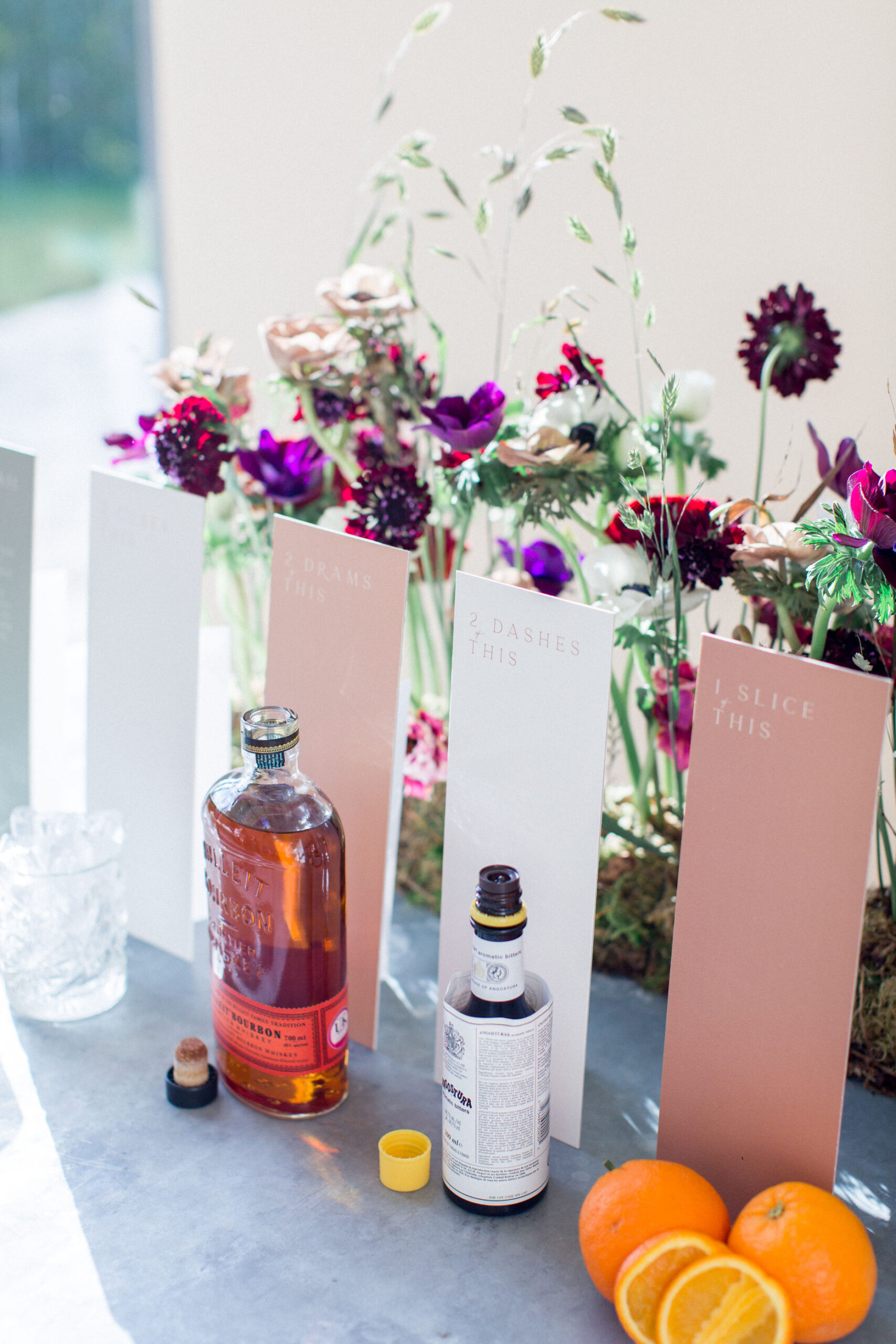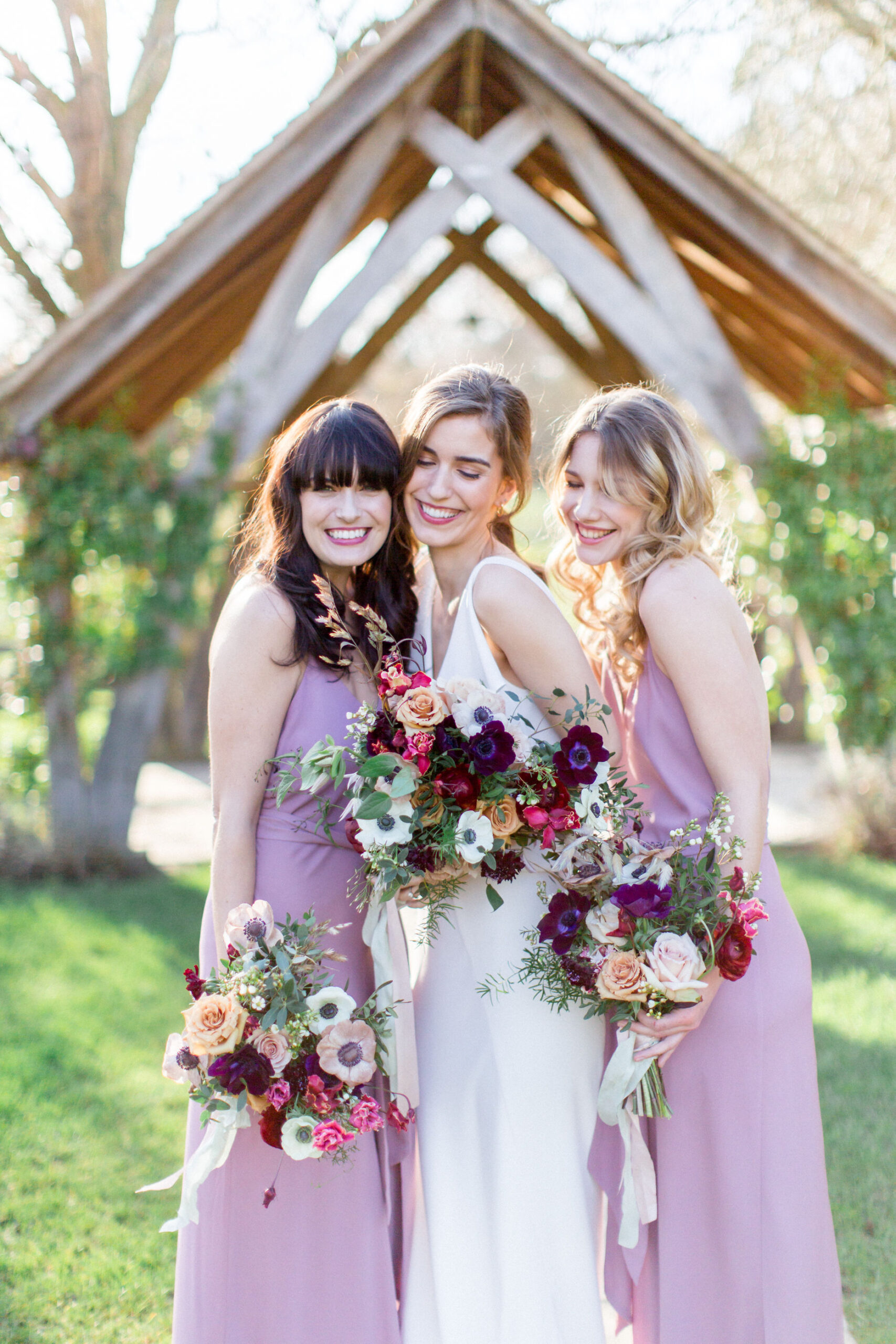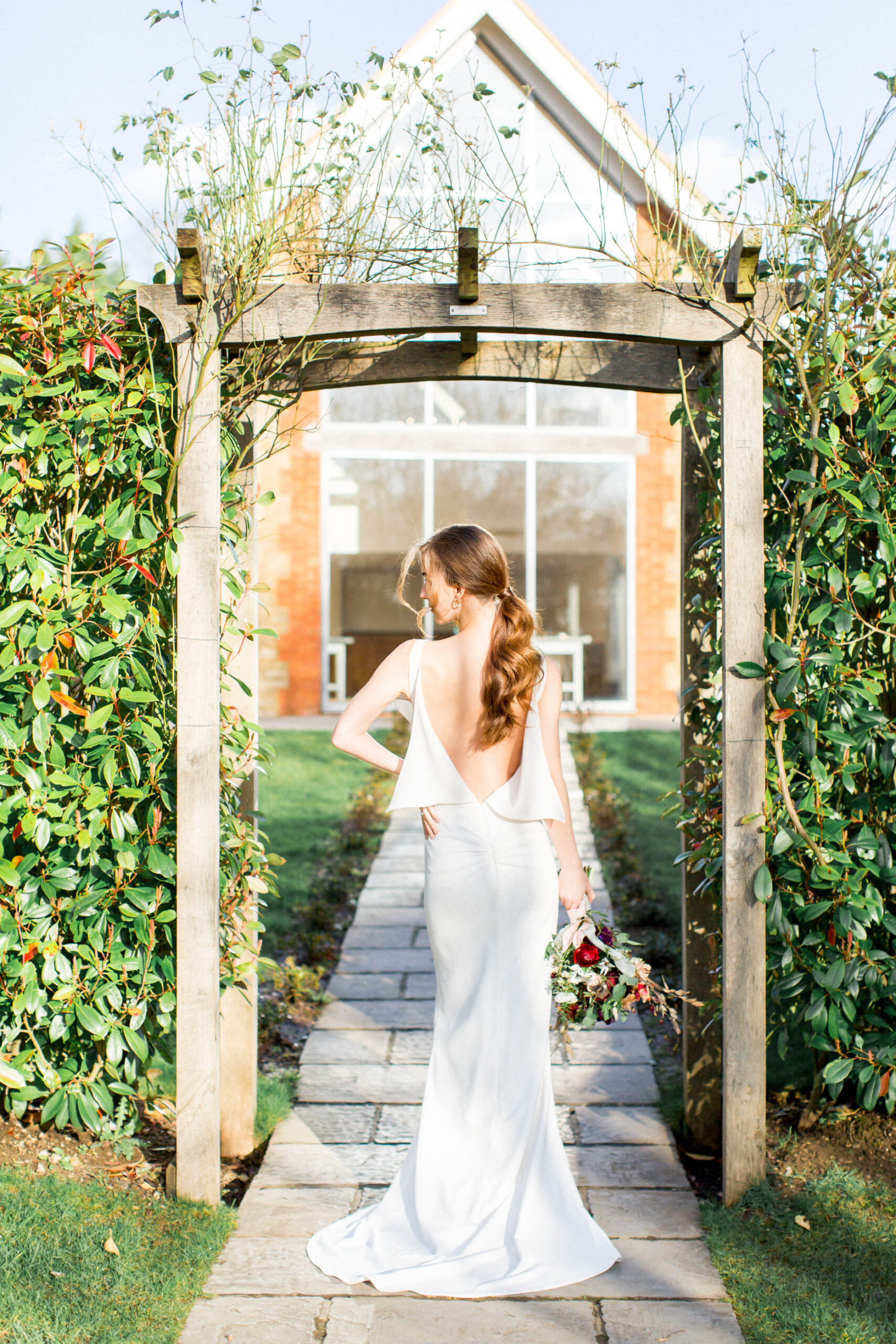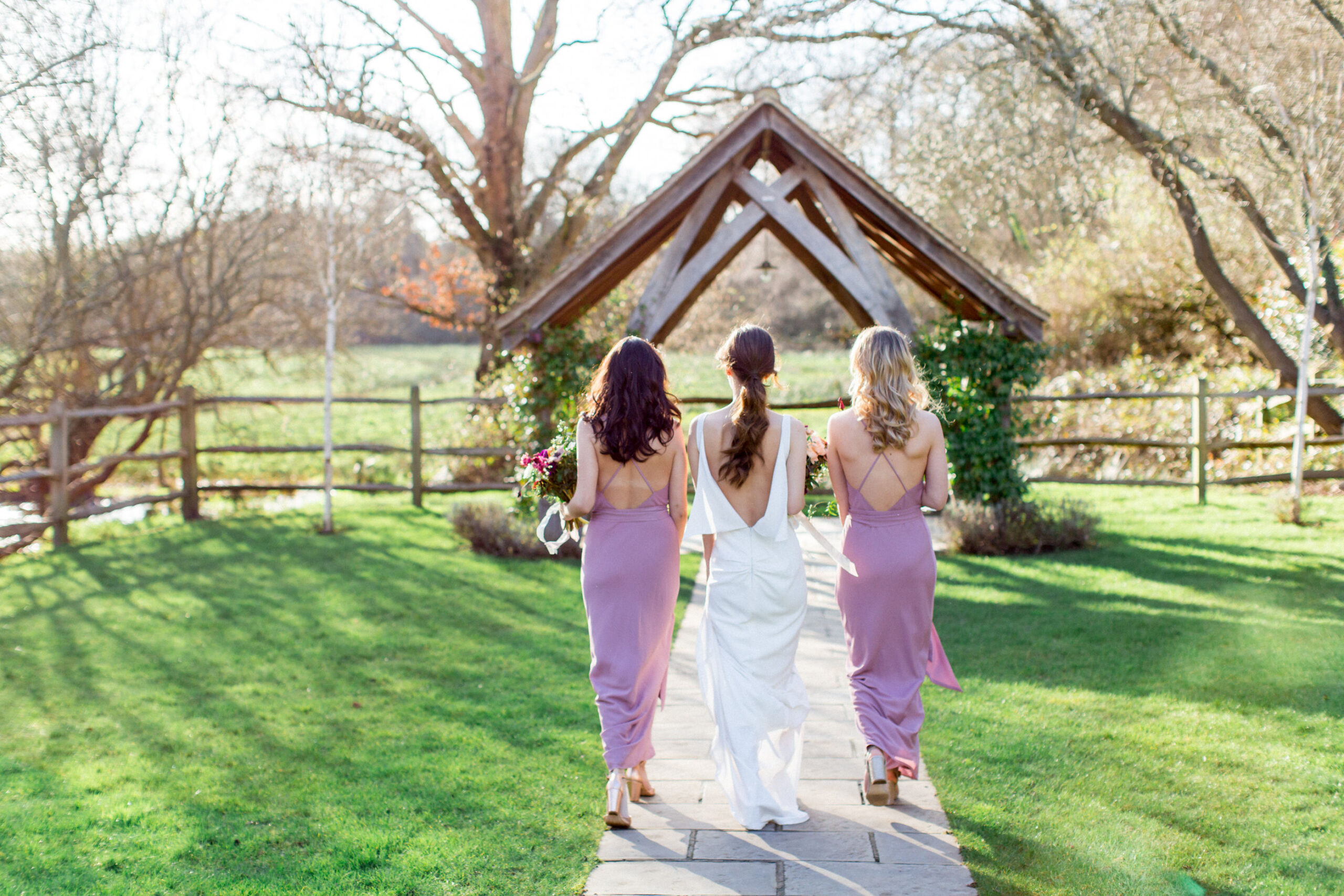 *Click here to see the full feature of this Photoshoot on Wedding Chicks*
The Team:
Planning & Design- Natalie Ellen Weddings
Shoot Assistant- Kelly Amy Events
Photographer- Philippa Sian Photography
Florist- Poppy Wild Floral
Floral Assistant- Anthology Floral Design
Stationery- Made by Wood and Wood
Cakes- Anna Lewis Cakes
Hair & Makeup- Hannah Monk Hair & Makeup
Hair & Makeup Assistant- I Do Bridal Services
Hair Accessories- Lilley Studio
Model- Georgia Dispenza
Rentals- Hire The Look
Ribbon & Styling Fabric- PomPom Blossom
Table Linen- Just 4 Linen
Wedding Dresses- Morgan Davies Bridal
News : 28 / 05 / 20
Spaces- The Loft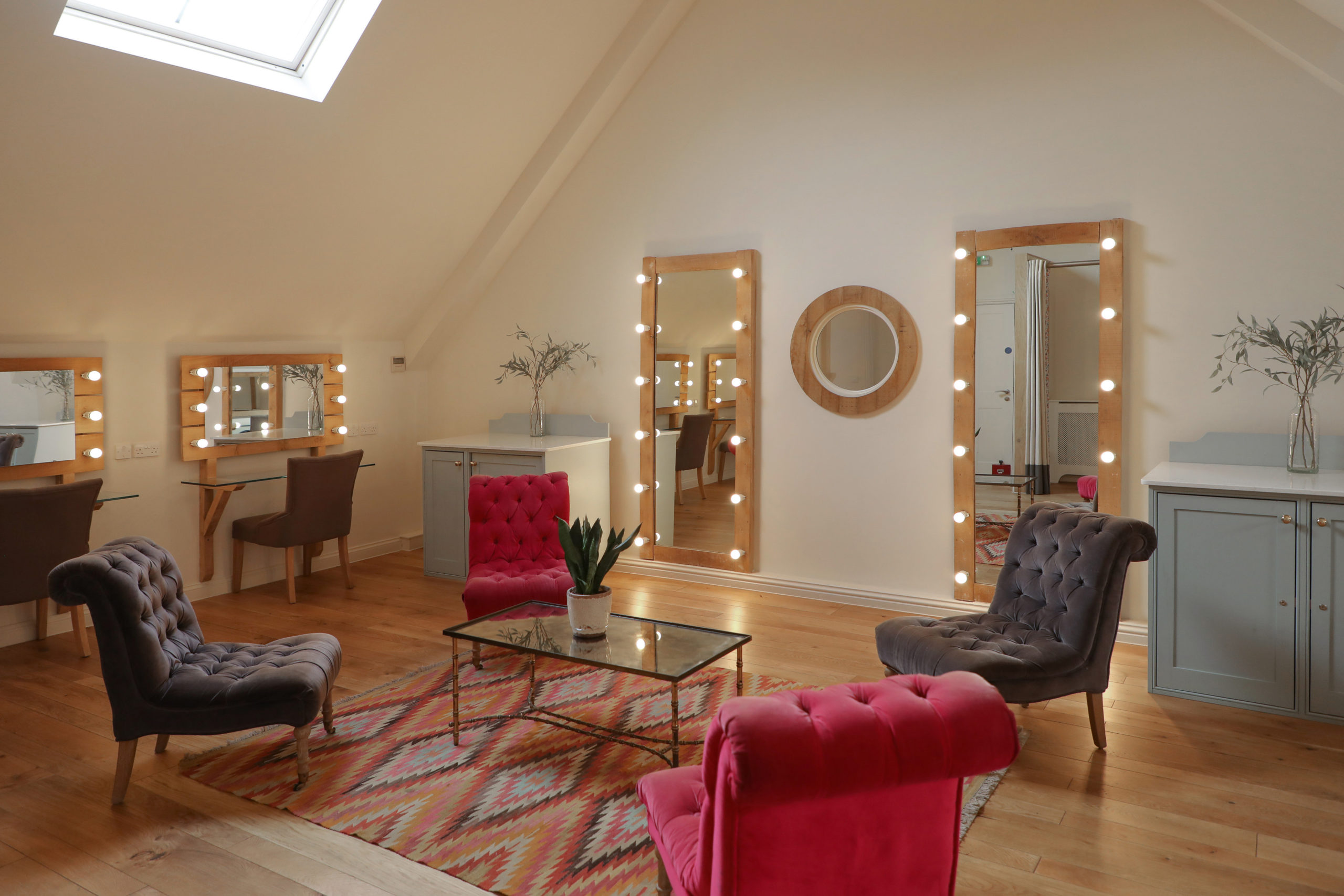 The Loft is the perfect space to start your wedding day in luxurious comfort! With mirrors a plenty, a crystal pendant light, six individual Makeup Stations, an elegant seating area and a private changing area, this room has all you need.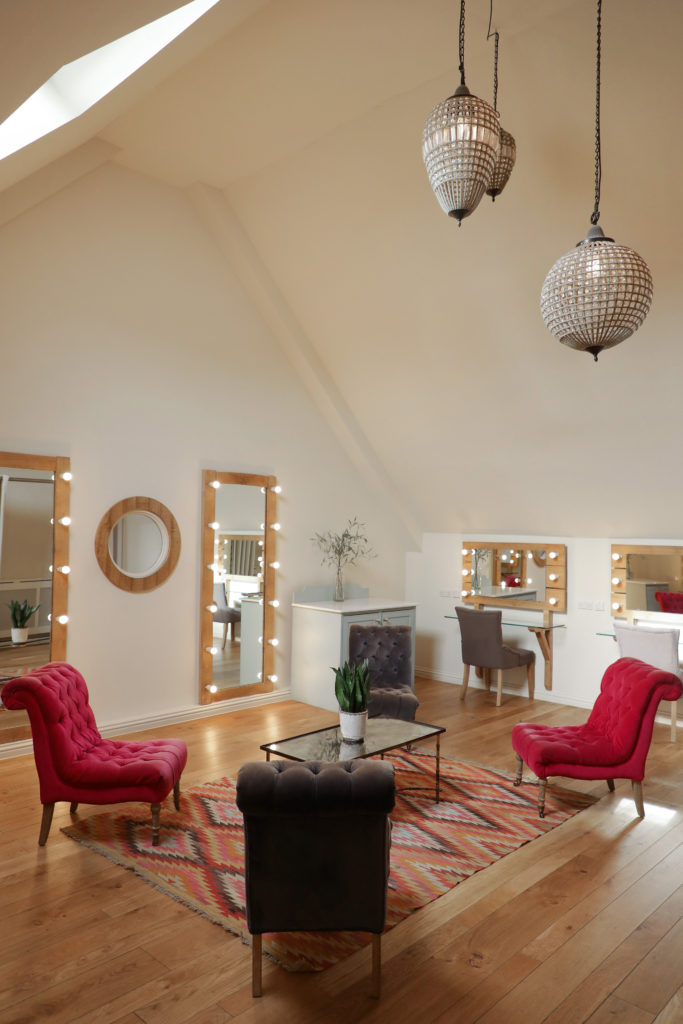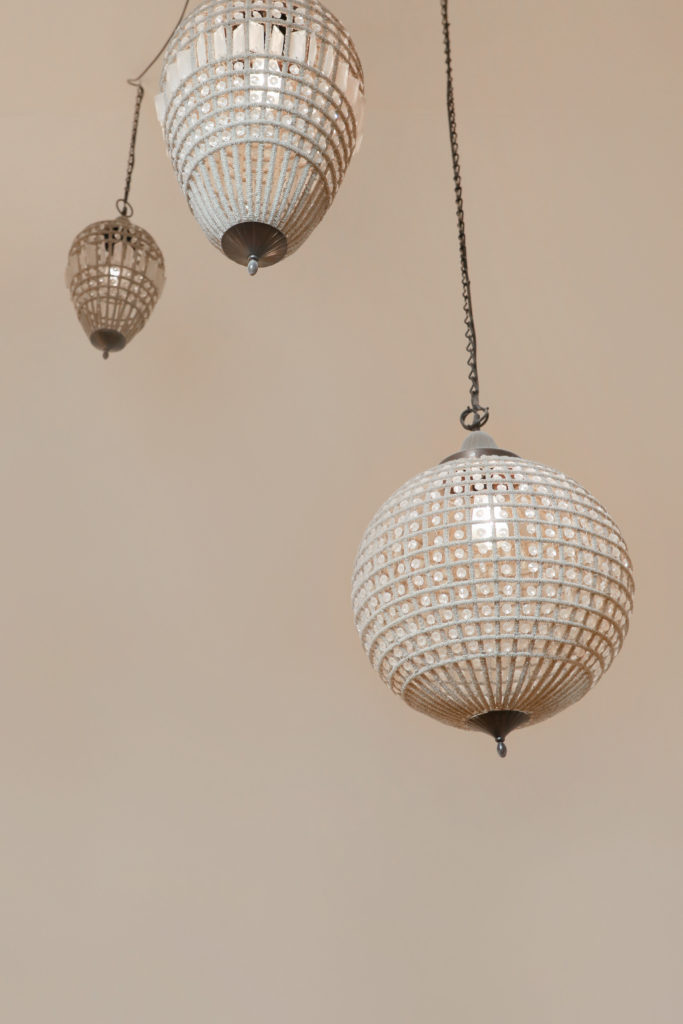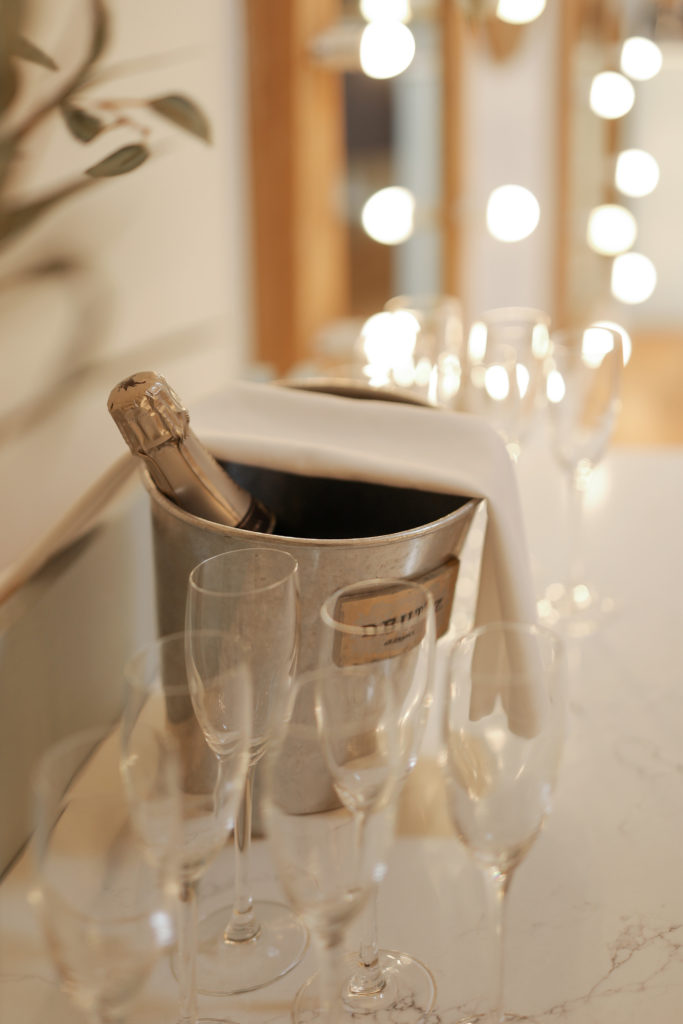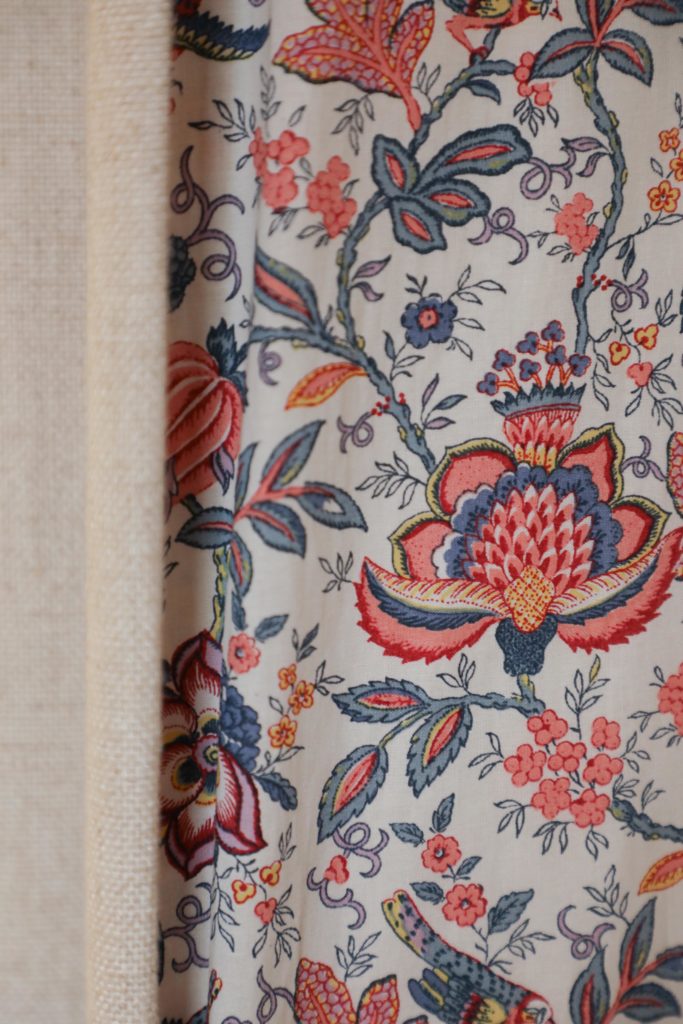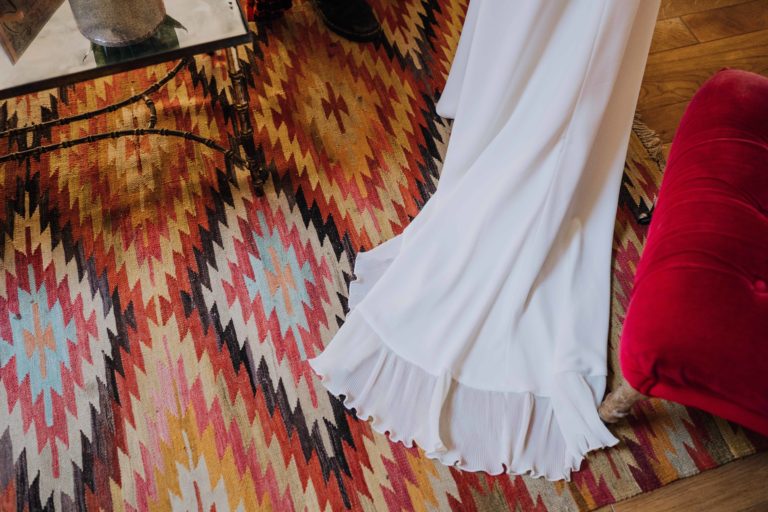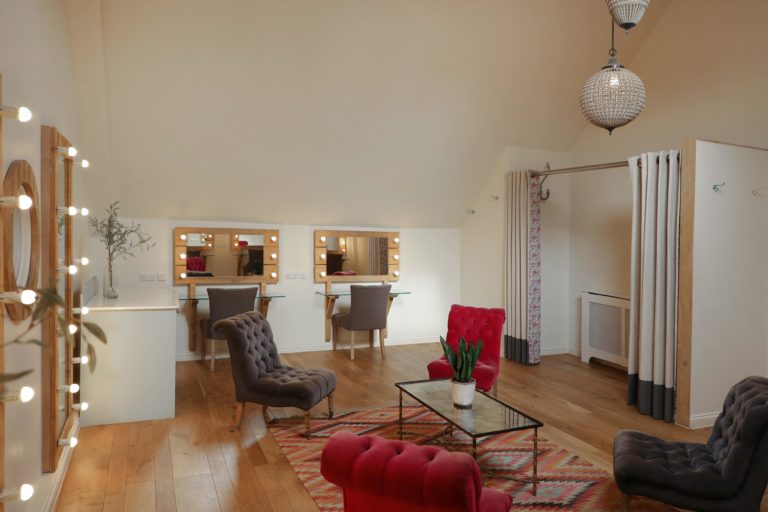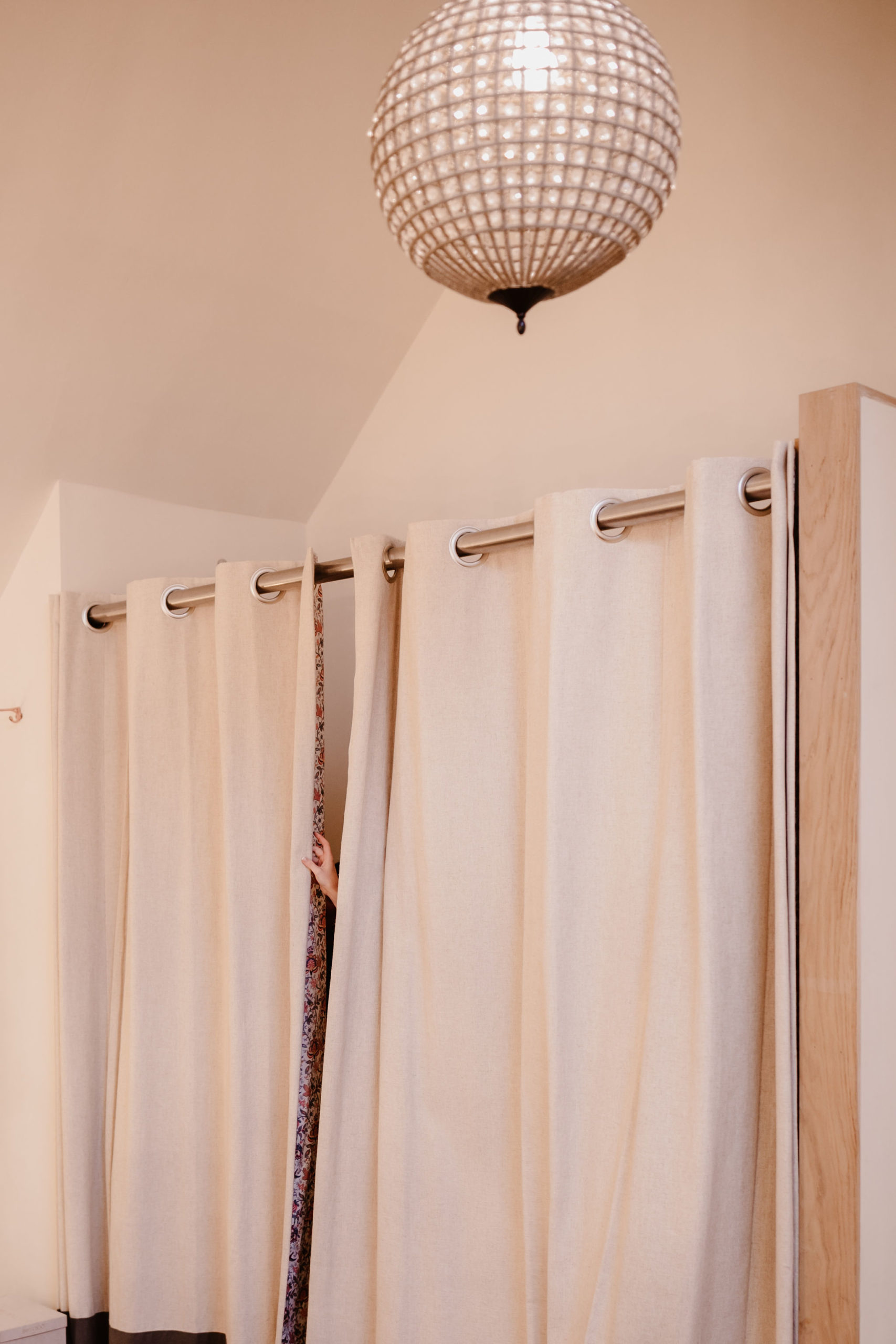 Clockwise- Clara Cooper Photography | The Springles | VLA Photography
The crown jewel of the room is the one way window, which allows excited members of the Bridal Party to a sneak peak of the ceremony hall in its various stages right up to the guests taking their seats in anticipation of your entrance.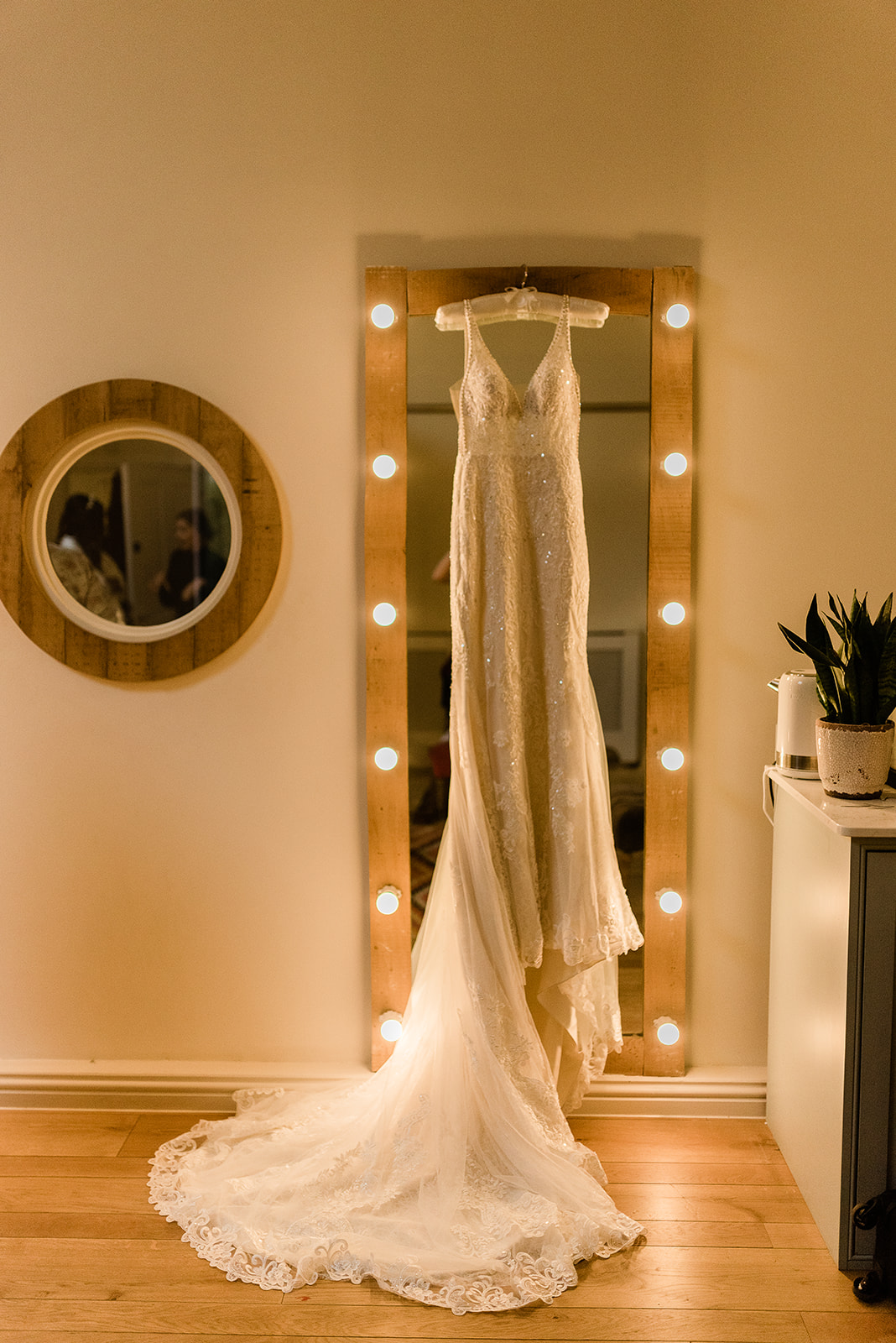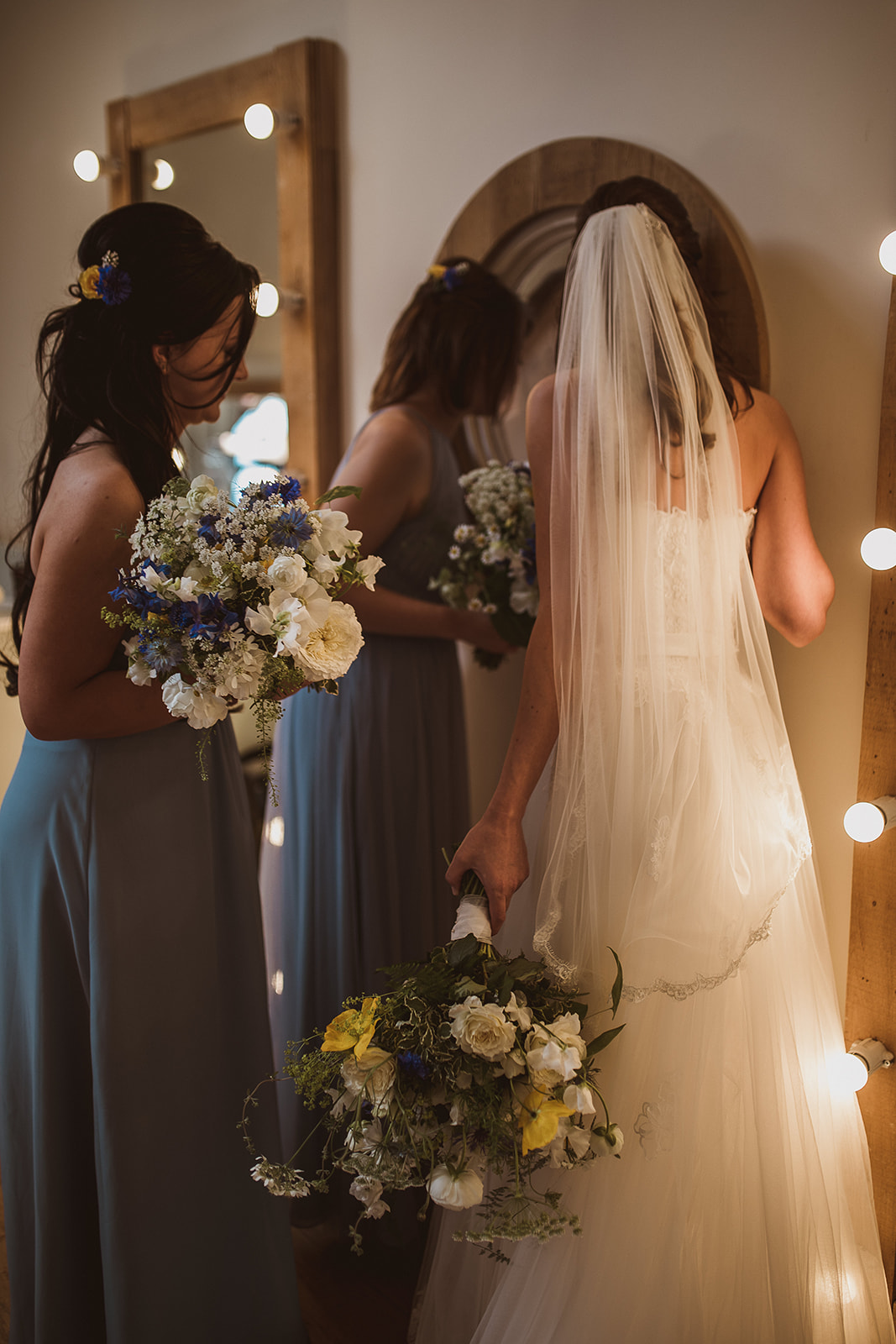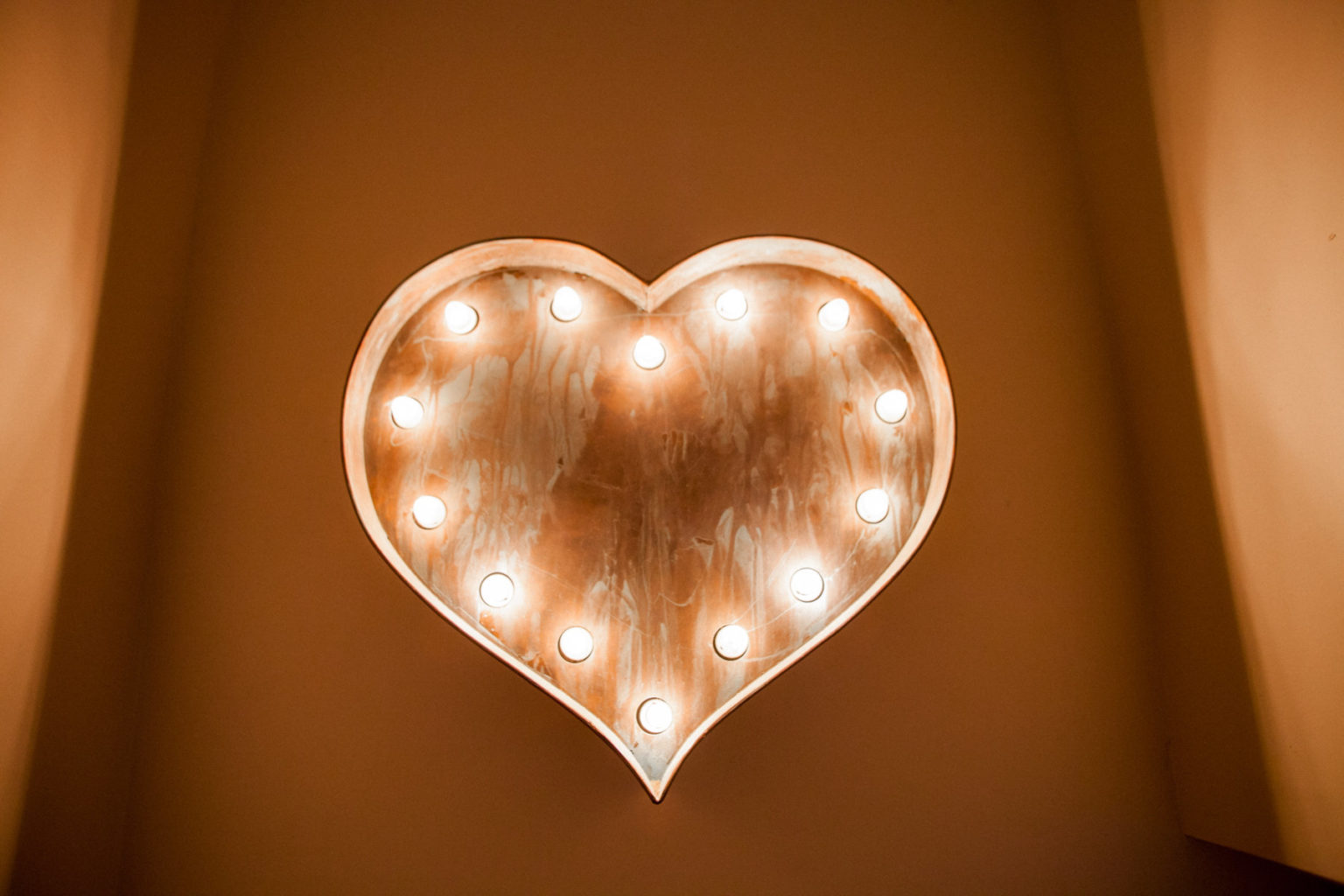 Clockwise- Lucie Watson Photography | The Springles | Philippa Sian Photography
News : 27 / 05 / 20
Spaces- The Rooms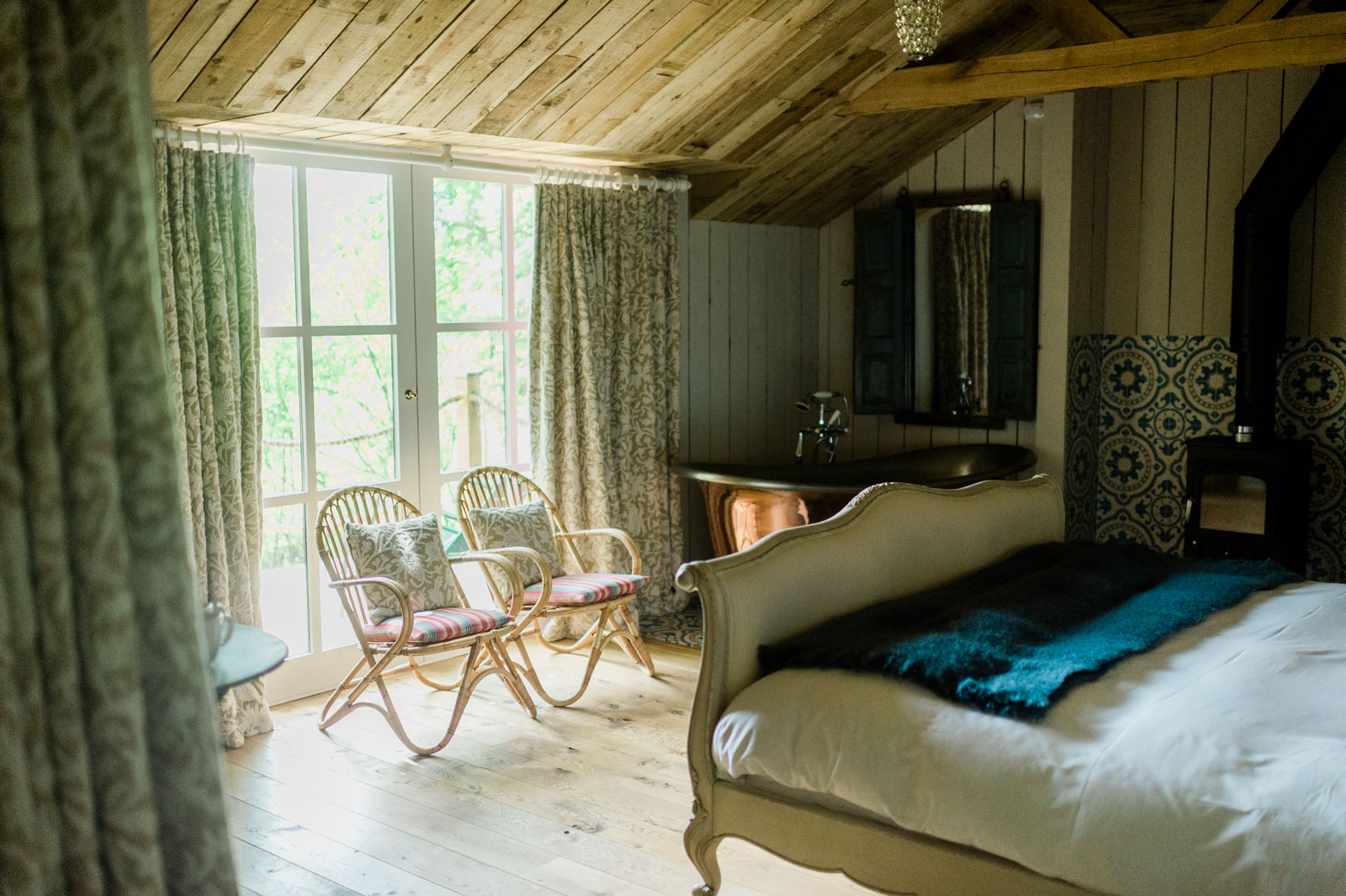 (Title Image by Razia N Jukes | Below Images by Philippa Sian Photography)
Our Boutique Hotel has nine bedrooms in total, seven in the main house and one in The Lodge, an amazing cottage that we have here at Millbridge Court; all of these room are exclusively yours to book for your nearest and dearest on the night of your Big Day. A continental family-style sharing breakfast is available for all guests in a private Dining space before check out the following morning, allowing time for that much needed catch up.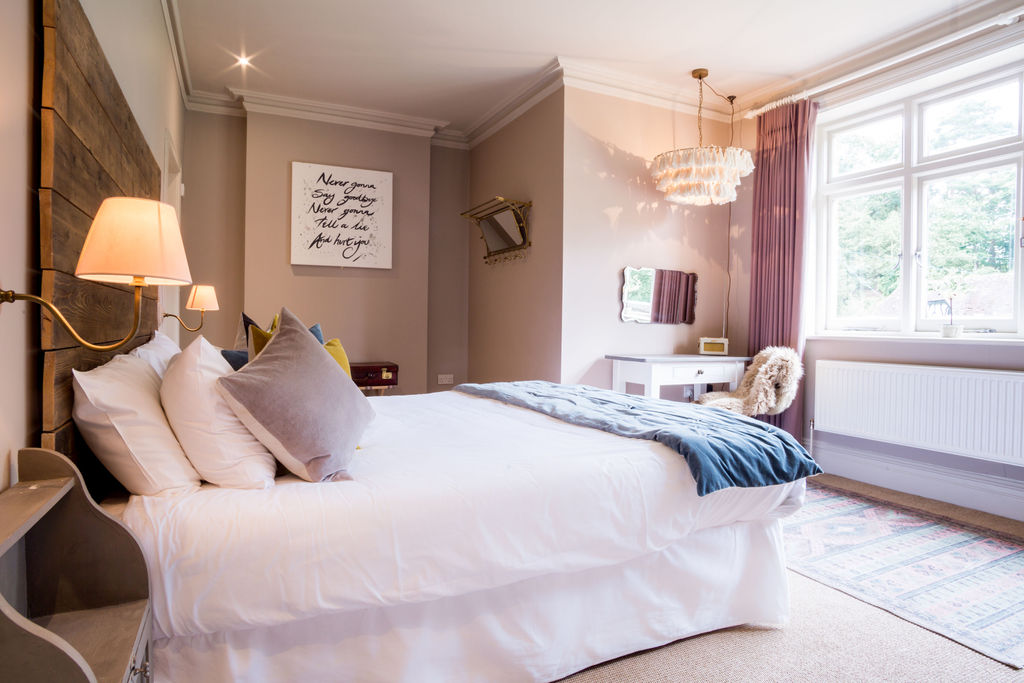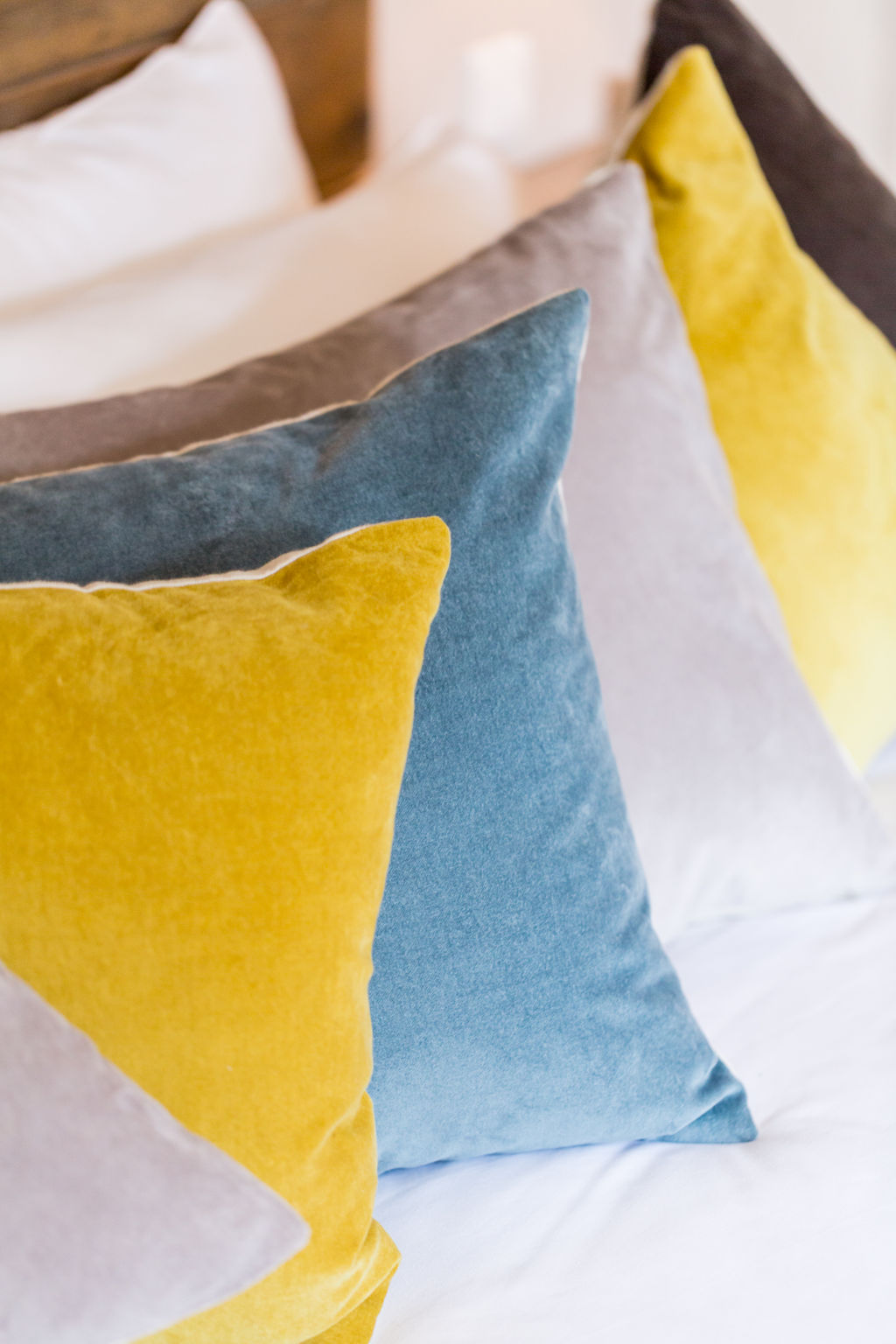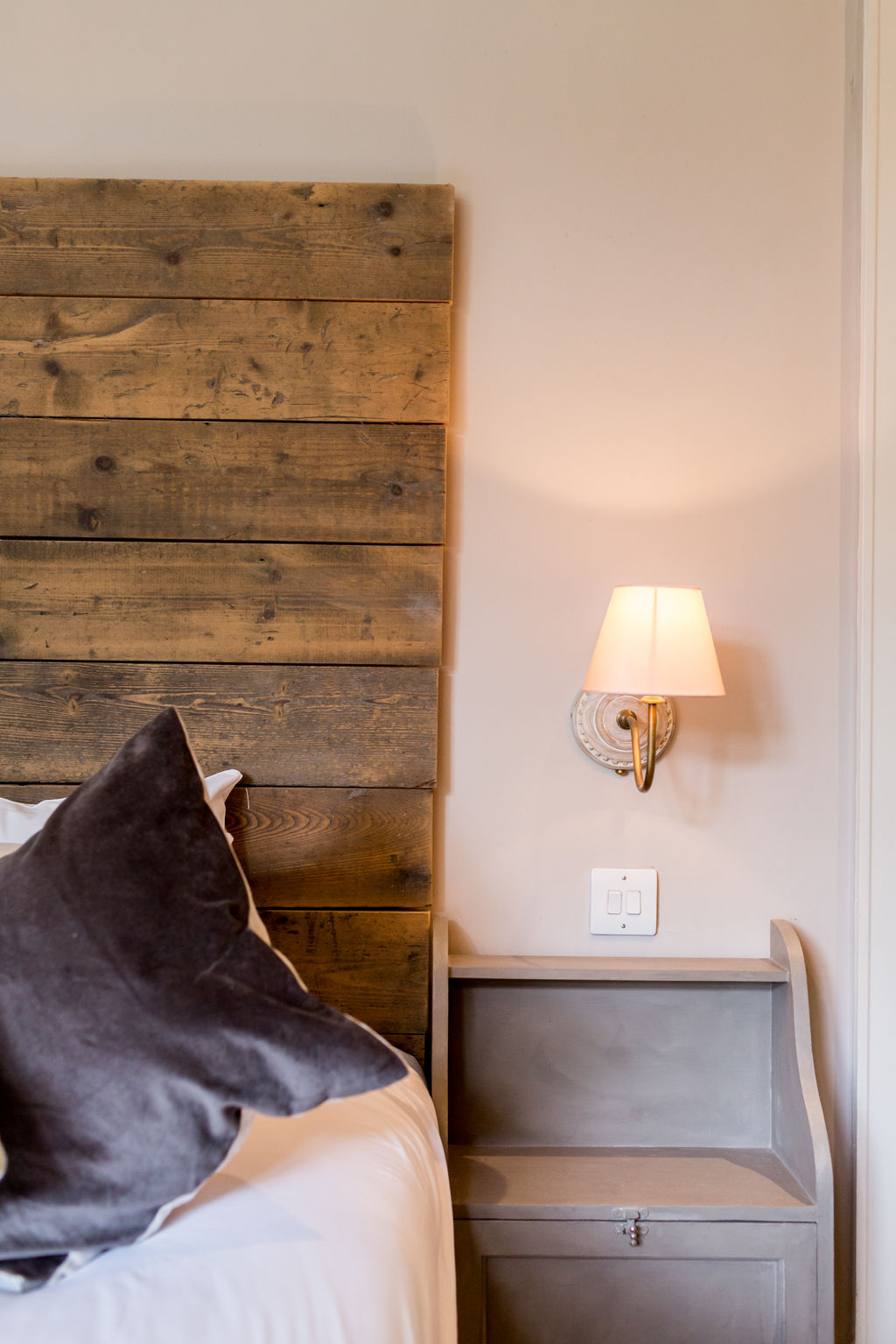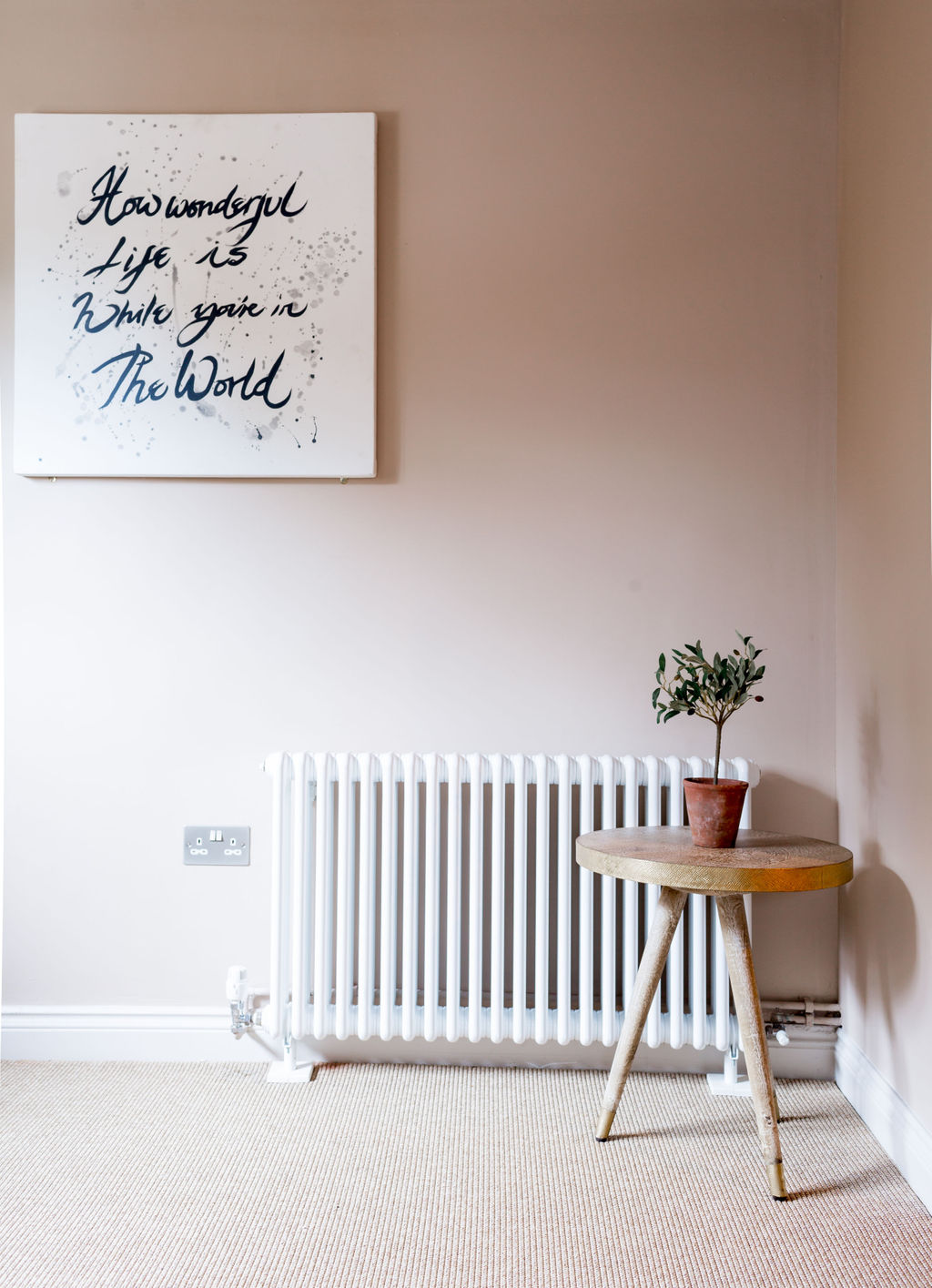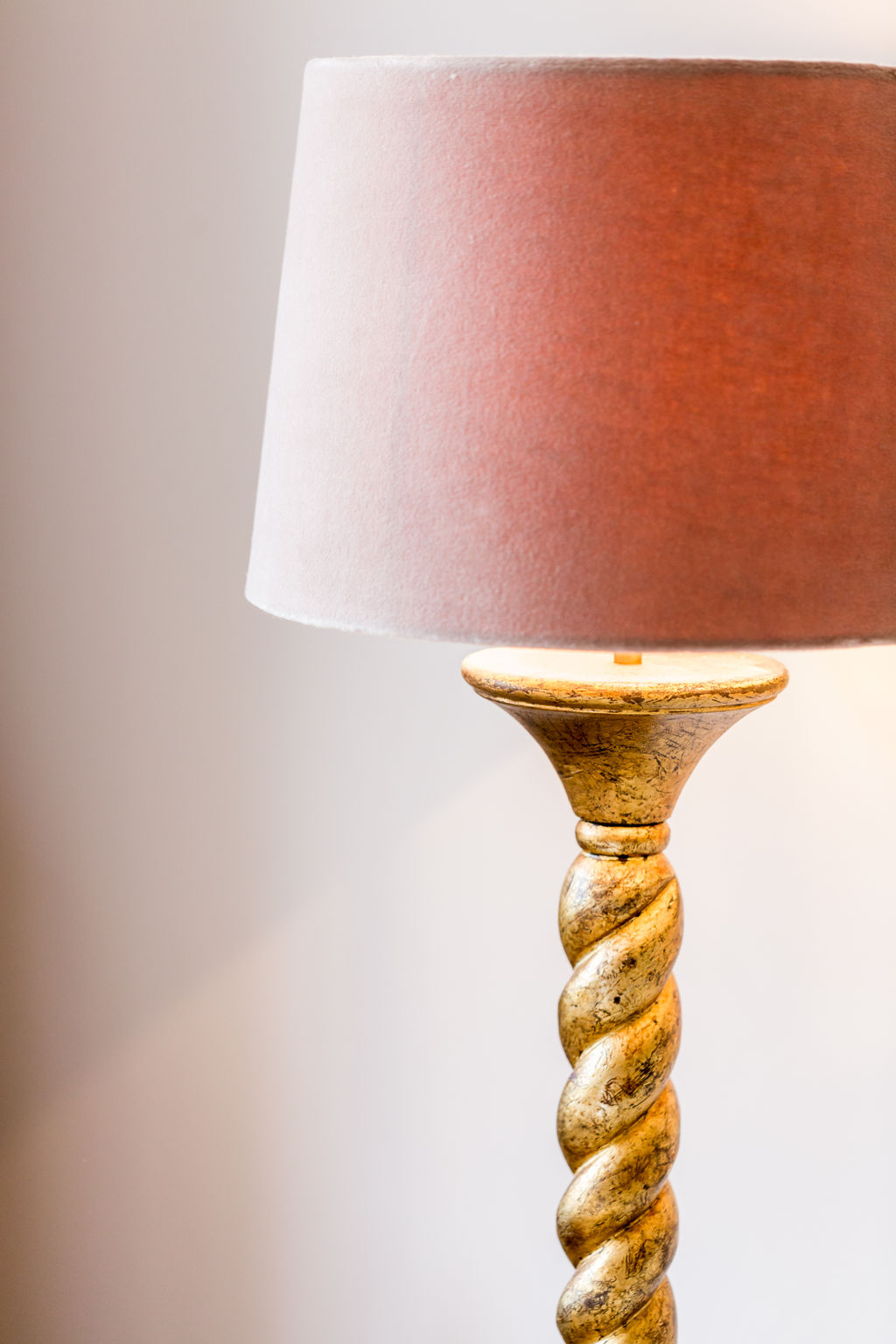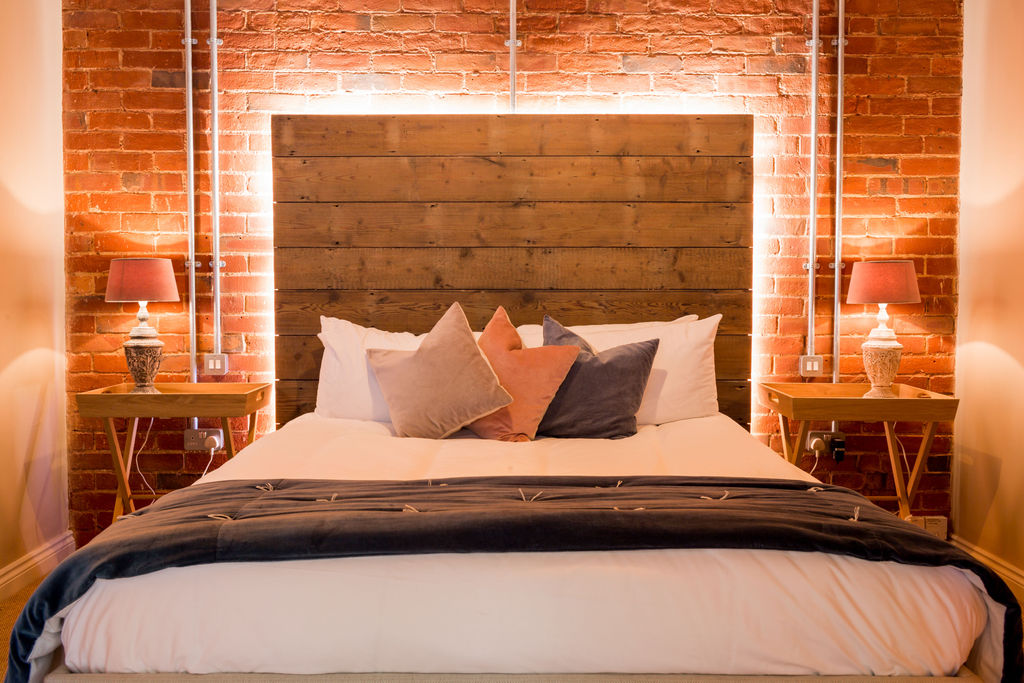 Last, but definitely not least is our final Bedroom, The Hideaway, a secluded wooden cabin, tucked into woodland and reserved exclusively for the couple on the night of your wedding. Walking through the private gates and beyond the secret fern garden leading to the front door (another amazing location for photos!) you will find your own secluded hideaway for the evening, complete with roll-top copper bath and a veranda overlooking the neighbouring countryside.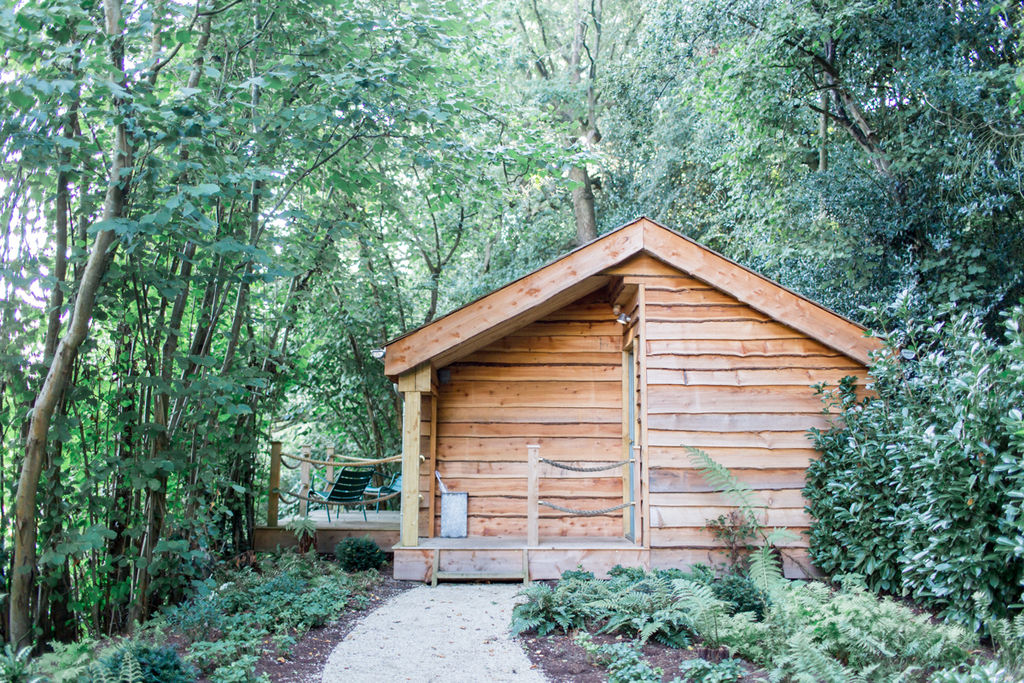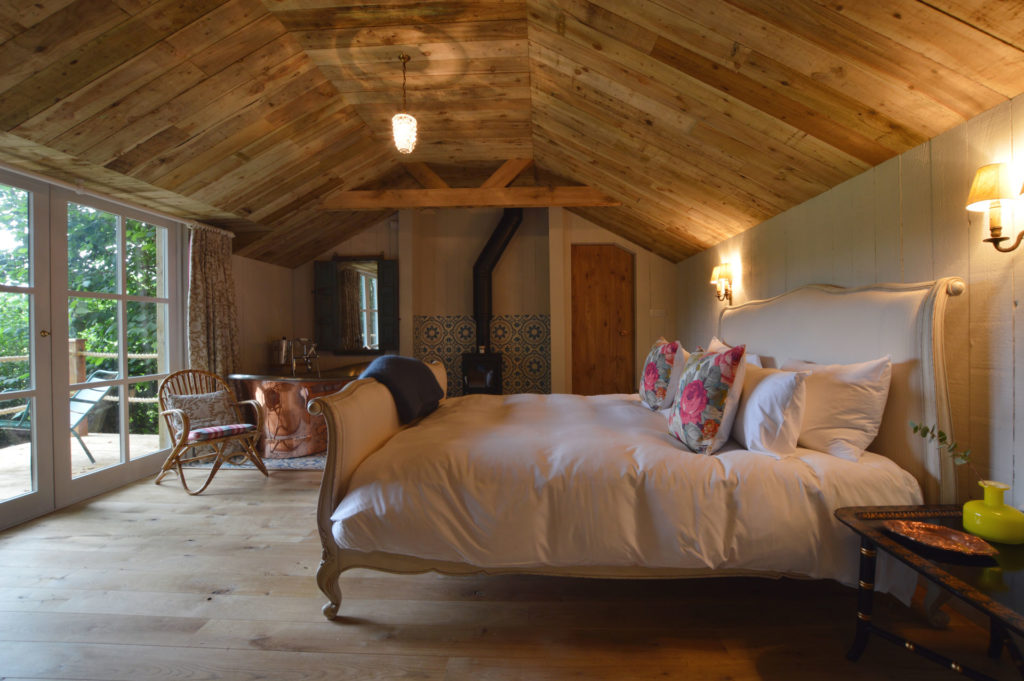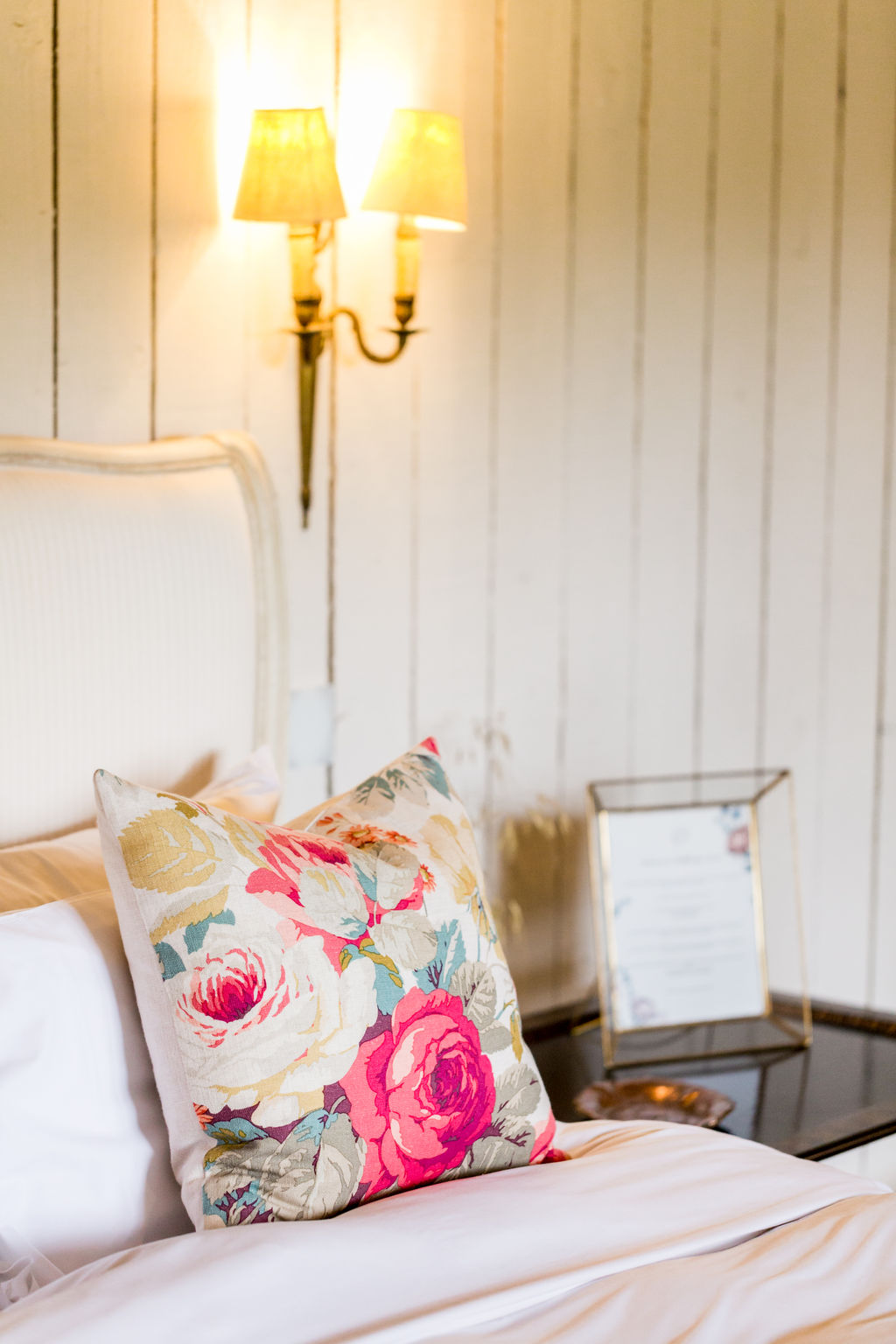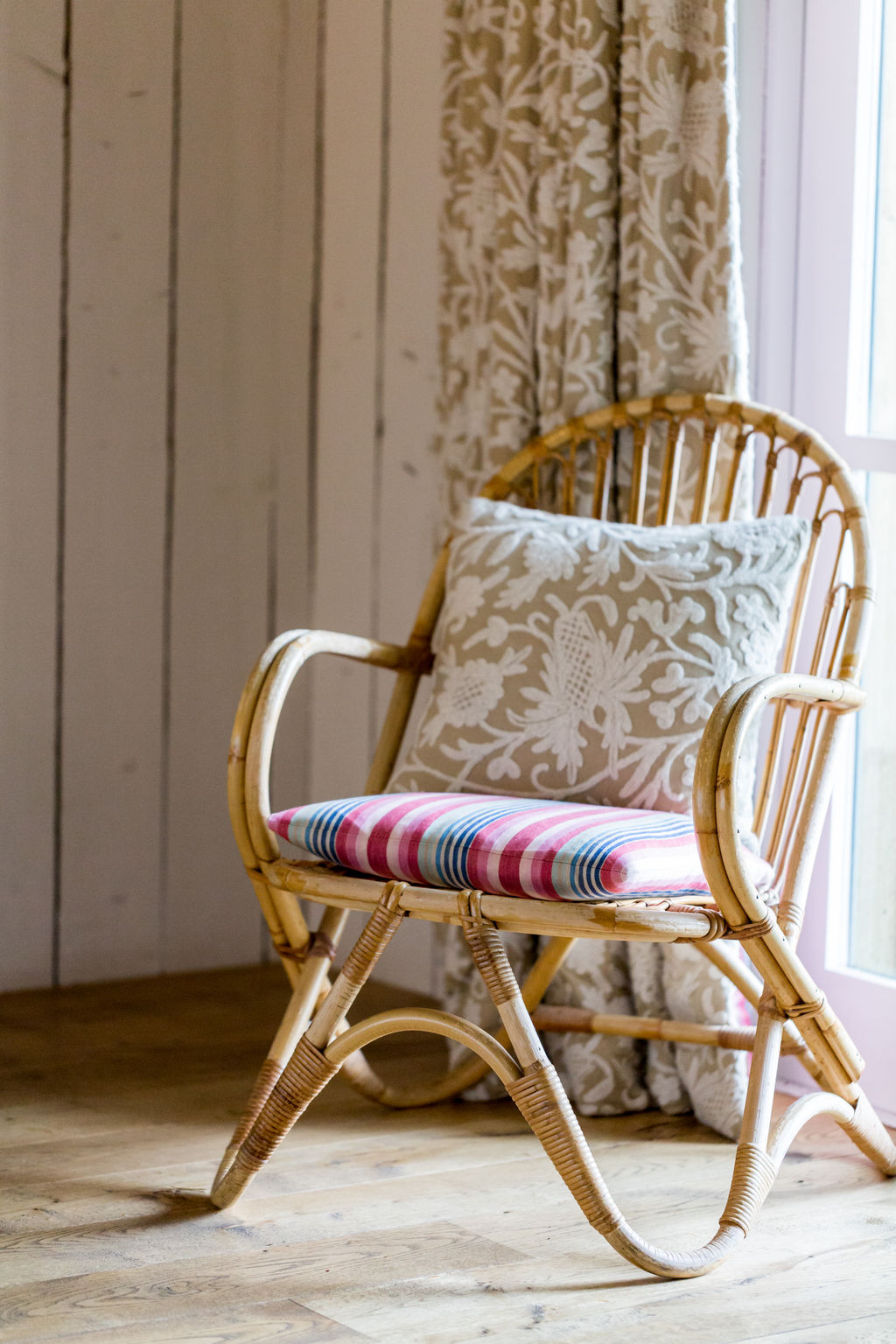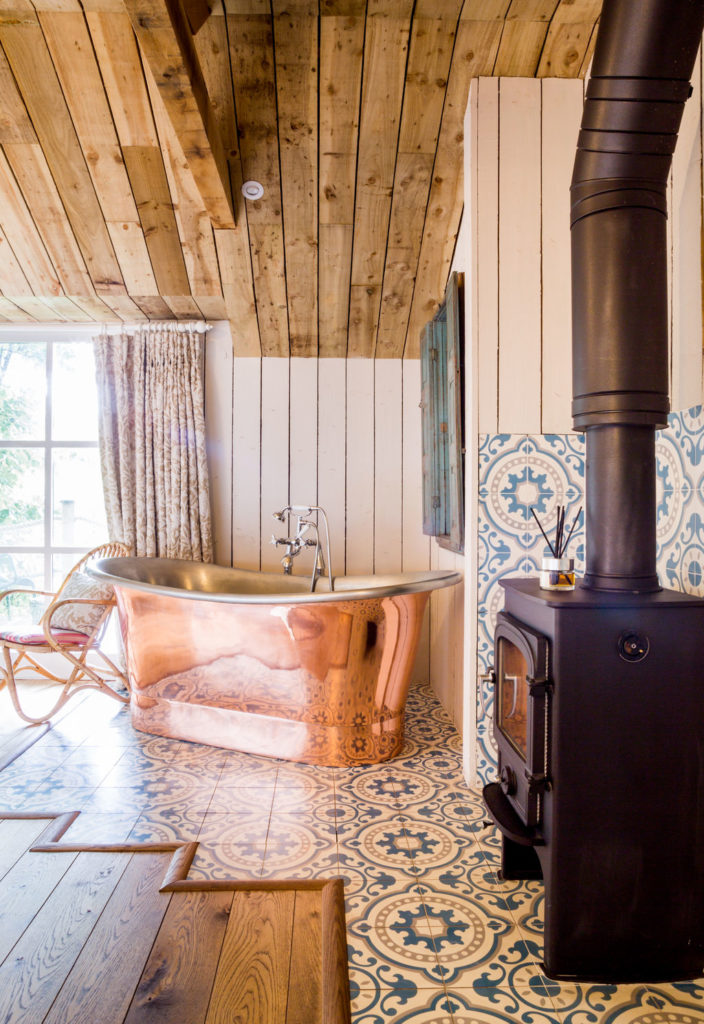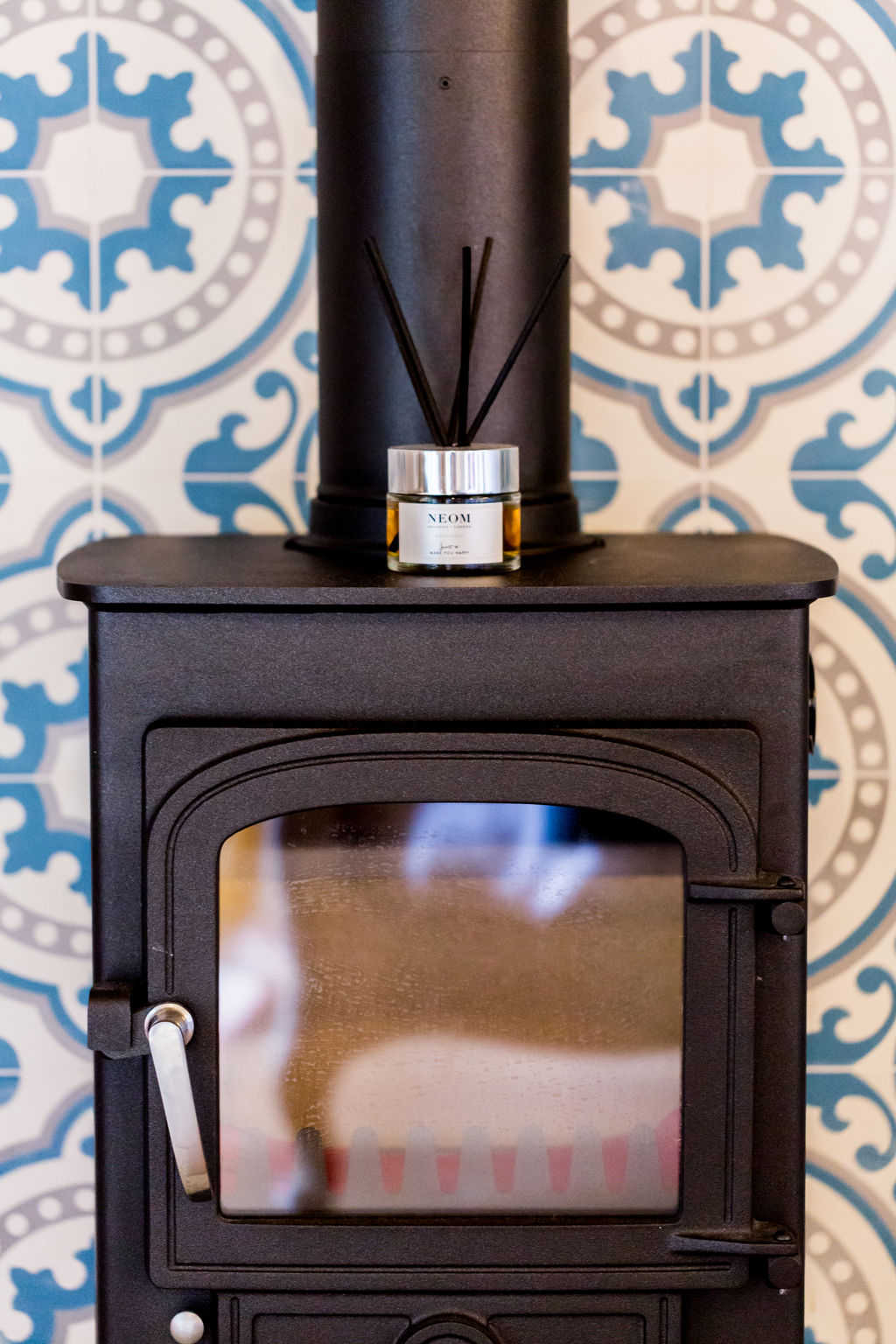 News : 18 / 05 / 20
Spaces- The Arbour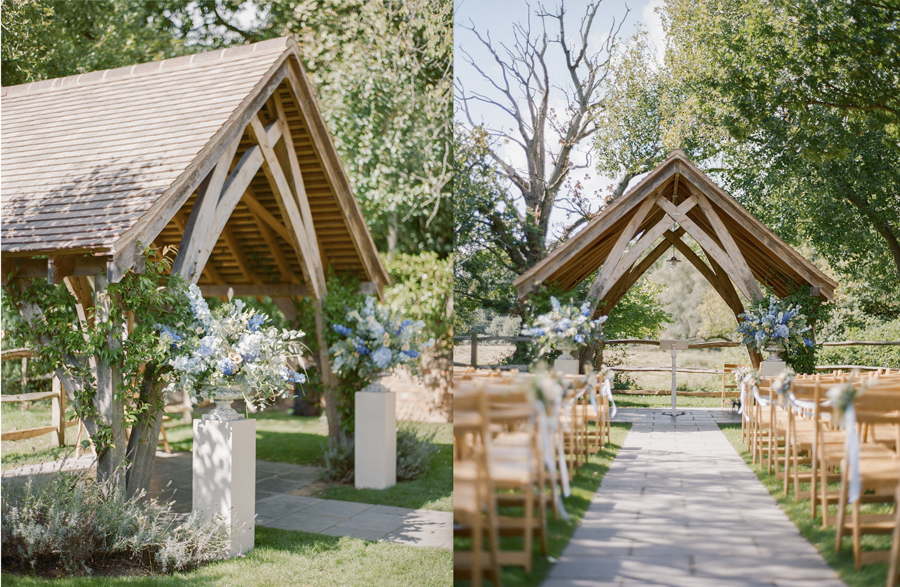 The Arbour at Millbridge Court is a beautiful oak structure licensed for outdoor ceremonies between April and September. The garden is surrounded by tall photinia trees which gives it a secluded and private atmosphere and creates a unique space in the garden.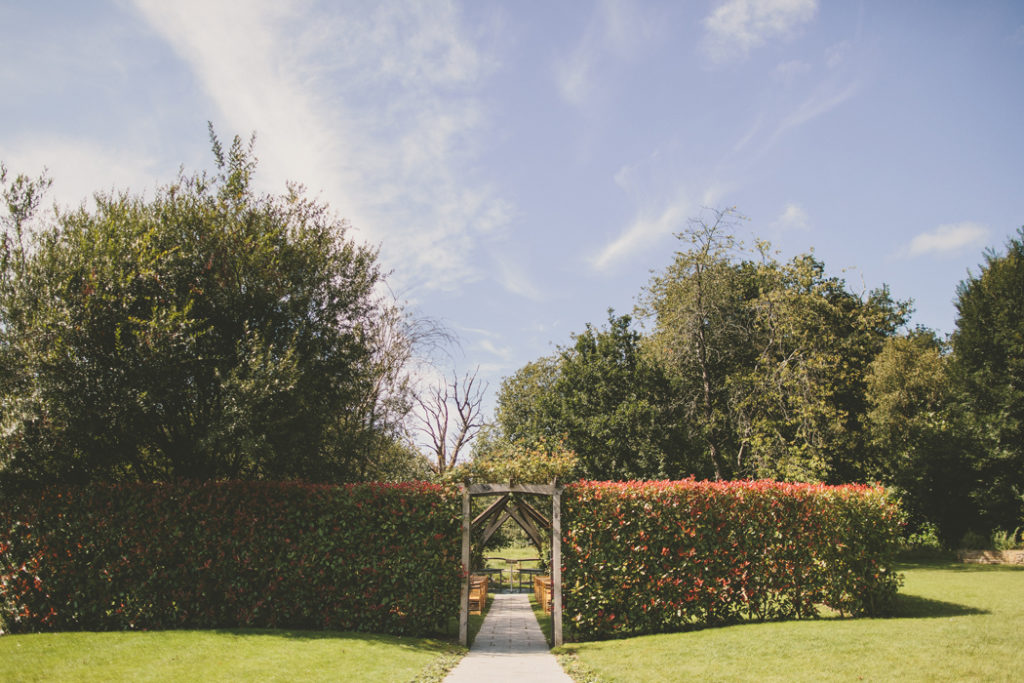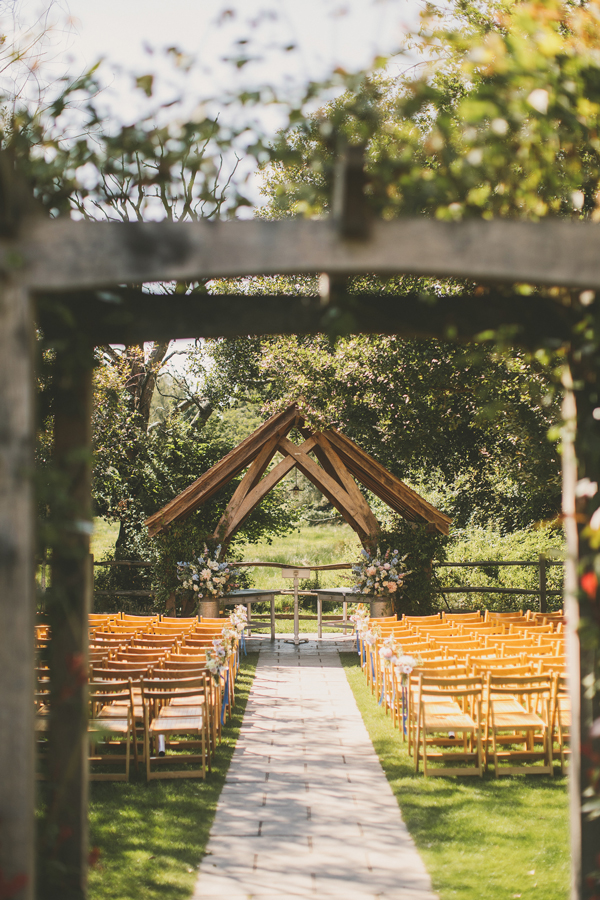 (Top to Bottom) We Are The Clarkes | Hannah Berry Flowers
With capacity for up to 150 guests and rustic wooden seating, it is a beautiful country garden option for your ceremony. The extended aisle is also the perfect backdrop for that all important confetti shot; whether getting married inside or out, it provides a picture- perfect setting to celebrate your first moments as a married couple.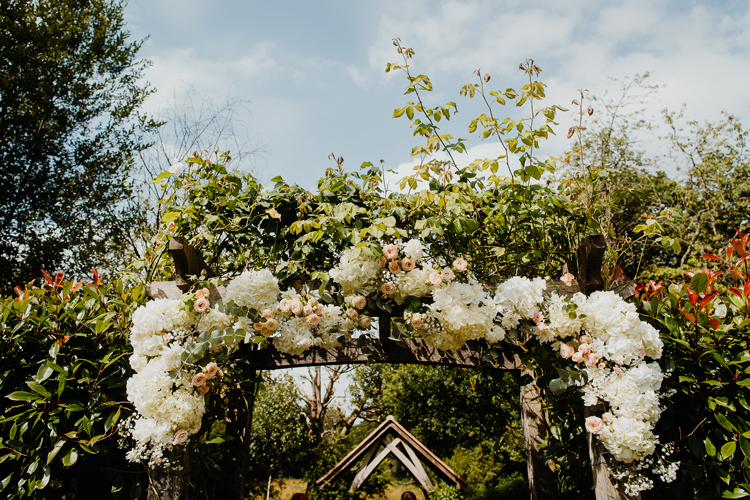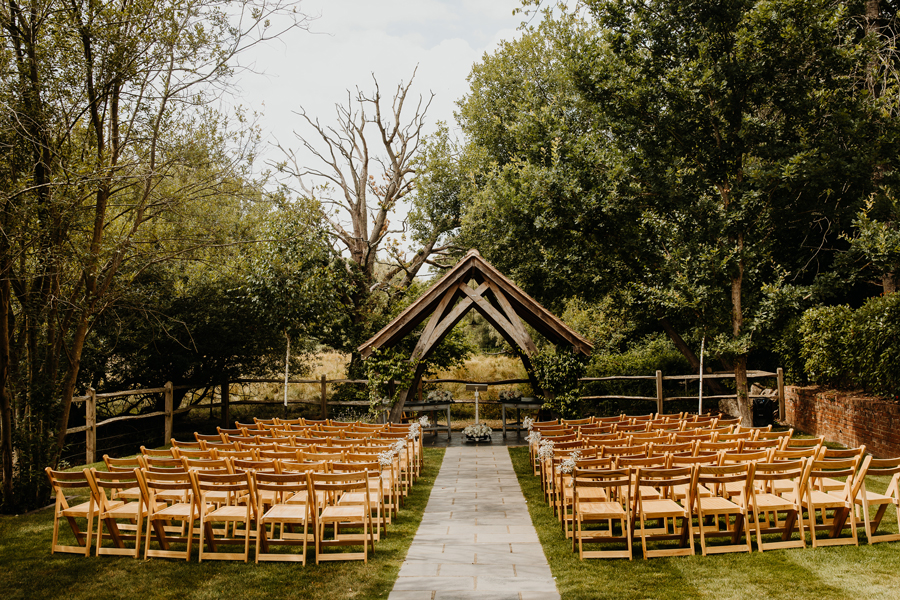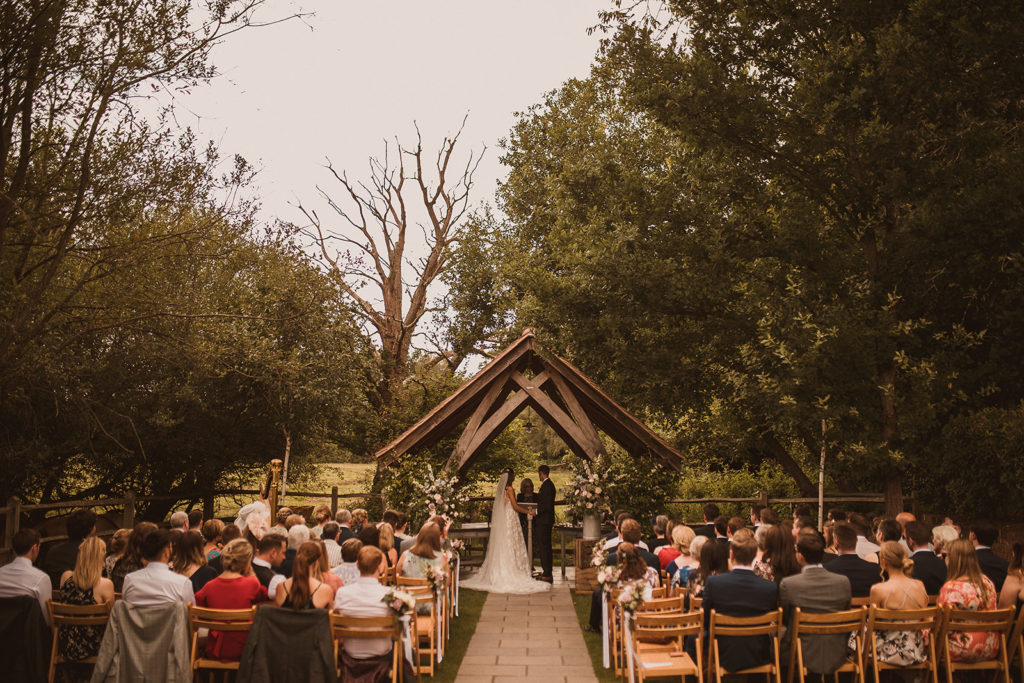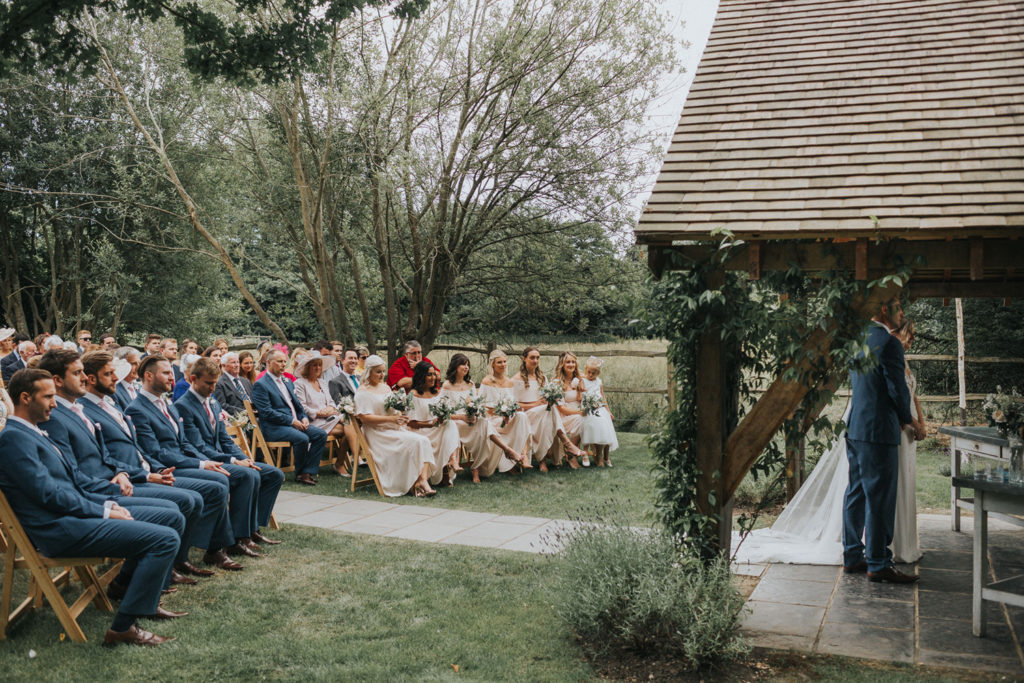 (Top to Bottom) Jonny MP Photography | The Springles | Kit Myers Photography 
In addition, the Arbour itself provides a wonderful backdrop for confetti shots, your couple shots or group photos whatever the season and is an ideal location to still have some amazing shots outside even if it's raining!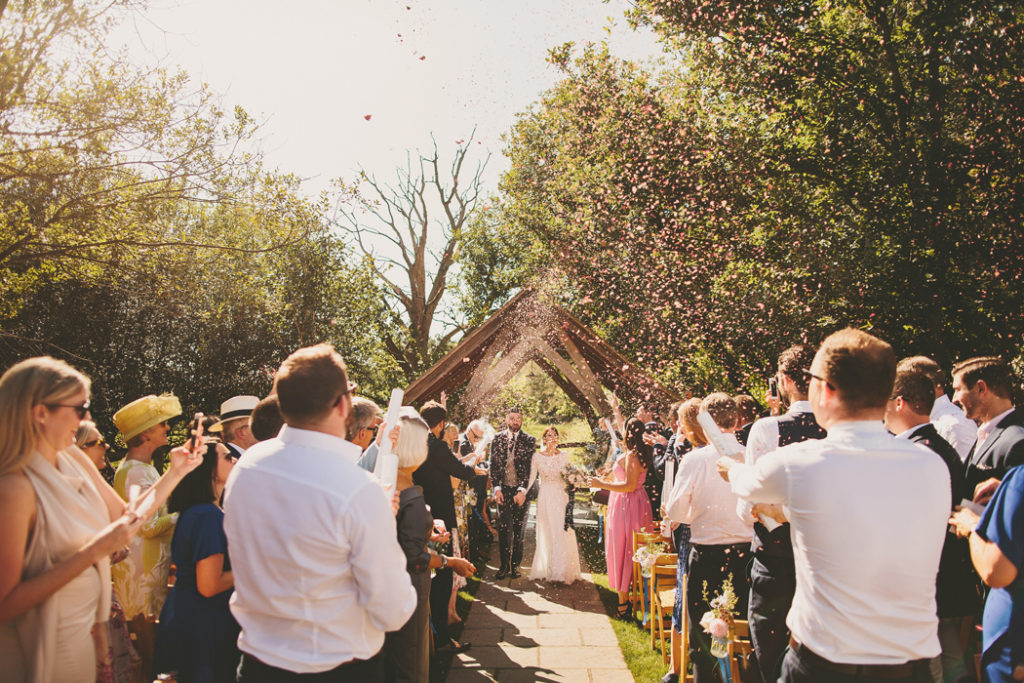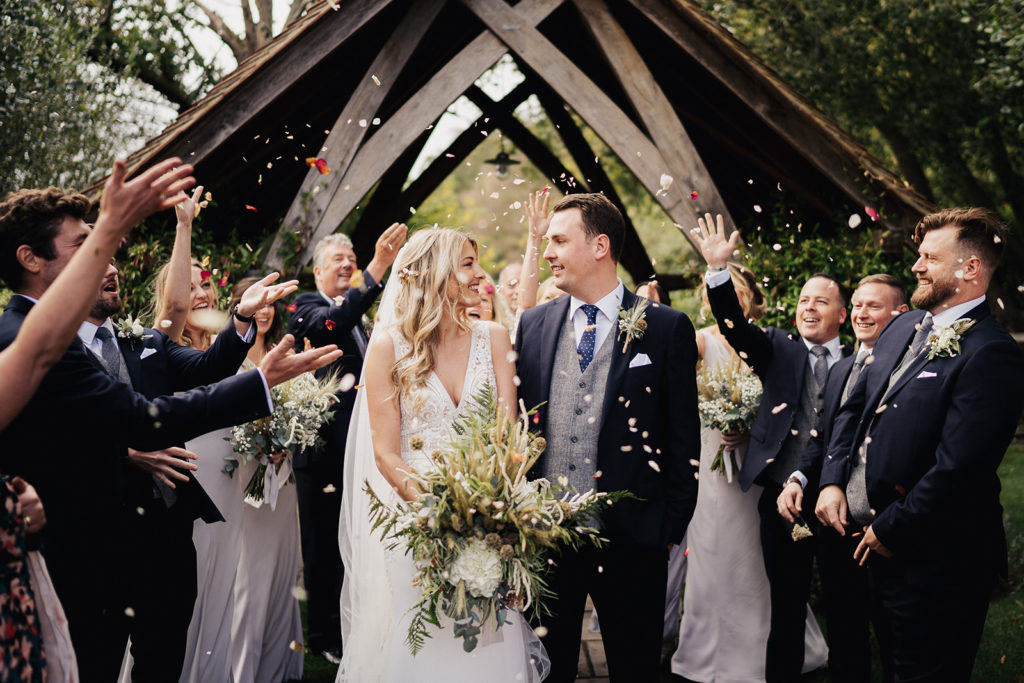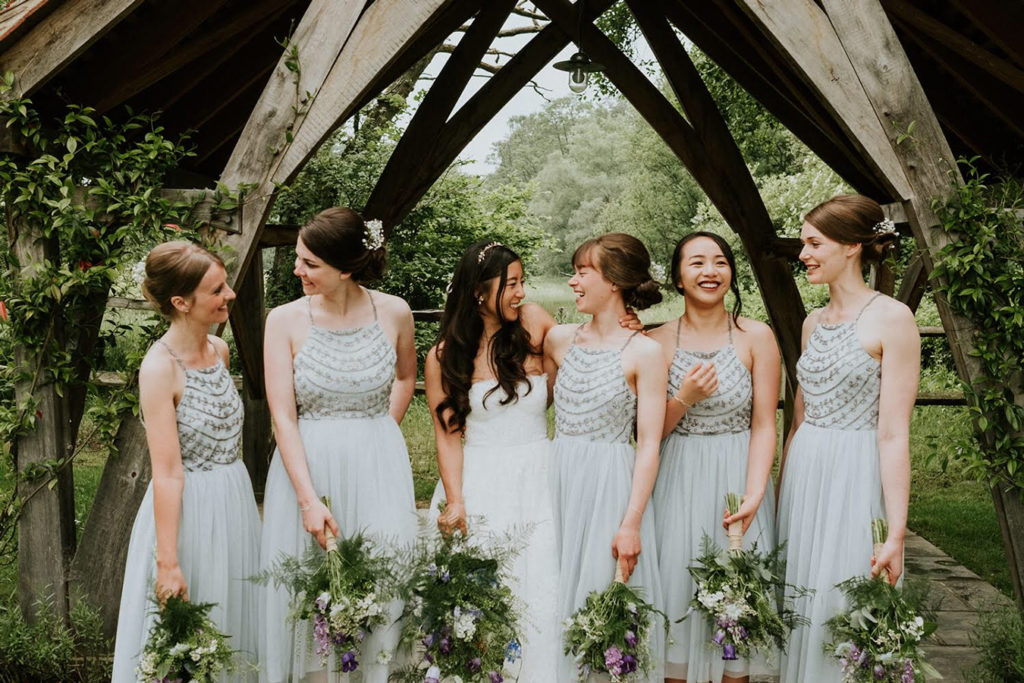 (Top to Bottom) We Are The Clarkes | Kit Myers Photography | Joanna Nicole Photography | Frankee Victoria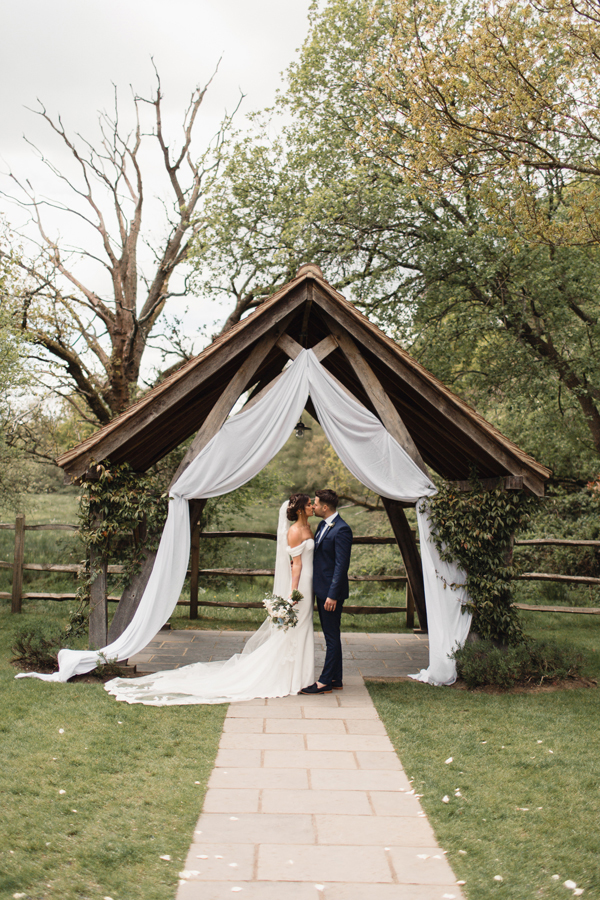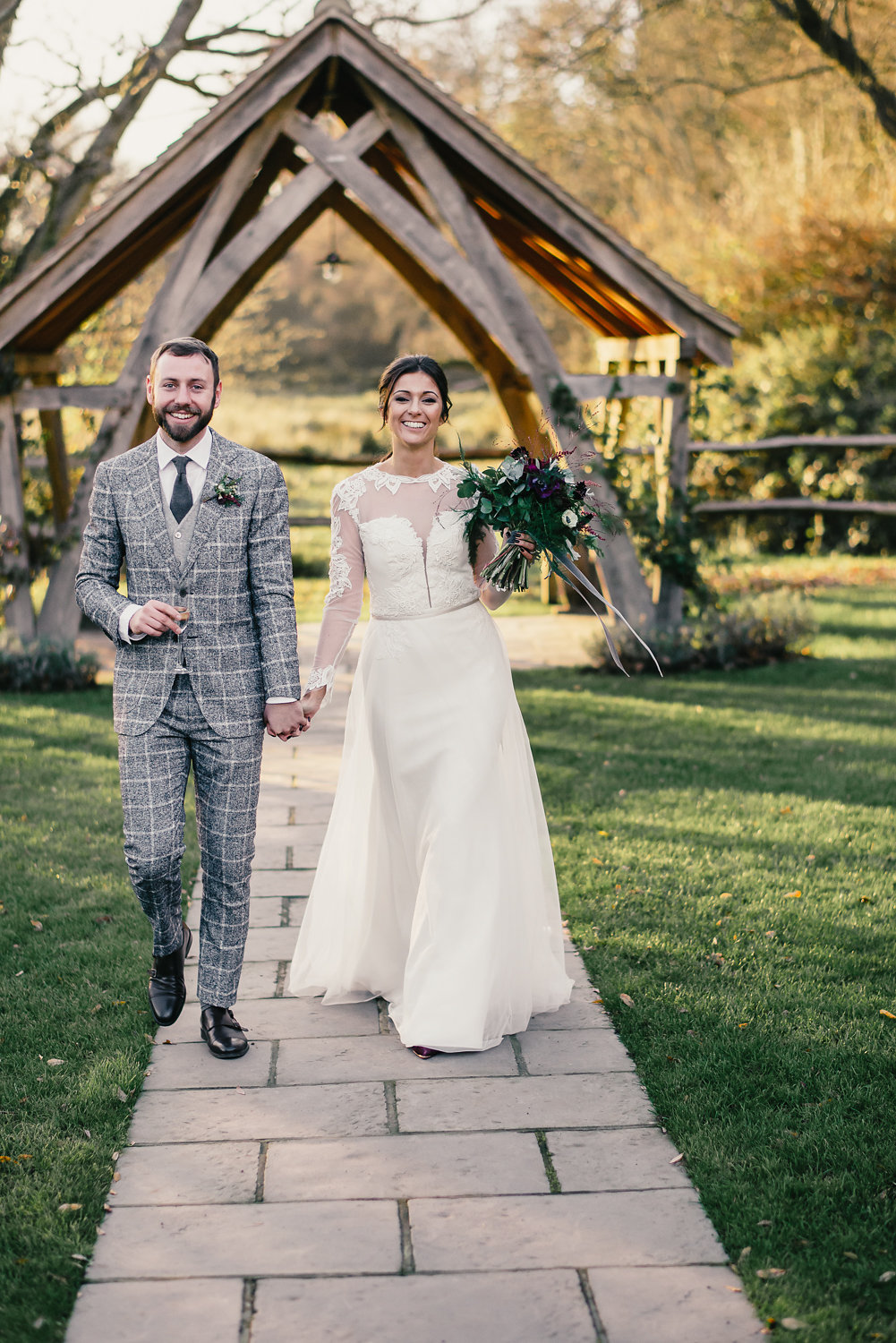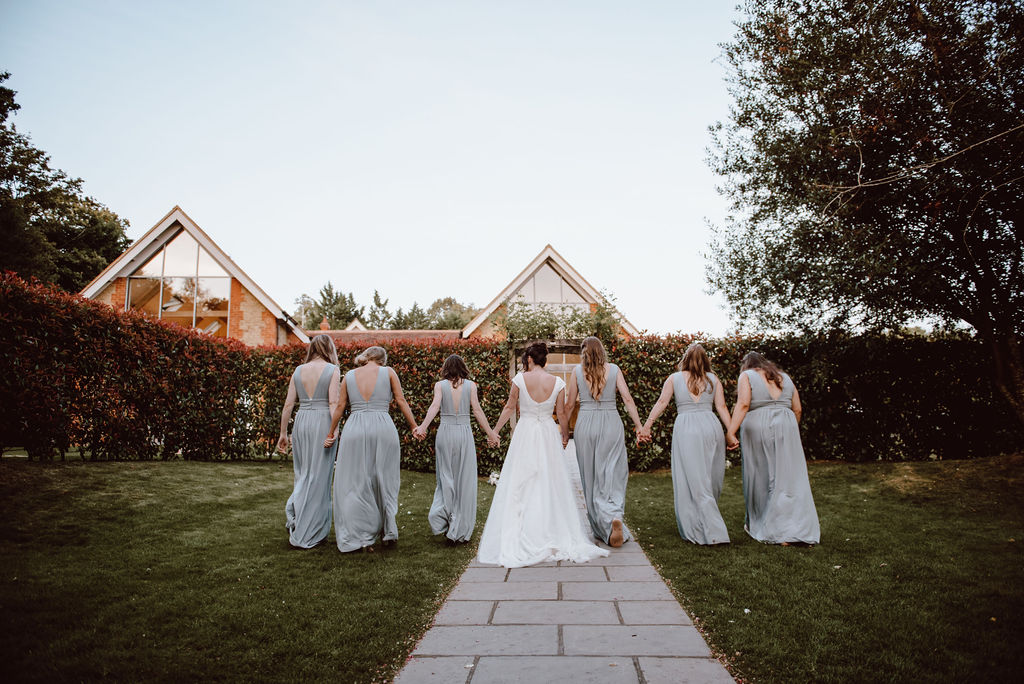 (Top Left) Rebecca Searle Photography | (Top Right) Lily Bungay | (Bottom) Jessica Bevan Photography 
If you are super lucky, the neighbouring cows will come to visit – leaving you with a very unique photo opportunity!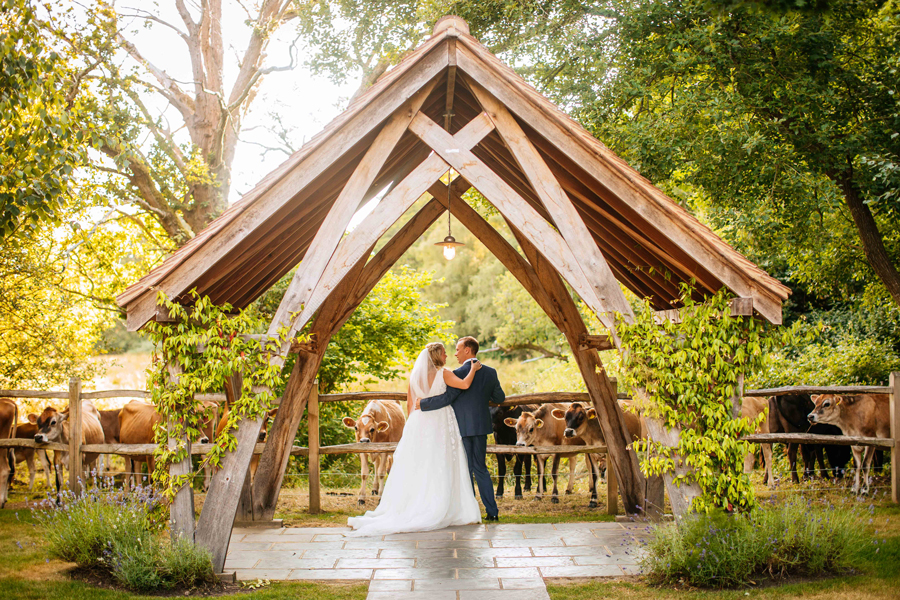 Many Photographers also love using the Arbour all year round to get dramatic nighttime shots, like these beautiful images below.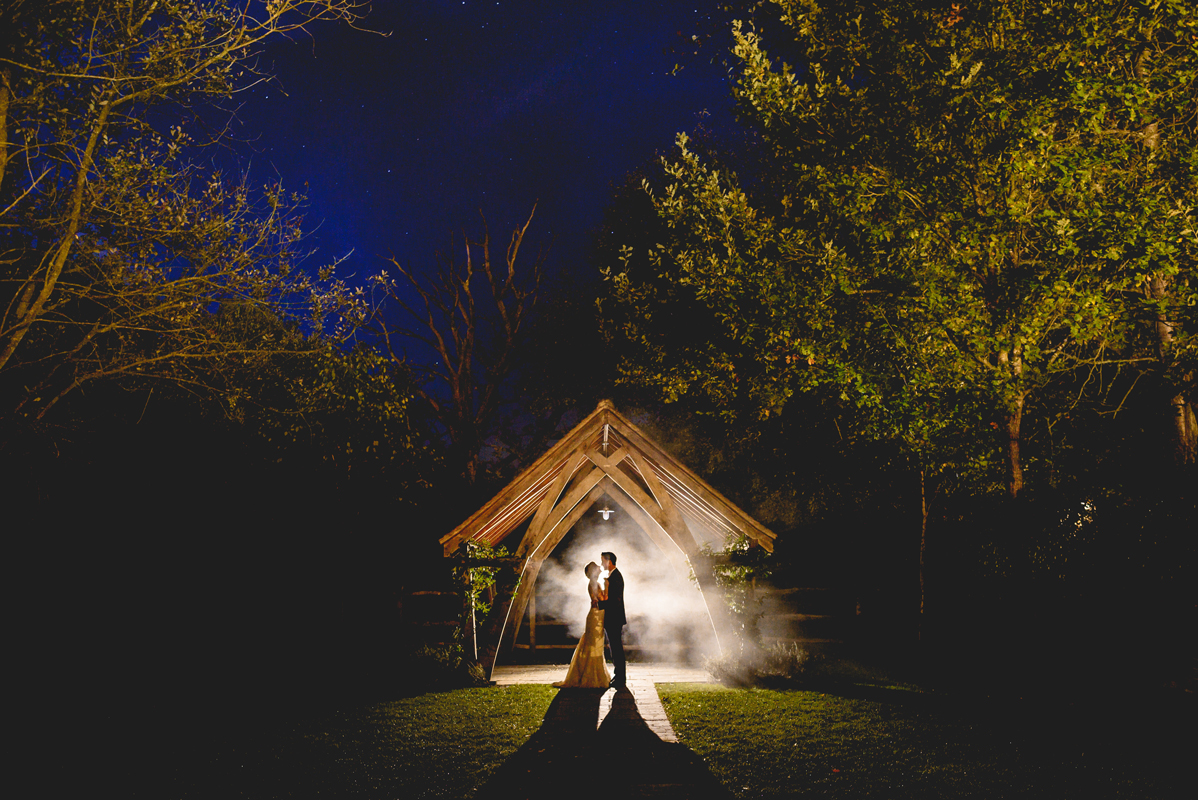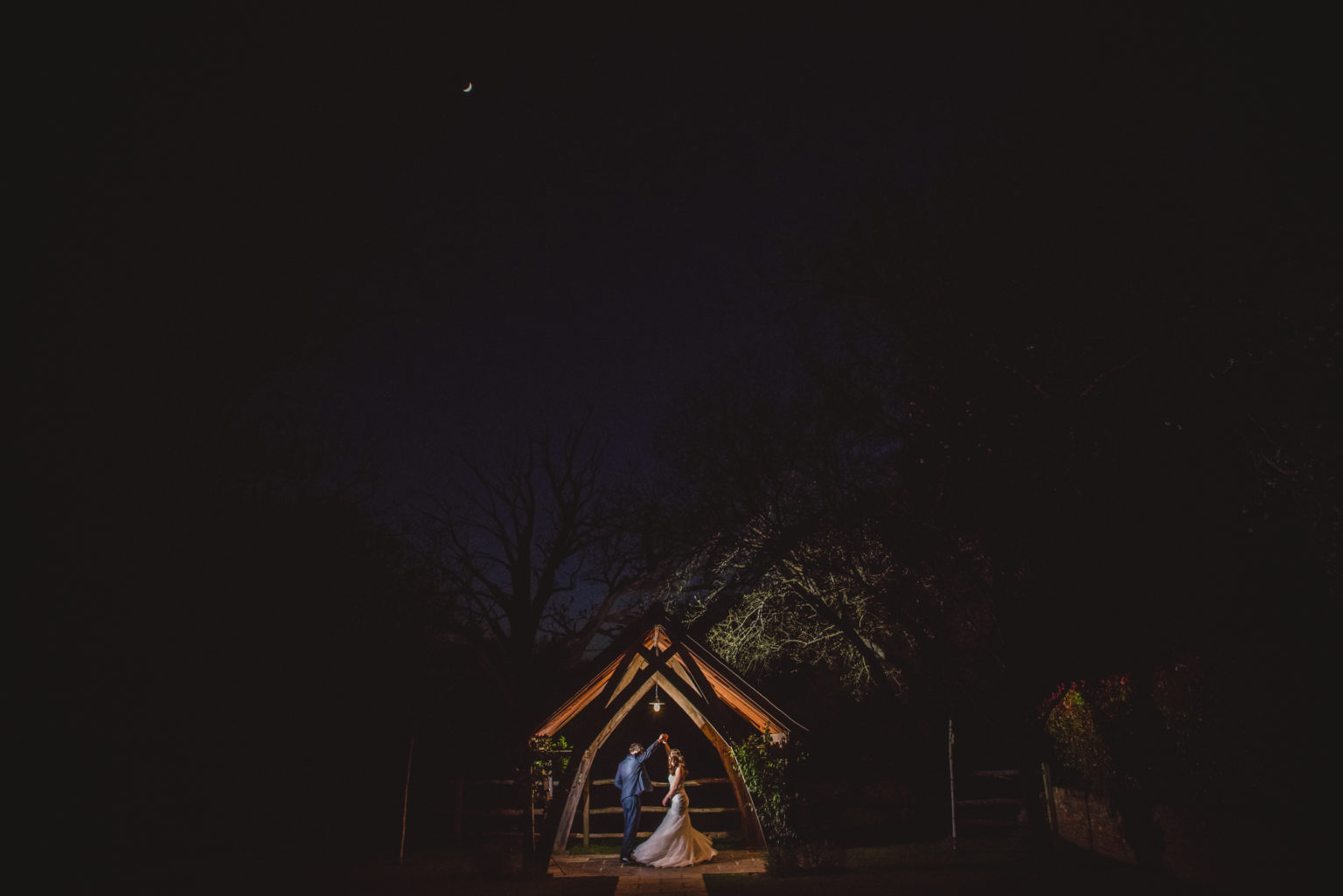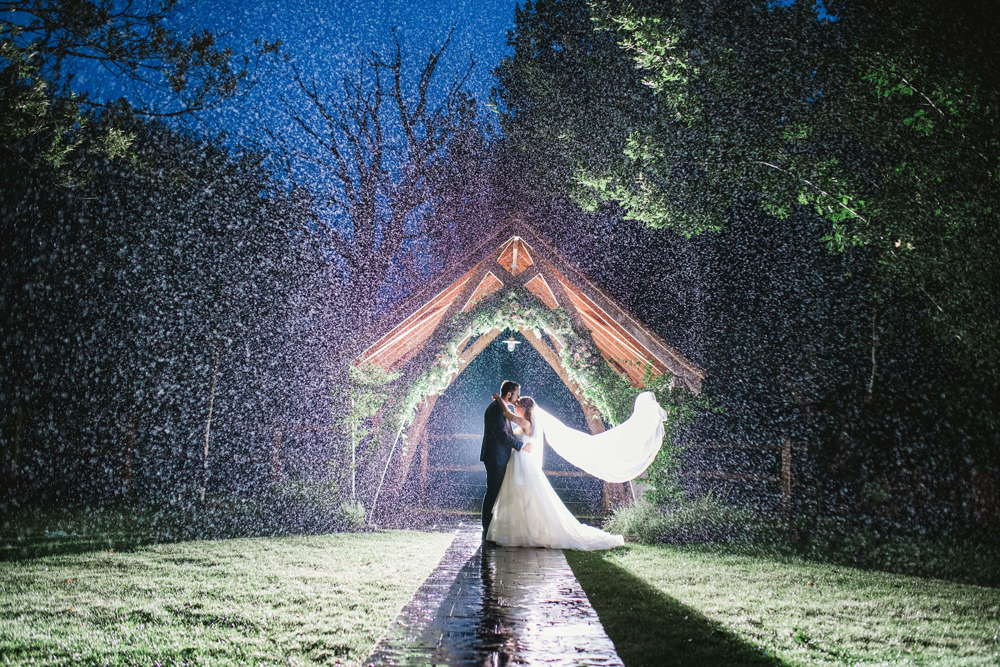 (Top to Bottom) Emmie Scott Photography | Sophie Duckworth Photography | DM Photography 
News : 12 / 05 / 20
Spaces- The Lodge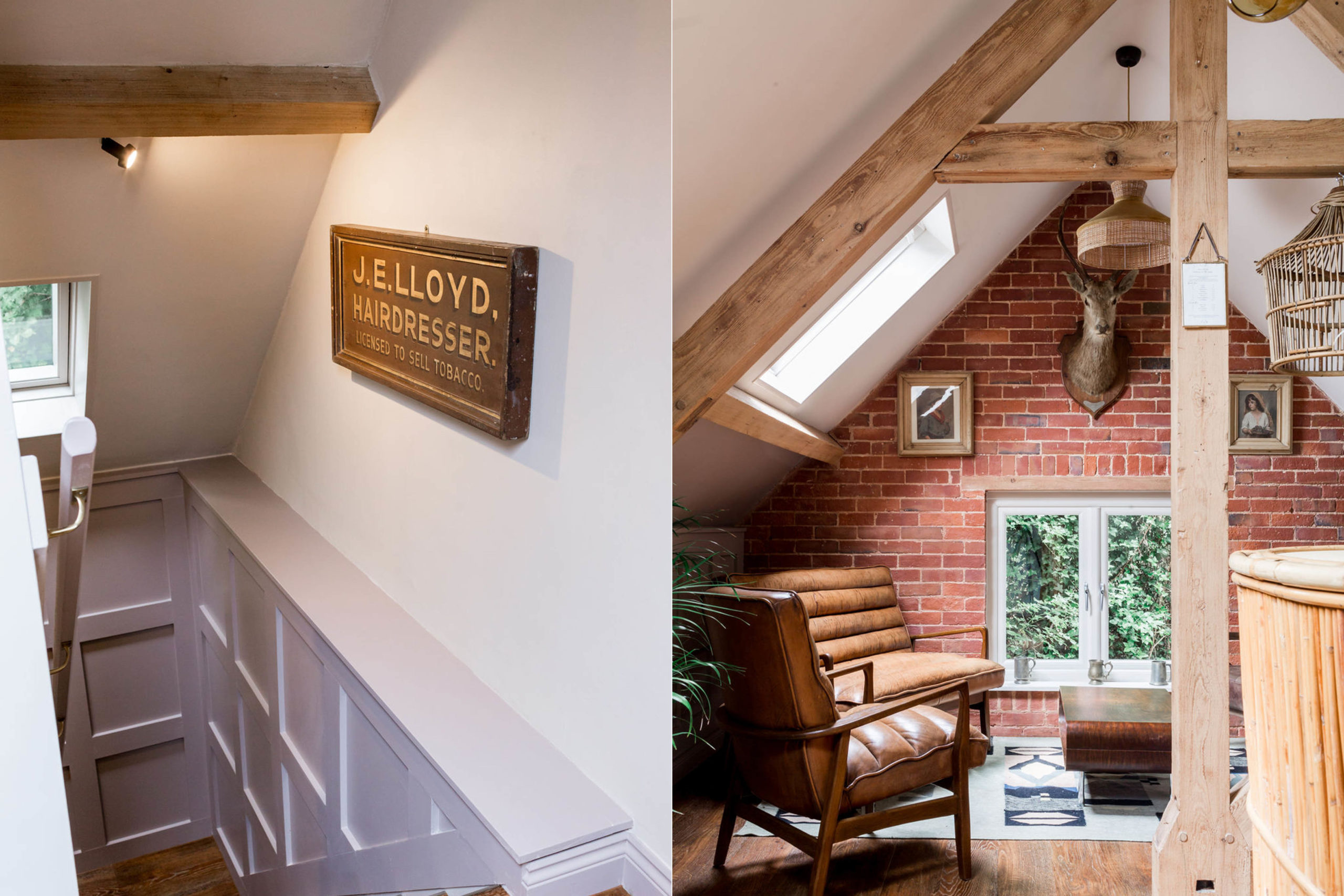 The Lodge is a getting ready space exclusively for our Grooms.
With late-morning access, it is the perfect place to check in with your Groomsmen, add the finishing touches to your look and have a toast pre-ceremony. With a ground floor bedroom and en-suite, there is plenty of room for your party to get ready and upstairs is a cosy den, complete with leather sofas and a personal bar – fully stocked with beers and snacks – for you to enjoy.