Tag:
wedding barn frensham
News : 12 / 06 / 20
Spaces- Ceremony Hall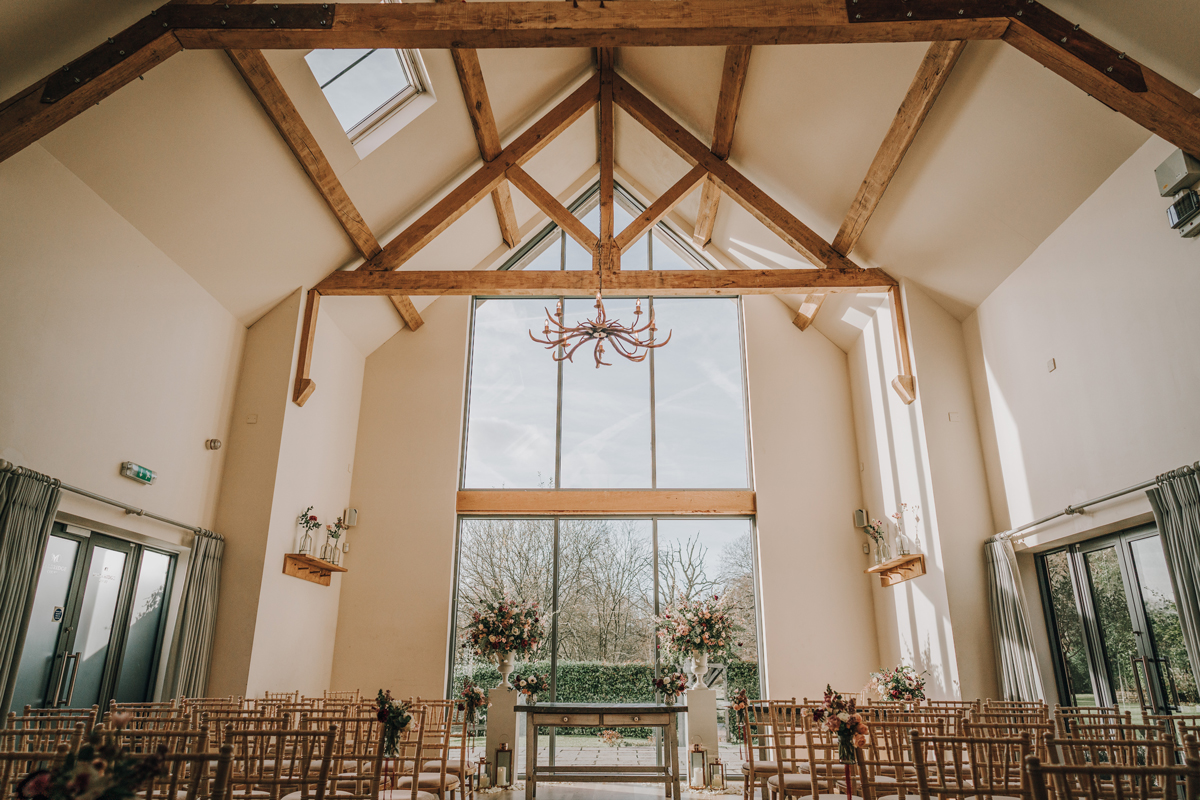 The Ceremony Hall at Millbridge Court combines traditional Barn features with elegant and modern interior design.
With gorgeous oak beams, unique, statement chandeliers, crisp white walls and a feature floor-to-ceiling glass wall, the Hall is flooded with natural light all year round and is a beautiful neutral canvas which allows Couples to bring their vision to life with no limitations.
Over the years, Couples and their talented Suppliers have styled the Ceremony Hall in such inspiring ways that really make the most of the Seasons and the light, bright space and we wanted to share a few of those with you all. Xx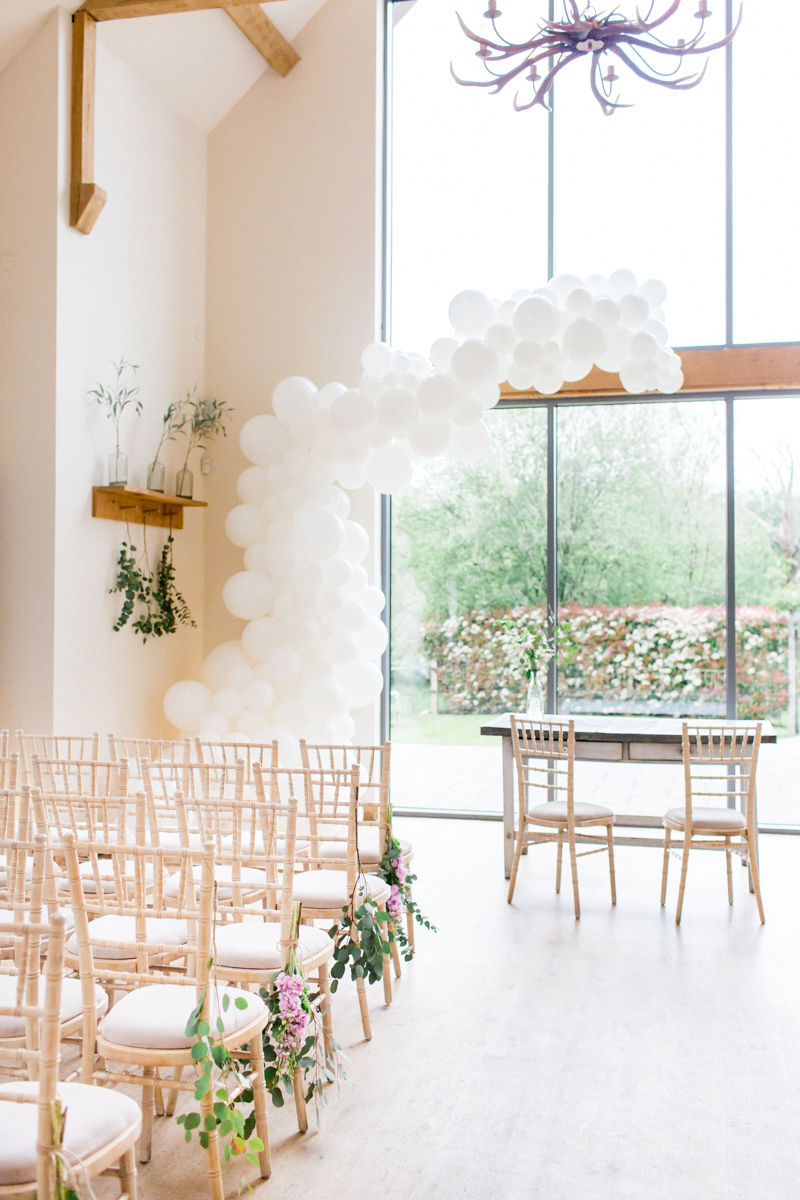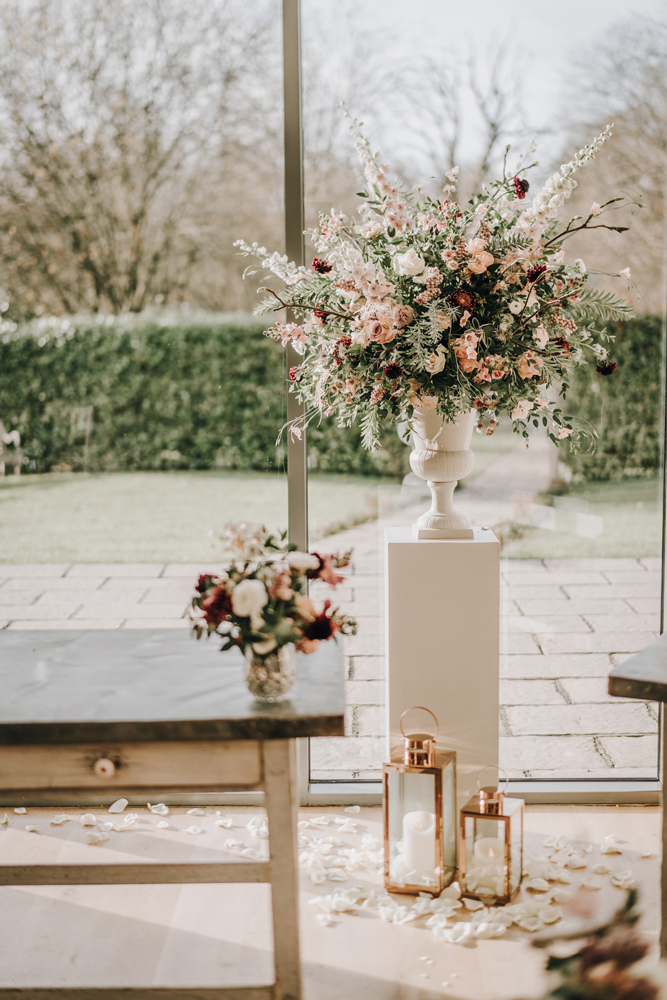 (Top) Clara Cooper Photography, Longacres | (Bottom Left) Philippa Sian Photography, Bubblegum Balloons, A Wild Handful | (Bottom Right) DM Photography, Hannah Berry Flowers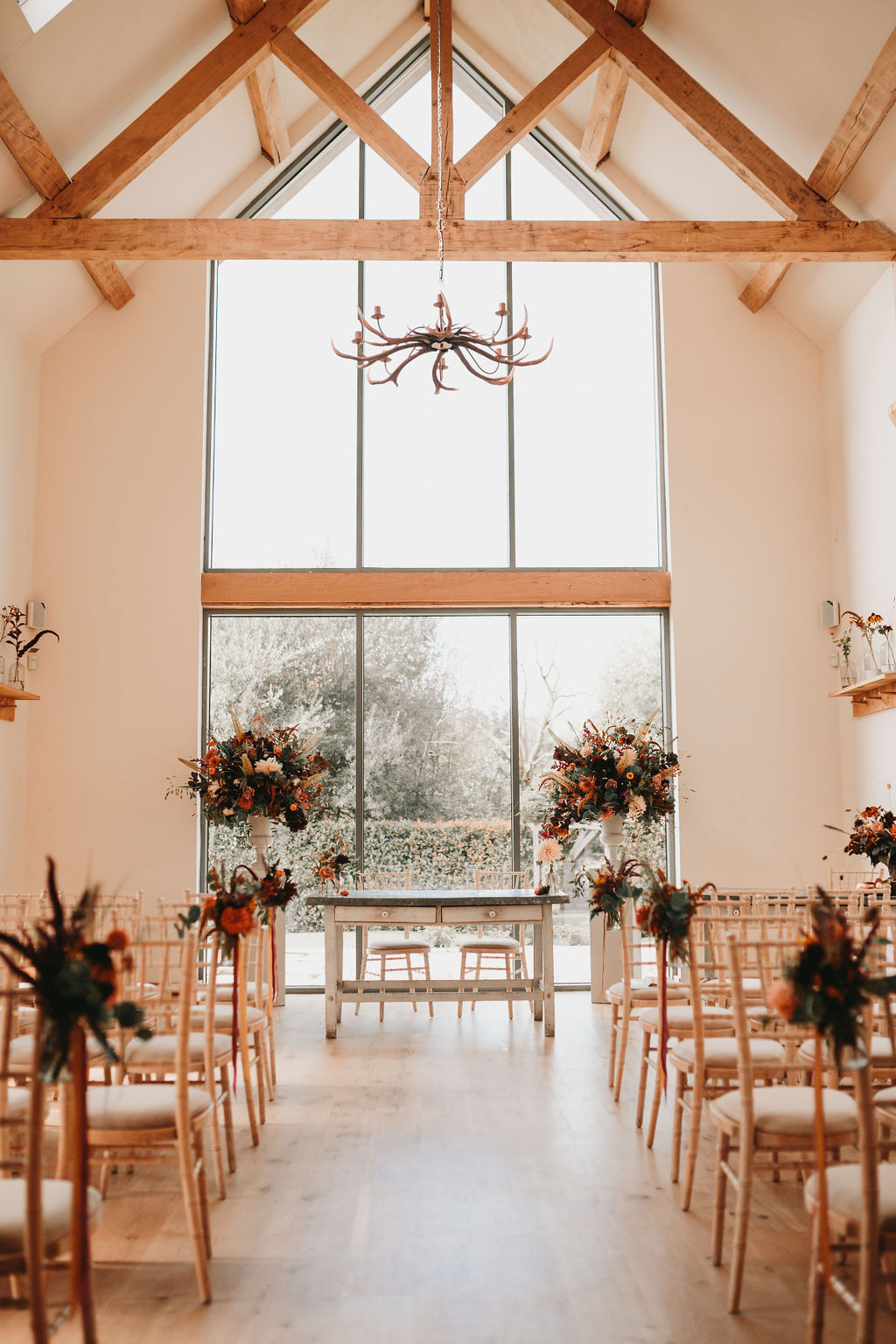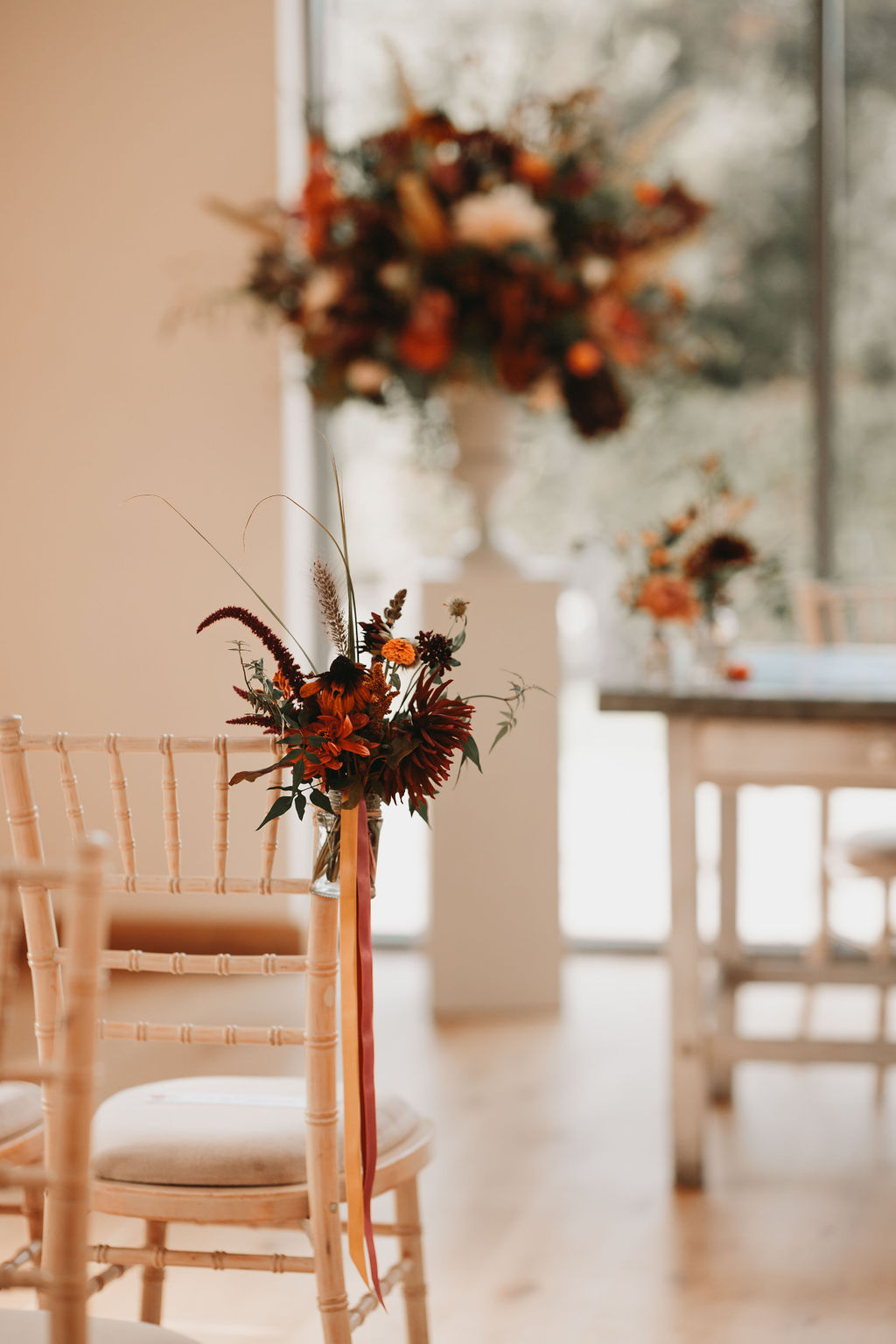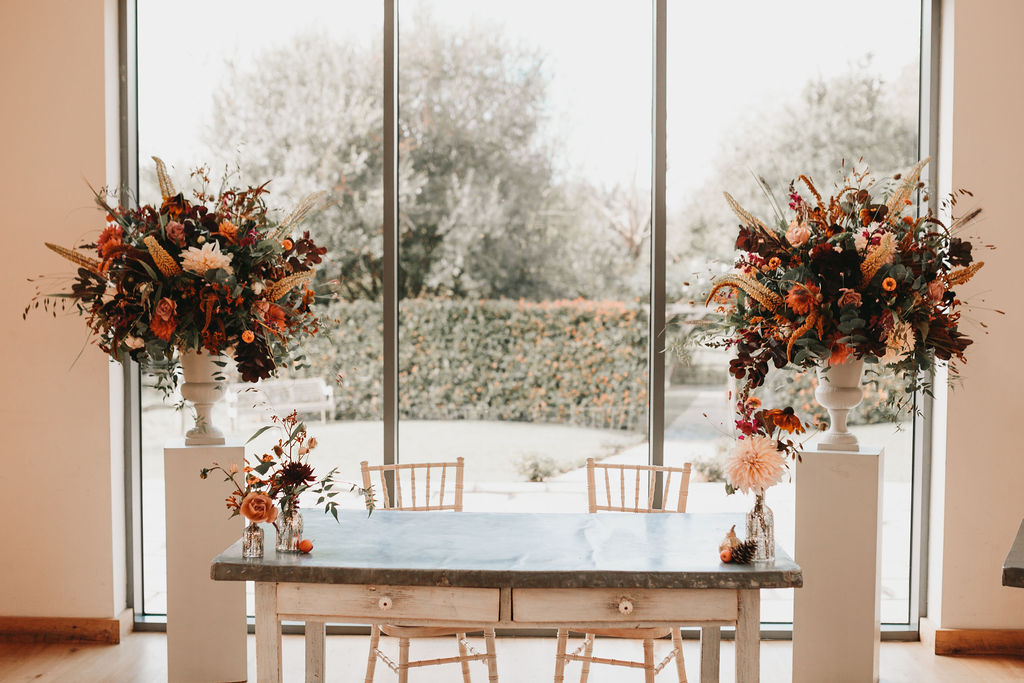 Catherine Carter Wedding Photography, Hannah Berry Flowers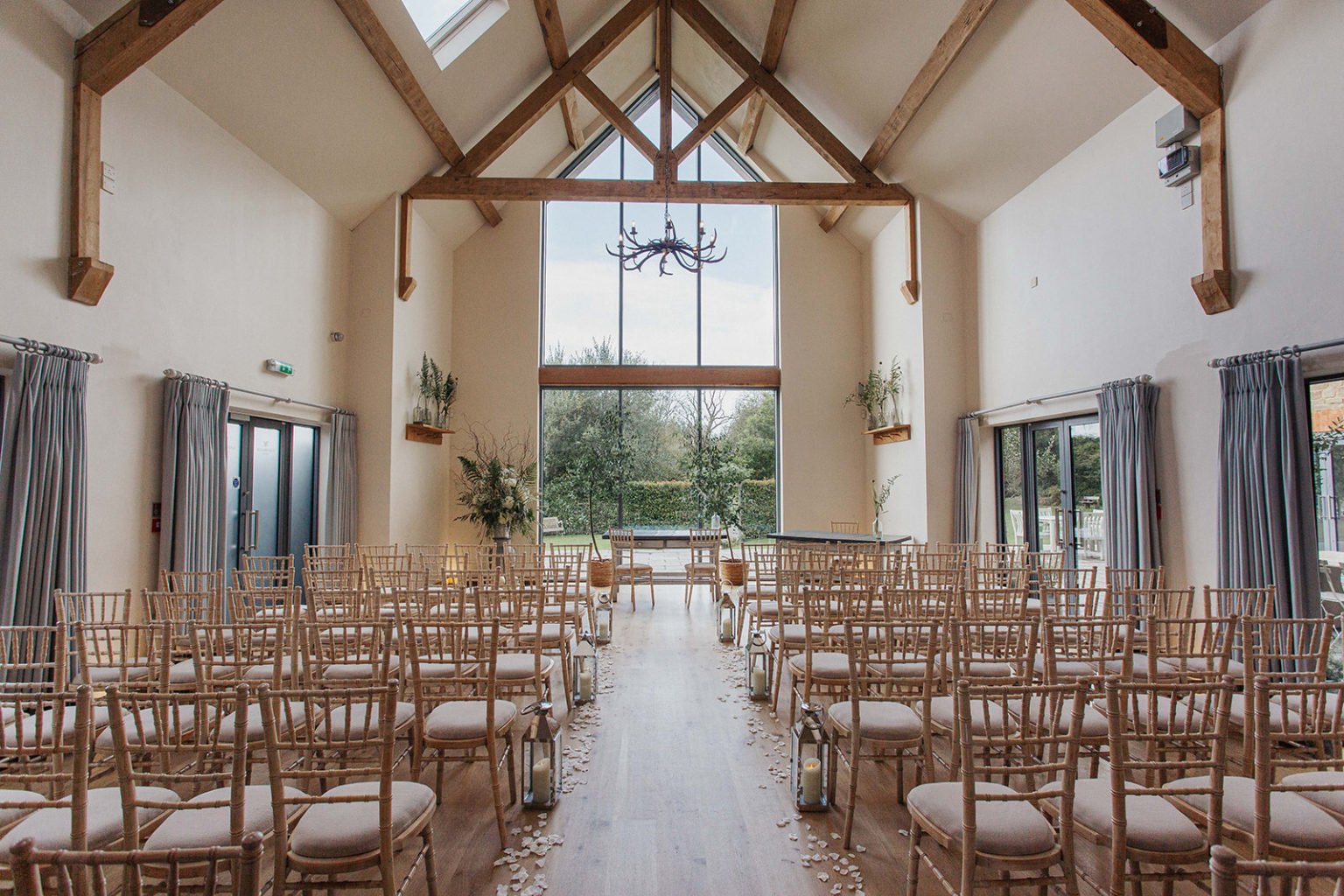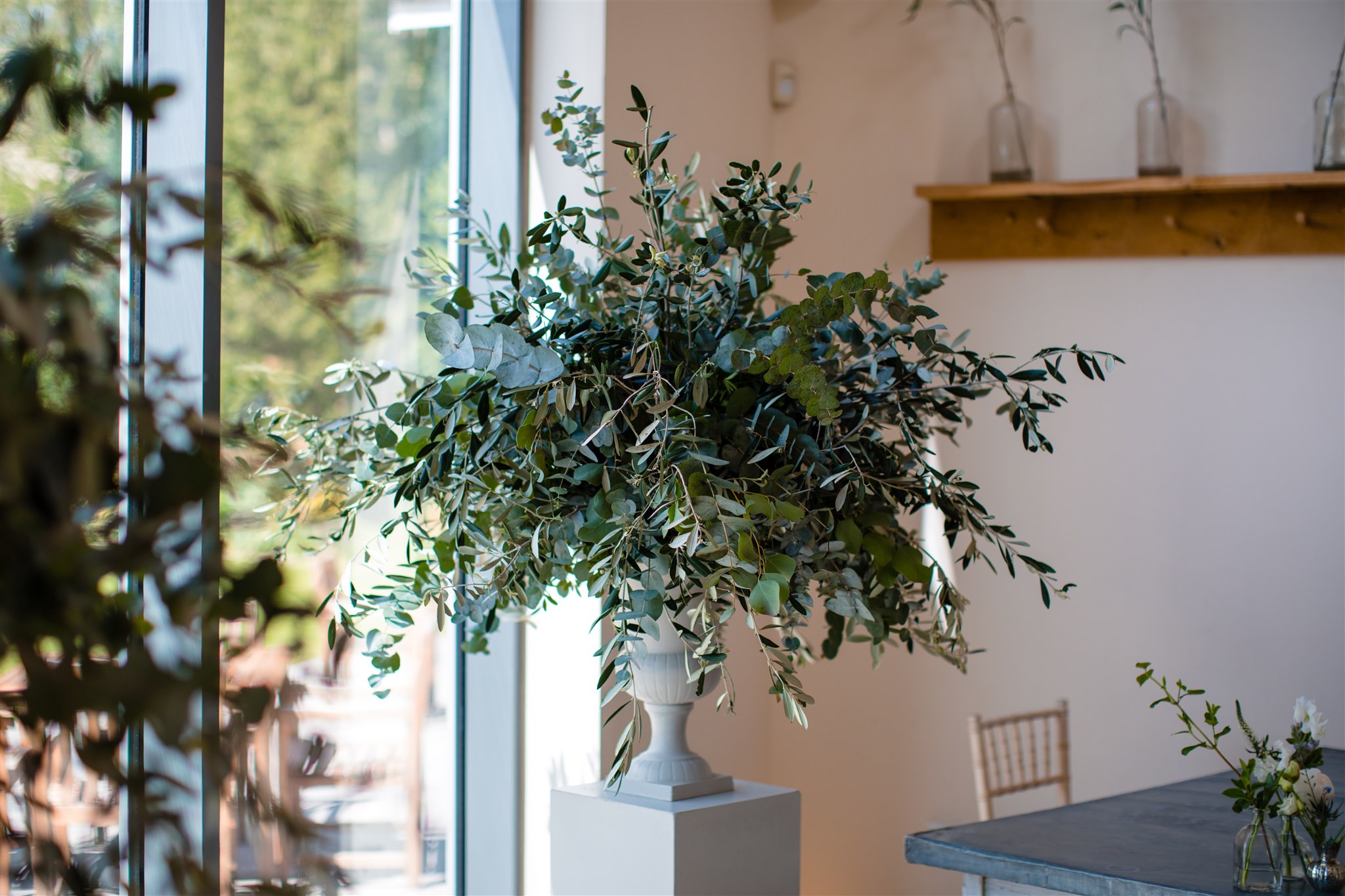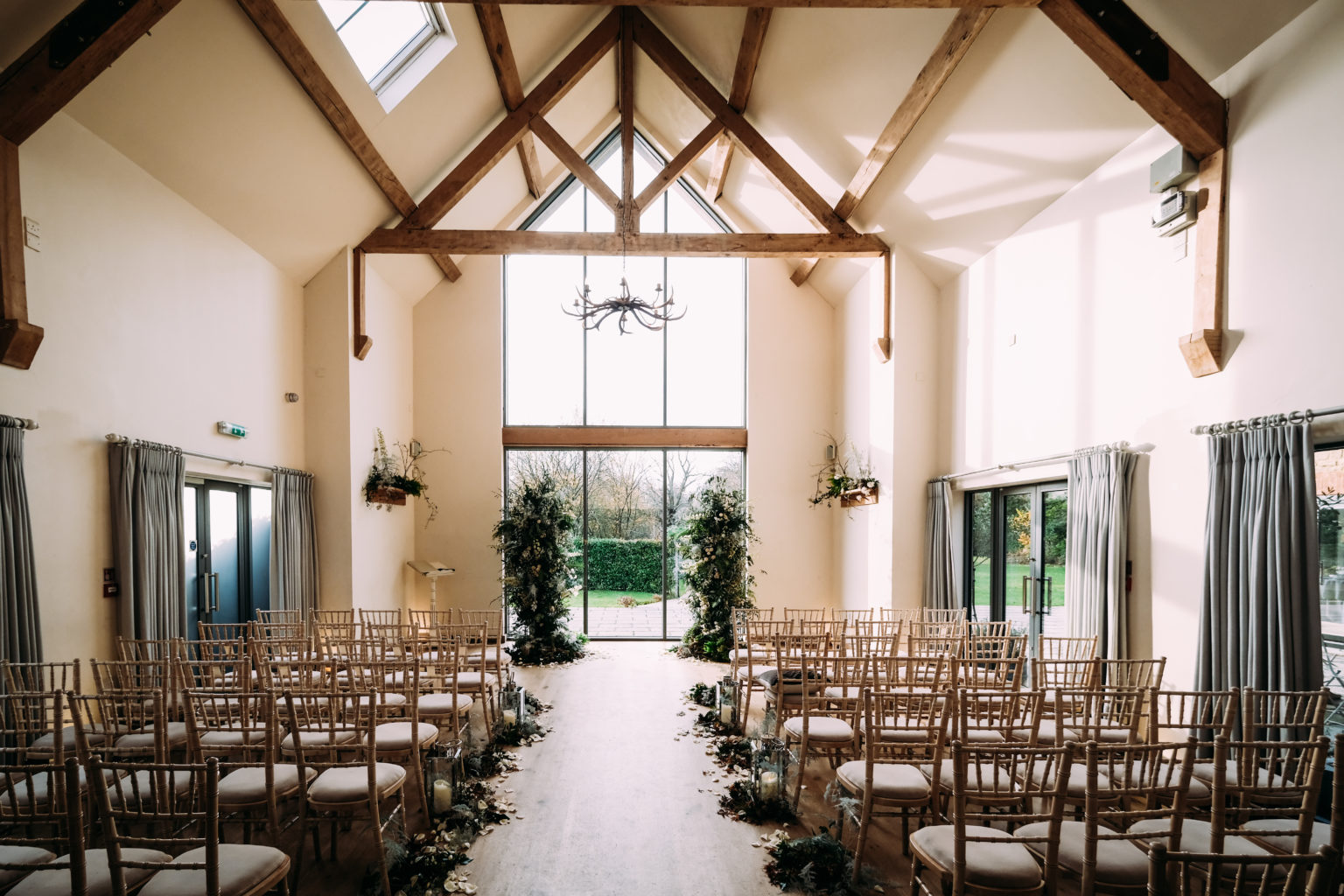 (Top to Bottom) Kit Myers Photography, Lavender Hill Flowers | RS Brown Photography, Hannah Berry Flowers | Neale James, Hannah Berry Flowers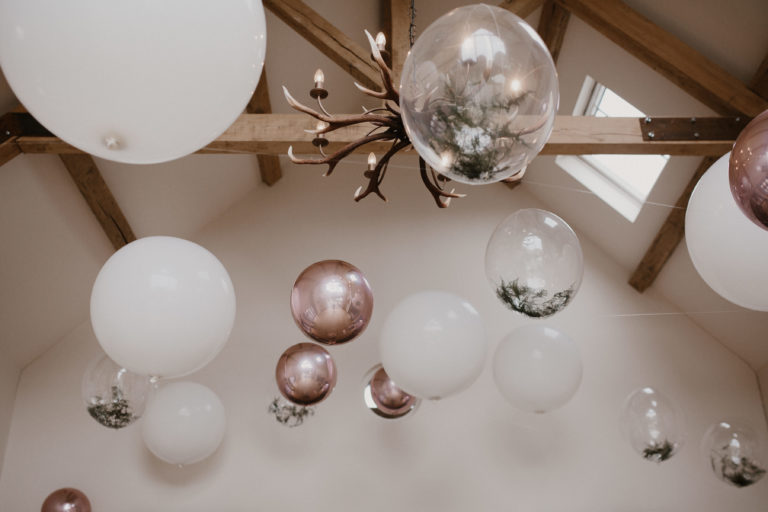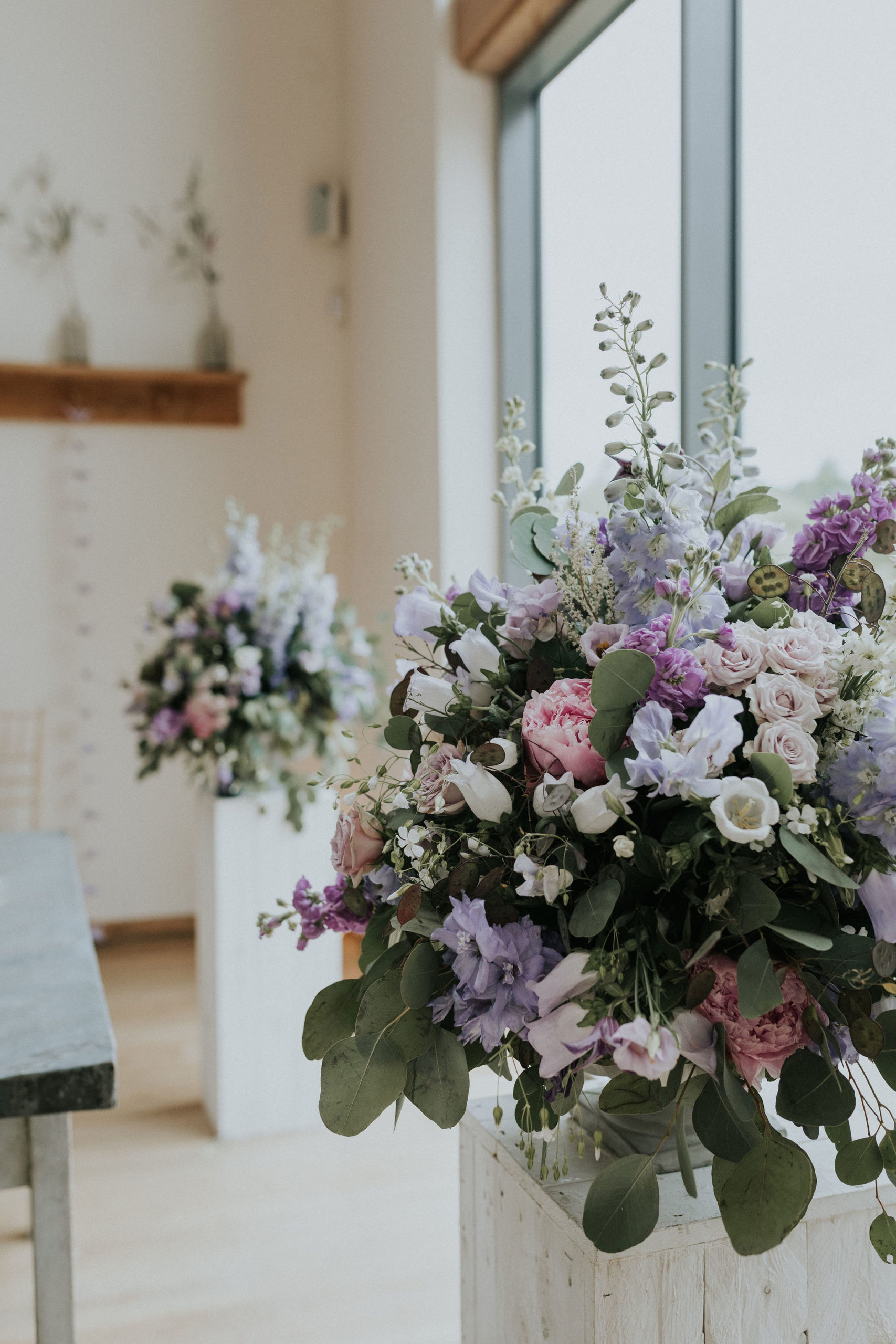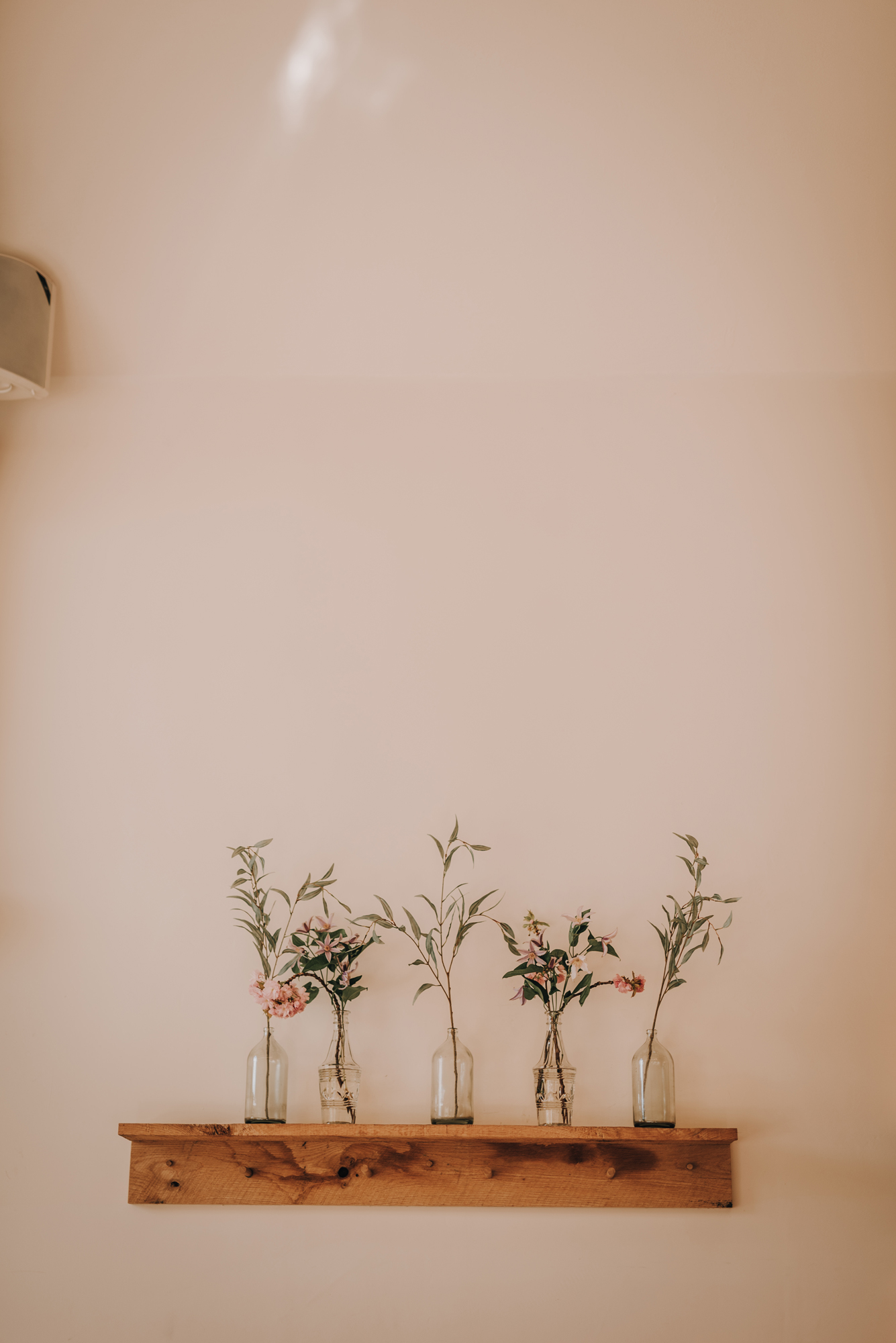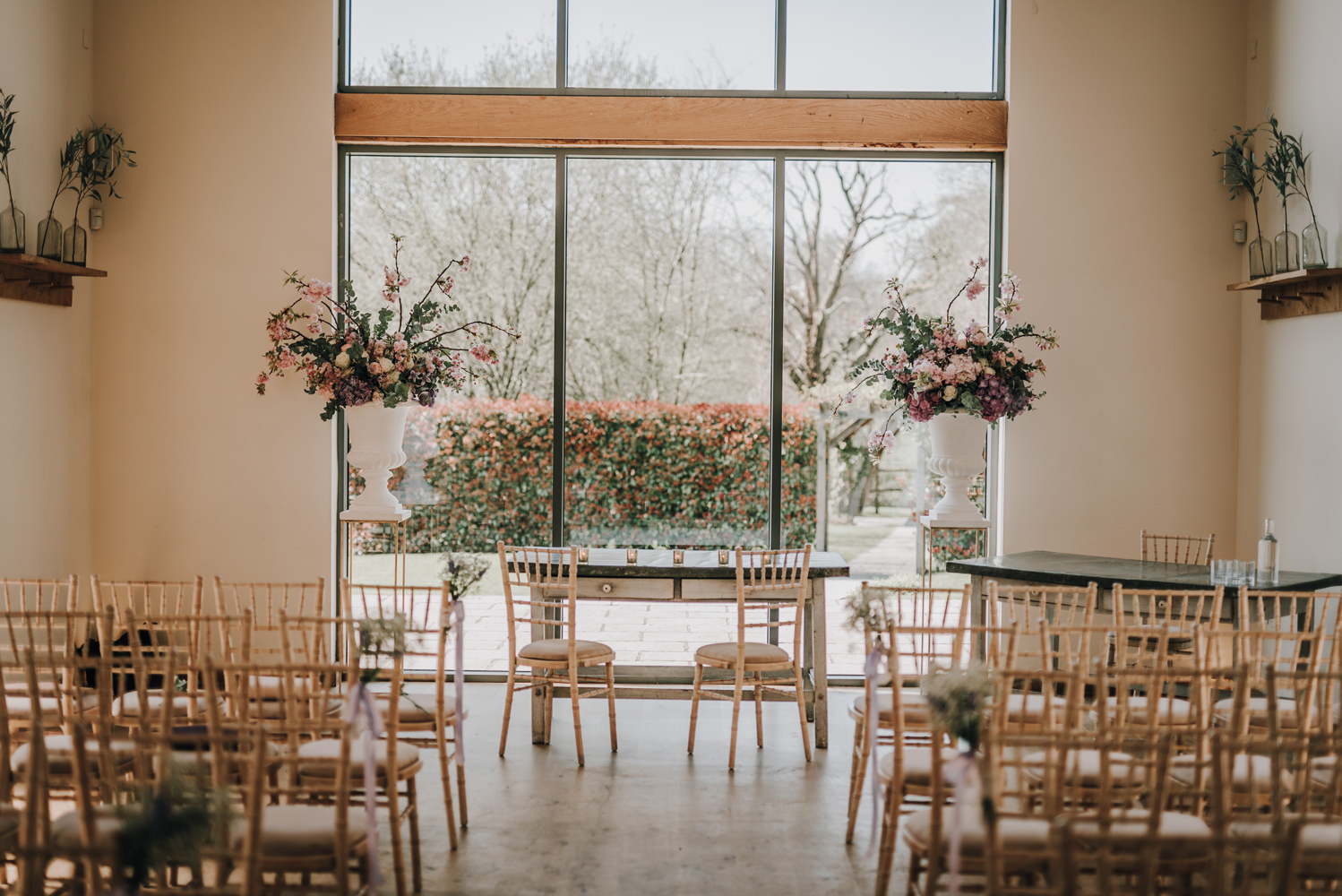 (Clockwise from Top Left) Lincoln Pictures, Bubblegum Balloons | Kate Gray Photography, Hannah Berry Flowers | DM Photography, Hannah Martin Flowers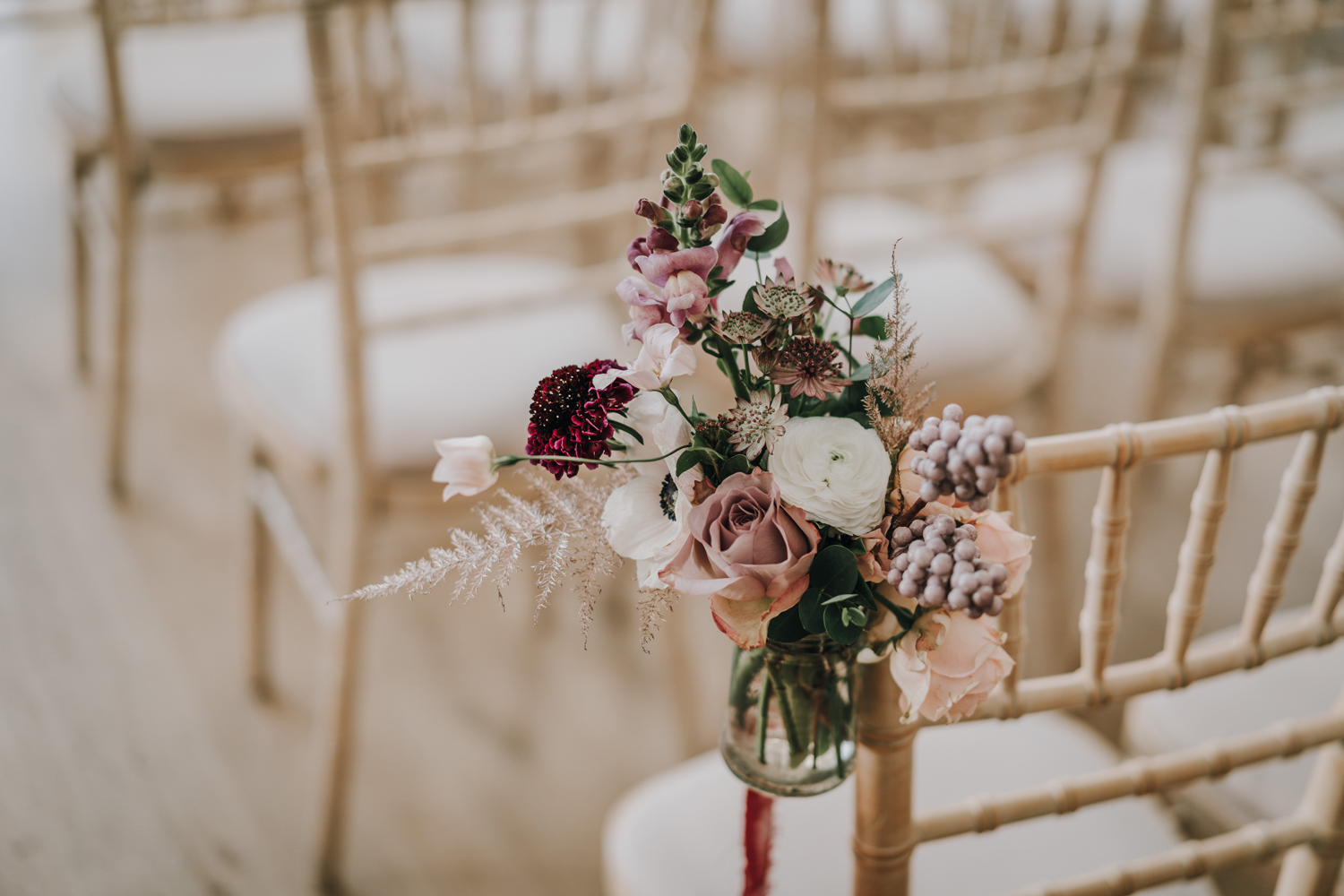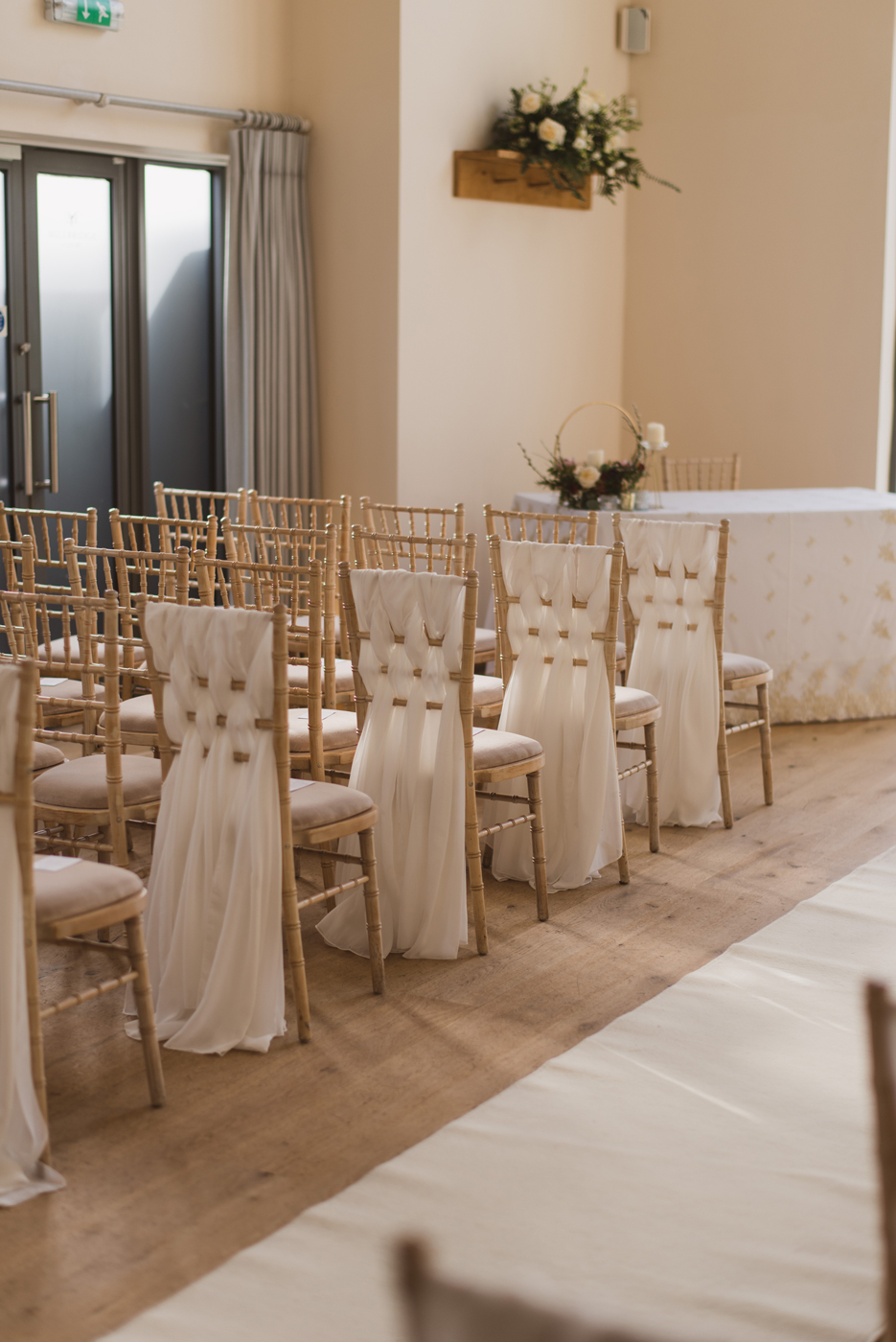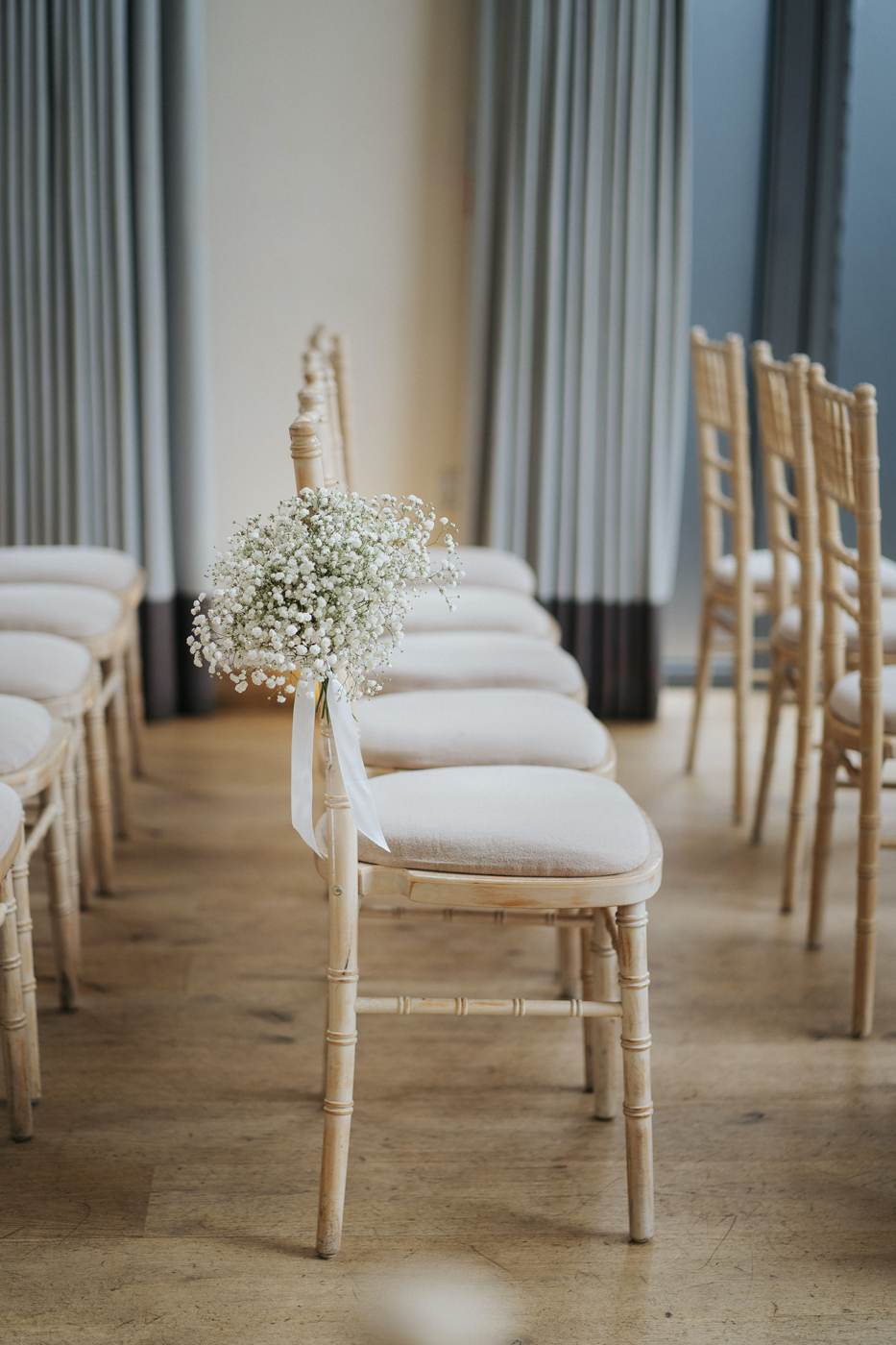 (Top) DM Photography, Hannah Berry Flowers | (Bottom Left) Bridle Photography, Fundoo Weddings | (Bottom Right) Kit Myers, Lavender Hill Company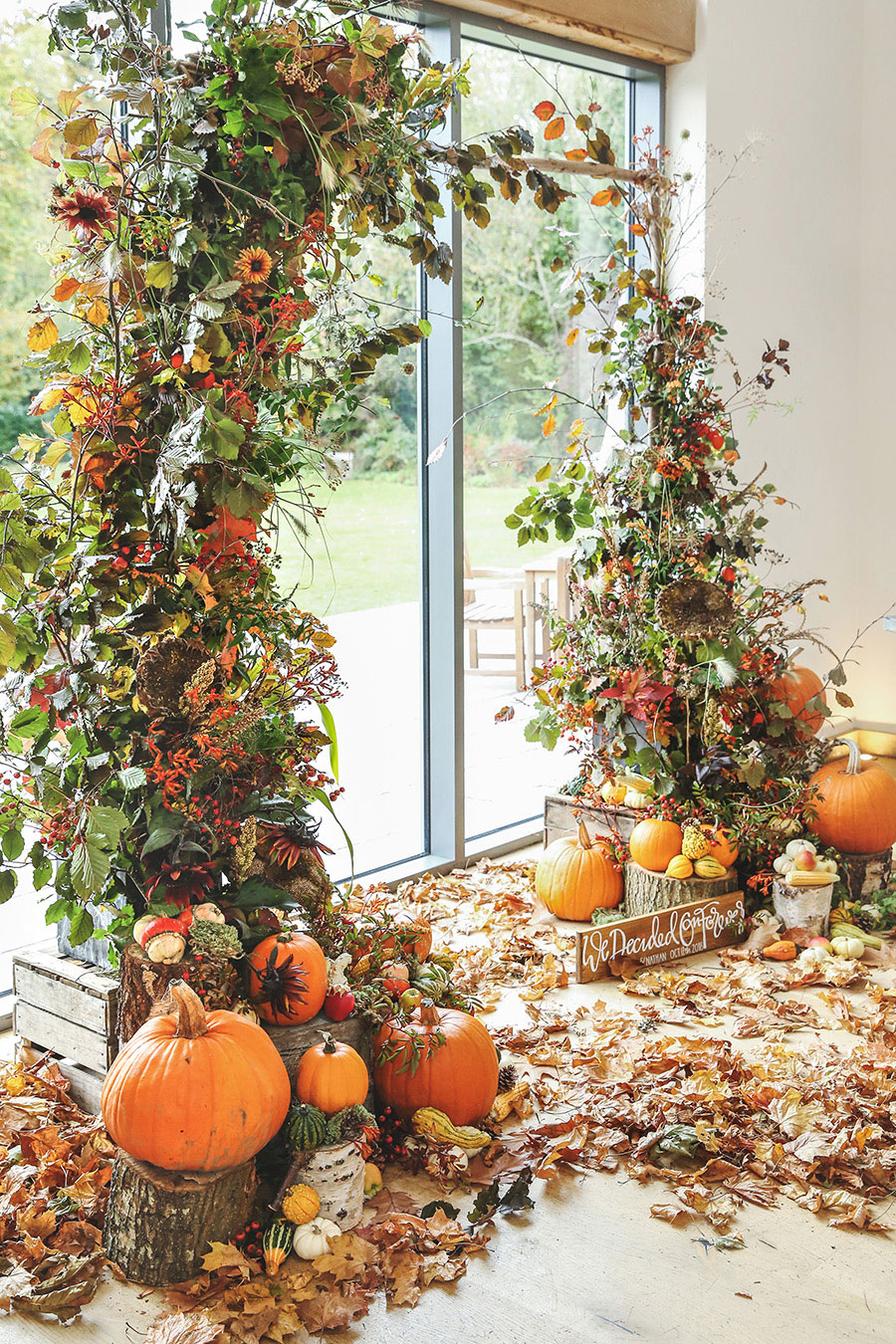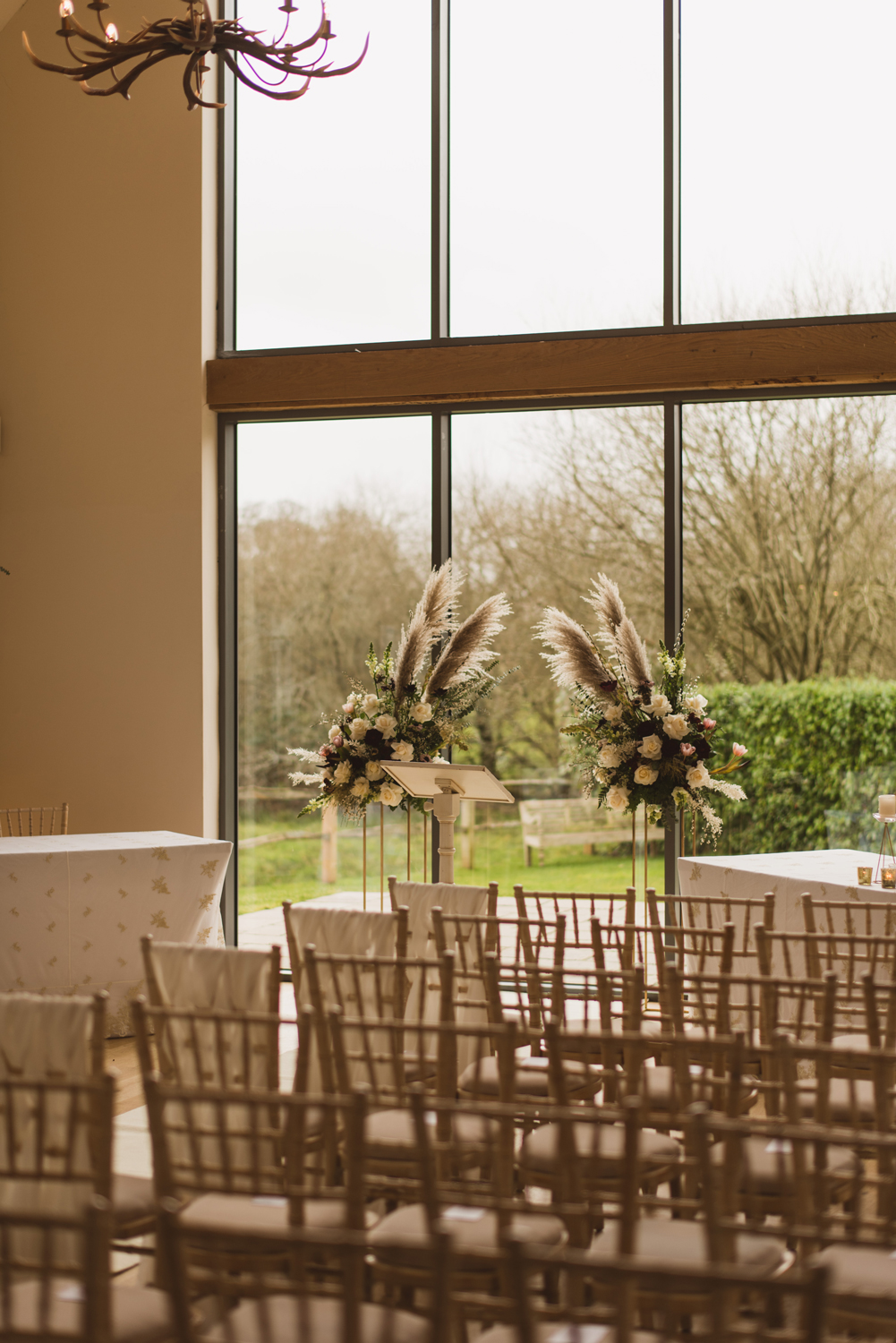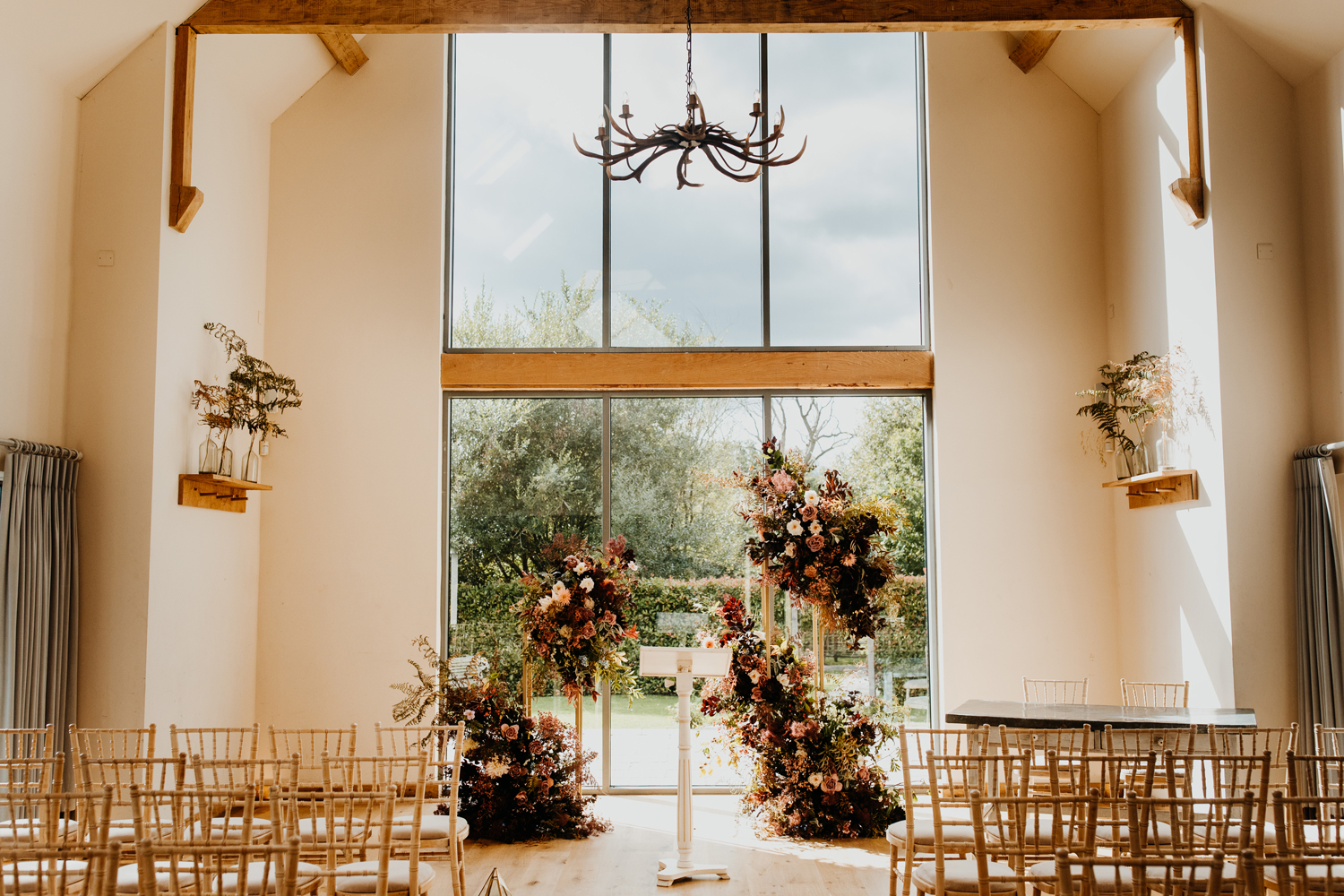 (Clockwise from Top Left) VLA Photography, Hannah Berry Flowers | Bridle Photography, Concept Flowers | Jonny MP Photography, Jenni Bloom Flowers
News : 28 / 05 / 20
Spaces- The Loft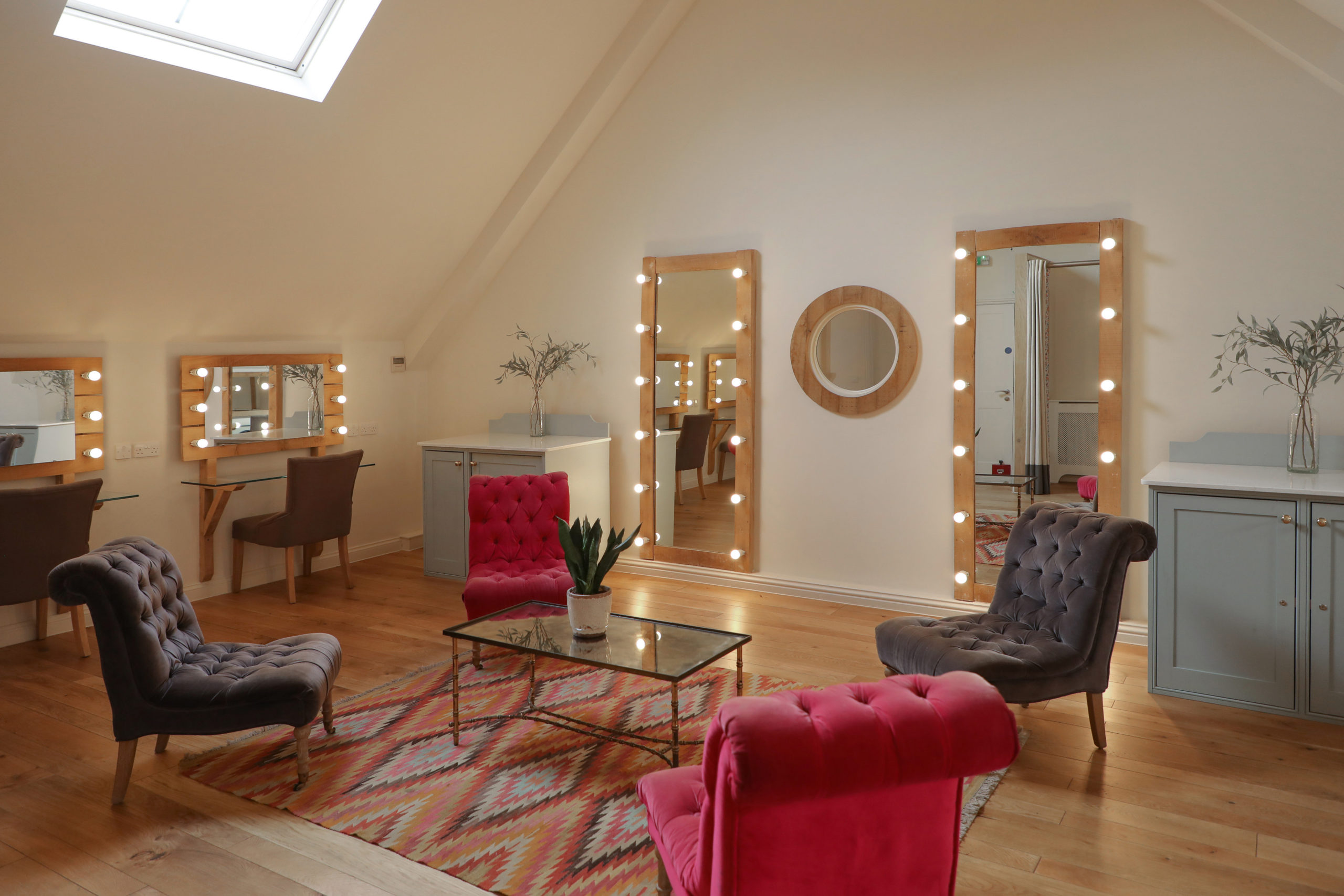 The Loft is the perfect space to start your wedding day in luxurious comfort! With mirrors a plenty, a crystal pendant light, six individual Makeup Stations, an elegant seating area and a private changing area, this room has all you need.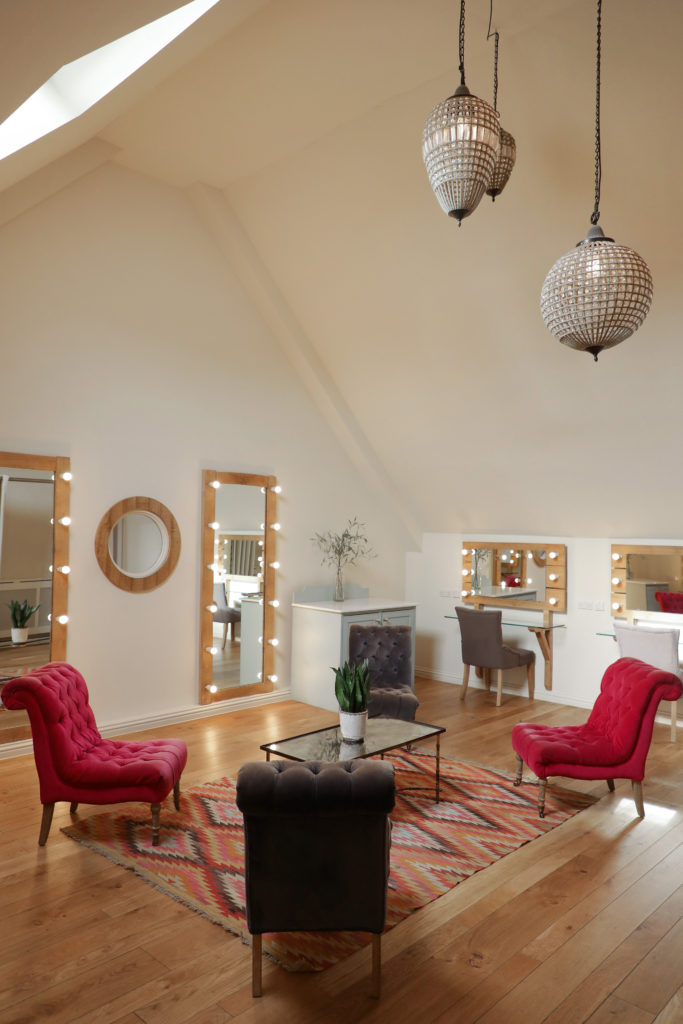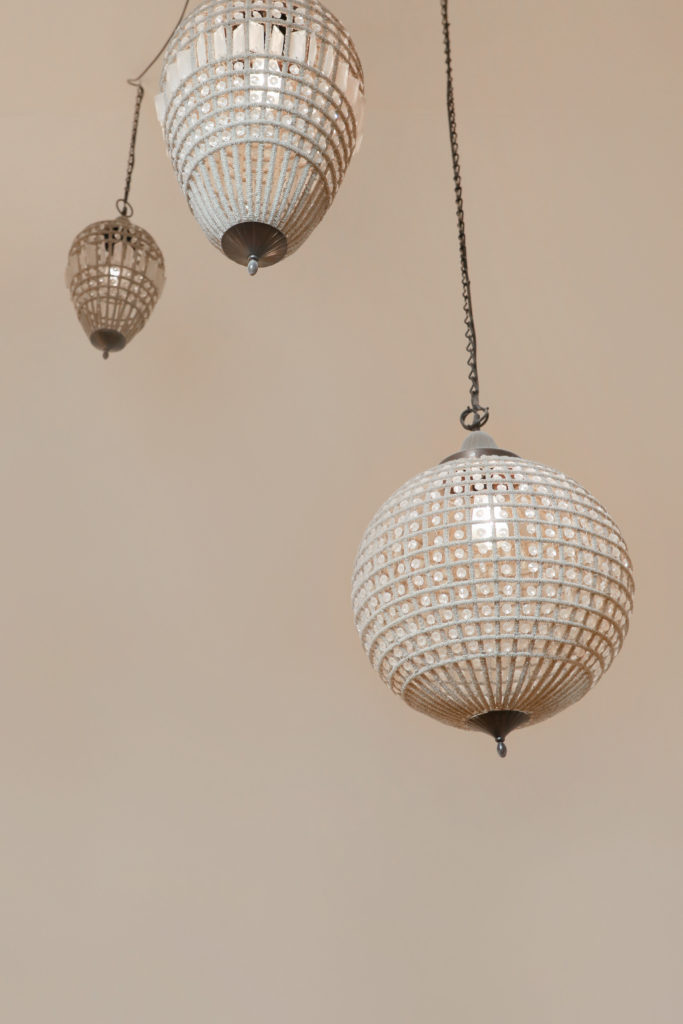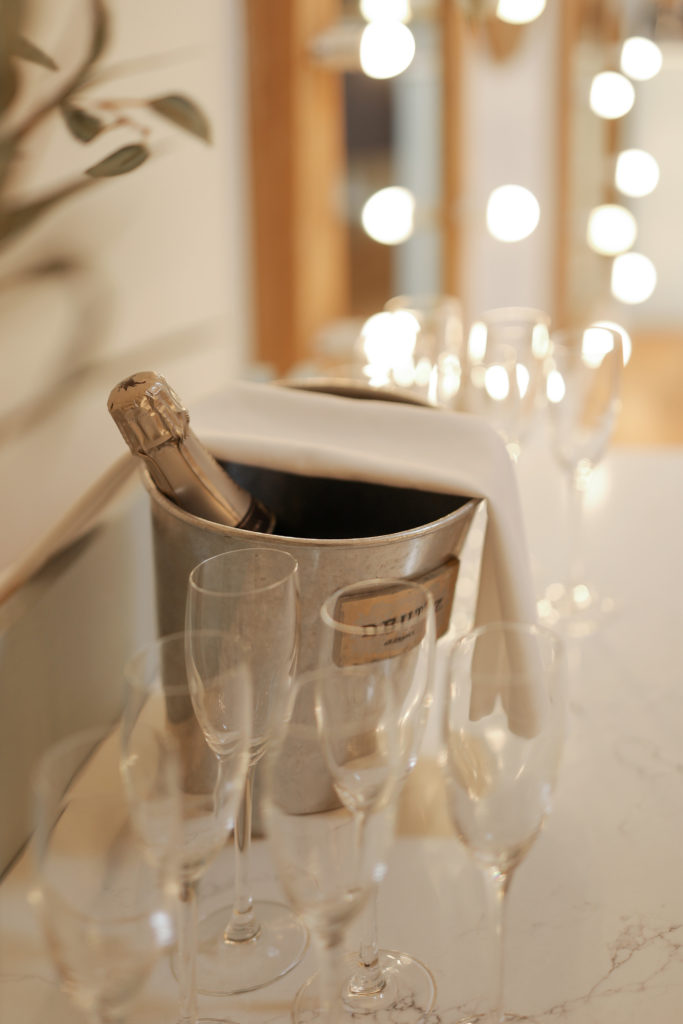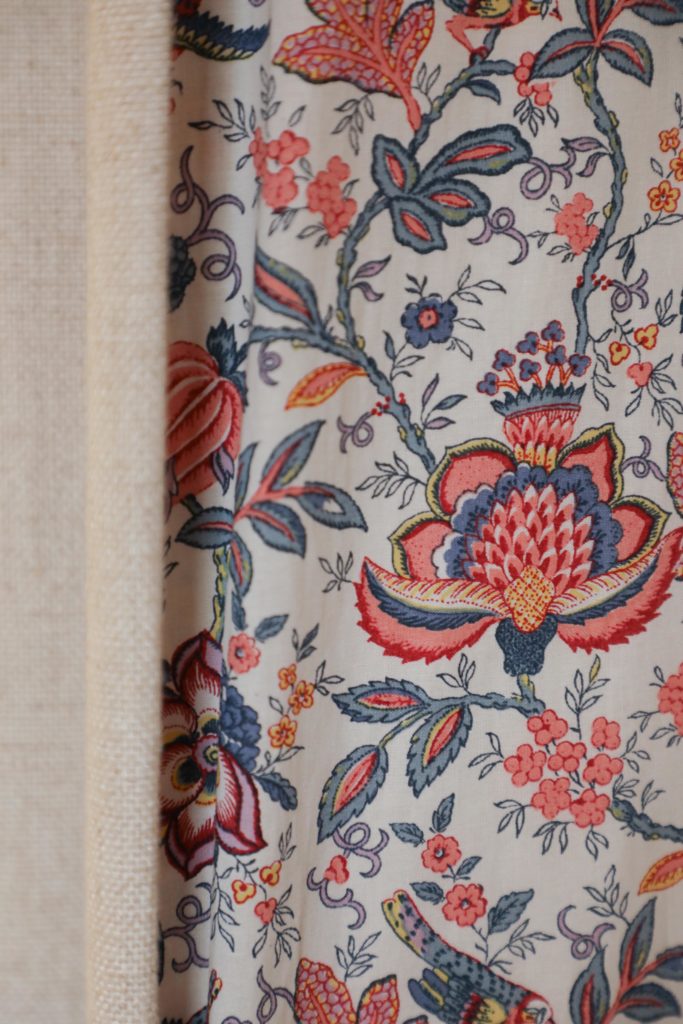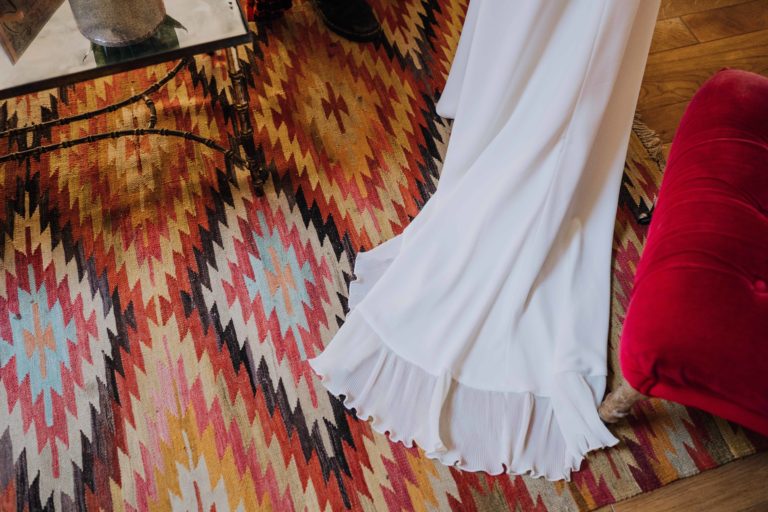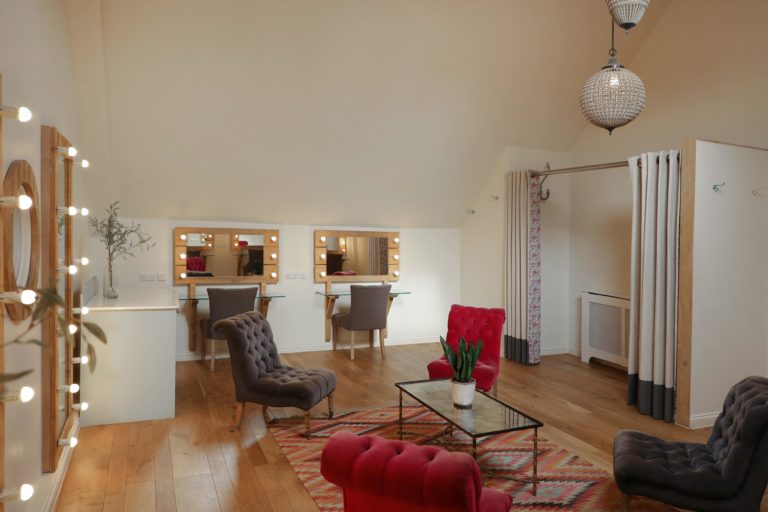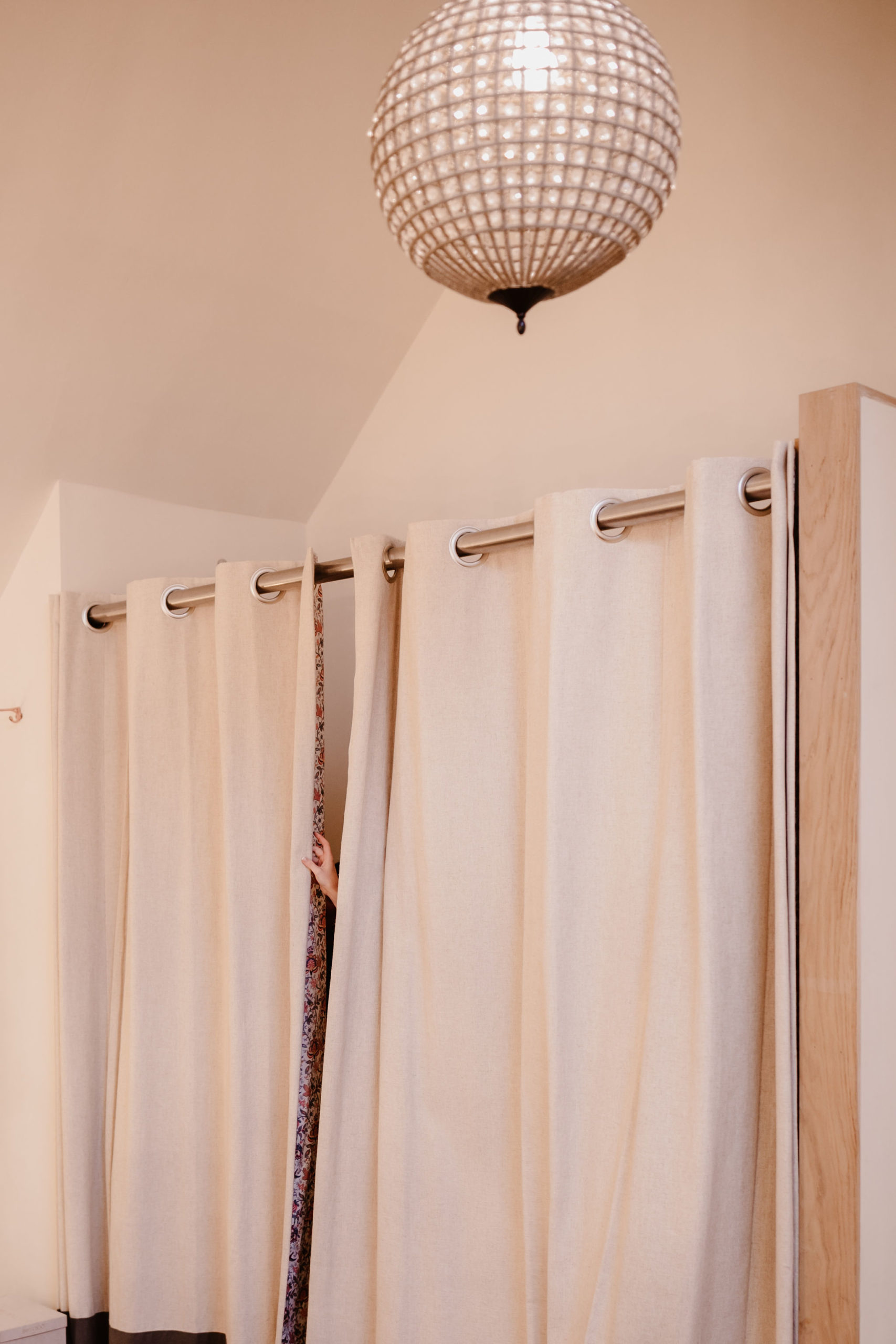 Clockwise- Clara Cooper Photography | The Springles | VLA Photography
The crown jewel of the room is the one way window, which allows excited members of the Bridal Party to a sneak peak of the ceremony hall in its various stages right up to the guests taking their seats in anticipation of your entrance.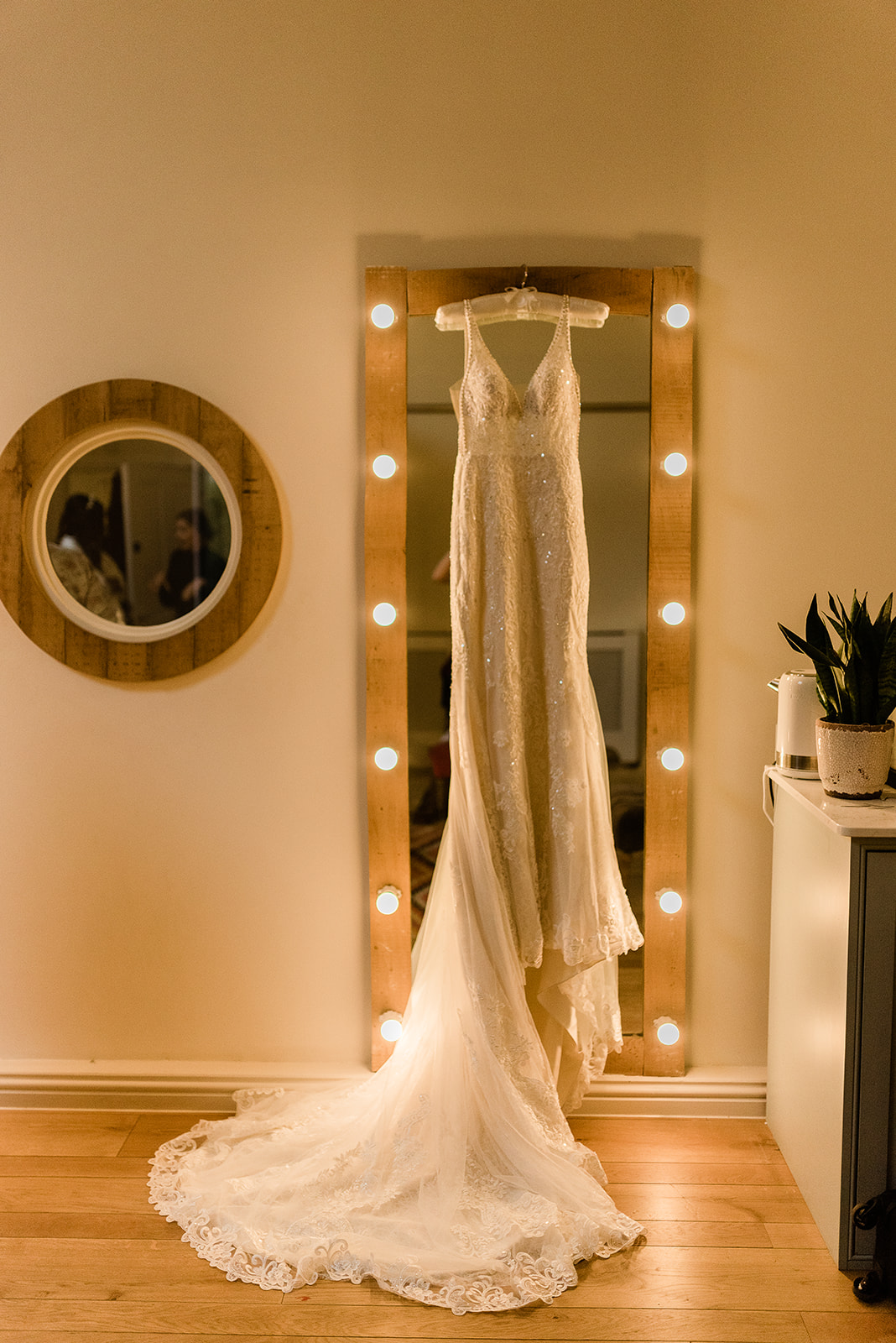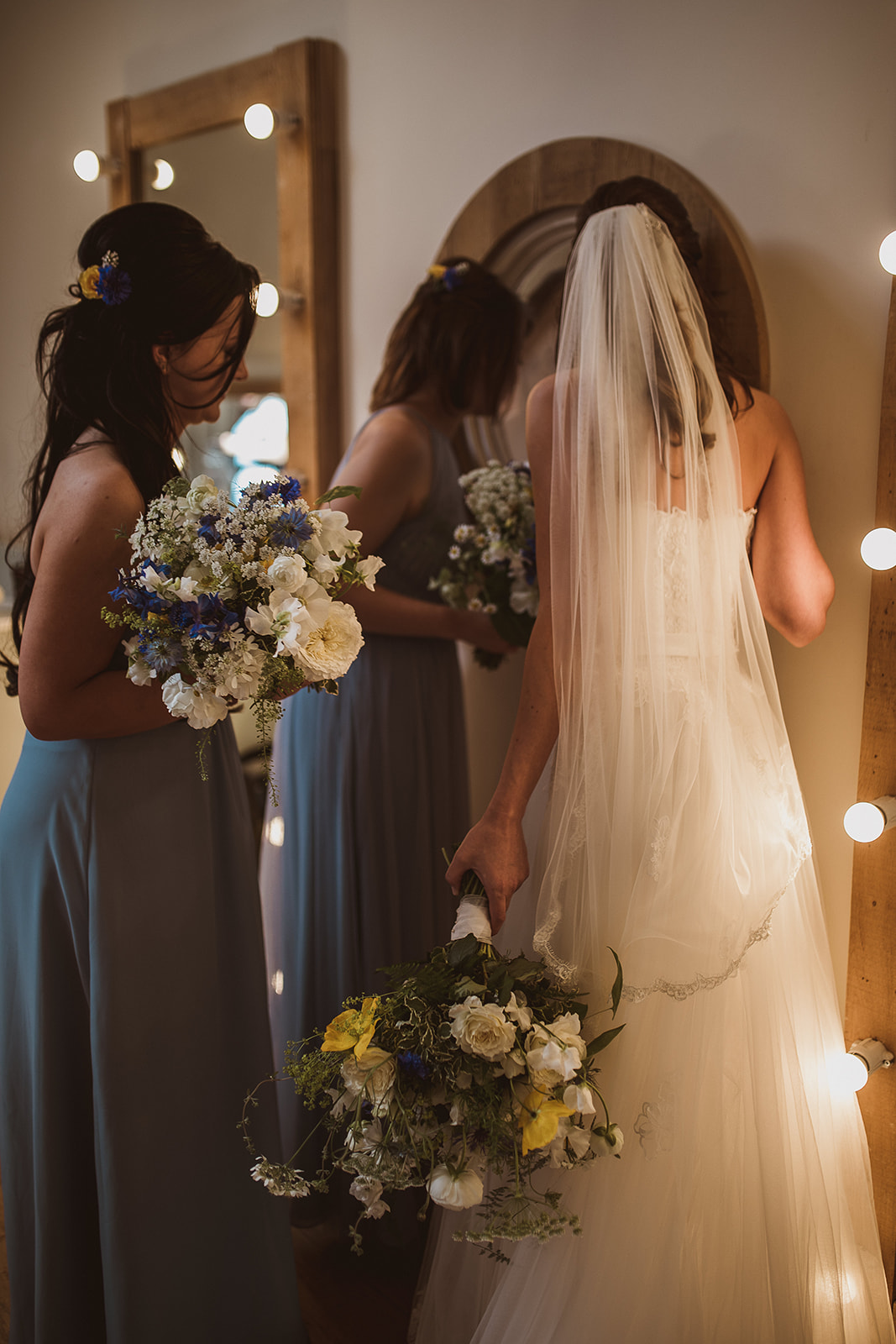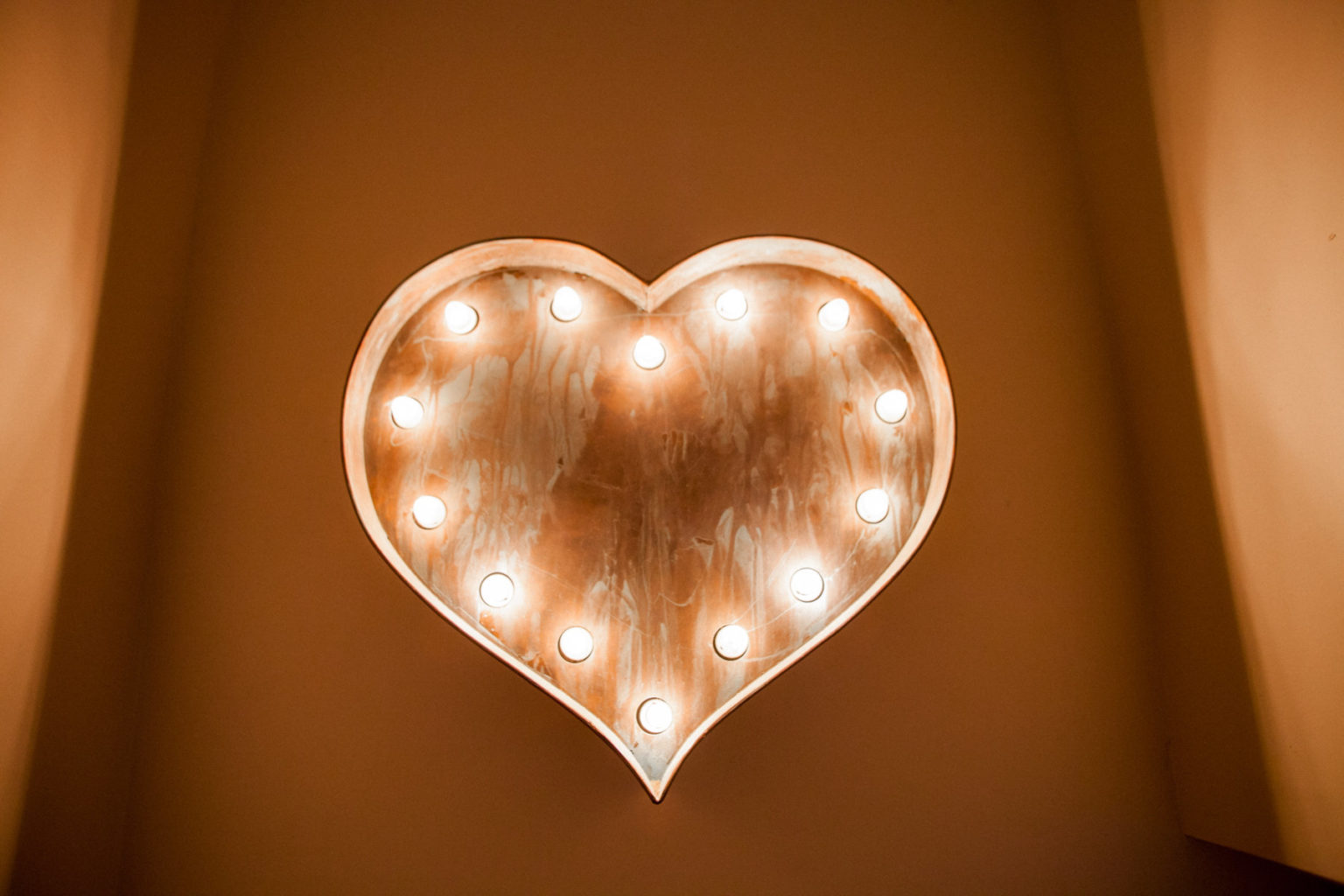 Clockwise- Lucie Watson Photography | The Springles | Philippa Sian Photography
News : 12 / 05 / 20
Spaces- The Lodge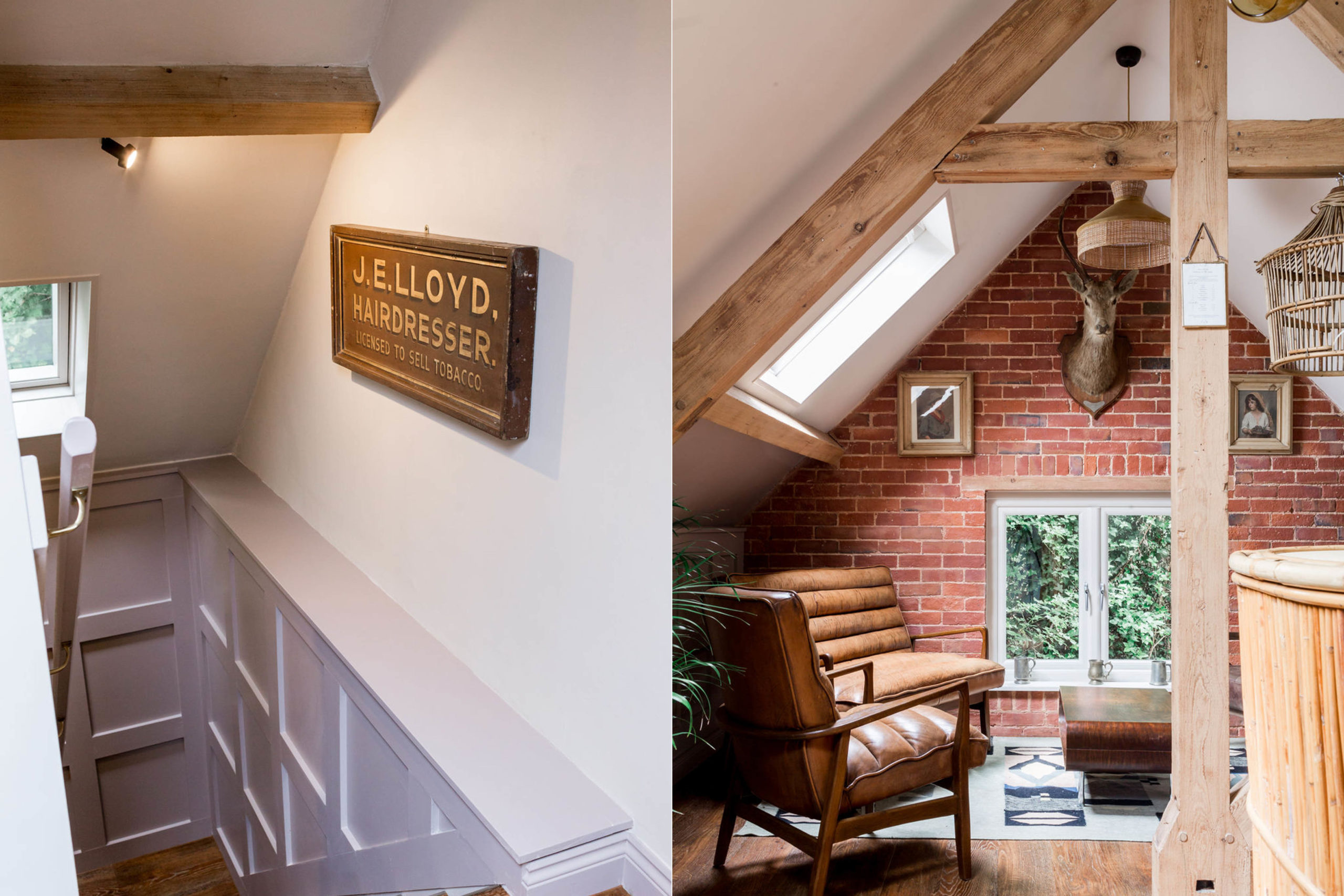 The Lodge is a getting ready space exclusively for our Grooms.
With late-morning access, it is the perfect place to check in with your Groomsmen, add the finishing touches to your look and have a toast pre-ceremony. With a ground floor bedroom and en-suite, there is plenty of room for your party to get ready and upstairs is a cosy den, complete with leather sofas and a personal bar – fully stocked with beers and snacks – for you to enjoy.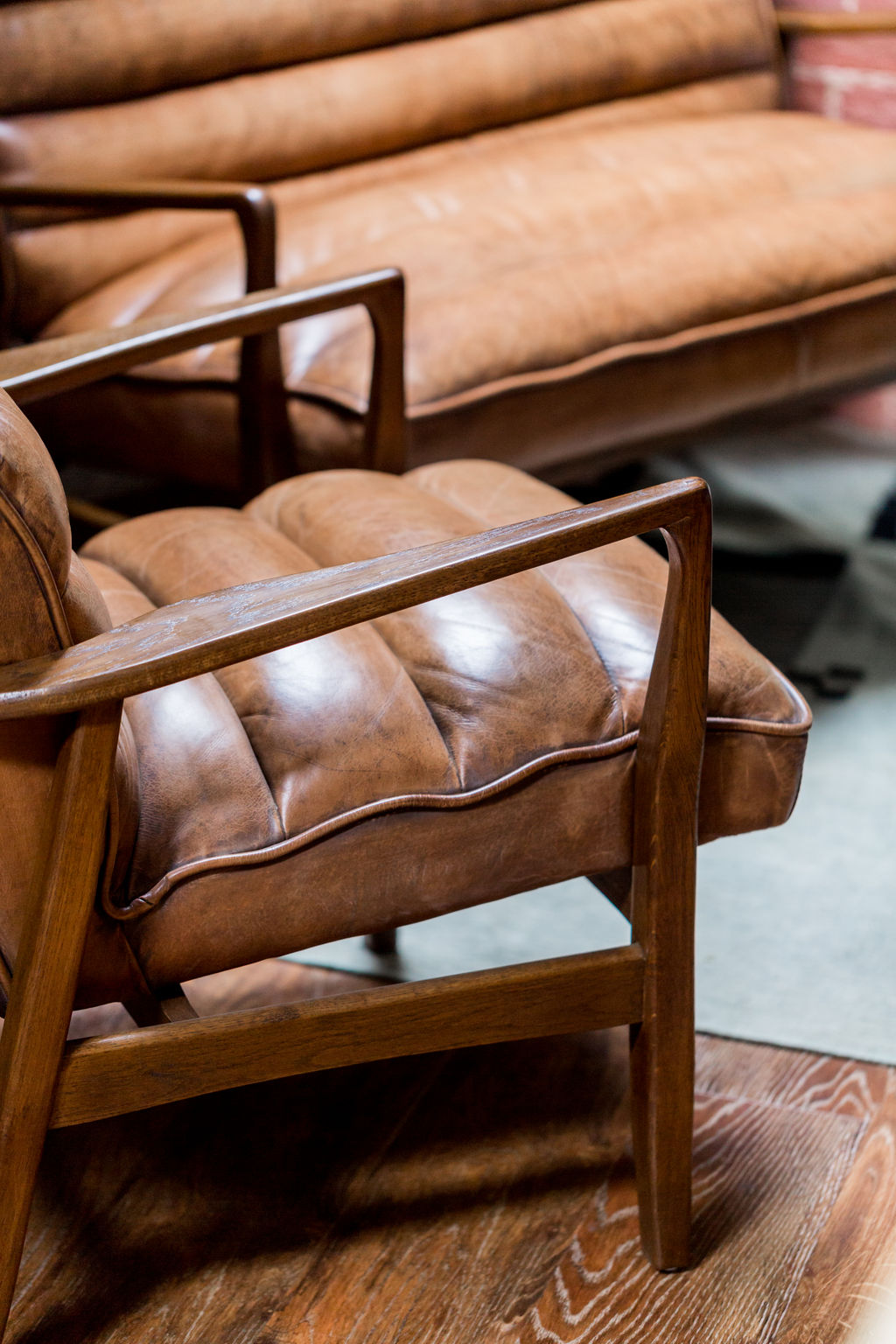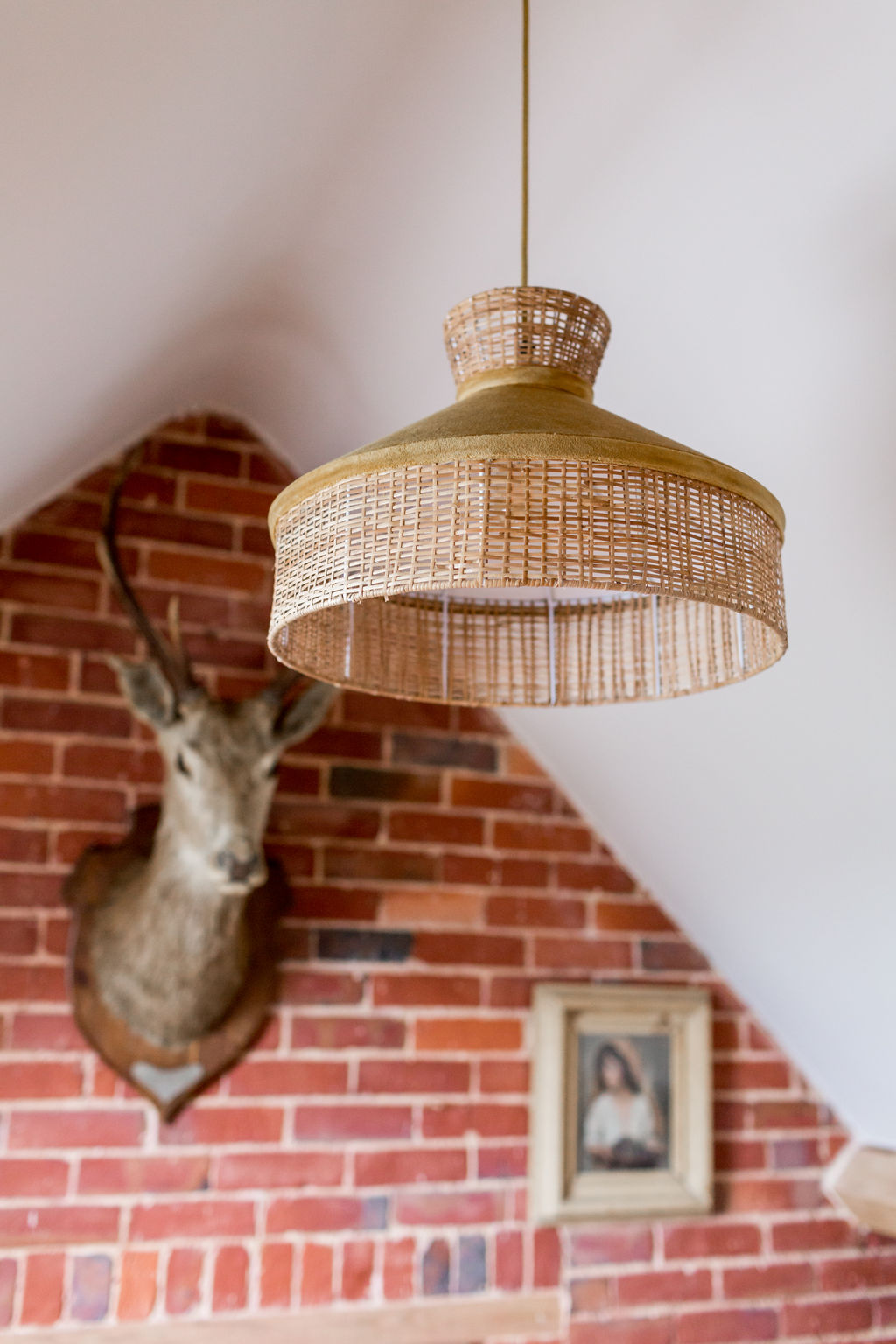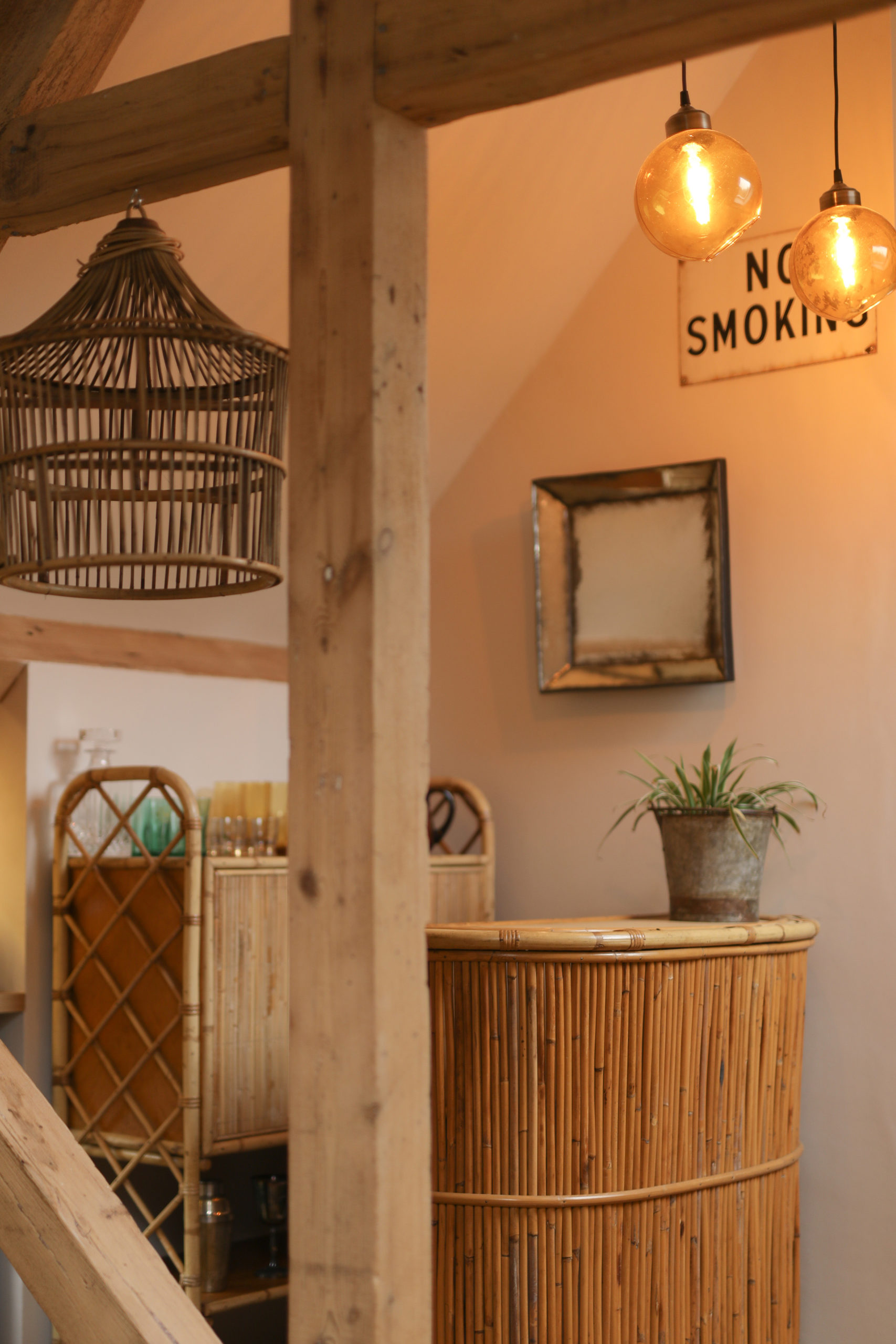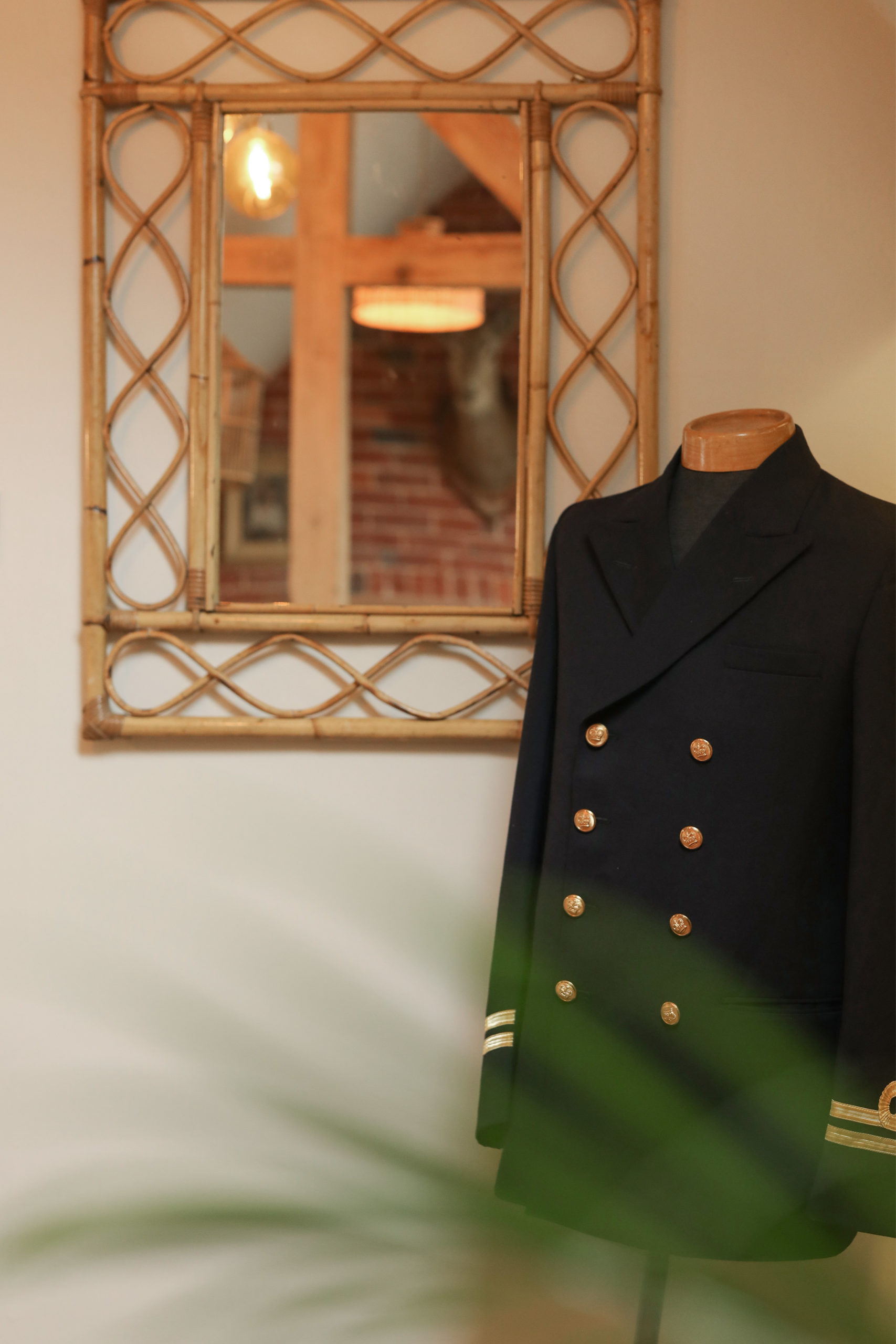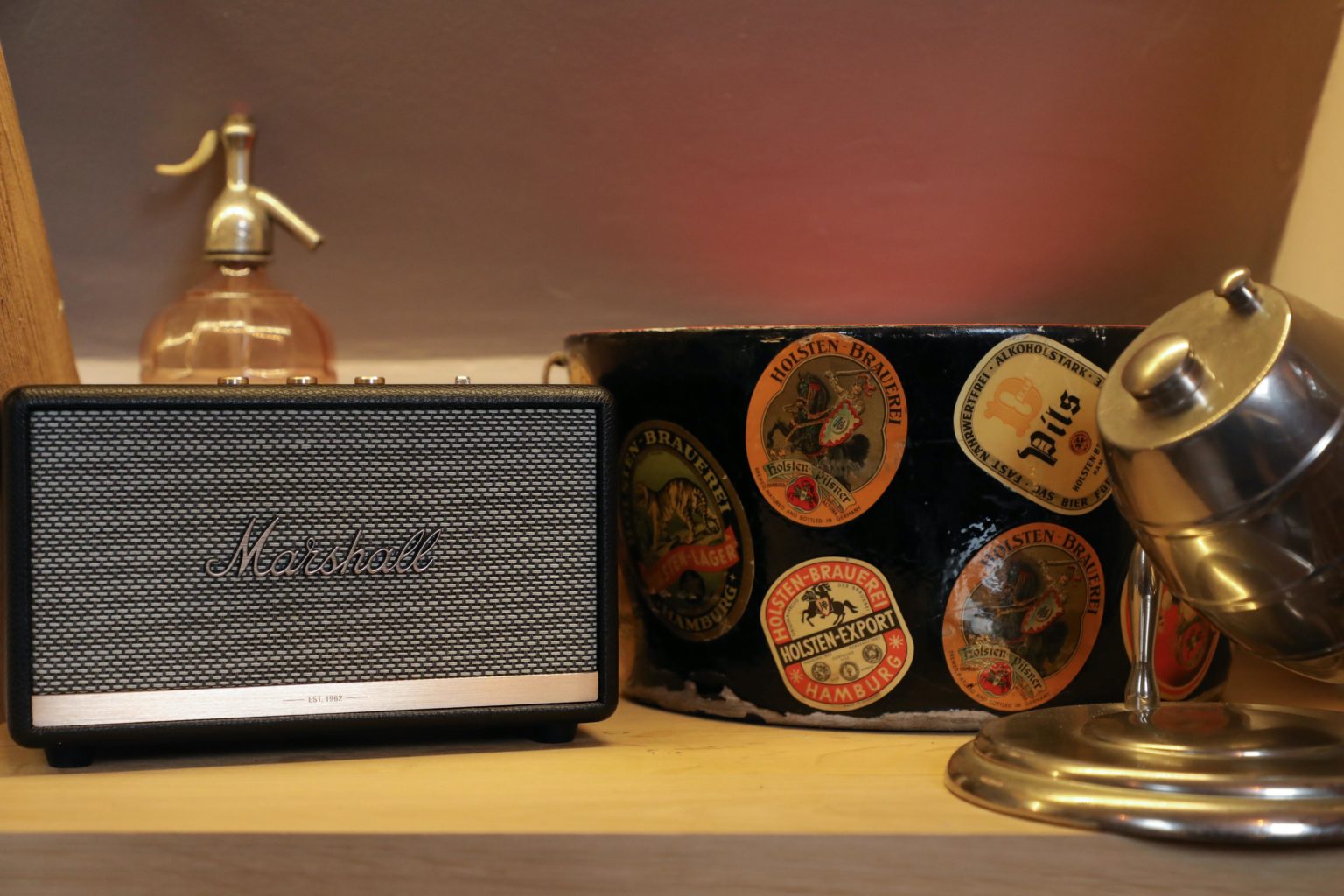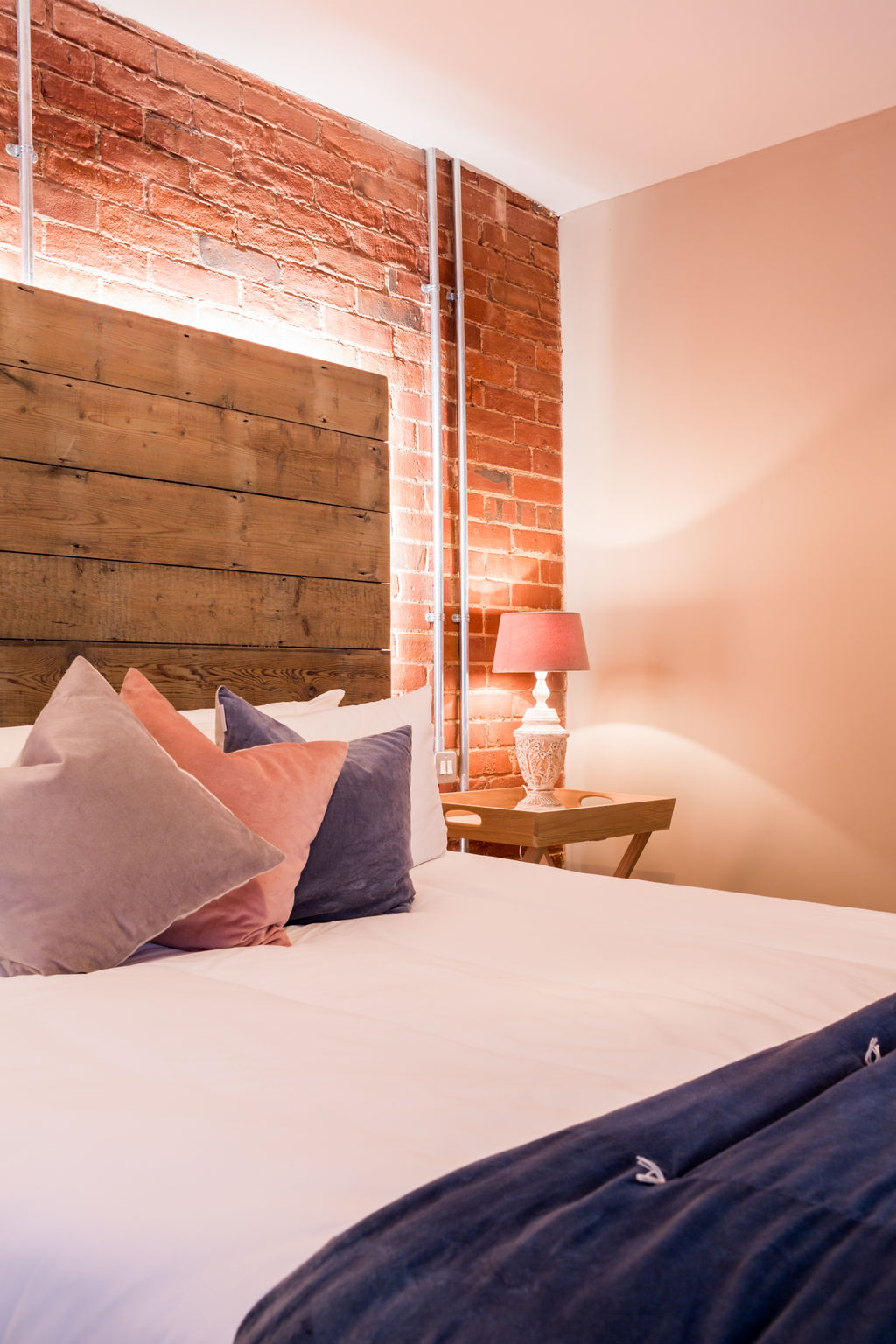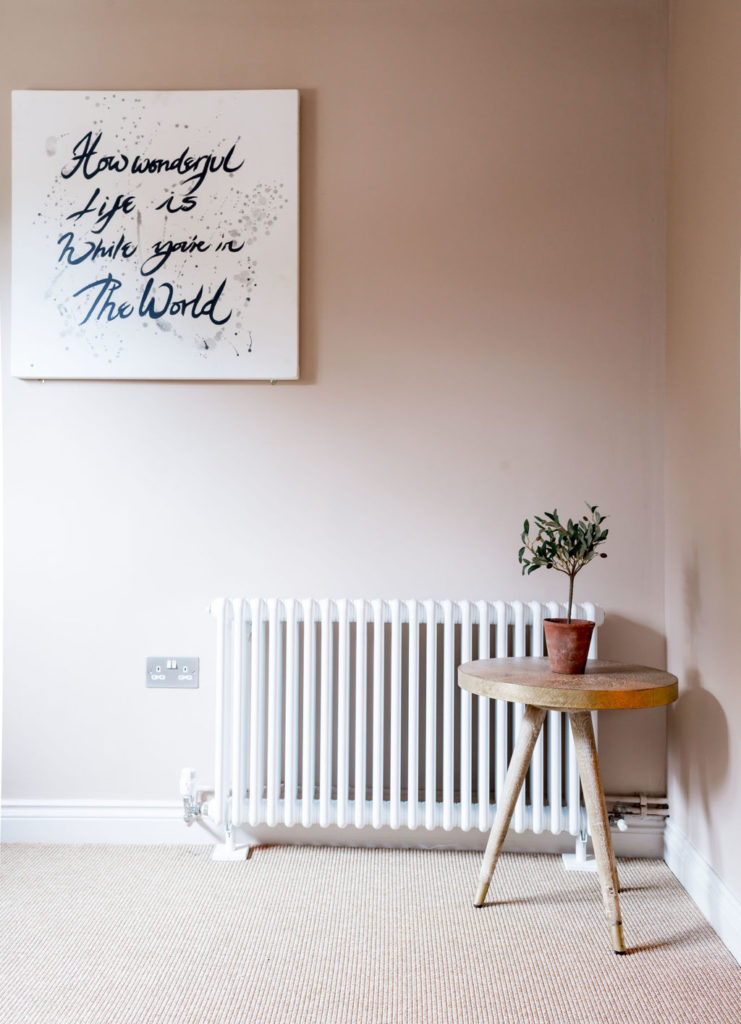 News : 15 / 09 / 19
10 Questions with… House of Lemon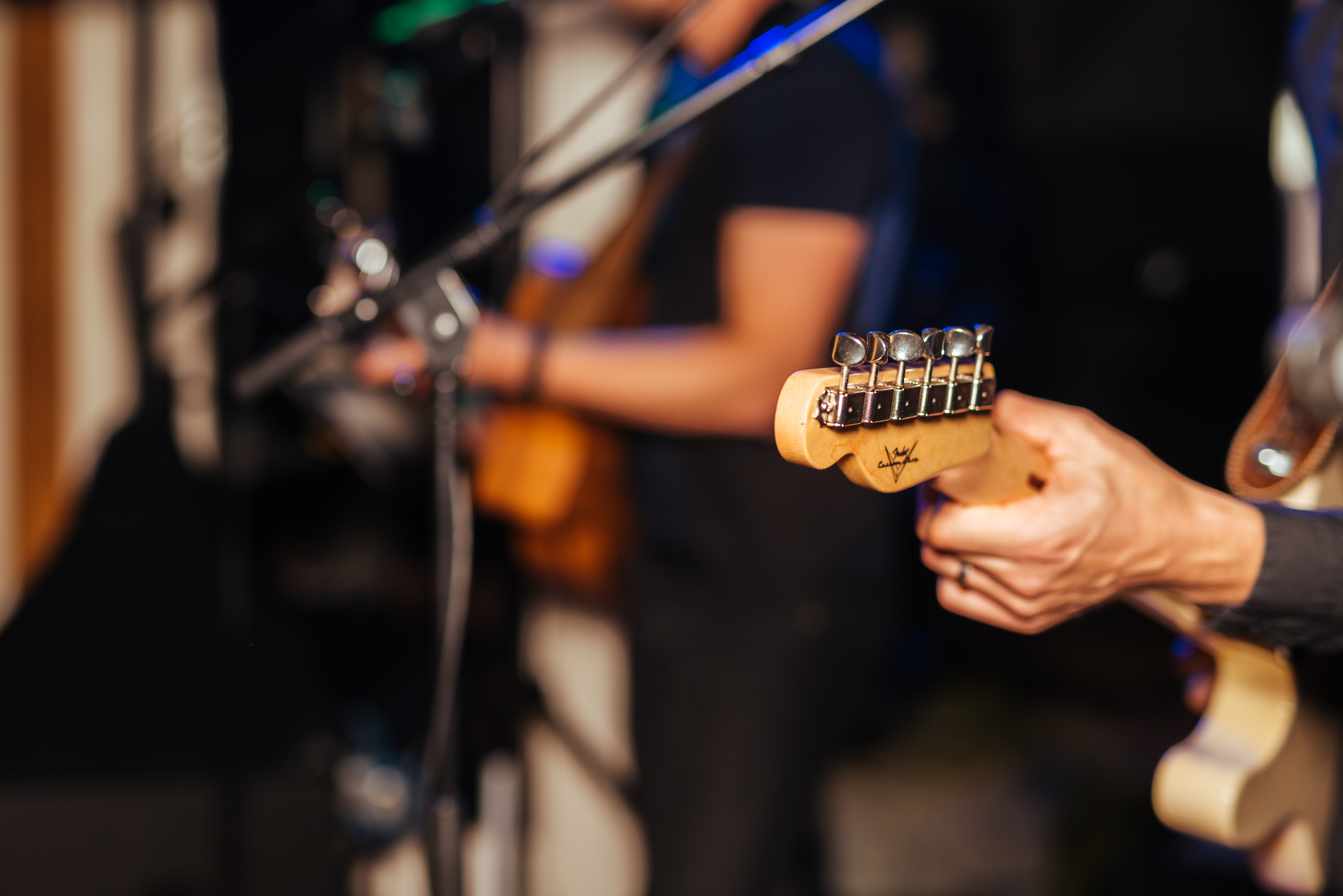 1. Can you tell us a little bit about House of Lemon?  
House of Lemon (previously Lemon Entertainment), is a boutique agency based in Surrey, providing hand picked, high end entertainment to weddings and events worldwide. From a solo harpist to a 13-piece band, we have some of the best musicians in the UK on our books. House of Lemon offers a personal service – everything is managed under one roof, through one dedicated point of contact.
2. When and why did you setup House of Lemon?
I set up House of Lemon six years ago, after eight years of working in the music industry in various roles – mainly running live music and entertainment events such as festival stages and music venues. I worked with some fantastic artists and on some epic events including Ed Sheeran's 'Live At The Bedford' EP recording, a secret Paolo Nutini show in Hammersmith, SXSW, Hop Farm Festival, Cornbury Festival and loads more. House of Lemon came about after realising how hard it is for people to book a high-quality band for their wedding or event. Other agencies offer hundreds of different bands but seem to have no filter when it comes to quality. 
3. How would you describe the artists that you represent and manage?
I pride myself in supplying my clients with fantastic musicians who make their living from recording and touring with established, well-known artists as well as playing at high-end events. Not only are our musicians the best that money can buy – they are all charming, lovely people who make my office one of my favourite places to be. Some of our musicians play and have toured with well known artists such as Florence & The Machine, The Spice Girls, James, Paloma Faith, Lulu, Sigala and Sam Smith.
4. How have you selected the artists and bands that have become a part of the House of Lemon Family over the years? 
Most of the musicians I work with I've known for years and worked with them previously when I worked in the commercial music industry. I only work with musicians and entertainers that I trust and know are at the top of their game. Quality is really important to me as is service and professionalism.
5. What can couples expect when they enquire with you regarding finding the perfect musicians for their Big Day? 
Initially I like to try to get to know the clients and what they have in mind entertainment wise for their Big Day. Once I get an idea of the kind of vibe they are going for, I send over some options for them to consider. I also offer 'on the house' phone consultations should clients request one. Once a decision has been made as to what entertainment they'd like to go with, I look after the logistics side of the booking, so everything from where the band needs to load in and power requirements to making sure they have any special song requests that the client has asked for.
We give each of our clients the most personal and attentive service, responding to their needs and any changes to the plan quickly and efficiently – and often recommending actions and ideas before they have had a chance to think of them. Our clients say what they love most (apart from our crowd-pleasing performers) is feeling in safe hands. 
6. What advice would you give to those couples who are about to embark on choosing their Wedding Entertainment but are unsure where to begin?
I always think personal recommendations are a great way to start. Perhaps asking friends and family if they have seen any great live acts recently at weddings or events. It's also a great starting point to watch some videos of wedding bands online so you get an idea of the kind of thing you want/do not want – so when you contact an agency or ask for advice you have narrowed down the type of entertainment that you'd like. You can see videos of our bands, DJ's and entertainers on our website.
7. What do you love most about what you do?
Being able to go to some absolutely stunning venues, listen to some of the best musicians in the country perform whilst watching our clients and their guests having the time of their lives. I love doing what I do because I can actually see the memories being made whilst the service that I provide is happening – it's a great feeling.
8. What do you love the most about Millbridge Court? 
I absolutely love the décor at Millbridge. Every time I visit it makes me want to redo my whole home in the style of the venue. The breakfast room is definitely one of my favourite rooms as well as the garden, which is breathtaking in the summer for outdoor weddings.
I also think the atmosphere at the venue is lovely – the staff are friendly and details are important to them (it's all in the details!)
9. What are your three favourite industry professionals/ brands to follow on Instagram?
@Dostiemposuk – these guys are one of my acts and are brilliant – they are massive characters and always bring such energy to events they perform at. Their stories always make me laugh and dance at the same time.
@Confetti_and_silk_films – Stu and Dan are AMAZING videographers who I work with a lot. They are lovely chaps and make stunning visuals. I love looking at the videos on their page.
@Veronikaward – Veronika has to be one of my favourite ever photographers. She works on a lot of weddings but also lifestyle and travel. Her shots are absolutely stunning. I often get her in to my events to take live shots of my musicians and I'm always thrilled with her work.
10. What are you seeing as the trends in wedding entertainment at the moment?
It's really refreshing to see that people are starting to place more importance on the entertainment for their big day. They are spending more time considering the type of entertainment they would like for various points throughout the day. More people are now booking live music for their ceremony – there really is nothing like walking down the aisle to a live performance.
We are also seeing people considering their guests during the drinks reception part of the the day. I think this can be the longest part of the day for guests and having some live entertainment gets them in the mood for the evening reception.  Our roaming bands have been very popular for daytime entertainment this year – they are versatile and can move around the drinks reception interacting with guests and bringing some fun to this part of the day. I've also seen a rise in people looking for something a little different for their evening reception. For example, instead of going for just a DJ they want that live music element in there too – so might go for a DJ/Drum duo or a band that is totally different from the standard party band that their guests may have never seen before. We have an amazing act called Contempo who has to be seen to be believed. If you want to see something truly impressive and different head to the website to check him out!
To find out more about House of Lemon & their talented acts, head to: www.houseoflemon.co.uk
News : 25 / 02 / 19
A Few Things We Love About Winter Wedding Days #marriedatmillbridge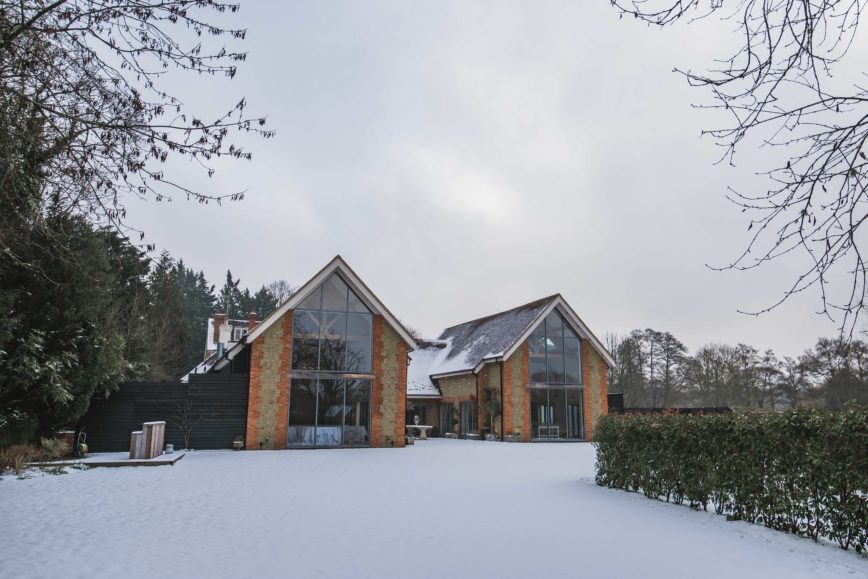 We can't quite believe how quickly this year has flown by here at Millbridge Court! We have been so lucky to have been a part of so many magical Winter Wedding Days throughout 2018 & so we thought, as the festive season is well & truly upon us, that we would share some moments from those really beautiful days with you all.
There really is so much that we love about Winter Weddings, from the rich colour palettes, magical nighttime photography, Wintery shots of Brides & Grooms around the grounds, being able to make the most of romantic lighting throughout the day's celebrations & so much more.
So thanks to the wonderful & talented photographers who have shared their images with us, we have put together some highlights from all of our favourite things about Wintery Celebrations here at Millbridge Court in the hope that it will give you all oodles of inspiration.
Hoping you all had the most wonderful Christmas with your nearest & dearest!
Xx
Rich Colour Palette's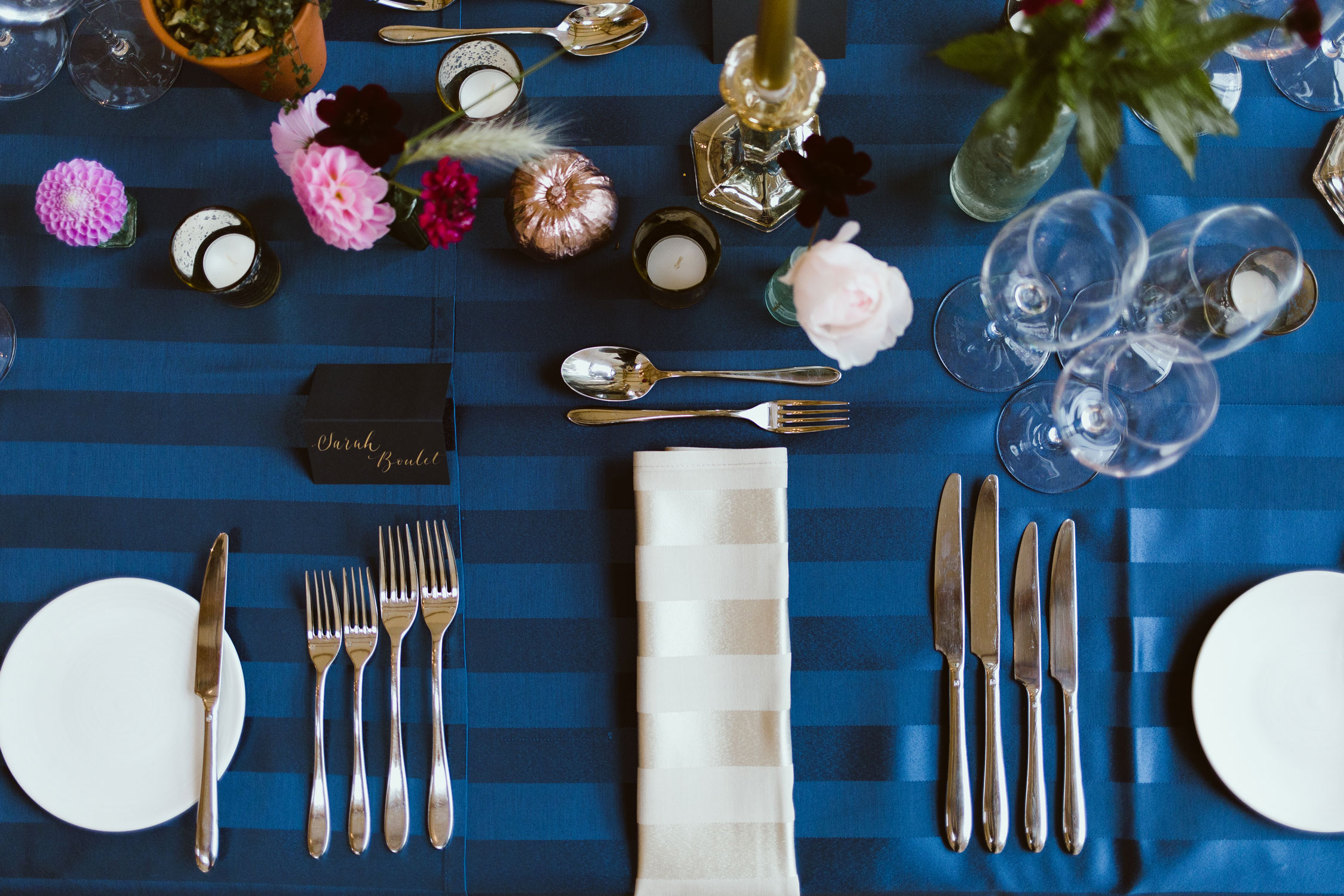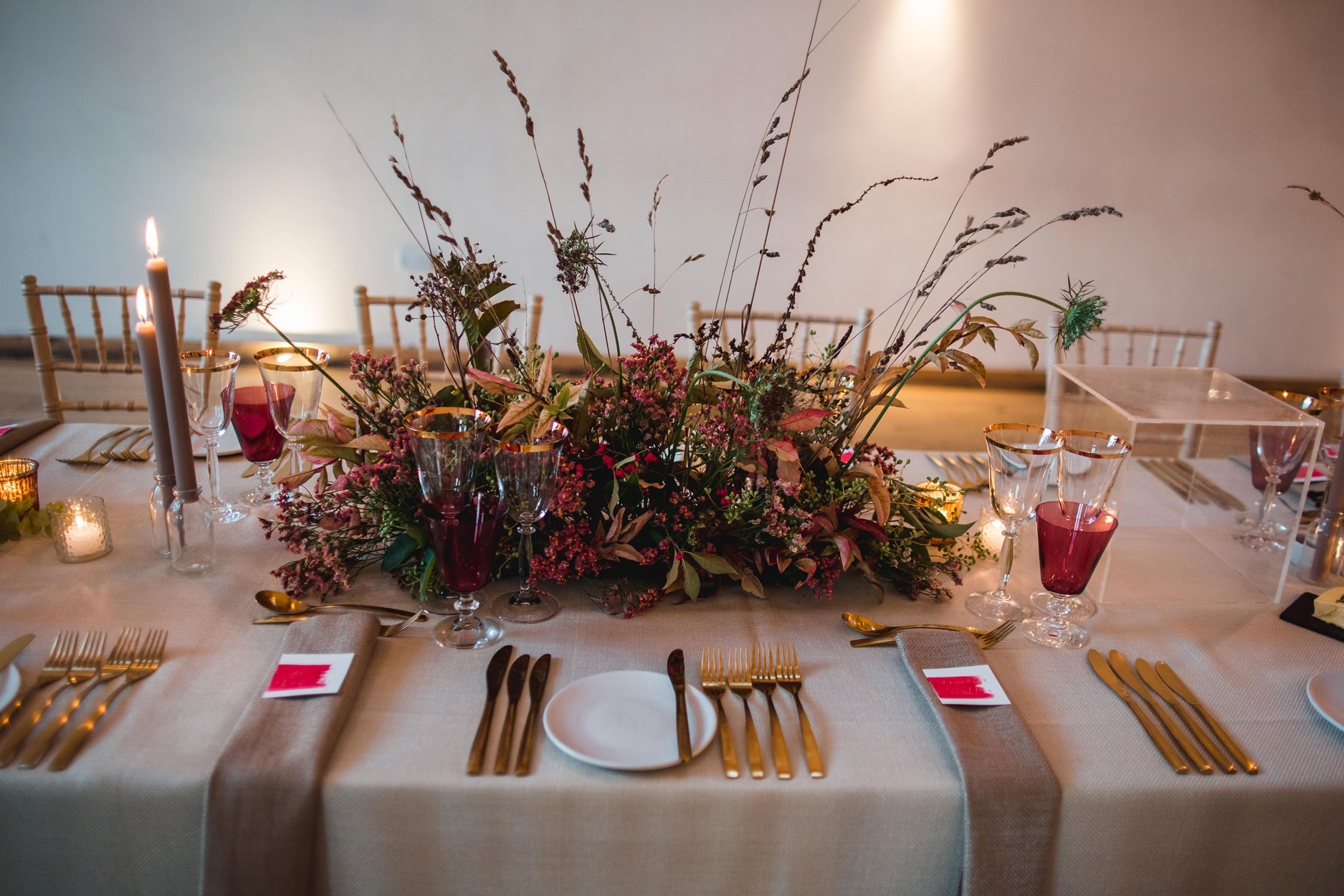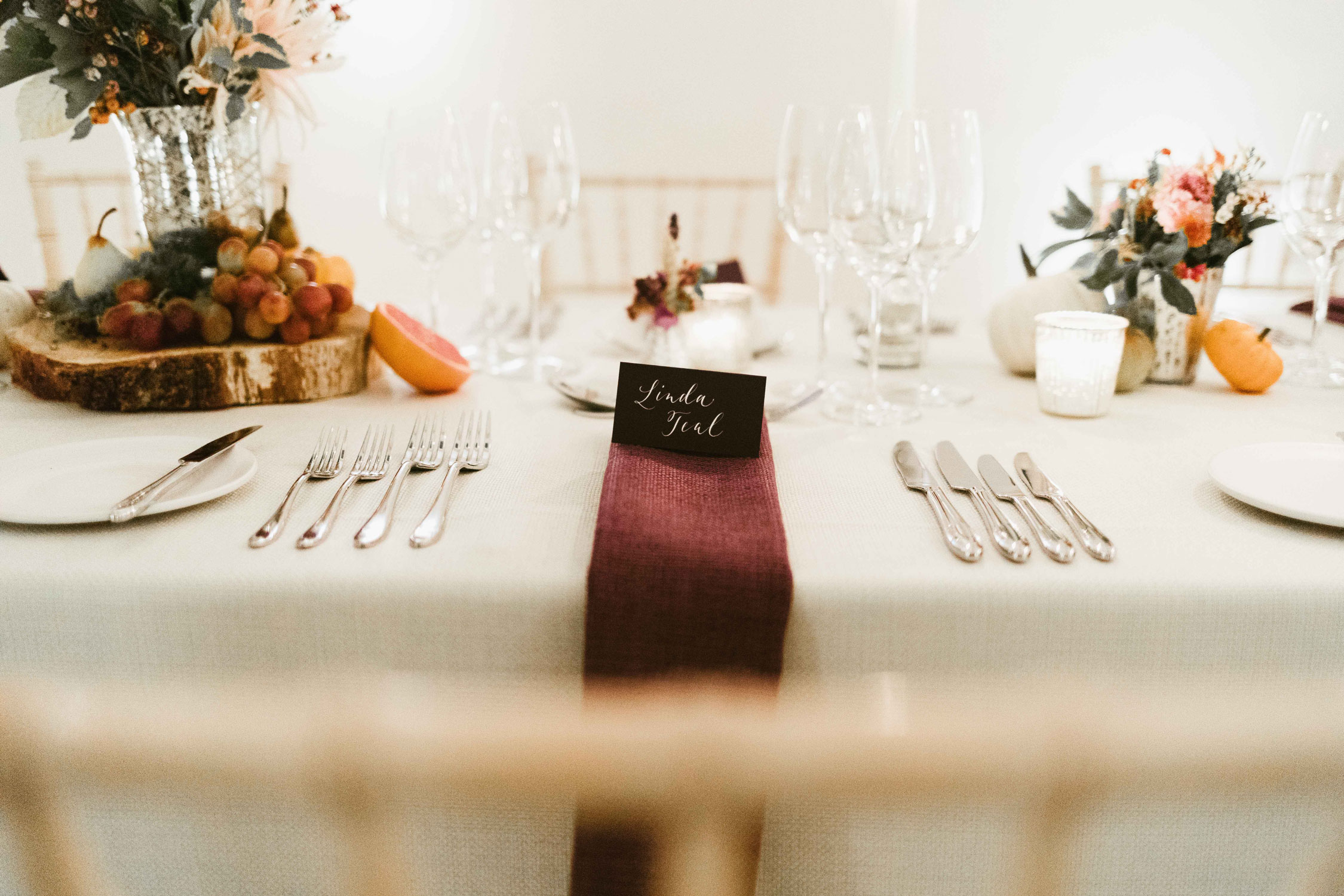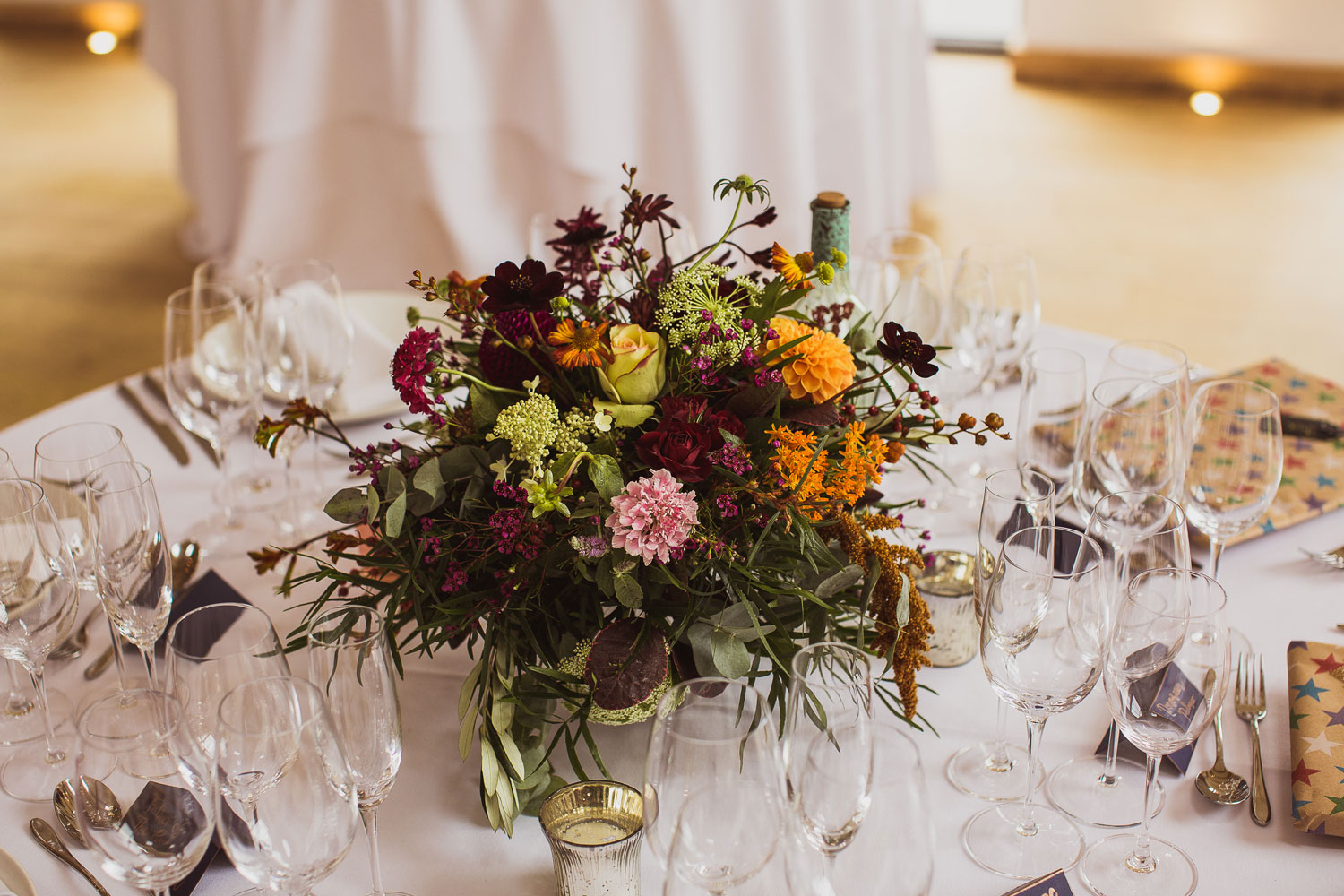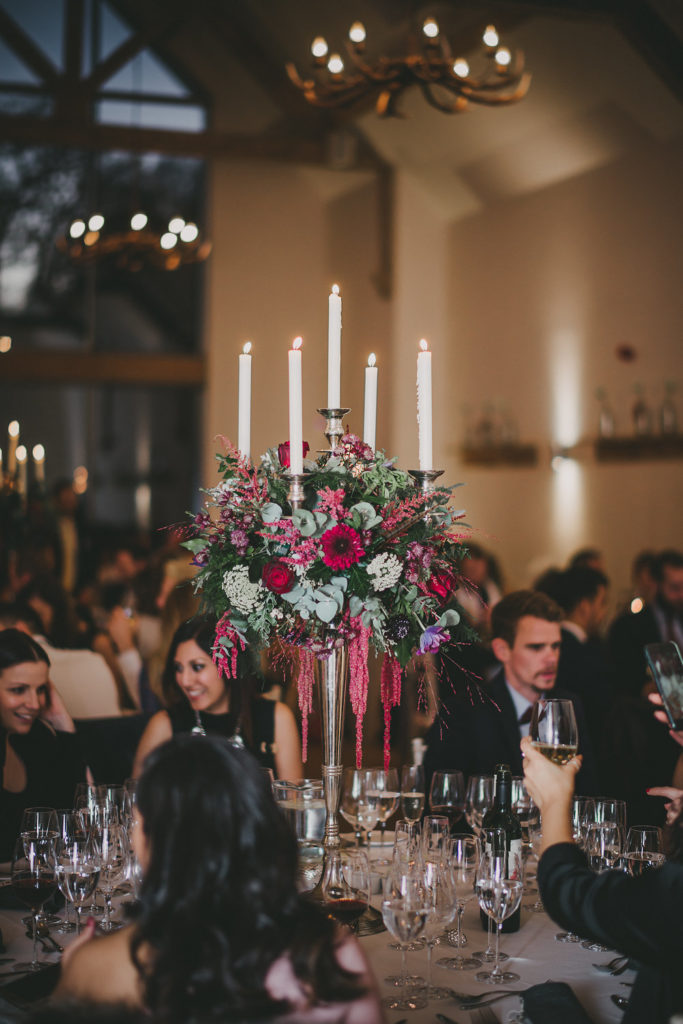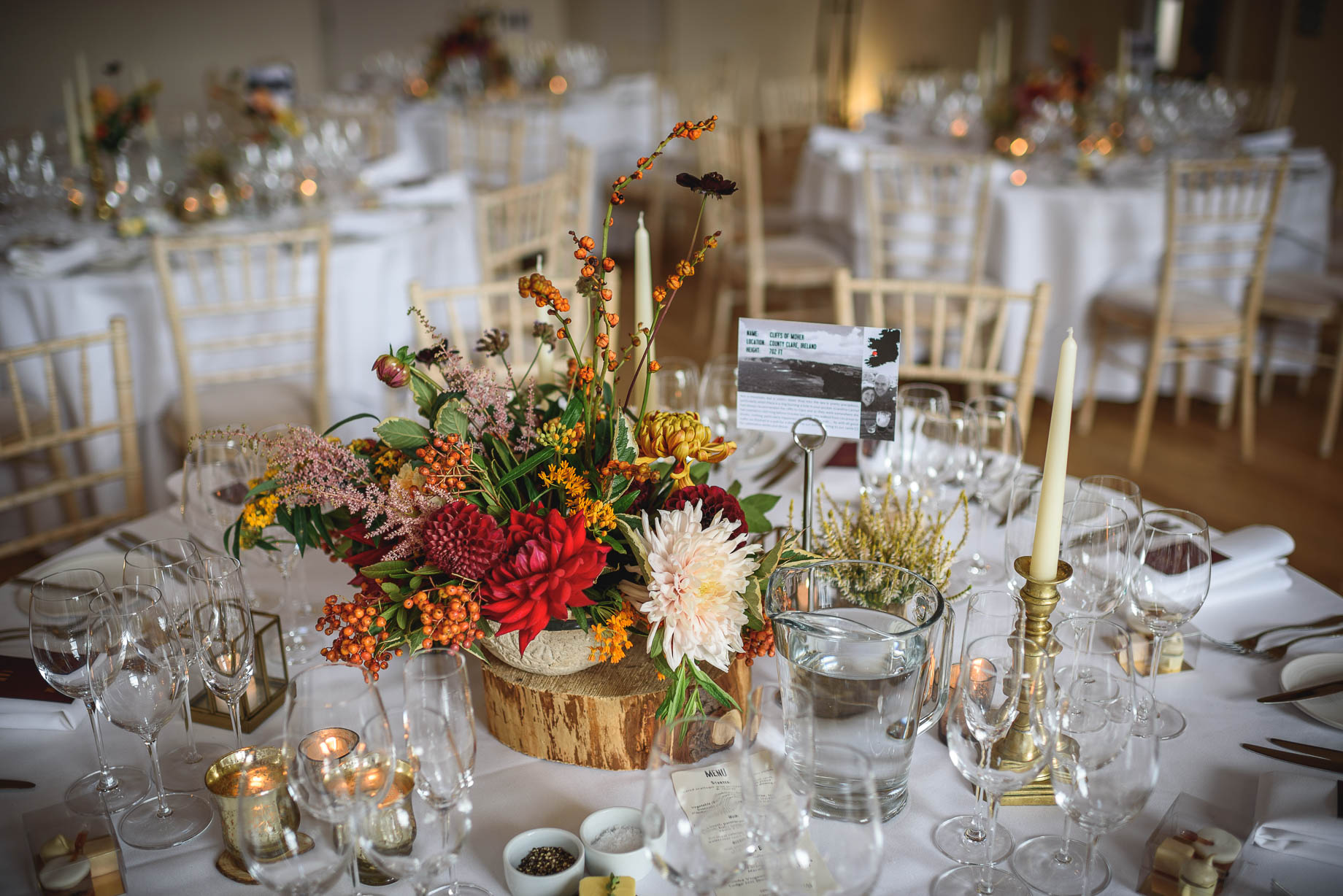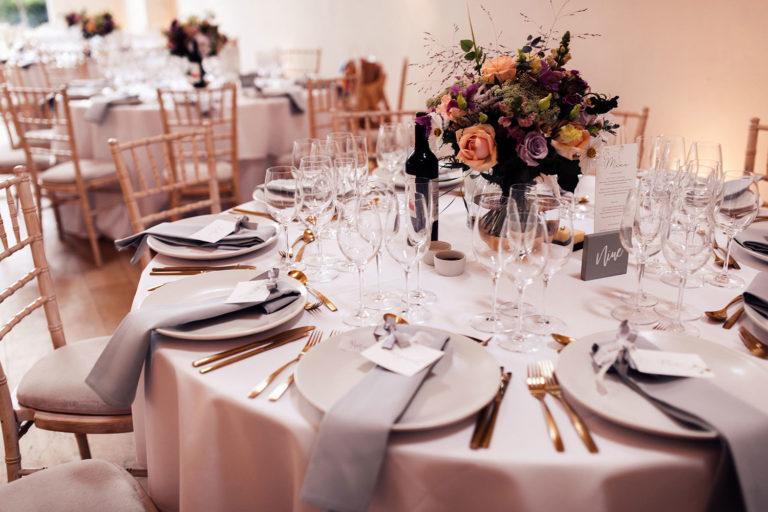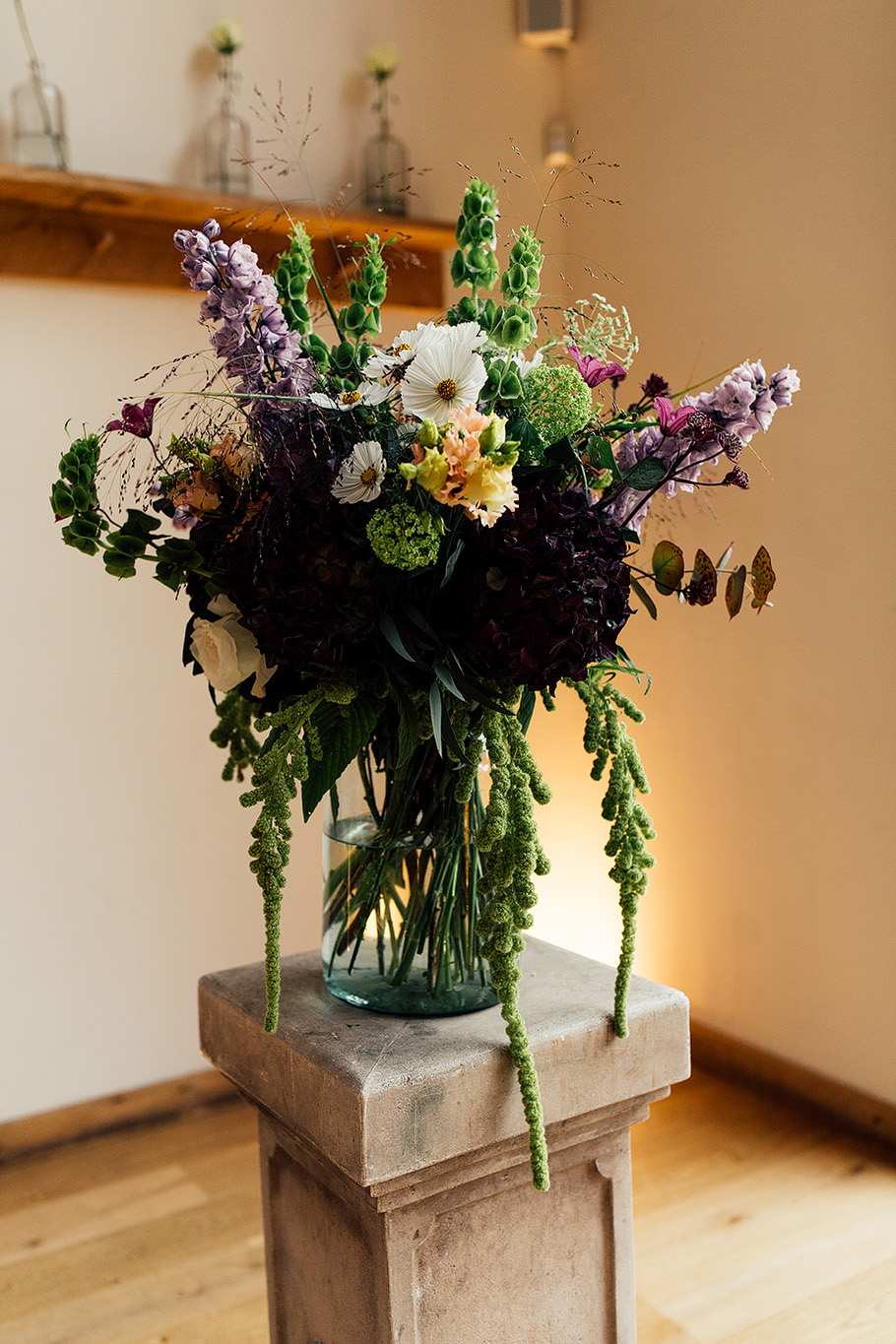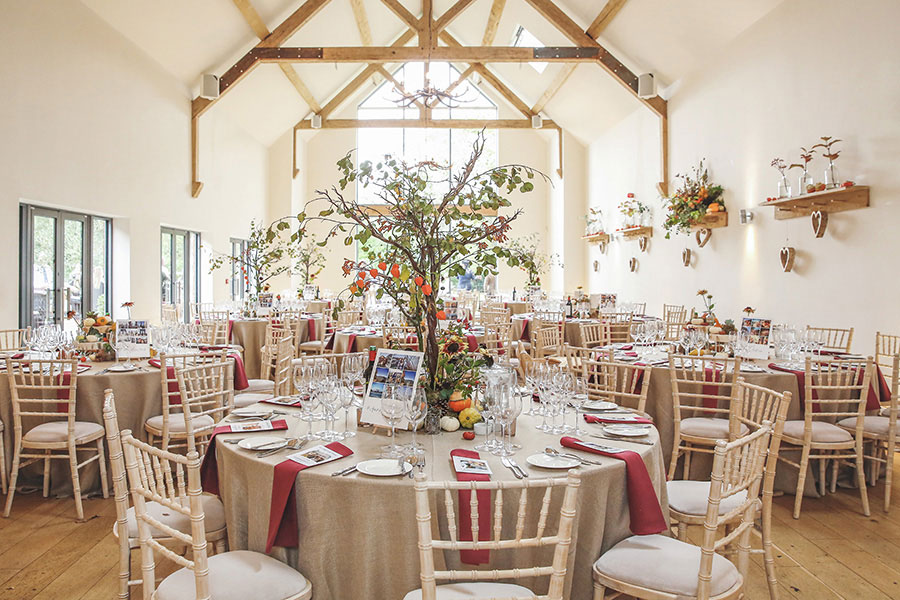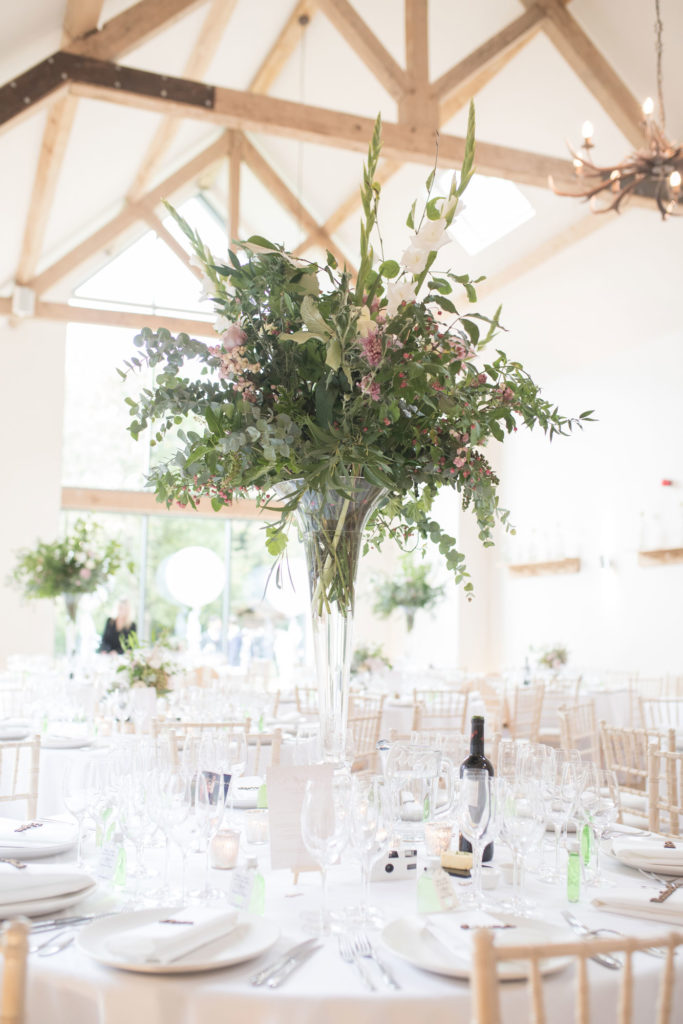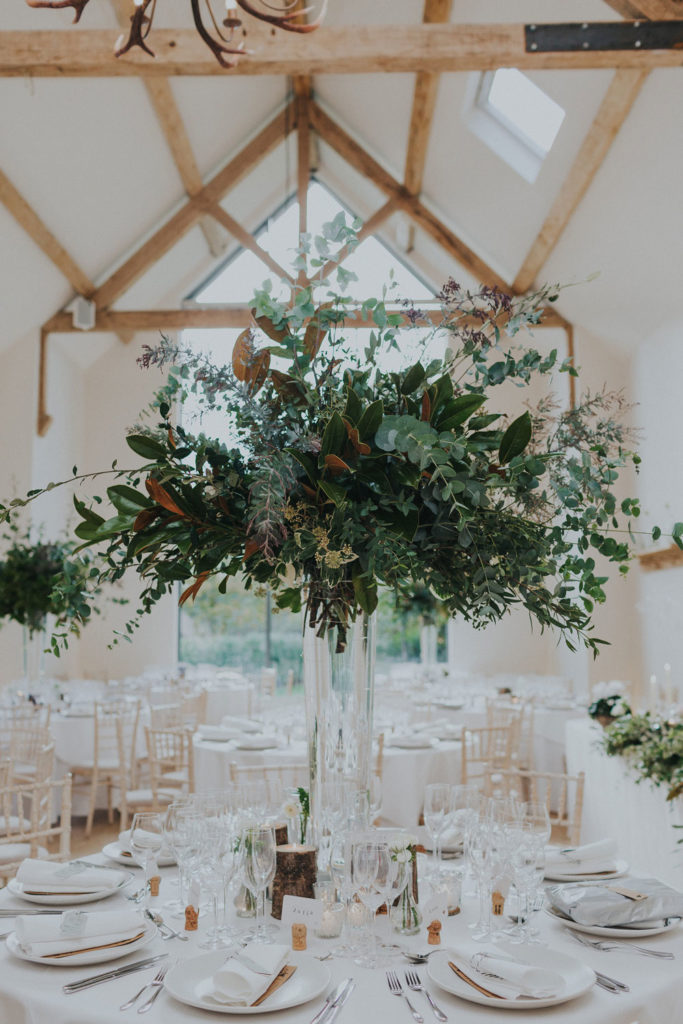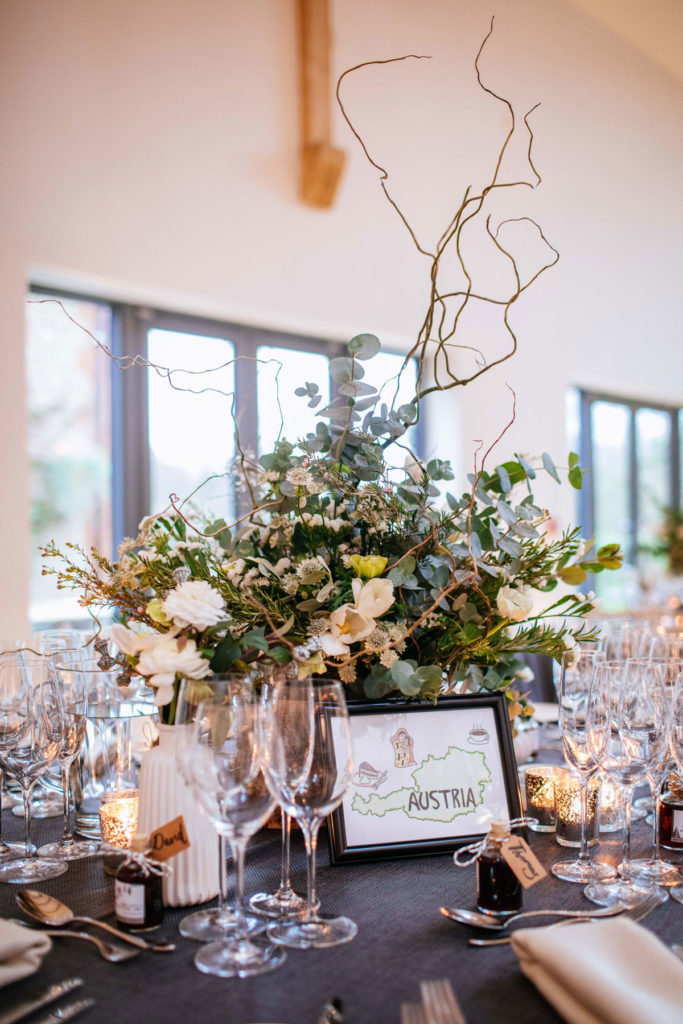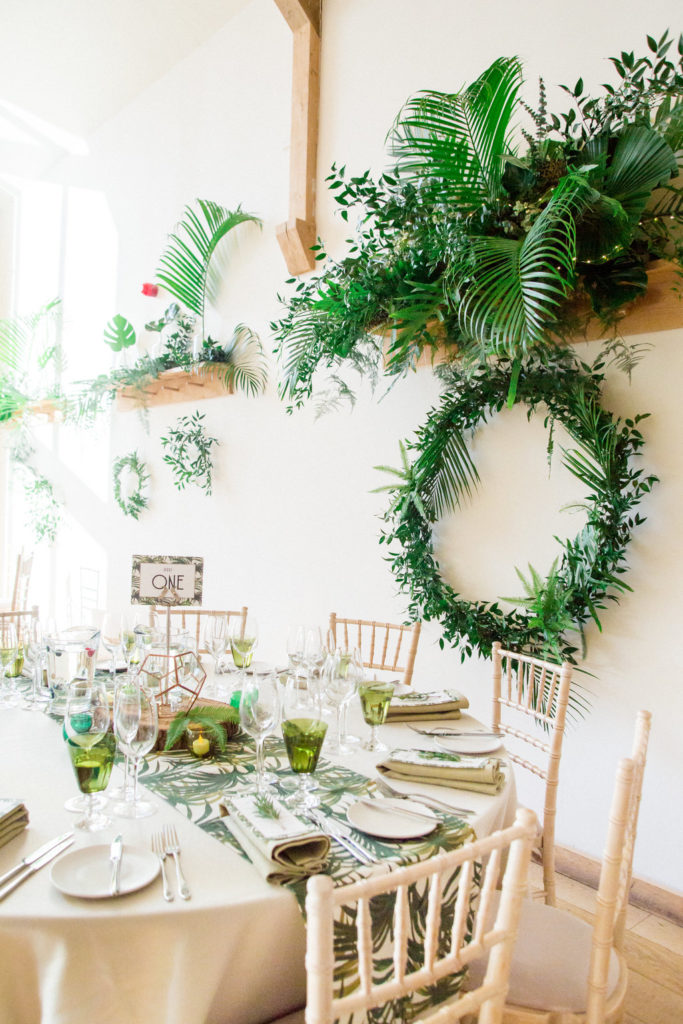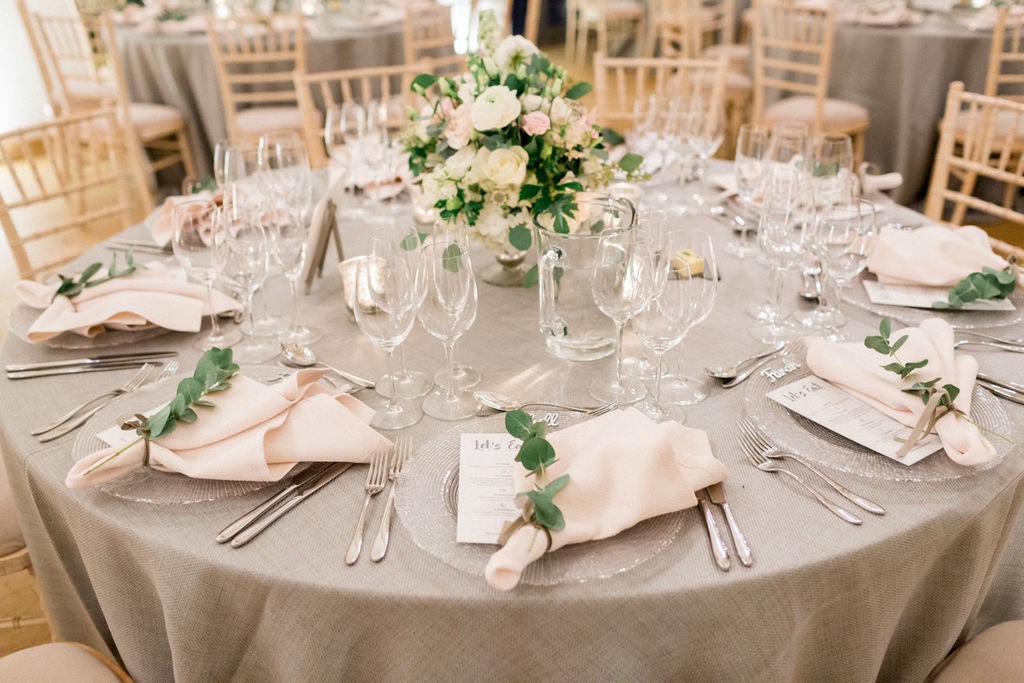 Wintery & Autumnal Couple's Shots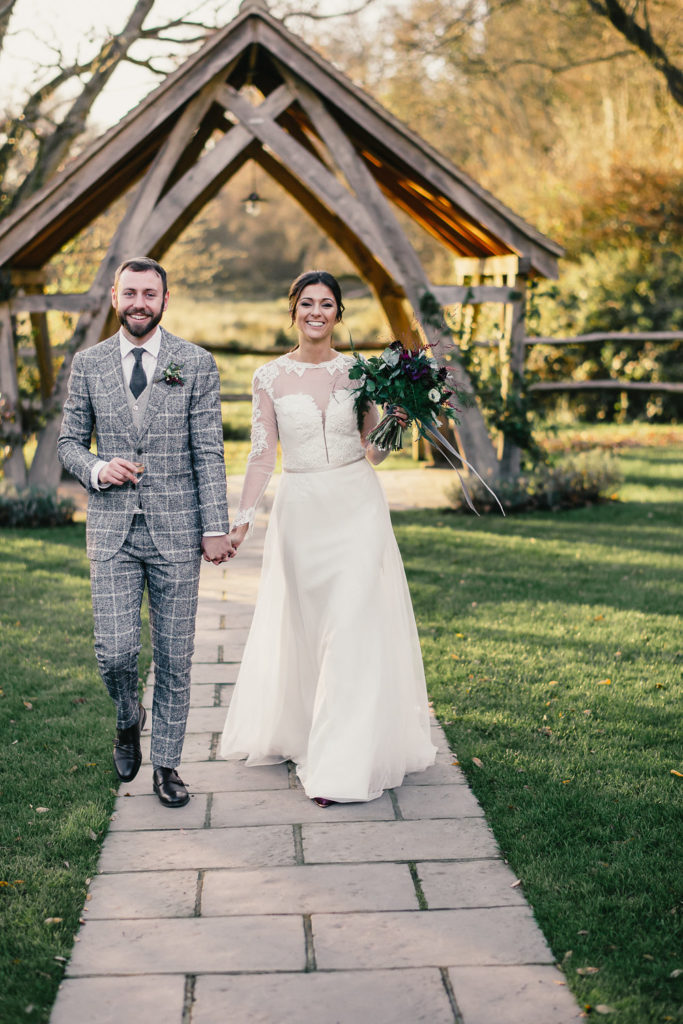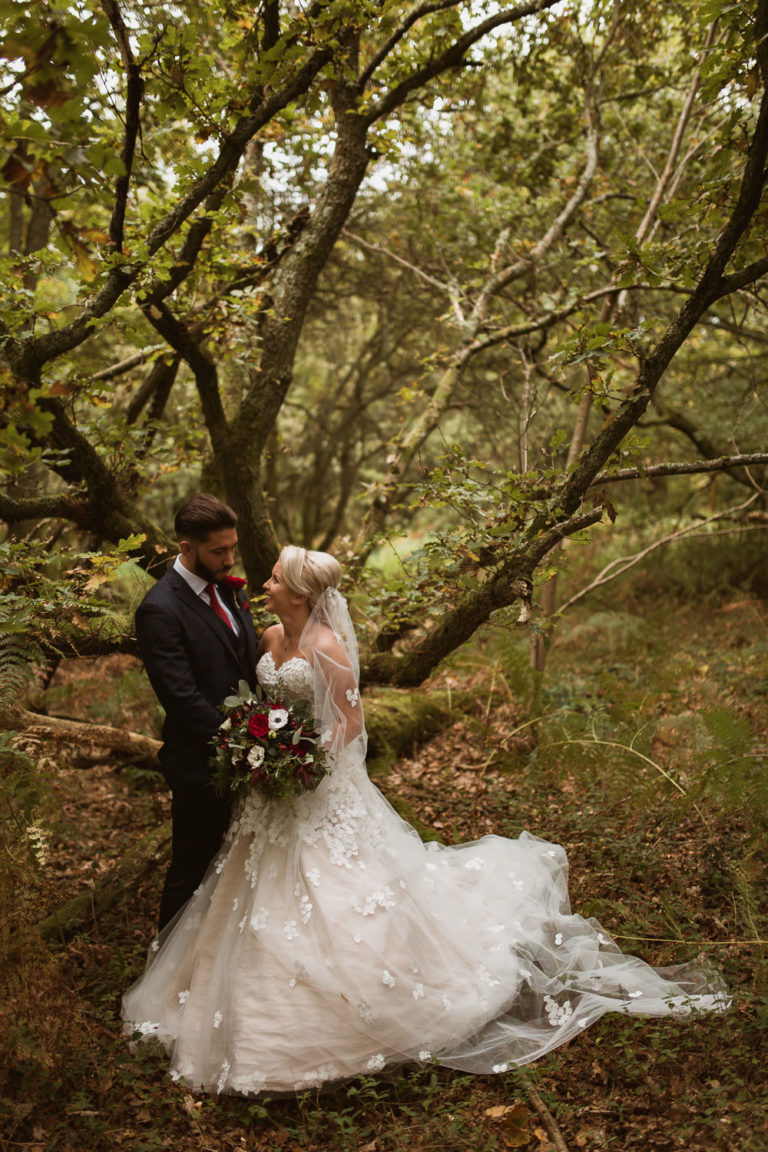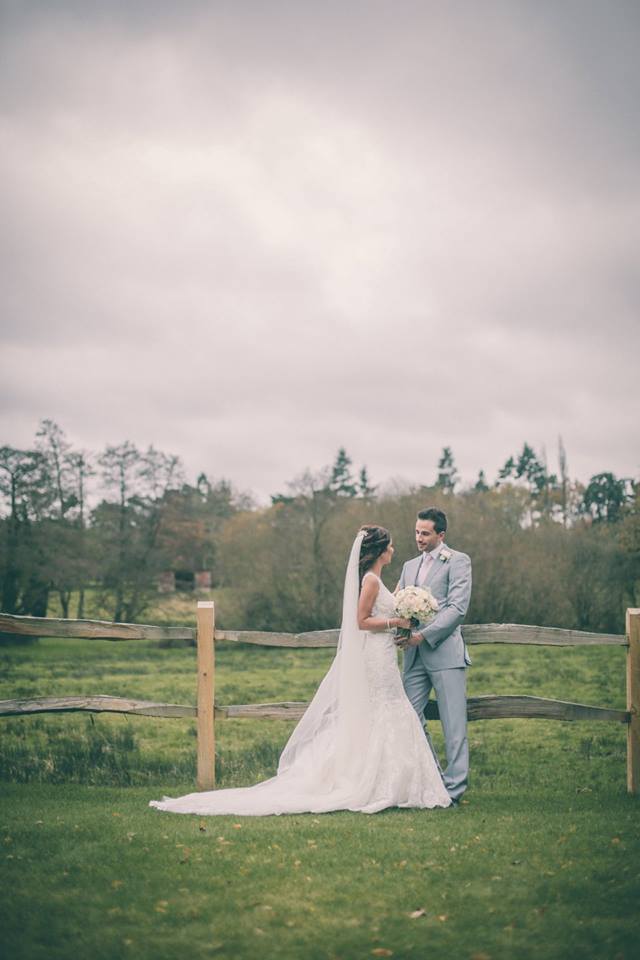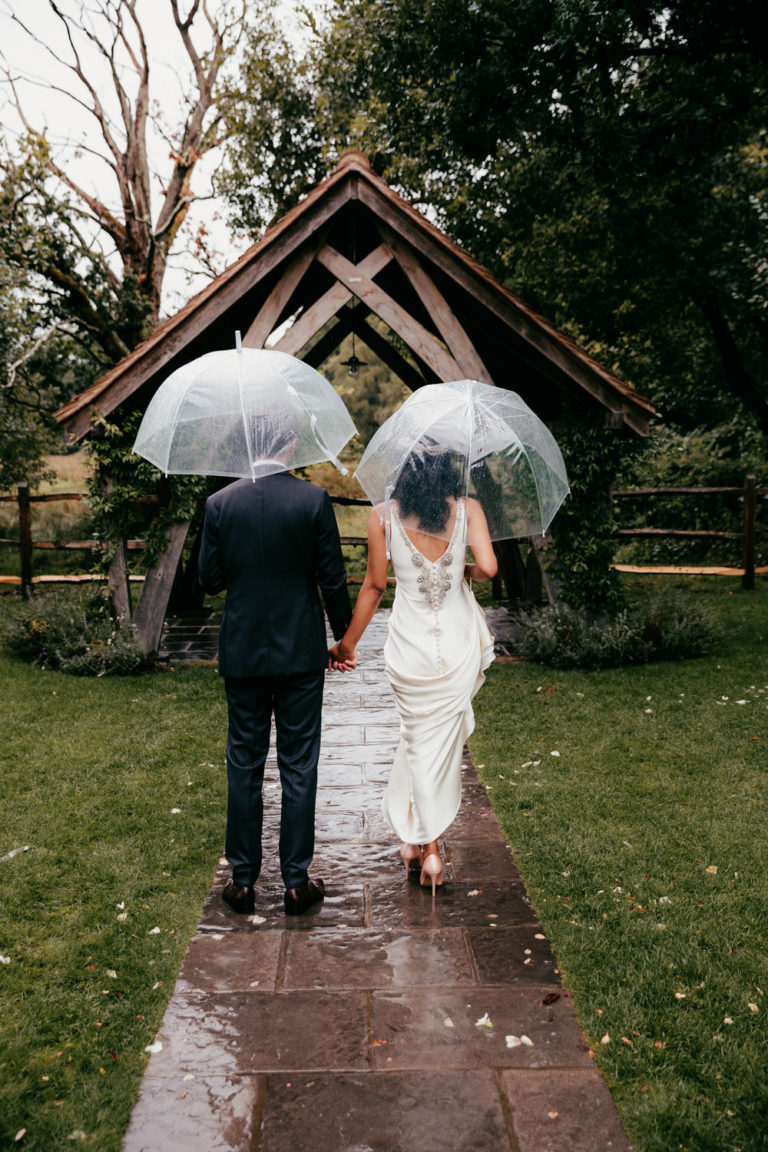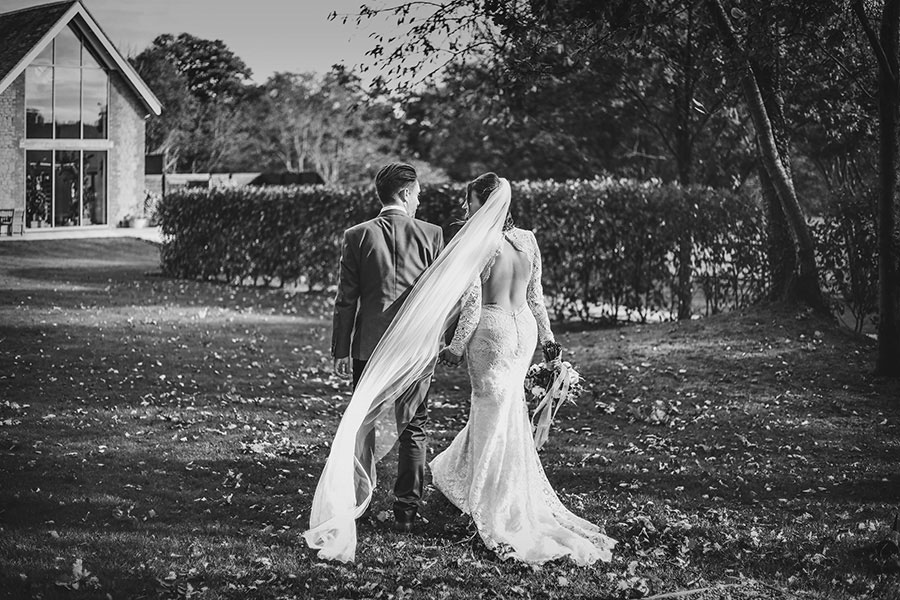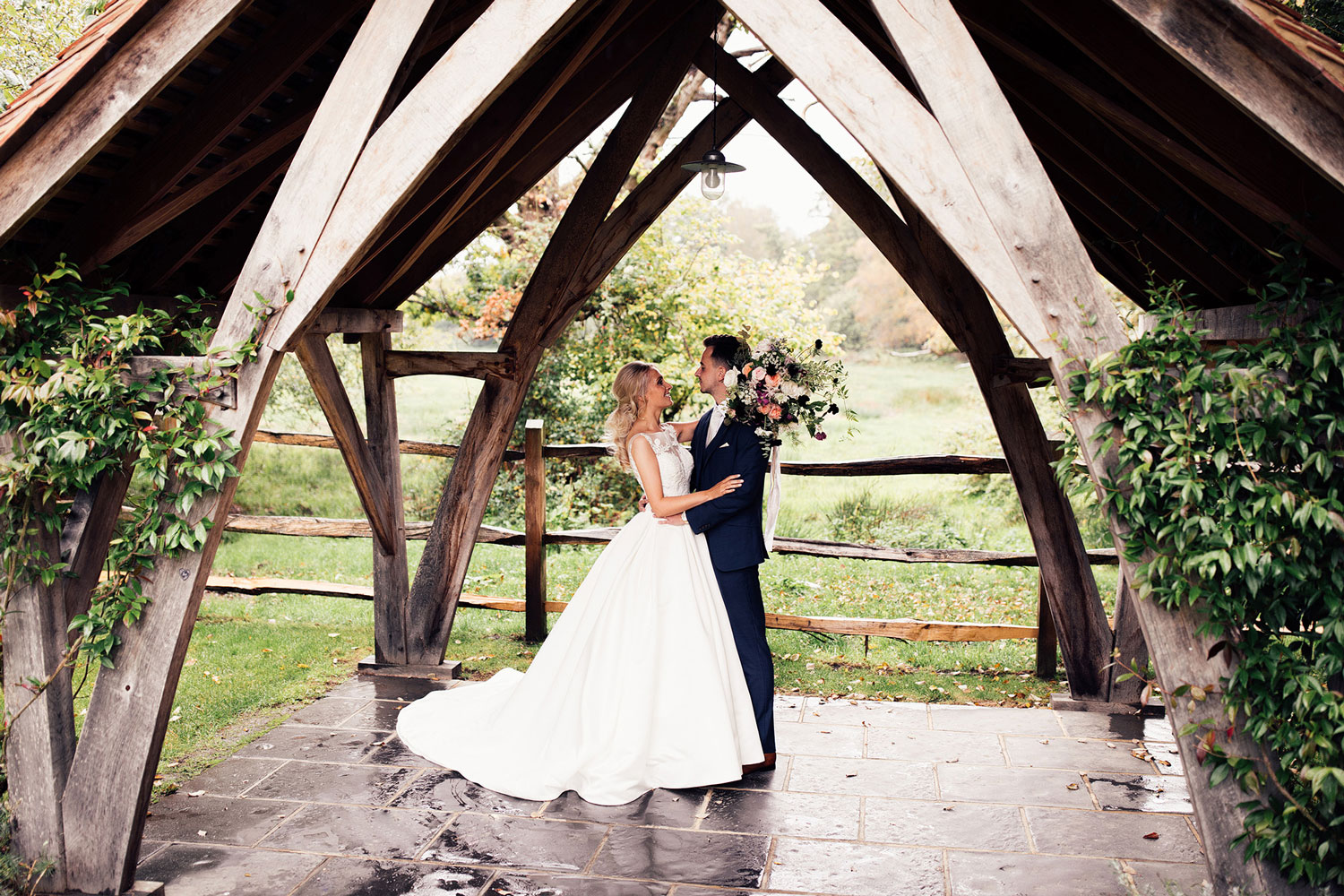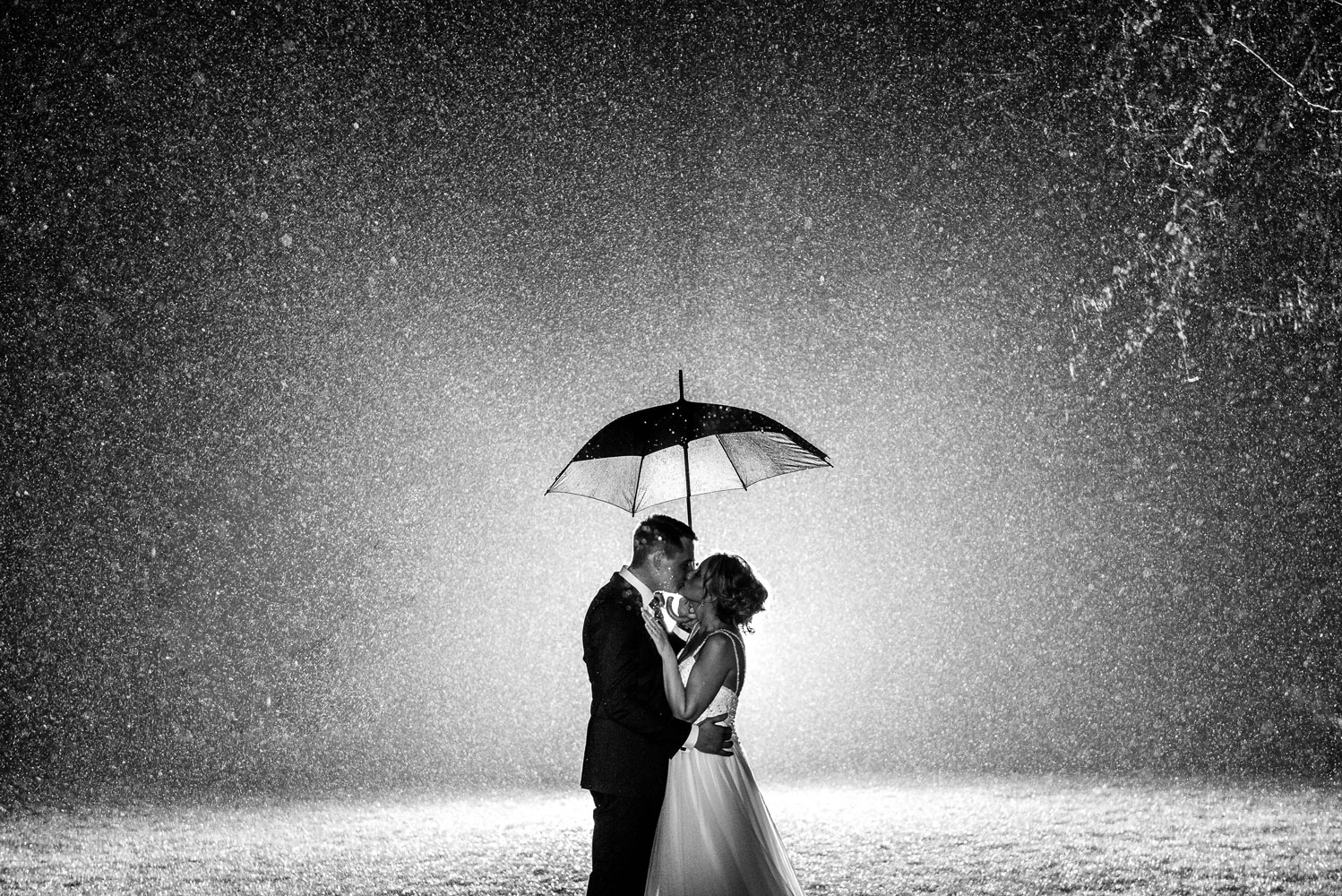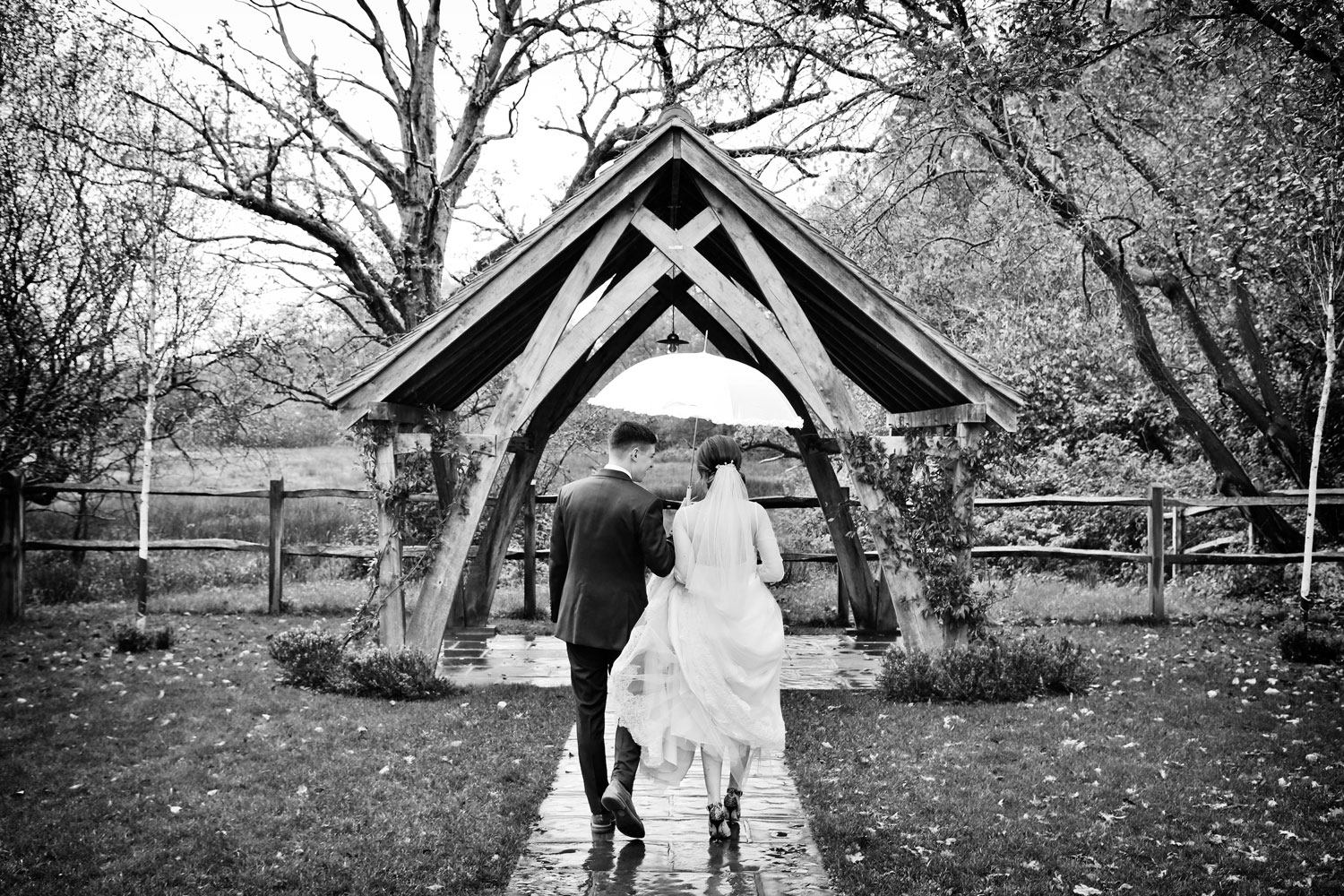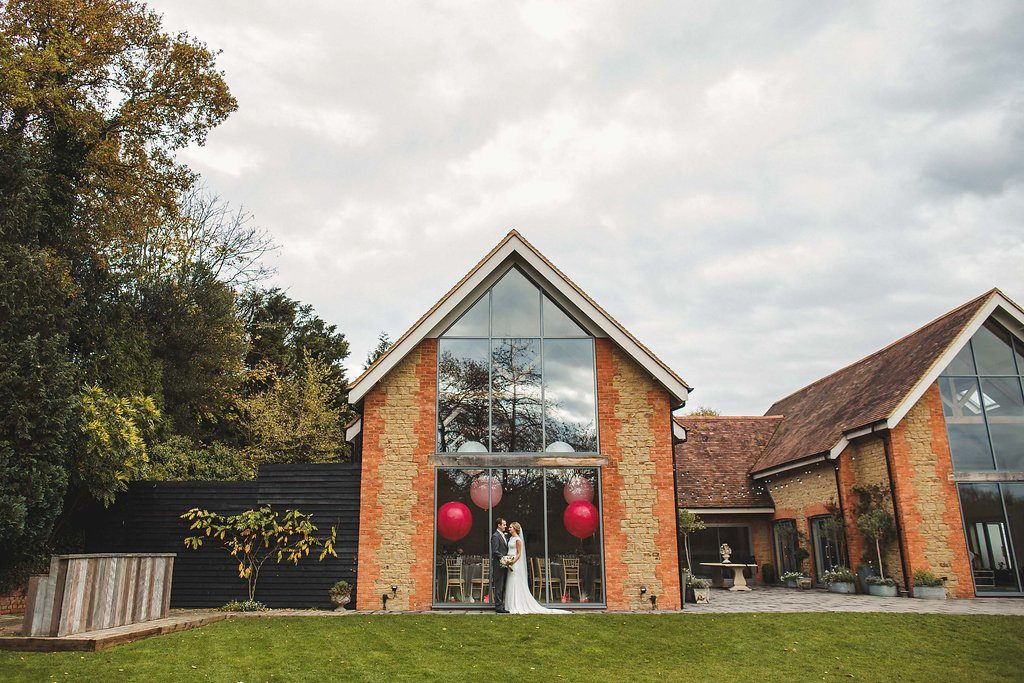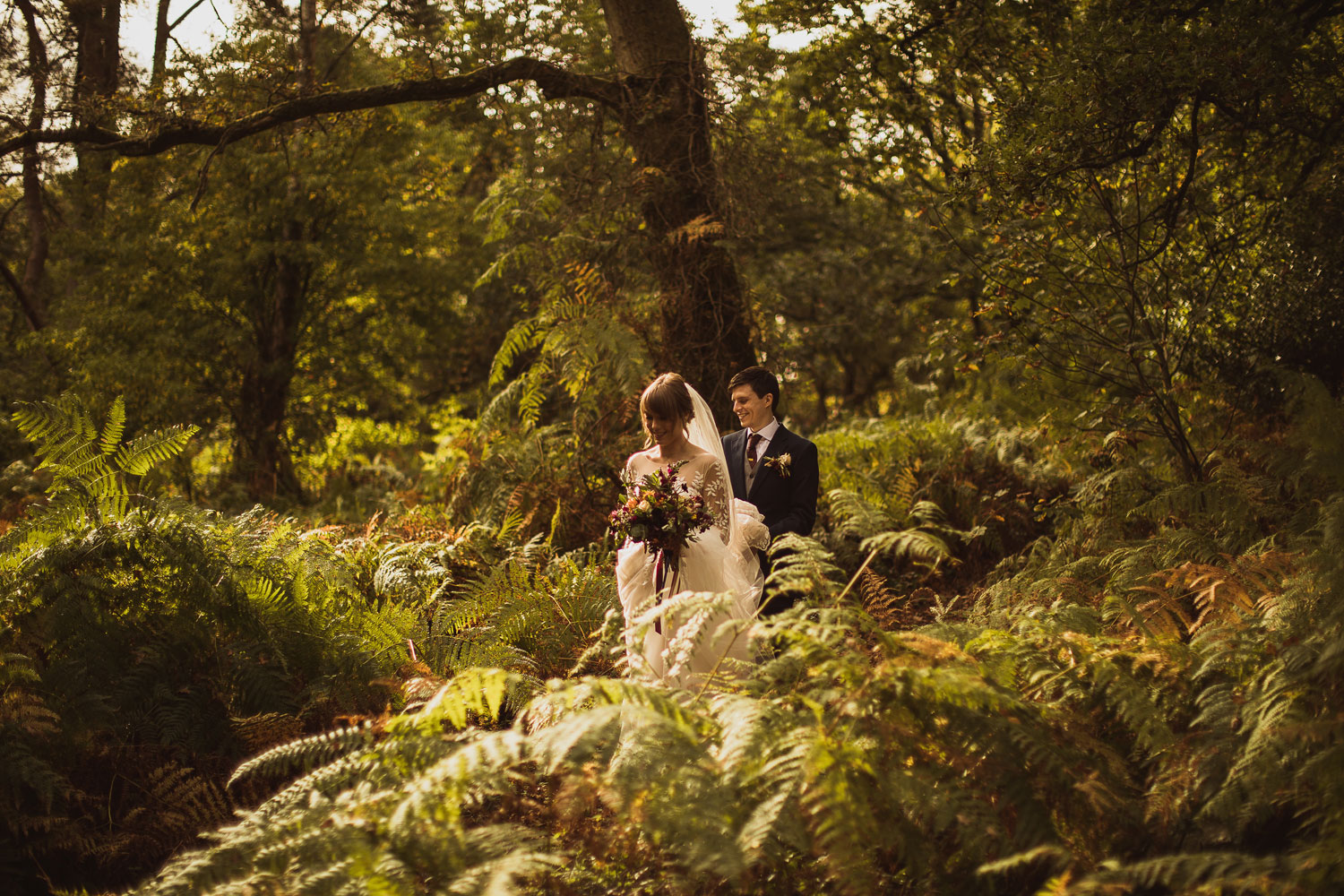 Cosy Lounges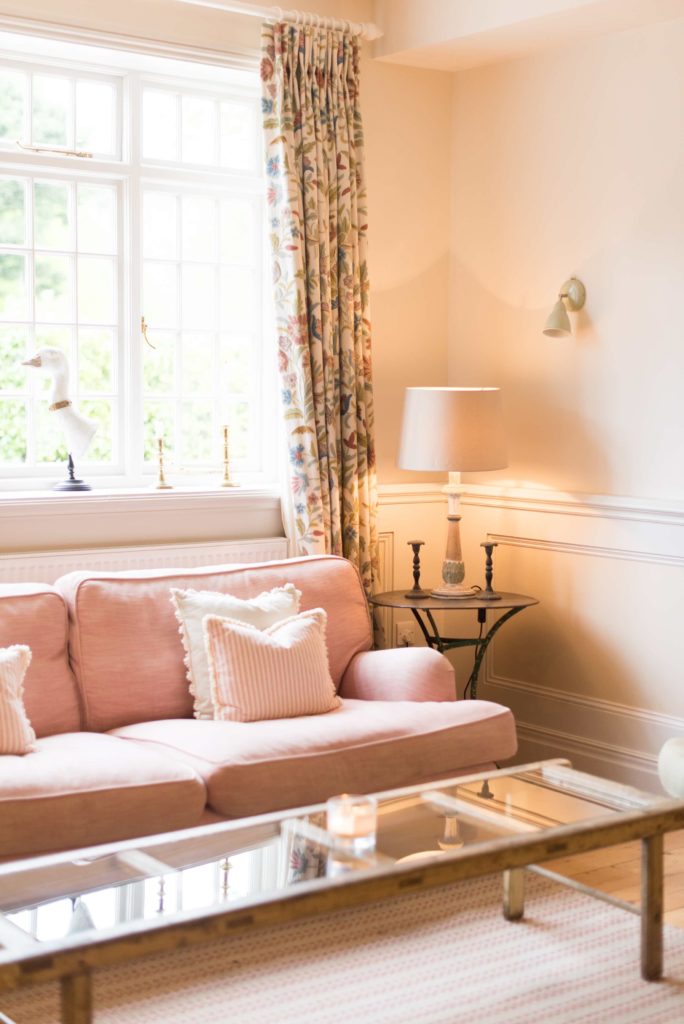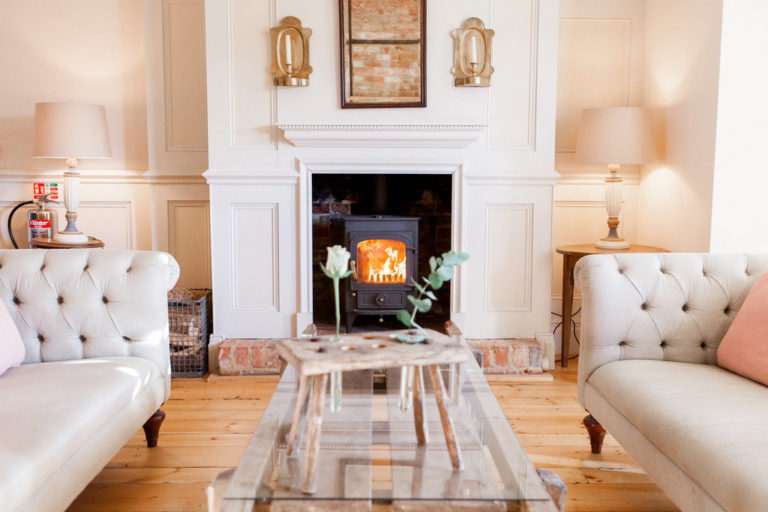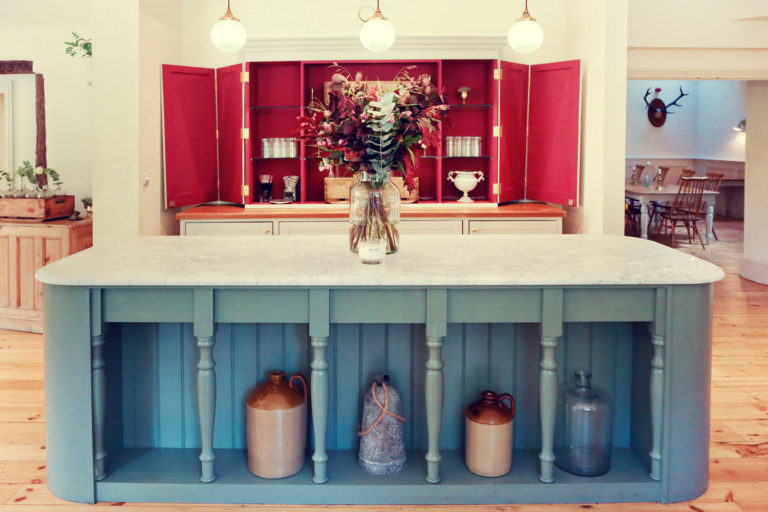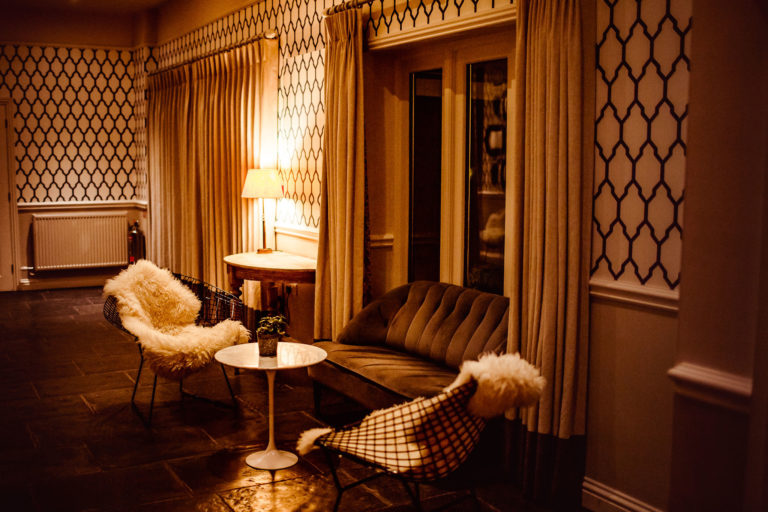 Romantic Lighting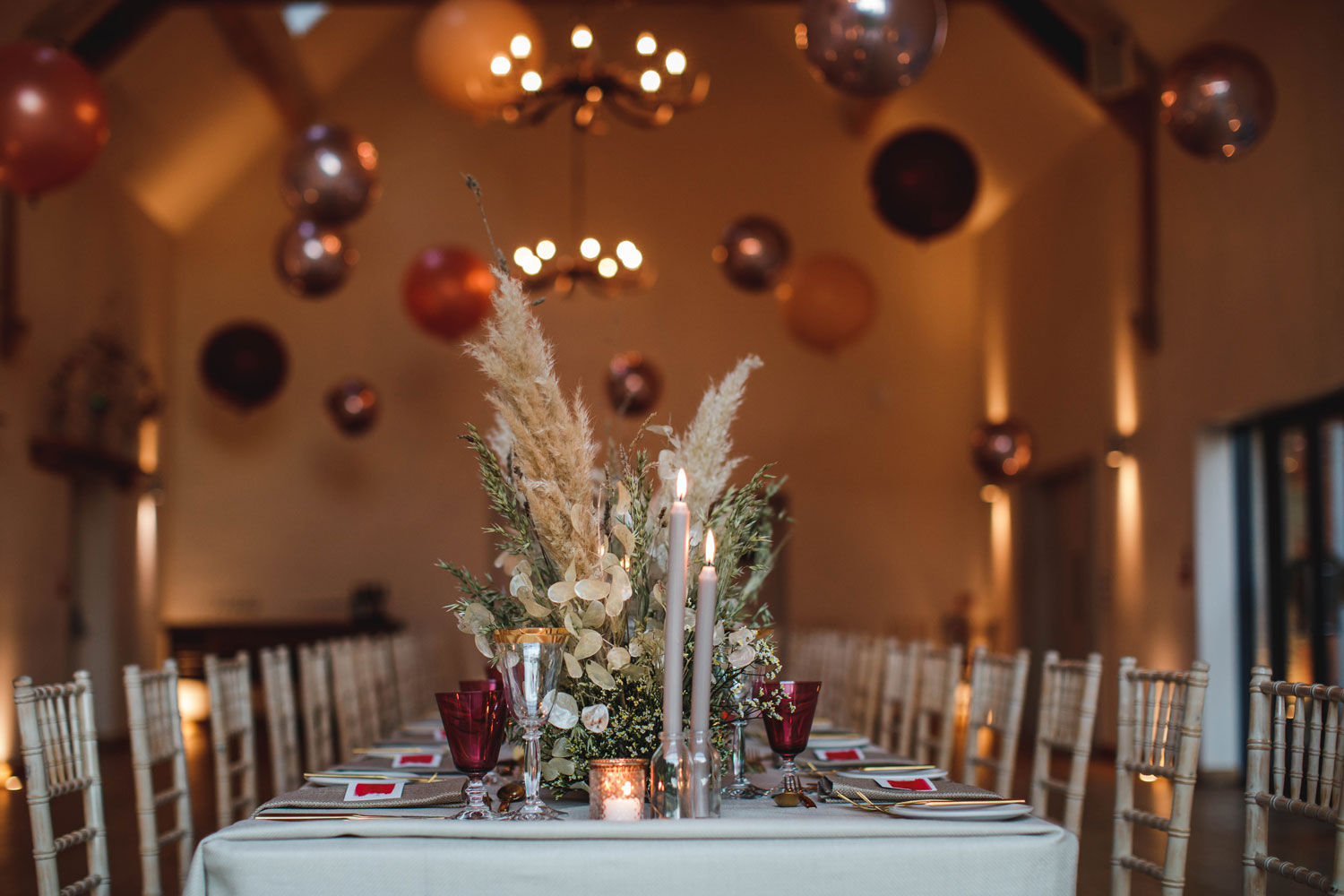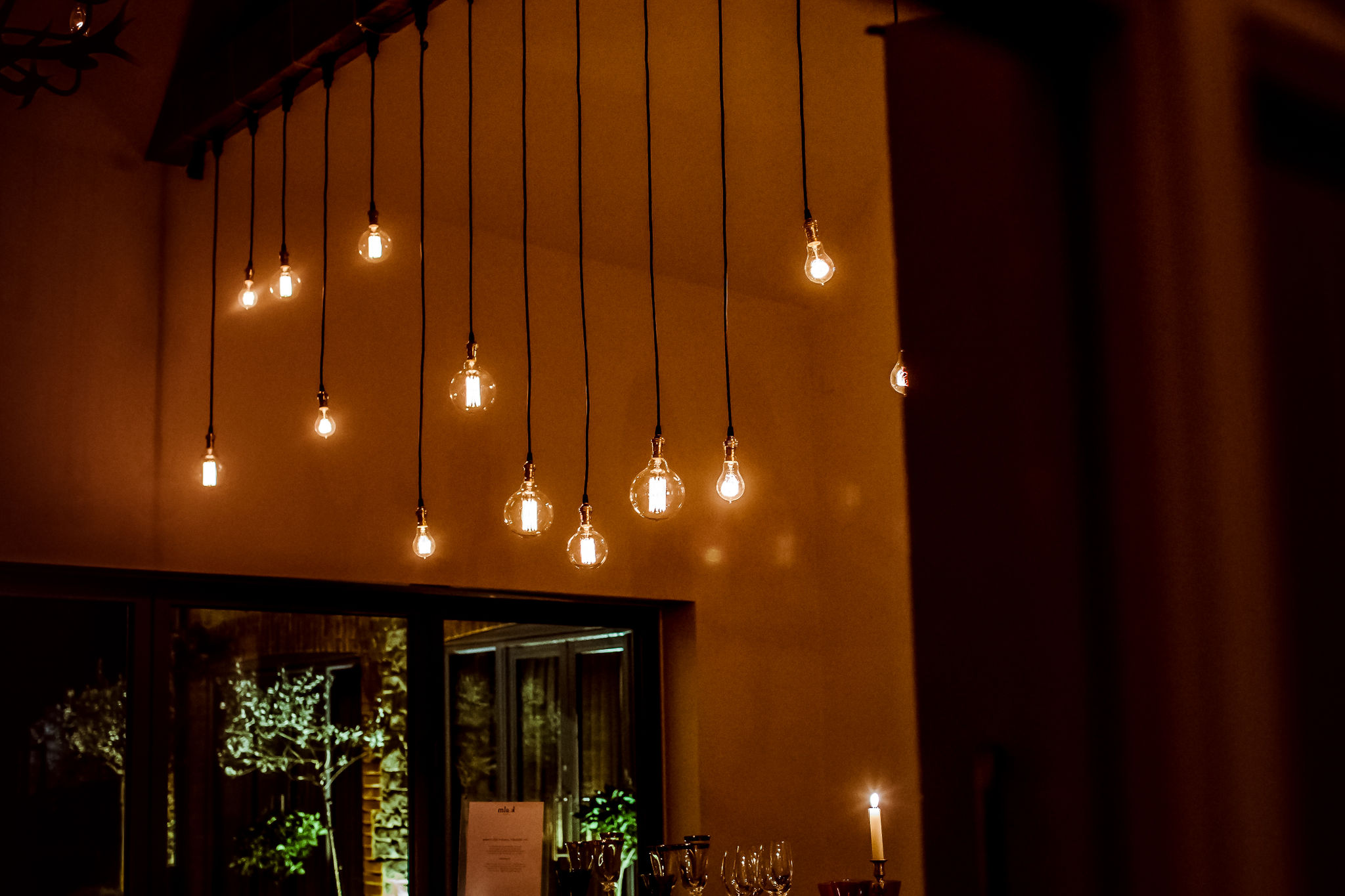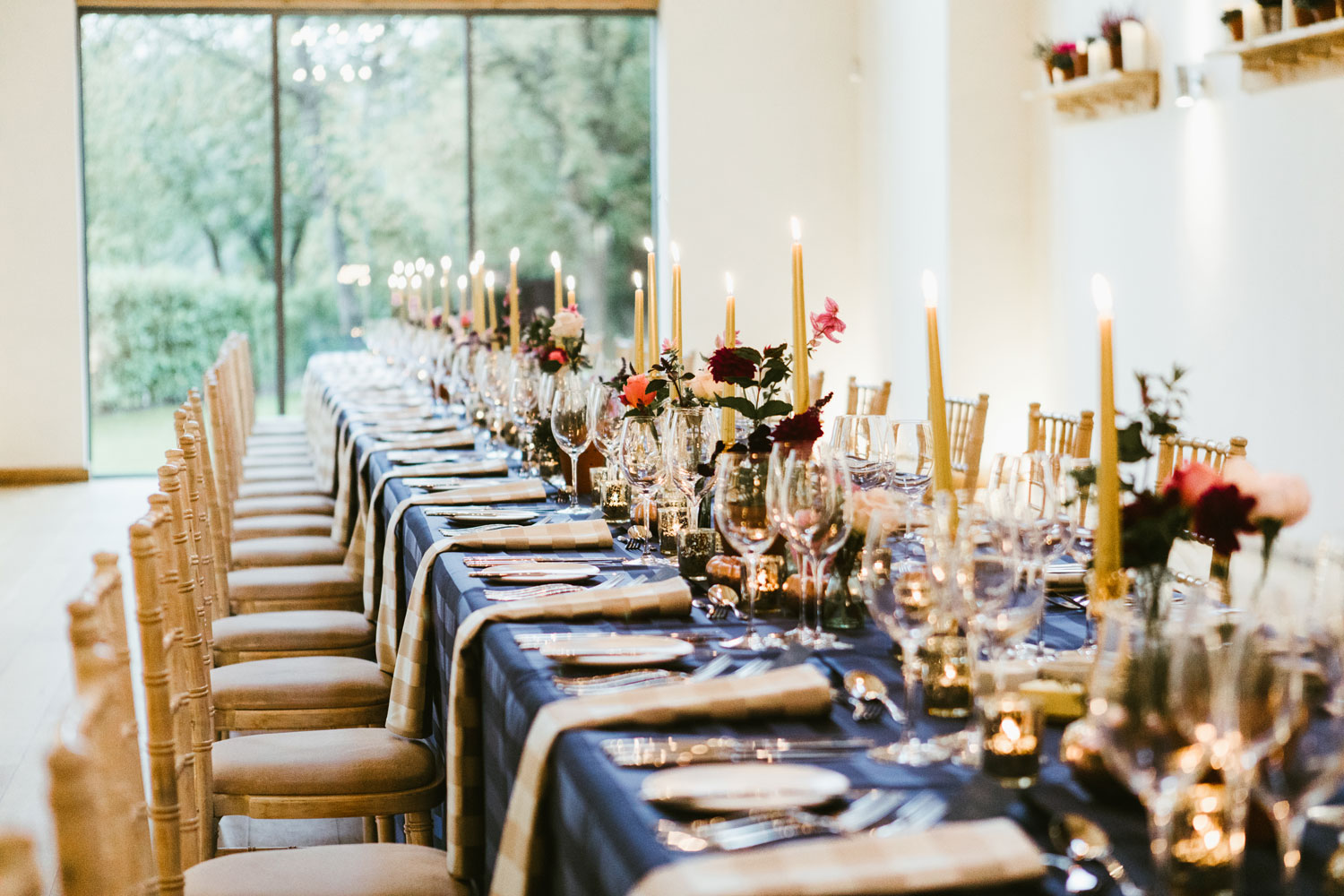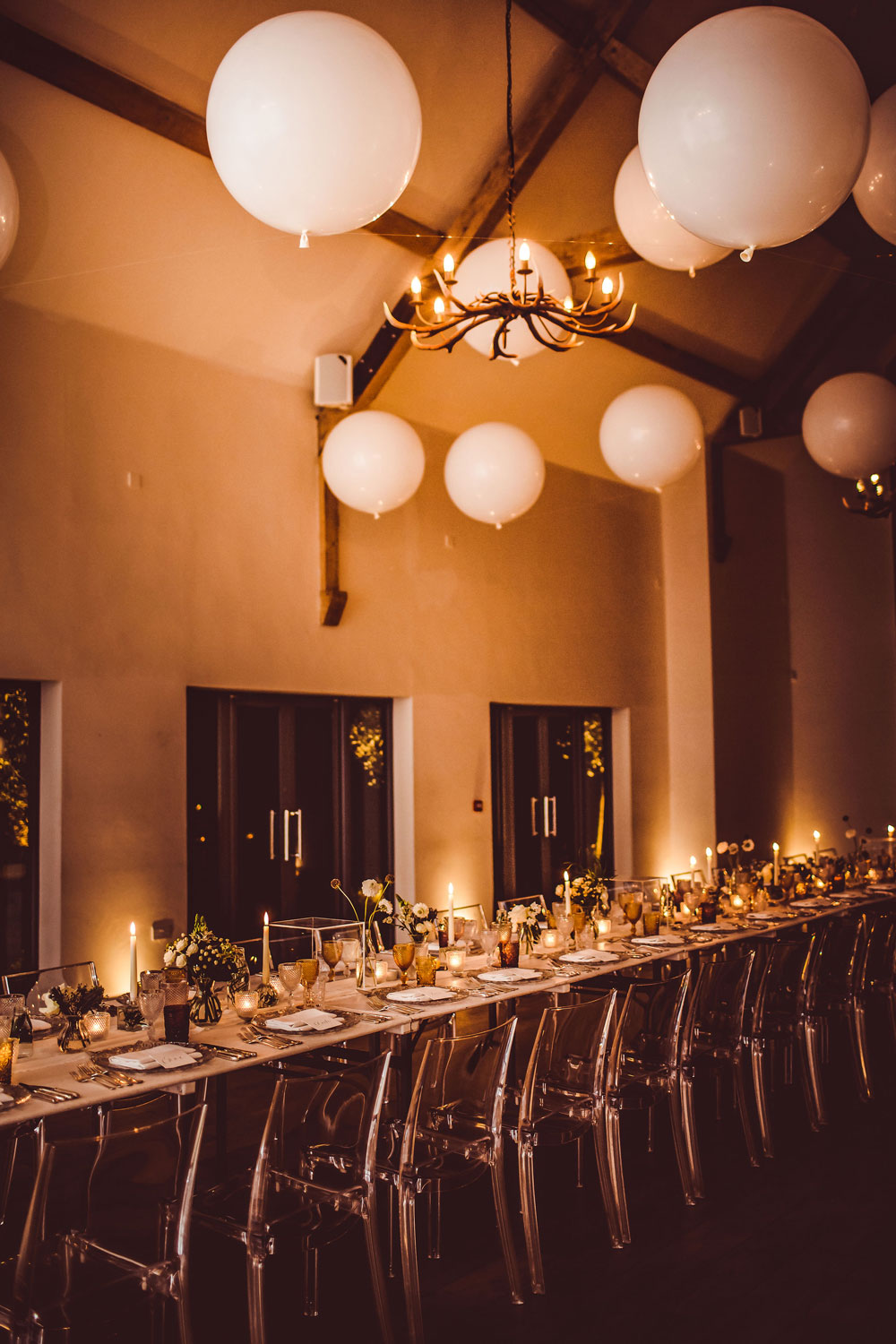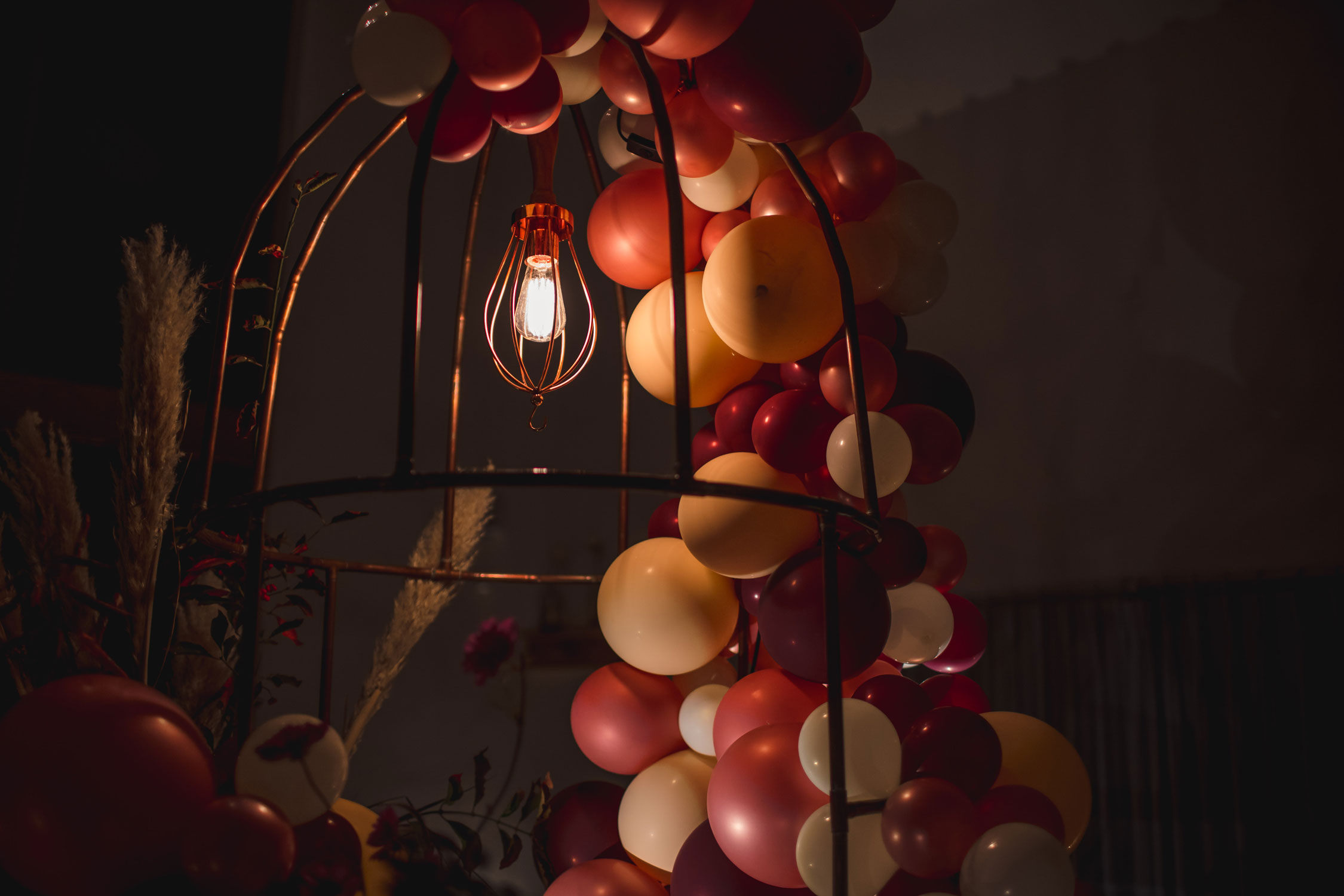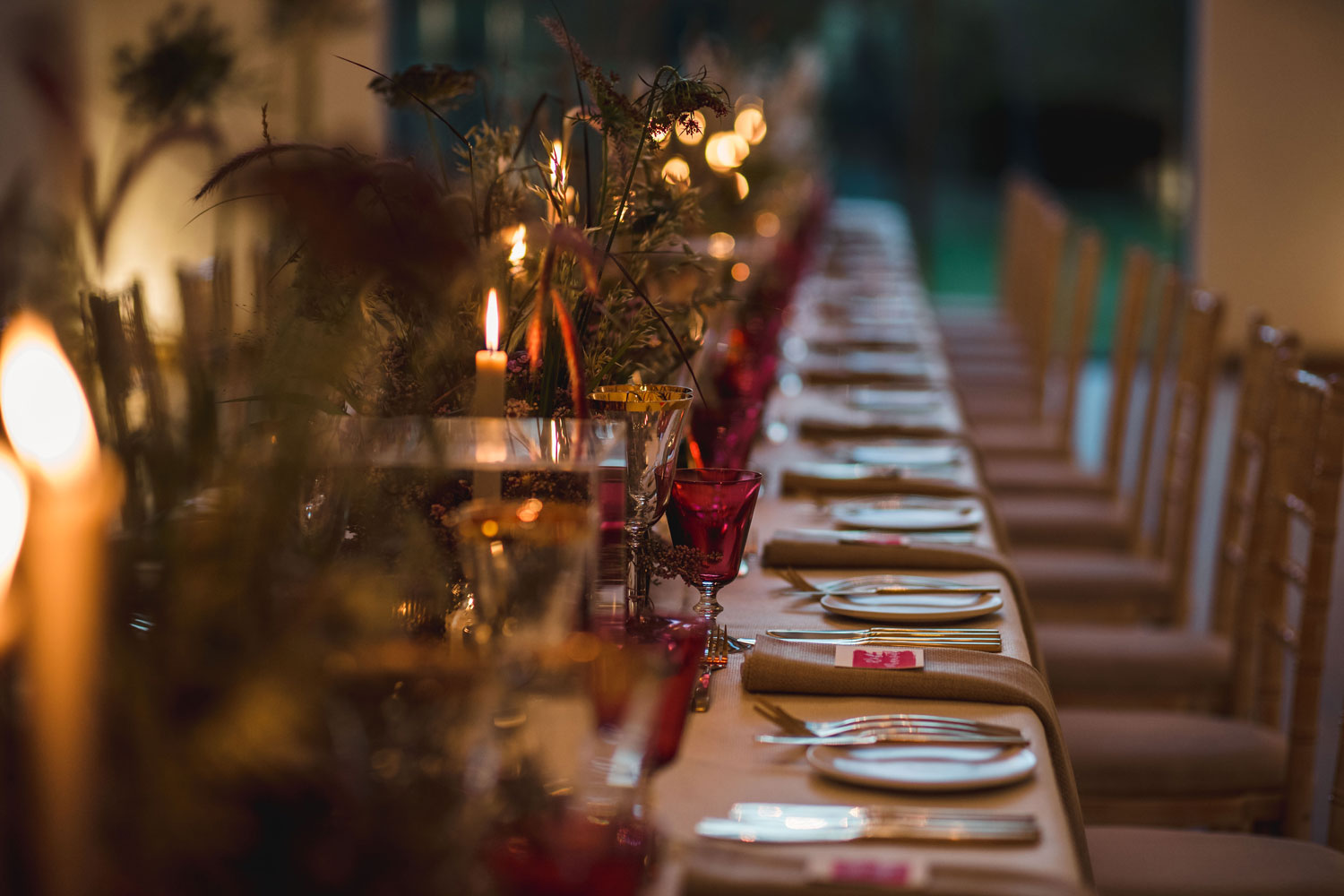 Seasonal Ceremonies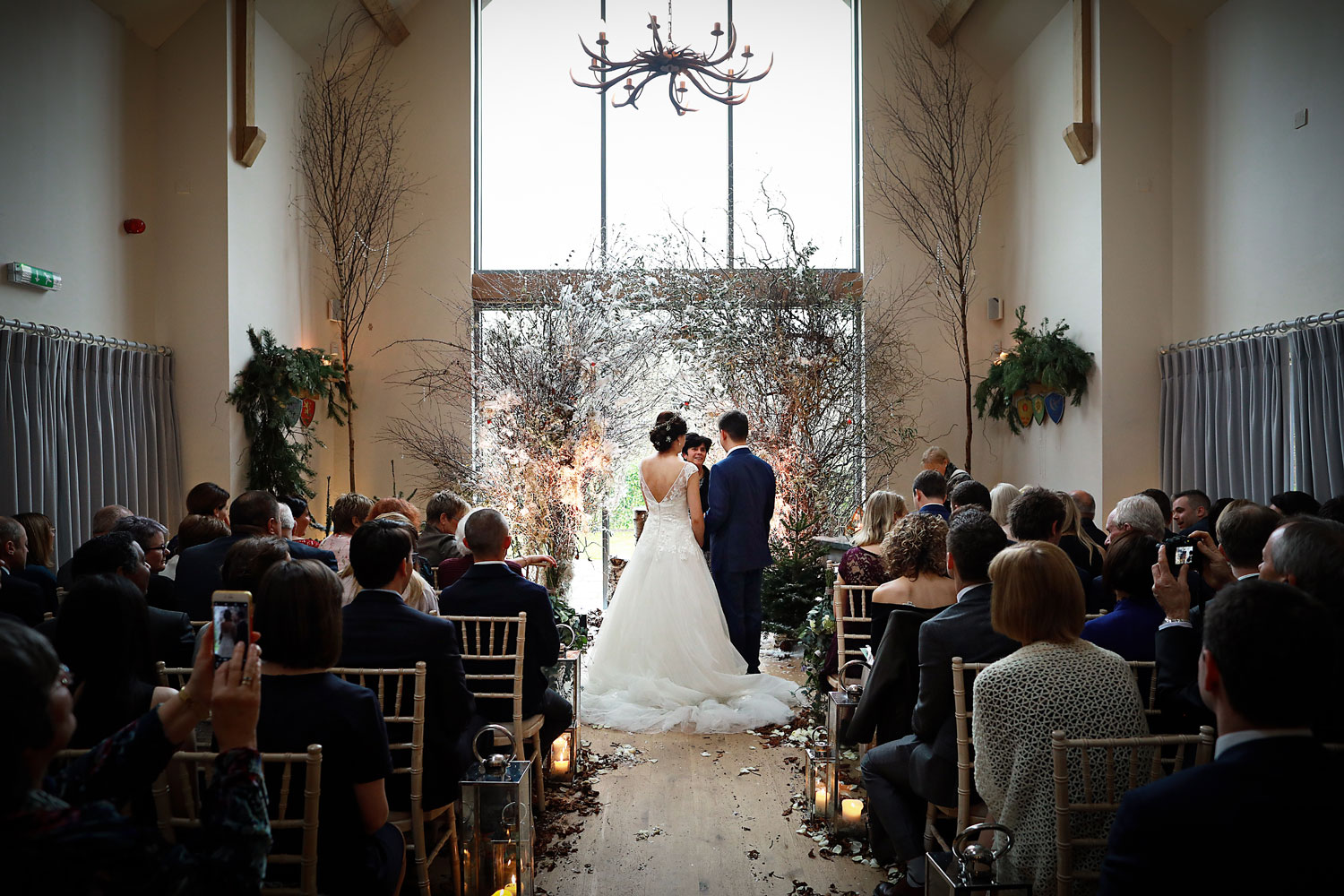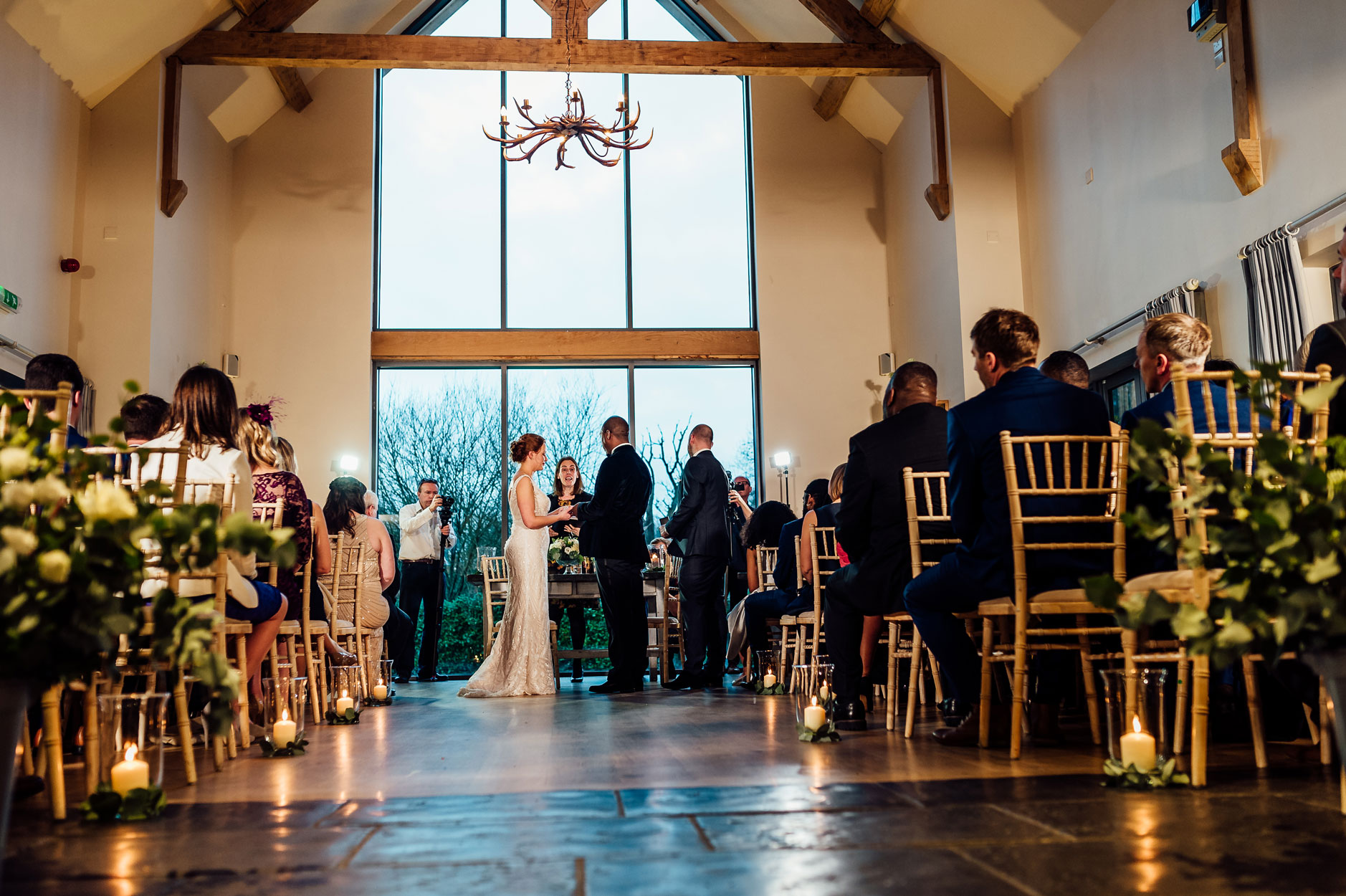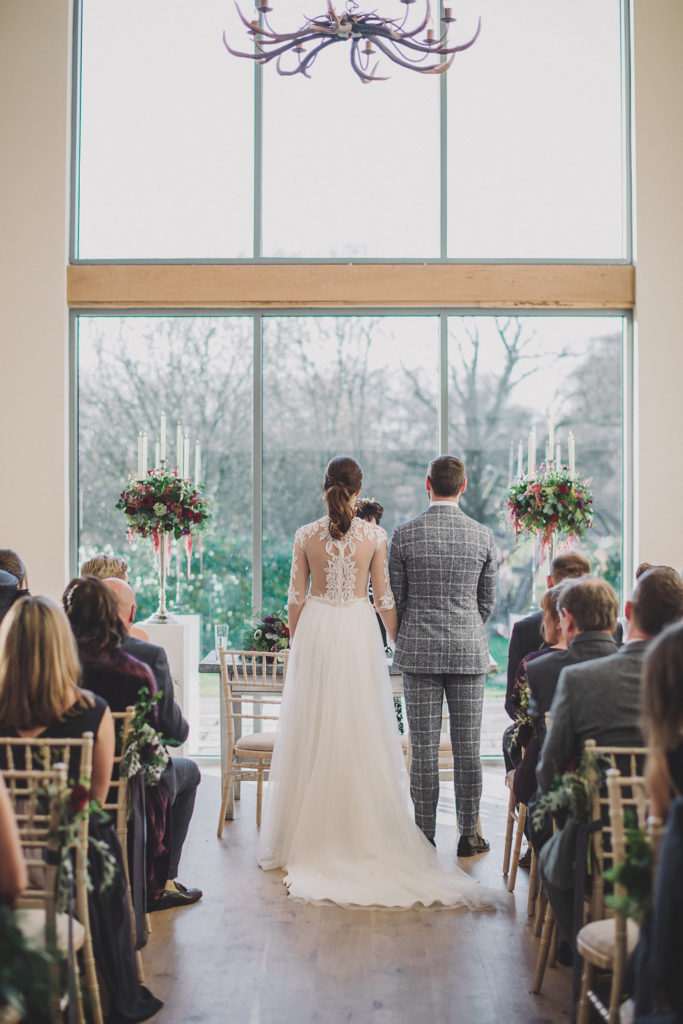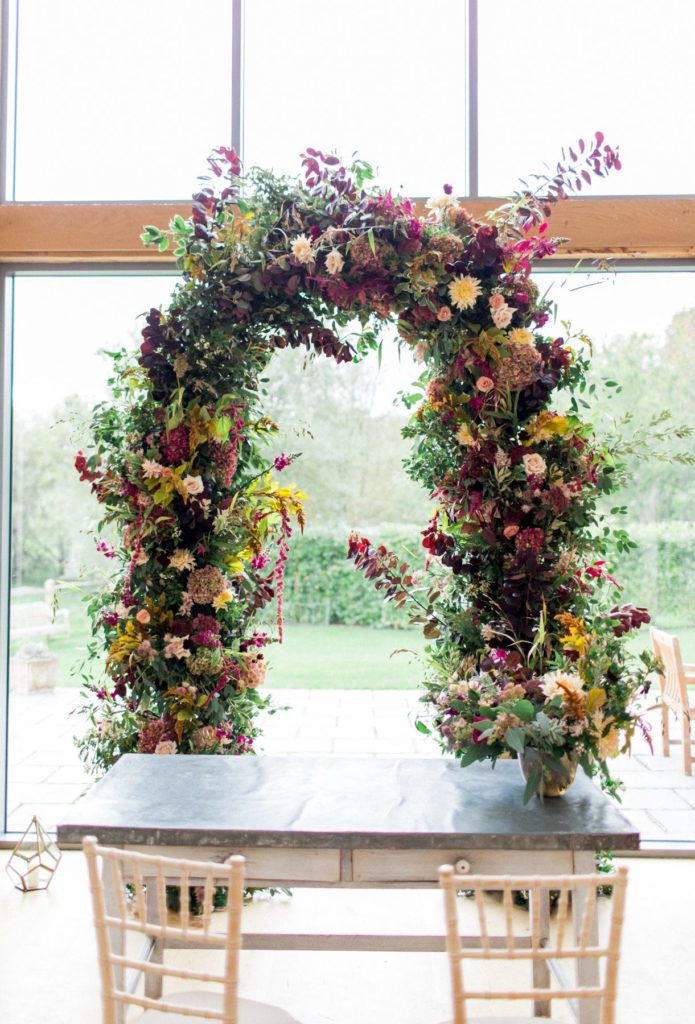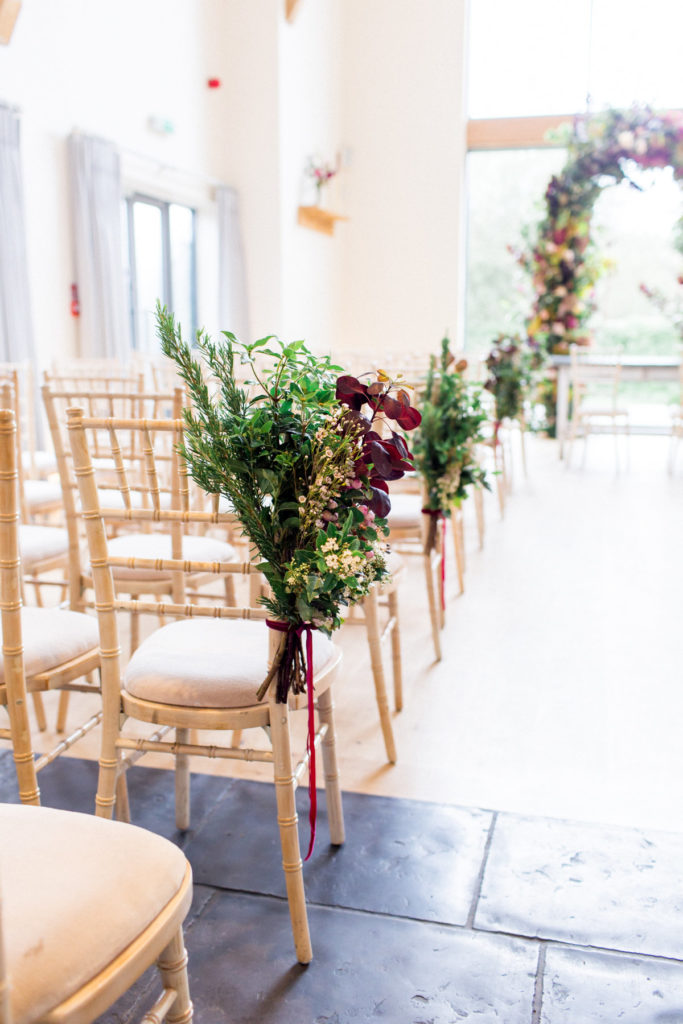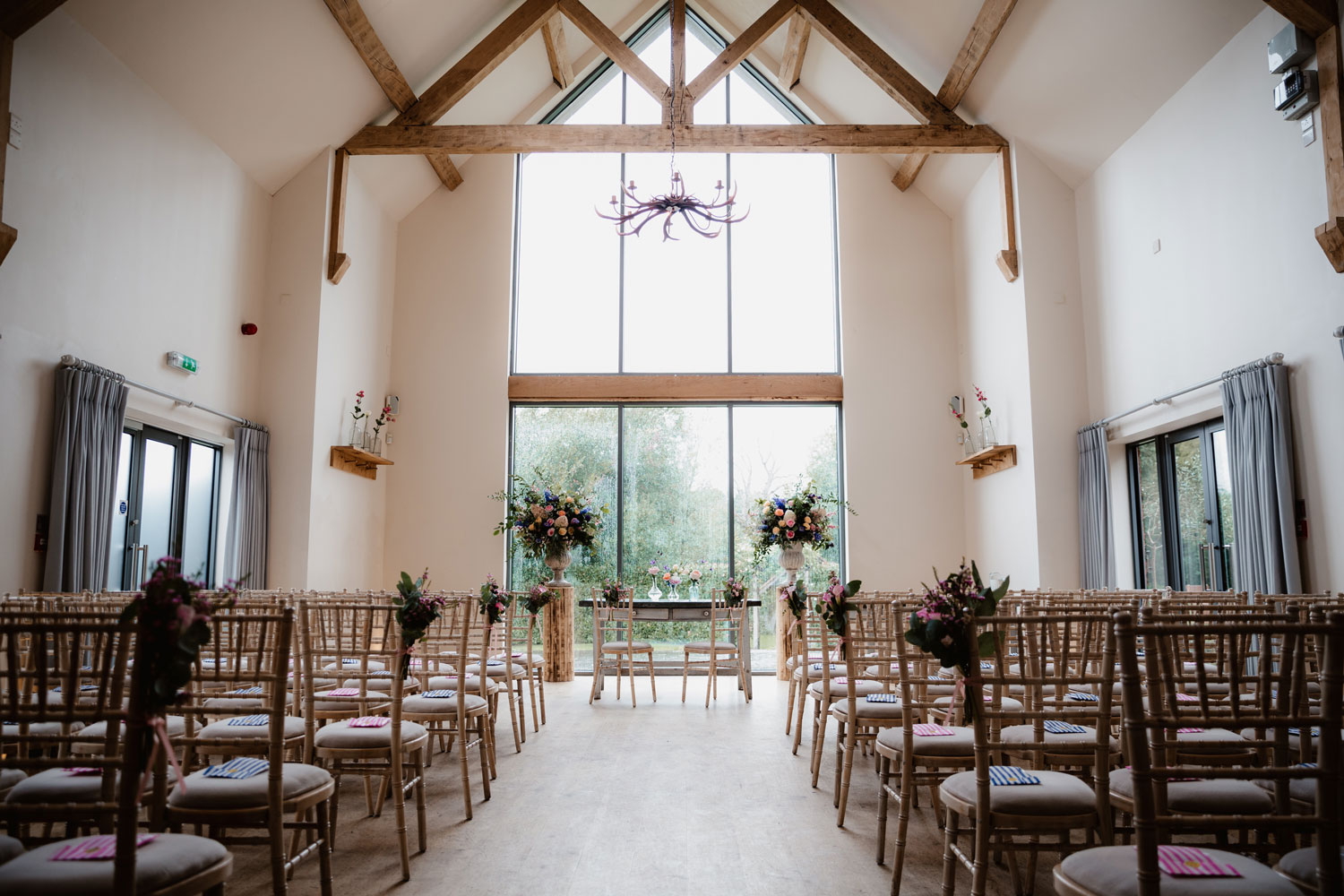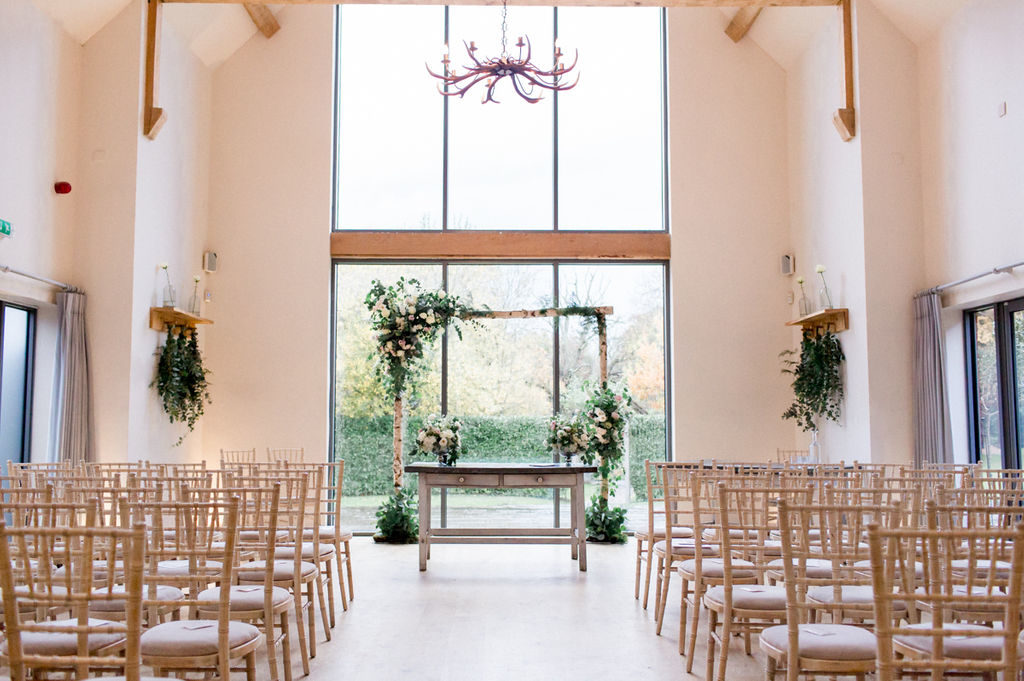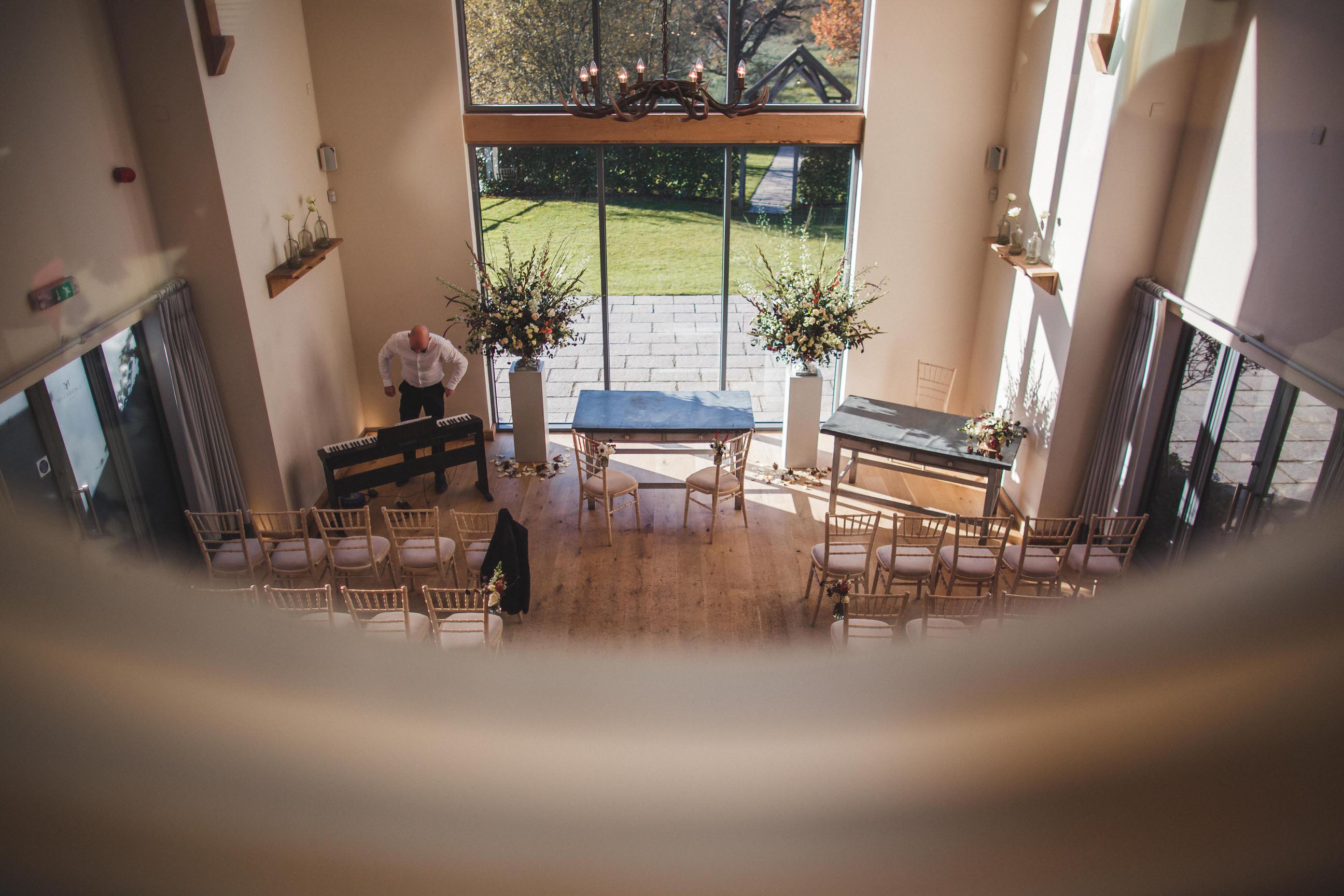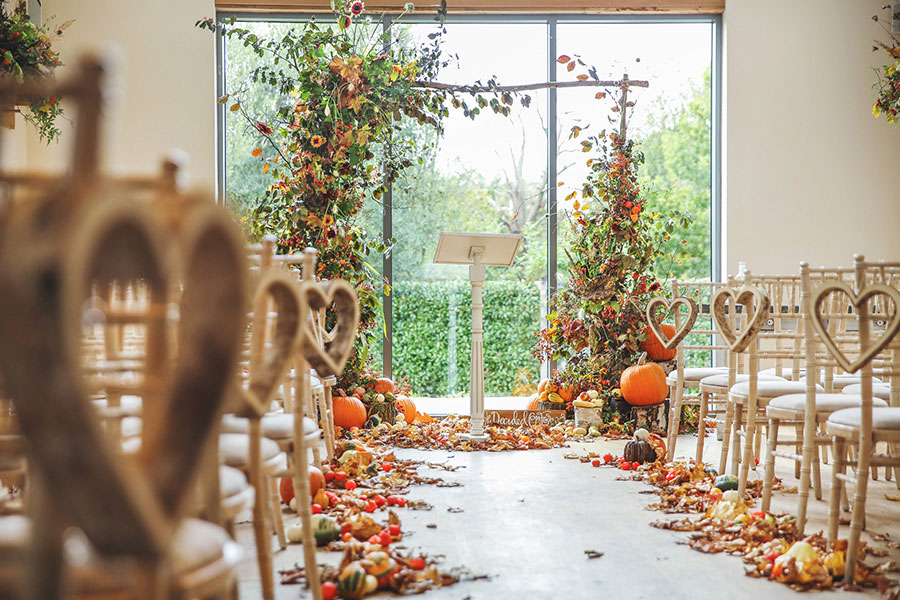 Wholesome Kalm Kitchen Menu's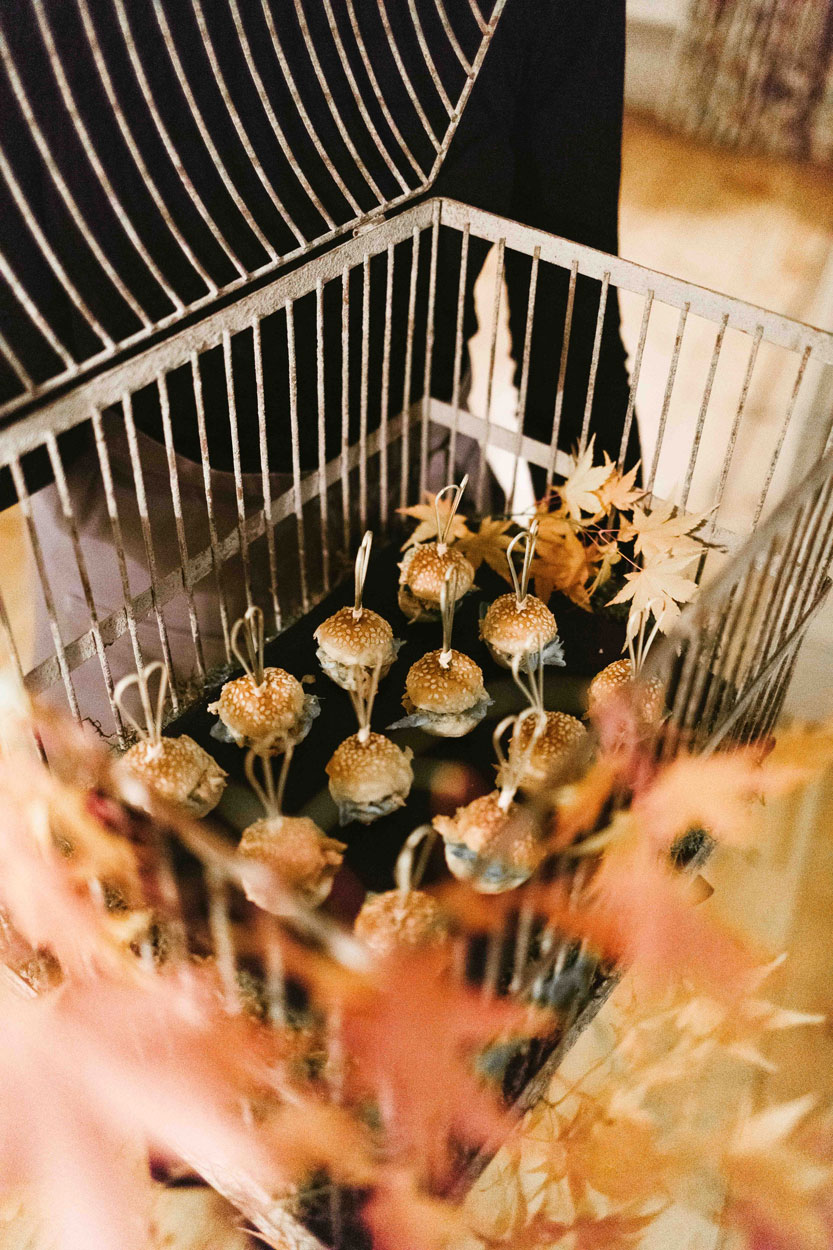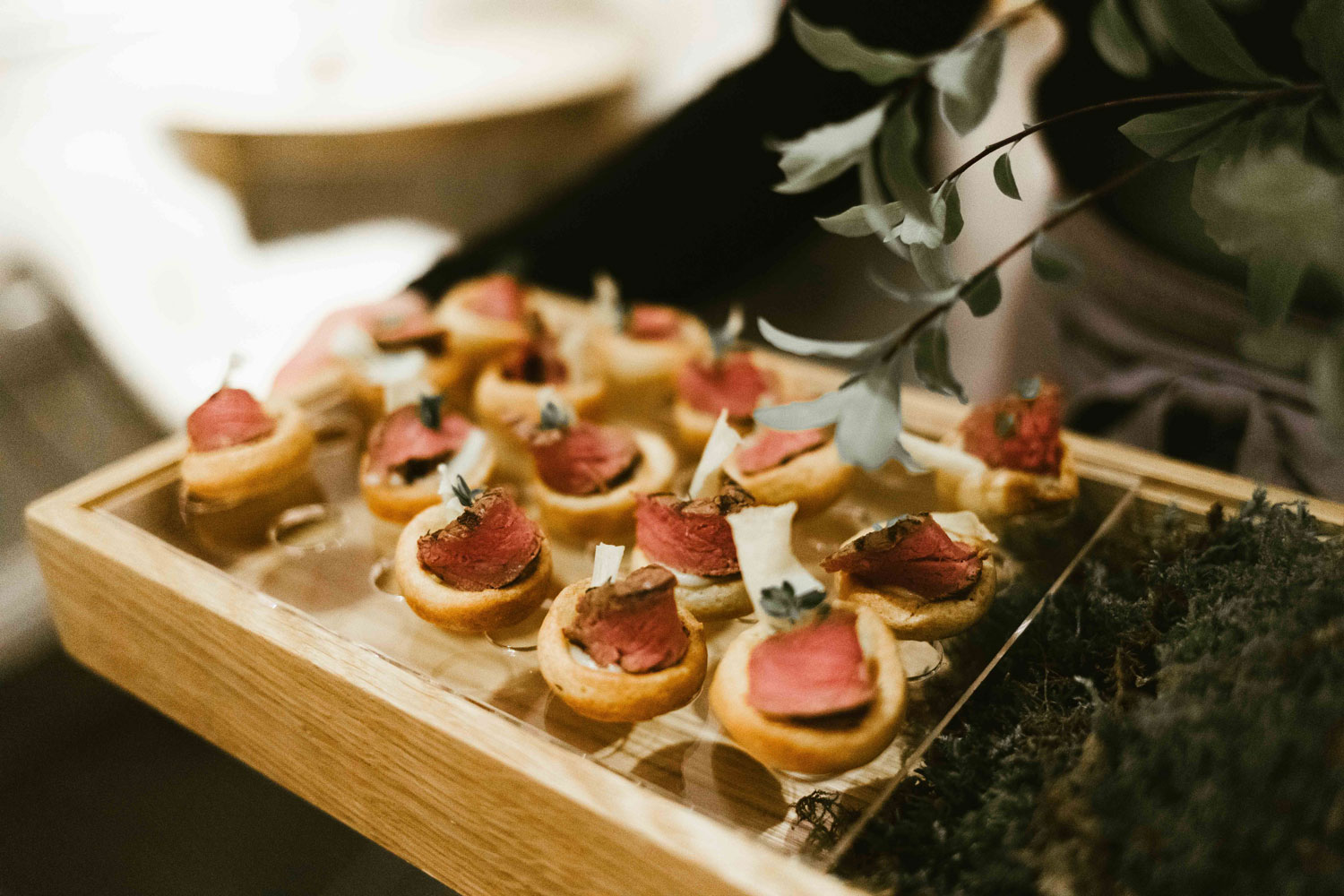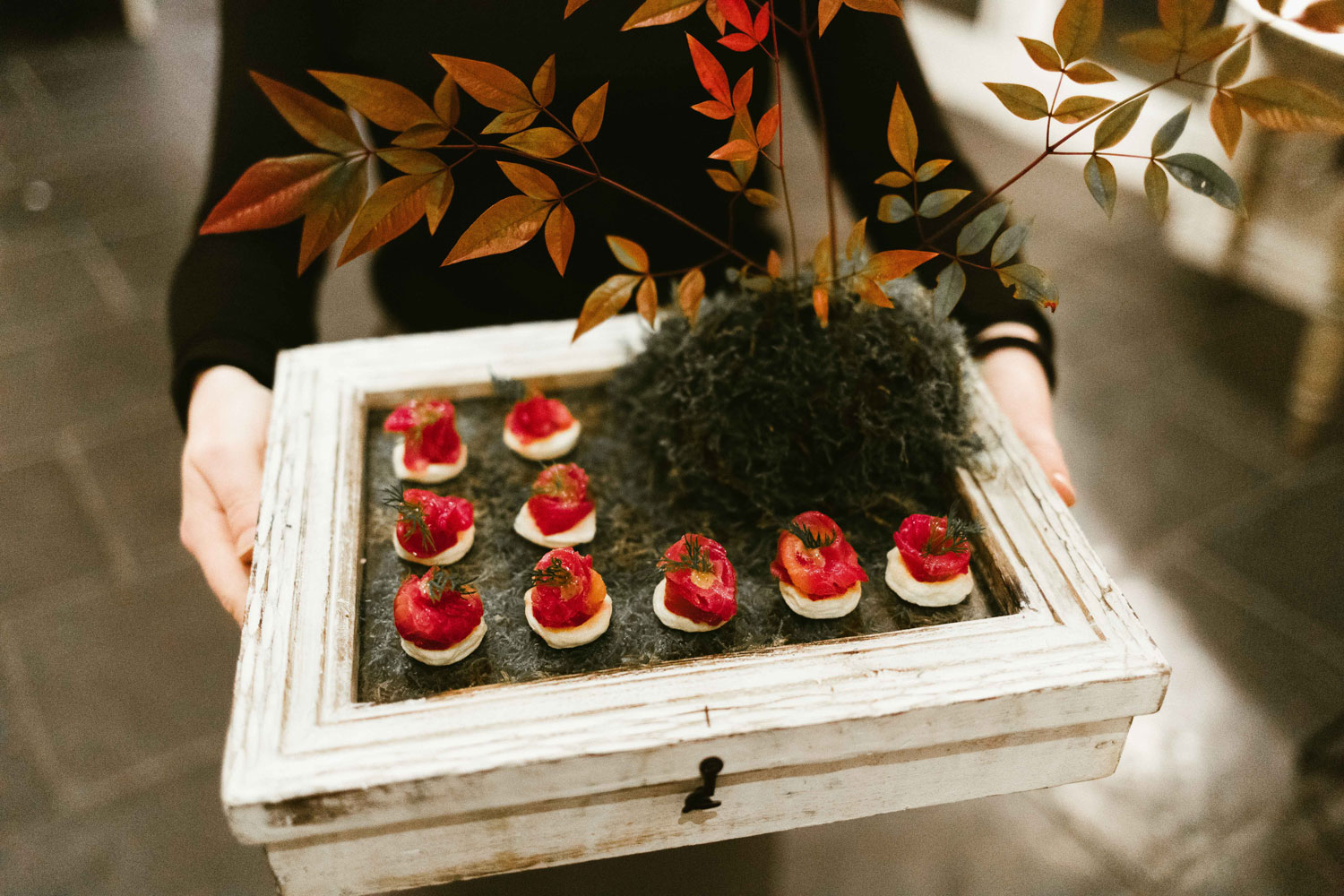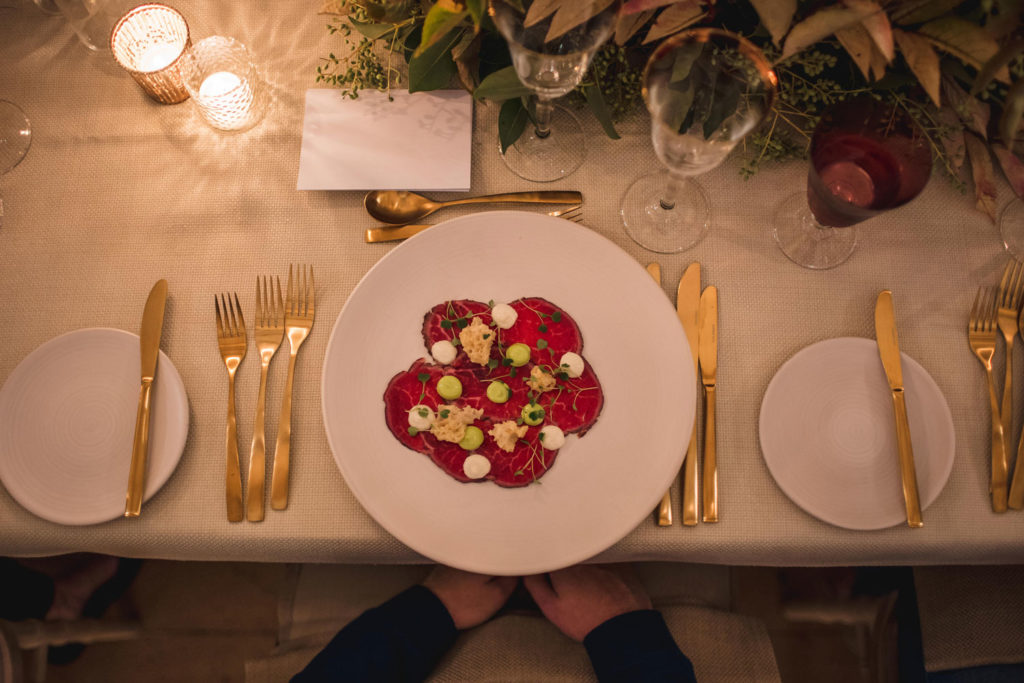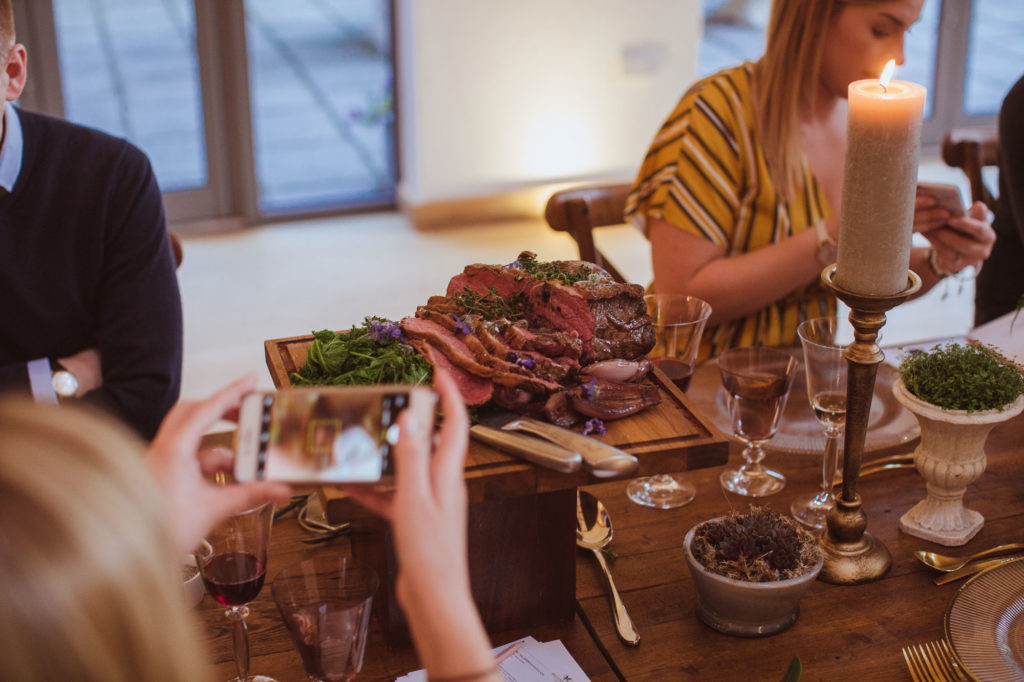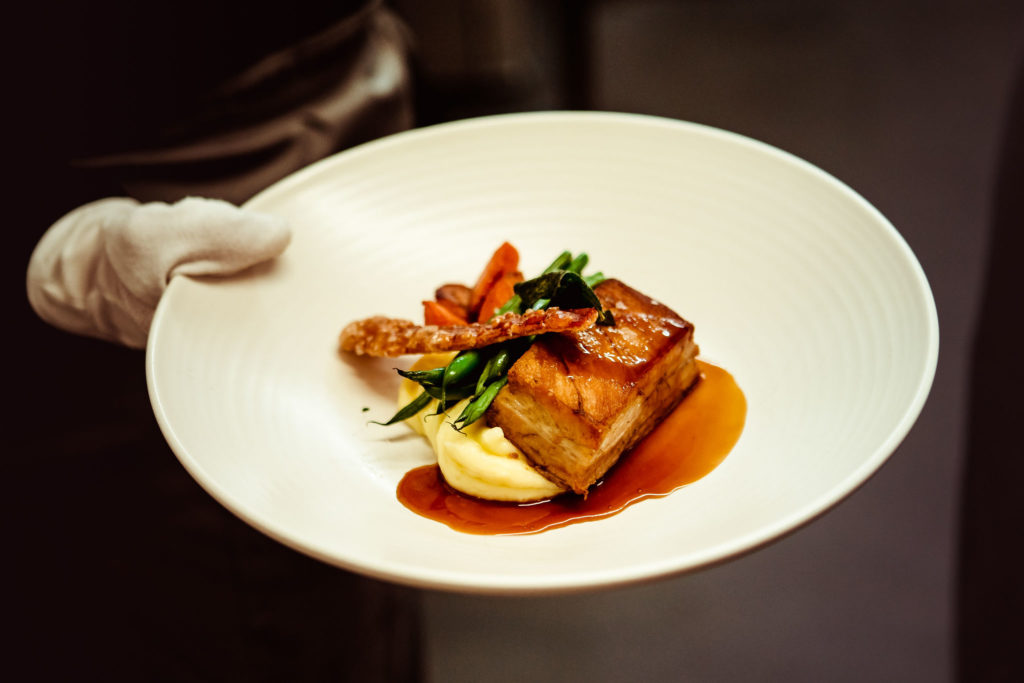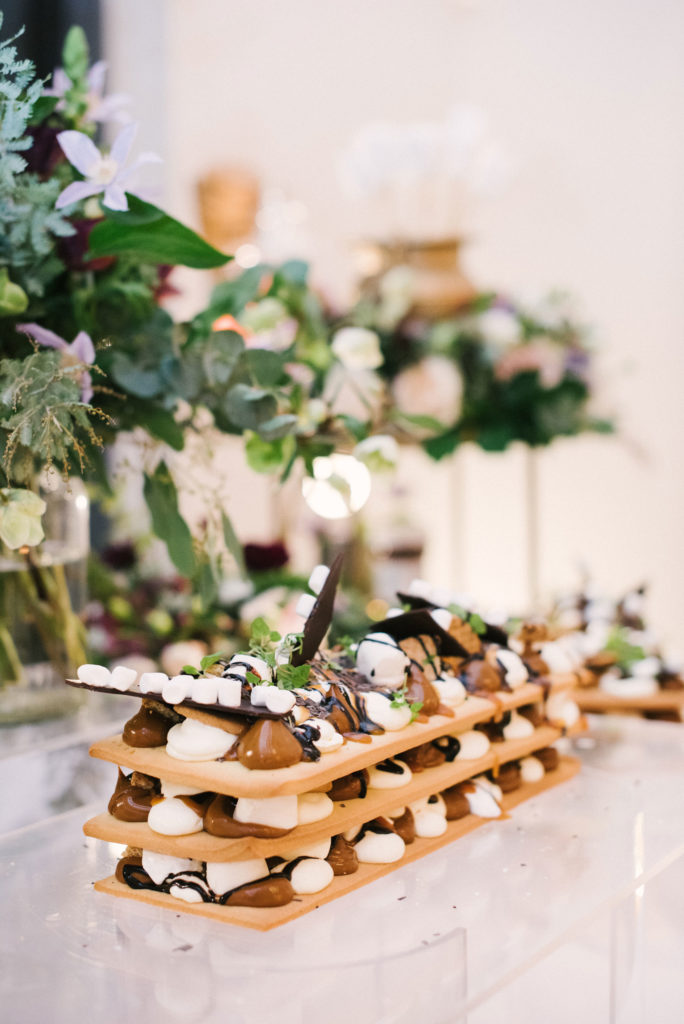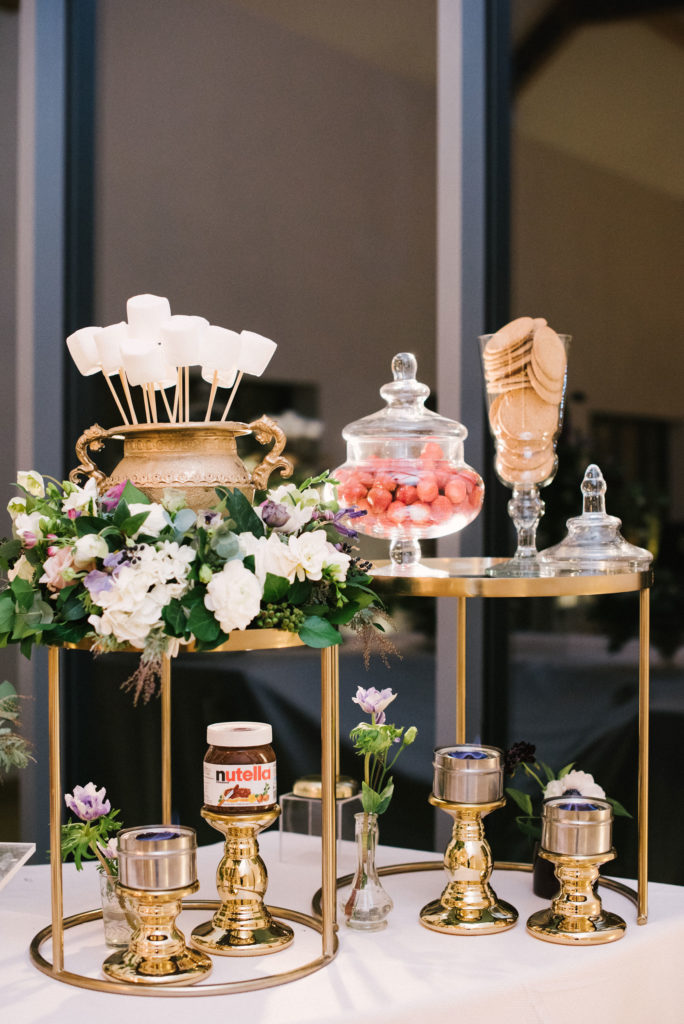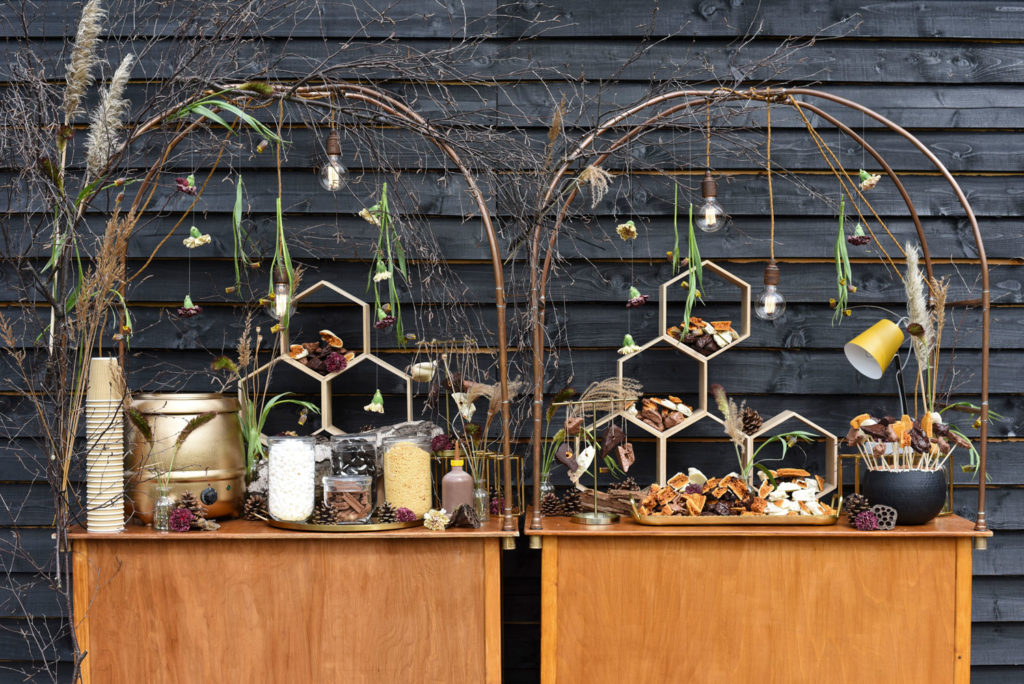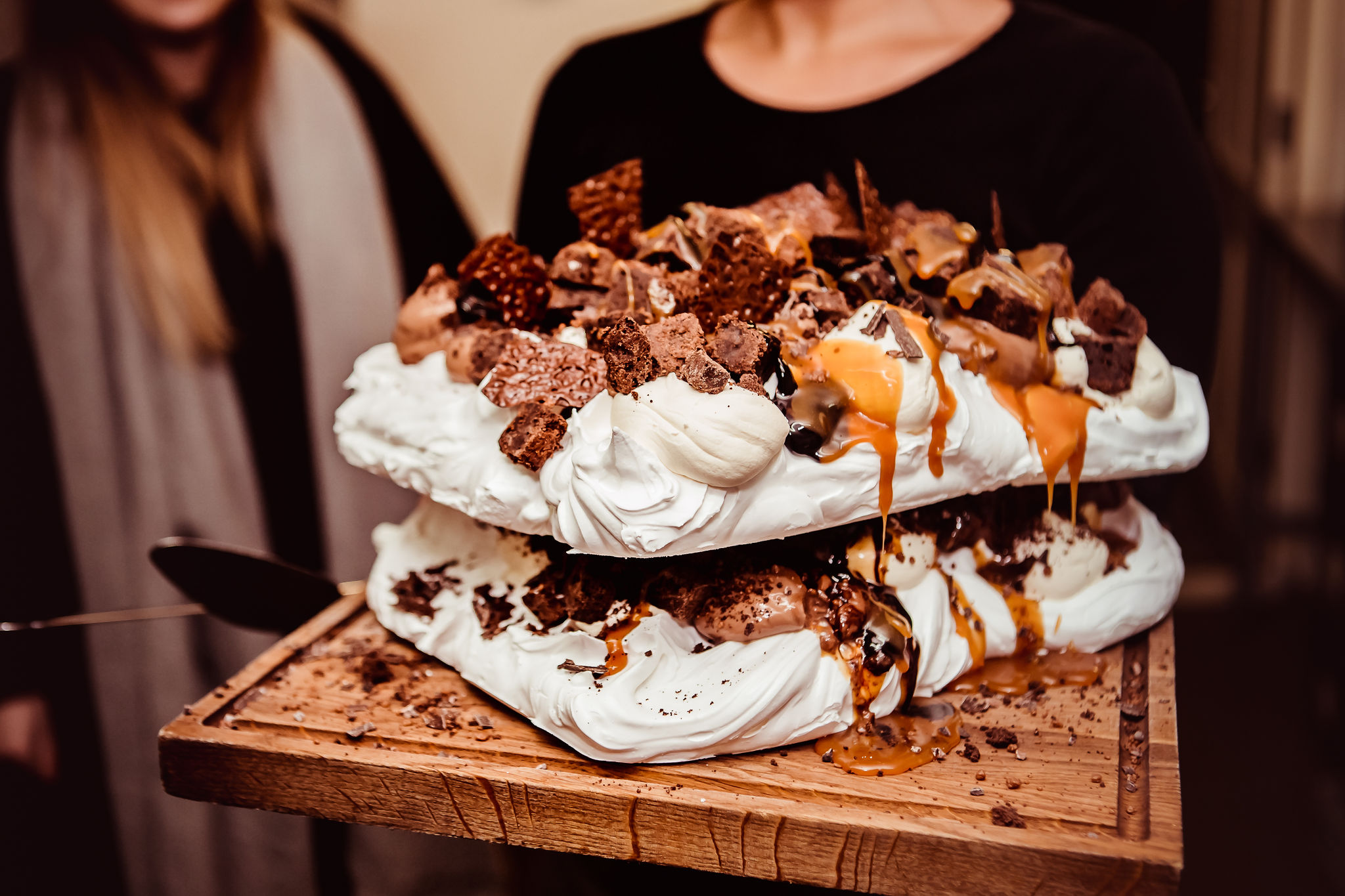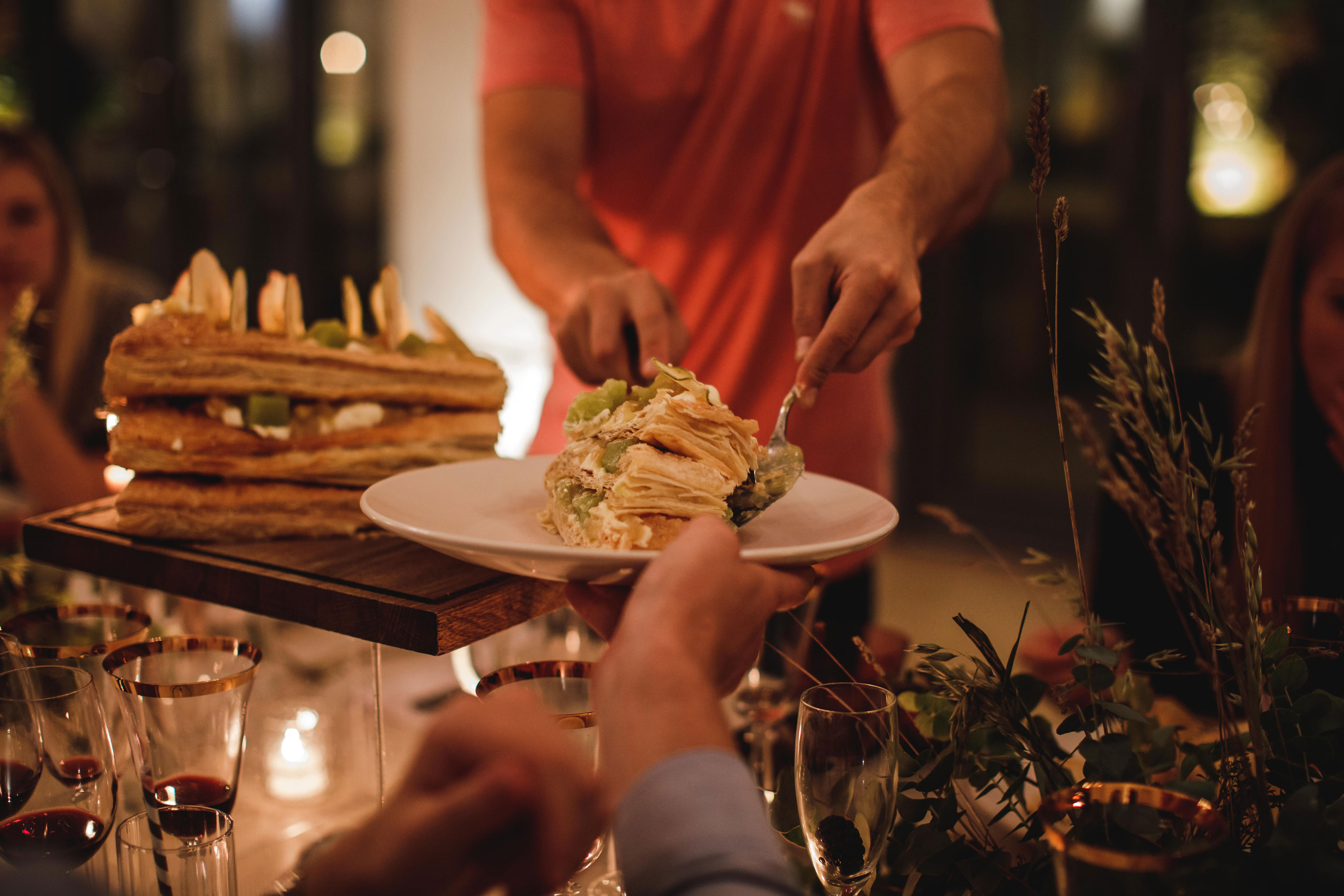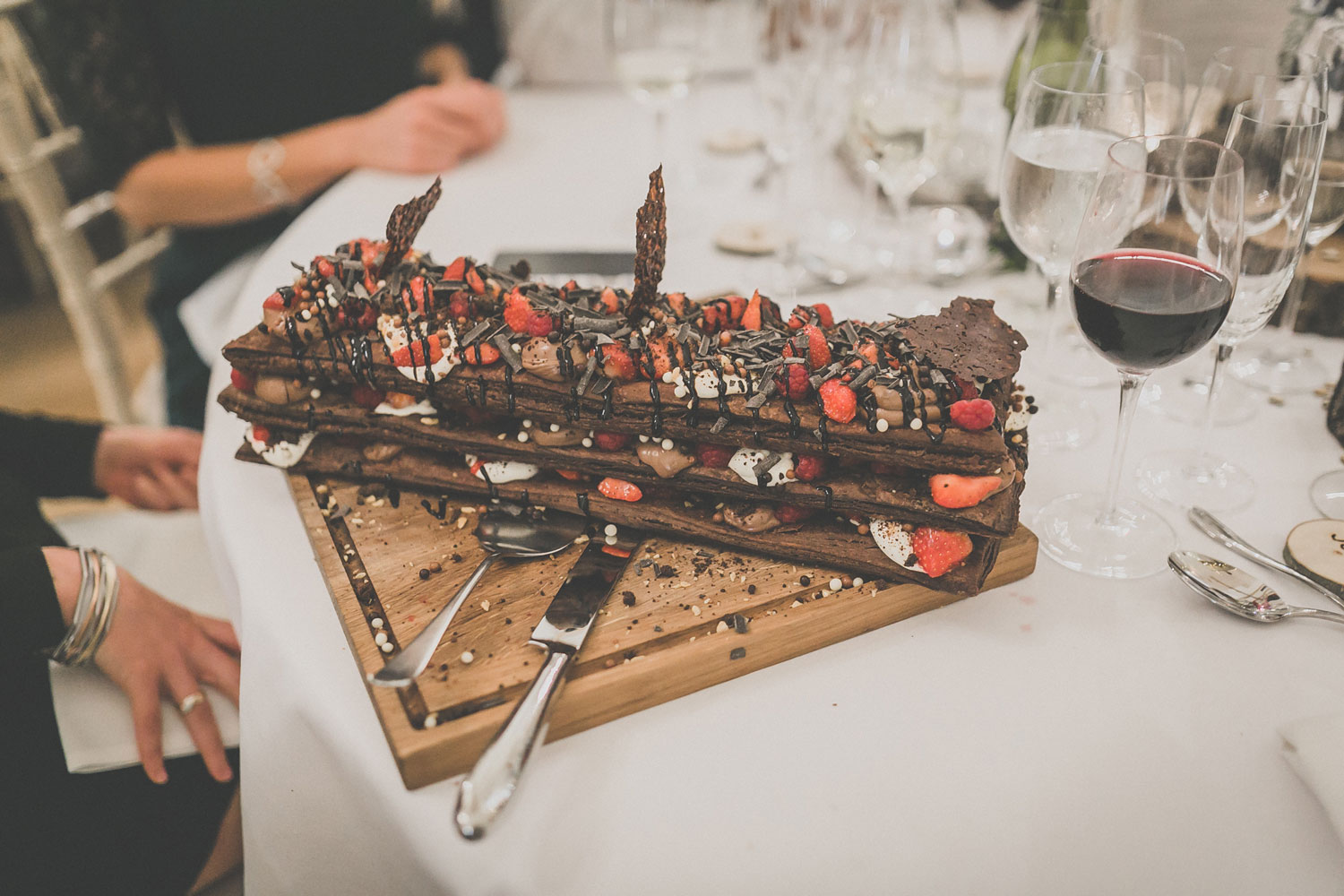 Those Romantic Nighttime Pictures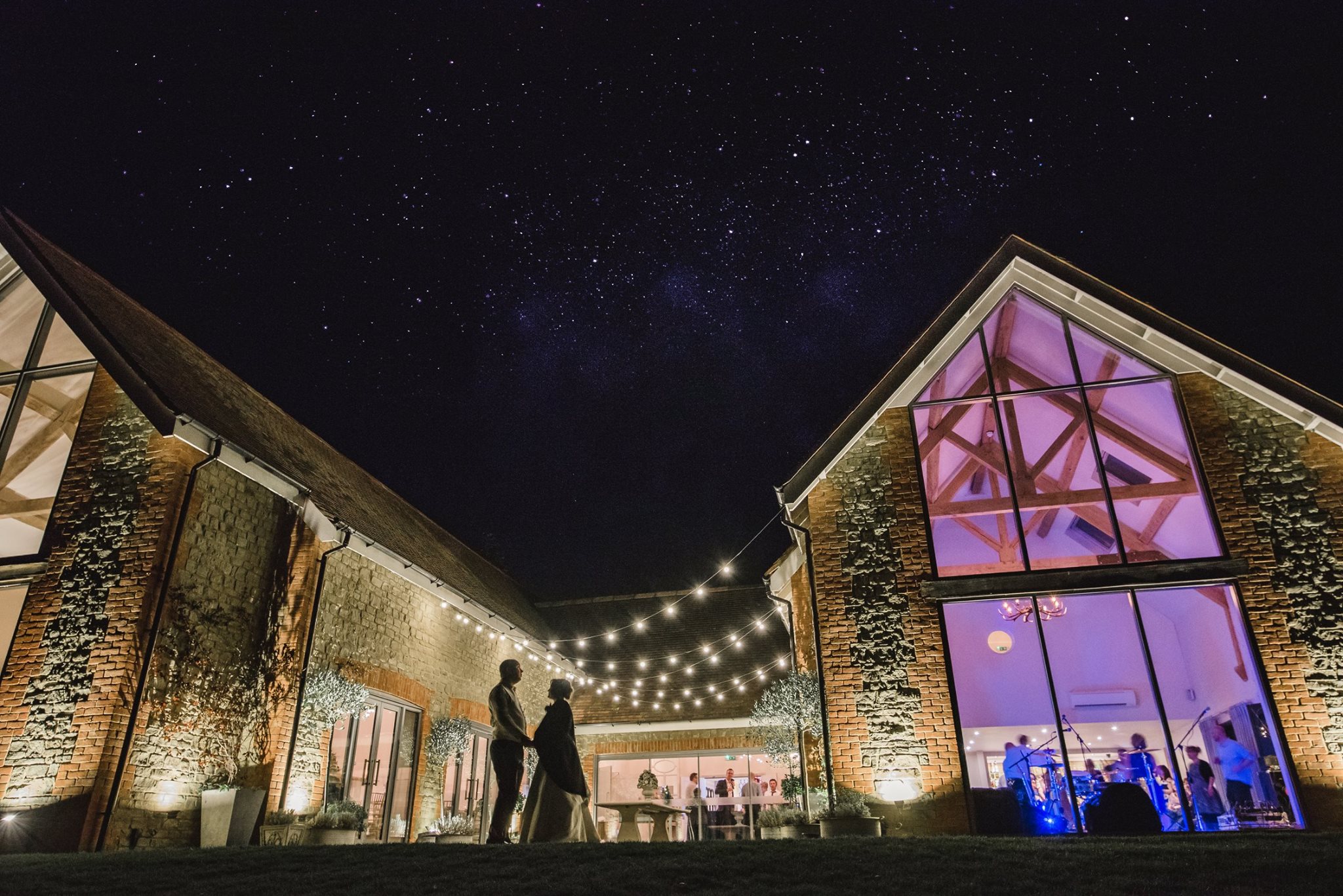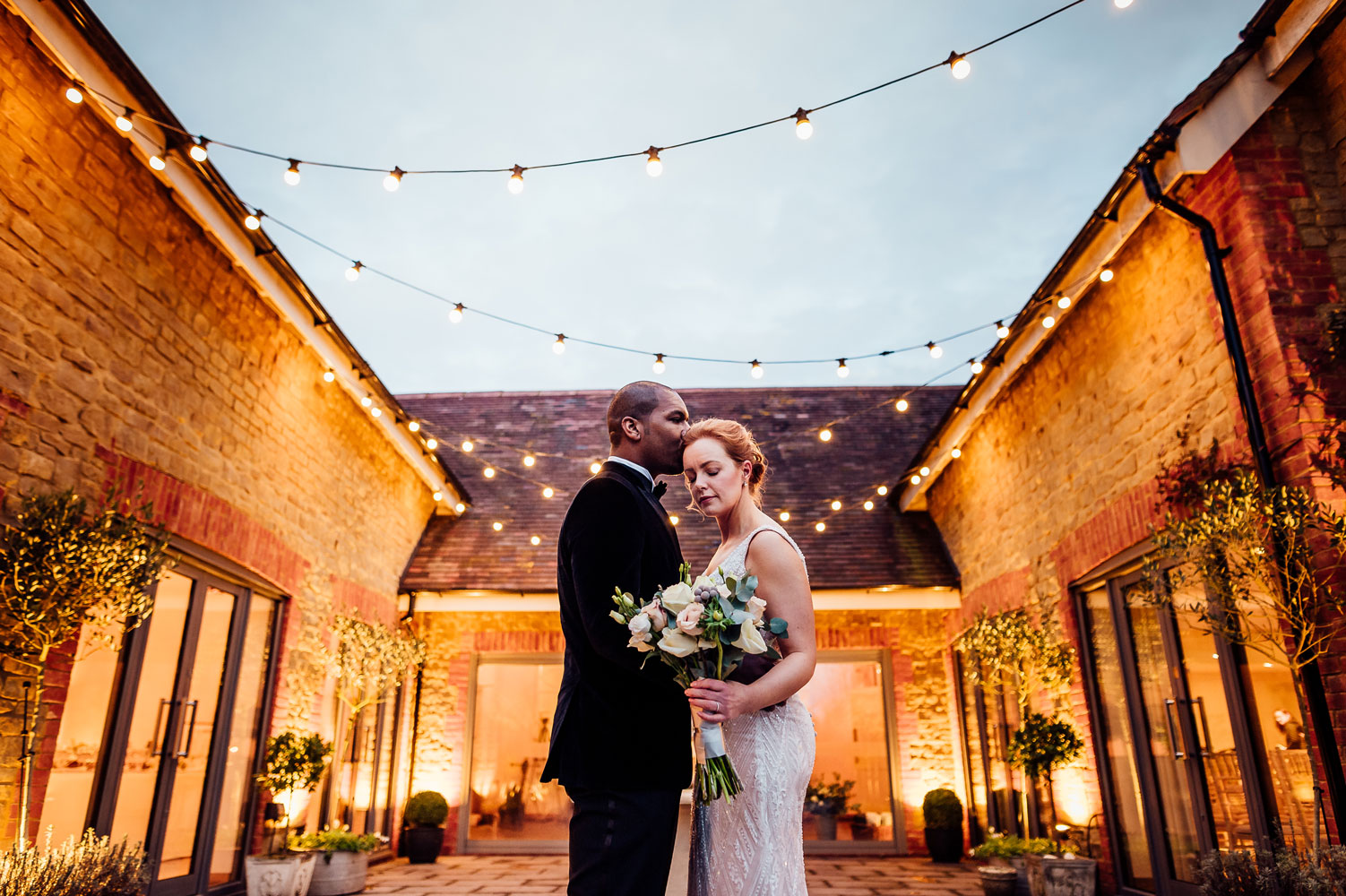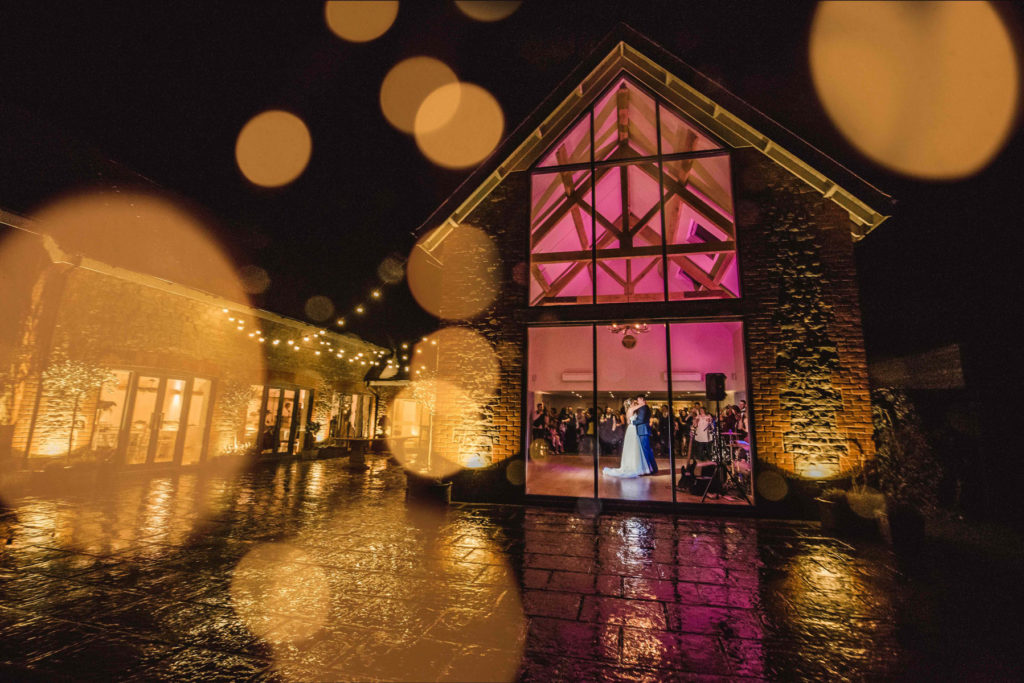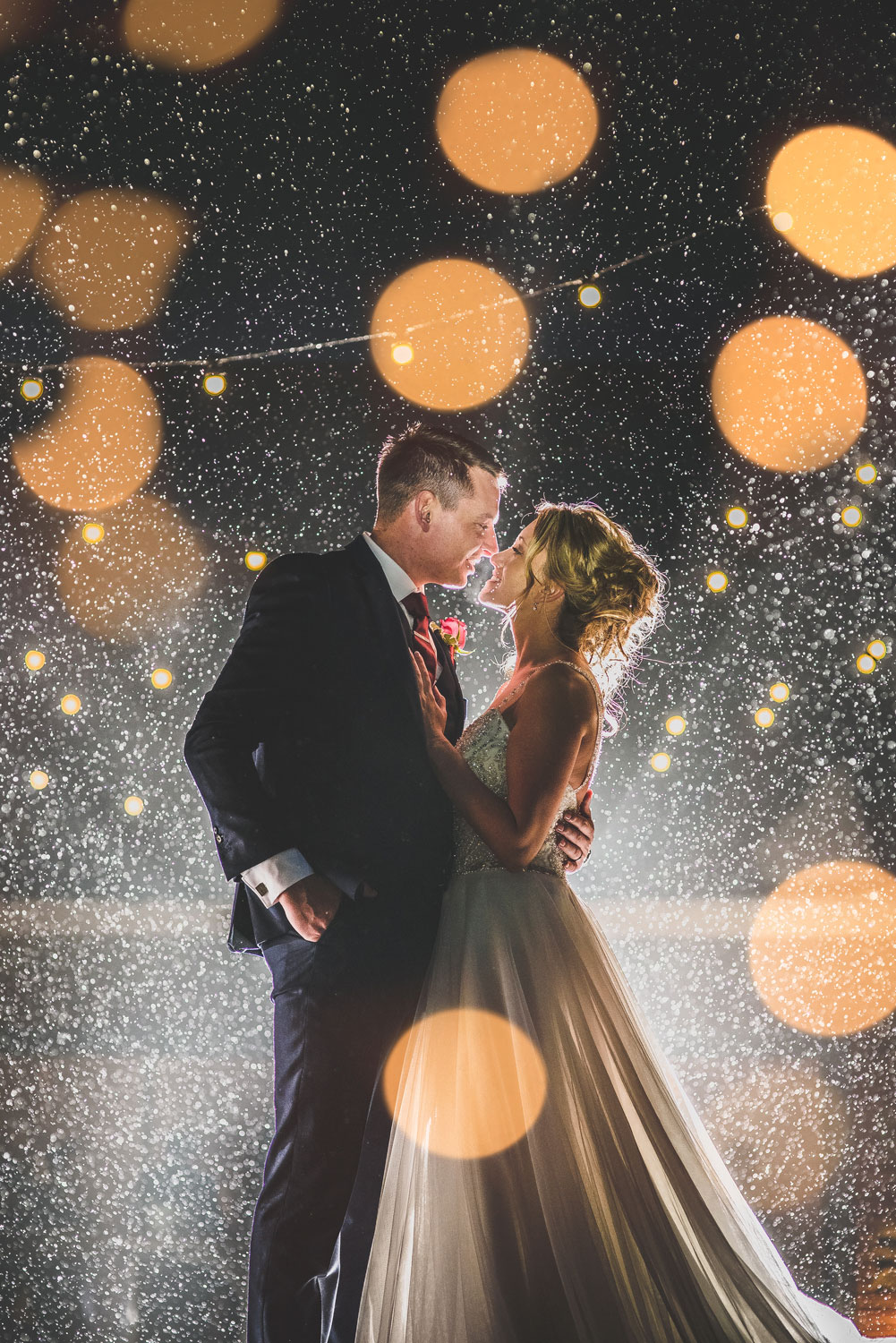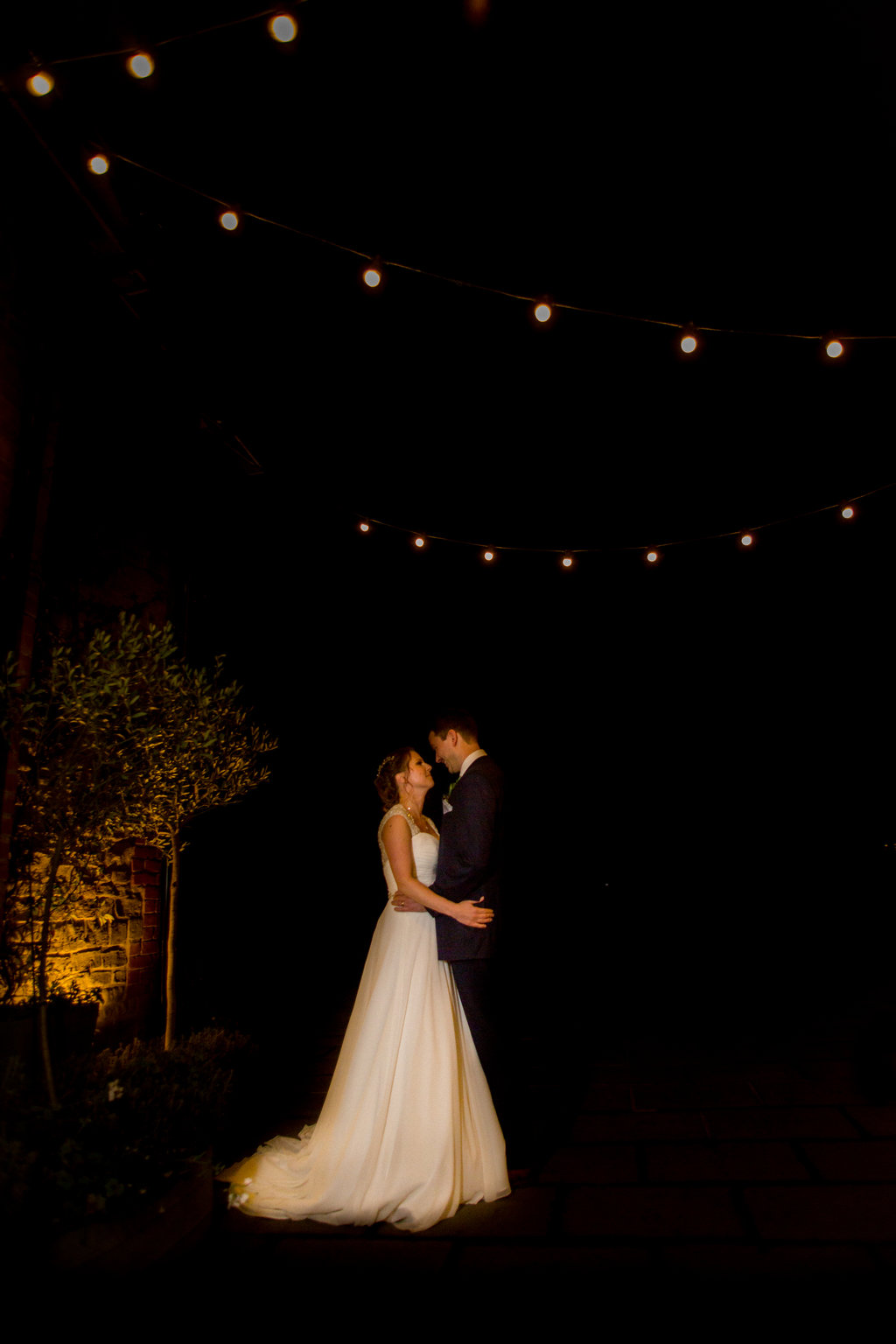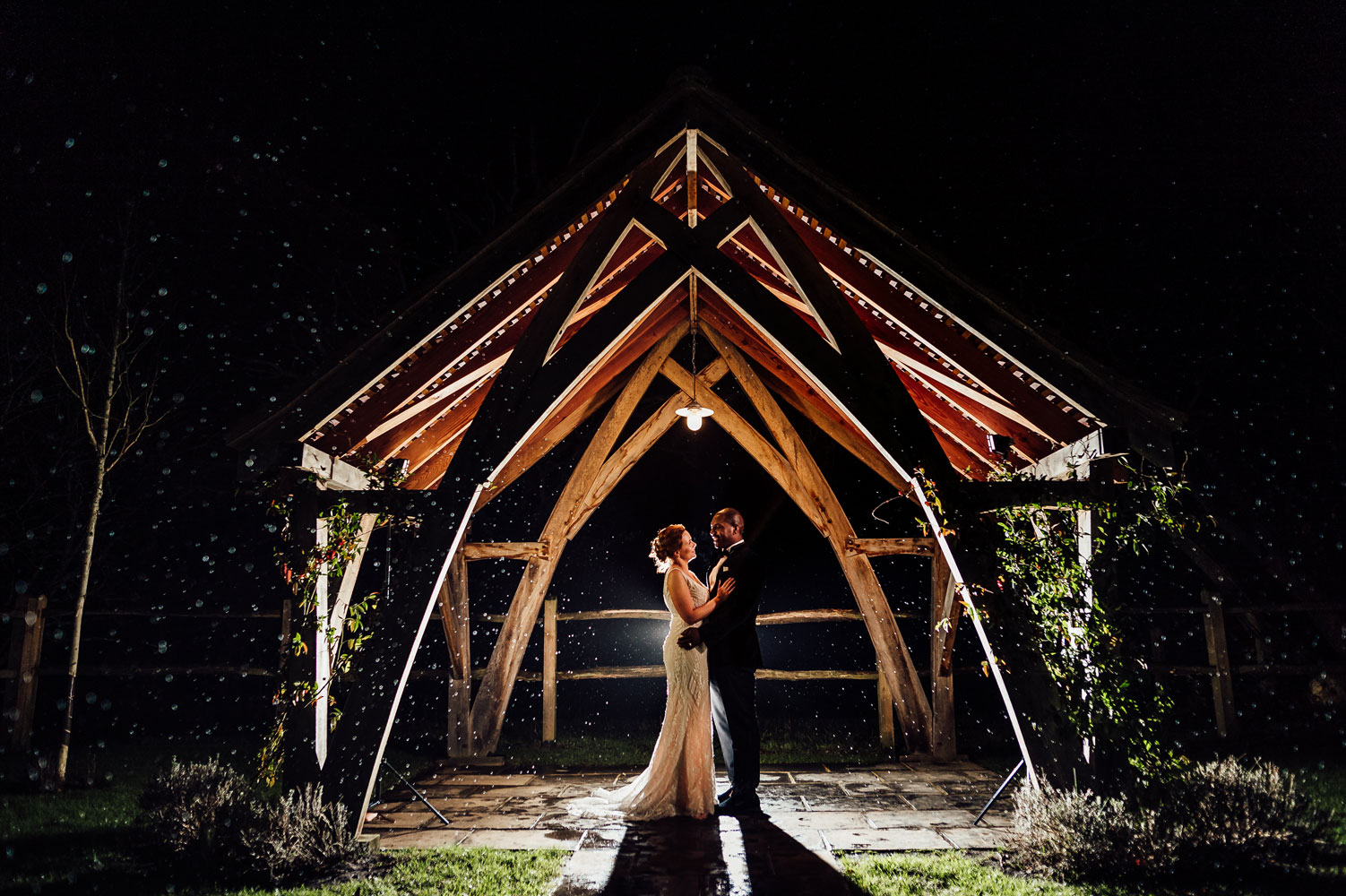 News : 25 / 02 / 19
Millbridge Court Ceremony Inspiration #marriedatmillbridge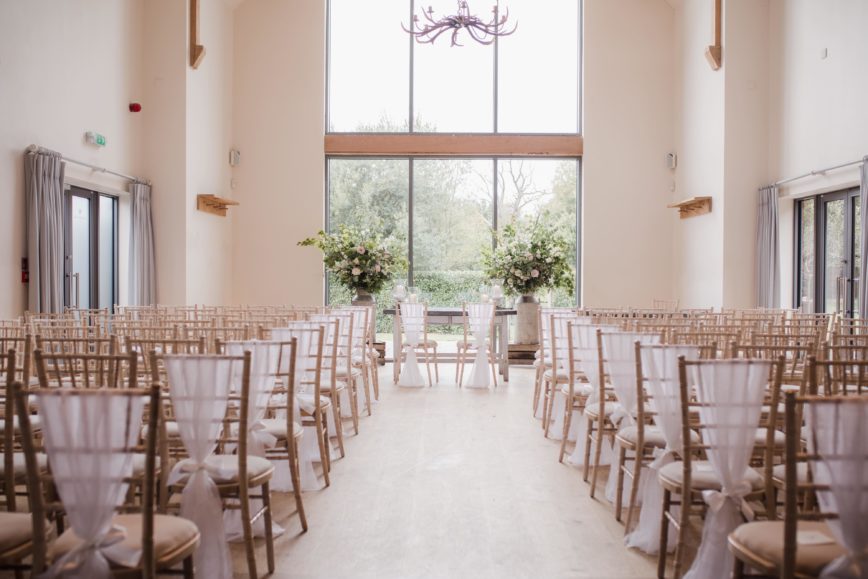 (Lead Image- Photographer: Kerry Ann Duffy, Florist: Meadow Folk)
At Millbridge Court, we are lucky enough to have not one, but two different Ceremony Spaces. One that is set within our Arbor Garden & available to MBC Couples in the warmer months, where they can get married underneath our wooden Arbor surrounded by the Frensham Countryside, & another is in our Ceremony Barn, with high ceilings, oak beams & a stunning floor to ceiling glass wall.
With both spaces providing neutral backdrops to Wedding Ceremonies, the Arbor & Ceremony Barn allow for a huge variety of styling options. Whether your vision for your dream day involves abundant, countryside blooms, chic draping, seasonal styling or whether you want the natural beauty of the Arbor Garden or the minimal, contemporary design of the Barn to speak for itself, the possibilities are endless.
Below, we wanted to give you all some Millbridge Court Wedding Ceremony inspiration by showcasing a handful of ways in which talented industry professionals have brought our Brides & Grooms visions to life throughout the past year.
Happy browsing, lovely readers! Xx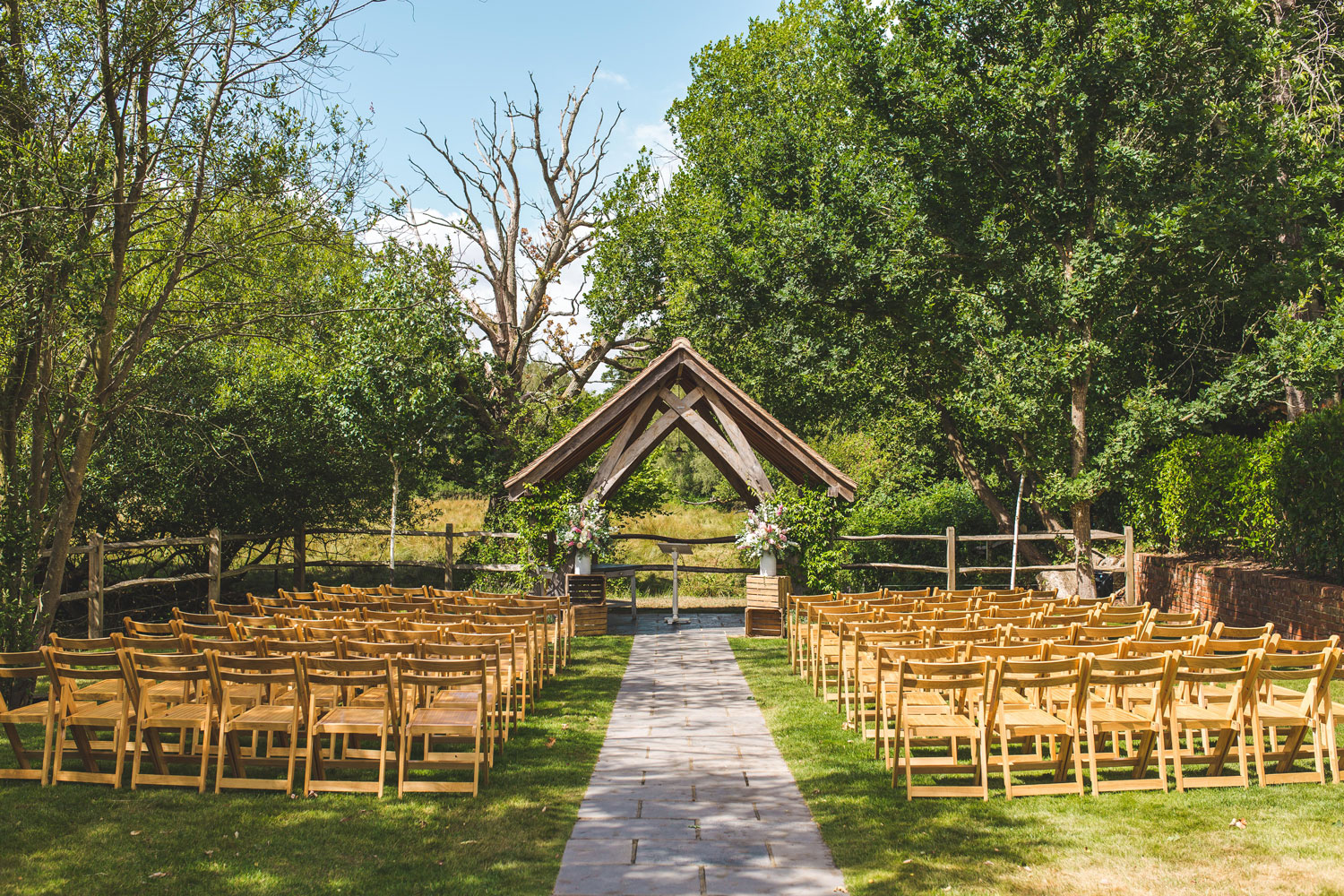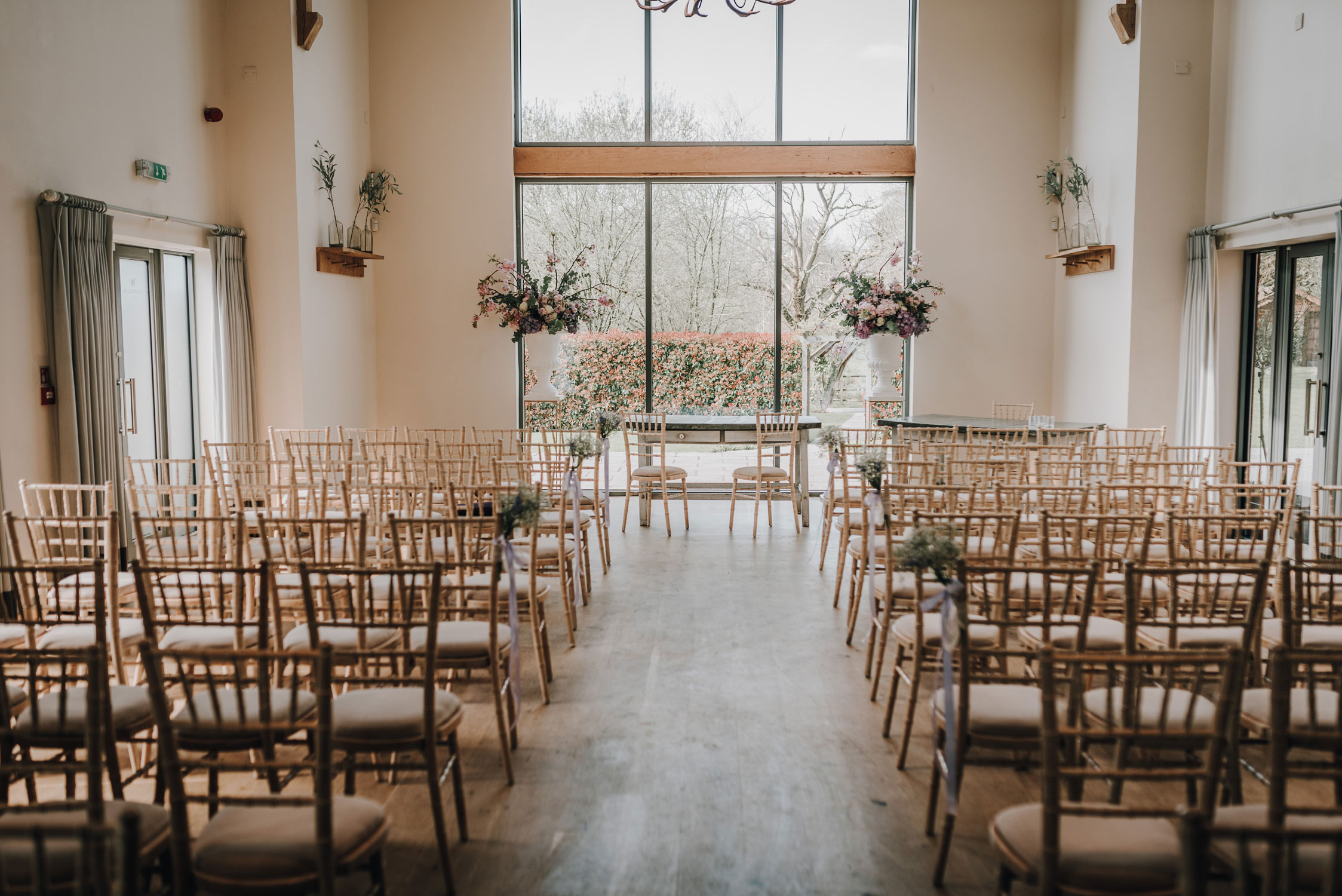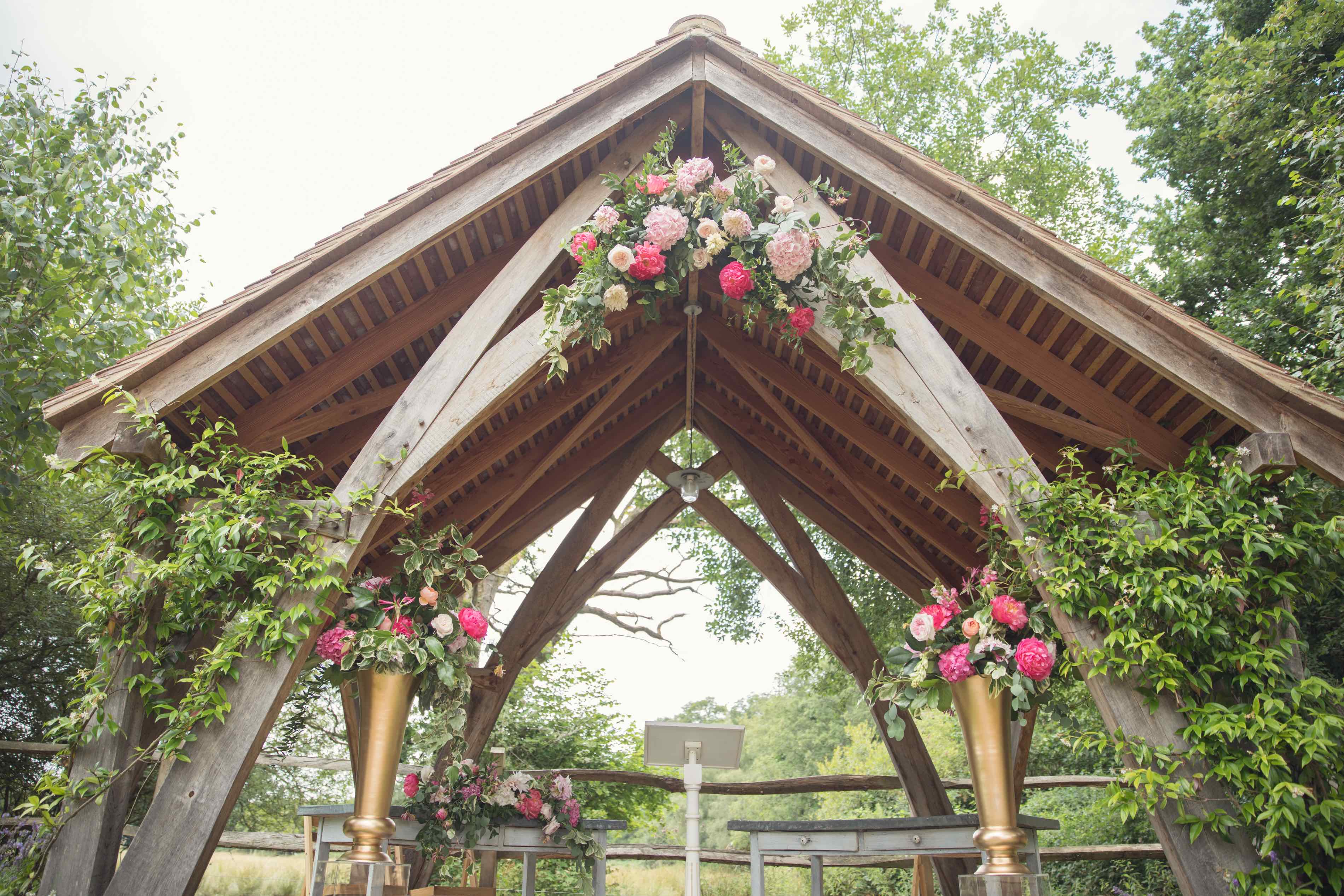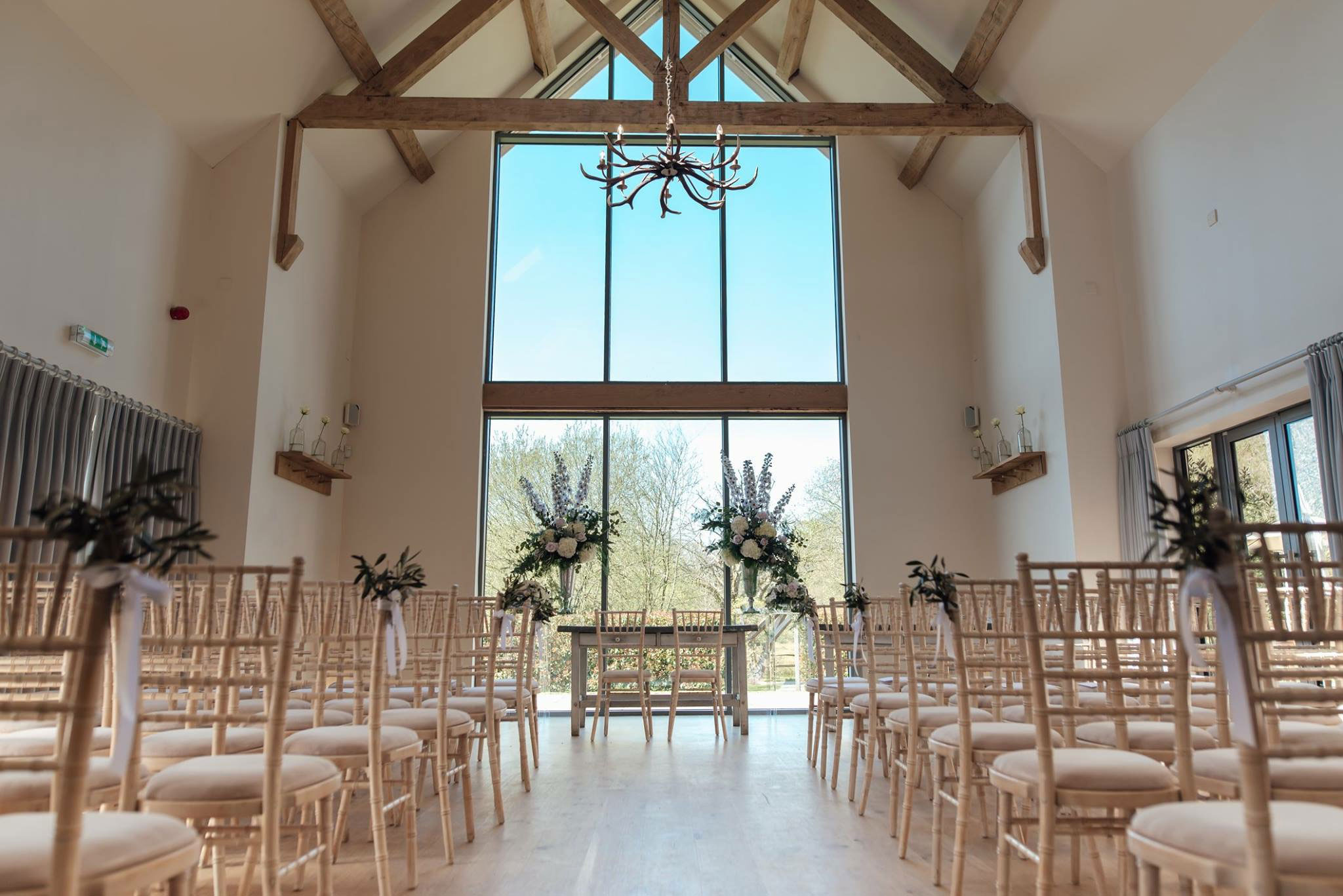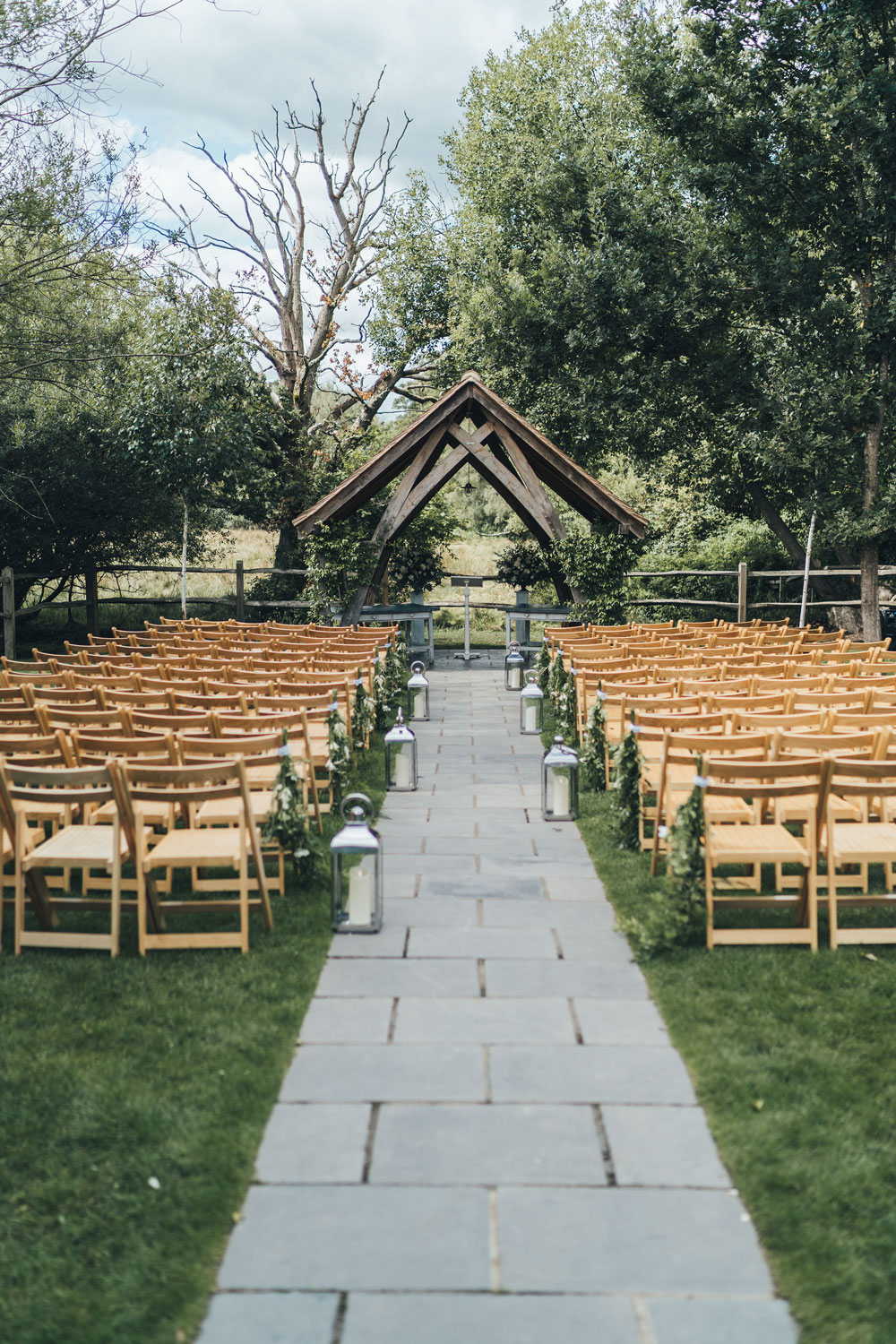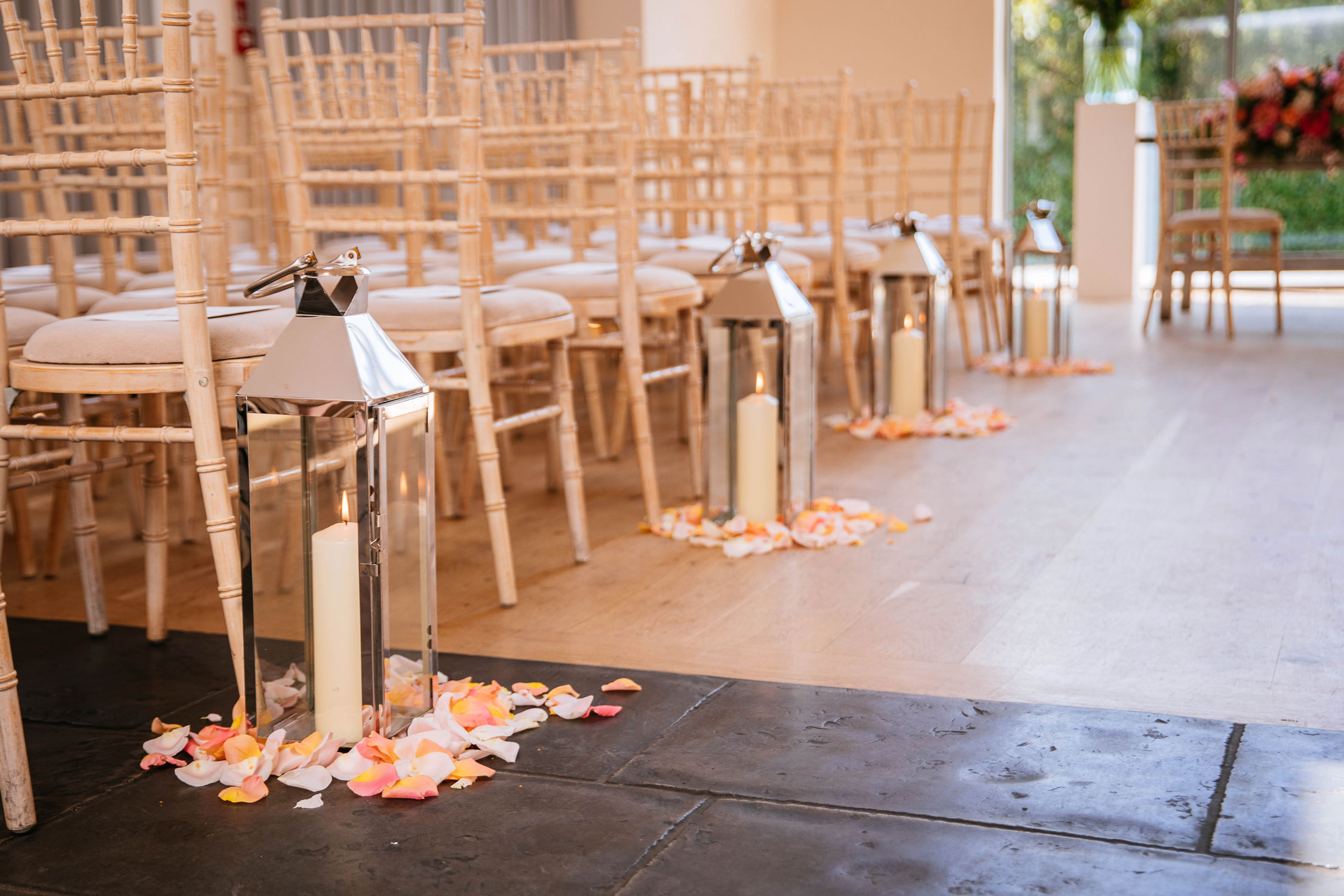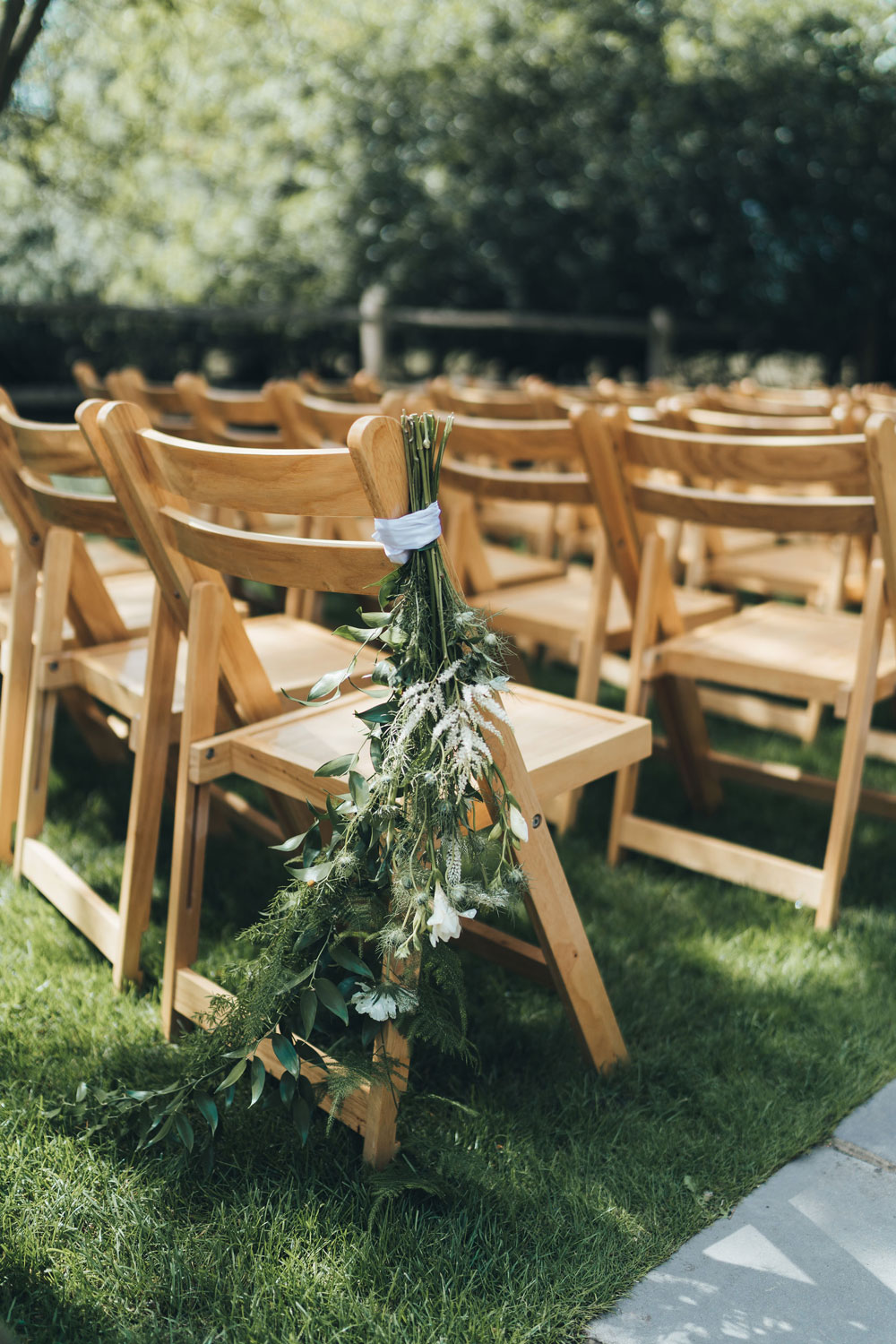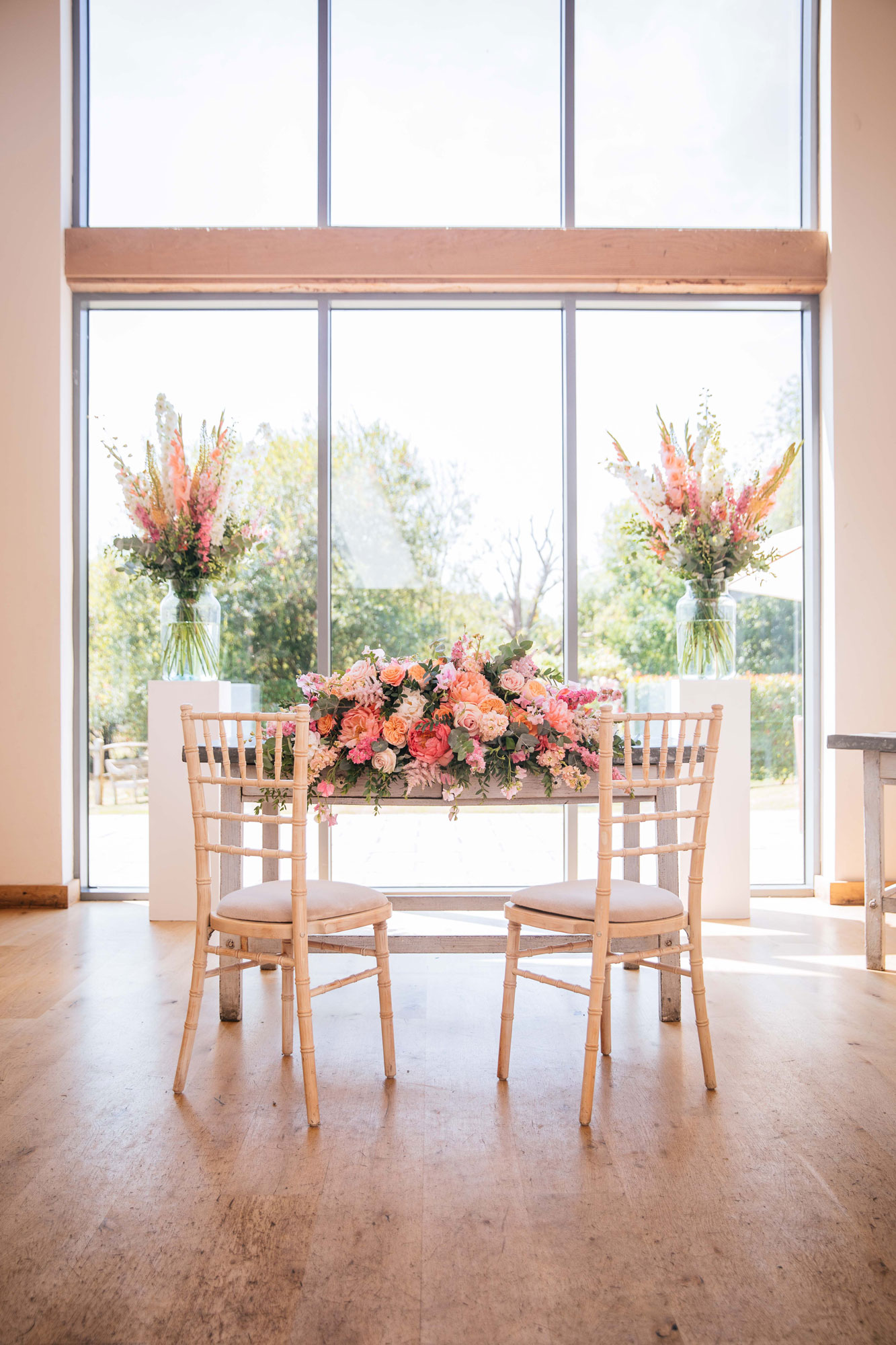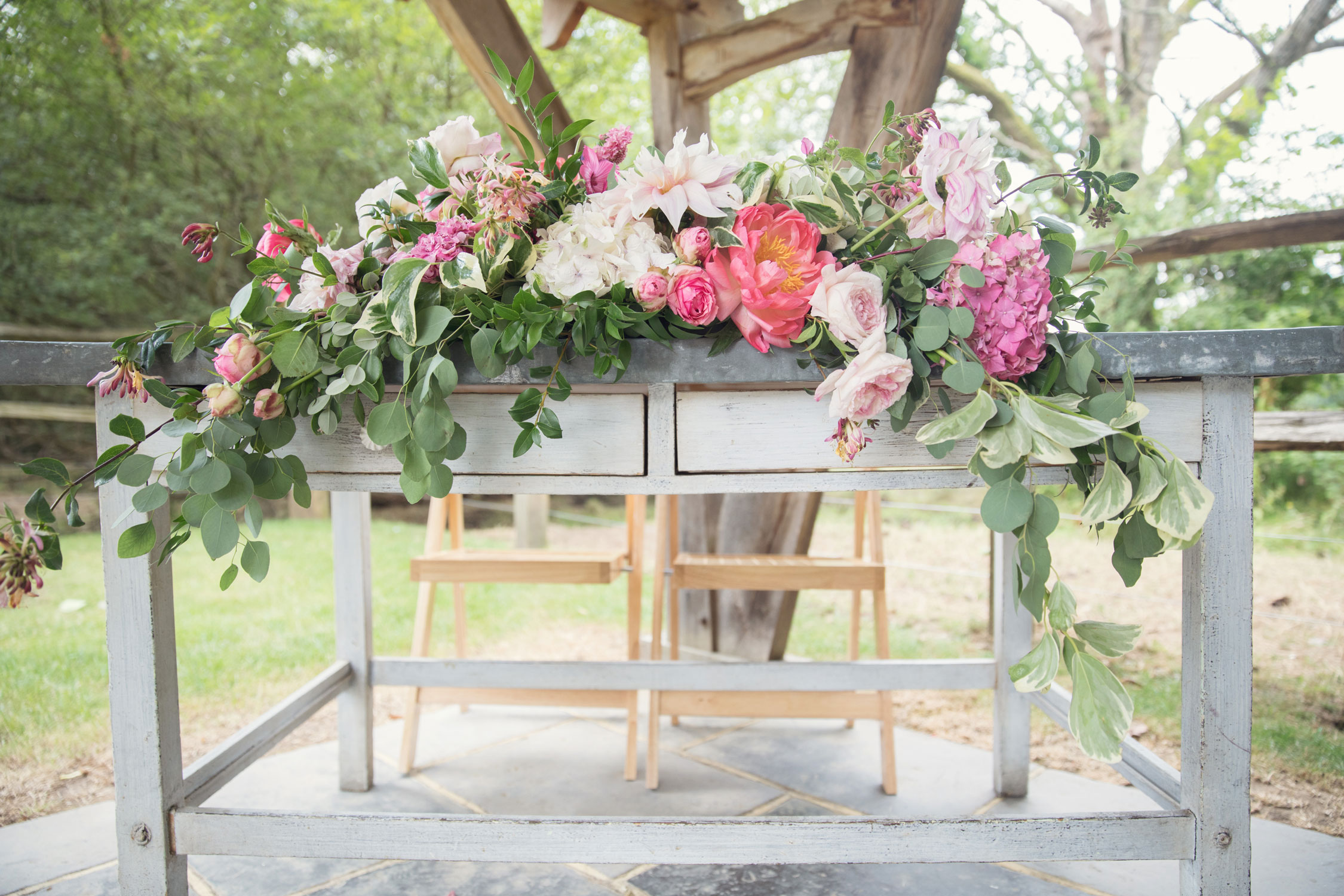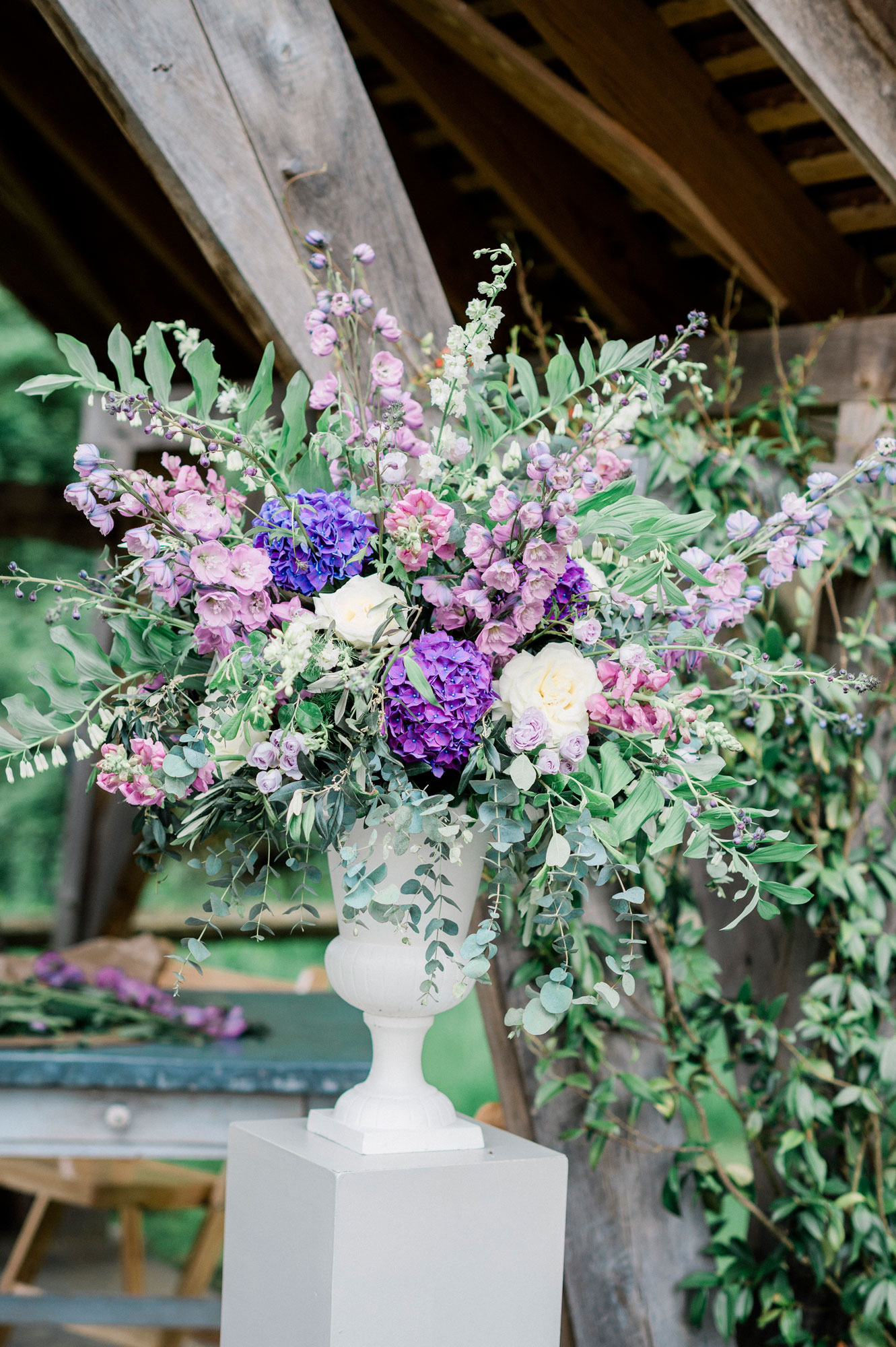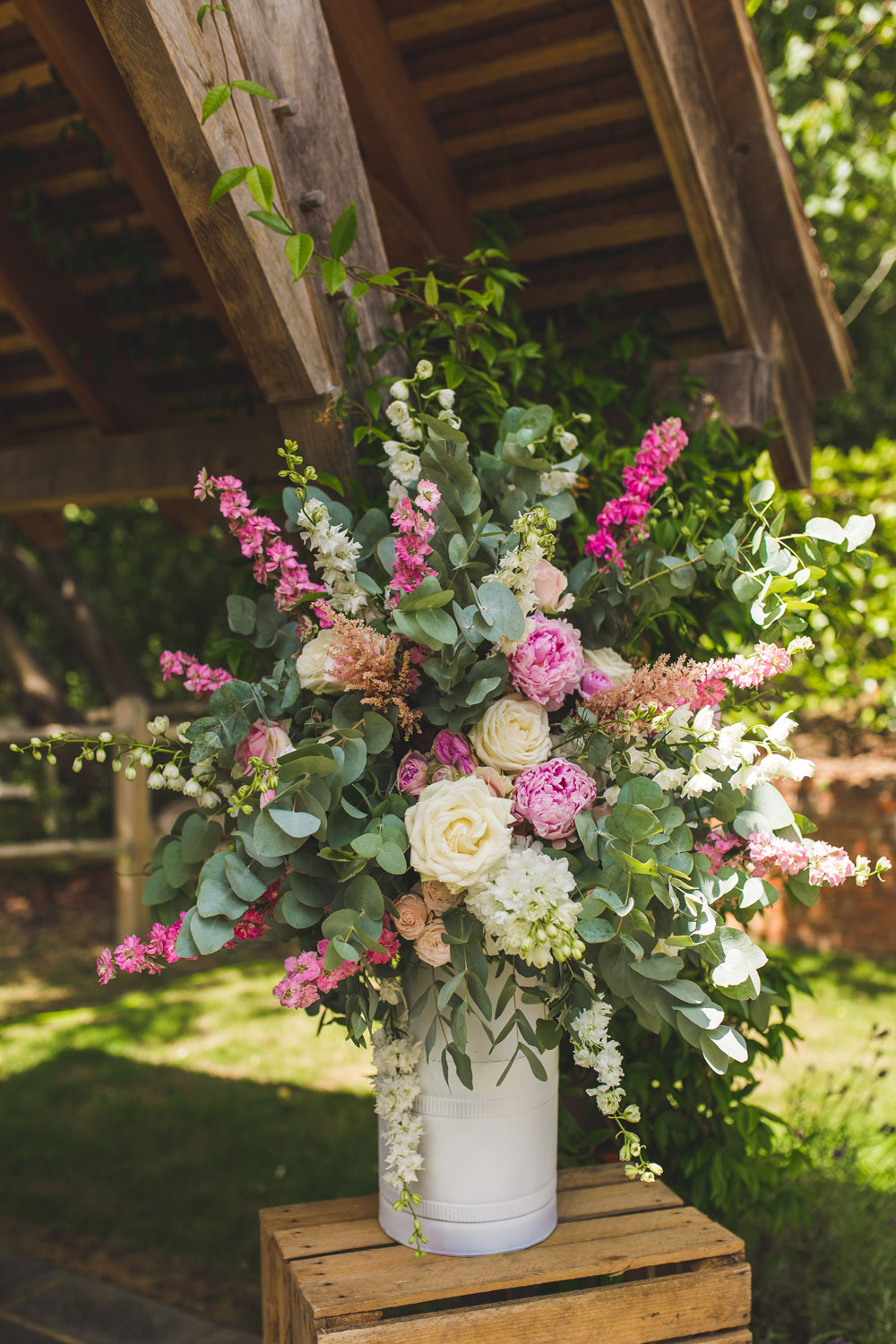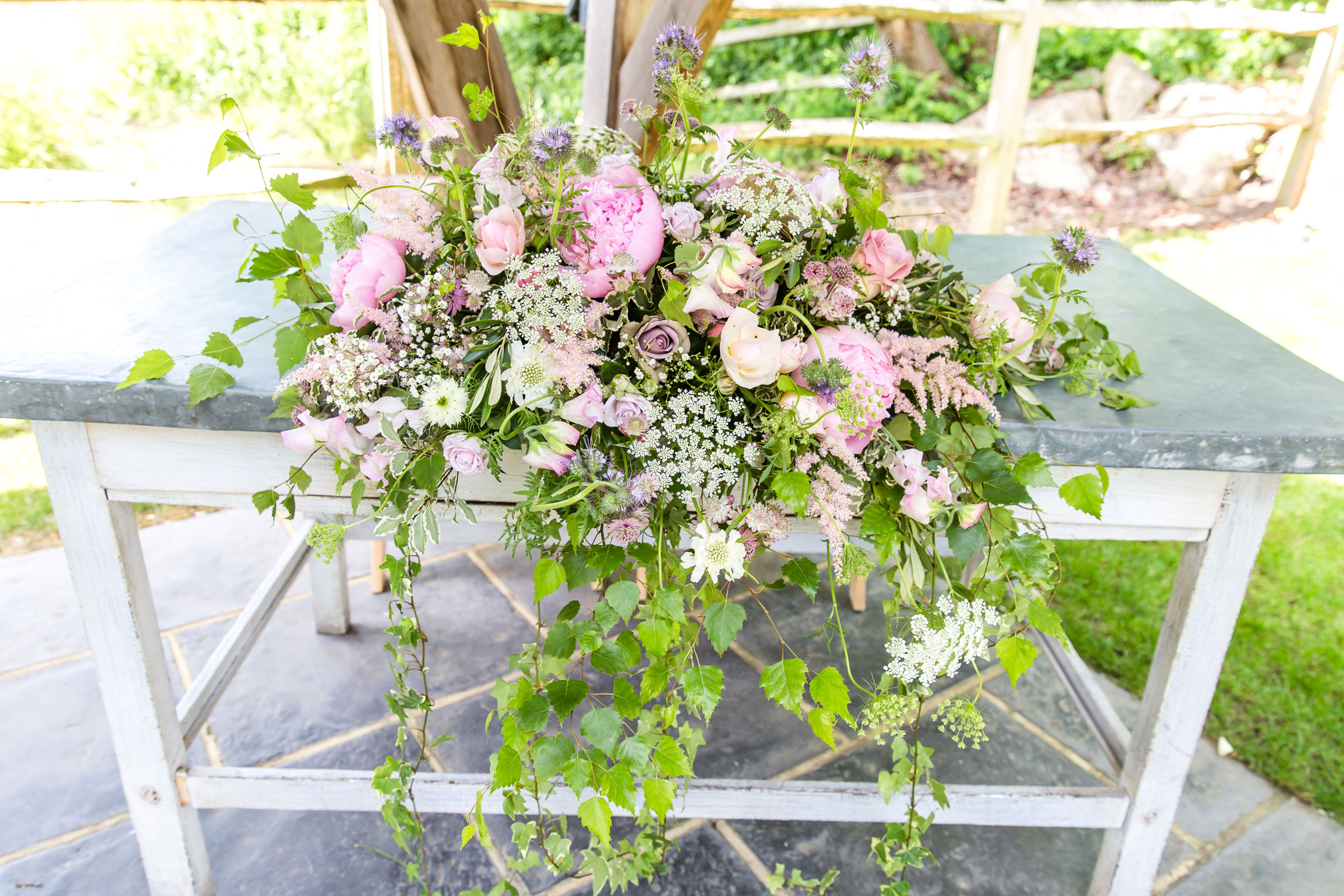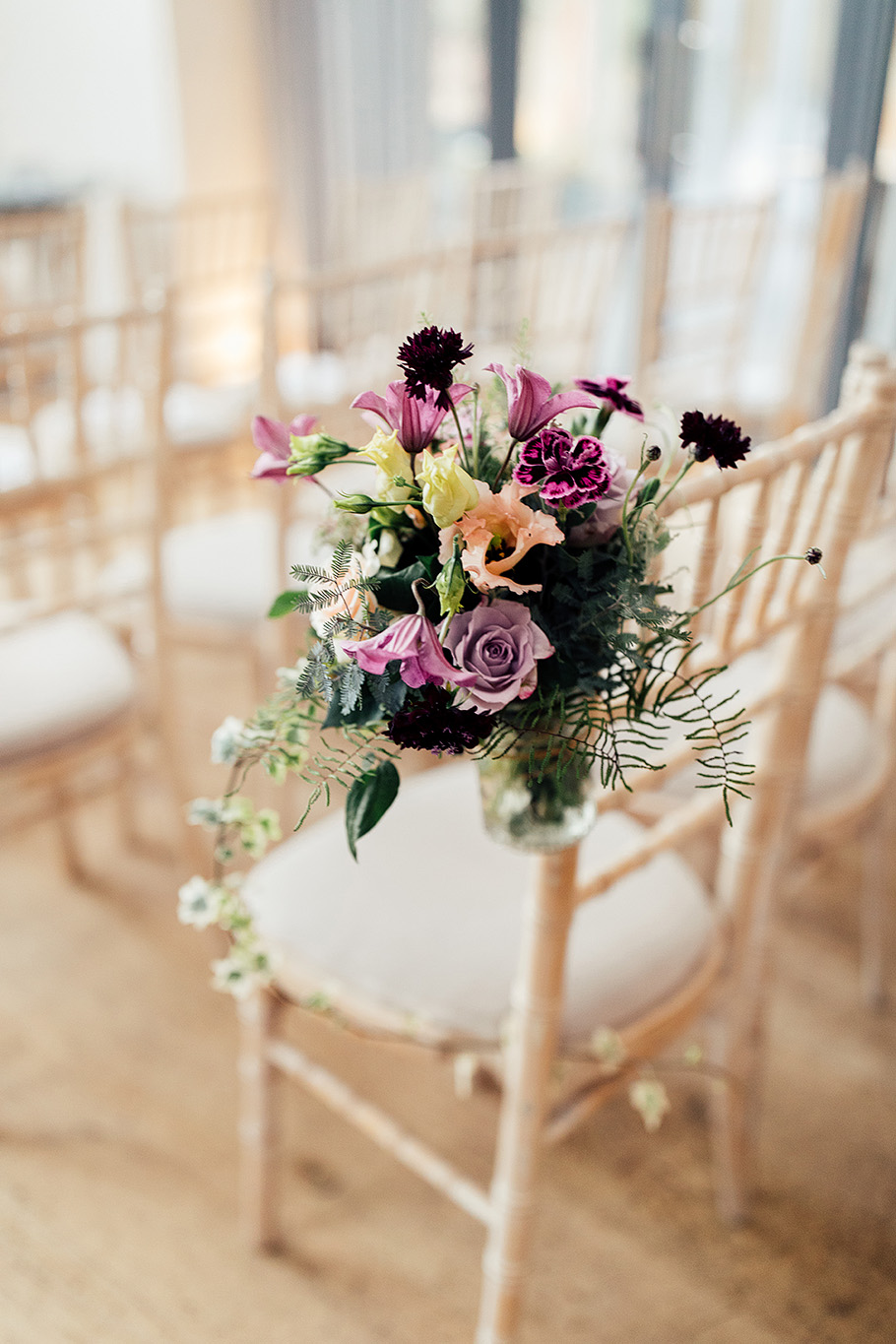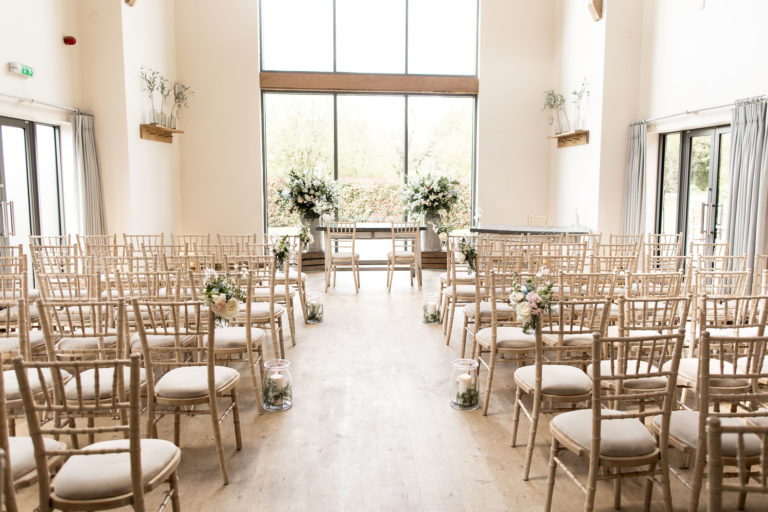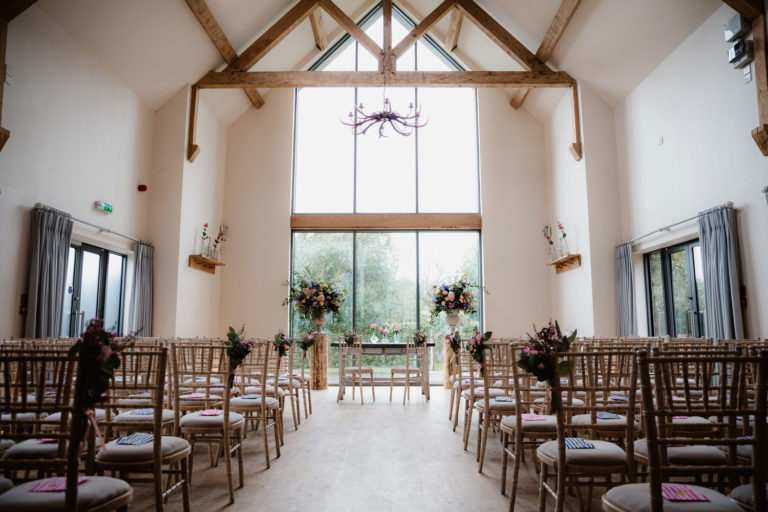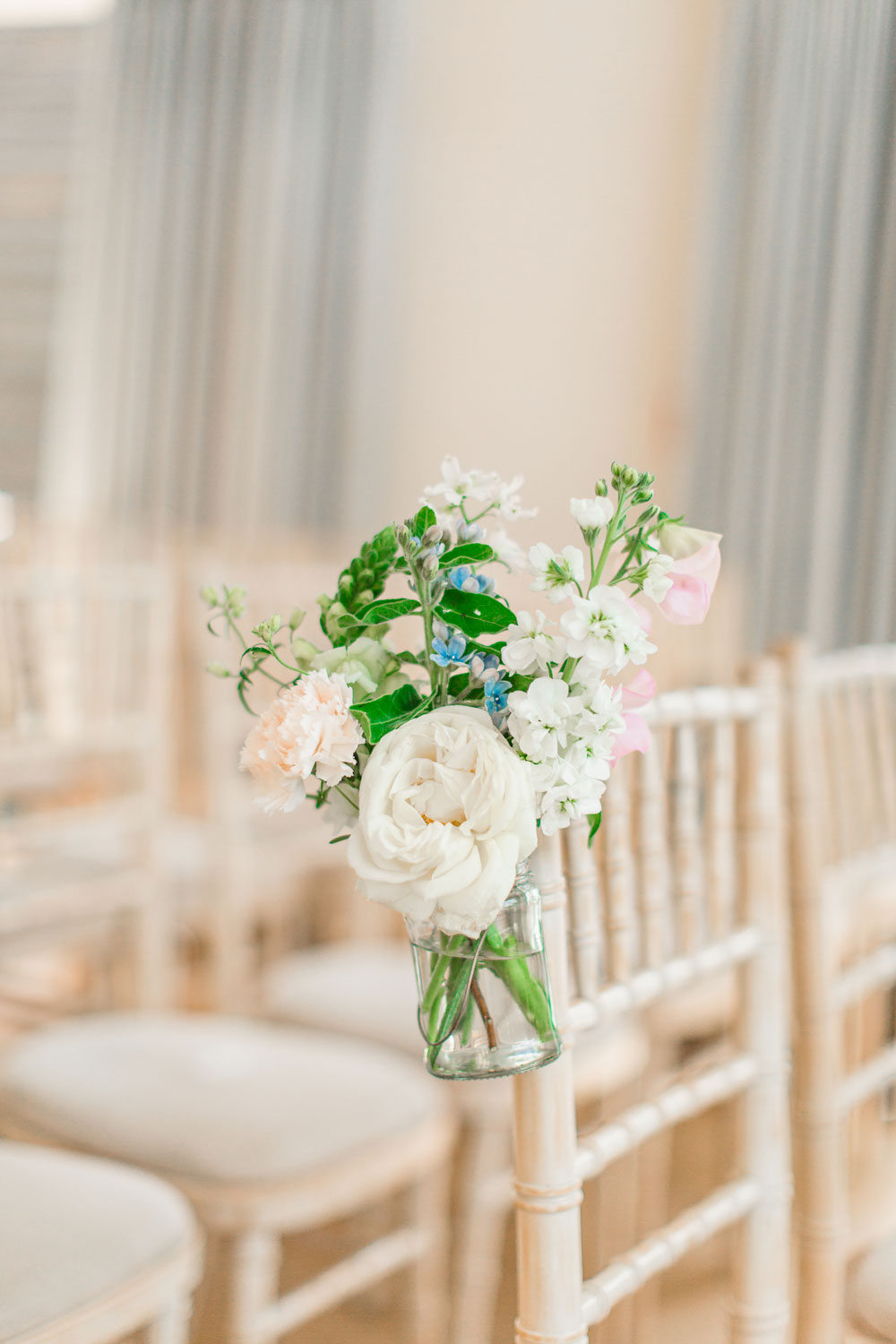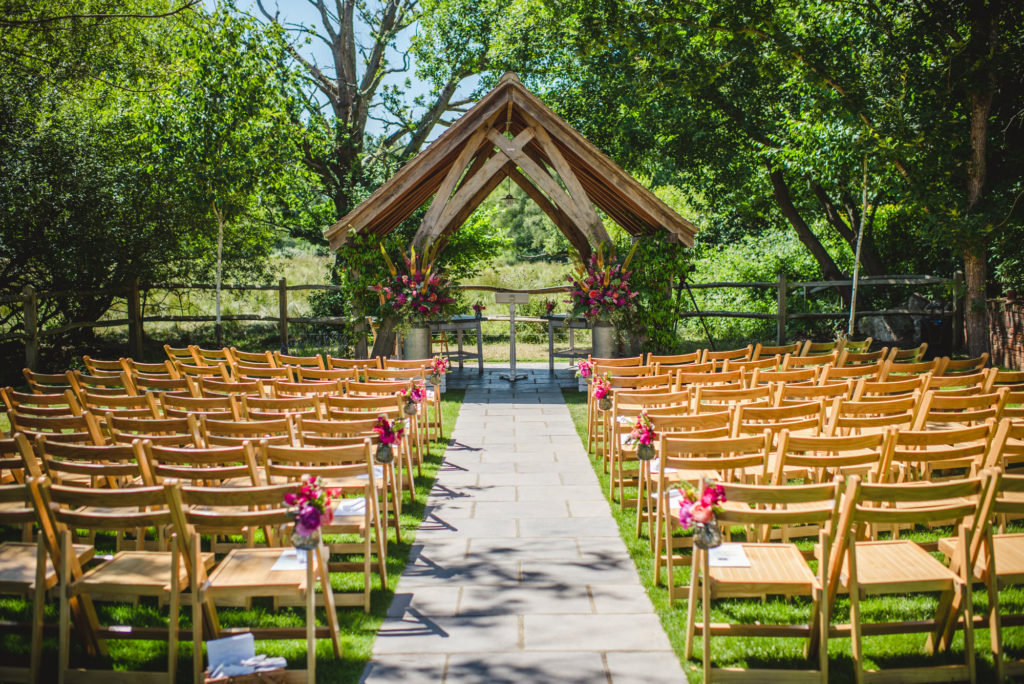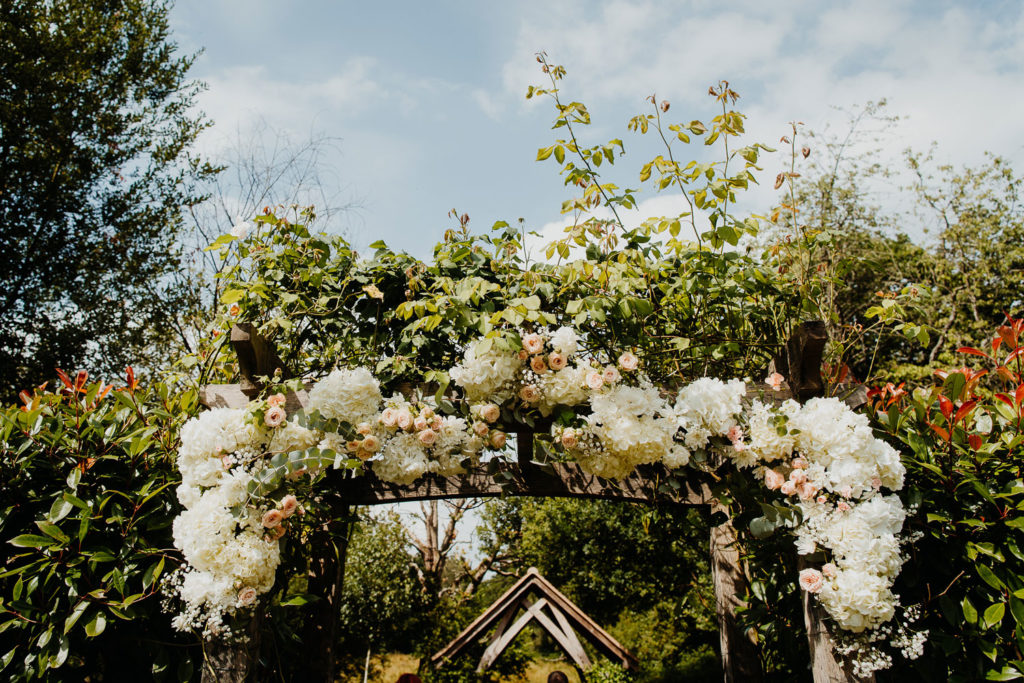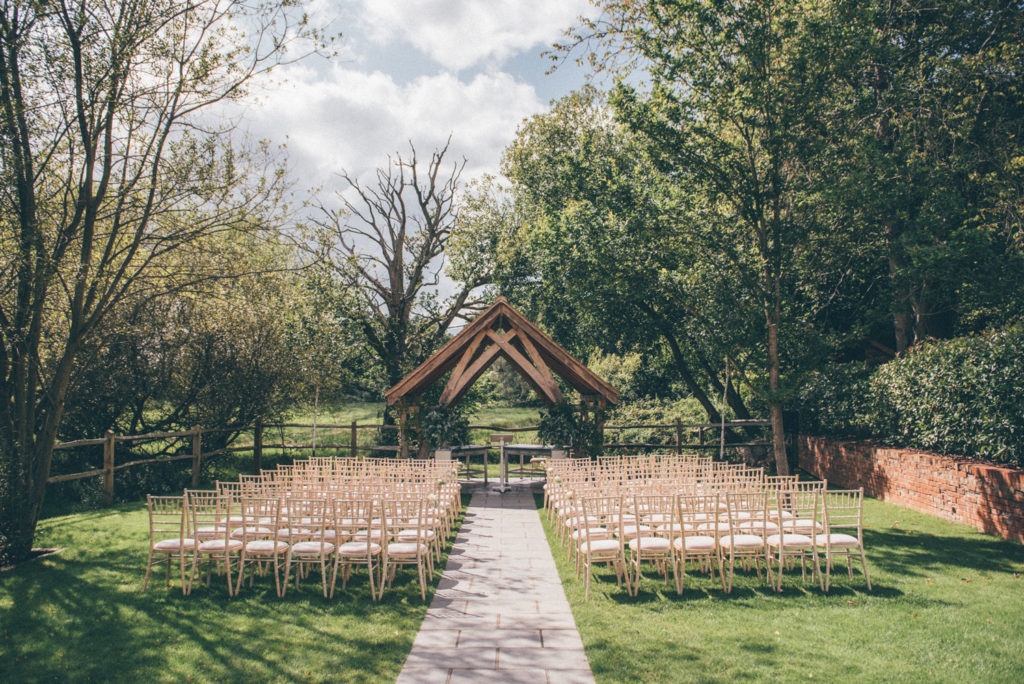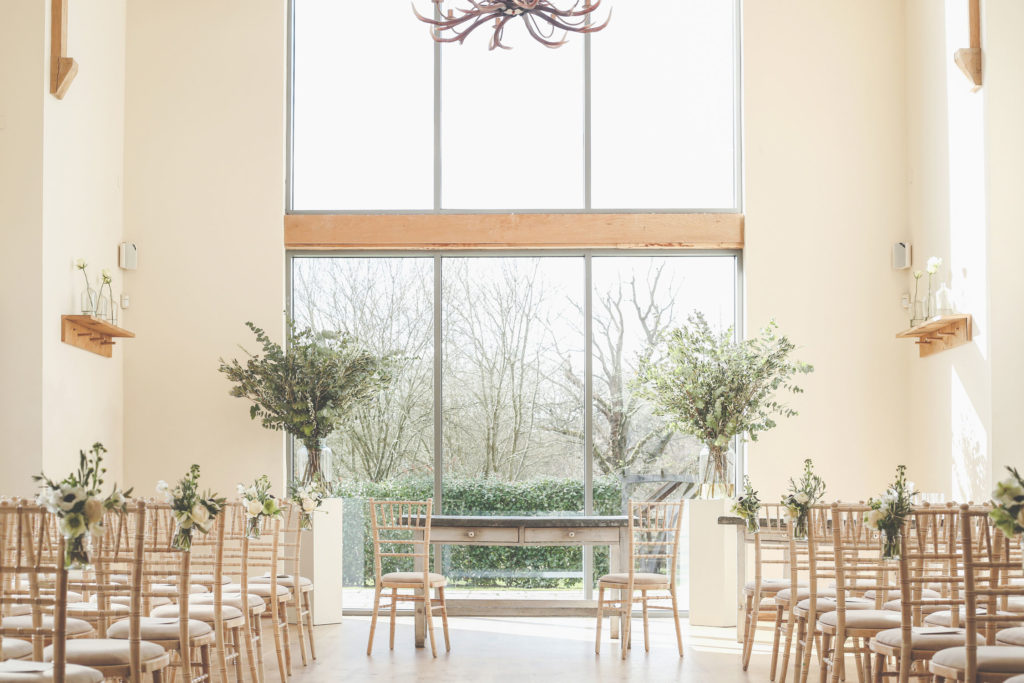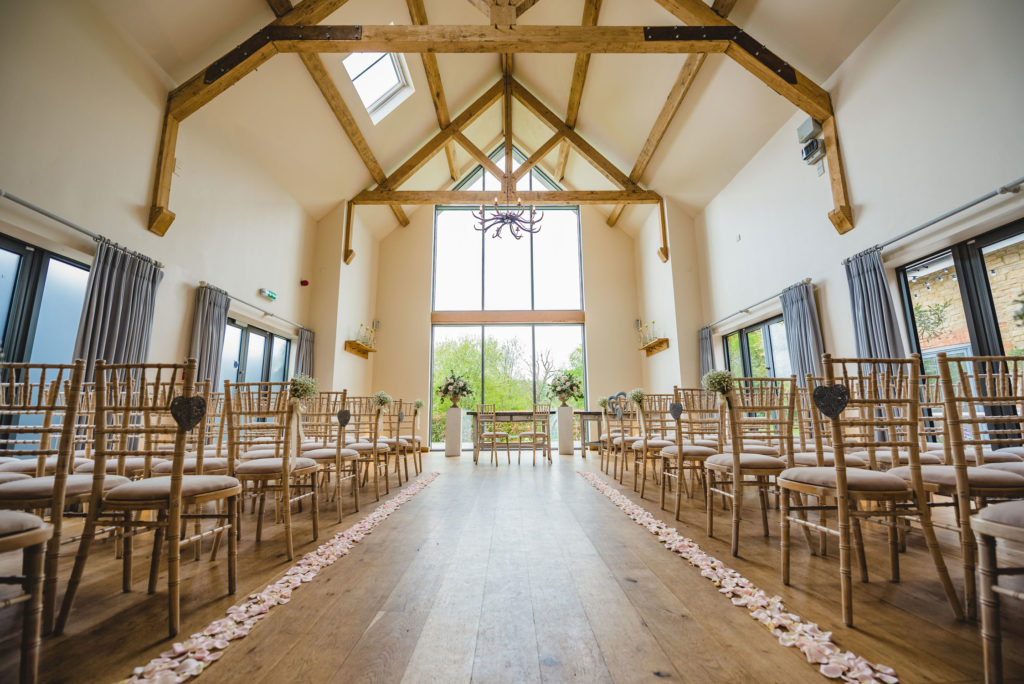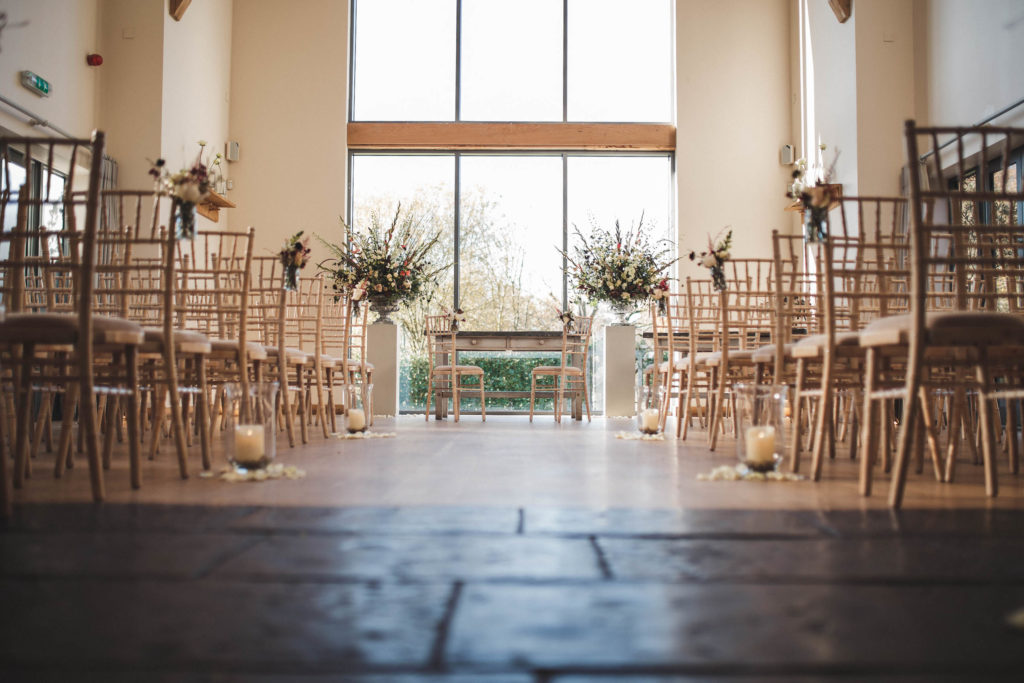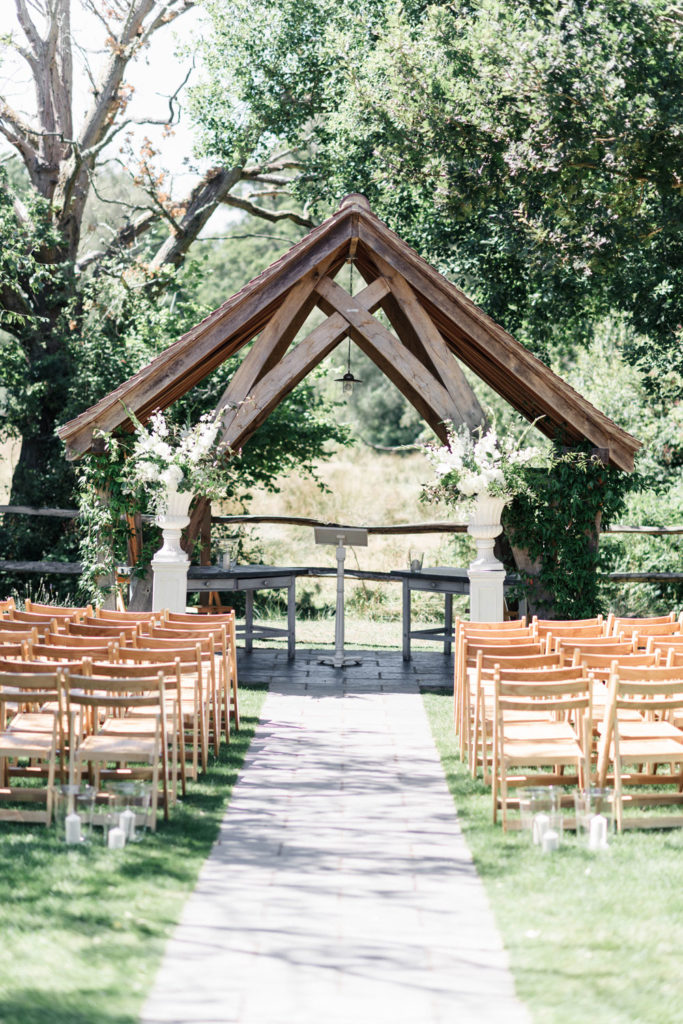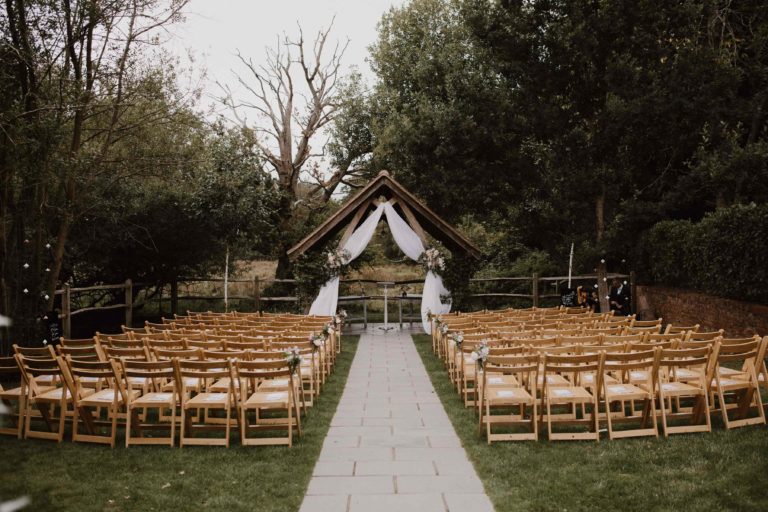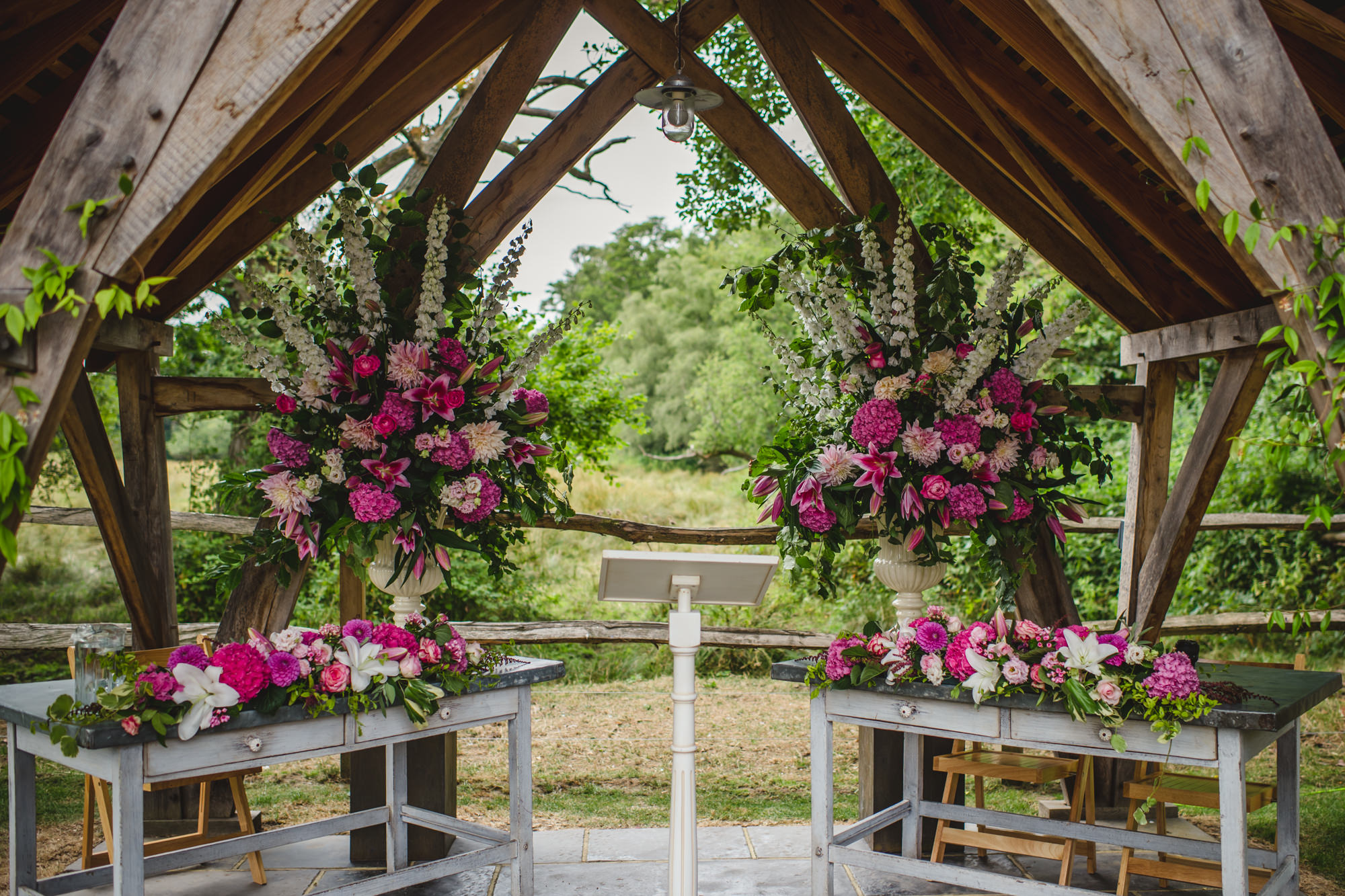 News : 25 / 03 / 18
Stunning Summer Wedding Day #marriedatmillbridge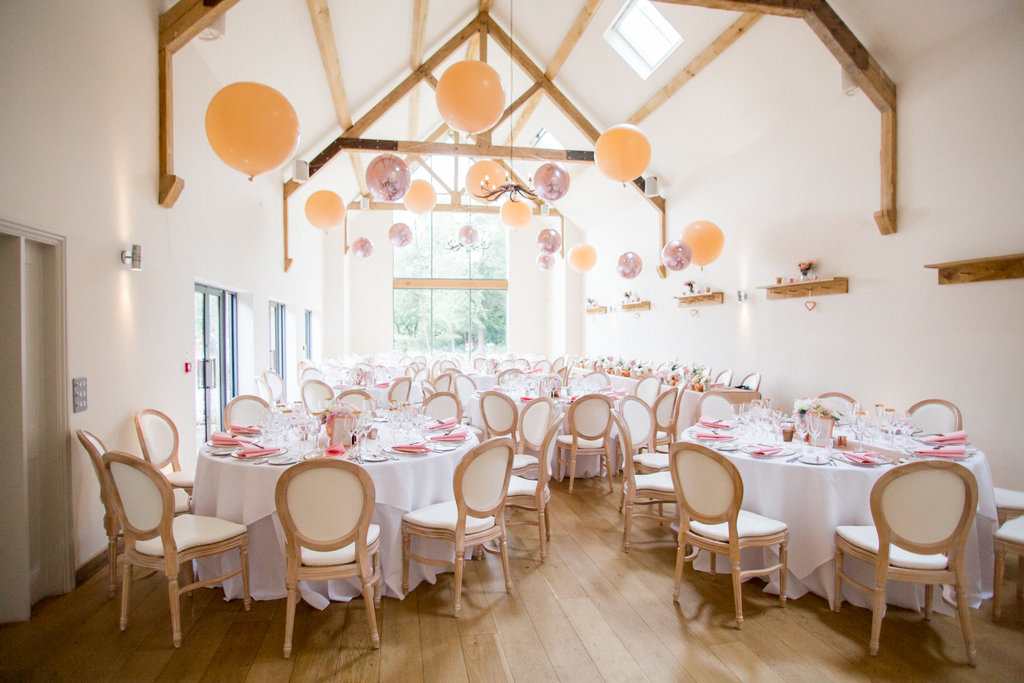 When the likes of MBC Partners Philippa Sian photography, Bubblegum Balloons & Bex from Blush Floral Design are brought together for a Wedding Day, we just know that the Venue will look utterly breathtaking & that every last detail will be captured so perfectly… & J+T's Wedding Day turned out to be just as spectacular (if not even more spectacular) than we had anticipated.
The gorgeous florals & styling details started from the entrance with Bex creating cascading floral arrangements which overhung the doorway & these beautiful touches continued throughout the Barns & into the gardens. The Archway in to the Arbor Garden was adorned with blush, pink & white blooms; white rose petals lined the aisle & two elegant arrangements situated in copper vases framed the Arbor. The perfect styling and backdrop for a Summer's Wedding Ceremony!
J+T's vision for their Wedding Breakfast came to life so wonderfully. The Bubblegum Balloons installation of giant pink metallic & peach balloons along the beams of the Barn was such a showstopper & extra touches such as Glimmer & Thread's sequin table runners & glamorous Louis chairs (provided by Academy Furniture Hire) created such a luxurious look. Adding to that luxury was Bex who created abundant dome centrepieces bursting with peonies, hydrangeas, roses & eucalyptus.
The amazing Philippa Sian Photography was the Bride & Grooms chosen photographer, & as always with Philippa, every last detail & all of personal touches were captured so amazingly & the love & emotion of the day is translated beautifully in her pictures.
Thank you to Philippa for sharing the wonderful images of J+T's day with us & thank you most importantly to Mr & Mrs Maunders for allowing us to be a part in your incredible celebrations! Wishing you so much happiness in your married lives together! Xx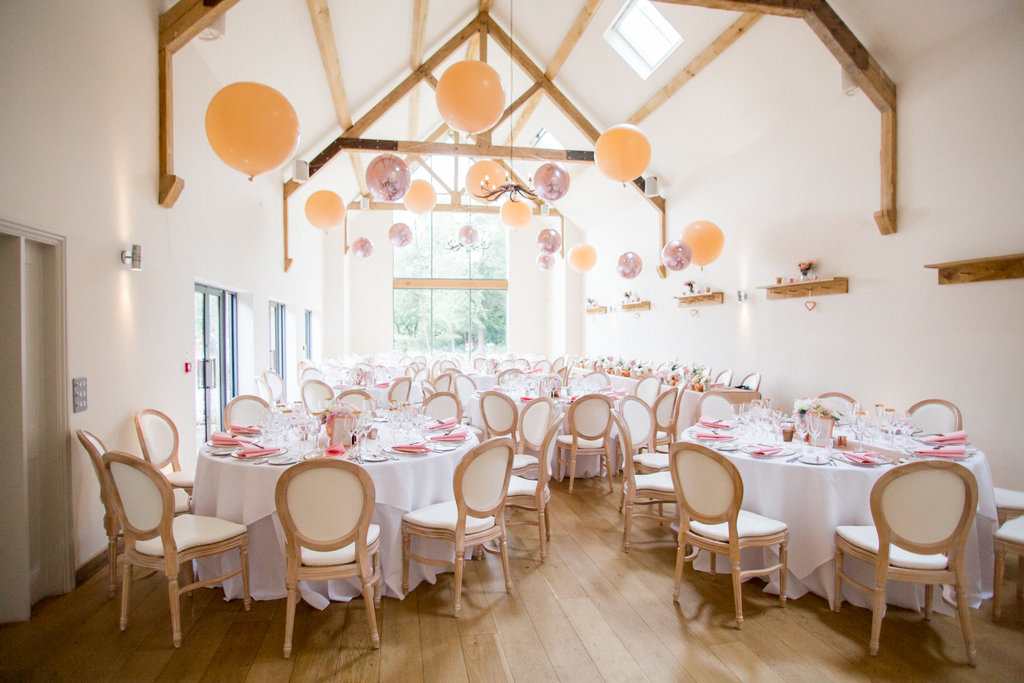 Suppliers:
Photographer: Philippa Sian Photography
Florist: Blush Floral Design
Wedding  Cake: Jo Turner Cakes
Balloons: Bubblegum Balloons
Table Runner: Table Cloth Hire: Glimmer & Threads
Furniture Hire: Academy Furniture Hire