News : 25 / 03 / 18
Stunning Summer Wedding Day #marriedatmillbridge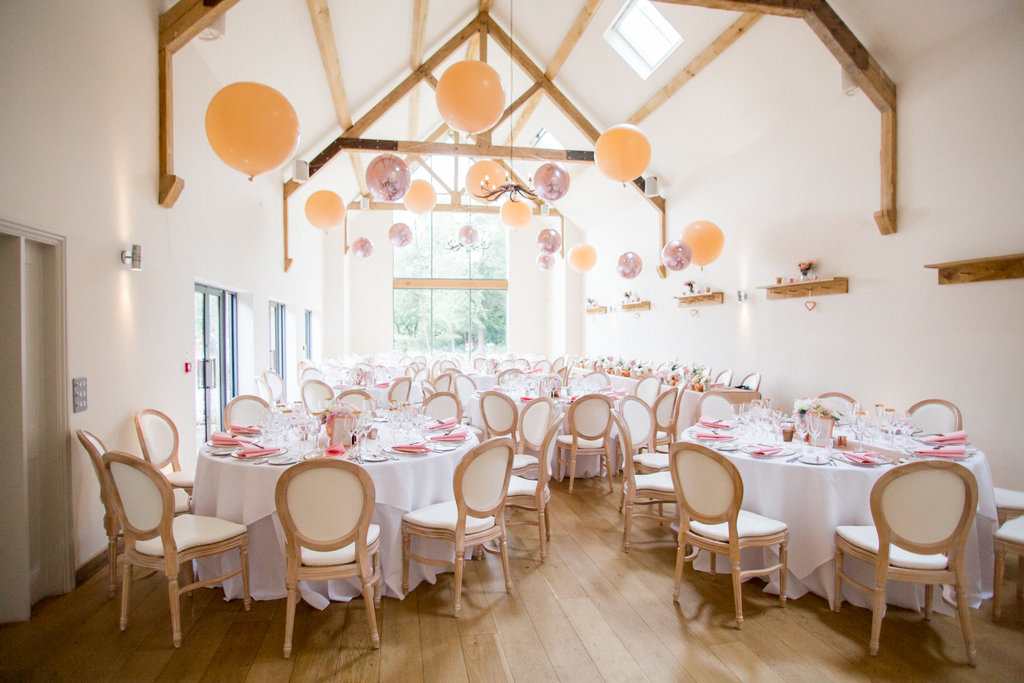 When the likes of MBC Partners Philippa Sian photography, Bubblegum Balloons & Bex from Blush Floral Design are brought together for a Wedding Day, we just know that the Venue will look utterly breathtaking & that every last detail will be captured so perfectly… & J+T's Wedding Day turned out to be just as spectacular (if not even more spectacular) than we had anticipated.
The gorgeous florals & styling details started from the entrance with Bex creating cascading floral arrangements which overhung the doorway & these beautiful touches continued throughout the Barns & into the gardens. The Archway in to the Arbor Garden was adorned with blush, pink & white blooms; white rose petals lined the aisle & two elegant arrangements situated in copper vases framed the Arbor. The perfect styling and backdrop for a Summer's Wedding Ceremony!
J+T's vision for their Wedding Breakfast came to life so wonderfully. The Bubblegum Balloons installation of giant pink metallic & peach balloons along the beams of the Barn was such a showstopper & extra touches such as Glimmer & Thread's sequin table runners & glamorous Louis chairs (provided by Academy Furniture Hire) created such a luxurious look. Adding to that luxury was Bex who created abundant dome centrepieces bursting with peonies, hydrangeas, roses & eucalyptus.
The amazing Philippa Sian Photography was the Bride & Grooms chosen photographer, & as always with Philippa, every last detail & all of personal touches were captured so amazingly & the love & emotion of the day is translated beautifully in her pictures.
Thank you to Philippa for sharing the wonderful images of J+T's day with us & thank you most importantly to Mr & Mrs Maunders for allowing us to be a part in your incredible celebrations! Wishing you so much happiness in your married lives together! Xx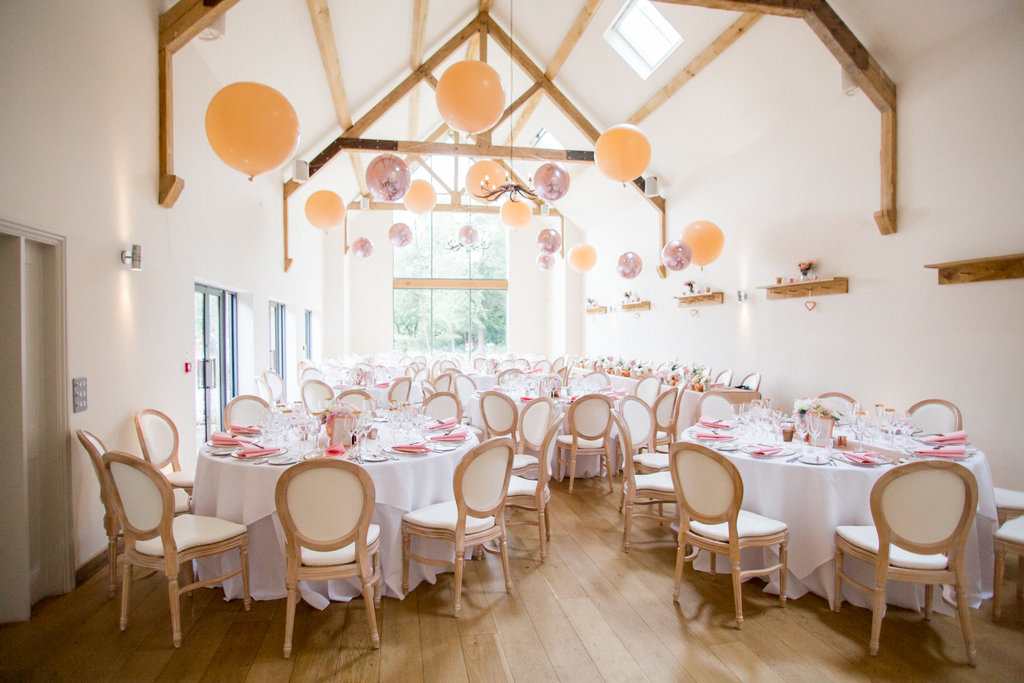 Suppliers:
Photographer: Philippa Sian Photography
Florist: Blush Floral Design
Wedding  Cake: Jo Turner Cakes
Balloons: Bubblegum Balloons
Table Runner: Table Cloth Hire: Glimmer & Threads
Furniture Hire: Academy Furniture Hire
News : 27 / 02 / 18
Romantic Summer Wedding Day #marriedatmillbridge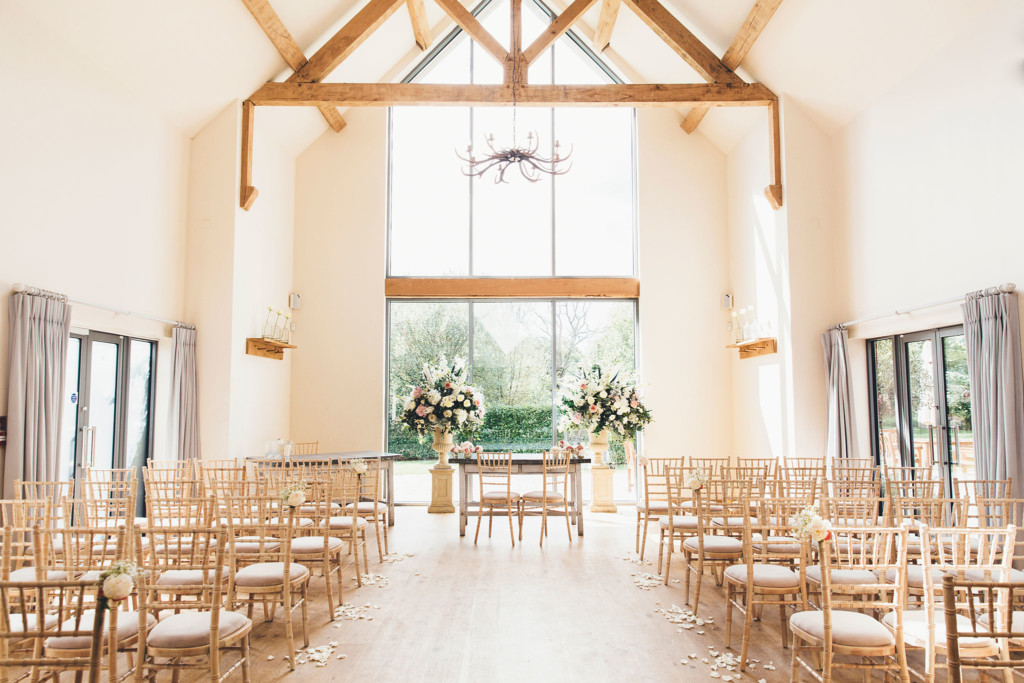 In August of last year, we hosted the utterly stunning Wedding Day of Mr & Mrs Levey & we're very excited to be sharing a selection of images from E+L's special day below.
The vision that they had for their Wedding Day was so romantic; a vision that was optimised in their Ceremony flowers which were created by Seventh Heaven Events. Two beautiful floral urn arrangements, abundant with blowsy white, peach & blush flowers framed the Ceremony Barn, they also had delicate floral pew ends & rose petals lining the aisle for E's entrance. The sensational arrangements didn't end there, as Seventh Heaven also made abounding centrepieces for each table, the soft colour palette of which went perfectly against the white table linen & metallic vases & candle holders.
The Wedding Cake, which was such a gorgeous focal point in the Dining Barn, was created by Rachelles Cakes. A three tiered, marble effect cake with gold leaf & stunning handmade flowers. Such a delicate, show-stopping design & oh so elegant.
The Bride & Groom thought of every little detail when planning their day & their stationery really took centre stage. Particularly the incredible acrylic engraved 'Welcome to our Beginning' sign hung by our bi-fold doors, which was later replaced with their exquisite seating plan, all created by the talented duo that are Two Little Birds.
In charge of capturing all of the beautiful details & the love & emotion of the day was Leanne Jade, who did so perfectly from those special getting ready moments, all the way through until the the first dance. Thank you to Leanne for allowing us to share Mr & Mrs Levey's day & the biggest thank you of all goes to E+L for allowing us to be a part of what was such a special day. Wishing you so much happiness in your married lives together!
Xx
** Love the look of an August Wedding Day at Millbridge Court? Well we have a newly available August Wedding date here at Millbridge Court this Summer, Friday 10th August 2018, so if you're yet to find your dream Venue & would like to find out more information, please do get in touch with us on team@millbridgecourt.co.uk. **
Suppliers:
Two Little Birds (Stationery): Website coming soon. Can be found on Instagram under @2littlebirds_
Berkshire Events (Light Up Letters)
News : 18 / 09 / 17
June Wedding Day #marriedatmillbridge
Earlier on this Summer, C & D had their beautiful Wedding Day here at Millbridge Court which saw some really fantastic industry suppliers come together to bring their fairytale day to life.
The Bride & Groom were lucky enough to have the illusive Summer sunshine make an appearance on their big day, which enabled them to have the most breathtaking Arbor Ceremony, complete with exquisite milk churn floral arrangements, abundant with blush and peach blooms, created by the uber talented Hannah Berry Flowers.
The heavenly floralising didn't end there, with Hannah creating elegant & fragrant centrepieces which looked so perfect alongside the soft grey linens & glassware chosen by the couple. The abundant milk churn arrangements were also brought inside following the Ceremony to frame the top table, a wonderful way to make the most of show stopping flowers! Further adding to the Dining Barn's styling was C & D's Wedding Cake;  a four tier gold leaf, peach & grey marble masterpiece made by Elle Gerrish (Designer Cakes By Elle) which consisted of a Lime & Coconut, Red Velvet & Caramel layers with a salted caramel drizzle.
Their chosen photographer was none other than VLA Photography, who captured all of the days details so beautifully along with all of those special moments. Thank you to Jon & Laura for allowing us to share their beautiful images & we're so excited to have chosen a selection for you all to see below.
Last but not least, we want to wish the Bride & Groom so much love & happiness in their lives together as Husband & Wife. Thank you so much for allowing us to be a part of what was such a fabulous day! Xx