Photography : 18 / 11 / 23
Autumn Wedding Day Inspiration at Millbridge Court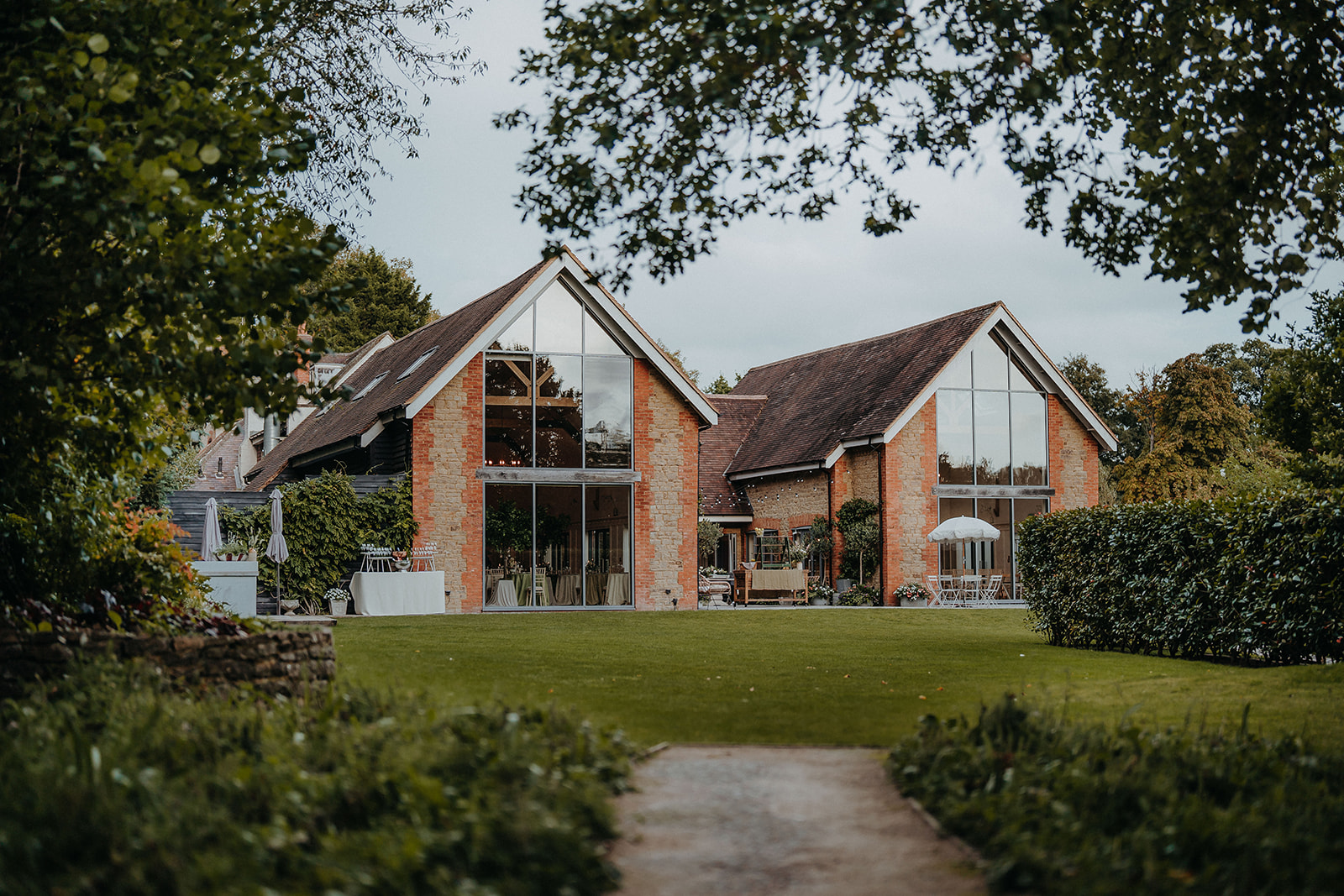 Who doesn't love a crisp Autumn morning with leaves falling, mist lifting, changes in colours, cosy moments, incredible romantic lighting?!  We certainly do; there's just so much to embrace during this time of year!
We thought we'd share some Autumn wedding inspiration to get the creative energy flowing for couples booked, or looking to book an Autumn wedding.  As always, we've shared some rather beautiful images from recent wedding days here at Millbridge Court, and we hope you love all the gorgeousness just as much as we do!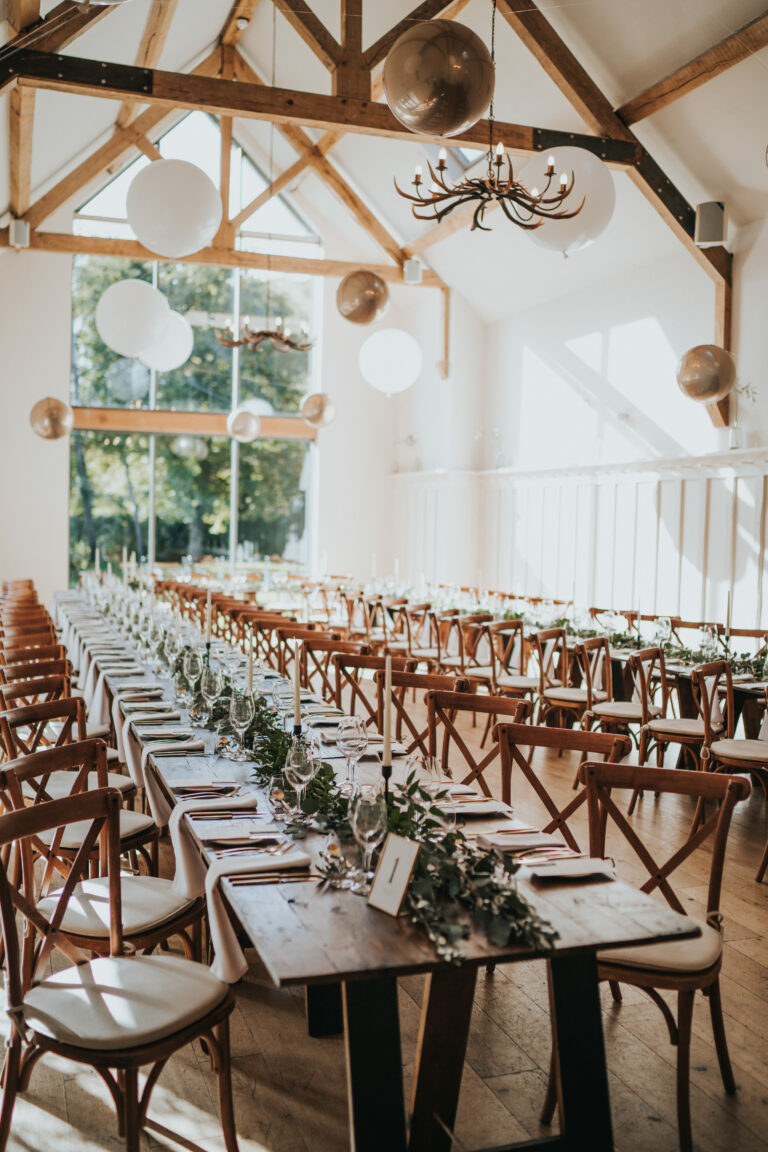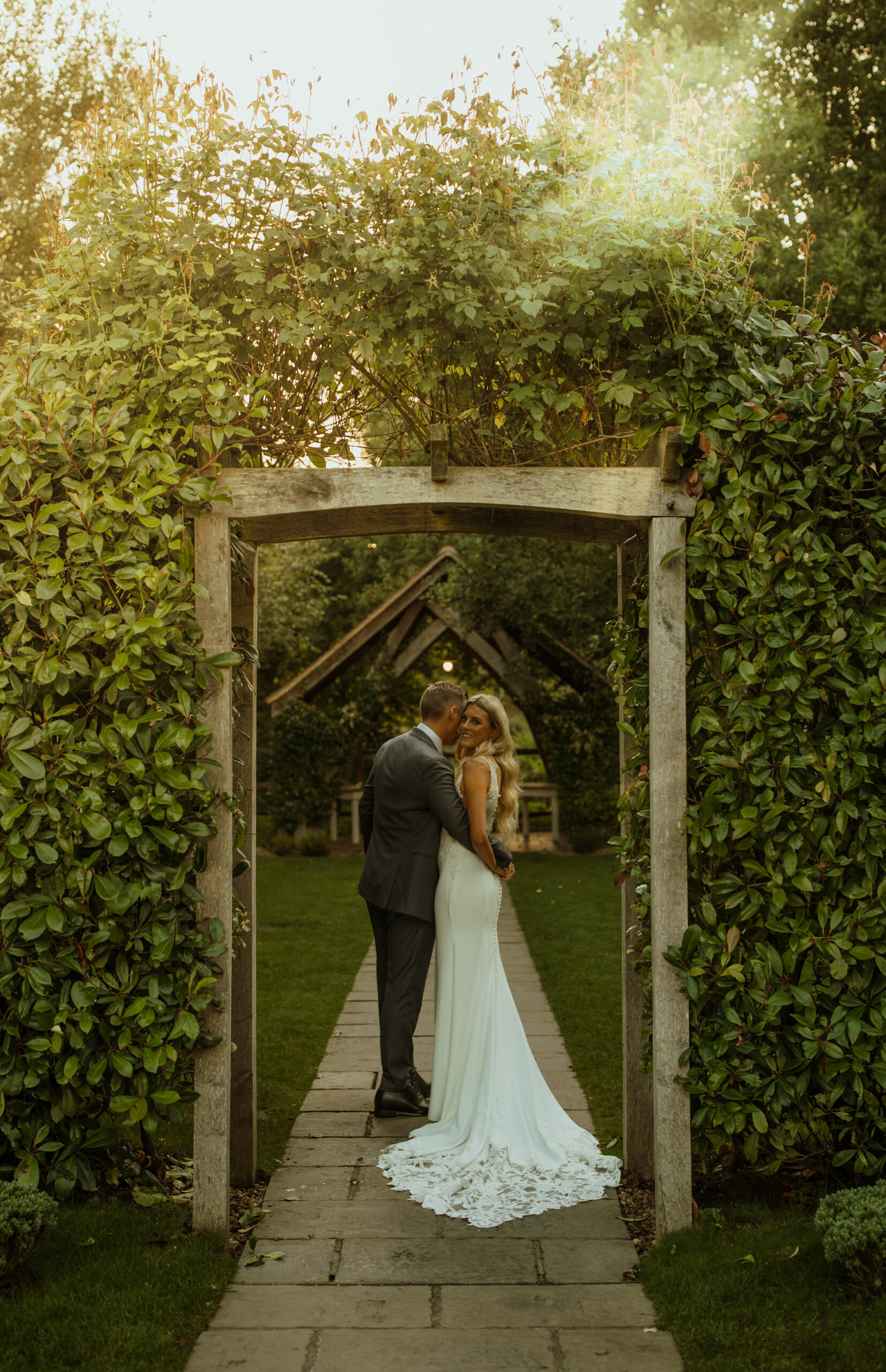 L – Holly Rose Photography, Longacres; R – Aurora Grey Photography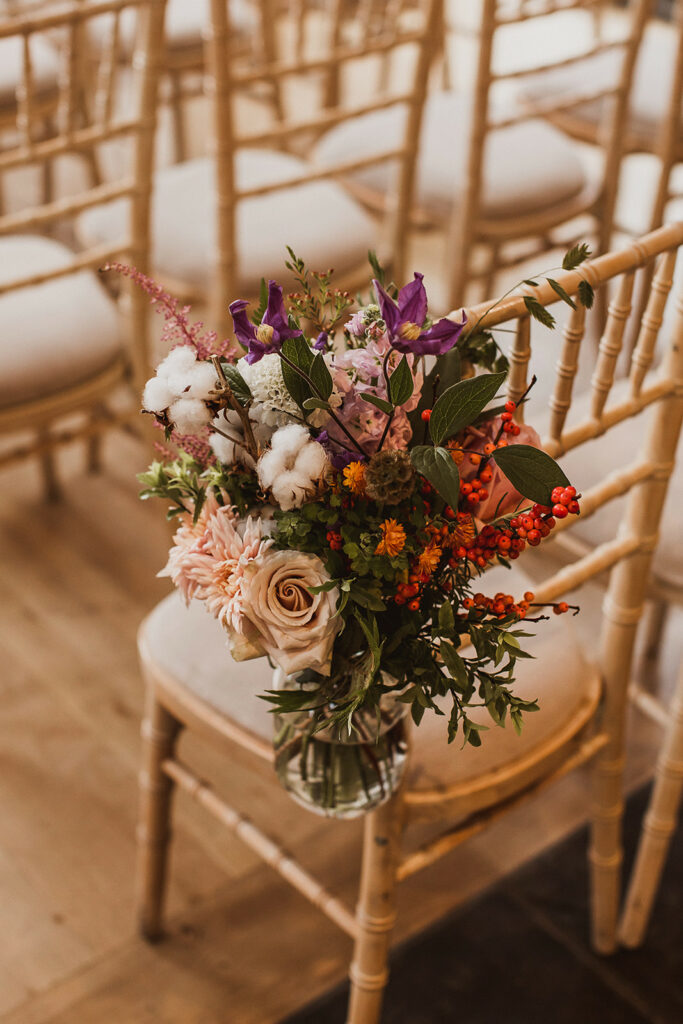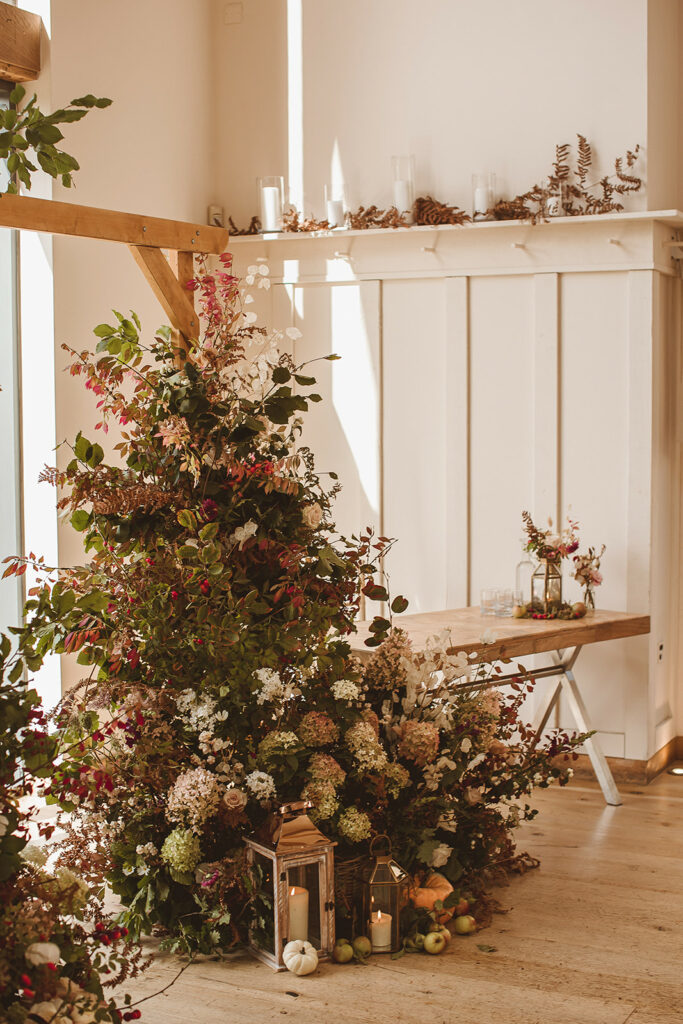 L –The Springles, Hannah Berry; R – The Springles, Meadowfolk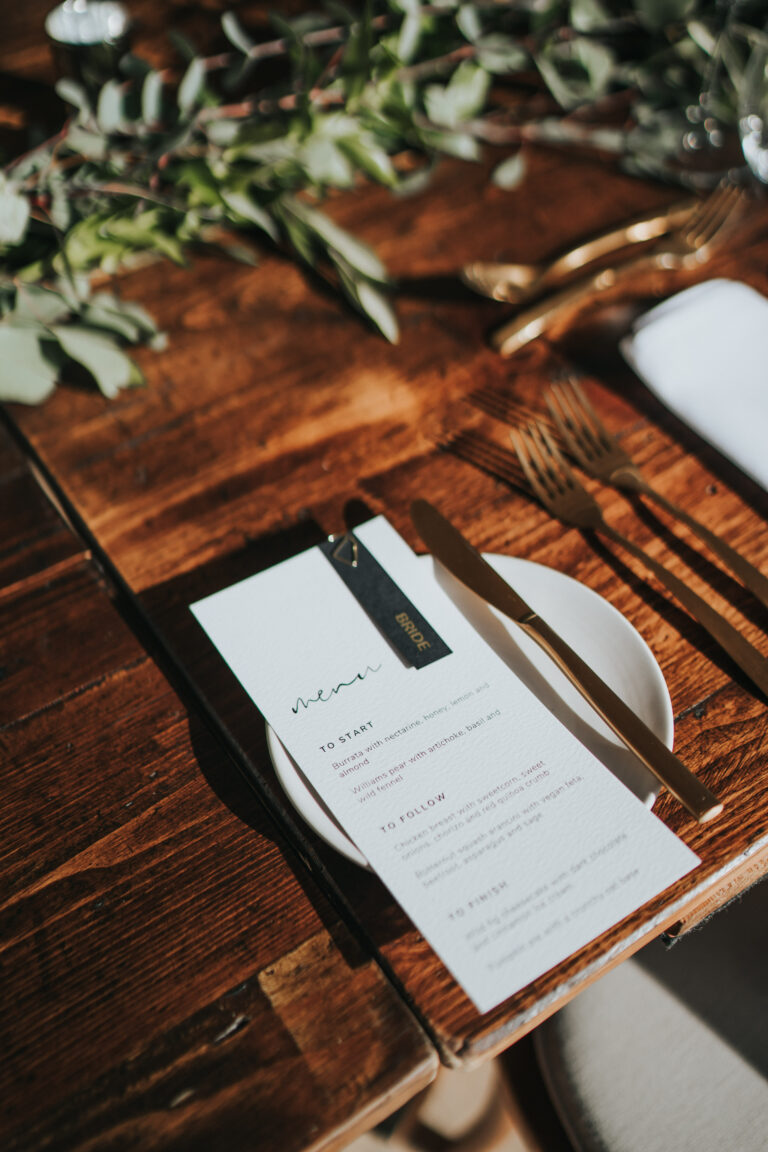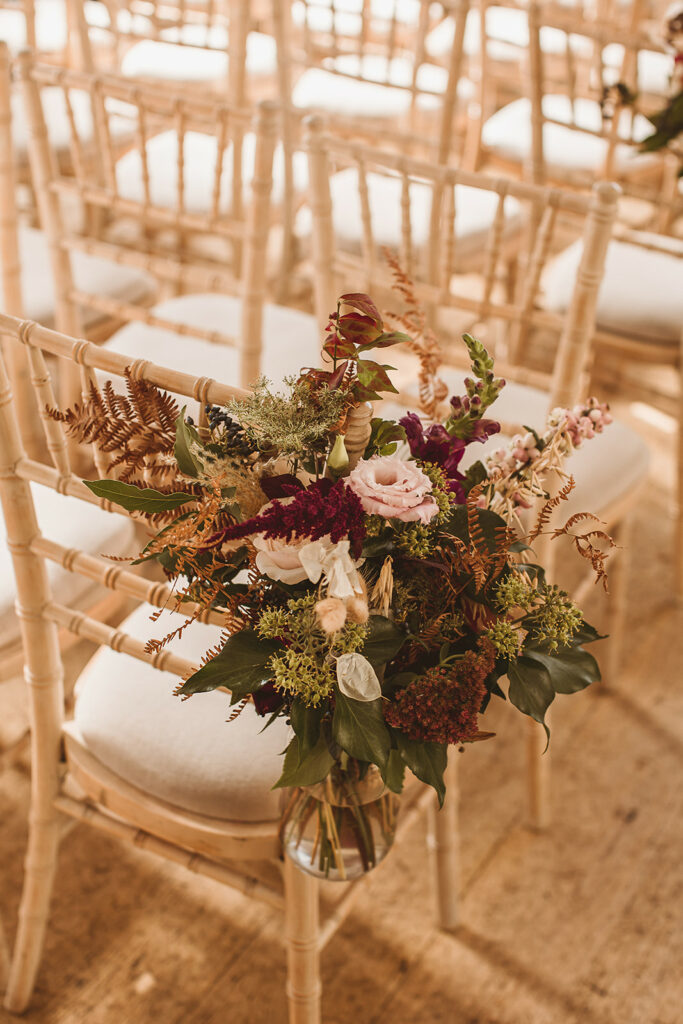 L- Holly Rose Photography; R- The Springles, Meadowfolk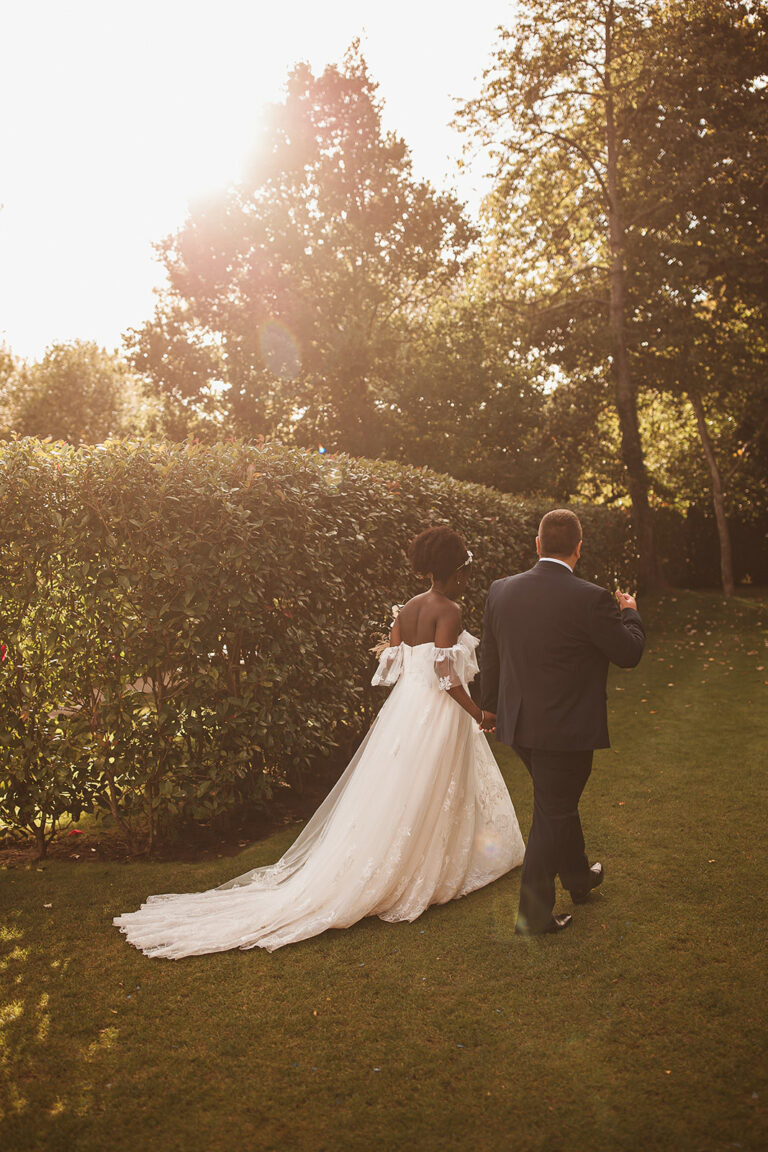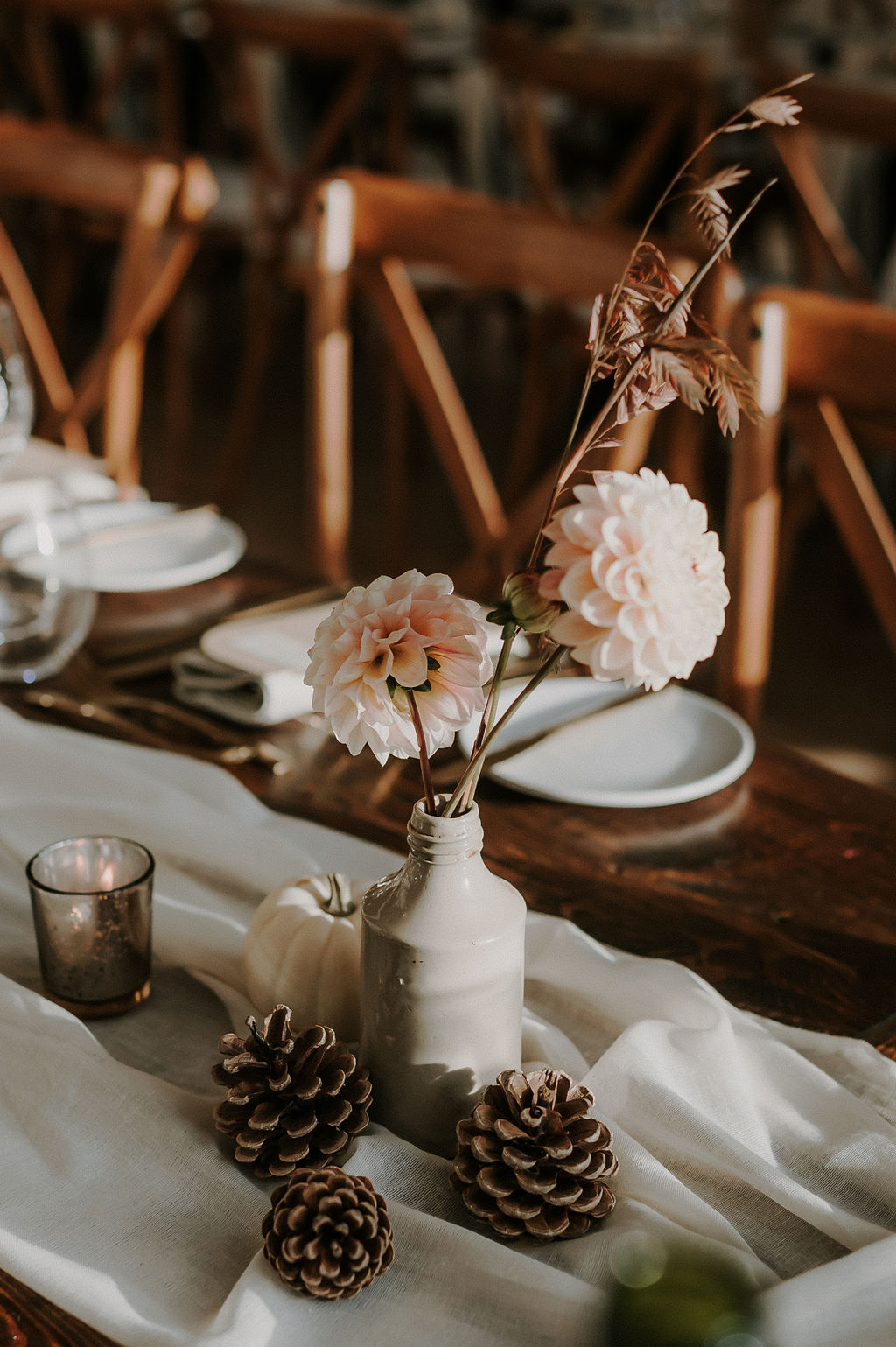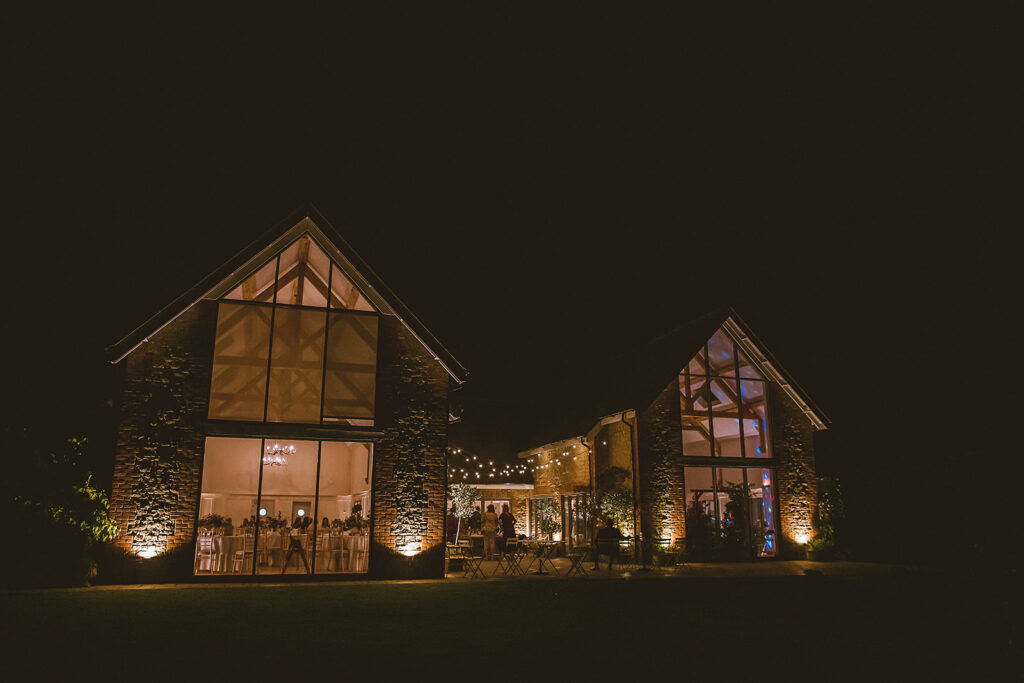 L & B- The Springles; R- Alice Cunliffe Photography, Hannah Berry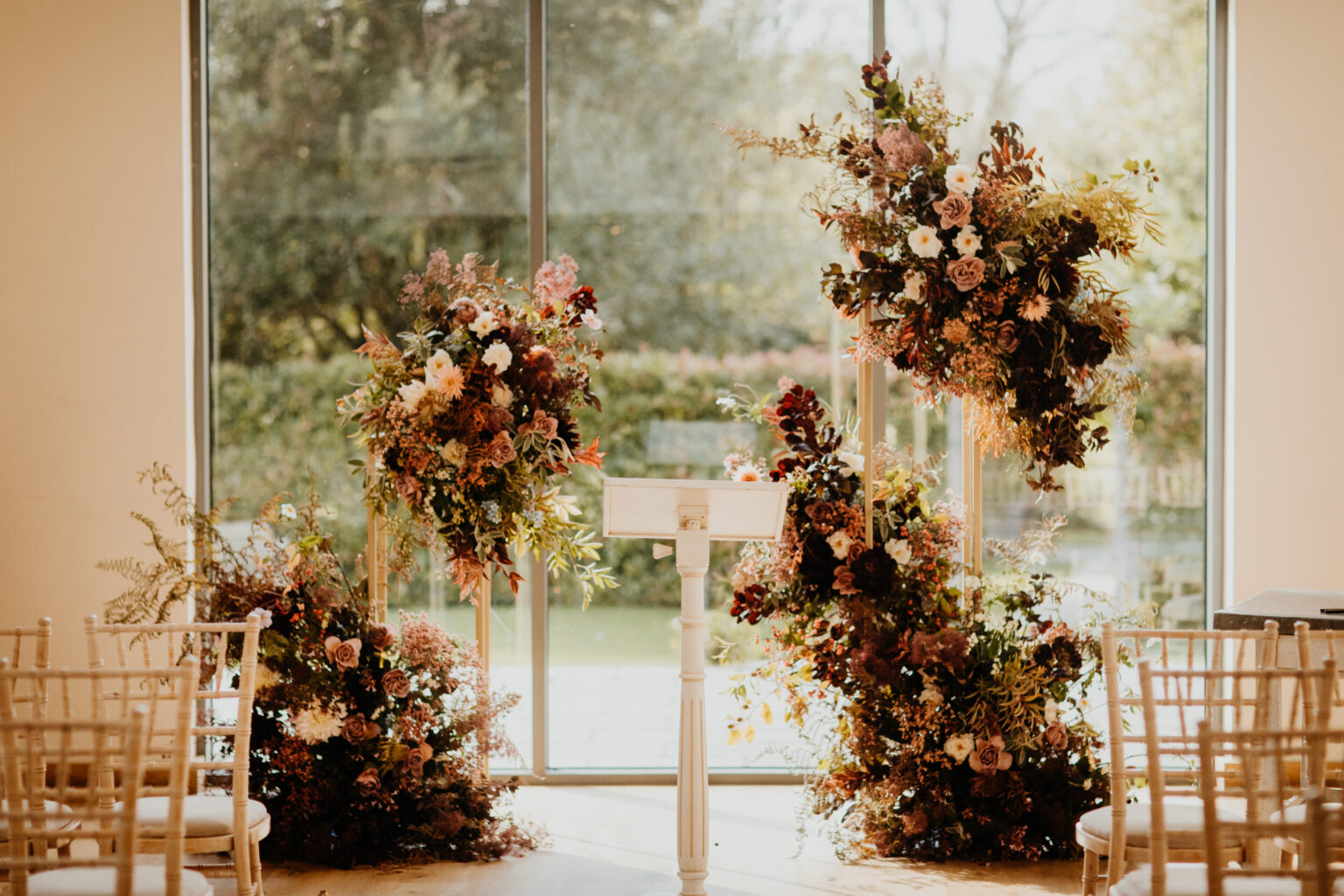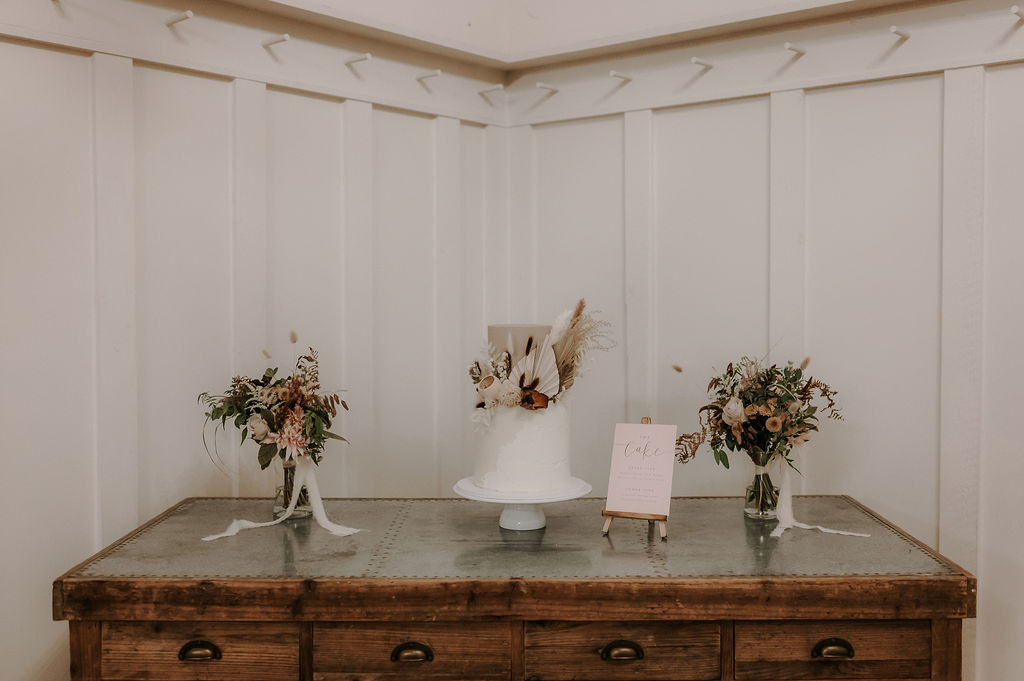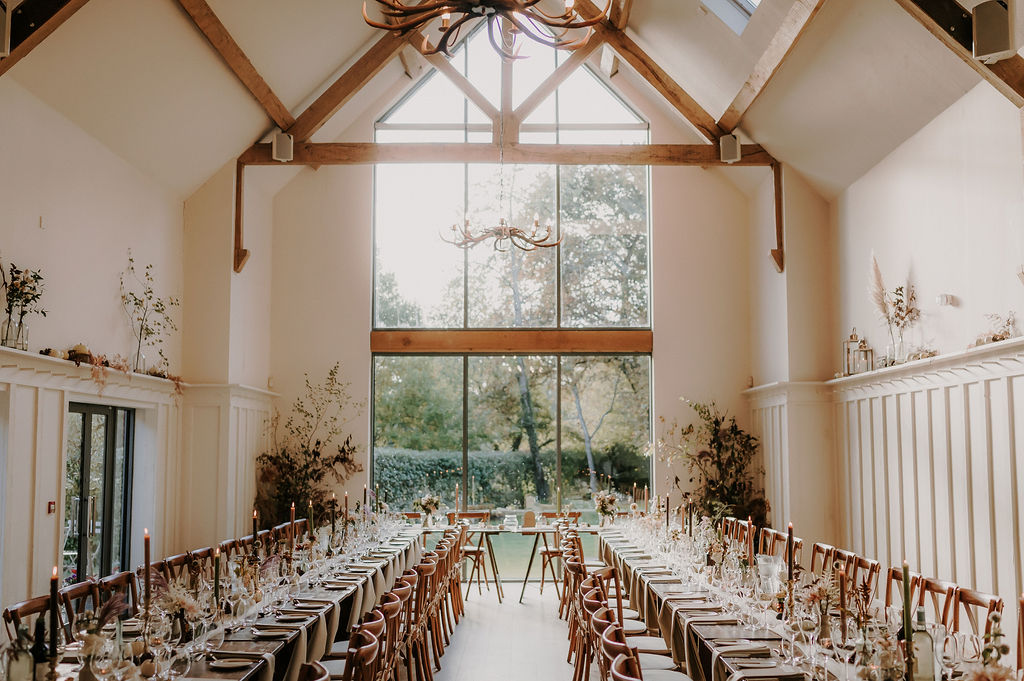 Alice Cunliffe Photography, Hannah Berry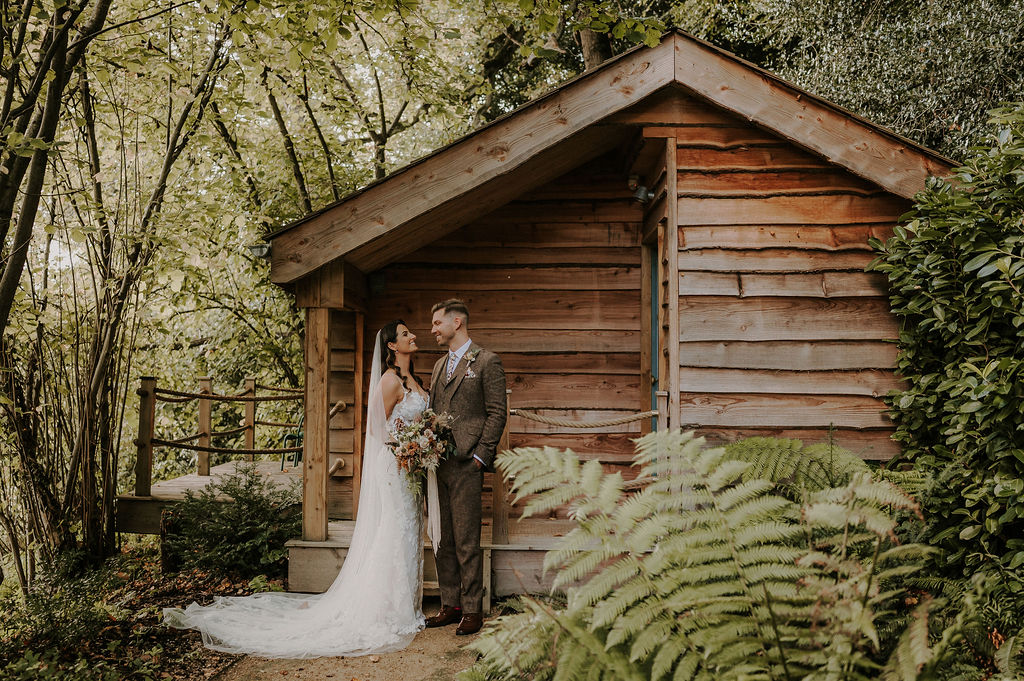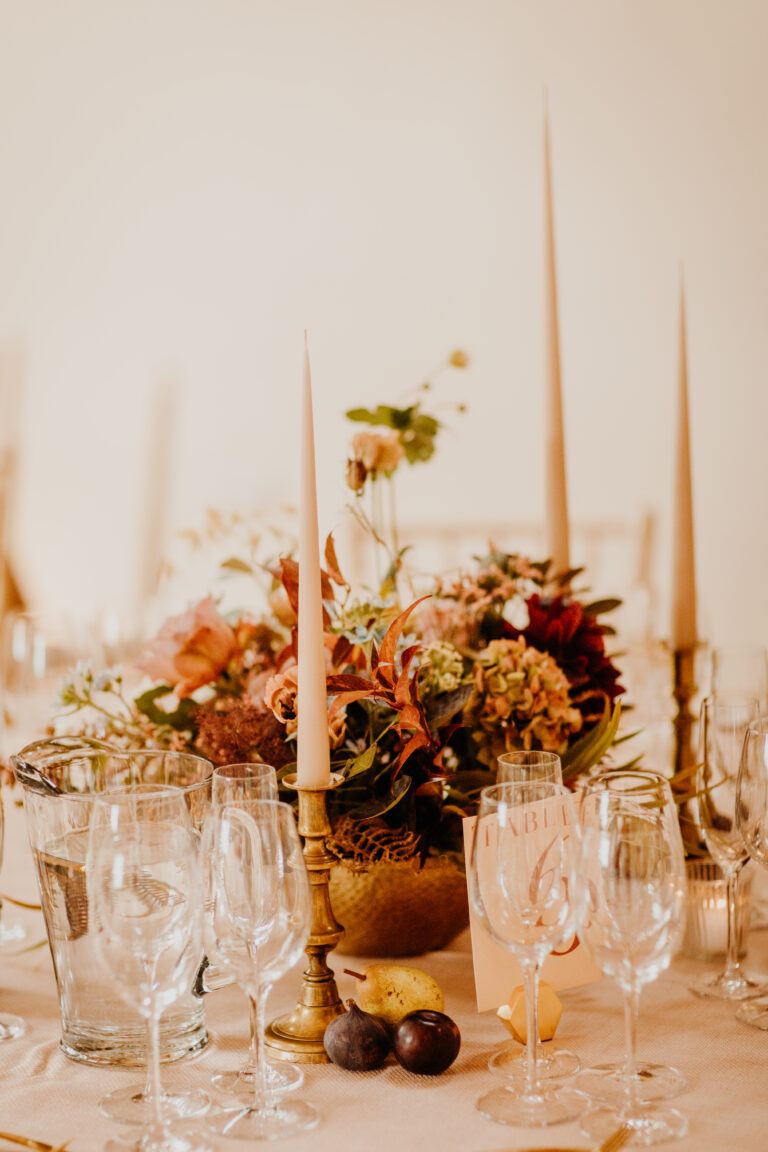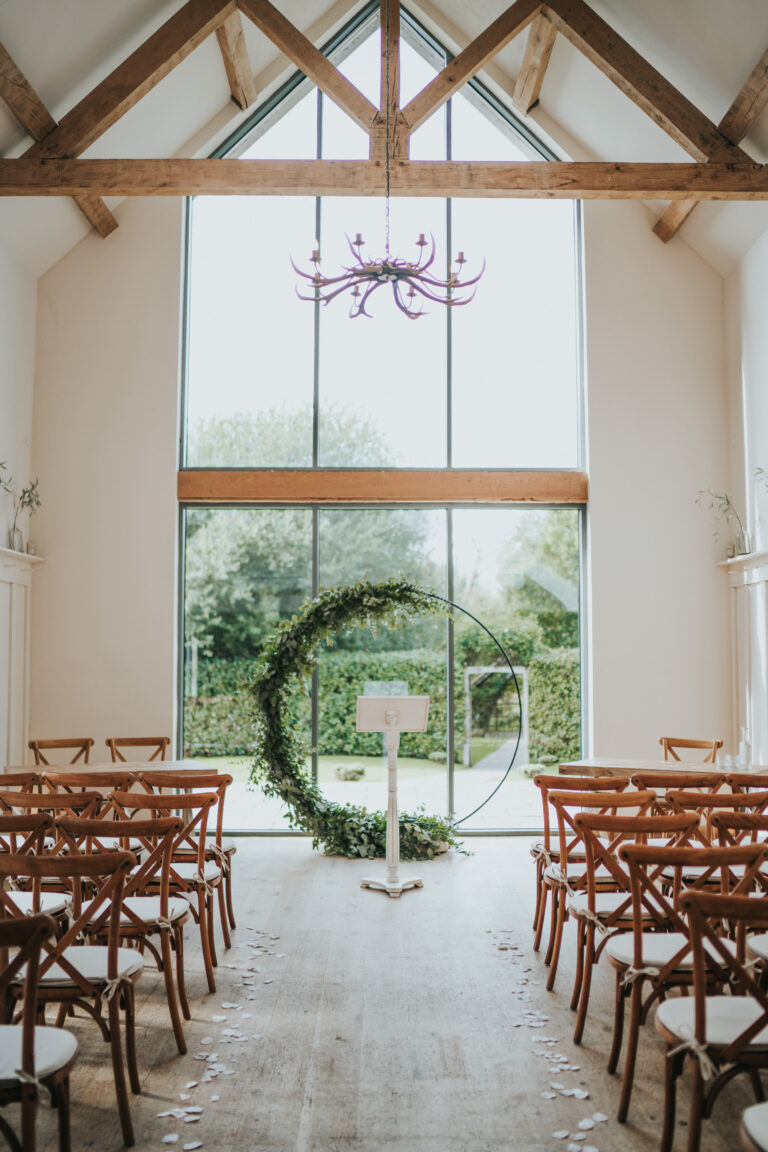 T- Alice Cunliffe Photography; L- Jonny MP, Jenni Bloom; R- Holly Rose Photography, Longacres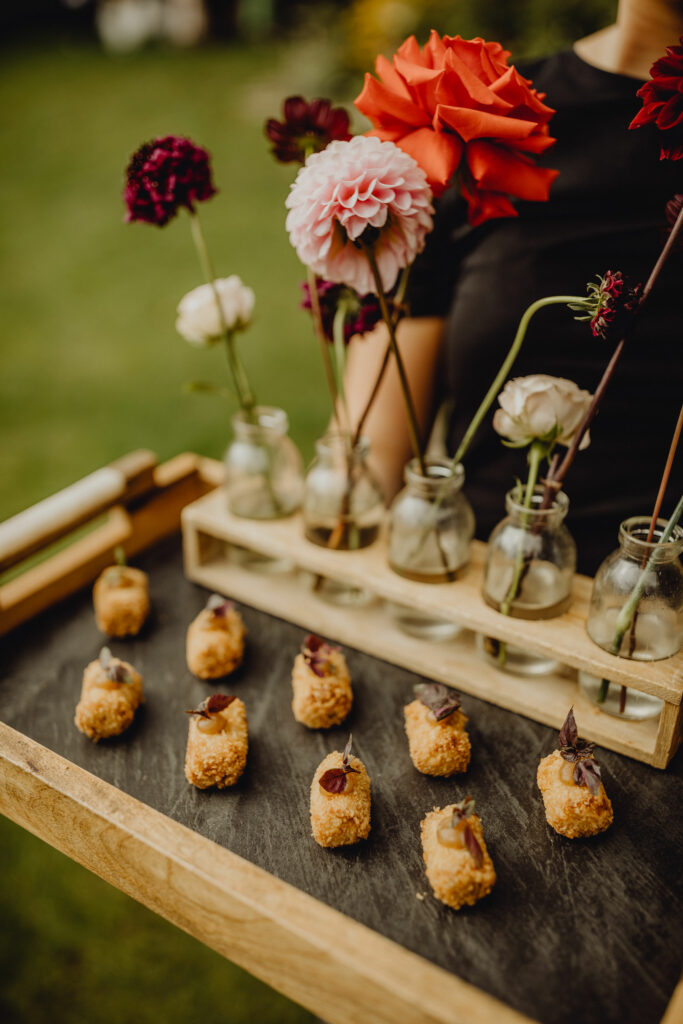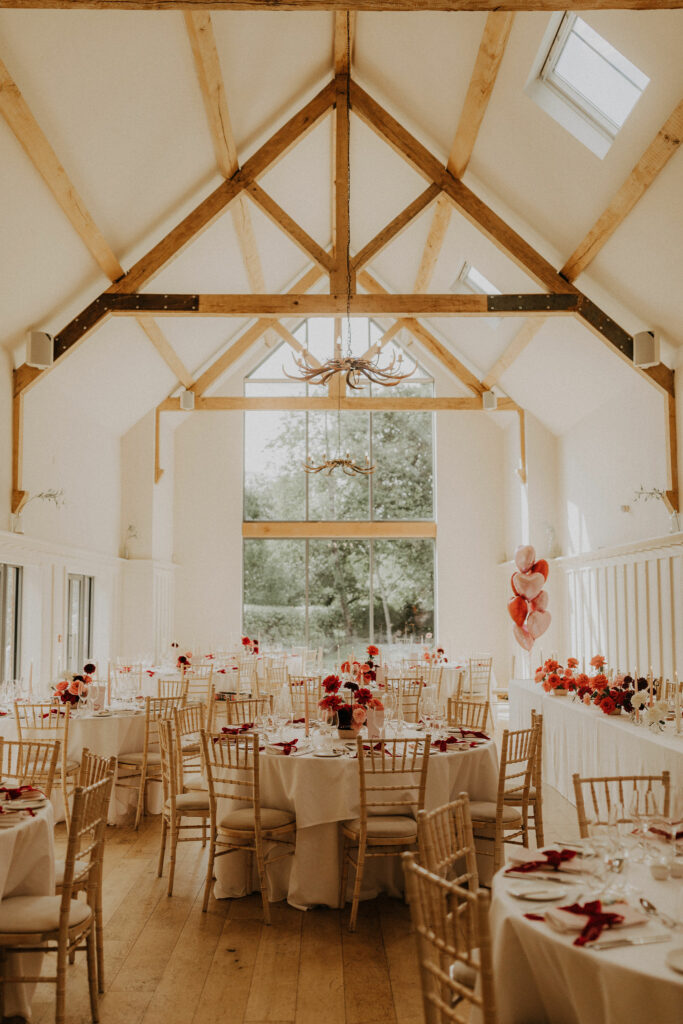 Aurora Grey Photography, Bud Flora, Kalm Kitchen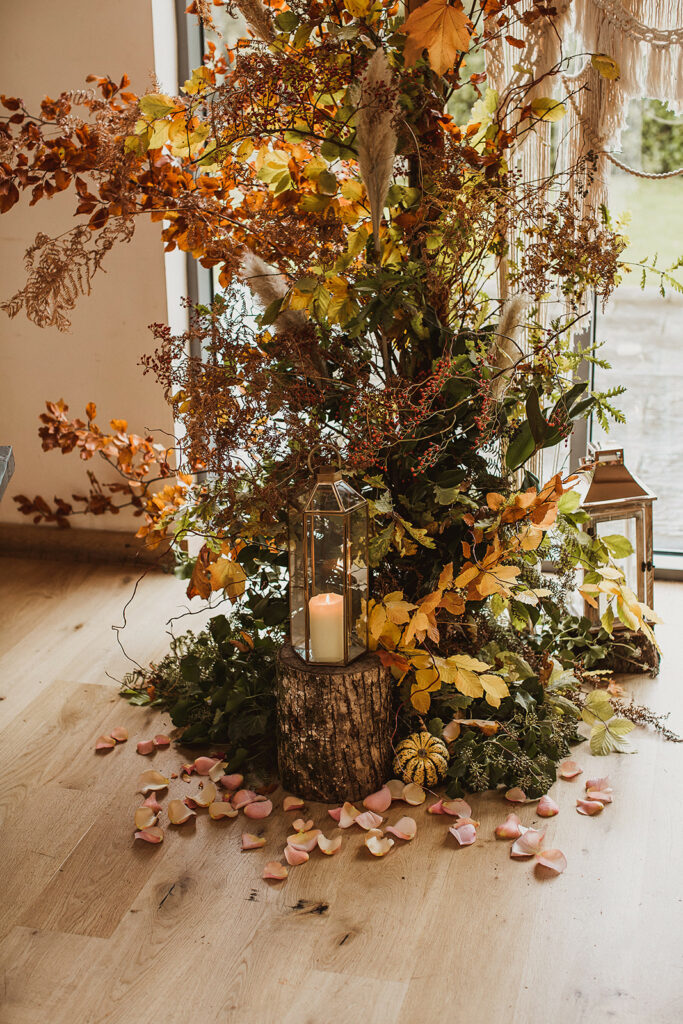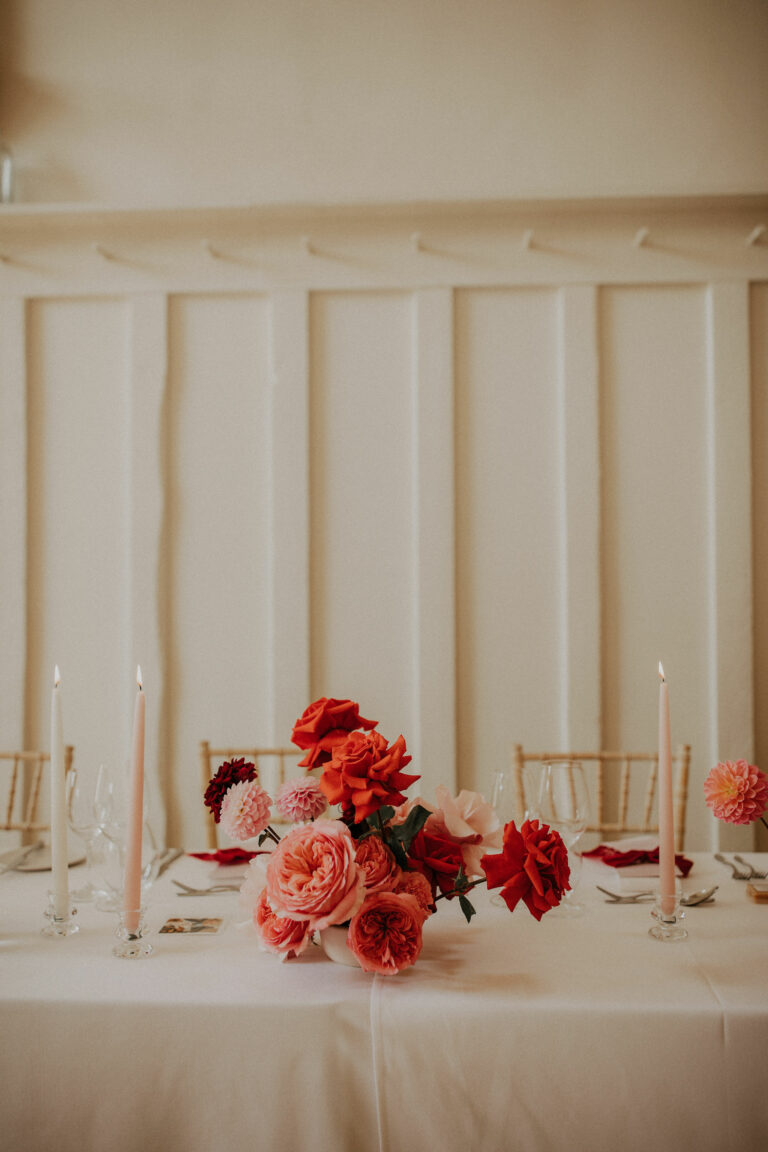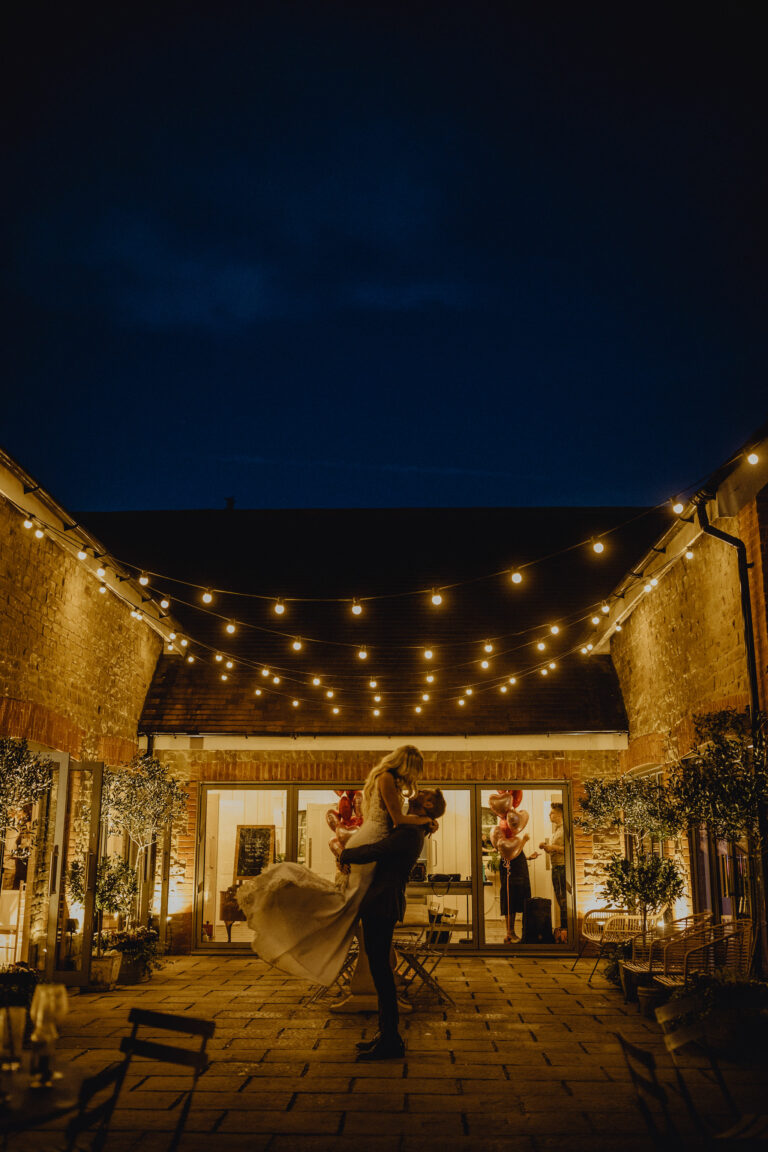 L- The Springles, Hannah Berry; R- Aurora Grey Photography, Bud Flora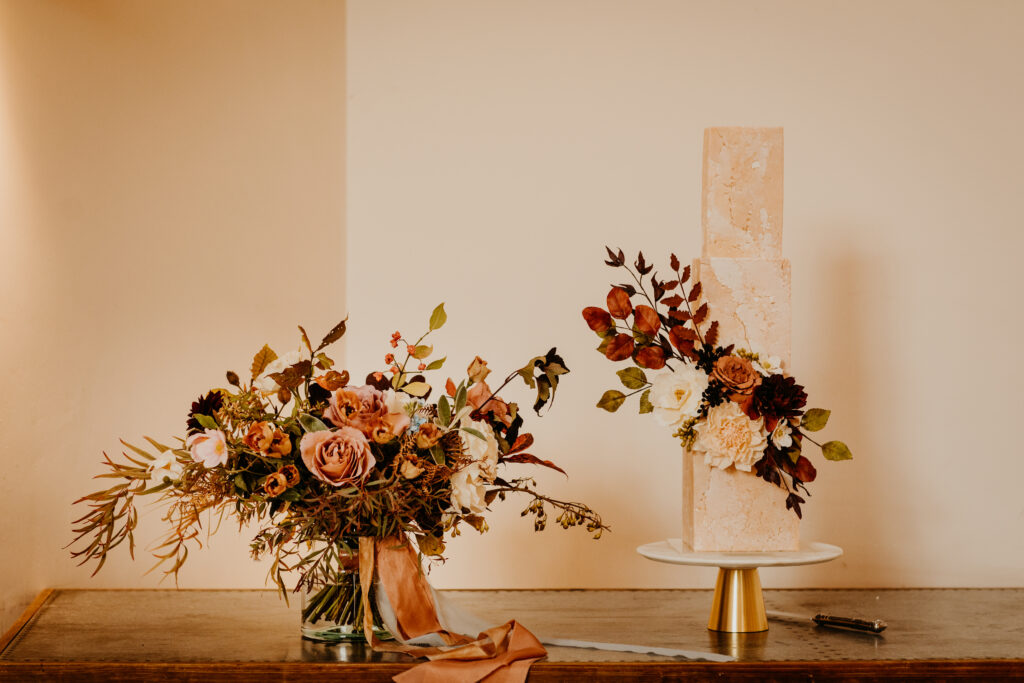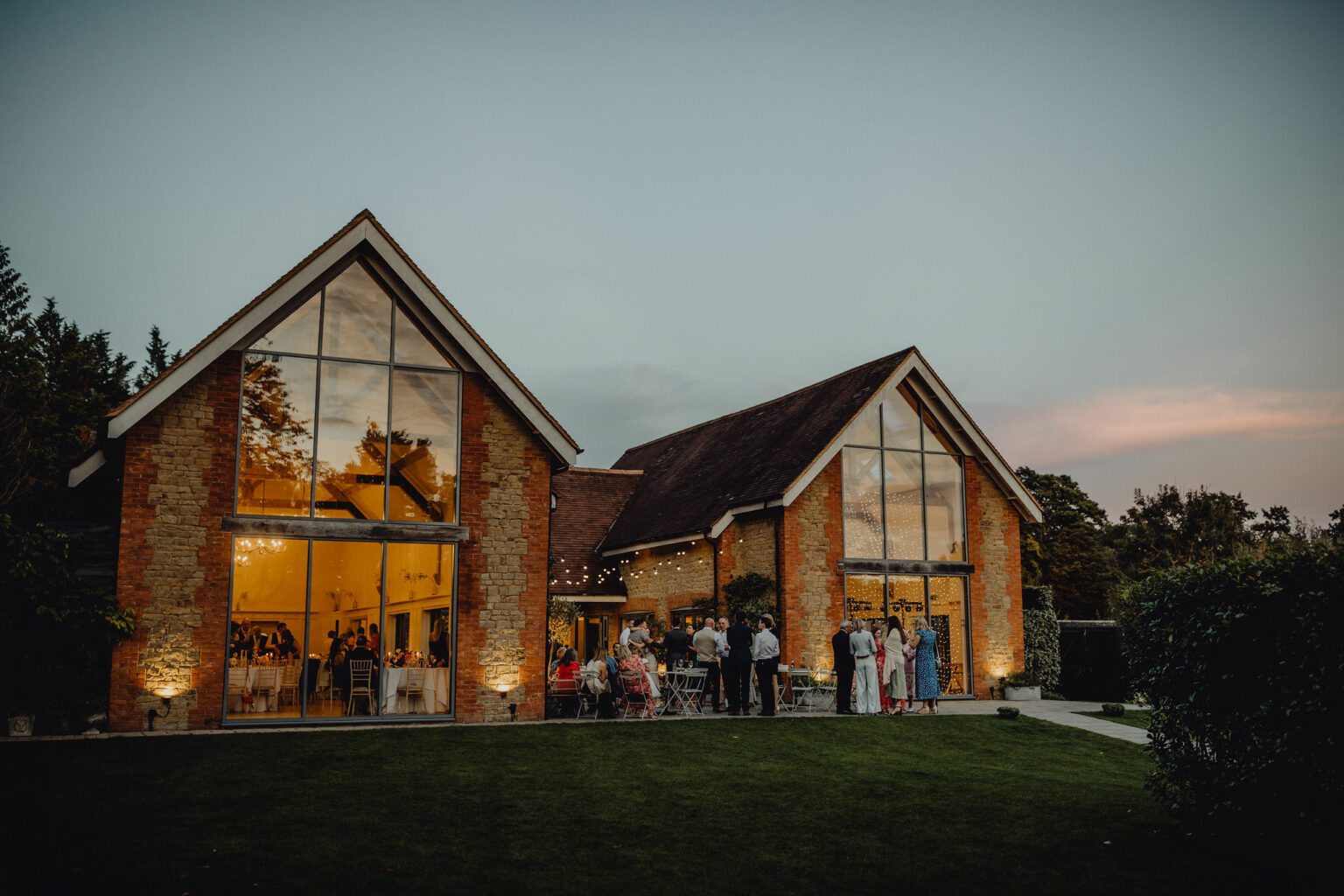 T- Jonny MP, Jenni Bloom Maria Antoinette Cakes; B-Aurora Grey Photography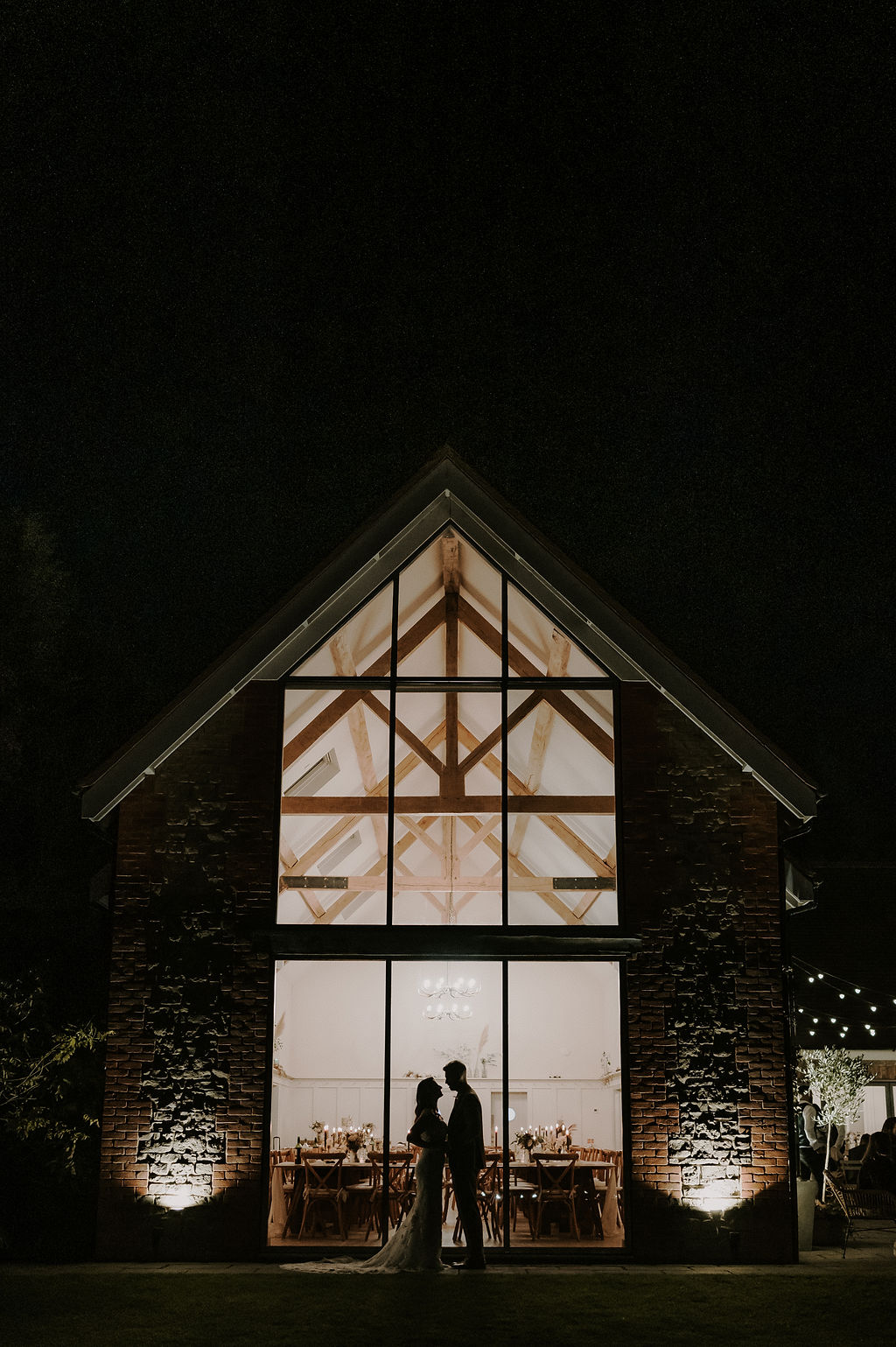 News : 16 / 08 / 23
Married at Millbridge – R&F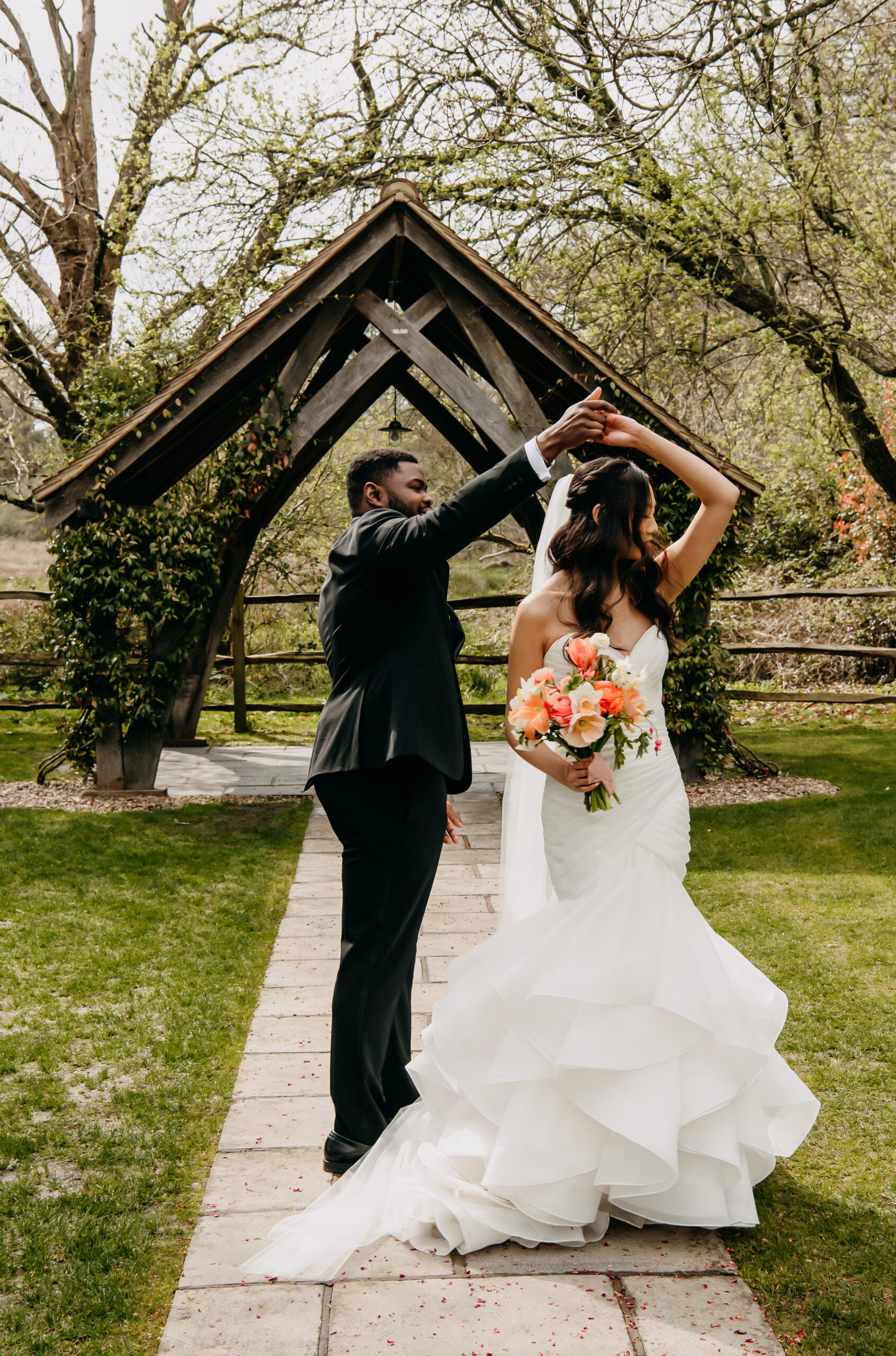 Rachel and Fiyin's Spring wedding day was so full of love and laughter!  Surrounded by family and friends, they created so many beautiful memories that will be cherished forever.
We caught up with them to relive their special day and give you a glimpse into just how much fun was had, from those loud "Yam Seng" to the incredible traditional wedding attires…
How did you meet and what's the proposal story?
We met for the first time through mutual friends who invited a bunch of us to a pizza night in Shoreditch. We didn't actually speak after that until the same friends invited us to a karaoke event, they hosted a year later. Honestly, if it wasn't for them, we wouldn't be together!
The proposal happened on our bucket list trip to Iceland. We had just polished off dinner at a restaurant in Reykjavik and before heading back to the hotel we decided to go for a walk around the stunning Harpan concert hall to take some pictures. It was at this time that Fiyin, being the opportunist that he is, decided to get down on one knee and propose!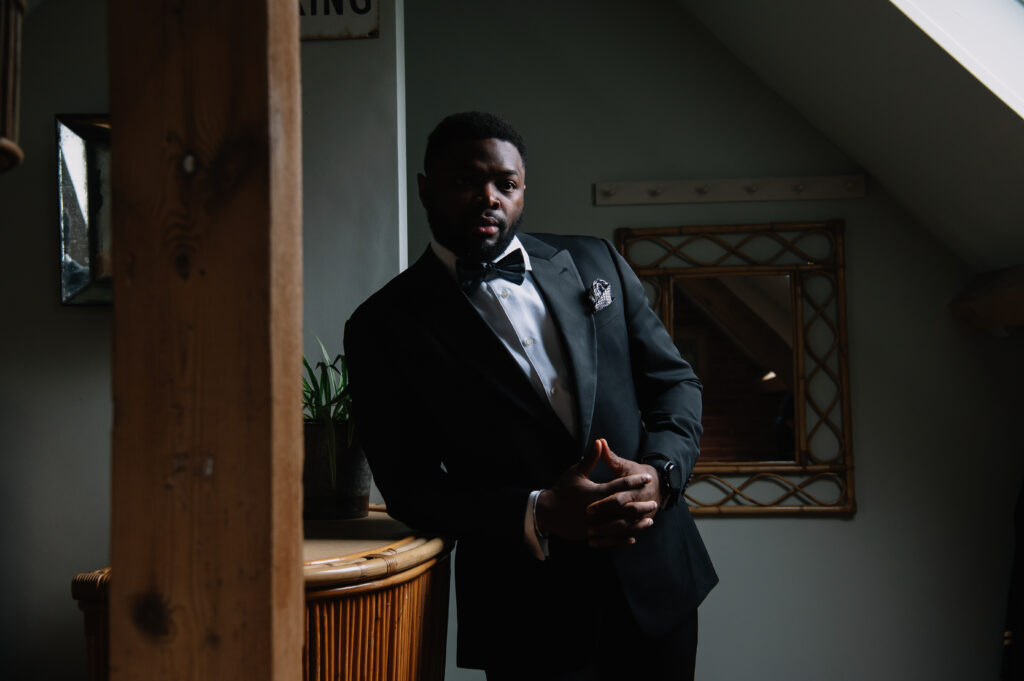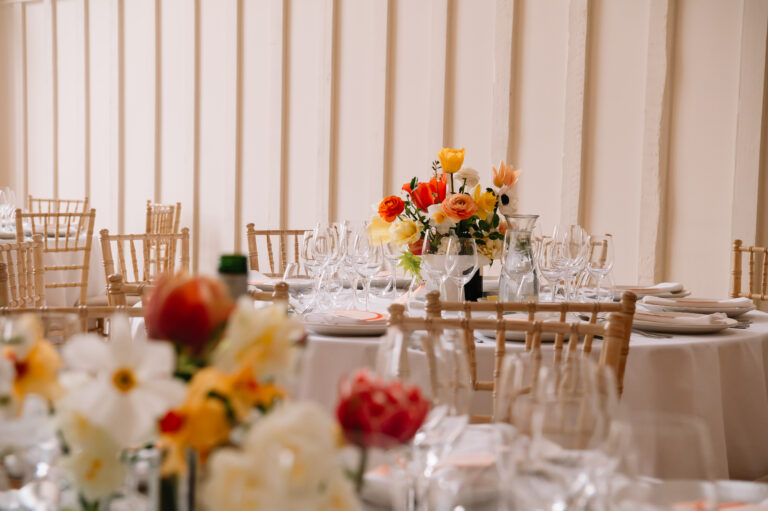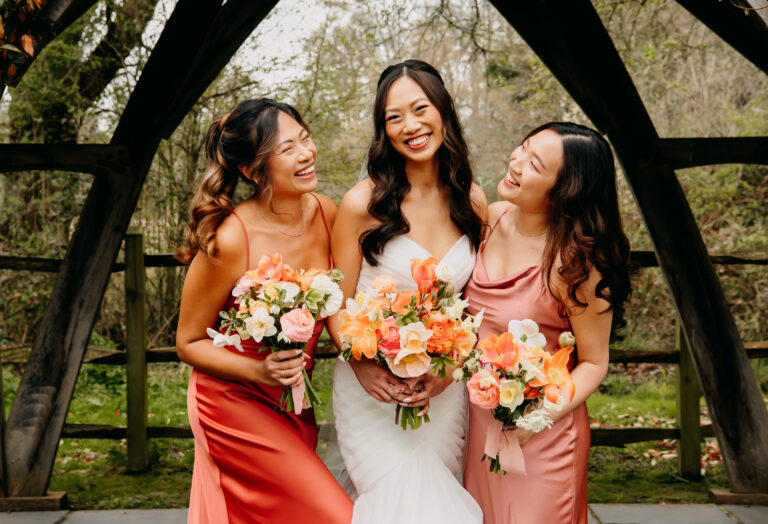 Why did you choose Millbridge Court?
Initially we didn't really have an idea of what kind of wedding we wanted, but we came across Millbridge Court online and were really impressed by the aesthetic and how it seemed both modern and classic at the same time. The location also suited us well as we were London-based and wanted it to be easily accessible for our friends and family, but at the same time it was remote enough to feel like a countryside escape. With Rachel being a passionate foodie, the catering was also something that caught our eye from the get-go with impressive menu options offered by Kalm Kitchen.
Ultimately, we are so glad that we went with Millbridge given that from the moment we reached out, they had been really responsive, personable and eager to help which meant a great deal to us, especially throughout the planning process.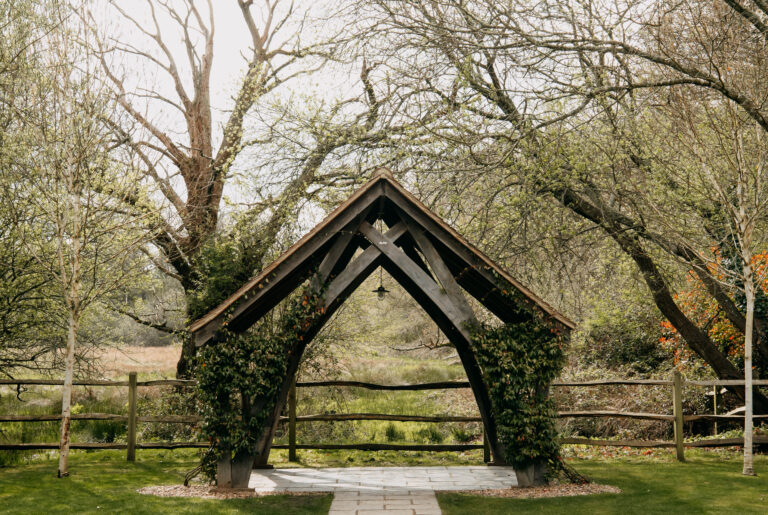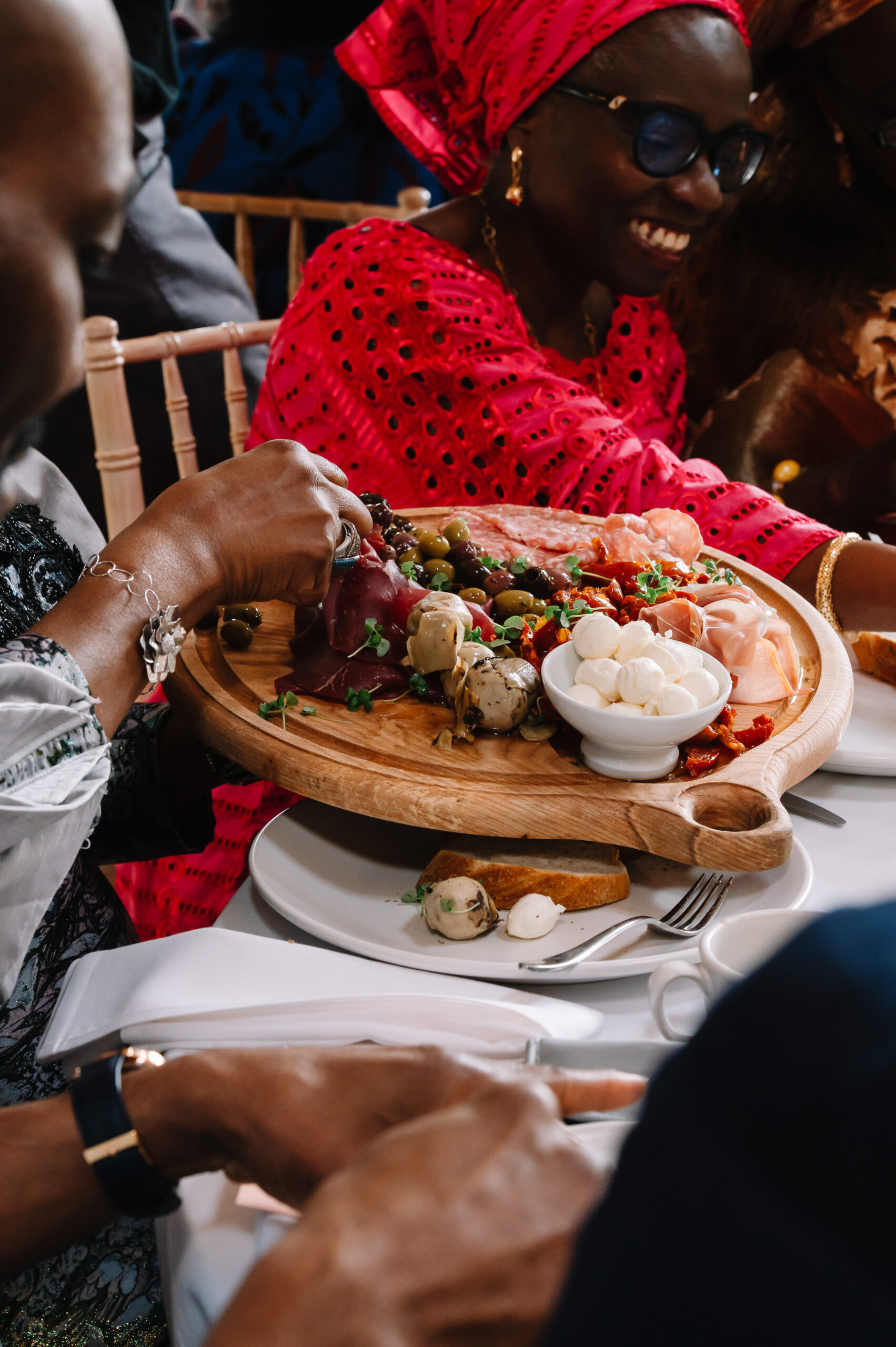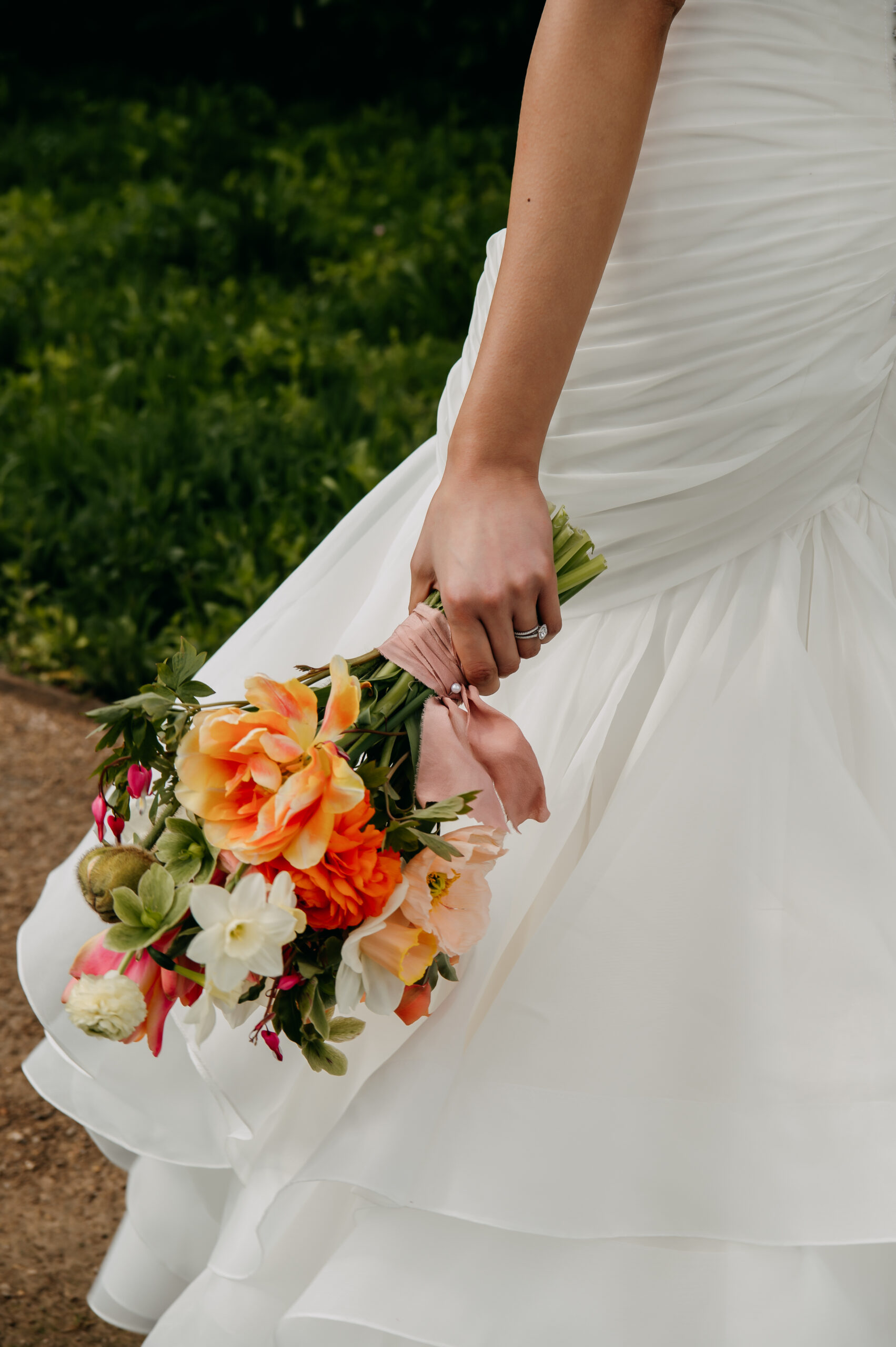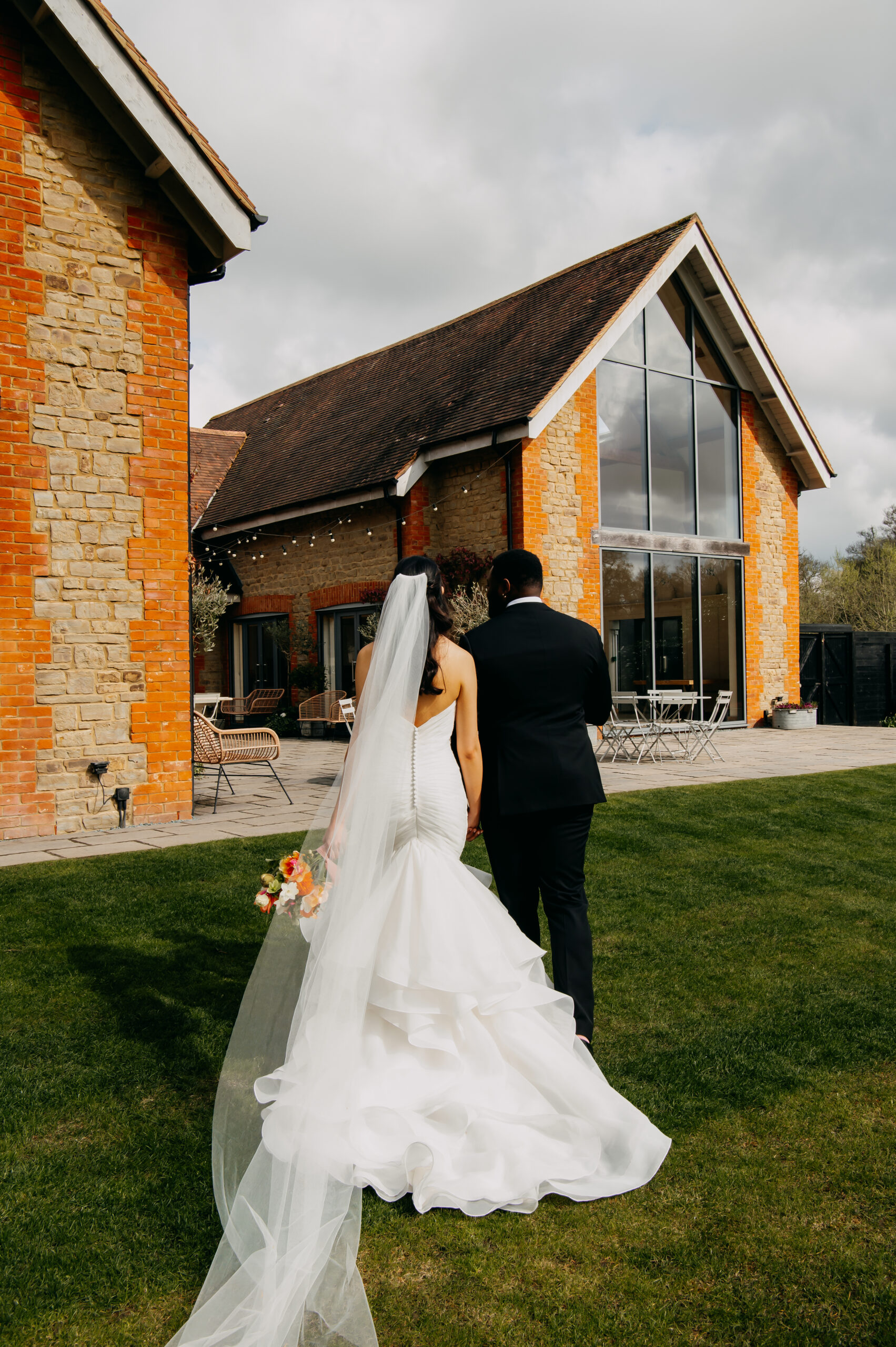 What did you love about having a Spring wedding?
Having a Spring wedding was one thing we were set on from the start of the planning process. It's that time of year when the skies start to get brighter, but it doesn't get overwhelmingly hot during the day and the sun sets later in the evening. Of course, with Spring comes the blossoming of nature and wildlife, and there was just something so beautiful about the symbolism of new beginnings at springtime which made the idea of having a spring wedding all the more special.
Tell us more about your suppliers and why you chose them.
We chose Philipa Day as our florist as we loved her organic style using a combination of flowers and colours that perfectly suited the fresh spring theme we were going for.
From the moment we came across Emma Jane Lewis' portfolio online, we knew that we wanted her to photograph our wedding. Her photos are romantic, candid, and editorial all at the same time and there were so many key moments throughout the day that we'll always be able to look back on thanks to her.
Our decision to hire a photobooth was a pretty last minute call but might have been one of the best things we decided to do! Picture Blast provided a really easy booking experience and set up on the day without a hitch. Our guests loved taking photos with the fun accessories it came with – and the best part is, the photos were all saved digitally so it was very amusing looking through them all when the link was sent to us!
We made the conscious decision to get our friends and family involved in some parts of the day too. It made the day so much more meaningful knowing some of our nearest and dearest also had a part to play in our big day.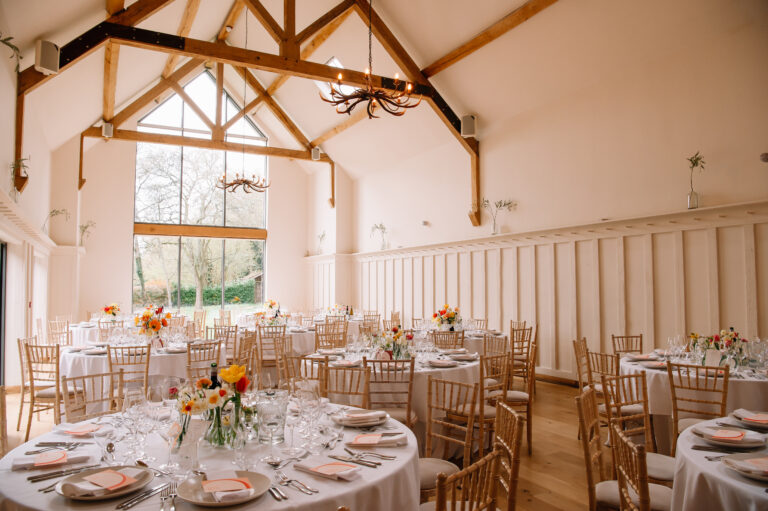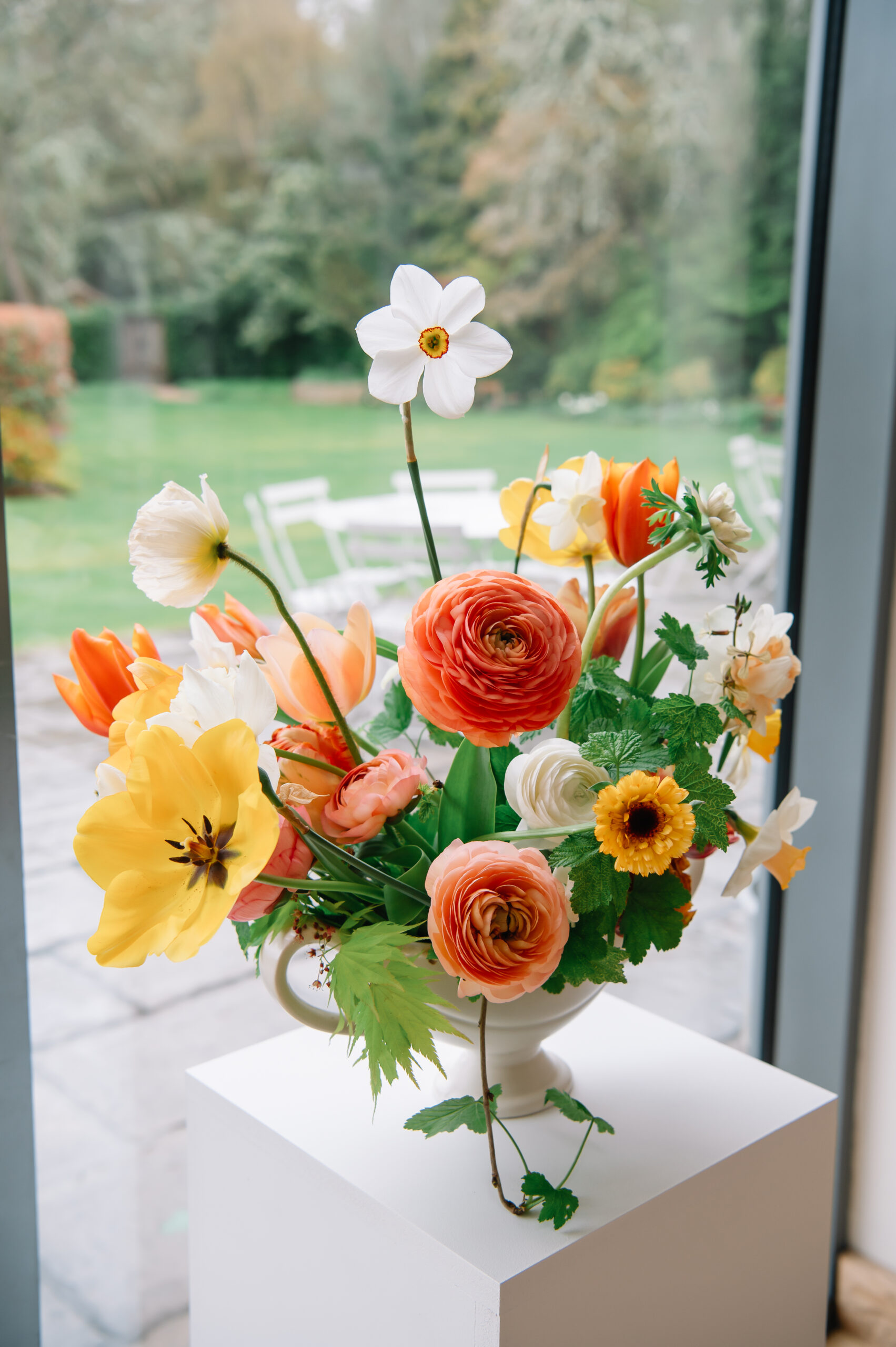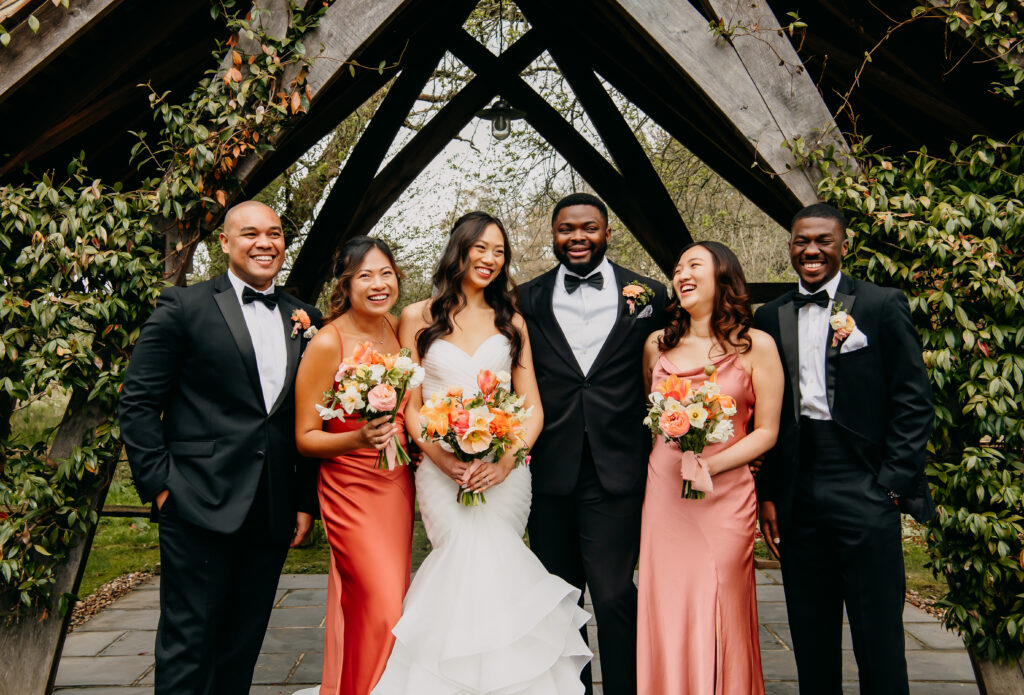 Were there any family traditions that featured in your day?
At the end of the meal, we went around to each table to toast our guests – a Chinese wedding tradition called 'Yam Seng' (equivalent meaning to 'Cheers' in Cantonese), Rachel's dad encouraged everyone to raise their glasses and shout "Yam Seng" at the top of their lungs. It definitely brought plenty of laughter and even a little bit of competition between the tables as to who was the loudest!
Our first dance then featured the two of us in traditional Yoruba wedding attire which were custom made for us in Nigeria. We danced our way into the reception hall surrounded by friends and family before our Nigerian guests sprayed us with cash – talk about a grand entrance!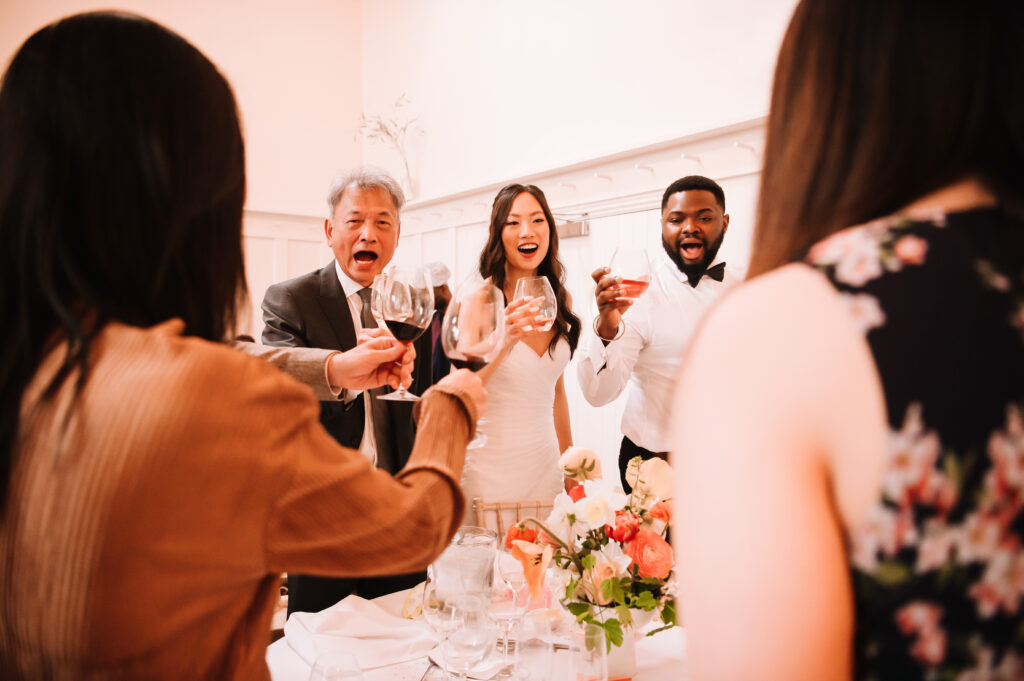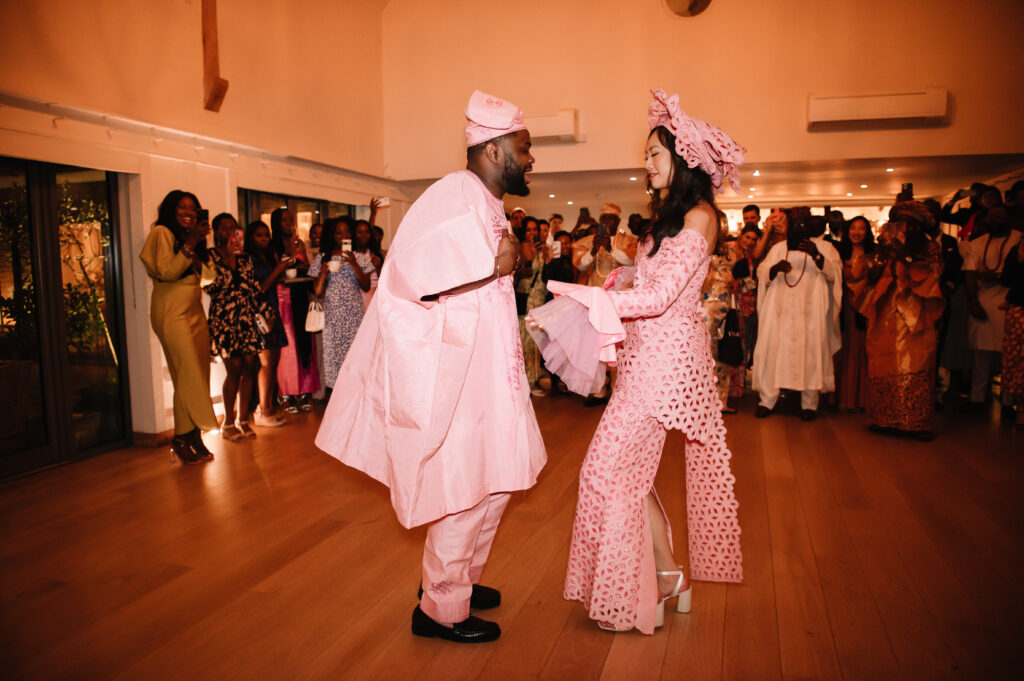 Tell us something that we wouldn't know about your day from the pictures.
The food was absolutely incredible. It was one of the things our guests kept bringing up as a key highlight from the day; from the canapés to the bountiful sharing platters and the late-night snacks, it was all so delicious and beautifully plated. Hats off to the Kalm Kitchen team for doing such a fantastic job!
Favourite part of your wedding journey?
The day itself! The planning process was tough at times and there were days when we were both questioning "is this really worth all the stress?", but when the day came, all of that faded away as we were surrounded by the ones we love and were reminded of what the day was really about.
Any words of wisdom for future couples?
Throw any expectations you have for the day out of the window and just focus on being present and making the most of it. Find five minutes for just the two of you together to take everything in and appreciate the moment. This might be the only time you'll see all your loved ones under the same roof, and it flies by much quicker than you'd think!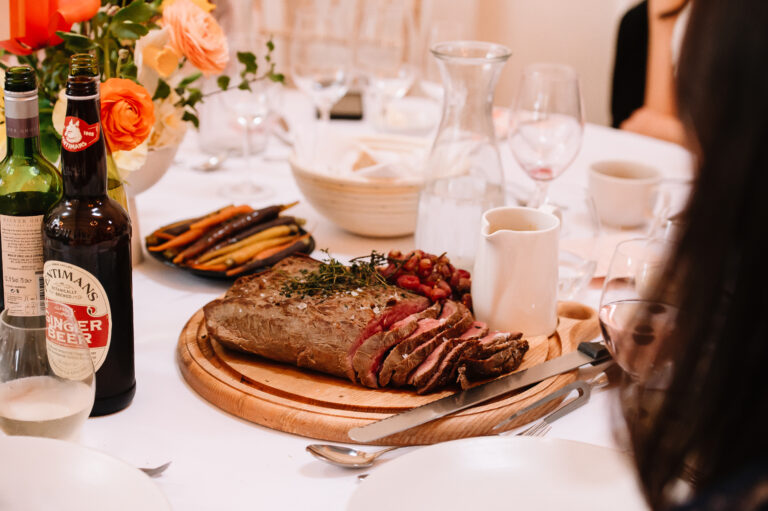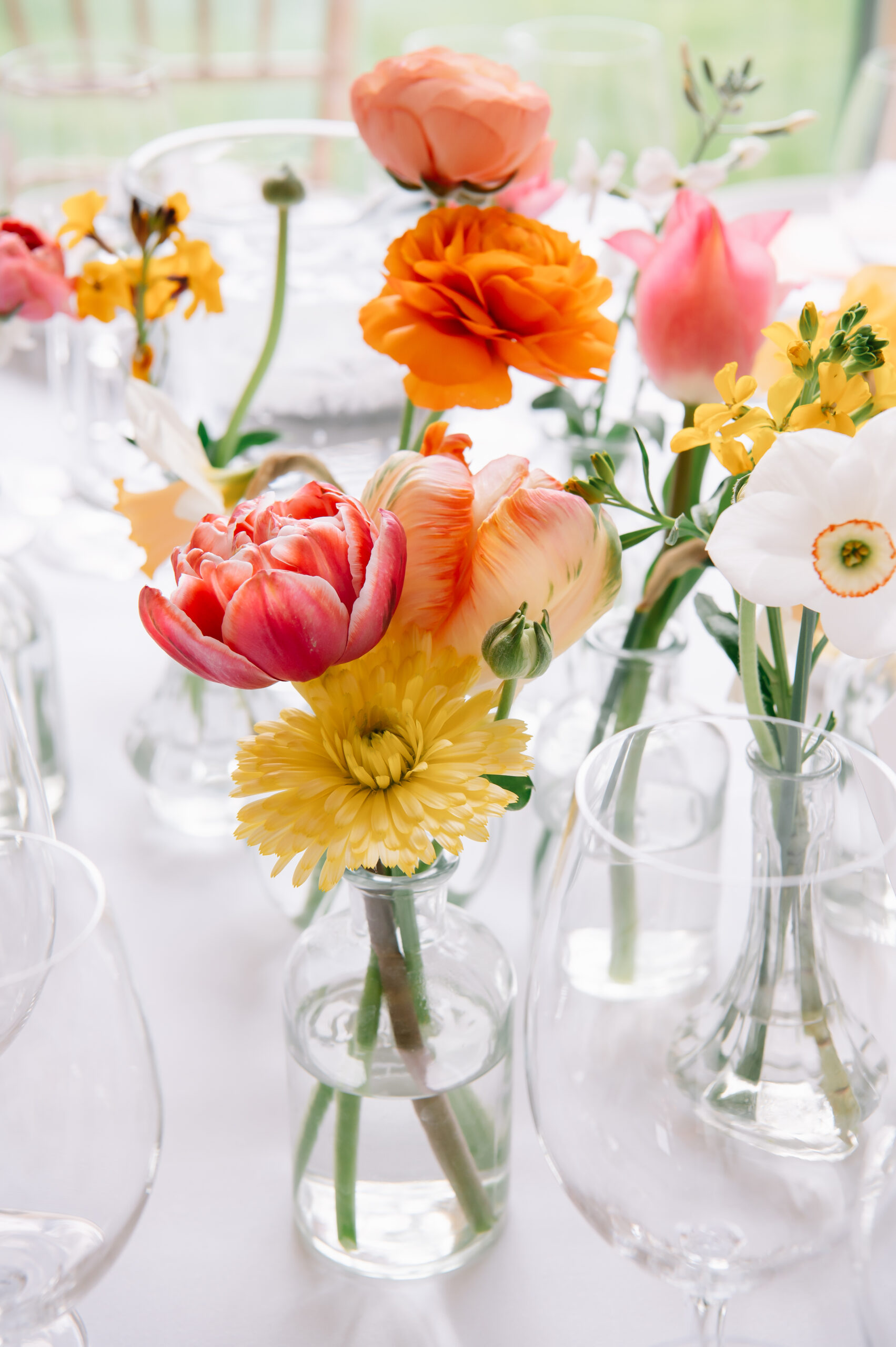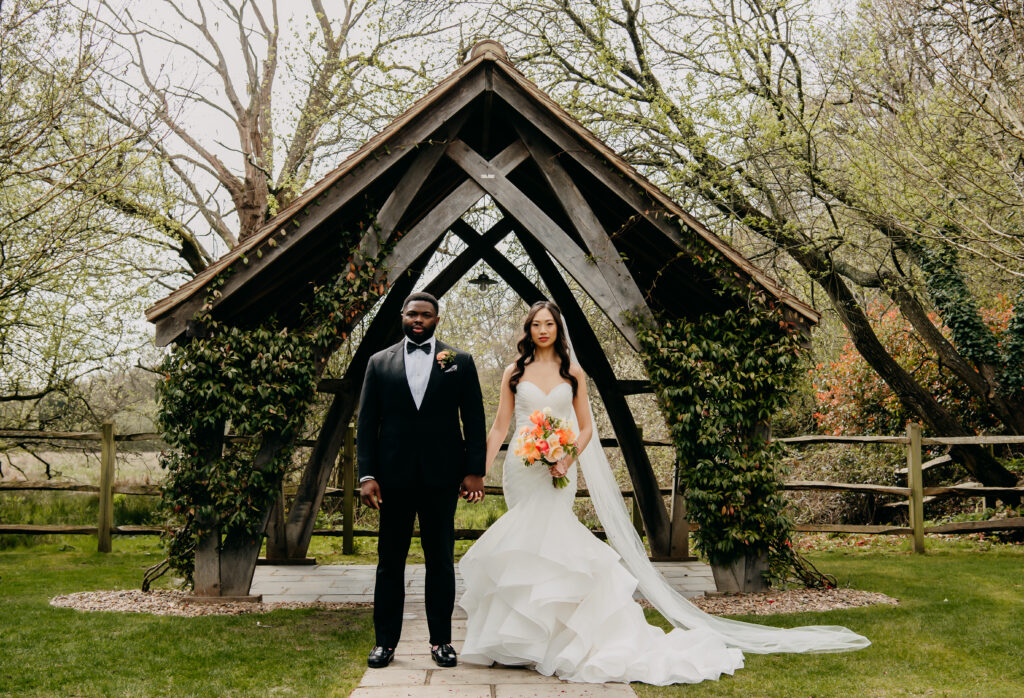 News : 06 / 07 / 23
Getting to Know – Olivia Mills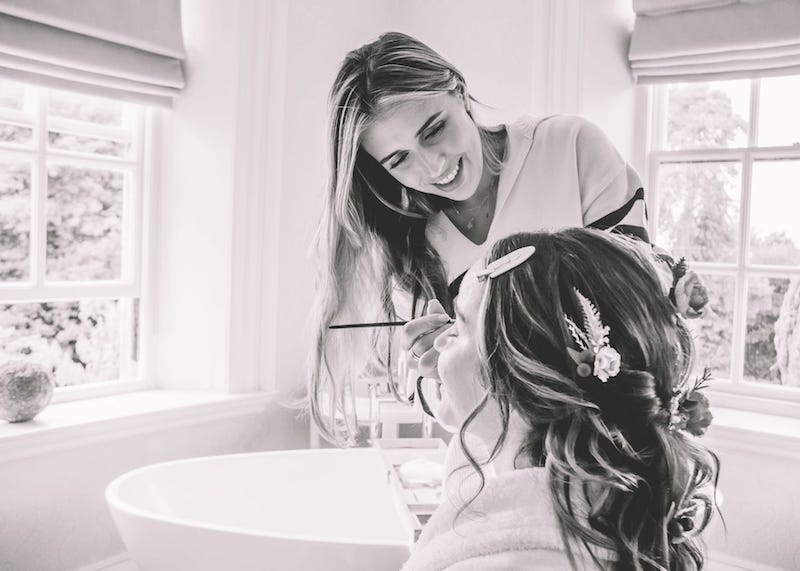 Anyone that has had the pleasure of having their hair &/or make up done by Olivia will be able to tell you she acts as an honorary bridesmaid. Not only will she make you feel beautiful but her attention to detail means she will also keep you on track with your timings, ensure you are well hydrated and position the train of your dress just perfectly for those all important first pictures.
Essentially, she has you covered!
We sat down with Olivia to give you a little glimpse into her world.
What first made you fall in love with beauty?
When I was a teenager I absolutely loved makeup however didn't ever think for one minute I could/would have a career in it. Looking around the makeup school, Brushstroke at Shepperton film studios, where I trained, it was an absolute dream! I love how creative you can be with hair & makeup, every day is different.
What made you decide to work in the wedding industry?
I originally started working in TV & Film, I absolutely loved it but fell into weddings. My 'work' days were just incomparable! The more the years went on, the more weddings I did and the more I fell in love with my job. Being part of the happiest day of a person's life is a feeling I cannot even describe. I am so lucky!
How would you describe your style of Hair & Make up?
Soft, romantic and timeless – a more enhanced version of yourself for your big day! I really love it when my brides look in the mirror at the trial and tell me they feel like a special version of themselves.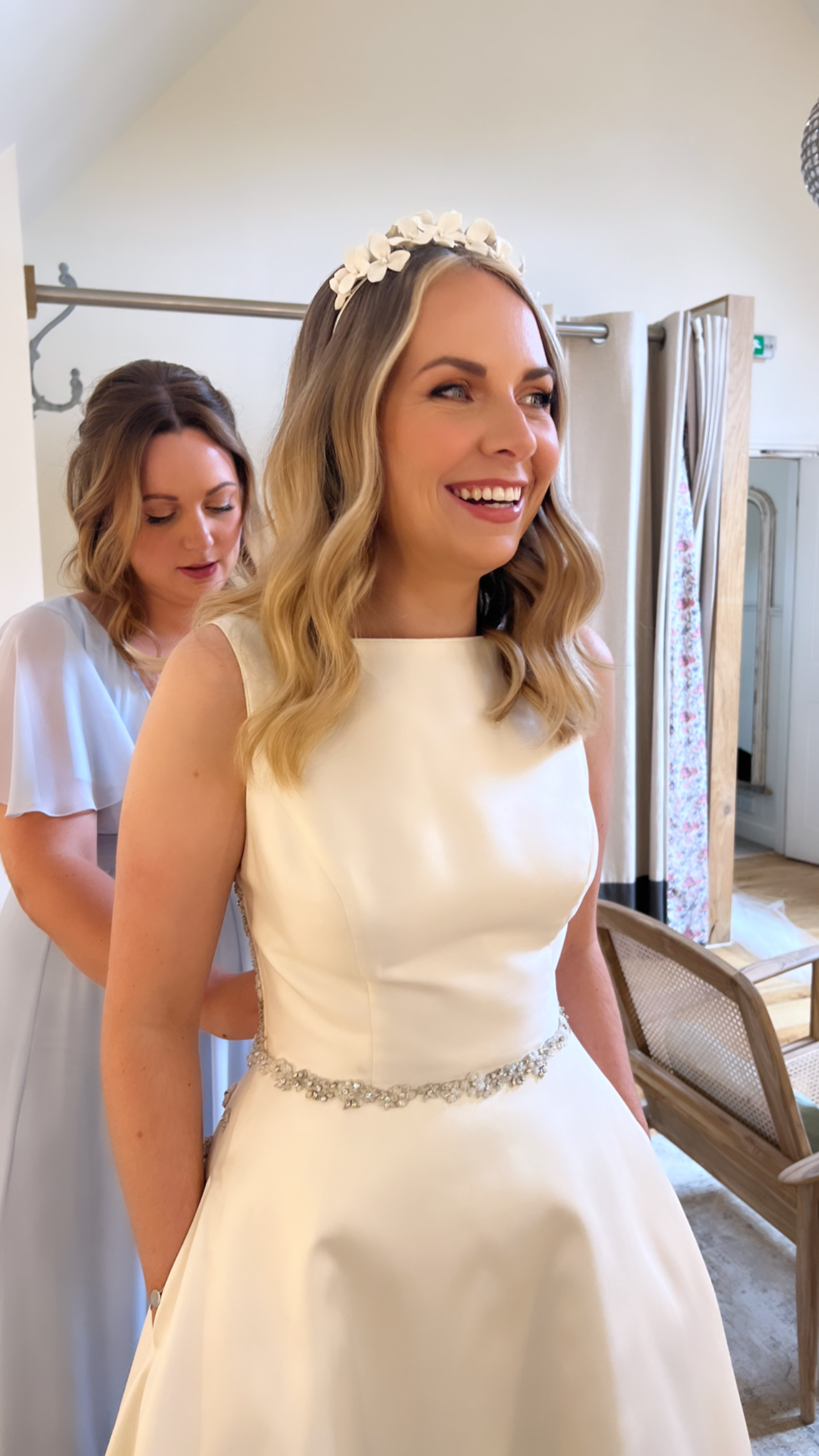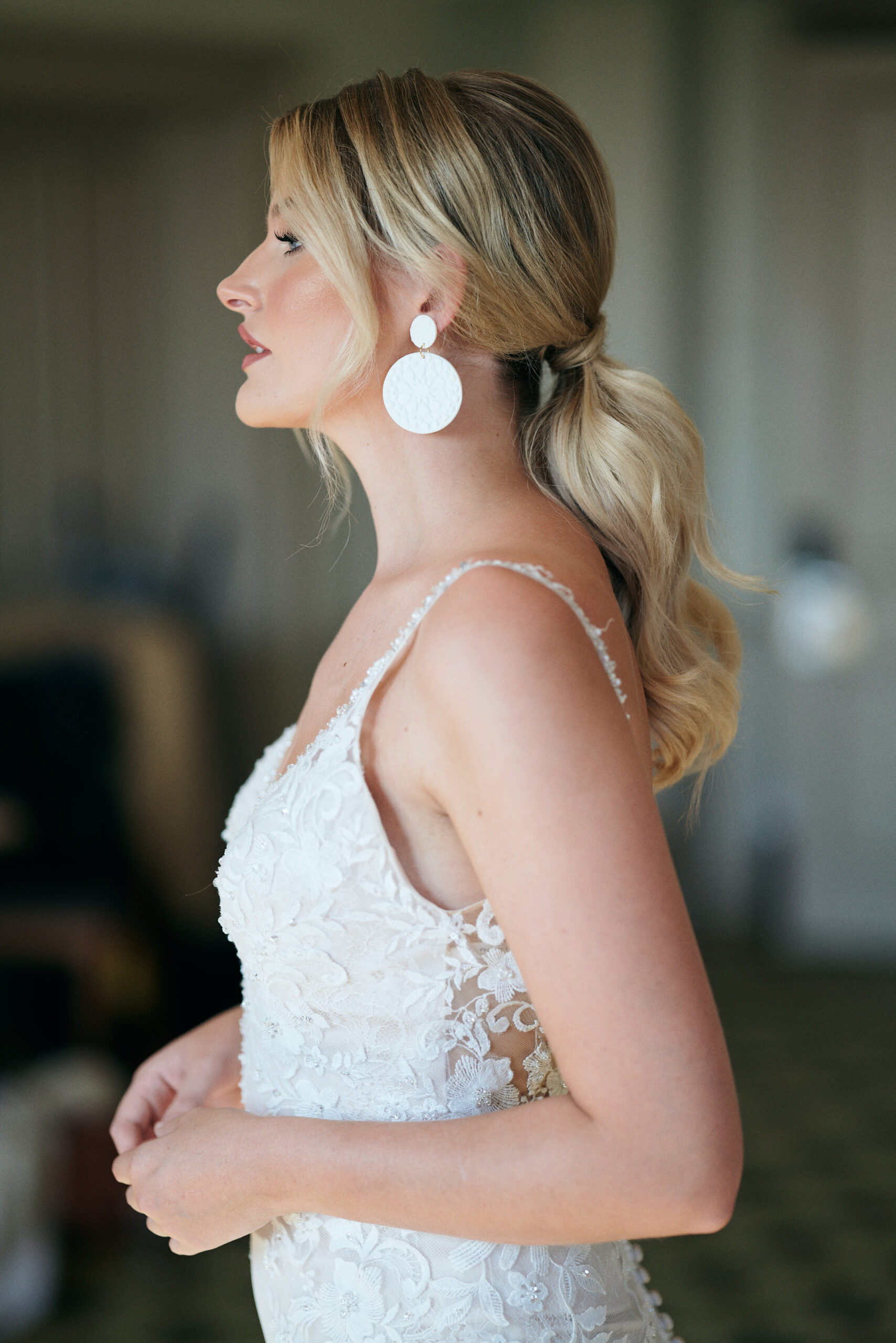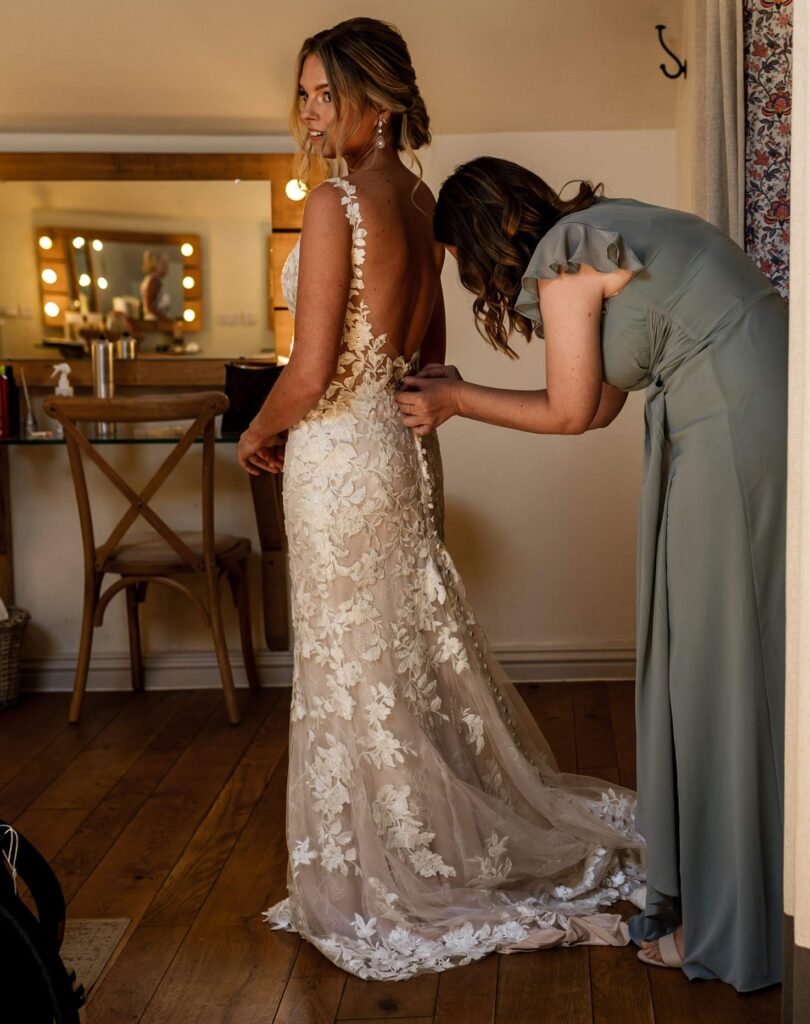 Lucie Watson Photography, Matthew Lawerence
Can you explain a little about what couples can expect when they book with you?
When booking with me for your big day, expect it to be easy and fun! I want to make sure you are looking like the best possible version of yourself whilst feeling comfortable! How you feel is so important to me. At the trial I make sure you are 100% happy with the look created and tweak it until you are! I create a schedule for the wedding morning meaning everyone knows when they need to be in the hot seat – this makes the morning run smoothly!
On the day I carry a little emergency kit in case anyone needs things such as body tape, sewing kits, nail glue! Over the years I have learnt that there are a lot of necessities forgotten at home!
What is your favourite part or parts of a wedding day?
The whole morning is so enjoyable! I feel like an added bridesmaid!! From the moment I arrive to the moment I leave it is all systems go BUT my favourite part has to be when all of the bridal party are ready, they've had a few pictures and the bride then gets her dress on behind the Magic Millbridge Curtain in the loft! The dress reveal to the bridal party is such a special and memorable moment.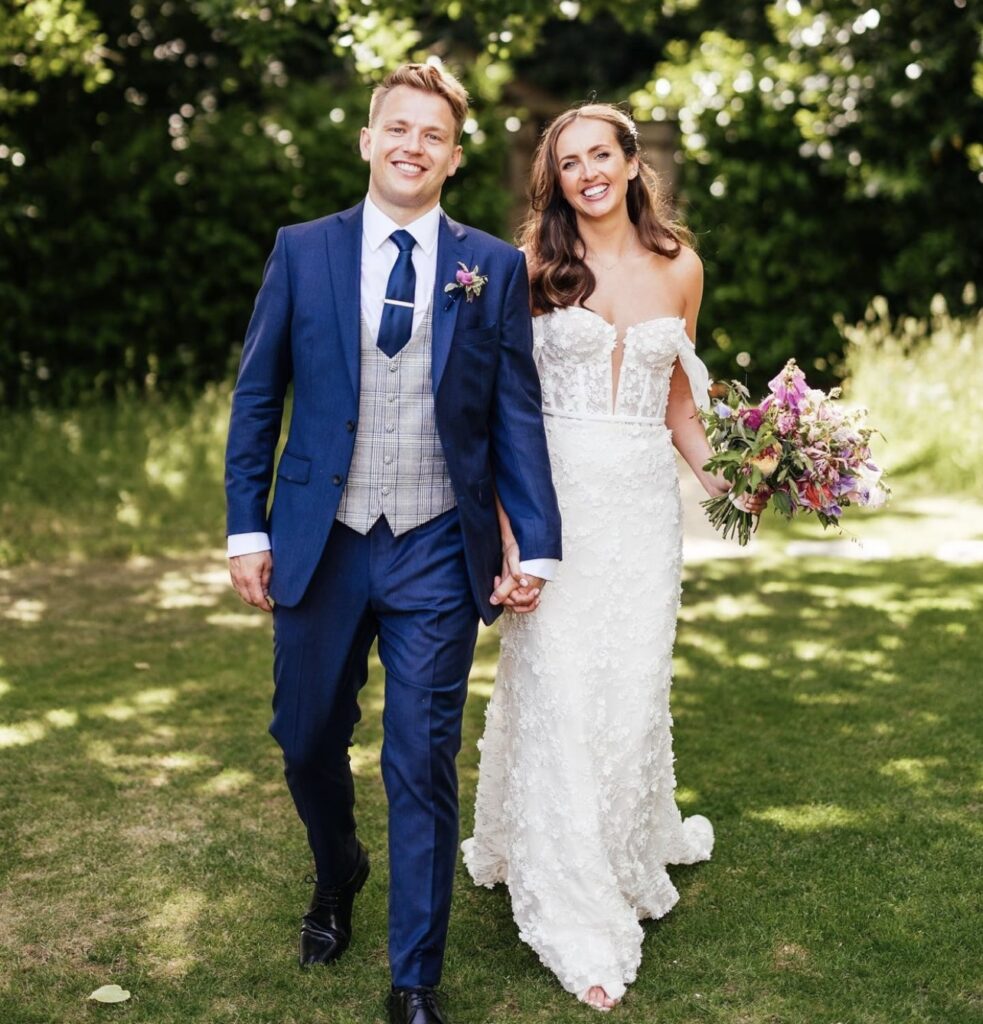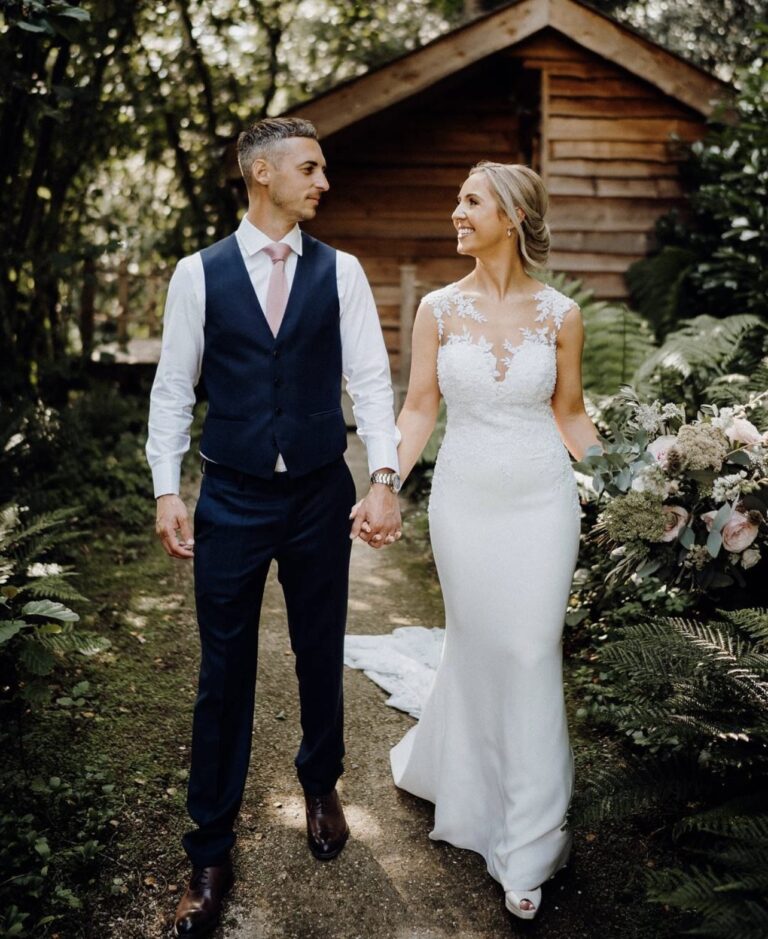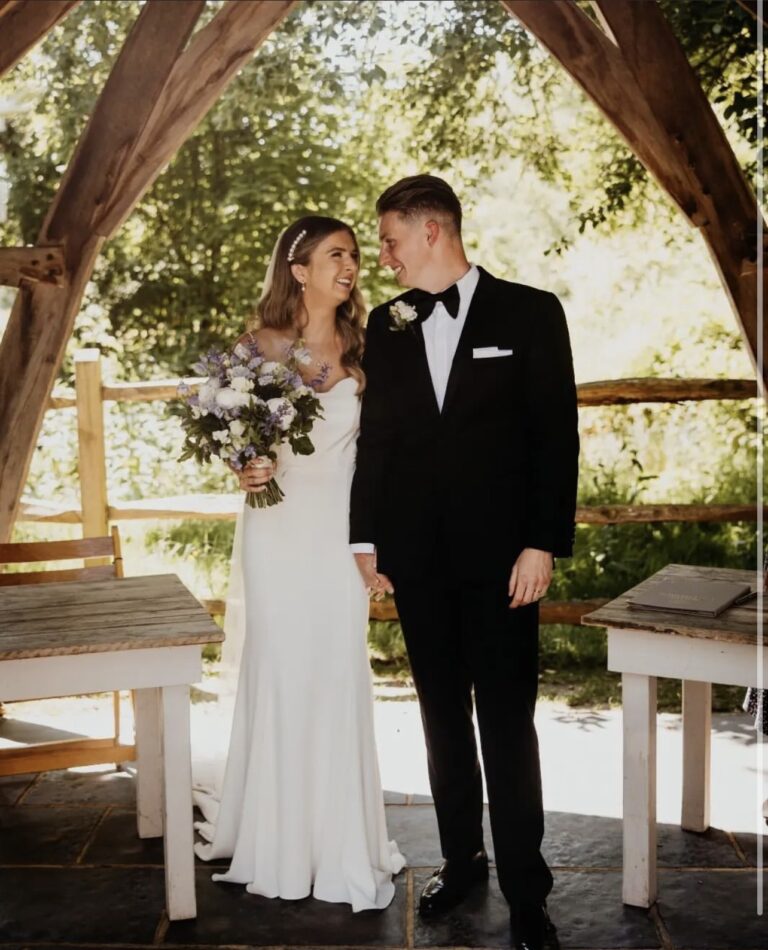 Kirsty Mackenzie, Jessica Eliza,  Kit Myers,  Jonny MP, Boutique Blooms
What do you love most about Millbridge Court?
This is a really hard one as I love absolutely everything about Millbridge Court – I get such a homely feeling when I walk in. My first wedding at Millbridge Court was in 2017!
From when I pull up, to walking in the door to see all my favourites from the lovely Millbridge Court team (their attention to detail is on another level).
I think I am going to have to say the loft, as it is where I spend of most my days at Millbridge and it is just the ultimate getting ready room for a bridal party… most reactions from bridal parties when they walk in is 'wow isn't this incredible!'
I also love how organised everything is, everything has a home – everyone knows what they need to do and when they need to do it! The day runs so smoothly thanks to the amazing team at Millbridge.
What Hair & Make up trends are you seeing for 2023?
In terms of hair trends for 2023, it goes from one extreme to another! On one end the sleek low buns (think Haley Bieber) are in but also effortless hair down (soft loose big waves) is back. I can also confirm Hollywood waves are here to stay!!
Makeup wise – lots of soft matte eyeshadow looks which is so beautiful and soft. I think it is a really timeless look. Dewy skin is most definitely still a favourite (unless you're super oily!!). Muted pinky tones on the eyes is also always a bridal trend!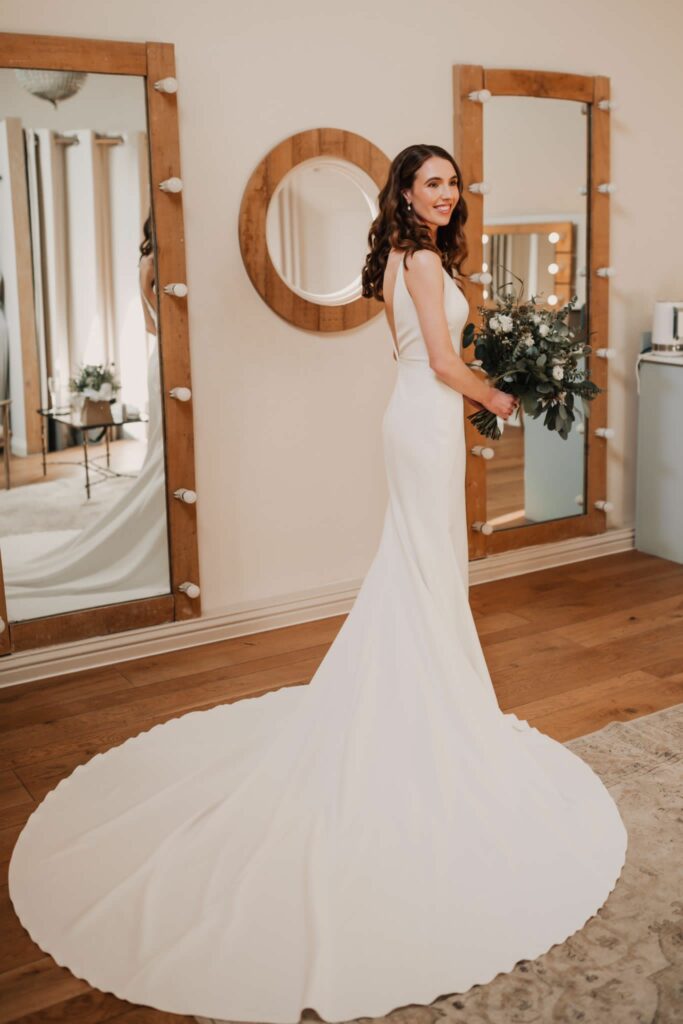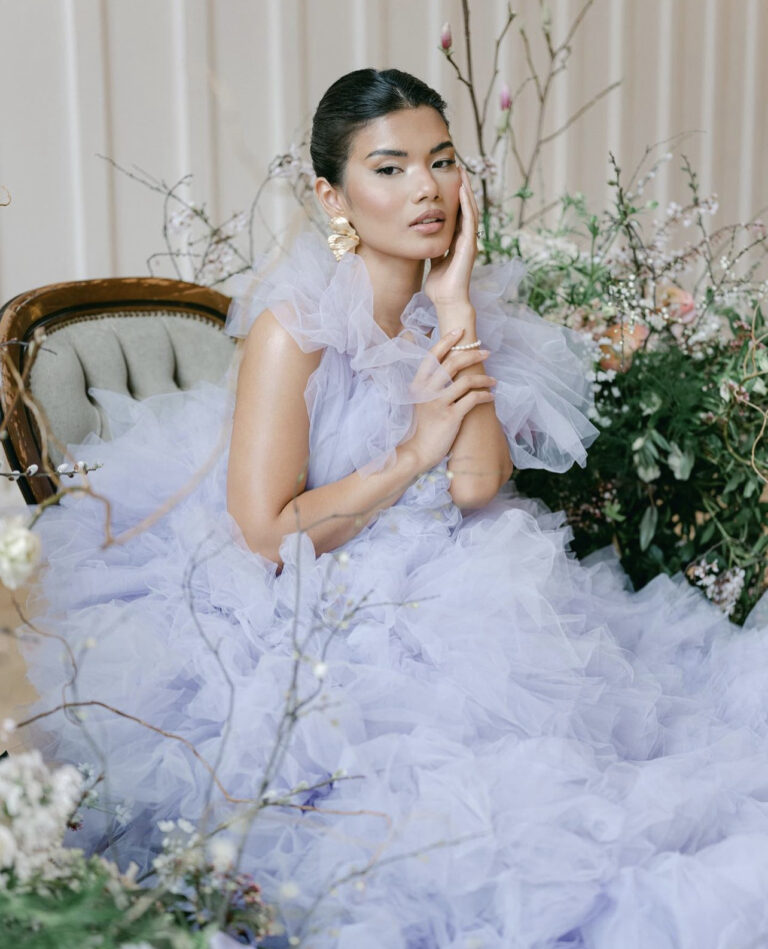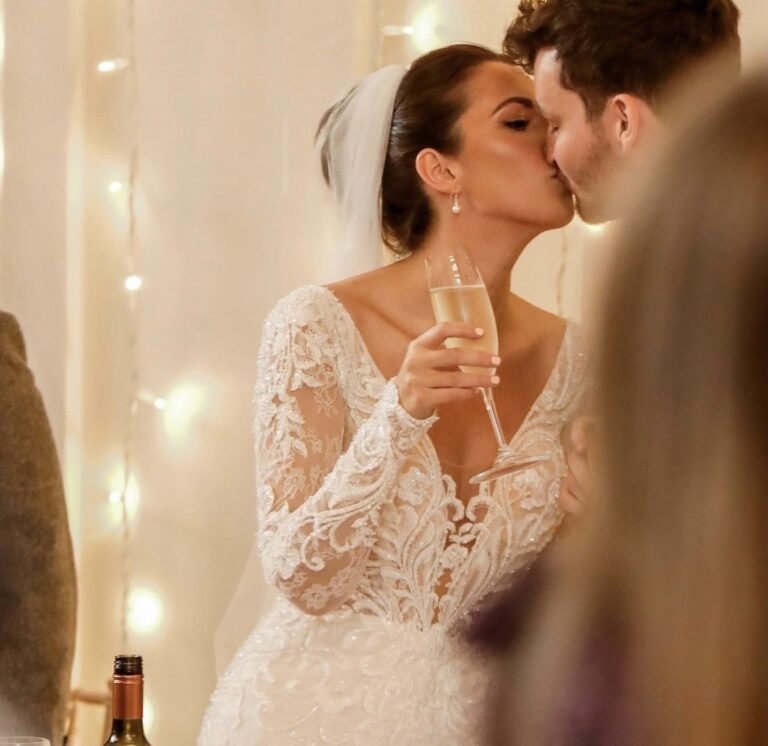 News : 09 / 05 / 23
Married at Millbridge – M&A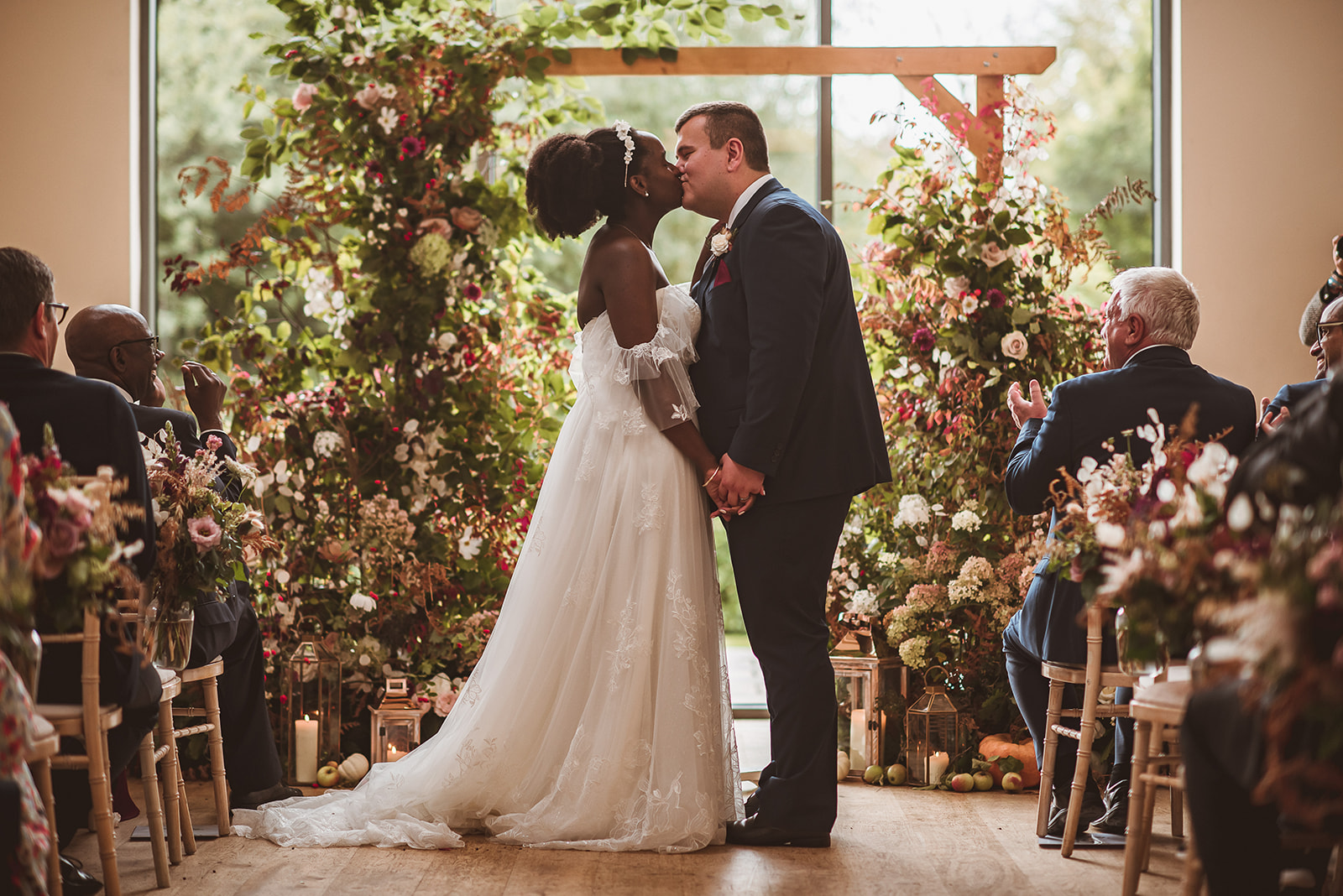 We are always so excited to receive a gallery from The Springles, and with the autumnal light hitting just right, we simply had to share a snippet of Maya & Adam's wedding day from October last year.  From the bohemian dress from Farnham Boutique to the tables adorned with mini white pumpkins the day was such a pleasure to host.
How did you meet?
We were introduced by our mutual friend Hatice at University.  Adam studied Forensic Computing and I studied Musical Theatre – so definitely not in the same buildings!
Why did you choose Millbridge Court?
By the time we visited Millbridge Court we had seen around 8 venues.  We wanted a space that was light and airy with beautiful countryside surroundings.
The thing that stood out most was the attention to detail and support from staff on the day!
We love the attention to detail from your day! What was your main inspiration?
We absolutely wanted to capture the autumnal time of year throughout our day.  Adam proposed outside our first home just after Halloween, so there were pumpkins everywhere.  Once we found our florist we knew these had to be incorporated in our decorations.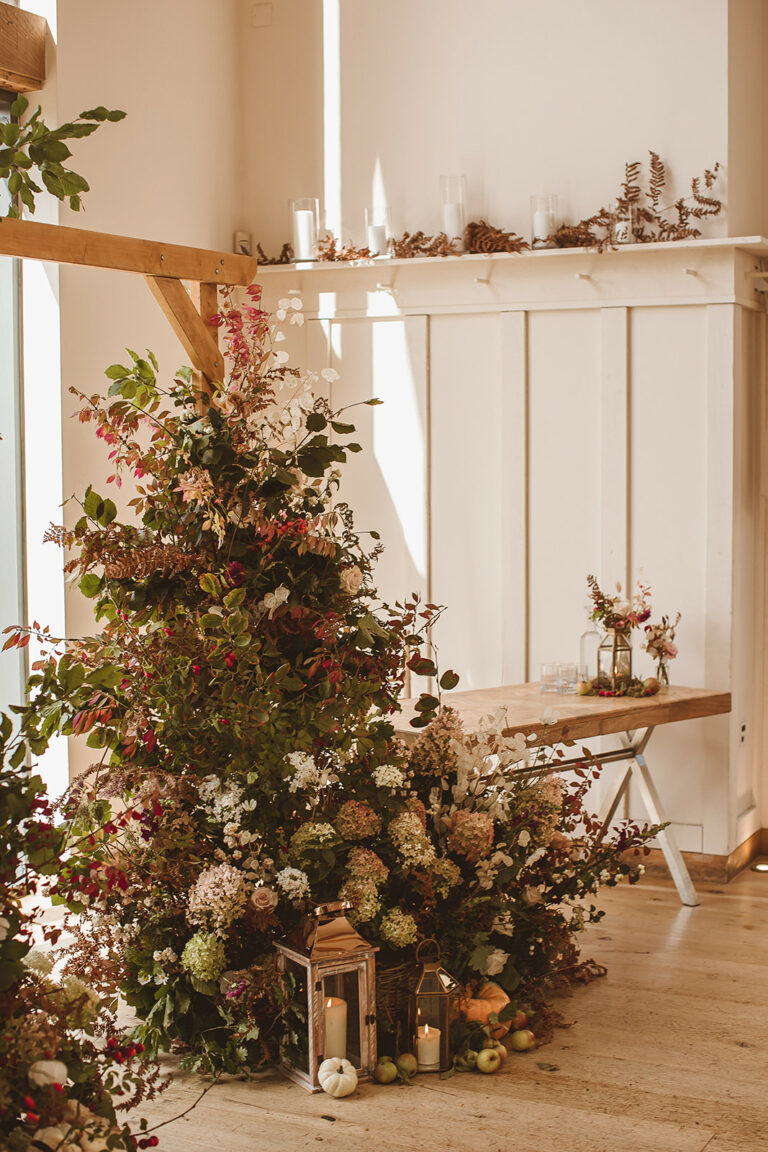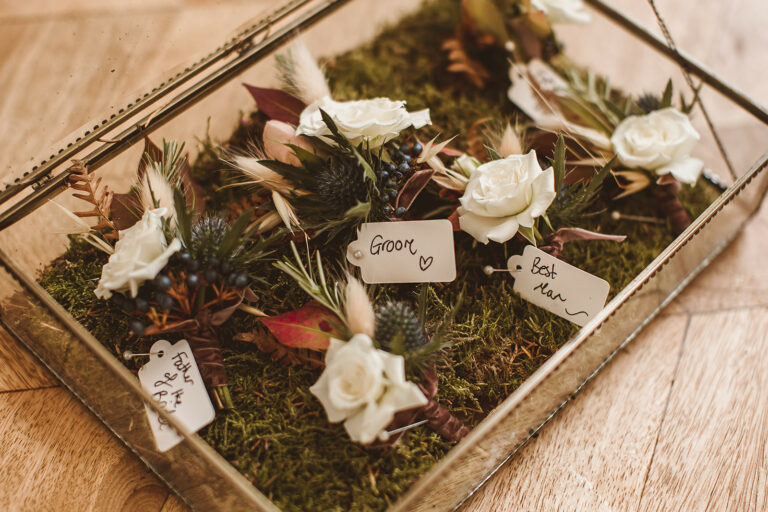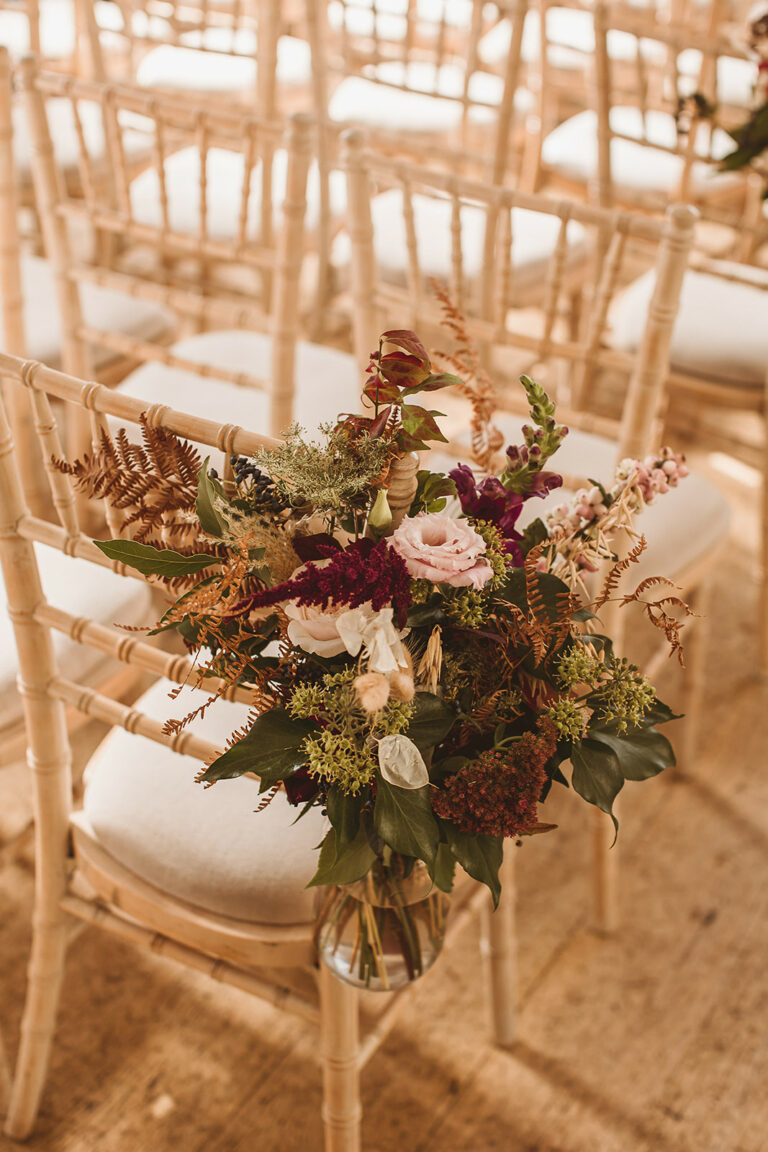 Who took charge of the planning or was it a shared experience?
It was definitely a shared experience, which was lovely as we both had equal input into our day.  We booked Millbridge just before the first lockdown so we spent a lot of hours in Pinterest!
Tell us more about your suppliers and why you chose them.
We had an amazing team of suppliers; we chose the majority as they felt they could deliver our theme.
Our florist was Alice from Meadowfolk.  I had scoured through Instagram to try and find a florist who had that calming Boho vibe.  Alice was so excited by our theme of using pumpkins, music and cricket throughout the day.  She came up with so many ways to subtly add these touches.
Our photographers were The Springles (Kat & Ash), what a fantastic duo!  They captured every special moment from our pre-wedding shoot to the day itself.  They were both so helpful from start to finish.  Their style is what made us want to instantly book after a visit at Millbridge.  It's autumnal dreamy vibes.
Most people think I was crazy for doing it, but I made our wedding cake.  I run a baking business called Sass&Bake and I couldn't imagine anyone else making it.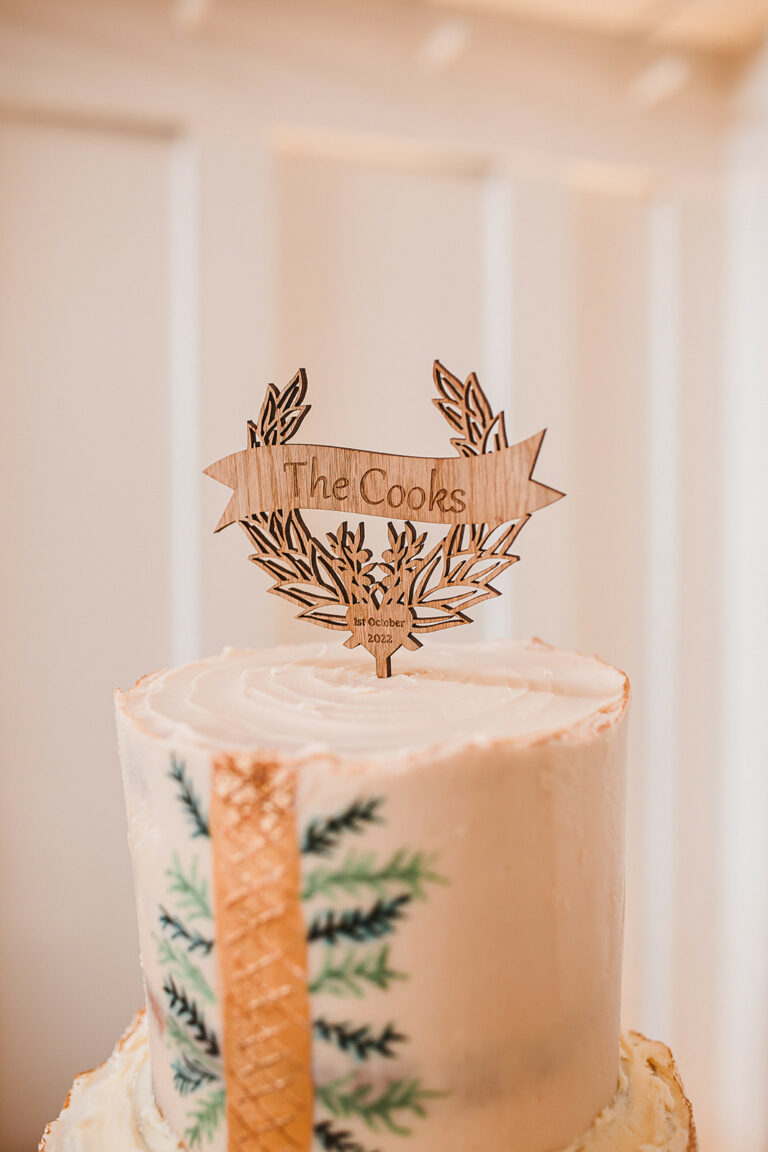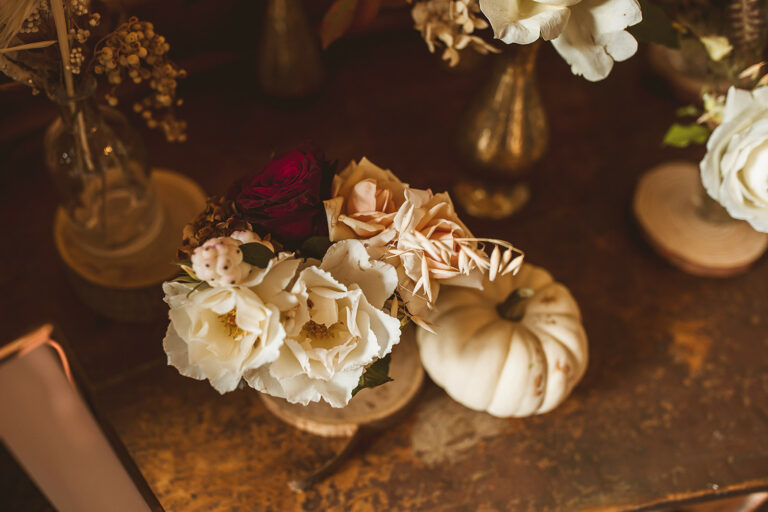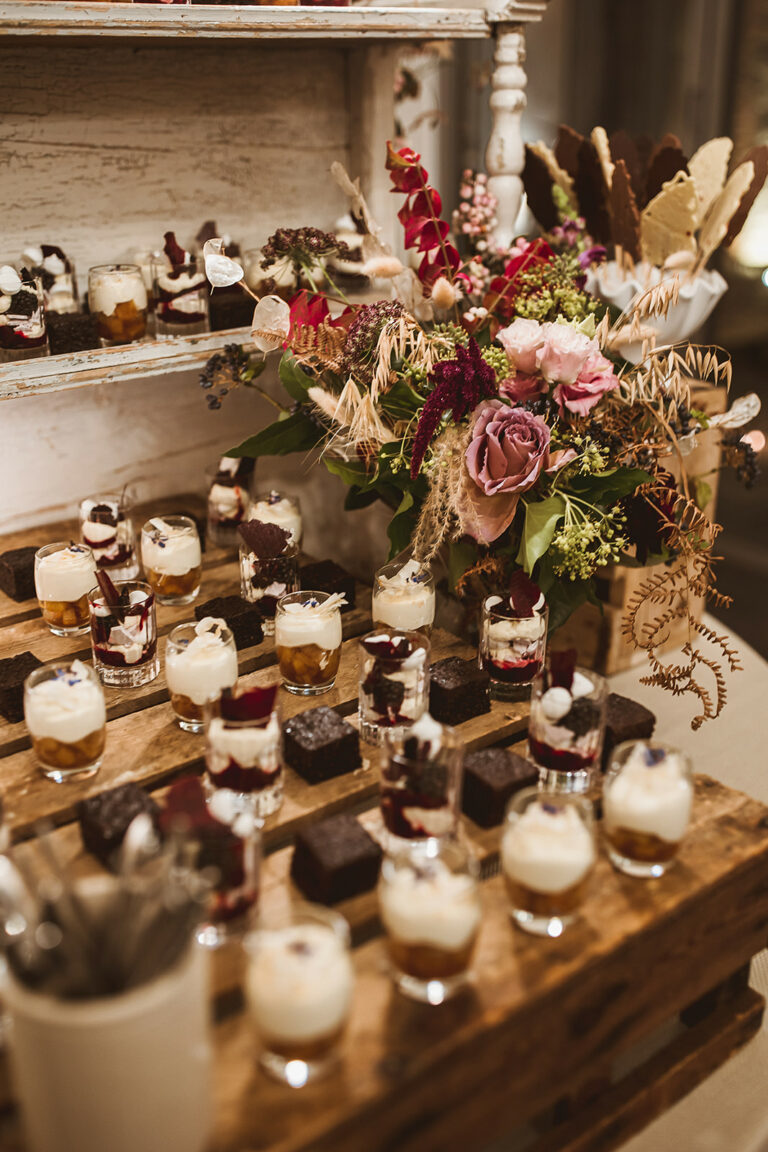 Wow, Maya you are super talented!  If anyone needs an excuse to get some deep dish cookies on order, do it now!
Tough question, favourite part of your wedding journey?
We both loved our ceremony (of course) as we incorporated so many special things to us.  From readings that childhood friends wrote, to our grandparents favourite songs as we walked down the aisle.
But our absolute favourite part of the day was during our wedding breakfast.  I think a lot of couples will tell you how fast the day can go.  Just after starters At Last by Etta James was playing in the background.  We both instantly welled up as our son was born to this song.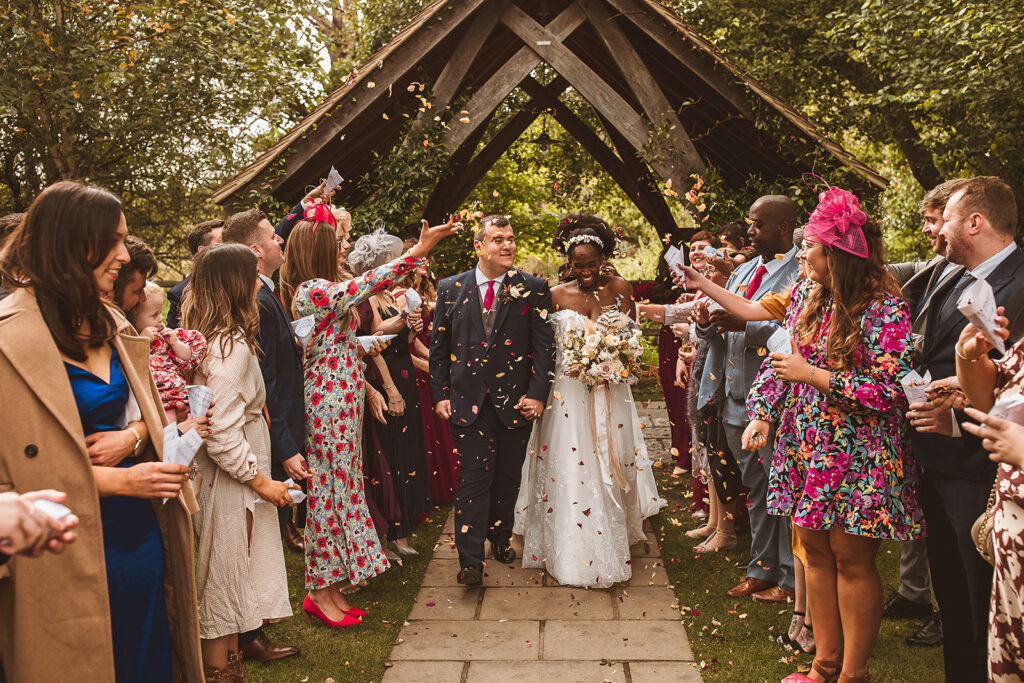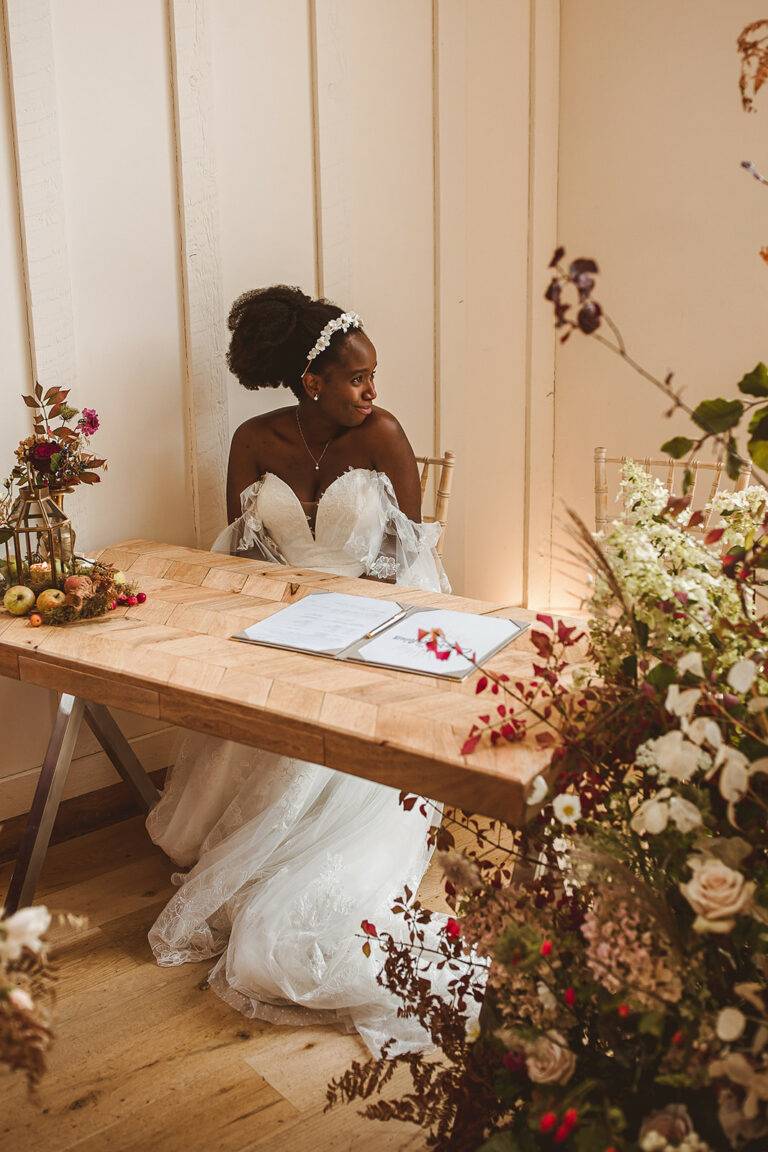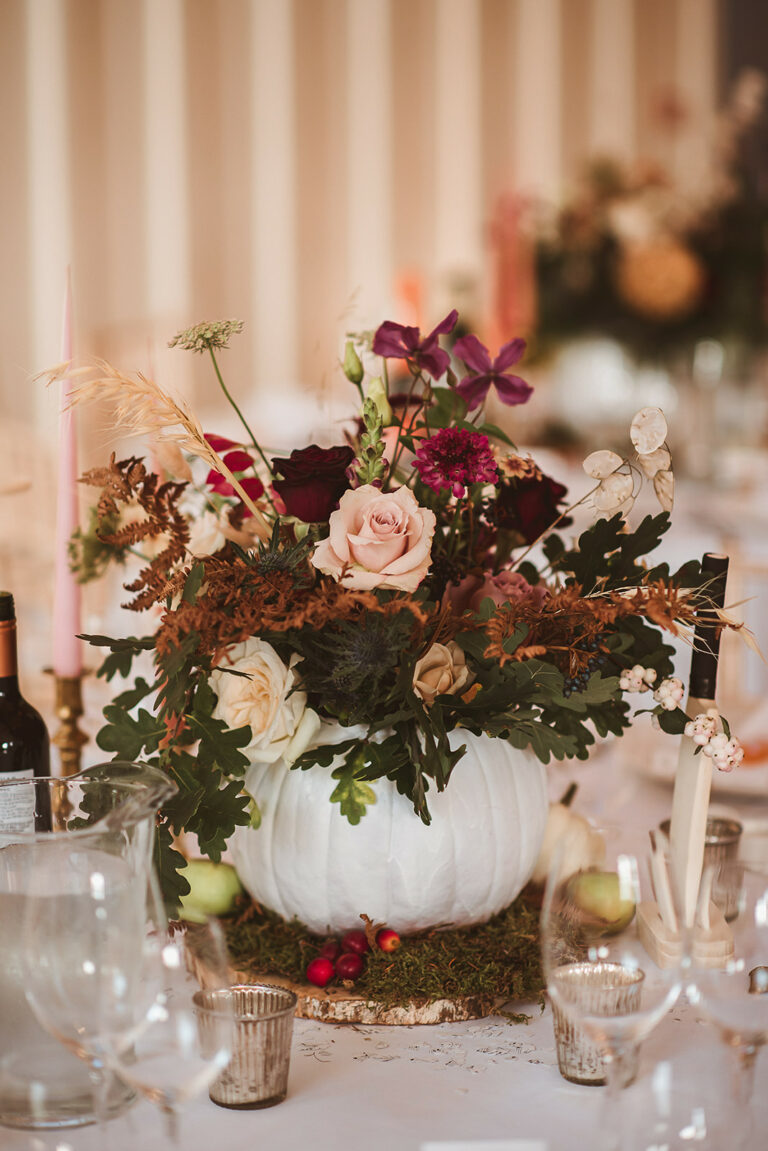 Any words of wisdom for future couples?
Enjoy yourselves and make sure you take a few moments in the day to soak it all in, but you're safe hands with the fantastic Millbridge & Kalm Kitchen teams.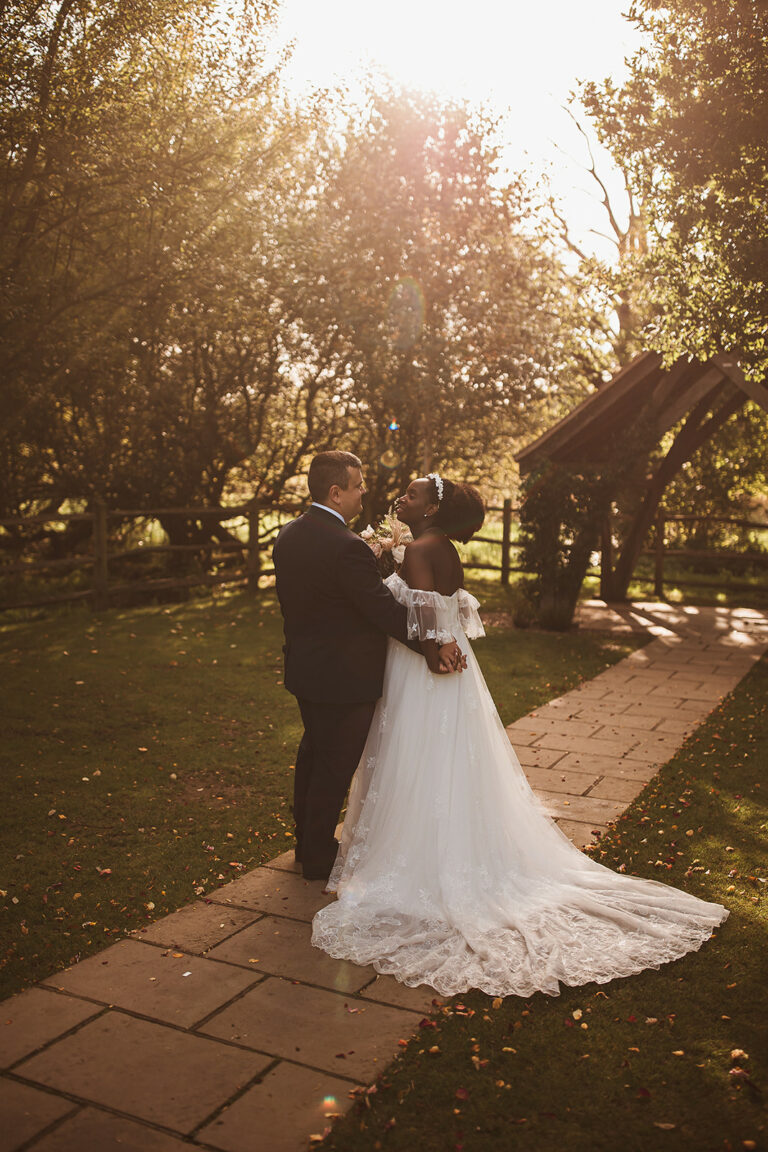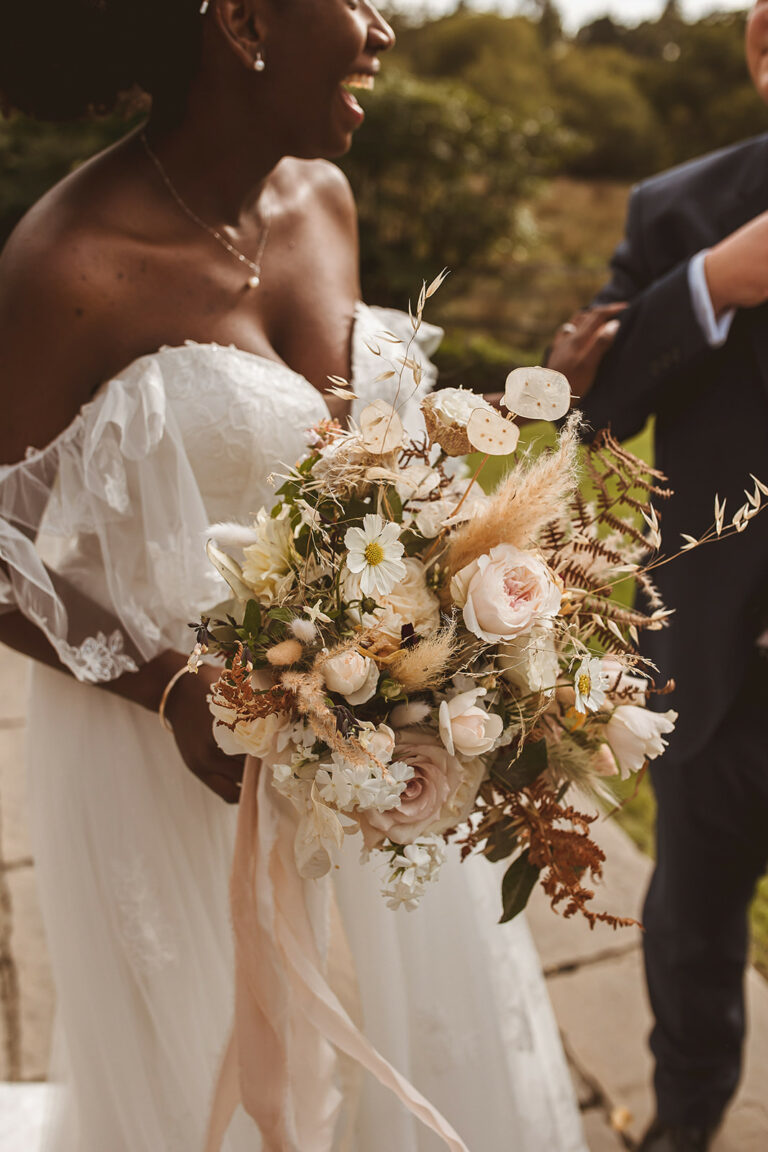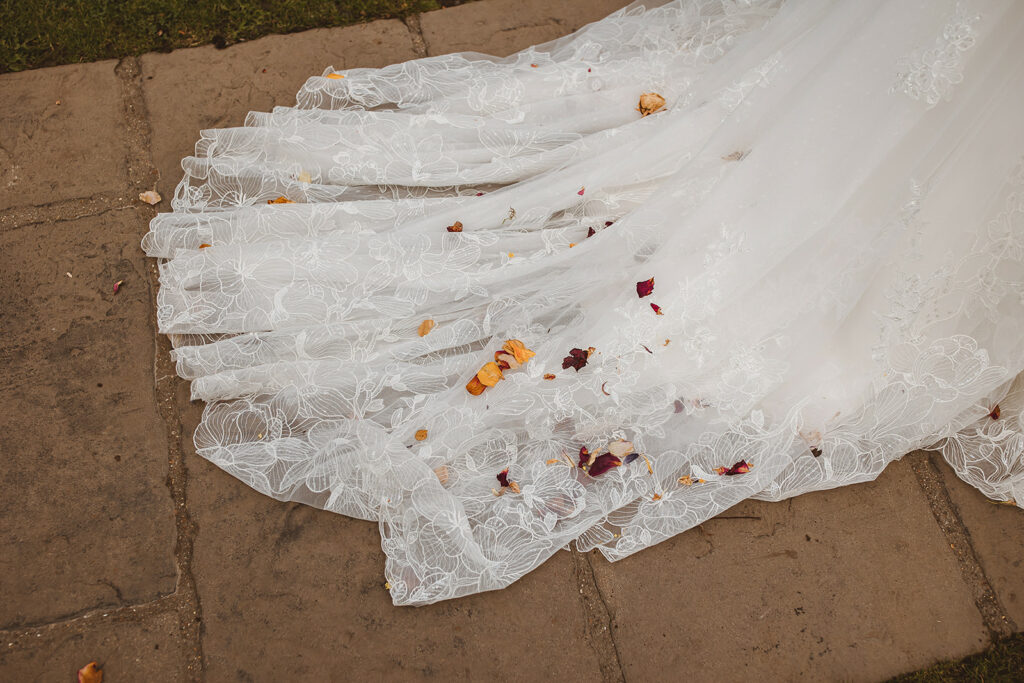 News : 27 / 05 / 21
Dinner Date Night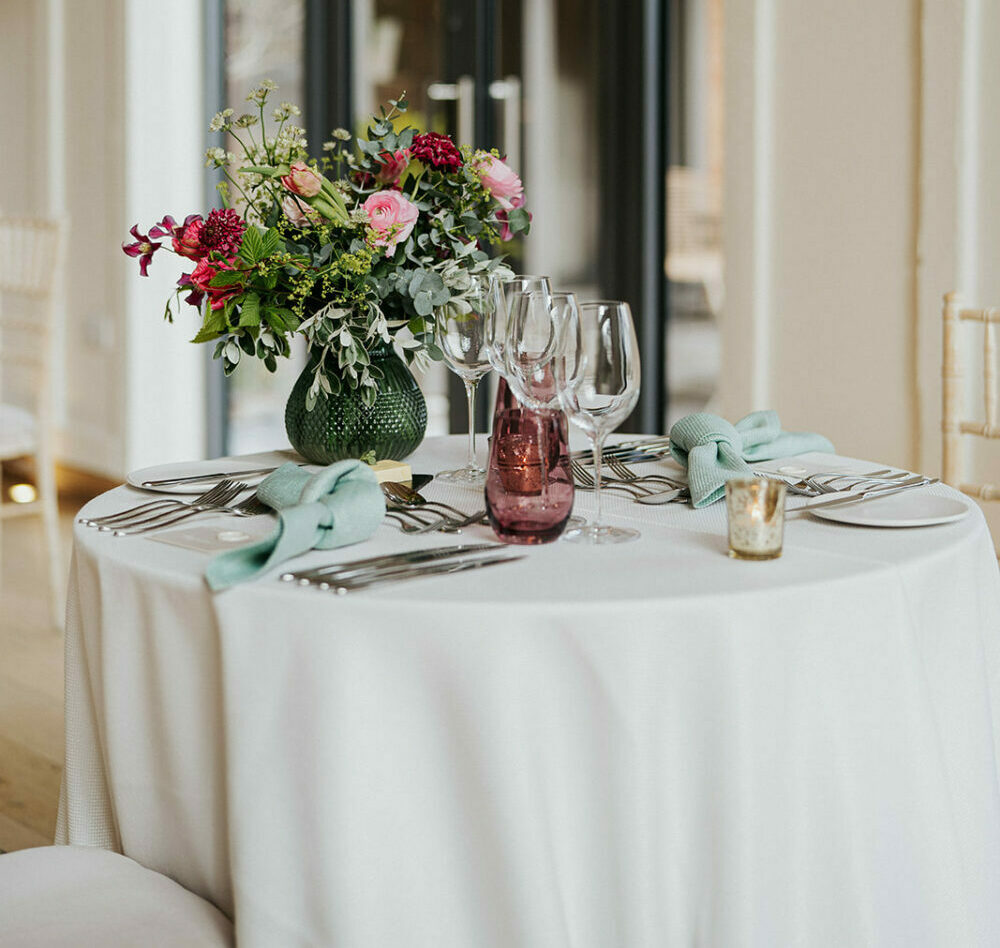 It's difficult to put in to words quite how excited we were to once again be hosting our Dinner Date Night's here at Millbridge Court!
To see the Venue spring to life with a flurry of activity as we prepared to welcome back so many of our Couples over the coming two evenings was so wonderful, and although the setup had to be different in 2021 our individual sweetheart tables made for a very special and intimate Dining experience for everyone that joined us.
As ever, we had a team of incredible MC Partners using their talents to make the evening extra special for our Brides and Grooms. Eden Blooms created stunning florals for each table, Era Calligraphy made exquisite name cards, Creative Spark setup light installations in both the Hall and the Atrium where we showcased our new Pimm's Drinks Station, Stella and Fly Music serenaded everyone so beautifully on both evenings and Kalm Kitchen brought together the entire vision on top of serving utterly delicious dishes from start to finish. Thank you also to the wonderful Kit Myers for capturing everything so perfectly!
We are already so excited for our upcoming Dinner Date Night's and can't wait to see more of you back at Millbridge Court but for now, here is a glimpse at last weeks gorgeous setup! Xx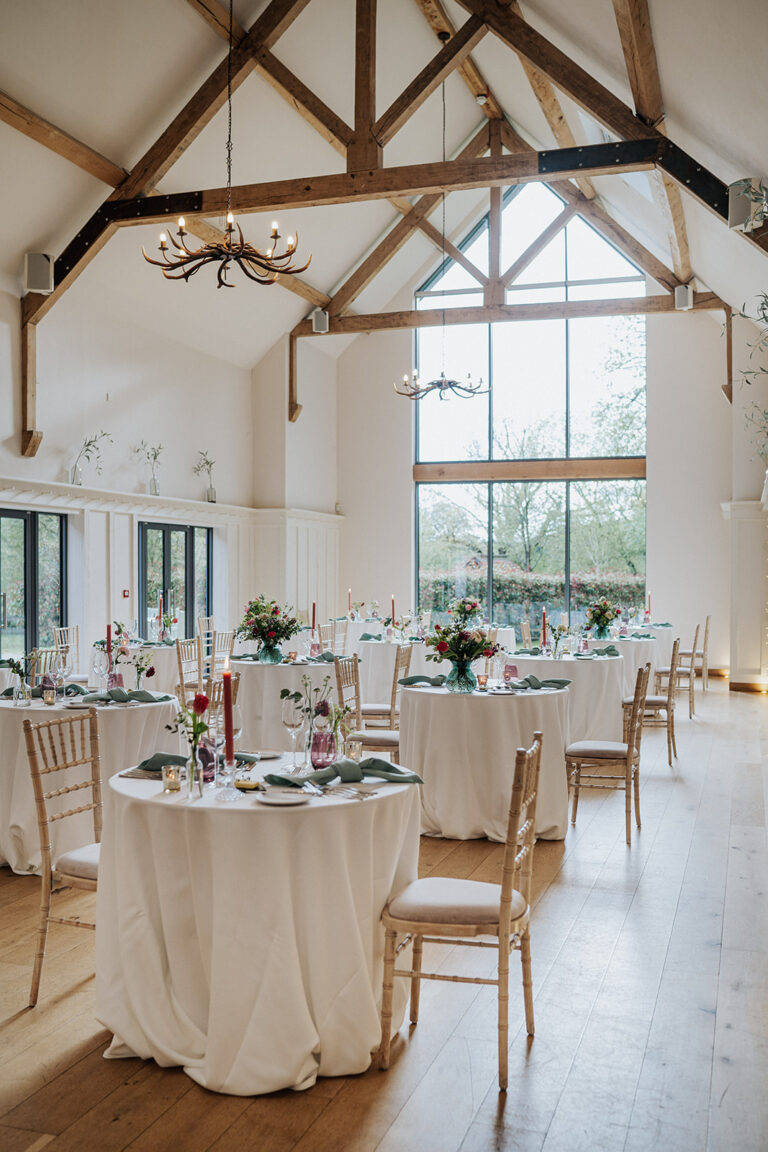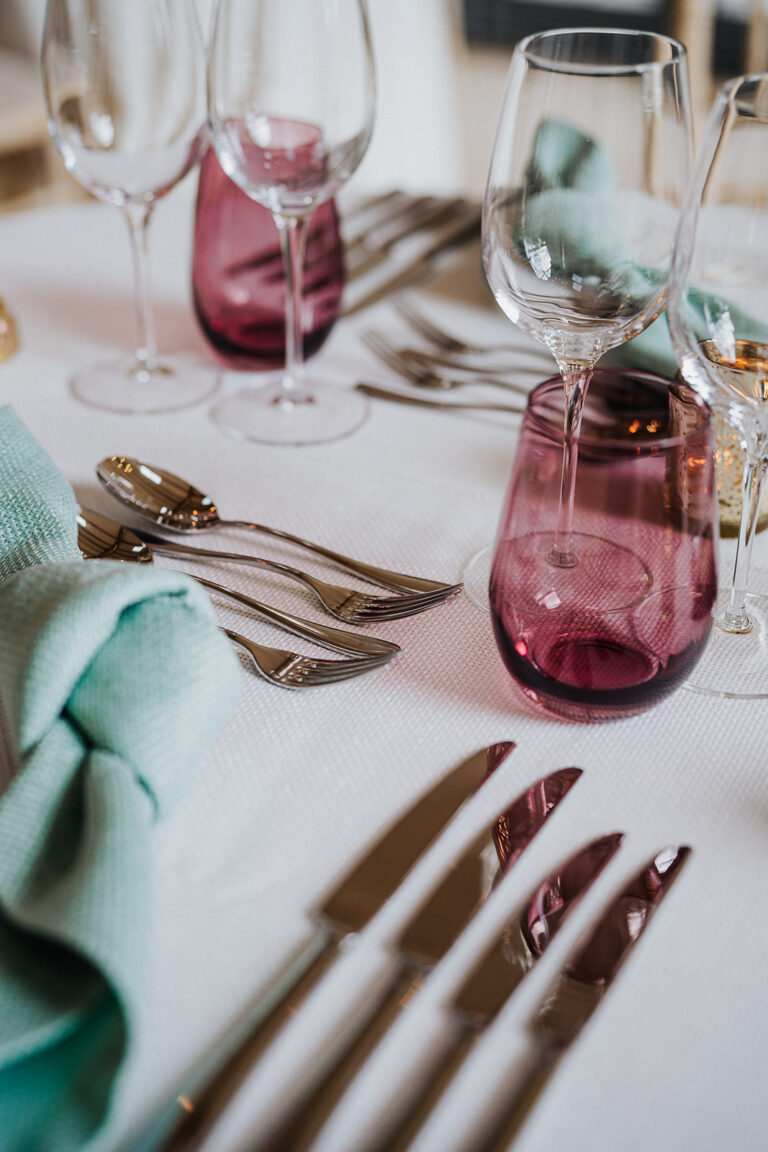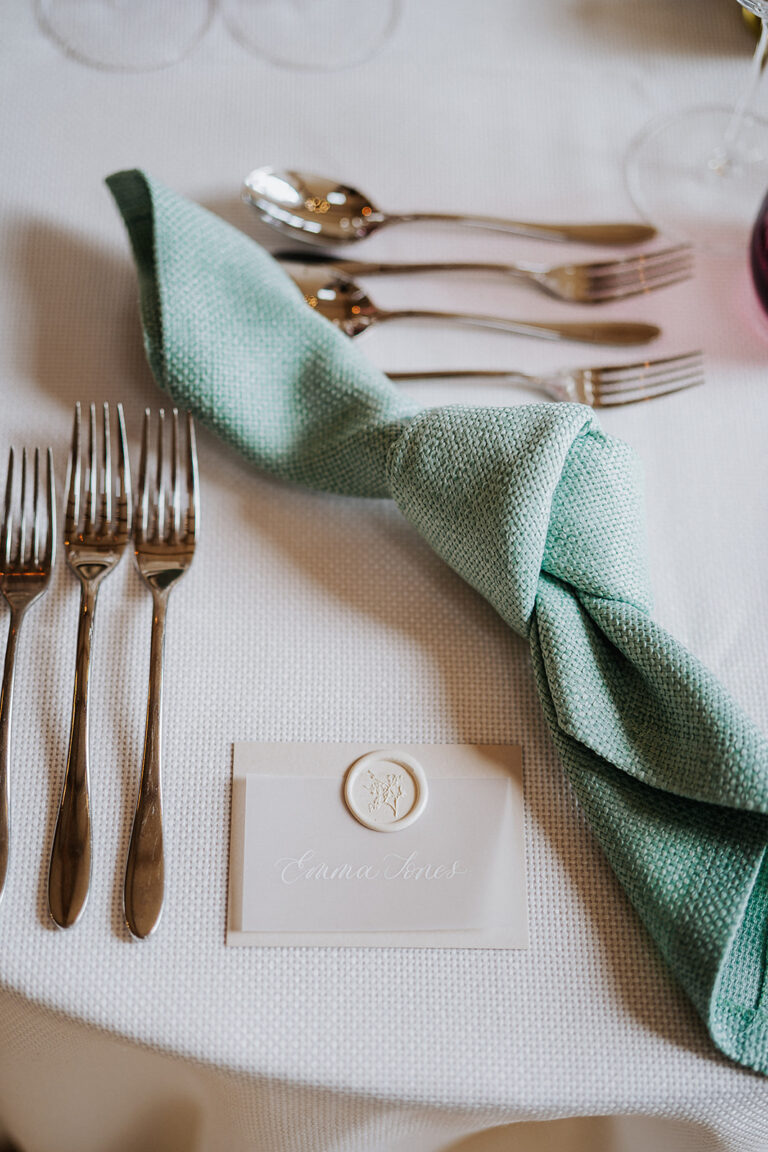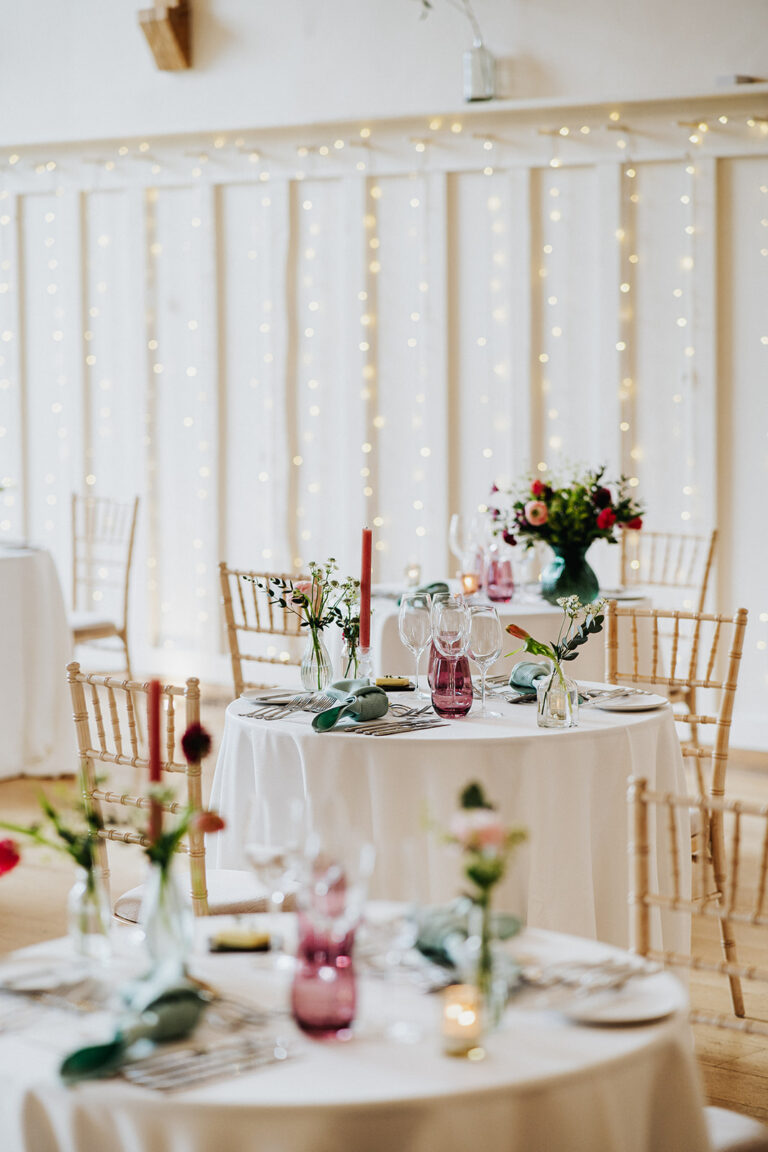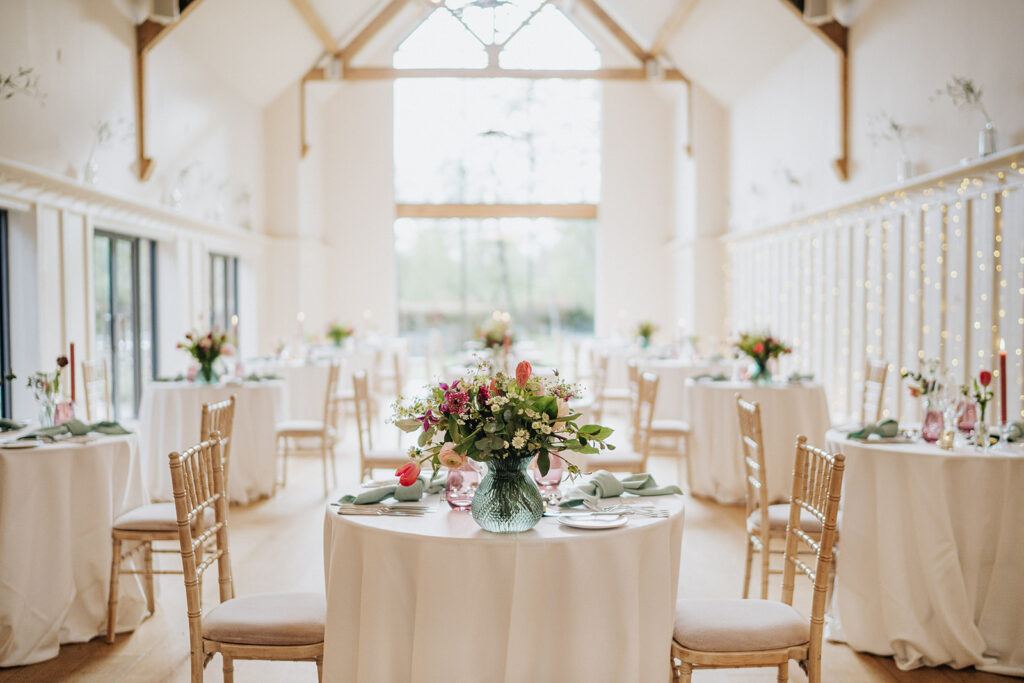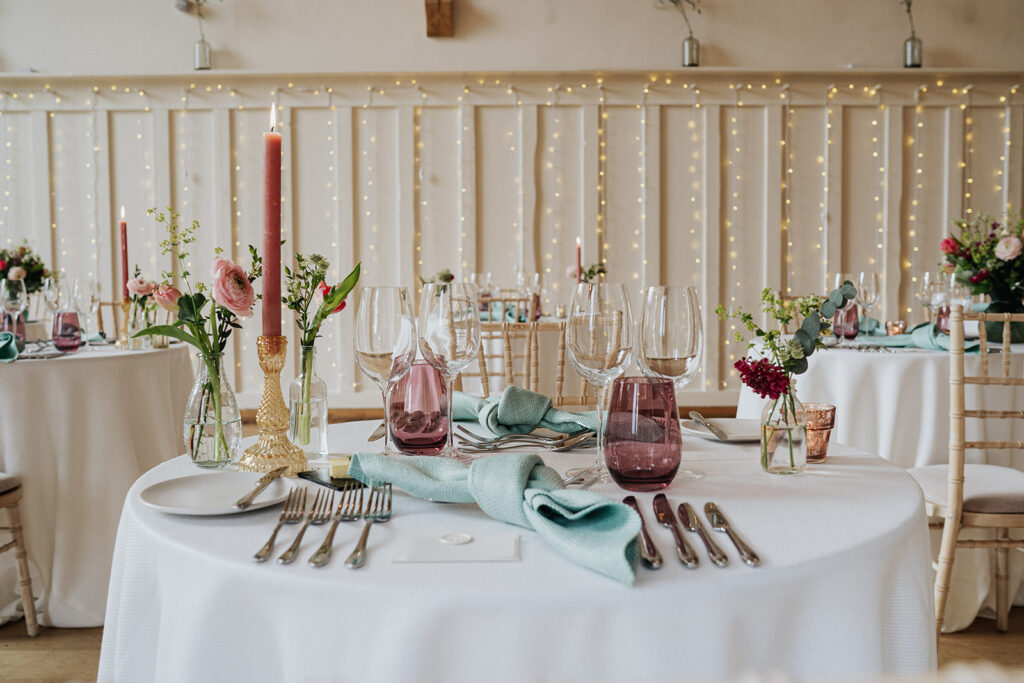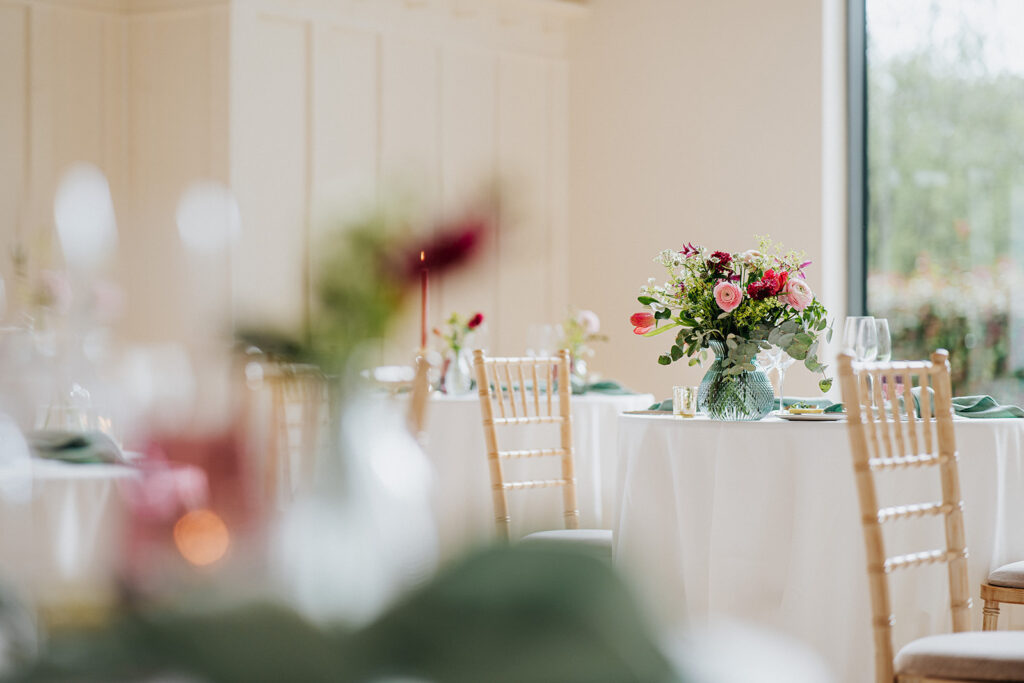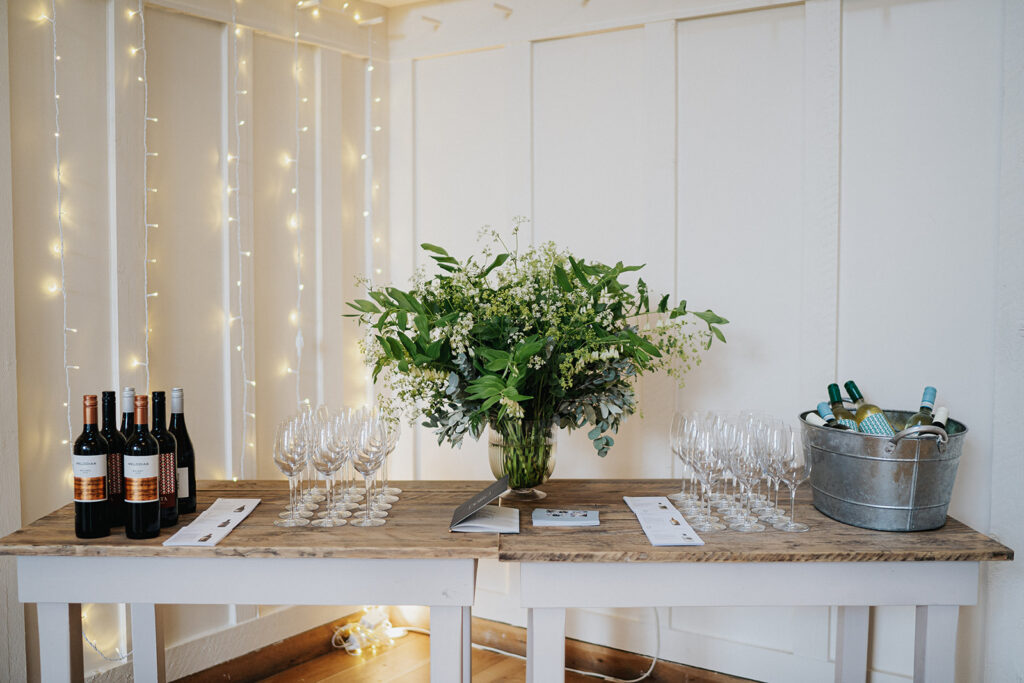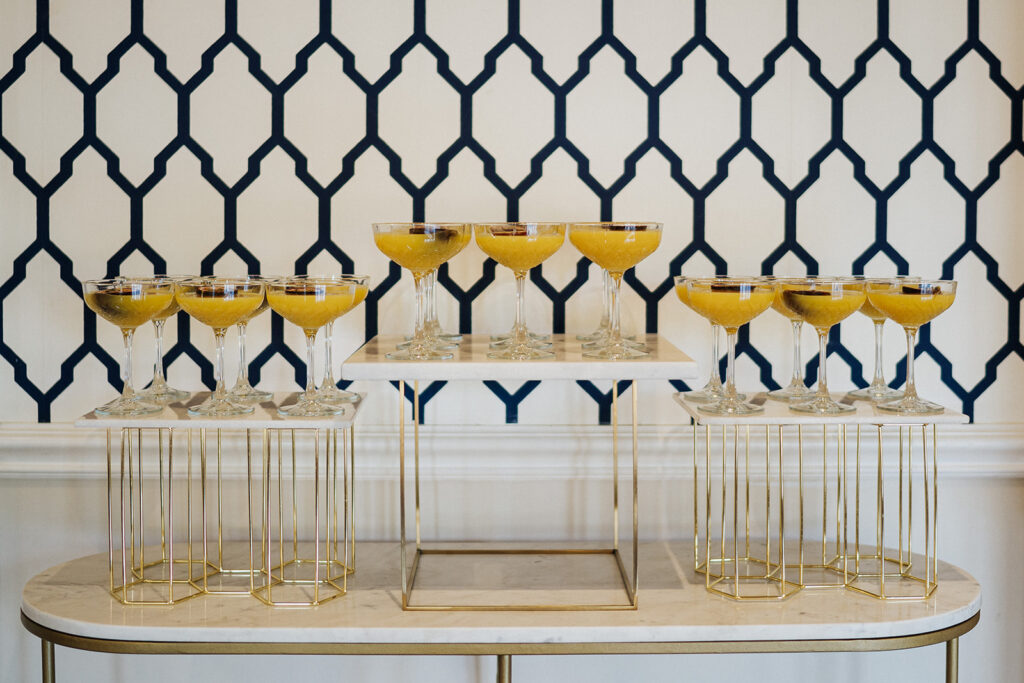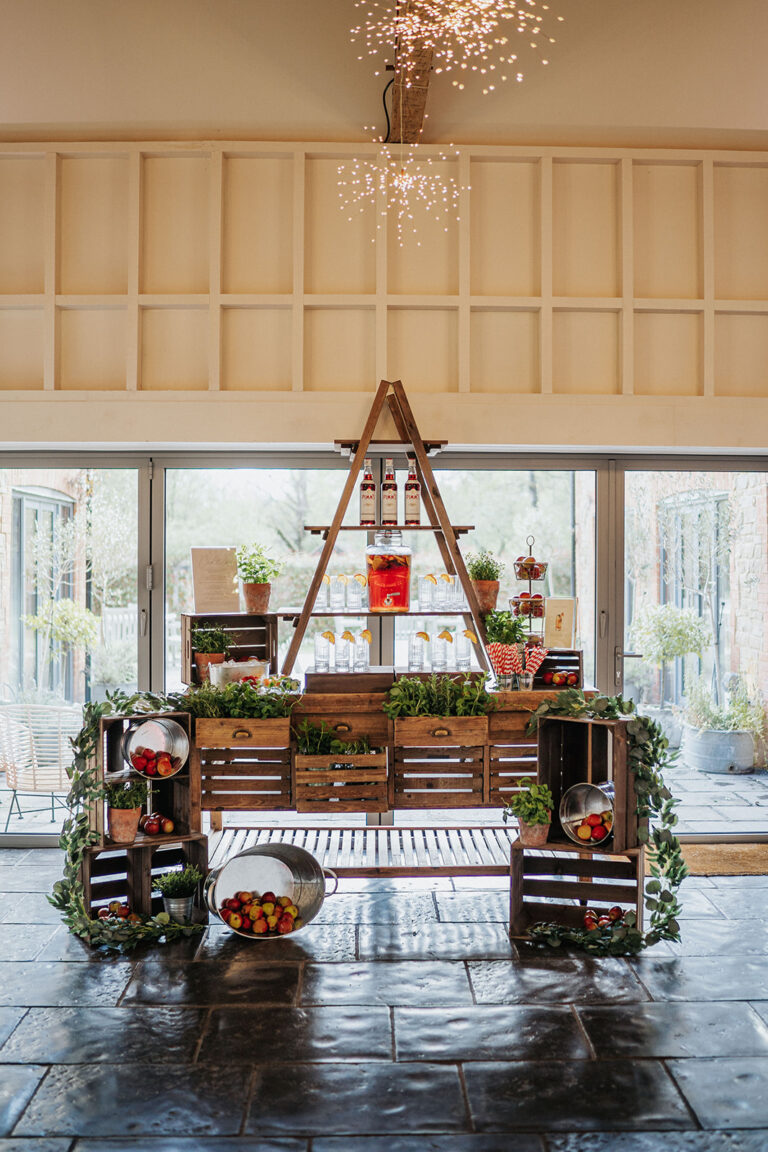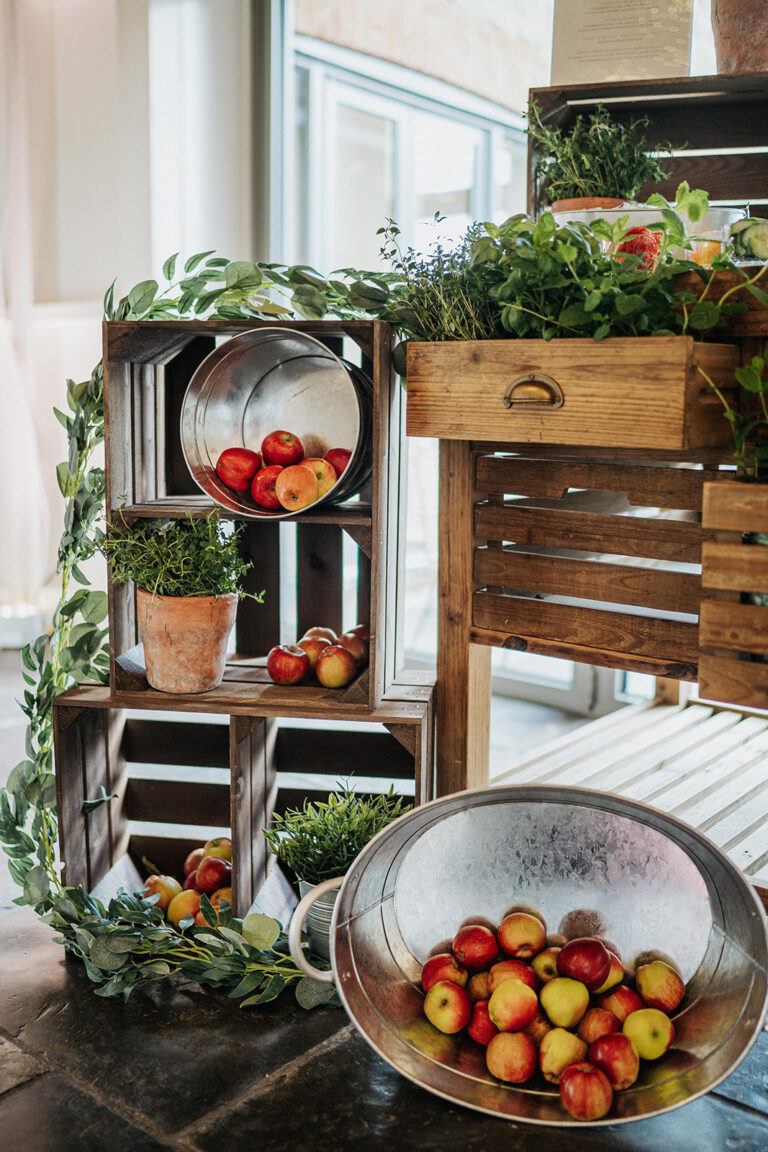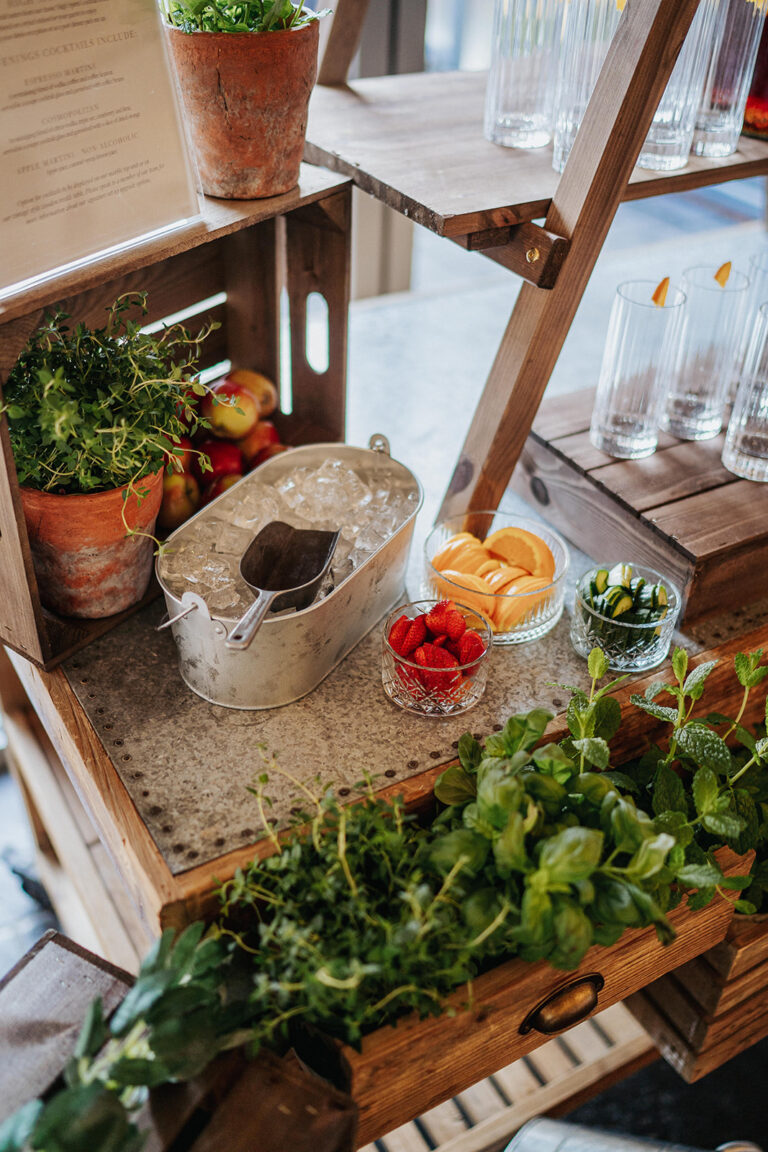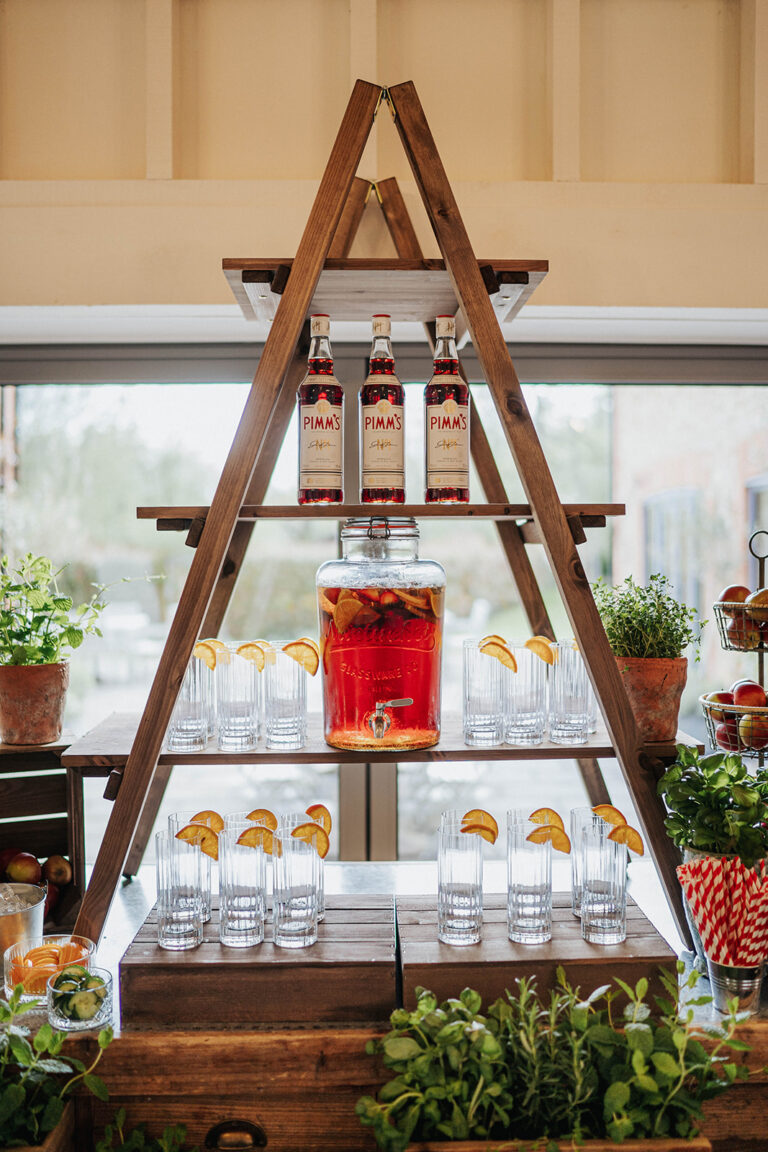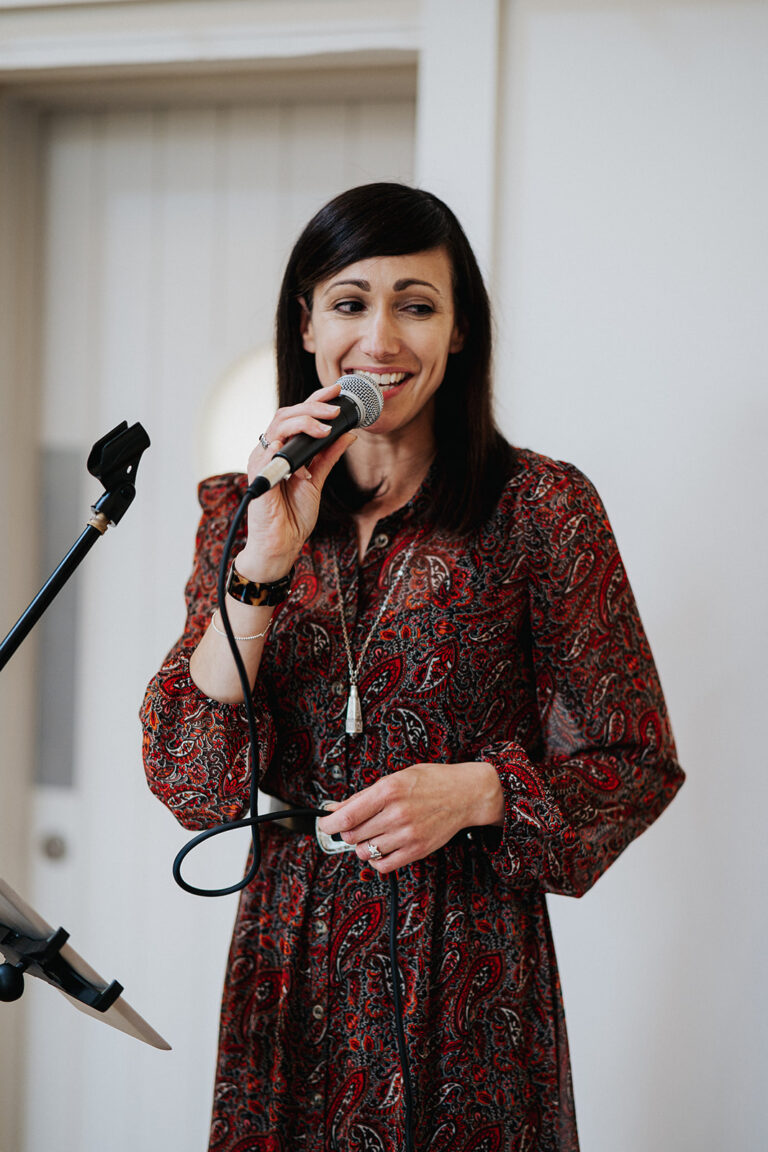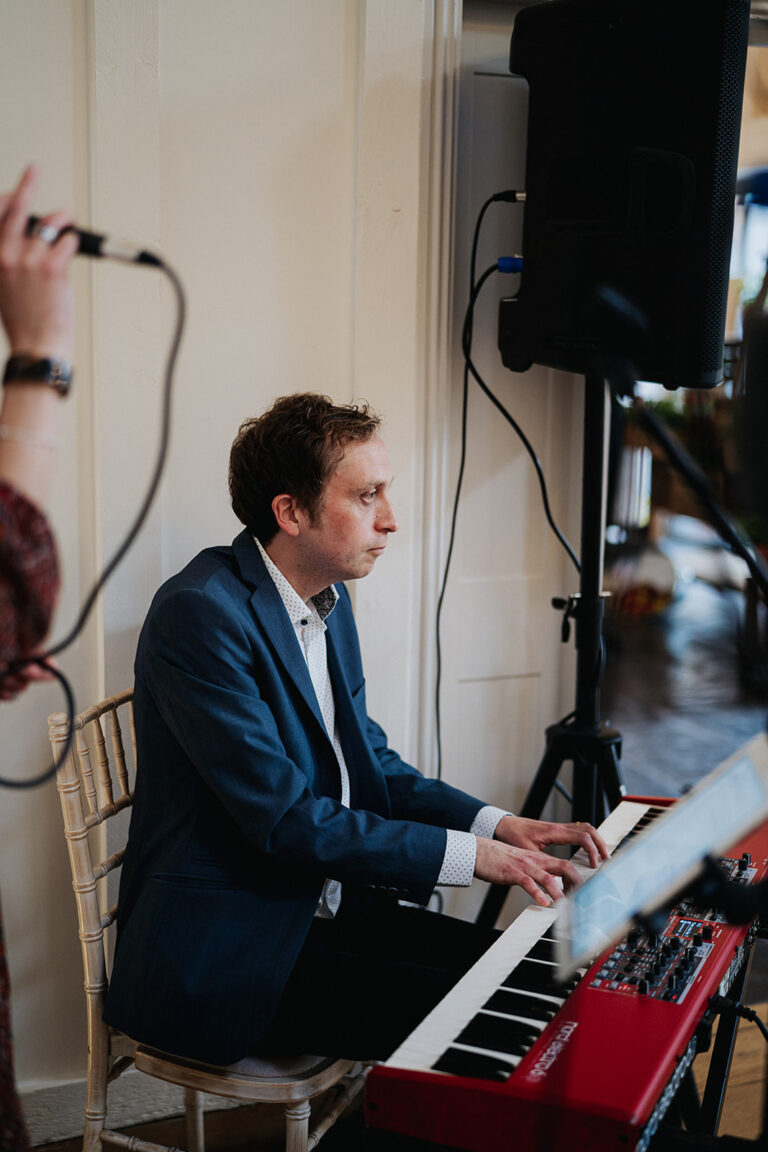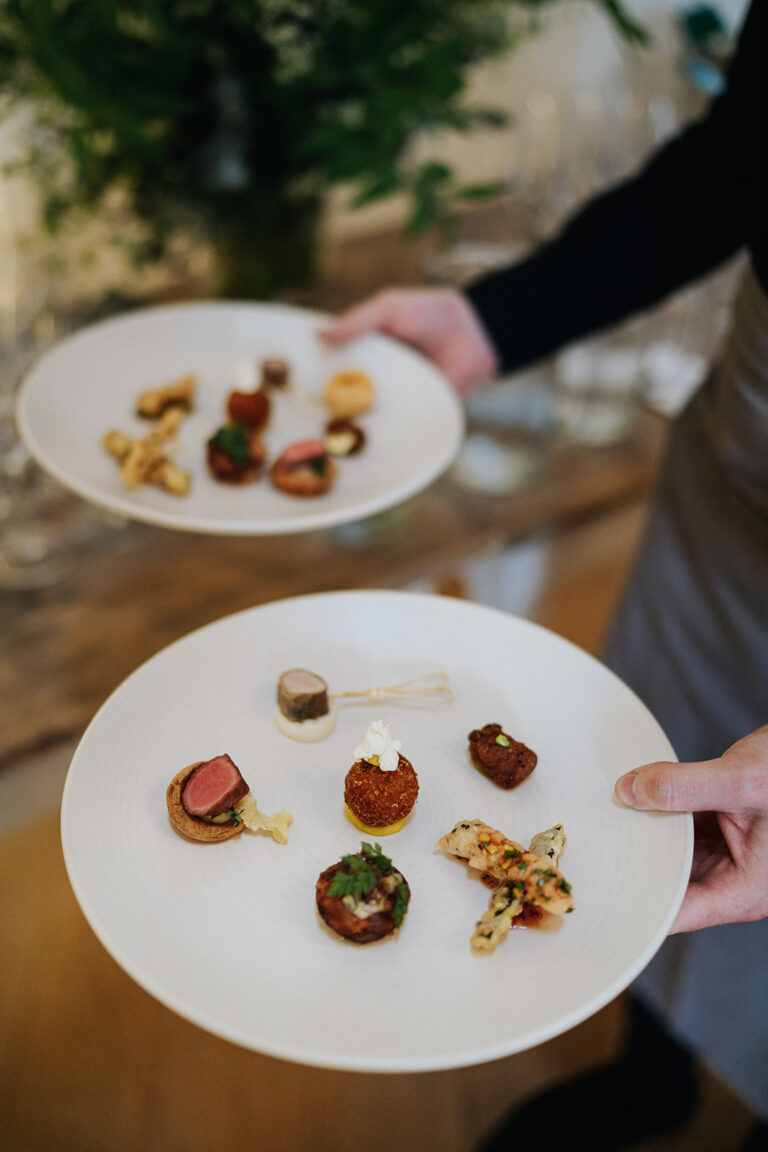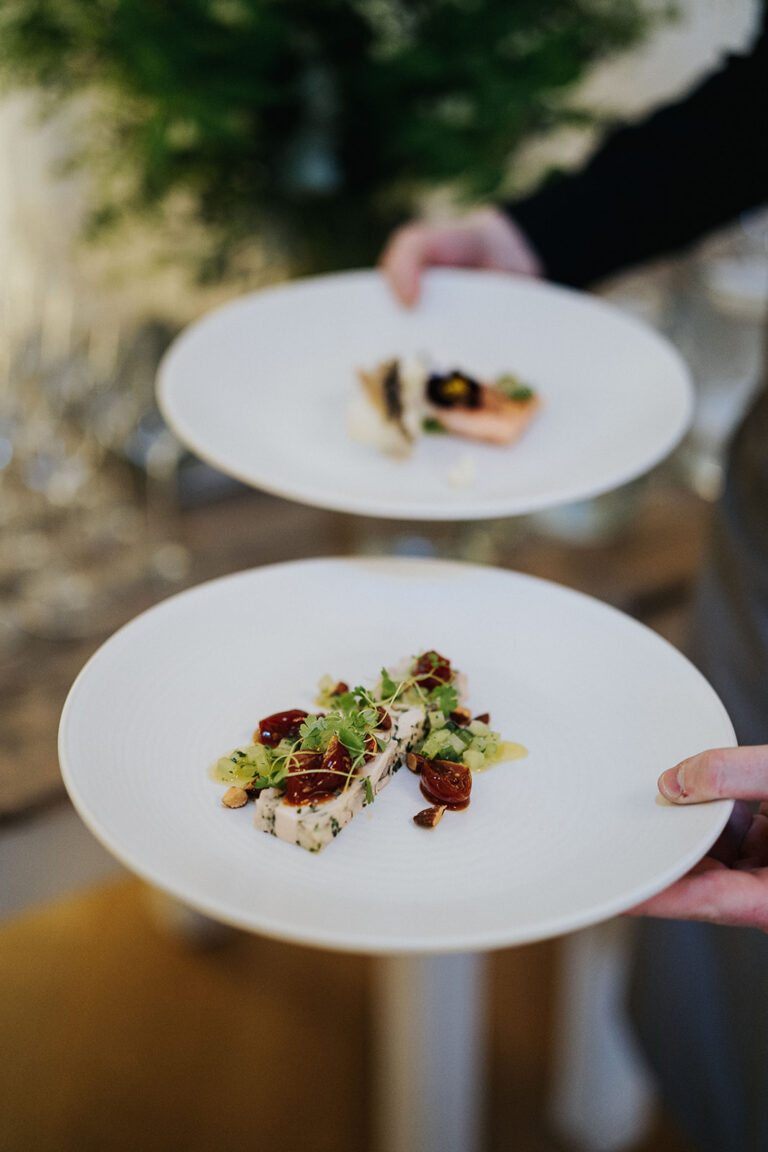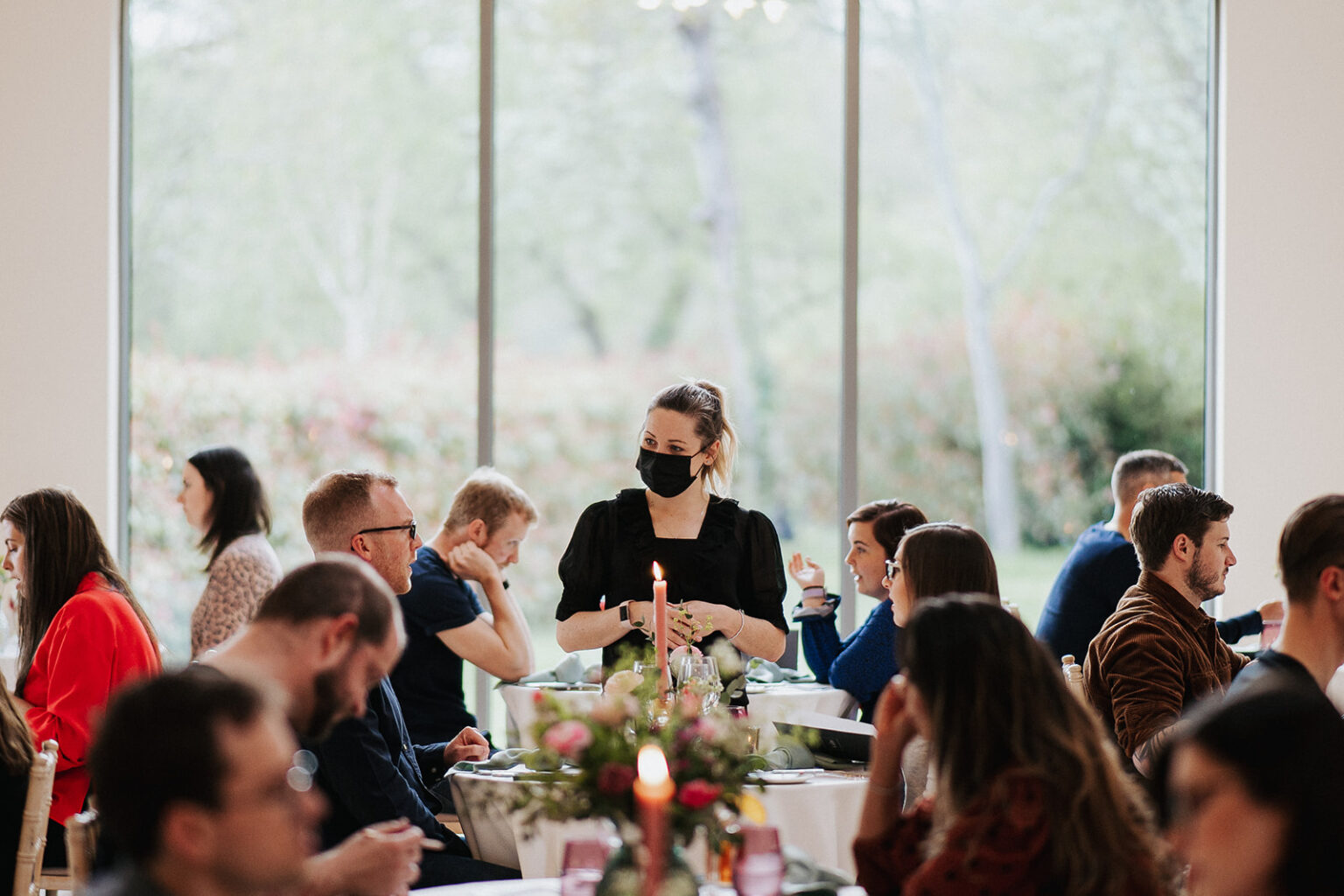 News : 11 / 05 / 19
The Lodge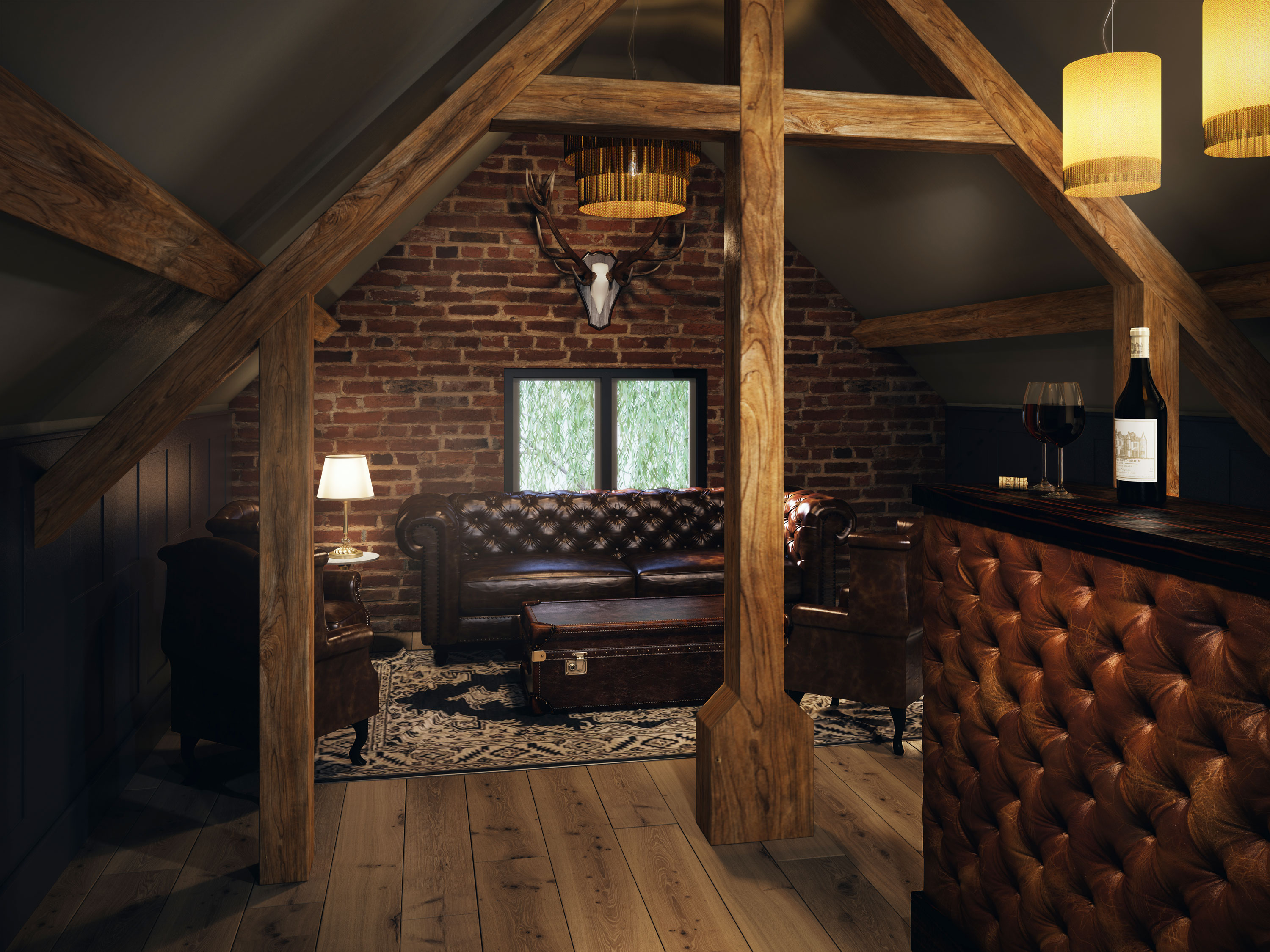 Here at Millbridge Court we are so excited to announce a new development & brand new addition to MBC Wedding Days, The Lodge.
The Lodge is a separate building next to the Main House & on the first floor is The Den, a space for members of the Wedding Party to get ready on the morning of the Wedding. Designed with warm interiors, comfy seating & a fully stocked help-yourself bar with drinks & snacks, it really is the perfect place to spend quality time before the celebrations get underway. There is also a private garden which can be utilised in the warmer months.
On the ground floor of the Lodge is an additional bedroom which features a king-size bed, cosy seating area & en-suite bathroom which will be well suited for a member of the Wedding Party to spend the night following the days celebrations.
We will be sharing imagery & videos of The Lodge once it is completed over the course of the next week, so be sure to keep an eye on our Social Media channels to catch a glimpse. Xx
News : 25 / 02 / 19
#marriedatmillbridge in 2018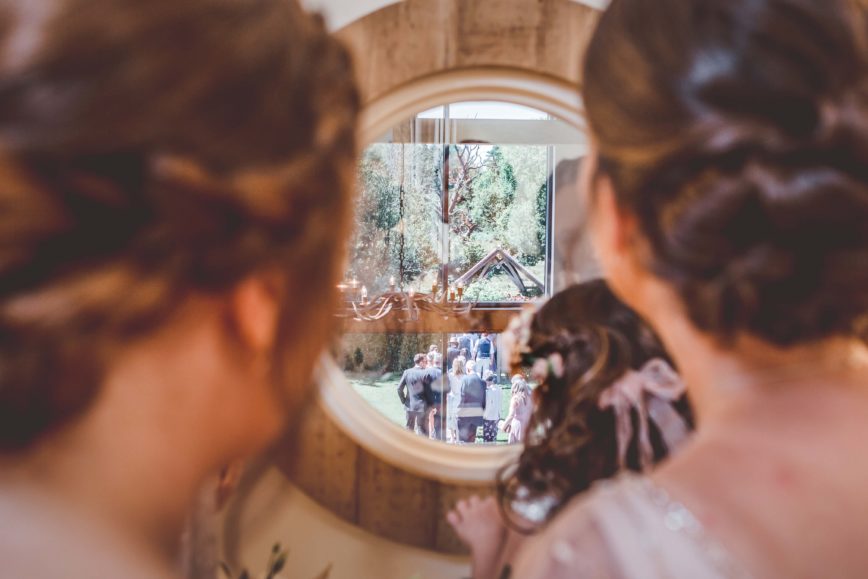 Well, what an unbelievable year we have had here at Millbridge Court, filled with gorgeous Wedding Days, inspiring industry events, stunning Tasting Evenings & celebrations & much more.
2018 has also seen some really exciting changes here at Millbridge Court, with the renovation of the Bridal Changing Room, the extension of the Outdoor Ceremony aisle & the creation of our Secret Garden; a tranquil space in front of The Hideaway that our Brides & Grooms get to enjoy throughout their Wedding Celebrations, & with our desire to always keep evolving, we can't wait to see what the next year will bring.
Thanks to the plethora of talented industry professionals who we are lucky enough to work with & who transform & capture the Venue on a weekly basis, we can share so much inspiration with all of our followers. From all of us here at Millbridge, we want to wish you all a very Happy New Year!
Xx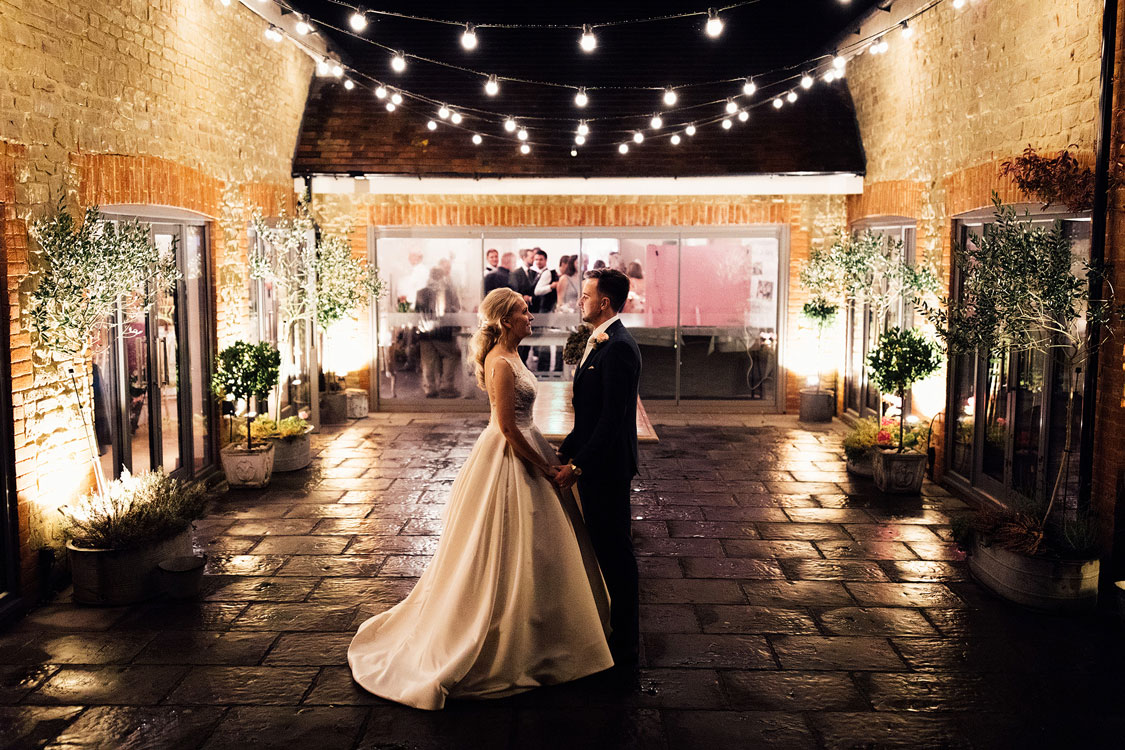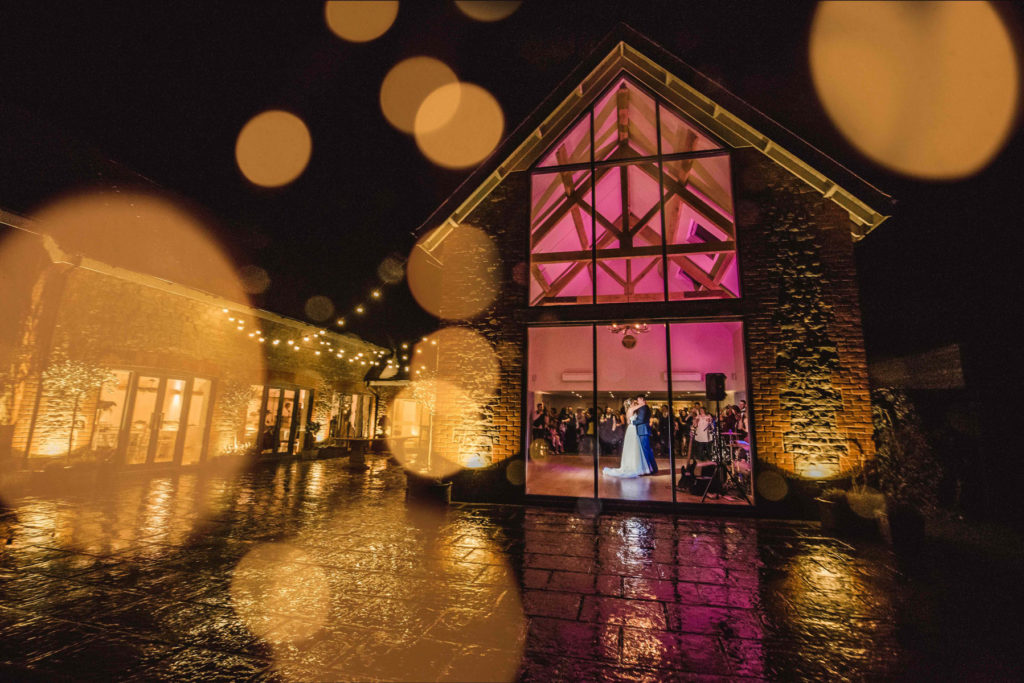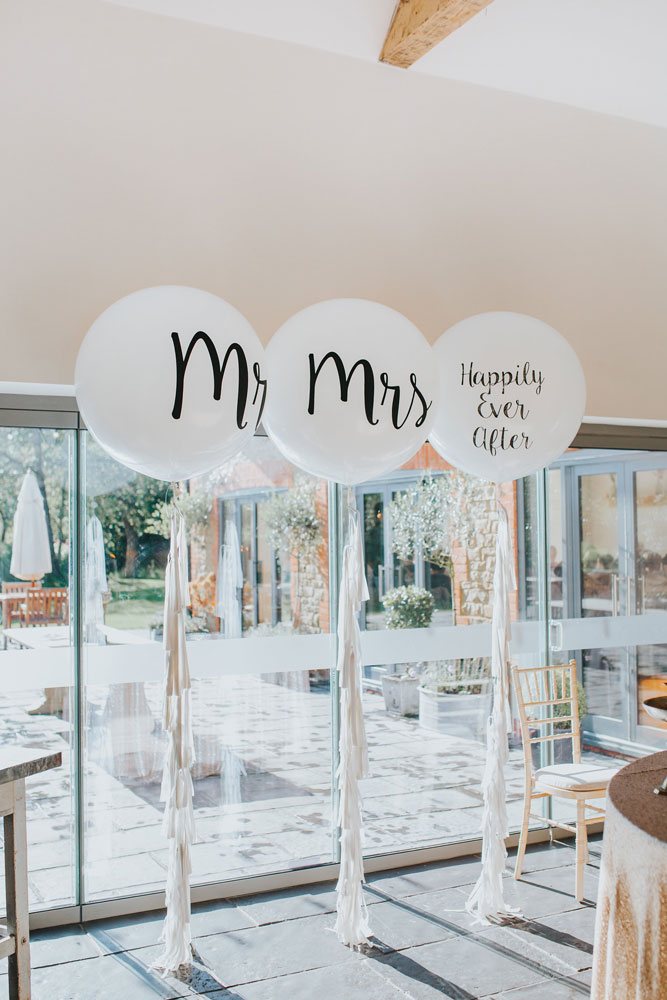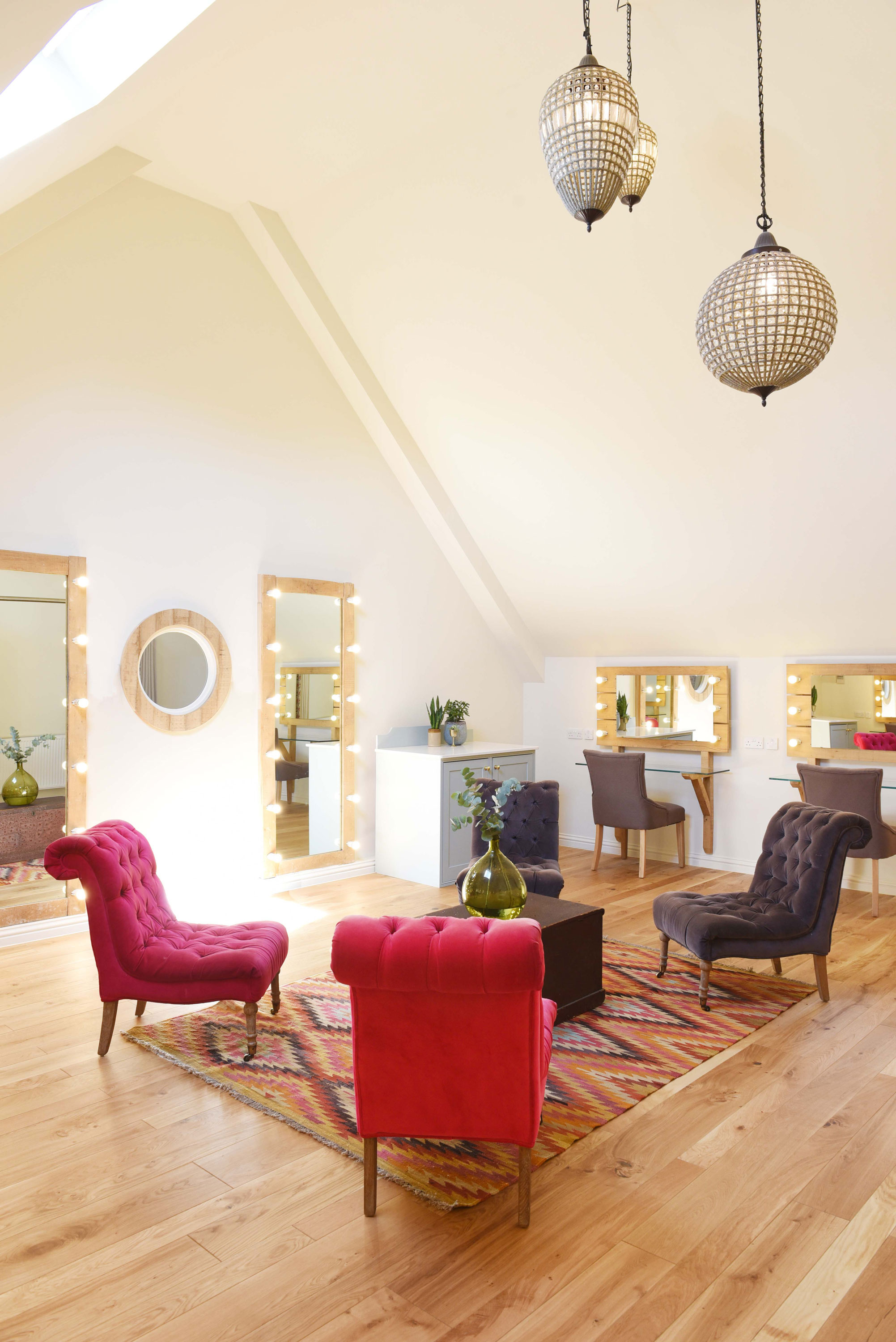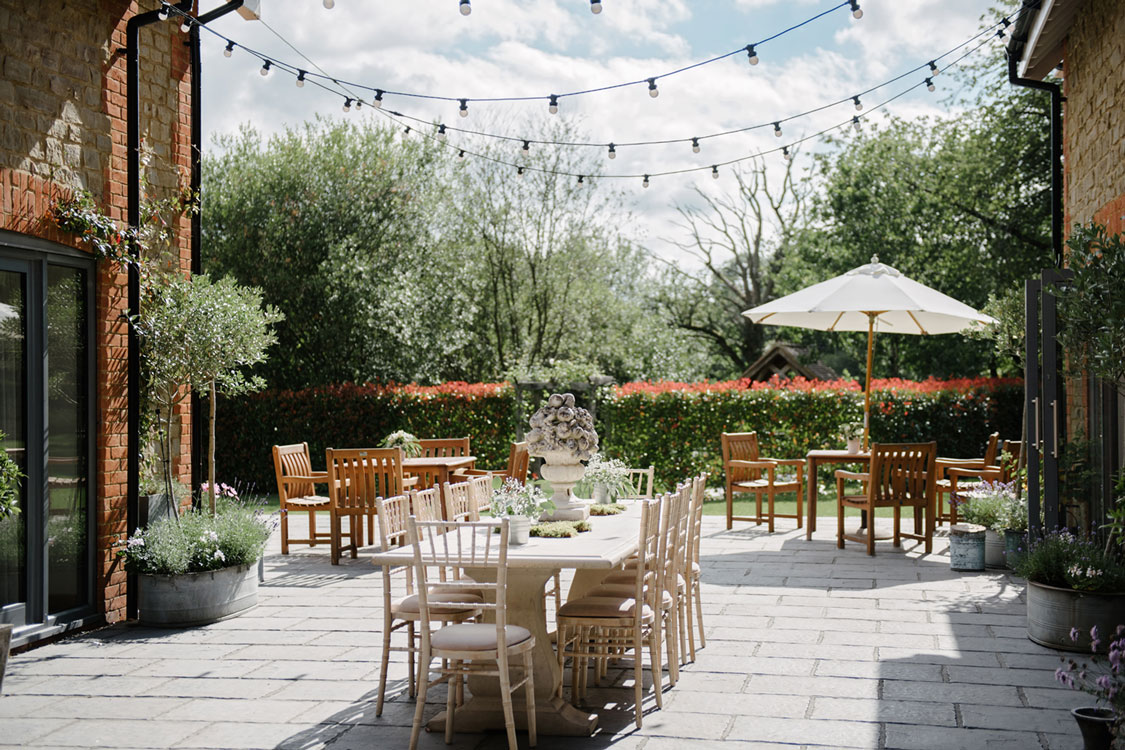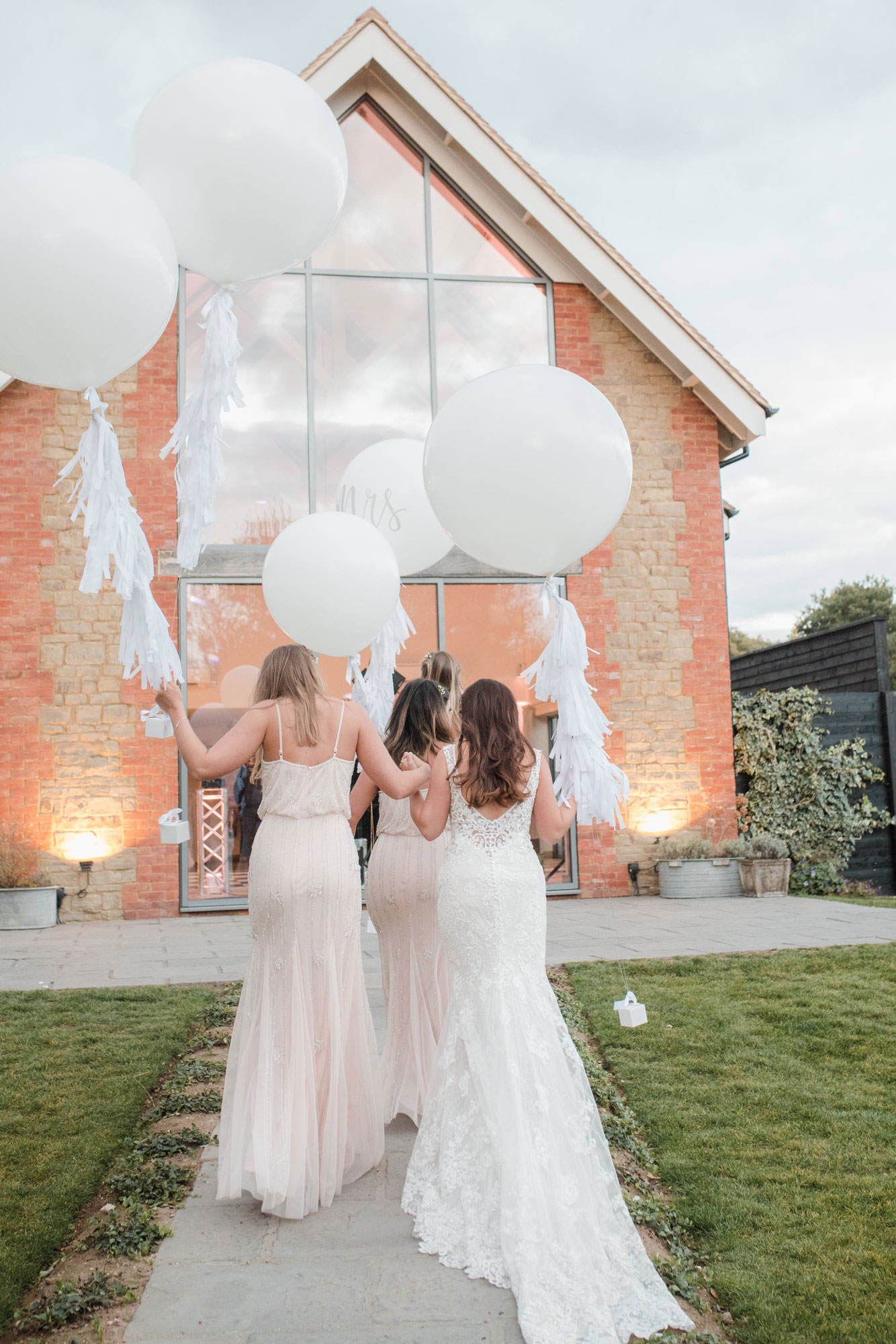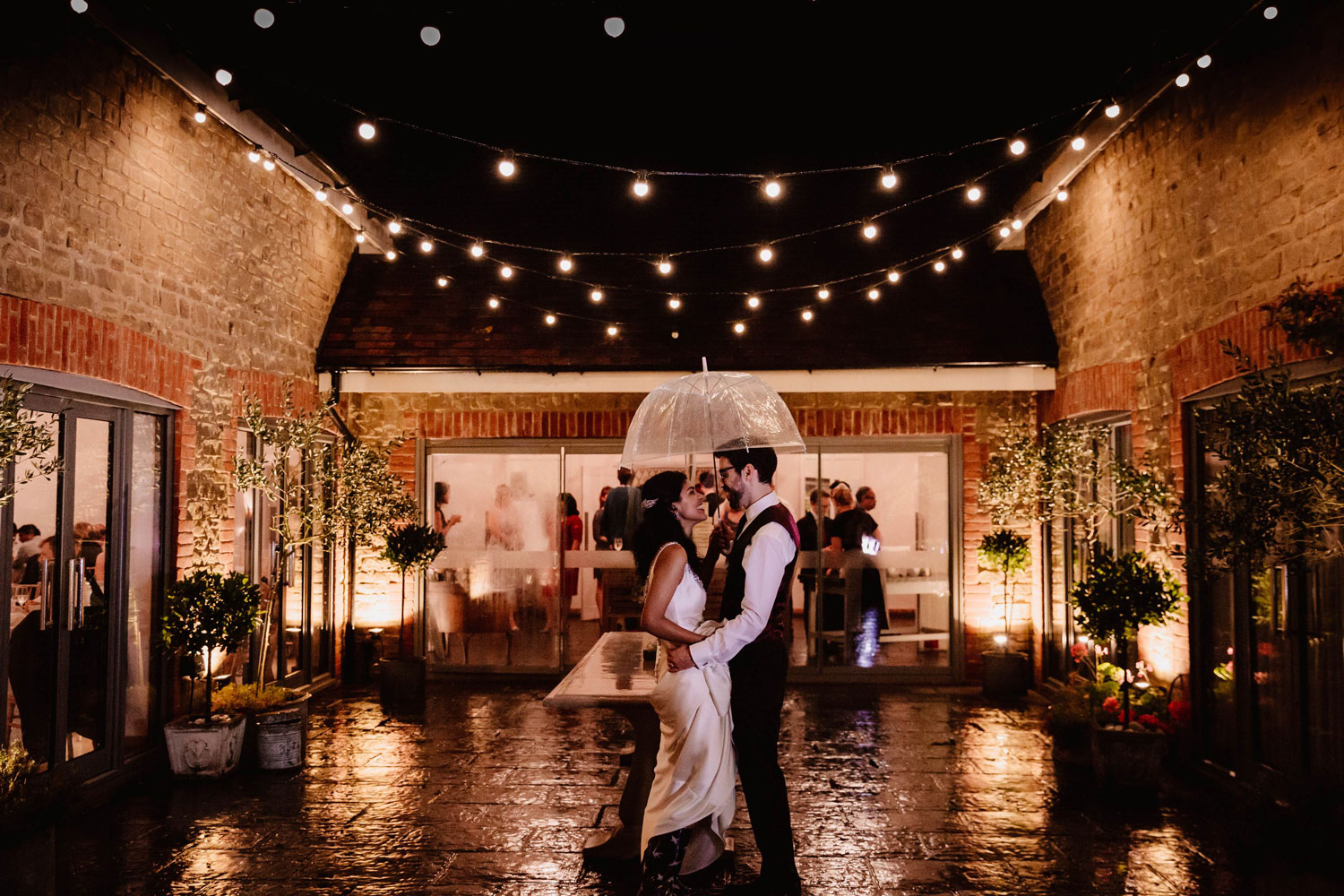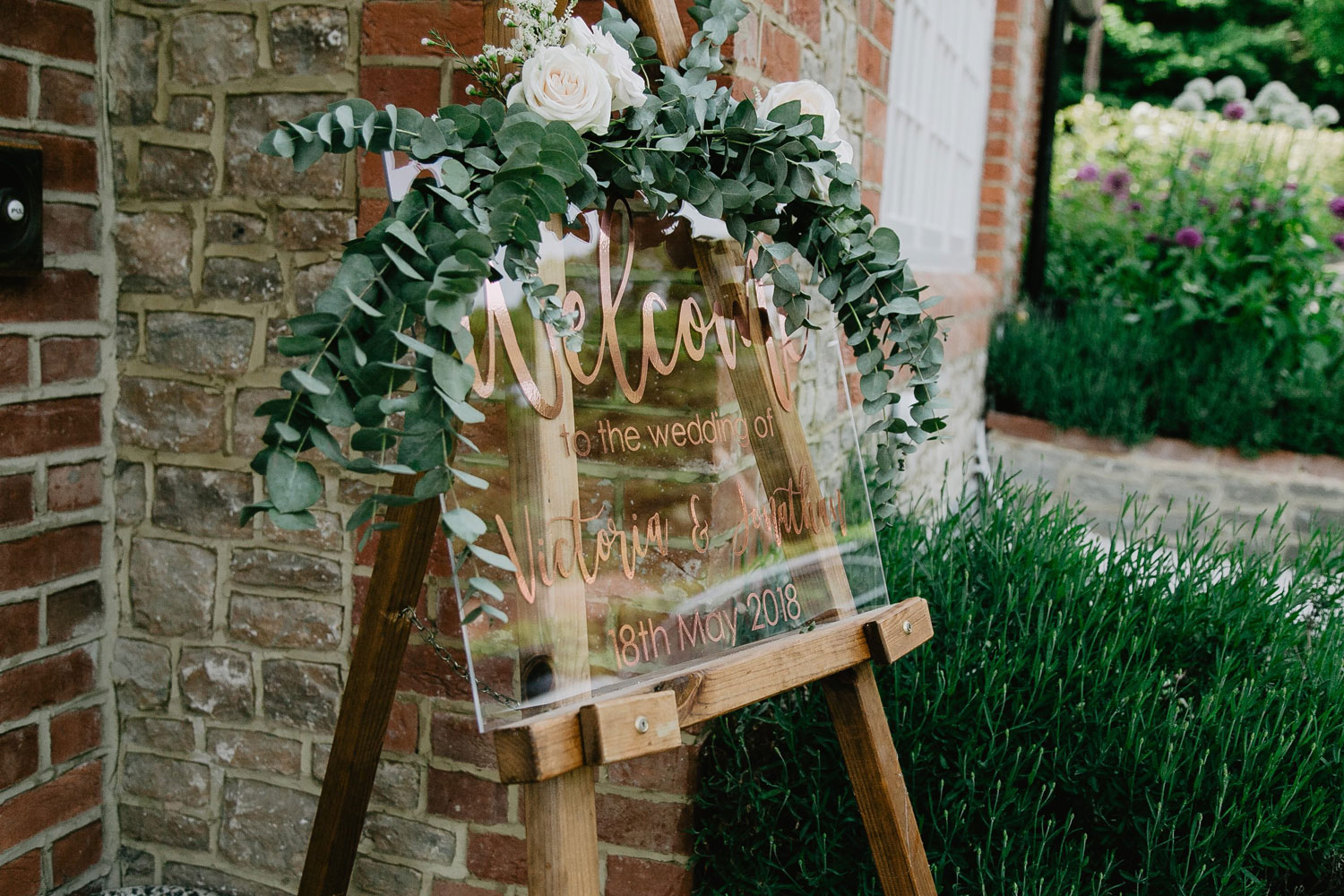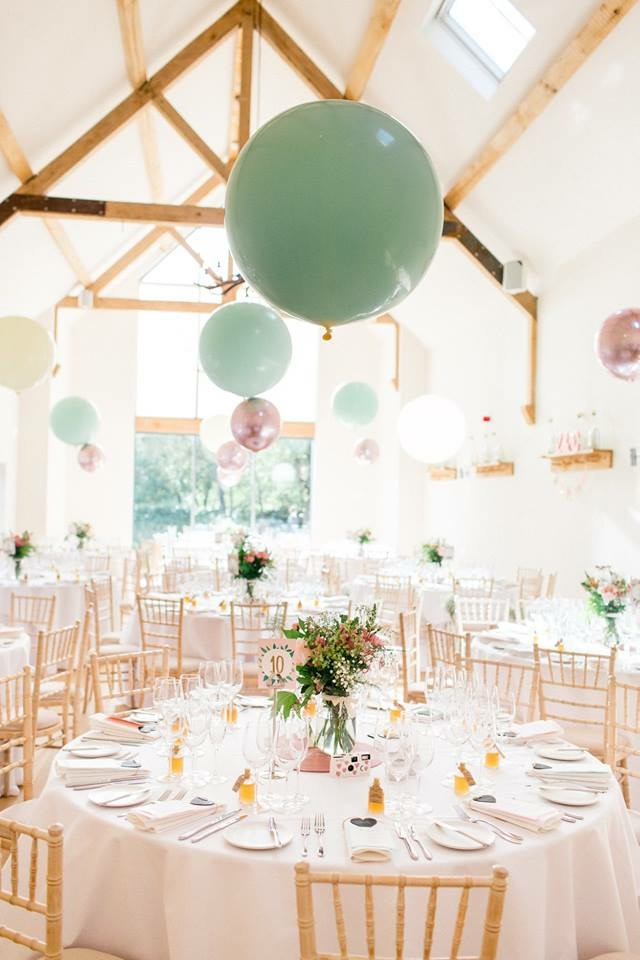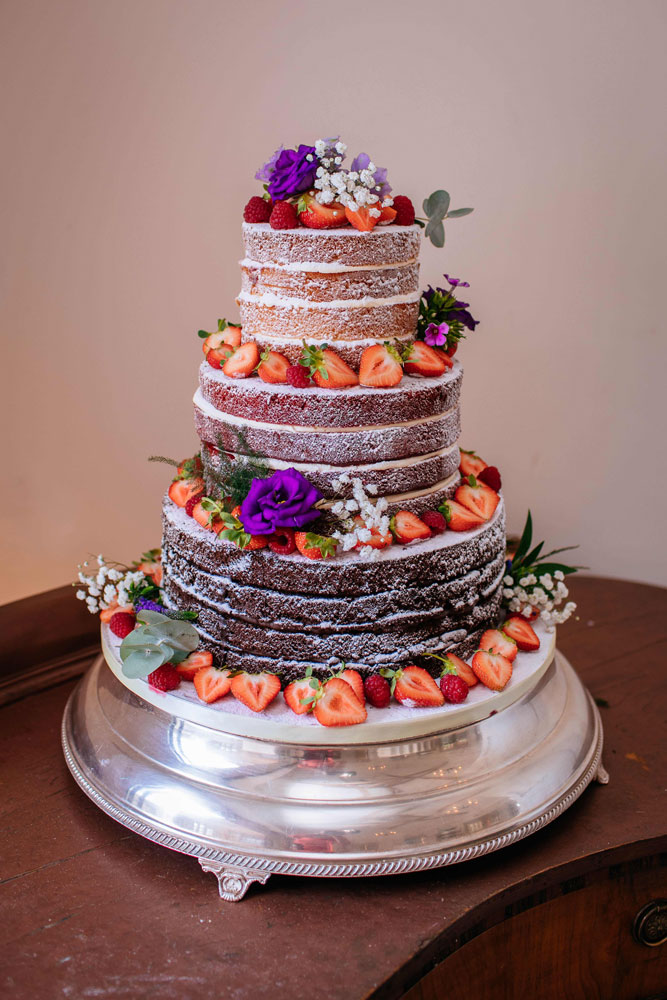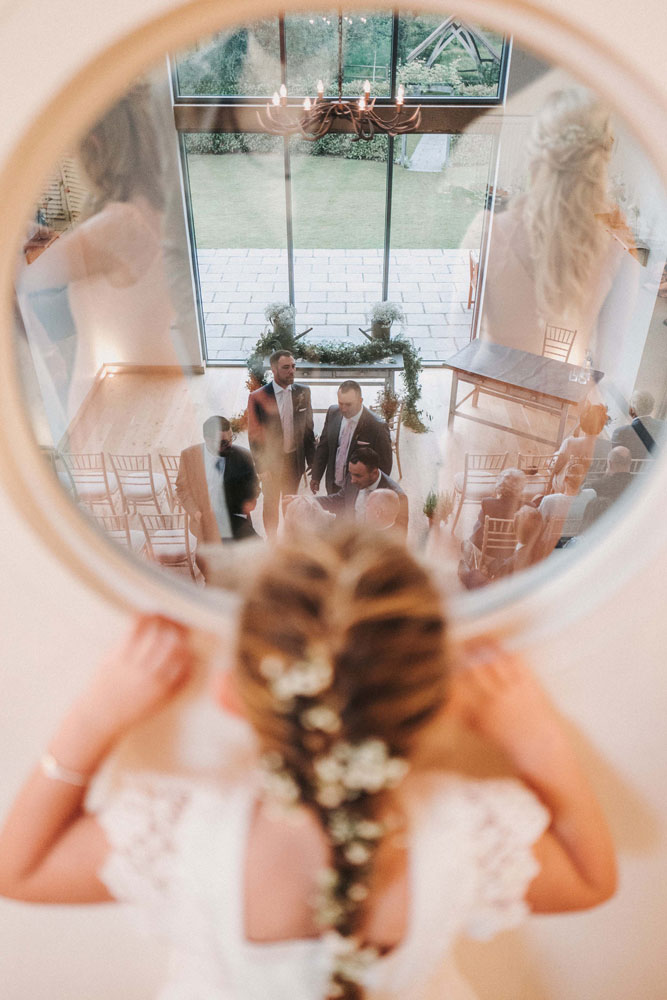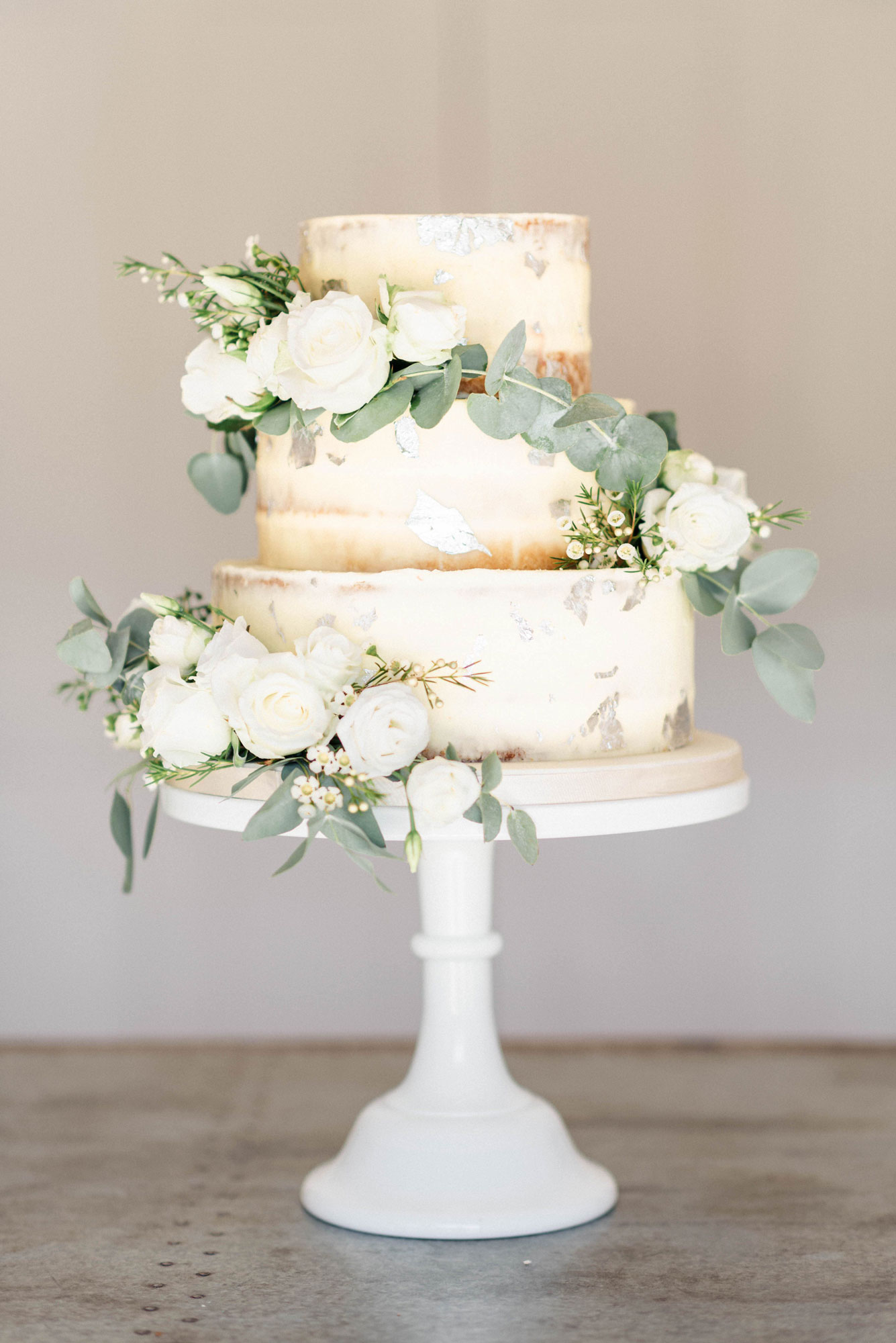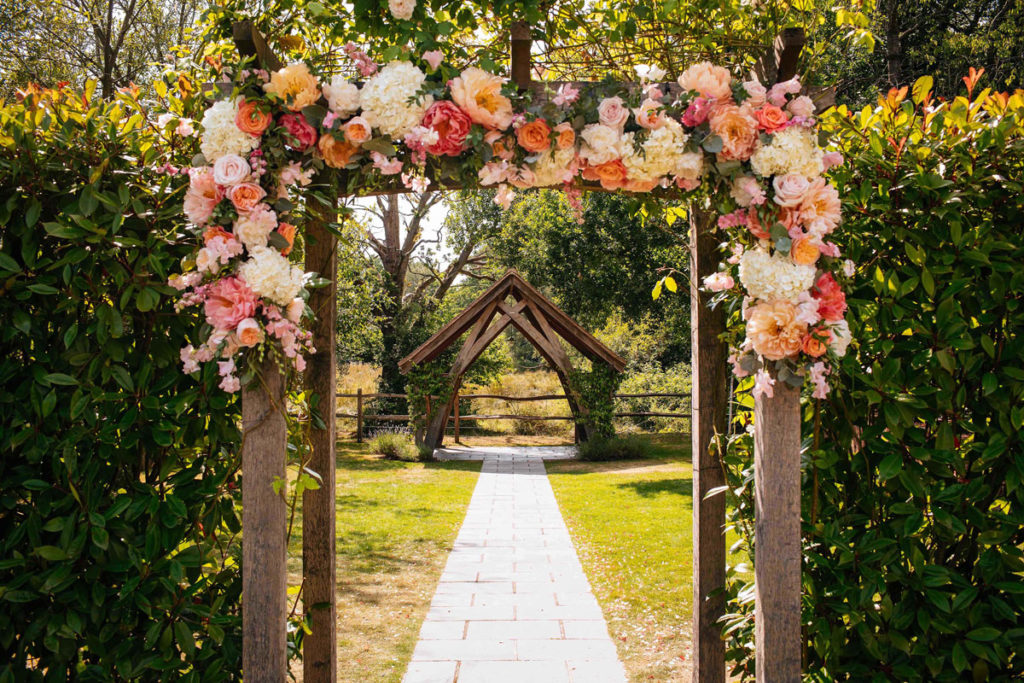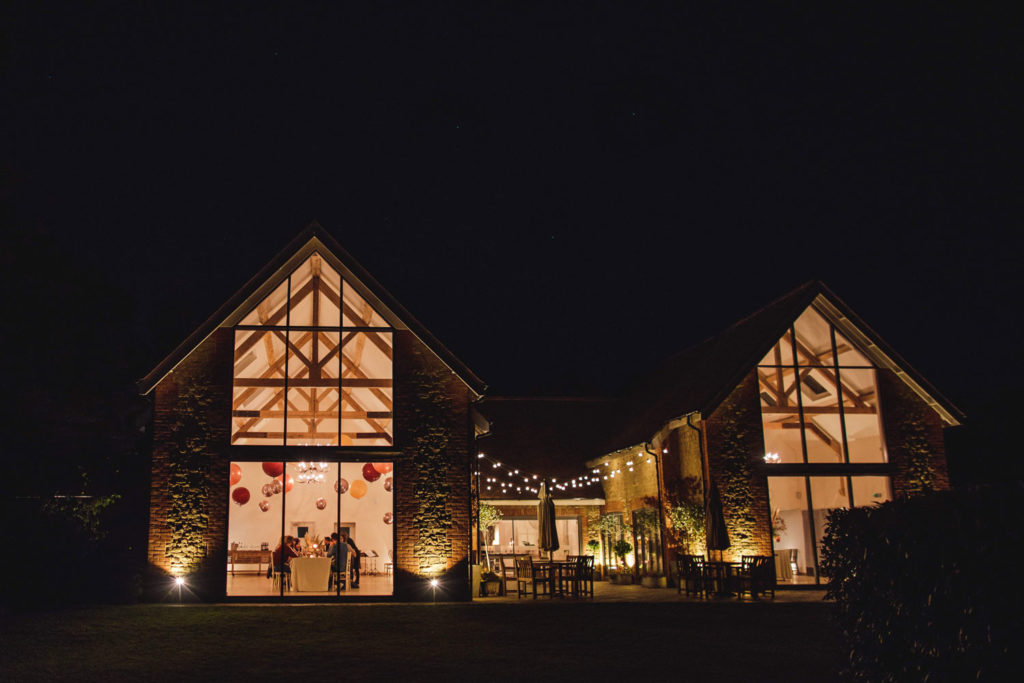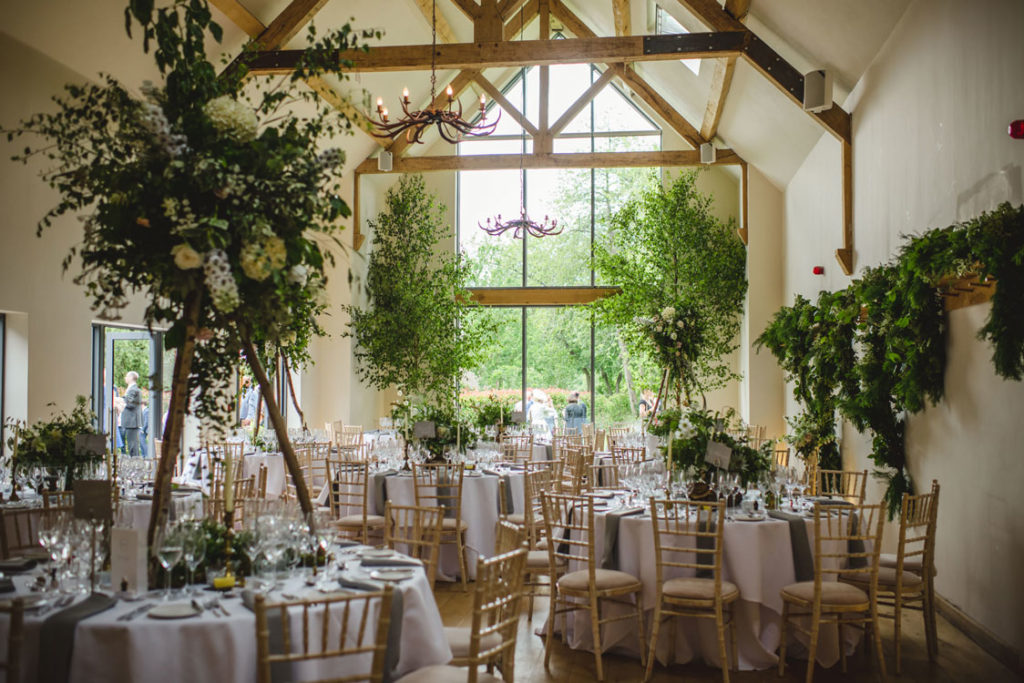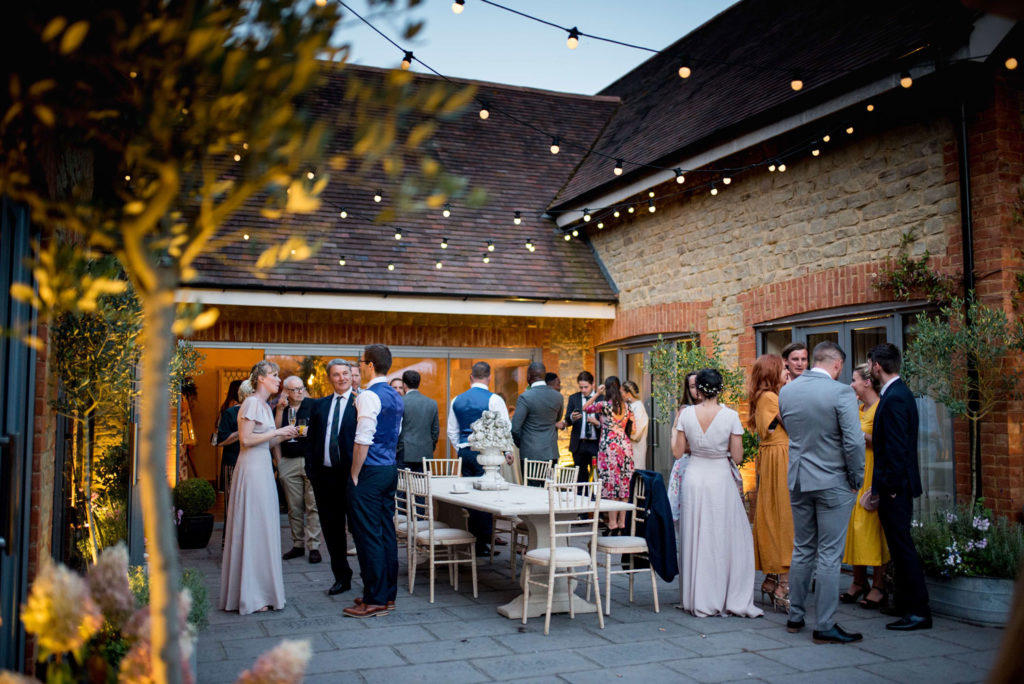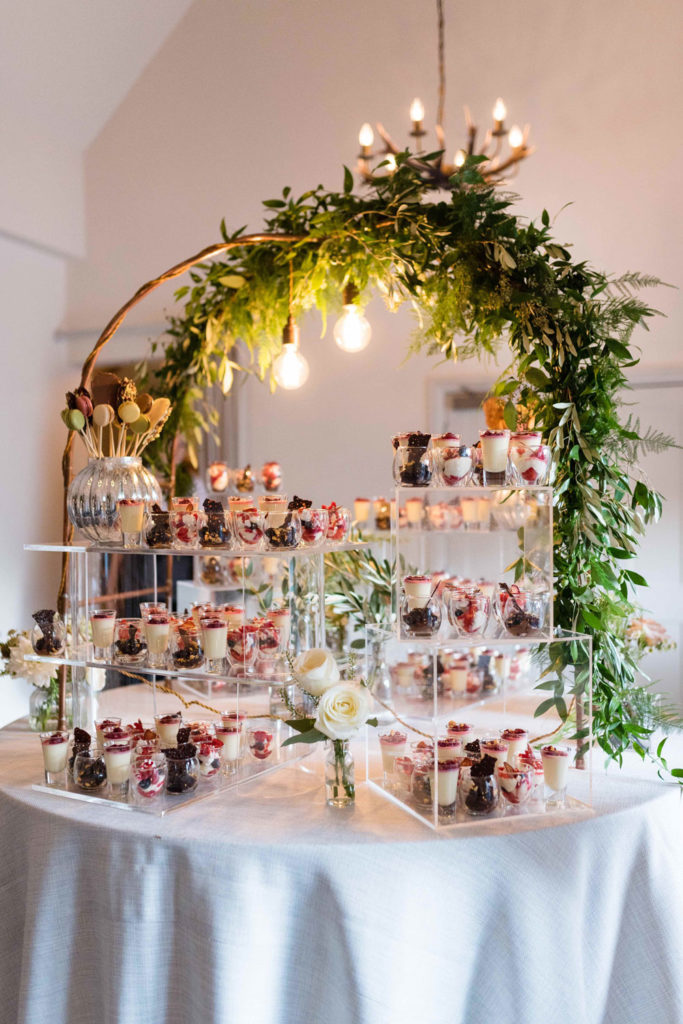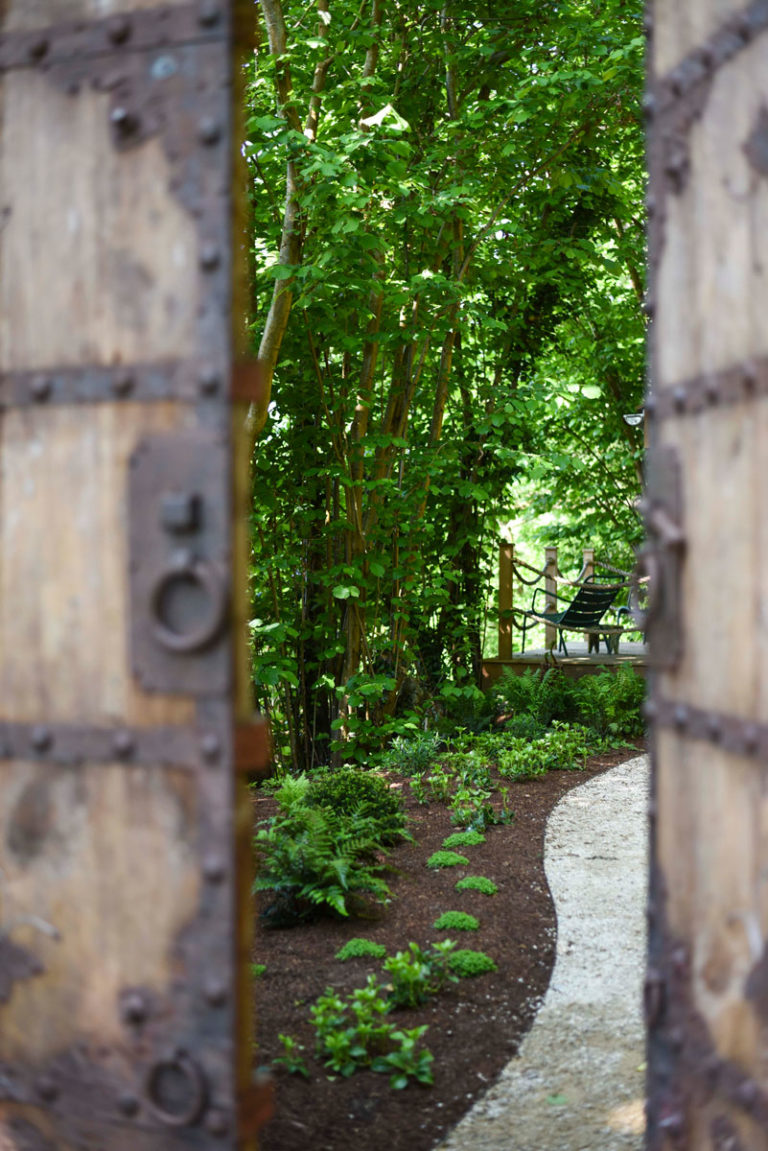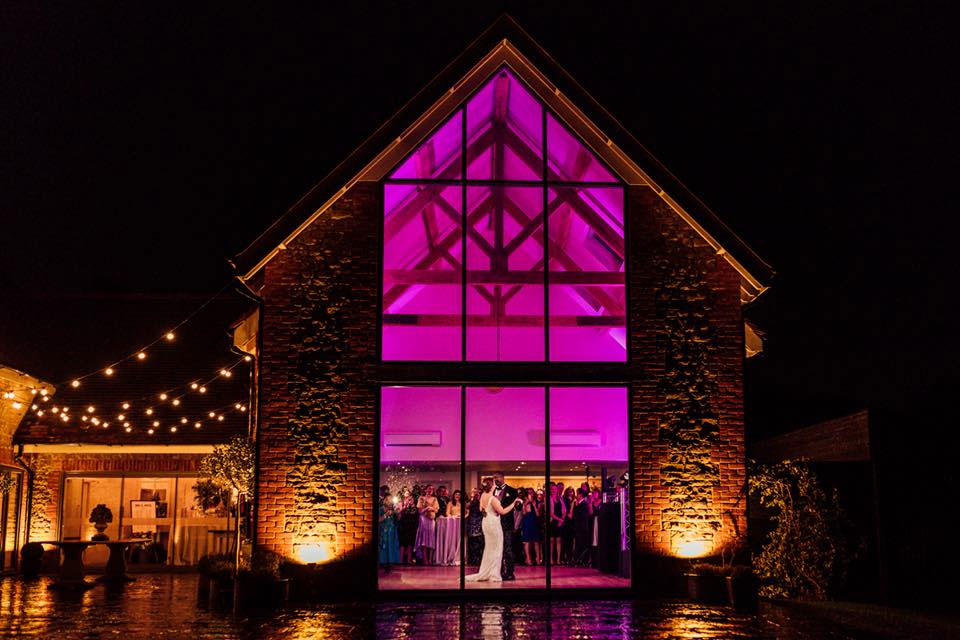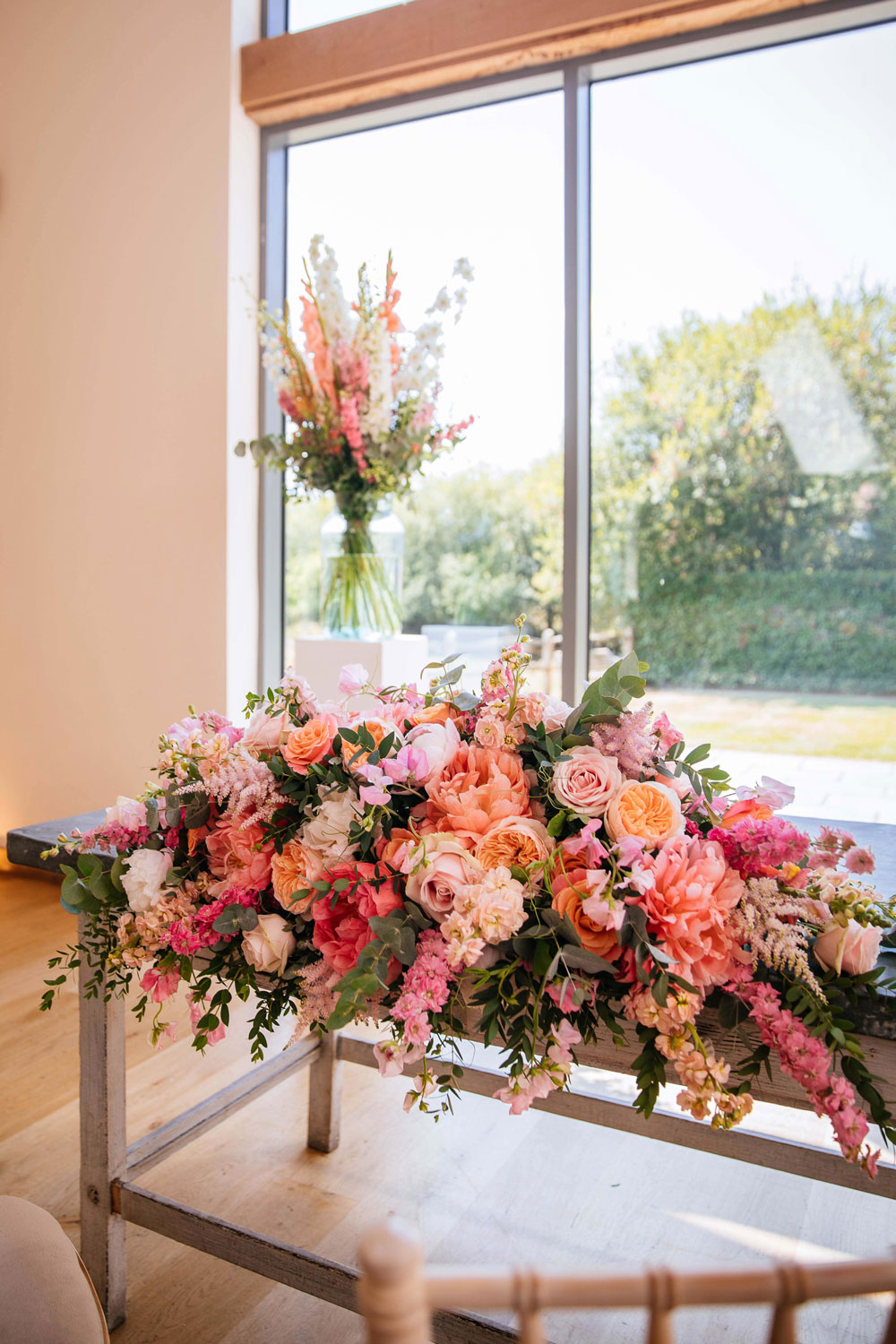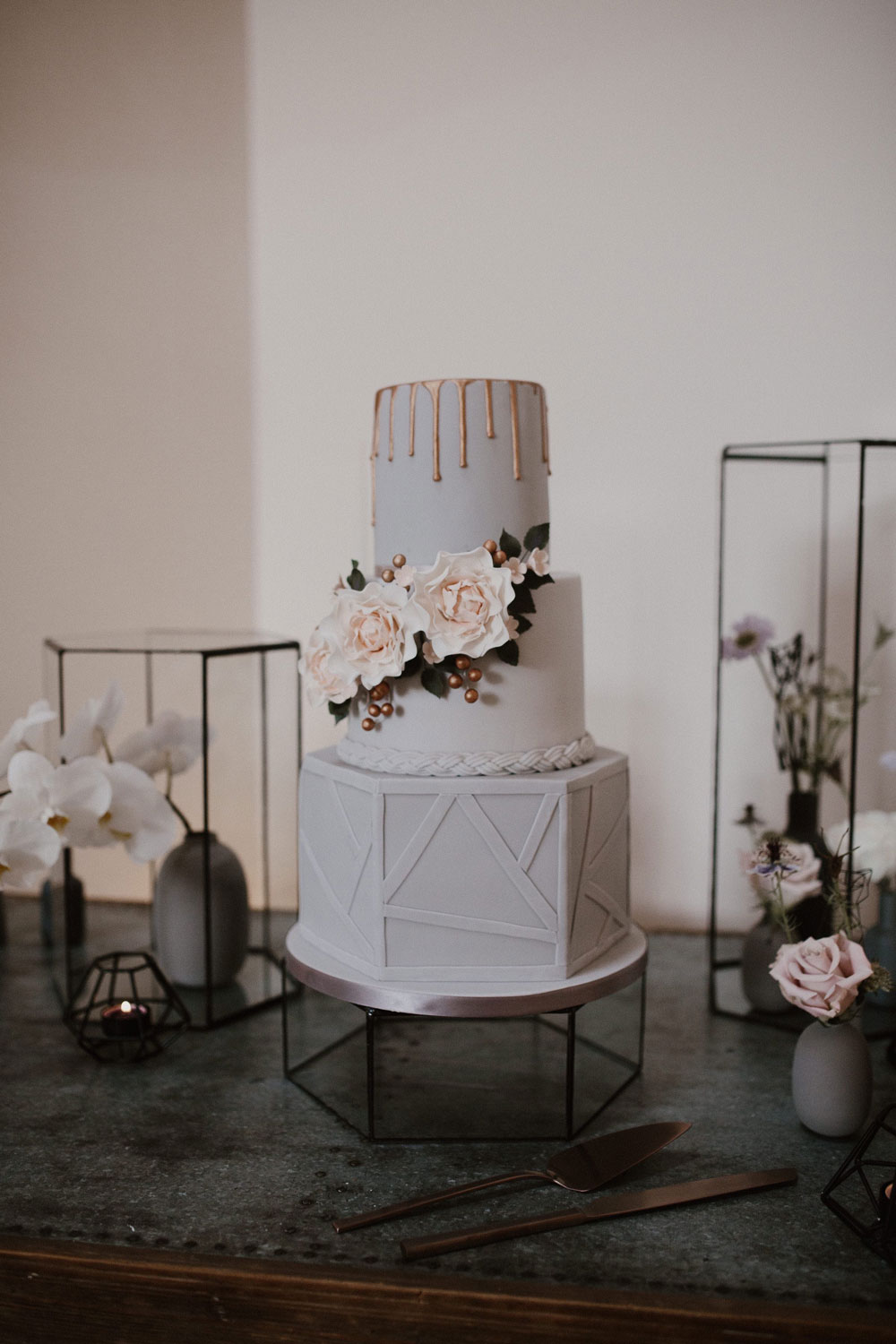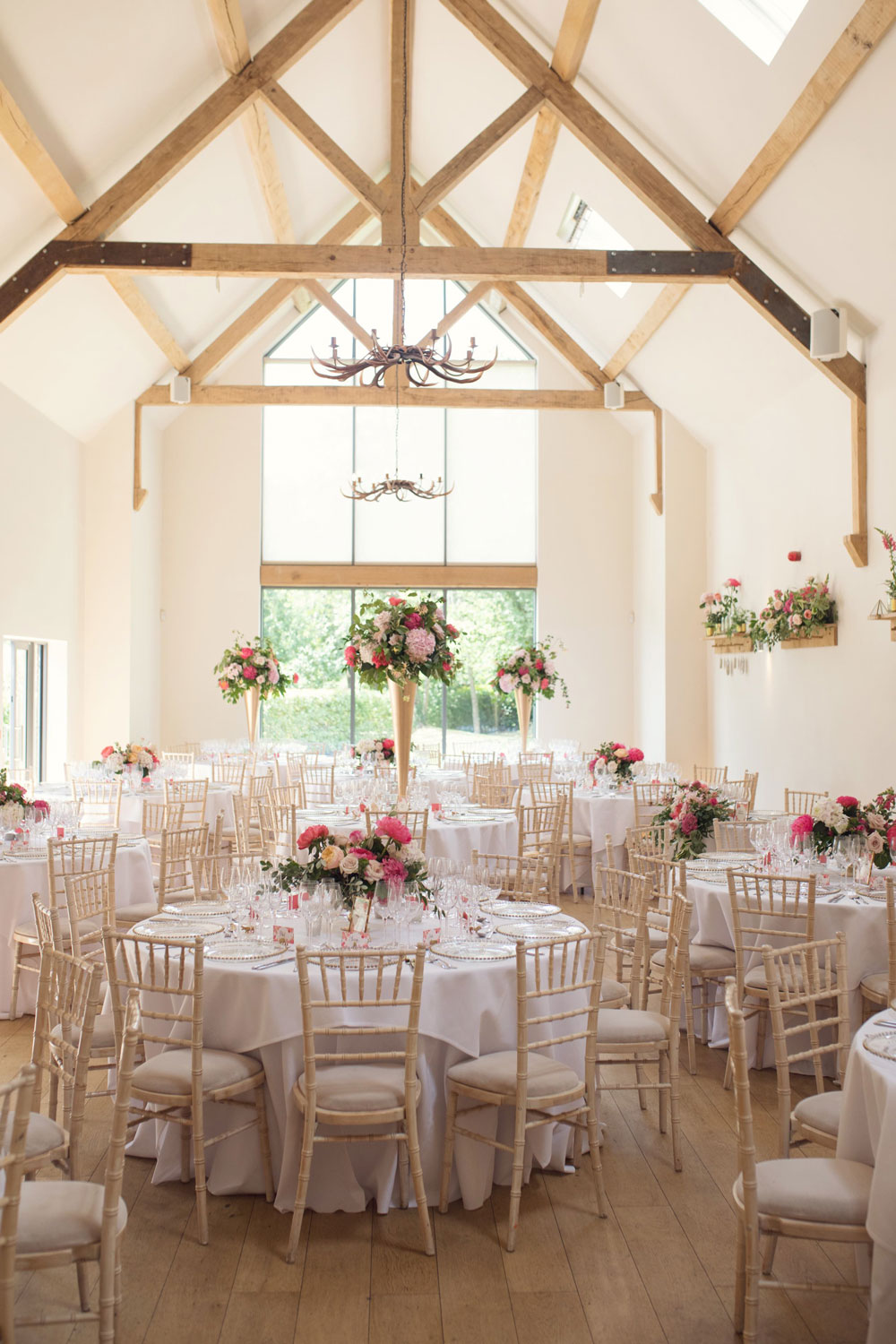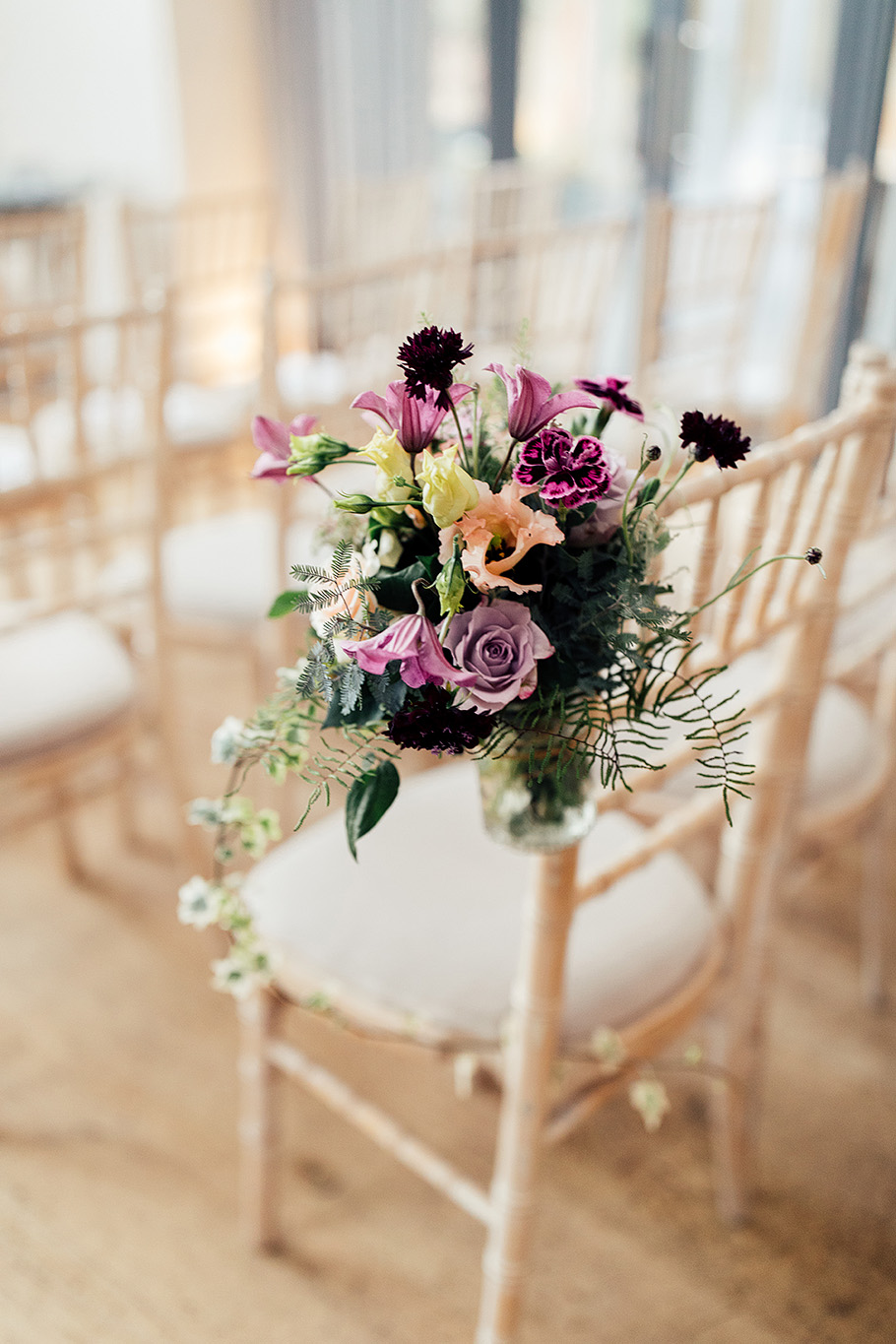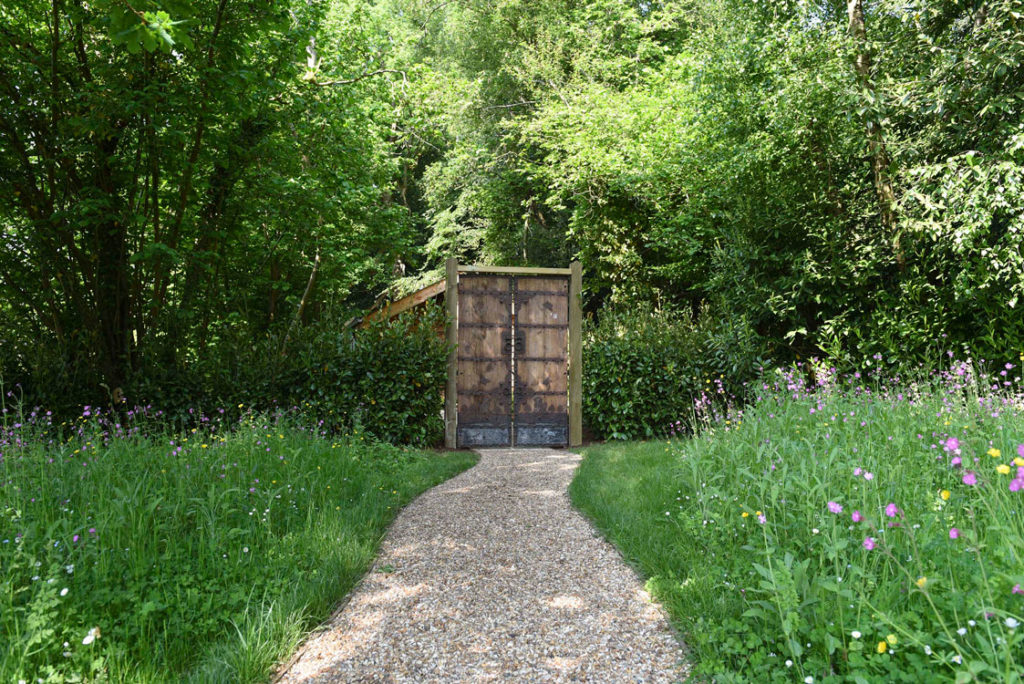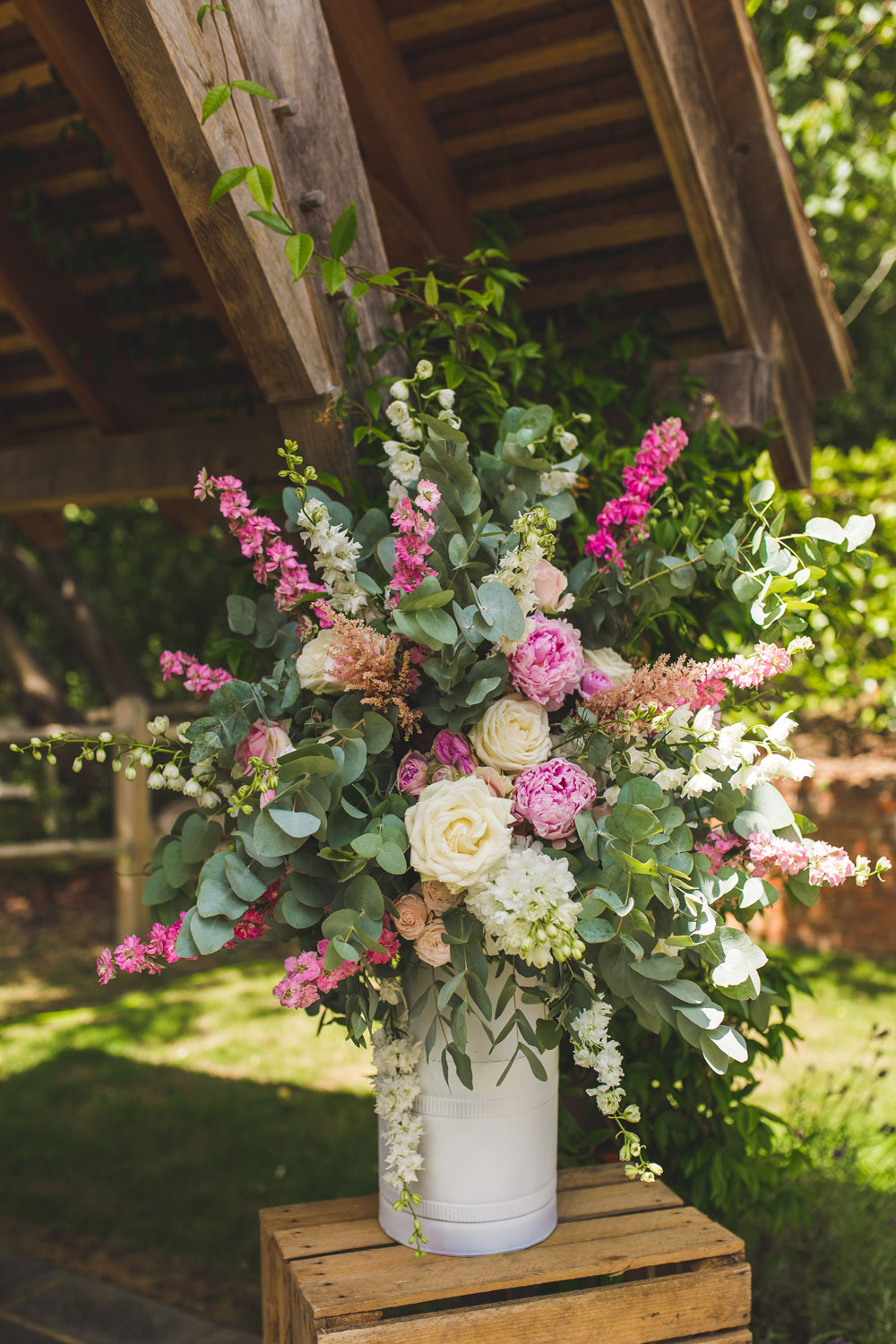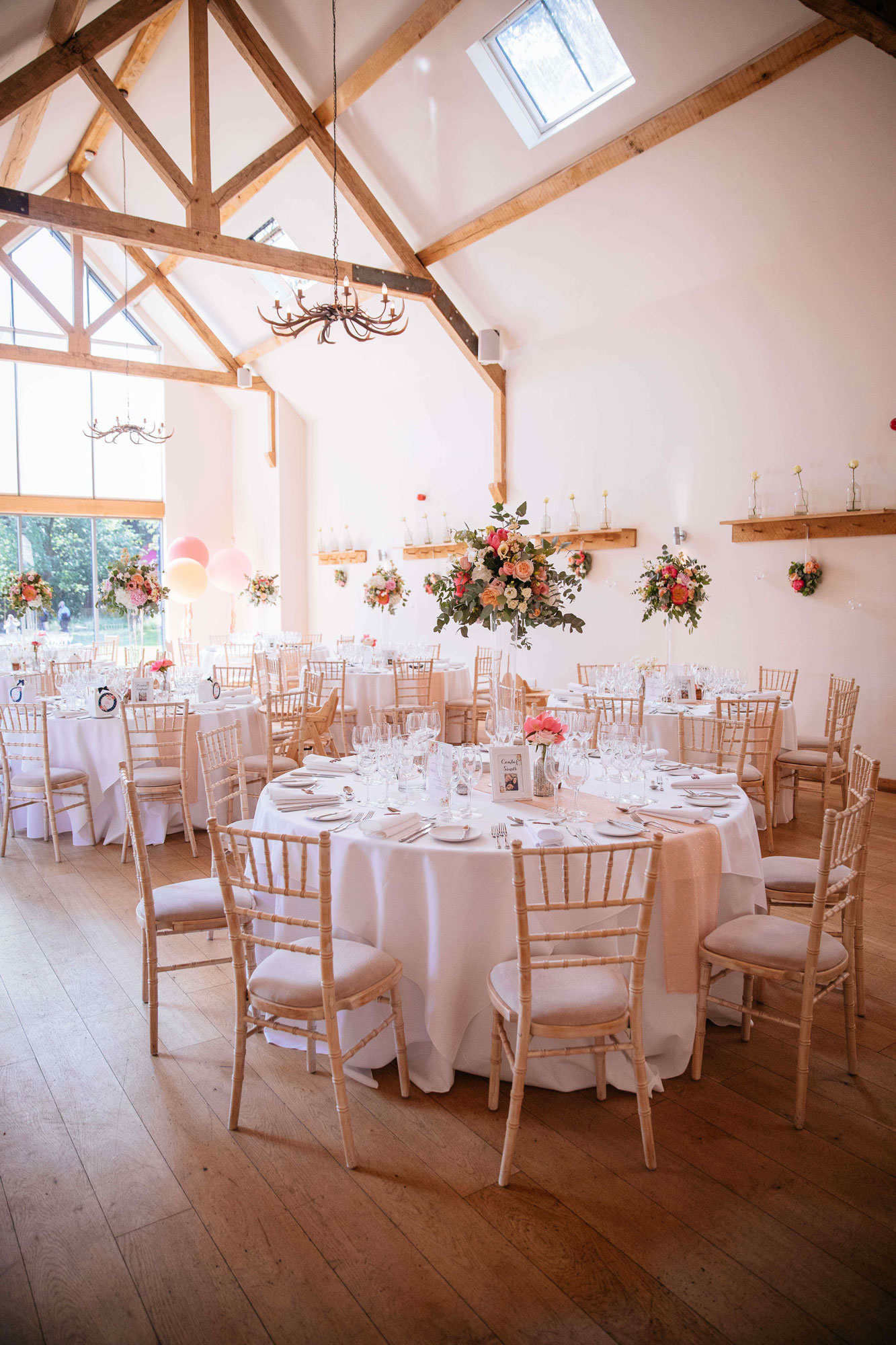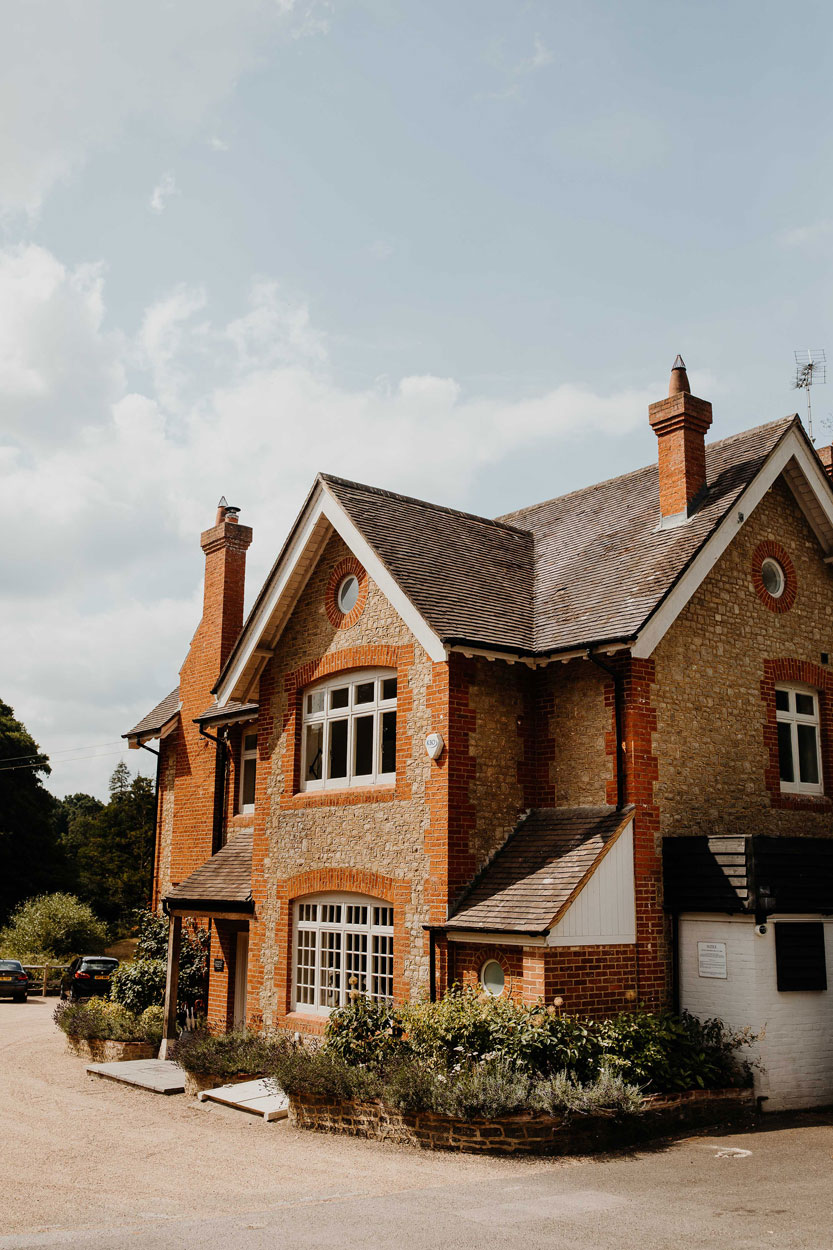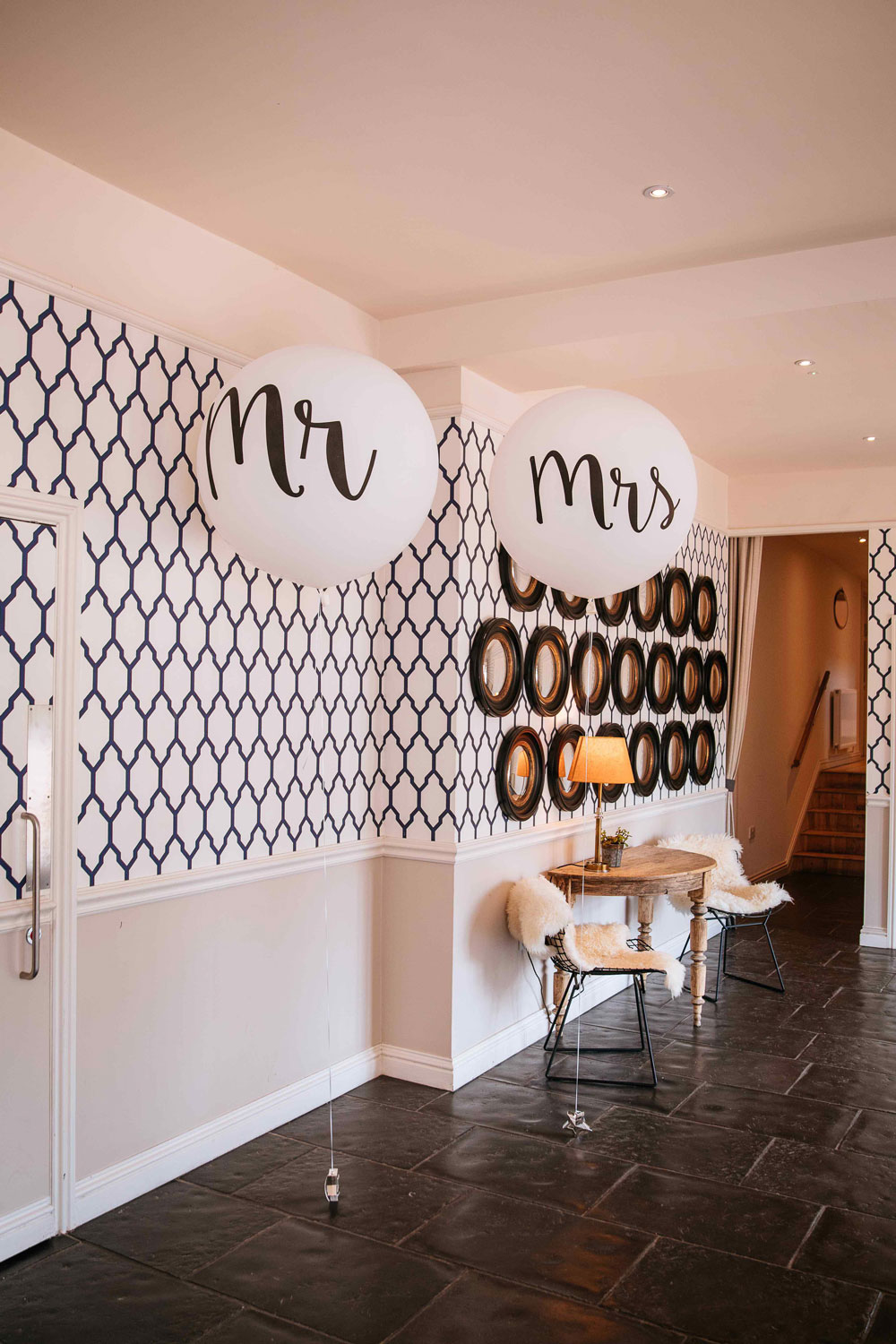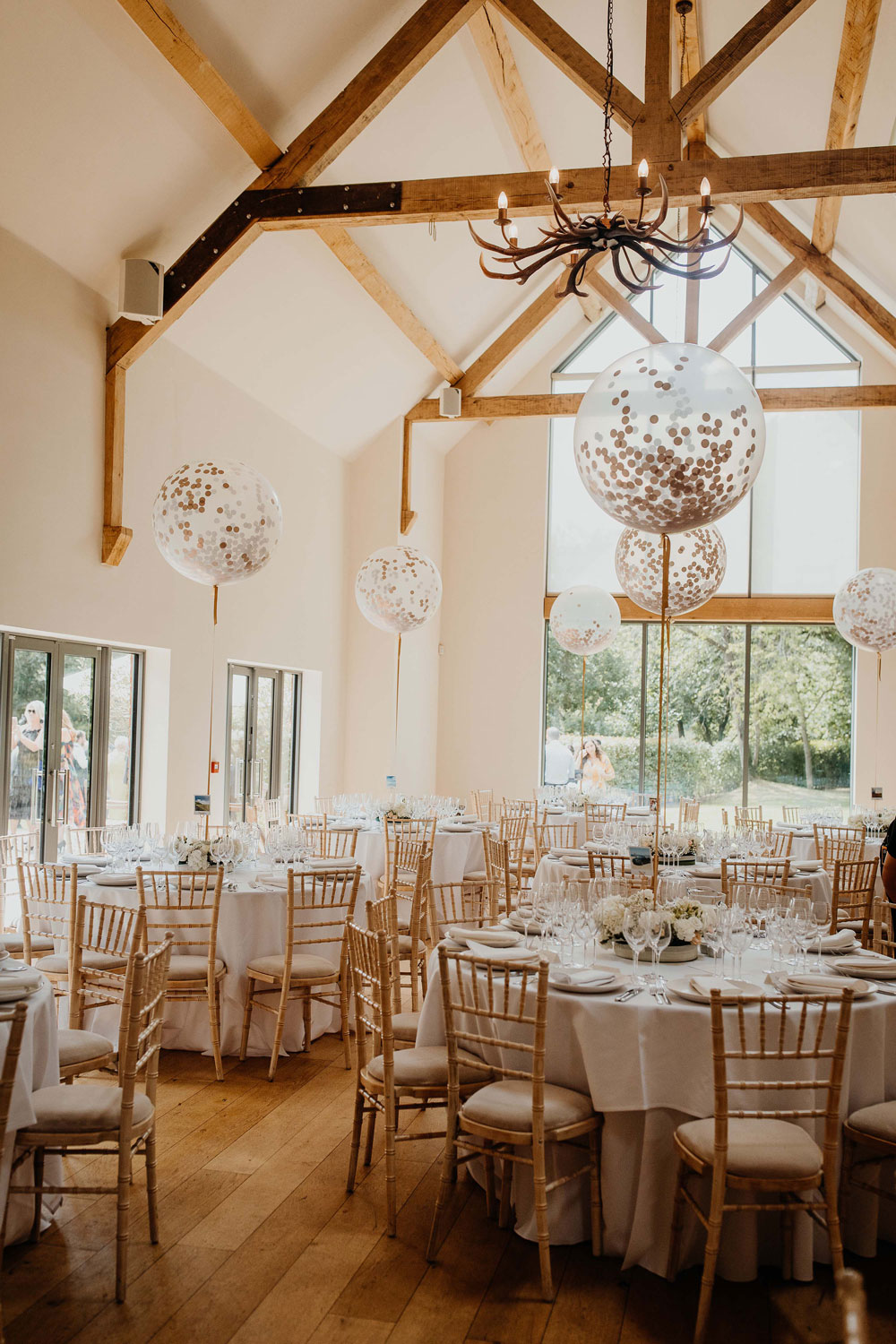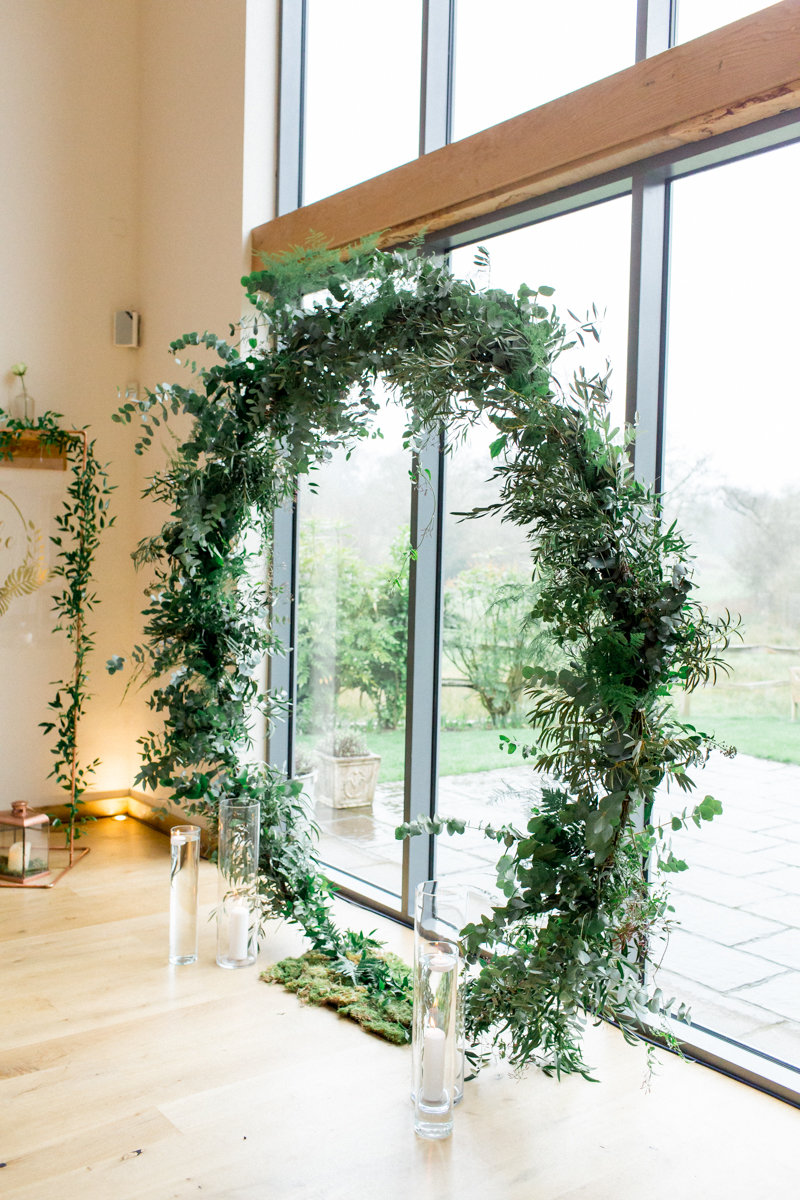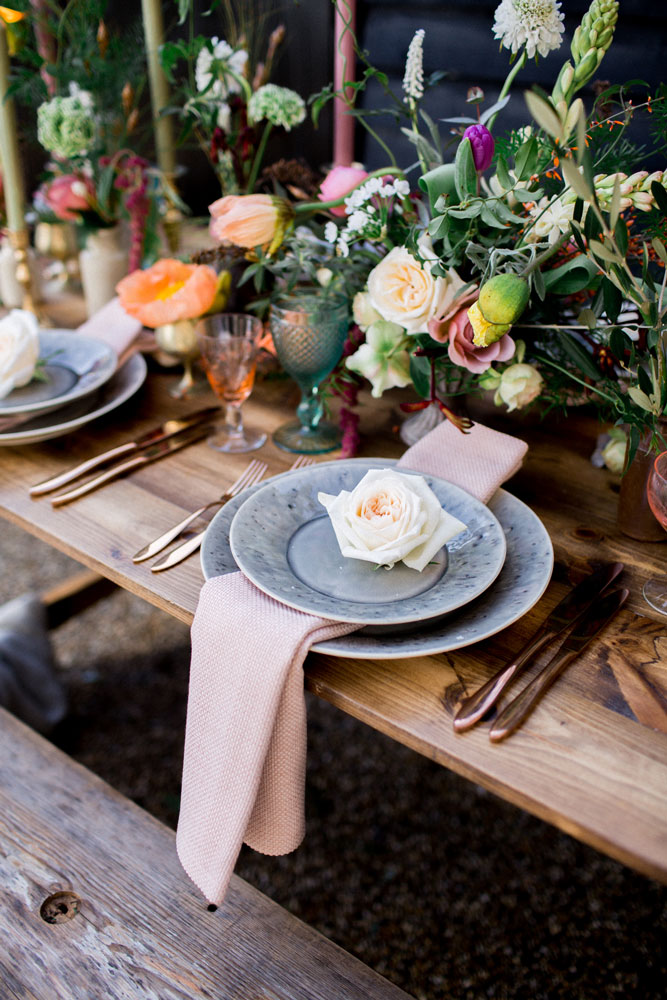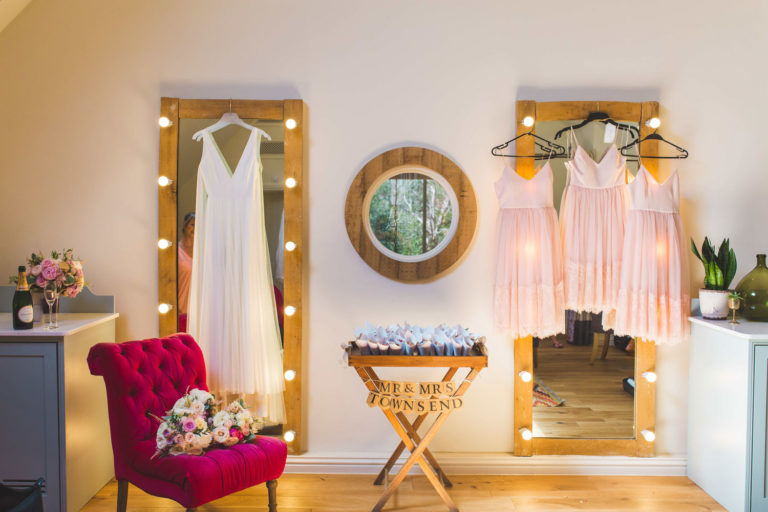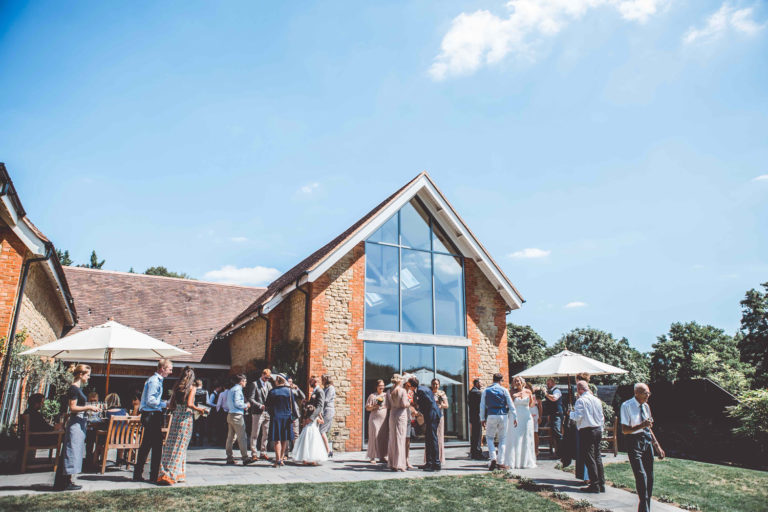 News : 10 / 06 / 18
The Hideaway Secret Garden At Millbridge Court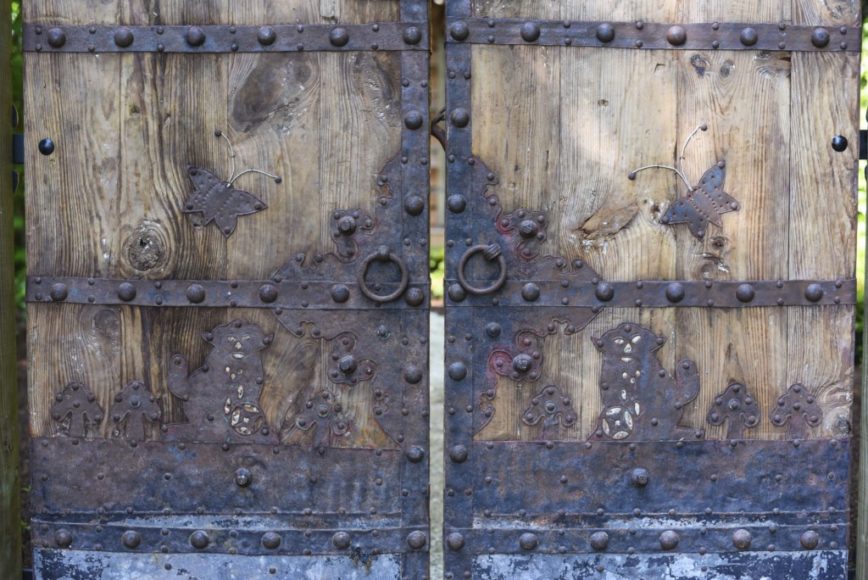 Throughout April, there was something rather exciting going on at the end of the Millbridge Court grounds. After months of planning, landscape gardeners got to work planting Laurel hedging, ferns & installing an incredible pair of vintage gates in front of our Bridal Suite, the Hideaway… & now that all of their hard work is complete, we're excited to introduce to you all, The Hideaway Secret Garden!
A botanical sanctuary just beyond our flower meadow that creates that extra bit of magic & privacy for our couples on their Wedding Day & the morning after the celebrations. A tranquil & peaceful space to be able to enjoy all to themselves.
We hope that all of our MBC Couples love it just as much as we do! Here are a few sneak peeks to give you a taster of whats beyond the gates. Xx
And we love that we have already received pictures of photographers using the Secret Garden as a backdrop for gorgeous couples shots… here are L&S captured by The Springles last week.
And J&T captured beautifully by Joanna Nicole Photography earlier in May!
We can't wait to see many more over the course of the Summer!
News : 25 / 05 / 18
10 Questions… With Kalm Kitchen's Pete Holder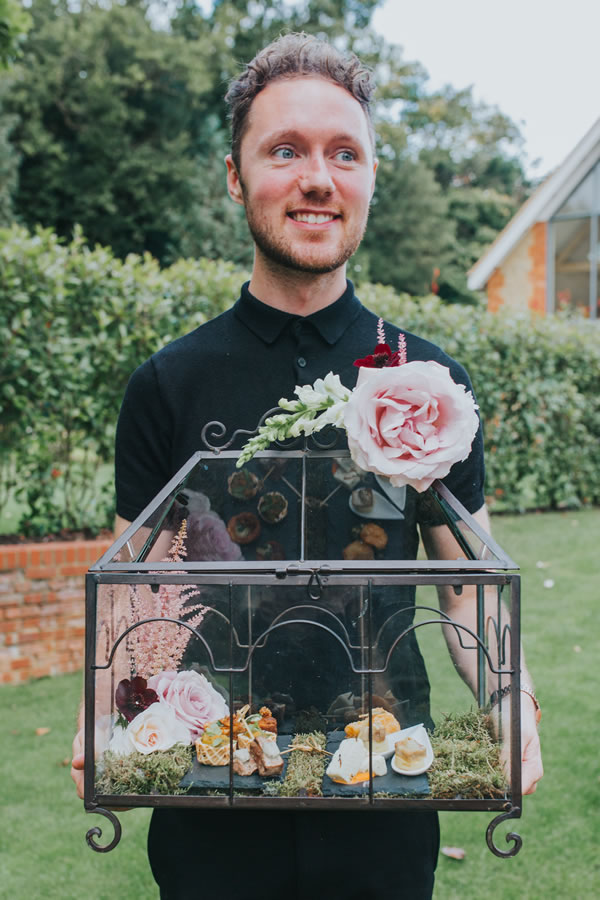 1) What is your Role at Kalm Kitchen?
My role in Kalm Kitchen, as a wedding events manager, is to create a calm and unforgettable planning experience, leading up to the big day. We are passionate about providing creative and delicious food for your wedding day and providing an exceptional service throughout the journey, going that extra mile, with meticulous attention to detail. On the event day we will execute your plans to perfection and bring everything we've discussed to life.
2) What made you want to be an Event Manager at Kalm Kitchen?
My work life has always consisted of running events and the joy and accomplishment I get from them are next to none. My best friends got married in April 2017, before I had started with Kalm Kitchen, and I was heavily involved with the planning process. I knew from then that this was the industry I wanted to be in. Meeting new faces has always been a pleasure of mine and making my client's dreams come true only makes it better. Kalm Kitchen had impressed me so much with their styling, food menu and work ethic, that as soon as I heard they were looking for an event manager, I didn't think twice about applying for my dream role.
3) What do you love the most about being a part of the Kalm Kitchen family?
The word family is exactly what I would describe Kalm Kitchen to be. We all have our quirks and strengths, which I feel really develop us in our roles. The owners of Kalm Kitchen, Jen and James, have been such an inspiration to me and I cannot thank them enough for the time and effort they put into all of us, which then reflect in our events. Kalm Kitchen has not only given me great colleagues to work with, but friends for life!
4) What tips & advice do you give to couples during their planning journey?
I would tell them to enjoy every moment of it. I think it is natural to want perfection for the big day, which can add too much pressure and cloud the enjoyment of talking through their ideas.
5) What is your favourite part of a wedding day? 
Seeing our couples for the first time in the morning has always been so special for me. I love that initial catch up and excitement you share together. It is such a lovely moment that I wish I could bottle up every time.
6) What new wedding food trends should couples be looking out for over the coming year? 
Food stations are an amazing statement for the big day. The "wow factor" that comes with them offers such a great experience for guests and something delicious they do not expect. Our Lemonade and Lollipop stand works perfectly for a hot summers day and looks incredible! Or, for the evening, our Honeycomb and Hot Chocolate station satisfies those sweet cravings and brings everyone together as the night draws in. Complete Bliss!
7) If you could choose your dream Kalm Kitchen menu, what would it be?
I love the sharing experience for the wedding breakfast. I would have a middle eastern sharing board with an abundance of dips, breads and my personal favourite, halloumi!
As a vegetarian I would have our delicious arancini ball, which is available in an abundance of flavour and accompaniment combinations, to suit every taste. Mine would be a mozzarella, basil pesto and pine nut arancini on a bed of caponata and fresh basil. Dreamy!
A sharing dessert is a must! I am a chocolate fiend, so mixing this together with salted caramel and layers of meringue to create a slice at the table pavlova is perfection. You can nominate one person per table, and dress them in aprons, chef hats and moustaches, to collect the pavlova and serve the guests on their table. These are the little touches that create lasting memories of your special day. You just know it'll be a talking point for years to come.
8) What do you love most about Millbridge Court? 
I know I can speak on behalf of all our couples getting married at Millbridge Court, that this is the dream venue.  The balance of contemporary design and country home works perfectly and instantly makes you feel at home when you walk through the front door.
9) What are your favourite linen and glassware colour combinations at the moment? 
I am in love with vintage oak trestle tables paired with our luxurious urbane napkin range, it effortlessly really brings an outdoor feel inside. Having a spot of colour in the water glass elevates the whole design of the table. An idea would be to speak with the florist to match the colour palette of the flowers and unite all the elements together in harmony. My personal favourite is to have a bronze coloured water glass with a chalk urbane napkin as showcased in the most recent May tasting evening.
 Chalk glassware & urbane napkin featured at our Tasting Evening
 Flowers: Lavender Hill Company, Photographer: The Springles
10) Who are your three favourite Wedding Industry professionals/brands to follow on Instagram? 
@natspaperstudio is a must for stationary lovers. I am in love with her designs, and her "Crazy Cat" charm just adds to the personality of her amazing work
@bubblegumballoons Their installations are the work of dreams. With a huge range of clients under their belt, they have proven that balloons are stylish, luxurious and most importantly fun!
@kindredxstylingbyjen showcases creativity and adventure. If you want to feel inspired by the latest trends and interiors to elevate your style, Jen is your girl.
Here's the Lovely Pete, in action
Photographer: Millie & Belle
News : 13 / 04 / 18
#mbcspringpreview2018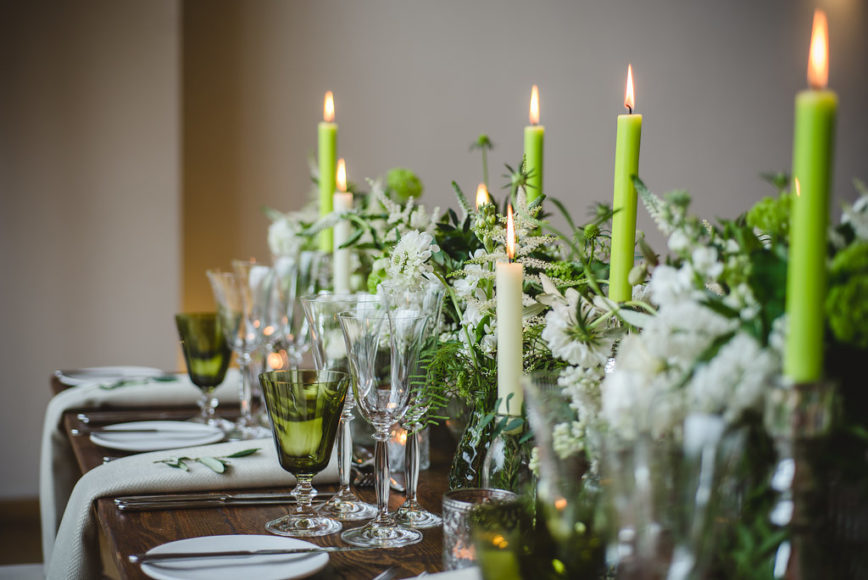 Last Sunday, we hosted our Annual Spring Preview & what a gorgeous preview it was, thanks to the amazing MBC Partners that joined us; creating inspiring displays & chatting away with our lovely MBC couples.
Showcasing stunning tablescapes in our Dining Barn were Alice (Meadowfolk), Carrie (The Topiary Tree), Katie (Blackberry & Bloom) & Gill Pike who each created such varied arrangements, from the rustic to the bold & beautifully blowsy… there was something for everyone. We had amazing wooden banquet tables & cross back chairs provided by Academy Furniture Hire & each table was complimented by coloured glassware from Crystal Hire.
The beautiful flowers weren't just confined to the Dining Barn with Gill Pike showcasing her breathtaking foliage Moongate Arch in our Ceremony Barn, the perfect backdrop to any Ceremony & Carrie Macey created a statement urn arrangement outside the Millbridge Court entrance, a wonderful way brighten up a rainy day!
Further brightening up the grey day was Laura from Laura's Paper Heart who serenaded our guests so beautifully throughout the event.
In our Bridal Changing Suite we had the amazing Carolanne Armstrong & Sharon Roberts doing Express Hair Styling & Make Up Sessions for our Brides. Such a wonderful opportunity to ask these very knowledgeable & talented ladies any questions & to trial a hairstyle/make up look for their Big Day.
Showcasing gorgeous Wedding Cakes were Andi Freeman & Melissa ( Thirty One Cakes) who also had delicious testers for our couples to try & the even more tasty treats were provided by Kalm Kitchen who circulated Canapes, yummy bowl food & they also put together yet another incredible Patisserie Boutique, with added foliage & Spring Flowers from Blackberry & Bloom.
We had MBC Partners Philippa Sian Photography, Jon & Laura from VLA Wedding Photography, Neale James & Sophie Duckworth showing our Brides & Grooms the phenomenal Wedding Days they have captured at Millbridge Court over the years. Thank you also to Ash Videography & Chris & Amy from W4 Wedding Films for not only joining us, but for putting together really beautiful videos of Sundays Event (you can find these on our Instagram & Facebook page).
Thank you so much to everyone that came to our Preview, we hope that you all had a really wonderful time & left truly inspired for your Wedding Day.
Xx