Tag:
barn wedding venue Frensham
Photography : 18 / 11 / 23
Autumn Wedding Day Inspiration at Millbridge Court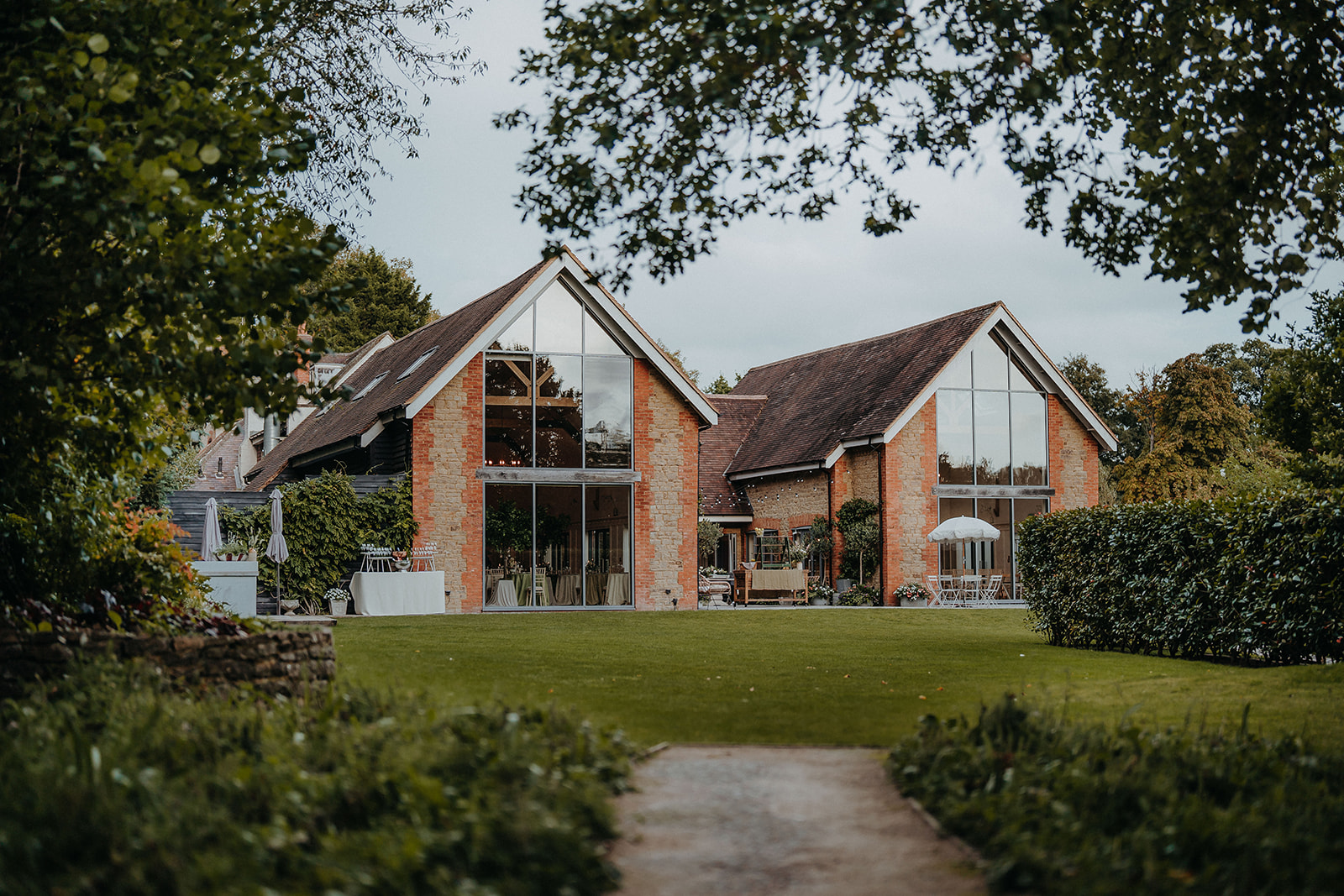 Who doesn't love a crisp Autumn morning with leaves falling, mist lifting, changes in colours, cosy moments, incredible romantic lighting?!  We certainly do; there's just so much to embrace during this time of year!
We thought we'd share some Autumn wedding inspiration to get the creative energy flowing for couples booked, or looking to book an Autumn wedding.  As always, we've shared some rather beautiful images from recent wedding days here at Millbridge Court, and we hope you love all the gorgeousness just as much as we do!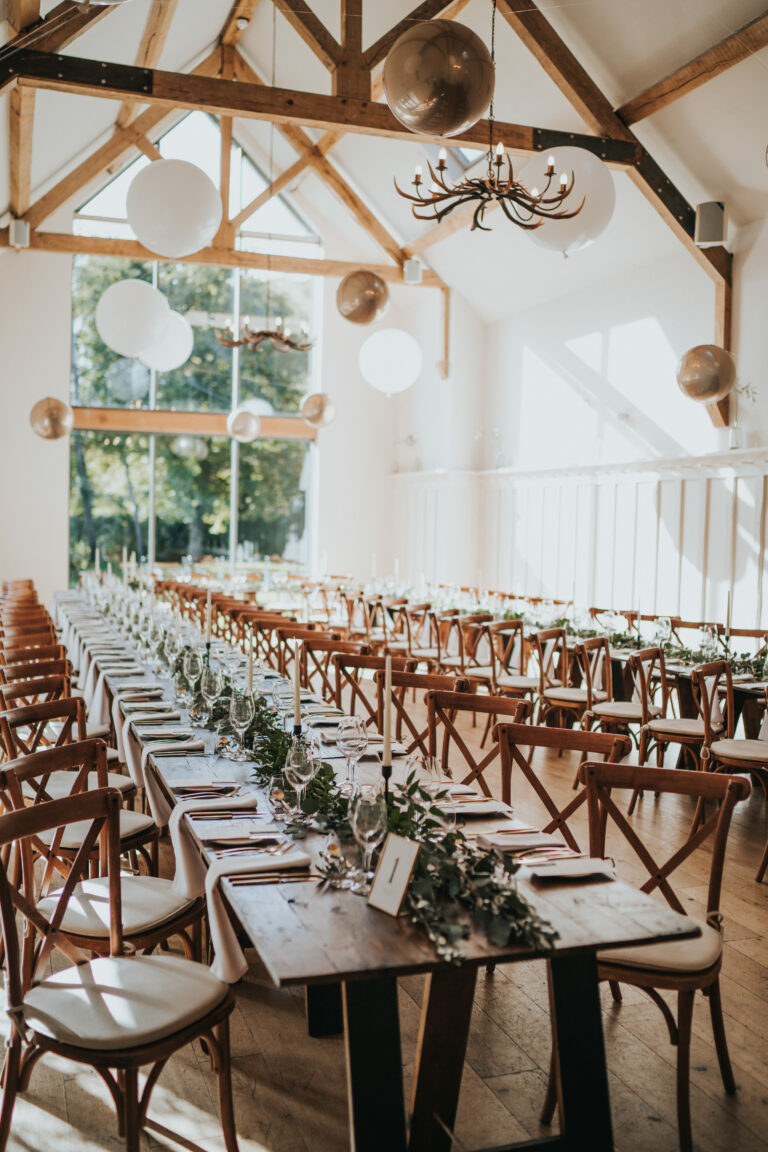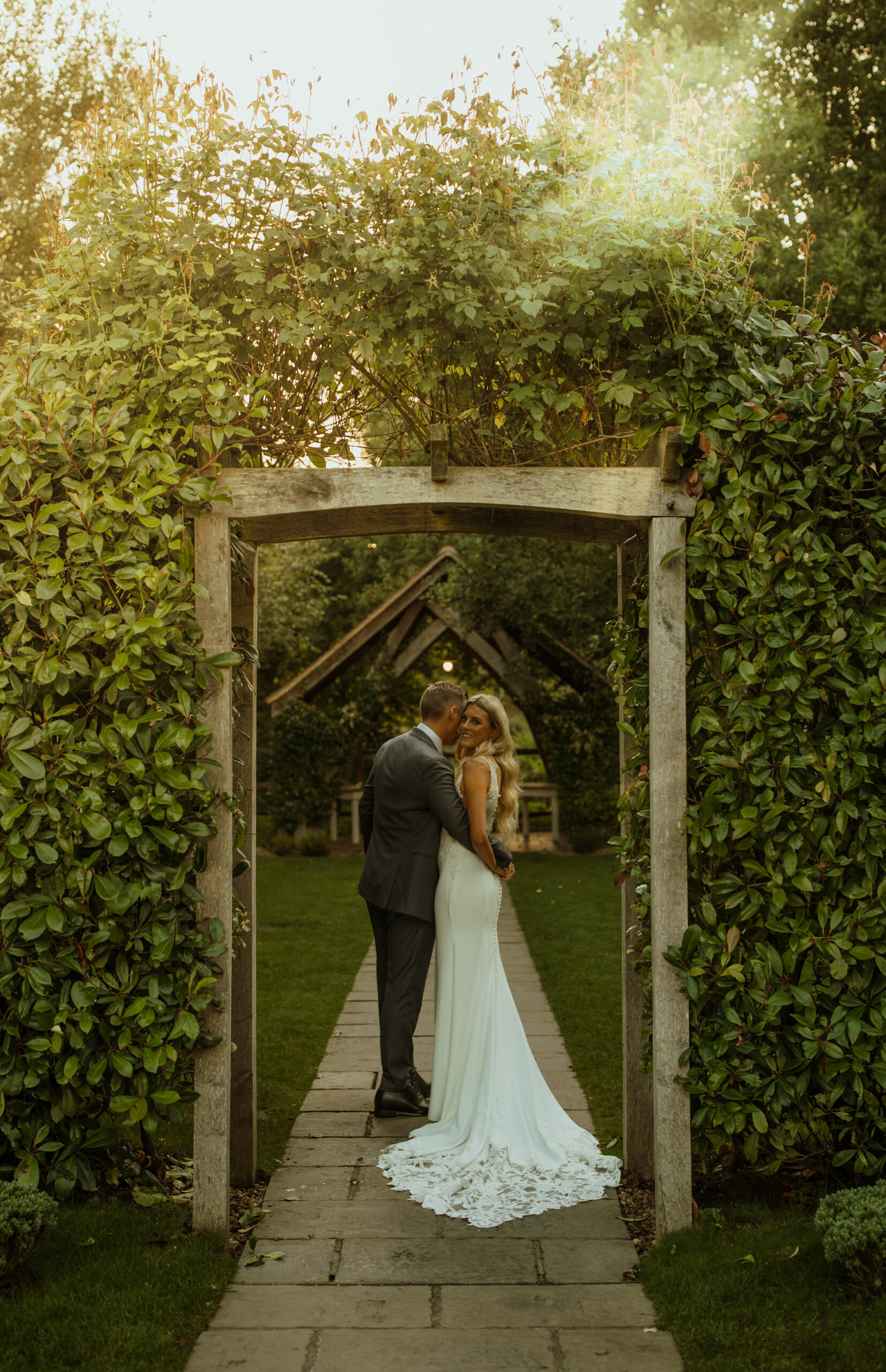 L – Holly Rose Photography, Longacres; R – Aurora Grey Photography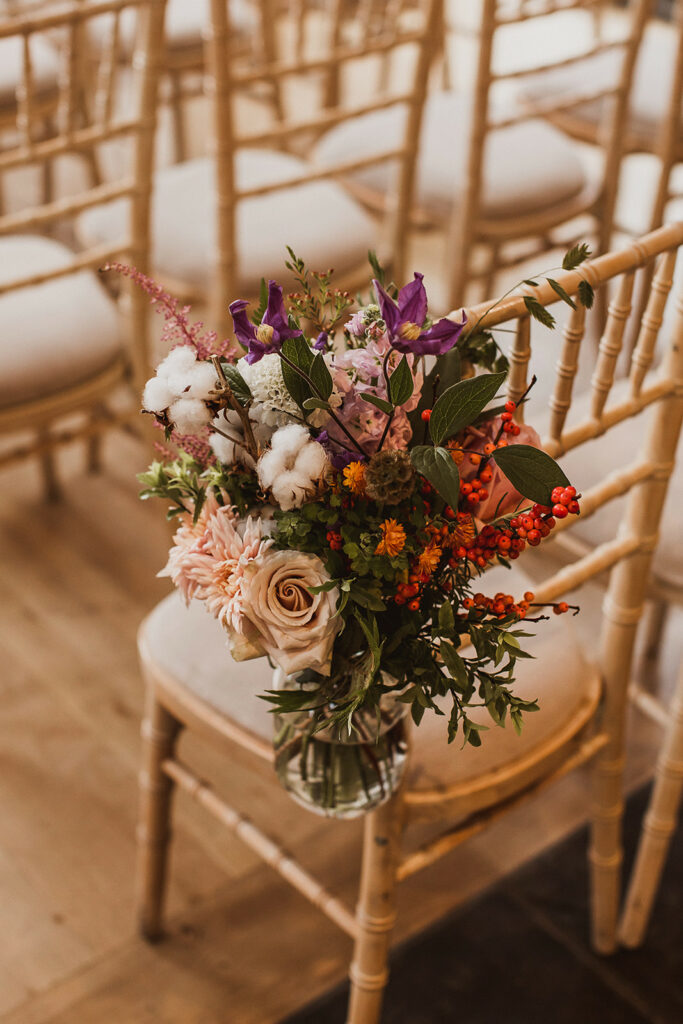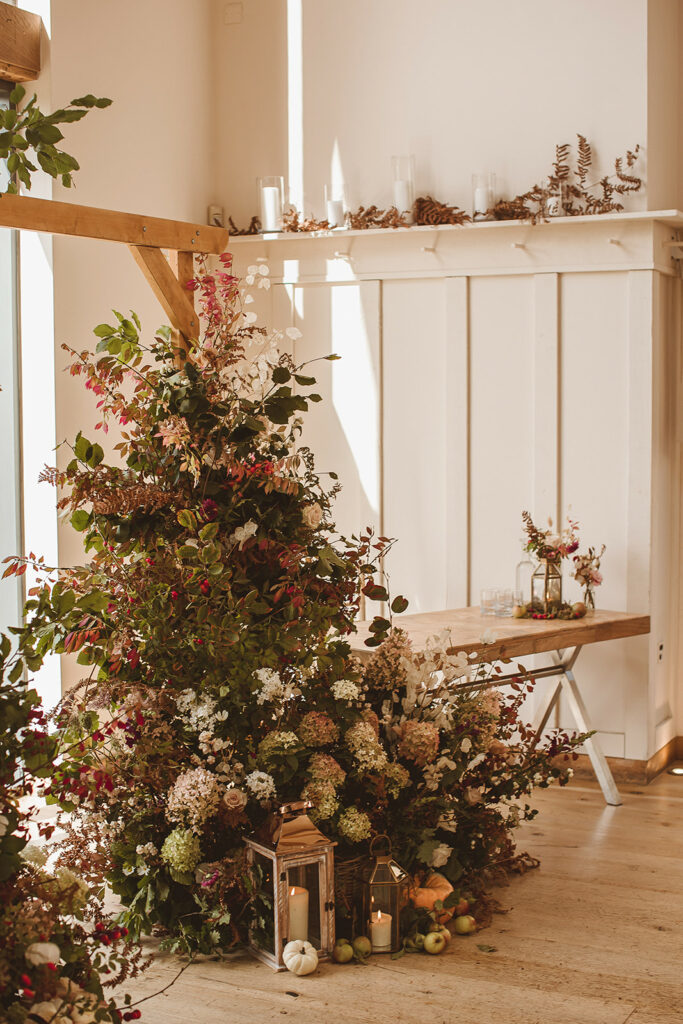 L –The Springles, Hannah Berry; R – The Springles, Meadowfolk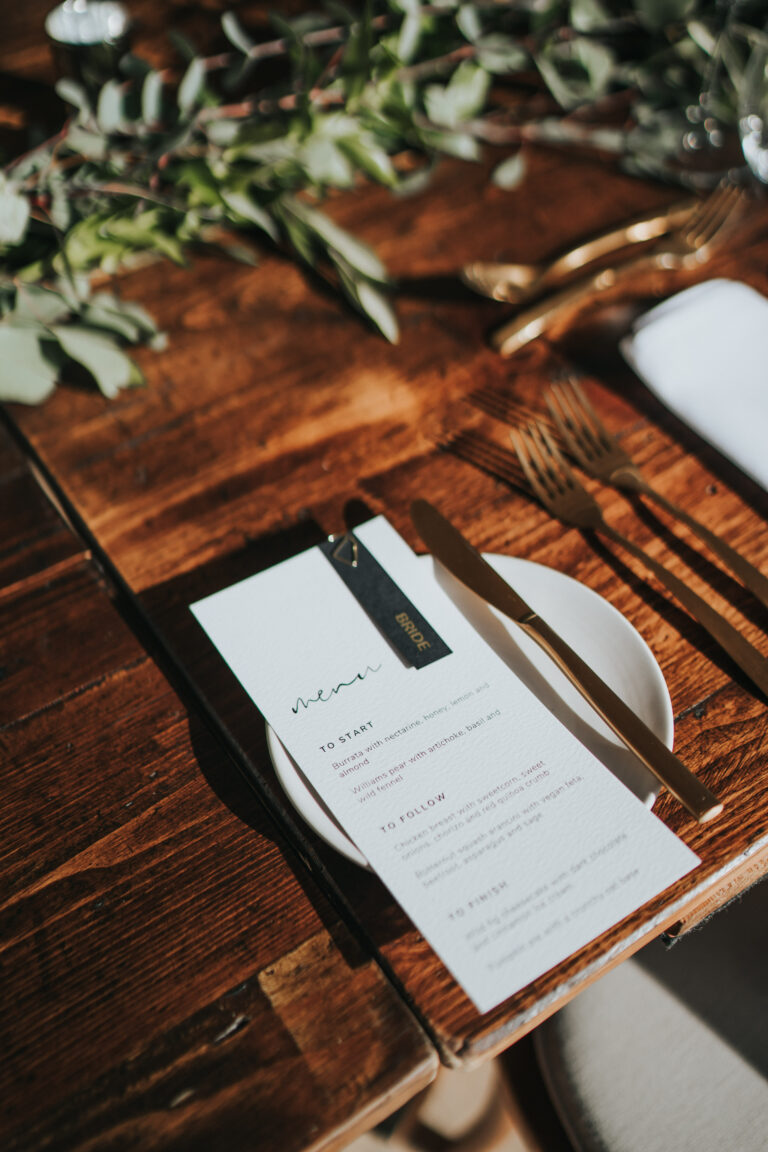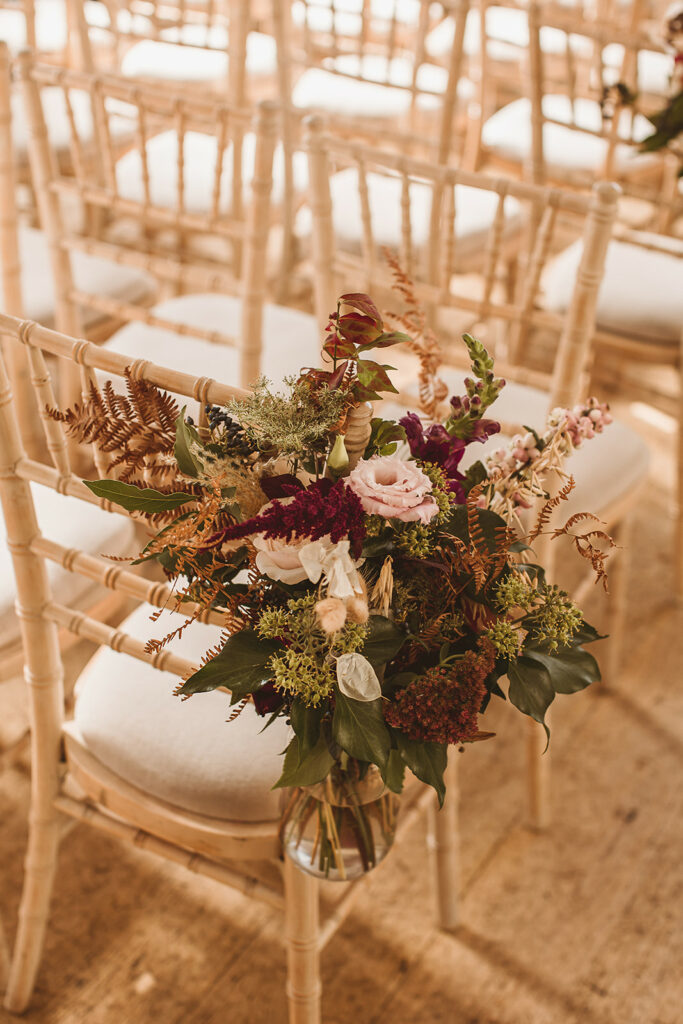 L- Holly Rose Photography; R- The Springles, Meadowfolk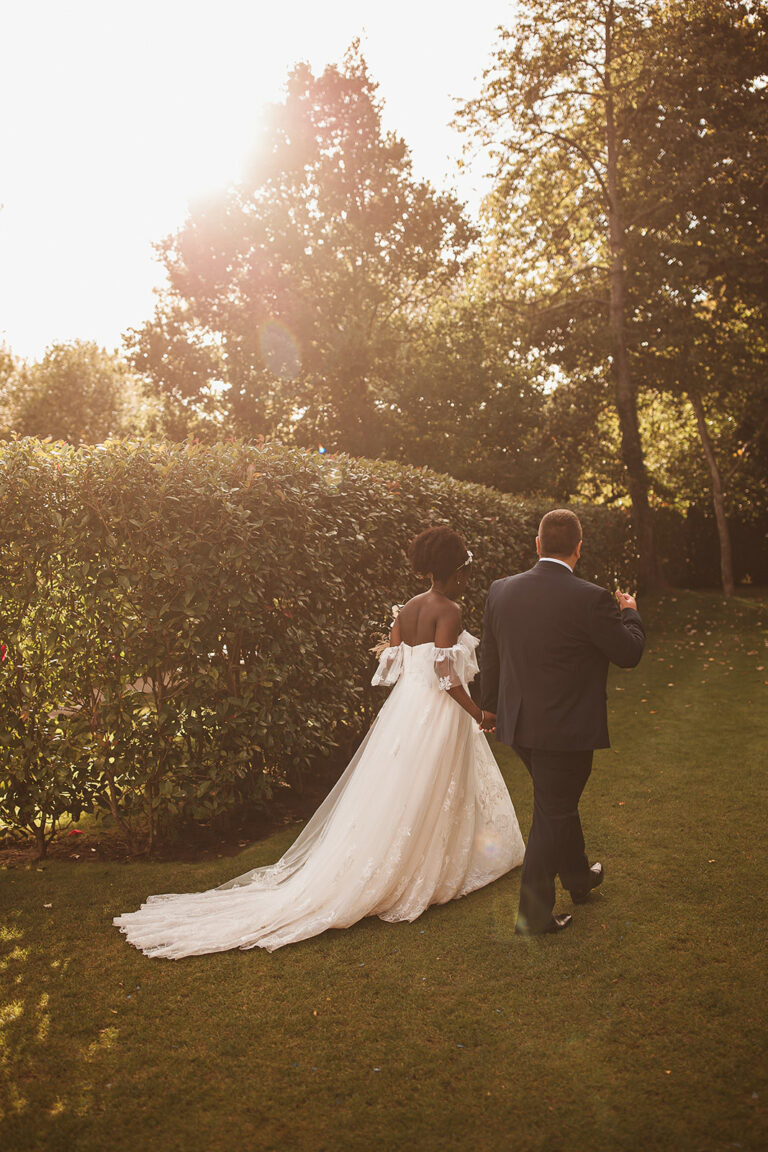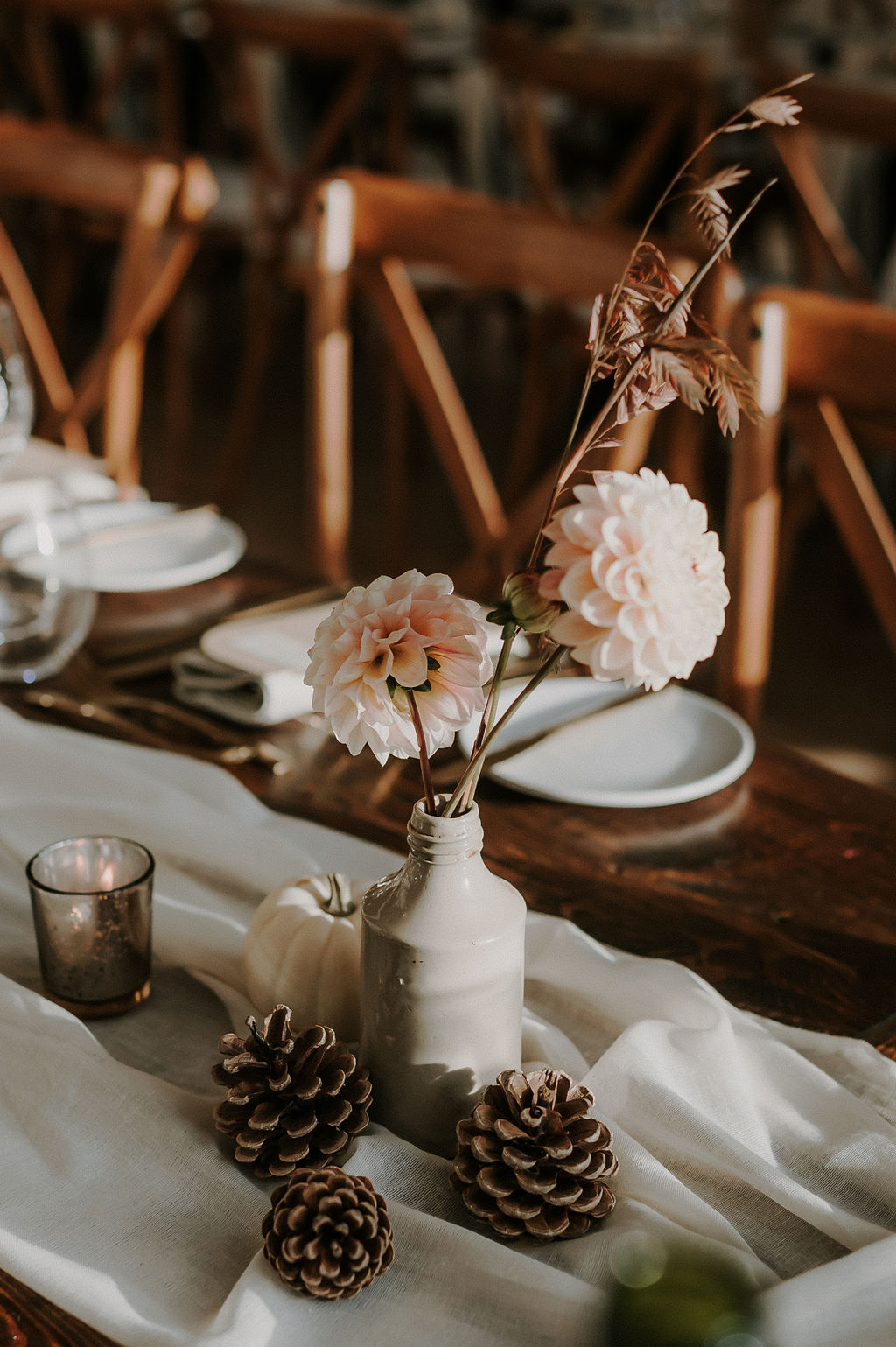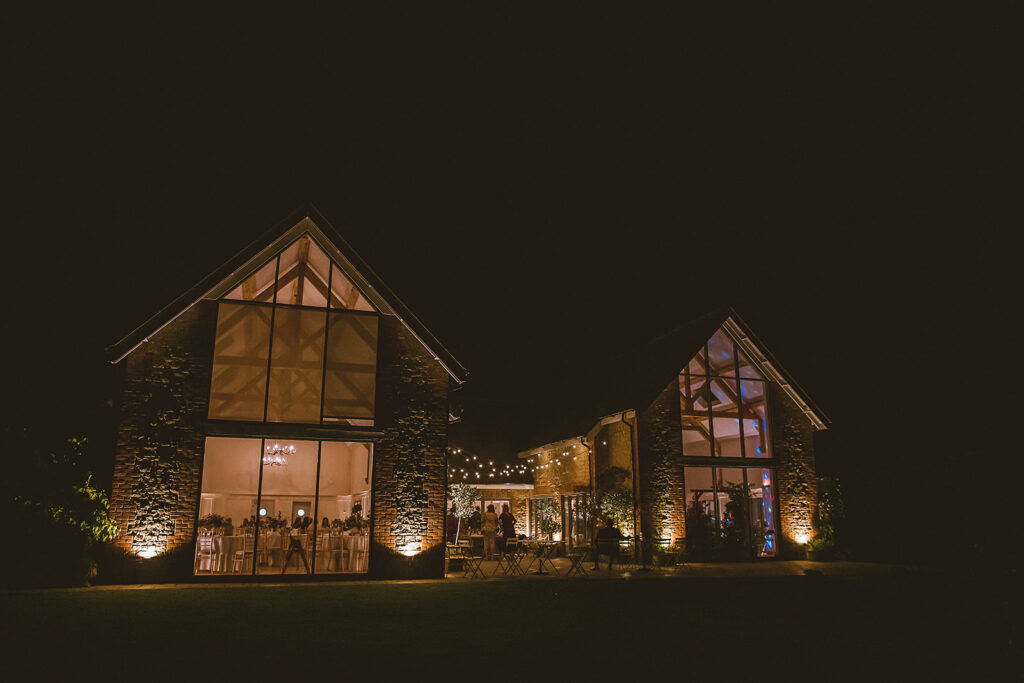 L & B- The Springles; R- Alice Cunliffe Photography, Hannah Berry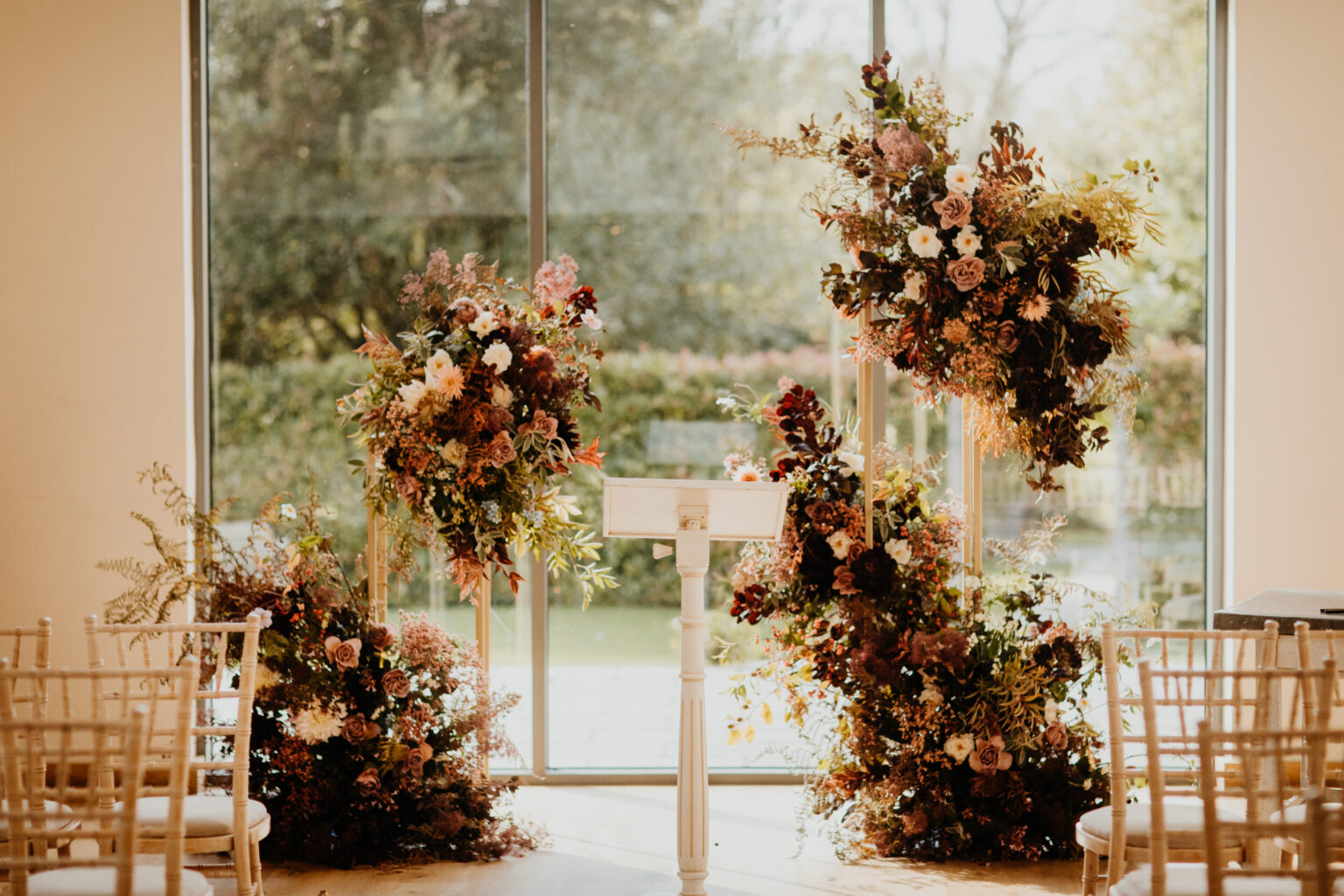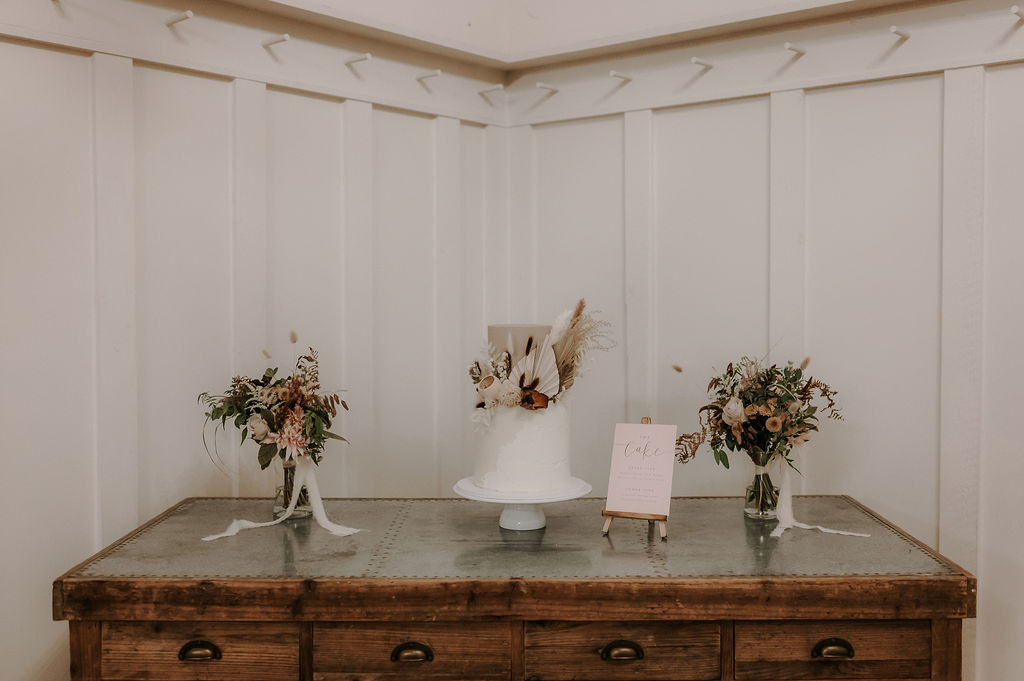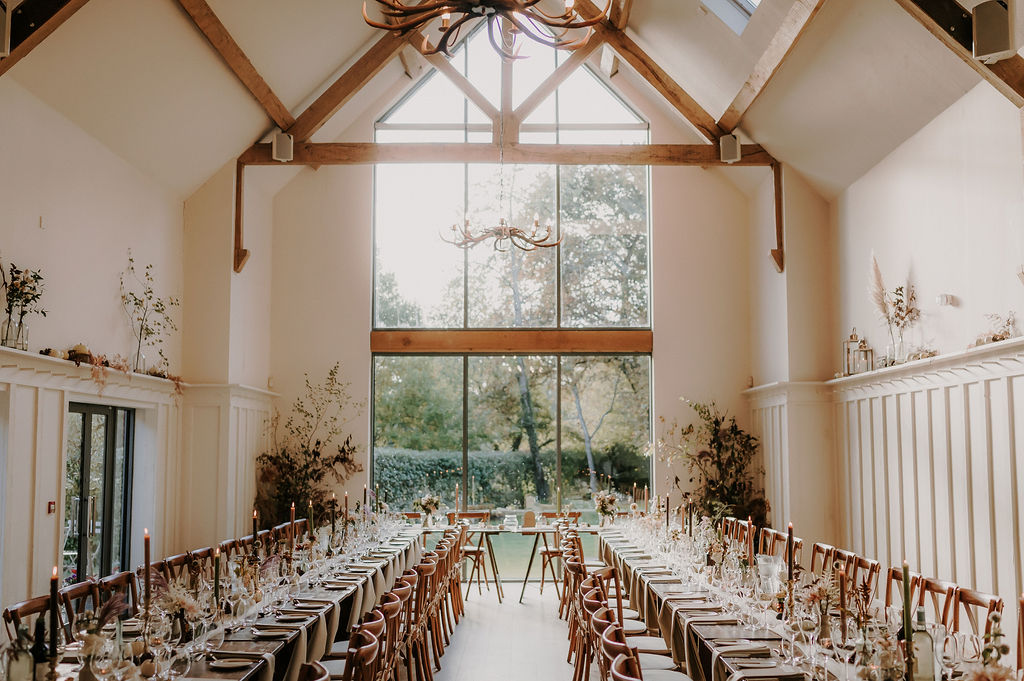 Alice Cunliffe Photography, Hannah Berry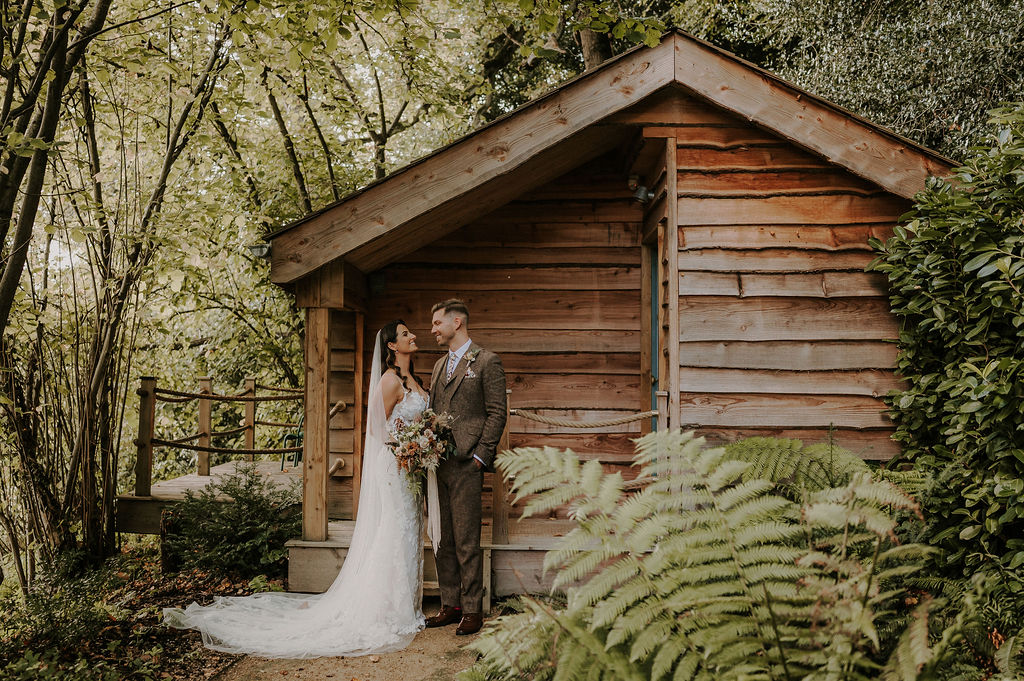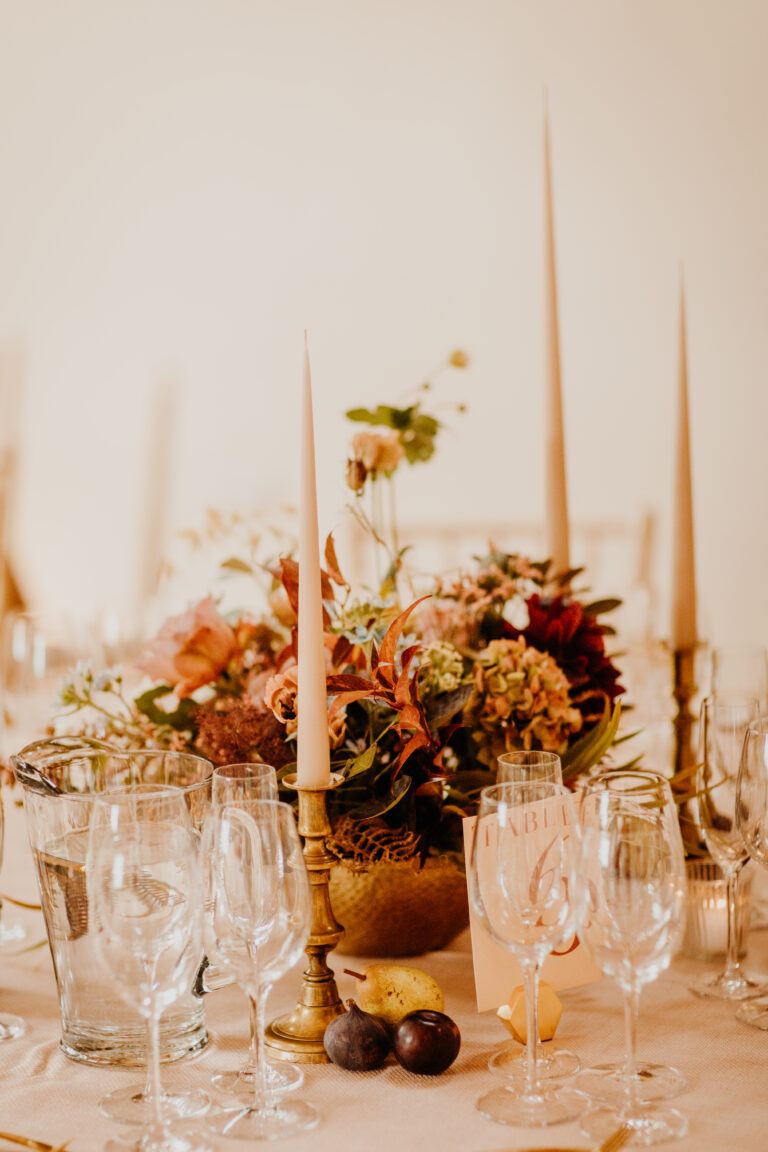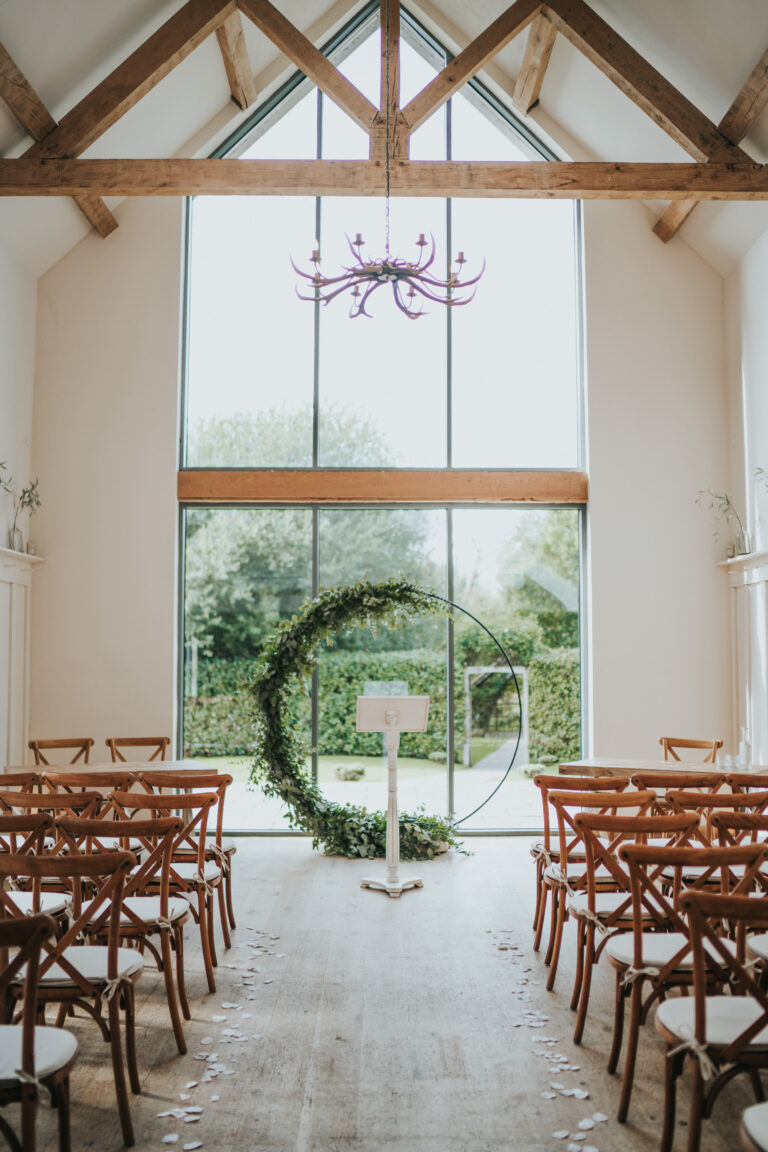 T- Alice Cunliffe Photography; L- Jonny MP, Jenni Bloom; R- Holly Rose Photography, Longacres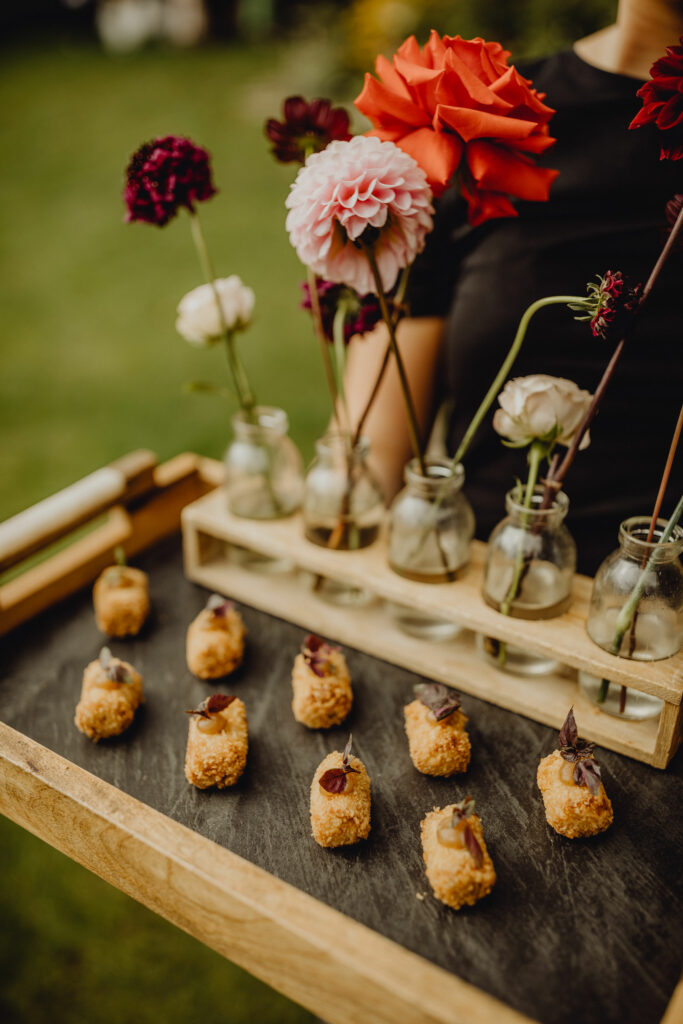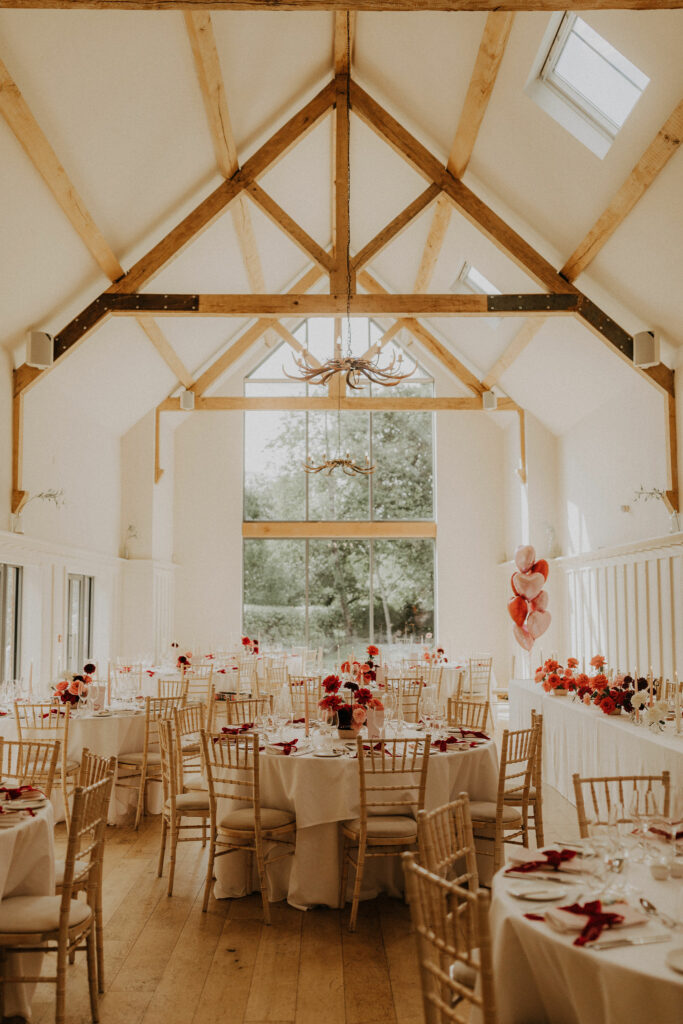 Aurora Grey Photography, Bud Flora, Kalm Kitchen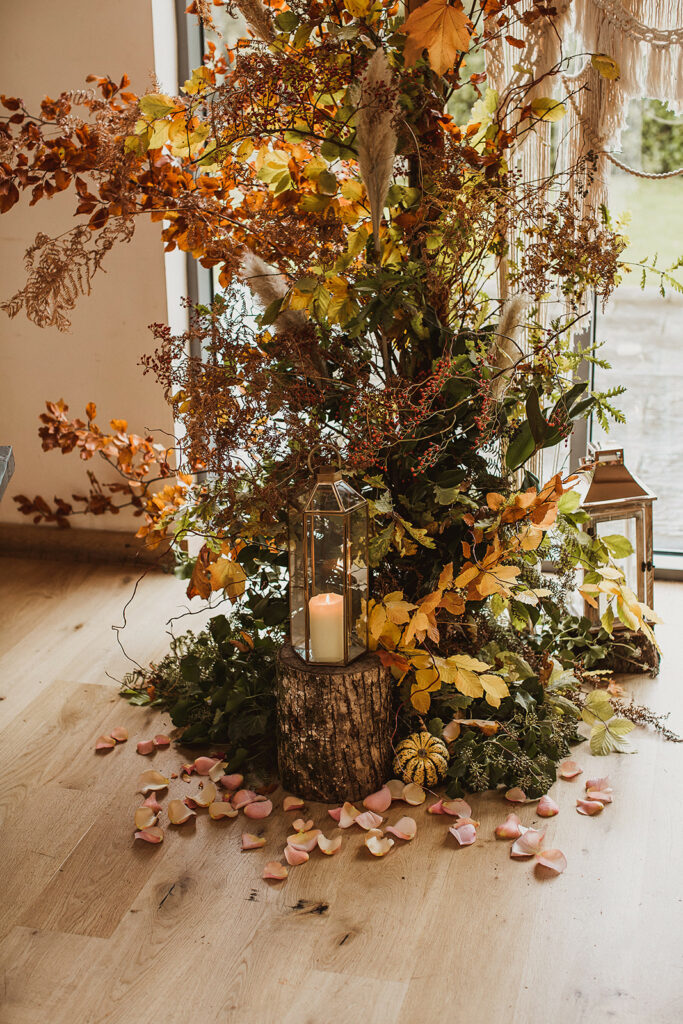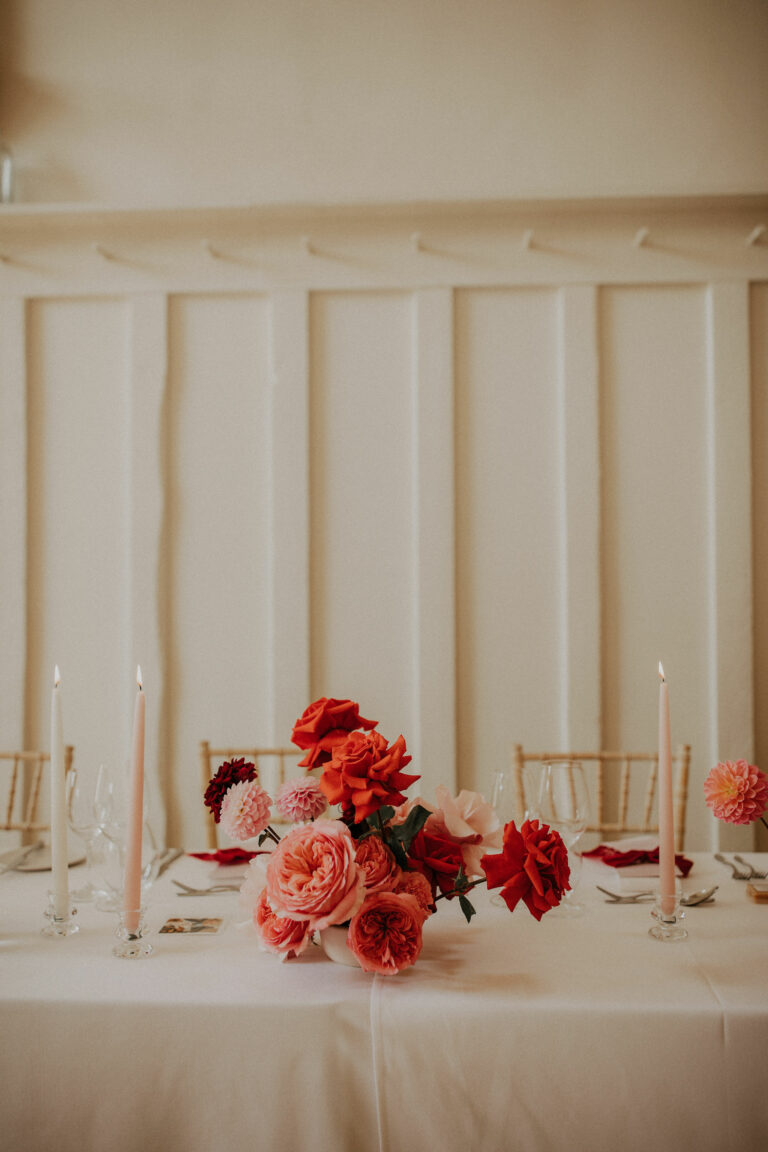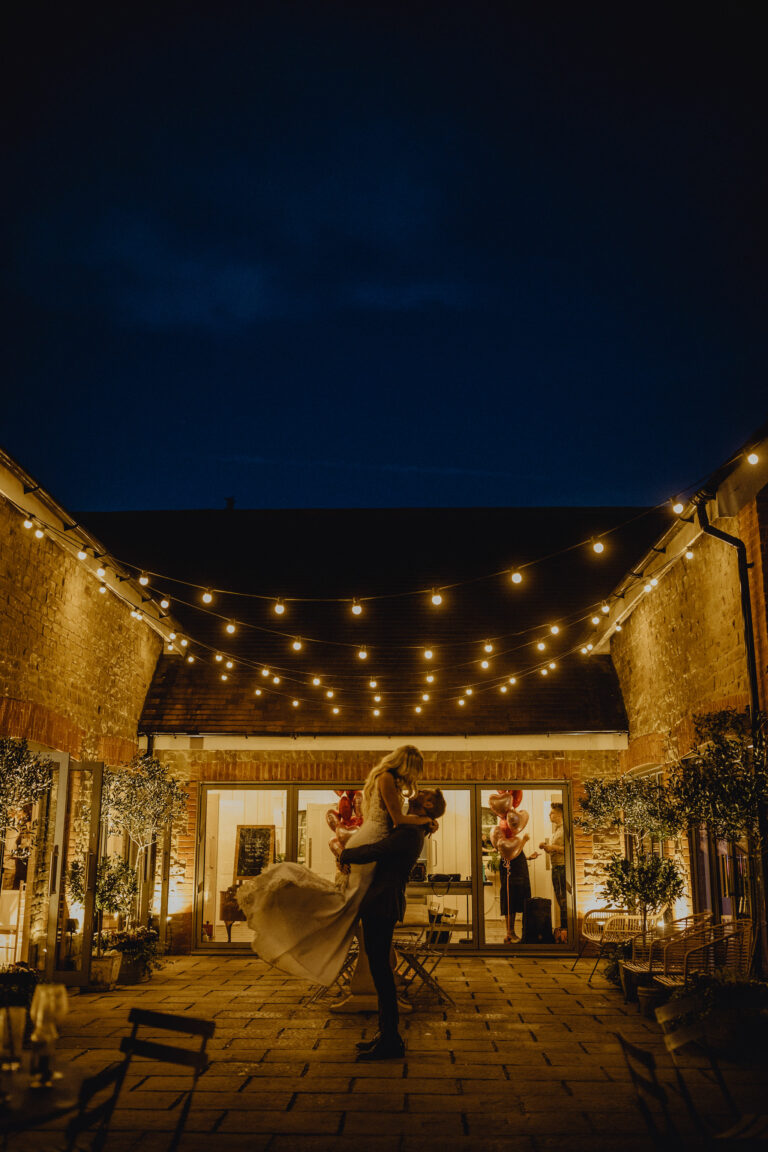 L- The Springles, Hannah Berry; R- Aurora Grey Photography, Bud Flora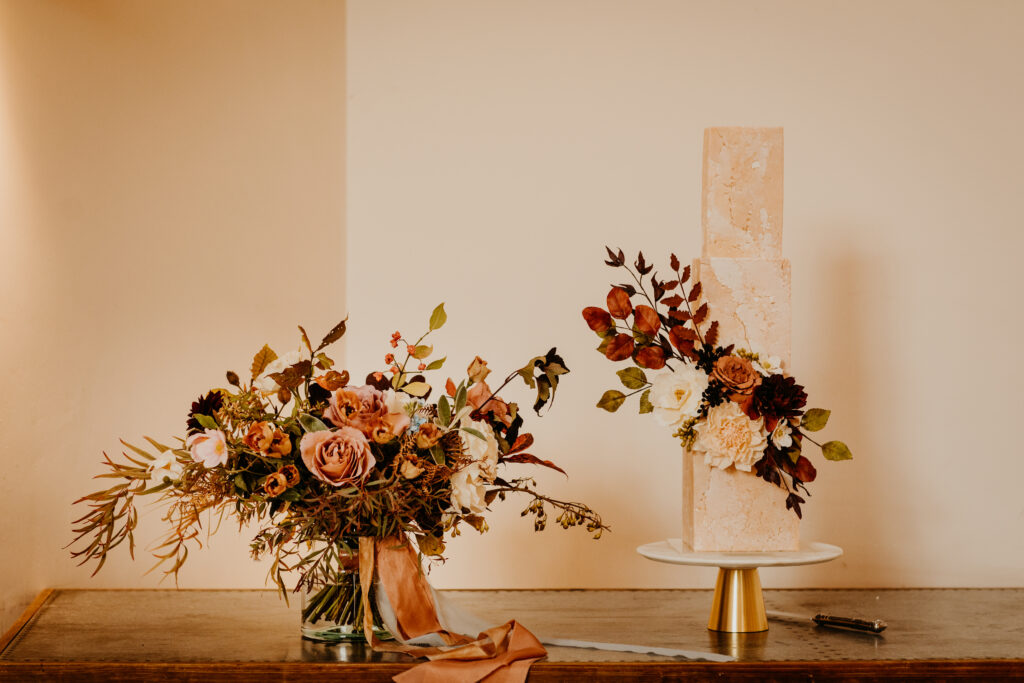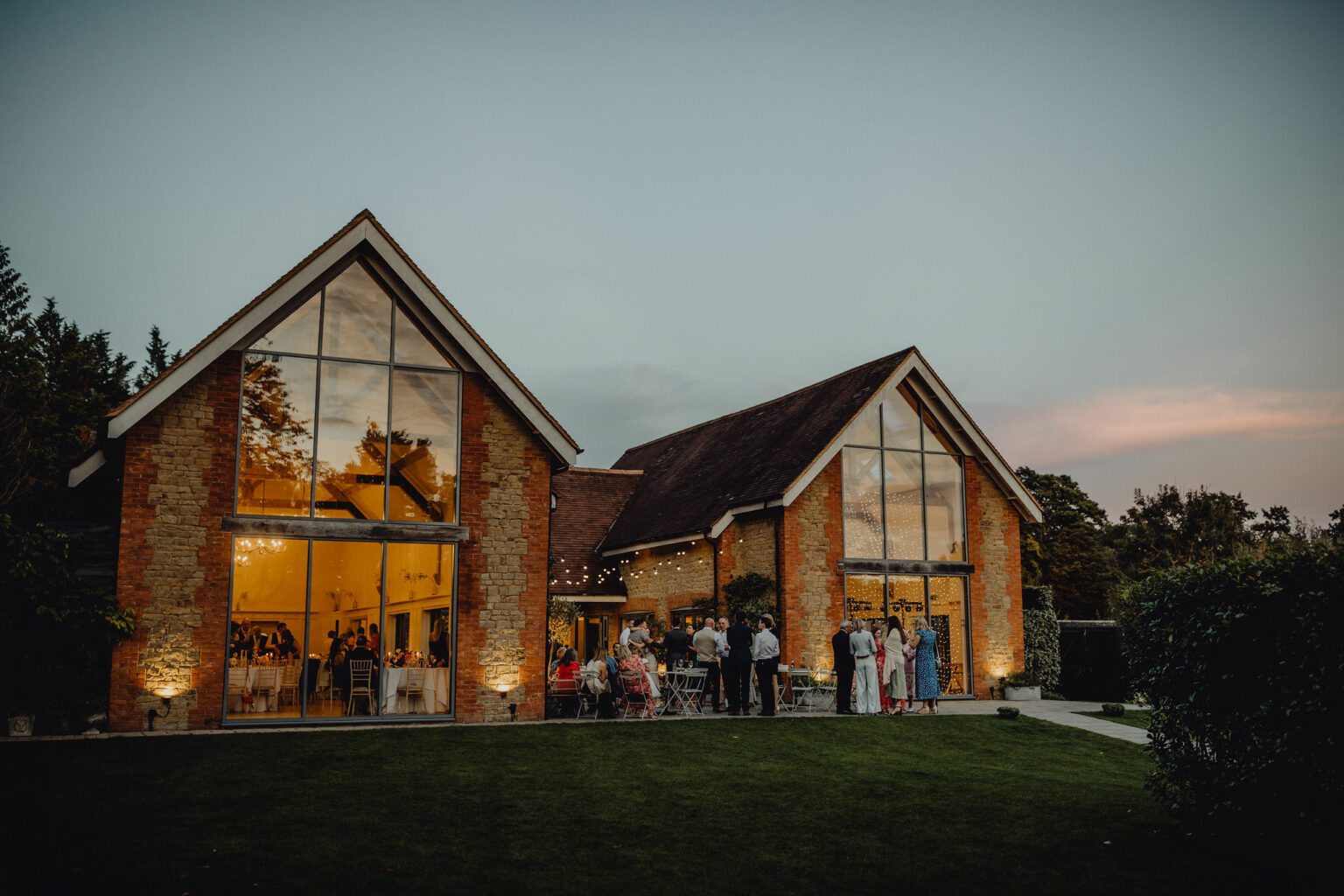 T- Jonny MP, Jenni Bloom Maria Antoinette Cakes; B-Aurora Grey Photography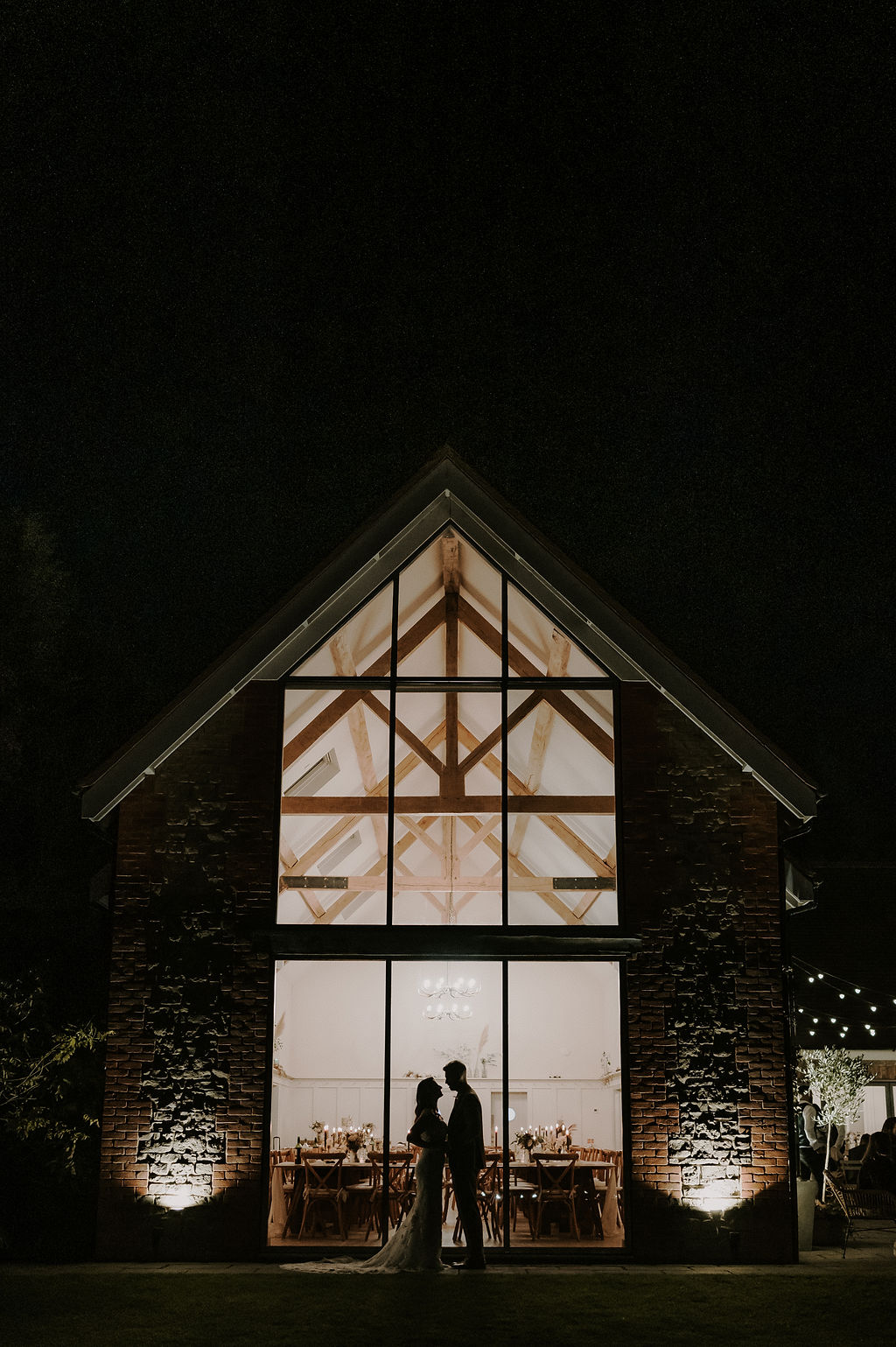 News : 19 / 10 / 23
Married at Millbridge – L&A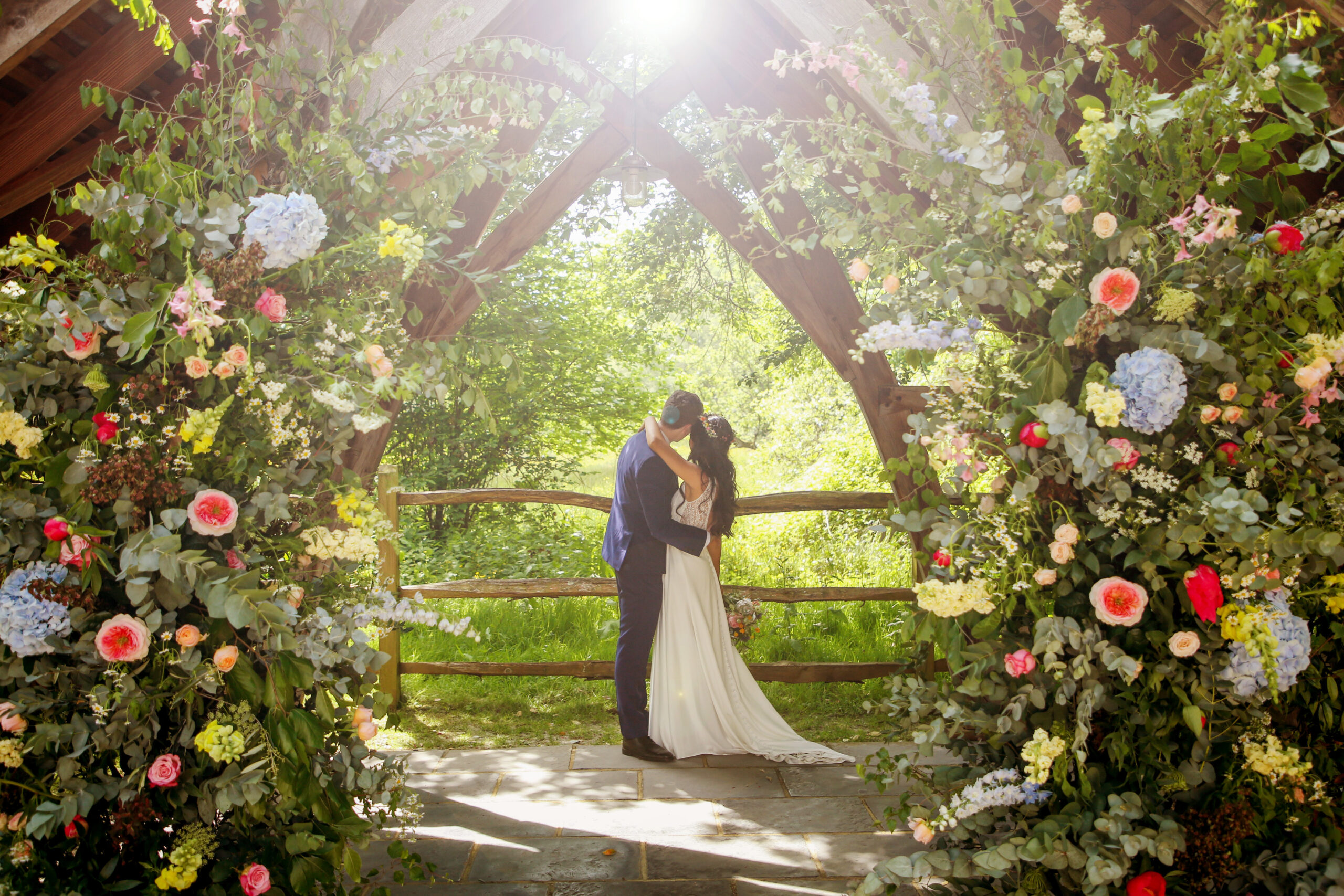 With the warmer summer days coming to an end, and the cosy autumn nights here to stay for a little while, we wanted to take a minute to reflect on what a wonderful season we have had.  We feel so lucky to have been a part of so many beautiful celebrations and we cannot thank our couples enough for choosing Millbridge Court!  We are very excited to see what the next few months bring and look forward to hosting our beautiful winter weddings…
But before we get too excited about the festive period, we couldn't not share a day full of so much colour, love and the most stunning hand crafted dress!  L&A's celebrations were nothing short of the perfect Spring day!
Tell us a bit about yourselves – how did you meet and what's the proposal story?
We met at medical school 9 years ago. We were living in the same flat in the halls of residence. We were really good friends, and then eventually got closer and started dating – Adam came to meet my parents before Christmas! I took Adam to one of the nearby country parks by the sea, and we had a really lovely time, and it was beautiful. Adam took me again 7 years later, but this time popped out a ring! A really beautiful proposal, with just the waves and sunshine to witness it!
Why did you choose Millbridge Court?
We got warm, friendly vibes when we visited. We loved the décor, and the outside ceremony area was stunning. We could imagine it well and it was always a dream to get married outside with lots of greenery and flowers! Living in England though, we were very much aware that it might rain, but loved how Millbridge were so flexible with deciding on inside/outside on the morning of the wedding. The wedding hall is also beautiful, with high ceilings and so much natural light!
What did you love about having a Spring wedding?
The outside ceremony 100% – we were SO lucky that on the day it was super sunny, honestly very blessed! The garden and the flowers were looking stunning outside too and the guests could all hang out and have drinks outside too.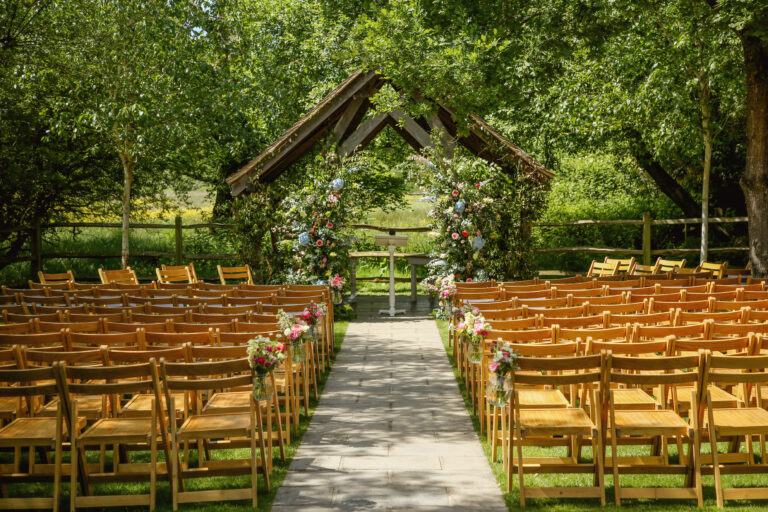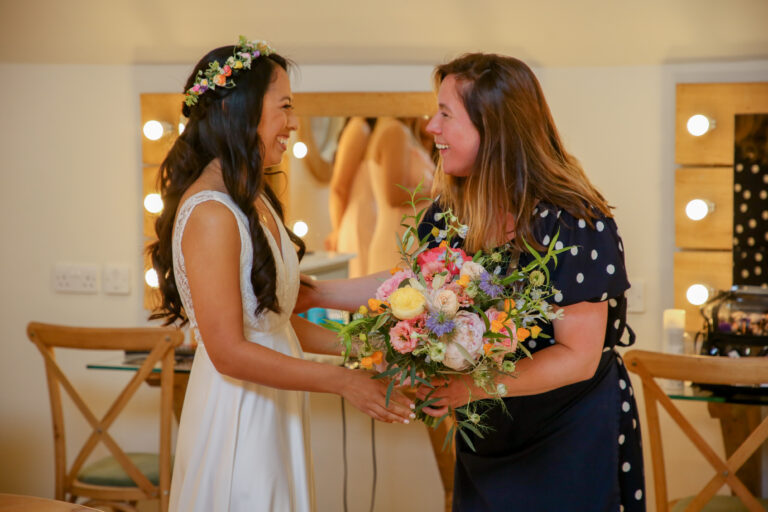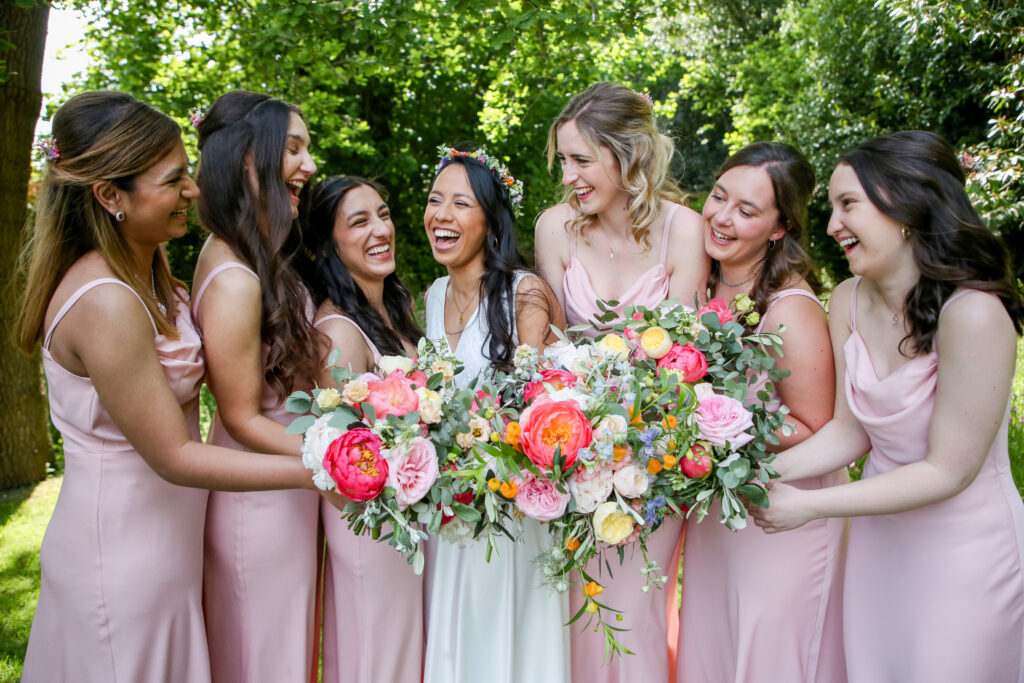 Tell us more about your suppliers and why you chose them.
We chose Gill Pike for our flowers – she was suggested to us by Millbridge but also, we loved her style. She was very friendly and personable when we met her, and we loved how chilled she was. When we talked about our ideas, she always kept in mind our budget and made sure we kept within. The flowers were beautiful – she killed!
Botanico cakes by Naomi was our wedding cake designer – again she delivered so well, made a scrumptious cake that all the guests complimented, and managed to create a stunning cake with her intricate flowers.
The band that we had were called Slingshot – we loved their music list and the sound of them, and they had amazing reviews. They absolutely smashed it – all our guests were up on the dance floor and asking for their contact numbers by the end too!
The wedding dress was by Sophie Rose Bridal – she did the best job of creating Lynnie's dream dress, we could not have asked for more. She was so personable, and her studio was such a welcoming environment.
We had photography and videography done by VLA. They are a married couple who have worked a lot at Millbridge – they are very passionate about their work. They captured so many magical moments, and created a beautiful wedding video that we still love to watch.
The wonderful Stephanie Dorelli was in charge of making Lynnie look her absolute best on the day. She had a trial arranged a few months beforehand, and Stephanie's studio created the most relaxing and friendly atmosphere for having a pampering day. Lynnie was quite anxious beforehand because she had had a previous experience of where she didn't look herself after having make up done for her. So it was really reassuring when Stephanie asked for Lynnie's pictures beforehand so she knew what look she normally went for so that on the day, she would still look like herself, just a very glowed up version! Stephanie did the best job with the make up, but the hair was the best part – she created the most beautiful whimsical look with braids and a flower crown – it was even better than we had imagined. She also offered to help with our bridesmaids' hair and helped pin in flowers and do the finishing touches which was really appreciated – thank you!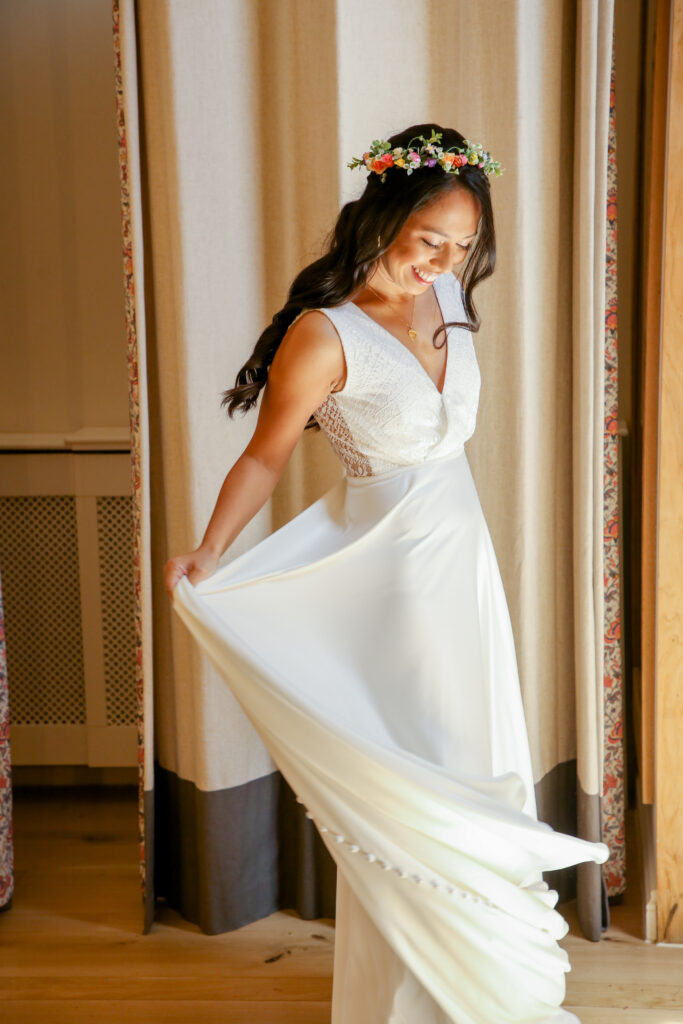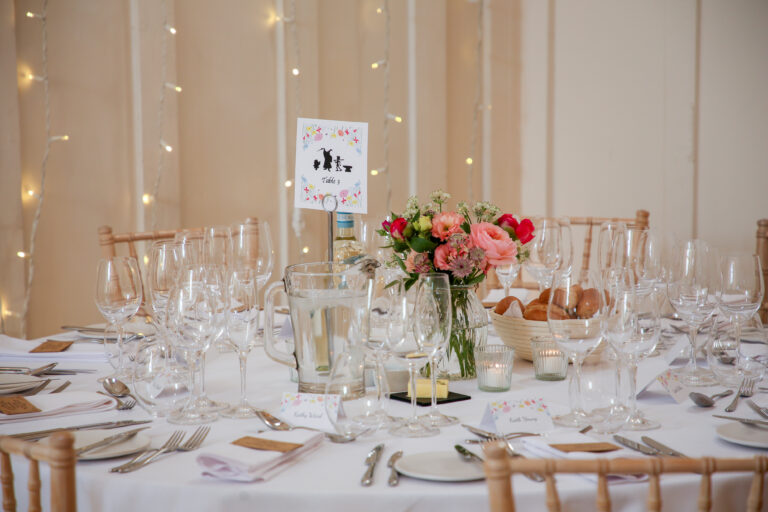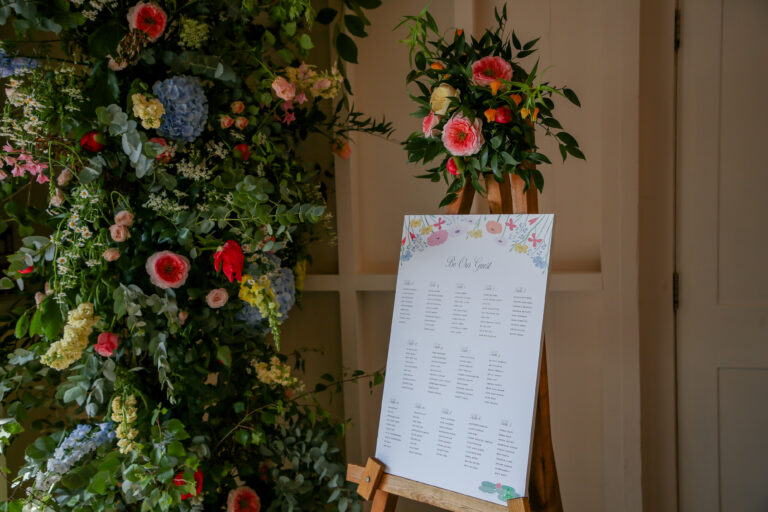 Did your vision for the wedding change over the planning process?
Not really, we always Imagined an outdoor wedding with lots of flowers, people dancing and enjoying themselves. I think the weather was very much the biggest factor in this, which was out of our control. However, we knew that If it was bad – we would still have had the incredible indoor area. Millbridge were so thoughtful and considerate about everything, nothing was a chore!
Are there any memorable anecdotes from the day you could share?
One of our groomsmen had a few too many drinks and had to have the microphone taken off him. He was getting a bit too risqué with his announcements – this made us laugh a lot and is a story we reminisce on when talking about our wedding day!
For both of us, the moment we saw each other, as Lynnie walked down the aisle was one of the best moments of our lives. It was emotionally overwhelming, with so much happiness, seeing all our loved ones and each other. The beautiful outdoor setting made it even more joyful, everything just coming together and feeling so perfect, It was amazing.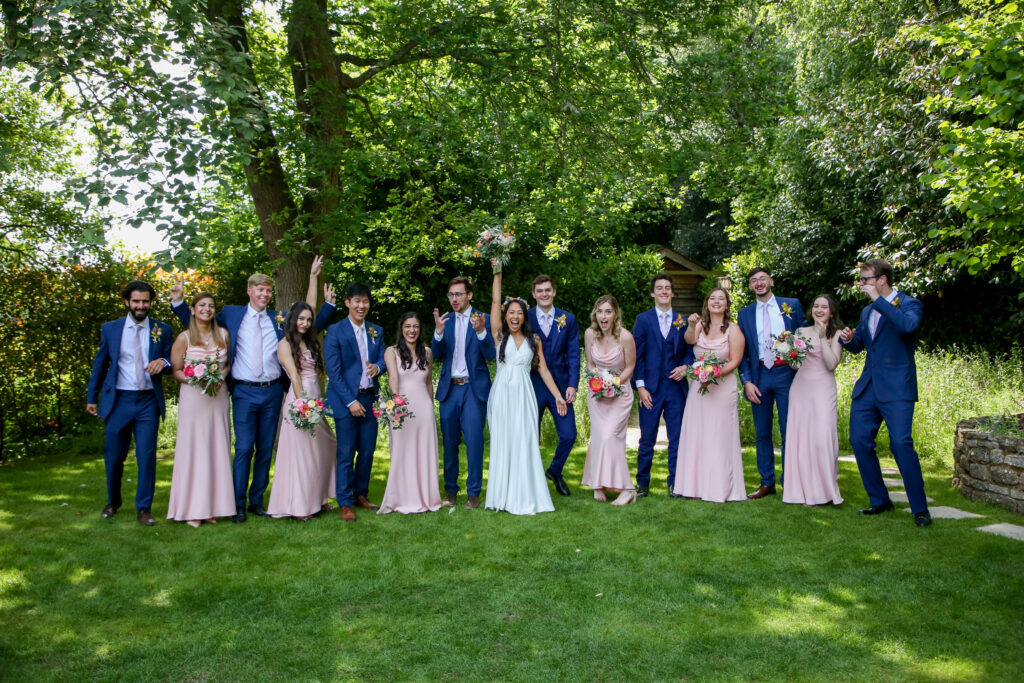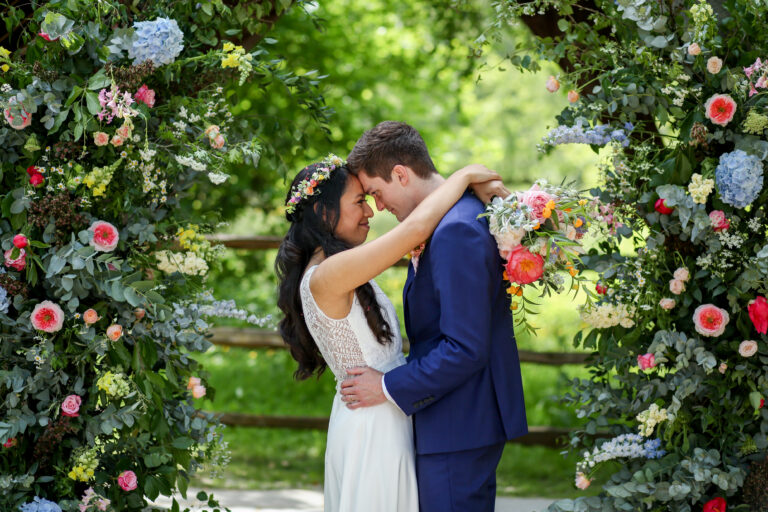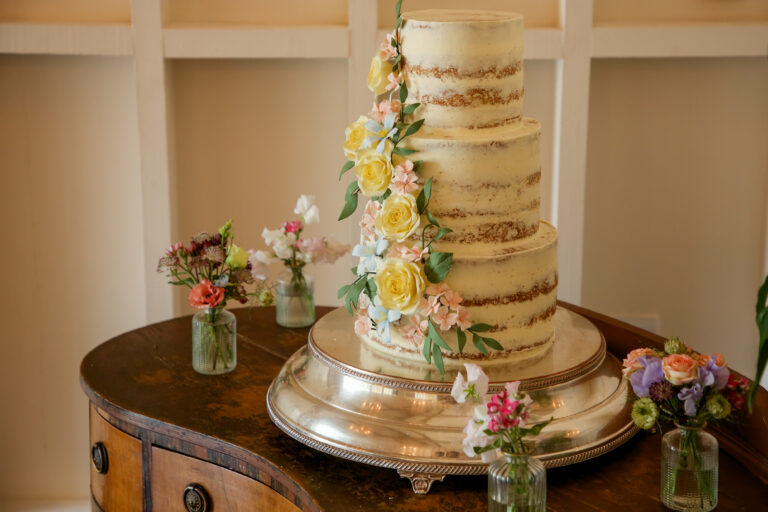 Tell us something that we wouldn't know about your day from the pictures.
Lots of Lynnie's family had flown over from Myanmar. We weren't sure if they would be able to make it. We haven't been able to see them for around 4 years because of COVID and then the political situation in their country, so to have them there was incredibly special.
When we first met at university, we were put in a flat together with 4 other people. All of us are still friends 9 years later, and all of those original flatmates were at the wedding.
Favourite part of your wedding journey?
The whole process was very enjoyable, from booking the venue to picking the flowers. But it was really nice to see how it all culminated on the day, walking into the venue and seeing all the wonderful flower arrangements and tables set up was an incredible feeling. But most of all when we saw each other for the first time on the day as Lynnie walked down the aisle. That was the best part of the whole journey.
Any words of wisdom for future couples?
Start by giving yourselves plenty of time to plan – we had 2 years from getting engaged to getting married, and it meant we had time to enjoy the whole planning process rather than having to rush to get things organised. Then, on your wedding day, make sure you take some time for yourselves to absorb everything. It is one of the best days of your life, but it goes so quickly and you want to savour it as much as possible.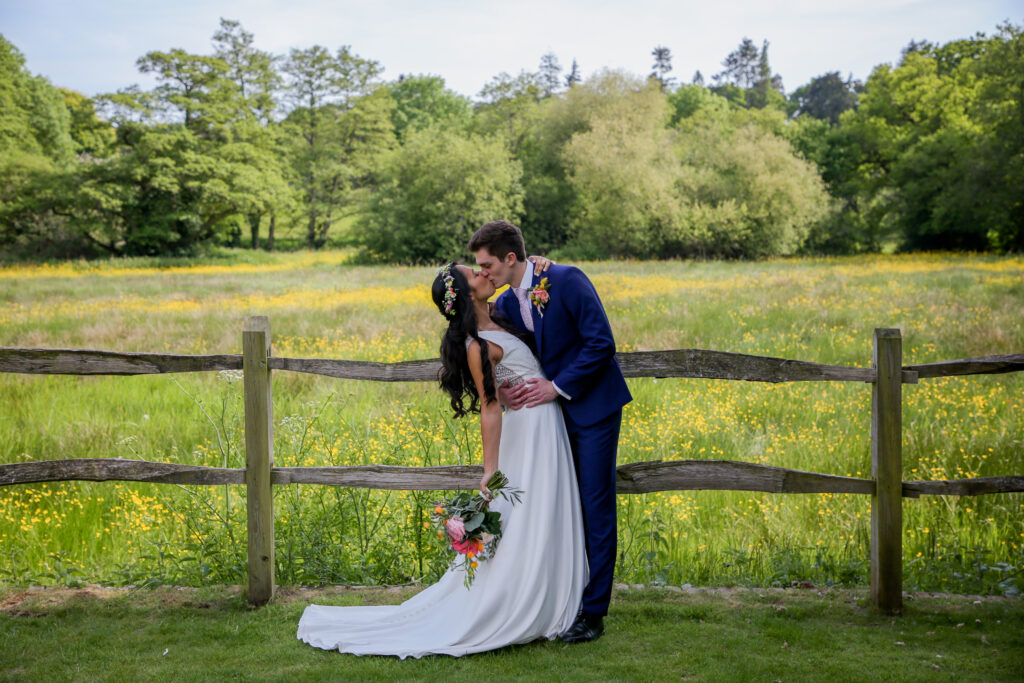 News : 16 / 08 / 23
Married at Millbridge – R&F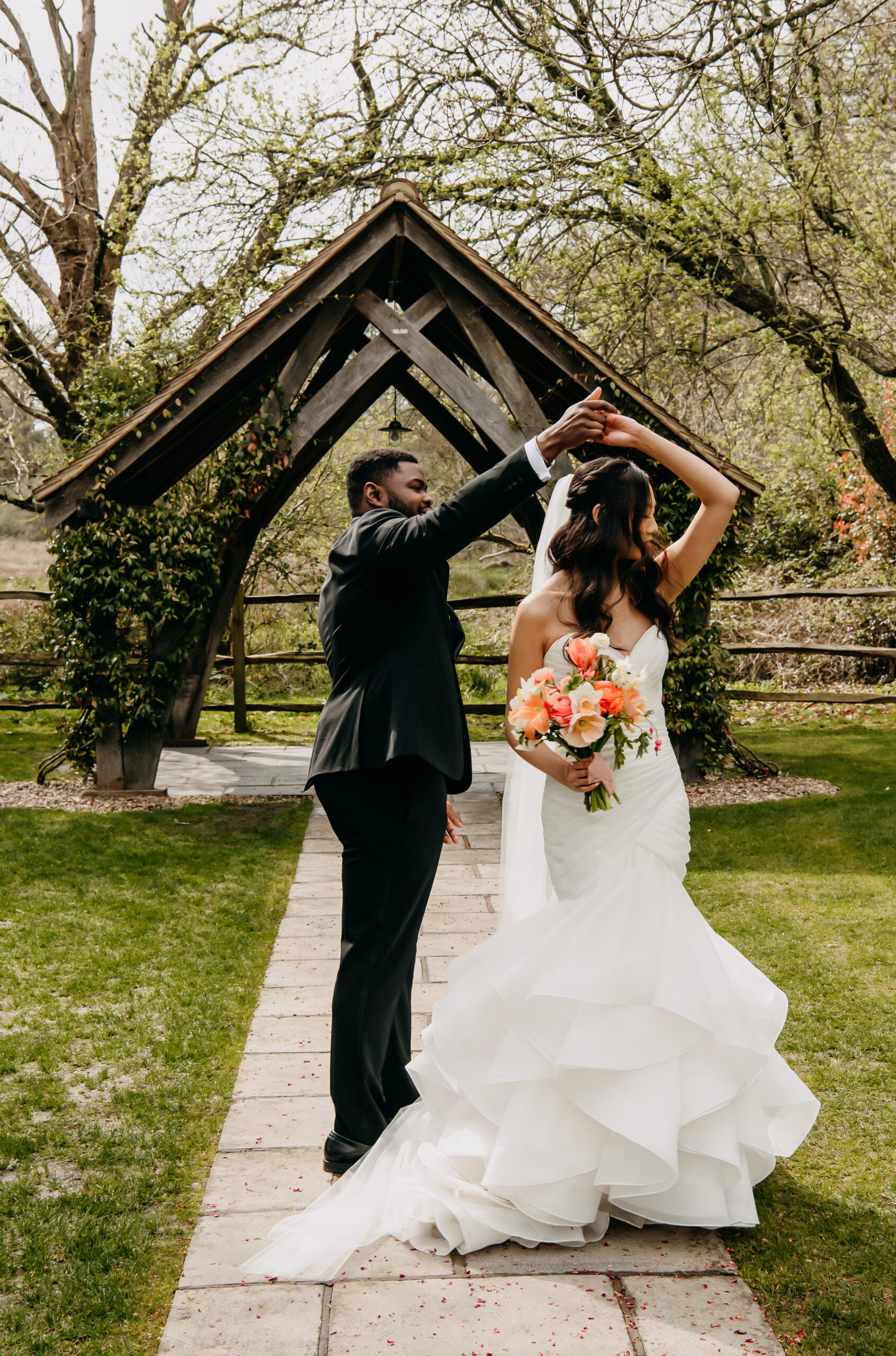 Rachel and Fiyin's Spring wedding day was so full of love and laughter!  Surrounded by family and friends, they created so many beautiful memories that will be cherished forever.
We caught up with them to relive their special day and give you a glimpse into just how much fun was had, from those loud "Yam Seng" to the incredible traditional wedding attires…
How did you meet and what's the proposal story?
We met for the first time through mutual friends who invited a bunch of us to a pizza night in Shoreditch. We didn't actually speak after that until the same friends invited us to a karaoke event, they hosted a year later. Honestly, if it wasn't for them, we wouldn't be together!
The proposal happened on our bucket list trip to Iceland. We had just polished off dinner at a restaurant in Reykjavik and before heading back to the hotel we decided to go for a walk around the stunning Harpan concert hall to take some pictures. It was at this time that Fiyin, being the opportunist that he is, decided to get down on one knee and propose!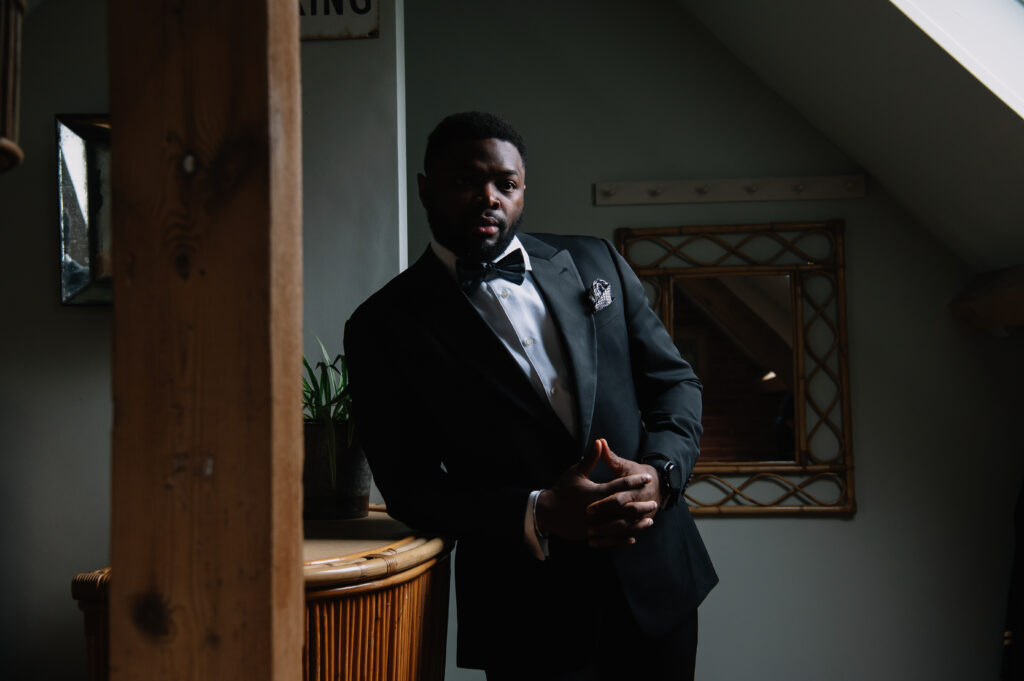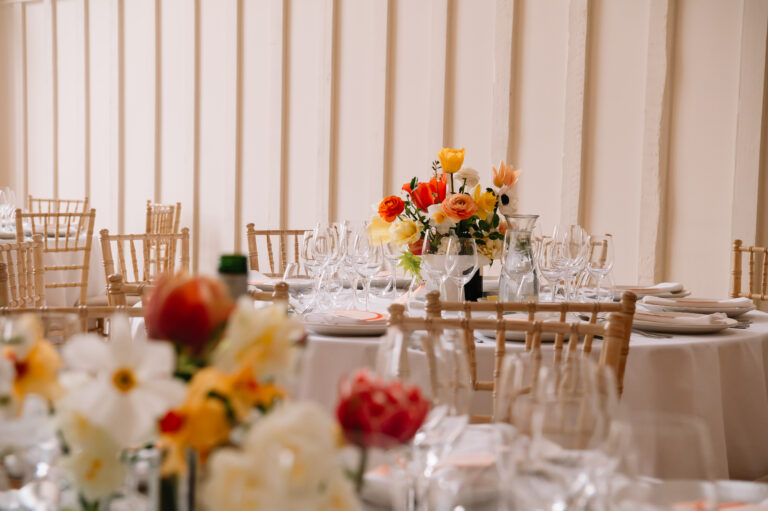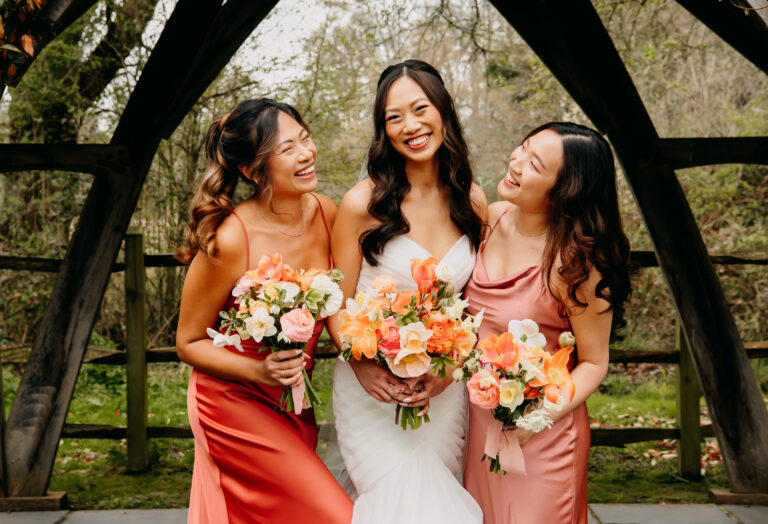 Why did you choose Millbridge Court?
Initially we didn't really have an idea of what kind of wedding we wanted, but we came across Millbridge Court online and were really impressed by the aesthetic and how it seemed both modern and classic at the same time. The location also suited us well as we were London-based and wanted it to be easily accessible for our friends and family, but at the same time it was remote enough to feel like a countryside escape. With Rachel being a passionate foodie, the catering was also something that caught our eye from the get-go with impressive menu options offered by Kalm Kitchen.
Ultimately, we are so glad that we went with Millbridge given that from the moment we reached out, they had been really responsive, personable and eager to help which meant a great deal to us, especially throughout the planning process.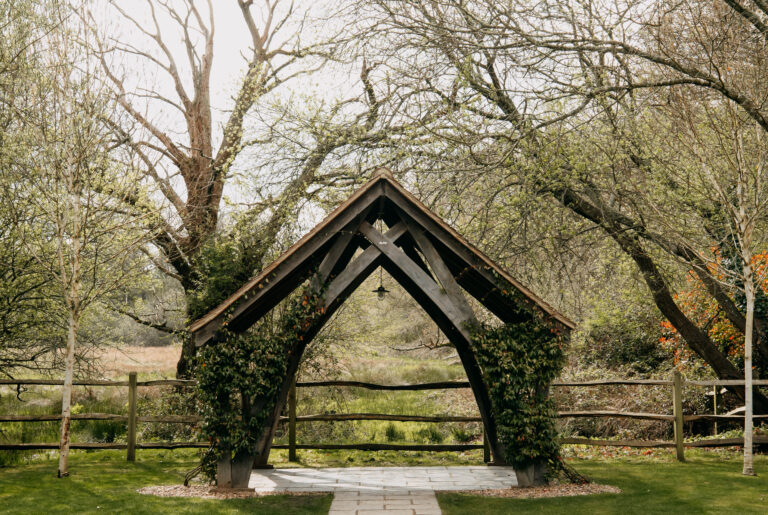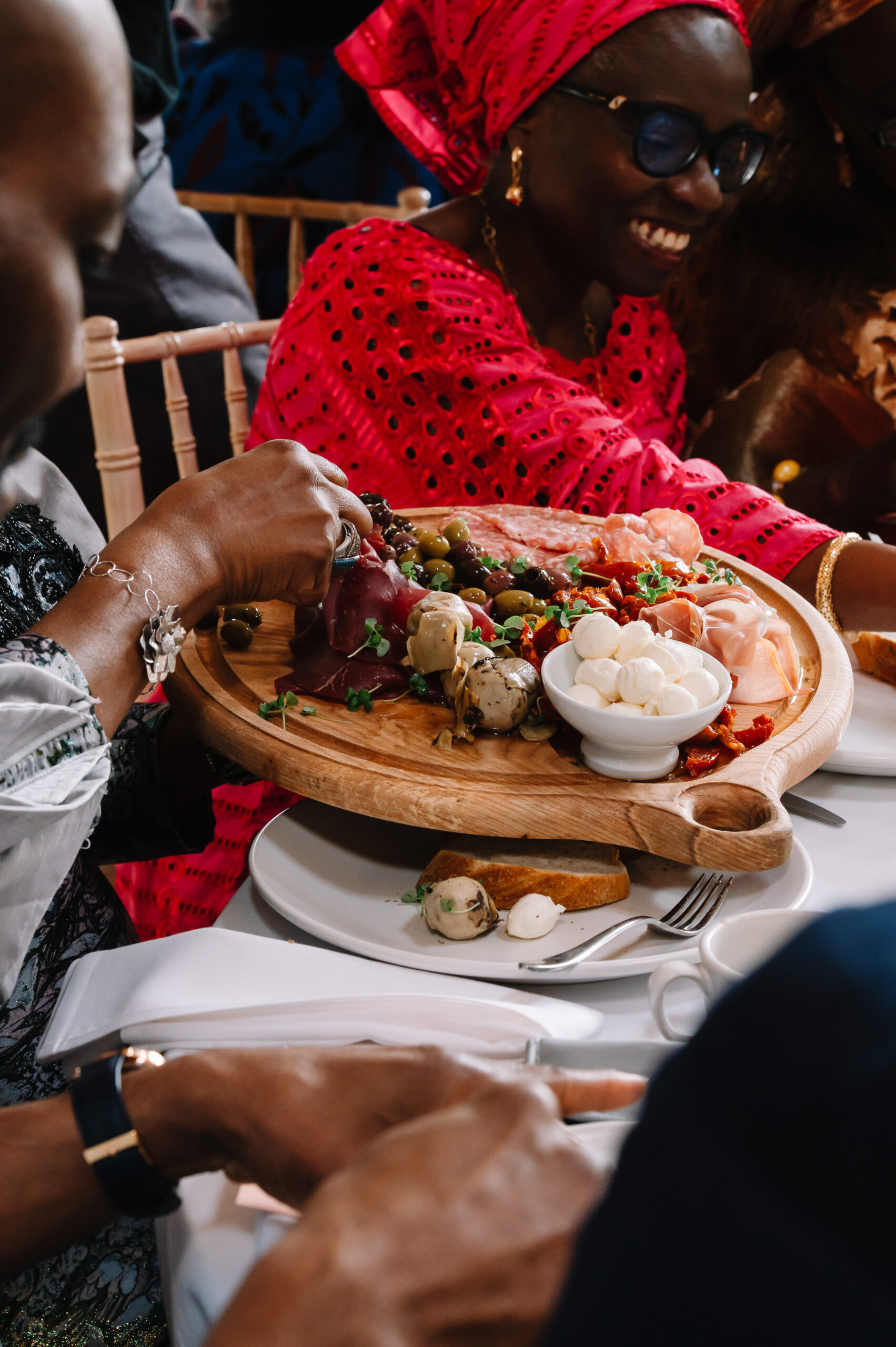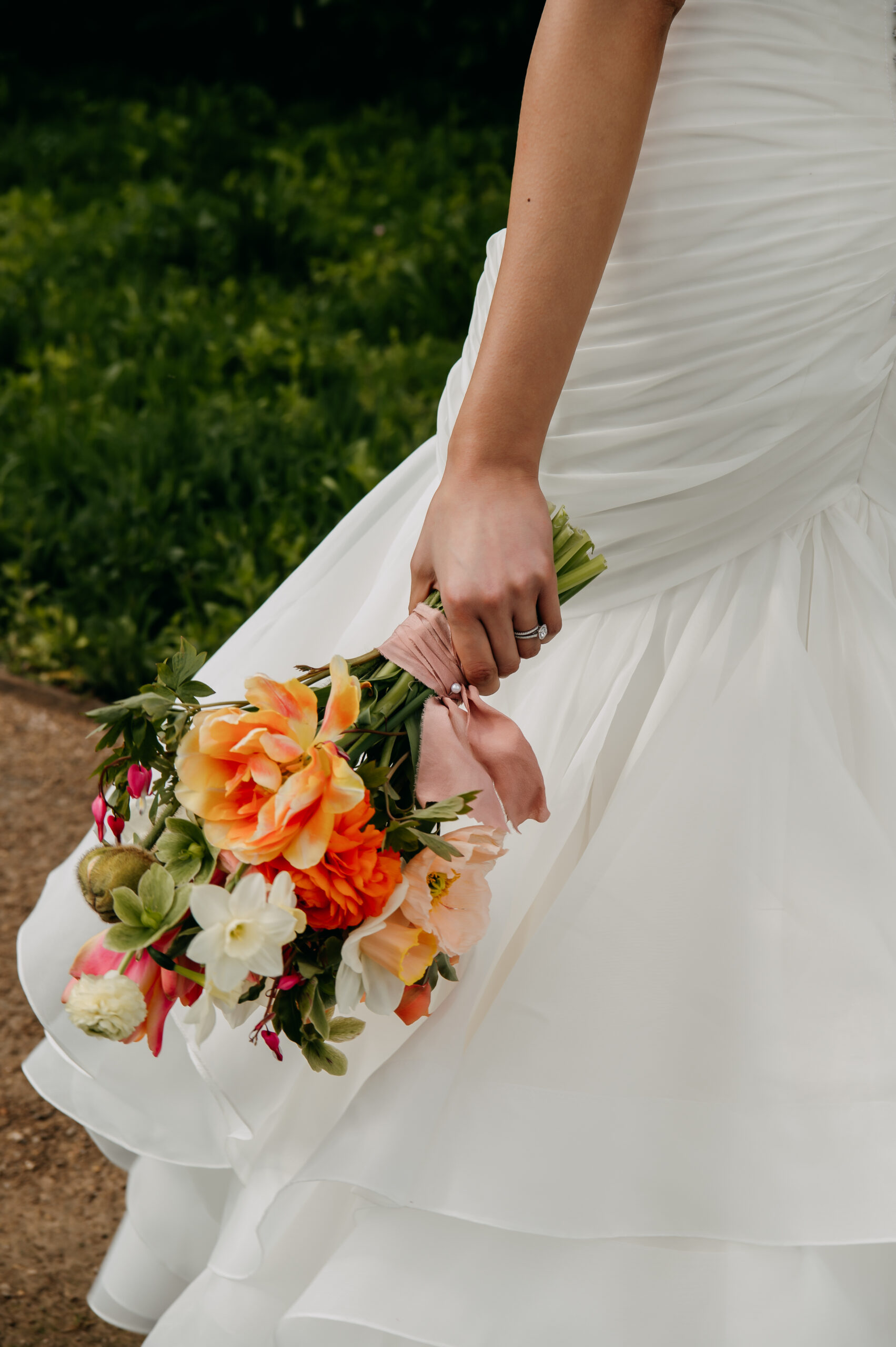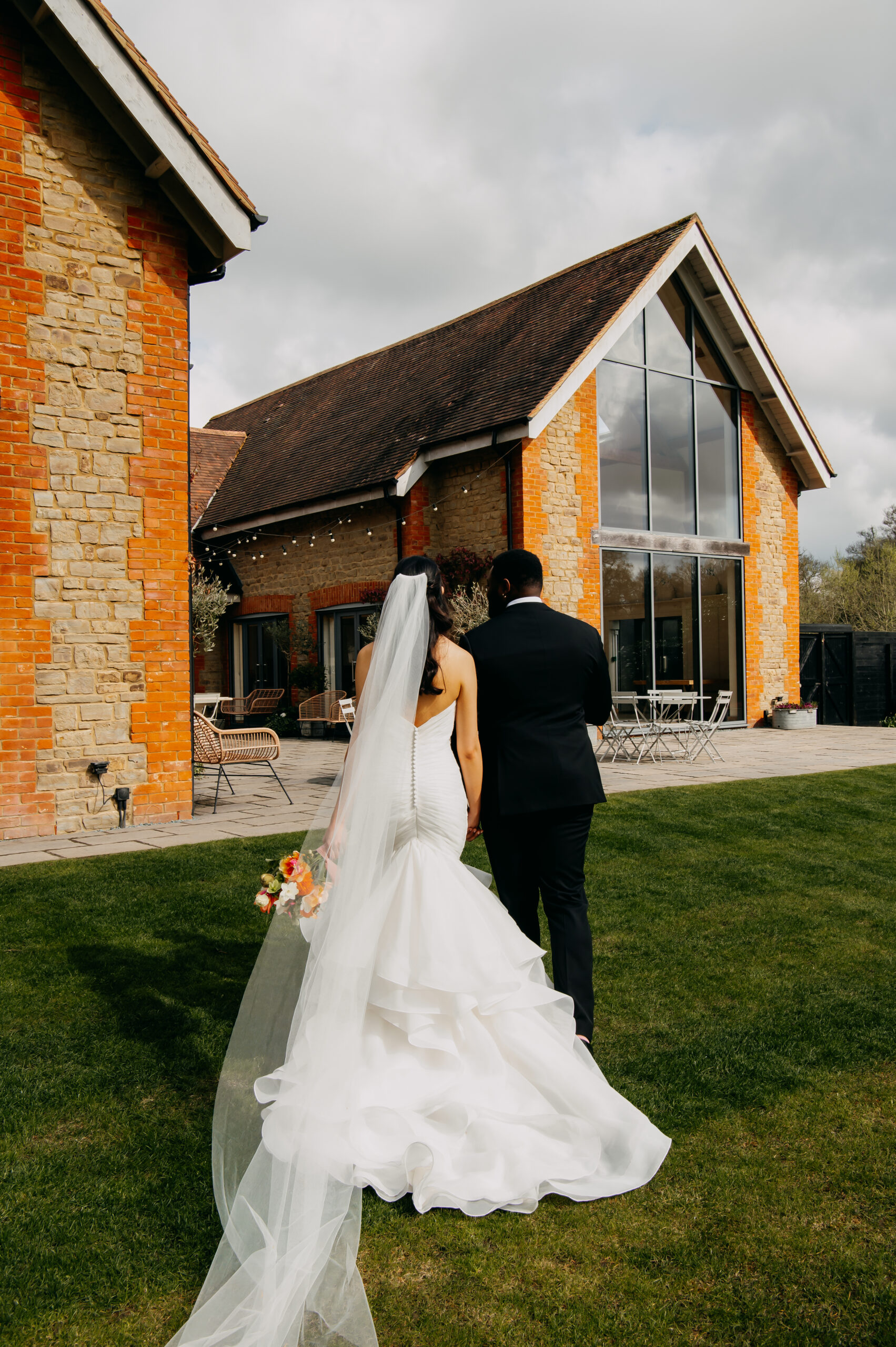 What did you love about having a Spring wedding?
Having a Spring wedding was one thing we were set on from the start of the planning process. It's that time of year when the skies start to get brighter, but it doesn't get overwhelmingly hot during the day and the sun sets later in the evening. Of course, with Spring comes the blossoming of nature and wildlife, and there was just something so beautiful about the symbolism of new beginnings at springtime which made the idea of having a spring wedding all the more special.
Tell us more about your suppliers and why you chose them.
We chose Philipa Day as our florist as we loved her organic style using a combination of flowers and colours that perfectly suited the fresh spring theme we were going for.
From the moment we came across Emma Jane Lewis' portfolio online, we knew that we wanted her to photograph our wedding. Her photos are romantic, candid, and editorial all at the same time and there were so many key moments throughout the day that we'll always be able to look back on thanks to her.
Our decision to hire a photobooth was a pretty last minute call but might have been one of the best things we decided to do! Picture Blast provided a really easy booking experience and set up on the day without a hitch. Our guests loved taking photos with the fun accessories it came with – and the best part is, the photos were all saved digitally so it was very amusing looking through them all when the link was sent to us!
We made the conscious decision to get our friends and family involved in some parts of the day too. It made the day so much more meaningful knowing some of our nearest and dearest also had a part to play in our big day.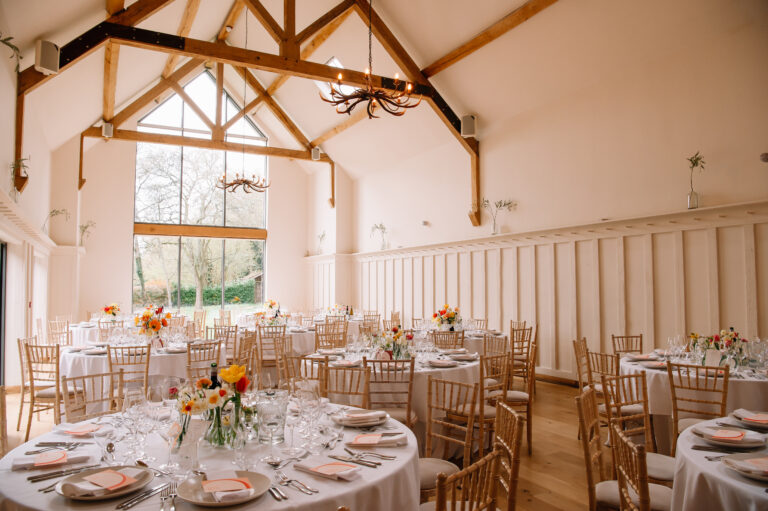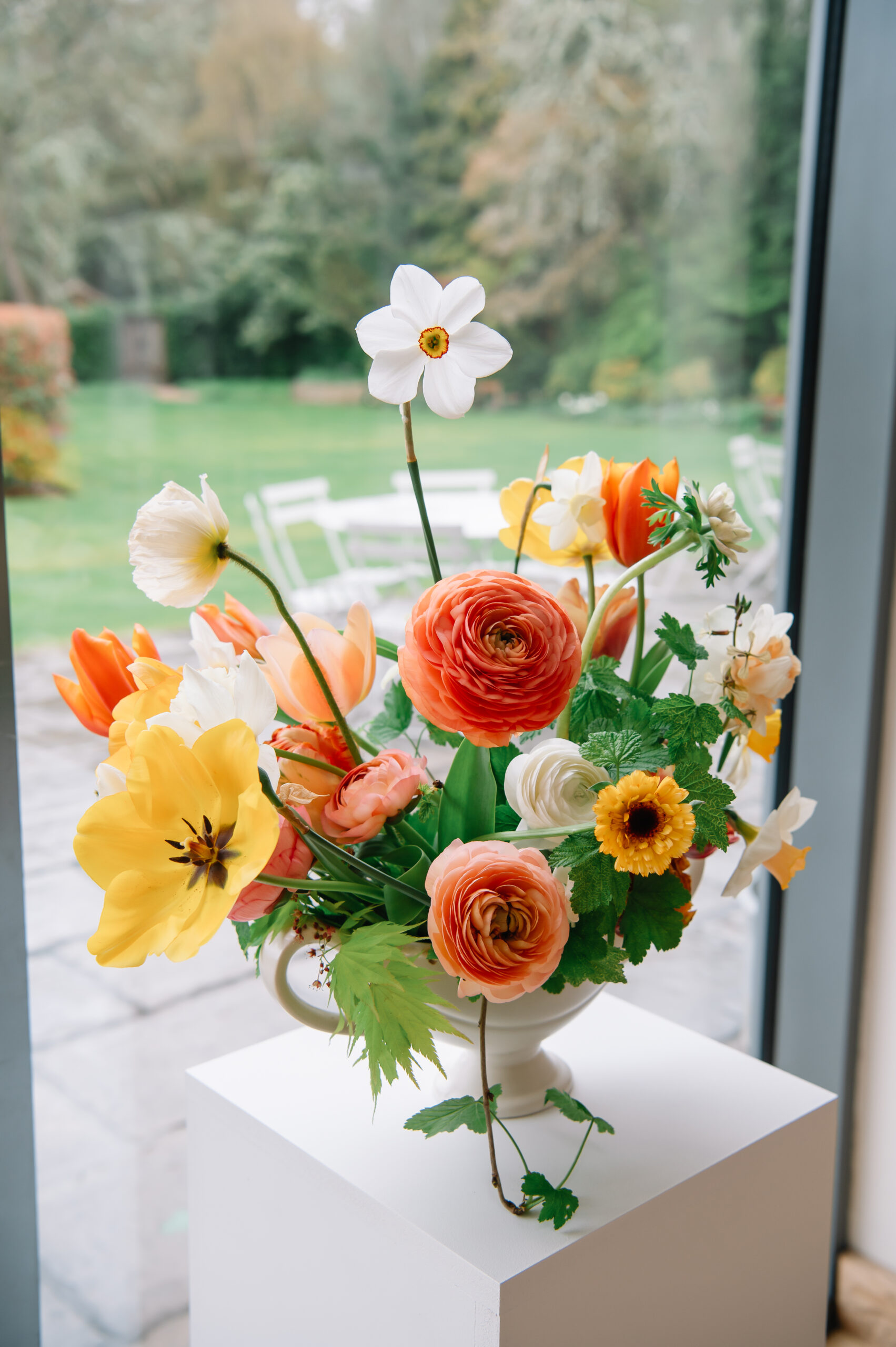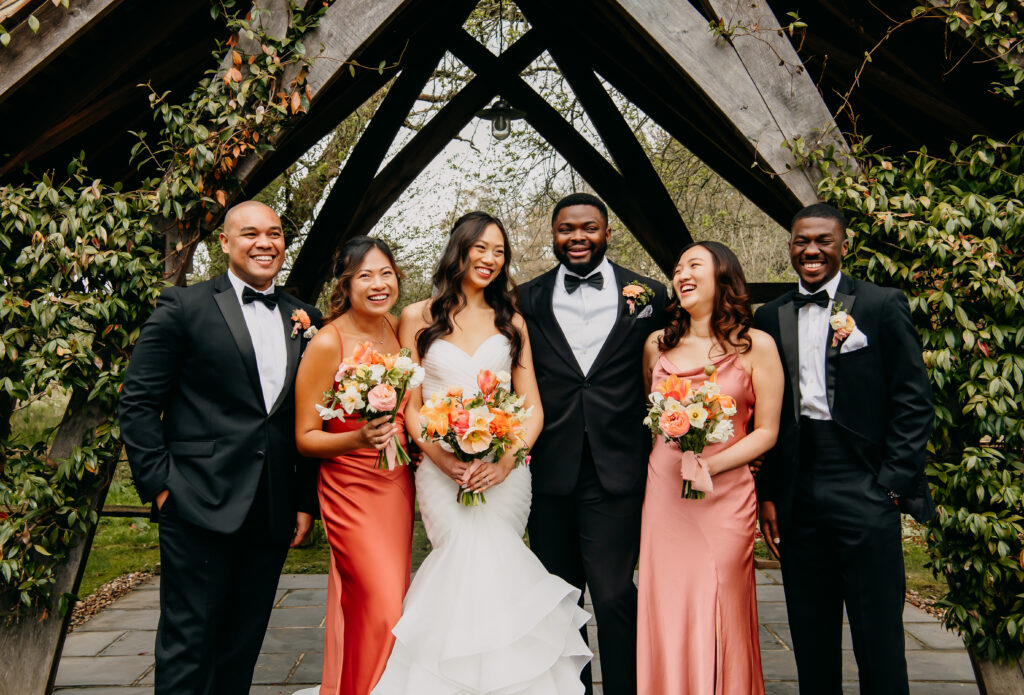 Were there any family traditions that featured in your day?
At the end of the meal, we went around to each table to toast our guests – a Chinese wedding tradition called 'Yam Seng' (equivalent meaning to 'Cheers' in Cantonese), Rachel's dad encouraged everyone to raise their glasses and shout "Yam Seng" at the top of their lungs. It definitely brought plenty of laughter and even a little bit of competition between the tables as to who was the loudest!
Our first dance then featured the two of us in traditional Yoruba wedding attire which were custom made for us in Nigeria. We danced our way into the reception hall surrounded by friends and family before our Nigerian guests sprayed us with cash – talk about a grand entrance!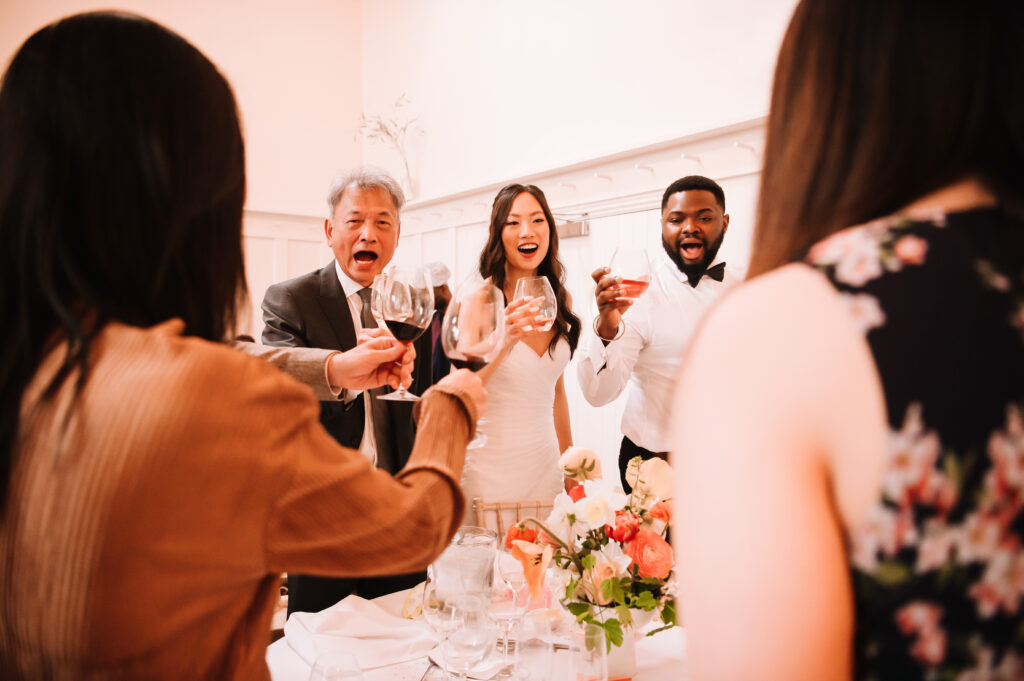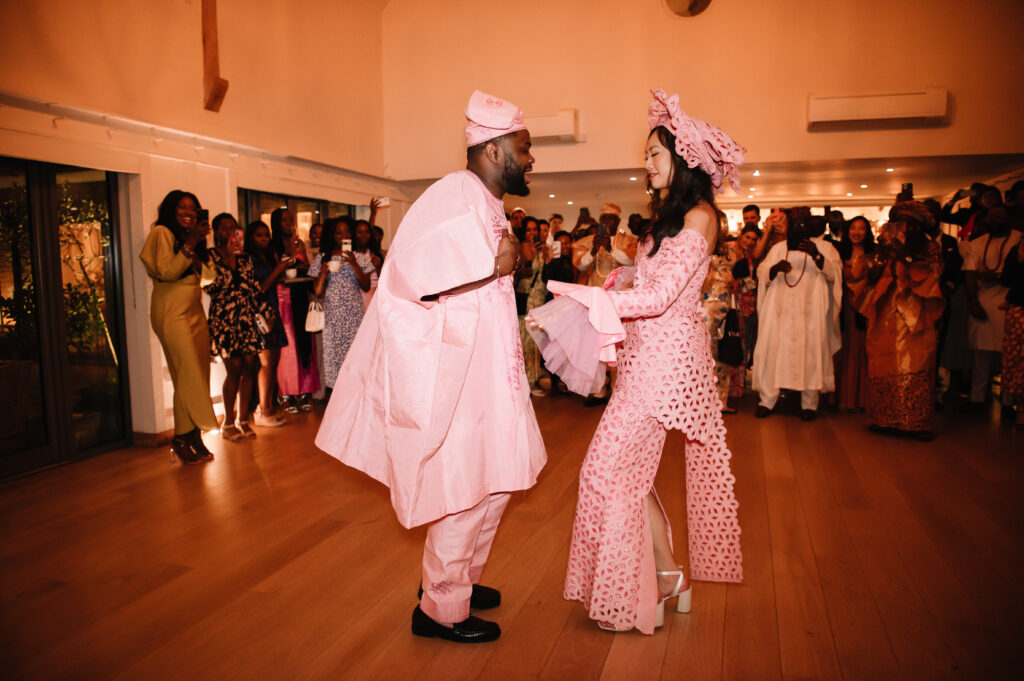 Tell us something that we wouldn't know about your day from the pictures.
The food was absolutely incredible. It was one of the things our guests kept bringing up as a key highlight from the day; from the canapés to the bountiful sharing platters and the late-night snacks, it was all so delicious and beautifully plated. Hats off to the Kalm Kitchen team for doing such a fantastic job!
Favourite part of your wedding journey?
The day itself! The planning process was tough at times and there were days when we were both questioning "is this really worth all the stress?", but when the day came, all of that faded away as we were surrounded by the ones we love and were reminded of what the day was really about.
Any words of wisdom for future couples?
Throw any expectations you have for the day out of the window and just focus on being present and making the most of it. Find five minutes for just the two of you together to take everything in and appreciate the moment. This might be the only time you'll see all your loved ones under the same roof, and it flies by much quicker than you'd think!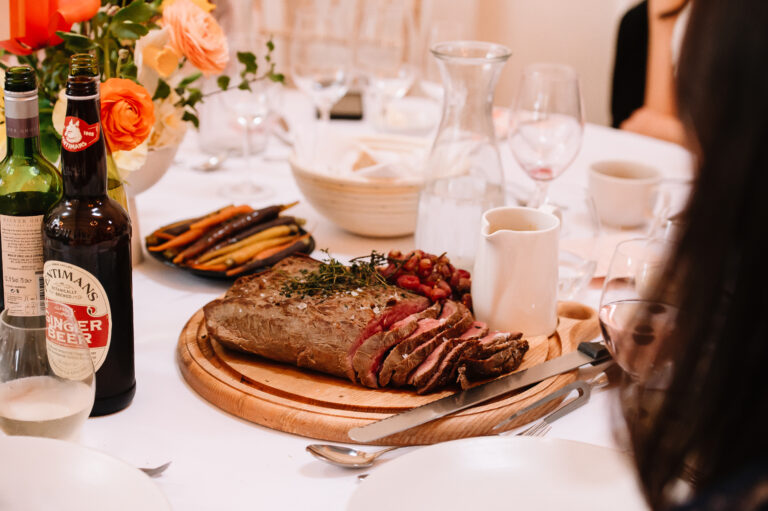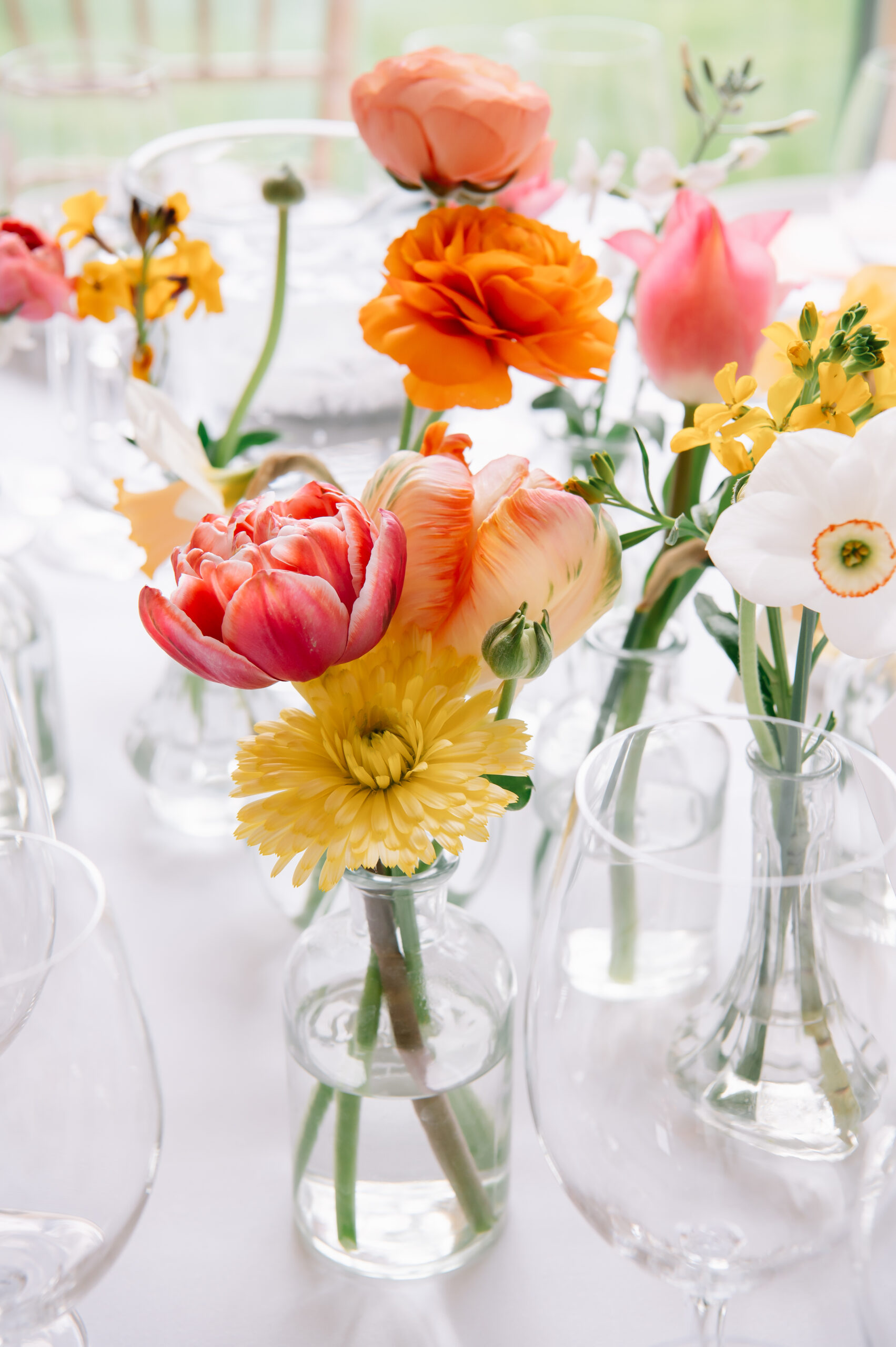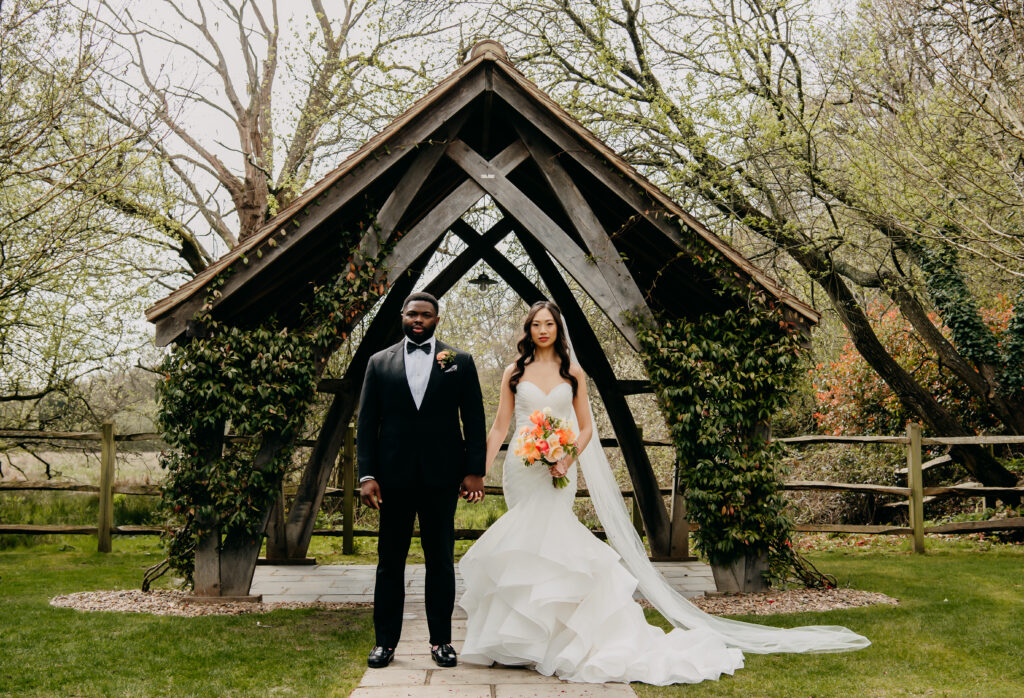 News : 03 / 02 / 23
Dinner Date Nights – 2022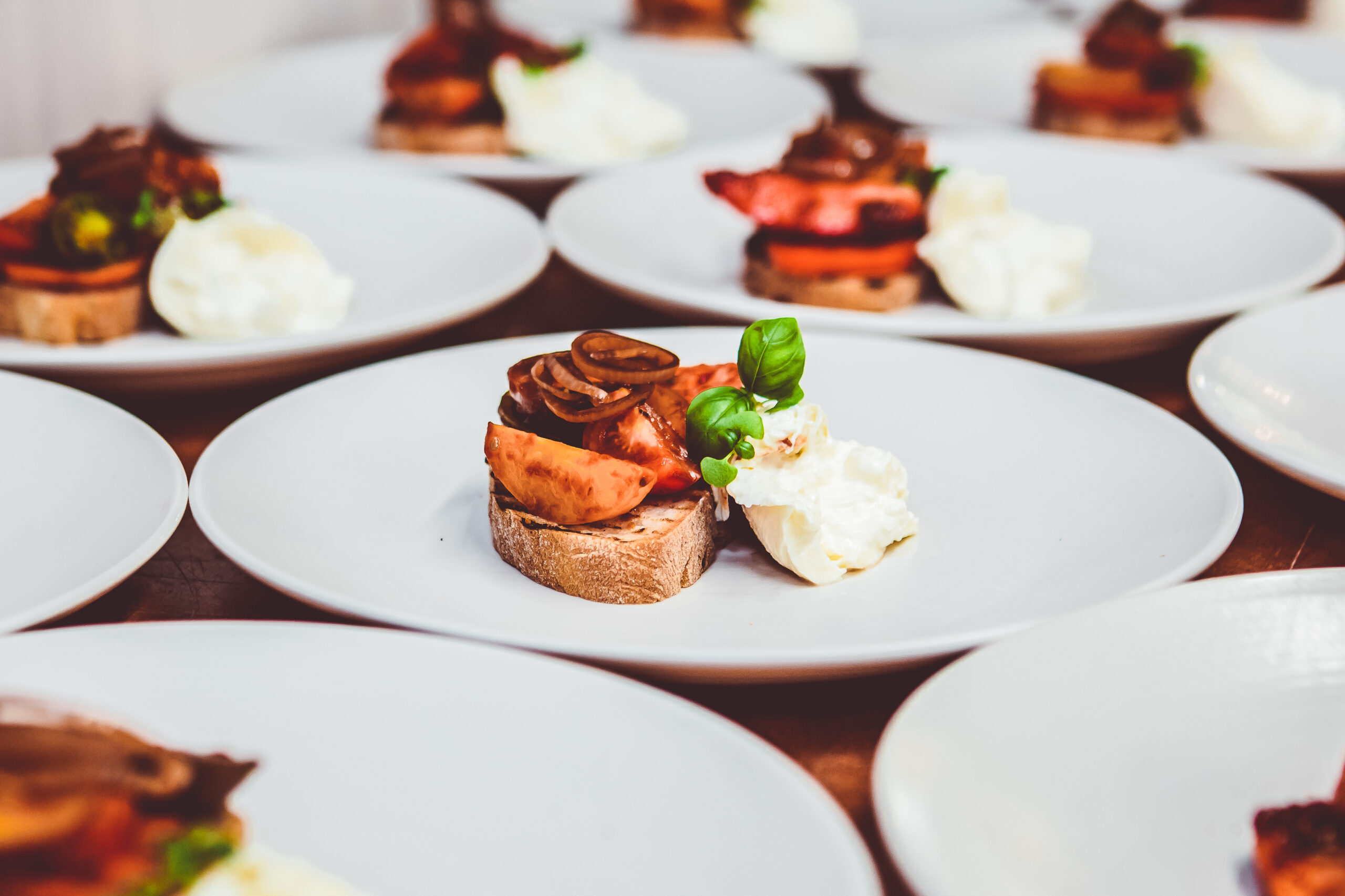 We love nothing more than seeing our home filled with guests and helping our couples plan their special day.  Hosting our Date Nights is another excuse for us to do just that!  On these evenings we collaborate with our handpicked MC partners to create a special experience for each and every couple.  With preparations underway for our next Dinner Date Night, we wanted to whet your appetite with some inspiration from our 2022 tastings.
In March we picked a rustic set up with vintage oak tables, and it was the first time Jonny MP joined us for a Date Night and we were delighted that he dived into the kitchen to capture the team from Kalm Kitchen plating up lots of delicious dishes.  Muted Affair enterainted our guests during the drinks reception and provided ambient music for the meal.  Farnham Sound & Light provide a bit of sparkle with a fairy light wall and the tablescape was finished with beautiful blooms from Gill Pike and delicate stationary from Gable & Grain.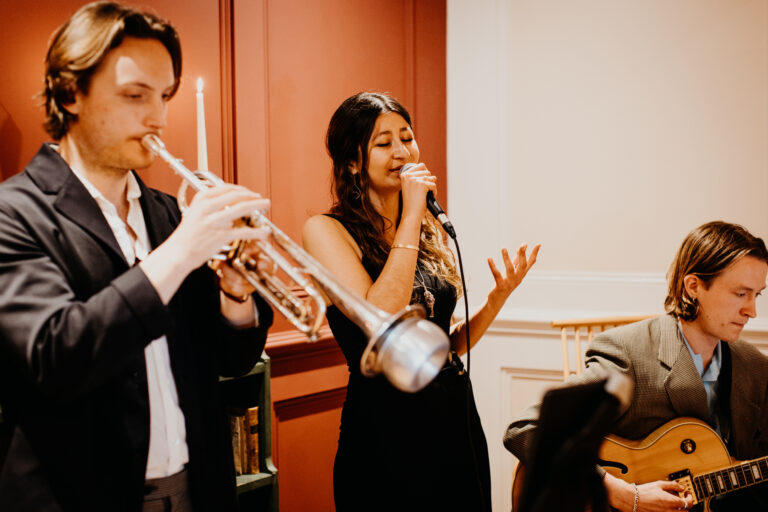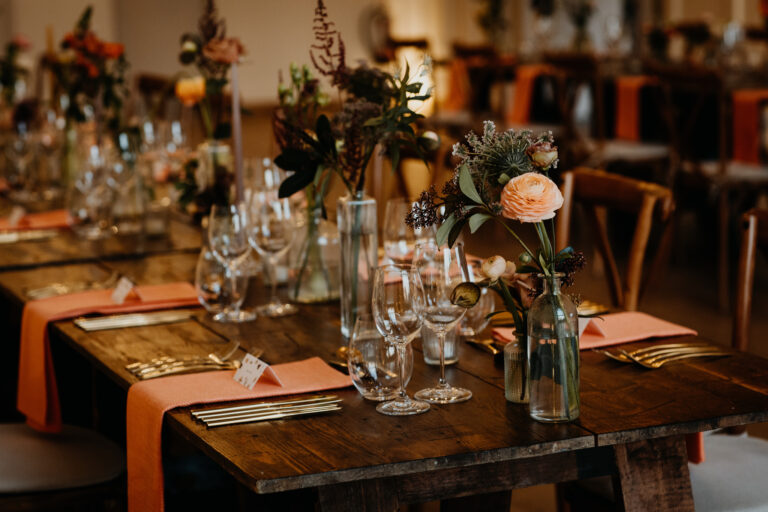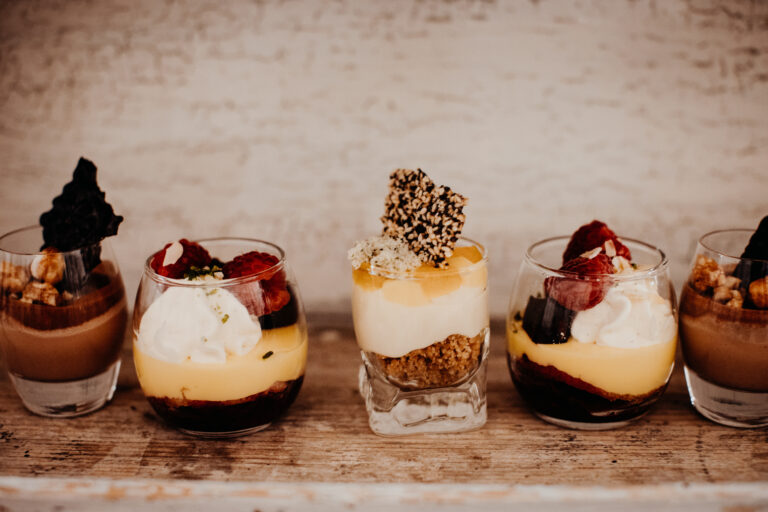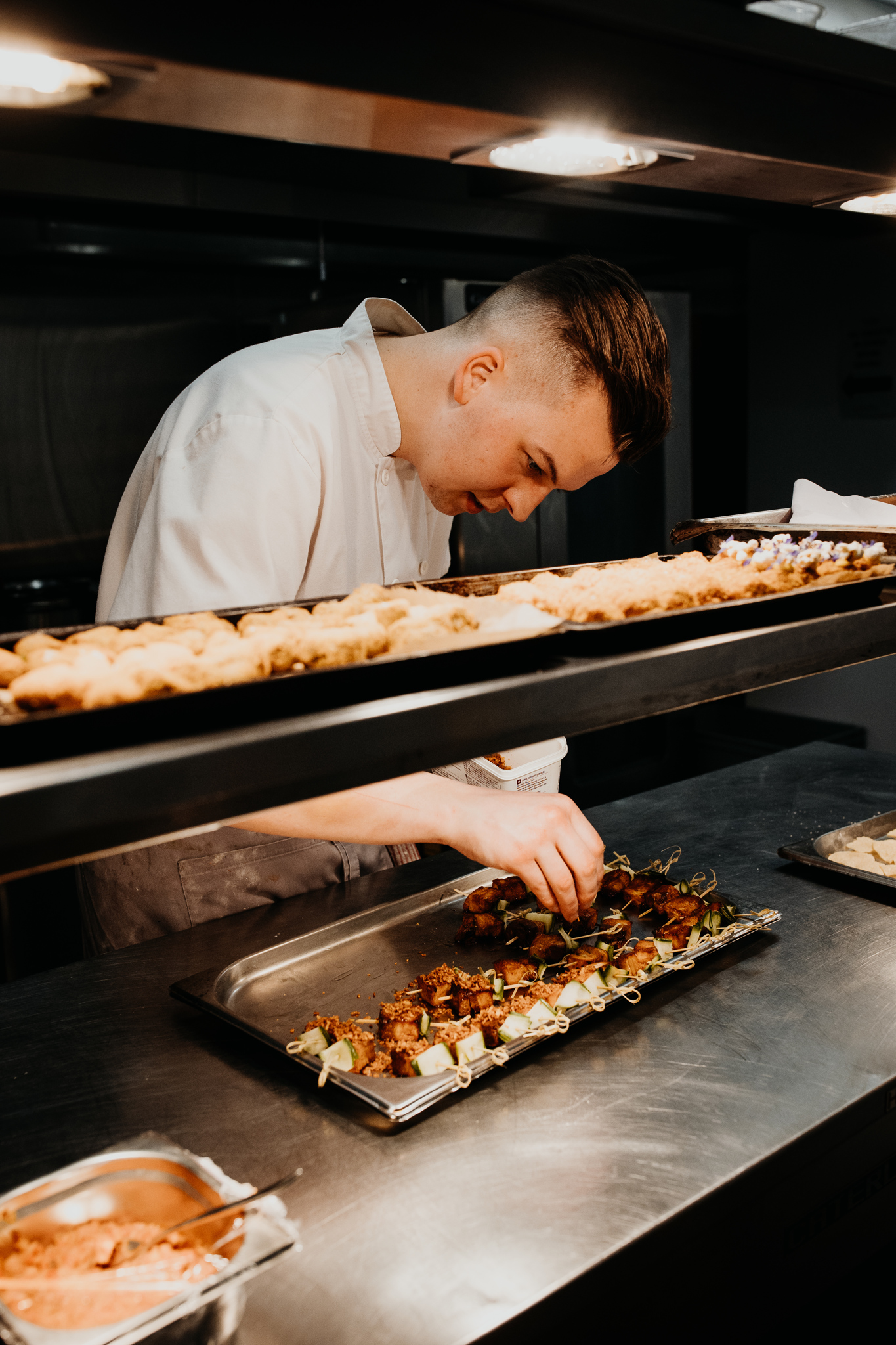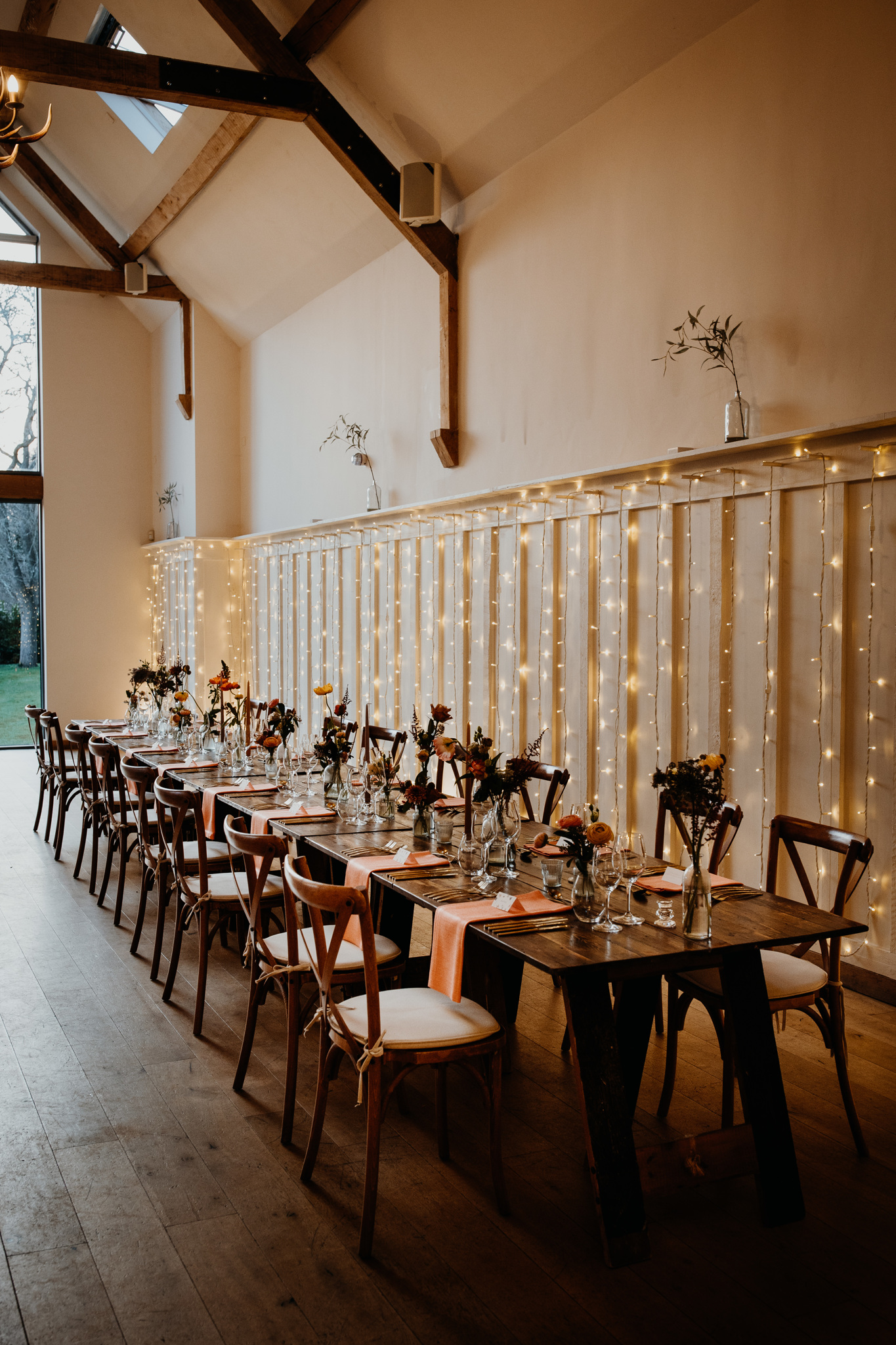 When we reached September the team took inspiration from the autumnal days to come, with an earthy colour palette accented with gold and pink. Lavendar Hill not only adorned the tables and canapé trays but created a hanging installation in the Dining Hall.  For this evening the ethereal vocals of Lauras Paper Heart filled our front lounge for the welcome and continued over dinner.  The charming tassel place cards were provided by LouPaper and the fantastic Farnham Sound & Light were back with the super popular fairy light wall, if you don't have a lighting installation booked for your wedding… what are you waiting for?!  This fantastic evening was captured by the wonderfully talented Matthew Lawrence.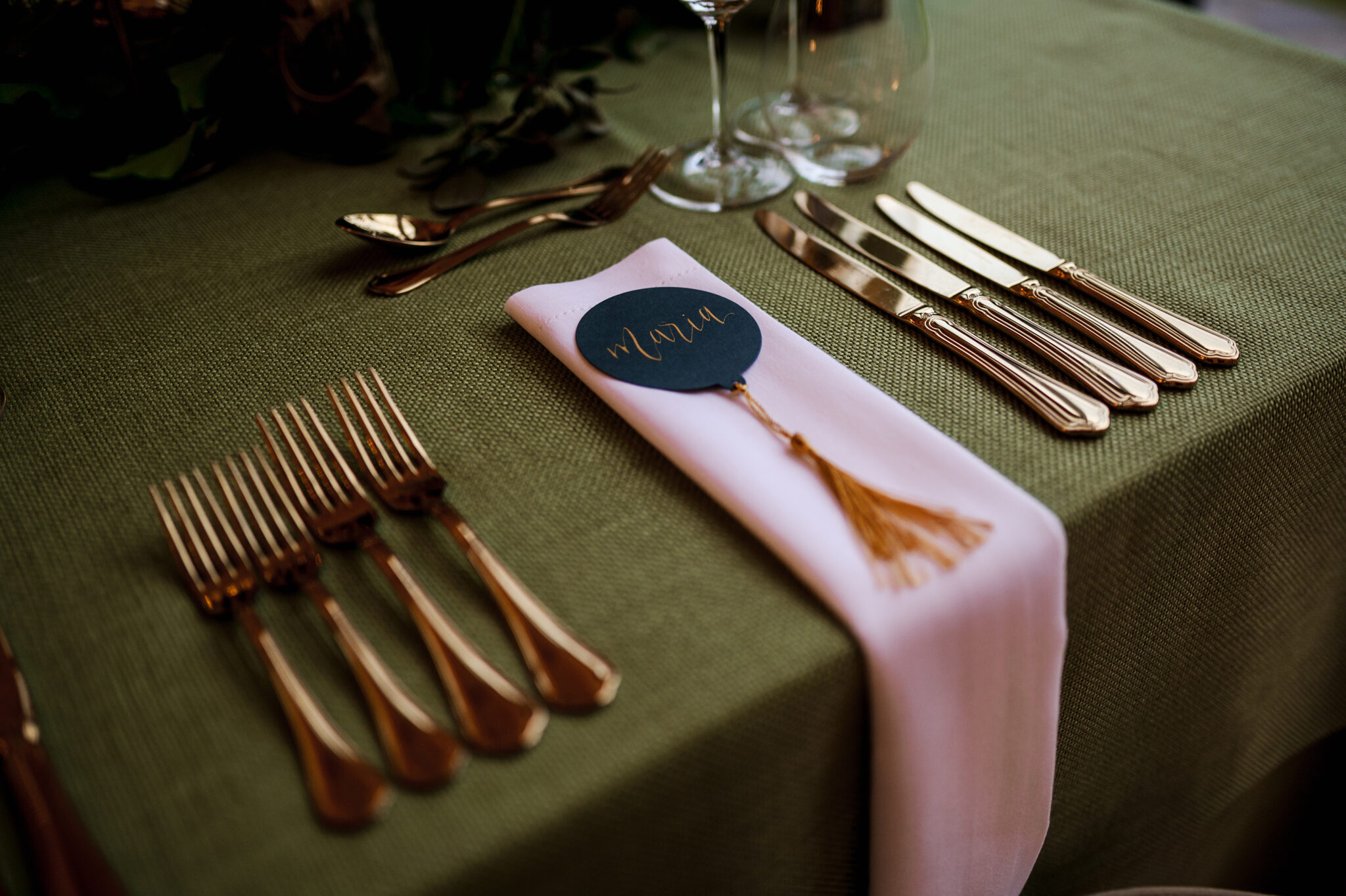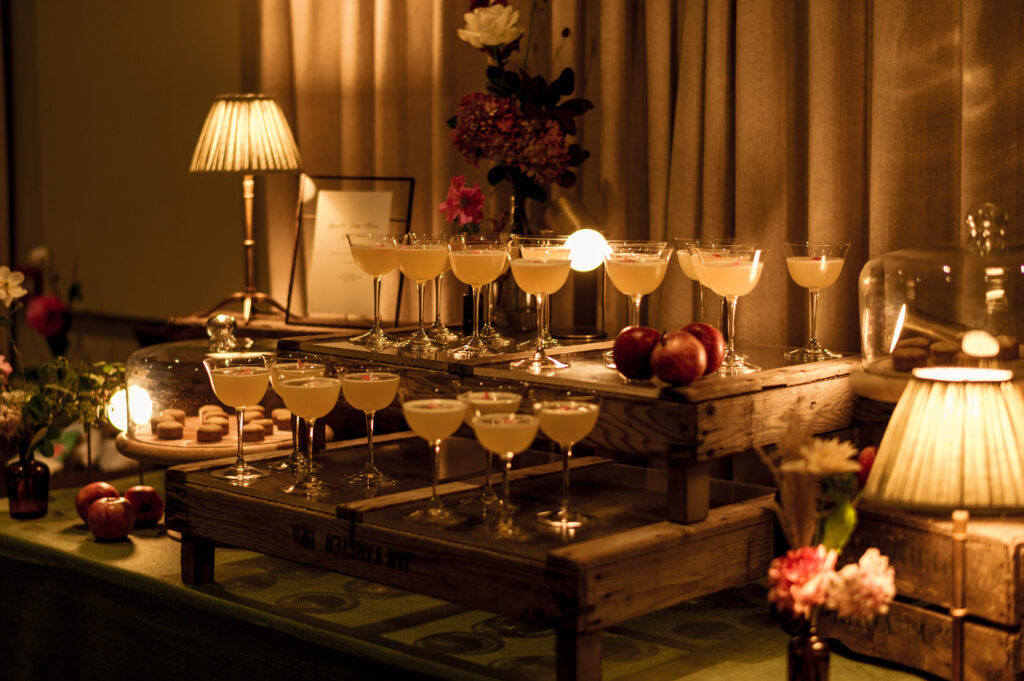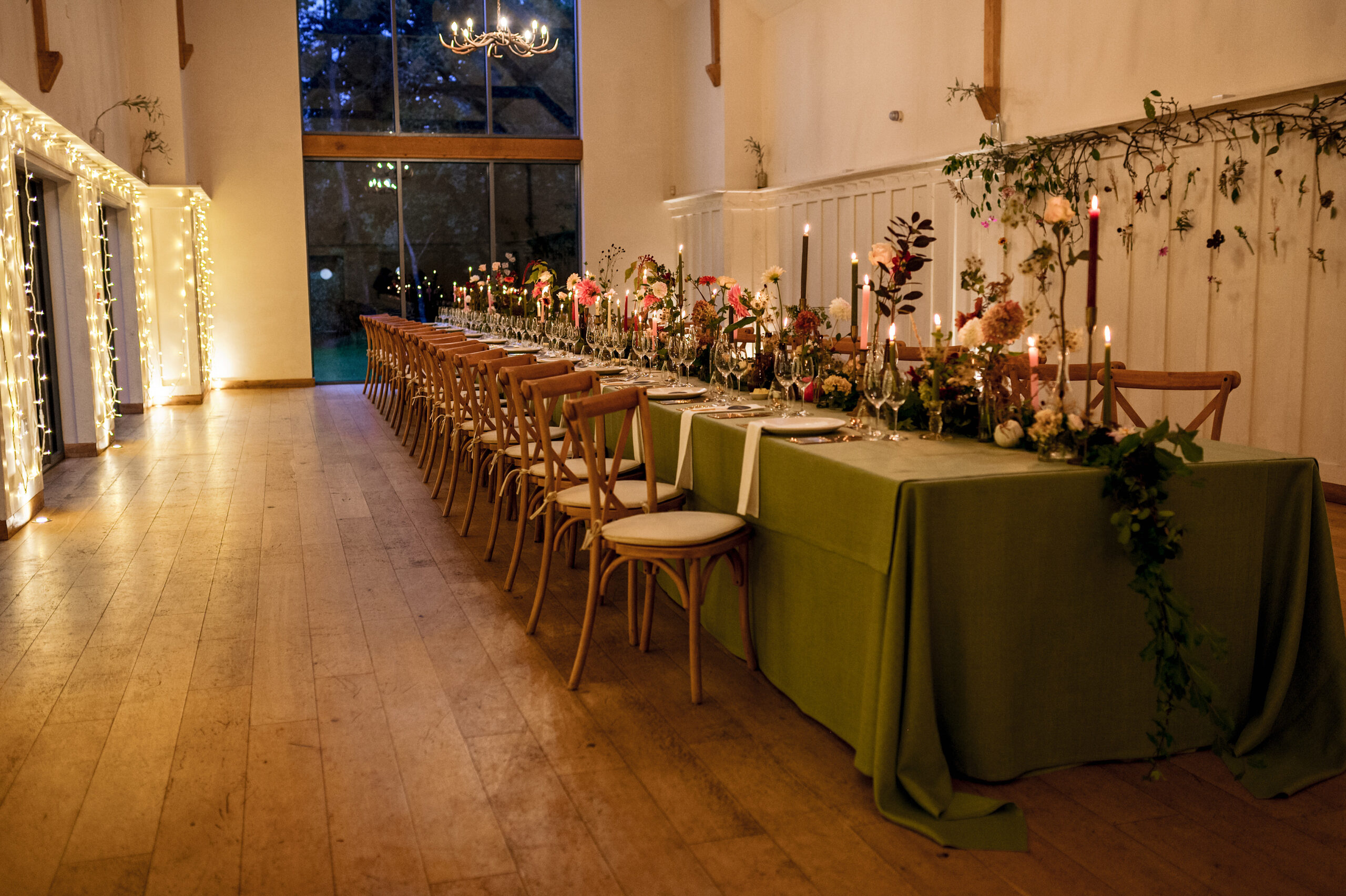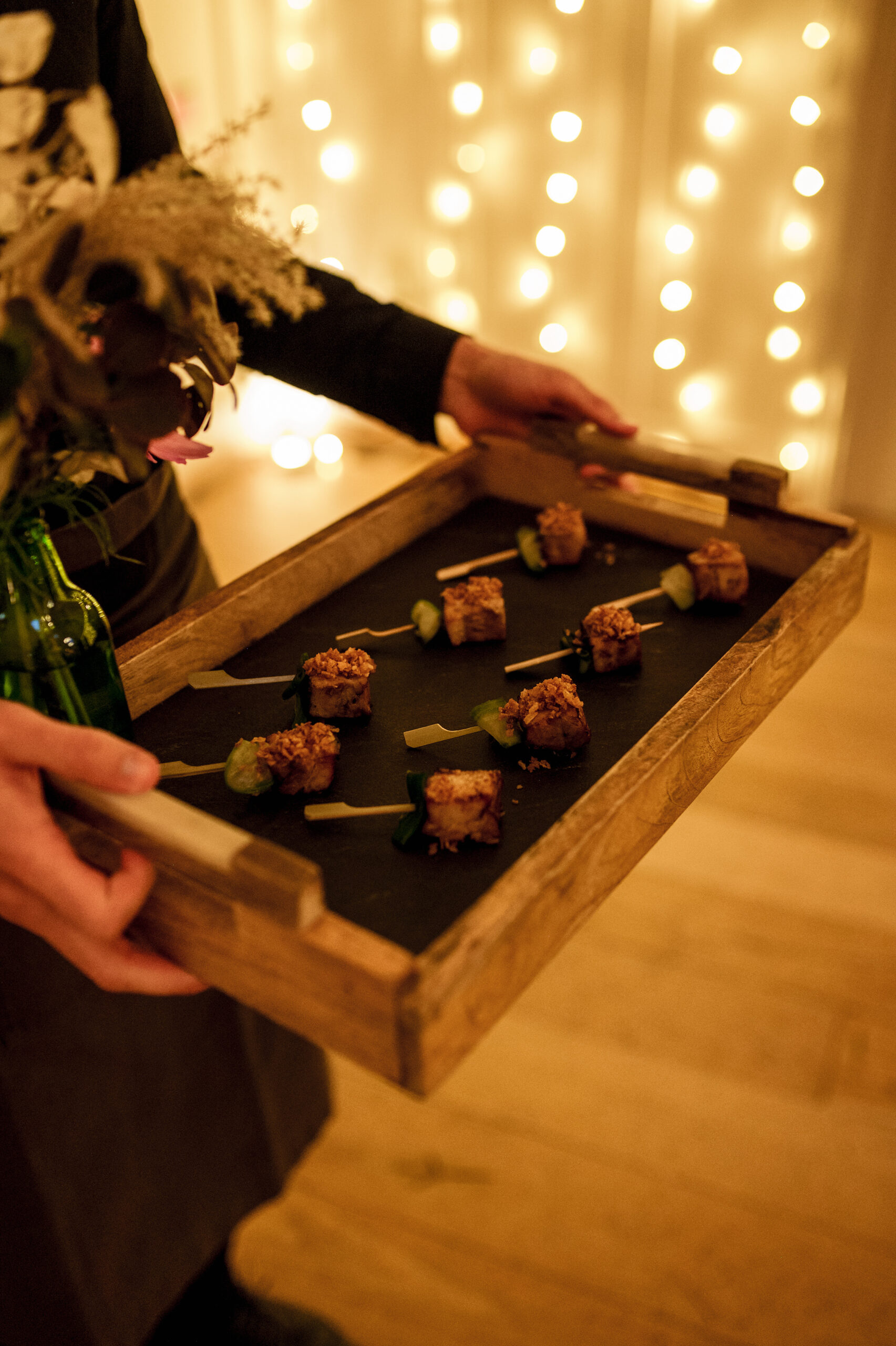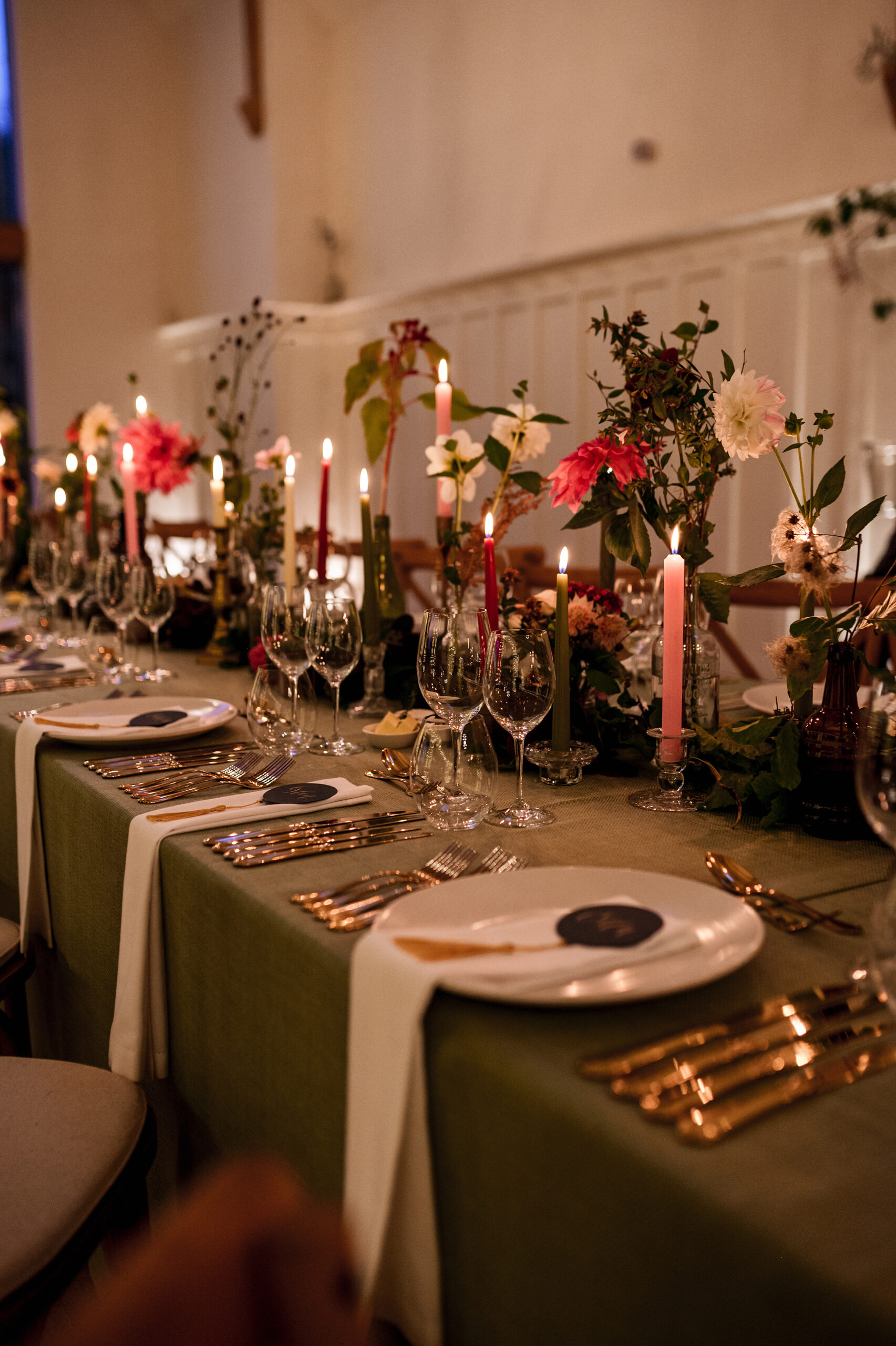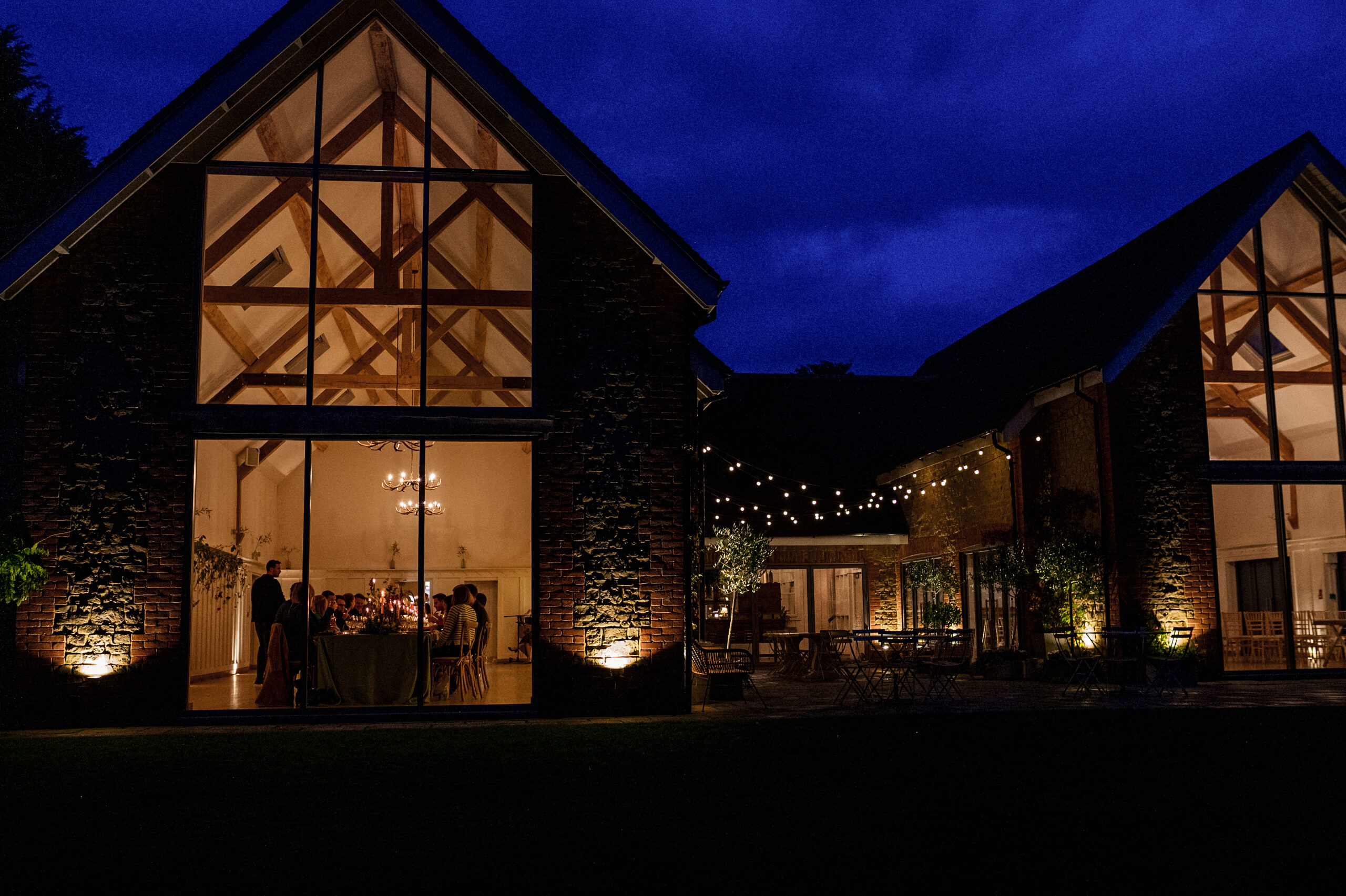 By November we were ready to embrace the icy months so chose a modern winter palette.  The majority of couples attending our last tasting experience are holding their weddings with us in Spring, so we kept a hint of vibrance showcasing our latest cocktail…Pink Paloma, which was quite the hit!  Kalm pulled out yet another amazing dessert station with 'Table of Tarts' which a certain member of the team now has an eye on for their upcoming wedding…
A big thank you goes to LouPaper and Farnham Sound & Light for joining us once again, this time with chic, monochrome stationary and a Dining Hall filled with fairy lights, which added warmth.  The tablescape was even more beautiful than we had imagined on paper, bought to life by the talented Hannah Berry and captured by new MC partner Catherine Carter.  Live music can help a create wonderful atmosphere, so we invited Music by Kate & Dave to join us with their bespoke musical arrangements.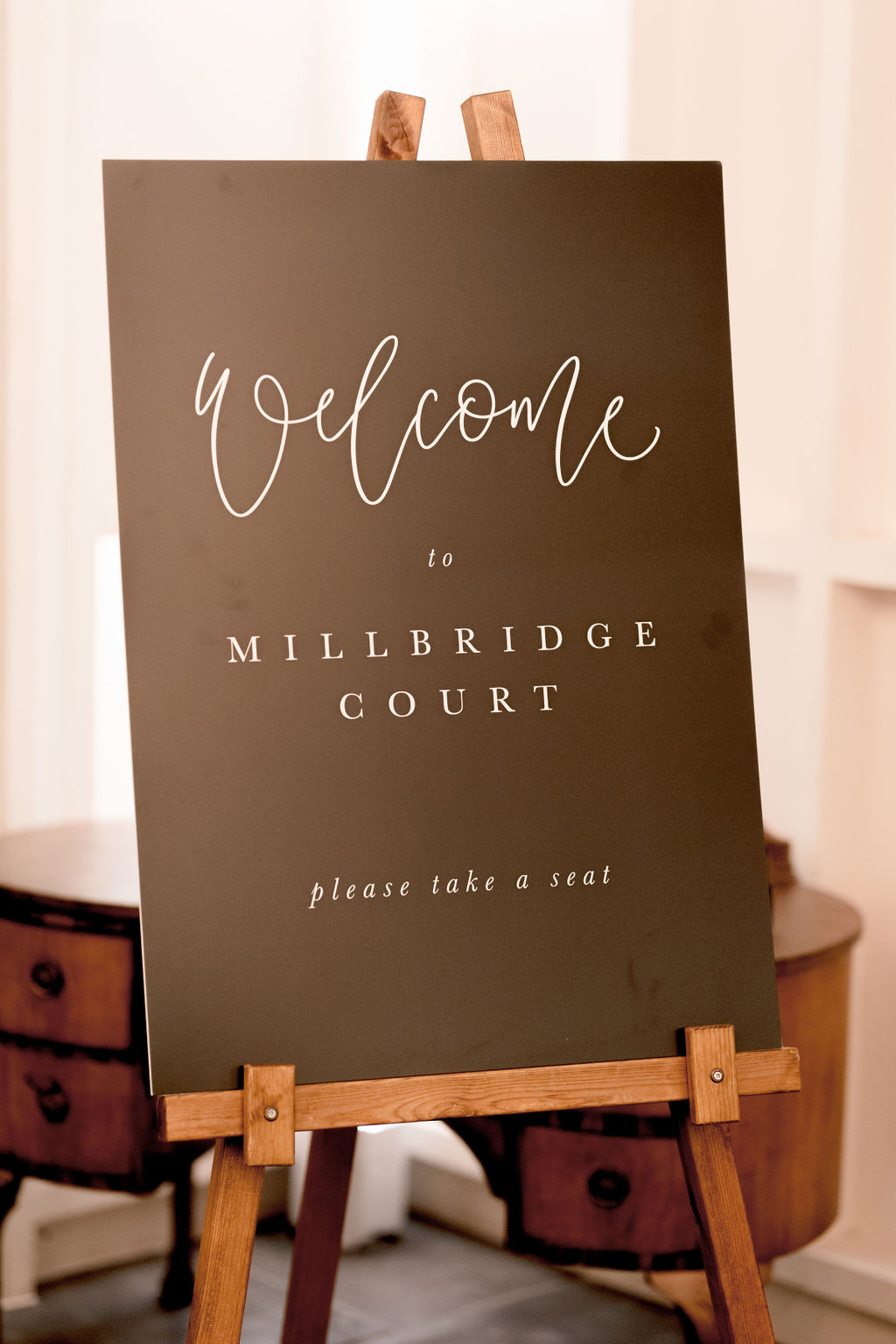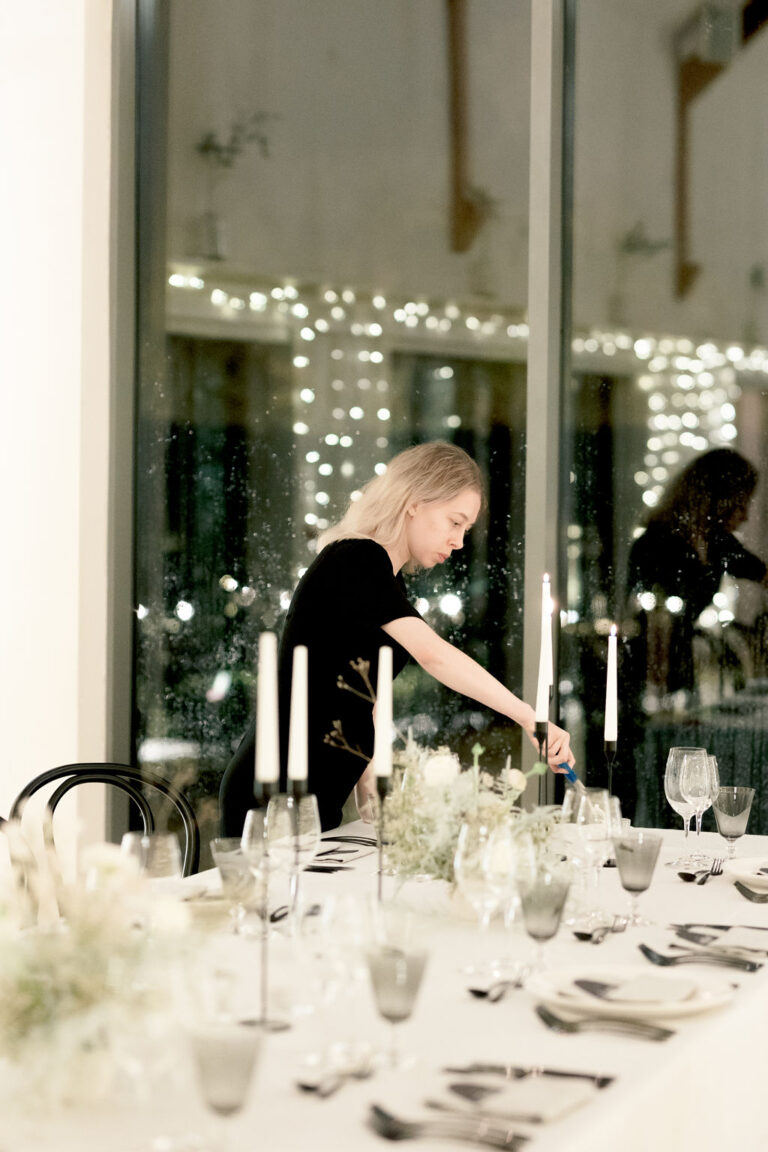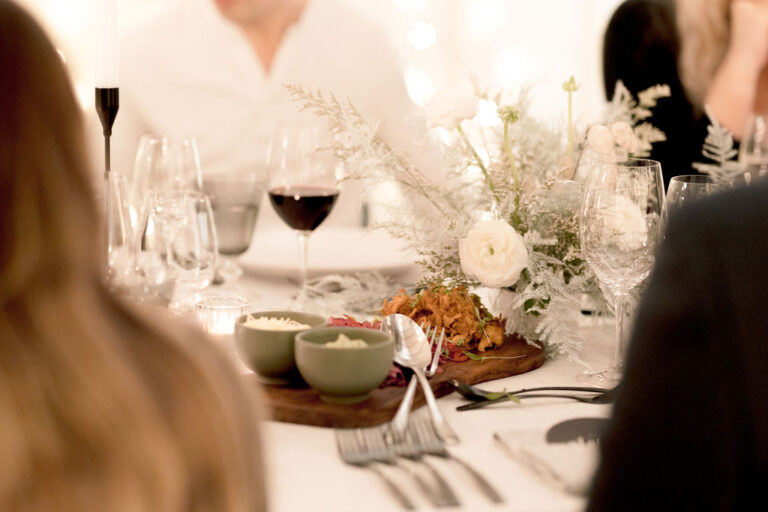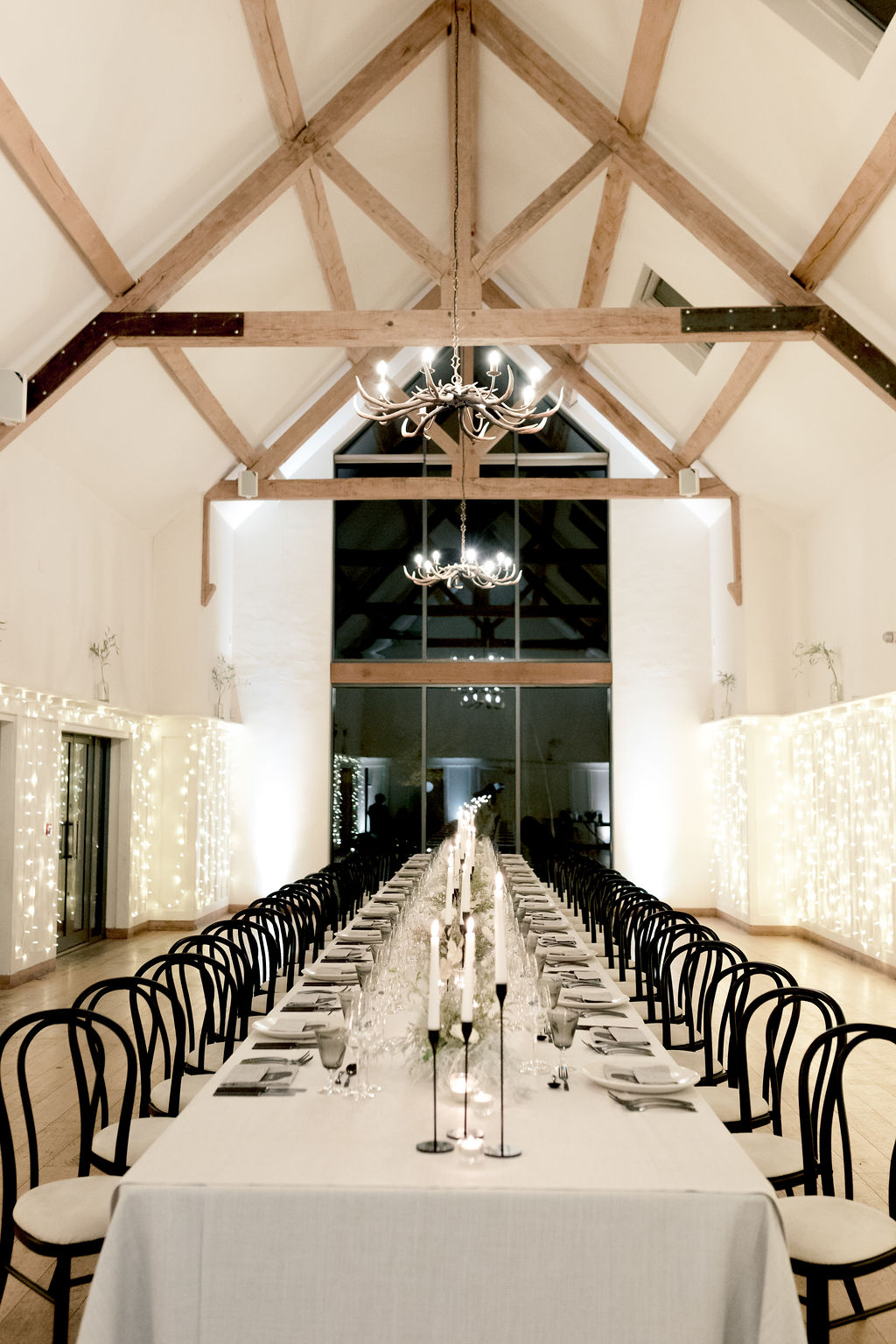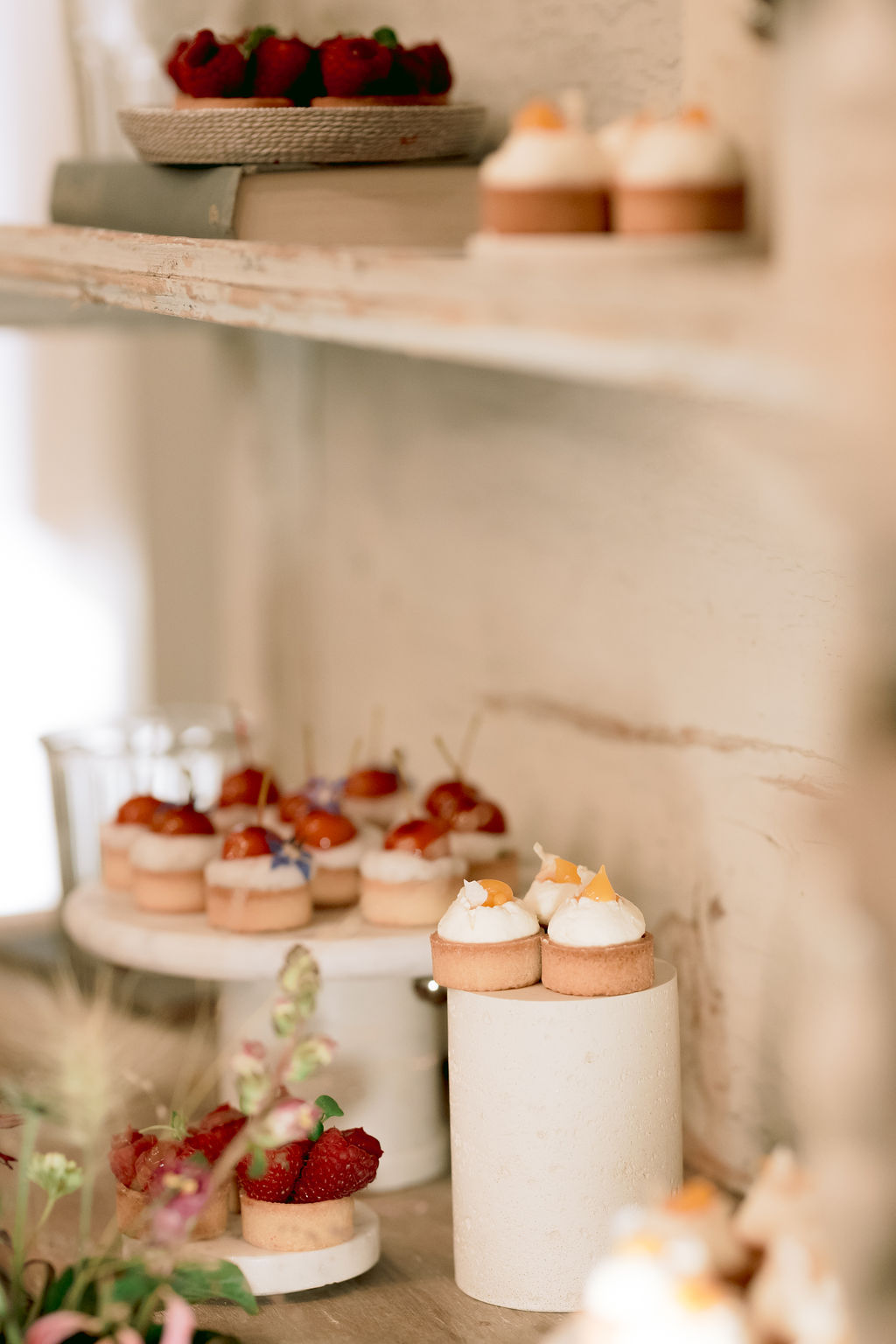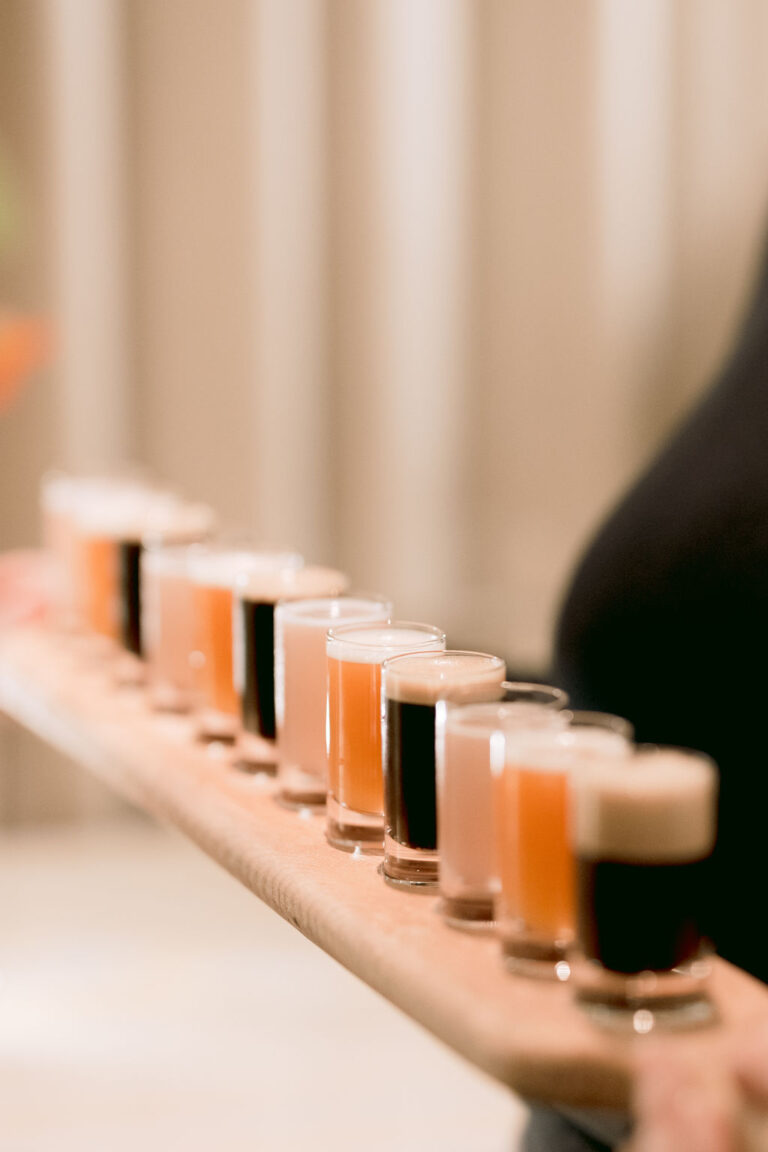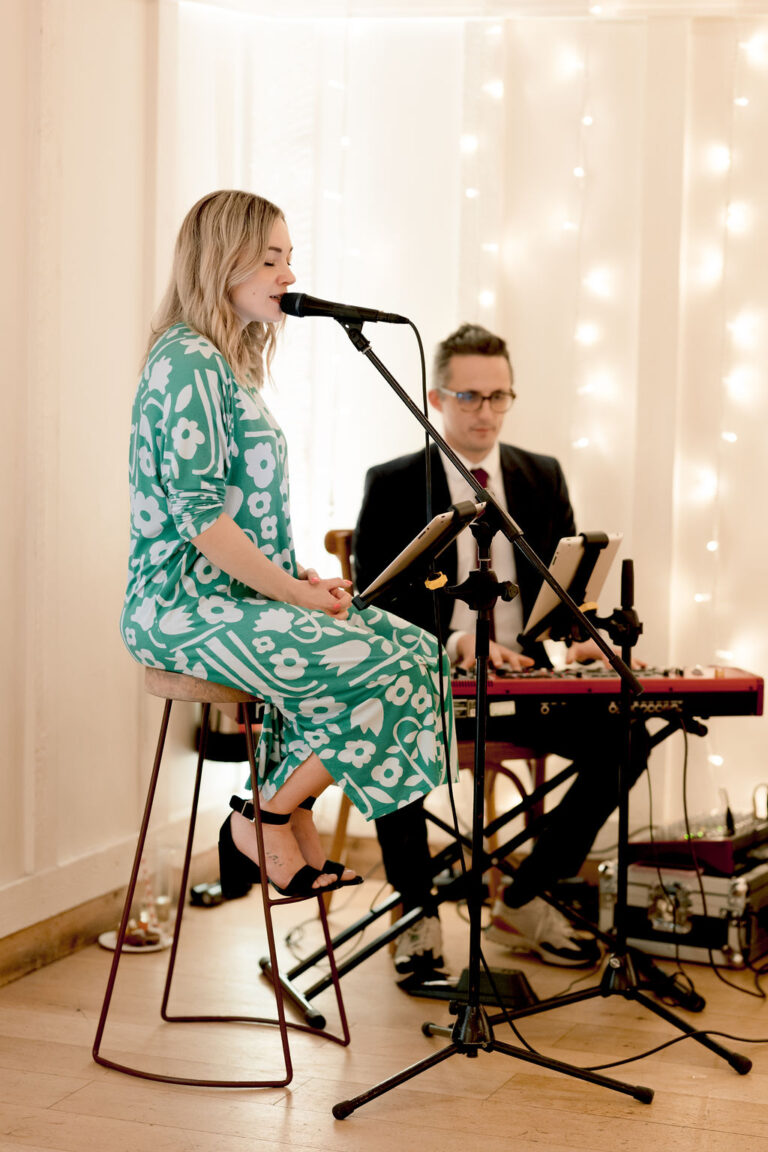 News : 22 / 07 / 19
Featured in Wedding Ideas Magazine – MBC Summer Wedding Inspiration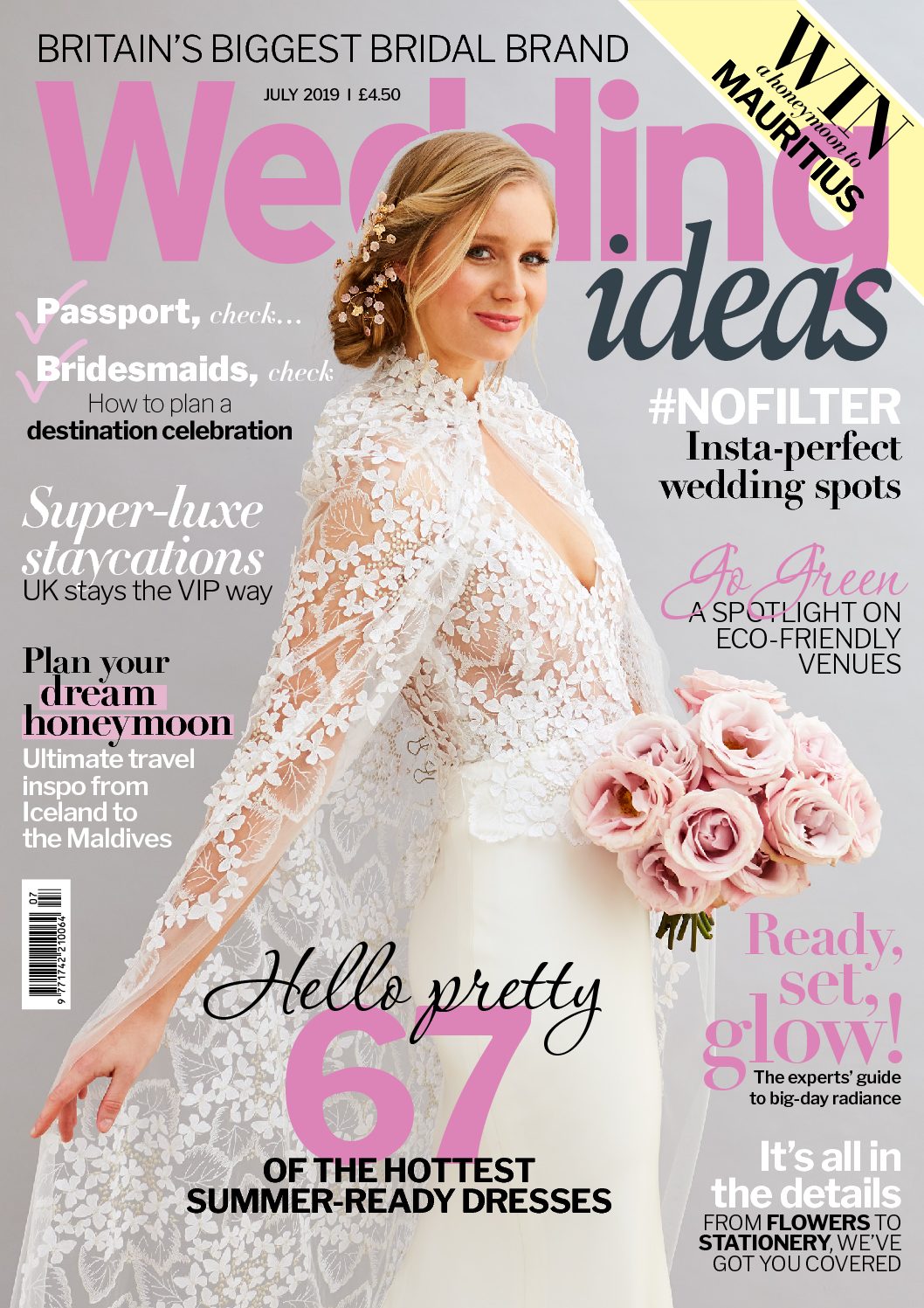 Seeing utterly stunning Millbridge Court Wedding Days grace the pages of glossy Bridal Magazines is always so immensely exciting & seeing L&A's Summer Wedding Day in the July Issue of Wedding Ideas Magazine was certainly no exception.
Their day included a host of immensely talented MBC Partners who brought a vibrant, romantic & elegant Wedding Day to life, so to see lots of gorgeous Summertime Wedding inspiration courtesy of Boutique Blooms, Spongeworks, Kalm Kitchen, Bubblegum Balloons & Sarah Legge Photography & to read all about L&A's celebrations, click on the link below:
Wedding Ideas Magazine Real Wedding Feature- Lizzie & Ashley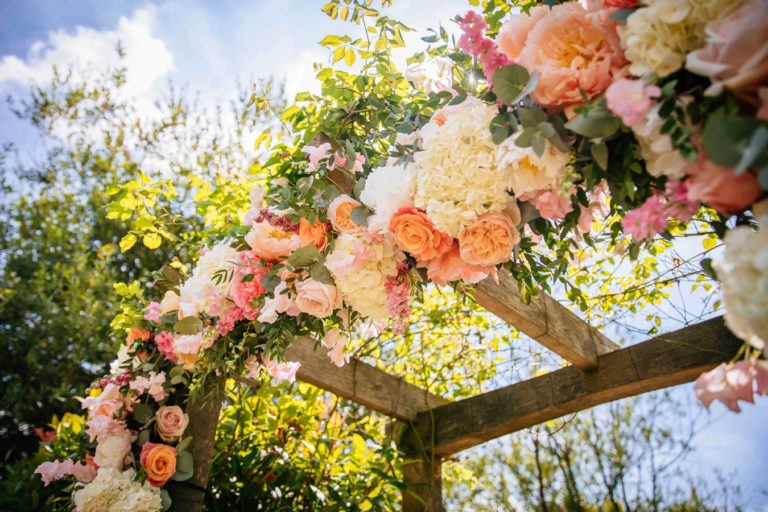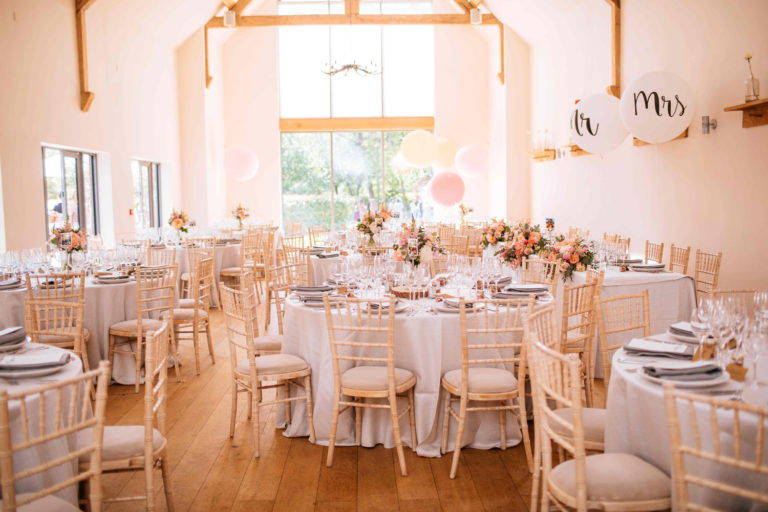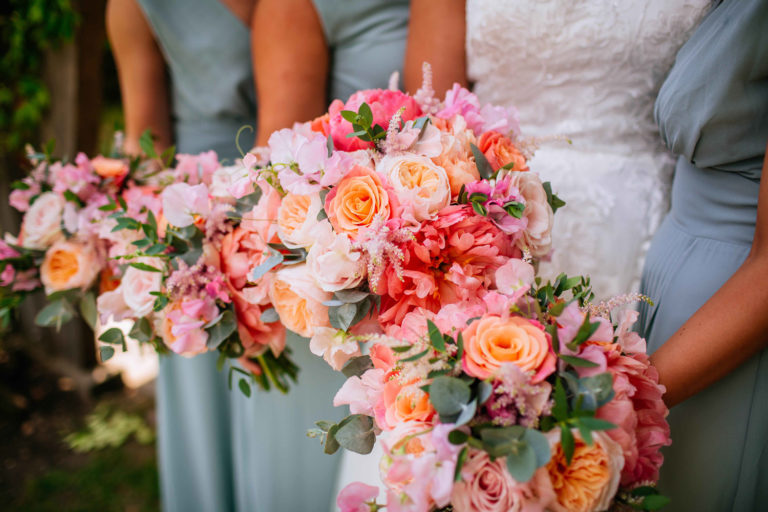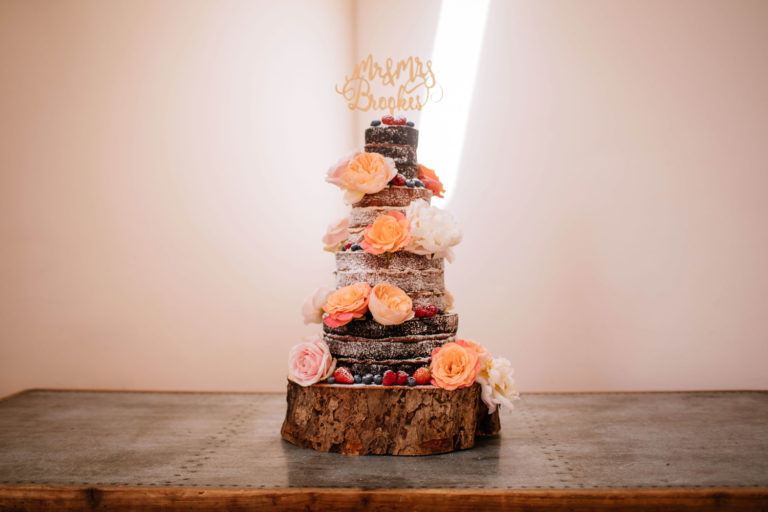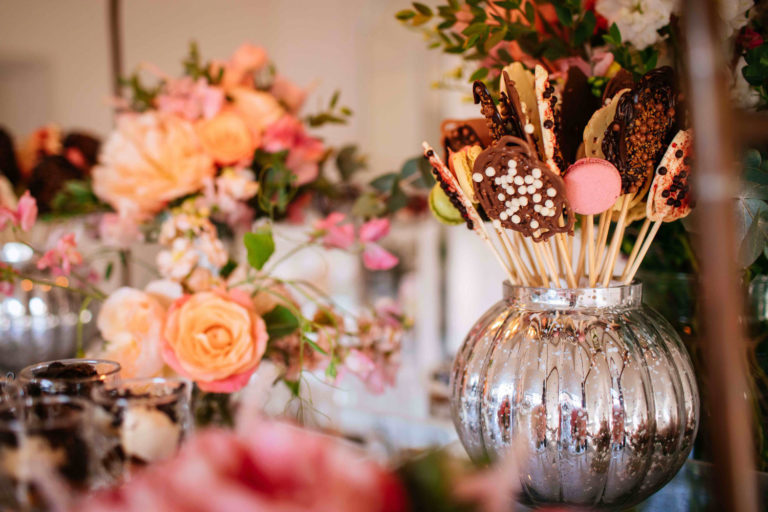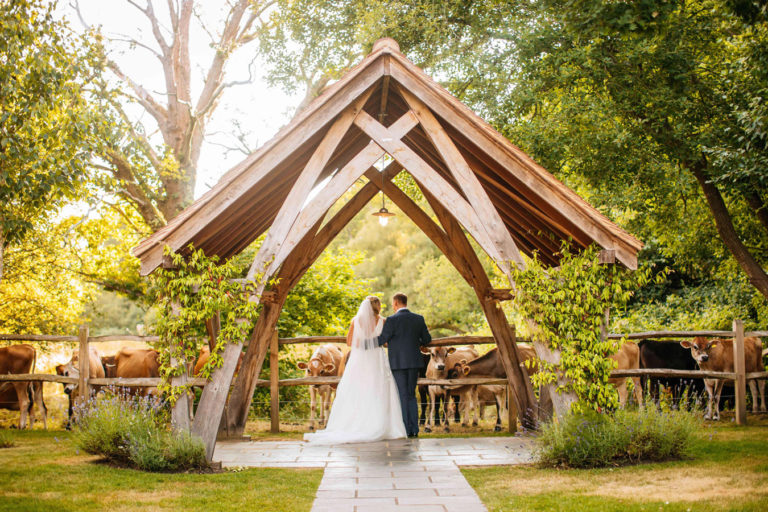 News : 07 / 03 / 19
Interactive dining at Millbridge Court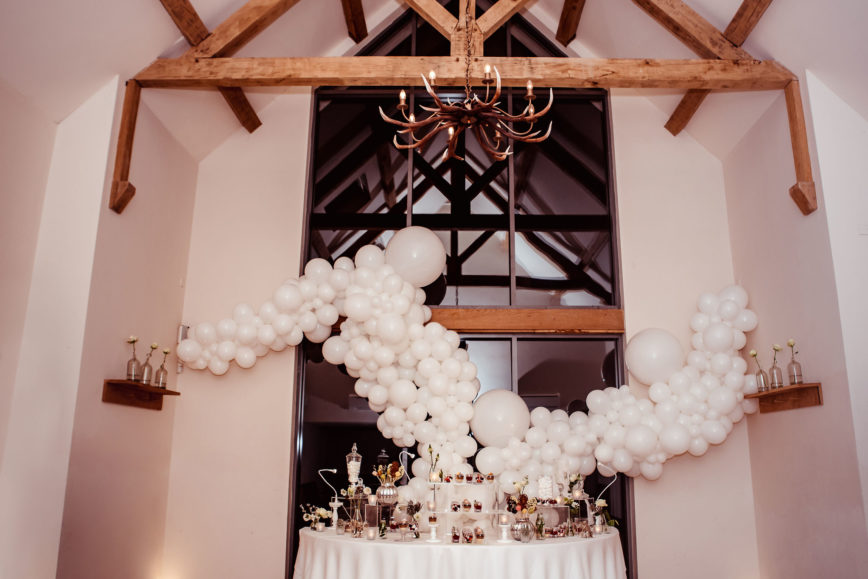 Interactive Wedding Breakfasts have become increasingly popular in recent years & with Kalm Kitchen offering so many varied, innovative & utterly delicious options to Millbridge Court Couples, we thought we would ask Kalm Kitchen's Pete & our very own Tash a few questions about interactive menus & we've also shared a selection of stunning imagery from MBC Wedding Days to leave you all feeling thoroughly inspired.
---
Why do you think interactive dining has become so popular in recent years & what do you think this type of Dining brings to a Wedding Day? 
Pete: The Wedding breakfast in the past is a time for formalities with the Bride and Groom's close friends and families. Interactive dining adds an informal feel to show the personalities of the couples and provides a social element to the meal. From a visual perspective it is an amazing abundance of pure deliciousness.
Out of all of the sharing options you offer to couples, are there any particular interactive dishes and food stalls that are becoming increasingly popular for 2019 Wedding Days?
Pete: The beauty is that each couple we work with have individual tastes that we can create bespoke ideas with and bring to life. My favourite interactive dish was bringing an edible potted garden to the table. The real treat is coming up with the delicious food combinations that fit in with the theme, we're talking potted vegetables in terracotta pots with hummus and edible soil and a full abundance of gorgeous fresh produce for guests to create their own crostini's. Absolutely delicious!
How do you see this trend of interactive dining evolving in the future?
Pete: I see many possibilities for the future of interactive dining. With technology always evolving we already have in restaurants, screens on the table to take orders. I can imagine to start with this would be pricey, but I can envision a wedding breakfast in full high technological fashion.
Kalm Kitchen have always been known for their stunning Patisserie Bars and food stalls. What ways have you seen couples put their own stamp on or personalise their food stalls or sharing dishes?
Tash: My absolute favourite is the fun the couples inject to the carve or slice at the table dishes, whether this is with personalised aprons, chef hats or comical moustaches, not only does this make for hilarious photos but it really changes the atmosphere in the room.
The patisserie bar is always wonderful to see as it looks different at every wedding, with so many style options to start with the couple can really make this their own with their décor, whether they choose the copper arch and add the luxe with gorgeous flowers or they choose the Perspex clean line and then add a pop (not literally) of colour with some balloons.
What recent Kalm Kitchen interactive creations have you been blown away by? 
Tash: I was lucky enough to be here when Kalm photographed their new stations alongside MBC Partner Hannah Berry, not only where all 3 stalls (DIY Eton Mess, Hot Chocolate & Honeycomb and Lemonade and Lollies) spectacular and visually impressive they were also delicious, I'm still dreaming of that honeycomb to this day.
Sharing Dishes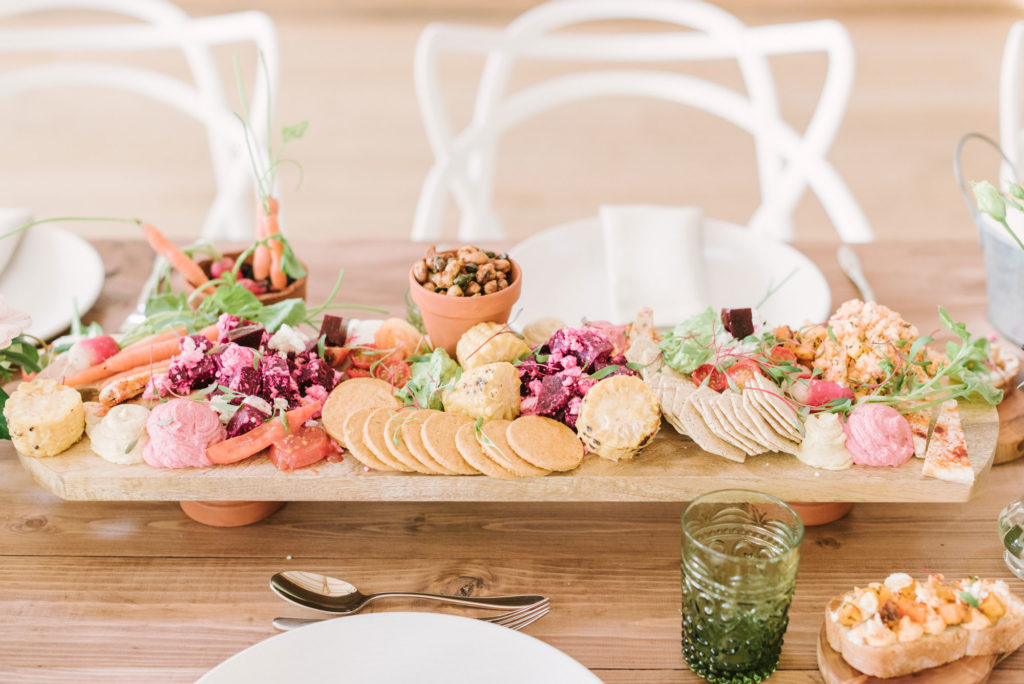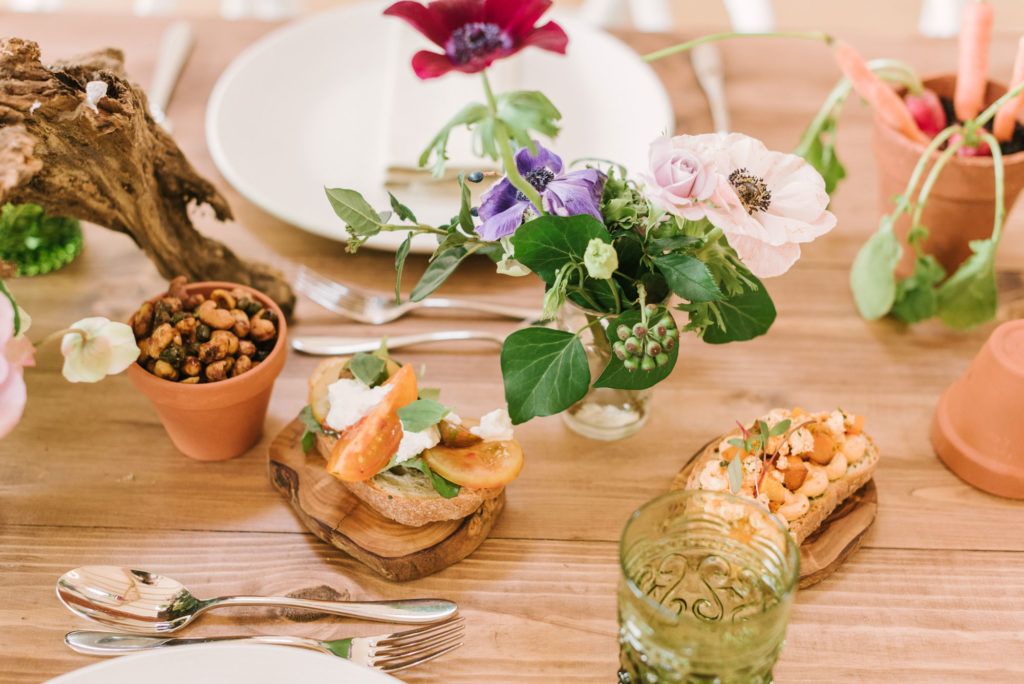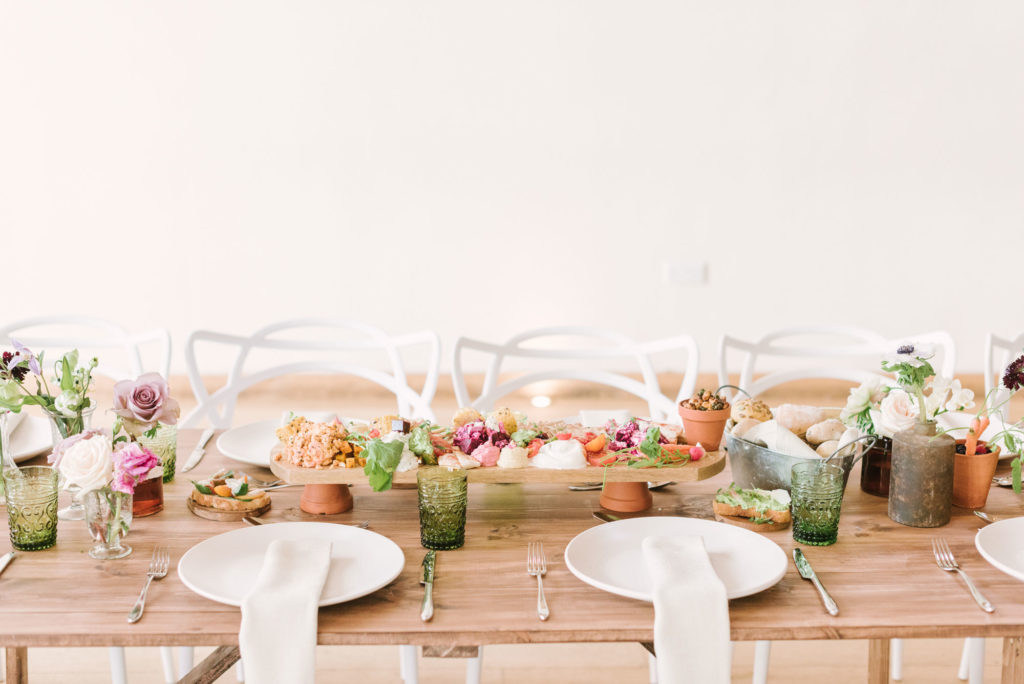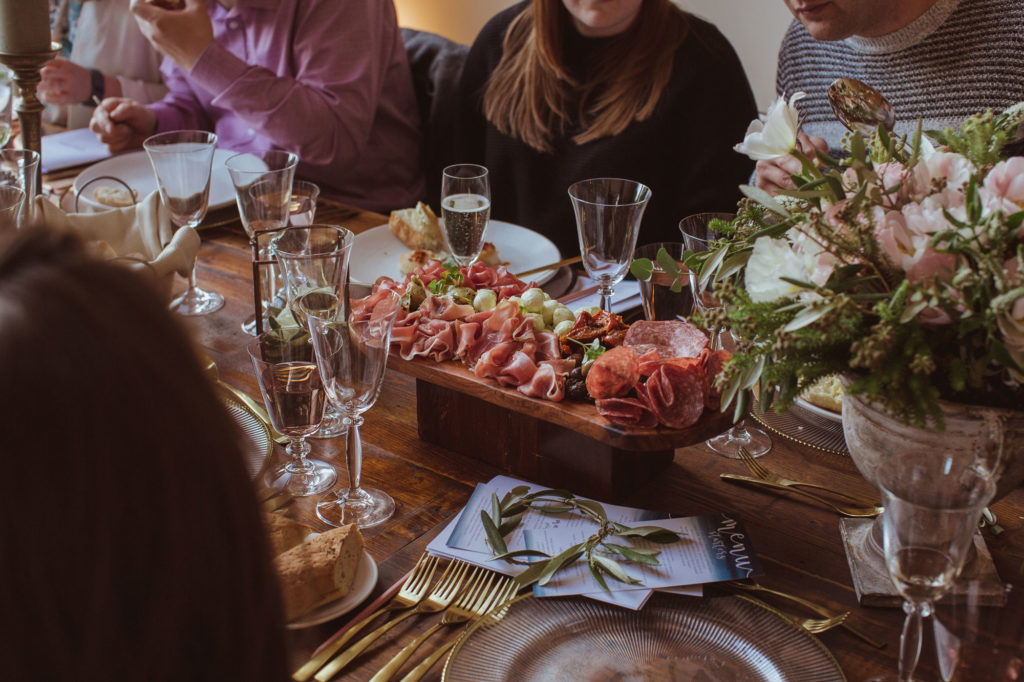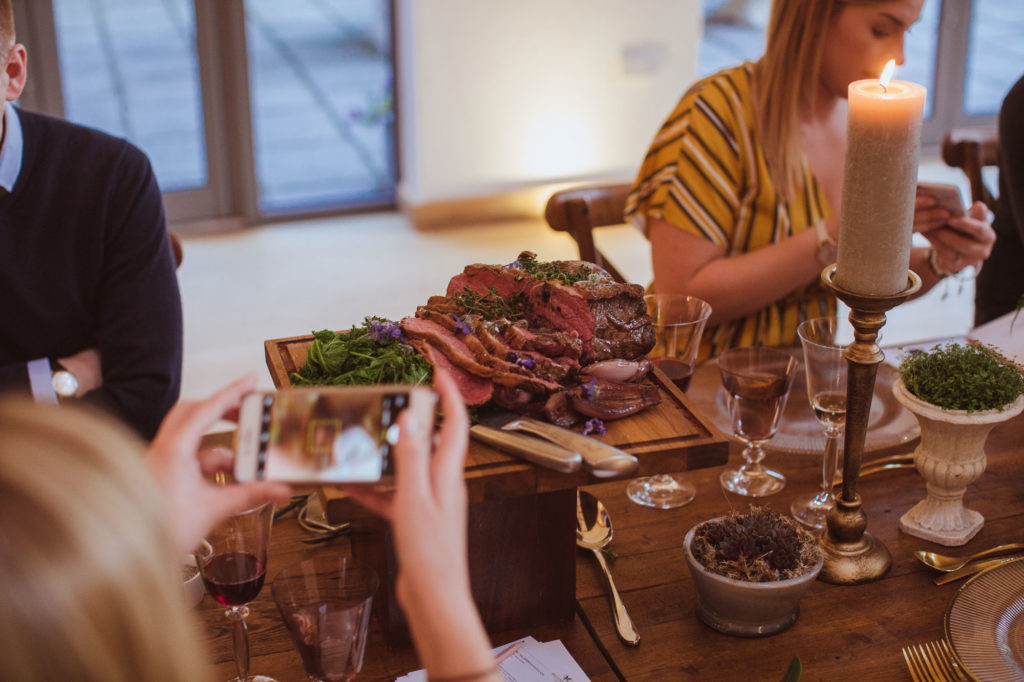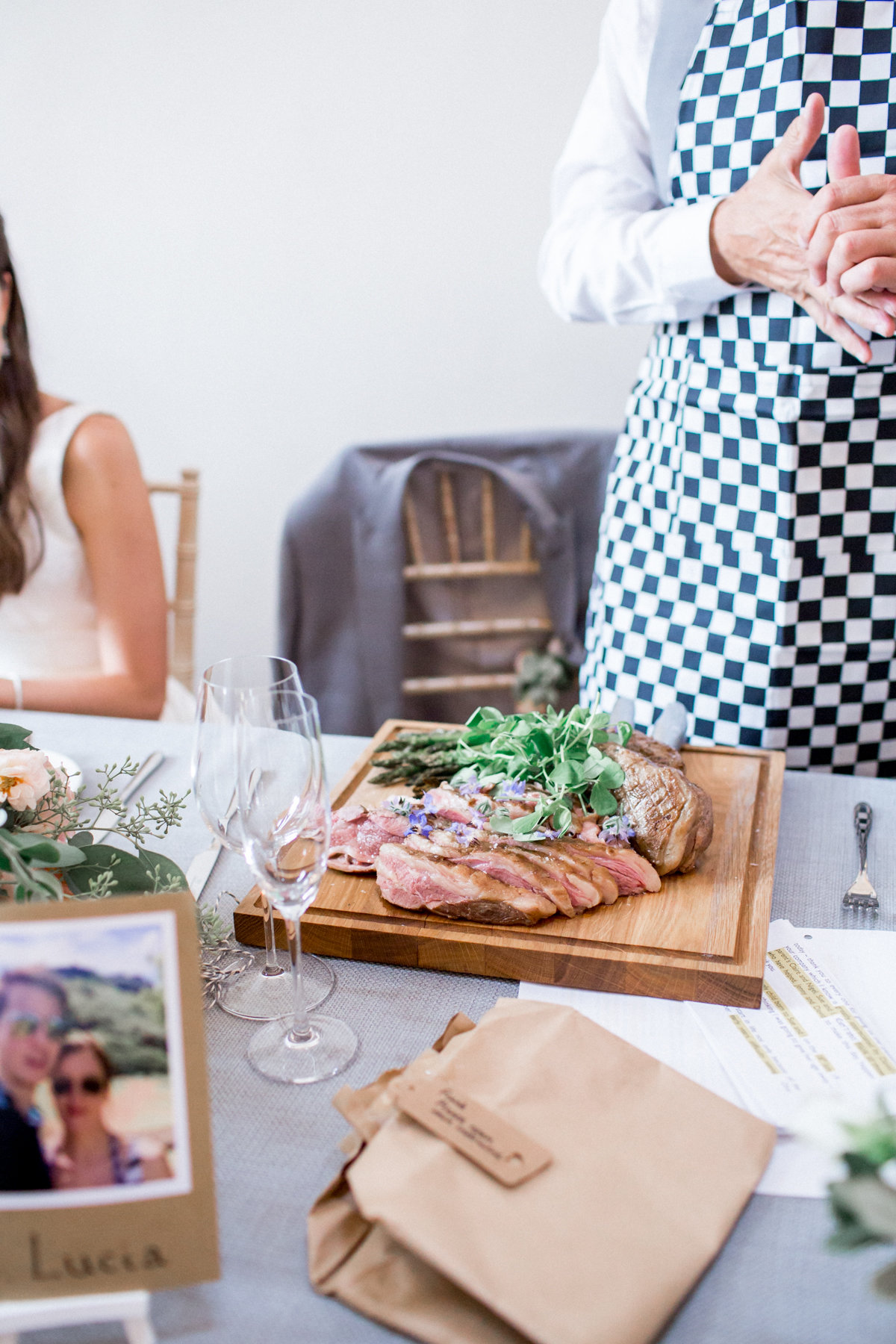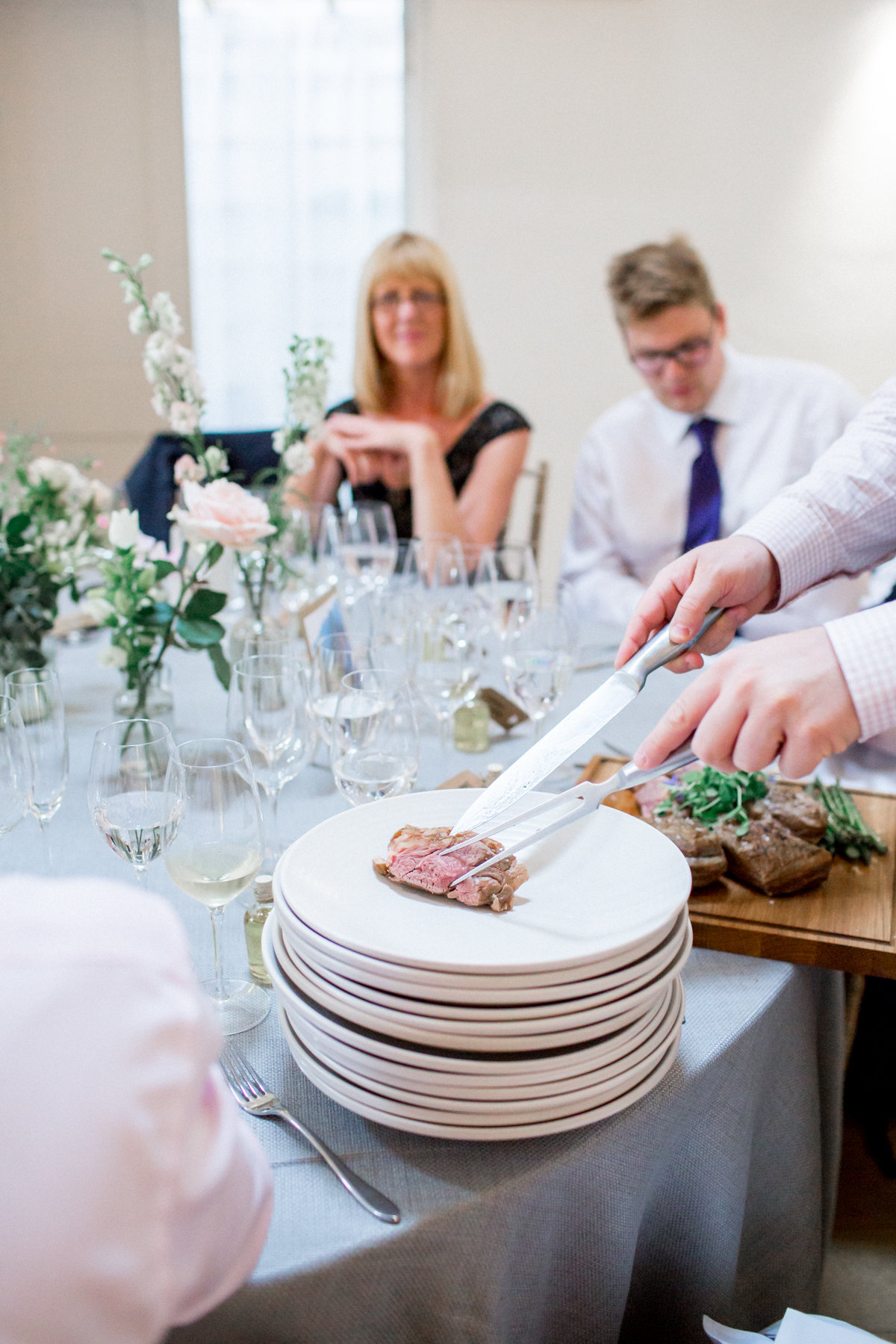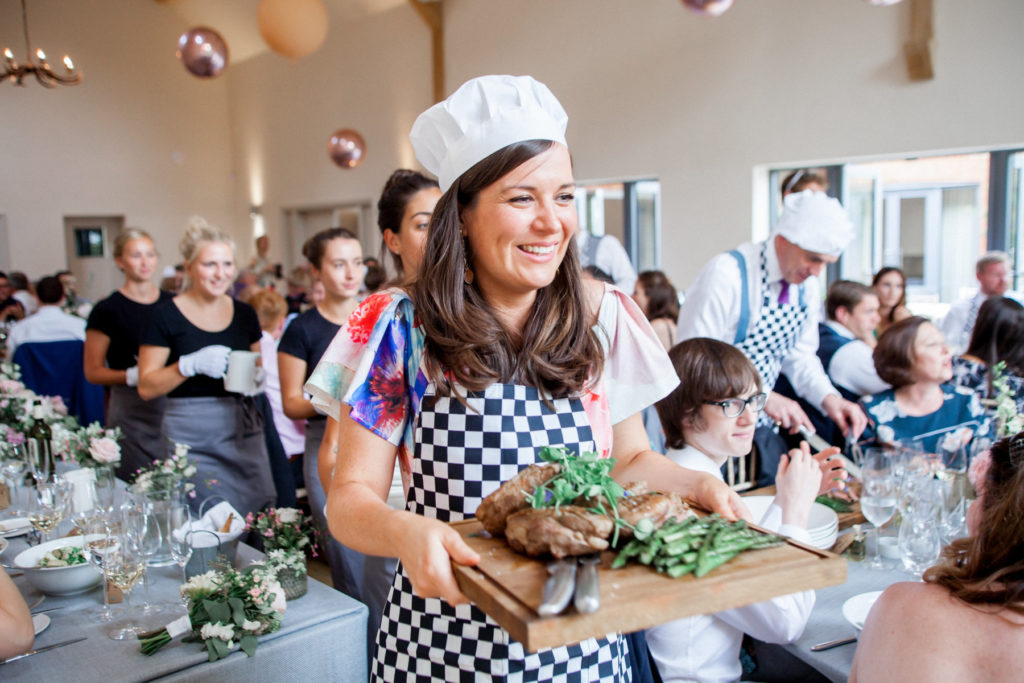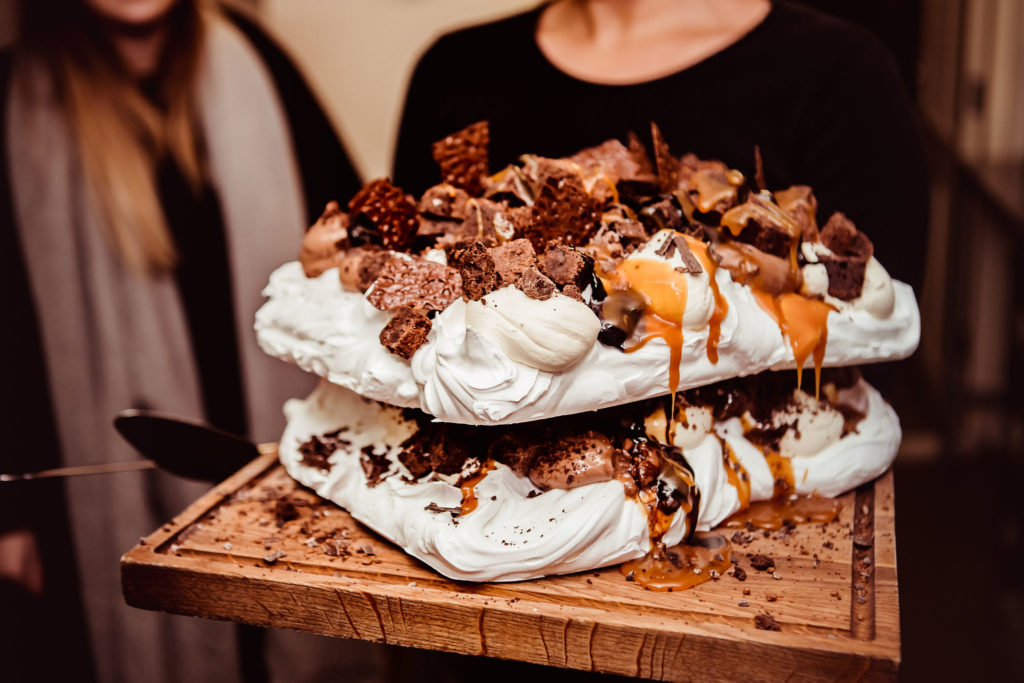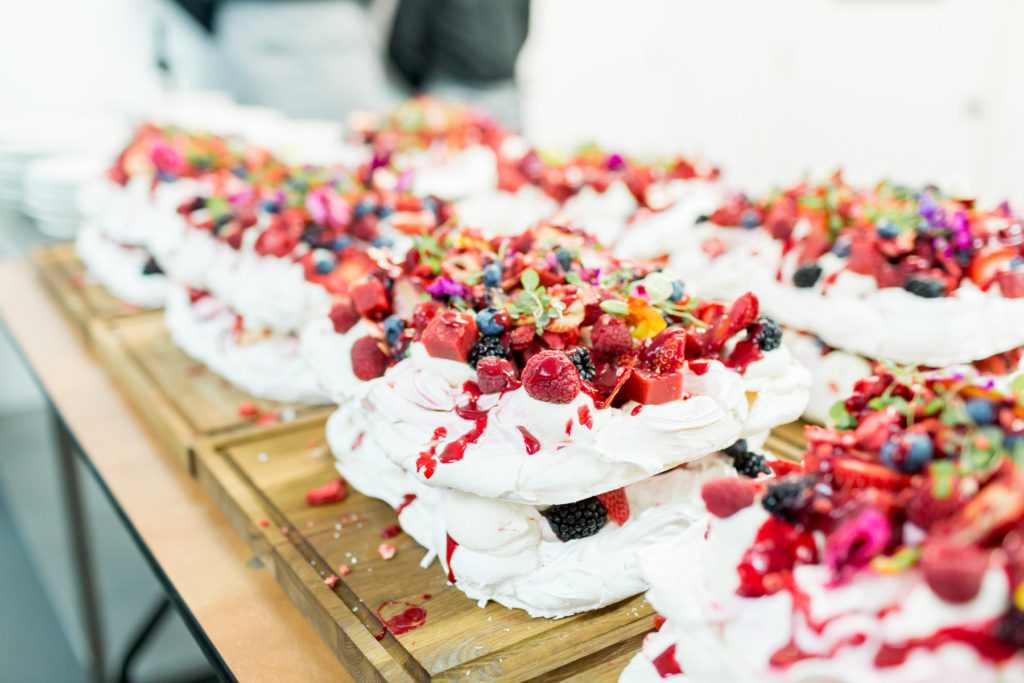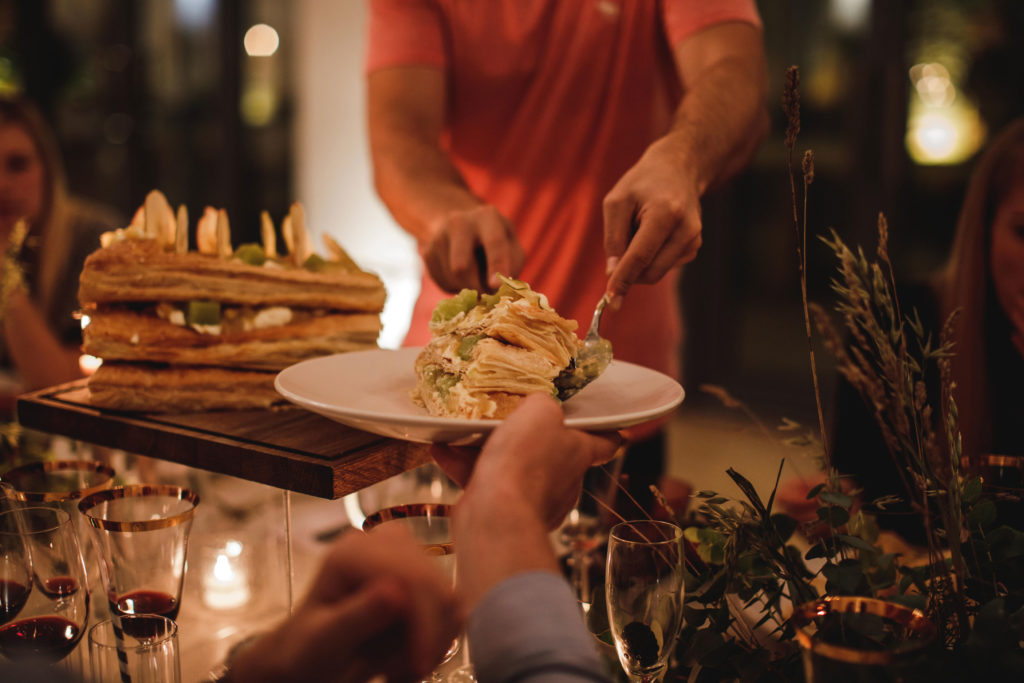 Food Stalls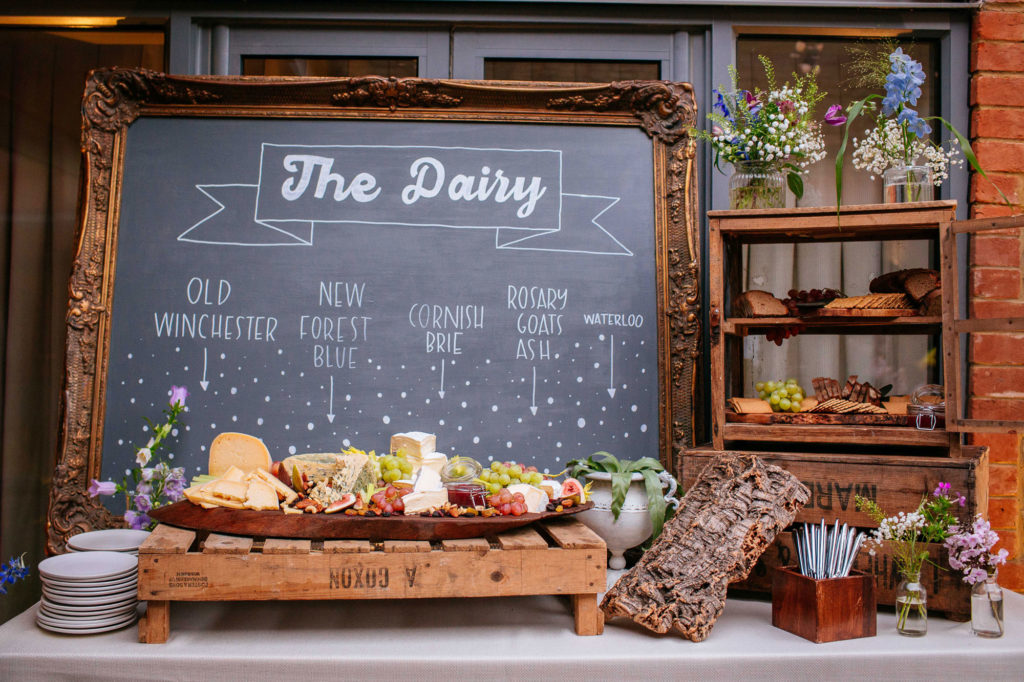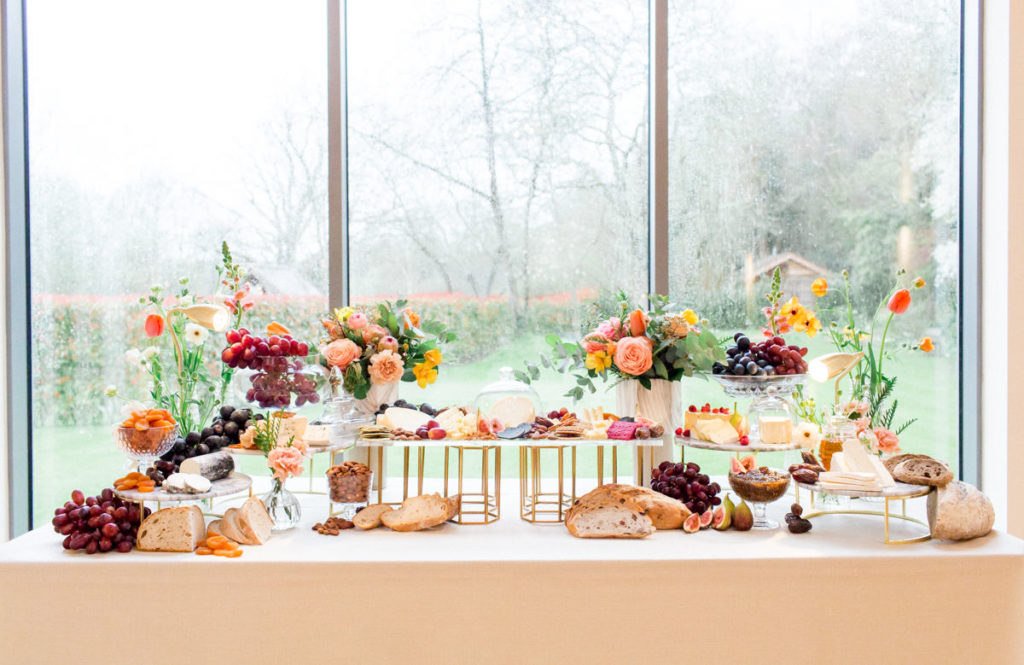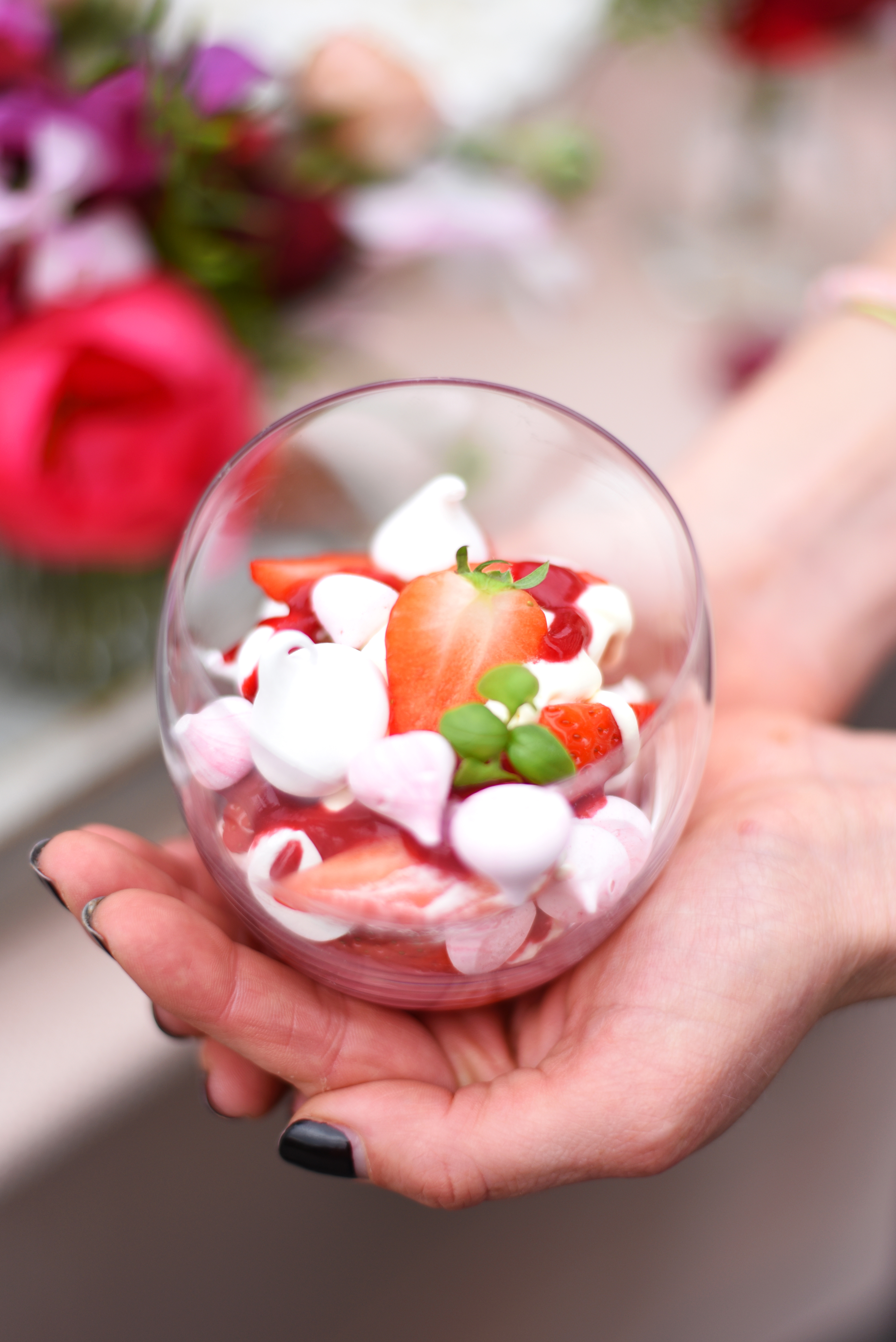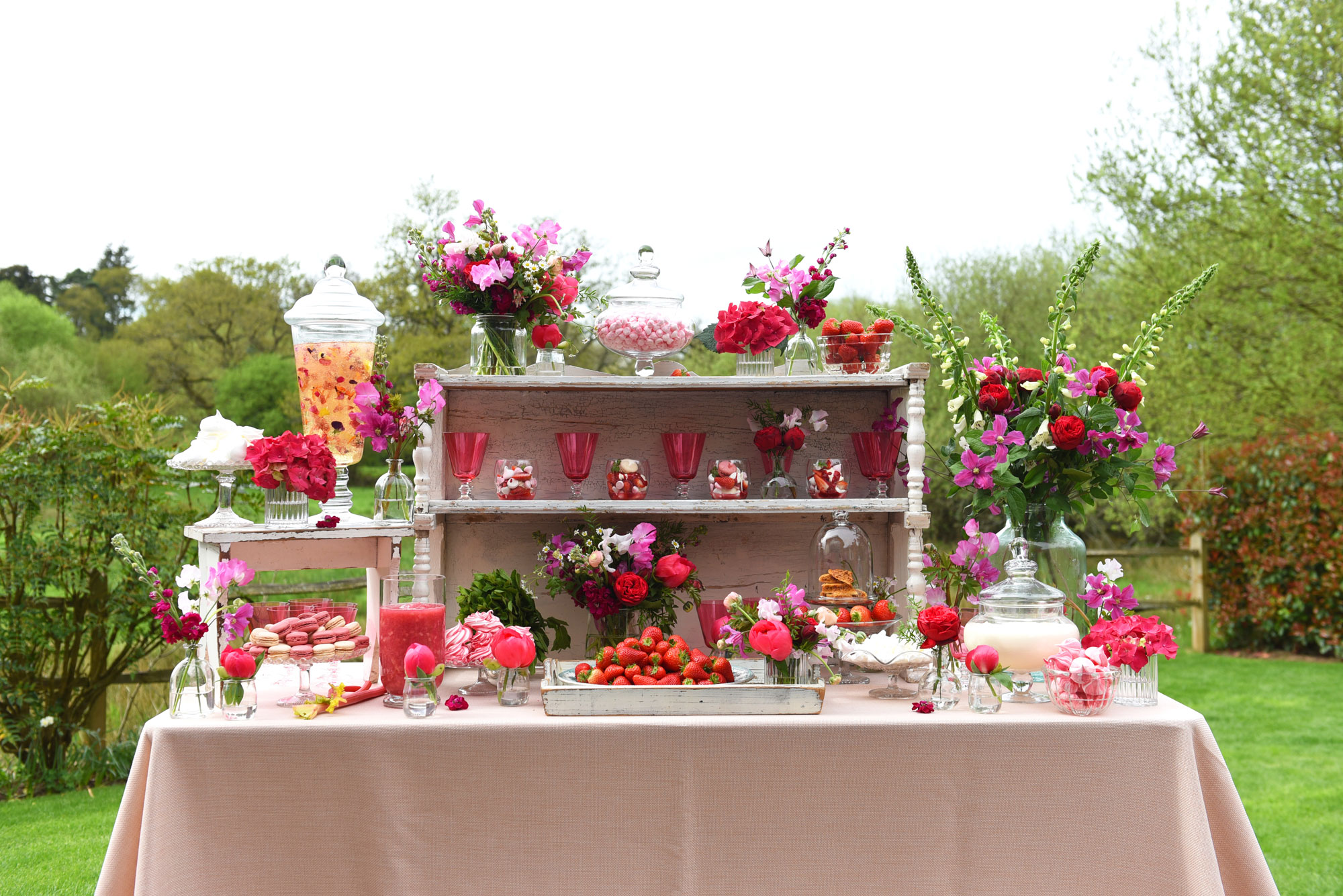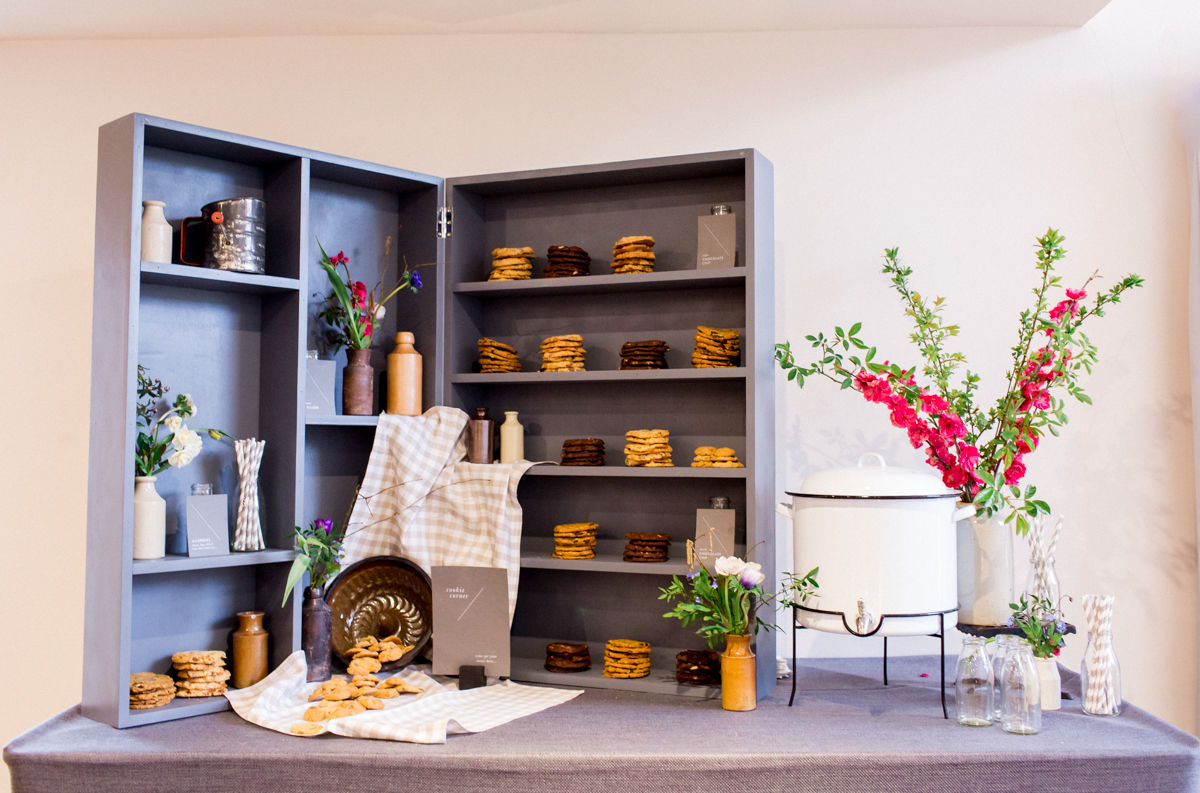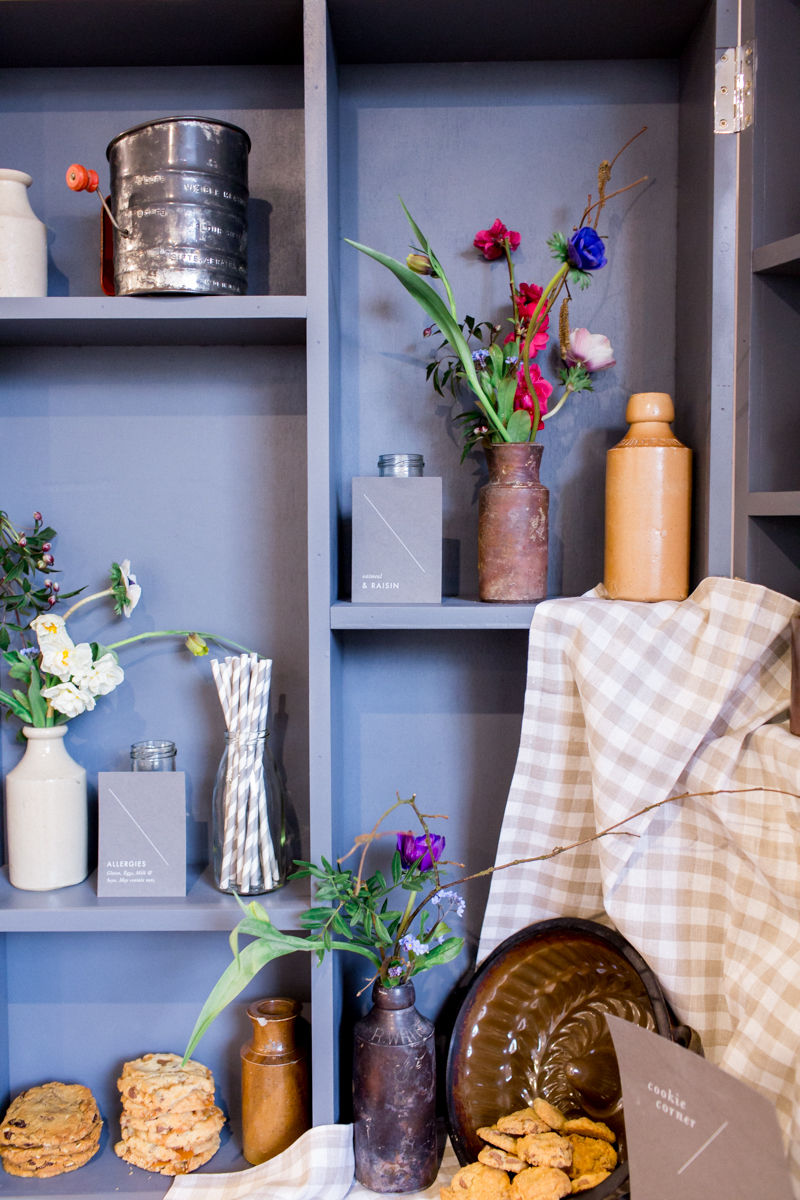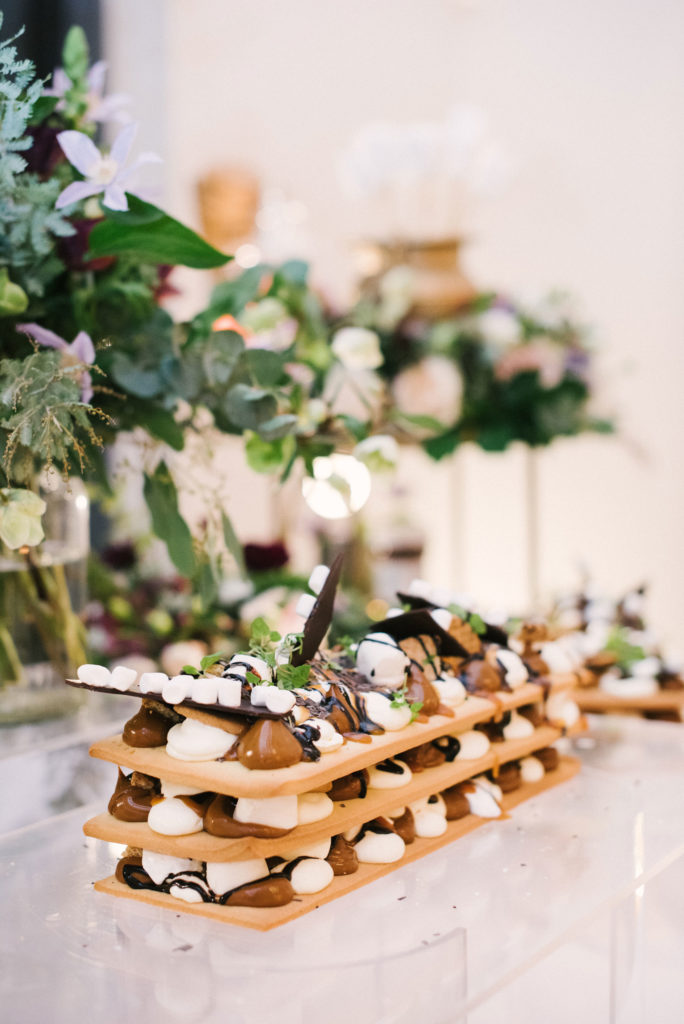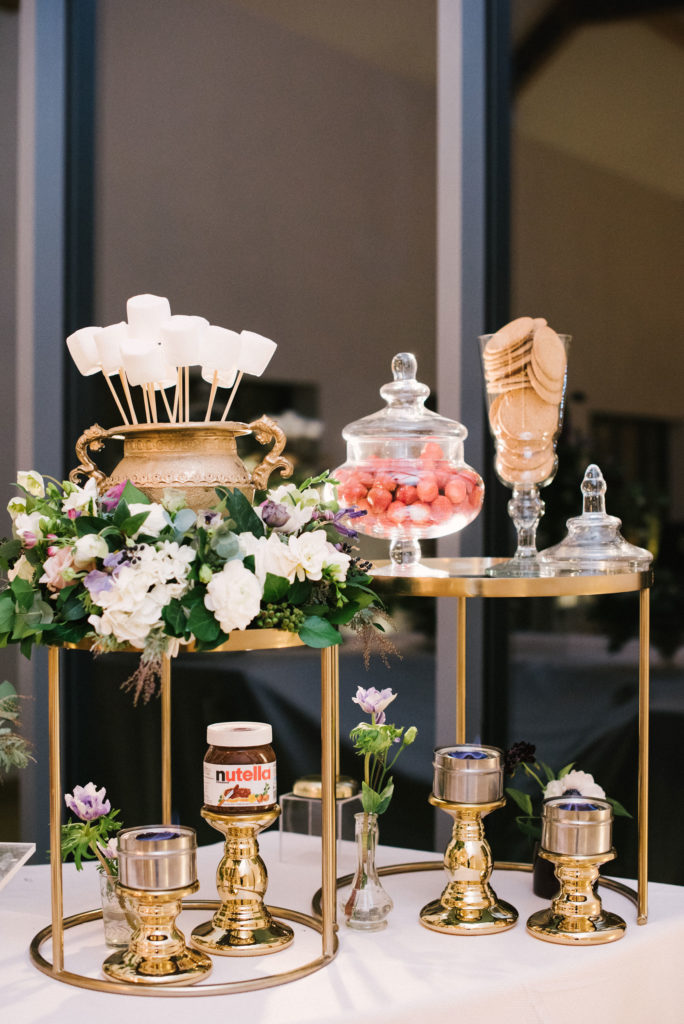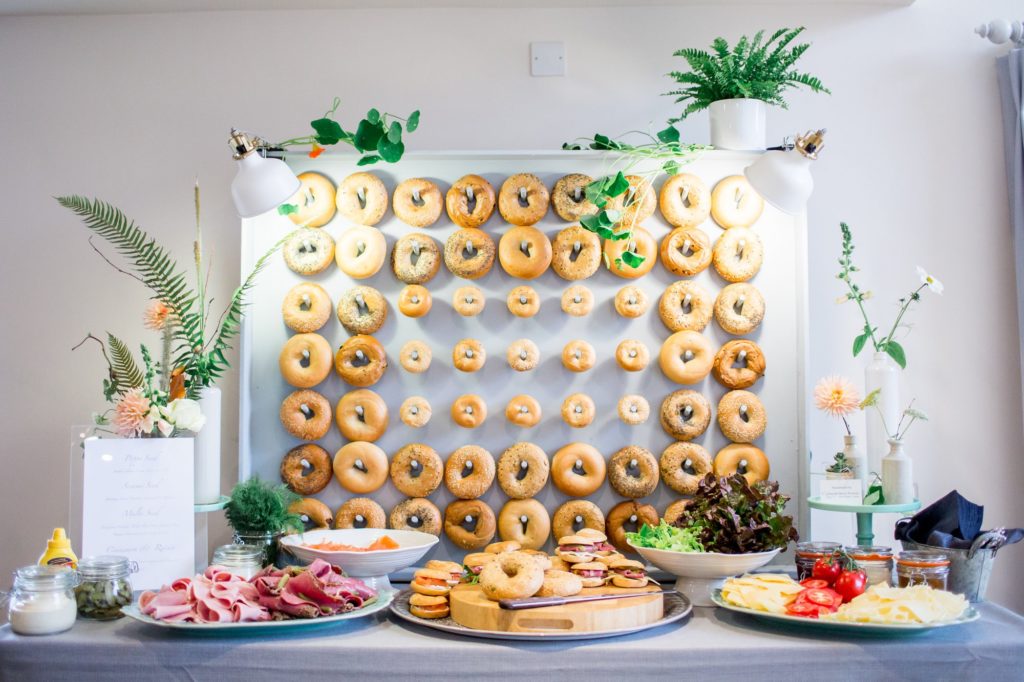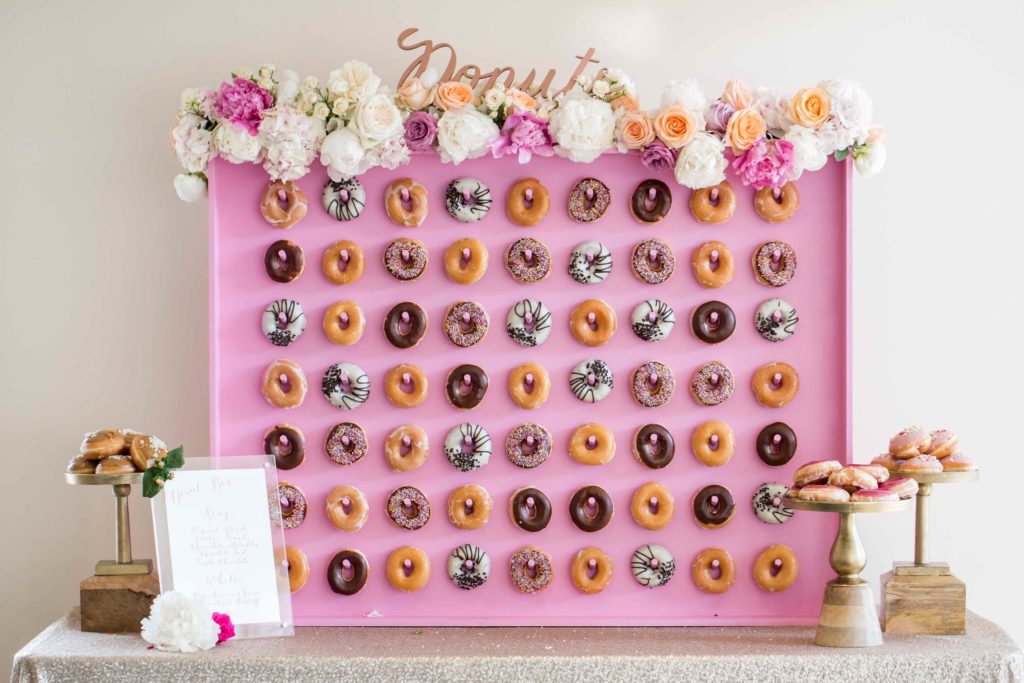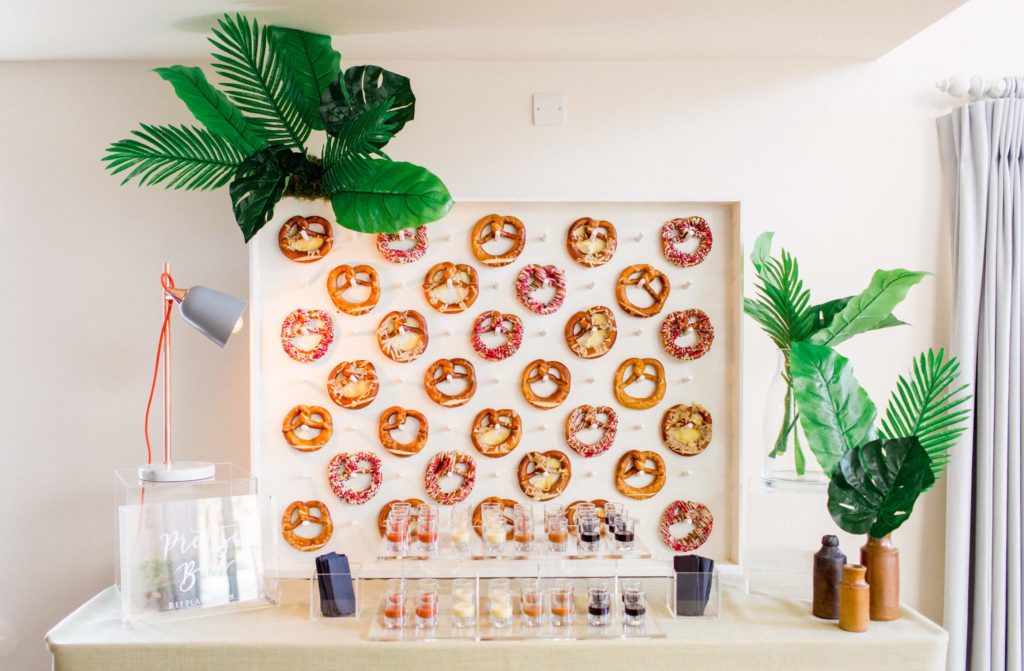 Patisserie Bars