10 Questions with… Hair and Makeup Artist, Carolanne Armstrong
01 / 03 / 20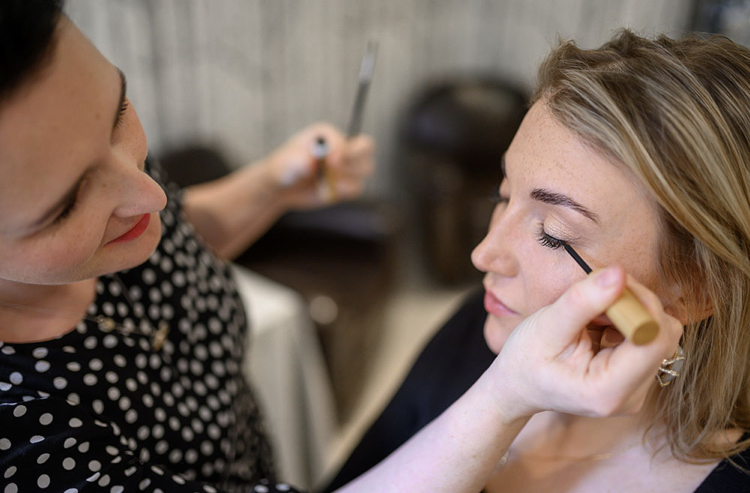 1. How did your passion for Makeup and Hair styling come about? 
I always just really enjoyed the process of starting with a blank canvas and painting creating a beautiful finish. I used to be able to do my own liquid liner in the dark because I knew the curve of my own eyes so well…. It turns out working on my own face and hair is not nearly as fun as thousands of other people's hair types and colouring. It's always new and always a joy applying subtle tones and colours to new faces. and I love the blending.
2. When did you setup your Business as a freelance Hair and Makeup Artist and what drew you to Bridal Hair and Makeup?
I started working in hair and makeup nearly 15 years ago. The majority of my work has always been bridal because I enjoy the environment of working with real people on a really important occasion. I kind of love the pressure for everything to be perfect. People often have preconceptions and stereotypes of what a makeup artist is like or what they do. I like dispelling the myth that it's all borderline drag!
3. How would you describe your style?
Client-focussed. Not about what I want to do, or my new trendy palette. My work leans towards editorial, with invisible skin makeup, seamless blending of tones and textures that flatter both person and the personality. I like it when you don't notice the makeup, but the person just looks really good.
4. What can Brides expect when they choose you to do their Makeup and/or Hair for their Wedding Day? 
Generally someone recommends me, or a client starts following me on social media, then they'll get in touch after seeing what my work looks like. The first stage is to secure the wedding date with a booking fee. The date is exclusively secured and then we can take our time to arrange a mutually convenient trial appointment. I dedicate specific dates through the year just to trials, so people book a time and come along to one of the venues available. At the trial, we talk about the details of the wedding day and then, roughly two weeks before the wedding I'll send over a schedule for the wedding morning. That way everyone knows where they need to be and when, and I have all the time I need to to the best work I can.
5. What do you love most about what you do?
I love the creative element. Doing hair and makeup is my equivalent of a mindful colouring book 🙂
I love making someone feel great in their skin, I love going to new places and meeting hundreds of new faces every year.
6. What top tips do you offer Brides when they're choosing what Hair and Makeup to have for their Big Day?
Communication before styling even starts is the most important thing, to work out what a client really doesn't want! Usually someone's had at least one terrible experience where they weren't listened to and got caked. I advise that they aim to feel amazing but also totally at ease with their reflection.
7. What advice do you give to Brides on the Wedding Day itself? 
By the time the wedding day comes around I feel like I know the client and what they want quite well. I've also delivered my schedule of timings so I'm usually concentrating on the brushwork and hopefully contributing to a calm, chilled out morning. The only advice I would give is to make sure you have your drink within reach while I'm styling 🙂
8. What trends are you seeing for 2020?
I think we're looking at lots of romantic but unfussy styling. Nothing too sleek but certainly more editorial. Simple and elegant, with focus on the accessories or statement necklines or sleeves.
9. What do you love the most about Millbridge Court?
I love watching the bride or groom walk down the aisle through the one-way window. I get the only view of everyone turning to see them walk in.
10. What are your three favourite industry professionals/ brands to follow on Instagram at the moment?
For makeup: @LisaEldridge, @fionastiles and @consciousbeautyunion
For hair: Always @sammcknight1 and @samvillahair
To check out Carolanne's Website, click here!