#mbcspringpreview2018
13 / 04 / 18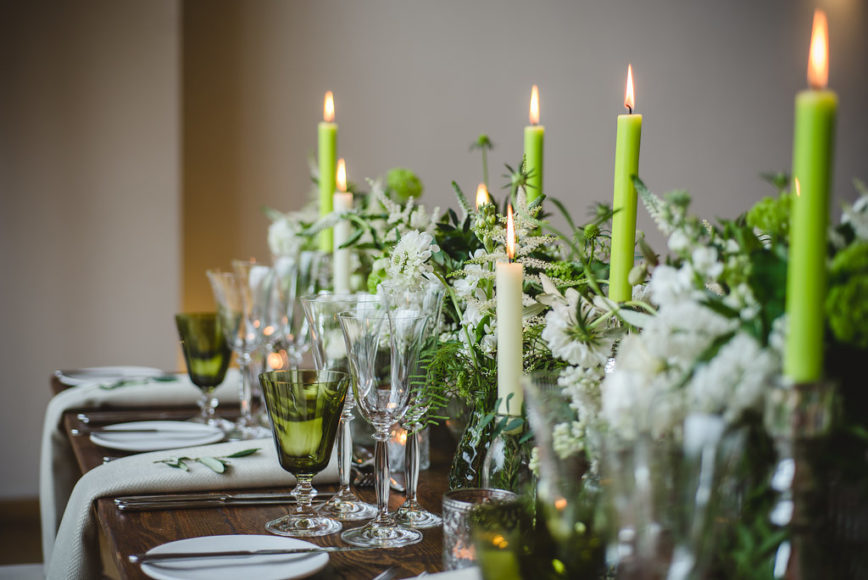 Last Sunday, we hosted our Annual Spring Preview & what a gorgeous preview it was, thanks to the amazing MBC Partners that joined us; creating inspiring displays & chatting away with our lovely MBC couples.
Showcasing stunning tablescapes in our Dining Barn were Alice (Meadowfolk), Carrie (The Topiary Tree), Katie (Blackberry & Bloom) & Gill Pike who each created such varied arrangements, from the rustic to the bold & beautifully blowsy… there was something for everyone. We had amazing wooden banquet tables & cross back chairs provided by Academy Furniture Hire & each table was complimented by coloured glassware from Crystal Hire.
The beautiful flowers weren't just confined to the Dining Barn with Gill Pike showcasing her breathtaking foliage Moongate Arch in our Ceremony Barn, the perfect backdrop to any Ceremony & Carrie Macey created a statement urn arrangement outside the Millbridge Court entrance, a wonderful way brighten up a rainy day!
Further brightening up the grey day was Laura from Laura's Paper Heart who serenaded our guests so beautifully throughout the event.
In our Bridal Changing Suite we had the amazing Carolanne Armstrong & Sharon Roberts doing Express Hair Styling & Make Up Sessions for our Brides. Such a wonderful opportunity to ask these very knowledgeable & talented ladies any questions & to trial a hairstyle/make up look for their Big Day.
Showcasing gorgeous Wedding Cakes were Andi Freeman & Melissa ( Thirty One Cakes) who also had delicious testers for our couples to try & the even more tasty treats were provided by Kalm Kitchen who circulated Canapes, yummy bowl food & they also put together yet another incredible Patisserie Boutique, with added foliage & Spring Flowers from Blackberry & Bloom.
We had MBC Partners Philippa Sian Photography, Jon & Laura from VLA Wedding Photography, Neale James & Sophie Duckworth showing our Brides & Grooms the phenomenal Wedding Days they have captured at Millbridge Court over the years. Thank you also to Ash Videography & Chris & Amy from W4 Wedding Films for not only joining us, but for putting together really beautiful videos of Sundays Event (you can find these on our Instagram & Facebook page).
Thank you so much to everyone that came to our Preview, we hope that you all had a really wonderful time & left truly inspired for your Wedding Day.
Xx