Getting to Know – Botanico
10 / 04 / 23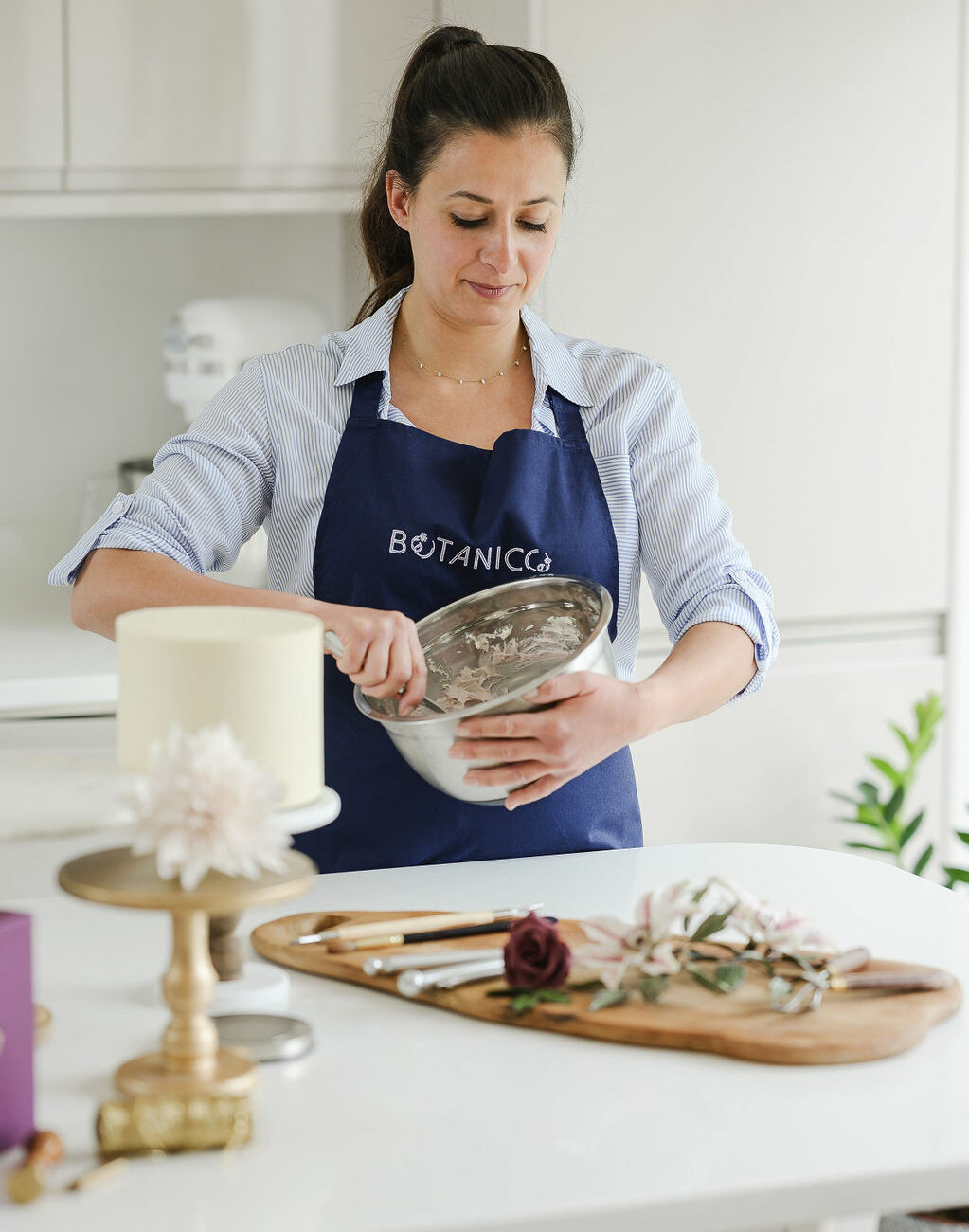 Botanico joined us as a Millbridge Court Partner is 2019, after wowing us with her incredible chocolate cupcakes and we just had to share her talent with our couples.  Not only are her cakes delicious (the Guinness cupcakes are a team favourite) but each one is a piece of art – hand crafted flowers and details are exquisite!
We spoke to Naomi to give you a little glimpse into the world of floral cake artistry.
What first made you fall in love with baking?
I've always loved cooking and baking from an early age and would always be hanging around in the kitchen watching my mum preparing and cooking.  My mum rarely baked cakes (or any sort of pudding for that matter) so perhaps it was nothing more than my sweet tooth and desire for treats that inspired me to learn to make my own!  It wasn't until I was in my twenties that I realised I could combine my love of food and art and make some really pretty and eye catching cakes!
How would you describe your style of cakes? 
I like to say that Botanico cakes are a beautiful marriage between art and cake.  I would say my style is romantic, elegant and quite 'modern heritage' too.  I love a bit of texture too so you'll quite often see these used on the fondant or buttercream covering, adding a bit of interest underneath those pretty flowers.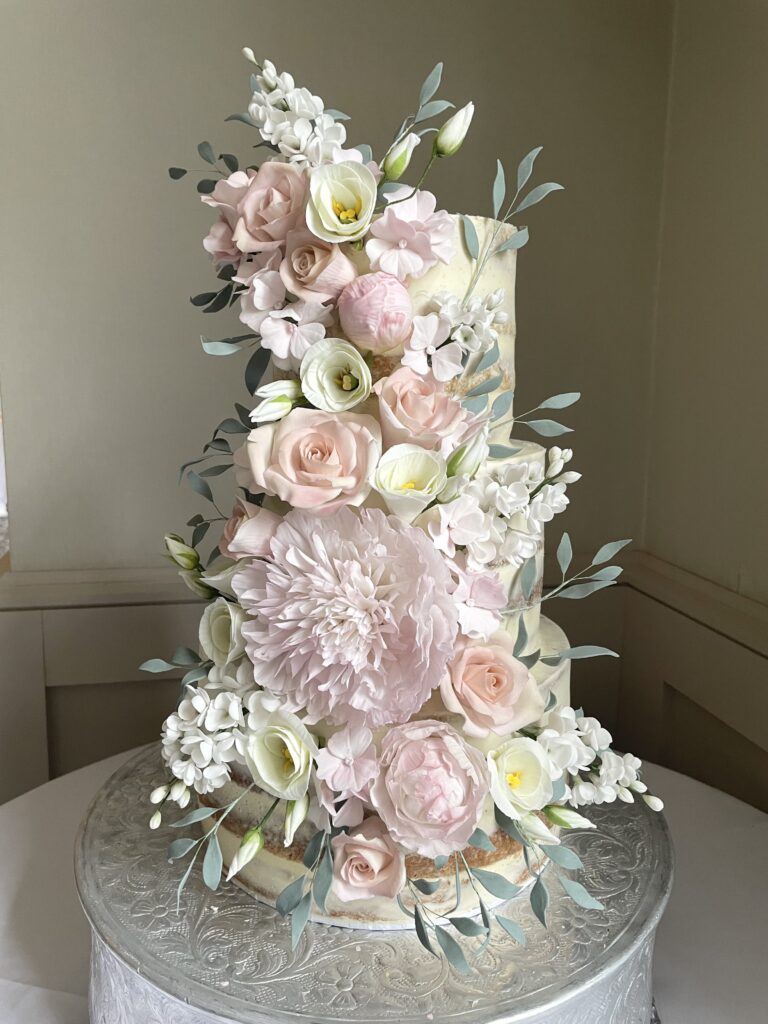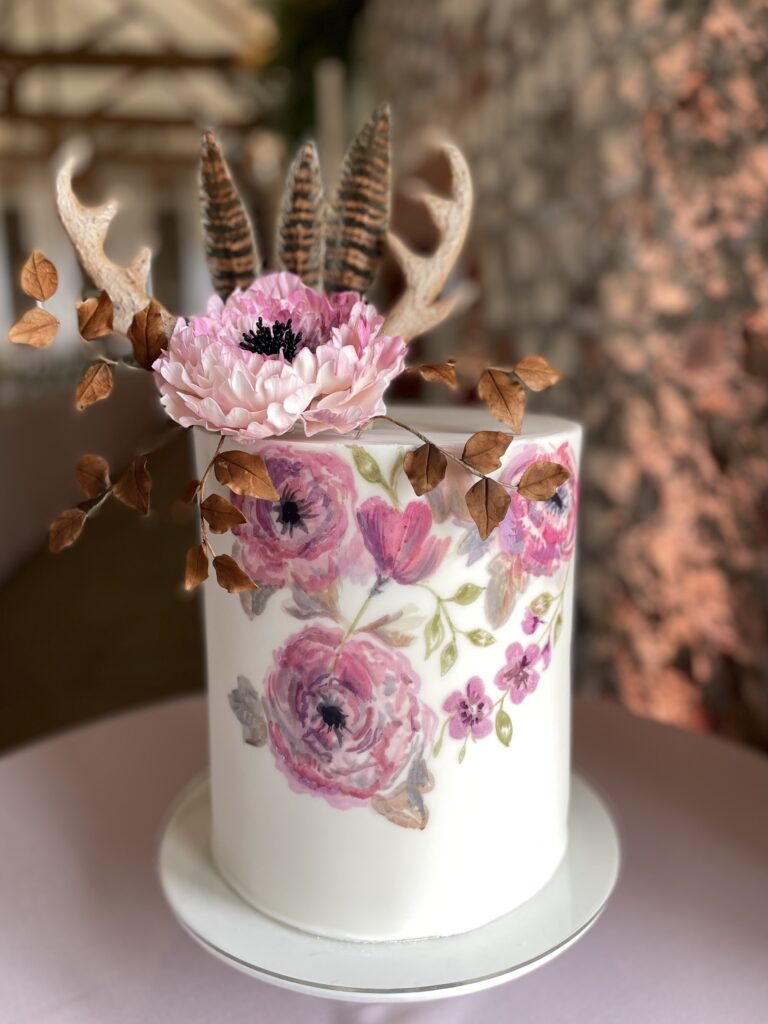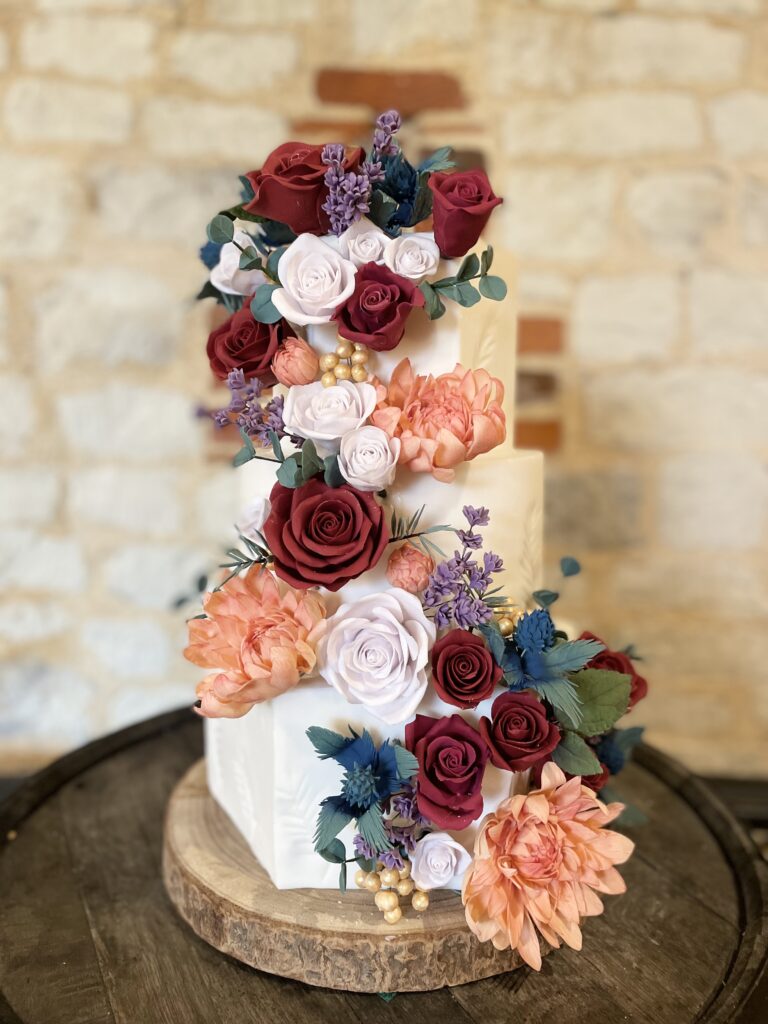 What made you decide to work in the wedding industry?
My passion is creating beautiful sugar flowers so that is naturally a great fit for the wedding industry.  Aside from that, I love getting to know my wedding clients and their ideas for their big day.  I get so excited discussing colours and themes – it's always so amazing seeing it all come together on the day too!
Can you explain a little about what couples can expect when they book with you? 
I usually start off the process with a phone call to discuss initial ideas and themes.  I tend to ask lots of questions to gain as much information as possible that will help me design the perfect cake.  It's quite common for couples not to have any of the answers though, so I'm always very happy to guide them through options.  Many of my clients decide to book the date before even trying samples as they have come to me through recommendation.  Of course it can be done the other way around too, where I can send a sample box out prior to securing the date. I like to think I offer a very friendly and professional service, which really is tailored to each individual couple and their needs.
What is your favourite part or parts of a wedding day? 
My favourite part has to be finishing setting up the cake and taking a few photos of my finished creation in its final position.  I always have an image in my head of what the final cake will look like, and of course my hand drawn designs to work from.  However, nothing feels so good as seeing in the flesh (and secretly high fiving myself on how amazing it looks, ha!)
What top tips and advice do you give to couples ahead of their wedding day? 
One of my top tips would be to choose your suppliers early, as the best ones can get booked up quite quickly.  I would also say choose suppliers who's work you love but also ones that you get on with personally, as it's so important to have a great working relationship.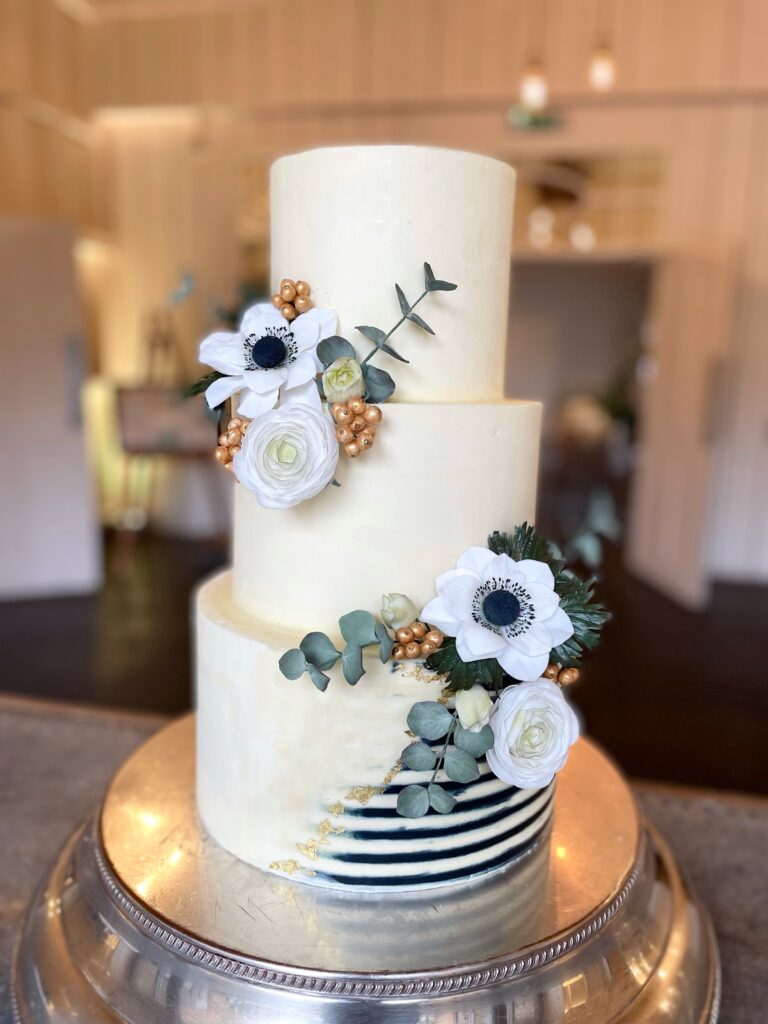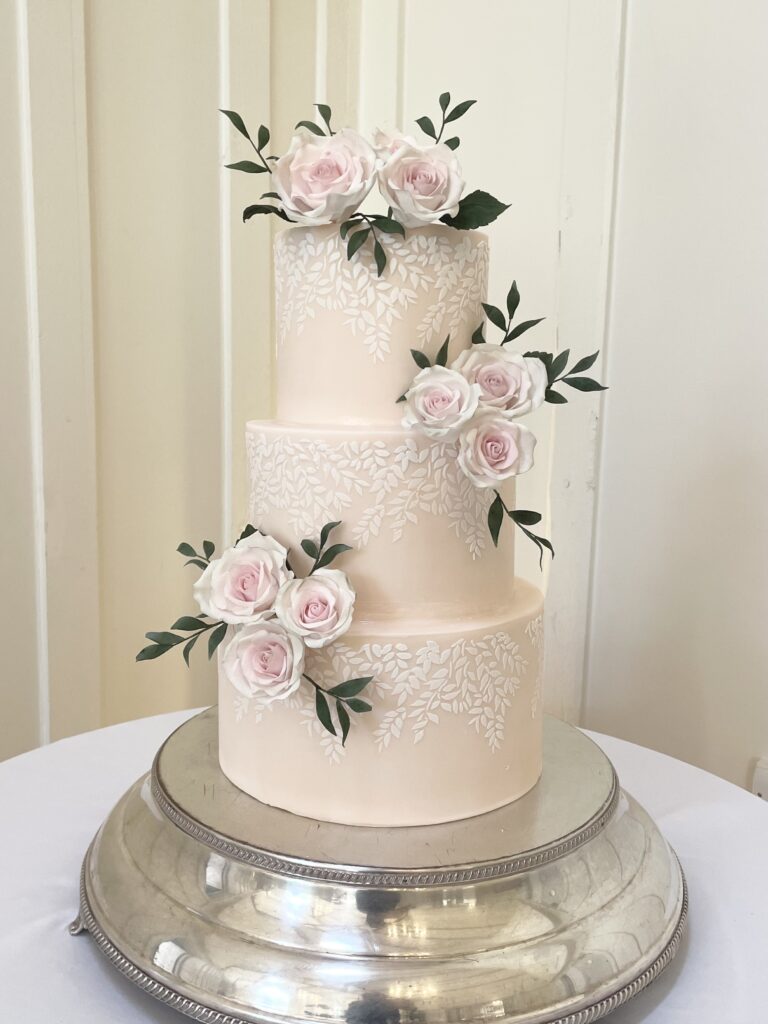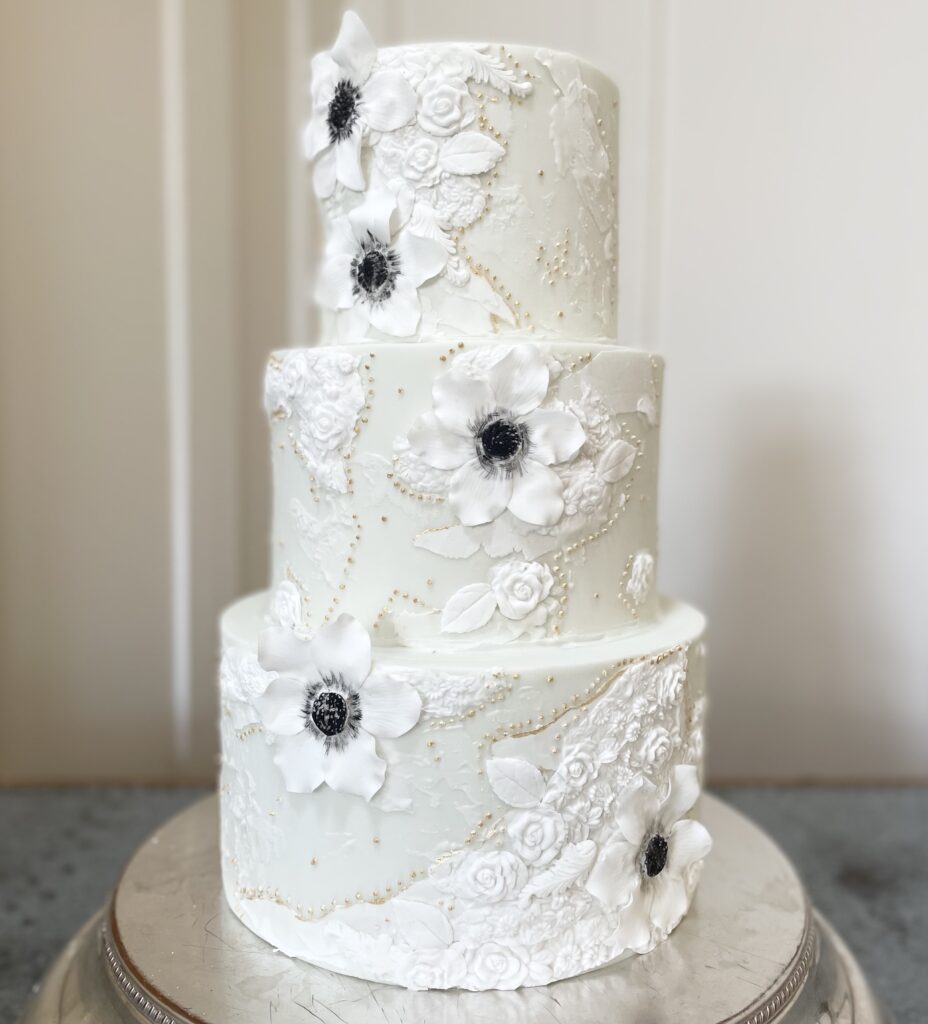 What do you love most about Millbridge Court? 
How many words am I allowed?!  I totally adore Millbridge Court.  Not only is it an absolutely stunning venue, it has the most wonderful team.  Their list of preferred suppliers are all so talented too.  I've often thought that if I wasn't a cake designer, Millbridge would be a place I'd love to work.  Every wedding and Details Date Night I have attended just looks stunningly beautiful.  It really has such a great feel to the place and it's so well run.  I love it!  It never fails to impress me, and I do have high standards when it comes to this type of thing!
What cake trends are you seeing for 2023?
 Florals, florals and more florals!  They are always popular for weddings of course.  I think different styles of flowers –  handmade from sugar, piped, pallete knife painted, handpainted will all feature heavily again next year. I think floral colours are also going more bold too which is exciting.
If you are looking for an incredible cake for your celebration get in touch with Naomi to discuss your ideas.